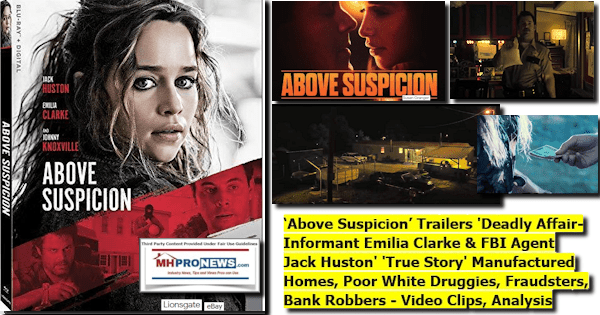 Is truth really more brutal and heartbreaking than fiction? An unlikely pair tests the theory with tragic results in "Above Suspicion." The project seeks to tell the true story of a relationship that ended with shocking results, ultimately leading to a historical precedent for the FBI. Its aftermath forever changed how personal affairs were treated among the agency, especially those involved with field operations," so wrote Valerie Thompson for the Playlist on 4.2.2021. Movies influence culture and beliefs and cultural bias and beliefs can also influence the screenplays and directing of movies. The move is currently streaming on Prime. The official movie synopsis and some video trailers are as follows. "Based on the true story of one of the most notorious crimes in FBI history, this gritty crime-thriller stars Emilia Clarke ("Game of Thrones") as Susan Smith, a young woman desperate to escape a seedy life of crime and drugs in a Kentucky coal-mining town. When a newly minted FBI agent named Mark Putnam (Jack Huston, "Fargo") recruits Susan as his informant for a high-profile case, she believes her bad luck may finally be changing. But as Susan and Putnam's relationship deepens, so does the danger, setting them both on a collision course with deadly consequences." What the synopsis doesn't say is that much of the story plays out in a manufactured home community, in a older manufactured home that millions of viewers would doubtlessly (and incorrectly) think of as a 'mobile home' in a 'trailer park.' Actress Emilia Clarke played Susan Smith, whose character could easily fit the 'poor white trash' image deployed by then President Bill Clinton's adviser James Carville, who quipped on his boss' behalf: "Drag a hundred-dollar bill through a trailer park, you never know what you'll find." However 'true' to life – or not – the Above Suspicion story may be, the movie deftly uses cinematography that repeatedly play on worn out stereotypes that have dogged the manufactured housing industry for decades.
Before and after you watch the video, ask yourself questions like these.
If you answer, not many, you are likely to be close to the bullseye. If you are an investor looking for robust returns and are wondering why manufactured home industry pros allow this to go essentially unanswered when they could or should be directly addressed, those would be reasonable thoughts.
International official movie 'trailer,' above.
Thompson didn't note such insights, but one might ask, why should she? Nor does Thompson tell her audience what is coming in her review and plug for Above Suspicion about manufactured homes. Instead, she said: "Chris Gerolmo, best known for writing the film "Mississippi Burning" and various TV endeavors, crafted the screenplay based on Joe Sharkey's true crime novel. In the book, Sharkey explores how an FBI agent became a monster for one small town." "Emilia Clarke and Jack Huston head up the cast. For Clarke, the film offers a departure from the 2019 film "Last Christmas." It should be noted that 'Suspicion' was also scheduled for a 2019 release before having a staggered rollout covering 2020 and 2021. Huston himself has made notable appearances in several recent releases and is currently filming on the upcoming "House of Gucci" with Lady Gaga." Thompson adds, "Sophie Lowe, Austin Hébert, Karl Glusman, Chris Mulkey, Omar Miller, and Kevin Dunn also star, with Thora Birch and Johnny Knoxville making appearances."
This next video video clip is played out entirely in character Susan Smith's manufactured home, as are numbers of other scenes inside and outside of their 1-star community.
Another official movie clip is posted below.
Some years ago, while this writer was still a member of the Manufactured Housing Institute (MHI), yours truly pushed for a series of short, positive video stories that a university and their theatrical arts department said they were interested in producing. Wow, right? There was interest among MHI members. But while it was discussed time and again by MHI staff and members at meetings, the possible image enhancing and educational "product placement" style project – which then had an estimated budget of a mere $15,000 to $25,000 – never happened. Why not? Who at MHI is responsible for letting that slip through the industry's fingers? The social media value alone of having university students telling our industry's story in a positive way might have been worth millions of dollars.
The YouTube and other potential for quality acting in appealing actual manufactured homes that could have been the backdrop to such videos might have been tremendous.
Years went by. Nothing. Finally, instead of either a robust image campaign or a budget version using university students, despite years of talk and promises about improving the manufactured home industry image, what apparently emerged instead?
MHI 'featured' some Clayton Homes supported NextStep.Us #forverhome videos. This one posted below is set in a Clayton selling MHI member Yes Communities! This video got almost no views compared to the millions of views that have taken place with Above Suspicion trailers alone. As of this date, 1.23.2021 the NextStep and MHI plugged video below, per their YouTube page, had 571 views after 5 years. Others like it, with similar results, were also produced.
So which stories are going to make more of an impression on the marketplace of ideas? Above Suspicion? Or MHI and Clayton supported NextStep #foreverhome videos? Is it even a contest?
Nor is Above Suspicion the only movie of heartbreak where poor and desperate people are shown as living in mobile homes or manufactured homes. Another example below is the misnamed Mobile Homes movie and is set in a different (and nicer) manufactured home community. But it too is a similar story of poor, desperate people trying to get a new start in life.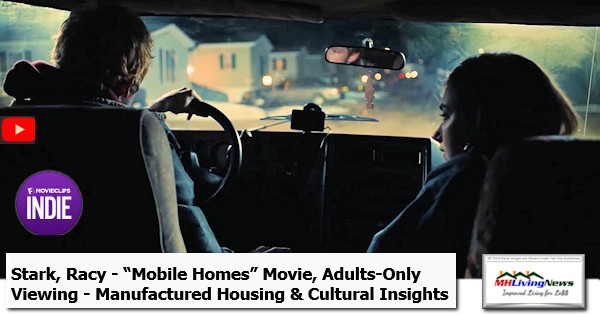 Above Suspicion Movie According to IMDb
"The true story took place in Pikeville, Kentucky, most famously known as the home of the Hatfields and McCoys. However, most of the film is set in Harlan County, Kentucky, in the Appalachian Mountains, which is most well-known as the setting of the FX series "Justified" (2010).
Parts of this movie were filmed in Harlan and Paris, Kentucky. While not incredibly well-known, Paris was also the shooting location for "Seabiscuit" (2003) and "Secretariat" (2010)."
IMDb Spoilers Alerts (Skip these two bullets if you haven't seen it and don't want the storyline "spoiled" for you.)
The real Mark Putman is shown in the ending credits mentioning the murder of Susan Smith.
The second time Emilia Clarke's character dies. The first was Game of Thrones
Per Amazon's Prime Video on this date: Above Suspicion got (8,858) viewers who rated it an average of 4 stars, but IMDb rating is 5.7. As an FYI, Prime and IMDb (rebranding as Amazon's Freevee) are ultra-billionaire Jeff Bezos' and Amazon linked brands. Bezos and Warren Buffett have apparently collaborated and/or have backed the same ideas on certain matters.
Above Suspicion 11 Pull Quotes, per IMDb
Family viewing notes: (don't). This is R rated, and has sex, drugs, violence, drinking, and salty language.
Quotes (11)
Susan Smith: When a man tells you you're doin' the right thing… he means you're doin' the right thing for him.
Susan Smith: All I know is every time I fall down, I end up Rollin' right back here. I figure that makes this the bottom of the world.
Susan Smith: You find out what a man's made of when you catch him by surprise.
Susan Smith: That's the way the devil comes. He don't come to you as evil. He don't come to you on fire. He comes as everything you ever wanted. He comes to you as you.
Susan Smith: But people only remember what they can stand to.
Susan Smith: Like he'd stepped out of a dream where nothin' ever went wrong.
Susan Smith: Thinkin' is painful. Knowin' things is painful.
Susan Smith: 'Cause high class ain't a always so good in a woman. If she won't suck your dick at the movies, then what the hell kinda good is she?
Susan Smith: You [want] to find yourself some losers if you want to have any fun.
Mark Putnam: I'm just saying, you've never tried to make a clean break of it, so don't give up hope
Susan Smith: It's hope that's fuckin' me up.
Susan Smith: I've been fuckin' your fuckin' husband, you stupid cow! Oh, what? Don't that mean nothin' to you? Don't that make you feel nothin'?
Kathy Putnam: It makes me feel bad. For you. That you wanted a better life so much that you thought you could just take mine. It's not gonna happen.
MHProNews Analysis, Possible Lessons and Impacts of This Movie on Viewers, Takeaways, Facts and Lessons
In the Breaking Bad streaming television series which ran for 5 years, "A chemistry teacher diagnosed with inoperable lung cancer turns to manufacturing and selling methamphetamine with a former student" plays out in part in an old motor home (motorized RV). But the possible harm done to the RV industry's businesses is arguably minimal in that case; why? Because for over 20 years, the RV industry has been promoting their industry with their well-known GoRVing educational-image campaign. Despite the fact that Berkshire Hathaway has big interests in RVs, for whatever reasons, there is little appetite among manufactured housing industry leaders for doing something similar to GoRVing for the manufactured home industry. That is so about MHVille leaders despite decades of talking about such a campaign. As a side note, Breaking Bad scored 9.5 out of 10 with IMDb and 96 percent with Rotten Tomatoes. "Mild-mannered high school chemistry teacher Walter White thinks his life can't get much worse. His salary barely makes ends meet, a situation not likely to improve once his pregnant wife gives birth, and their teenage son is battling cerebral palsy." Apparently making illegal drugs out of an old RV plays well with audiences, and the storytellers hit a range of genres. Per IMDb: "Genres: Drama, Suspense, Crime film, Thriller, Tragedy, Dark comedy, Crime TV genre, List of Western subgenres."
The outcome of the GoRVing efforts? Because RVs promoted a positive image of their product, they went from trailing manufactured home (MH) production in 1998 to far surpassing MH. RVs now dwarf manufactured housing (MH) output.  Note: The image below can be expanded in several devices and browsers. Click the image and follow the prompts.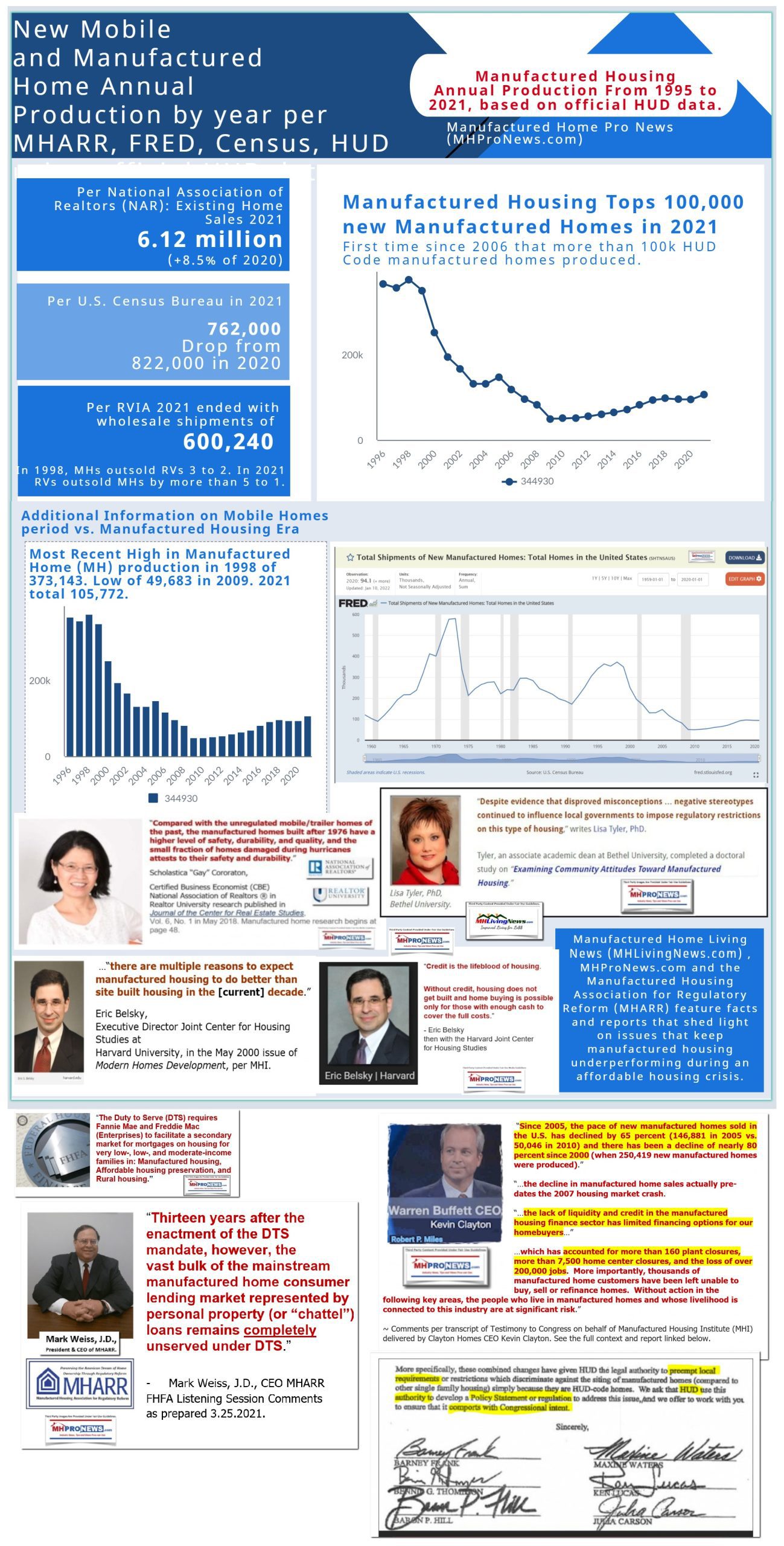 It isn't irrelevant how close, or not, to 'real life' Above Suspicion happens to be. But because there is a lack of corporate and MHI association support for promoting the manufactured home industry in a positive light, essentially the main images that comes across from the public viewpoint are negative ones. Who says? Loyal MHI member Darren Krolewski for one.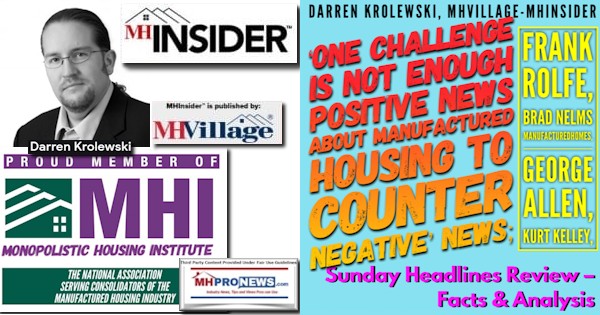 Or MHI award winning member Marty Lavin for another.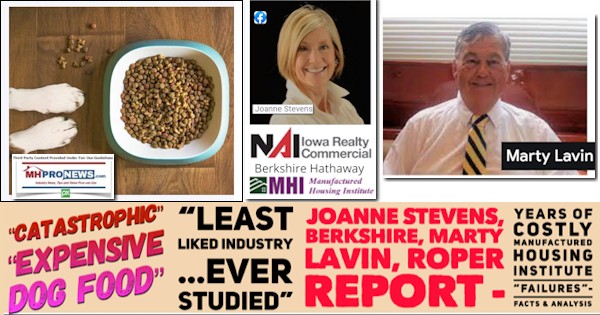 "Unleashing Potential Sales," "Perception is Reality" "Savage Report" Good & Bad for Manufactured Housing Institute, MHI's Roper Report, AARP, Marty Lavin Strike Again – plus Manufactured Housing Stock Updates
Sex, drugs, drinking, and various forms of cheating or crimes occur in all socio-economic classes. It occurs in all kinds of housing.  For those who need the reminder of that reality, consider what the 'based on a true story' satirical drama, My Son Hunter revealed about then Vice President Joseph "Joe" Biden's son, Hunter. The storylines in this video below are increasingly playing out in mainstream media. Does the fact that a drug-addled son Hunter of White House Resident Biden has lived in a multi-million-dollar mansion or partied in high cost hotels and elite housing make the story better or worse than the story line in Above Suspicion?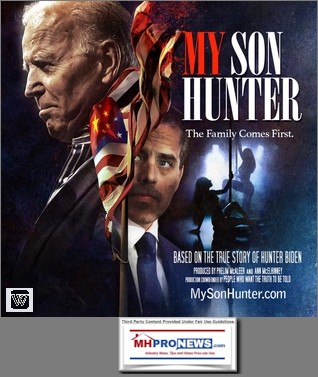 The near miracle for MHVille in this telling picture of how the entertainment industry gets to trash the manufactured home industry and its residents is this. Despite decades of such seemingly routine dark inputs, millions of the public – per Freddie Mac's recent research – is still somewhat to rather interested in owning a manufactured home. Freddie Mac's positive research, reported on MHLivingNews (but try to find this or other third-party useful 'good news' on MHI's website…) said this. "A recent Freddie Mac housing survey shows that general familiarity with manufactured housing is relatively high, with 47% of respondents saying they are somewhat or very familiar with manufactured housing. In the study, 62% of people say they are likely to consider purchasing a manufactured home in the future."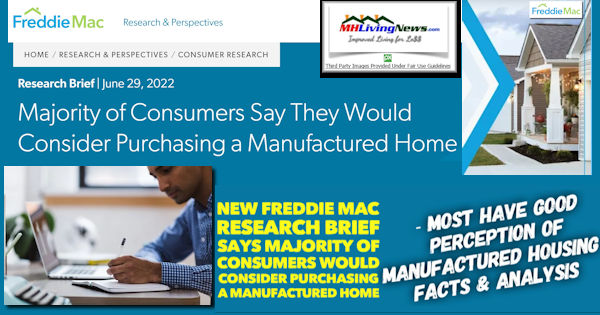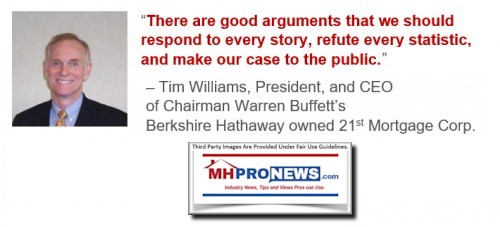 No one in manufactured housing industry leadership could possibly miss such realities – good and bad – as are outlined in this roughly 2600-word report. Are they hypocrites? Subverting their own industry so that they can consolidate it? When the facts are laid out like a jigsaw puzzle, the picture that emerges from reports like the ones linked herein may seem unbelievable, but sadly, are apparently 'based on a true story.'
Warren Buffett's Pledge to Kevin Clayton – 'You Can Access Plenty of Capital' for Projects – Quotes, Facts, Video, Transcript, and Implications for Manufactured Housing Industry
Over $1 Million! Manufactured Housing Institute Doc Drop! Top MHI Staff Pay Revealed. Additionally, Unpacking Evidence of Perjury, Fraud, Other Possible Federal Crimes; plus MHVille Stocks Update
Runaway #1! Manufactured Home Pros Flock to Critiques of Industry Leaders' Effectiveness, Legal, Ethical Woes-Why MHIndustry Underperforms During Affordable Housing Crisis; Sunday Weekly MHRecap
Precipice – Reveals, Exposes American 'Leech Class' – Corp CEO Aims to Protect American Dream from Leeches in Key Roles – Eye Opener for Biz, Policy Leaders, More; plus MHVille Stocks, REITs Updates
An evidence-based case can be made like this. Anyone that seriously thinks that MHI, or the big corporate powers behind MHI, are trying to authentically promote robust manufactured housing growth are thus apparently misled, naïve, serious victims of their propaganda or may sadly be delusional. Intervention, and/or far more attentive reading on MHProNews/MHLivingNews, may be needed for those remaining who seriously think MHI is sincerely trying to grow the industry. Or as character Susan Smith put it: "But people only remember what they can stand to. " and "That's the way the devil comes. He don't come to you as evil. He don't come to you on fire. He comes as everything you ever wanted."
After Admitted Failure, Manufactured Housing Institute Doubles Down on CrossMods® in AP Terminology Doc Acquired by MHProNews–Are MHI Leaders Sabotaging MHVille Independents? Plus MHStocks Update
Above Suspicion, or any other movies that may cast mobile home or manufactured home living in a dark light, might be largely irrelevant if the industry had an authentic promotional educational and post-production advocacy. As new third-party research that MHProNews and MHLivingNews will soon reveal, there is a potential for some 25 million current renters to become manufactured homeowners. Given that there are about 9 million mobile homes and manufactured homes total in the U.S. today, that 25 million could be 277 percent of the decades of TOTAL growth that could potentially occur in just a few years.
But that's not all the potential manufactured housing has. Because millions of people who own a conventional house might swap it for a manufactured home if they had a more honest impression of manufactured housing. The opportunities are therefor in the hundreds of billions, if not a trillion-plus dollars in market potential. But instead of reaching for its best. biggest and brightest potential, the industry's leaders are settling for crumbs instead. This hurts smaller businesses, thousands of employees in the industry, taxpayers, and tens of millions of Americans who want to own an affordable home, but don't think they can.
50 State-by-State Manufactured Home Data for Nov 2022, New Jan 2023 HUD Code Manufactured Housing Official Statistical Report; plus MHVille Stocks, REITs, Markets Daily Update
U.S. Housing Data Reveals Gaps-Underscores Vast Manufactured Housing Industry Potential, But Raises Corp, Trade Group Performance Concerns, Apparent Shareholder Effects; plus MHVille Stocks Update
'Manufactured Housing Closes Year on Cool Note, But Optimism Grows for 2023' Says TRERC, But TMHA VP Rob Ripperda Lets Cat Out of Proverbial Bag, Exposing MHI; plus MHVille Market, Stocks Update
Instead of reaching for the stars, the industry's image is left rolling in the mud instead in the dark places like Joe Sharkey's directed vision of "a seedy life of crime and drugs in a Kentucky [dying] coal mining town." Actress Emilia Clarke's portrayal of 'street wise' Susan Smith is the story of a poor woman that thinks she can seduce her way into a better life, but who is clinging to the literally rough and tumble drugs and drinking lifestyle she is 'trapped' in. Perhaps that is what living with a bank robber and drug dealer will do to you?
When there is a U.S. Senator, Thom Tillis, who lived in a mobile home and who exchanged positive comments with former HUD Secretary Ben Carson about how "amazing" modern manufactured homes are, shouldn't that be one of the many true to life story that millions are told? ###
President Bill Clinton-Curing What's Wrong by What's Right in America, Coalition Building, Wildly Potent Quotable Quotes, Profitable Liberty Lessons-Gonzo Journalism; plus MHVille Markets Updates
'U.S. Should Break Up Monopolies' Democrat Robert Reich Guardian Plan Would Hit Clayton Homes, Skyline Champion, and Cavco Industries with Costly Antitrust Lawsuit – Statements, Facts, Analysis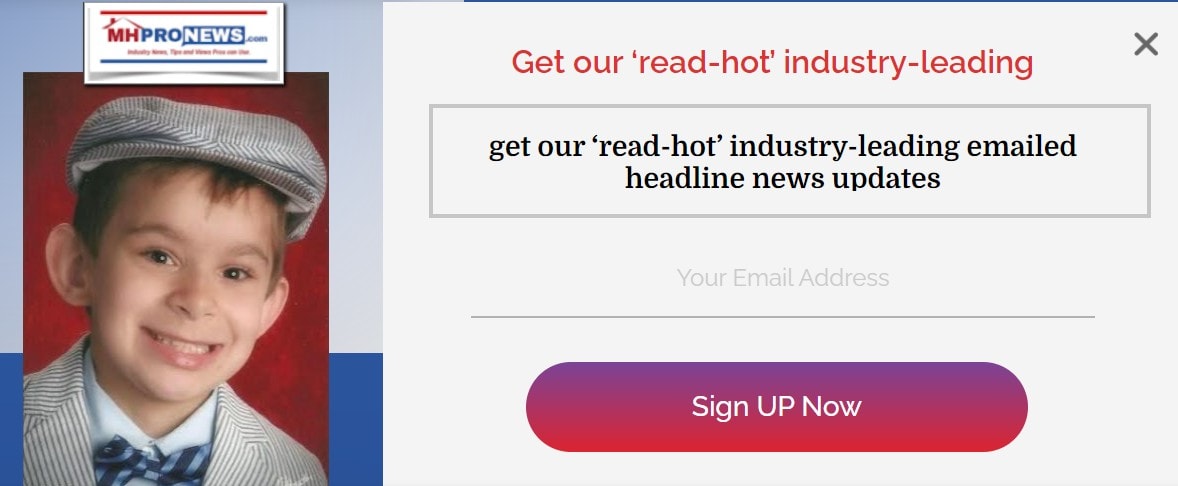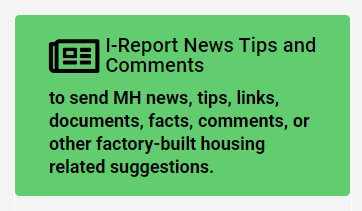 Again, our thanks to free email subscribers and all readers like you, our tipsters/sources, sponsors and God for making and keeping us the runaway number one source for authentic "News through the lens of manufactured homes and factory-built housing" © where "We Provide, You Decide." © ## (Affordable housing, manufactured homes, reports, fact-checks, analysis, and commentary. Third-party images or content are provided under fair use guidelines for media.) (See Related Reports, further below. Text/image boxes often are hot-linked to other reports that can be access by clicking on them.)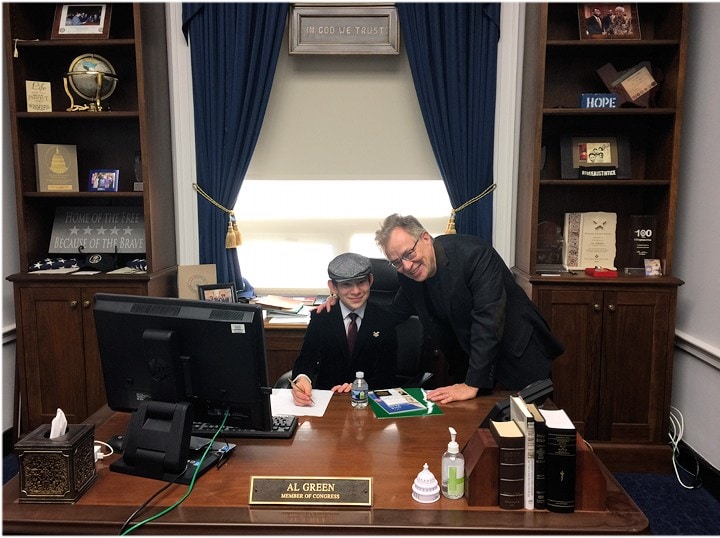 By L.A. "Tony" Kovach – for MHProNews.com.
Tony earned a journalism scholarship and earned numerous awards in history and in manufactured housing.
For example, he earned the prestigious Lottinville Award in history from the University of Oklahoma, where he studied history and business management. He's a managing member and co-founder of LifeStyle Factory Homes, LLC, the parent company to MHProNews, and MHLivingNews.com.
This article reflects the LLC's and/or the writer's position, and may or may not reflect the views of sponsors or supporters.
Connect on LinkedIn: http://www.linkedin.com/in/latonykovach
Related References:
The text/image boxes below are linked to other reports, which can be accessed by clicking on them.'
Sec Carson vs. Fudge; Dec 22 Jan 23 Data – Single-Family, Multifamily Facts as Mortgage Rates Slide – 2023 Louisville Manufactured Housing Show-Facts & Analysis; plus MHVille Markets Updates
'Everyone Needs Deadlines' 'First Things First' and '7 Habits of Highly Successful People' – Pre-Christmas Preview of Manufactured Housing Year in Review; plus Sunday Weekly MHVille Headlines Recap
'Affordable Homes for Low Income Must Produce in Factory,' 'Years to Unravel Sabotage,' Grad Students Interest in Manufactured Housing, Factory-Home Solutions; plus Sunday Weekly Headlines Recap
Has the Manufactured Housing Industry Become a Target-Rich Environment for Plaintiffs' Attorneys? Facts, News & Views; plus, Sunday Weekly Manufactured Home Industry (MHVille) Headlines Recap
'In the Business World, the Rear-View Mirror is Always Clearer than the Windshield'–Warren Buffett MHVille Leader Showcases Efforts to Renew American Dream; plus Sunday Weekly Headlines Recap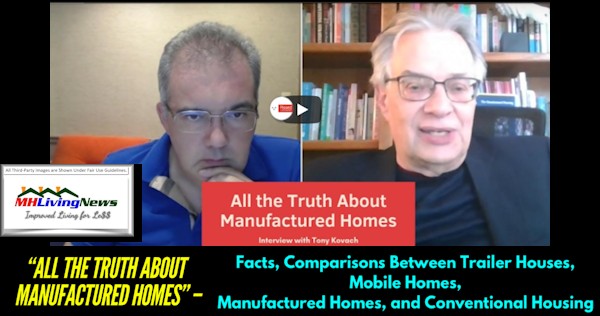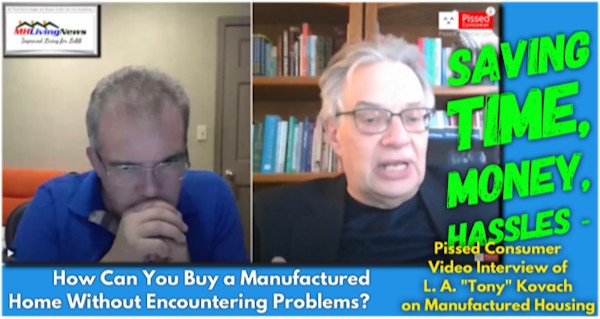 Flagship Communities – Hypocrisy, MHIndustry Corruption? 'Fragmented Industry with High Barriers to Entry and Imbalanced Supply and Demand Dynamics;' Plus Sunday MHVille Weekly Headlines Review