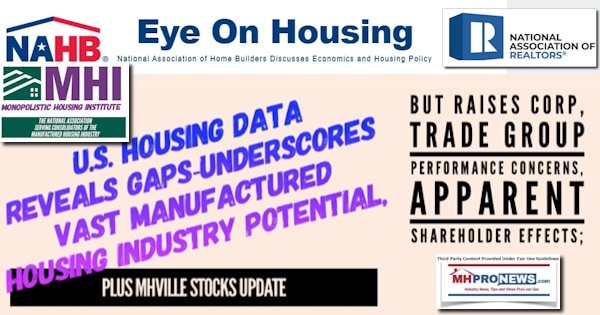 "Private residential construction spending declined 0.5% in November, as spending on single-family construction plunged 2.9%. Private residential construction spending fell for the six consecutive month, standing at an annual pace of $868 billion. However, this total remains 5.3% higher compared to a year ago." So stated the National Association of Home Builders (NAHB) on 1.3.2023 in the report that follows. While that 'annual pace' of $868 billion still lacks a month of data and other possible revisions that would refine the 2022 insights on manufactured housing that will follow, it is already sufficient to make several observations about the manufactured home industry's potential. Those insights will follow in Part II of this article in the Additional Information with More MHProNews Analysis and Commentary segment. Part III of today's column will feature the market-moving left-right (CNN-Newsmax) headlines recap plus macro and manufactured housing industry specific market insights for 1.11.2023.
That 2.9% 'plunge' in single family construction reported by the NAHB was dwarfed by what the Manufactured Housing Association for Regulatory Reform (MHARR) analysis of the new manufactured home production data, which revealed "a 12% decline from the 9,069 new HUD Code homes produced in November 2021." As a quick review, MHARR reported that there were 8,694 manufactured homes produced in October 2022 and some 7,970 homes in November 2022, citing official U.S. Department of Housing and Urban Development (HUD) data on HUD Code manufactured housing. Thus, the month-over-month drop of 724 units of manufactured homes drop is over 16 percent of the November 2022 production. No matter how that data is sliced, month-over-month (MoM) or year-over-year (YoY), the decline in more affordable manufactured housing is apparently sharper than that of far costlier conventional housing.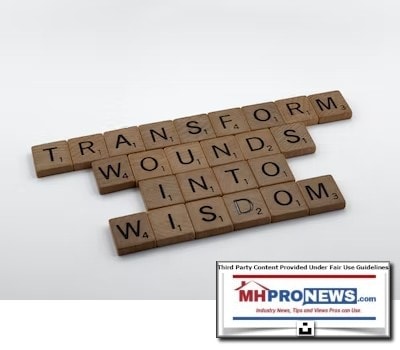 Put differently, there are indications that manufactured home production – which is documented to be far more affordable than conventional 'site built' housing – is shedding new production at a faster rate than its higher cost rivals. At a minimum, that information should causes manufactured home producers, investors, street retailers, developers, and selling manufactured home communities (MHCs) to lean in and ask, what is going on?
To set the stage, more insights from the NAHB are warranted.
Private residential construction spending declined 0.5% in November, as spending on single-family homes plunged 2.9%. Residential construction spending fell for the 6th consecutive month to an annual pace of $868 billion, still 5.3% higher than a year ago. https://t.co/A21hChACwq

— NAHB (@NAHBhome) January 4, 2023
Home builders added 9,500 jobs in December. Residential construction employment now exceeds February 2020 numbers with 3.2 million total jobs in December, 909,000 home builders and 2.3 million residential specialty trade contractors. https://t.co/7d97tPQQvR #CareersinConstruction

— NAHB (@NAHBhome) January 9, 2023
Then the data from the past two months of officially revealed HUD Code manufactured housing information and analysis should be reviewed. See that data and analysis in the two linked reports below.
HUD Code Manufactured Home Building Down Nov 2022–Higher for Year per Manufactured Housing Association for Regulatory Reform Data, Facts-Insights Others Lack; plus MHVille Stocks-REITs Update
50 States Manufactured Home Production, Shipments-Dec 2022 Report for Oct 2022, plus Fresh Census Info Yield Broad Manufactured Housing vs. Site Built Insights; plus MHVille REITs, Stocks Update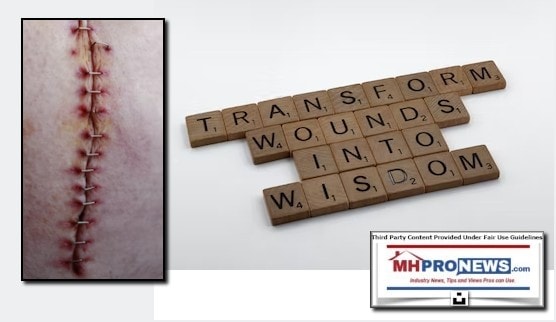 Next up is the National Association of Home Builders (NAHB) "Eye on Housing" report of 1.3.2023 which reflects November 2022 data. That will be followed by additional information with more MHProNews Analysis and Commentary in Part II of today's report.

Part I.
BY NA ZHAO on JANUARY 3, 2023
Private residential construction spending declined 0.5% in November, as spending on single-family construction plunged 2.9%. Private residential construction spending fell for the six consecutive month, standing at an annual pace of $868 billion. However, this total remains 5.3% higher compared to a year ago.
The monthly decline is largely attributed to lower spending on single-family construction, which has also declined for six straight months. Compared to a year ago, it is 10.2% lower. A surge for interest rates cooled the housing market in 2022. The average 30-year Freddie Mac fixed mortgage rate reached 7% in October for the first time in 20 years.
Multifamily construction spending increased by 2.4% in November, after an increase of 2.4% in October. This was 10.7% over the November 2021 estimates, largely due to the strong demand for rental apartments. Private residential improvements rose by 1.3% in November and was 27.6% higher over a year ago. The remodeling market continues to overperform the rest of the residential construction sector.
Keep in mind that construction spending reports the value of property put-in-place, so it is a measure of property value placed in service at the end of the construction pipeline.
The NAHB construction spending index, which is shown in the graph below (the base is January 2000), illustrates how construction spending on single-family has slowed since early 2022 under the pressure of supply-chain issues and elevated interest rates. Multifamily construction spending has had a solid growth in recent months, while improvement spending has increased its pace since early 2019. Before the COVID-19 crisis hit the U.S. economy, single-family and multifamily construction spending experienced solid growth from the second half of 2019 to February 2020, followed by a quick post-covid rebound since July 2020.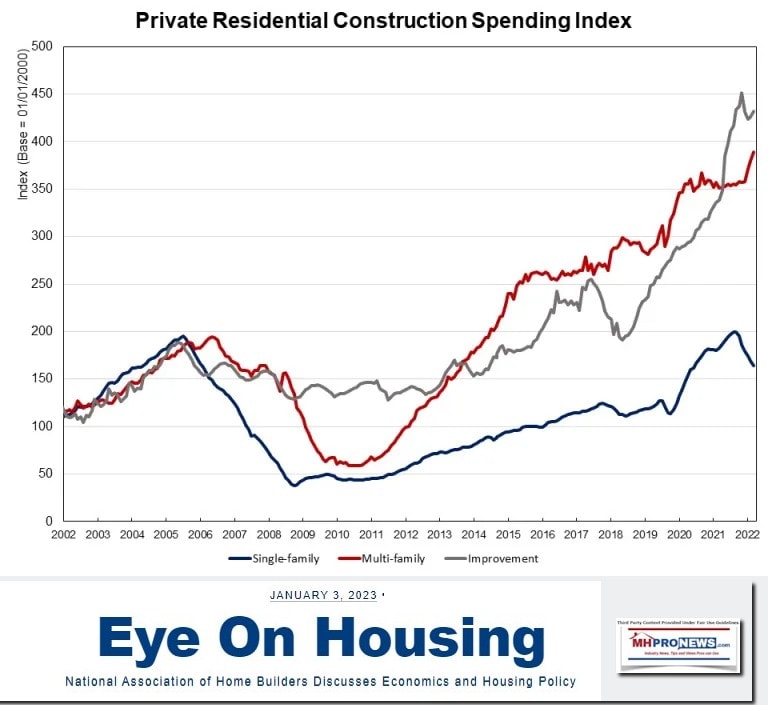 Spending on private nonresidential construction increased by 1.7% in November to a seasonally adjusted annual rate of $558.3 billion. The monthly private nonresidential spending increase was mainly due to more spending on the class of manufacturing category ($7.6 billion), followed by the power category ($1.2 billion), and the transportation category ($0.5 billion).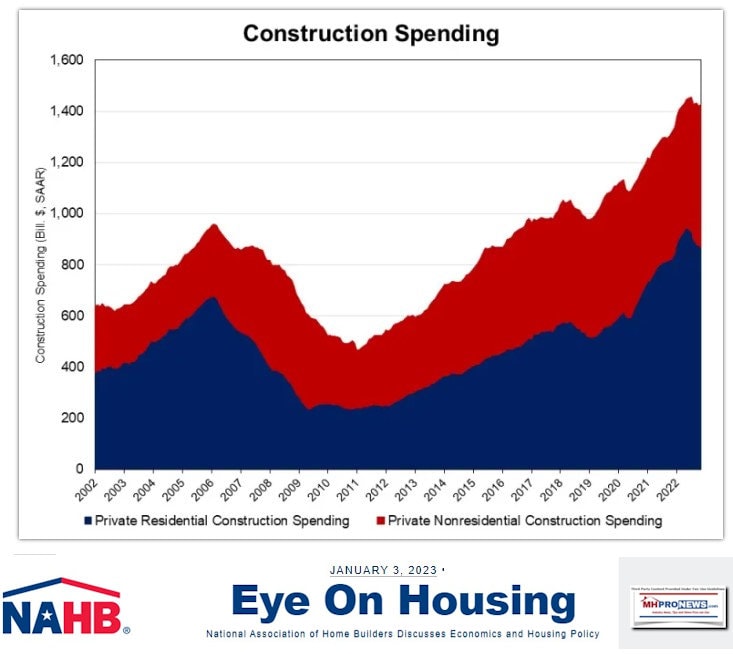 Part II. Additional Information with More MHProNews Analysis and Commentary
Part I, and the additional information and evidence that follows, reveal that there are veritable mountains of money being spent on housing in the U.S. annually. But to further refine the data, consider the following manufactured home specific facts.
According to the U.S. Census Bureau's Manufactured Housing Survey data, in August 2022 – the most recent month for retail price data at this time – are the following national average figures.
United States
Total1
Single
Double
2022
 
 
 
August
$125,700
$86,500
$158,800
Those figures are down in price from some prior months, likely due in part to the fall in lumber costs. Here are the total average figures for the year, per the Census Bureau.
United States
Total1
Single
Double
2022
 
 
 
August
$125,700
$86,500
$158,800
July
131,800
85,200
161,600
June
126,900
87,600
159,600
May
124,900
85,800
159,200
April
132,000
83,100
168,000
March
129,200
87,300
156,600
February
128,000
87,700
156,300
January
122,500
84,600
152,800
Using the August 2022 average retail cost of a manufactured home of $125,700 and multiplying it by the MHARR reported: "Cumulative production for 2022 now totals 106,476 homes" yields a total retail value of $13.38 billion dollars, using Google's calculator function (e.g.: 106,476 x $125,700 = 13.3840332 billion US$).
So, out of $868 billion in residential spending year to date in 2022 reported by NAHB, by comparison, manufactured housing only produced some $13.38 billion through that same period. That $13.38 billion at retail for manufactured housing is equivalent to only 1.5 percent of NAHB Eye on Housing reported residential spending through November of 2022. Given that manufactured housing is more affordable than conventional housing and given that the larger corporate dominated Manufactured Housing Institute (MHI) claims to represent "all segments" of the industry, these and more that follow are a poor reflection on MHI and its dominating brands in terms of performance.
But these facts are also a reflection on others, not just MHI and their dominating corporate masters.
Consider the following.
1) Where else in manufactured housing trade media (bloggers or publishers) is there a similar factual analysis as this one? It is simply a fact that only MHProNews and MHLivingNews among trade media serving HUD Code manufactured housing aims to hold the powers that be to account. Who besides this trade publication says so? Ironically, each of the following three competitors found in the illustration linked here and posted further below.  The known evidence reveals that MHProNews appears to have more traffic and engagement (pages per visit) than each of those three competitors and MHI's website combined. The takeaway? Professionals appear to value facts, evidence, and common sense – even if they don't necessarily like what they read.
2) What is HUD's self-proclaimed mission? Per the HUD website: "HUD's mission is to create strong, sustainable, inclusive communities and quality affordable homes for all. HUD's vision is to improve lives and strengthen communities to deliver on America's dreams." (Bold emphasis is in the original.) Yet, HUD itself has admitted to an increase in the number of homeless in the U.S. during the Biden regime era. Other HUD data is equally troubling, despite the fact that there has been record levels of inflation causing federal spending.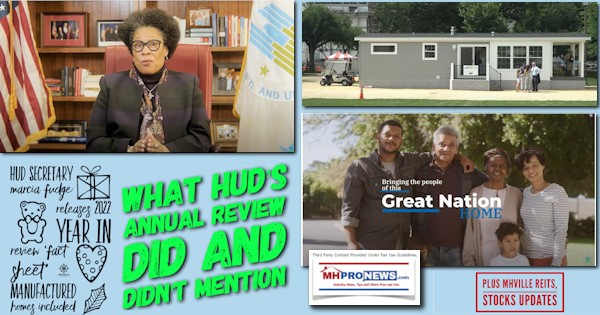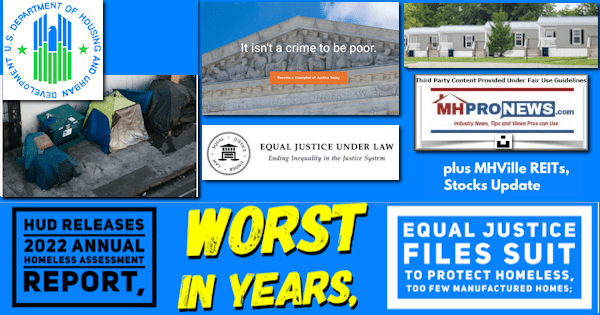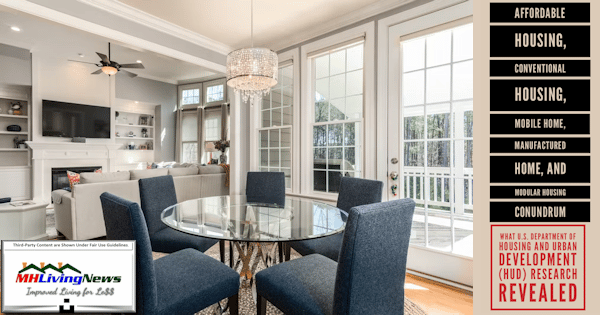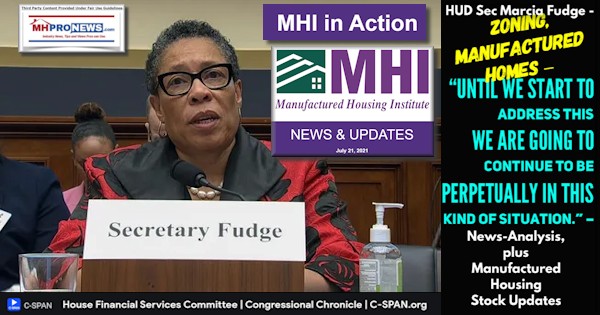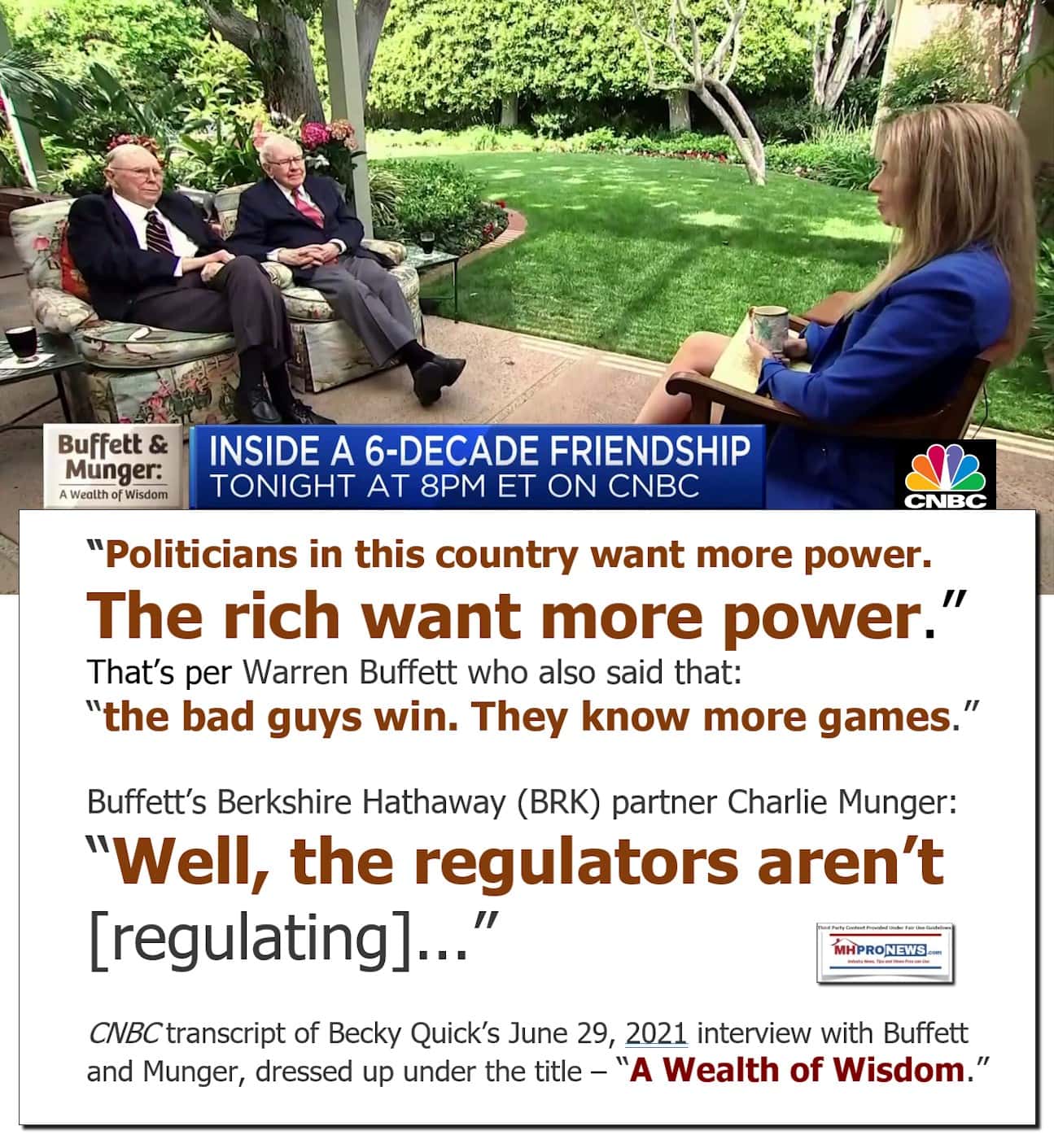 3) Financing providers, which often have federal support (FHA, VA, or USDA), involve federal regulations, and in the case of the Government Sponsored Enterprises (GSEs – e.g.: Fannie Mae, Freddie Mac) federal conservatorship by the Federal Housing Finance Agency (FHFA). Recall the Pew Trust's research report linked below. While MHI feigned a protest of that report, where is their public pushback? Exactly. Nowhere on the MHI website, per these two Google search results.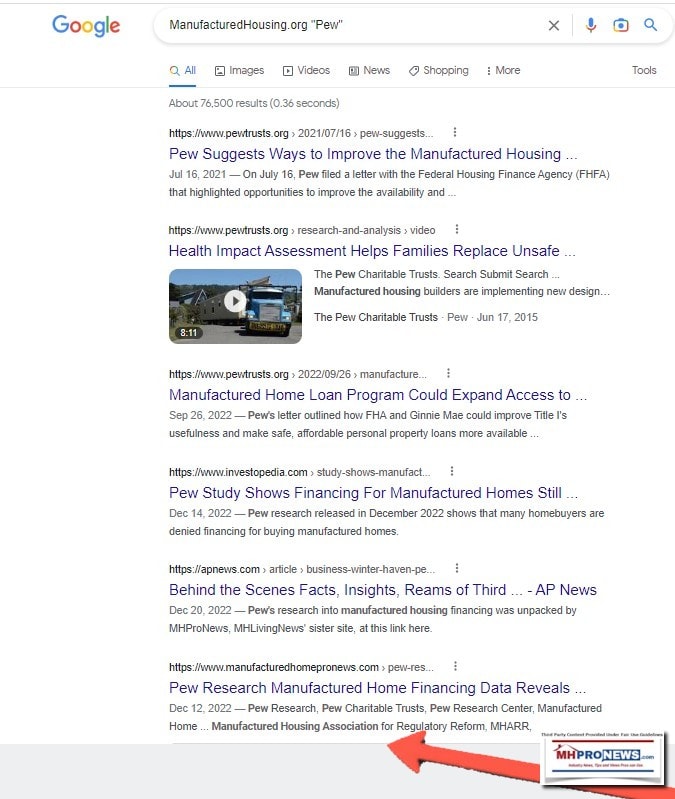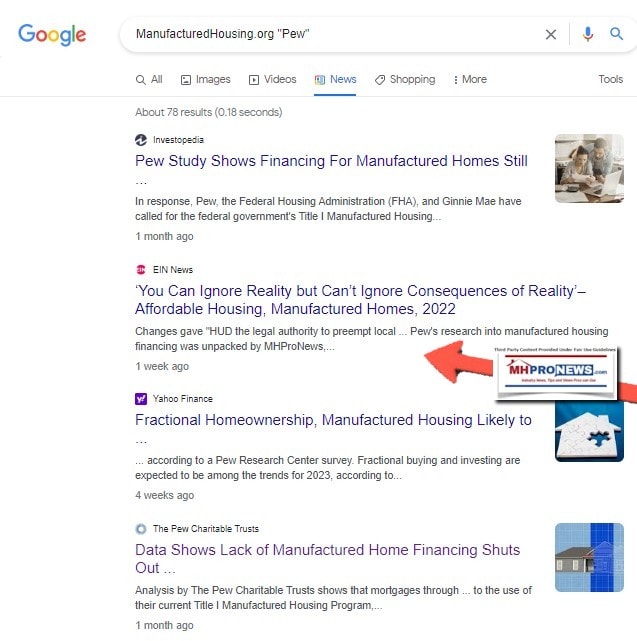 Pew Research Manufactured Home Financing Data Reveals Harm from Enough Federal Lending Shuts Out Many Prospective Buyers-Concerns on Berkshire Owned MHLenders, Manufactured Housing Institute
So, despite MHI's posturing to their own members on the Pew research findings, apparently, MHI has visibly done nothing the public can see. By contrast, MHProNews – with a tiny fraction of the staff and budget – is visible in both of those search results.
From MHI's email (which are routinely not posted on their website, so thus not 'visible' to over 99.9 percent of the population) is the following.
Pew Research Conclusions Create Distorted View of Manufactured Home Financing Landscape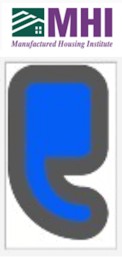 A recent article from Pew concluded that many potential buyers of manufactured homes are unable to secure financing and suggests that expansion of Federal loan programs, particularly FHA Title I, could expand access to affordable housing. Pew found that lenders denied 54% of completed applications for financing manufactured home purchases in 2021, compared to a 7% denial rate for site-built homes. They also noted that due to this purported lack of access to financing, manufactured homes were more likely than site-built homes to be purchased in cash. The bulk of these denials came from conventional mortgages (52%) and personal property loans (64%); however, loans with federal backing such as FHA (14%) and VA (13%) manufactured home mortgage applications had significantly lower denial rates. Pew also suggested that loan applications are not denied because of home types or quality, but rather "higher credit standards for manufactured home borrowers."
Regrettably, as our exclusive fact-based and expert analysis and commentary reflected, what was 'distorted' was not so much Pew, but rather, MHI's response. For example. MHI in the above failed to mention that FHA Title I loan originations have dropped into the single digits for the year, nationally. If not for routine pressure from their smaller rival – but fact-packed and common-sense reasoning-backed MHARR, would MHI be admitting even that factoid (which they have admitted elsewhere in writing, but not in the above, where they are posturing and preening for their audience).
MHI's over-emphasis on their evidently failing CrossMods® scheme has apparently been a coy part of the 'sabotaging monopoly' tactics deployed by the Clayton Homes (BRK), Skyline Champion (SKY), and Cavco Industries (CVCO) backed MHI trade group, to borrow the language from James A. "Jim" Schmitz Jr and his Minneapolis Federal Reserve research colleagues. See the linked reports below, which includes an MHI admission in writing that 'developers are moving away from CrossMods.'
'Developers Moving Away from CrossMods®' Manufactured Housing Institute Oddly Admits Plan Undercuts 99 Percent of Manufactured Homes – MHI Doc, Facts, Analysis; plus MHVille REITs, Stock Updates
After Admitted Failure, Manufactured Housing Institute Doubles Down on CrossMods® in AP Terminology Doc Acquired by MHProNews–Are MHI Leaders Sabotaging MHVille Independents? Plus MHStocks Update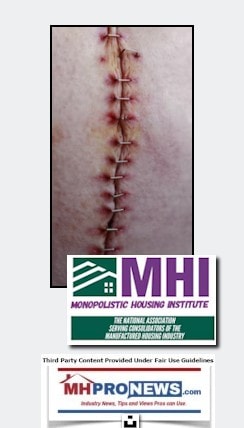 Nor will MHI respond publicly to those concerns and evidence-based allegations. See the report linked above for a documented example of that claim.
Any second-year college student doing well academically in business or marketing classes should know that you don't promote a novel product that is failing in the marketplace as a way of elevating your entire industry. Yet, that is the apparent logic that MHI is exhibiting when they seemingly mindlessly in a robotic fashion chant – CrossMods, CrossMods, CrossMods – in any document or report to federal agencies or the media that they think they can get away with it.
Don't let the pesky fact that they've admitted that developers are shunning them both you. Thanks, MHI.
Also, don't let the fact that MHI's early suggestions that street retailers might be successful with these be an issue for you either, years later, MHI changed their mind, and decided that dedicated, specialized or focused development-based sales programs would be better.
Thanks again, MHI.
Next, it should be obvious from the report linked below that MHI, Clayton, and the other two from the "Big Three" HUD Code builders could have launched an educational campaign over a decade ago. Who said so? Kevin Clayton. Who said it was okay with him to get the money for whatever he needs? Per Kevin Clayton, Warren Buffett.
Warren Buffett's Pledge to Kevin Clayton – 'You Can Access Plenty of Capital' for Projects – Quotes, Facts, Video, Transcript, and Implications for Manufactured Housing Industry
The more propaganda, or what the Capital Research Center (CRC) calls Deception and Misdirection, that is apparently deployed by MHI as one of the tools in their monopolists' playbook, the more MHI has factually and logically been painted into a proverbial corner. The only thing that they have is to hide, attempt to ignore, and try to use third-party surrogates to smear the only trade news source that will dare to hold them to account.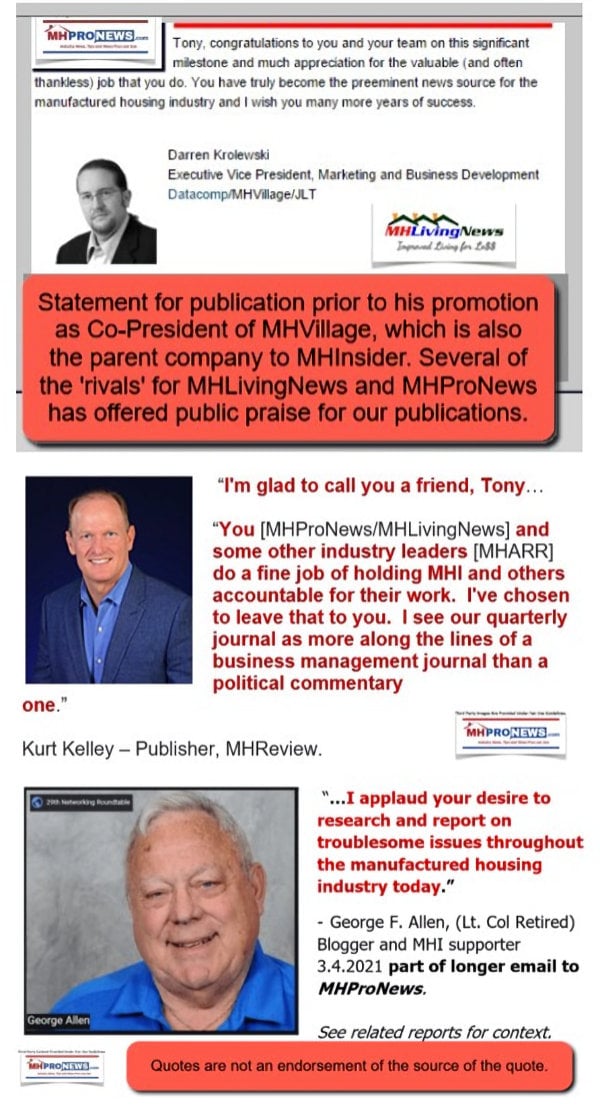 When millions of homes are needed, manufactured housing has the potential to close that gap. So says the Urban Institute, Pew, Bloomberg's editors, the Washington Post, and an array of others in media, academic, housing advocacy, governmental agencies, and non-governmental organizations (NGOs) or trade groups. Ironically, so too does MHI Vice Chair (chair of vice?) William "Bill" Boor, who is also the corporate leader for MHI member Cavco Industries. But the housing gap remains. Hundreds of billions of dollars a year are spent in the U.S. on housing, per the NAHB report cited above.  It is difficult for MHI, or their corporate leaders, to explain their performance. Is it any wonder they don't want an MHProNews' microphone asking a corporate or MHI leader questions on the Louisville Manufactured Home Show floor? The fact that certain pesky rights are swept aside seems to be the lesser of two troubling choices that MHI and their masters face.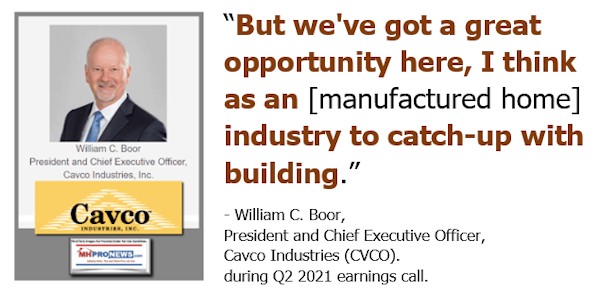 But when existing housing is taken into account, the potential for manufactured housing skyrockets even higher. According to the National Association of Realtor (NAR) is the following.
"First-time buyers were responsible for 28% of sales in November, which was unchanged from October, but up from 26% in November 2021. NAR's 2022 Profile of Home Buyers and Sellers – released last month4 – found that the annual share of first-time buyers was 26%, the lowest since NAR began tracking the data."
First time homebuyers and those nearing retirement age, or who have already retired, have long been routine sources for much of the manufactured housing market.
Also, according to the NAR:
All-cash sales accounted for 26% of transactions in November – identical to October and up from 24% in November 2021.
Individual investors or second-home buyers, who make up many cash sales, purchased 14% of homes in November, down from 16% in October and 15% in November 2021.
Distressed sales5– foreclosures and short sales – represented 2% of sales in November, virtually unchanged from last month and one year ago.
According to Freddie Mac, the 30-year fixed-rate mortgage(link is external)averaged 6.31% as of December 15. That's down from 6.33% last week, but up from 3.12% one year ago.
"The median existing-home price3for all housing types in November was $370,700…"
Per one of the NAR downloads for November 2022 initial data on all existing home resales is the following non-seasonally adjusted sales data.
| | |
| --- | --- |
| Jan-22 | 352,000 |
| 22-Feb | 352,000 |
| 22-Mar | 456,000 |
| 22-Apr | 463,000 |
| 22-May | 499,000 |
| 22-Jun | 525,000 |
| 22-Jul | 454,000 |
| 22-Aug | 474,000 |
| 22-Sep | 428,000 |
| 22-Oct | 371,000 |
| 22-Nov | 326,000 |
| | |
| | 4,700,000 |
Among the takeaways from the above? Any month in residential real estate is equal to 3 to 5 times the level of the total national production for manufactured housing in all of 2021.  Now that fact puts the potential into context!
To properly calculate the estimated total value of those homes, one would need to take the monthly average sales price, multiply that by the sales for that month, and keep a running tab month by month and arrive at the total value. For simplicities sake, using the most recent media resale value NAR reported of $370,700 times 4.7 million housing units, equals $1.74229 trillion per Google's calculator. The actual total is likely higher than $1.74 trillion. Manufactured housing's comparable estimated total retail sales of new homes produced through November of 2022 yielded $13.38 billion. Manufactured housing new home sales value are like a rounding error when it comes to a comparison with existing home sales. That's not meant as an insult, it is simply a fact.
But more to the point, perhaps, it reflects the enormous potential that manufactured housing has. In theory, manufactured housing could be producing far more than the 500,000 units that former MHI President and CEO Richard "Dick" Jennison admitted to some 7 years ago. A million new HUD Code manufactured housing units a year would still take years to close the needed housing gap. So long as the Biden regime's border policies with Mexico are in place, a million new manufactured housing units a year will never close the gap for new housing needed.
These facts stand as an indictment of the performance of MHI and its corporate masters.
As a MHEC executive told MHProNews, what is occurring in manufactured housing (at MHI) is tantamount to "association malpractice."
But perhaps as bad, or worse, is the point that the tepid results for manufactured housing manages when compared to the giant opportunities in mainstream housing are also an indictment of MHI's big three builders. Is it any wonder that law firms that represent shareholders in legal actions have been sniffing around in their research of manufactured housing?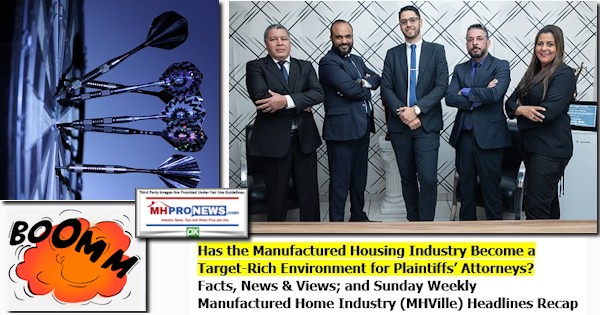 Is it any surprise that they are doing so on the websites of MHProNews and MHLivingNews?
MHARR has been mum if they have been contacted by attorneys and their legal bird-dogs who may be poised to launch probes and suits involving publicly traded manufactured housing firms. Based on years of recent experiences, MHI wouldn't admit it if they had. After all, Samuel "Sam" Strommen with Knudson Law has said that MHI is an apparent party to their schemes, which he called "felony" violations of antitrust laws.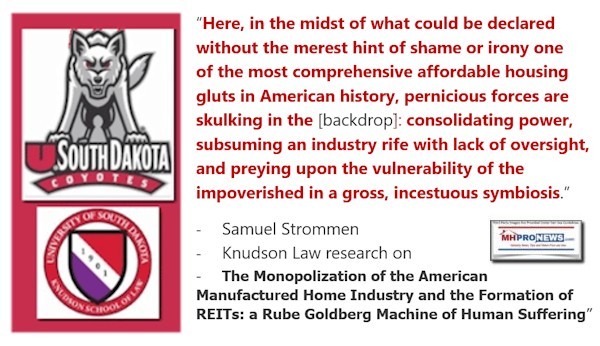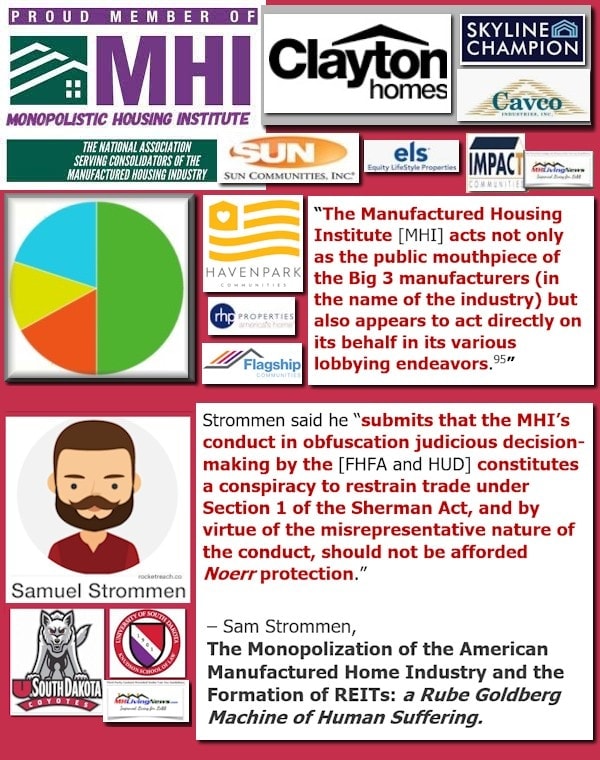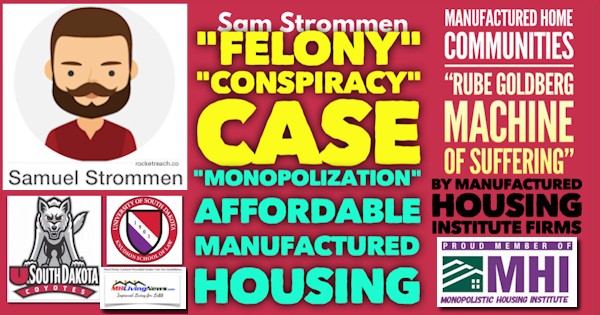 These are the facts that no other trade news source or bloggers in MHVille, apparently too loyal and too beholding to MHI connected brands, are willing to probe and expose.
Last but not least, one must recall that one of the most accessed stories revealed in our MHProNews 2022 'reader's choice' for most accessed reports from our year in review was one that related to Rollohome. A well placed source has told MHProNews that if the industry hits some 200,000 new homes produced a year, 5 or 6 of the former producers of HUD Code manufactured homes would jump back into the business.
But as interesting as those facts are, one must ponder the lessons of innovators such as Elon Musk. Unlike some who either fawn over or hate Musk, due in part to what he has done with Twitter and the Twitter Files, MHProNews has taken a wait and see posture. That said, the obviously connected Musk is working on a possible billion-dollar investment in opening new production for his flat-packed modular tiny housing.  MHProNews plans a report on that theme in the days ahead. Stay tuned.
The point of mentioning Musk is this. With millions already invested in factory-built 'affordable' housing, it is one more indicator of what manufactured housing's potential is.
Meaning, it is one more data-point that is an effective indictment of MHI, their corporate masters, HUD, FHFA, and others involved in the mix as noted herein.
Is it any wonder the MHI connected state affiliates are once more attempting to thwart MHProNews' presence at the Louisville Manufactured Housing Show? They must be an example of the proverbial 'scared witless.' That noted, industry sources that attend the event can always provide tips, comments, and insights via the email linked here. Tips can be sent confidentially. A significant number of MHProNews and MHLivingNews reports are generated through on or off the record tips, comments, and third-party insights.
Before pivoting to Part III of today's report, two linked items are worthy of attention.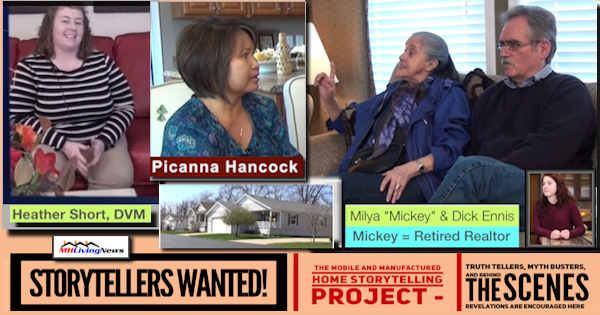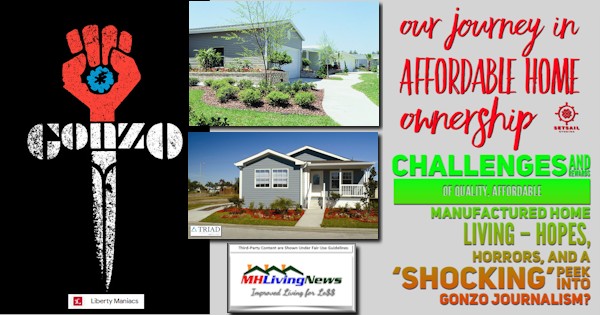 In summary:
A) U.S. Housing is well in excess of a $2 trillion-dollar American industry through November of 2022, per the sources cited herein.
B) Manufactured housing is a comparatively paltry estimated sum of some $13.4 billion dollars.
C) But the inverse of those factoids means that manufactured housing has enormous potential.
D) MHI, is senior staff and corporate board members should be ashamed of themselves.
E) Perhaps more importantly, they should be probed by state and/or federal officials.
F) The MHI circle fest's corporate players should be formerly probed by plaintiffs' attorneys who are looking to protect the interests of investors who are getting the raw end of the deal because consolidation is the focus of too many instead of organic expansion that creates new production and the opportunities for more robust profits.
Manufactured housing has arguably been betrayed from within. That's not to ignore those on the outside that have also played a role in this tragic charade.  ##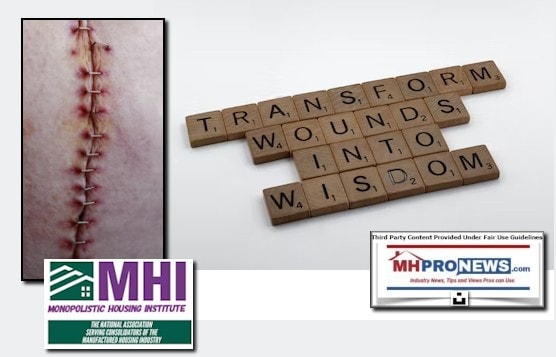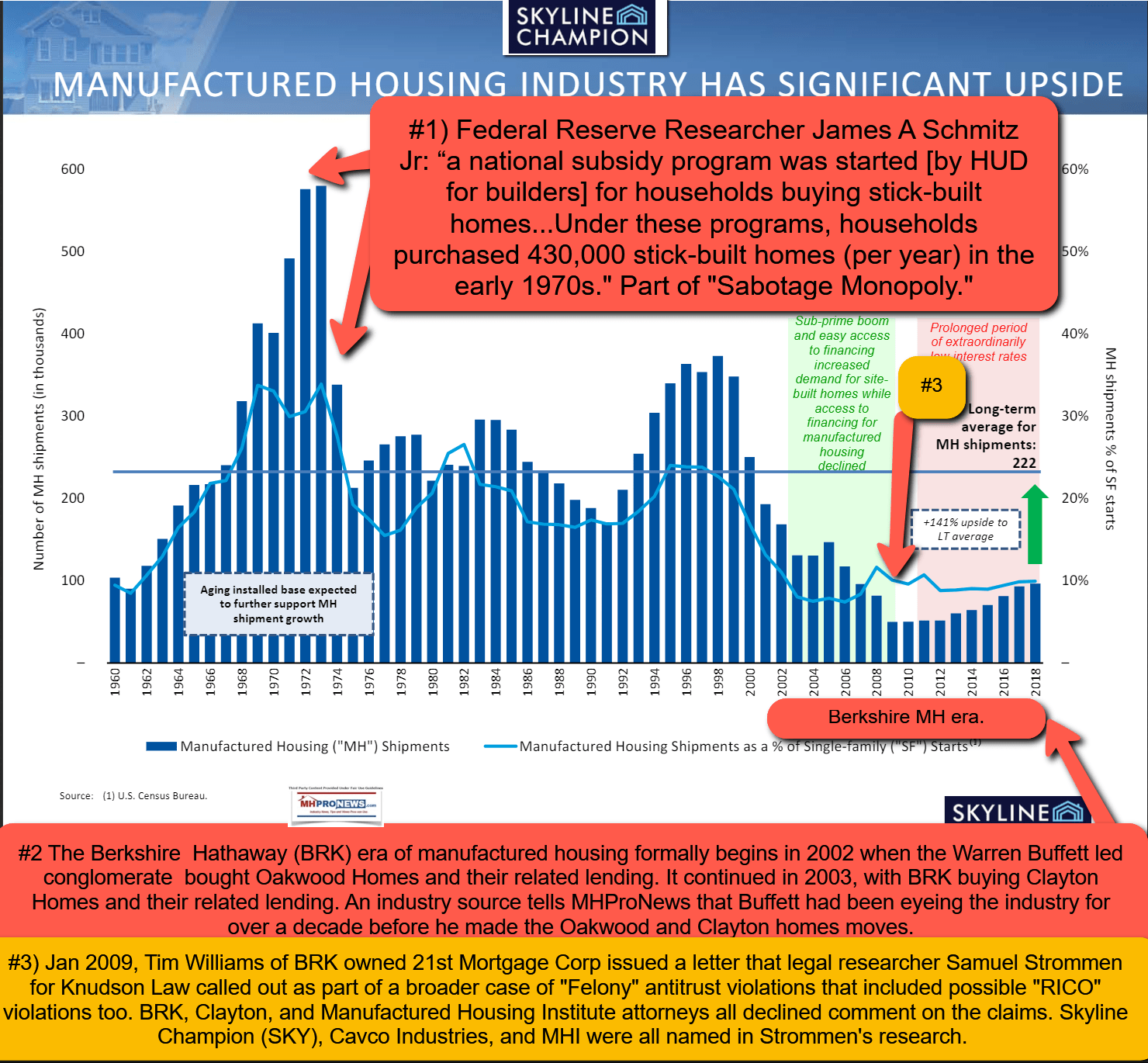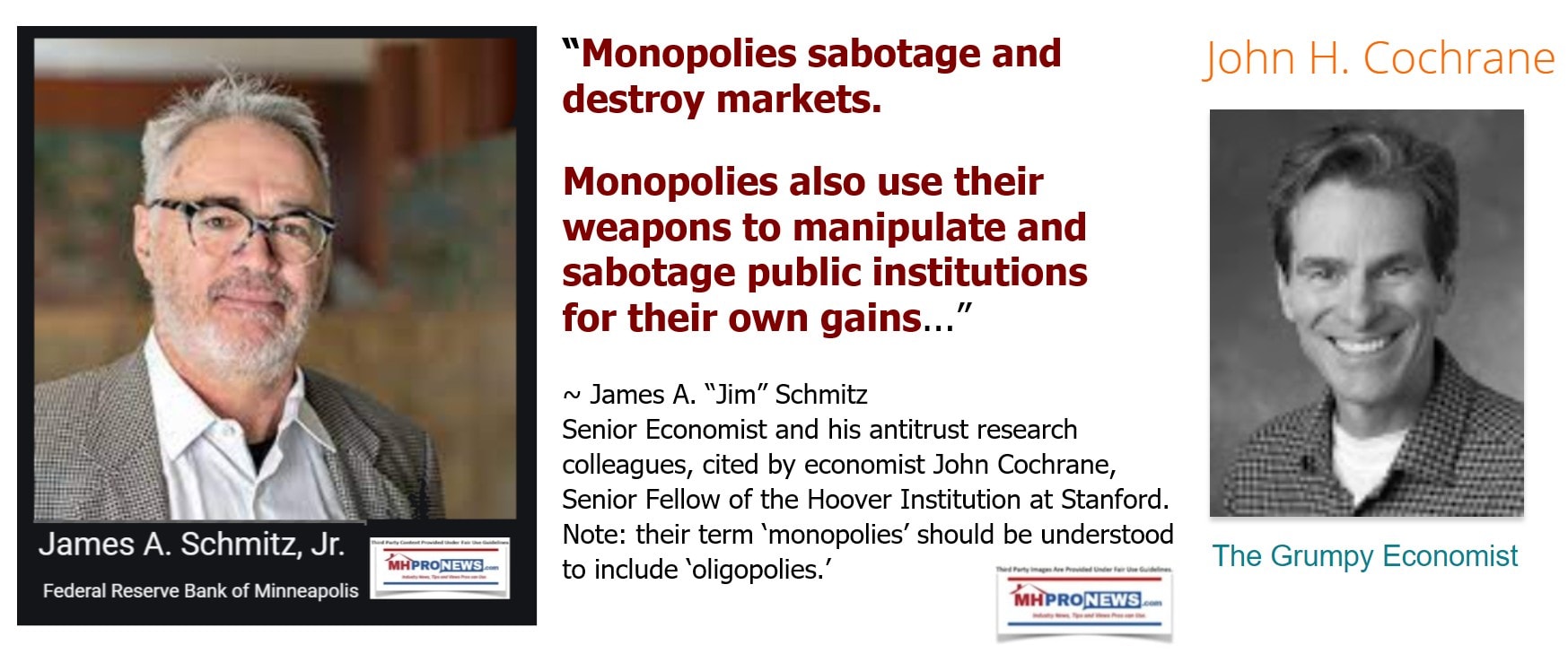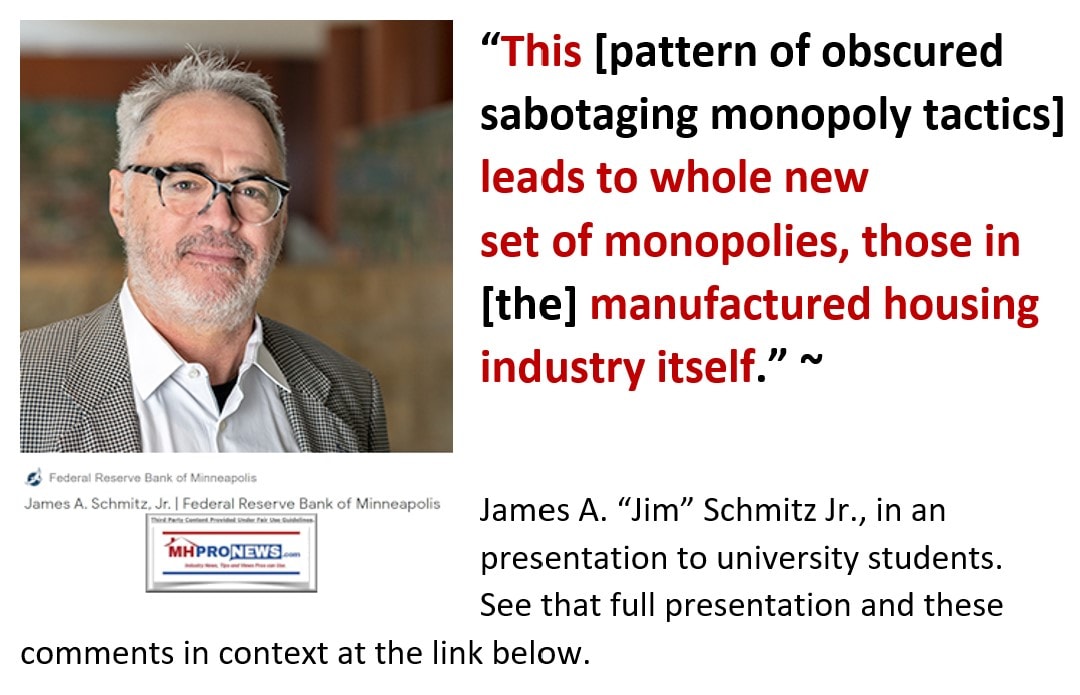 After Admitted Failure, Manufactured Housing Institute Doubles Down on CrossMods® in AP Terminology Doc Acquired by MHProNews–Are MHI Leaders Sabotaging MHVille Independents? Plus MHStocks Update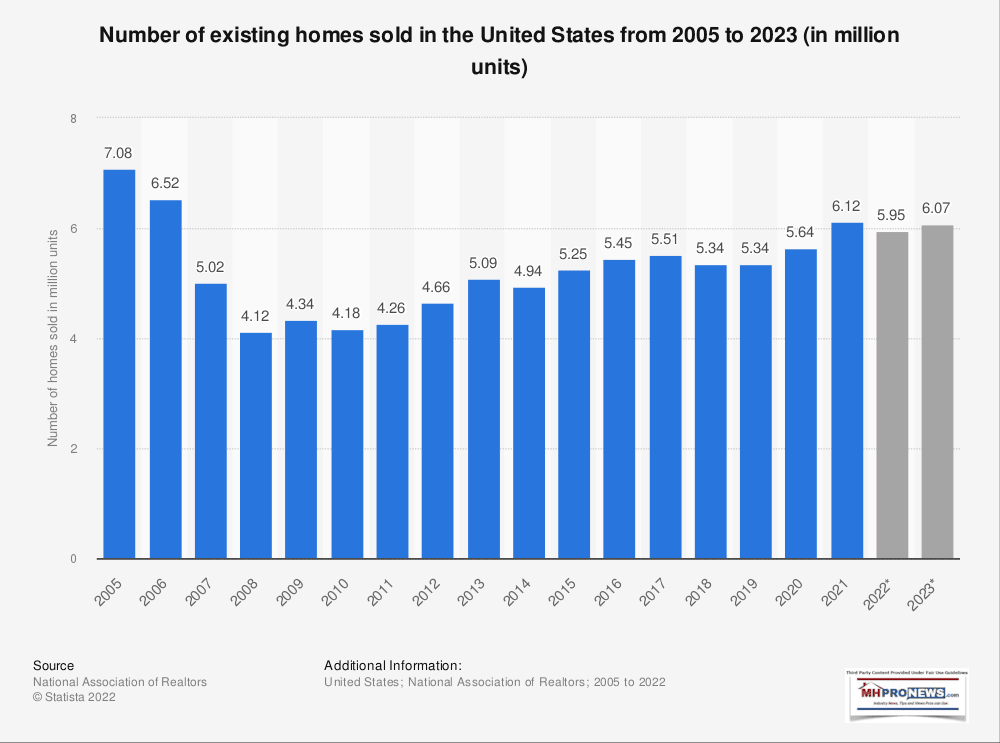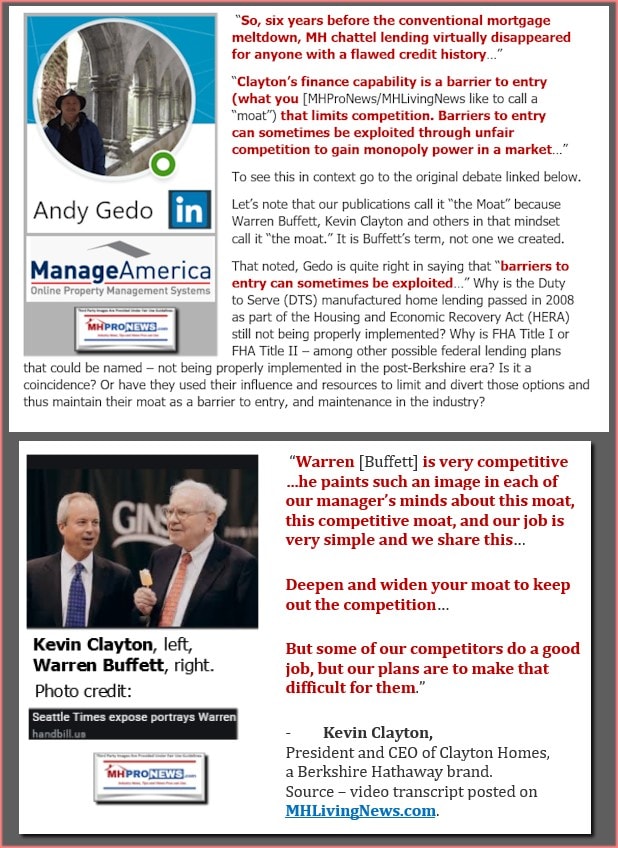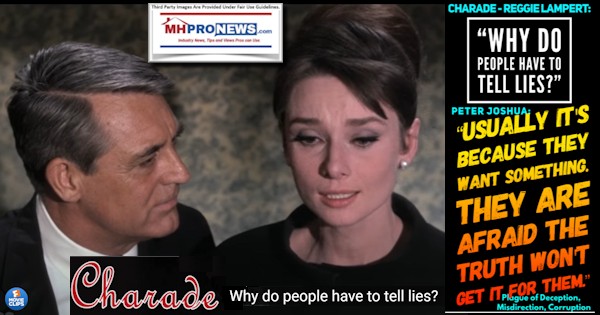 'U.S. Should Break Up Monopolies' Democrat Robert Reich Guardian Plan Would Hit Clayton Homes, Skyline Champion, and Cavco Industries with Costly Antitrust Lawsuit – Statements, Facts, Analysis
Precipice – Reveals, Exposes American 'Leech Class' – Corp CEO Aims to Protect American Dream from Leeches in Key Roles – Eye Opener for Biz, Policy Leaders, More; plus MHVille Stocks, REITs Updates
Update: the status quo in MHVille is COSTLY.  The solution is that the status quo must be challenged and changed.
Part III. Daily Business News on MHProNews Markets Segment
The modifications of our prior Daily Business News on MHProNews format of the recap of yesterday evening's market report are provided below. It still includes our signature left (CNN Business) and right (Newsmax) 'market moving' headlines. The macro market moves graphics will provide context and comparisons for those invested in or tracking manufactured housing connected equities.
In minutes a day readers can get a good sense of significant or major events while keeping up with the trends that are impacting manufactured housing connected investing.
Reminder: several of the graphics on MHProNews can be opened into a larger size. For instance: click the image and follow the prompts in your browser or device to OPEN In a New Window. Then, in several browsers/devices you can click the image and increase the size. Use the 'x out' (close window) escape or back key to return.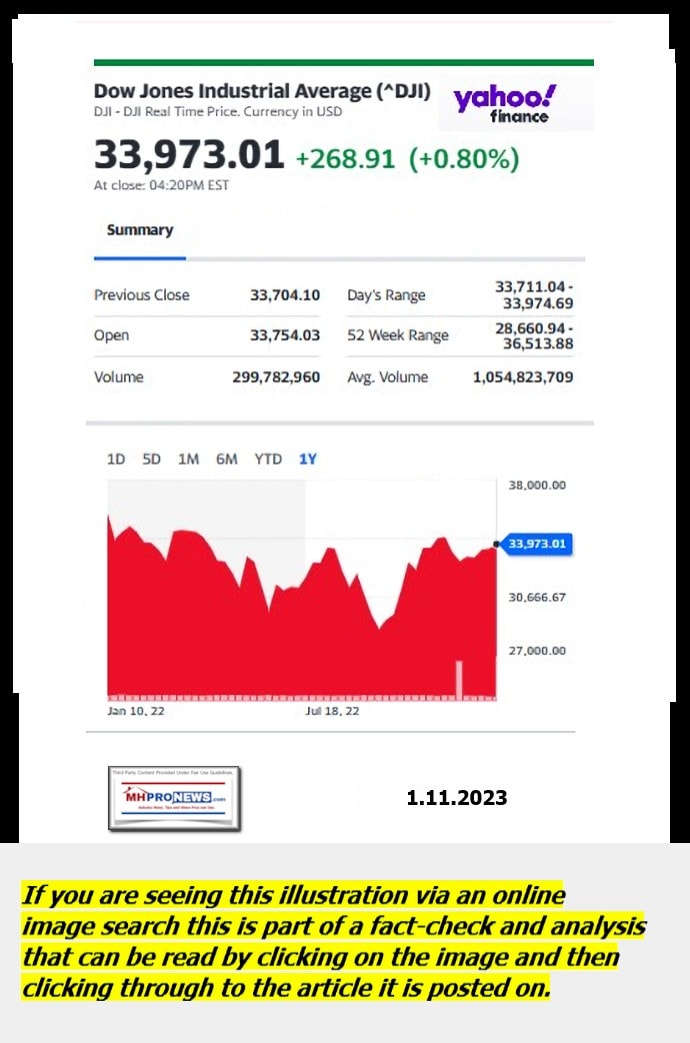 Headlines from left-of-center CNN Business – from the evening of 1.11.2023
Gold surges
Gold bar background
Investors are betting that the Fed will slow down rate hikes as inflation cools
In this photo illustration, the FTX app is seen on a phone on November 10, 2022 in Atlanta, Georgia.
FTX lawyers say they have recovered $5 billion in assets
People shop for bread at a supermarket in Monterey Park, California on October 19, 2022. – Food prices in September rose 13% over last year, according to data released by the US government, as inflation raises prices to its highest levels in decades. (Photo by Frederic J. BROWN / AFP) (Photo by FREDERIC J. BROWN/AFP via Getty Images)
Investors are underestimating inflation again
01 teenager social media mental health crisis STOCK
Why experts worry TikTok could add to mental health crisis among US teens
01 office space workers STOCK
What to expect at work this year
Union nurses from the New York State Nurses Association (NYSNA) chant slogans on the picket line outside Montefiore Hospital in the Bronx borough of New York City, New York, U.S., January 9, 2023.
Health care is in crisis. New York's nurses strike is just the latest sign
People walk past a Wells Fargo Bank on June 10, 2022 in New York City.
Wells Fargo is retreating from the mortgage market it once led
Federal Reserve Board Chairman Jerome Powell speaks during a news conference following a Federal Open Market Committee meeting, at the Federal Reserve Board Building in Washington, DC, on November 2, 2022.
Fed Chair Powell: Cooling down the economy will require 'measures that are not popular'
01 starry soda pepsi
Exclusive: Pepsi is ditching Sierra Mist for a new Sprite rival
Blue flames rise from the burner of a natural gas stove June 11, 2003 in Orange, California.
A US federal agency is considering a ban on gas stoves, report says
The first-ever all female limited-edition packs come as the next chapter in our newest character Purple's US-debut, and will feature our three female characters – Purple, Brown and Green — on the packs, with purple, brown and green lentils within
M&M's new packaging is causing a stir
01 gas stove STOCK
We're not taking away your gas stove, regulator tells CNN
Apple's first US labor union reaches new milestone for tech industry
LIVE UPDATES: Transportation secretary says it's the right time to review the FAA's technology
US flights were halted today because this system failed
Netflix stock soars on the dollar's slide
Biden urges Congress to pass bipartisan tech legislation in WSJ op-ed
Global experts worry simultaneous crises could become the new norm
Egg prices 'expected to soar' in Japan after record cull of 10 million birds
Netflix will stream a live awards show for the first time
Tom Brady and Gisele Bundchen's FTX stake will probably get wiped out
Stephanie McMahon resigns as WWE's chairwoman and co-CEO
NICU mom stays by her son's side after his nurses leave to strike
French workers can retire much younger than most. That's about to change
Bed Bath & Beyond is running out of time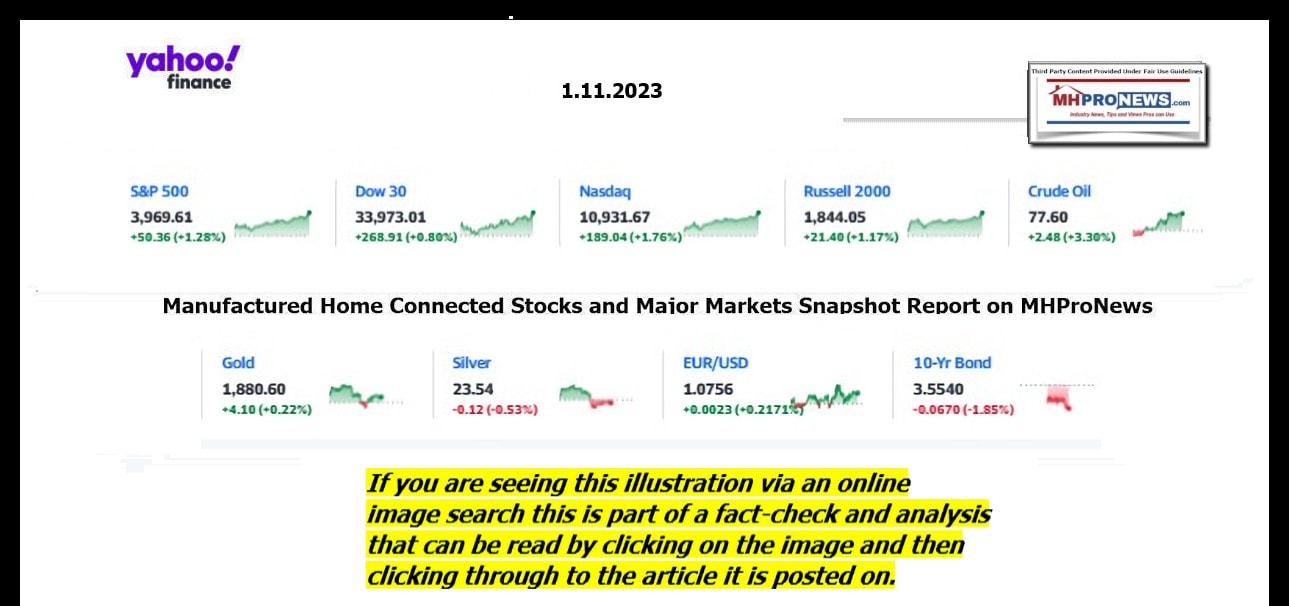 Headlines from right-of-center Newsmax 1.11.2023
Joe Biden Aides Find Second Batch of Classified Documents
Aides to President Joe Biden have discovered at least one additional batch of classified documents in a location separate from the Washington, D.C., office he used after serving as vice president, NBC News reported on Wednesday, citing an unnamed source. [Full Story]
Newsmax TV
Devin Nunes: Many Questions on Biden Docs Timing | video
Fred Fleitz: Biden's Document Stash Wasn't an 'Accident' | video
Jackson: Proposed Gas Stove Ban 'Fraud' | video
Fitzgerald: FAA Outage, Biden's Reaction Troubling | video
Blaine Holt: Special Prosecutor Needed in Penn Biden Center Money | video
Ric Grenell: House GOP Needs FBI Director Wray's Testimony Now | video
John Bolton: 'Close to Impossible' to Prosecute Trump | video
Chad Wolf: US Needs Trump's Border Leadership | video
Newsfront
Arkansas Gov. Sanders Orders Bans on CRT, TikTok, 'Latinx'
Republican Arkansas Gov. Sarah Huckabee Sanders has wasted little time in banning critical race theory from state schools, TikTok from state devices, and the word "Latinx" from official state documents…. [Full Story]
Joe Biden Aides Find Second Batch of Classified Docs
Aides to President Joe Biden have discovered at least one additional [Full Story]
Local GOP Leaders Call on Rep. Santos to Resign; He Refuses
Republican leaders in New York's Nassau County on Wednesday called [Full Story]
Could Twitter Files Result in Criminal Charges?
The Twitter Files revelations produced after new owner Elon Musk [Full Story] | Platinum Article
Brazil Authorities Brace for Possible Repeat of Uprising
Brazil's capital prepared for the possibility of more violent [Full Story]
Putin Replaces Russia's Top Commander in Ukraine
Russian President Vladimir Putin replaced the commander of his [Full Story]
Related
Ukraine Denies Russia Controls Soledar
Ukraine, Russia Agree to Swap 40 Prisoners
Russian Rights Commissioner: Need for Cease-Fire Discussed With Ukraine, Turkey
Mullin to Newsmax: Putin 'Looking For Way Out' of Failed War |video
Can US Avoid a Recession? As Inflation Eases, Optimism Rises
For months, the outlook for the U.S. economy has been a mostly bleak [Full Story]
Why Women are Less Likely to Survive Sudden Cardiac Arrest
The sports world is still reeling over the sudden cardiac arrest of [Full Story]
Buttigieg Scandals Worse Than What Sank Trump Official
A propensity for using taxpayer-funded jets and military aircraft is [Full Story] | Platinum Article
Stephen Moore: Big Three Make Cars People Don't Want
There's a decent chance the American auto companies' shift to all EVs [Full Story]
Michael Busler: Blame the US Chamber of Commerce for Woke Turn
The root of the Republican Partys inability to pass meaningful [Full Story]
Pence on Possible 2024 Run: 'We've Got Time'
Former Vice President Mike Pence remains noncommittal on a [Full Story]
WHO Seeks More China COVID Data, Praises US 'Transparency'
The WHO reiterated Wednesday the need for China to share more data on [Full Story]
Buttigieg Slammed After FAA Outage Grounds All Flights
Transportation Secretary Pete Buttigieg was harshly criticized [Full Story]
White House: Biden Does Not Endorse Ban on Gas Stoves
President Joe Biden does not support the banning of gas stoves, the [Full Story]
Biden: Dems, GOP Need to Unite Against Big Tech 'Abuses'
President Joe Biden says Democrats and Republicans need to unite [Full Story]
Consumer Product Safety Commission: No Plans to Ban Gas Stoves
The Consumer Product Safety Commission (CPSC) has no plans to ban gas [Full Story]
RNC Chair Candidates to Face Off Later This Month
Candidates running for Republican National Committee chair will face [Full Story]
Twitter Denies Selling User Names
This, following a report that Twitter Inc. has mulled selling user [Full Story]
US Extends COVID Public Health Emergency Status
The U.S. health department on Wednesday extended the COVID-19 [Full Story]
Comer Intensifies Investigation of Bidens
James Comer, R-Ky., House Oversight Committee chair, is ramping [Full Story]
People Flock to Dutch Town After Nazi Treasure Map Revealed
A treasure hunt has been under way in the Netherlands this week after [Full Story]
Davos Report: Cost-of-Living Crisis Overshadows Climate
Climate change is the global economy's biggest long-term challenge [Full Story]
Army Issues Guidance on Integrating Transgender Soldiers
The U.S. military released new diversity and inclusion training [Full Story]
Elon Musk Might Never Again Be World's Richest Person
Elon Musk's days as the world's wealthiest person might be over [Full Story]
US Birth Rates Continue to Fall
Continuing a decadeslong trend, the percentage of American women [Full Story]
US Mailed Free COVID Tests That Expire Soon: Check Dates
If you ordered COVID-19 tests through the federal government [Full Story]
Dershowitz to Newsmax: 'Absolutely Confident' Trump Won't Be Indicted on Docs
Alan Dershowitz, a professor emeritus at Harvard Law School, told [Full Story] | video
Video Report: UAE to Include Holocaust Learning in Schools
In the wake of the Abraham Accords, the United Arab Emirates has made [Full Story]
Mike Johnson to Newsmax: Punish Threats on Pro-life Groups
Mike Johnson, R-La.. told Newsmax the Biden administration must [Full Story] | video
Chad Wolf to Newsmax: Trump Has the Plan for Border
Speaking on President Joe Biden's recent visit to the United [Full Story] | video
More Newsfront
Finance
10 Tech Innovation Standouts at CES
From electric cars and boats to wireless TVs to the latest phones and tablets, there was a wide range of innovations on display at the CES tech show in Last Vegas last week. … [Full Story]
Remote Workers Resort to Tricks to Foil Bosses' Surveillance
Binance to Go on 15%-30% Hiring Spree
PIMCO to Focus on High-Quality Bonds Ahead of 'Mild' Recession
US Stocks Gain Ground Ahead of Inflation, Earnings Updates
More Finance
Health
Why Women Are Less Likely to Survive Sudden Cardiac Arrest
The sports world is still reeling over the sudden cardiac arrest of NFL's Damar Hamlin last week, that almost took his life. Prompt CPR and medical attention most likely saved the 24-year-old Buffalo Bills safety who collapsed on the field during a game… [Full Story]
Schedule Your Annual Free Memory Screening Appointment Now
Prince Harry Reveals He Has Agoraphobia
Federal Agency Considers Banning Gas Stoves Due to Health Concerns
FDA to Review OTC Nasal Spray to Treat Opioid Overdose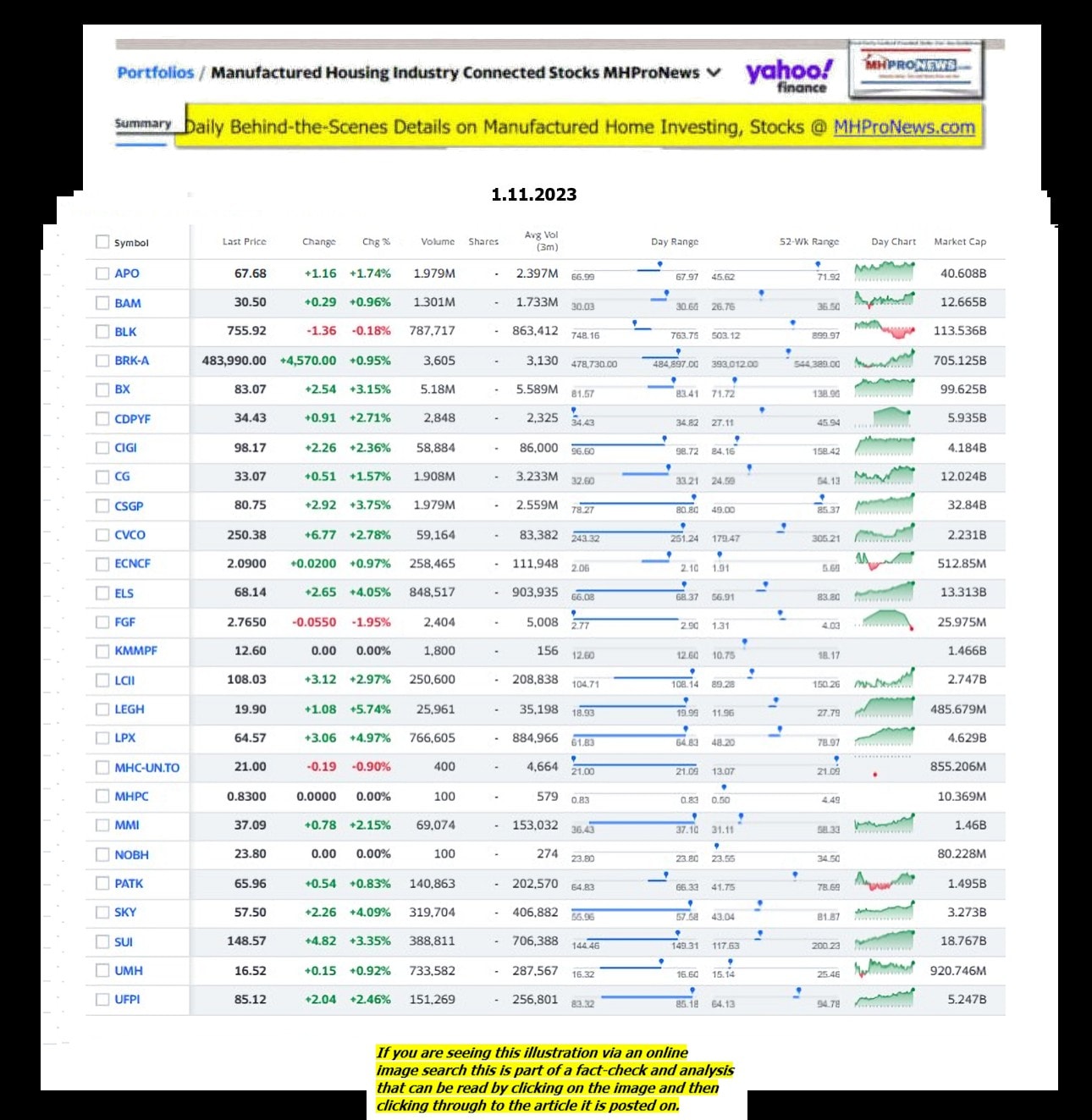 ====================================
Updated
NOTE 1: The 3rd chart above of manufactured housing connected equities includes the Canadian stock, ECN, which purchased Triad Financial Services, a manufactured home industry finance lender.
NOTE 2: Drew changed its name and trading symbol at the end of 2016 to Lippert (LCII).
NOTE 3: Deer Valley was largely taken private, say company insiders in a message to MHProNews on 12.15.2020, but there are still some outstanding shares of the stock from the days when it was a publicly traded firm.  Thus, there is still periodic activity on DVLY.
Note 4: some recent or related reports to the REITs, stocks, and other equities named above follow in the reports linked below.
Manufactured Housing Properties-Results for Three and Nine Months Ending September 30.2022–Exploring 'Mobile Home Park' Manufactured Home Community Investing; plus MHVille REITs, Stocks Update
Manufactured Housing's Next BIG Regulatory Battle That MHARR's Spotlighted and Which MHI Conveniently Ignored in Recent 'Manufactured Housing Institute News;' plus Sunday Weekly Headlines Recap
'Changes Will Benefit Customers,' Boost Sales-Legacy Homes CEO Duncan Bates – LEGH 'Delivered 22.5% Return on Equity in 1 Yr' – Corp Q3 2022 Insights, Analysis; plus MHVille REITs, Stocks Update  
'No Assurance Inflation Will Not Affect Our Future Profitability Financial Position'=Cavco Industries 10-Q, Solitaire Deal, More CVCO Data; Supreme Court Ruled-SEC Regs on False-Omitted Remarks
Skyline Champion Provides Quarterly Results, Adding Retail Centers, Improved Delivery Times-CEO Mark Yost Says 'Can Outperform Conventional Housing' Explored; Plus MHVille REITs, Stocks Update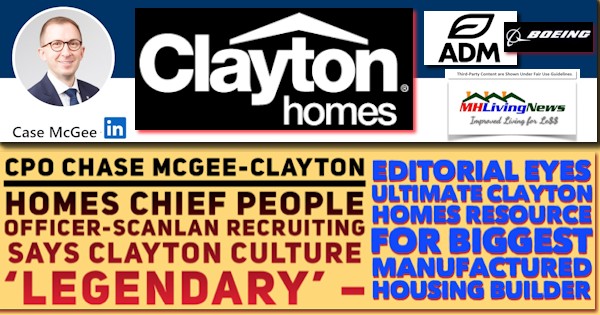 Triad Financial Services Q2-2022 FINANCIAL RESULTS, per ECN Capital – Several Bright Spots in Manufactured Home Market Highlighted, Including Communities, Retail, Land-Home, Floor; MHStocks Update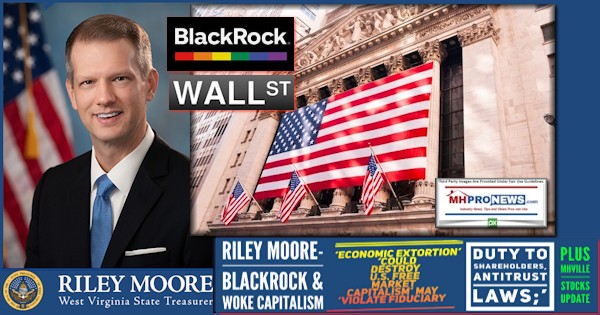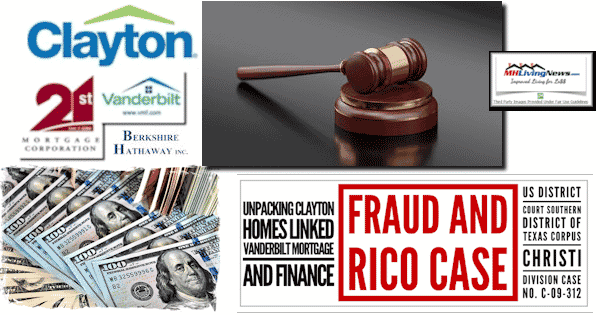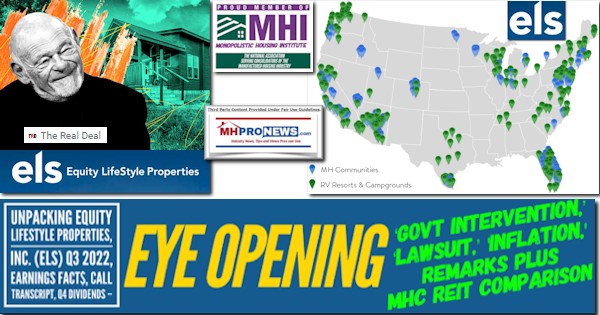 Manufactured Home Communities (a.k.a. 'Mobile Home Parks' – SIC) – Exploring UMH Properties; Fellow Manufactured Housing Institute Member Yes! Communities Suits and Settlements; plus MH Markets Updates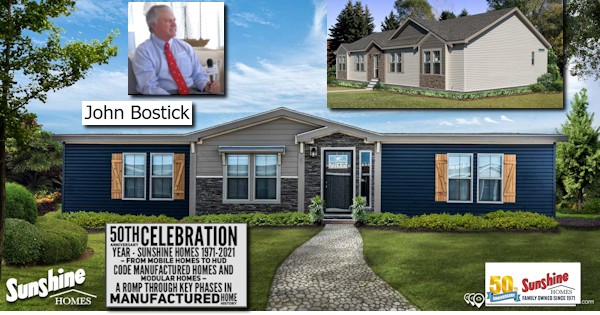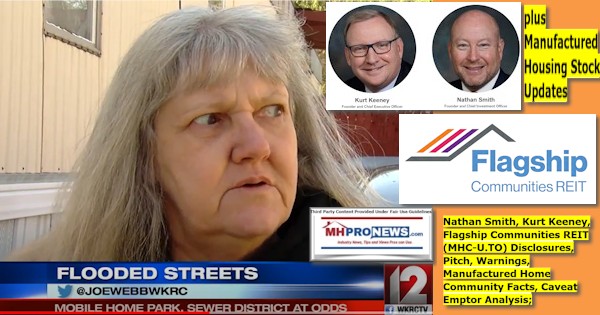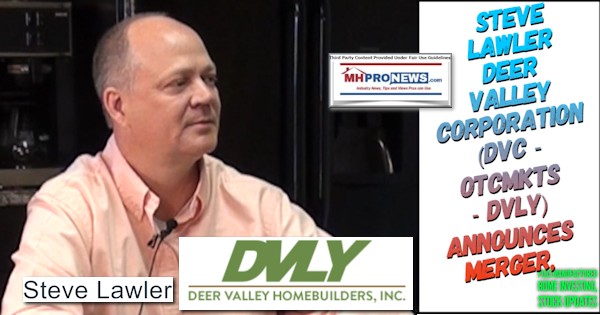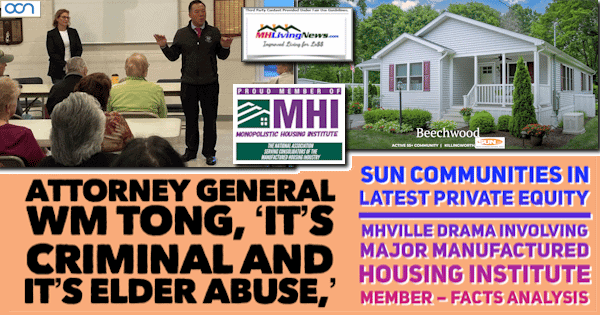 2022 …Berkshire Hathaway is the parent company to Clayton Homes, 21st Mortgage, Vanderbilt Mortgage and other factory-built housing industry suppliers.
· LCI Industries, Patrick, UFPI, and LP each are suppliers to the manufactured housing industry, among others.
· AMG, CG, and TAVFX have investments in manufactured housing related businesses. For insights from third-parties and clients about our publisher, click here.
Disclosure. MHProNews holds no positions in the stocks in this report.
· For expert manufactured housing business development or other professional services, click here.
· To sign up in seconds for our industry leading emailed headline news updates, click here.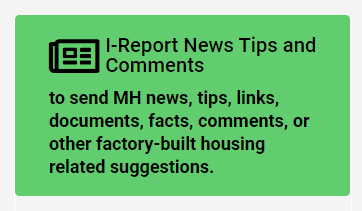 That's a wrap on this installment of "News Through the Lens of Manufactured Homes and Factory-Built Housing" © where "We Provide, You Decide." © (Affordable housing, manufactured homes, stock, investing, data, metrics, reports, fact-checks, analysis, and commentary. Third-party images or content are provided under fair use guidelines for media.) (See Related Reports, further below. Text/image boxes often are hot-linked to other reports that can be access by clicking on them.)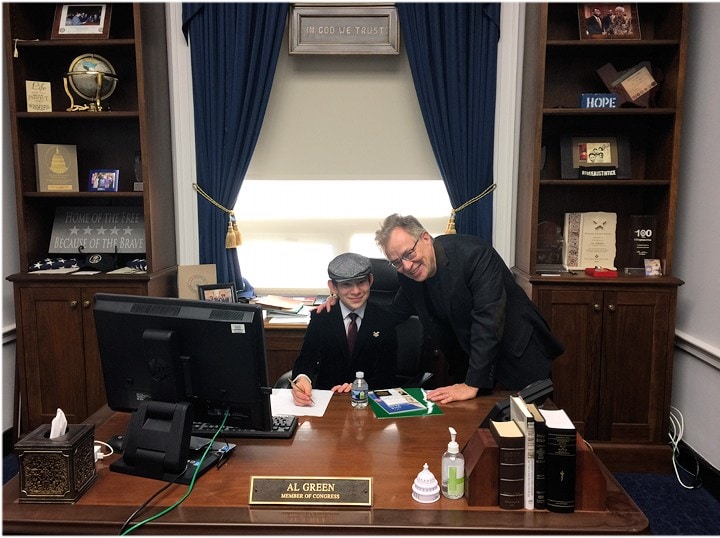 By L.A. "Tony" Kovach – for MHProNews.
Tony earned a journalism scholarship along with numerous awards in history. There have been several awards and honors and also recognition in manufactured housing. For example, he earned the prestigious Lottinville Award in history from the University of Oklahoma, where he studied history and business management. He's a managing member and co-founder of LifeStyle Factory Homes, LLC, the parent company to MHProNews, and MHLivingNews.com. This article reflects the LLC's and/or the writer's position and may or may not reflect the views of sponsors or supporters.
Consumers 'Fears for the Future'-Mortgage Payments Surge Since 2021, Buyers Get Priced Out–Conventional Housing Woes are Manufactured Home Pro Opportunities; plus MHVille REITs, Stocks Update