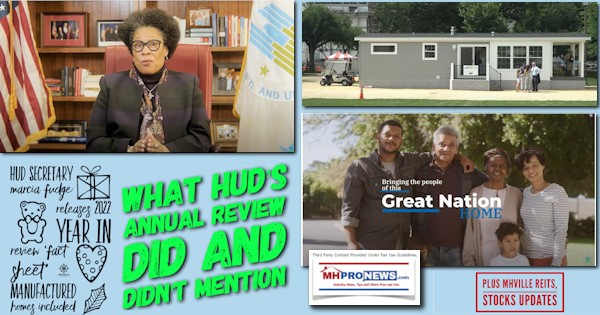 A HUD insider and his colleague told MHProNews that HUD, along with numbers of other federal agencies, should be viewed in part as follows. HUD acts like a funnel from which taxpayer dollars flow to specified operations. Numbers of those organizations are corporations and businesses. Borrowed and taxpayer dollars are thus funneled to specific causes and firms. A former Republican turned political independent told MHProNews that he spent some years working with an agency that aimed to alleviate various impacts of poverty in the U.S. He frankly said that he realized one day that he realized that his job security was directly connected with not ending poverty. It was a troubling realization, he said, and eventually he left that organization for the private sector. There he became quite successful.
Those anecdotal true tales help frame the HUD "Fact Sheet" and video from Secretary Marcia L. Fudge. But one more item bears mention, which will be linked further below in our additional information with MHProNews analysis and commentary segment. Two of HUD's own Policy Development and Research (PD&R) colleagues published on the HUD Edge website a report that when properly understood undercuts the seemingly glowing 'facts' provided by Fudge, as shown in its entirety below.

FACT SHEET: 2022 HUD Year in Review
 WASHINGTON – This year, Secretary Marcia L. Fudge led the U.S. Department of Housing and Urban Development (HUD) to bold action in pursuit of the agency's mission to create strong, sustainable, inclusive communities and quality affordable homes. These actions aligned with key Biden-Harris Administration priorities, including easing the burden of housing costs, removing barriers to homeownership, expanding the nation's housing supply, addressing the nation's homelessness crisis, and keeping Americans housed.
Below is a sampling of the strides HUD made in 2022:
 Expanded Access to Affordable Housing and Connected People to Rental Assistance by:
Keeping more than one million struggling homeowners in their homes through the Federal Housing Administration's (FHA) home retention options.
Distributing more than 100,000 housing vouchers to allow very low-income families to choose and lease safe, decent, and affordable privately-owned rental housing.
Providing legal assistance to low-income tenants at-risk of or subject to eviction by doubling fundingfor the Eviction Protection Grant Program (EPGP).
Investing a historic $1 billion for housing in Tribal communities through the Indian Housing Block Grant program, the Indian Housing Block Grant Competitive program, and the Native Hawaiian Housing Block Grant program.
Increased Housing Supply Through Building, Preservation, and Innovation by:
Approving HOME-American Rescue Plan allocation plans that will build 10,000 new deeply affordable and supportive housing units and fund services or rental assistance to serve an additional 13,000 people experiencing or at-risk of homelessness.
Resolving the backlog of applications submitted for FHA insurance on multifamily mortgages and insuring nearly 160,000 rental units at multifamily properties in fiscal year 2022.
Preserving existing affordable housing through a continuing $15 billion investments in construction through the Rental Assistance Demonstration (RAD), more than $430 million in Mixed Finance development deals and $183 million in grants through the choice neighborhood grants, to 1,300 new mixed-income housing units, starting construction on another 5,600 units, leveraging over $1.13 billion dollars in additional funding, and supporting community investments such as two grocery stores, business façade improvements, home owner-rehab, and placemaking amenities.
Improving the quality and safety of the country's housing stock by proposing the largest set of changes to the Manufactured Home Construction and Safety Standards in over two decades and resuming housing inspections which had been on pause due to the pandemic.
Hosting the Innovative Housing Showcase on the National Mall, featuring an array of innovative housing prototypes, from modern construction processes like factory building and 3-D printing to energy-efficient materials like low-carbon concrete and insulated panels.
Boosted Wealth-Building and Home Ownership Opportunities for All by:
Changing FHA's underwriting policies to allow lenders to use positive rental history in evaluating applicants' creditworthiness for an FHA-insured mortgage – making it easier for first-time homebuyers to qualify.
Expanding access to housing counseling so consumers can seek assistance from more than 1,500 HUD-approved housing counseling agencies and the 4,000 HUD-certified housing counselors. Updates to search functionality allows consumers to easily obtain valuable advice on topics such as buying a home, financial planning, foreclosure avoidance, and housing stability.
Helping low-income renters achieve financial wellbeing by promoting employment opportunities and money management education through a $113 million investment to expand the Family Self-Sufficiency (FSS) program.
Selecting a cohort of 18 Public Housing Authorities (PHAs) to try new approaches to encourage the growth of savings accounts and credit building HUD-assisted households as an expansion of the Moving to Work (MTW) Demonstration Program.
Launching PAVE, an interagency taskforce committed to rooting out racial and ethnic bias in home valuations.
Ensured Communities Can Prepare for and Recovery from Disaster Equitably by:
Improving internal and interagency coordination on disaster response and recovery.
Working with the Government of Puerto Rico to invest in modernization and resiliency of local infrastructure.
Taking bold action to reduce the HUD's energy and carbon footprint while putting our nation's communities on the path towards a more equitable, efficient, and sustainable housing infrastructure.
Educating communities on the context of historic inequity in communities exacerbated by disasters and discrimination in the provision of disaster recovery resources, especially for our nation's most vulnerable people through release of the Citizen Participation and Equitable Engagement (CPEE) Toolkit.
Releasing over $5 billion in Community Development Block Grants for Disaster Recovery (CDBG-DR) to support recovery from weather related disasters in 2022 and launched first of its kind public input to more equitably and accurately allocate disaster recovery funds.
Issued the inaugural $6.8 million allocation of Rapid Unsheltered Survivor Housing (RUSH) funding to communities impacted by Hurricane Ian. The RUSH assistance supports those experiencing or at risk of homelessness in the aftermath of a disaster.
Allowing residents of assisted housing to access community solar subscriptions, which sets the stage for 4.5 million families to save without increasing housing costs for residents.
Encouraging green building and design through reduced mortgage insurance premiums and recognizing the "green status" of these loans to investors.
Address Homelessness with the Urgency it Requires by:
Supporting implementation of American Rescue Plan programs, like Emergency Rental Assistance and the enhanced Child Tax Credit, that prevented families from housing loss and homelessness.
Reduced Veteran homelessness by 11 percent since 2020, the largest decline in Veteran homelessness in more than 5 years.
Organizing leaders from 105 communities across 31 states and territories and the District of Columbia to join House America. Collectively through House America, HUD and its partners are on track to achieve our collective goals to re-house 100,000 people and added 20,000 units of affordable housing to the pipeline.
Making $322 million in grants and 4,000 Stability Vouchers available in a first-of-its-kind package of resources to address unsheltered homelessness and homeless encampments, including funds set aside specifically to address homelessness in rural communities. HUD will award these funds in early 2023.
Expanding the Youth Homelessness Demonstration Program by awarding $84 million to an additional 17 communities to create youth-led coordinated systems for ending youth homelessness.
Made HUD Easier to Navigate So Our Help Reaches Those Who Need It Most by:
Taking the bold step of revising the Notice of Funding Opportunity (NOFO) template to reflect Secretary Fudge's commitment to advancing racial equity.
Launching a first-of-its-kind guide for state, local, and Tribal officials detailing HUD programs, resources, and tools available to support, preserve, and produce affordable homes and to develop thriving neighborhoods where families can enjoy economic security.
Announcing the formation of the Tribal Intergovernmental Advisory Committee (TIAC), bringing together senior HUD officials and Tribal Leaders to ensure the needs of Tribes are being met in how HUD programs and designed and implemented.
Assisted state and communities through the HHS-HUD Housing and Services Resource Centerto support community living among people with disabilities and older adults by coordinating housing assistance and home-based supportive services.
##
 HUD's mission is to create strong, sustainable, inclusive communities and quality affordable homes for all. …
###
Additional Information with MHProNews Analysis and Commentary
Harvard Joint Center for Housing Studies (JCHS) senior research fellow Alexander Von Hoffman wrote the following under the title of "LBJ'S BIGGEST HOUSING PROGRAM THAT NO ONE REMEMBERS."
JCHS' Hoffman began as follows: "Now that we have reached the half-century mark since President Lyndon Johnson began passing legislation to achieve his vision of a Great Society, it is worth remembering one momentous law that has been largely forgotten: the Housing and Urban Development Act of 1968. When he signed the act, LBJ declared it to be "the most farsighted, the most comprehensive, the most massive housing program in all American history." Truly, its goal was breathtaking: to replace within ten years every slum dwelling in the country by building six million homes for low- and moderate-income families."
Jumping ahead, Hoffman said: "And then came the long hot summers.  Violent riots rocked the African-American ghettos of American cities, leaving hundreds dead, thousands injured, and tens of millions of dollars of damage from burning and looting.  The situation called for action, especially in housing.  Most observers – including the famous Kerner Commission (officially named the National Advisory Commission on Civil Disorders) – were convinced that a major reason that African Americans were rioting in the streets was that they were condemned to live in ghetto slums. The great accomplishment of the 1968 act was to shift housing policy toward programs that used the private sector, not government, to create and run low-income housing. Until the law was passed, public housing was the nation's principal social-welfare program.  The public housing program dated from the 1930s and, as a creation of the New Deal, used government agencies to develop, own, and manage apartments that were rented to low-income people.  In the 1960s, few federal programs used private developers to provide social housing, and those that did had produced only small numbers of dwelling units."
That and more by Hoffman was published October 8, 2014. What has changed since then? In several ways, not much. More spending has occurred. More debt has piled up. More people than ever need affordable housing. The vicious cycle of promising without delivering continues.
Now recall the remarks from the introduction to today's report. Those HUD insiders summed up what Hoffman said in more detail. They said public money from HUD by the billions of dollars a year is funneled to private and 'nonprofit' interests. That man referred to at the top finally left an agency that dealt with housing and poverty connected issues after he realized that his job security and that of all others at the same organization depended on poverty continuing.
If poverty and its effects were to end, that agency would be compelled to close.
If programs like HUD were phased out over time, what would those who work for HUD or benefit from those programs do?
With those thoughts in mind, was it any surprise that HUD ignored the plan linked below that could now be drawing to a conclusion?  By "Reinventing" HUD, if millions of manufactured homes were 'given' to those in need, the report below made the case how HUD itself could be sun-setted; phased out. Taxpayers and those beneficiaries would both benefit from that point on.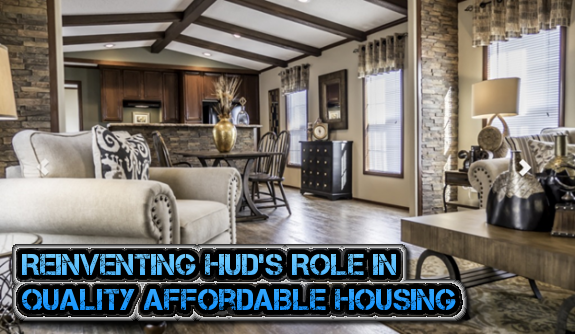 Put differently, there are numerous incentives for an agency like HUD along with others that deal with the impacts of a lack of low-income housing to not achieve their stated goals. Hoffman's introduction summed it up with LBJ's proclaimed vision "to replace within ten years every slum dwelling in the country by building six million homes for low- and moderate-income families." That never occurred. Note that MHProNews has previously reviewed the work of the Kerner Commission in the report linked below.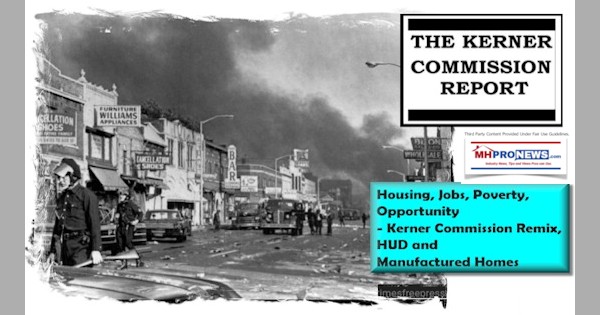 Following LBJ as president was Richard M. Nixon. Nixon proclaimed financial support for what we now know as pre-HUD Code mobile homes. Presidents Nixon and Gerald R. Ford certainly seemed to embrace the notion of factory-built housing (then, mainly mobile homes).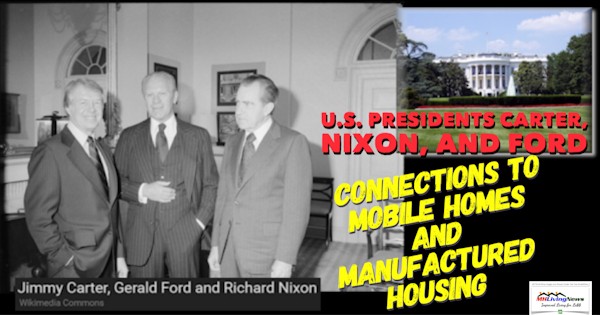 As was noted in the preface to this article, HUD's Pamela Blumenthal and Regina Gray ironically debunked HUD's effectiveness and neutered the claims of politicians that span more than 5 decades.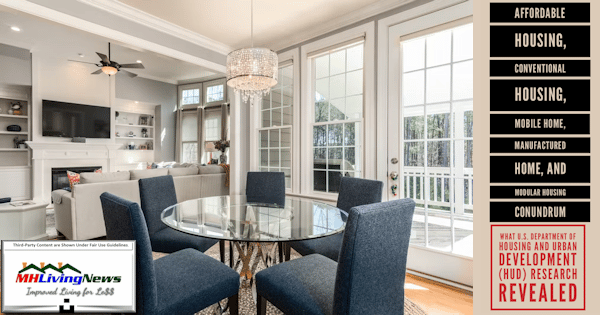 On the YouTube video by HUD's Fudge above was posted this remark.
"What Secretary Fudge failed to mention is that there are some 9 million younger people that reportedly moved back into their parental home this year (2022) alone. She missed the part that despite the wonderful sounding talk, CNN and the NAR reported recently that the number of first-time home buyers has crashed to all-time lows. Homelessness rose to a level not seen since the Obama-Biden Admin, about 8 years ago. When their own 'facts' are carefully examined in the light of other facts, they reveal an illusion. Two HUD Researchers in Sept 2021 said that Democrats and Republicans have been talking for 5 decades about fixing the affordable housing crisis, but there is little change. Those HUD researchers' names are Pamela Blumenthal and Regina Gray, and their article is posted on the HUD 'Edge' website. HUD oversees manufactured housing which is the most proven form of affordable housing in the U.S.A. It is routinely unsubsidized housing, but that apparently isn't what HUD and their corporate allies want, because manufactured housing is only about 30 percent of its last high achieved in 1998. Google, Bing, or otherwise search for these facts and you will see that they are all true. Oops."
Links to the evidence that backs up those statements posted on the HUD Secretary Fudge video page are provided above and below.
Despite Biden Housing Promises, CNN, NAR Say 1st Time Homebuyers Fall to 'All Time Low' – MHI Input – Unpacking Info for MHVille Advocates & Pros; plus Sunday MHProNews Weekly MH Reports Recap
'Desperation' 'Families Can't Afford to Live' Avg U.S. Family Effectively Lost $7,100 under Biden, per Economist E.J. Antoni, Ph.D., Citing Fed Data–Housing a Key; plus MHVille REITs, Stocks Update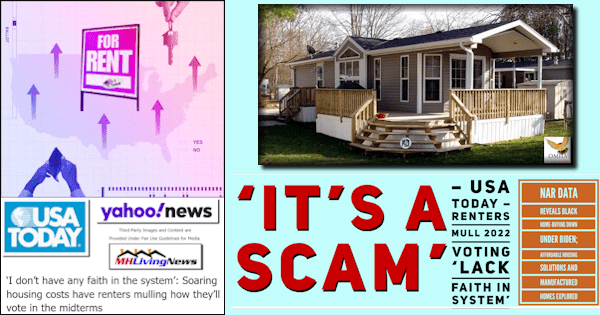 This apparently corrupted system is so entrenched that too few politicos of either major party dare to speak the full truth.
Housing has obviously been a political tool for approaching a century. HUD's programs reward some, but essentially penalize or de facto punish others who are not rewarded by federal largess. The tens of billions spent annually on HUD (not to mention other federal programs) are like flypaper. Many are trapped in the cycle of poverty because if they earn 'too much' money, they lose their federal (or other) benefits. Dependable voter blocks are created by this process. Those politicians who tap into that are often the recipients of campaign funding by the donor class. That donor class includes those who may be profiting from the stated realities.
Whenever someone 'blames' a typical politician for this or that policy, it is useful to keep in mind that lurking in the background are individuals who want that politico to behave in the fashion that they do. That's not to whitewash the responsibility that a politico has for bad policy. But it is said to note that politicians can be replaced. They come and go. The donor class has continued on in the U.S. for well over a century. What may seem at first blush to be a good idea – like the Great Society and HUD – in hindsight are revealed to be something quite different. Meanwhile, the federal debt grows. That too lines the pockets of some at taxpayer expense.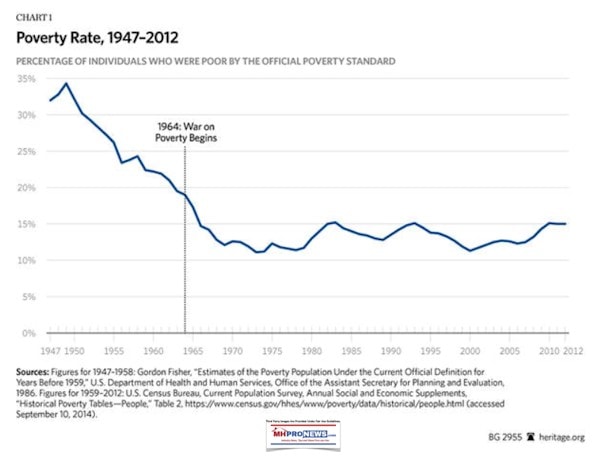 Homelessness, per HUD, is up.
HUD Releases 2022 Annual Homeless Assessment Report, Worst in Years, Equal Justice Files Suit to Protect Homeless, Too Few Manufactured Homes; plus MHVille REITs, Stocks Update
Manufactured home production, per HUD, is down.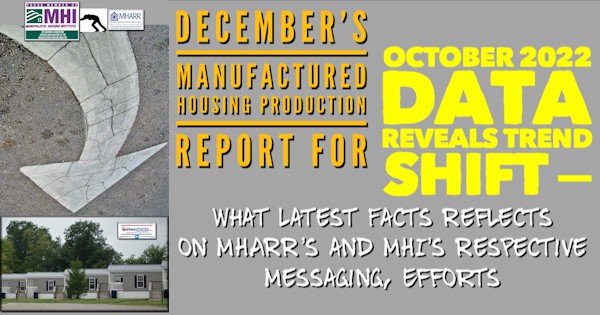 Who in Washington D.C. or in Arlington, VA is doing the math these days?
'Developers Moving Away from CrossMods®' Manufactured Housing Institute Oddly Admits Plan Undercuts 99 Percent of Manufactured Homes – MHI Doc, Facts, Analysis; plus MHVille REITs, Stock Updates
And all this is despite the tremendous price advantage that mainstream manufactured homes have.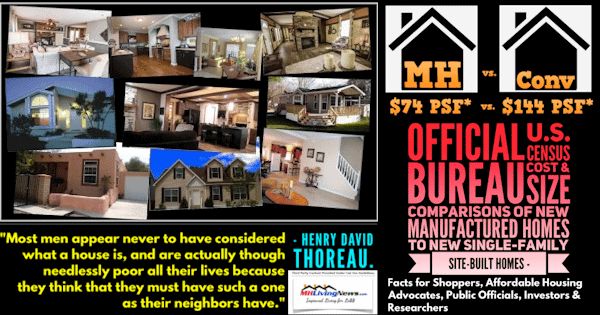 Neither the Manufactured Housing Institute, nor HUD officials, can have it both ways. It requires world class bungling and fumbling to overlook the obvious solutions to these problems, if those solutions were authentically desired. That implies that to some degree failure to achieve stated goals is an implicit part of the scheme, all while promising, promising, promising, but never actually delivering on those promises. It is paltering on steroids.
With those notions in mind, the following parody of the Christian song "Mary, Did You Know" was recently released by the Babylon Bee. Some say it is bound to be a Christmas classic. Time will tell. The lyrics of the video below are per WND.
Biden did you know that your policies would drive us underwater?
Biden did you know that your policies would trans our sons and daughters?
Did you know that your policies will punish what is true?
The church that you subscribe to, does not subscribe to you.
Biden did you know that your baby boy made shady deals in Ukraine?
Biden did you know that your baby boy loves Parmesan and cocaine?
Did you know that you shouldn't touch these women like you do?
When you sniff that little girl's hair, it's borderline #metoo
The wall will cease The debt increase And the dead will vote again
The crime will leap The dumb will speak While we say, "C'mon man!"
Biden, did you know that your policies would bring about inflation?
Biden, did you know that your policies would one day ruin the nation?
Did you know that your policies make Herod's reign seem bland
"One day you'll have to answer to the great I Am"
These are just some of the facts that Fudge's annual HUD statement failed to mention. No wonder they were left out.
To learn more about the facts and sobering realities behind the curtain, see the linked reports above and below. The market segment will follow some of the links hereafter.
Behind the Scenes Facts, Insights, Reams of 3rd-Party Research on Manufactured Homes and 'Mobile Home' Controversies–MHLivingNews to MHI Data-MHVille 2022 in Review I; plus, MHREITs-Stocks Update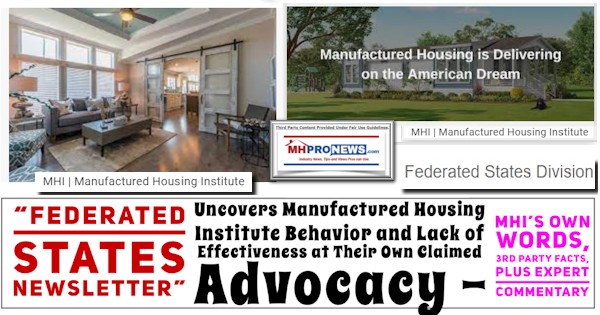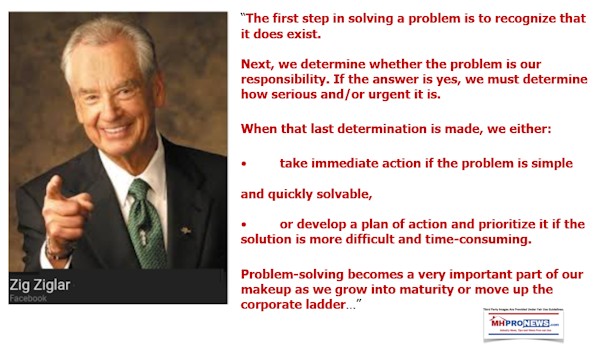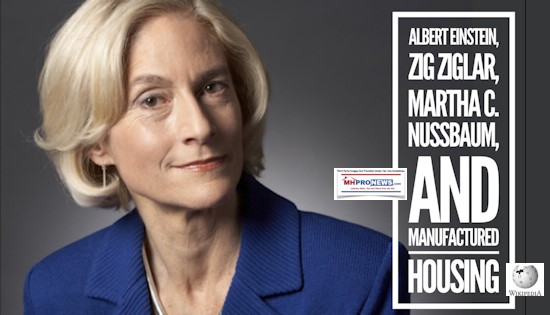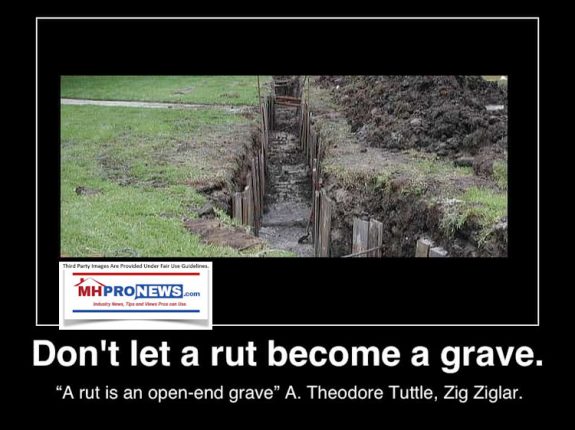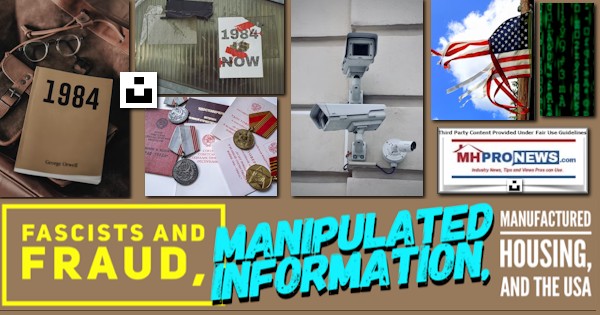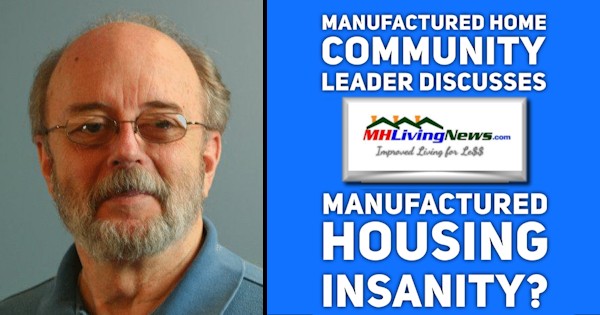 'Reality Bites' – Lumber 'Bubble Burst,' Wood Price 'Collapse' as Conventional Builder Confidence, Orders, Sales Slide – Market Tug of War and Manufactured Housing; plus MHVille Stocks Update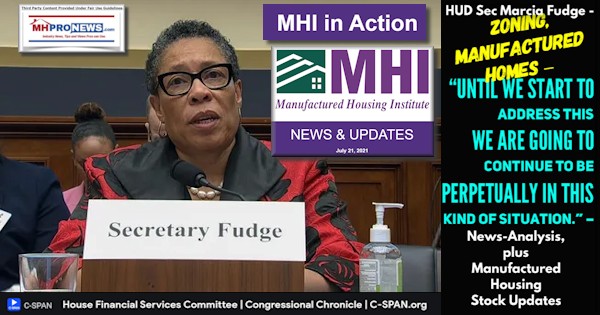 Fears of Future – MILLIONS of Millennials Move Back in 2022 with Parents-Facts, Top Reasons, and Possible Silver Lining for Manufactured Housing Pros, Investors; plus MHVille REITs, Stocks Update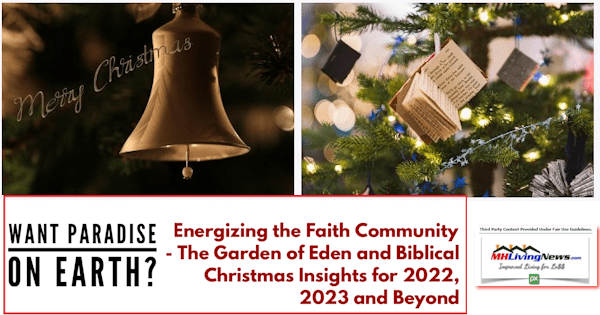 Daily Business News on MHProNews Markets Segment
The modifications of our prior Daily Business News on MHProNews format of the recap of yesterday evening's market report are provided below. It still includes our signature left (CNN Business) and right (Newsmax) 'market moving' headlines. The macro market moves graphics will provide context and comparisons for those invested in or tracking manufactured housing connected equities.
In minutes a day readers can get a good sense of significant or major events while keeping up with the trends that are impacting manufactured housing connected investing.
Reminder: several of the graphics on MHProNews can be opened into a larger size. For instance: click the image and follow the prompts in your browser or device to OPEN In a New Window. Then, in several browsers/devices you can click the image and increase the size. Use the 'x out' (close window) escape or back key to return.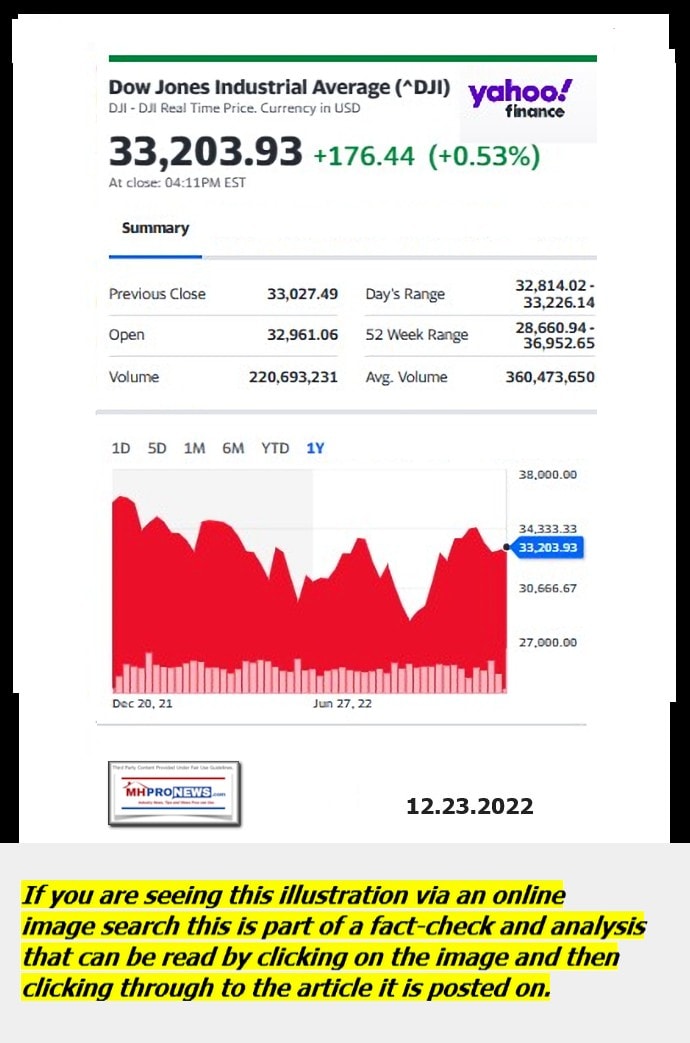 Headlines from left-of-center CNN Business – from the evening of 12.23.2022
SBF out on bail
FTX founder Sam Bankman-Fried leaves court following his extradition to the U.S., Thursday, Dec. 22, 2022, in New York. Bankman-Fried's parents agreed to sign a $250 million bond and keep him at their California home while he awaits trial on charges that he swindled investors and looted customer deposits on his FTX trading platform.
The disgraced FTX founder was released on $250 million bond in his first US court appearance
Shoppers in the television section of a Target store on Black Friday in Chicago, Illinois, US, on Friday, Nov. 25, 2022.
Why America's economy remains surprisingly strong — but you don't realize it
Wilson brand footballs are pictured with the NFL logo before the game between the Detroit Lions and Jacksonville Jaguars at Ford Field on December 04, 2022 in Detroit, Michigan.
NFL Sunday Ticket is leaving DirecTV and heading to YouTube TV
A Drug Enforcement Administration (DEA) chemist checks confiscated powder containing fentanyl at the DEA Northeast Regional Laboratory on October 8, 2019 in New York. – According to US government data, about 32,000 Americans died from opioid overdoses in 2018. That accounts for 46 percent of all fatal overdoses. Fentanyl, a powerful painkiller approved by the US Food and Drug Administration for a range of conditions, has been central to the American opioid crisis which began in the late 1990s.
ANALYSIS
Analysis: Doctors say the narrative of an officer who nearly died after contact with fentanyl doesn't add up
The exterior of the U.S. Capitol is seen at sunset in Washington, U.S., December 13, 2022.
Washington moved fast to crack down on TikTok but has made little progress with Big Tech
Migrants seeking asylum in the U.S. cross the Rio Bravo river, the border between Mexico and the U.S., in Ciudad Juarez, Mexico December 21, 2022.
America needs immigrants to solve its labor shortage
How virtual clothes could help solve fashion's waste problem
An empty shelf is seen in a pharmacy on December 21, 2022 in Beijing, China.
Big bonuses, extreme rationing: How Covid-hit China is coping with its drugs shortage
People shop at a supermarket in Santa Monica, California, on September 13, 2022.
Dow tumbles after stronger-than-expected GDP report
It's freezing. Cranking up the heat is going to cost you
Thursday flight cancellations top 2,800 nationwide, disrupting holiday travel
Some universities are now restricting TikTok access on campus
Companies are reining in holiday bonuses
FTX co-founder and ex-chief of Alameda Research each pleaded guilty to multiple charges, are cooperating with feds
Congress may pass new retirement rules. These 7 changes are on the table
Twitter hit by legal complaints from 100 former employees following Musk's layoffs
Tesla 'full self-driving' triggered an eight-car crash, a driver tells police
Elon Musk claims the FBI paid Twitter to 'censor info from the public.' Here's what the Twitter Files actually show
Wells Fargo ordered to pay $3.7 billion for 'illegal activity' including unjust foreclosures and vehicle repossessions
Jenna Bush Hager's 9-year-old drops 'truth bombs' on 'Today'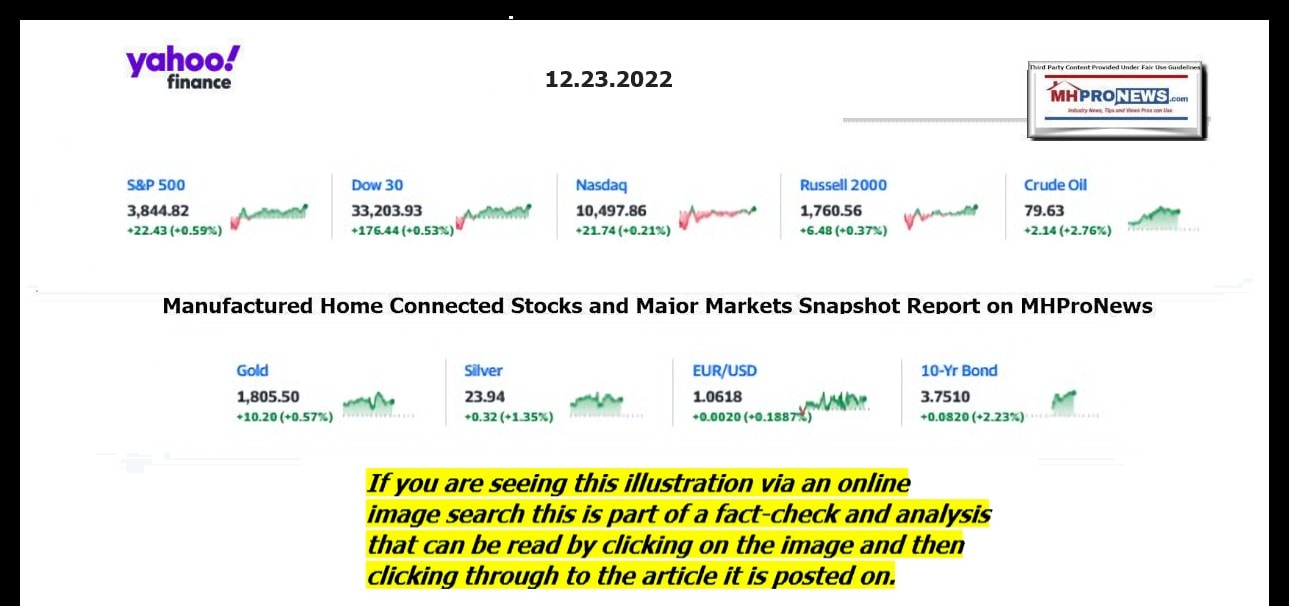 Headlines from right-of-center Newsmax 12.23.2022   
GOP House Members Vow Retribution for Sens Who Backed Omnibus
The count is up to 31 current and incoming House Republicans who have signed on to a letter swearing to impede legislation from any GOP senator who voted for the $1.7 trillion omnibus spending bill. [Full Story]
Related Stories
Trump: Every Republican Should Vote 'No' on Omnibus
Report: 10 Senators Saved Omnibus by Thwarting Title 42 Amendment
Schumer: Senate Deal Reached on $1.7T Omnibus Bill
Newsmax Special: The Meaning of Christmas
The Meaning of Christmas: Jack Hibbs
The Meaning of Christmas: Ken Ham
The Meaning of Christmas: John Ankerberg
The Meaning of Christmas: Father David Guffey
The Meaning of Christmas: Cardinal Timothy Dolan
More Newsmax Special: The Meaning of Christmas
Newsmax TV
Ukraine MP Rudik: Country 'Bursting With Pride' for Zelenskyy | video
Blaine Holt: Russia Already Reacting to Zelenskyy Speech | video
Brandon Judd: Dropping Title 42 Opens Border to Cartels | video
Nebraska Gov. Ricketts: TikTok Ban 'Common Sense' | video
WWE's Duggan: Holding Off Intruder 'Terrifying' | video
Tenney: Need Transparency to Keep Funding Ukraine | video
Gonzales and De La Cruz: What Is the Plan Post-Title 42? | video
Van Duyne, Hern: $1.7T Omnibus Bill 'a Disgrace' | video
Tony Shaffer: Ukraine Strategically Important to US | video
Newsfront
Texas Ends Court Fight to Ban 18- to 20-Year-Olds From Carrying Guns in Public
Texas appears to have given up its fight to prevent 18-to 20-year-olds from carrying handguns in public, The Texas Tribune is reporting. The law in Texas had not allowed most 18- to 20-year-olds to get a license to carry a handgun or carrying a handgun for self-defense…… [Full Story]
Israeli Immigration Hits 20-Year High
Immigration to Israel this year reached its highest point in more [Full Story]
Once-in-a-Generation Storm Could Affect 200M Americans
The winter warnings or watches connected to the so-called "Bomb [Full Story]
Netanyahu Announces New Government
Prime Minister-designate Benjamin Netanyahu has secured the necessary [Full Story]
White House: Putin Utilizing Mercenary Group
The White House on Thursday said Russian President Vladimir Putin is [Full Story]
Report: 10 Senators Saved Omnibus by Thwarting Title 42 Amendment
IRS Won't Meet Year-End Deadline for Returns Backlog
The IRS will fail to meet its self-imposed year-end deadline to solve [Full Story]
DeSantis Grand Jury Gambit Is 'Good Policy,' 'Good Political Move'
Republican Florida Gov. Ron DeSantis' decision last week petitioning [Full Story] | Platinum Article
GOP House Members Vow Retribution for Senators Who Voted for Omnibus
The count is up to 31 current and incoming House Republicans who have [Full Story]
Gender Self-Determination to Be Granted in Spain, Scotland
Spain's lower house of Parliament Thursday passed a law that allows [Full Story]
FTX's Bankman-Fried to Be Released on $250 Million Bond
The cryptocurrency entrepreneur Sam Bankman-Fried can post $250 [Full Story]
Video Report: Zelenskyy Might Eye Speeches in European Capitals
Ukrainian President Volodymyr Zelenskyy could make speeches in [Full Story] | video
30 Marvelous Photos Taken at the Airport
YourBump
Trump: Every Republican Should Vote 'No' on Omnibus
Former President Donald Trump onTruth Socialcondemned the $1.7 [Full Story]
Video Report: Schumer Says $1.7T Omnibus Deal Reached
Senate Majority Leader Chuck Schumer, D-N.Y., says a deal has been [Full Story] | video
Florida Republicans Weigh Support for McDaniel as RNC Chief
The Republican Party of Florida will meet in special session to [Full Story]
Taliban Minister Defends Ban on Women's University Studies
The minister of higher education in the Taliban government on [Full Story]
Gaetz: McCarthy Doesn't 'Actually Believe Anything'
As the deadline to round up votes for House Minority Leader Kevin [Full Story]
United Airlines Pilot Union Head Resigns Over Forum Posts
The head of the United Airlines pilots' union has resigned after [Full Story]
30-Year Mortgages Fall 6th Straight Week
The average long-term U.S. mortgage rate declined for the sixth [Full Story]
Russian Defense Minister Visits Troops in Ukraine – RIA Cites Ministry
The Russian Defence Ministry said on Thursday that Defence Minister [Full Story]
Pope Denounces Psychological Abuse as Jesuit Case Rocks Church
Pope Francis on Thursday denounced psychological violence and abuse [Full Story]
Related
Pope Warns Vatican Staff an 'Elegant Demon' Lurks Among Them
Schumer: Senate Deal Reached on $1.7T Omnibus Bill
Senators reached a deal to advance the $1.7 trillion omnibus spending [Full Story]
Biden Admin Spends $550K on AI to Detect Social Media Microaggressions
Government spending records show that the Biden administration is set [Full Story]
Target Recalls Children's Weighted Blankets After Two Deaths
Target Corp. said Thursday it has recalled about 204,000 Pillowfort [Full Story]
2 Bankman-Fried Associates Plead Guilty to Fraud
Crypto trading firm Alameda Research's former CEO, who's also the [Full Story]
Unemployment Claims Up Slightly
Slightly more Americans filed for unemployment benefits last week as [Full Story]
3Q GDP Revised Up to 3.2 Percent
Shrugging off rampant inflation and rising interest rates, the U.S. [Full Story]
Detransitioners Important to the Science of Gender Care
For years, Dr Kinnon MacKinnon, like many people in the transgender [Full Story]
McClellan Wins Dems' Nomination for Virginia Congressional Seat
Virginia state Sen. Jennifer McClellan, a Democrat. has won her [Full Story]
House Republicans Gearing Up to Probe Afghan Withdrawal
Republicans ready to take control of the House are gearing up to [Full Story]
US Releases Medicine From National Stockpile as Flu Continues to Surge
The Biden administration said Wednesday it will release doses of [Full Story]
Finance
FTX's Bankman-Fried to Be Released on $250 Million Bond
Sam Bankman-Fried will be released on a $250 million bond package while he awaits trial on fraud charges related to the collapse of the FTX crypto exchange, a federal magistrate judge said on Thursday…. [Full Story]
Home Sales Slump 35% in November
Twitter Seeks Dismissal of Disability Bias Lawsuit
H&M Confirms Rights to Justin Bieber Merchandise
FTX Could Pay Over $2,100/Hour for Bankruptcy Lawyers
More Finance
Health
Expert Advice on Best Ways to Treat Your Cold Symptoms
While there is no cure for the common cold, there are ways to alleviate your symptoms and possibly shorten the duration of the misery. With so many shortages of cold and flu medications on supermarket and pharmacy shelves this season, you may want to try tried-and-true…… [Full Story]
Drinking Alcohol Can Trigger 'Holiday Heart Syndrome'
Stop Screening Asymptomatic Hospital Patients for COVID, Experts Say
Deep Brain Stimulation May Slow Memory Loss in Early Alzheimer's
Holiday Stress: Coping With Worry and Anxiety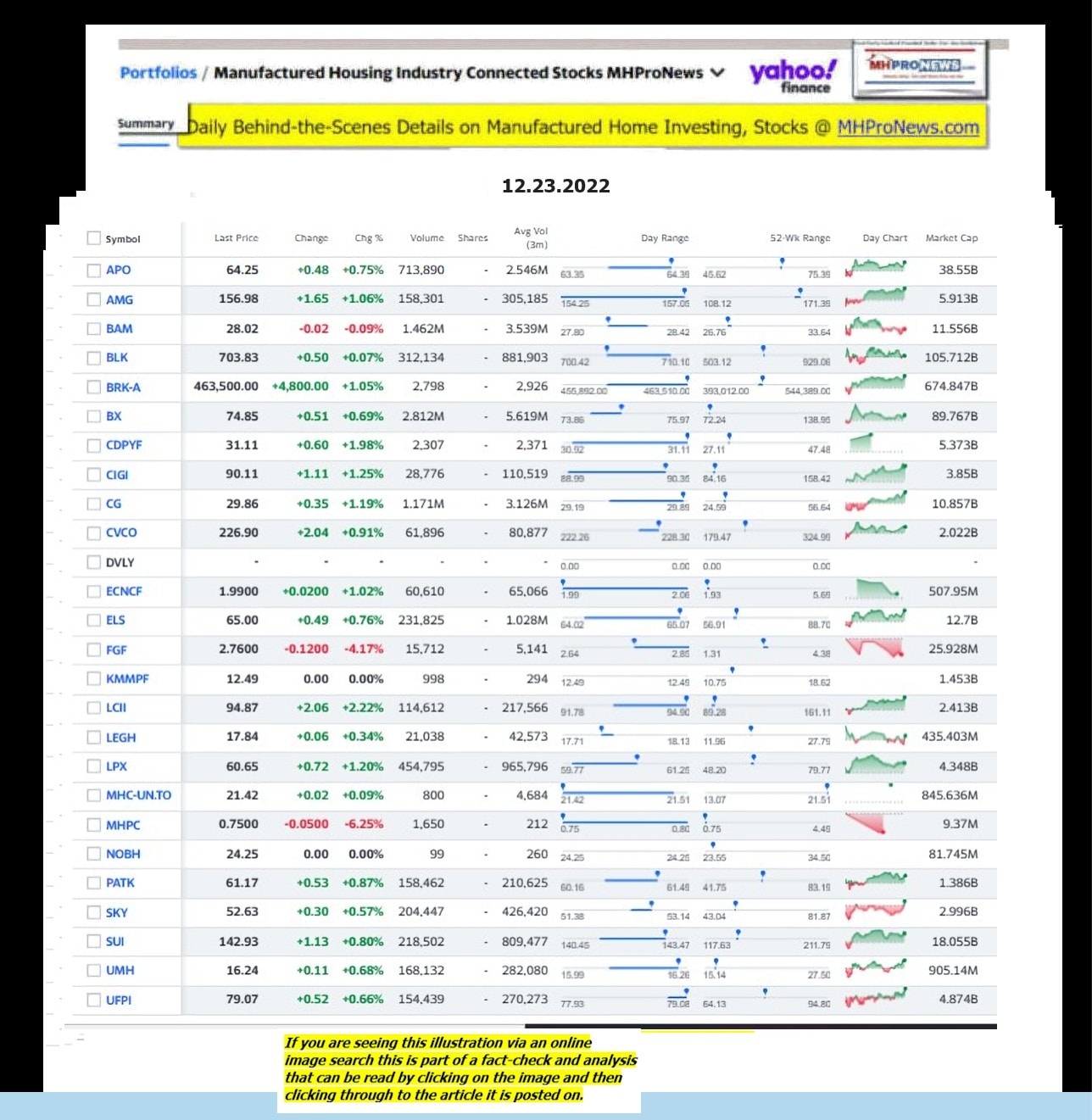 ====================================
Updated
NOTE 1: The 3rd chart above of manufactured housing connected equities includes the Canadian stock, ECN, which purchased Triad Financial Services, a manufactured home industry finance lender.
NOTE 2: Drew changed its name and trading symbol at the end of 2016 to Lippert (LCII).
NOTE 3: Deer Valley was largely taken private, say company insiders in a message to MHProNews on 12.15.2020, but there are still some outstanding shares of the stock from the days when it was a publicly traded firm.  Thus, there is still periodic activity on DVLY.
Note 4: some recent or related reports to the REITs, stocks, and other equities named above follow in the reports linked below.
Manufactured Housing Properties-Results for Three and Nine Months Ending September 30.2022–Exploring 'Mobile Home Park' Manufactured Home Community Investing; plus MHVille REITs, Stocks Update
Manufactured Housing's Next BIG Regulatory Battle That MHARR's Spotlighted and Which MHI Conveniently Ignored in Recent 'Manufactured Housing Institute News;' plus Sunday Weekly Headlines Recap
'Changes Will Benefit Customers,' Boost Sales-Legacy Homes CEO Duncan Bates – LEGH 'Delivered 22.5% Return on Equity in 1 Yr' – Corp Q3 2022 Insights, Analysis; plus MHVille REITs, Stocks Update  
'No Assurance Inflation Will Not Affect Our Future Profitability Financial Position'=Cavco Industries 10-Q, Solitaire Deal, More CVCO Data; Supreme Court Ruled-SEC Regs on False-Omitted Remarks
Skyline Champion Provides Quarterly Results, Adding Retail Centers, Improved Delivery Times-CEO Mark Yost Says 'Can Outperform Conventional Housing' Explored; Plus MHVille REITs, Stocks Update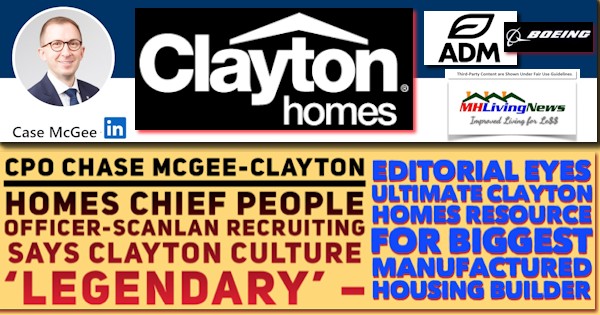 Triad Financial Services Q2-2022 FINANCIAL RESULTS, per ECN Capital – Several Bright Spots in Manufactured Home Market Highlighted, Including Communities, Retail, Land-Home, Floor; MHStocks Update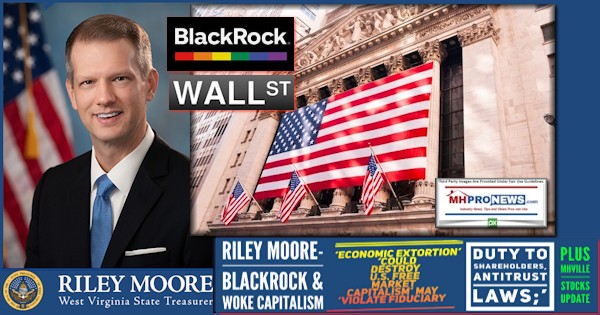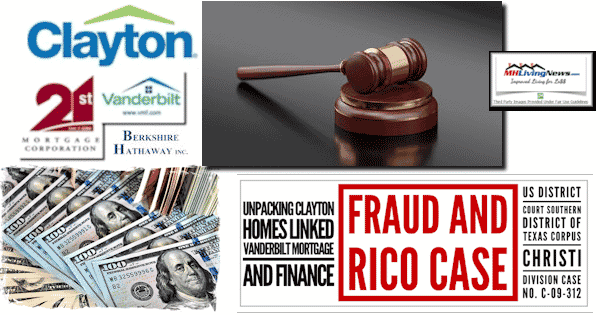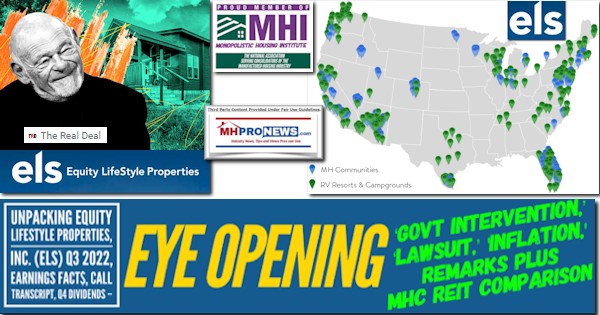 Manufactured Home Communities (a.k.a. 'Mobile Home Parks' – SIC) – Exploring UMH Properties; Fellow Manufactured Housing Institute Member Yes! Communities Suits and Settlements; plus MH Markets Updates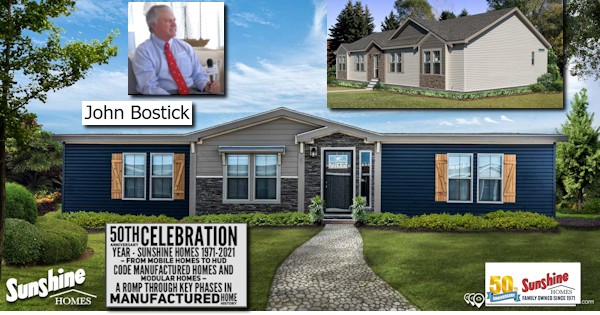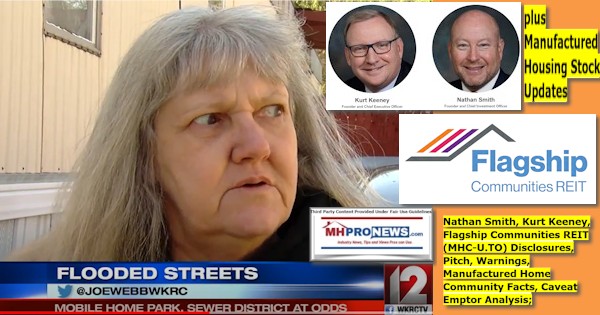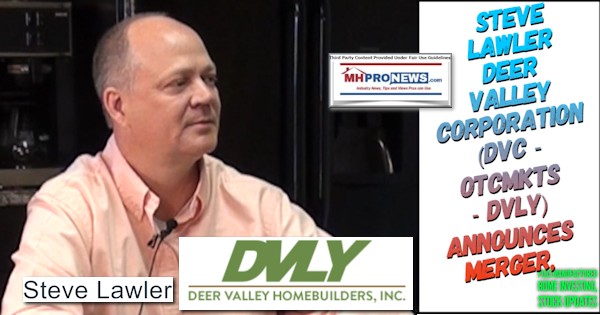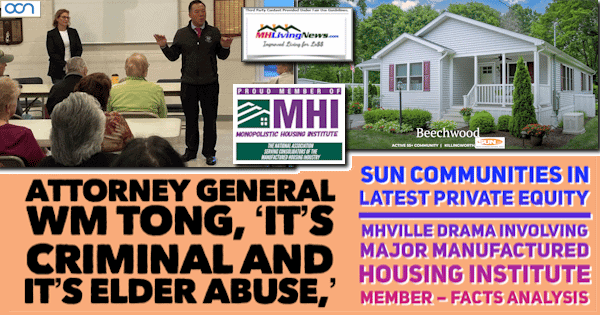 2022 …Berkshire Hathaway is the parent company to Clayton Homes, 21st Mortgage, Vanderbilt Mortgage and other factory-built housing industry suppliers.
· LCI Industries, Patrick, UFPI, and LP each are suppliers to the manufactured housing industry, among others.
· AMG, CG, and TAVFX have investments in manufactured housing related businesses. For insights from third-parties and clients about our publisher, click here.
Disclosure. MHProNews holds no positions in the stocks in this report.
· For expert manufactured housing business development or other professional services, click here.
· To sign up in seconds for our industry leading emailed headline news updates, click here.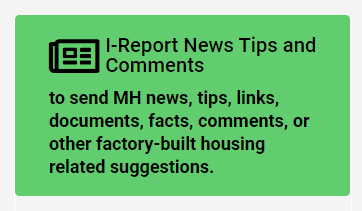 That's a wrap on this installment of "News Through the Lens of Manufactured Homes and Factory-Built Housing" © where "We Provide, You Decide." © (Affordable housing, manufactured homes, stock, investing, data, metrics, reports, fact-checks, analysis, and commentary. Third-party images or content are provided under fair use guidelines for media.) (See Related Reports, further below. Text/image boxes often are hot-linked to other reports that can be access by clicking on them.)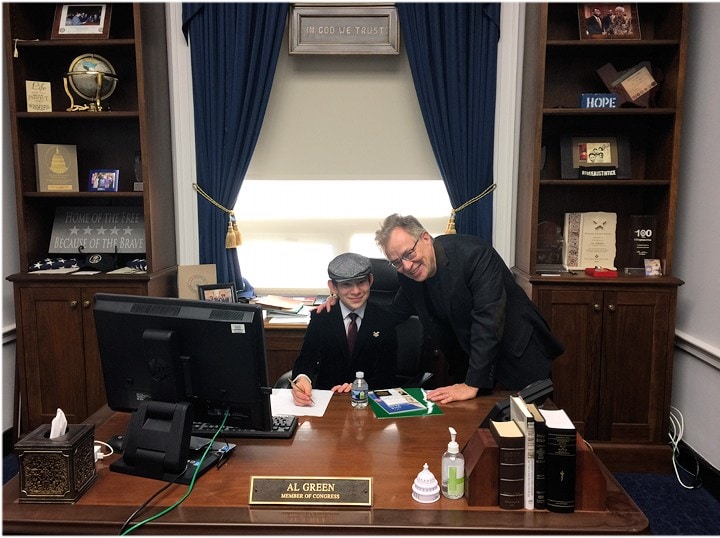 By L.A. "Tony" Kovach – for MHProNews.
Tony earned a journalism scholarship along with numerous awards in history. There have been several awards and honors and also recognition in manufactured housing. For example, he earned the prestigious Lottinville Award in history from the University of Oklahoma, where he studied history and business management. He's a managing member and co-founder of LifeStyle Factory Homes, LLC, the parent company to MHProNews, and MHLivingNews.com. This article reflects the LLC's and/or the writer's position and may or may not reflect the views of sponsors or supporters.
Manufactured Home Production Growth Continues in September 2022, per Manufactured Housing Association for Regulatory Reform-Added Facts, Analysis, plus MHVille REITs, MH Connected Stocks Update
Consumers 'Fears for the Future'-Mortgage Payments Surge Since 2021, Buyers Get Priced Out–Conventional Housing Woes are Manufactured Home Pro Opportunities; plus MHVille REITs, Stocks Update