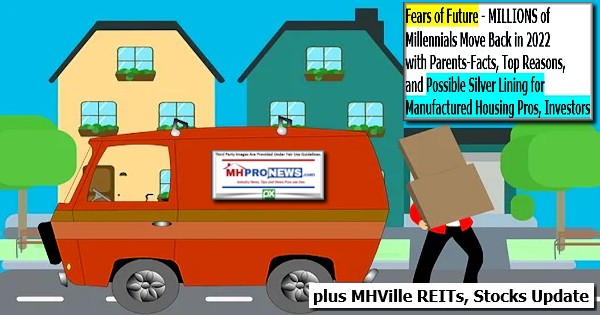 "One in eight millennials moved home with their parents in 2022. … Millennials will be home for Christmas, and all they want are lower rent prices." So reported Fortune on 12.7.2022. While others in MHVille continue to act (or pretend…) as if everything is somehow 'normal' in manufactured housing during an affordable housing crisis, an array of evidence demonstrates a different picture. Bloomberg, ZeroHedge, Property Management, and WND are among the other sources reporting the stunning claim that some 9 million millennials have moved back in with parents in the 2022 alone. Soaring rents has been a key factor.
ABC Action News said that: "According to the report, 22% of those living at home make more than $40,000 a year." So, there are among those moving back to mom and dad's place who earn more than the national average for manufactured homeowners. Per Fannie Mae "The median annual household income of manufactured home residents who own their homes is about $35,000," on 3.21.2020. The National Association of Realtors (NAR) seminal 2018 research on manufactured housing places that figure higher, "the median household income among manufactured homeowners was $43,900…"
With that backdrop, per the WND NewsCenter to MHProNews, is the following report.
Money
Fears of the Future
9 million Millennials moved back in with their parents this year
Soaring rent among main factors
By WND News Services Published December 10, 2022 at 3:01pm
(ZEROHEDGE) – The good news is that they still have jobs (if one believes the goalseeked propaganda spewed by the Bureau of Labor Statistics). The bad news is that soaring rents have forced millions of young Americans to move back in with their parents this year, according to a new survey.
As Bloomberg's Alex Tanzi writes, about one in four millennials are living with their parents, according to the survey of 1,200 people by Pollfish for the website PropertyManagement.com. That's equivalent to about 18 million people between the ages of 26 and 41. More than half said they moved back in with family in the past year[.]
Among those who slunk back to their parents' basement, the surge in rental costs was the main reason given for the move. About 15% of millennial renters say that they're spending more than half their after-tax income on rent. ##
The balance of the report on ZeroHedge is found at this link here.
ZeroHedge included this graphic below and the following closing paragraph.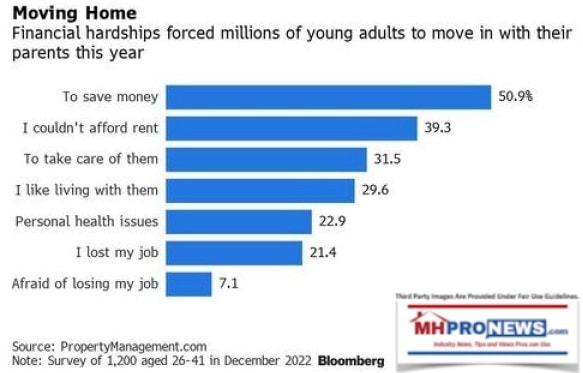 "The disruptions of the pandemic, which triggered massive job losses as well as a spike in housing costs, have driven an unprecedented shakeup in living arrangements. In September of 2020, a survey by Pew found that for the first time since the Great Depression, a majority of Americans aged between 18 and 29 were living with their parents."
Additional Information with More MHProNews Analysis and Commentary in Brief
That sobering snapshot of working age Americans who say they have been driven back to their parents' homes ought to spark an array of related insights. In no particular order of importance are the following observations.
1). When someone reads a report that says the U.S.A. needs some 3.8 million to 8.3 million housing units, it nevertheless ought to be obvious that those millions of affordable housing seekers have to be living somewhere.
2). When CNN and the National Association of Realtors (NAR) de facto report, using cited data, that the so-called Biden Housing plan is failing, even though that plan mentioned manufactured housing numbers of times, it obviously means that people who can't get a manufactured home or other housing are going somewhere.
3). When younger Americans are complaining, per left-leaning U.S.A. Today and Yahoo News, that housing has become "a scam," that sends a message that ought to be a wakeup call to all housing professionals. But it perhaps particularly should be reporting that manufactured housing pros, actual and potential investors lean into. Those millions are in many cases potential manufactured homeowners. While costs on all housing and incomes have risen since the research cited below occurred, the percentages are arguably similar, so the possible takeaways ought to be much the same.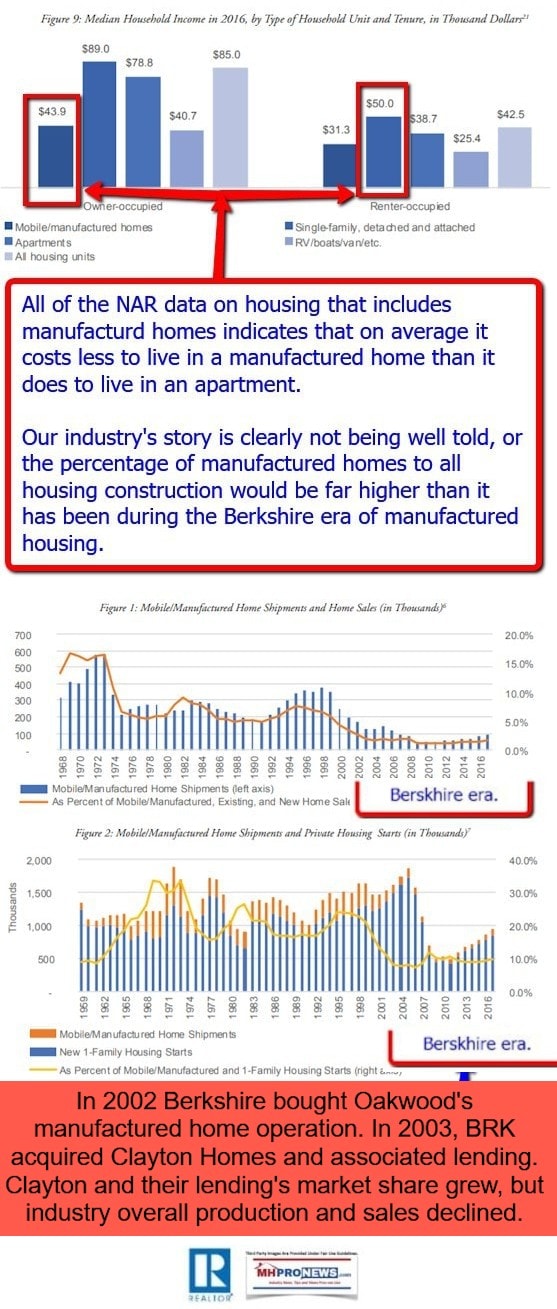 4). There is an odd lack of intellectual curiosity by some media and researchers to understand and explain the significant range of seemingly conflicting claims. The National Low Income Housing Coalition (NLIHC), for instance, says there is a shortage of some 7 million affordable rentals. But other sources (see linked items above) share numbers lower and higher, sometimes by several million units. Where are the data-driven efforts to reconcile those differences?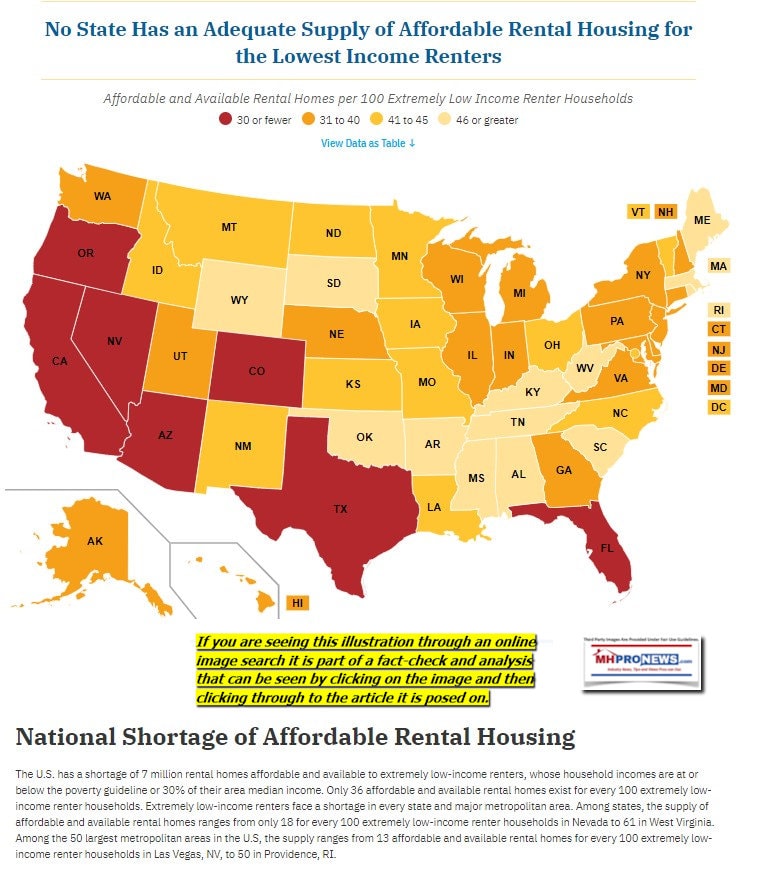 5) If ever there has been a time when the Manufactured Housing Institute (MHI), as the industry's self-proclaimed national trade group representing "all segments" of the industry could be initiating a broader case directly to the public and to public officials for enforcing existing laws that could cause manufactured housing to soar, this is surely such a time. But over a decade has gone by since Kevin Clayton said in a video recorded interview that the industry was ready then to launch a national campaign. If so, what happened to it? Did you and I sleep and miss it? What Clayton's comment supposed to refer to the toe-in-the water efforts using social media posts that are not well followed? The linked reports that follow explore the statements vs. the performance on the promotional front. They leave the unmistakable impression that MHI and their dominating brands, several of which are publicly traded or subsidiaries of publicly traded companies, have not shot straight with respective audiences.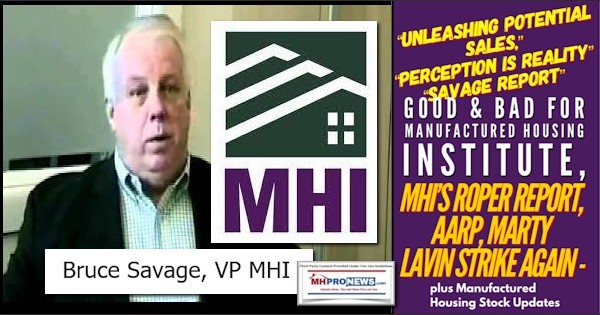 On issue after issue, the larger manufactured housing operations that are the apparent driving forces behind MHI have said one thing but have all too often failed to do the logical steps needed to make their claims for creating robust industry growth come true.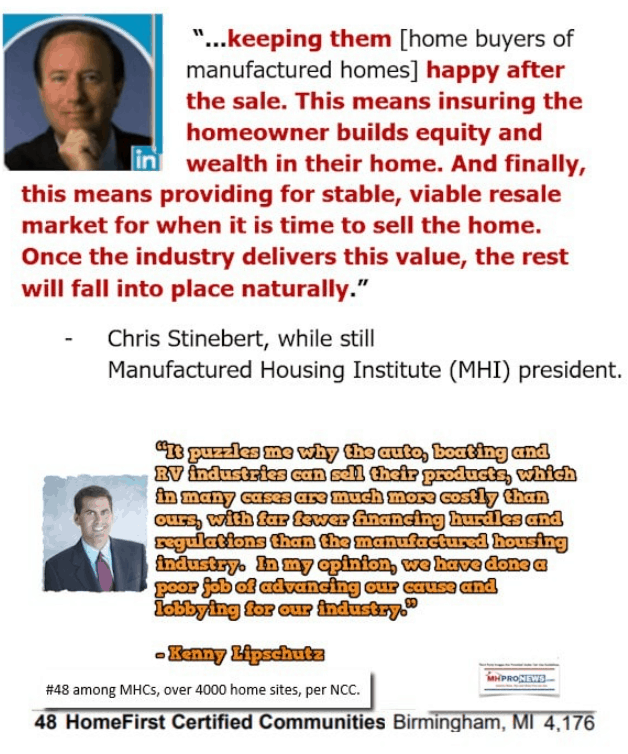 These are among the reasons that those brands and MHI may be opening themselves up to liability and litigation that make the recent settlement of the Securities and Exchange Commission (SEC) case against Cavco Industries seem like child's play.
Pew Research Manufactured Home Financing Data Reveals Harm from Enough Federal Lending Shuts Out Many Prospective Buyers-Concerns on Berkshire Owned MHLenders, Manufactured Housing Institute
Has the Manufactured Housing Industry Become a Target-Rich Environment for Plaintiffs' Attorneys? Facts, News & Views; plus, Sunday Weekly Manufactured Home Industry (MHVille) Headlines Recap
December's Manufactured Housing Production Report for October 2022 Data Reveals Trend Shift – What Latest Facts Reflects on MHARR's and MHI's Respective Messaging, Efforts
Regarding Gaslighting-'MHI News'–Manufactured Housing Institute, Monopolistic Housing Institute, Machiavellian Housing Institute, Manipulative Housing Institute? Friday Facts, Follies, Stocks Update
Mackinac Center for Public Policy Report Warns 'Rent Control' Threat to Manufactured Home Community Operators 'Coming' to 'Mobile Home Parks,' Per Capitol Confidential Musings; plus MHVille REITs, Stocks Update
Consumers 'Fears for the Future'-Mortgage Payments Surge Since 2021, Buyers Get Priced Out–Conventional Housing Woes are Manufactured Home Pro Opportunities; plus MHVille REITs, Stocks Update
Unpacking Equity LifeStyle Properties, Inc. (ELS) Q3 2022, Earnings Fact$, Call Transcript, Q4 Dividends – Eye Opening 'Govt Intervention,' 'Lawsuit,' 'Inflation,' Remarks plus MHC REIT Comparison
How Long a Prison Term May Some Manufactured Housing Execs Get from Successful Prosecution? Law360 Clue-11 & 13 Year Prison Terms for Convicted Corp Criminal Fraud; plus MHVille REITs, Stocks Update
Manufactured Housing's Next BIG Regulatory Battle That MHARR's Spotlighted and Which MHI Conveniently Ignored in Recent 'Manufactured Housing Institute News;' plus Sunday Weekly Headlines Recap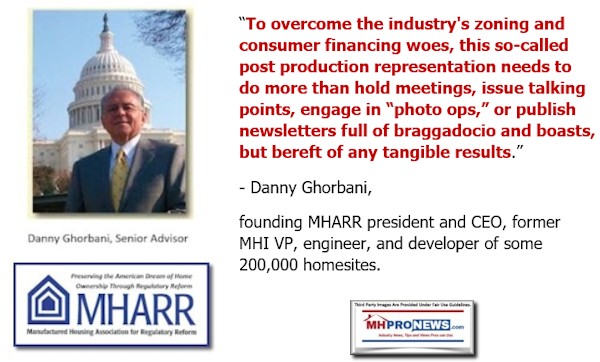 More on these issues will be revealed in planned and pending reports found only on MHProNews and MHLivingNews. Stay tuned. But certainly, one bottom line takeaway ought to be that opportunities for visionary investors, perhaps best backed up with legal chutzpah and muscular messaging cojones, could make manufactured housing soar in specific markets. When demand is high and the delivery mechanism and federal laws needed to act favorably, honorably, and profitably to serve millions of potential buyers are available, that is a story that obviously others in the industry have failed to properly tell. Because if they had done so, the same total millions would not have moved in with mom and dad.  At least hundreds of thousands of more of them could have moved into a manufactured home. The fact that this has not yet occurred are evidence of either imbecilic leadership, unstated hidden agendas, and failed policies that are potentially actionable.  As pushback against ESG investing is rising nationally, there could and should be a parallel efforts to probe what's gone wrong at MHI and with their publicly traded brands.
Frank Rolfe, Gary Shiffman 5-Point Case for Properly Developing More Manufactured Home Communities–People, Profits, Performance, Perspectives, and Affordable Manufactured Housing Done Correctly
Riley Moore-Blackrock & Woke Capitalism 'Economic Extortion' 'Could Destroy U.S. Free Market Capitalism' May 'Violate Fiduciary Duty to Shareholders, Antitrust Laws;' Plus MHVille Stocks Update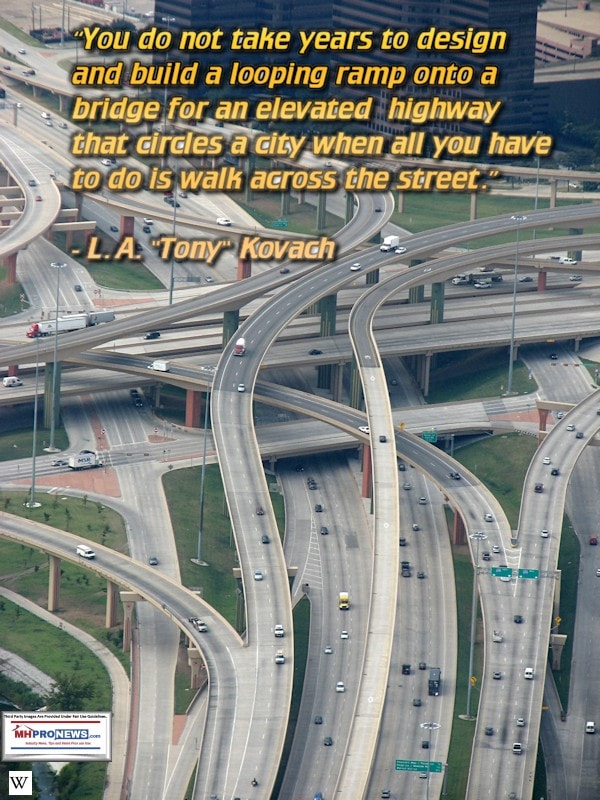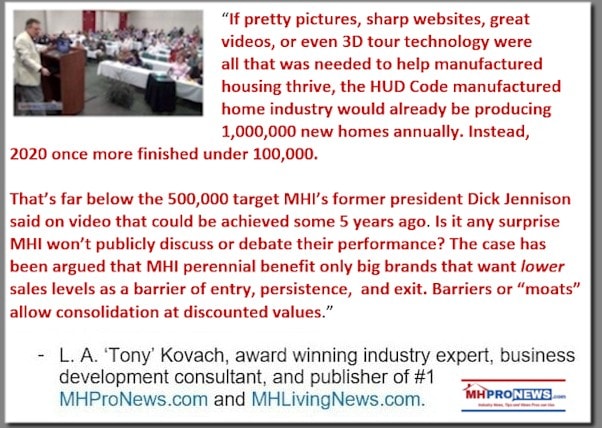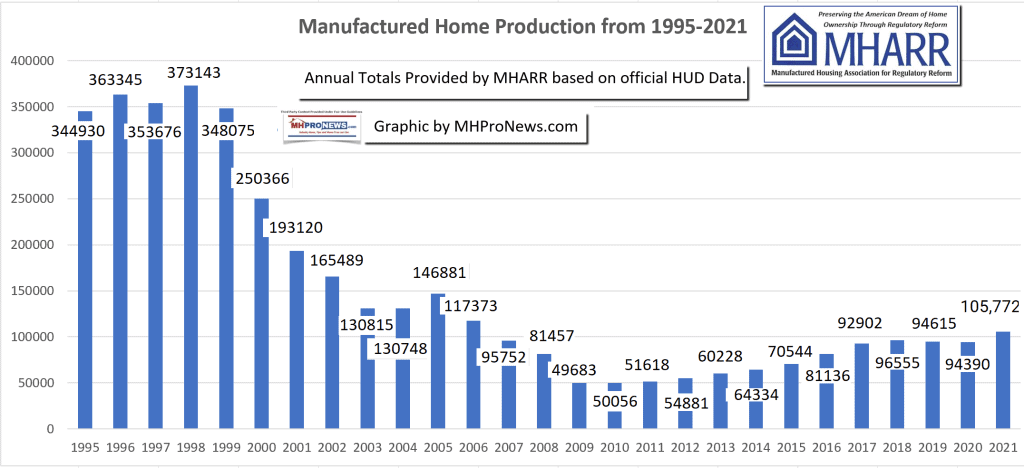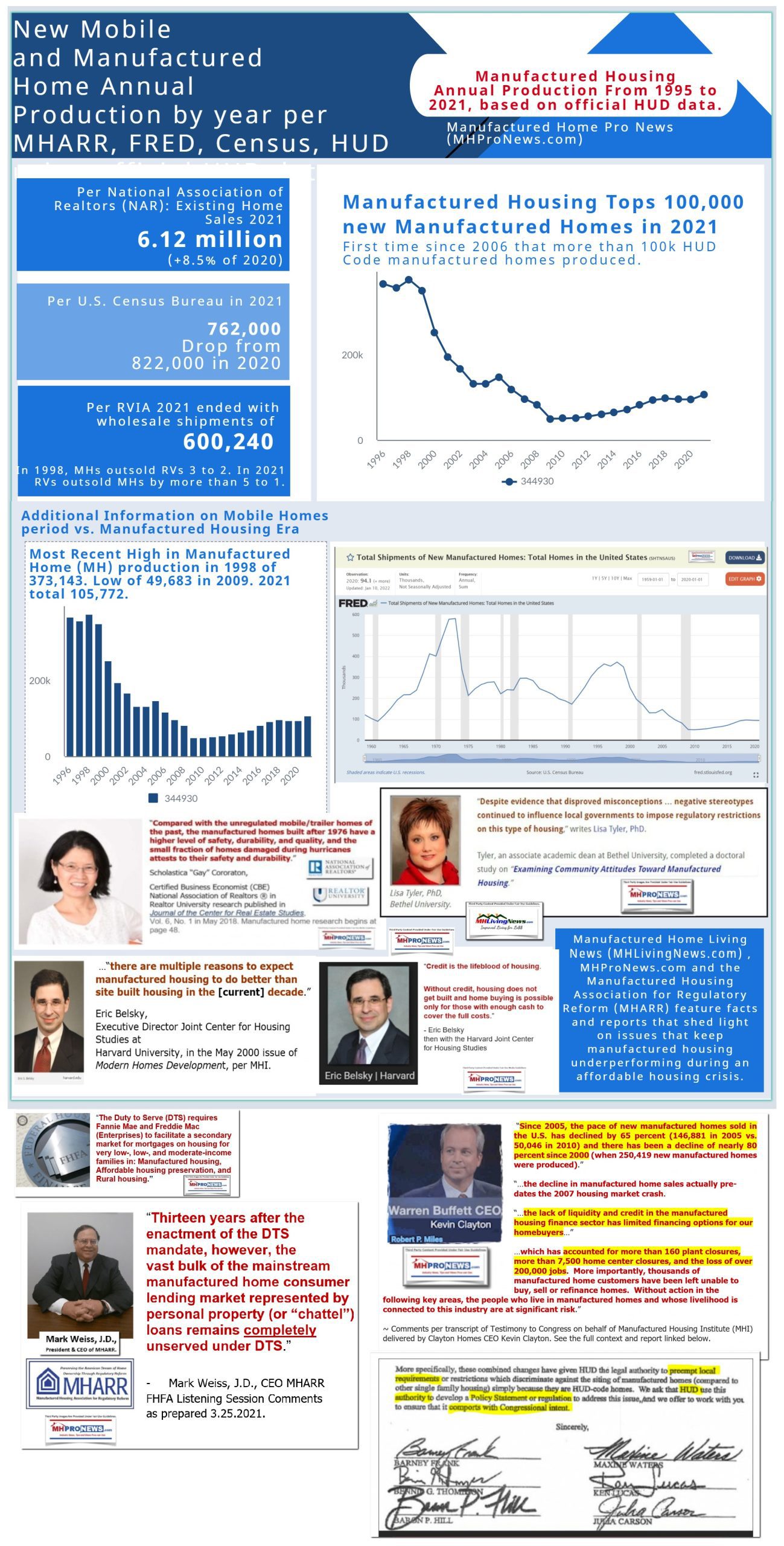 Daily Business News on MHProNews Markets Segment
The modifications of our prior Daily Business News on MHProNews format of the recap of yesterday evening's market report are provided below. It still includes our signature left (CNN Business) and right (Newsmax) 'market moving' headlines. The macro market moves graphics will provide context and comparisons for those invested in or tracking manufactured housing connected equities.
In minutes a day readers can get a good sense of significant or major events while keeping up with the trends that are impacting manufactured housing connected investing.
Reminder: several of the graphics on MHProNews can be opened into a larger size. For instance: click the image and follow the prompts in your browser or device to OPEN In a New Window. Then, in several browsers/devices you can click the image and increase the size. Use the 'x out' (close window) escape or back key to return.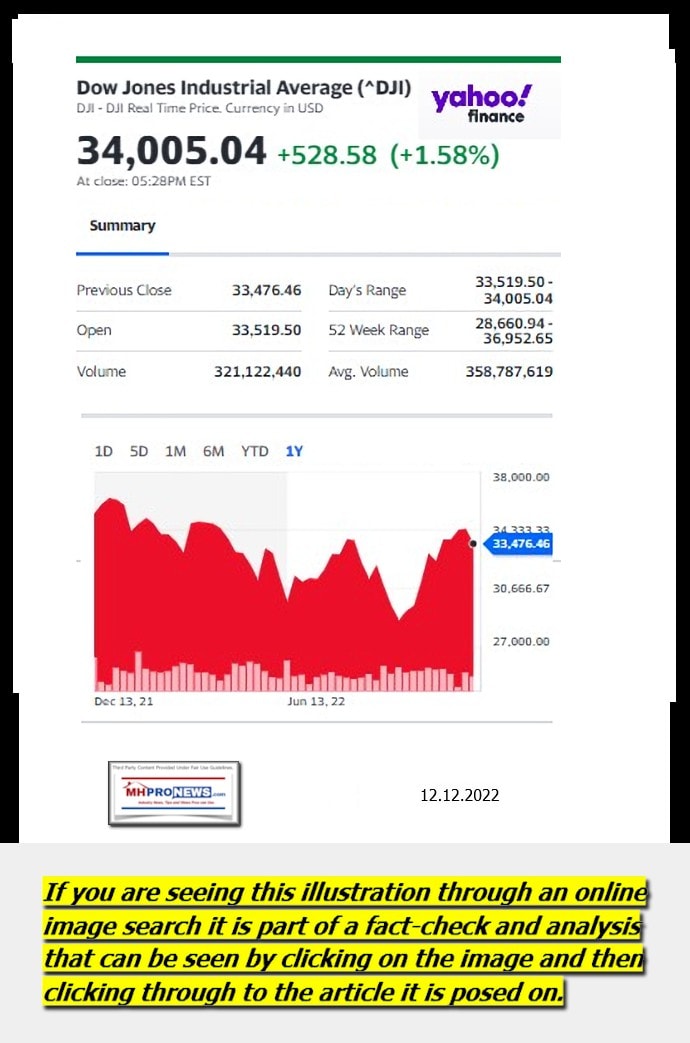 Headlines from left-of-center CNN Business – from the evening of 12.12.2022
Investors are worried
Traders work on the floor of the New York Stock Exchange (NYSE) in New York City, U.S., December 7, 2022.
It's not the most wonderful time of the year for markets. Here's why
An artificial Christmas tree for sale at a Target store on Black Friday in Chicago, Illinois, US, on Friday, Nov. 25, 2022. US retailers are bracing for a slower-than-normal Black Friday as high inflation and sagging consumer sentiment erode Americans demand for material goods.
Families squeezed by inflation are making sacrifices to buy presents for their loved ones
Janet Yellen 60 Minutes interview 1211 SCREENSHOT
Treasury Secretary Yellen predicts major inflation cooldown in 2023
20221208-twitter-verification-cost-light
Twitter adds gold check marks as it readies relaunch of option to pay for verified accounts
The Subaru 2019 Ascent is seen at the 2019 New England International Auto Show Press Preview at Boston Convention & Exhibition Center on January 17, 2019 in Boston, Massachusetts.
Subaru recalling 270,000 SUVs due to fire risk
NOVEMBER 10th 2022: The Wall Street Stock Market surges to its best day in two and a half years as all the major indexes – the Dow Jones Industrial Average, the S&P 500 stock market index, the NASDAQ Composite index and the Russell 2000 – all closed with dramatic gains as the latest CPI data indicates that inflation may have peaked. – File Photo by: zz/STRF/STAR MAX/IPx 2020 6/14/20 Atmosphere in and around Wall Street and The New York Stock Exchange in the Financial District of Lower Manhattan, New York City on June 14, 2020 during the coronavirus pandemic amid the aftermath of protests, demonstrations, riots, vandalism and destruction of property in response to the death of George Floyd who died while being arrested by police officers in Minneapolis, Minnesota on May 25th. (NYC)
Betting on a market bounce? You may be waiting a while
A man carries bags of purchases through the King of Prussia Mall on December 11, 2022 in King of Prussia, Pennsylvania.
Americans expect inflation to ease, Fed survey shows
Elon Musk pauses and looks down as he speaks during a press conference at SpaceX's Starbase facility near Boca Chica Village in South Texas on February 10, 2022. – Billionaire entrepreneur Elon Musk delivered an eagerly-awaited update on SpaceX's Starship, a prototype rocket the company is developing for crewed interplanetary exploration.
Elon Musk booed off stage at a Dave Chappelle show
FILE PHOTO: Jeep Compass and Patriot vehicles move down an assembly line during a tour of the Chrysler Belvidere Assembly plant in Belvidere, Illinois February 2, 2012. REUTERS/Frank Polich/File Photo
Stellantis to idle Illinois plant, lay off more than 1,000 workers, citing rising costs for EVs
Chief Executive Officer of FTX Trading Limited Sam Bankman-Fried speaks during a House Committee on Financial Services | Full Committee Hearing titled Digital Assets and the Future of Finance: Understanding the Challenges and Benefits of Financial Innovation in the United States on Capitol Hill on Wednesday, Dec. 08, 2021 in Washington, DC.
Jabin Botsford/The Washington Post/Getty Images
US lawmakers set to grill Sam Bankman-Fried on the collapse of FTX
Rivian halts plans to build electric vans with Mercedes
Elon Musk says Twitter is rolling out a new feature that will flag 'shadowbanning.' It's complicated
Twitter is auctioning off HQ items, including a bird statue and espresso machines
'Unprecedented' strike: 100,000 UK nurses set to walk off the job
Europe will still be fighting an energy crisis in 2023
Freight railroad service is terrible, even without the threat of a strike
Do you really need a new phone every 2 years? How to get more out of your devices
The Wall Street Journal names Emma Tucker its next editor, marking first woman to head the newspaper
Video: The IRS is now pursuing your PayPal income
Analysis: What goes up… is starting to come down
As the world courts TSMC, Taiwan worries about losing its 'silicon shield'
CNN Pentagon correspondent Barbara Starr is leaving the network after more than two decades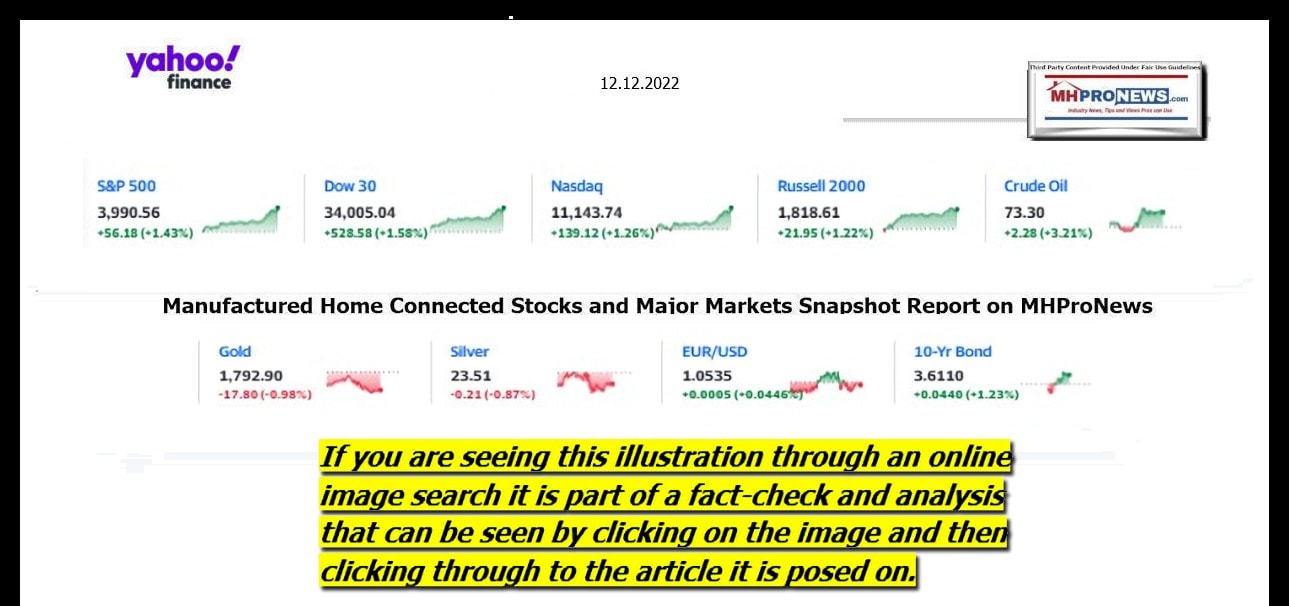 Headlines from right-of-center Newsmax 12.12.2022   
ICE Officers Told to Reduce Arrests in Anticipation of Border Surge
Migrants line up to board a bus after crossing the border from Mexico and surrendering to U.S. authorities near Yuma, Arizona, last month. (Gregory Bull/AP)
Some Immigration and Customs Enforcement officers say they're being told to cut back on arrests so there are detention beds available for migrants detained at the southern border. [Full Story]
Newsmax TV
NYC Councilman Borelli: Mayor Wrong to Support Reparations | video
AG: Ticketmaster Probe Won't Go Away | video
Perry: 'Pattern of Weakness' Shown in Griner Release
Rep. Zachary: GOP Will Stop Sex Change Surgery for Minors
Donalds: Voted No on NDAA for Military's 'Woke Agenda' | video
Burchett: Twitter Files Show 'Complete Capitulation' | video
Cardinal Dolan: 'Not Paranoid' About Censorship | video
Elizabeth Whelan: 'Difficult' Seeing Brother Stuck in Russia | video
Mark Morgan: Senators' Border Proposal 'a Joke' | video
Newsfront
Richmond's Last Publicly Owned Confederate-Era Statute Removed
The last publicly owned Confederate memorial in Richmond, Virginia, was removed by crews Monday, representing the conclusion of the city's two-year process to purge any historical statues which might have glorified slavery and/or the Confederacy…. [Full Story]
US Officials Met With Sister of Paul Whelan, American Detained in Russia
Senior U.S. officials met virtually on Monday with Elizabeth Whelan, [Full Story]
CDC Urging Return to Masks Amid 'Tripledemic'
The Centers for Disease Control and Prevention again is urging people [Full Story]
Report: Russia Using Ukrainian-Made Missiles Against Ukraine
Sifting through the rubble after a Russian missile attack in October, [Full Story]
Related
Fighting Rages in East Ukraine, West Eyes More Sanctions on Russia
Zelenskyy's Talks With Other Leaders Signal Diplomatic Flurry Around Ukraine
Zelenskyy Thanks Biden for 'Unprecedented' Help to Ukraine
Analysis Shows More Iranian-Made Drones in Strikes on Ukraine Infrastructure
Burning Through Ammo, Russia Is Using 40-Year-Old Rounds, US Official Says
Putin Nixes Annual Press Conference, Sparks Health Rumors
Supreme Court Lets California Ban Flavored Tobacco Products
The U.S. Supreme Court on Monday cleared the way for California to [Full Story]
Dick Morris: Files Reveal Illegal Political Bias Behind Twitter's Trump Ban
New information revealed in the fourth release of Twitter files, [Full Story]
Related
Twitter to Relaunch Subscription Service Twitter Blue on Monday
Banned Conservative Rapper: Don't Make Musk Hero
Former DNI Ratcliffe: Office Didn't Work With Twitter to Block Laptop Story
Trump Points to Collusion, Alludes to 'Twitter Files'
Musk: 'Twitter Is Both Social Media Company, Crime Scene'
Twitter Execs Sought Rules to Ban Trump Alone, Files Say
Goldman Sachs to Cut at Least 400 More Jobs
Goldman Sachs Group Inc. aims to cut at least a few hundred more [Full Story]
Democrats' Lame-Duck Wishlist: Immigration, Gun Bills
Christmas carolers are preparing to sing about swans, geese, French [Full Story] | Platinum Article
Fewer Workers Could Prompt Fed to Keep Rates High
Still eager to hire, America's employers are posting more job [Full Story]
6 Geofence Warrants Could Violate Constitutional Rights
As part of its largest investigation into events surrounding the Jan. [Full Story] | Platinum Article
Nigel Green: China Not Losing Its 'Factory of the World' Crown to India – Yet
India's plans to take over China's 'factory of the world' tag seem to [Full Story]
EU Targets Iran Over Protest Crackdown, Russia Drone Sales
European Union foreign ministers imposed new sanctions Monday on [Full Story]
Japan, Netherlands to Join US in China Chip Curbs
Japan and the Netherlands have agreed in principle to join the United [Full Story]
Keystone Restart Unclear, Oil Supply Worries Mount
Traders expressed worry Monday about how long Canada's TC Energy [Full Story]
Israel Threatens to Bomb Beirut Airport if Iran Smuggles Weapons: Report
Israel reportedly warned Lebanon that it could bomb Beirut's [Full Story]
Brittney Griner Uncertain About WNBA Return
Phoenix Mercury star Brittney Griner has not yet decided on when or [Full Story]
Washington State to Give Health Insurance to Migrants
The Biden administration has approved the expansion of health [Full Story]
Soccer Player Who Refused to Take Knee Can Sue Coach
A former Virginia Tech women's soccer player, Kiersten Hening, can [Full Story]
Rasmussen Poll: More Voters Say US on Right Track
Thirty-five percent of likely U.S. voters said that the nation is [Full Story]
Video Report: Dems Facing Heat for Meeting Cuban Leader
Newsmax correspondent Leonardo Feldman reports on three Democrat [Full Story] | video
GOP Lawmakers: Biden Risking Passenger Safety With Air Marshals at Border
Republican lawmakers are warning the Biden administration that [Full Story]
Putin Nixes Annual Press Conference, Sparks Health Rumors
Russian President Vladimir Putin canceled his annual end-of-year [Full Story]
Americans Expect Inflation to Ease, Incomes to Rise
Americans are expecting waning inflation pressures over the next few [Full Story]
Supreme Court Takes Up Second Biden Appeal in Student Debt Relief Fight
The U.S. Supreme Court agreed Monday to hear President Joe Biden's [Full Story]
Elon Musk Booed on Stage at Dave Chappelle Show
Elon Musk received a hostile reception when he was called out onto [Full Story]
US Set to Announce Fusion Energy 'Breakthrough'
Scientists have succeeded for the first time to produce a fusion [Full Story]
Nonprofit Founder Says She Was Fired for Being a Conservative
A Republican woman who founded a nonprofit organized to offer [Full Story]
Libyan Accused in Lockerbie Bombing Now in American Custody
A Libyan intelligence official accused of making the bomb that [Full Story]
Feds Have Failed US in Fentanyl Crisis: WashPost
Successive U.S. administrations have failed to curtail or stop the [Full Story]
Madonna, Gwyneth Paltrow Sued for Promoting NFT
A group of A-list celebrities-including Madonna, Gwyneth Paltrow, [Full Story]
Israel: Intercepted Message Brought Down Spy Cohen in 1965
Israel sought to lay to rest on Monday a decades-old debate about one [Full Story]
Finance
Americans Expect Inflation to Ease, Incomes to Rise
Americans are expecting waning inflation pressures over the next few years even as they expect their incomes to perk up, the New York Fed said Monday in its latest Survey of Consumer Expectations…. [Full Story]
Gold a Better Portfolio Diversifier Than Bitcoin: Goldman
Microsoft Seeks to Settle EU Antitrust Concerns Over Teams
Lauren Fix, The Car Coach: Switzerland to Ban EVs to Avoid Blackouts
China Sues Over US Chip Export Curbs
More Finance
Health
Study: Adding Yoga to Your Workout Lowers Blood Pressure
Adding a little yoga to an exercise routine can be the fix someone needs to drop high blood pressure, a small study suggests. "As observed in several studies, we recommend that patients try to find exercise and stress relief for the management of hypertension [high blood… [Full Story]
CDC Investigating Severe Strep A Infections, Currently Spreading in Europe
How to Avoid Injury as You Get Back to Winter Sports
Experimental Antibody Treatment Effective Against Multiple Myeloma
Health Officials Call For Indoor Masking in Cities With High Infection Rates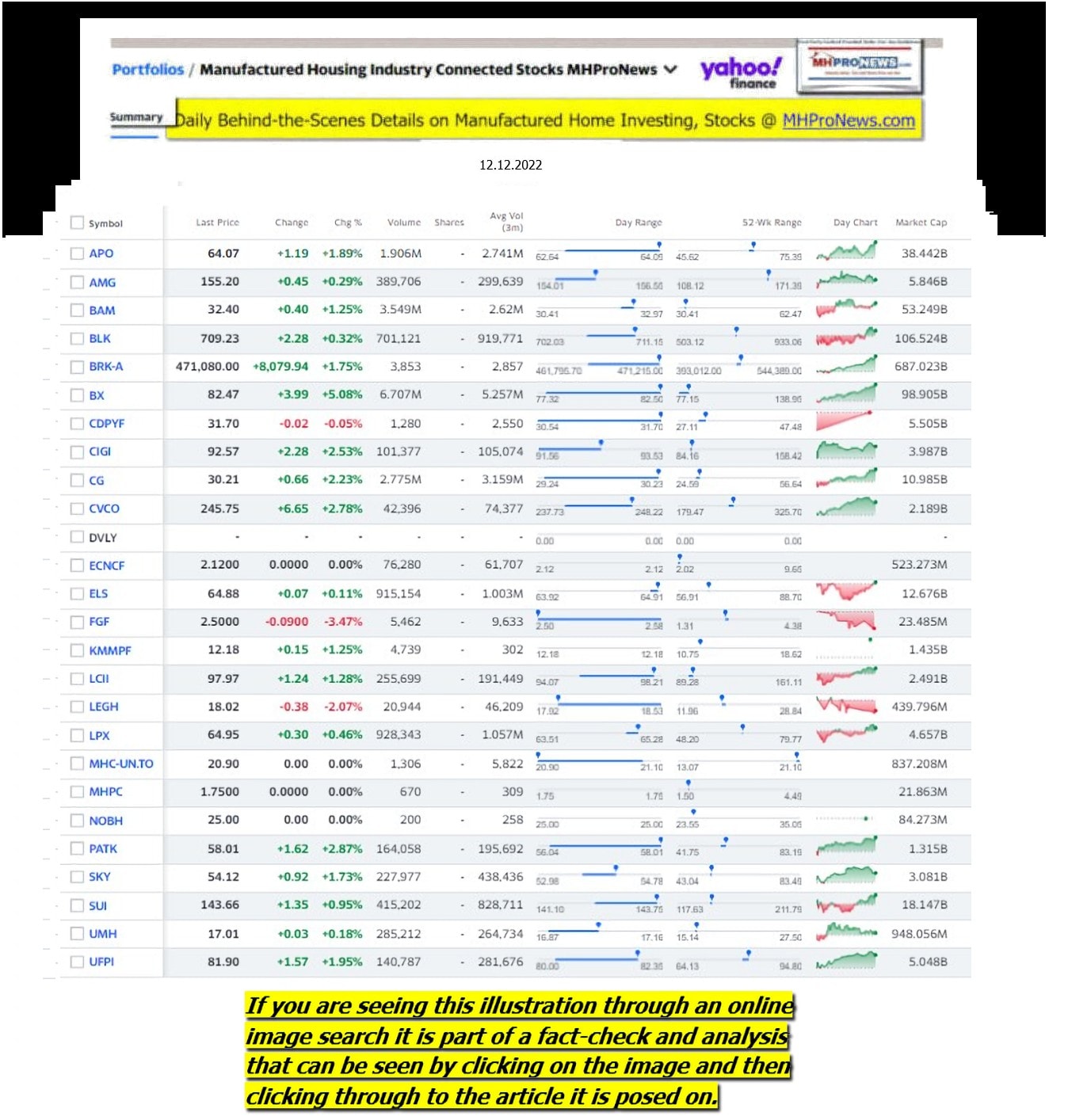 ====================================
NOTE 1: The 3rd chart above includes the Canadian stock, ECN, which purchased Triad Financial Services, a manufactured home industry finance lender
NOTE 2: Drew changed its name and trading symbol at the end of 2016 to Lippert (LCII).
NOTE 3: Deer Valley was largely taken private, say company insiders in a message to MHProNews on 12.15.2020, but there are still some outstanding shares of the stock from the days when it was a publicly traded firm.  Thus, there is still periodic activity on DVLY.
Note 4: some recent or related reports to the equities named above follow.
Manufactured Housing Properties-Results for Three and Nine Months Ending September 30.2022–Exploring 'Mobile Home Park' Manufactured Home Community Investing; plus MHVille REITs, Stocks Update
Manufactured Housing's Next BIG Regulatory Battle That MHARR's Spotlighted and Which MHI Conveniently Ignored in Recent 'Manufactured Housing Institute News;' plus Sunday Weekly Headlines Recap
'Changes Will Benefit Customers,' Boost Sales-Legacy Homes CEO Duncan Bates – LEGH 'Delivered 22.5% Return on Equity in 1 Yr' – Corp Q3 2022 Insights, Analysis; plus MHVille REITs, Stocks Update  
'No Assurance Inflation Will Not Affect Our Future Profitability Financial Position'=Cavco Industries 10-Q, Solitaire Deal, More CVCO Data; Supreme Court Ruled-SEC Regs on False-Omitted Remarks
Skyline Champion Provides Quarterly Results, Adding Retail Centers, Improved Delivery Times-CEO Mark Yost Says 'Can Outperform Conventional Housing' Explored; Plus MHVille REITs, Stocks Update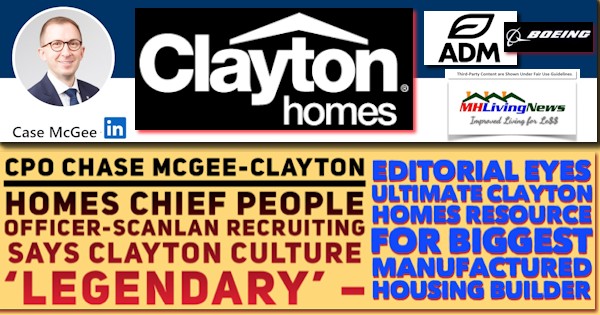 Triad Financial Services Q2-2022 FINANCIAL RESULTS, per ECN Capital – Several Bright Spots in Manufactured Home Market Highlighted, Including Communities, Retail, Land-Home, Floor; MHStocks Update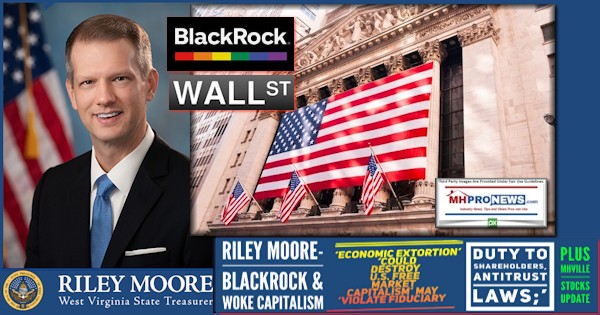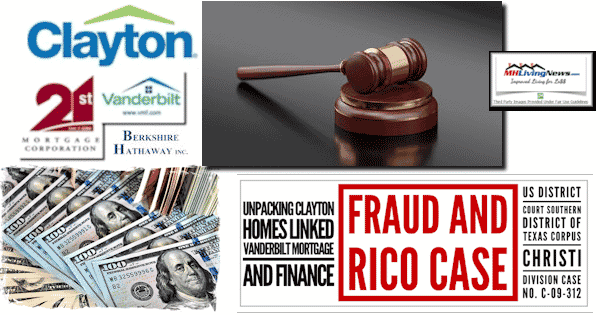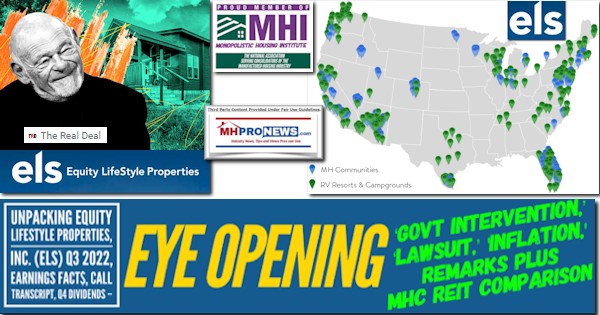 Manufactured Home Communities (a.k.a. 'Mobile Home Parks' – SIC) – Exploring UMH Properties; Fellow Manufactured Housing Institute Member Yes! Communities Suits and Settlements; plus MH Markets Updates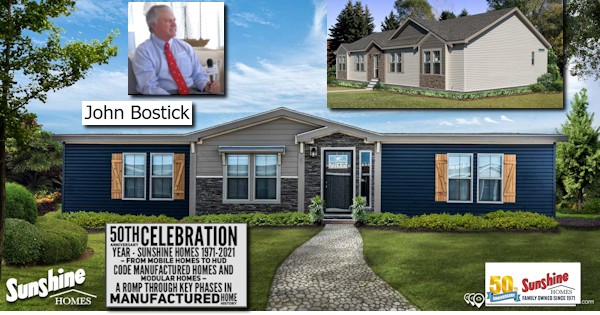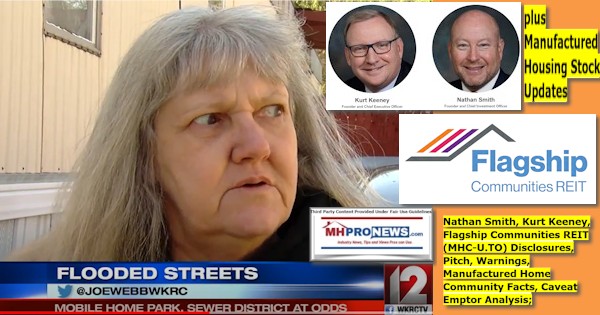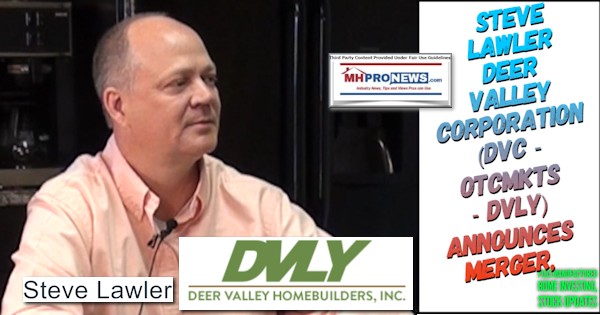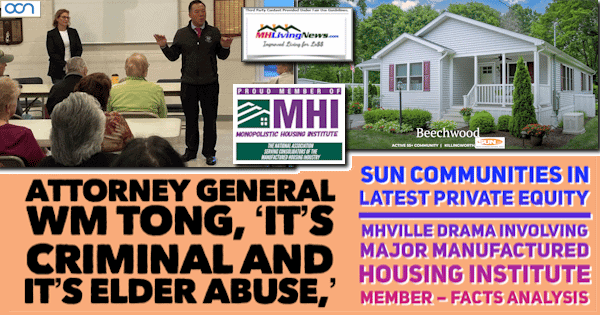 2022 …Berkshire Hathaway is the parent company to Clayton Homes, 21st Mortgage, Vanderbilt Mortgage and other factory-built housing industry suppliers.
· LCI Industries, Patrick, UFPI, and LP each are suppliers to the manufactured housing industry, among others.
· AMG, CG, and TAVFX have investments in manufactured housing related businesses. For insights from third-parties and clients about our publisher, click here.
Disclosure. MHProNews holds no positions in the stocks in this report.
· For expert manufactured housing business development or other professional services, click here.
· To sign up in seconds for our industry leading emailed headline news updates, click here.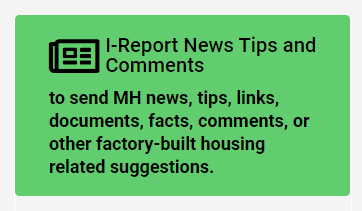 That's a wrap on this installment of "News Through the Lens of Manufactured Homes and Factory-Built Housing" © where "We Provide, You Decide." © (Affordable housing, manufactured homes, stock, investing, data, metrics, reports, fact-checks, analysis, and commentary. Third-party images or content are provided under fair use guidelines for media.) (See Related Reports, further below. Text/image boxes often are hot-linked to other reports that can be access by clicking on them.)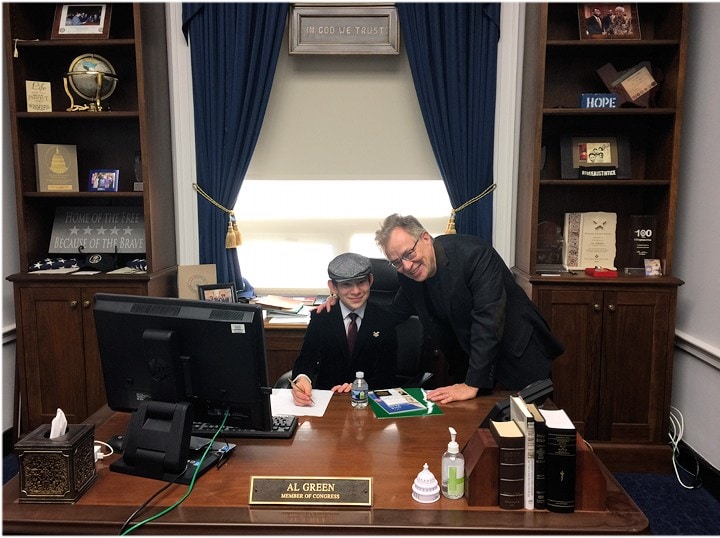 By L.A. "Tony" Kovach – for MHProNews.
Tony earned a journalism scholarship along with numerous awards in history. There have been several awards and honors and also recognition in manufactured housing. For example, he earned the prestigious Lottinville Award in history from the University of Oklahoma, where he studied history and business management. He's a managing member and co-founder of LifeStyle Factory Homes, LLC, the parent company to MHProNews, and MHLivingNews.com. This article reflects the LLC's and/or the writer's position and may or may not reflect the views of sponsors or supporters.
Manufactured Home Production Growth Continues in September 2022, per Manufactured Housing Association for Regulatory Reform-Added Facts, Analysis, plus MHVille REITs, MH Connected Stocks Update
Consumers 'Fears for the Future'-Mortgage Payments Surge Since 2021, Buyers Get Priced Out–Conventional Housing Woes are Manufactured Home Pro Opportunities; plus MHVille REITs, Stocks Update