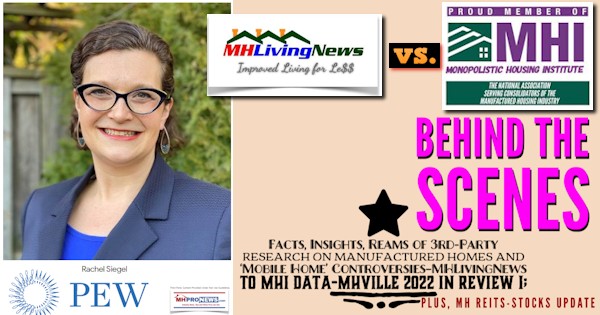 What follows is adapted from a press release linked here. That press release can be used as provided [i.e.: no changes] at this link without any fee or additional permissions. It is "free content" that could prove useful to numbers of manufactured home industry connected retailers, communities, suppliers, attorneys, advocates, and others. Construction News Today, Business News Today, Lifestyle News Today, Finance Industry Today, Residential Real Estate Today, Banking Industry Today, Google News, Bing, and Yahoo are among those which have already picked this press released report up. By clicking on the Bing and/or Yahoo links above, one can see that scores of other local and regional news websites which are among those who have already published the article that follows. Today's installment of the Daily Business News on MHProNews will add to the lead-in of the release provided below some additional information which will compare MHLivingNews with data obtained about engagement levels with the Manufactured Housing Institute (MHI) website. The third segment to this article will be the markets and equities report that includes specifics on manufactured housing industry connected stocks and manufactured home communities' real estate investment trusts (MHC REITs).
First up is the press release, followed by additional information, more MHProNews Analysis and Commentary that will provide information obtained about MHI traffic and engagement vs. MHLivingNews traffic and engagement. Spoiler alert. MHLivingNews 'smokes' MHI — apparently a case of 'no contest.' That noted, mildly adapted (the quote-image is adapted, and other images are inserted in the article instead of being accessed on the right, but the text is as in the original) from the media release is the following.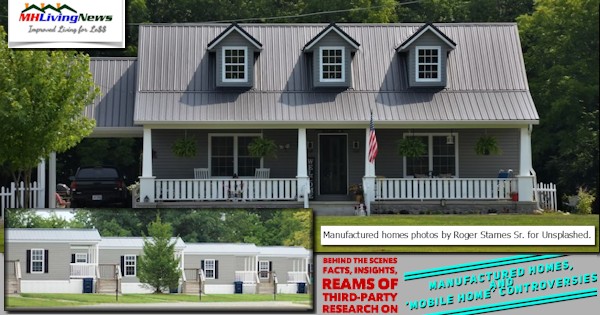 Behind the Scenes Facts, Insights, Reams of Third-Party Research on Manufactured Homes, and 'Mobile Home' Controversies
NEWS PROVIDED BY
MHLivingNews.com
December 20, 2022, 00:29 GMT
ManufacturedHomeLivingNews.com (MHLivingNews.com) is the trusted source for facts, legal, and expert analysis, featuring award winning L. A. "Tony" Kovach.
WINTER HAVEN, FLORIDA, UNITED STATES, December 19, 2022 / EINPresswire.com/ — "Manufactured homes are an important source of housing, and more manufactured homes are part of the solution to America's housing shortage." So said part of a longer emailed remarks from Rachel Siegel, senior officer with the Pew Charitable Trusts' provided to MHLivingNews.
The new and exclusive remarks by Siegel are related to issues that have recently or previously been covered by MHLivingNews and/or MHProNews, with excerpts quoted herein.
Federal Reserve research/authors James A. "Jim" Schmitz Jr. and David Fettig echoed Pew's praise of factory built manufactured homes. Comparing them to 'site built' housing, the research duo wrote that conventional house building is "often called stick-built construction, a highly labor-intensive method of making houses. There is, of course, a much more efficient way to produce housing, a low-cost substitute: factory production of homes." They elaborate by going into a history that dates back to the 1930s, but which today offers conventional home features for a much lower cost.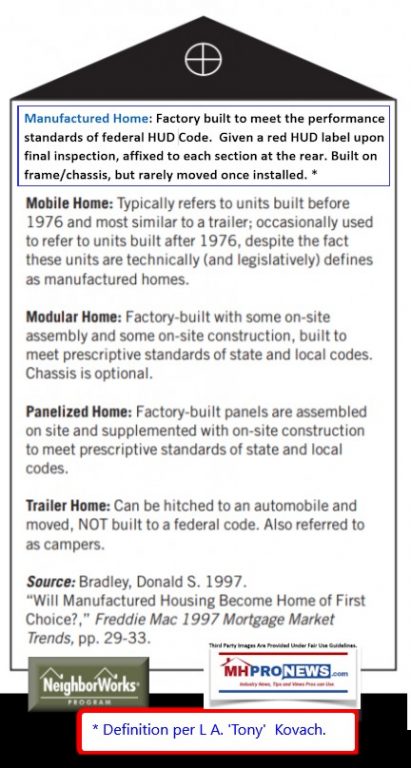 A common-sense question asked by some about manufactured homes is some variant of the following. If manufactured homes are such a good value, why aren't more of them being sold? That's a fair and intelligent inquiry. There are several possible replies that MHLivingNews has explored based on facts, evidence, and third-party research. For instance. Schmitz and Fettig wrote the following.
"There was a brief period, in fact, when US factory production [of homes] flourished. Factory production of homes soared during the 1960s, reaching 60 percent of single-family production by early 1970, threatening the very existence of traditional builders, especially those constructing smaller houses purchased by lower-income Americans.
In response, monopolies of stick-builders, including the National Association of Home Builders (NAHB) and the Department of Housing and Urban Development (HUD), developed extensive weapons to sabotage and harm factory producers of houses. NAHB and HUD strangled the production of factory homes. Production collapsed in the 1970s."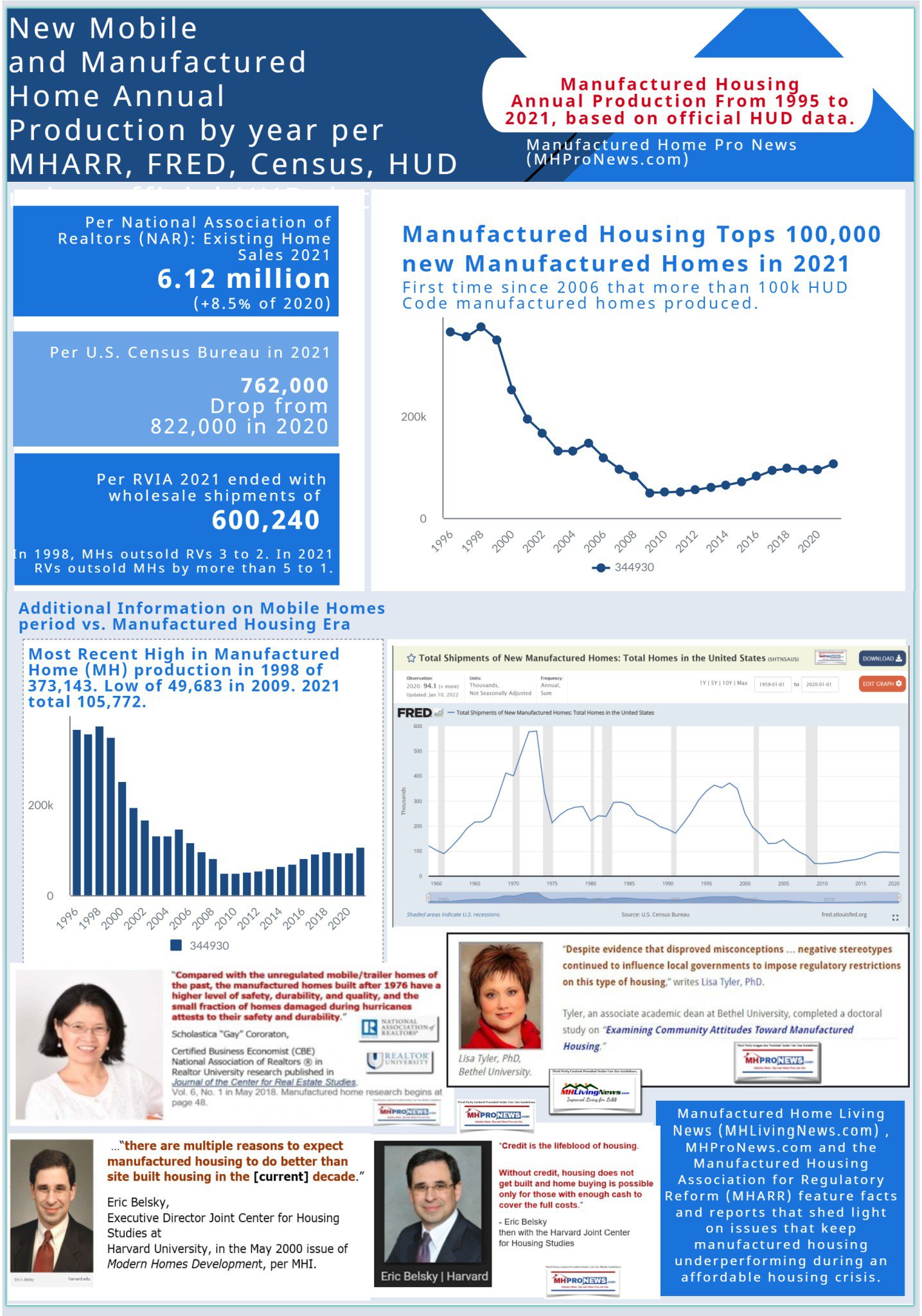 Per ProMarkets, "Jim Schmitz is an economist who has been studying monopoly since the early 1980s. He has been a member of the Research Department at the Federal Reserve Bank of Minneapolis since 1992." The title of their article on ProMarkets is: "Monopolies: Silent Spreaders of Poverty and Economic Inequality."
Pew doesn't mention problems associated with purported monopolistic practices.
But Pews' remarks to MHLivingNews.com added the following. "However, for many people it is very difficult to get [manufactured home] financing. Pew compared manufactured home applicants to other manufactured home applicants and found that when there is government support for manufactured home lending, buyers are more likely to be approved for a home-purchase loan. This was the case even when comparing similar applicants who applied for different kinds of loans. With increased government support, additional creditworthy applicants could benefit from owning a manufactured home."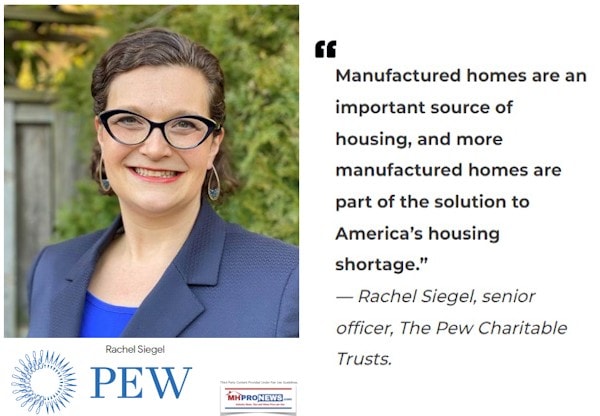 That statement by Pew's Siegel also sheds light on the manufactured housing industry's underperformance by historic standards during an affordable housing crisis. See the illustration in this press release for the historic trends in manufactured housing in the 20th and 21st centuries for details.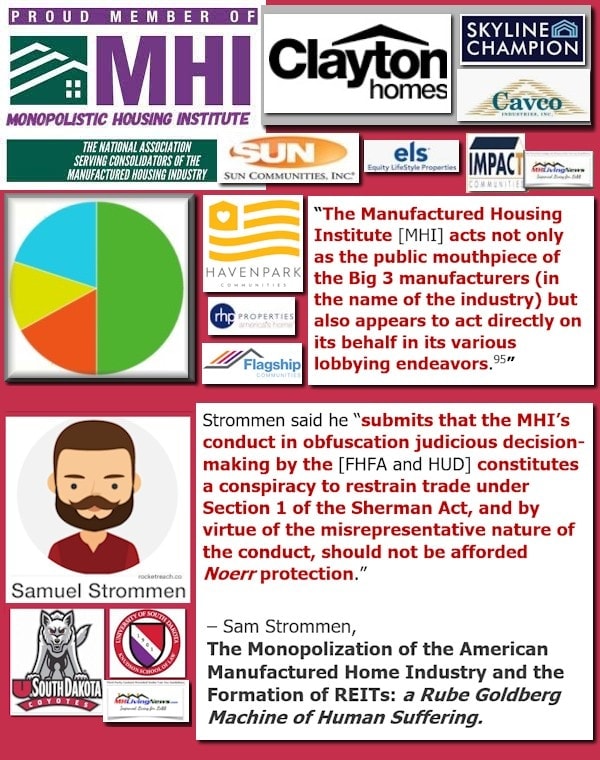 Pew's research into manufactured housing financing was unpacked by MHProNews, MHLivingNews' sister site, at this link here.
Following that MHProNews' report, Pew's comments on manufactured home lending were scrutinized by the Manufactured Housing Institute (MHI) in an email to their members. Pew provided their quoted remarks as a response to the following message issued by the Manufactured Housing Institute (MHI) to their members.
MHI's email said in part that: "A recent article from Pew concluded that many potential buyers of manufactured homes are unable to secure financing and suggests that expansion of Federal loan programs, particularly FHA Title I, could expand access to affordable housing. Pew found that lenders denied 54% of completed applications for financing manufactured home purchases in 2021, compared to a 7% denial rate for site-built homes. They also noted that due to this purported lack of access to financing, manufactured homes were more likely than site-built homes to be purchased in cash. The bulk of these denials came from conventional mortgages (52%) and personal property loans (64%); however, loans with federal backing such as FHA (14%) and VA (13%) manufactured home mortgage applications had significantly lower denial rates. Pew also suggested that loan applications are not denied because of home types or quality, but rather "higher credit standards for manufactured home borrowers."
Pew's concerns about a lack of competitive lending have also been the subject several reports, commentaries, and analyses by the Manufactured Housing Association for Regulatory Reform (MHARR). For instance, MHARR issued the following two recent statements about their efforts to get federal officials to advance more robust federal support for manufactured home lending, much as the Pew Trust's recent research has advocated.
https://manufacturedhousingassociationregulatoryreform.org/manufactured-housing-association-for-regulatory-reform-tightens-the-screws-on-ginnie-maes-10-10-fha-title-1-policy/
https://manufacturedhousingassociationregulatoryreform.org/fhfa-has-repeatedly-reported-material-misrepresentations-to-congress-breach-of-responsibilities-under-hera-relating-to-dts/
To learn more about these issues, the following reports on MHLivingNews are relevant.
https://www.manufacturedhomelivingnews.com/videos-by-nfib-reflect-desire-by-small-business-owners-for-antitrust-or-anti-monopoly-action-and-why-it-matters-to-manufactured-home-community-residents-and-new-manufactured-home/
https://www.manufacturedhomelivingnews.com/affordable-housing-conventional-housing-mobile-home-manufactured-home-and-modular-housing-conundrum-what-u-s-department-of-housing-and-urban-development-hud-research-revealed/
https://www.manufacturedhomelivingnews.com/new-freddie-mac-research-brief-says-majority-of-consumers-would-consider-purchasing-a-manufactured-home-most-have-good-perception-of-manufactured-housing-facts-analysis/
https://www.manufacturedhomelivingnews.com/debunking-manufactured-housing-myths-get-the-facts-says-mortgage-giant-freddie-macs-research-fhlmc-counters-clarifies-claims-about-trailer-houses-mobi/
About MHLivingNews
Since 2012, Manufactured Home Living News (ManufacturedHomeLivingNews.com or MHLivingNews.com) has published the expert commentary, third party legal and other research, facts checks, analysis and home buyer shopping tips that the public craves. Millions of pageviews occur at MHLivingNews.
Per Webalizer's MHLivingNews' server-based site metrics, so far in 2022, there has been 7,206,590 total pageviews as of 19-Dec-2022 06:15 CST. That same source on the same date indicates that the typical visitor of MHLivingNews engages with some 7.46 pages viewed per visit.
Some recent reports on MHLivingNews include the following topics.
https://www.manufacturedhomelivingnews.com/the-pros-and-cons-of-buying-a-manufactured-home-unpacking-lifehacker-jeff-somers-insights-on-mobile-manufactured-housings-affordable-homeownership-potential-hits-m/
https://www.manufacturedhomelivingnews.com/chief-economist-of-pantheon-macroeconomics-ian-shepherdson-sounds-alarms-on-growing-housing-conventional-housing-market-problems-silver-lining-found-in-correct-manufactured-home-living-options/
About MHProNews
Tag lines:
> "Industry News, Tips, and Views Pros Can Use"©.
> "Innovation, Information, Inspiration for Industry Professionals" ©.
> "Intelligence for your MHLife" ©.
> "We Provide, You Decide" © is a reference to comparing and contrasting the published statements of various trade groups.
MHProNews explores remarks or reports by the Manufactured Housing Association for Regulatory Reform (MHARR), the Manufactured Housing Institute (MHI), the Texas Manufactured Housing Association (TMHA), the Florida Manufactured Housing Association (FMHA), the Modular Home Builders Association (MHBA), the National Association of Realtors (NAR), the National Association of Home Builders (NAHB), the National Federation of Independent Business (NFIB), the Job Creators Network (JCN), Texas Real Estate Research Center, and others. Additionally, typically 5 times weekly, is a left-right mainstream media recap from CNN Business and Newsmax which provides headline news balance on MHProNews.
The critically acclaimed publication is the first and still only known manufactured home industry Daily Business News on MHProNews market report.
Manufactured Home Communities (MHC) Real Estate Investment Trusts (REITs), manufactured home industry connected stocks, along with a snapshot of the broader equities, and headline news that span the left-right media divide are provided. Unique looks at what is often mistakenly called "mobile home park investing" are also explored.
Expert insights unpack quarterly and other reports by publicly traded firms such as Skyline Champion (SKY), Cavco Industries (CVCO), Nobility Homes (NOBH), Legacy Housing (LEGH), Deer Valley Homebuilders, Sun Communities (SUI), Equity Lifestyle Properties (ELS), UMH Properties (UMH), Flagship Communities, The Carlyle Group, Blackstone, BlackRock, and others.
Recent reports on MHProNews include the following.
50 States Manufactured Home Production, Shipments-Dec 2022 Report for Oct 2022, plus Fresh Census Info Yield Broad Manufactured Housing vs. Site Built Insights; plus MHVille REITs, Stocks Update
Has the Manufactured Housing Industry Become a Target-Rich Environment for Plaintiffs' Attorneys? Facts, News & Views; plus, Sunday Weekly Manufactured Home Industry (MHVille) Headlines Recap
The later explores increasing contacts for expert and expert witness services as attorneys and law firms are probing the controversies in the manufactured home industry.
About MHProNews/MHLivingNews Co-Founder L. A. "Tony" Kovach
Kovach is one of the most vocal and public advocates for the full implementation of the Manufactured Housing Improvement Act of 2000 and its "enhanced preemption" provision that could be used to overcome local zoning barriers. Kovach is also an advocate for more competitive federal lending, in compliance with Congressional mandates, as the linked statement at the end of this press release demonstrates. Kovach believes that implementing existing federal laws that are favorable to manufactured housing is one of the fastest ways to resolve the affordable housing crisis.
Beyond thousands of articles on MHProNews/MHLivingNews, co-founder L. A. "Tony" Kovach has been published or cited by numbers of others. Examples include the Associated Press (AP), Chicago Sun Times, The Hill, PissedConsumer, LawnStarter, WND.com, Moxie Magazine, The Florida Times Union, Sarasota Herald Tribune, Gainesville Sun, WorldNetDaily.com, WND.com, Lakeland Ledger, Baptist Global News, Eternal Word Television Network (EWTN), Manufactured Home Merchandiser Magazine, Automated Builder, the National Association of Realtors, the Manufactured Housing Institute (MHI), the Manufactured Housing Association for Regulatory Reform (MHARR), public officials including the Consumer Financial Protection Bureau (CFPB), the Federal Housing Finance Agency (FHFA), and dozens of others.
Kovach is a multiple award winning history buff whose recognitions and accomplishments include the prestigious Lottinville Award in History from the University of Oklahoma (O.U.).
Kovach's video interviews of manufactured housing include James "Jim" Clayton founder of Clayton Homes, Joseph "Joe" Stegmayer formerly with Cavco Industries, Samuel "Sam" Landy of UMH Properties, Sunshine Homes' John Bostick, Danny Ghorbani and Mark Weiss with MHARR, Nathan Smith with SSK Communities (since rebranded Flagship Communities), and other manufactured home industry personalities.
MHProNews also features perhaps the most extensive set of written Q&A's and interviews in all of manufactured housing. They include personalities such as Sam Zell of Equity Lifestyle Properties, Tim Williams with 21st Mortgage Corporation, Danny Ghorbani and Mark Weiss, the later are both with the Manufactured Housing Association for Regulatory Reform (MHARR).
Kovach's statement to the FHFA on obstacles limiting the manufactured home industry and possible solutions which was published on their website at this link here.
https://www.fhfa.gov/Media/Documents/Kovach-statement.pdf
What's attracting billions and billionaires to manufactured housing? Award winning Alan Amy, manufactured home retailer, provides keen insights.
https://www.manufacturedhomelivingnews.com
Additional Information with More MHProNews Analysis and Commentary in Brief
Consider these two serious questions. MHI spends millions of dollars annually (see further below).
1) Why doesn't MHI initiate an educational/marketing campaign that produces measurable results?
2) Why doesn't MHI initiate legal action to press specific public officials, Fannie Mae, and Freddie Mac into enforcing the existing laws that they claim for much of the 21st century that they want to see enforced?
MHI award winner Marty Lavin said it years ago. Per Lavin: pay more attention to what people are doing instead of what they are saying and follow the money trail. There are plenty of examples of MHI seemingly 'doing' and 'saying' things, but where are the measurable results? If MHI leaders were serious about industry growth, then why doesn't MHI's board press MHI staff to do what is obvious and common sense? Applying the Lavin principle, it is obvious that MHI's leadership wants the status quo. But that implies that MHI's leadership is attempting to deceive dues-paying MHI members, their affiliates, and others. Is it any wonder that Samuel "Sam" Strommen ripped MHI's leadership and said that MHI itself is part of the scheme to monopolize the industry?  Additionally, MHARR has been saying for the better part of the 21st century that there needs to be a new post-production trade group forged that they can team up with so that they could jointly press the needed litigation, advocacy, and promotion that could return manufactured housing to greatness.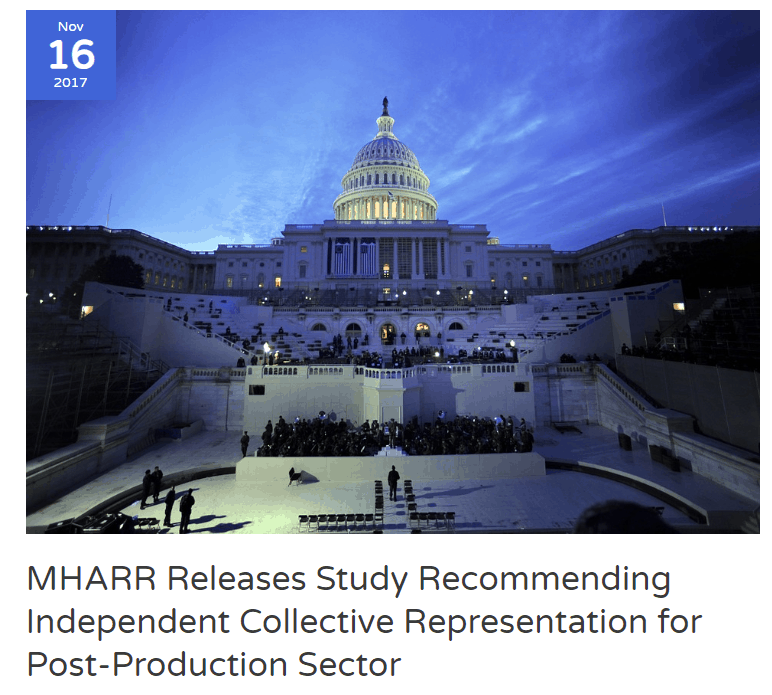 In recent weeks, several states have taken steps to curb the influence of large institutional investors that are pressing an ESG agenda. ESG stands for Environmental, Social, and Governance. These moves by 'red' states – when carefully scrutinized – could provide the basis for similar steps that might be taken by public officials with respect to concerns raised about companies operating in the manufactured housing industry. That may be particularly true for those publicly traded firms that are members of the Manufactured Housing Institute (MHI).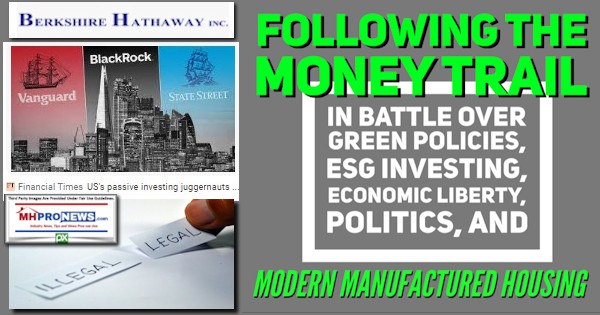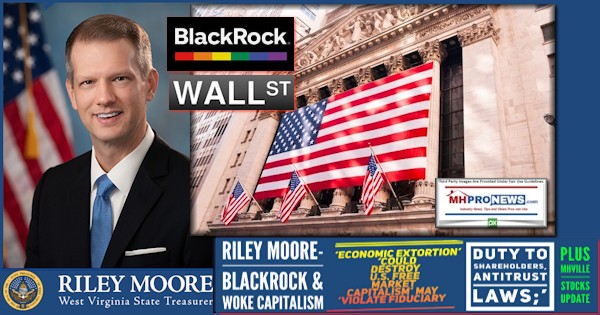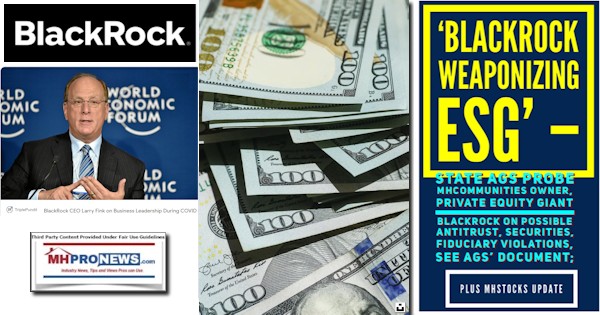 Why MHI? Why not MHARR members? That reasonable question is answered in part by the media release above. When the money trail is followed, several MHI members have in recent years apparently been involved in a scheme that limits manufactured housing from within in order to make it easier to consolidate the industry into ever fewer hands. Strommen's, Schmitz's, and Fettig's contentions lay a possible foundation for legal action against MHI members. No known similar pattern exists within MHARR, which openly states they represent the interests of the smaller independent producers of manufactured homes. As but a few examples of how MHI members are involved in scandals in the manufactured housing industry, see the linked reports.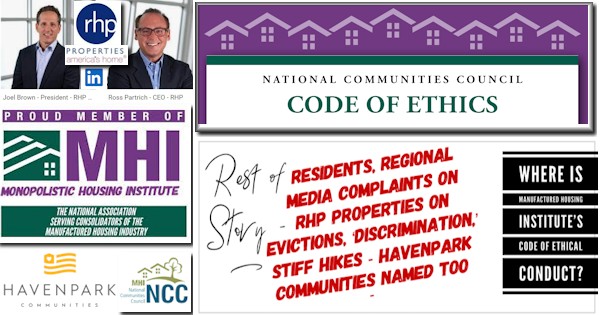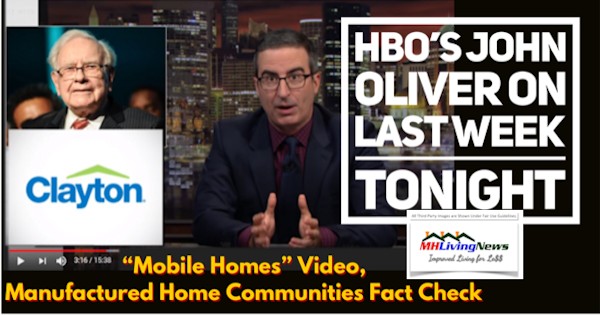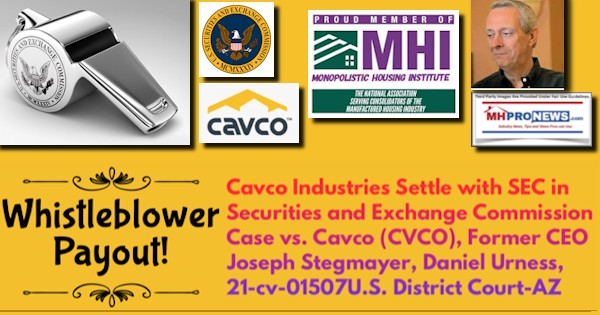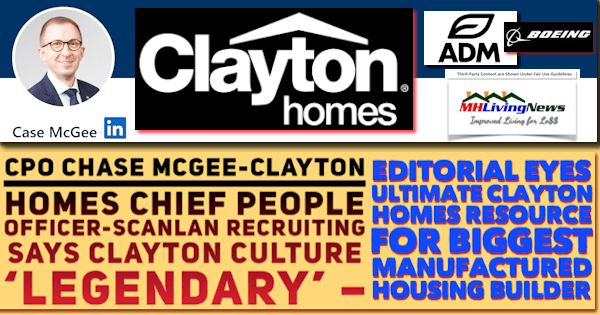 Early on in this report, a comparison was promised between MHI traffic and engagement levels and that of MHLivingNews.com. MHLivingNews is the smaller of our two primary websites. That noted, MHLivingNews has been online for about a decade. It could easily be scaled in several ways to promote manufactured home retail, development, or community sales efforts. It already functions to some extent in those roles, plus others. With those points noted, the following should prove of interest to manufactured housing professionals.
Once upon a time, per reliable sources with that trade group, MHI's media kit used to claim that they had some 250,000 page views monthly. If so, per data provided by SimilarWeb on 12.19.2022, MHI's website traffic and engagement has fallen. Note for clarity that SimilarWeb would presumably be measuring only the main MHI website, and not their social media pages.
As a non-manufactured housing point of reference, the massive CNN website (which arguably far outperforms their cablecast network for engagement), per SimilarWeb on 12.19.2022, has some 2.53 pageviews per visitor.
Compare that 2.53 pageviews on CNN to the Manufactured Housing Institute (MHI). Again, according to SimilarWeb, MHI has on 12.19.2022 only 1.54 pageviews per visit with an average time on site of just 1 minute. Put differently, MHI's site has minimal engagement beyond their homepage. That makes their site arguably a tool 'for show' purposes to the manufactured housing industry itself.  Here is the screen capture of their report on MHI, which shows MHI engagement falling across several categories.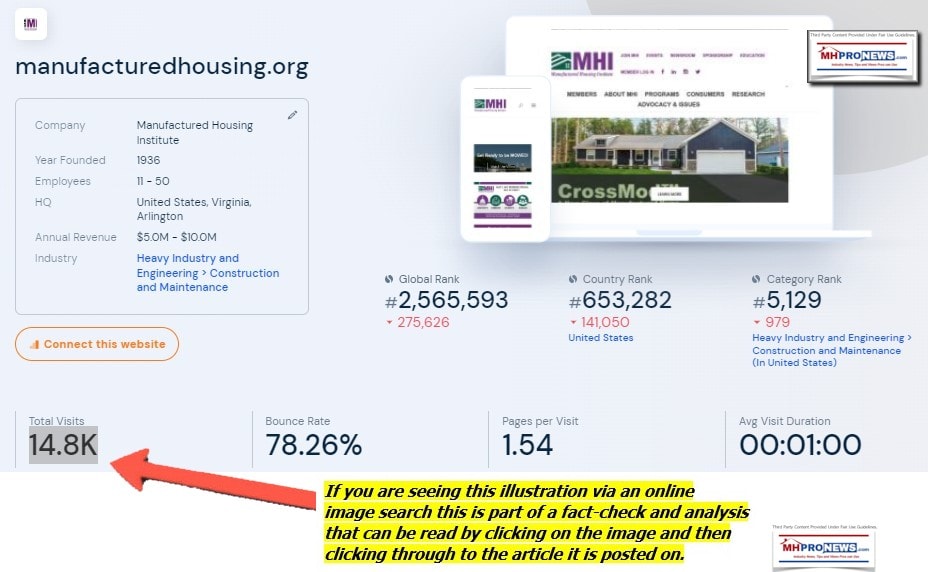 'Doing the math' for MHI traffic would look something like this. 14800 visits per month x 1.54 pageviews per visit average = 22,792 total pageviews. If so:
that would be a shocking decline in MHI's engagement.
Would MHI have even that tepid level of engagement if not for Google propping their site up with their algorithm?
That would only be some 273,504 total pageviews annually (22,792 x 12 = 273,504)
Given that MHI appears to hide more information than they reveal, this SimilarWeb data ought to be troubling to MHI members, if true. MHI has apparently very few visits and low engagement for those who arrive. Based upon Webalizer metrics, which are nested on the server and thus ought to be highly accurate third-party metrics, MHLivingNews' engagement dwarfs MHI's engagement level.
More specifically, on that same date (as of 19-Dec-2022 06:15 CST), per Webalizer, MHLivingNews' typical visitor views 7.46 pages per visit. The pace of publication at MHLivingNews is about one report weekly. So, the typical visitor is engaging with a number of pages equal to several weeks of new content. That high level of engagement is a silent testimony to the apparent value that visitors find in the content at MHLivingNews. Here is what the math looks like for MHLivingNews.com: 7,206,590/965,544 = 7.46 pageviews per visitor. While MHI serves up a bland diet of posturing self-praise, MHLivingNews provides an array of third-party generated reports and then explores those items to see how well they comport with other known facts. MHProNews has previously performed site searches on MHI's website to see if they have this or that 3rd party research report. The typical answer is no.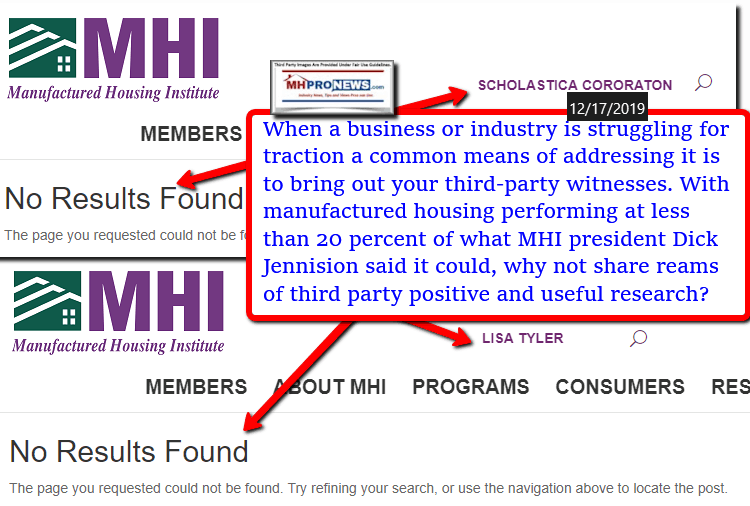 Given that MHLivingNews has 'the ultimate' collection of third-party research for a publicly facing manufactured home living platform, it is no surprise that MHLivingNews could – per the data shown herein – have 26.34 times the engagement as measured by pageviews that MHI has. Embarrassing for MHI, not for us (LifeStyle Factory Homes LLC – the management of  DBAs MHLivingNews/MHProNews).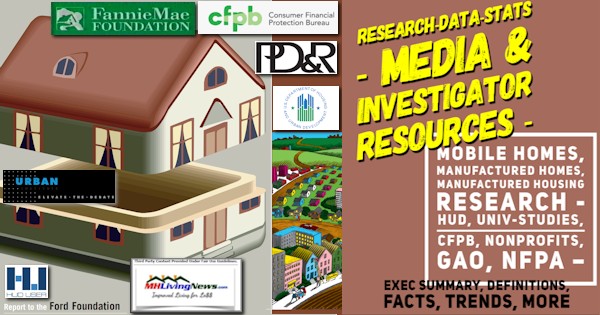 Just for fun – or to intelligently underscore the point made above about the relative lack of third-party research on the MHI website, look carefully at the items found on MHLivingNews above. Compare them to what is available from MHI. It will provide additional reasons why our websites traffic apparently dwarf MHI. A similar point has been made before about superior engagement with MHProNews/MHLivingNews than other 'pro' bloggers and trade publishers in MHVille. Nothing else comes close.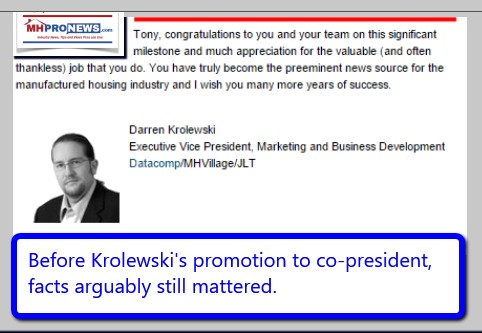 More from the MHI IRS Form 990 
The top ten MHI staffers were paid some $1,807,689 dollars in salaries (Reportable compensation from the organization (W2/1099MISC). Another $274,990 in bonuses was paid to those top ten MHI staffers, the top 5 of which got the lion share of those bonuses ($206,491). How much of that $2,082,679 (TWO MILLION plus DOLLARS) went for items related to their website? If it were just 5 percent, that would be $104,133.95, but it could be more.
Additionally, MHI paid outside consultants hundreds of thousands of dollars in compensation in 2019 alone. MHI's Mark Bowersox certified that year under penalties of perjury that "Total number of individuals (including but not limited to those listed above) who received more than $100,000 of reportable compensation from the organization: 11." Note that MHProNews plans a separate report on MHI's spending per that official document in the near term. Pages of revelations will be made that no one else in manufactured housing trade media apparently cares enough to reveal.
As robust as the traffic is on MHLivingNews, MHProNews dwarfs it. More on that in another report. But that said, this data implies that industry pros and others looking into manufactured housing on the professional, investment, legal, advocacy, or other levels apparently find MHProNews far more satisfying a source than MHI. The traffic difference in favor of MHLivingNews dwarfing MHI makes a similar point.
Online, individuals vote with their handheld devices and their web browsers. The vote of confidence in MHLivingNews (and MHProNews) by the industry is thus hereby duly noted, with the thanks of our leadership, sponsors, clients (named and not) and advertisers.
As a related footnote, while there are websites in MHVille that may get more traffic, that doesn't necessarily mean that they are more persuasive. More on that in a planned report that may occur as part of our manufactured housing industry 2022 year in review. Watch for them.
Before shifting gears to the market segment of today's report, the more complete comments from Pew to MHProNews/MHLivingNews and MHI's fuller remarks on that topic will be explored, perhaps as a Masthead column. It is revealing on several levels. Watch for it, another exclusive that keeps the industry's giants and independents alike streaming to our sites by the millions of pageviews annually. Again, to our readers, clients, and sponsors of all types — thank you. ##
'Everyone Needs Deadlines' 'First Things First' and '7 Habits of Highly Successful People' – Pre-Christmas Preview of Manufactured Housing Year in Review; plus Sunday Weekly MHVille Headlines Recap
Daily Business News on MHProNews Markets Segment
The modifications of our prior Daily Business News on MHProNews format of the recap of yesterday evening's market report are provided below. It still includes our signature left (CNN Business) and right (Newsmax) 'market moving' headlines. The macro market moves graphics will provide context and comparisons for those invested in or tracking manufactured housing connected equities.
In minutes a day readers can get a good sense of significant or major events while keeping up with the trends that are impacting manufactured housing connected investing.
Reminder: several of the graphics on MHProNews can be opened into a larger size. For instance: click the image and follow the prompts in your browser or device to OPEN In a New Window. Then, in several browsers/devices you can click the image and increase the size. Use the 'x out' (close window) escape or back key to return.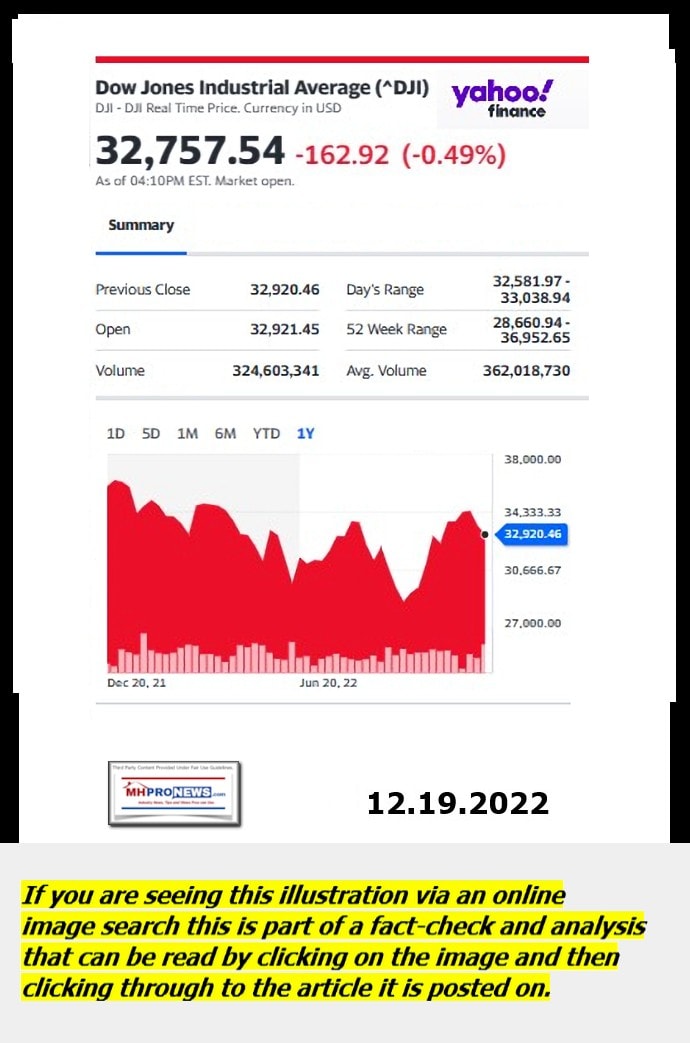 Headlines from left-of-center CNN Business – from the evening of 12.19.2022
Stalled extradition
Sam Bankman-Fried, who founded and led FTX until a liquidity crunch forced the cryptocurrency exchange to declare bankruptcy, is escorted out of the Magistrate Court building after his arrest in Nassau, Bahamas December 13, 2022.
Sam Bankman-Fried returns to Bahamas prison after hearing ends in confusion
A worker walks past gas pipes that connect the Floating Storage and Regasification Unit (FSRU) ship 'Hoegh Esperanza' with the main land, during the opening ceremony of the Uniper Liquefied Natural Gas (LNG) terminal at the Jade Bight in Wilhelmshaven, northern Germany on December 17, 2022.
Europe finally agrees to cap gas prices
This illustration picture shows a person waiting for an update of Epic Games' Fortnite on their smartphone in Los Angeles on August 14, 2020.
'Fortnite' maker Epic Games to pay $520 million in record-breaking FTC settlement
Twitter headquarters in San Francisco, California, US, on Tuesday, Nov, 29, 2022.
Twitter deletes controversial new policy banning links to other social platforms
A man refuels his car at a gas station in Los Angeles, California, USA, 26 September 2022.
Gas prices haven't been this low since July 2021
Traveling family STOCK
How to save and invest for the life you want
07 Ivy farm cultivated meat
Lab-grown meat could be served up for dinner soon. What does it taste like?
Barista STOCK
America has tipping fatigue
'Avatar: The Way of Water' gives James Cameron his first $100 million domestic debut
Dyson Zone air purifying headphones
Move over Airpods: These headphones are having a moment
Elon Musk, founder and chief engineer of SpaceX speaks at the 2020 Satellite Conference and Exhibition March 9, 2020 in Washington, DC.
Elon Musk's poll results are in: Users want him to step down as CEO of Twitter
Elizabeth Warren calls out Elon Musk for 'unavoidable' conflicts of interest caused by Twitter takeover
Here's what Elon Musk says banned journalists have to do to get back on Twitter
Iran's government accesses the social media accounts of those it detains. Tech companies appear ill-equipped to stop it
Lionel Messi's Argentina jerseys are sold out worldwide
EU agrees to the world's largest carbon border tax
Meta faces EU probe over antitrust concerns linked to Facebook Marketplace
Why the market is obsessed with unemployment
Housing slump likely to continue but some see hopeful signs ahead
China bets on private sector to boost Covid-hit economy
'One extreme to the other': Chinese megacity Chongqing says people with Covid can go to work
Stores are drowning in merchandise this holiday season, and the deals are getting juicier
The hottest holiday gift is a massive, half pound Fruit Loop
A lettuce production problem cost Olive Garden owner millions
Why recession fears are back: Americans are losing faith
Donald Trump's NFT superhero trading cards timed the market all wrong
'This is a war': Californians seek affordable housing alternatives
How the Arab world's most populous country became addicted to debt
Men are dropping out of the workforce. Here's why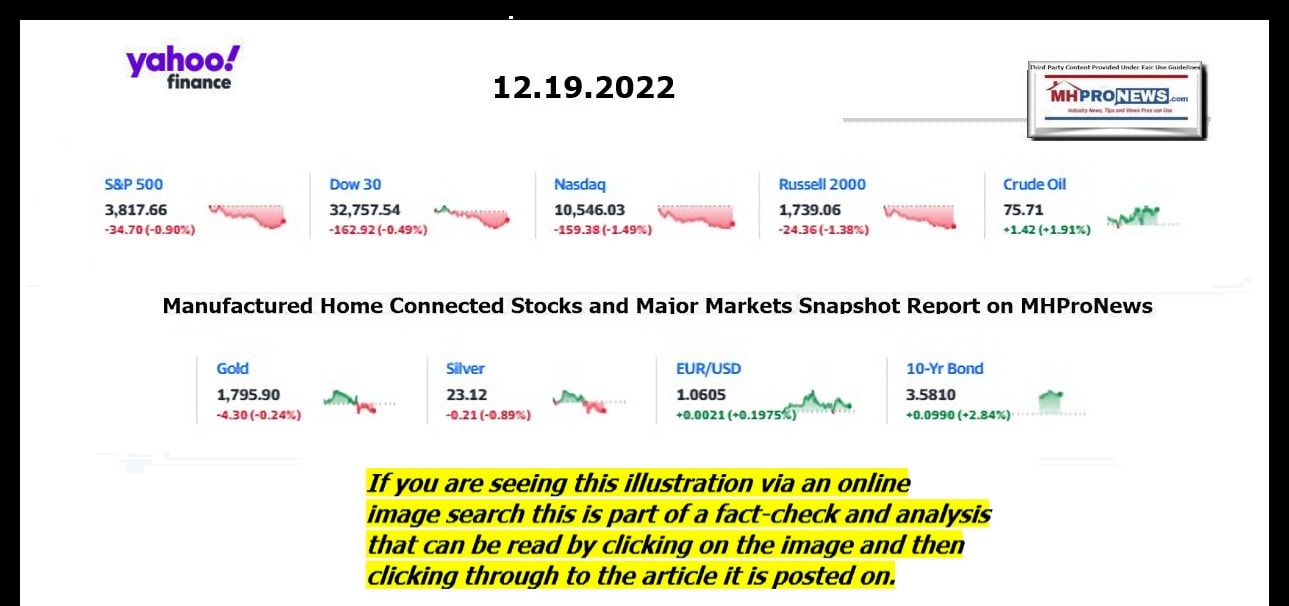 Headlines from right-of-center Newsmax 12.19.2022   
Trump Slams Jan. 6 Panel as 'Kangaroo Court,' Bipartisan Rules Flouted
Dershowitz: Jan. 6 Panel's Referrals 'Worthless Piece of Paper'
Blaine Holt: Kissinger's Call for Ukraine Talks Flawed | video
RNC's McDaniel: 'Scorched-Earth' In Play on Me | video
Chris Alar: Pavone Defrocking From Pope | video
Van Drew: Don't Let GOP Disputes Get in Way | video
Sessions: SEC 'Asleep at the Wheel' on FTX | video
Carter: Pass $1.7T Omnibus to Next Congress | video
Dick Morris: Referrals Won't Impact Trump Politically | video
Wenstrup: COVID Report 'Just the Beginning'
Former DEA Agent: Griner-Bout Swap a 'Bad Deal' | video
Newsfront
6 Panel Refers 4 Criminal Charges Against Trump to DOJ
The House Jan. 6 committee is wrapping up its investigation of the violent 2021 U.S. Capitol attack, with lawmakers on Monday declaring that they have assembled a "roadmap to justice" to bring criminal charges against former President Donald Trump and his allies…. [Full Story]
Related Stories
Trump Slams Jan. 6 Panel as 'Kangaroo Court,' Bipartisan Rules Flouted
6 Panel Urges Ethics Review for McCarthy, GOP Lawmakers
Dershowitz to Newsmax: Jan. 6 Panel's Referrals 'Worthless Piece of Paper'
Georgia Secretary of State Rips Dems for Peddling Election Lies
Georgia Secretary of State Brad Raffensperger chastised U.S. Sen. [Full Story]
Senator Wants Review of U.S. Security Assistance to Nigeria Following Abortion Report
Dershowitz to Newsmax: Jan. 6 Panel's Referrals 'Worthless Piece of Paper'
The committee investigating Jan. 6 may have referred former President [Full Story]
Vatican Removes Fr. Frank Pavone, Pope Francis Plays Key Role
The Vatican has defrocked Father Frank Pavone – who has been [Full Story]
Chris Alar to Newsmax: Pavone's Defrocking From Pope |video
Pavone: 'I Will Not Be Silenced'
More Americans Default on Car Loans
Auto repossessions are on the rise, and industry analysts worry [Full Story]
Twitter Files: Intel Community Discredited Factual Info on Hunter Biden
The seventh edition of the "Twitter files," released Monday by author [Full Story]
Zelenskyy Asks Western Leaders for Wide Range of Weapons Systems
Related
Ukraine's Zelenskyy Calls for Global Peace Summit in Video Message |video
Report: Russia-Ukraine War Played Big Role in Expanding US Military Budget
Russian Actress Calls for 'Reparations,' Says Russia Needs to 'Repent'
Ukraine Jews Mark 'Festival of Lights' Amid Blackouts
Ukraine Ambassador: Air Defense Only Way to Stop Russia's Attacks
Blaine Holt to Newsmax: Kissinger's Call for Ukraine Talks Flawed |video
Fire Crews Respond, Russian Drones Strike Kyiv's Power Grid
Jeremy Clarkson Column About Meghan Sparks Tide of Criticism
British television presenter Jeremy Clarkson said Monday he is [Full Story]
Meta Likely to Reinstate Trump's Facebook Account, Experts Say
Despite the efforts of leading Democrats to pressure Meta into [Full Story] | Platinum Article
Heart Attacks Spike up to 40% in Last 2 Weeks of December
The holiday season is filled with to-do lists, but one should rise to [Full Story]
Study: Low Vitamin D Increases Aging Muscle Loss by 70%
One way to maintain muscle strength with age: Get enough vitamin D. [Full Story]
Shoppers Left Scrambling As Amazon Unveils Deals That Shouldn't Exist
Online Shopping Tools
Puerto Rico Statehood Push Hits Senate Roadblock
Puerto Ricans are closer than ever to deciding if they want their [Full Story] | Platinum Article
More Than a Third of US Parents Now Oppose Routine School Vaccinations
The pandemic's focus on vaccines may have had a big downside: While [Full Story]
Home Builder Sentiment Dives Again
Confidence among U.S. single-family home builders fell for a record [Full Story]
Ex-Rep. Joe Kennedy III Named Envoy to Northern Ireland
The Biden administration named former Rep. Joe Kennedy III as a [Full Story]
Pence Again Rejects Suggestion He'll Run for Senate
Former Vice President Mike Pence reportedly rejected a pundit's [Full Story]
Conservative Dan Bongino Quitting Radio in 2024
Conservative radio host Dan Bongino recently announced his plans to [Full Story]
Sextortion Cases Rise, Linked to 12 Suicides in 2022
Federal law enforcement officials warned Monday of an [Full Story]
Video Report: Hanukkah Begins as Antisemitism Rises
On Monday's "Wake Up America," Newsmax Jerusalem correspondent Daniel [Full Story]
D. Gov. Noem Announces Retirement of Health Secretary Amid Controversy
Kristi Noem, R-S.D., announced the retirement of her state [Full Story]
McLaughlin Poll: Trump Is Still the One to Beat
Among likely Republican primary voters 61% want to see Donald Trump [Full Story]
Biggs: DHS Fudging Facts on Immigrants Granted Parole
Andy Biggs, R-Ariz., said the Department of Homeland Security [Full Story]
Biden Administration Unveils Plan to Reduce Homelessness
TheBiden administration on Monday unveileda government-wide plan [Full Story]
Abrams Campaign Owes $1 Million to Vendors
Georgia Democrat Stacey Abrams" gubernatorial campaign owes about $1 [Full Story]
Justice Thomas Lays Wreaths at Arlington National Cemetery
Supreme Court Justice Clarence Thomas spent time over the weekend [Full Story]
Amber Heard to Settle Johnny Depp Defamation Case
Amber Heard said in an Instagram post Monday that she would settle [Full Story]
Florida Panhandle Deputies Seize Enough Fentanyl to Kill 800K
Sheriff deputies in the Florida Panhandle recently seized enough [Full Story]
NYC Mayor: Calls for Help With Migrants 'Mostly Ignored'
New York City is bracing for more migrants with the ending of Title 42 [Full Story]
Viktor Bout Visits Occupied Ukraine
Russian arms dealer Viktor Bout, recently released from American [Full Story]
Musk Poll: 57.5% Want Him to Step Down as Twitter Chief
More than half of 17.5 million users who responded to a poll that [Full Story]
Finance
Record Year for Auction Houses Christie's and Sotheby's
Auction house Christie's on Monday announced record sales of $8.4 billion in 2022, outshining its rival Sotheby's, which also posted its best-ever result at $8 billion for the year…. [Full Story]
Bankman-Fried to Agree to US Extradition in About-Face
Bob Ciura: 3 High-Yield Monthly Dividend Stocks
SBF Wants to See Indictment Before Agreeing to US Extradition
Warren Questions Musk Purchase of Twitter
More Finance
Health
The Key to Better Winter Sleep
If you want to get some good sleep at night, be sure to get outside for a bit during the day, even if it's cloudy. That's the advice of researchers at the University of Washington in Seattle, where overcast skies are common and daylight is limited in winter. Studying student… [Full Story]
Drugs to Treat the Current 'Tripledemic' Are in Short Supply: What to Do
Treatments That Bring Relief to Long COVID Sufferers
This Diet Boosts Fertility
Experimental Fatty Liver Disease Drug Effective in Clinical Trial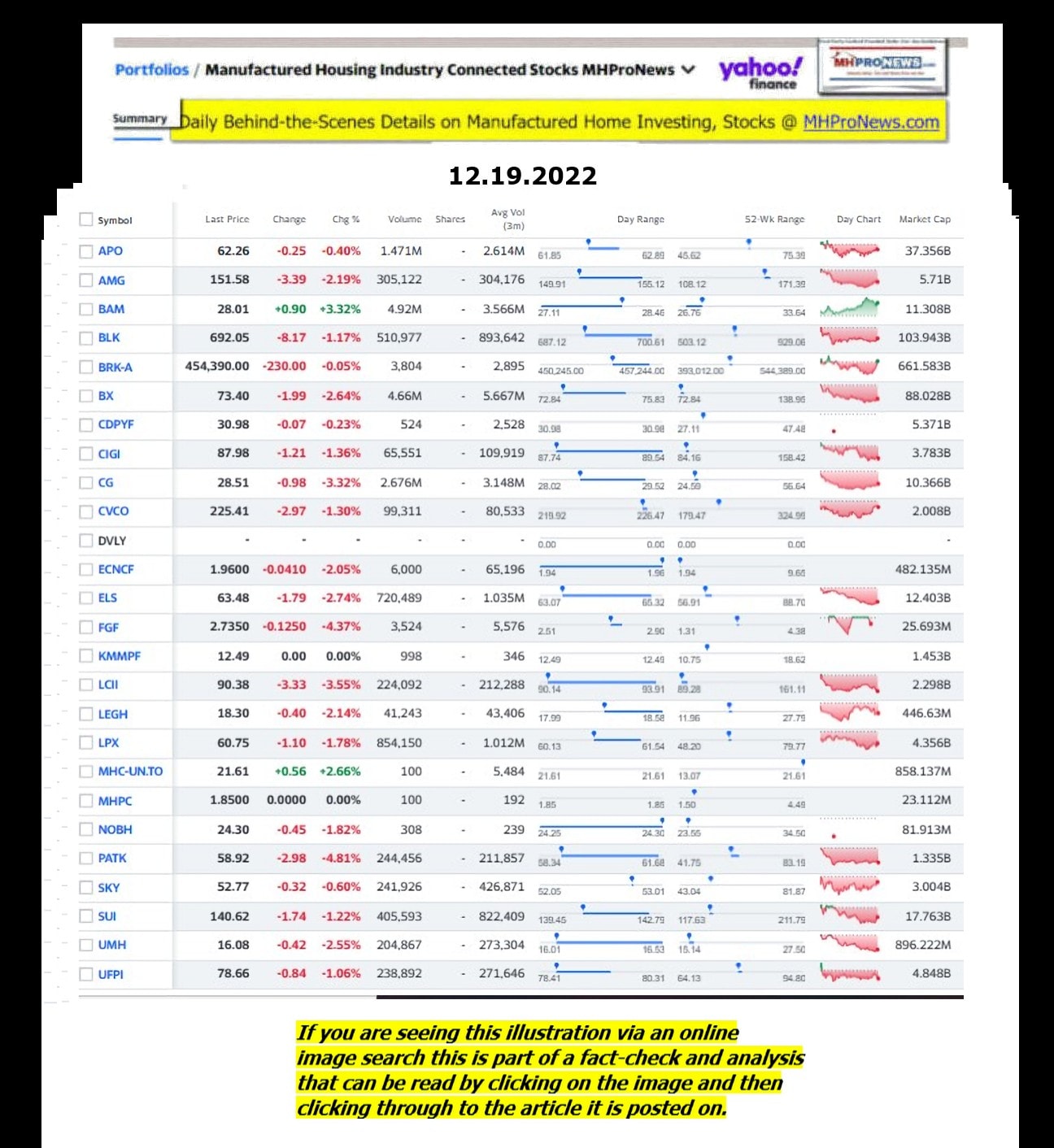 ====================================
Updated
NOTE 1: The 3rd chart above of manufactured housing connected equities includes the Canadian stock, ECN, which purchased Triad Financial Services, a manufactured home industry finance lender.
NOTE 2: Drew changed its name and trading symbol at the end of 2016 to Lippert (LCII).
NOTE 3: Deer Valley was largely taken private, say company insiders in a message to MHProNews on 12.15.2020, but there are still some outstanding shares of the stock from the days when it was a publicly traded firm.  Thus, there is still periodic activity on DVLY.
Note 4: some recent or related reports to the REITs, stocks, and other equities named above follow in the reports linked below.
Manufactured Housing Properties-Results for Three and Nine Months Ending September 30.2022–Exploring 'Mobile Home Park' Manufactured Home Community Investing; plus MHVille REITs, Stocks Update
Manufactured Housing's Next BIG Regulatory Battle That MHARR's Spotlighted and Which MHI Conveniently Ignored in Recent 'Manufactured Housing Institute News;' plus Sunday Weekly Headlines Recap
'Changes Will Benefit Customers,' Boost Sales-Legacy Homes CEO Duncan Bates – LEGH 'Delivered 22.5% Return on Equity in 1 Yr' – Corp Q3 2022 Insights, Analysis; plus MHVille REITs, Stocks Update  
'No Assurance Inflation Will Not Affect Our Future Profitability Financial Position'=Cavco Industries 10-Q, Solitaire Deal, More CVCO Data; Supreme Court Ruled-SEC Regs on False-Omitted Remarks
Skyline Champion Provides Quarterly Results, Adding Retail Centers, Improved Delivery Times-CEO Mark Yost Says 'Can Outperform Conventional Housing' Explored; Plus MHVille REITs, Stocks Update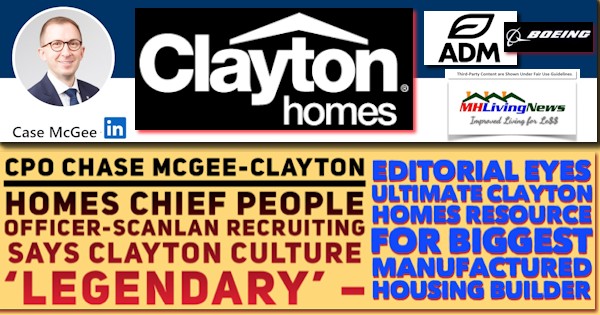 Triad Financial Services Q2-2022 FINANCIAL RESULTS, per ECN Capital – Several Bright Spots in Manufactured Home Market Highlighted, Including Communities, Retail, Land-Home, Floor; MHStocks Update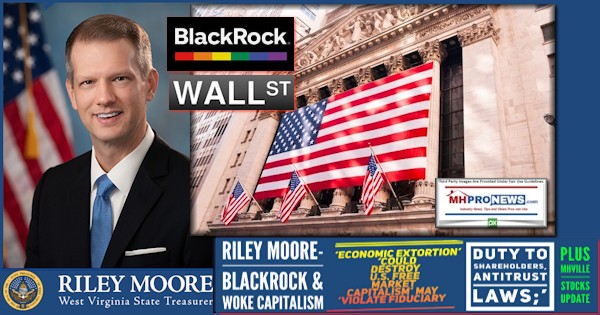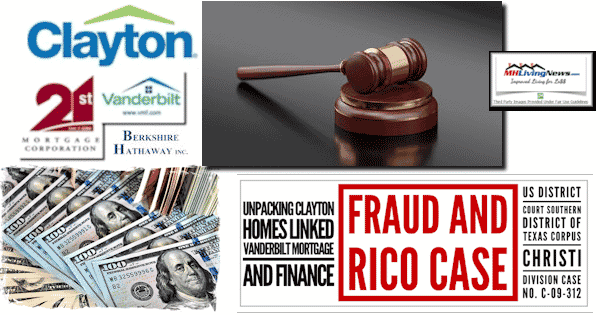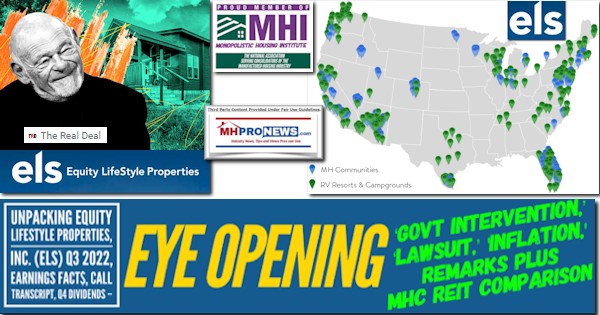 Manufactured Home Communities (a.k.a. 'Mobile Home Parks' – SIC) – Exploring UMH Properties; Fellow Manufactured Housing Institute Member Yes! Communities Suits and Settlements; plus MH Markets Updates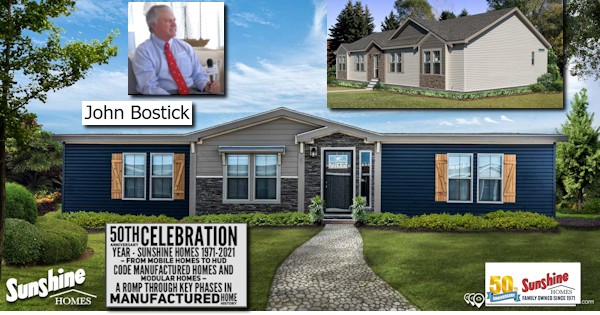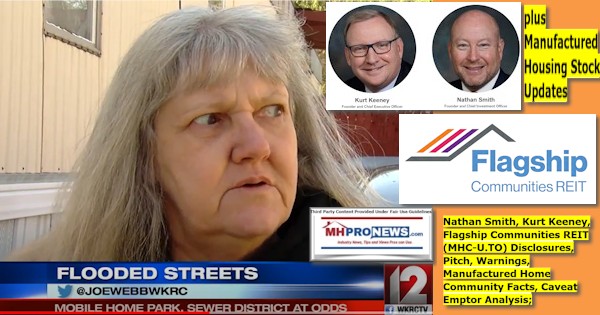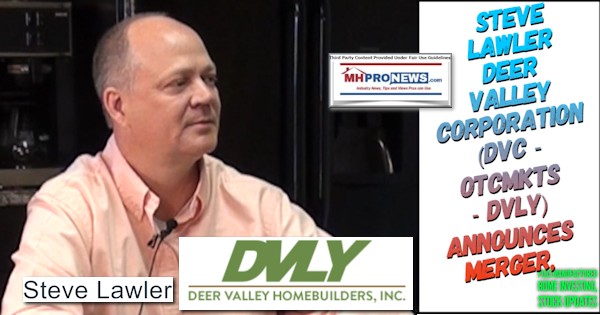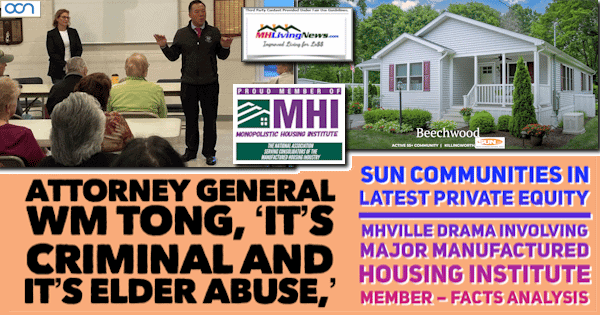 2022 …Berkshire Hathaway is the parent company to Clayton Homes, 21st Mortgage, Vanderbilt Mortgage and other factory-built housing industry suppliers.
· LCI Industries, Patrick, UFPI, and LP each are suppliers to the manufactured housing industry, among others.
· AMG, CG, and TAVFX have investments in manufactured housing related businesses. For insights from third-parties and clients about our publisher, click here.
Disclosure. MHProNews holds no positions in the stocks in this report.
· For expert manufactured housing business development or other professional services, click here.
· To sign up in seconds for our industry leading emailed headline news updates, click here.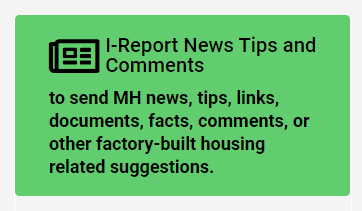 That's a wrap on this installment of "News Through the Lens of Manufactured Homes and Factory-Built Housing" © where "We Provide, You Decide." © (Affordable housing, manufactured homes, stock, investing, data, metrics, reports, fact-checks, analysis, and commentary. Third-party images or content are provided under fair use guidelines for media.) (See Related Reports, further below. Text/image boxes often are hot-linked to other reports that can be access by clicking on them.)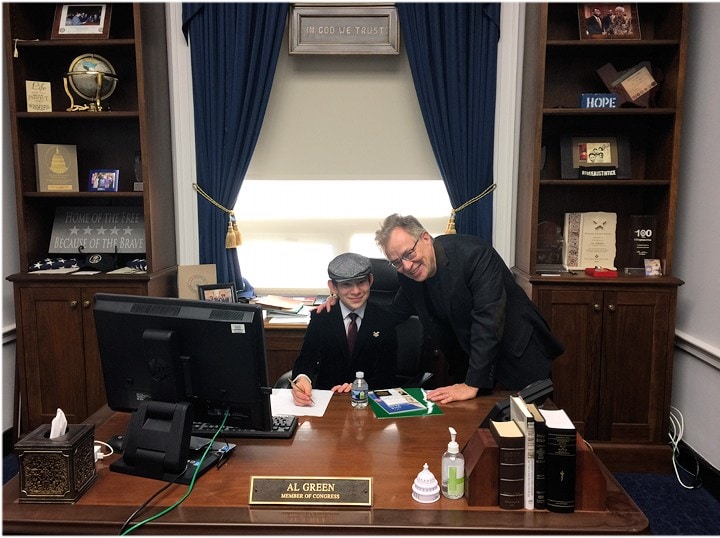 By L.A. "Tony" Kovach – for MHProNews.
Tony earned a journalism scholarship along with numerous awards in history. There have been several awards and honors and also recognition in manufactured housing. For example, he earned the prestigious Lottinville Award in history from the University of Oklahoma, where he studied history and business management. He's a managing member and co-founder of LifeStyle Factory Homes, LLC, the parent company to MHProNews, and MHLivingNews.com. This article reflects the LLC's and/or the writer's position and may or may not reflect the views of sponsors or supporters.
Manufactured Home Production Growth Continues in September 2022, per Manufactured Housing Association for Regulatory Reform-Added Facts, Analysis, plus MHVille REITs, MH Connected Stocks Update
Consumers 'Fears for the Future'-Mortgage Payments Surge Since 2021, Buyers Get Priced Out–Conventional Housing Woes are Manufactured Home Pro Opportunities; plus MHVille REITs, Stocks Update