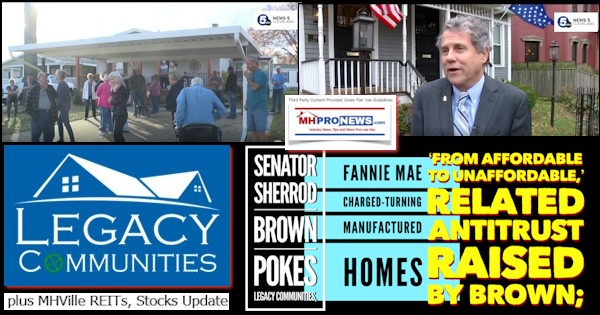 It isn't just manufactured home communities that are developing a reputation for attracting institutional investor dollars which are used to buy properties and substantially hike rents and fees. That is just one of several possible takeaways from Senator Sherrod Brown (OH-D) letters to Legacy Communities' and VineBrook Homes' management on 12.19.2022 and 12.14.2022 respectively. Those letters by Brown, related regional news videos, and other information about manufactured home community operator Legacy Communities will be the focus of this report. But because Senator Brown's letter to conventional housing VineBrook Homes corporate leadership is also illuminating, that letter from Brown is also included further below. Among the issues Brown has raised? Possible antitrust concerns. This is potentially significant and appears to support MHProNews recently reported contention that the manufactured home industry is increasingly becoming a 'target rich' environment for plaintiffs' attorneys.
Has the Manufactured Housing Industry Become a Target-Rich Environment for Plaintiffs' Attorneys? Facts, News & Views; plus, Sunday Weekly Manufactured Home Industry (MHVille) Headlines Recap
This report will include insights from local media as well as downloads and copies of letters from Senator Brown. Beyond Legacy Communities and VineBrook Homes, Brown addressed Fannie Mae too.
Fannie apparently made loans to Legacy Communities that may have ironically turned an affordable "Duty to Serve" (DTS) manufactured housing mandate on its head by making manufactured home living in land lease communities less affordable. Who says? Senator Brown's letter to Fannie Mae, which said in part: "Unfortunately, Freddie Mac's financing of manufactured housing communities at times undermines affordable housing, and in some cases enables community owners whose actions ramp up rents, turning this housing from "affordable" to "unaffordable" for residents."
That same letter to "Mr. Michael DeVito Chief Executive Officer Federal Home Loan Mortgage Corporation" (i.e.: Fannie Mae) also noted that "sudden and drastic rent increases are putting Ohio seniors, many of whom live on fixed incomes, in an impossible situation – they can't afford the rent increases, and they aren't able to sell their homes because few potential buyers can afford Legacy Communities' new lot rents." That Senator Brown letter to Fannie Mae CEO DeVito is linked here.
That practice is hardly limited, per critics, to Legacy Communities. See the report linked below to grasp the apparent contradiction between the Manufactured Housing Institute (MHI) so-called "Code of Ethical Conduct" and the behavior of several of their larger and more prominent members.
Rest of Story-Residents, Media Complain-RHP Properties on Evictions, 'Discrimination,' Stiff $ Hikes-Havenpark Communities Named-Where is Manufactured Housing Institute's Code of Ethical Conduct?
From Senator Brown's office the following media remarks and documents were obtained by MHProNews. These will be followed by additional information beyond Brown's letters and mainstream media reports coupled with more MHProNews analysis and commentary. UPDATE: an MHI member tells MHPronews that Legacy Communities is an MHI member.
DECEMBER 19, 2022
BROWN PRESSES MANUFACTURED HOUSING INVESTORS TO HALT RENT INCREASES AND PROTECT OHIO SENIORS
Legacy Communities' Management Practices Could Lead to Homelessness for Hundreds of Ohio Seniors
WASHINGTON, D.C. — Today, Sen. Sherrod Brown (D-OH), Chair of the Senate Committee on Banking, Housing, and Urban Affairs, sent a letter to Legacy Communities LLC, a real-estate company that owns multiple manufactured housing communities in Ohio. The letter follows several complaints from Ohioans regarding drastic rent increases and service reductions in Elyria and Navarre. Brown also wrote to Freddie Mac to request a review of their financing practices for manufactured housing communities owned by Legacy Communities and other institutional investors.
"I am deeply concerned that Legacy Communities' management practices will cause financial instability, displacement, and homelessness among hundreds of Ohio seniors. As a national company doing business from Delaware and Florida and with leadership in Arizona, Legacy Communities will be far removed from the consequences of its decisions. But Ohio seniors, their families, and local communities will have to deal with the fallout of Legacy Communities' policies," wrote Brown. "I urge you to immediately halt rent increases for existing and new residents in your communities and meet personally with tenants in both of Twin Lakes and Navarre Village to hear their experiences living in your communities."
Brown has long fought to protect Ohio's homeowners and renters from bad actors in the housing market and to support access to affordable homeownership. Last week, he sent a letter to VineBrook Homes Trust after multiple Cincinnati residents reported neglectful ownership practices. He also held a listening session with tenants hurt by institutional investors in February, and held hearings in February and August on big investors in the housing market and the harm they cause local communities.
A copy of the letter to Freddie Mac is available here.
A copy of the letter to Legacy Communities, LLC is available here and below:
Mr. Patrick O'Malley
CEO
Legacy Communities LLC
Dear Mr. O'Malley:

I am writing regarding the devastating effects that Legacy Communities' acquisition of senior manufactured housing communities in Ohio is having on the communities' residents.
In recent weeks, I have received an influx of notes from residents in Ohio two manufactured housing communities that Legacy Communities has acquired: Twin Lakes in Elyria, and Navarre Village Manufactured Housing Community in Navarre. Both communities are "55 plus" communities and include many residents who have lived in their community for years, even decades. Many of the residents own their home, but rent the lot it sits on.
Community residents have reported to me and to local news outlets that Legacy Communities is raising rent by 8 percent per year for existing residents while raising the rent for new residents as high as $850 per month, all while reducing services. These sudden and drastic rent increases have left residents on fixed incomes scared and without options. Residents report that they will not be able to afford rent increases, nor can they sell their homes because prospective buyers are unable or unwilling to pay the high and increasing lot rents that Legacy Communities charges. Seniors who have worked hard their whole lives and bought a house believing they had found a safe, stable place to live now face the prospect of losing their home and having nowhere to go. And news reports indicate that Ohio is not alone – residents are reporting exorbitant rent increases in Legacy Communities properties across the country.
Communities like Twin Lakes and Navarre Village are a critical source of affordable housing for lower-income families and seniors. Whether rent increases are affordable must be assessed relative to the incomes of the residents who call that property home. Jacking up rents based on national or regional rental rate trends without considering what residents can actually afford could overburden its residents, especially those on fixed incomes, and create an unaffordable community.
I am deeply concerned that Legacy Communities' management practices will cause financial instability, displacement, and homelessness among hundreds of Ohio seniors. As a national company doing business from Delaware and Florida and with leadership in Arizona, Legacy Communities will be far removed from the consequences of its decisions. But Ohio seniors, their families, and local communities will have to deal with the fallout of Legacy Communities' policies. In light of the irreversible harm that unaffordable rent increases would cause for Ohio's seniors, I urge you to immediately halt rent increases for existing and new residents in your communities and meet personally with tenants in both of Twin Lakes and Navarre Village to hear their experiences living in your communities.
To help residents and communities better understand the way Legacy Communities' manages its properties, please also respond to the following questions no later than January 9, 2023.
Please provide the average lot rents charged at each of Twin Lakes and Navarre Village when Legacy Communities assumed ownership, the percentage increase in rent at each community for renewals, and the lot rent being charged for new residents in each community today. Please include any fees in each rent calculation.
Please explain how Legacy Communities discloses any rent or fee changes to residents and how far in advance Legacy Communities communicates these increases.
Please explain how Legacy Communities establishes rent or fees and rent or fee increases for existing and new tenants.
Legacy Communities specializes in senior manufactured housing communities. Does Legacy Communities consider what rents are affordable (defined as housing costs taking up no more than 30 percent of a household's income) to existing residents, including those on a fixed income, when setting rents and fees? If yes, please explain how those data points are considered. If not, why not?
Please describe in detail what engagement Legacy Communities has had with residents to discuss recent rent increases and other changes.

If Legacy Communities residents are unable to afford lot rent increases, does Legacy Communities have a policy or program to help tenants remain in their home? If so, please describe these policies or programs in detail. If not, why not?
If a resident is unable to afford their lot rent and cannot remain in their home, please describe what happens to ownership of a resident's home.

Does Legacy Communities rent any manufactured homes within their communities to tenants? If so, please provide the proportion of units that Legacy Communities rents out and the number of units owned by Legacy Communities residents.
Does Legacy Communities sell homes in its communities directly to tenants?
Do you or any staff of Legacy Communities have regular contact with residents and with local governments in each of the towns or cities where Legacy Communities owns a community? If yes, please provide the frequency of those contacts with residents and local leaders in both Elyria and Navarre. If not, why not?
Please provide a list of management at Legacy Communities and the names of any Legacy Communities staff located in Ohio.
Thank you for your prompt attention to this critical issue. ###
The letter below is provided to MHProNews readers not because it is directly manufactured housing focused. Rather, it is provided because it sheds possible parallel insights.
Furthermore, for those who are unaware, it is a reminder that the vexing challenges reported about Legacy Communities and other manufactured home industry consolidation-focused operations – which are often members of MHI and/or an MHI state affiliate – are not limited to manufactured home land-lease communities.
Against that backdrop is the following from Brown's office provided to MHProNews about the apparent drama around VineBrook's purported business practices.
DECEMBER 14, 2022
BROWN TO VINEBROOK: STOP EXPLOITING CINCINNATI FAMILIES
WASHINGTON, D.C. — Today, Sen. Sherrod Brown (D-OH), Chair of the Senate Committee on Banking, Housing, and Urban Affairs, hosted a news conference call to discuss a letter he wrote to VineBrook Homes Trust, Inc., a real estate company that owns tens of thousands of homes, including nearly 7,900 homes in Ohio. Brown's letter requests information about the company and its policies after multiple Cincinnati residents reported neglectful ownership practices to Brown's office. This follows reports that VineBrook has been aggressive in evicting tenants, and has frequently charged residents improper fees.

"VineBrook's rapid expansion and systematic neglect of properties and tenants has severe consequences, not only for the local families living in the properties but also for the entire City of Cincinnati," wrote Brown. "In light of the many concerns raised by Cincinnati renters, aspiring homeowners, and local officials, I am deeply concerned that VineBrook's opaque, investor-focused business model is generating outsized profits by exploiting taxpayers and families in Cincinnati and across the 20 states in which VineBrook operates."

Brown was joined by Jordan Cotleur, a staff attorney at the Legal Aid Society of Greater Cincinnati who has represented dozens of VineBrook tenants in eviction cases.
 "Vinebrook's business practices are incredibly harmful to the Greater Cincinnati community," said Cotleur. "The private-equity backed landlord relies on an automated online system to extract rising rents and unlawful fees while leading the county in eviction filings and failing to maintain safe and sanitary housing."
Brown has long fought to protect renters from bad actors in the housing market and to support access to affordable homeownership. Last month, he sent a letter to the Federal Trade Commission (FTC) asking the agency to review whether RealPage's rent pricing software violates antitrust laws. In August, he also held a hearing on institutional investors – like banks and insurance companies — and the current rental market, where the Committee heard testimony from Port of Greater Cincinnati Development Authority President and CEO Laura Brunner about the harm VineBrook has caused.

A copy of the letter is available here and below:

Dear Mr. Mitts:

I am writing regarding VineBrook Homes' ownership and management of single-family homes, particularly allegations that properties are being neglected throughout Ohio and across the country.

Since 2018, VineBrook Homes Trust and its subsidiaries have acquired a significant portfolio of single-family rental homes across Ohio and 19 other states.  In just four years, VineBrook has increased its portfolio of homes by 646 percent, to nearly 27,000 homes.  As of September 2022, VineBrook reports that it has a "geographic market concentration" in one market, which represents more than 10 percent of the value of its homes – Cincinnati.

VineBrook's rapid expansion and systematic neglect of properties and tenants is having severe consequences for not only the local families living in the properties but also the entire City of Cincinnati. VineBrook, and its practices, first came to my attention when a resident in one of your Cincinnati-area homes contacted my office desperate for help to get their heat repaired. Your company had failed to respond to the tenant's multiple maintenance requests, leaving them without heat for several weeks in the dead of winter. Another tenant contacted my office reporting that VineBrook was attempting to evict them for nonpayment of rent, even though the rent had been paid. Unfortunately, these tenants' experiences were not unique.

Maintenance issues have been so common at VineBrook properties that, in July 2021, the City of Cincinnati sued VineBrook Homes for unpaid fines, fees, abatement costs, and water bills.  In its complaint, the city reported that many of VineBrook's properties were now "in a state of disrepair due to deferred property maintenance and neglectful ownership practices."  In some cases, properties were "so dangerous that the City's Building and Inspection Department has ordered them vacated and/or kept vacant."  Yet VineBrook has ignored code enforcement attempts by the city, costing the city and its taxpayers money not just in unpaid fines, but in police, fire, and maintenance costs, and lower property values for neighboring homeowners.

On top of neglecting its properties and racking up costs for taxpayers, recent news reports also reveal that VineBrook has a pattern of being quick to evict its tenants and raise their rent. A legal aid attorney with the Legal Aid Society of Southwest Ohio reports that VineBrook is "one of the worst landlords in our service area" because the company frequently charges improper fees, locks tenants out of its online payment portal when they are delinquent, and frequently files to evict.

VineBrook's pattern of mistreating tenants and neglecting its properties is made possible in part by the way VineBrook structures its business. As Port of Greater Cincinnati Development Authority President and CEO Laura Brunner testified before the Senate Committee on Banking, Housing, and Urban Affairs, VineBrook's business model is "based on maximization of profit by hiding behind a cloak of anonymity."  VineBrook has hidden its property ownership behind an increasingly complex web of limited liability companies, making it difficult for local or federal officials to determine whether VineBrook is ultimately responsible for a home. For example, it took a substantial investment of time and resources for local officials to map VineBrook's property ownership throughout Cincinnati. When they did, they found VineBrook operated behind a cloak of more than 90 LLCs holding properties.

VineBrook has built this widespread and profitable portfolio by outbidding aspiring homeowners. Cincinnati residents looking for an affordable home report that they were beat out time and again by VineBrook for the city's starter homes, and VineBrook has a growing concentration of ownership in some neighborhoods within the city.  For example, VineBrook now owns 29 homes on a single street in Cincinnati's West Price Hill neighborhood – many of which used to be owned by individual homeowners.  Families who are outbid are left with no option but to rent, possibly in the home they hoped to buy.

As VineBrook has grown and pushed more families out of homeownership, renters in the Cincinnati area have faced more competition in the rental market and escalating rents. Over the past year, rents have increased more than 17 percent in the Cincinnati area, among the fastest growth in the nation.  VineBrook itself reported that its rental income over six months in 2022 was more than double the rental income for the same six month period in 2021 due, in part, to "increases in rental rates."  And while VineBrook's rate of rent increases was slower than Cincinnati's average, its average rent increased more than eight percent over the past year alone.

VineBrook's investor materials clearly lay out the company's objectives: "to maximize the cash flow and value of properties owned, acquire properties with cash flow growth potential, provide quarterly cash distributions and achieve long-term capital appreciation for its stock holders through targeted management and a renovation program for homes acquired."  Notably, these objectives include nothing about the well-being of residents or the communities where VineBrook does business – and that VineBrook relies on to generate profits.

In light of the many concerns raised by Cincinnati renters, aspiring homeowners, and local officials, I am deeply concerned that VineBrook's opaque, investor-focused business model is generating outsized profits by exploiting taxpayers and families in Cincinnati and across the 20 states in which VineBrook operates. To better explain VineBrook's policies and practices in Cincinnati and across the country, please respond to the following questions by January 6, 2023:
VineBrook's stated objectives are related to investor profit. They do not speak to housing safety, resident experience, or contributions to local communities. Does VineBrook have a set of minimum protections for tenants to which it adheres, or any long-term goals with respect to property maintenance or resident satisfaction? If so, please provide those protections or goals. If not, why not?
Do VineBrook representatives regularly meet with local officials and residents in the communities where it owns properties? If so, please provide the frequency of meetings in each jurisdiction. If not, why not?
What was the average yearly rent increase, in dollars and percent of rent, including fees, for VineBrook homes in Cincinnati and nationwide over the past year? Does VineBrook have a limit on rent increases for existing tenants?
How far in advance does VineBrook notify tenants of a rent increase? Is this policy consistent nationwide?
How does VineBrook respond to maintenance requests? What is the average time between a request being submitted and a repair being completed for tenants in Cincinnati and nationwide? Please include separate maintenance timelines for standard maintenance requests and exigent maintenance requests.
How many evictions did VineBrook file in Hamilton County, Ohio, in each of 2020, 2021, and year-to-date 2022? How many of those evictions were completed in each year?
How many evictions did VineBrook file nationwide in each of 2020, 2021, and year-to-date 2022? How many of those evictions were completed in each year?
How many LLCs own rental properties from which VineBrook or its subsidiaries receive rental income? Why does VineBrook hold its properties in such a large number of LLCs?
Please provide a list of the senior leadership and Board of Directors, as applicable, for each of the owners and advisors of VineBrook listed below:
VineBrook Homes Trust, Inc.
VineBrook Homes Operating Partnership, L.P.
NexPoint Real Estate Opportunities, LLC
NRESF REIT Sub, LLC
NexPoint Real Estate Advisors V, L.P.
Thank you for your prompt response to this important issue. ###
Part II. Additional Information with More MHProNews Analysis and Commentary
The video below from Scripps-owned ABC News 5 in Cleveland 7:37 PM, Dec 19, 2022 the following.

Retirement communities' fears over rising rent prompts letter from Senator
Neighbors in several Northeast Ohio retirement communities are grappling with drastic rent hikes after a company [Legacy Communities] took over properties in Navarre and Elyria. The seniors, many of whom are living on fixed incomes, worry how they'll afford to stay in their homes" wrote ABC News 5 Cleveland's reporter Catherine Ross. "News 5 stories highlighting the concerns are now being cited by Congress in a demand for answers.
Monday, U.S. Senator Sherrod Brown issued a letter to Legacy Communities, LLC about the steep rent hikes at Navarre Village and Twin Lakes. He also sent one to the Federal Home Loan Mortgage Corporation, better known as Freddie Mac, requesting a review of its financing practices for manufactured home communities.
"They're just preying on the elderly people," said Bob Cowger, who's lived in Navarre Village for about 10 years."
Residents in the manufactured home community own their houses, but pay monthly fees for the lots in the park. In September, Legacy Communities, LLC took over Navarre Village, but did not mention any increasing lot rents.
When several people tried to sell their homes, they discovered the company was more than doubling monthly lot rent for incoming residents. The steep hike has been driving away prospective buyers.
"Who would come in and buy a house and pay $850 or even $700 when your neighbors are paying $370 or $425?" said Christine DiSabatino, a realtor who has lived in Navarre Village for 5 years and helped sell properties in the community since 2007.
Bob Senften, who's lived there 5 years, added, "We're stuck. If we wanted to move, we couldn't move."
The neighbors said existing residents were told their monthly fees would go up by more than 8% when they renewed their contracts. More recently, they're hearing the rent will rise by 14.9%, though they've received no official notice. … "
ABC News 5 said Legacy Communities has not responded to multiple inquiries. That is not dissimilar from MHI failing to respond to multiple inquiries in recent years to media requests by MHProNews. MHI apparently prefers engaging with 'friendly' media outlets rather than possibly probing or even critical media.
Among the points not mentioned by ABC News 5 is the Senator Brown has an apparently cozy relationship with Nathan Smith. Smith has touted his active participation in Democratic Party politics. Smith has held fundraisers for Senator Brown and other candidates (see Google screen capture, part of the image collage by MHProNews, shown below). Smith is a former MHI chairman. Smith is a cofounder of SSK Communities, which has since rebranded as publicly-traded Flagship Communities.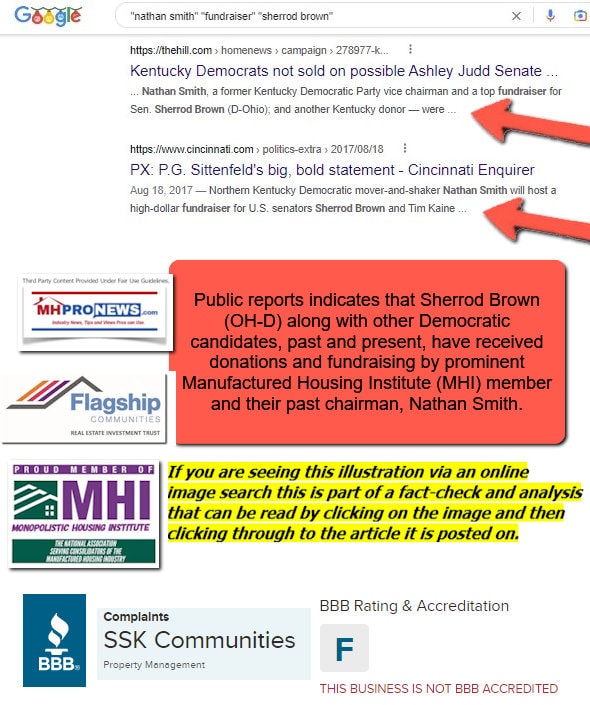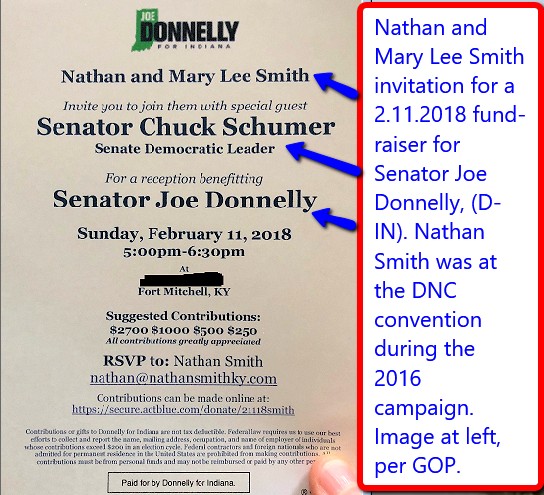 Smith's business practices, while not specifically named by in the viral HBO's Last Week Tonight with John Oliver's misnamed "Mobile Homes" video report, was nevertheless one of the businesses that were featured in a video clip in that satirical hit.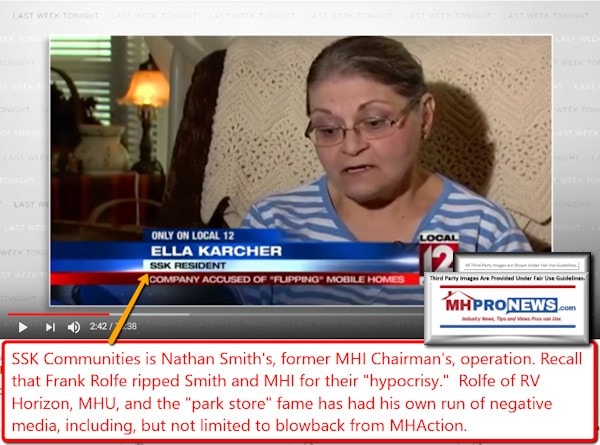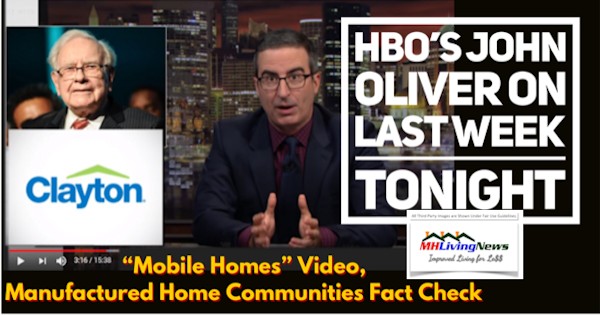 Put differently, based on the evidence revealed in this report and linked from this article, Brown's stance is curious at best. Given the fact that Senator Brown's campaign has accepted donations from and support from a prominent MHI corporate leader who is seemingly similar in ethically and legally questionable behaviors akin to what Legacy Communities is accused of engaging in. Legacy may be, based on local reports and claims made by Brown, more aggressive in some senses than SSK-turned Flagship. But SSK-Flagship also has a poor rating by the Better Business Bureau (BBB), see the image collage above and reports linked below.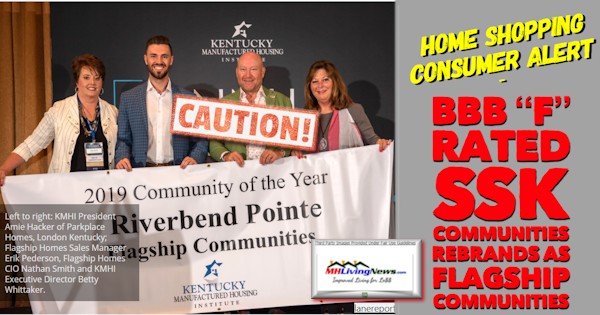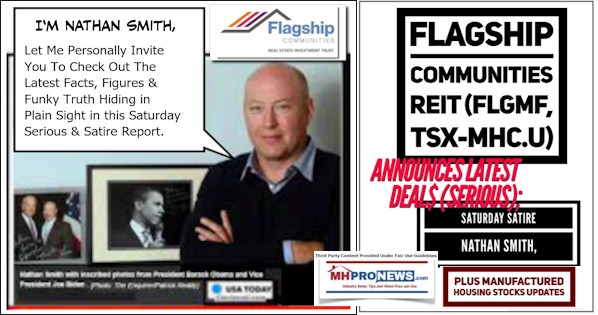 None of that keeps Smith from his high profile and 'award winning' positions in the Kentucky Manufactured Housing Institute (KMHI), which is an affiliate of MHI.
These facts and related evidence are not intended to whitewash Legacy, Smith, or Flagship. Rather, it shows that there appears to be some posturing and hypocritical behavior by some lawmakers and public officials who decry business practices while collecting donations from those who are engaged in similar behaviors.
As the late Bob Van Cleef told MHLivingNews, the problems faced by manufactured home community residents is real. There is no apparent room for doubt about the genuine angst those Legacy Community residents are expressing. But the solution, time and again, is the need to enforce existing laws in an effective and robust fashion.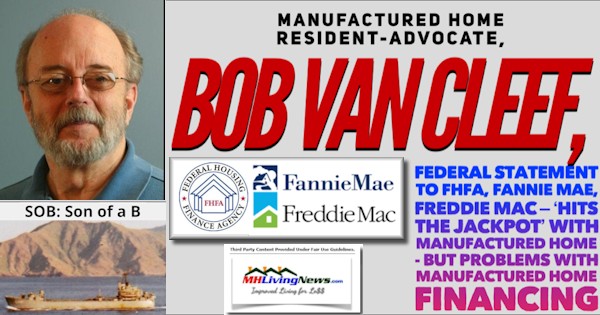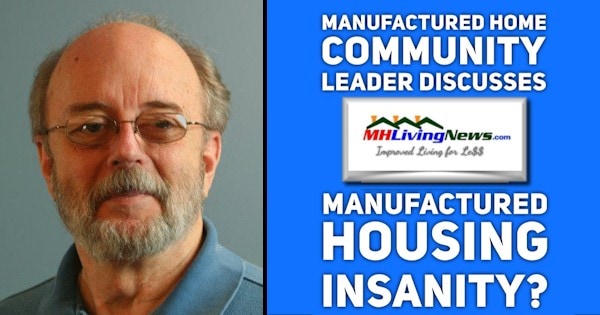 Untangling the various threads of paltering, posturing, head-fakes, and apparently contradictory disconnects is what we do day by day at MHProNews. It is why our platforms apparently dwarf the readership of MHI and several of their cat's paw blogging surrogates. See the fact check linked below for evidence of that statement. ##
Behind the Scenes Facts, Insights, Reams of 3rd-Party Research on Manufactured Homes and 'Mobile Home' Controversies–MHLivingNews to MHI Data-MHVille 2022 in Review I; plus, MHREITs-Stocks Update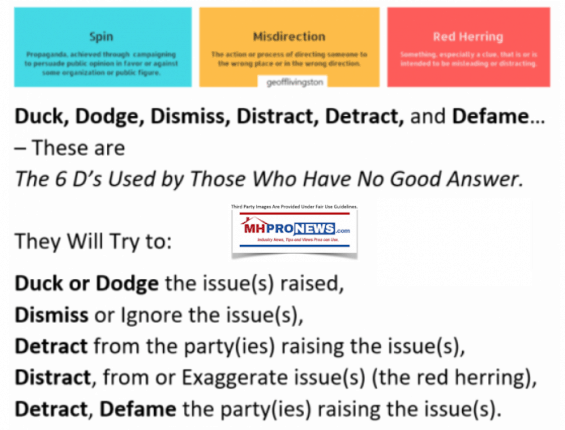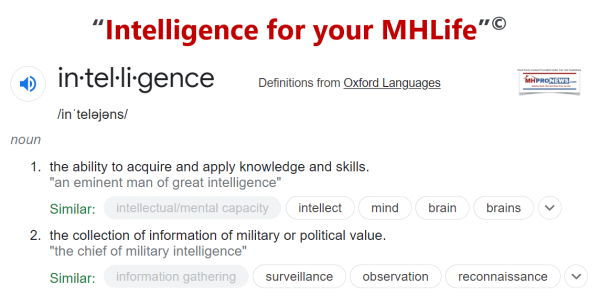 Part III. Daily Business News on MHProNews MHVille Markets Segment
The modified format of our prior Daily Business News on MHProNews post that recap yesterday evening's equities market report is provided below. It still includes our signature left (CNN Business) and right (Newsmax) 'market moving' headlines that allows readers to see in moments the distinction between the left- and right-leaning media. The macro market graphics provide context and comparisons for those invested in or tracking manufactured housing connected equities. In a properly operating manufactured home industry, the industry's equities ought to consistently outperform several other publicly traded investment options. Regrettably, that is often not the case. The graphics that follow will routinely illustrate that point.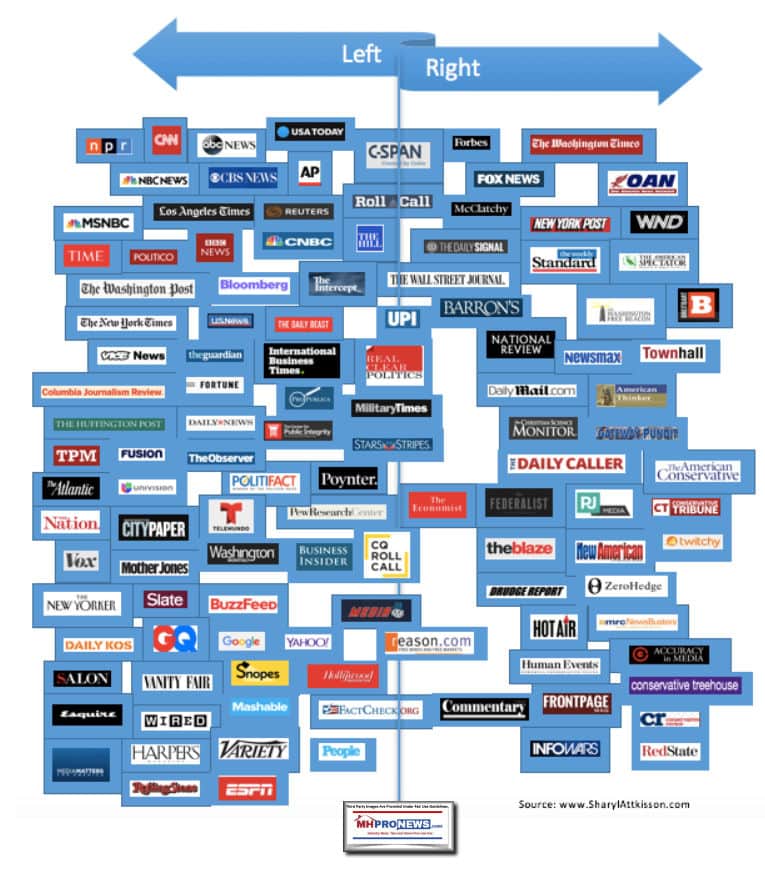 In minutes a day readers can get a good sense of significant or major events while keeping up with the trends that are impacting manufactured housing connected investing.
Reminder: several of the graphics on MHProNews can be opened into a larger size. For instance: click the image and follow the prompts in your browser or device to OPEN In a New Window. Then, in several browsers/devices you can click the image and increase the size. Use the 'x out' (close window) escape or back key to return.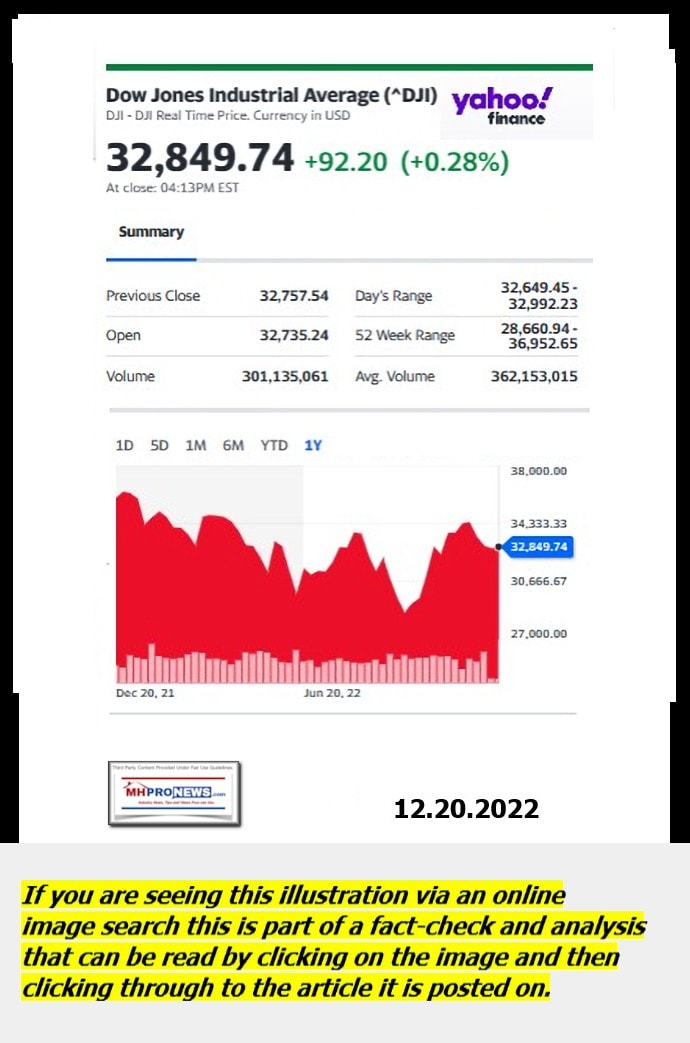 Headlines from left-of-center CNN Business – from the evening of 12.20.2022
Savings boost
A pedestrian crosses Pennsylvania Avenue as the sun rises over the U.S. Capitol in Washington, U.S., November 9, 2022.
Tom Brenner/Reuters
Congress may pass new retirement rules. These 7 changes are on the table
The Mastodon app on seen in the display of a mobile phone in November 2022.
As Twitter backlash grows, its newest rival platform reaches 2.5 million monthly users
20 TikTok STOCK
Why are you seeing those videos in your feed? TikTok will explain
King Charles' portrait will appear on British notes of £5, £10, £20 and £50; meanwhile, the rest of the design will remain the same as the current notes, which feature the late Queen Elizabeth II on the front.
First images of British banknotes featuring King Charles III unveiled
Semi-trucks sit parked in a garage at the Iowa Central Community College Transportation Technology Center (TTC) in Fort Dodge, Iowa, U.S., on Tuesday, July 31, 2018. The Department of Labor is scheduled to release jobless claims figures on August 9. Photographer: Sergio Flores/Bloomberg
EPA finalizes tougher pollution standards for large vehicles like trucks and buses
A worker pushes a cart laden with ordered items among shelves at an Amazon warehouse on November 18, 2021 in Brieselang, Germany.
EU accepts Amazon commitments in antitrust agreement affecting data and sellers
A man wearing face covering passes by the at Kingsbrook Jewish Medical Center, in Brooklyn, New York, USA, 08 April 2020. New York remains the epicenter of the coronavirus outbreak in the United States and there are continuing concerns that the health care system will be unable to care for the volume of COVID-19 patients.
New York Coronavirus, USA – 08 Apr 2020
Hospital network reverts to paper charts for weeks after cyberattack
CHONGQING, CHINA – DECEMBER 14: People purchase snacks at a night market on December 14, 2022 in Chongqing, China. Life and production is returning to normal in Chongqing, with further optimized COVID-19 response measures in place. (Photo by He Penglei/China News Service/VCG via Getty Images)
'One extreme to the other': Chinese megacity Chongqing says people with Covid can go to work
SpaceX founder Elon Musk addresses members of the media during a press conference announcing new developments of the Crew Dragon reusable spacecraft, at SpaceX headquarters in Hawthorne, California on October 10, 2019.
Philip Pacheco/AFP/Getty Images
After Twitter users voted to oust Elon Musk as CEO, he wants to change how polls work
Wells Fargo ordered to pay $3.7 billion for 'illegal activity' including unjust foreclosures and vehicle repossessions
3M will stop making hazardous 'forever chemicals' starting in 2025
America has tipping fatigue
Main Street's buying stocks while Wall Street sells: What gives?
American home building slumped again in November
'Fortnite' maker Epic Games to pay record-breaking $520M FTC settlement
Why an Abu Dhabi startup wants to send quinoa seeds into space
Here's who Elon Musk could pick to be Twitter's next CEO
Europe finally agrees to cap gas prices
How to save and invest for the life you want
BOJ changes yield curve control, jolts markets with surprise monetary policy
FTX founder Sam Bankman-Fried agrees to be extradited to the US
Jake Tapper pays tribute to Drew Griffin
In Case You Missed It
TWITTER IN CRISIS
Elon Musk, founder and chief engineer of SpaceX speaks at the 2020 Satellite Conference and Exhibition March 9, 2020 in Washington, DC.
Win McNamee/Getty Images
Musk's poll results are in: He should step down, Twitter voters say
Twitter deletes controversial new policy banning links to other social platforms
Warren calls out Musk for 'unavoidable' conflicts of interest in Twitter takeover
Hear how Musk responded to journalists before he hung up mid-question
Twitter blocked links to rival Mastodon. That could raise alarms among regulators
HOUSING SLUMP
People enjoy the sunny afternoon on New Year's Eve in a Los Angeles park with a view of the downtown skyline, December 31, 2021.
'This is a war': Californians seek affordable housing alternatives
'Sophisticated Legos': New affordable housing options take shape in California
Housing slump likely to continue but some see hopeful signs ahead
'Sophisticated Legos': New affordable housing options take shape in California
Here's where mortgage rates and home prices may be headed in 2023
Mortgage giants raise loan limits to a record level for 2023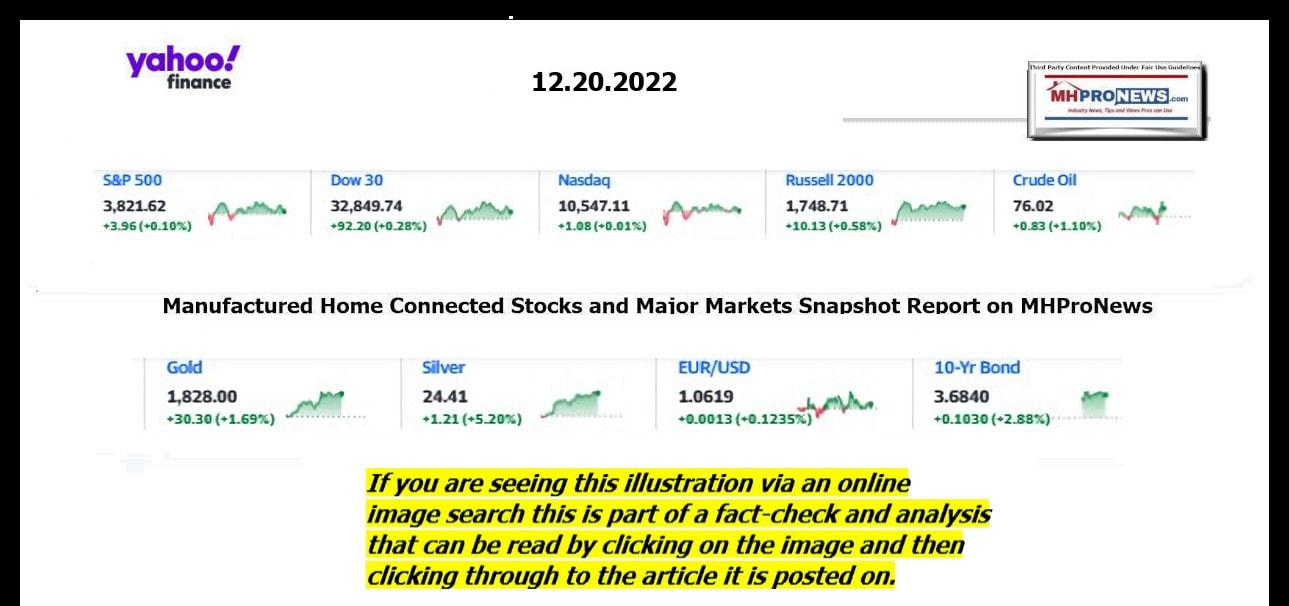 Headlines from right-of-center Newsmax 12.20.2022 
Omnibus Includes Expanding TikTok Ban for All Government Phones
The TikTok logo is seen on a cellphone in Boston in October
TikTok would be banned from most U.S. government devices under an omnibus spending bill Congress rolled out Tuesday,. The proposed move is part of a push by American lawmakers against the Chinese-owned social media app over concerns about the security of Americans' data at the hands of Beijing. (AP) [Full Story]
Alina Habba: DOJ Will 'Look at' Criminal Referral | video
Texas Lt. Olivarez: Title 42 Save Good for Texas | video
Mark Morgan: Immigrant 'Tsunami' Will Worsen Without Title 42 | video
Miss America 2023: 'Excited to Promote Nuclear Energy' | video
Tenney: Dems Finally Seeing 'Tragedy' at Border | video
Comer: Title 42 Vital for Border Agents | video
Giuliani: Criminal Referral 'Disgraceful' | video
Comer: FBI Leaders to Be Hauled Before Congress | video
Newsfront
Trump's Tax Returns Being Discussed by Congressional Panel
The Democratic-controlled House Ways and Means Committee met Tuesday to vote on whether to publicly release years of Donald Trump's tax returns, which the former president has long tried to shield.Committee Chairman Richard Neal, D-Mass., has kept a close hold on the…… [Full Story]
Rand Paul Endorses Electoral Count Reform
Rand Paul, R-Ky., says the process of counting Electoral College [Full Story]
GOP Governors: Time For Biden to Lift COVID Emergency Declaration
Republican governors are calling on President Joe Biden to end the [Full Story]
Pavone: 'Next Pope Can Reinstate Me'
Frank Pavone, the pro-life Roman Catholic priest defrocked by the [Full Story]
Related
Frank Pavone to Newsmax: 'This Is About Control' |video
Patalinghug to Newsmax: Pavone Defrocking Not 'Blasphemy' |video
Chris Alar to Newsmax: Pavone's Defrocking From Pope |video
Defrocked Priest Pavone: 'I Will Not Be Silenced'
Vatican Removes Fr. Frank Pavone, Pope Francis Plays Key Role
FTC Deepens Probe Into Twitter Privacy, Security Rules
The United States Federal Trade Commission (FTC) is deepening its [Full Story]
Musk's Evolving Twitter Policies Part of 'Greater Plan' for Platform
In the weeks since billionaire Elon Musk took over as Twitter CEO, [Full Story] | Platinum Article
VP Harris Says Congress Needs to Lead on Immigration, Abortion, Big Tech
Vice President Kamala Harris says the Biden administration will do [Full Story]
Clash With India Raises Questions About Chinese Competence
The emergence of rare video footage showing a skirmish along the [Full Story] | Platinum Article
Afghan Officials Helped Smuggle Out Nearly $1B Before Collapse
Afghangovernment officials helpedsmugglers illegally take hundreds of [Full Story]
Stefanik: House GOP Will Hold Dems Accountable for 'Abuse of Power'
Elise Stefanik, R-N.Y., is blasting the House Jan. 6 committee [Full Story]
Related
Trump: Jan. 6 Panel Criminal Referral 'Strengthens Me'
Giuliani to Newsmax: Jan. 6 Panel's Trump Criminal Referral 'Disgraceful' |video
Tenney to Newsmax: Jan. 6 Probe a Soviet Trial |video
Dershowitz to Newsmax: Left, Right Should Defend Constitution
Attorney Benno to Newsmax: Jan. 6 Committee Designed to Make Criminal Referral |video
Toensing, diGenova to Newsmax: Jan. 6 Panel 'Has No Authority' |video
Trump Slams Jan. 6 Panel as 'Kangaroo Court,' Bipartisan Rules Flouted
James Cameron 'Proves' Jack Couldn't Have Survived Titanic Sinking
"Titanic" director James Cameron has finally put to rest the burning [Full Story]
Zelenskyy Shows Up Failed Russian Efforts With Visit to East Ukraine
Russian President Vladimir Putin said the situation in Russian-held [Full Story]
Related
Putin Insists No Plan to Absorb Belarus on Visit in Ukraine Shadow
Wartime Ukraine Erasing Russian Past From Public Spaces
Viktor Bout Visits Occupied Ukraine
Russian Officials: Gas Flare at Export Pipeline Put Out
Taliban Bans Women From Universities in Afghanistan
Female students have been banned from private and public universities [Full Story]
Omnibus Includes Expanding TikTok Ban in Government Phones
Just a few days after the Senate unanimously passed a bill banning [Full Story]
ProPublica to Return Funding From FTX Founder's Foundation
Nonprofit investigative news outlet ProPublica will return about $1.6 [Full Story]
Zuckerberg Testifies Meta Focused on Communications Apps
Meta Platforms boss Mark Zuckerberg said the company is focused on [Full Story]
Inflation Knocks 4@ Retirement Drawdown Rule
The common retirement rule of thumb that you should withdraw 4% of [Full Story]
GOP Group Cautions Colleagues on 'Absurd' Omnibus Bill
A group of 13 current and incoming GOP congressmen demanded [Full Story]
Billionaire Ishbia to Buy Suns for $4 Billion
Billionaire Mat Ishbia will buy the National Basketball Association's [Full Story]
Video Report: DeSantis Says Florida COVID Economy Helped by Open Schools
On Tuesday's "National Report," Newsmax correspondent Leo Feldman [Full Story]
US Postal Service Pledges Significant Boost in EV Purchases
The U.S. Postal Service said Tuesday it will more than double its [Full Story]
Oliver L. North: Christmas Is Also About Selfless Sacrifice
Christmas means a break from the normal routine of life that can be [Full Story]
UAE Launches First Arab-Built Lunar Rover
The first Arab-built lunar spacecraft is on its way to the moon after [Full Story]
Watchdogs Seek Halt of Taxpayer Funding for Wuhan Institute
Watchdog groups are pressing Congress to halttaxpayer funds going to [Full Story]
Newly Surfaced Video Shows Biden Saying Iran Nuclear Deal Is 'Dead'
On the sidelines of a Nov. 4 election rally, President Biden said the [Full Story]
Poll: Nearly Half Say Biden Has Made US Worse
Just about half 47% of likely voters say President Joe Biden has made [Full Story]
Larry Elder 'Thinking' About Running for President
Former California gubernatorial candidate Larry Elder said he is [Full Story]
Former Concentration Camp Secretary, 97, Convicted of Nazi War Crimes
A 97-year-old woman who worked as a Nazi concentration camp secretary [Full Story]
California Gun Law Battle Could Impact Texas Abortion Rule
Both a California gun law, allowing citizens to sue the makers of [Full Story]
Two of Lake's Election Complaints Head to Trial in Arizona
A Maricopa County Superior Court judge ruled that two of Arizona [Full Story]
DHS Accidentally Told Cuba That Deportees Requested Protection
The Department of Homeland Security accidentally informed the Cuban [Full Story]
Finance
Inflation Knocks 4% Retirement Drawdown Rule
The common retirement rule of thumb that you should withdraw 4% of your savings annually to make it last for 25 to 30 years – may be far to optimistic…. [Full Story]
Twitter Investor Expects to Grow Money Fivefold
FTX's Bankman-Fried Signs Extradition Papers
Business Equipment Borrowings Rise 9%
Musk Asks Schiff If He Approved 'Hidden State Censorship'
More Finance
Health
Heart Attacks Spike up to 40 Percent in Last 2 Weeks of December
The holiday season is filled with to-do lists, but one should rise to the top: Take care of your heart. Whether from stress, cold weather or falling out of good habits in terms of eating, sleeping and drinking, heart attack rates spike as much as 40% between Christmas and…… [Full Story]
Light Therapy Eases the Fatigue That Plagues Most MS Patients
Drugs to Treat the Current 'Tripledemic' Are in Short Supply: What to Do
Treatments That Bring Relief to Long COVID Sufferers
This Diet Boosts Fertility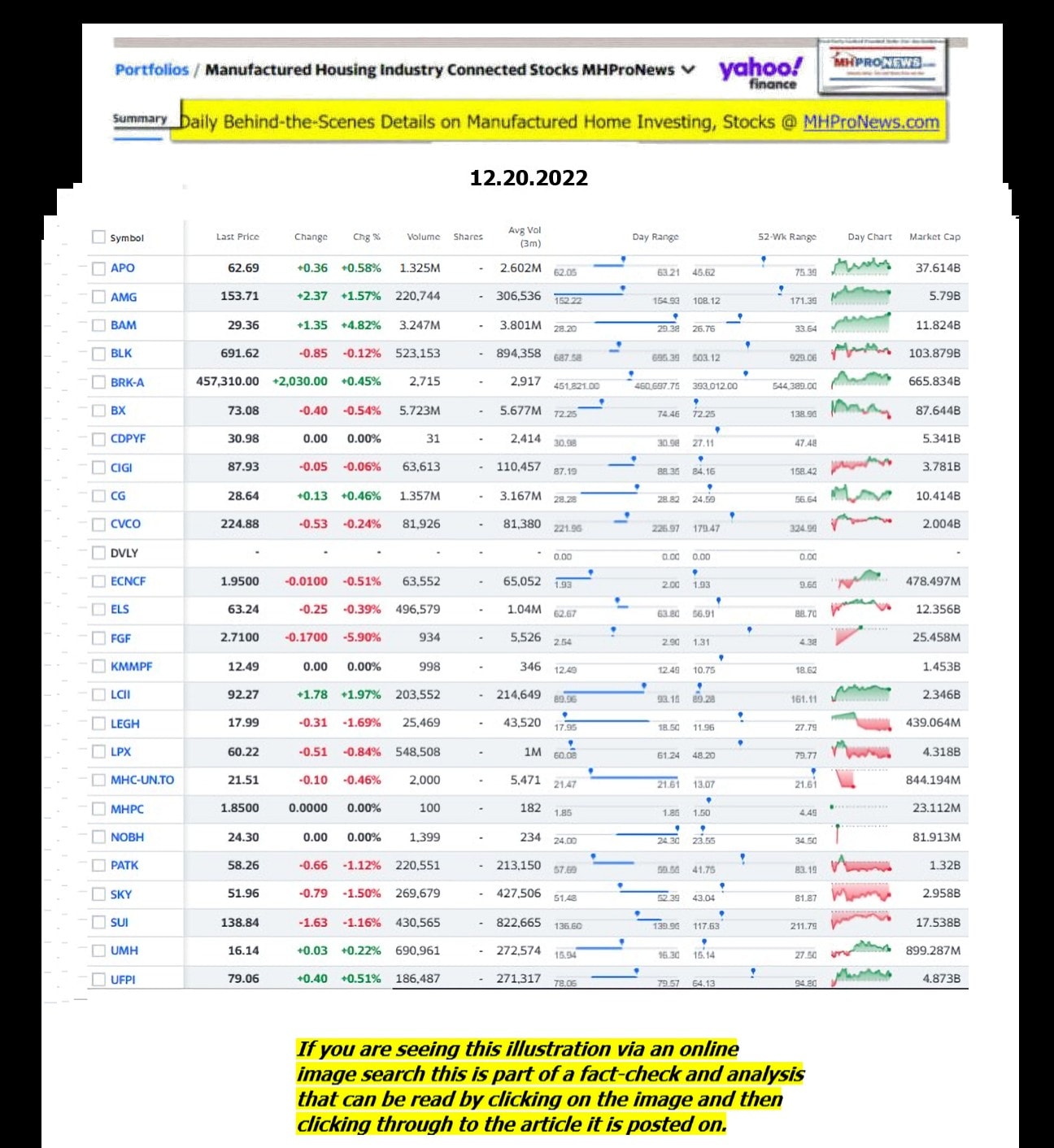 ====================================
Updated
NOTE 1: The 3rd chart above of manufactured housing connected equities includes the Canadian stock, ECN, which purchased Triad Financial Services, a manufactured home industry finance lender.
NOTE 2: Drew changed its name and trading symbol at the end of 2016 to Lippert (LCII).
NOTE 3: Deer Valley was largely taken private, say company insiders in a message to MHProNews on 12.15.2020, but there are still some outstanding shares of the stock from the days when it was a publicly traded firm.  Thus, there is still periodic activity on DVLY.
Note 4: some recent or related reports to the REITs, stocks, and other equities named above follow in the reports linked below.
Manufactured Housing Properties-Results for Three and Nine Months Ending September 30.2022–Exploring 'Mobile Home Park' Manufactured Home Community Investing; plus MHVille REITs, Stocks Update
Manufactured Housing's Next BIG Regulatory Battle That MHARR's Spotlighted and Which MHI Conveniently Ignored in Recent 'Manufactured Housing Institute News;' plus Sunday Weekly Headlines Recap
'Changes Will Benefit Customers,' Boost Sales-Legacy Homes CEO Duncan Bates – LEGH 'Delivered 22.5% Return on Equity in 1 Yr' – Corp Q3 2022 Insights, Analysis; plus MHVille REITs, Stocks Update  
'No Assurance Inflation Will Not Affect Our Future Profitability Financial Position'=Cavco Industries 10-Q, Solitaire Deal, More CVCO Data; Supreme Court Ruled-SEC Regs on False-Omitted Remarks
Skyline Champion Provides Quarterly Results, Adding Retail Centers, Improved Delivery Times-CEO Mark Yost Says 'Can Outperform Conventional Housing' Explored; Plus MHVille REITs, Stocks Update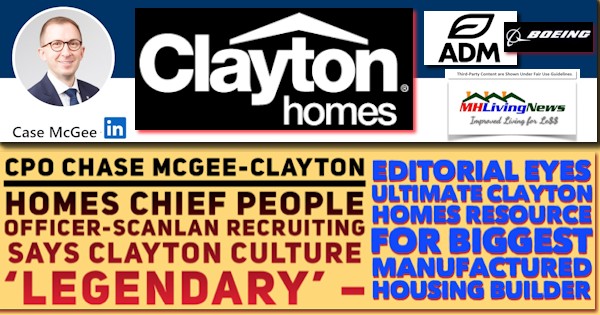 Triad Financial Services Q2-2022 FINANCIAL RESULTS, per ECN Capital – Several Bright Spots in Manufactured Home Market Highlighted, Including Communities, Retail, Land-Home, Floor; MHStocks Update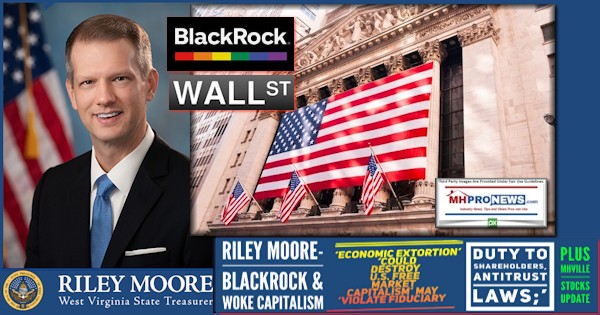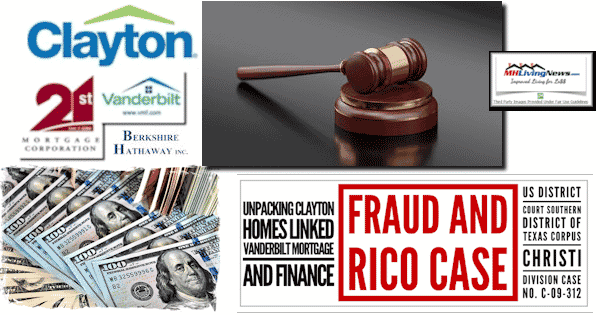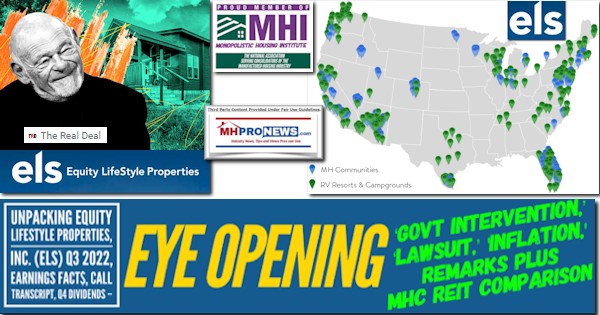 Manufactured Home Communities (a.k.a. 'Mobile Home Parks' – SIC) – Exploring UMH Properties; Fellow Manufactured Housing Institute Member Yes! Communities Suits and Settlements; plus MH Markets Updates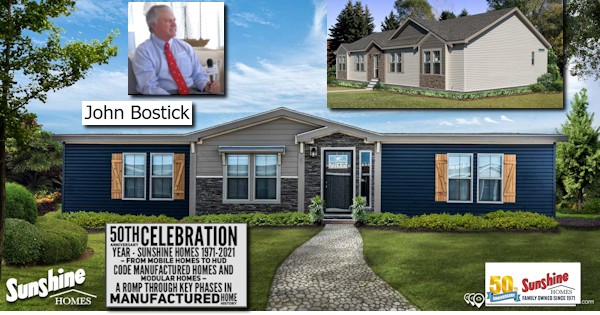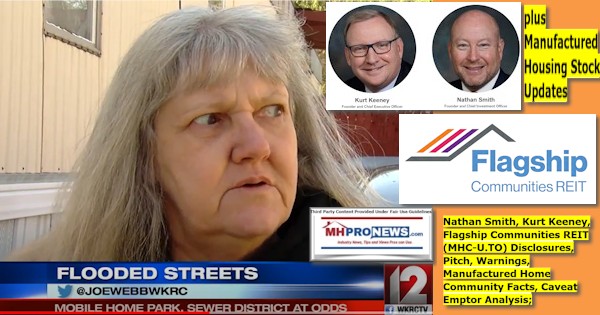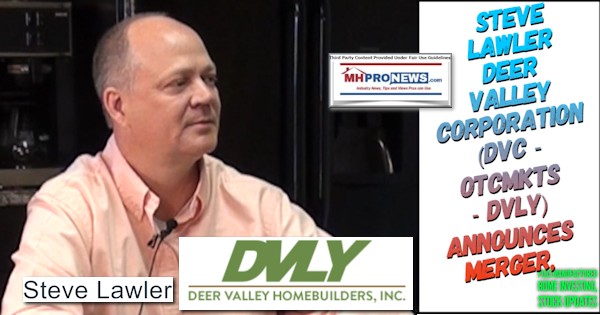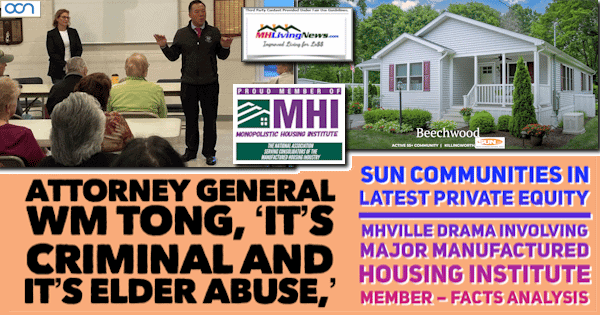 2022 …Berkshire Hathaway is the parent company to Clayton Homes, 21st Mortgage, Vanderbilt Mortgage and other factory-built housing industry suppliers.
· LCI Industries, Patrick, UFPI, and LP each are suppliers to the manufactured housing industry, among others.
· AMG, CG, and TAVFX have investments in manufactured housing related businesses. For insights from third-parties and clients about our publisher, click here.
Disclosure. MHProNews holds no positions in the stocks in this report.
· For expert manufactured housing business development or other professional services, click here.
· To sign up in seconds for our industry leading emailed headline news updates, click here.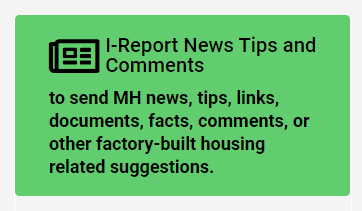 That's a wrap on this installment of "News Through the Lens of Manufactured Homes and Factory-Built Housing" © where "We Provide, You Decide." © (Affordable housing, manufactured homes, stock, investing, data, metrics, reports, fact-checks, analysis, and commentary. Third-party images or content are provided under fair use guidelines for media.) (See Related Reports, further below. Text/image boxes often are hot-linked to other reports that can be access by clicking on them.)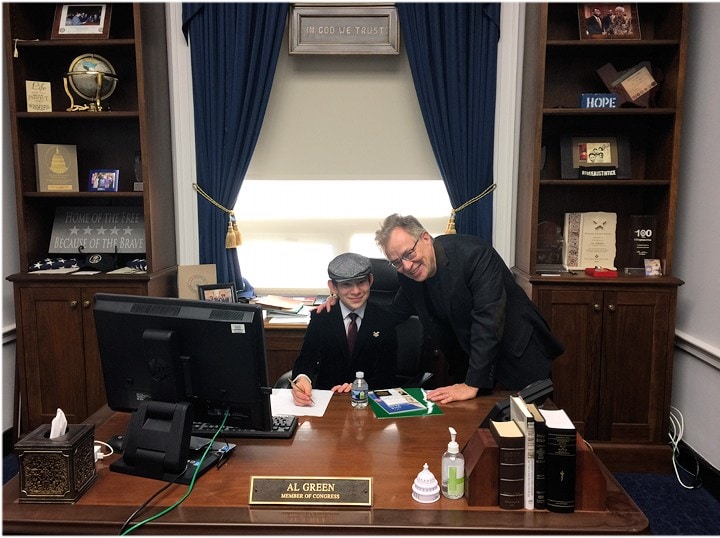 By L.A. "Tony" Kovach – for MHProNews.
Tony earned a journalism scholarship along with numerous awards in history. There have been several awards and honors and also recognition in manufactured housing. For example, he earned the prestigious Lottinville Award in history from the University of Oklahoma, where he studied history and business management. He's a managing member and co-founder of LifeStyle Factory Homes, LLC, the parent company to MHProNews, and MHLivingNews.com. This article reflects the LLC's and/or the writer's position and may or may not reflect the views of sponsors or supporters.
Manufactured Home Production Growth Continues in September 2022, per Manufactured Housing Association for Regulatory Reform-Added Facts, Analysis, plus MHVille REITs, MH Connected Stocks Update
Consumers 'Fears for the Future'-Mortgage Payments Surge Since 2021, Buyers Get Priced Out–Conventional Housing Woes are Manufactured Home Pro Opportunities; plus MHVille REITs, Stocks Update