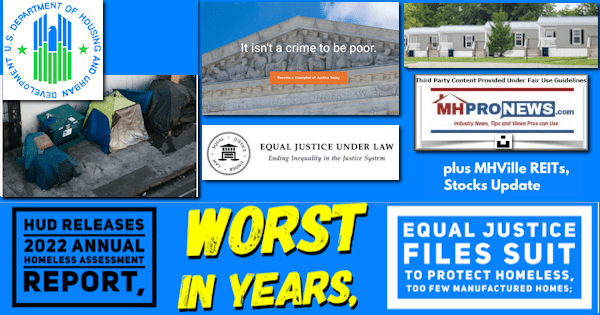 HUD has issued a press release on homelessness, shown below. The nonprofit Equal Justice has launched a lawsuit in response to homelessness. HUD is the primary regulator of HUD Code manufactured homes. Homelessness is caused in large part due to a lack of affordable housing. As a footnote to their release, HUD states that: "HUD's mission is to create strong, sustainable, inclusive communities and quality affordable homes for all."  From the HUD website one can read: "[President Lyndon Banes] Johnson's War on Poverty, the Department of Housing and Urban Development (HUD) was established as a Cabinet Department by the Department of Housing and Urban Development Act (42 U.S.C. 3532-3537), effective November 9, 1965. It consolidated a number of other older federal agencies." 57 Years later, properly understood, the case can be made from their own statements that HUD's new report reveals that HUD is apparently not doing its claimed job well. The Greek – Poet Aeschylus said that "Memory is the mother of all wisdom." The Greek thinker is said to have lived circa 525 BC – 456 BC, so that insight is some 2500 years ago. "Never interrupt your enemy when he is making a mistake," said Napoleon Bonaparte, both references are according to BrainyQuotes. Connecting the dots between various facts is a gift born of memory, experience, expertise, and allows the better informed on a topic to illumine the minds of those who are befuddled or perhaps may even largely accept the robust BS machine that is operating in America and manufactured housing today.
This report will include these segments.
1) Following this preface, is the HUD press release dated 12.19.2022 to MHProNews. Following that will be a segment of a press release from Heather Pritchett, MPA, CFRE, who is the Director of Development and Communications for the Equal Justice Under Law nonprofit.
2) For new readers at MHProNews and as a reminder to the thousands of the twice weekly emailed updates of reports delivered free to longtime subscribers, Equal Justice has in the past filed lawsuits on behalf of mobile and manufactured home owners.
3) Will be additional information with more MHProNews analysis and commentary in brief.
4) The fourth and final segment of this article is the Daily Business News on MHProNews market segment. That section features our signature left-right leaning news sources to shed light on market moving headlines. It also includes graphics that capture the stocks, REITs, and other publicly traded equities that are connected with the manufactured home industry.
Part I. With those segments in mind, first up is the HUD press release on their once-a-year homelessness report.
HUD Releases 2022 Annual Homeless Assessment Report
Biden-Harris Administration investments and actions prevented a spike in homelessness overall, and led to decreases in homelessness among Veterans, families, and youth
Homelessness rose for individuals, people with disabilities who experience long-term homelessness, and people in unsheltered settings
WASHINGTON – The U.S. Department of Housing and Urban Development (HUD) today released its 2022 Annual Homeless Assessment Report (AHAR) Part 1 to Congress. The report found 582,462 people were experiencing homelessness on a single night in January 2022. COVID-19 and its economic impacts could have led to significant increases in homelessness, however investments, partnerships and government agency outreach resulted in only a .3% increase in the number of people experiencing homelessness from 2020 to 2022. The Biden-Harris Administration intends to not only stop but reverse the post-2016 trend of rising homelessness and reduce it 25% by 2025, as stated in All In, The Federal Strategic Plan to Prevent and End Homelessness, which was released today by the U.S. Interagency Council on Homelessness. Compared with 2020, homelessness among people in shelters declined by 1.6%, while homelessness among people in unsheltered settings increased by 3.4%. The rate of overall homelessness due in large part to a robust federal response that prevented evictions through Emergency Rental Assistance distributed to more than three million households, expanded resources for vulnerable families through the Child Tax Credit and provided other financial transfers through stimulus.
Homelessness among certain sub-populations decreased. The number of veterans experiencing homelessness decreased by 11%, contributing to a 55% decrease since 2010. Between 2020 and 2022, the number of families with children experiencing homelessness declined by 6% between 2020 and 2022, marking a total decline of 36% since 2010. The number of people under the age of 25 who experienced homelessness on their own as "unaccompanied youth" also declined by 12%.
"HUD and everyone in the Biden-Harris Administration is committed to ensuring every person has a safe, stable place to call home. Data shows that homelessness remains a national crisis, but it also shows that the historic investments this Administration has made to address this issue, can work," said U.S. Department of Housing and Urban Development Secretary Marcia L. Fudge. "The Biden-Harris Administration is working to significantly reduce homelessness across the country and combat the racial and ethnic disparities resulting from systemic racism."
While the overall number of people experiencing homelessness in 2022 increased slightly compared with 2020, it rose significantly for individuals, people with disabilities who experience long-term homelessness, and people in unsheltered settings. Single individuals not part of family households continue to represent the largest group of people experiencing homelessness. Homelessness among single individuals increased by 3.1%. The number of chronically homeless individuals (individuals with disabilities experiencing homelessness for long periods of time) increased by 16% between 2020 and 2022.
People who identify as Black, African American, or African, as well as indigenous people (including Native Americans and Pacific Islanders) continue to be overrepresented among those experiencing homelessness.
The AHAR data reflects a single-night snapshot of homelessness in America in early 2022 and the first complete single-night count of people experiencing homelessness since the arrival of the COVID-19 pandemic. It shows that overall homelessness remained relatively unchanged despite the economic challenges created by the COVID-19 pandemic.
These results, however, do not reflect the full impact of the Biden-Harris Administration's American Rescue Plan and HUD's House America initiative, which largely took place during calendar year 2022. For instance, the majority of HUD's Emergency Housing Voucher program lease-ups took place during 2022. Also, during 2022, HUD released a first-of-its-kind Initiative to Address Unsheltered and Rural Homelessness, which HUD plans to award in early 2023.
HUD releases the AHAR to Congress in two parts. Part 1 provides Point-in-Time (PIT) estimates, offering a snapshot of homelessness on a single night. The one-night counts are conducted during the last 10 days of January each year, with extensions approved on a case-by-case basis. The PIT counts also provide an estimate of the number of people experiencing homelessness within particular homeless populations such as individuals with chronic patterns of homelessness and veterans experiencing homelessness.
The 2022 report provides comparisons with 2020 data because many communities were considerably impacted by COVID-19 during the 2021 PIT count and did not conduct an unsheltered PIT count. The 2020 PIT estimate included both sheltered and unsheltered homelessness. In addition, the report compares 2022 data to data from 2010, the first year that the federal government set a national goal to end homelessness.
More information can be found via the 2022 Annual Homeless Assessment Report Part 1 by the numbers fact sheet and summary.
###
HUD's mission is to create strong, sustainable, inclusive communities and quality affordable homes for all. …
Part II: From Equal Justice Under Law is the following press release to MHProNews on 12.21.2022.
New Lawsuit Challenges Criminalization of Homelessness in Missouri
St. Louis, Missouri – Homelessness in Missouri will become a criminal offense beginning January 1.  Today, a critical lawsuit was filed challenging this criminalization of homelessness. Missouri recently passed a law, House Bill 1606, which will make it a crime for people to sleep or camp on public land.  The lawsuit is seeking expedited relief in federal court to prevent this law from taking effect on January 1—if not stopped, hundreds of people experiencing homelessness will be at risk of unjust criminal prosecution.
Instead of providing much-needed housing to those who are struggling, the State of Missouri is punishing people for their poverty. Not only is this cruel—it's unconstitutional.  The statute allows for one warning before an individual is cited for a violation; however, a single warning will prove futile if there is no safe alternative to sleep the next day.  Assuming that each day of sleeping outside is a separate violation, sleeping outside for just a week could subject a homeless defendant to 105 days in jail and $5,250 in fines.
Ronald Benson, a named Plaintiff in this case, is a disabled veteran who served 12 years in the Army Airborne.  He is currently unemployed and sleeps on public land when shelters have proven overcrowded or unsafe.  Mr. Benson is concerned that criminal prosecution for sleeping outside will affect his future ability to enroll in rental assistance programs and other public benefits, and that it will affect prospective employment opportunities.  Given the lack of free, reliable, and safe housing options, Plaintiffs like Mr. Benson often have no choice but to sleep or camp on public land, and for this, they may be prosecuted, unless the law is stopped.
Equal Justice Under Law Under Law, along with local partners at The Cook Group, represent
Plaintiffs in this case.  Phil Telfeyan, Executive Director of Equal Justice Under Law, states, "When it comes to addressing the problem of homelessness, criminalization is not compassion; it is cruelty.  In this instance, criminalization violates the constitutional rights of people who have no safe alternatives for housing."
###
Equal Justice Under Law is a legal nonprofit providing pro-bono legal services to those most in need. The organization is dedicated to achieving equality in our justice system by litigating against wealth-based discrimination. Since its founding in 2014, Equal Justice Under Law has filed 43 lawsuits in 17 states targeted at ending unequal practices in our justice system.
Part III: Additional Information with More MHProNews Analysis and Commentary
According to some sources, homelessness is now at its highest level in 8 years. That means it was at a prior high during the Obama-Biden administration, dropped during the Trump Administration, and despite the record spending under often questioned Biden-Harris regime, it has risen once more. Despite the so-called Biden Housing plan that mentioned manufactured housing more than a dozen times, CNN and the National Association of Realtors both recently reported that first time home buyers had dropped to record lows.  Young families and individuals have been back in with parents in record numbers, because of the soaring cost of housing.
Fears of Future – MILLIONS of Millennials Move Back in 2022 with Parents-Facts, Top Reasons, and Possible Silver Lining for Manufactured Housing Pros, Investors; plus MHVille REITs, Stocks Update
Despite Biden Housing Promises, CNN, NAR Say 1st Time Homebuyers Fall to 'All Time Low' – MHI Input – Unpacking Info for MHVille Advocates & Pros; plus Sunday MHProNews Weekly MH Reports Recap
The Equal Justice nonprofit has, as was noted above, filed suits in local jurisdictions previously on issues connected with mobile and manufactured homes. Some examples are shown below.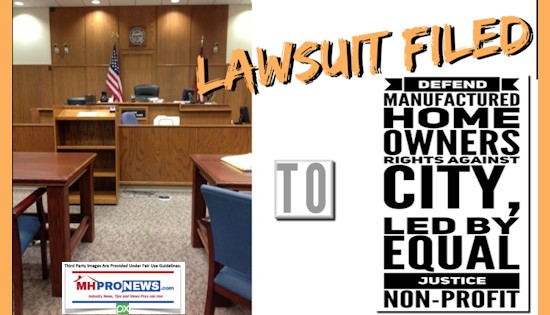 "Mobile Home Ban" Suit Win, "Equal Justice Under Law," Manufactured Home Owners, Buyers, Industry
A different legal nonprofit, the Institute for Justice, has filed suits against local jurisdictions in cases that defend the rights for Americans to have a tiny house.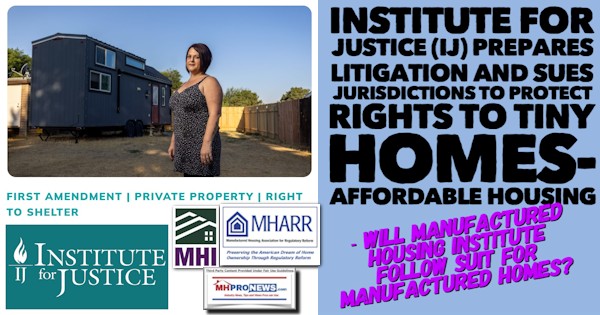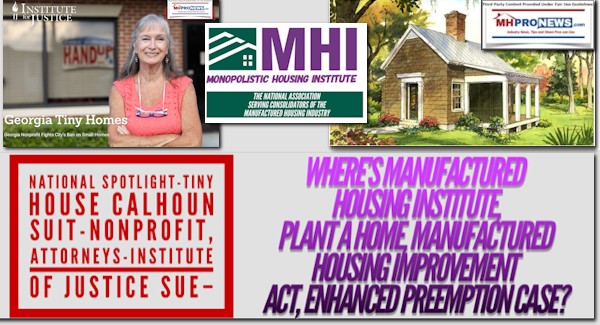 These examples of other nonprofits beg a question for the manufactured home industry's largest national nonprofit.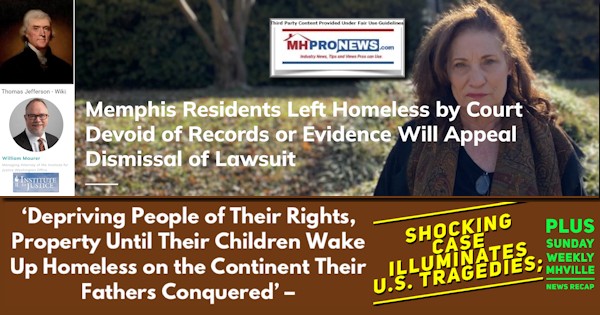 MHProNews and our MHLivingNews website have reported for years on issues related to homelessness and its causes.  These cases routinely point to obvious failures in public policies, despite the billions of taxpayer money spent annually for these governmental efforts.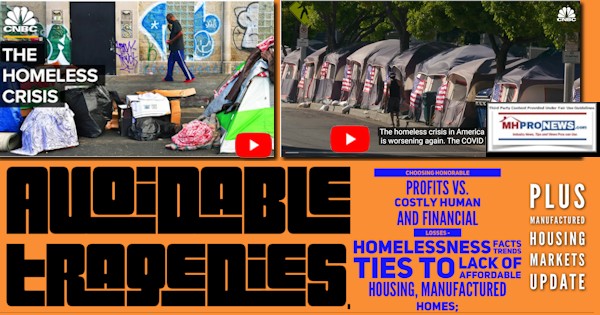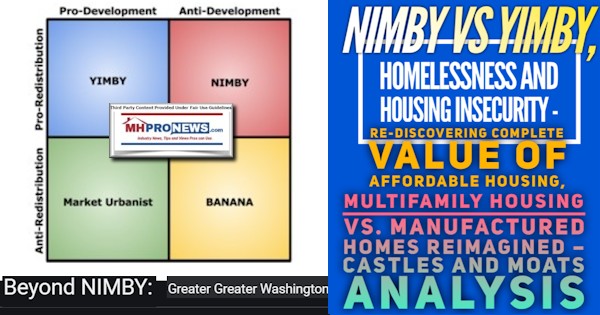 'Tiny Manufactured Homes' Form Eden Village's Planned Solution to Chronically Homeless, Videos and Analysis Peers Into Hope Aimed at Hand Up for Hopeless; plus MHVille REITs, Stocks Update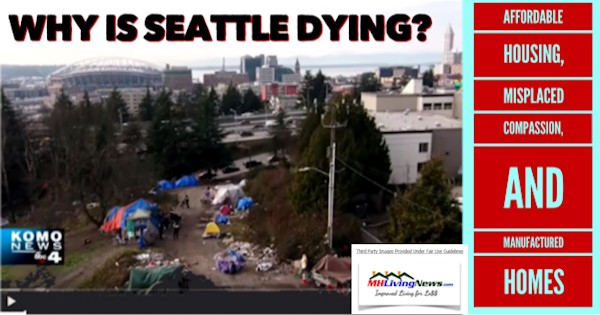 Why hasn't the Manufactured Housing Institute (MHI) filed suit against local jurisdictions that are failing to honor the enhanced preemption provisions mandated by the Manufactured Housing Improvement Act of 2000 (MHIA)?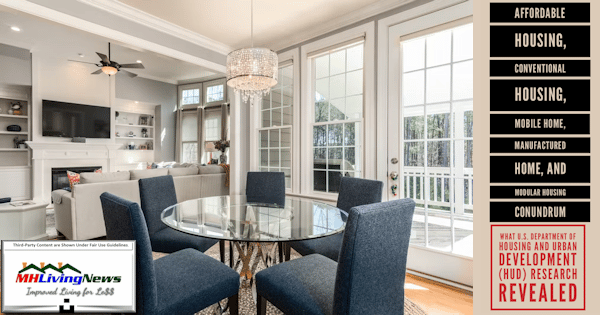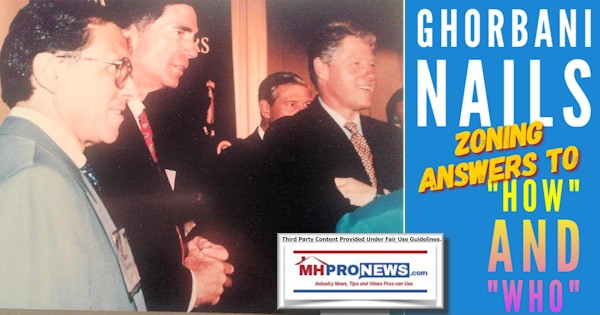 Why did MHI state affiliates fail to take up the Manufactured Housing Association for Regulatory Reform's offer a few years ago to team up with them to file suit in an appropriate state-local case?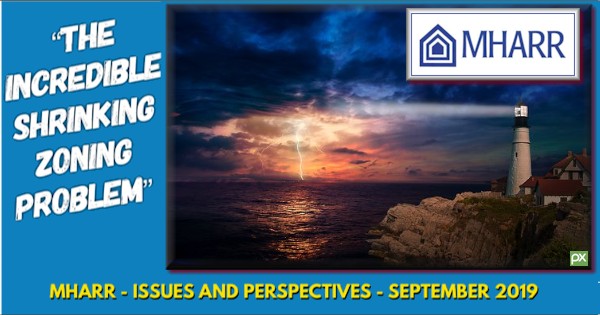 HUD has publicly thumbed their nose at the "enhanced preemption" provision of the MHIA, despite the fact that Democrats have made this case for enforcement of this power Congress gave to HUD. The third pull quote below was made to a prior Republican Administration not long after the MHIA was enacted.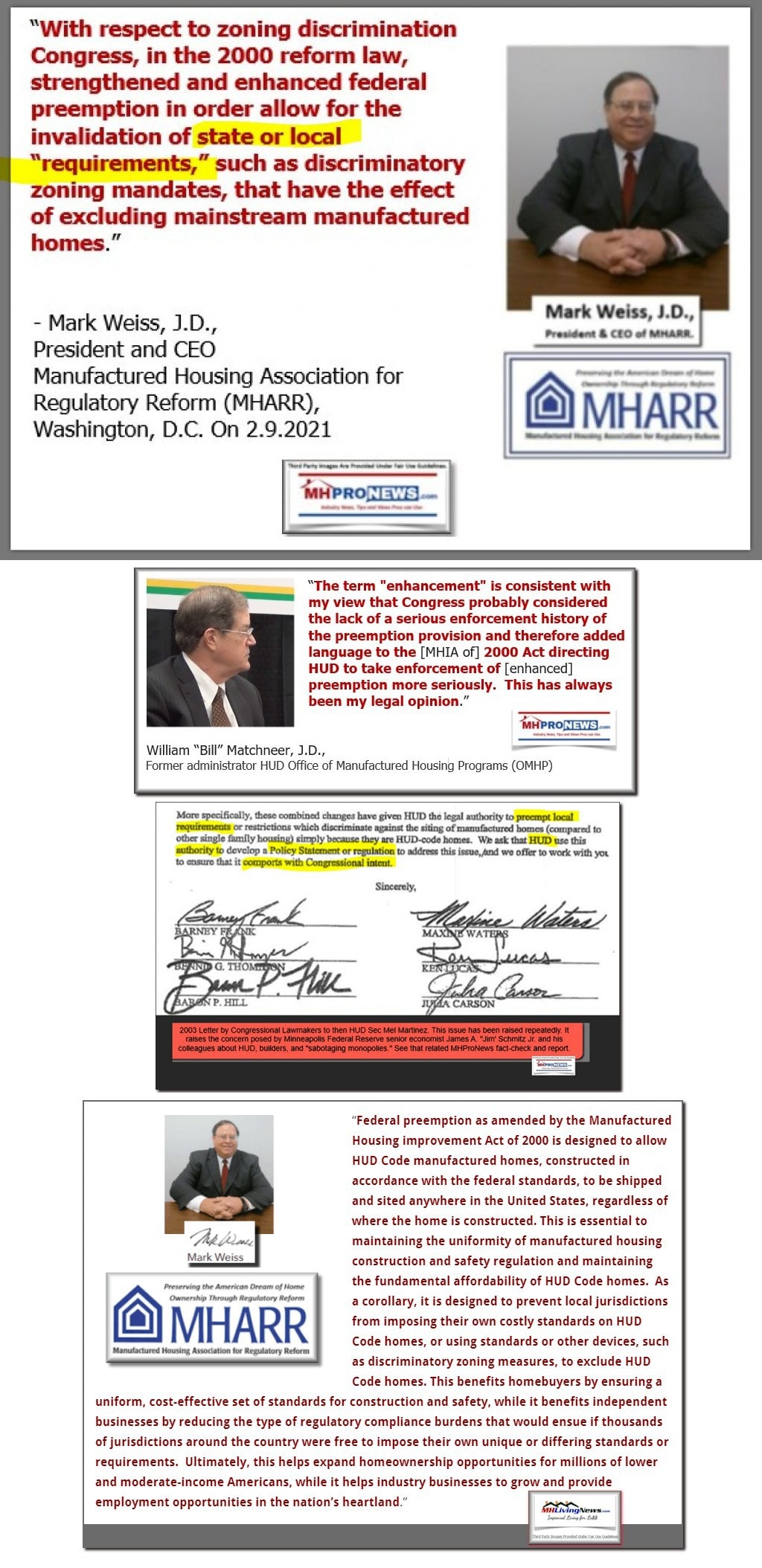 The lack of enforcement of the MHIA contributes to the pressures being felt by manufactured home community residents, according to the late Bob Van Cleef, a manufactured home owner and volunteer resident-leader.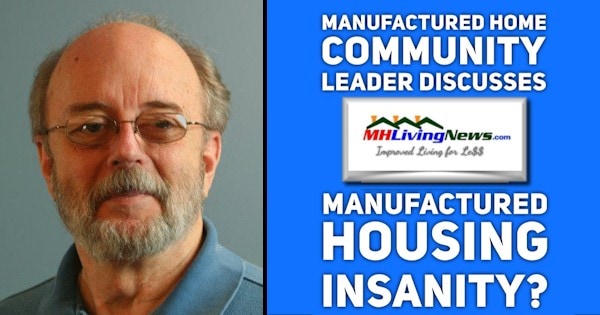 MHProNews and our MHLivingNews sister site have spotlighted these concerns and how they interconnect for years. As a senior official for the Pew nonprofit recently told MHProNews, manufactured homes is an apparent part of the solution to the affordable housing crisis.
Behind the Scenes Facts, Insights, Reams of 3rd-Party Research on Manufactured Homes and 'Mobile Home' Controversies–MHLivingNews to MHI Data-MHVille 2022 in Review I; plus, MHREITs-Stocks Update
Which begs the question. Why are public officials failing to do what is obvious and what federal law requires?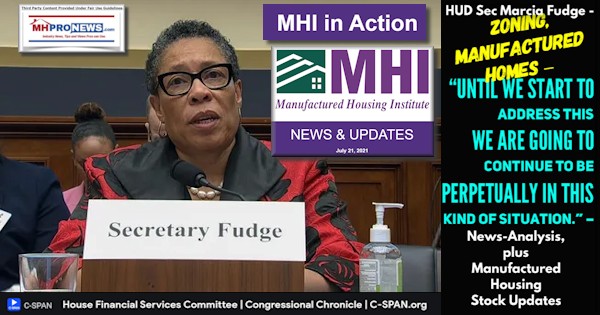 Why did MHI provide lip service, but failed to legally respond to the request of Ayden, NC Mayor Pro-Tem Ivory Mewborn?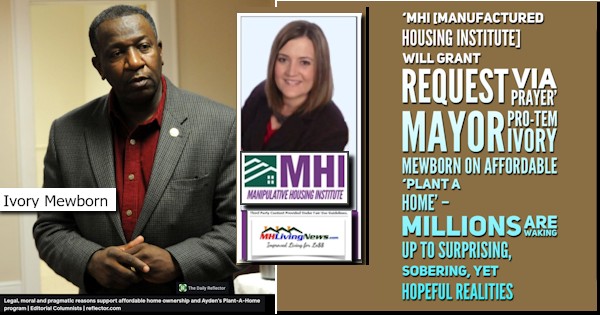 An array of legal action ought to be forthcoming. To learn more about these topics, check out the linked and related reports.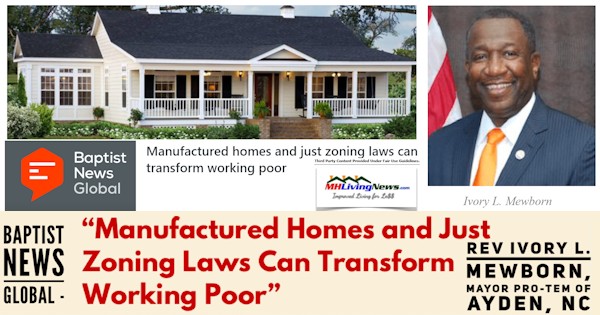 Daily Business News on MHProNews Markets Segment
The modifications of our prior Daily Business News on MHProNews format of the recap of yesterday evening's market report are provided below. It still includes our signature left (CNN Business) and right (Newsmax) 'market moving' headlines. The macro market moves graphics will provide context and comparisons for those invested in or tracking manufactured housing connected equities.
In minutes a day readers can get a good sense of significant or major events while keeping up with the trends that are impacting manufactured housing connected investing.
Reminder: several of the graphics on MHProNews can be opened into a larger size. For instance: click the image and follow the prompts in your browser or device to OPEN In a New Window. Then, in several browsers/devices you can click the image and increase the size. Use the 'x out' (close window) escape or back key to return.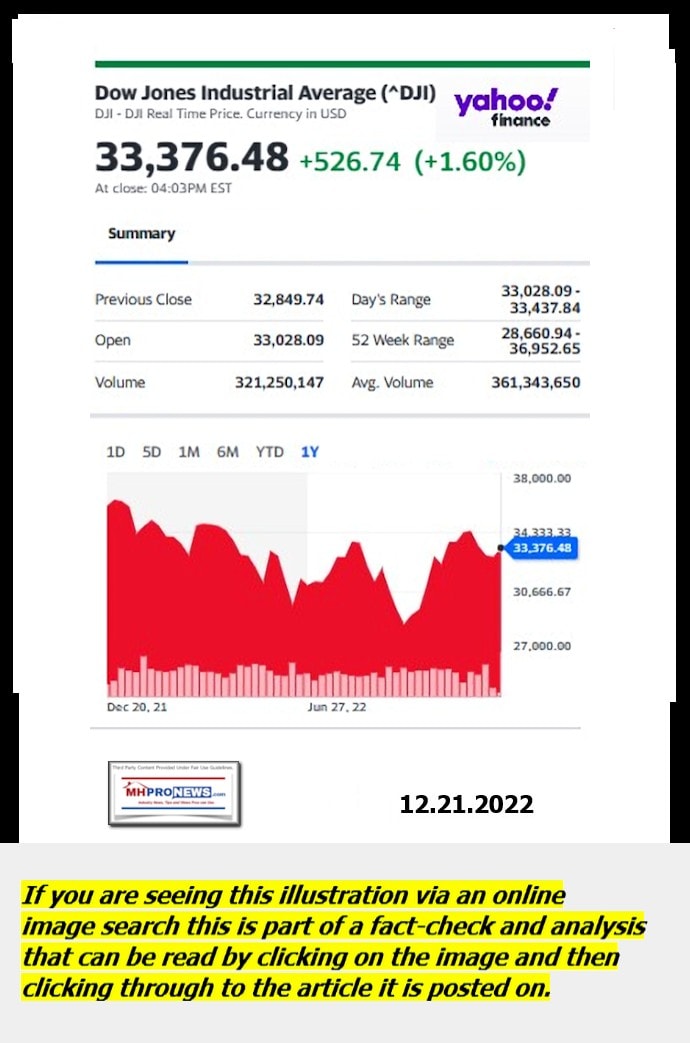 Headlines from left-of-center CNN Business – from the evening of 12.21.2022
Trump's taxes
House Committee report shows the IRS failed to properly audit the former president while in office. Here's what else we know.
Zillow Santa house North Pole
Santa's house has soared 12% in value over the past year, Zillow says
People carry shopping bags during the holiday season in New York City, U.S., December 15, 2022.
Consumer confidence improves in December, a hopeful sign for the US economy
Houses in the Sunset neighborhood of San Francisco, California, US, on Thursday, Dec. 15, 2022. California home sales plunged this year as soaring interest rates held back buyers in the costly state.
Home sales continued to drop in November
The Japanese national flag flutters in the wind on part of the Bank of Japan (BoJ) headquarters buildings in Tokyo on September 14, 2022. – Japan's central bank on September 14 conducted an operation often seen as a precursor to currency intervention, local media said, as the yen continues to crater against a strengthening dollar. (Photo by Richard A. Brooks / AFP) (Photo by RICHARD A. BROOKS/AFP via Getty Images)
Japan just delivered a lump of coal to investors across the globe
A Microsoft's Xbox One video game controller arranged in Denver, Colorado, U.S., on Wednesday, Jan. 19, 2022.
Video gamers sue Microsoft in US court to stop Activision takeover
Commuters ride an escalator in Shanghai, China, on Tuesday, Dec. 20, 2022. China appears to be seeing an increase in Covid deaths across a swath of the country that aren't being reported in government figures, according to social media posts, adding to speculation that officials are masking the full impact of their abrupt shift away from Covid Zero. Photographer: Qilai Shen/Bloomberg
China wants Covid patients to go to work. The public isn't so sure
Customers at a pharmacy in Shanghai, China, on Tuesday, Dec. 20, 2022.
China's Covid 'chaos': How a shortage of fever drugs is sparking a global run on medicines
FTX co-founder Sam Bankman-Fried is escorted by corrections officers to the Magistrate's Court on December 21, 2022 in Nassau, Bahamas. Reports indicate that the former crypto billionaire is preparing to be extradited to the US from the Bahamas to face charges over FTX's multi-billion-dollar collapse.
Joe Raedle/Getty Images
Sam Bankman-Fried seeks bail deal while being extradited to US
Dow surges thanks to strong earnings and confident consumers
Corporate America isn't afraid of the Fed's monster rate hikes
50 states sign up for Walmart's opioid settlement framework
Congress may pass new retirement rules. These 7 changes are on the table
Wells Fargo ordered to pay $3.7 billion for 'illegal activity' including unjust foreclosures and vehicle repossessions
Xiaomi layoffs: Thousands of tech jobs cut as China's unemployment crisis deepens
TikTok executive refuses Jake Tapper's multiple requests to acknowledge China's treatment of Uyghurs
Elon Musk's security team sought for questioning over incident he cited as reason to ban journalists
Elon Musk claims the FBI paid Twitter to 'censor info from the public.' Here's what the Twitter Files actually show
Elon Musk says he will step down as Twitter CEO — once he finds a replacement
The UK took a step closer to space flight
Analyst: Tech stocks will rise 20% in 2023
In Case You Missed It
FTX COLLAPSE
The Founder and former CEO of crypto currency exchange FTX Sam Bankman-Fried leaves the Magistrate Court building in Nassau, Bahamas December 19, 2022.
Marco Bello/Reuters
After a day of courtroom bickering and confusion, SBF is coming home
Everything you need to know about the FTX saga
Is SBF the new Madoff? We asked the former head Madoff prosecutor.
Parents of Sam Bankman-Fried face scrutiny over their roles in FTX
Prosecutor: FTX founder committed 'one of the biggest financial frauds' in history
TIKTOK
Photo taken on Oct. 17, 2021 shows the TikTok booth at the 2021 Hangzhou International E-commerce Expo in Hangzhou, east China's Zhejiang Province.
CFOTO/Future Publishing/Getty Images
TikTok might be too big to ban, no matter what lawmakers say
Snap snap, the Addams Family's back and taking over TikTok with this dance trend
Why American tech giants want to make TikTok a boogeyman
TikTok may push potentially harmful content to teens within minutes, study finds
Can the Chinese government get your data from TikTok? Analyst weighs in
Senate passes legislation to ban TikTok from US government devices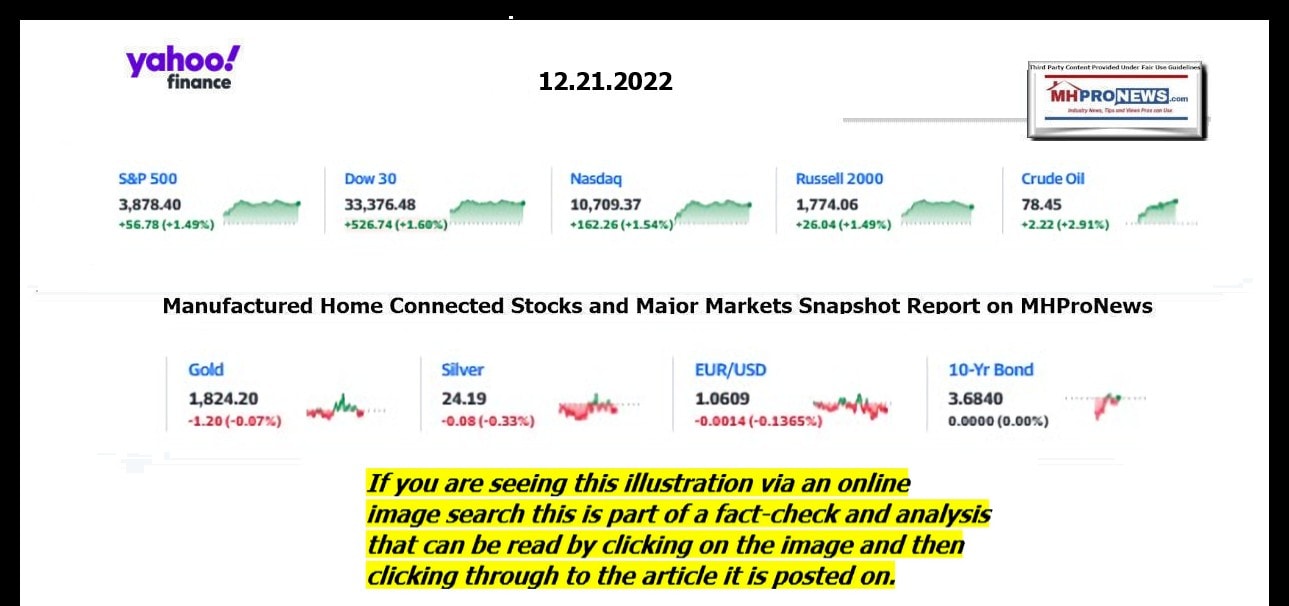 Headlines from right-of-center Newsmax 12.21.2022   
Zelenskyy Flies to US and Wins More Military Support
Zelenskyy, whose media savvy and rugged demeanor have helped him rally the world to Ukraine's cause, will later deliver an address to Congress, which is finalizing a new $45 billion package for Ukraine heading into the new year. But some critics, including a host of Republican lawmakers, have voiced concerns about providing Ukraine with a "blank check." [Full Story]
Blaine Holt: GOP Questions on Ukraine Aid 'Legitimate' | video
Hutchinson: 3-Point Plan Needed to Deal With Border Crisis | video
Jason Smith: Trump Tax Release Targets 'Private Citizen' | video
Mark Morgan: Call to Delay Stop on Title 42 'Laughable' | video
Rabbi Menken: Nazi Secretary's Conviction 'Too Little, Too Late' | video
Ex- AG Whitaker: DOJ May Ignore Trump Referrals | video
Texas AG Paxton: Biden Admin in 'Partnership' with Cartels | video
Alina Habba: DOJ Will 'Look at' Criminal Referral | video
Newsfront
Rand Paul Mocks Spending Bill With Christmas Poem Parody
Rand Paul, R-Ky., hit out at the $1.7 trillion omnibus spending bill with a "'Twas the Night Before Christmas" parody video released on Wednesday…. [Full Story]
Zelenskyy to Speak to Joint Session of Congress Wednesday
Ukrainian President Volodymyr Zelenskyy on Wednesday is set to make a [Full Story]
Related
Watch Live Zelenskyy in Washington on NEWSMAX
Russia Proposes 30% Increase in Armed Forces
Video Report: Newsmax Team Given Exclusive Access to Bakhmut, Ukraine
Kremlin Warning: More US Arms to Ukraine Will Aggravate war
Zelenskyy Flies to US and Wins More Military Support
US to Send $1.8 Billion in Aid, Patriot Battery, to Ukraine
Senate Confirms New US Ambassador to Russia
Musk Expects Twitter to Break Even Next Year
Elon Musk said Twitter Inc. is now on track to be "roughly cash flow [Full Story]
US Talks With China Should Prioritize Human Rights Abuses
After several decades of allowing China a free pass on human rights [Full Story] | Platinum Article
City of Buffalo Files Suit Against Several Gun Makers
The city of Buffalo, New York, filed a lawsuit against several gun [Full Story]
PAC Pressures FEC to Stop Blocking Draft DeSantis Petition
A PAC attempting to draft Florida Gov. Ron DeSantis to run for [Full Story]
Schumer Says $1.7T Funding Package Could Pass Wednesday
Senate Majority Leader Chuck Schumer, D-N.Y., said he hopes the [Full Story]
DeSantis Grand Jury Gambit Is 'Good Policy,' 'Good Political Move'
Republican Florida Gov. Ron DeSantis' decision last week petitioning [Full Story] | Platinum Article
Brady: Releasing Trump's Tax Returns 'Dangerous' Political Weapon
Kevin Brady, R-Texas, says releasing former President Donald [Full Story]
Rasmussen Poll: Fewer Voters Say Congress Doing 'Poor' Job
The latest Rasmussen Reports national telephone and online survey [Full Story]
Capitol Police Chief Says Pelosi Home Not Assessed Since 2018
Security needs for the San Francisco home of House Speaker Nancy [Full Story]
McConnell Encourages Sen. Romney to Seek Reelection
Senate Minority Leader Mitch McConnell, R-Ky., is pushing Republican [Full Story]
Migrant Woman Goes Into Labor at Texas Border
A pregnant woman went into labor at the Texas border Tuesday as she [Full Story]
Gallup: 23 Percent of Americans Sought Mental Help in 2022
S. adults who rate their own mental health negatively, on balance, [Full Story]
Dates Set for 2024 GOP Convention
The 2024 Republican National Convention in Milwaukee will be held [Full Story]
Radio Hosts Exit After Soros Buys Hispanic Stations
The recent takeover by George Soros of 18 Hispanic radio stations, [Full Story]
DeSantis Appoints Ousted Judge to New Appeals District
A Florida judge who lost an election following a controversial [Full Story]
Texas Buses About 140 Asylum Seekers to Philadelphia
Texas on Wednesday sent three buses with about 140 asylum seekers to [Full Story]
9 Big Changes Coming to 401(k) Accounts
Automatic enrollment, more generous catch-up amounts and emergency [Full Story]
Related
Millions to Lose Medicaid Coverage Under Congress' Plan
US Consumer Confidence Rebounds
The American consumer's confidence rebounded this month, even as the [Full Story]
Storm Adds Uncertainty to Strong Holiday Travel Demand
Concerns about illness or inflation aren't stopping Americans from [Full Story]
Home Sales Dip for 10th Straight Month in 'Frozen' Market
Sales of existing homes in the United States slid for a 10th [Full Story]
DOJ, FBI Navigated Through Sensitive Issues Before Mar-a-Lago Search: WashPost
Department of Justice and FBI officials believed they had no choice [Full Story]
Scalise Told to 'Be Ready' If McCarthy's Speakership Bid Falters
As House Minority Leader Kevin McCarthy struggles to round up the [Full Story]
Leahy: Senators' 'Political Ambitions' Damaging Country
As he approaches the end of a48-year Senate career, Sen. Patrick [Full Story]
Swiss Government Rejects 3rd Gender Option, at Least for Now
The Swiss government on Wednesday rejected the idea of introducing a [Full Story]
Israeli Startup Makes Inroads With Personal Flying Vehicle
An Israeli-made electric vehicle designed to fly commuters on short [Full Story]
Musk to Step Down as Twitter CEO Once He Finds 'Someone Foolish' Enough as Successor
Billionaire Elon Musk said on Tuesday he will step down as chief [Full Story]
Weinstein Dodges Sentencing Enhancement, Faces 18 Years
Harvey Weinstein faces a shorter prison sentence in California after [Full Story]
Tesla to Freeze Hiring, Lay Off Employees Next Quarter: Electrek
Another wave of layoffs are coming at electric-car maker Tesla Inc in [Full Story]
Yankees Name Aaron Judge Captain
New York Yankees outfielder Aaron Judge was named captain, the 16th [Full Story]
month
More Newsfront
Finance
Pain, Few Gains for Investors in 2022
Investors found few, if any, places to safely put their money in 2022, as central banks in the U.S. and around the globe raised interest rates for the first time in years to fight surging inflation, stoking fear of a global recession…. [Full Story]
Netflix Password Sharing Soon Coming to a Close
7 Ways to Reduce Your Holiday Financial Stress
How to Salvage Your 401(k) in 2023
FTX Founder Bankman-Fried Consents to Extradition
More Finance
Health
Heart Attacks Spike up to 40 Percent in Last 2 Weeks of December
The holiday season is filled with to-do lists, but one should rise to the top: Take care of your heart. Whether from stress, cold weather, or falling out of good habits in terms of eating, sleeping, and drinking, heart attack rates spike as much as 40% between Christmas and… [Full Story]
Vaping May Affect Lungs' Lubricant, Making Breathing Tougher
Some Stroke Survivors Feel One Hand Is Bigger Than the Other
Light Therapy Eases the Fatigue That Plagues Most MS Patients
Drugs to Treat the Current 'Tripledemic' Are in Short Supply: What to Do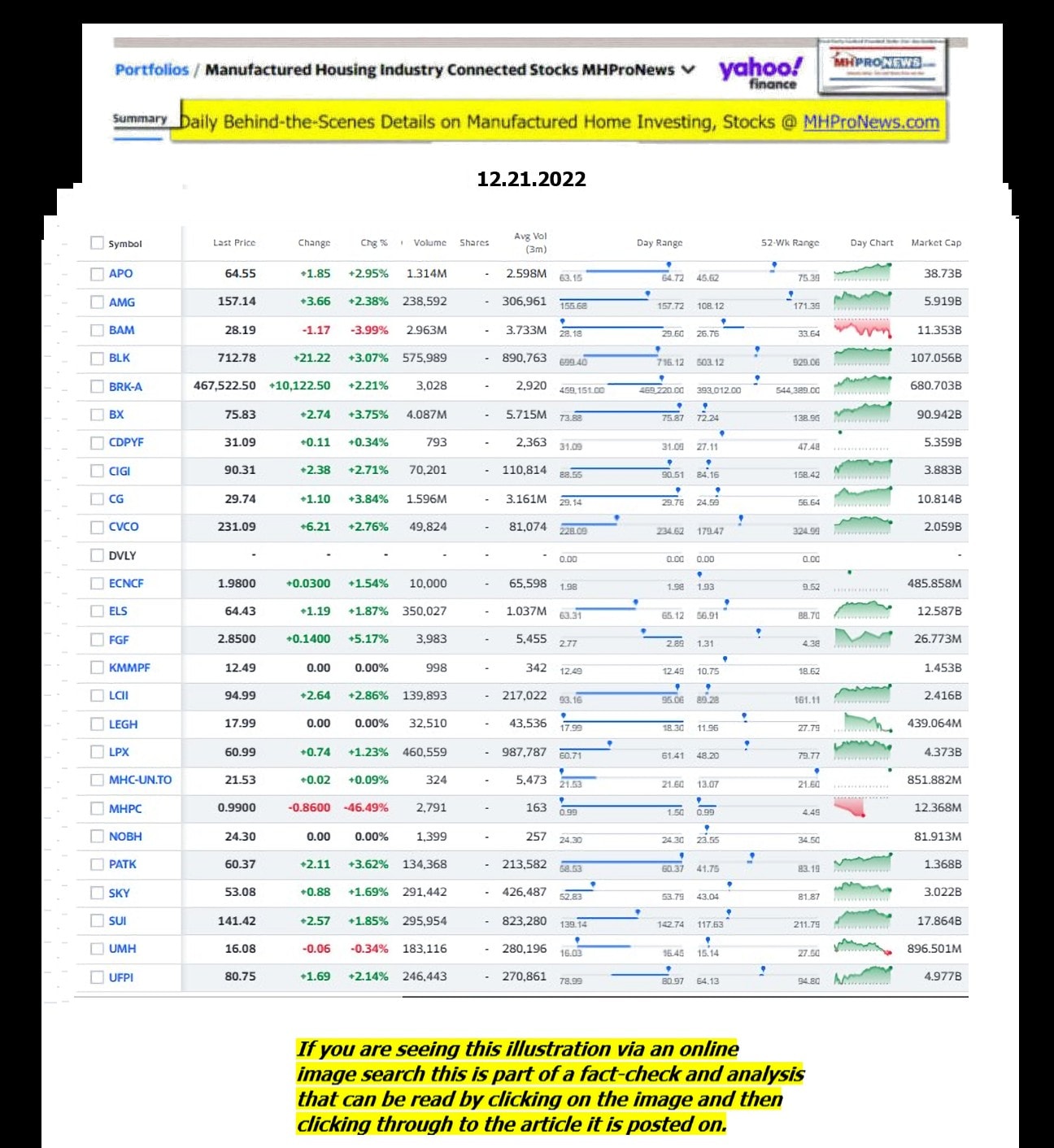 ====================================
Updated
NOTE 1: The 3rd chart above of manufactured housing connected equities includes the Canadian stock, ECN, which purchased Triad Financial Services, a manufactured home industry finance lender.
NOTE 2: Drew changed its name and trading symbol at the end of 2016 to Lippert (LCII).
NOTE 3: Deer Valley was largely taken private, say company insiders in a message to MHProNews on 12.15.2020, but there are still some outstanding shares of the stock from the days when it was a publicly traded firm.  Thus, there is still periodic activity on DVLY.
Note 4: some recent or related reports to the REITs, stocks, and other equities named above follow in the reports linked below.
Manufactured Housing Properties-Results for Three and Nine Months Ending September 30.2022–Exploring 'Mobile Home Park' Manufactured Home Community Investing; plus MHVille REITs, Stocks Update
Manufactured Housing's Next BIG Regulatory Battle That MHARR's Spotlighted and Which MHI Conveniently Ignored in Recent 'Manufactured Housing Institute News;' plus Sunday Weekly Headlines Recap
'Changes Will Benefit Customers,' Boost Sales-Legacy Homes CEO Duncan Bates – LEGH 'Delivered 22.5% Return on Equity in 1 Yr' – Corp Q3 2022 Insights, Analysis; plus MHVille REITs, Stocks Update  
'No Assurance Inflation Will Not Affect Our Future Profitability Financial Position'=Cavco Industries 10-Q, Solitaire Deal, More CVCO Data; Supreme Court Ruled-SEC Regs on False-Omitted Remarks
Skyline Champion Provides Quarterly Results, Adding Retail Centers, Improved Delivery Times-CEO Mark Yost Says 'Can Outperform Conventional Housing' Explored; Plus MHVille REITs, Stocks Update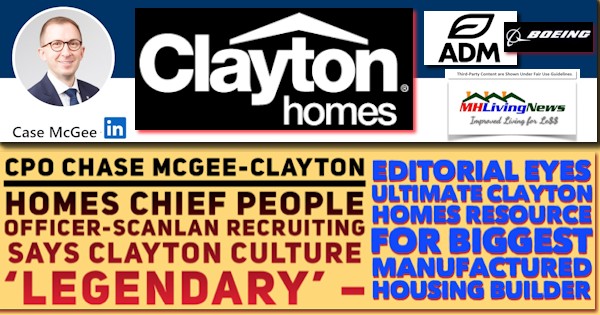 Triad Financial Services Q2-2022 FINANCIAL RESULTS, per ECN Capital – Several Bright Spots in Manufactured Home Market Highlighted, Including Communities, Retail, Land-Home, Floor; MHStocks Update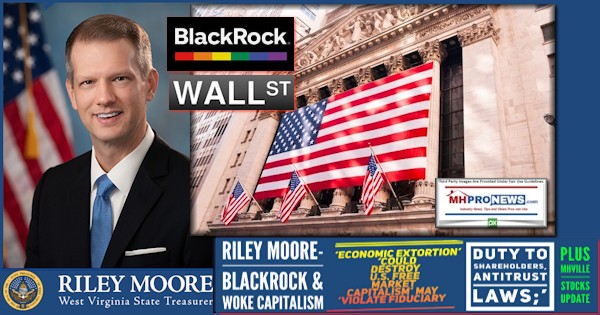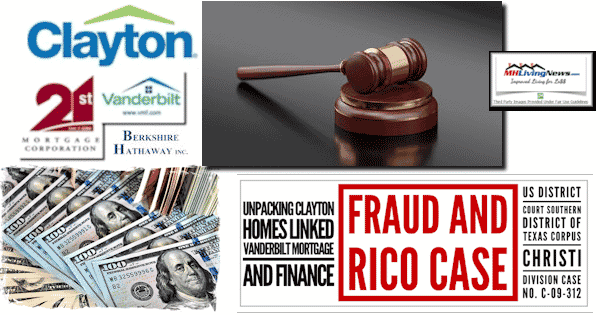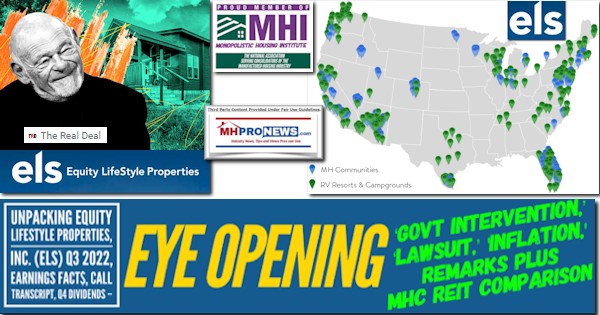 Manufactured Home Communities (a.k.a. 'Mobile Home Parks' – SIC) – Exploring UMH Properties; Fellow Manufactured Housing Institute Member Yes! Communities Suits and Settlements; plus MH Markets Updates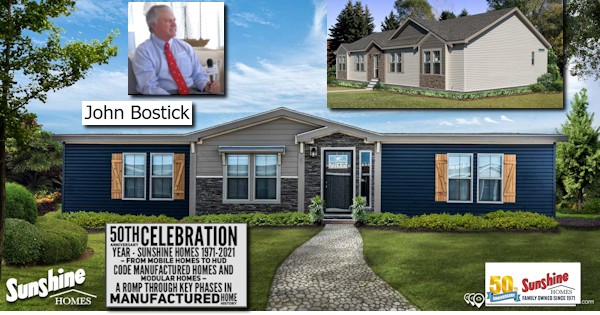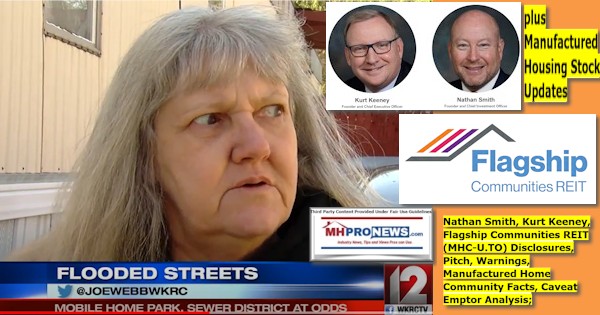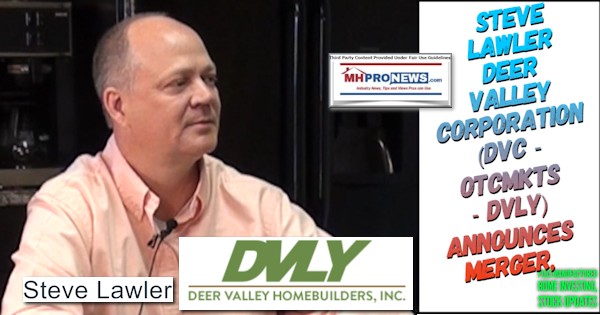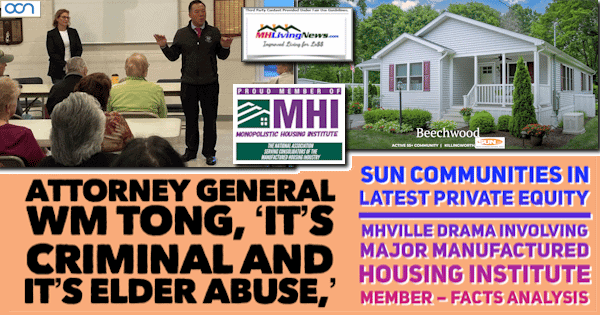 2022 …Berkshire Hathaway is the parent company to Clayton Homes, 21st Mortgage, Vanderbilt Mortgage and other factory-built housing industry suppliers.
· LCI Industries, Patrick, UFPI, and LP each are suppliers to the manufactured housing industry, among others.
· AMG, CG, and TAVFX have investments in manufactured housing related businesses. For insights from third-parties and clients about our publisher, click here.
Disclosure. MHProNews holds no positions in the stocks in this report.
· For expert manufactured housing business development or other professional services, click here.
· To sign up in seconds for our industry leading emailed headline news updates, click here.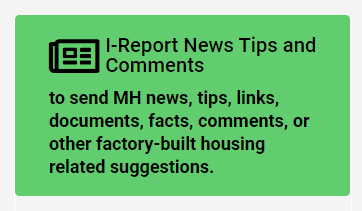 That's a wrap on this installment of "News Through the Lens of Manufactured Homes and Factory-Built Housing" © where "We Provide, You Decide." © (Affordable housing, manufactured homes, stock, investing, data, metrics, reports, fact-checks, analysis, and commentary. Third-party images or content are provided under fair use guidelines for media.) (See Related Reports, further below. Text/image boxes often are hot-linked to other reports that can be access by clicking on them.)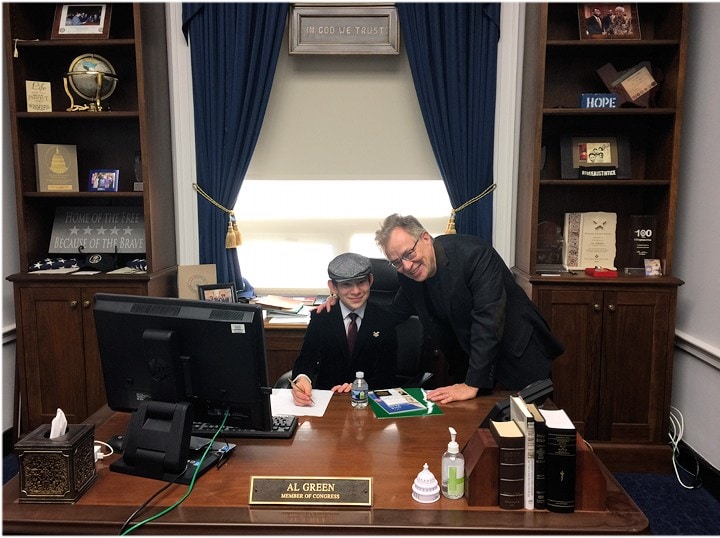 By L.A. "Tony" Kovach – for MHProNews.
Tony earned a journalism scholarship along with numerous awards in history. There have been several awards and honors and also recognition in manufactured housing. For example, he earned the prestigious Lottinville Award in history from the University of Oklahoma, where he studied history and business management. He's a managing member and co-founder of LifeStyle Factory Homes, LLC, the parent company to MHProNews, and MHLivingNews.com. This article reflects the LLC's and/or the writer's position and may or may not reflect the views of sponsors or supporters.
Manufactured Home Production Growth Continues in September 2022, per Manufactured Housing Association for Regulatory Reform-Added Facts, Analysis, plus MHVille REITs, MH Connected Stocks Update
Consumers 'Fears for the Future'-Mortgage Payments Surge Since 2021, Buyers Get Priced Out–Conventional Housing Woes are Manufactured Home Pro Opportunities; plus MHVille REITs, Stocks Update