"This kind of wealth-based banishment scheme is unconscionable discrimination," said Phil Telfeyan, Executive Director of the non-profit, Equal Justice Under Law.
"McCrory, [AR] and all of our communities, should invest in residents rather than criminalize poverty," Telfeyan said.
Telfeyan's comments addressed to MHProNews related to a victory reported by the Associated Press (AP), which attracted nationally attention to the discrimination case in McCrory, Arkansas.
"A city in east-central Arkansas has settled a federal lawsuit brought by a national civil rights organization over an attempt to ban mobile homes worth less than $7,500," said AP as quoted in U.S. News and World Report.
Per AP, "…the McCrory City Council passed an ordinance in September 2016 banning trailers [sic] that have a value of less than $7,500. Equal Justice Under the Law sued the city and its police chief in January, calling the ordinance wealth-based discrimination. The group filed the lawsuit on behalf of a couple who were told they'd have to move out of their $1,500 mobile home."

It's unclear from the photographic evidence if the home was a pre-HUD Code mobile home, or perhaps an older HUD Code manufactured home (MH).  But neither would properly be called a "trailer."  To learn more about proper terminology, click this link here, or the graphic below.
Dollars and Sense
"The council repealed the ban in January," said AP, adding that, "Equal Justice officials say the Tuesday settlement totaled just over $20,000."
"…even though state law in Arkansas prohibits cities from totally banning manufactured/modular home placements; restricting them only to rented lots in 'parks'; or setting conditions/restrictions that are dissimilar to those for 'site-built units' – a number of cities still attempt to unduly restrict MH placements due to unsubstantiated fears of plummeting property values and 'undesirables' that their decisions-makers fear will inhabit such domiciles," said the Arkansas Manufactured Housing Association's JD Harper, in an Industry Voices column to MHProNews, linked here.
Harper said it's an important victory for the MH Industry, current home owners and prospective manufactured home buyers.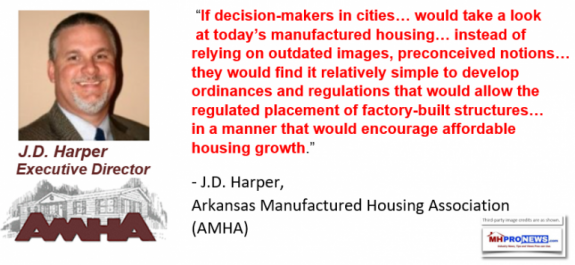 There are industry legal minds that have told the Daily Business News off-the-record that while useful, settlements aren't a legal precedent.
That noted, another industry attorney, Mark Weiss, JD, commented, "Great stuff by JD Harper about the Equal Justice Under the Law in McCrory," case.
Weiss is the president and CEO of the Manufactured Housing Association for Regulatory Reform.
"Most of the bans/restrictions that I've heard of, focus on age or specific features," Weiss told the Daily Business News.
A source with ties to MHARR told MHProNews that this case is one that the Manufactured Housing Institute (MHI) and HUD should be pursuing, under the enhanced preemption enacted by the Manufactured Housing Improvement Act of 2000.
The Arkansas Times said that "The couple makes about $13,000 a year, well below the federal poverty line."
"This settlement is a victory for Lindsey [Hollaway and], David [Watlington], and impoverished people everywhere. No one should fear being chased out of their hometown simply because they are too poor to afford a more expensive residence. At a time when civil rights feel under attack in this nation, this settlement is a victory for everyone who values individual dignity," according to Telfeyan.
McCrory will pay some $20,000 for the settlement, attorney fees, fine forgiveness, and other costs.  As MHLivingNews has spotlighted, public officials who do the proper research often discover what the elected official in the interview linked below learned.
Equal Justice Lead Counsel, says, 'Willing to Consider Other, Similar Cases'
Your "readers should alert you [MHProNews] to any other ordinances that limit manufactured housing on the basis of value or age and contact you immediately if/when anyone is being faced with eviction based on an alleged violation of such an ordinance," said Catherine Sevcenko, JD.
Sevcenko is the legal director at Equal Justice Under Law.
"Assuming the person who gets in touch with you would be willing to be a plaintiff, there is a good chance we might be able to get
involved," Sevcenko said.  The attorney explained that "we can never promise legal representation until we have reviewed the facts and circumstances of a particular case."
Sevcenko provided MHProNews with a case out of North Carolina that she stated is useful in such claims.  That case, is linked here as a download.
Tips on possible instances of discrimination for news and/or legal action can be provided to MHProNews via the link here and on the graphic at the right.
For ease of handling and consideration, please put "Possible Legal Case For Equal Justice Under Law" in the subject line. ## (News, analysis, commentary.)
Note 1: Thousands do it. For those industry pros, investors, and MH advocates who want to sign up to our industry leading headline news/updates – typically sent twice weekly – please click here to sign up in just seconds.
(Image credits are as shown above, and when provided by third parties, are shared under fair use guidelines.)

Submitted by Soheyla Kovach to the Daily Business News for MHProNews.com.