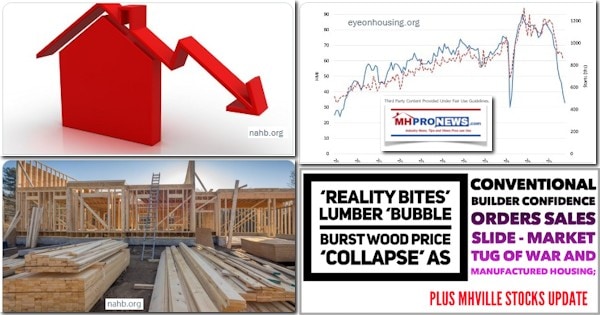 Lumber prices are 'collapsing' as conventional site-builder confidence continues to fall "for the twelfth straight month." That's per the National Association of Home Builders (NAHB) and media outlets that include WND and ZeroHedge. Manufactured housing fits into this picture too, but some of that insight must be drawn by inferences. Why? That will be the focus of our additional information with more MHProNews analysis and commentary segment, as multiple contacts with a law firm probing the manufactured home industry pointed to a report that opened with these words. "Manufactured housing is the largest source of unsubsidized affordable housing in the US, but the production of manufactured homes has fallen from more than fifty percent of single‐family housing starts in the mid‐70s to under ten percent today." That same November 2022 third-party research document said "…during two decades of a growing [U.S.] housing shortage, to distort competition closer to the inefficient monopoly outcome." Those remarks merit a closer look, because the manufactured housing market limitations are being caused in part by 'distorted competition' which is the "during two decades of a growing housing shortage, to distort competition closer to the "inefficient monopoly outcome." As this pro-manufactured housing, pro-consumer, and pro-white hat business practices platform and MHLivingNews have uniquely revealed in recent years, the steady monopolization of manufactured housing has ripple effects. The Manufactured Housing Institute (MHI) and their attorneys have allowed to stand largely unchallenged several evidence-based concerns about their performance and the statements of several of their publicly traded key members and how that relates to evidence-based claims of oligopoly-style monopolizing consolidation. Market distortions are not limited to manufactured housing, as the Biden White House Fact sheet on the harmful effects of consolidation aptly reflects. Consolidation into fewer hands is an increasing trend in several aspects of the U.S. economy.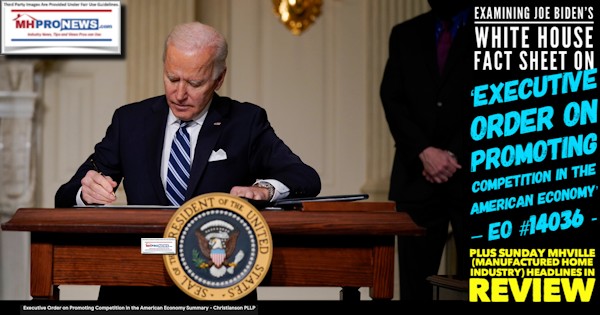 A Manufactured Housing Executive Council (MHEC) member informed MHProNews the impact that consolidation was having on manufactured housing. That MHEC source, tied to an MHI affiliated state association, specifically said Clayton Homes was part of the picture.

With that background, here is a brief report from the WND NewsCenter to MHProNews on the 'collapse' of lumber prices. More information and then the Daily Business News on MHProNews business daily look at the manufactured housing industry connected equities will round out this article.
MONEY
FEARS OF THE FUTURE
Lumber prices collapse as homebuilder sentiment falters
Dramatic 72% decline in cost
By WND News Services Published December 22, 2022 at 3:10pm
(ZeroHedge) Lumber peaked at $1,336 per thousand board feet in late February but has settled at around $380 this week, representing a dramatic 72% decline in prices, primarily due to elevated mortgage rates, slowing housing activity, waning builder confidence, and overall mounting macroeconomic headwinds.
The plunge in lumber prices is no surprise as builder confidence for newly-built single-family homes posted its 12th consecutive month of declines in December, according to the National Association of Home Builders. Confidence is at its lowest reading since mid-2012.
Besides dismal homebuilder sentiment, housing starts and building permits for November also showed deterioration in the housing industry. The number of housing starts (SAAR) is at the lowest since June 2020. … ##
The article links to ZeroHedge for the balance of thejr report and graphics.
Additional Information with More MHProNews Analysis and Commentary
The following tweets from the NAHB add color to the report above and the continuation of the data that follows.
Sales of existing homes fell 7.7% in November, according to @nardotrealtor. The annualized pace was 4.09 million units, down 35.4% year over year, marking the tenth straight month of declines. https://t.co/UzBc8RRGo9 | #realestate #economy #housing

— NAHB (@NAHBhome) December 21, 2022
NAHB CEO Jerry Howard was on @BloombergTV this morning to discuss current conditions for home building and why it might not be until 2024 when we see a turnaround. https://t.co/pHmoaeM0mb | #realestate #economy

— NAHB (@NAHBhome) December 21, 2022
NAHB CEO Jerry Howard joined Yahoo Finance this morning to discuss today's housing starts and permits numbers what 2023 might bring to home building. #economy #realestate #housingmarket https://t.co/aBiVufD8Hf

— NAHB (@NAHBhome) December 20, 2022
Nov single-family starts (828k) down 4.1% in Nov, 32.1% lower than a year ago and down 9.4% YTD. HMI down for 12 months. For 4 months builders have been completing more single-family homes than start construction. Lowest multifamily permit reading in more than a year. @NAHBhome

— Robert Dietz (@dietz_econ) December 20, 2022
Total housing start fell just 0.5% in November to an annual rate of 1.427 million, 16.4% below November 2021. Single-family home starts fell 4.1% to an 828,000 annual rate. Permits dropped last month, with total permits 22.4% lower than a year ago. | #realestate #housing #economy pic.twitter.com/y4nU3O4n4c

— NAHB (@NAHBhome) December 20, 2022
12th straight month of decline for @NAHBhome / @WellsFargo Housing Market Index, falling 2 points to a level of 31 in Dec. The measure for future sales expectations registered its first increase since April. 62% of builders used incentives in last month. https://t.co/eq6ovX5PxO

— Robert Dietz (@dietz_econ) December 19, 2022
Home builder confidence dropped two points to a reading of 31 in the December NAHB/@WellsFargo Housing Market Index, the lowest confidence reading since mid-2012 except for early pandemic months. The HMI declined every month of 2022. https://t.co/MJ5WzEFJpq | #realestate #housing

— NAHB (@NAHBhome) December 19, 2022
The cost of building materials fell 0.3% in November following declines of 0.5% and 0.1% in September and October, respectively, in the latest Producer Price Index (PPI). The index has decreased five of six months for the first time since 2015. https://t.co/9RH54EUVZL | #economy

— NAHB (@NAHBhome) December 14, 2022
By contrast to the NAHB's robust engagement on Twitter, despite the numbers of staff at the Manufactured Housing Institute (MHI), they apparently can't seem to find the time to tweet since September-October of 2020. Why is that? Who on the MHI board are holding the staff and their day-by-day work to account for their productivity and if they are generating any measurable accomplishments? What happened to their respective fiduciary responsibilities to "all segments" of the manufactured housing industry?

Those manufactured housing focused questions asked, and against that evidence-based backdrop, the following insights from ZeroHedge bring the new housing market into further focus.
From the ZeroHedge report linked here and referenced above by WND, are the following graphic illustrations provided in this order.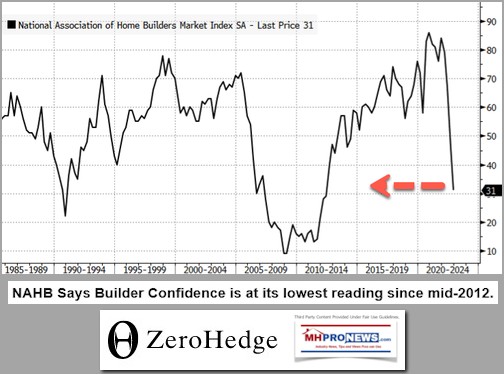 As NAHB noted, new housing starts and building permits are down.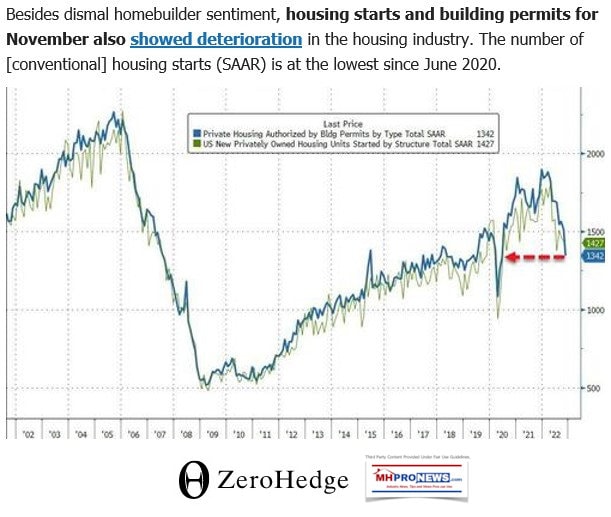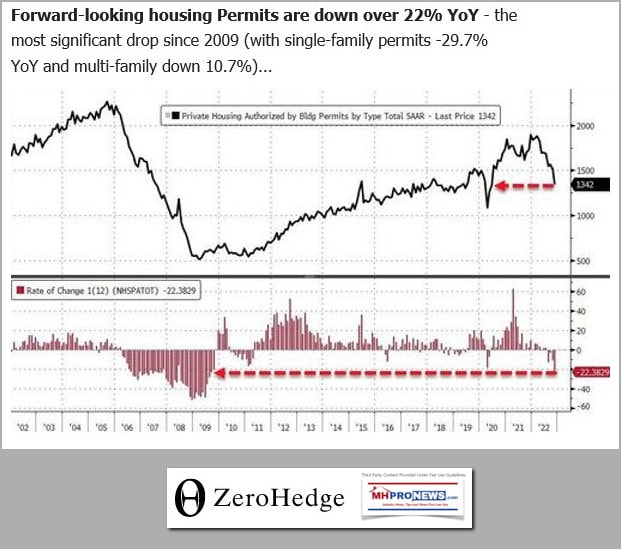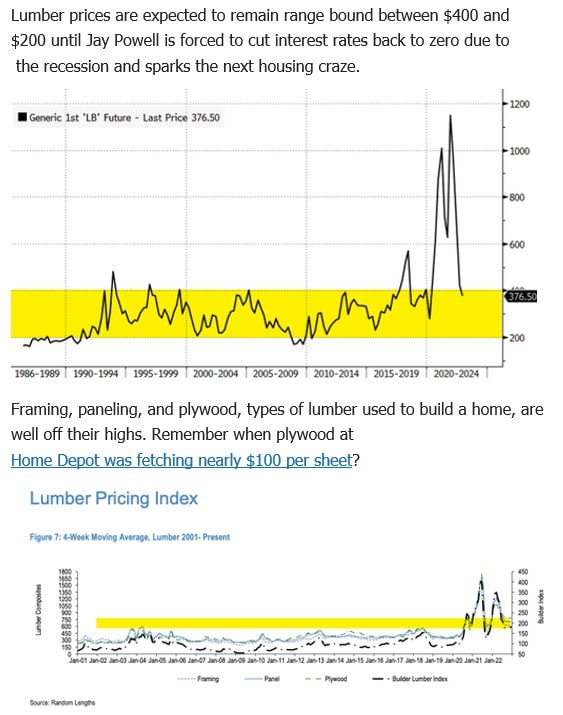 This data could, if MHI were operating properly and per their own stated aims and claims, mean a boom for the manufactured housing industry. But this housing recession is instead being used by MHI to claim that the industry has historically dropped during a recession. According to MHI, the following.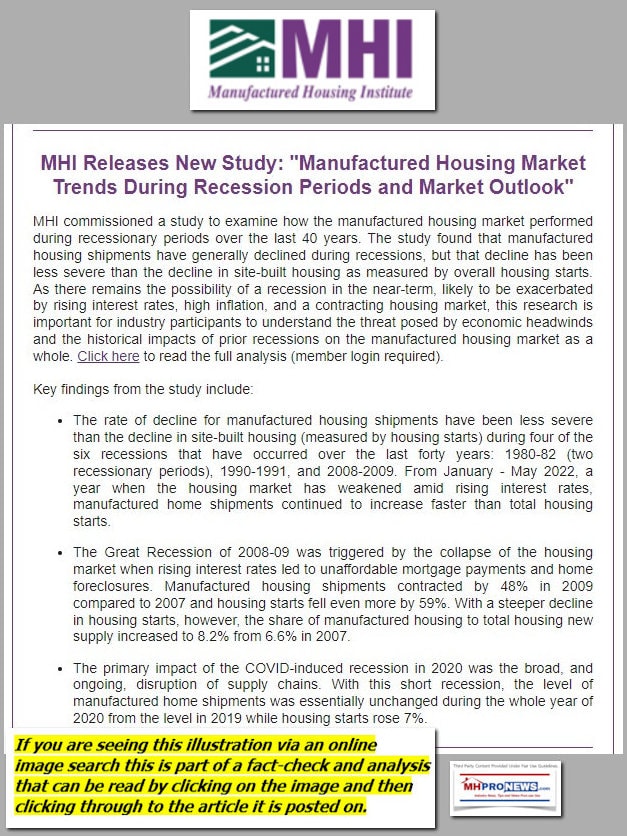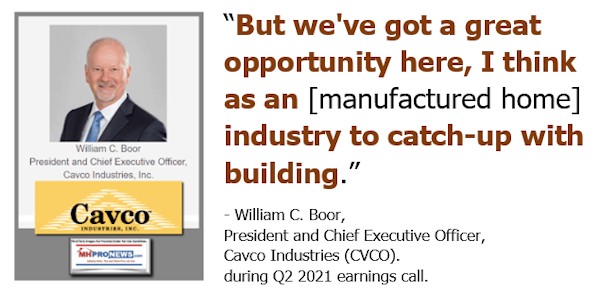 The drop in lumber is a simple supply and demand function. It is akin to the dropping fuel costs, which is also caused in part by a drop in fuel demand.
These factors – lower costs on fuel, lumber, and other housing production needs – could help more marginal and other buyers qualify for a new manufactured home, given that so many are priced out by rising interest rates and other inflationary pressures. But instead of making a case to sell more manufactured homes, MHI is providing to the industry their latest excuse for a drop in production. And so, is it any surprise that this is what happened? Keep in mind that MHI has
advanced indicators available that they may not talk about. Their musings on recessions and manufactured housing were released prior to the reported national data which is linked below. See the latest data on manufactured home production and related in the linked reports.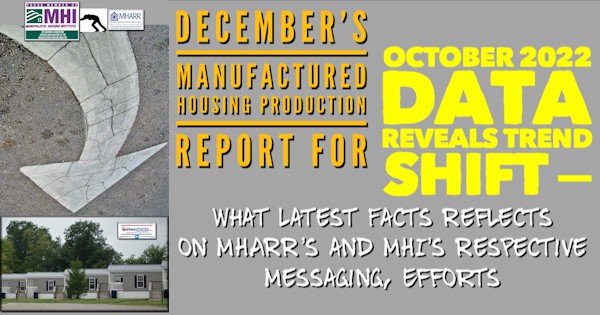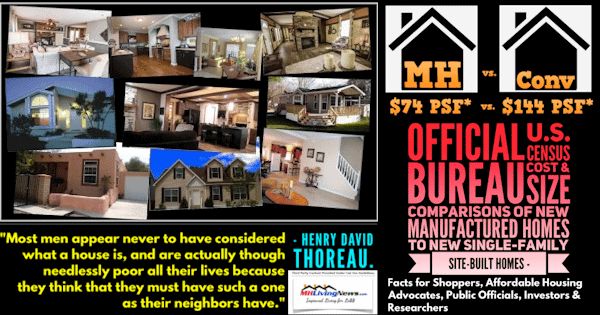 Behind the Scenes Facts, Insights, Reams of 3rd-Party Research on Manufactured Homes and 'Mobile Home' Controversies–MHLivingNews to MHI Data-MHVille 2022 in Review I; plus, MHREITs-Stocks Update
'Everyone Needs Deadlines' 'First Things First' and '7 Habits of Highly Successful People' – Pre-Christmas Preview of Manufactured Housing Year in Review; plus Sunday Weekly MHVille Headlines Recap
HUD Releases 2022 Annual Homeless Assessment Report, Worst in Years, Equal Justice Files Suit to Protect Homeless, Too Few Manufactured Homes; plus MHVille REITs, Stocks Update
Daily Business News on MHProNews Markets Segment
The modifications of our prior Daily Business News on MHProNews format of the recap of yesterday evening's market report are provided below. It still includes our signature left (CNN Business) and right (Newsmax) 'market moving' headlines. The macro market moves graphics will provide context and comparisons for those invested in or tracking manufactured housing connected equities.
In minutes a day readers can get a good sense of significant or major events while keeping up with the trends that are impacting manufactured housing connected investing.
Reminder: several of the graphics on MHProNews can be opened into a larger size. For instance: click the image and follow the prompts in your browser or device to OPEN In a New Window. Then, in several browsers/devices you can click the image and increase the size. Use the 'x out' (close window) escape or back key to return.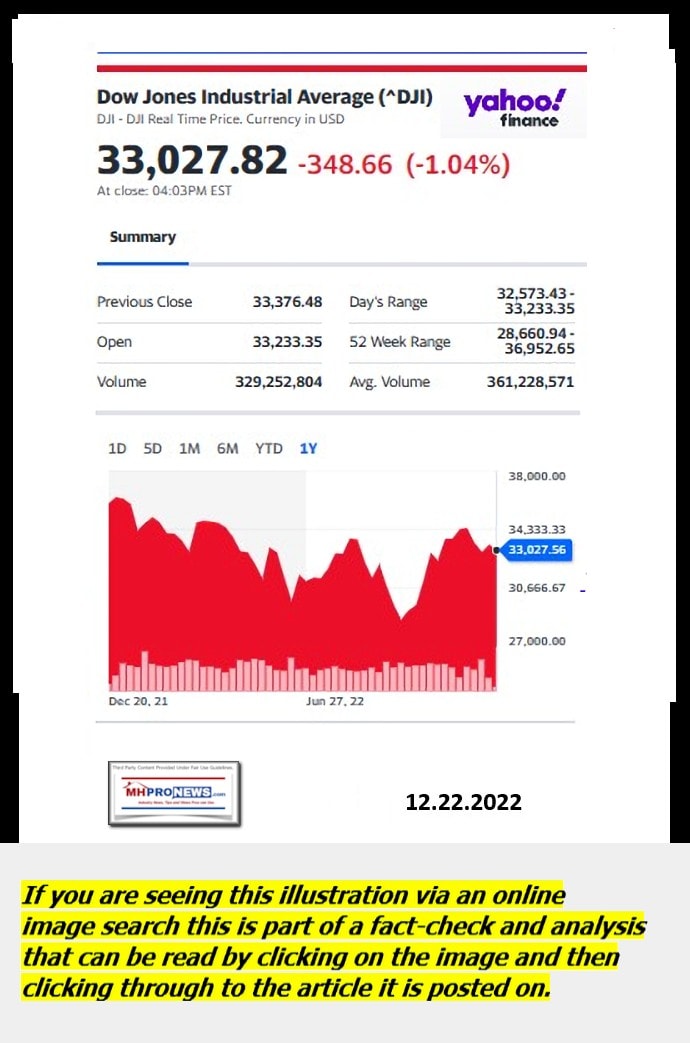 Headlines from left-of-center CNN Business – from the evening of 12.22.2022
SBF out on bail
FTX founder Sam Bankman-Fried leaves court following his extradition to the U.S., Thursday, Dec. 22, 2022, in New York. Bankman-Fried's parents agreed to sign a $250 million bond and keep him at their California home while he awaits trial on charges that he swindled investors and looted customer deposits on his FTX trading platform.
The disgraced FTX founder was released on $250 million bond in his first US court appearance
Shoppers in the television section of a Target store on Black Friday in Chicago, Illinois, US, on Friday, Nov. 25, 2022.
Why America's economy remains surprisingly strong — but you don't realize it
Wilson brand footballs are pictured with the NFL logo before the game between the Detroit Lions and Jacksonville Jaguars at Ford Field on December 04, 2022 in Detroit, Michigan.
NFL Sunday Ticket is leaving DirecTV and heading to YouTube TV
A Drug Enforcement Administration (DEA) chemist checks confiscated powder containing fentanyl at the DEA Northeast Regional Laboratory on October 8, 2019 in New York. – According to US government data, about 32,000 Americans died from opioid overdoses in 2018. That accounts for 46 percent of all fatal overdoses. Fentanyl, a powerful painkiller approved by the US Food and Drug Administration for a range of conditions, has been central to the American opioid crisis which began in the late 1990s.
ANALYSIS
Analysis: Doctors say the narrative of an officer who nearly died after contact with fentanyl doesn't add up
The exterior of the U.S. Capitol is seen at sunset in Washington, U.S., December 13, 2022.
Washington moved fast to crack down on TikTok but has made little progress with Big Tech
Migrants seeking asylum in the U.S. cross the Rio Bravo river, the border between Mexico and the U.S., in Ciudad Juarez, Mexico December 21, 2022.
America needs immigrants to solve its labor shortage
How virtual clothes could help solve fashion's waste problem
An empty shelf is seen in a pharmacy on December 21, 2022 in Beijing, China.
Big bonuses, extreme rationing: How Covid-hit China is coping with its drugs shortage
People shop at a supermarket in Santa Monica, California, on September 13, 2022.
Dow tumbles after stronger-than-expected GDP report
It's freezing. Cranking up the heat is going to cost you
Thursday flight cancellations top 2,800 nationwide, disrupting holiday travel
Some universities are now restricting TikTok access on campus
Companies are reining in holiday bonuses
FTX co-founder and ex-chief of Alameda Research each pleaded guilty to multiple charges, are cooperating with feds
Congress may pass new retirement rules. These 7 changes are on the table
Twitter hit by legal complaints from 100 former employees following Musk's layoffs
Tesla 'full self-driving' triggered an eight-car crash, a driver tells police
Elon Musk claims the FBI paid Twitter to 'censor info from the public.' Here's what the Twitter Files actually show
Wells Fargo ordered to pay $3.7 billion for 'illegal activity' including unjust foreclosures and vehicle repossessions
Jenna Bush Hager's 9-year-old drops 'truth bombs' on 'Today'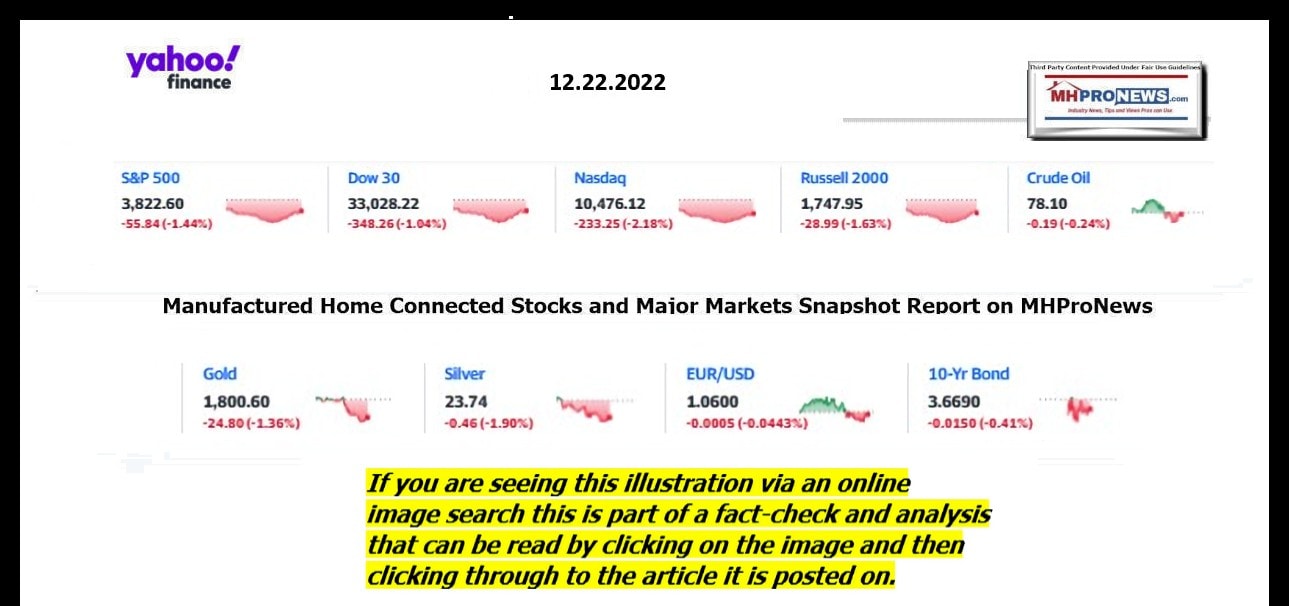 Headlines from right-of-center Newsmax 12.22.2022   
GOP House Members Vow Retribution for Sens Who Backed Omnibus
The count is up to 31 current and incoming House Republicans who have signed on to a letter swearing to impede legislation from any GOP senator who voted for the $1.7 trillion omnibus spending bill. [Full Story]
Related Stories
Trump: Every Republican Should Vote 'No' on Omnibus
Report: 10 Senators Saved Omnibus by Thwarting Title 42 Amendment
Schumer: Senate Deal Reached on $1.7T Omnibus Bill
Newsmax Special: The Meaning of Christmas
The Meaning of Christmas: Jack Hibbs
The Meaning of Christmas: Ken Ham
The Meaning of Christmas: John Ankerberg
The Meaning of Christmas: Father David Guffey
The Meaning of Christmas: Cardinal Timothy Dolan
More Newsmax Special: The Meaning of Christmas
Newsmax TV
Ukraine MP Rudik: Country 'Bursting With Pride' for Zelenskyy | video
Blaine Holt: Russia Already Reacting to Zelenskyy Speech | video
Brandon Judd: Dropping Title 42 Opens Border to Cartels | video
Nebraska Gov. Ricketts: TikTok Ban 'Common Sense' | video
WWE's Duggan: Holding Off Intruder 'Terrifying' | video
Tenney: Need Transparency to Keep Funding Ukraine | video
Gonzales and De La Cruz: What Is the Plan Post-Title 42? | video
Van Duyne, Hern: $1.7T Omnibus Bill 'a Disgrace' | video
Tony Shaffer: Ukraine Strategically Important to US | video
More Newsmax TV
Newsfront
Texas Ends Court Fight to Ban 18- to 20-Year-Olds From Carrying Guns in Public
Texas appears to have given up its fight to prevent 18-to 20-year-olds from carrying handguns in public, The Texas Tribune is reporting. The law in Texas had not allowed most 18- to 20-year-olds to get a license to carry a handgun or carrying a handgun for self-defense…… [Full Story]
Israeli Immigration Hits 20-Year High
Immigration to Israel this year reached its highest point in more [Full Story]
Once-in-a-Generation Storm Could Affect 200M Americans
The winter warnings or watches connected to the so-called "Bomb [Full Story]
Netanyahu Announces New Government
Prime Minister-designate Benjamin Netanyahu has secured the necessary [Full Story]
White House: Putin Utilizing Mercenary Group
The White House on Thursday said Russian President Vladimir Putin is [Full Story]
Report: 10 Senators Saved Omnibus by Thwarting Title 42 Amendment
IRS Won't Meet Year-End Deadline for Returns Backlog
The IRS will fail to meet its self-imposed year-end deadline to solve [Full Story]
DeSantis Grand Jury Gambit Is 'Good Policy,' 'Good Political Move'
Republican Florida Gov. Ron DeSantis' decision last week petitioning [Full Story] | Platinum Article
GOP House Members Vow Retribution for Senators Who Voted for Omnibus
The count is up to 31 current and incoming House Republicans who have [Full Story]
Gender Self-Determination to Be Granted in Spain, Scotland
Spain's lower house of Parliament Thursday passed a law that allows [Full Story]
FTX's Bankman-Fried to Be Released on $250 Million Bond
The cryptocurrency entrepreneur Sam Bankman-Fried can post $250 [Full Story]
Video Report: Zelenskyy Might Eye Speeches in European Capitals
Ukrainian President Volodymyr Zelenskyy could make speeches in [Full Story] | video
30 Marvelous Photos Taken at the Airport
YourBump
Trump: Every Republican Should Vote 'No' on Omnibus
Former President Donald Trump onTruth Socialcondemned the $1.7 [Full Story]
Video Report: Schumer Says $1.7T Omnibus Deal Reached
Senate Majority Leader Chuck Schumer, D-N.Y., says a deal has been [Full Story] | video
Florida Republicans Weigh Support for McDaniel as RNC Chief
The Republican Party of Florida will meet in special session to [Full Story]
Taliban Minister Defends Ban on Women's University Studies
The minister of higher education in the Taliban government on [Full Story]
Gaetz: McCarthy Doesn't 'Actually Believe Anything'
As the deadline to round up votes for House Minority Leader Kevin [Full Story]
United Airlines Pilot Union Head Resigns Over Forum Posts
The head of the United Airlines pilots' union has resigned after [Full Story]
30-Year Mortgages Fall 6th Straight Week
The average long-term U.S. mortgage rate declined for the sixth [Full Story]
Russian Defense Minister Visits Troops in Ukraine – RIA Cites Ministry
The Russian Defence Ministry said on Thursday that Defence Minister [Full Story]
Pope Denounces Psychological Abuse as Jesuit Case Rocks Church
Pope Francis on Thursday denounced psychological violence and abuse [Full Story]
Related
Pope Warns Vatican Staff an 'Elegant Demon' Lurks Among Them
Schumer: Senate Deal Reached on $1.7T Omnibus Bill
Senators reached a deal to advance the $1.7 trillion omnibus spending [Full Story]
Biden Admin Spends $550K on AI to Detect Social Media Microaggressions
Government spending records show that the Biden administration is set [Full Story]
Target Recalls Children's Weighted Blankets After Two Deaths
Target Corp. said Thursday it has recalled about 204,000 Pillowfort [Full Story]
2 Bankman-Fried Associates Plead Guilty to Fraud
Crypto trading firm Alameda Research's former CEO, who's also the [Full Story]
Unemployment Claims Up Slightly
Slightly more Americans filed for unemployment benefits last week as [Full Story]
3Q GDP Revised Up to 3.2 Percent
Shrugging off rampant inflation and rising interest rates, the U.S. [Full Story]
Detransitioners Important to the Science of Gender Care
For years, Dr Kinnon MacKinnon, like many people in the transgender [Full Story]
McClellan Wins Dems' Nomination for Virginia Congressional Seat
Virginia state Sen. Jennifer McClellan, a Democrat. has won her [Full Story]
House Republicans Gearing Up to Probe Afghan Withdrawal
Republicans ready to take control of the House are gearing up to [Full Story]
US Releases Medicine From National Stockpile as Flu Continues to Surge
The Biden administration said Wednesday it will release doses of [Full Story]
Finance
FTX's Bankman-Fried to Be Released on $250 Million Bond
Sam Bankman-Fried will be released on a $250 million bond package while he awaits trial on fraud charges related to the collapse of the FTX crypto exchange, a federal magistrate judge said on Thursday…. [Full Story]
Home Sales Slump 35% in November
Twitter Seeks Dismissal of Disability Bias Lawsuit
H&M Confirms Rights to Justin Bieber Merchandise
FTX Could Pay Over $2,100/Hour for Bankruptcy Lawyers
More Finance
Health
Expert Advice on Best Ways to Treat Your Cold Symptoms
While there is no cure for the common cold, there are ways to alleviate your symptoms and possibly shorten the duration of the misery. With so many shortages of cold and flu medications on supermarket and pharmacy shelves this season, you may want to try tried-and-true…… [Full Story]
Drinking Alcohol Can Trigger 'Holiday Heart Syndrome'
Stop Screening Asymptomatic Hospital Patients for COVID, Experts Say
Deep Brain Stimulation May Slow Memory Loss in Early Alzheimer's
Holiday Stress: Coping With Worry and Anxiety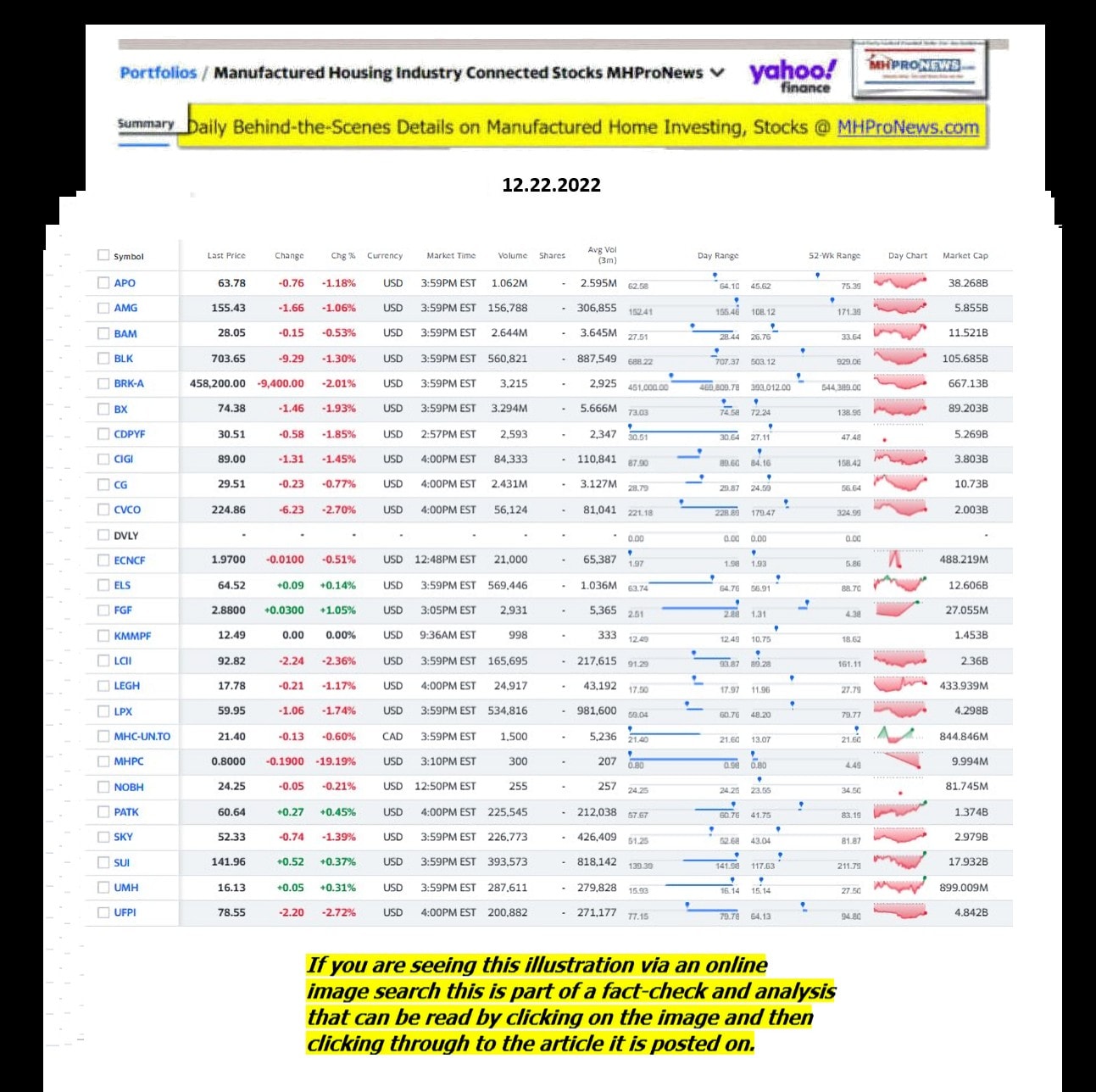 ====================================
Updated
NOTE 1: The 3rd chart above of manufactured housing connected equities includes the Canadian stock, ECN, which purchased Triad Financial Services, a manufactured home industry finance lender.
NOTE 2: Drew changed its name and trading symbol at the end of 2016 to Lippert (LCII).
NOTE 3: Deer Valley was largely taken private, say company insiders in a message to MHProNews on 12.15.2020, but there are still some outstanding shares of the stock from the days when it was a publicly traded firm.  Thus, there is still periodic activity on DVLY.
Note 4: some recent or related reports to the REITs, stocks, and other equities named above follow in the reports linked below.
Manufactured Housing Properties-Results for Three and Nine Months Ending September 30.2022–Exploring 'Mobile Home Park' Manufactured Home Community Investing; plus MHVille REITs, Stocks Update
Manufactured Housing's Next BIG Regulatory Battle That MHARR's Spotlighted and Which MHI Conveniently Ignored in Recent 'Manufactured Housing Institute News;' plus Sunday Weekly Headlines Recap
'Changes Will Benefit Customers,' Boost Sales-Legacy Homes CEO Duncan Bates – LEGH 'Delivered 22.5% Return on Equity in 1 Yr' – Corp Q3 2022 Insights, Analysis; plus MHVille REITs, Stocks Update  
'No Assurance Inflation Will Not Affect Our Future Profitability Financial Position'=Cavco Industries 10-Q, Solitaire Deal, More CVCO Data; Supreme Court Ruled-SEC Regs on False-Omitted Remarks
Skyline Champion Provides Quarterly Results, Adding Retail Centers, Improved Delivery Times-CEO Mark Yost Says 'Can Outperform Conventional Housing' Explored; Plus MHVille REITs, Stocks Update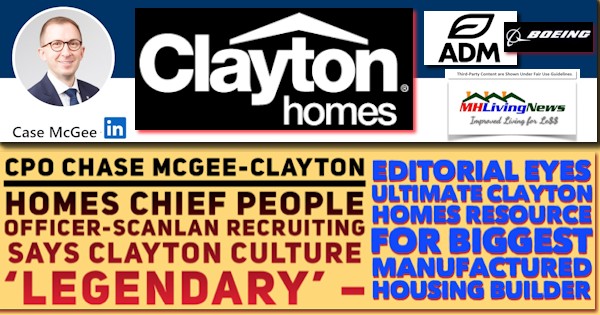 Triad Financial Services Q2-2022 FINANCIAL RESULTS, per ECN Capital – Several Bright Spots in Manufactured Home Market Highlighted, Including Communities, Retail, Land-Home, Floor; MHStocks Update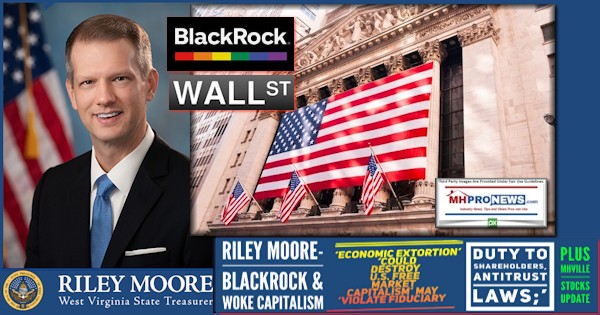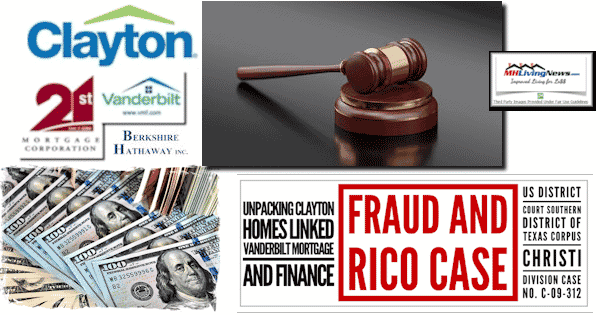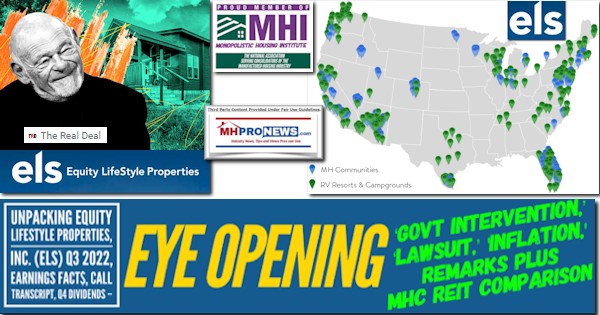 Manufactured Home Communities (a.k.a. 'Mobile Home Parks' – SIC) – Exploring UMH Properties; Fellow Manufactured Housing Institute Member Yes! Communities Suits and Settlements; plus MH Markets Updates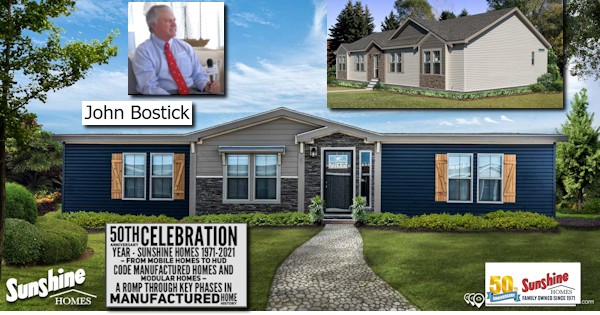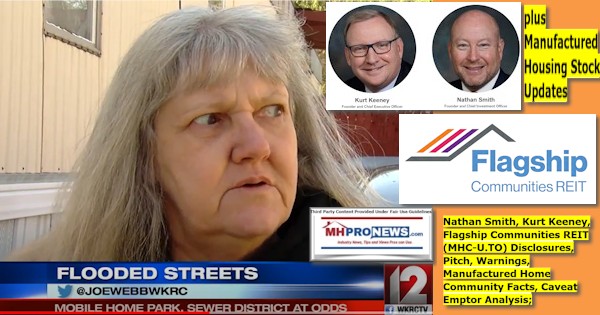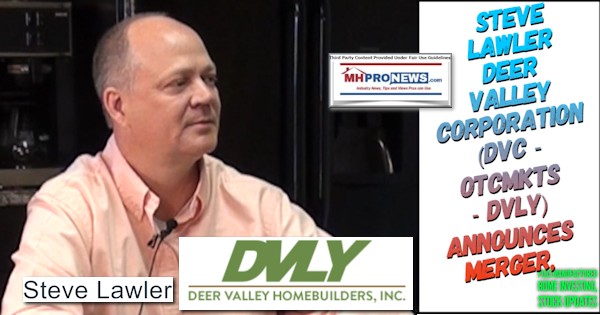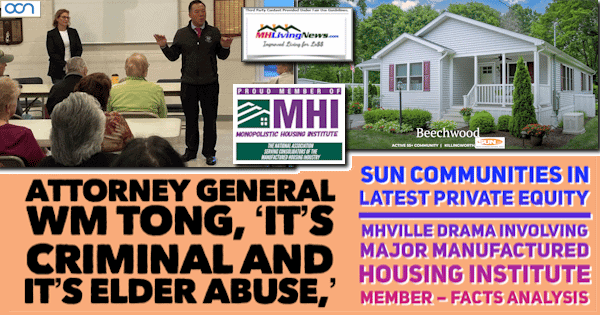 2022 …Berkshire Hathaway is the parent company to Clayton Homes, 21st Mortgage, Vanderbilt Mortgage and other factory-built housing industry suppliers.
· LCI Industries, Patrick, UFPI, and LP each are suppliers to the manufactured housing industry, among others.
· AMG, CG, and TAVFX have investments in manufactured housing related businesses. For insights from third-parties and clients about our publisher, click here.
Disclosure. MHProNews holds no positions in the stocks in this report.
· For expert manufactured housing business development or other professional services, click here.
· To sign up in seconds for our industry leading emailed headline news updates, click here.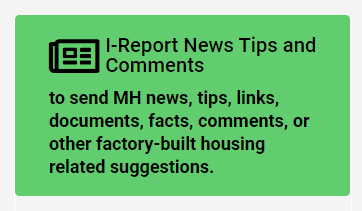 That's a wrap on this installment of "News Through the Lens of Manufactured Homes and Factory-Built Housing" © where "We Provide, You Decide." © (Affordable housing, manufactured homes, stock, investing, data, metrics, reports, fact-checks, analysis, and commentary. Third-party images or content are provided under fair use guidelines for media.) (See Related Reports, further below. Text/image boxes often are hot-linked to other reports that can be access by clicking on them.)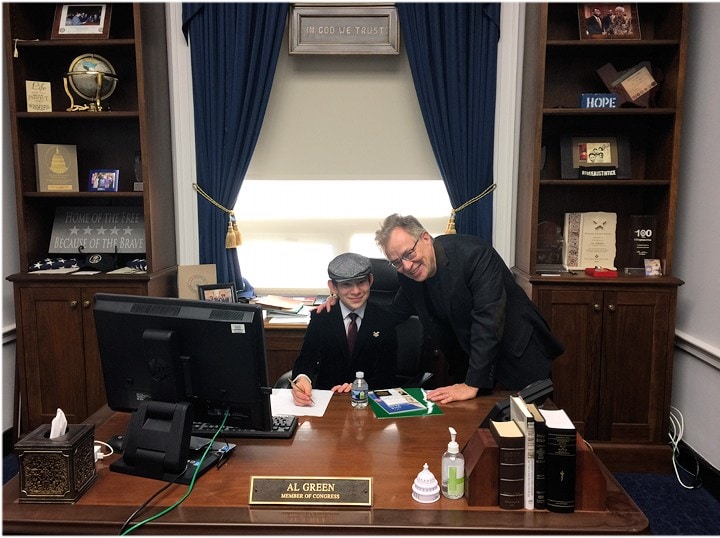 By L.A. "Tony" Kovach – for MHProNews.
Tony earned a journalism scholarship along with numerous awards in history. There have been several awards and honors and also recognition in manufactured housing. For example, he earned the prestigious Lottinville Award in history from the University of Oklahoma, where he studied history and business management. He's a managing member and co-founder of LifeStyle Factory Homes, LLC, the parent company to MHProNews, and MHLivingNews.com. This article reflects the LLC's and/or the writer's position and may or may not reflect the views of sponsors or supporters.
Manufactured Home Production Growth Continues in September 2022, per Manufactured Housing Association for Regulatory Reform-Added Facts, Analysis, plus MHVille REITs, MH Connected Stocks Update
Consumers 'Fears for the Future'-Mortgage Payments Surge Since 2021, Buyers Get Priced Out–Conventional Housing Woes are Manufactured Home Pro Opportunities; plus MHVille REITs, Stocks Update