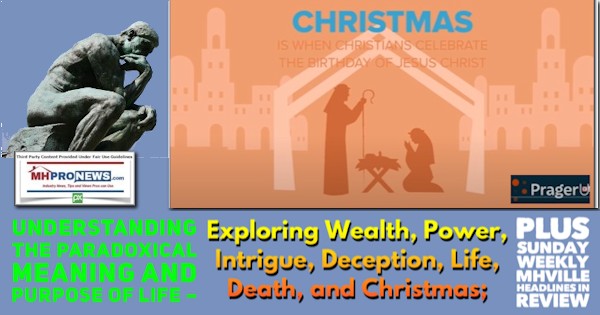 "Whoever seeks to save his life will lose it but the one who sacrifices their life will preserve it." (Luke 17:33). "But seek first the kingdom of God and his righteousness, and all these [other] things will be added to you." (Matthew 6:33 ESV). Those two Scriptural verses point to the paradox of the meaning and purpose of life. In a culture that often essentially preaches 'look out for #1' (i.e.: yourself and yourself alone, or you and your allies alone), what God says is that putting the way of God and righteousness toward our fellows is how the greatest rewards are attained.
"What has been will be again, what has been done will be done again; there is nothing new under the sun" (Ecclesiastes 1:9 NIV). For believers, that complete verse from the Hebrew Scriptures (the Christian 'Old Testament') doesn't refer to new things 'never occurring.' Technology clearly advances. But human nature remains the same, thus: "what has been done [before] will be done again." So that piece of Divine Wisdom is a reflection that in the moral sense there is nothing new in human behavior in history. There are differences in degree. There are different names and terminology. There are seemingly 'new' descriptions of events that when carefully examined often resemble some prior scheme in human history that predates the current one that dominates headlines, table talk, and midnight musings.
Into the triumphs and falls, the terrors of oppression and the valor of resistance, one encounters a moral theater of activity that would do the Christian playwright William Shakespeare proud. Because as Shakespeare observed in As You Like It "all the world is a stage," and we the people "are but players" (i.e. actors) on that metaphorical global stage that has local, national, and international elements to it. We enter, we play our parts for a time, and then we exit.
If human life was demonstrably about this earthly existence only, then perhaps a case might be made for selfish, greedy, or essentially self-serving behavior.
But if there is a hereafter, if every person faces either the prospect of eternal reward or eternal punishment, then the choices we make may well be different.
Dennis Prager with Prager U makes the following bold statement. If there is a God, there is an afterlife. "It is that simple." He makes his case in a video just over 5 minutes long. Prager's approach to this contention is philosophical, rather than Biblical. Prager has a longer video that proclaims "Why this Jew Loves Christmas."
The author of "There really is a Santa Claus" explains the historic evolution of Christmas in this short video.
Among the four Gospels of the Christian New Testament commonly named Mathew, Mark, Luke, and John, only Matthew and Luke have a Christmas or Nativity narrative.
As the run up to Christmas reflection linked here noted, the birth of Jesus Christ – known by billions of souls as the Messiah – appears in history as a biblical response to the fall into sin of Adam and Eve. God evicted the first parents, Adam and Eve from Eden for disobeying the one original commandment. In doing so, God promised a redeemer. Thousands of years later, Jesus was born to a maiden named Mary. Her conception of Jesus – Yeshua – was not of human origin, as the Scriptures proclaimed. It is the Gospel of Luke, the physician, who narrates the miraculous virginal conception and birth of Jesus, because for humankind it was impossible, but nothing good is impossible for God. Much time passed, but God's promise was kept.
The intelligent Augustine of Hippo circa (354 – 430 A.D.) was a pagan enamored with worldly living. Augustine eventually converted to Christianity. But his initial impression of Christian faith based on biblical literature was that some Greek literature seemed more sophisticated and highbrow to him. Augustine is the true story of a serious sinner who became a great saint. He eventually became bishop of Hippo. As the Brittanica encyclopedia puts it, "Made a "presbyter" (roughly, a priest, but with less authority than modern clergy of that title) at Hippo in 391, Augustine became bishop there in 395 or 396 and spent the rest of his life in that office."
It was only during Augustine's lifetime that the books of the modern Bible were discerned by the early church leaders. One must recall that a King James Version (KJV) of the Bible didn't fall from the sky. There were no printing presses in those days. 'Books' were hand-written manuscripts routinely written on various forms of parchment. Copies of what became the Bible were meticulously done by hand with great care because those who devoted their lives to preserving and passing along the inspired Word of God believed they were sharing the Word of God. Each of these factoids has significance.
The various inspired Biblical texts emerged over a period of centuries that began with the pre-Christian Jewish traditions of what was biblical. That process continued on for hundreds of years after the birth, life, death, and resurrection of Jesus, which culminated in a dramatic return to heaven in front of his disciples. What became the books of the Christian New Testament were discerned by the early church leaders who at times met in council to pray, discuss, and seek God's will as to what was biblical and what was not.
Put differently, the Bible reflects how messy human affairs can be in a variety of ways. If the goal was 'highbrow literature,' as Augustine initially noted, other choices might have been made. But Christianity and the Biblical books were selected for a variety of reasons that included miracles and inspirational sacrifices made by the ancients precisely because they believed in an afterlife and eternal joyful rewards in heaven.
Augustine is but one of numerous examples that some of the most brilliant minds in human history abandoned their previous lifestyle to embrace Christianity, even when it was illegal for decades on end in the ancient Roman Empire to be a Christian.
That said, once more it is Matthew and Luke who capture and record the birth of Jesus Christ.
Matthew 1:18-25 (ESV)
The Birth of Jesus Christ
18 Now the birth of Jesus Christ[a] took place in this way. When his mother Mary had been betrothed[b]to Joseph, before they came together she was found to be with child from the Holy Spirit. 19 And her husband Joseph, being a just man and unwilling to put her to shame, resolved to divorce her quietly.20 But as he considered these things, behold, an angel of the Lord appeared to him in a dream, saying, "Joseph, son of David, do not fear to take Mary as your wife, for that which is conceived in her is from the Holy Spirit. 21 She will bear a son, and you shall call his name Jesus, for he will save his people from their sins." 22 All this took place to fulfill what the Lord had spoken by the prophet:
23 "Behold, the virgin shall conceive and bear a son,
and they shall call his name Emmanuel"
(which means, God with us). 24 When Joseph woke from sleep, he did as the angel of the Lord commanded him: he took his wife, 25 but knew her not until she had given birth to a son. And he called his name Jesus. "
As a relevant footnote, the "process [of discerning what became the Bible] culminated in 382 as the Council of Rome, which was convened under the leadership of Pope Damasus, promulgated the 73-book scriptural canon. The biblical canon was reaffirmed by the regional councils of Hippo (393) and Carthage (397), and then definitively reaffirmed by the ecumenical Council of Florence in 1442."
There are any number of reasons why people might not want to embrace that Biblical and historic message. But for those willing to open their minds and hearts to the evidence and reasons why men and women, both ancient and modern, need a Savior, the inspiration and some 2000 years of history sheds light on what makes Christmas unique is a worthy starting point.
As the Prager U video above noted, even our calendars – our methods of dating the year and time – is based on year of the birth of Jesus Christ.
In a new article on MHLivingNews, one of several reports published during the week that was are more thoughts on Christmas. No bland 'seasons greetings' here! All of us here at MHProNews and MHLivingNews wish you and yours the very best of the blessings of Christmas.
Don't miss today's postscript.
Without further adieu, here are the MHVille headlines for the week that was from December 18 to December 25, 2022.
What's New on MHLivingNews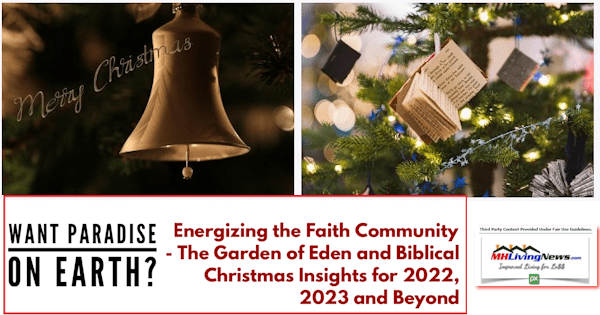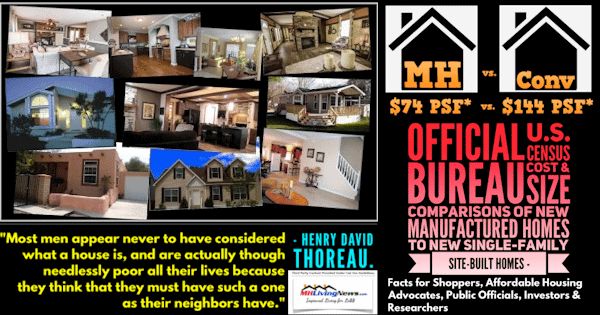 What's New and Recent on the Masthead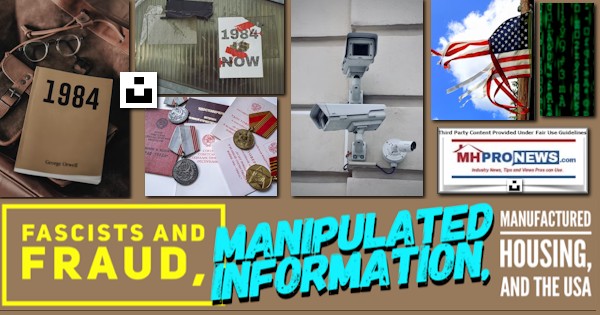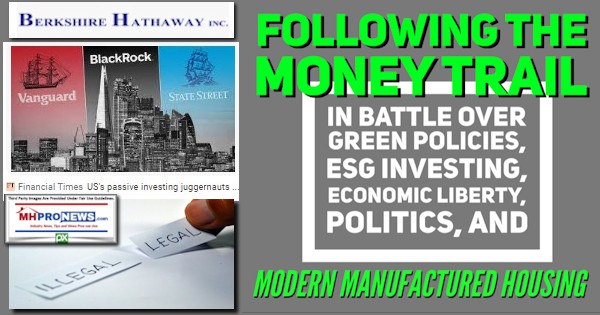 What's the Latest from Washington, D.C. from MHARR
Statutory Manufactured Housing Consensus Committee (MHCC) Recommends HUD Rejection of DOE Manufactured Housing Energy Rule
MHARR Comments Oppose Incorporation of DOE Energy Standards Within the HUD Code
What's Recent from Tim Connor on the Words of Wisdom
"The only way to get what you want is to know what you want"
"What lies behind us and what lies before are tiny matters compared to what lies within us."
What's New on the Daily Business News on MHProNews
Saturday 12.24.2022
HUD Secretary Marcia Fudge Releases 2022 Year in Review 'Fact Sheet' – Manufactured Homes Included – What HUD's Annual Review Did and Didn't Mention; plus MHVille REITs, Stocks Updates
Friday 12.23.2022
'Reality Bites' – Lumber 'Bubble Burst,' Wood Price 'Collapse' as Conventional Builder Confidence, Orders, Sales Slide – Market Tug of War and Manufactured Housing; plus MHVille Stocks Update
Thursday 12.22.2022
HUD Releases 2022 Annual Homeless Assessment Report, Worst in Years, Equal Justice Files Suit to Protect Homeless, Too Few Manufactured Homes; plus MHVille REITs, Stocks Update
Wednesday 12.21.2022
Senator Sherrod Brown Pokes Legacy Communities, Fannie Mae Charged-Turn Manufactured Homes 'From Affordable to Unaffordable,' Related Antitrust Raised by Brown; plus MHVille REITs, Stocks Update
Tuesday 12.20.2022
Behind the Scenes Facts, Insights, Reams of 3rd-Party Research on Manufactured Homes and 'Mobile Home' Controversies–MHLivingNews to MHI Data-MHVille 2022 in Review I; plus, MHREITs-Stocks Update
Monday 12.19.2022
Monday Madness–Distracted-Played? Conspiracy Theories or Truth? Supreme Court Takes Up Election Case by Pro-Se Brunson Litigants to Remove Biden, Harris, Others–Mike Huckabee, RFK Jr., Lara Logan React
Sunday 12.18.2022
'Everyone Needs Deadlines' 'First Things First' and '7 Habits of Highly Successful People' – Pre-Christmas Preview of Manufactured Housing Year in Review; plus Sunday Weekly MHVille Headlines Recap
Postscript
From Nigerian born radio personality, Scripture scholar, and pastor Fr. Emmanuel Akalue is the following.
Christmas Message 2022: "The Significance for the Incarnation for All Time."  Note that the Britannica encyclopedia website says this about the meaning of "incarnation." "Incarnation, central Christian doctrine that God became flesh, that God assumed a human nature and became a man in the form of Jesus Christ, the Son of God …"
It is worth mentioning that the name 'Christmas' for this holy day (i.e. holiday) is a contraction of "Christ's Mass," meaning the Mass celebrated to commemorate the birth of the Savior.
With that backdrop, Fr. Emmanuel Akalue wrote the following.
"In times past, God spoke in partial and various ways to our ancestors through the prophets; in these last days, he has spoken to us through the Son" (Heb 1:1).
Merry Christmas!  Christmas celebrates one of the greatest blessings God lavished on us in Christ Jesus! (cf. Eph 1:3; 1John 3:1-2).  It is truly a time of reunion, a celebration of love.  God comes to mingle with us, to speak our language, eat our food and interact with us in all the spheres of human life.  He shares our joys and sorrows.  At the very First Christmas, Mary and Joseph traveled to their ancestral home, Bethlehem in the land of Judah, where Jesus Christ was born.  Following this same tradition, at this time, many families and friends travel to reunite and celebrate together.  Please, celebrate the awesome blessing!  Have a great time!
Christmas is a time of sharing our gifts and endowments.  Christ brings us the gift of Himself.  We share with all the goodness of the Lord through exchange of gifts: Christmas cards, gift packages, feasting and dancing.  Just as you purchased gifts for families and friends, you should not forget to give the new born King a gift.  The only gift that Jesus wants is the harvest of souls.  We are Christ's witnesses (cf. Acts 1:8).  Be a great ambassador: bring people to Jesus!
Christmas is a jubilee; a time of reconciliation and peace.  Many times, when we have misunderstandings or quarrels, we allow unforgiveness, malice, hateful feelings, and the lack of inner peace to linger and linger.  We never want to let go.  That is living in bondage.  Christmas necessitates the spirit of reconciliation and peace.  In spite of our sins, God did not abandon us; Christ – our Peace and Reconciliation – came down from heaven to offer us the 'Olive branch,' to restore the broken relationship and to save us.  Christmas, therefore, calls for reconciliation with God and our neighbors.  Please, accept the reconciliation Christ is offering you at this time; share it with all.  Allow the Prince of Peace to reign in your heart, in your family, in your marriage and in your relationships!
God's incarnation has transformed religion forever.  Truly, "the Word became flesh and made his dwelling among us, and we saw his glory, the glory as of the Father's only Son, full of grace and truth."  Have you ever wondered why there are so many religions in the world?  Before God became man, it was easy to speculate about God in the most general and ambiguous ways.  This gave rise to so many religions and philosophical thought systems, all trying to present their view about God.  Now, through the event of C-H-R-I-S-T-M-A-S, God has come to speak for Himself and to set the record straight.  As St. Pope John Paul II rightly observed:
Here we touch upon the essential point by which Christianity differs from all the other religions, by which man's search for God has been expressed from earliest times. Christianity … is not simply a case of man seeking God, but of God who comes in Person to speak to man of himself and to show him the path by which he may be reached ….In Christ, religion is no longer a "blind search for God" (cf. Acts 17:27) but the response of faith to God who reveals himself…. Jesus Christ is the new beginning of everything. …. Christ is thus the fulfillment of the yearning of all the world's religions and, as such, he is their sole and definitive completion…. The religion founded upon Jesus Christ is a religion of glory…." (John Paul II, Tertio Millennio Adveniente, 6).
Finally, perhaps, you have encountered some people who claim that Christmas is a pagan festival; that they do not celebrate Christmas.  Nonsense!  Christmas is the feast of the birth of Christ, irrespective of the actual date He was born (cf. Rom 14:6).  In heaven, the choirs of angels – the Cherubim and Seraphim – celebrated Christmas and sang joyfully: 'Glo-o-o-o-ria in excelsis Deo' (x2).  Besides, an angel of God told the Shepherds: "Behold, I bring you good news of great joy for all peoples: for to you is born this day in the City of David a Savior who is Christ the Lord" (Luke 2:10-11).  Consequently, in union with the angelic throng all peoples celebrate CHRISTMAS.  Yes!  Today is not just a holiday; it is CHRISTMAS.  Christ our Savior is born!  Always call it what it is: not "Happy Holiday"; this is C-H-R-I-S-T-M-A-S!  Therefore, "Go, tell it on the mountains, over the hills and everywhere; that Jesus Christ is born."  Happy Christmas! ##
The founders of our Republic were universally believers. Several were quite wealthy, virtually all were well to do. But despite wealth, prestige, and some measure of influence they were quite willing to pray, privately and publicly, because they knew that God is real and that humanity needs salvation. They both prayed and worked to achieve the goal of liberty for what became the U.S.A. They didn't just work. They didn't just pray. They did both. So it was, so it is now. Because when it comes to human nature, there is nothing new under the sun.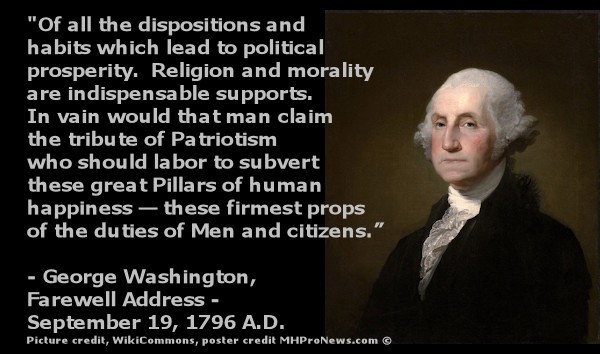 Merry Christmas to all. May your future be bright. ###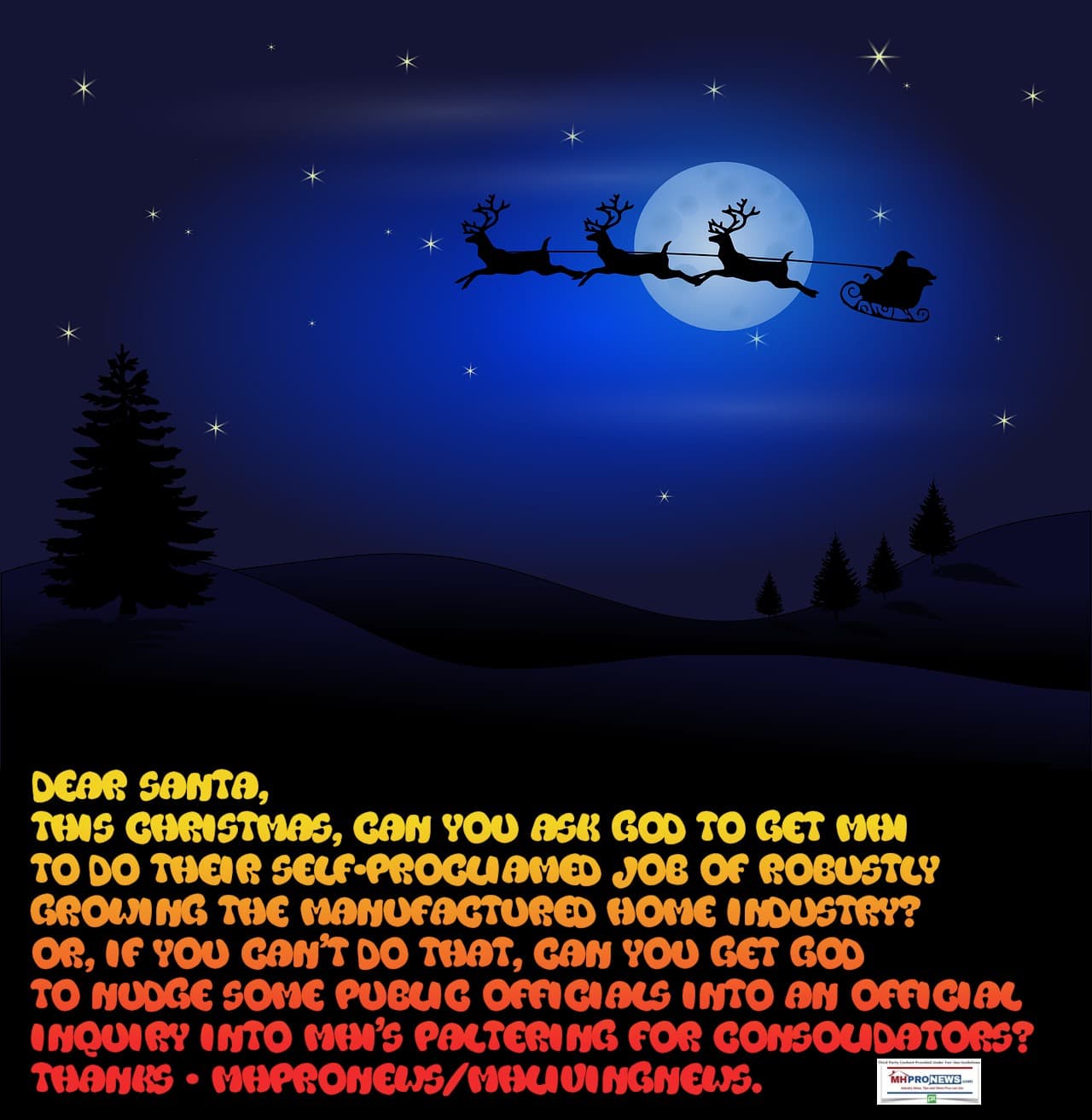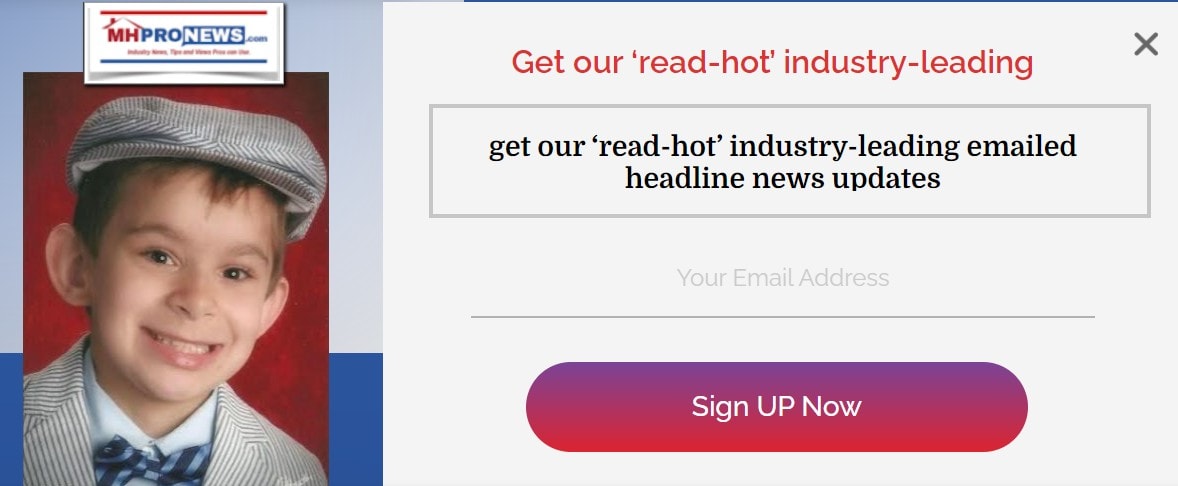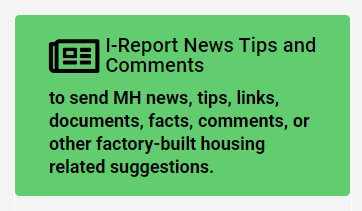 Again, our thanks to free email subscribers and all readers like you, our tipsters/sources, sponsors and God for making and keeping us the runaway number one source for authentic "News through the lens of manufactured homes and factory-built housing" © where "We Provide, You Decide." © ## (Affordable housing, manufactured homes, reports, fact-checks, analysis, and commentary. Third-party images or content are provided under fair use guidelines for media.) (See Related Reports, further below. Text/image boxes often are hot-linked to other reports that can be access by clicking on them.)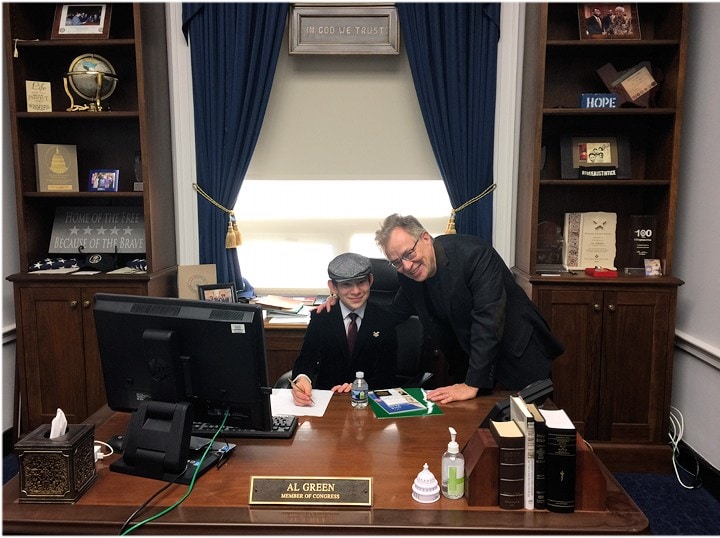 By L.A. "Tony" Kovach – for MHProNews.com.
Tony earned a journalism scholarship and earned numerous awards in history and in manufactured housing.
For example, he earned the prestigious Lottinville Award in history from the University of Oklahoma, where he studied history and business management. He's a managing member and co-founder of LifeStyle Factory Homes, LLC, the parent company to MHProNews, and MHLivingNews.com.
This article reflects the LLC's and/or the writer's position, and may or may not reflect the views of sponsors or supporters.
Connect on LinkedIn: http://www.linkedin.com/in/latonykovach
Related References:
The text/image boxes below are linked to other reports, which can be accessed by clicking on them.
'Affordable Homes for Low Income Must Produce in Factory,' 'Years to Unravel Sabotage,' Grad Students Interest in Manufactured Housing, Factory-Home Solutions; plus Sunday Weekly Headlines Recap
'In the Business World, the Rear-View Mirror is Always Clearer than the Windshield'–Warren Buffett MHVille Leader Showcases Efforts to Renew American Dream; plus Sunday Weekly Headlines Recap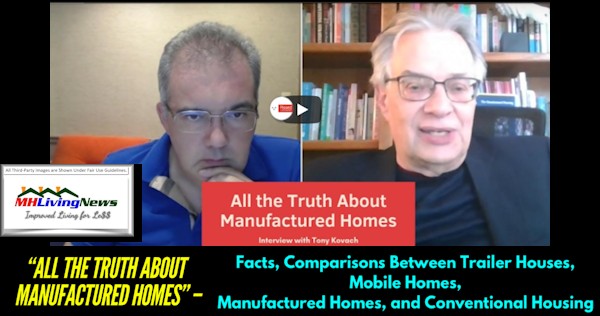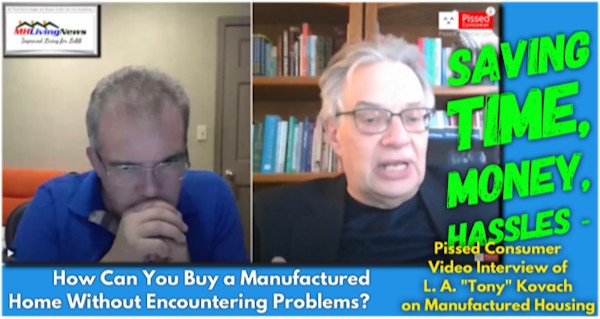 Washington D.C. Updates on DOE 'Energy Assault' HUD is 'Already Moving' on DOE Standards MH Financing MHARR White Paper 'Validated' Again and More – MHI Side of Story, Facts & Analysis
Russian Disinformation? CNN and WND Report on "World Government Summit," Joe Biden Address to Business Roundtable on "the New World Order;" plus Sunday Weekly Headlines Review
Telling Manufactured Housing Story Honestly, Persuasively, Beneficially and Profitably with Facts, Evidence, Bright Line Distinctions – plus Sunday Weekly Manufactured Home Recap