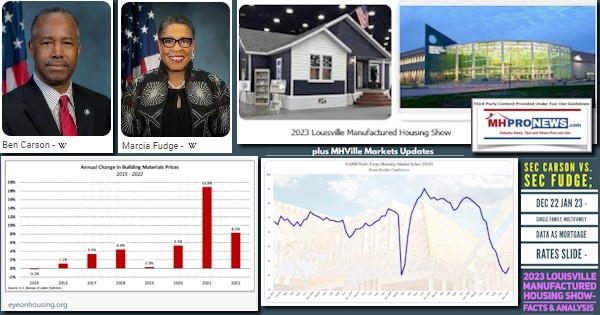 After two full years of Biden era policy leadership at the U.S. Department of Housing and Urban Development (HUD), it is time to explore which administration has produced better housing results. Were home seekers in the U.S. better off while Trump-appointed HUD Secretary Ben Carson was at the helm at HUD? Or is housing in general, and manufactured housing more specifically, being better served by HUD Secretary Marcia Fudge? To examine those issues objectively, facts are needed. The National Association of Realtors (NAR), which says it is the largest trade association in America, posted their latest research via Twitter and on their website. That is found below, along with insights from Emmy award-winner Diana Olick via left-leaning CNBC. Olick's reporting is featured in a short but useful insight into the role interest rates are playing in housing sales as financing costs continue their downward move, which are bringing out more buyers and refinancing too. Other facts from NAR, as well as information from the National Association of Home Builders (NAHB) provide a high-level evidence-based view of the U.S. housing market.  Part II of this article will include manufactured housing specific insights. Those will include remarks made by both Secretaries Carson and Fudge. Related analysis and a sneak peek into an upcoming report on eye opening information from Freddie Mac – which could prove useful to manufactured housing professionals and investors – are included. So too is expert commentary. Part III of this article will conclude with the latest installment of the manufactured home industry's first and still only known Daily Business News on MHProNews. That segment include snapshots of the manufactured housing and broader stock markets, including left (CNN) and right (Newsmax) 'market moving' headline bullets.
As an evidence-based plug, in minutes professionals and investors can gain insights that they will be unlikely to find anywhere else in or beyond MHVille.  Nowhere else online even comes close to such a broad spectrum of facts, analysis, commentary and linked resources. Perhaps that is why this trade publication has long been – and still remains – the runaway #1 manufactured housing industry (a.k.a. MHVille) website for "Industry News, Tips, and Views Pros Can Use"©.  With that tee up, let's dive into Part I of today's reporting and viewpoints.
Part I – Information from the National Association of Realtors (NAR)/Twitter, National Association of Home Builders (NAHB) and CNBC
Per the NAR via the tweets as shown are the following facts, economic, and housing market insights.
Instant Reaction: Mortgage Rates, January 19, 2023. "Mortgage rates continued their downward trek this week. According to Freddie Mac, the rate on a 30-year fixed mortgage dropped to 6.15% from 6.33% the previous week." https://t.co/Cof5VzlqV8 pic.twitter.com/18xu6LQfQH

— NAR Research (@NAR_Research) January 19, 2023
With healthy balance sheets, consumer demand was boosted significantly in retail and industrial asset classes. In both sectors, vacancy rates fell further than the previous year, illustrating strong post-pandemic demand for retail and industrial spaces. https://t.co/N5Rstmf2c8

— NAR Research (@NAR_Research) January 19, 2023
Florida has finished as the top destination for international buyers for 14 consecutive years, according to the National Association of REALTORS® 2022 International Transactions in U.S. Residential Real Estate. https://t.co/X9ciNavXeM via @Yahoo

— NAR Research (@NAR_Research) January 18, 2023
"This downward trend of mortgage rates gives a scrap of hope for many homebuyers for the months ahead," said Nadia Evangelou, senior economist for the National Association of Realtors. https://t.co/5NKTkK9tFW

— NAR Research (@NAR_Research) January 18, 2023
"The competition last year was fierce among all-cash buyers and those who are able to play in the housing market who had quite a bit of money versus first-time homebuyers who don't have that equity they can rely on," @JessicaLautz said. https://t.co/XChvF8BdYF via @Marketplace

— NAR Research (@NAR_Research) January 17, 2023
"The principal factor was the rapid increase in mortgage rates, which hurt housing affordability and reduced incentives for homeowners to list their homes. Plus, available housing inventory remains near historic lows," Yun said. https://t.co/B9z8oBA1S7 via @SPGlobal

— NAR Research (@NAR_Research) January 13, 2023
This next item isn't from NAR, but it was spotted from their stream.
NEW: Musk said the "WEF is increasingly becoming an unelected world government that the people never asked for and don't want." Do you think he is right? https://t.co/211AXqRTpn

— Keean Bexte (@TheRealKeean) January 18, 2023
According to Diana Olick and CNBC are the following insights on the broader mainstream housing market.
According to the NAHB, which is one of the 'housing associations' that MHI likes to brag that they 'partner with' is the following information.
Single-Family Starts Edge Higher as Multifamily Production Weakens
Single-family housing starts posted a double-digit percentage gain in December, but production is running well below a rate of 1 million units annually, indicating ongoing weakness in the housing market as high construction costs and elevated interest rates continue to present affordability challenges.
Led by a decline in multifamily production, overall housing starts decreased 1.4% to a seasonally adjusted annual rate of 1.38 million units in December, according to a report from the U.S. Department of Housing and Urban Development and the U.S. Census Bureau.
The December reading of 1.38 million starts is the number of housing units builders would begin if development kept this pace for the next 12 months. Within this overall number, single-family starts increased 11.3% to a 909,000 seasonally adjusted annual rate, but are down 25% compared to December 2021. The multifamily sector, which includes apartment buildings and condos, decreased 19% to a 473,000 pace.
Total housing starts for 2022 were 1.55 million, a 3% decline from the 1.60 million total from 2021. Single-family starts in 2022 totaled 1.01 million, down 10.6% from the previous year. Multifamily starts (5+) in 2022 were up 14.5% compared to the previous year and exceeded a 500,000 annual pace for the first time since the Great Recession.
"Even though single-family starts are up on a monthly basis, permits indicate that the housing market will slow down further in 2023," said Jerry Konter, chairman of the National Association of Home Builders (NAHB) and a home builder and developer from Savannah, Ga. "We expect a sustainable decline for mortgage rates in the second half of this year, which should lead to a housing recovery in 2024."
"The decline in single-family permits indicates that builders are slowing construction activity as interest rates have spiked in recent months," said Danushka Nanayakkara-Skillington, NAHB's assistant vice president for forecasting and analysis. "Starts began on a strong footing in early 2022 but fell back in the latter part of the year as higher costs led to a pause in home building activity and affordability conditions worsened for home buyers."
On a regional and year-to-year basis, combined single-family and multifamily starts are 5% higher in the Northeast, 5.7% lower in the Midwest, 1.6% lower in the South and 7.2% lower in the West.
Overall permits decreased 1.6% to a 1.33 million unit annualized rate in December and are down 29.9% compared to December 2021. Single-family permits decreased 6.5% to a 730,000 unit rate and are down 34.7% compared to December 2021. Multifamily permits increased 5.3% to a 600,000 pace.
Looking at regional permit data on a year-to-year basis, permits are 13.6% lower in the Northeast, 3.4% lower in the Midwest, 2.4% lower in the South and 8.3% lower in the West. ##
Finally, the following tweets by the NAHB rounds out this high-level snapshot of the mainstream (conventional) U.S. housing market in late 2022 and early 2023.
Building materials prices fell 0.3% in December—the fourth consecutive monthly decline. Over 2022, building material prices rose 8.3%, a very high rate but far lower than the 18.9% increase seen in 2021, mostly driven by lumber. https://t.co/4McDPnNTE1 | #economy #inflation

— NAHB (@NAHBhome) January 19, 2023
Housing starts slipped 1.4% from November to December to an annual rate of 1.38 million, 21.8% lower than a year ago. Single-family home starts jumped 11.3% to a 909,000 annual rate. Building permits fell 1.4% last month and were down 30% from last year. #realestate #economy pic.twitter.com/YYIPVinkqS

— NAHB (@NAHBhome) January 19, 2023
Over the first 11 months of 2022, the total number of single-family home building permits issued was 921,626, 10.5% lower than the Nov. 2021 level. Between Nov. 2021 and Nov. 2022, just five states and DC saw growth in single-family permits. https://t.co/KG4oHoGs9A #realestate

— NAHB (@NAHBhome) January 18, 2023
Home builder confidence increased four points in the NAHB/Wells Fargo Housing Market Index (#HMI) report for January, the first increase in the HMI in a year. Sentiment is up but still remains in negative territory at 35. https://t.co/O8tVFVxXCc | #realestate #economy pic.twitter.com/RJKThCkS9p

— NAHB (@NAHBhome) January 18, 2023
Part II Additional Information with MHProNews Analysis, Commentary and Linked Related Insights
Neither MHI nor CLA have provided any response or inputs to the inquiry and report linked below. That means that the information – facts, evidence, and expert analysis – are unchallenged at this point in time.
Over $1 Million! Manufactured Housing Institute Doc Drop! Top MHI Staff Pay Revealed. Additionally, Unpacking Evidence of Perjury, Fraud, Other Possible Federal Crimes; plus MHVille Stocks Update
While the Louisville Manufactured Housing Show is still ongoing, according to an MHI connected source on the ground there are only "34 homes" on display. Traffic "seems busy" but unlike during the years that MHProNews was involved with the show, there are no known daily updates published on attendance. According to both the source there and the 'official' website, there does not appear to be any inventory on display from the Manufactured Housing Association for Regulatory Reform (MHARR). The bulk of the inventory appears to be from one of the "Big Three" vertically integrated builders which are MHI members. Namely, Clayton Homes (BRK), Skyline Champion (SKY), and Cavco Industries (CVCO).
Put differently, the grand daddy of pre-HUD Code mobile home and post-HUD Code manufactured housing trade shows has fallen sharply from the days when it was an event of such size and proportions that media and attendees from 'around the world' would flock to attend. The following video is a flashback to 2016 and was produced in conjunction with ManufacturedHomes. The videos have improved since then, but the Louisville Manufactured Housing Show has apparently gone into reverse in several respects.  How is that possible during an affordable housing crisis? Who should be held responsible for the stated and implied troubling realities?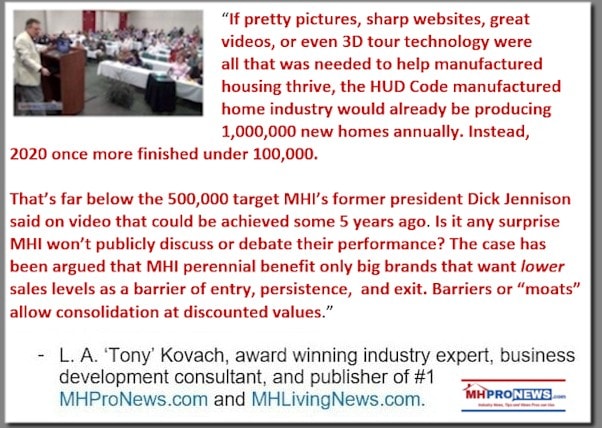 This 2018 mainstream news video is an example of how times moves on, but some things seem to never change. Manufactured housing is debated by city officials. There is no evidence of either the Manufactured Housing Institute (MHI) or their state affiliate providing input on this issue. There is no mention of the Manufactured Housing Improvement Act (MHIA) of 2000 or its so-called "enhanced preemption" provision. There is no mention of the U.S. Department of Housing and Urban Development (HUD).
Compare what was said in the video above by Dr. Ben Carson vs. What HUD Secretary Marcia Fudge said in the CSPAN video posted in the report linked below.
HUD Sec Marcia Fudge – Zoning, Manufactured Homes – "Until We Start to Address This We Are Going to Continue to be Perpetually in This Kind of Situation." – News-Analysis, plus Manufactured Housing Stock Updates
It is also relevant to see what HUD's own researchers – during the Biden-Fudge era – revealed about the multi-decade pattern of big promises but missed delivery on those pledges.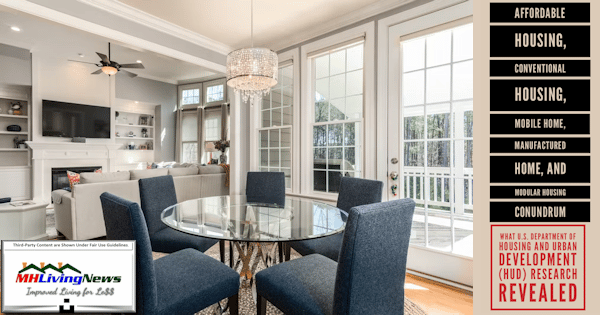 While the raw cost of both site-built homes and manufactured homes has increased since the report linked below was published, the updated figures can be found in the report linked immediately below Dr. Carson's still relevant remarks. The percentage of savings is still quite similar.  Note that Carson's remarks, pointing to the FHFA research, debunked the concerns voiced by some in that mainstream news video posted above.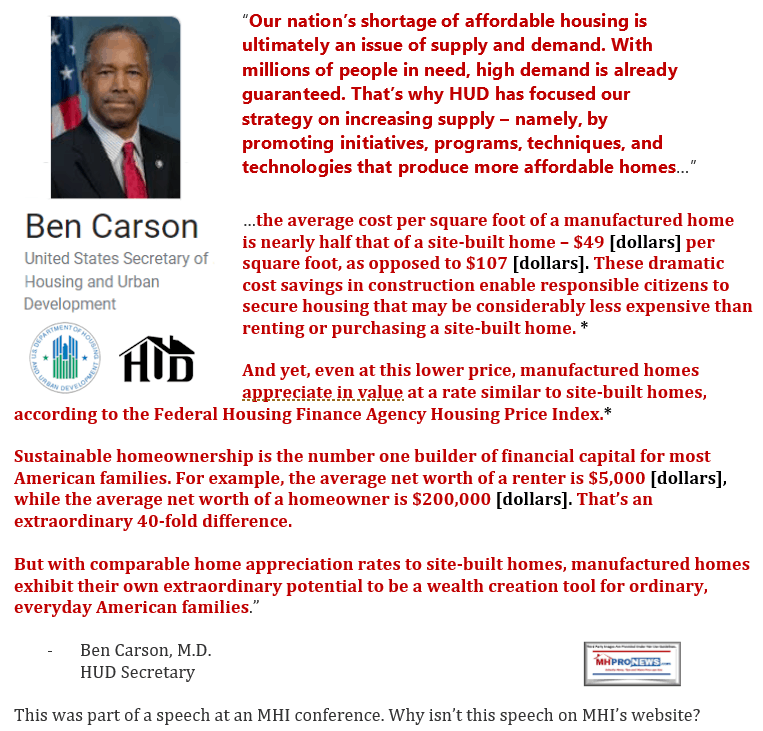 A report is planned in the near term for MHProNews/MHLivingNews on a recent conference held by Freddie Mac which they said was aimed at promoting the use of more manufactured homes. As our platform will highlight, there is the typical mix of accurate, inaccurate, and missing information. Weeks have elapsed since the event. Why hasn't MHI contacted Freddie Mac to tell them about some gross errors in their presentation?
That said, per Freddie Mac is the following.
"Discover How Manufactured Homes Can Help Housing Address Affordability Challenges
Manufactured homes offer an attractive, energy-efficient, resilient housing option, yet compose only around 7.5% of existing and 9% of new U.S. homes. A major reason for the low percentage of placements: state and local zoning regulations, as well as persistent misperceptions that inhibit manufactured housing's use."
According to one of the Freddie Mac documents, "Also, in close to 60% of jurisdictions [which were part of their national survey], manufactured housing is allowed but may be required to meet the same building standards as site-built homes." Is it surprising that the download checked by MHProNews on 1.20.2023 produced "no matches" in a Word search for the "Manufactured Housing Improvement Act" – despite evidence of MHI involvement in aspects of this research and related work-product? Or is it surprising to regular and detail minded readers of MHProNews that the word "preemption" is also missing from the four page summary of a purported 2092 word document?
Freddie Mac is arguably not wagging their finger at MHI or HUD in that document. But both are lurking in the background. That 'pro-manufactured housing' research by Freddie Mac is potentially quite useful. It states as an aim to 'promote' the use of more manufactured homes across the U.S. It is a similar length to this this article at this point. But it is a mix of accurate and inaccurate information. Why is that important? Because where is MHI's staff? Aren't they fact checking why others are saying about manufactured housing?  Where are the state associations? MHI and their state affiliates are supposedly on the front-lines of post-production advocacy. Why didn't they find the errors, and get Freddie Mac to fix them?
Recall that something similar occurred when errors in the NAR report linked here were discovered by MHProNews. NAR fixed them all and republished their research with the errors eliminated. They went a step further and thanked MHProNews and MHARR in their first footnote. But MHI should have done it because NAR reached out to them, as NAR indicated.  Neither that useful NAR research nor the new Freddie Mac data and research insights are mentioned on MHI's website – again, why not?
Lesli Gooch was a presenter at that recent late-2022 Freddie Mac event which was focused on opportunities in and for the manufactured housing industry. Why isn't Gooch's presentation found on the MHI website?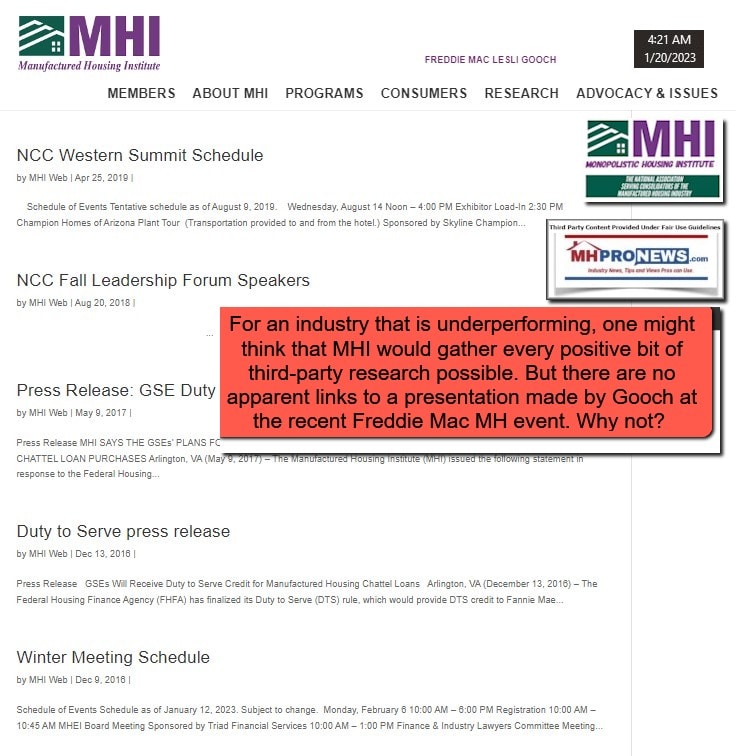 When a broader understanding of third-party research could yield more manufactured home sales, what possible excuse could MHI and their executive committee give for failing to do such obvious sharing via their own website of largely useful information?
For some years, MHProNews and MHLivingNews have incrementally increased the spotlight intensity on MHI and/or several of their key corporate members. This ought to be expected of even pro-manufactured housing trade journalism.

Those trade media platforms and bloggers which have apparent links to MHI are routinely acting as obvious surrogates and buffers for that trade association.
While there may be occasional mention of the Manufactured Housing Association for Regulatory Reform (MHARR) among some of those other competitors to MHProNews/MHLivingNews, or even a periodic use of a MHARR news item (which MHARR routinely provides to others at no cost), even a cursory review of the vast majority of those other 'trade publications' routinely fail to mention just how far manufactured housing has slid backwards in the 21st century. They routinely fail to critique the leadership of MHI and its dominating brands.
Or where is their routine call for HUD to properly enforce the MHIA and its so-called "enhanced preemption" provision? Yet Freddie Mac's research is yet another third-party research document that is a de facto and fresh example of how MHI has apparently failed the industry for over 20 years.
See the linked related reports, starting with the one immediately below, to get greater factual and evidence-based clarity on how vexing, potentially actionable and/or illegal their behavior and claims may be. Meanwhile, they draw fat checks for accomplishing what? Going to resort hotels at nice locations to posture why the industry continually gets consolidated?
Over $1 Million! Manufactured Housing Institute Doc Drop! Top MHI Staff Pay Revealed. Additionally, Unpacking Evidence of Perjury, Fraud, Other Possible Federal Crimes; plus MHVille Stocks Update
This next linked report has the latest data about manufactured housing from HUD, MHARR and MHI. It should be read in conjunction with the NAR, NAHB, and CNBC generated insights.
50 State-by-State Manufactured Home Data for Nov 2022, New Jan 2023 HUD Code Manufactured Housing Official Statistical Report; plus MHVille Stocks, REITs, Markets Daily Update
Why is the latest iteration of the Louisville Manufactured Housing Show in 2023 a mere shadow of its former glory?
There are several apparent factors. Among them, the evidence-based case can be made that barring MHProNews/MHLivingNews from the event (by apparent MHI connected surrogates) has harmed attendance. What has apparently caused MHARR manufacturers to not display product at Louisville is an open question. But someone should carefully read and then re-read what MHARR President and CEO Mark Weiss had to say about the industry's "self-inflicted wounds."
'Ending the String of Self-Inflicted Manufactured Housing Industry Wounds' January 2023 Manufactured Housing Assoc for Regulatory Reform Issues and Perspectives (MHARR); plus Sunday MHVille Recap
Don't expect others in the balance of what passes in MHVille for trade media to ask MHI to respond to such issues, questions or spotlighted concerns.  Don't ask those who are apparently rewarded to carry water to call attention to the troubling fact that the bulk of the equities in MHVille suffered in a loss of value in 2022 despite an affordable housing crisis.  At a minimum, as MHProNews has periodically noted, these are apparent breaches of fiduciary duties by several corporate and MHI-connected association leaders.
'Stomach Churning Year' CNN-Wall Street 'Forget 2022' Down Year – Major Equities Data Compared to Manufactured Housing Stocks, Manufactured Home Community REITs, Performance for Year by Company
Rephrased, there are a range of boards and staff in profits and nonprofits in MHVille that are arguably not doing their jobs properly. Facts are what they are. The evidence speaks loudly for those who view it objectively.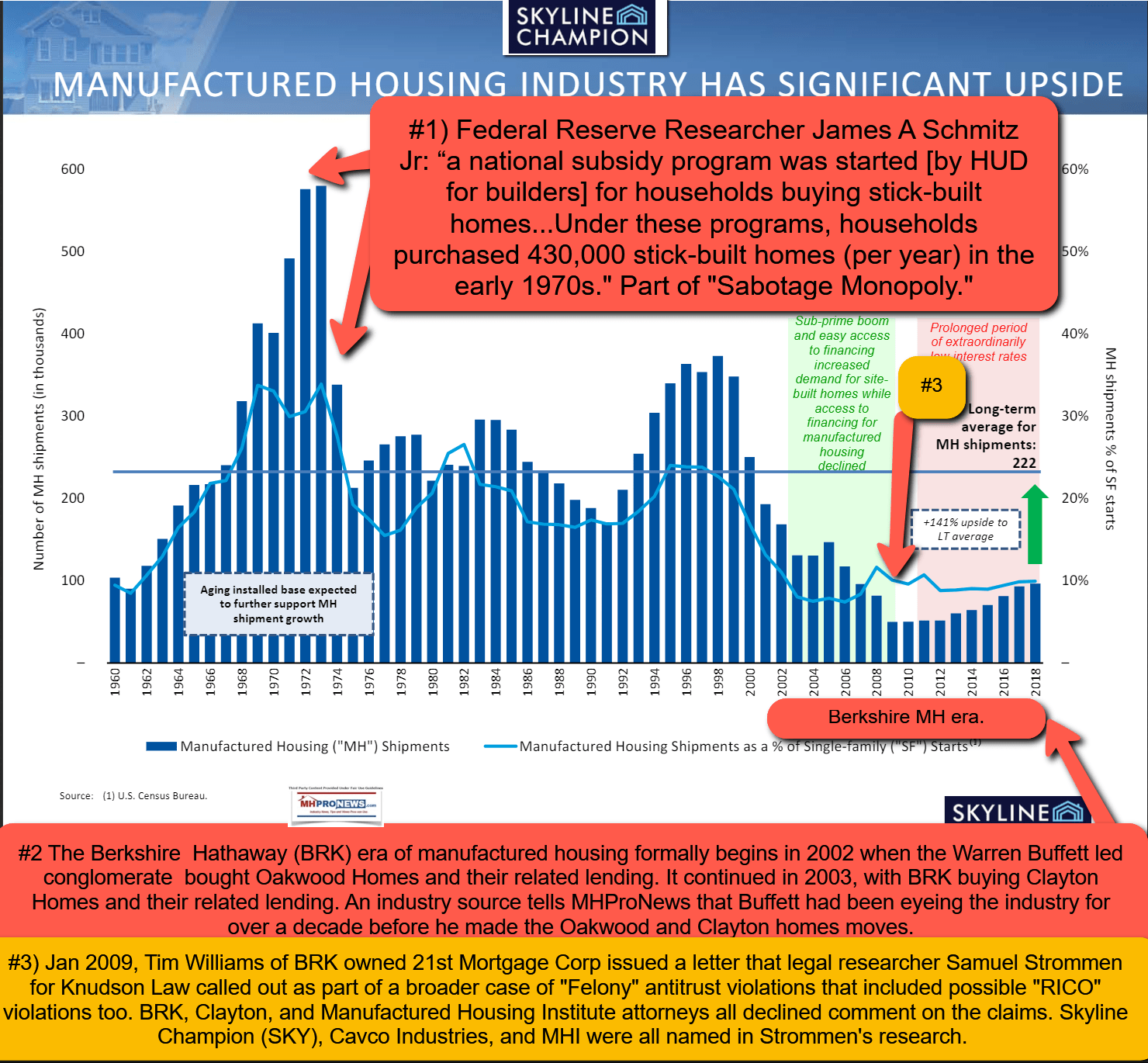 The job of pro-growth, pro-consumer, and pro-industry trade media is not to kiss the ample derrière of so many industry leaders who go along to get along while consolidation marches on. Too many others are apparently not willing to fight to expose and positively change the status quo. Thankfully, MHProNews gets a steady stream of tips and insights from people in the MHI camp, MHARR, and manufactured housing industry connected other sources.
The research revealed by years of MHLivingNews and MHProNews reports have stood the test of time.  Numbers of others in MHVille may provide periodic pleasant hot air, or flashy items with boastful claims that are like thunder that passes and reveals in its wake that nothing has changed. So, regardless of how pleasant others may be, they can't be part of the solution if they are not willing to expose, examine, and call for radical action that could cause the manufactured housing industry to return to its former glory.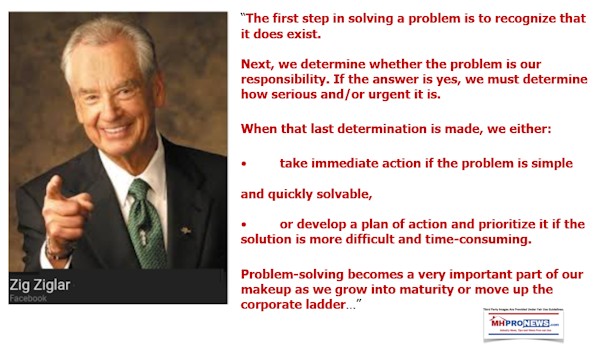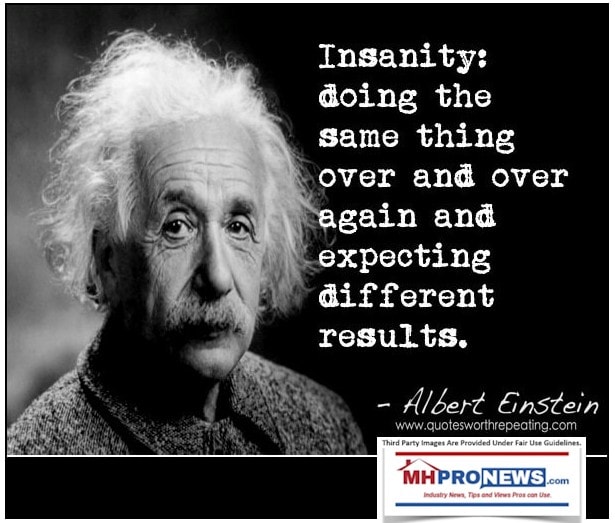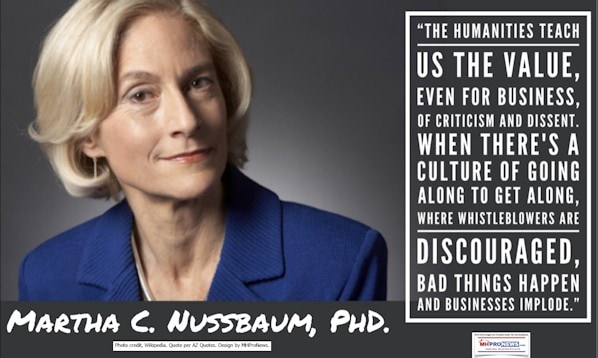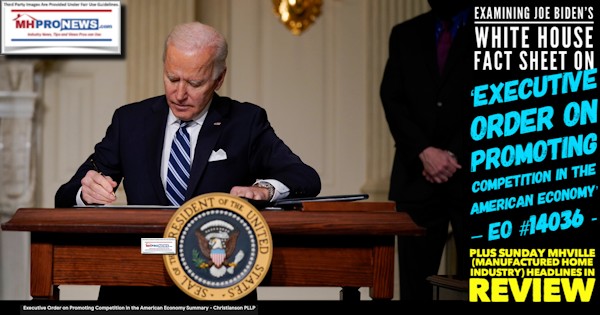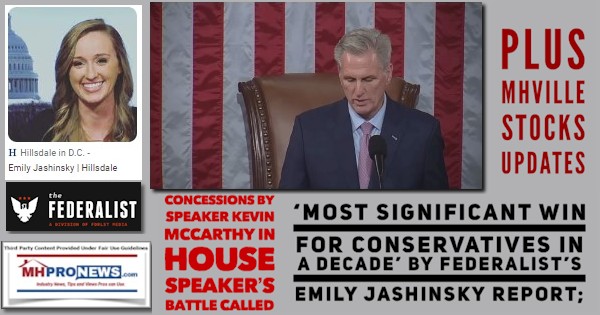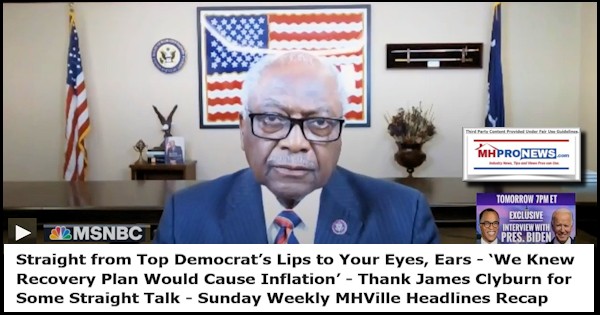 Despite Biden Housing Promises, CNN, NAR Say 1st Time Homebuyers Fall to 'All Time Low' – MHI Input – Unpacking Info for MHVille Advocates & Pros; plus Sunday MHProNews Weekly MH Reports Recap
Fears of Future – MILLIONS of Millennials Move Back in 2022 with Parents-Facts, Top Reasons, and Possible Silver Lining for Manufactured Housing Pros, Investors; plus MHVille REITs, Stocks Update
All that said, Freddie Mac's research – carefully examined and sifting out the obvious misses – points to literally millions of new potential sales for HUD Code manufactured housing. Watch for exclusive reports on the Freddie Mac research topic on MHProNews/MHLivingNews.
Given clear-eyed reports like the above and what follows, is it any surprise that per recent Webalizer 2.23 and SimilarWeb data this platform dwarfs the Manufactured Housing Institute (MHI) in traffic and engagement by the proverbial country mile?
Just try to find such fact-driven and evidence-based analysis anywhere else in manufactured housing. Good luck if you go beyond MHProNews/MHLivingNews for serious trade news, as even our competitors have admitted.  Getting drunk or high might feel good to some people for a while, but when someone sobers up and the drug and/or booze induced haze subsides, that is when reality must be engaged in an objective fashion. Armed with the facts and keen insights, professionals are better able to navigate their investments and careers. Perhaps that explains why corporate, association, and public officials at all levels routinely engage with MHProNews.  When those you've critiqued have publicly praised your work, that's something to celebrated.
Facts You Didn't Know – Martin Luther King Jr – Videos, Insightful Quotes, Surprising Revelations, Videos, Reports, and Illustrations in Champion for Human Rights Including Affordable Housing
'Ending the String of Self-Inflicted Manufactured Housing Industry Wounds' January 2023 Manufactured Housing Assoc for Regulatory Reform Issues and Perspectives (MHARR); plus Sunday MHVille Recap
President Bill Clinton-Curing What's Wrong by What's Right in America, Coalition Building, Wildly Potent Quotable Quotes, Profitable Liberty Lessons-Gonzo Journalism; plus MHVille Markets Updates
Part III. Daily Business News on MHProNews Markets Segment
The modifications of our prior Daily Business News on MHProNews format of the recap of yesterday evening's market report are provided below. It still includes our signature left (CNN Business) and right (Newsmax) 'market moving' headlines. The macro market moves graphics will provide context and comparisons for those invested in or tracking manufactured housing connected equities.
In minutes a day readers can get a good sense of significant or major events while keeping up with the trends that are impacting manufactured housing connected investing.
Reminder: several of the graphics on MHProNews can be opened into a larger size. For instance: click the image and follow the prompts in your browser or device to OPEN In a New Window. Then, in several browsers/devices you can click the image and increase the size. Use the 'x out' (close window) escape or back key to return.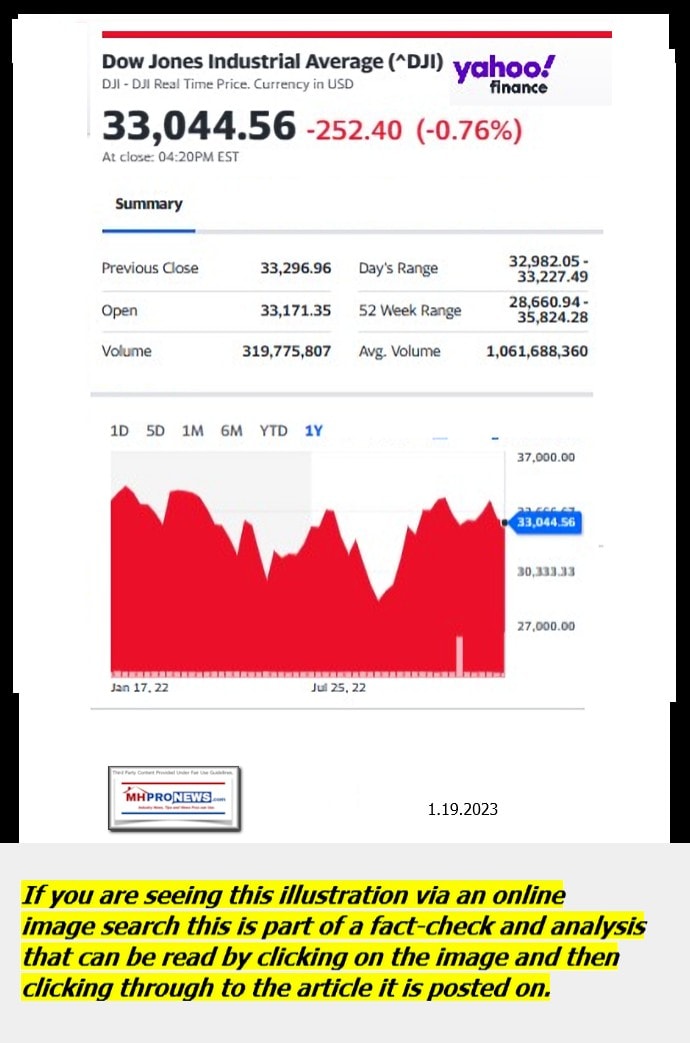 Headlines from left-of-center CNN Business – from the evening of 1.19.2023 
Netflix co-CEO steps down
Cofounder Reed Hastings will now serve as executive chairman, the company announced. Here's what we know
Bad news for the economy is now bad news on Wall Street
Cloudflare says White House asked tech firm to bypass Iran censorship, but US sanctions got in the way
Top Fed official: Inflation is easing, but our work isn't done
Wall Street Journal: WWE's Vince McMahon settles with ex-employee who accused him of rape
Uber wants its future to have three-wheeled cars, face-to-face seats
Striking French workers lead 1 million people in protest over plans to raise retirement age
CEOs at Davos are using ChatGPT to write work emails
Mortgage rates fall to levels last seen in September
Taco Bell is bringing back a fan-favorite menu item
How investors are preparing for a debt ceiling standoff
Amazon axes its charity donation program
Bud Light and Budweiser are getting a makeovers at this year's Super Bowl
Why Egypt is asking its people to eat chicken feet
Marvel movies are returning to China after almost four years
China to launch state-backed transport platform for ride-hailing, trucking
Microsoft is laying off 10,000 employees
Human error more likely in JFK near collision after alert system failure ruled out
FEC dismisses RNC complaint that Google's spam filters were biased against conservatives
France faces widespread protests and 'hellish Thursday' as anger at pension reform mounts
US Labor Department accuses Amazon of failing to keep warehouse workers safe
America's largest party supply store files for bankruptcy
Retail sales continued to fall in December as shoppers battled inflation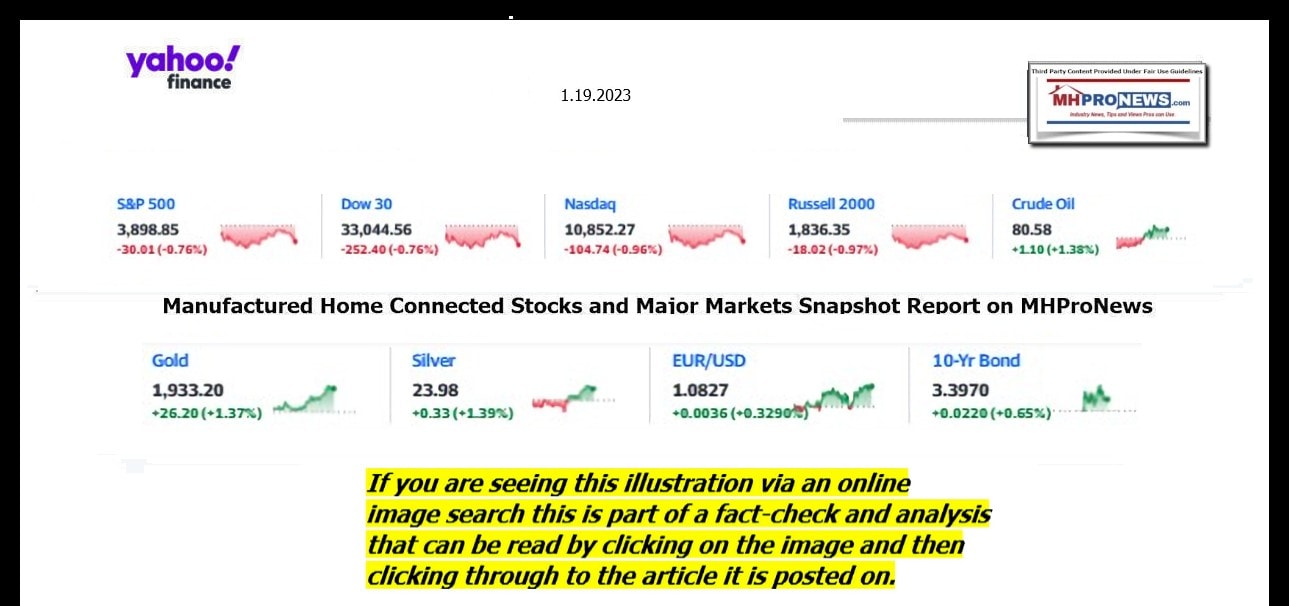 Headlines from right-of-center Newsmax 1.19.2023
FBI Offers $25K Rewards for Information on Pro-life Center Attacks
A pro-choice demonstrator, right, attacks a pro-life group member from Christ Forgiveness Ministries with a bike lock outside the State House during a pro-choice Mother's Day rally in Boston on May 8, 2022. After eight months, the FBI is now offering rewards for actionable information on pro-life center attacks.
Alina Habba: Panel Will Find Truth on Penn Biden Center | video
Fred Fleitz: 'Ridiculous' to Let Biden's Attorneys Examine Papers | video
Buck: 'Unusual' for Biden Lawyers to Handle Docs | video
Blaine Holt: No Indications Russia Behind Helicopter Crash | video
Scott Perry: Biden WH 'Tone Deaf' for Mocking Oversight Picks | video
RNC's McDaniel: GOP Ready to Jump Into Ballot Initiative Game | video
Lara Trump: Burying Biden Docs Meddled in Elections | video
Former CIA Analyst: Tracking Classified Docs Tricky | video
Buck: TikTok a 'National Security Threat' | video
Newsfront
Coast Guard Tracking Suspected Russian Spy Ship Near Hawaii
The U.S. Coast Guard is tracking a suspected Russian spy ship that has been traveling near Hawaii for the past several weeks, the military branch said in a recent press release… [Full Story]
McCarthy Ends Proxy Voting in the House
House Speaker Kevin McCarthy, R-Calif., on Thursday officially ended [Full Story]
What a Recession Could Mean for Your 401(k)
For a full year, Wall Street has agonized over a recession. What does [Full Story]
Hunter Biden Blacked Out Near Classified Docs: Report
Hunter Biden suffered blackouts from drinking and drug use while he [Full Story]
Related
Rasmussen Poll: 77% Approve of Special Counsel in Biden Probe
Comer on Penn Biden Center: Did China Influence Biden Admin?
Questions Mount in Biden Documents Scandal, Delays 'Not Adding Up' |Platinum Article
Biden 2024 Plan Still on Track, Even As Documents Issue Grows
US Stocks Lose Ground as Recession Fears Weigh
Stocks fell on Wall Street as worries build that the U.S. may be [Full Story]
Putin Ally Medvedev Warns of Nuclear War If Russia Defeated in Ukraine
Former Russian President Dmitry Medvedev, an ally of Kremlin chief [Full Story]
Related
US, German Defense Ministers Discuss Tanks for Ukraine Amid Differences
Ex-UK PM Johnson Urges Allies to Double Down on Ukraine Support
WH Slams Russia's Lavrov for Holocaust Comparison
Spartz: Arm Ukraine With Longer-Range Munitions
Russian Aircraft Crashes Might Show Sanctions Impact
Strykers, Bradleys, but Not Tanks, Likely in Huge US Aid Package
FBI Offers $25K Rewards for Info on Pro-life Center Attacks
The FBI has issued a bevy of $25,000 reward offers for information on [Full Story]
Related
Most Americans Support Abortion Limits, Poll Shows |Platinum Article
Supreme Court Can't Find Abortion Opinion Leaker
Religious Leaders Sue to Block Missouri's Abortion Ban
Hunter Biden 'Quarantined' at Father's Delaware Home Where Docs Found
President Joe Biden's son Hunter quarantined at the Wilmington, [Full Story]
Rite Aid to Dispense Abortion Pill in a Limited Number of Stores
Rite Aid Corp plans to dispense abortion medication in a limited [Full Story]
Alec Baldwin Being Charged With Manslaughter in 'Rust' Shooting
Prosecutors said actor Alec Baldwin will be charged with involuntary [Full Story]
Saudi Minister: Palestinian State Key to Normalizing Ties With Israel
A Saudi Arabian official said there is only one thing stopping it [Full Story]
Judge Denies Peter Navarro's Motion to Dismiss in Jan. 6 Case
A federal judge has denied former presidential adviser Peter [Full Story]
UK Leader Rishi Sunak Says Sorry for Not Wearing Seat Belt
K. Prime Minister Rishi Sunak apologized Thursday for taking off [Full Story]
Inflation Prompting Adults to Move Back Home, Get Roommates
Twenty-five percent of Millennials have moved back home with their [Full Story]
Study: Post-surgery Aspirin as Effective as Injections to Prevent Blood Clots
When people undergo surgery for broken arms or legs, they are often [Full Story]
Speaker McCarthy: Steube in 'Good Spirits'
House Speaker Kevin McCarthy, R-Calif., said Rep. Greg Steube, [Full Story]
Atlanta Antifa Promotes 'Night of Rage' After Deadly Encounter With Police
Antifa protesters in Atlanta are calling for a "Night of Rage" this [Full Story]
Apple Revamps Smart-Home Lineup
In direct competition with Amazon and Google, Apple Inc. is [Full Story]
Fed's Brainard Backs Smaller Hikes, Says Inflation Easing
Federal Reserve Vice Chair Lael Brainard noted Thursday that recent [Full Story]
US Single-Family Housing Starts Rebound
S. single-family homebuilding rebounded in December, but the [Full Story]
Preterm Birth Linked to Lower IQs, Poorer School Grades
By the time they're teenagers, babies born prematurely may be getting [Full Story]
Fentanyl Deaths Among Children Under Age 14 on Rise
Fatal fentanyl poisonings among children under the age of 14 have [Full Story]
Study: Fewer and Smaller Meals, Not Timing, Key to Weight Loss
When it comes to weight loss, what seems to matter most is how often [Full Story]
Conservatives Look to Expand School Vouchers
States around the country are aiming to make school vouchers [Full Story]
America's Unionized Worker Percentages Fall to New Low
The total number of America's unionized workers went up in 2022, but [Full Story]
US Hits Debt Ceiling
The U.S. government hit its $31.4 trillion borrowing limit Thursday, [Full Story]
Poll: Most Voters Don't Want IRS to Hire New Agents
Sixty percent of U.S. voters want to stop the Internal Revenue [Full Story]
Pritzker Claims Chicago Crime Lessening
Illinois Democrat Gov. J.B. Pritzker said Chicago is becomingsafer [Full Story]
Some Republicans Worry Tax Overhaul Bill Would Be Gift for Dems
Some Republicans worry that the Fair Tax Act, legislation that would [Full Story]
Russian NHL Player Told to Go Fight Ukraine After Pride Protest
NHL Network analyst E.J. Hradek, while slamming Philadelphia Flyers [Full Story]
Drive 'Em Nuts: Planters Opens Search for Nutmobile Drivers
Planters is offering a nutty experience to adventurers eager to drive [Full Story]
More Newsfront
Finance
What a Recession Could Mean for Your 401(k)
For a full year, Wall Street has agonized over a recession. What does it mean for your 401(k) and stocks if there is, or isn't, a recession in the U.S.?… [Full Story]
JPMorgan CEO Dimon's 2022 Pay Unchanged at $34.5M
Wayfair to Cut More Than 1,000 Jobs
Capital One Cuts 1,100 Tech Positions
McConnell: US 'Never Will' Default on Debt
More Finance
Health
Hearing Aids Mitigate Dementia Risk From Hearing Loss
Could losing your hearing as you age be a harbinger of dementia? Maybe, suggests new research that found that older people who had trouble hearing were more likely to develop dementia down the road. But there's good news with the bad: Hearing aids — which are now available… [Full Story]
Up to Half of Adults With ADHD Have Anxiety, Depression
Breakthrough Study Finds ED Drugs Benefit Men's Cardiac Health
Flavored Cannabis Marketing Targeting Kids
Gut Bacteria Linked to Parkinson's Disease Development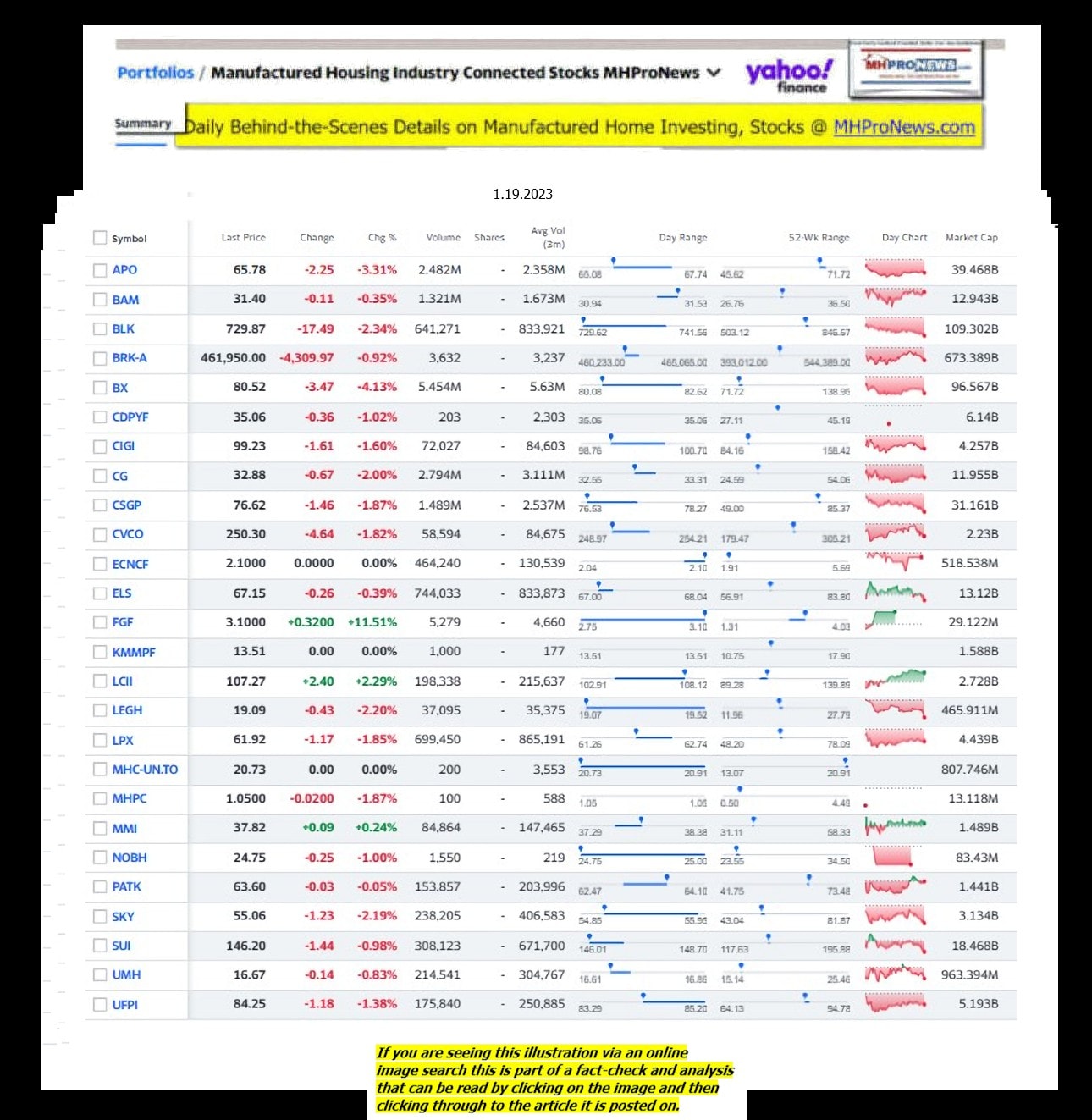 ====================================
Updated
NOTE 1: The 3rd chart above of manufactured housing connected equities includes the Canadian stock, ECN, which purchased Triad Financial Services, a manufactured home industry finance lender.
NOTE 2: Drew changed its name and trading symbol at the end of 2016 to Lippert (LCII).
NOTE 3: Deer Valley was largely taken private, say company insiders in a message to MHProNews on 12.15.2020, but there are still some outstanding shares of the stock from the days when it was a publicly traded firm.  Thus, there is still periodic activity on DVLY.
Note 4: some recent or related reports to the REITs, stocks, and other equities named above follow in the reports linked below.
Manufactured Housing Properties-Results for Three and Nine Months Ending September 30.2022–Exploring 'Mobile Home Park' Manufactured Home Community Investing; plus MHVille REITs, Stocks Update
Manufactured Housing's Next BIG Regulatory Battle That MHARR's Spotlighted and Which MHI Conveniently Ignored in Recent 'Manufactured Housing Institute News;' plus Sunday Weekly Headlines Recap
'Changes Will Benefit Customers,' Boost Sales-Legacy Homes CEO Duncan Bates – LEGH 'Delivered 22.5% Return on Equity in 1 Yr' – Corp Q3 2022 Insights, Analysis; plus MHVille REITs, Stocks Update  
'No Assurance Inflation Will Not Affect Our Future Profitability Financial Position'=Cavco Industries 10-Q, Solitaire Deal, More CVCO Data; Supreme Court Ruled-SEC Regs on False-Omitted Remarks
Skyline Champion Provides Quarterly Results, Adding Retail Centers, Improved Delivery Times-CEO Mark Yost Says 'Can Outperform Conventional Housing' Explored; Plus MHVille REITs, Stocks Update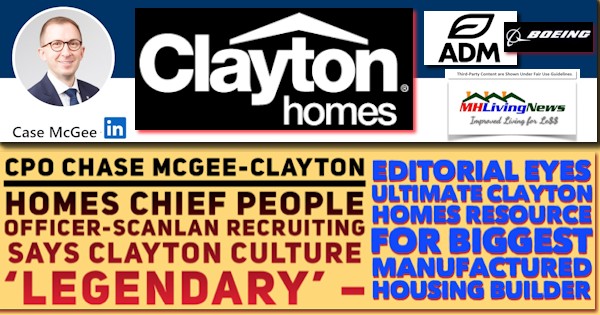 Triad Financial Services Q2-2022 FINANCIAL RESULTS, per ECN Capital – Several Bright Spots in Manufactured Home Market Highlighted, Including Communities, Retail, Land-Home, Floor; MHStocks Update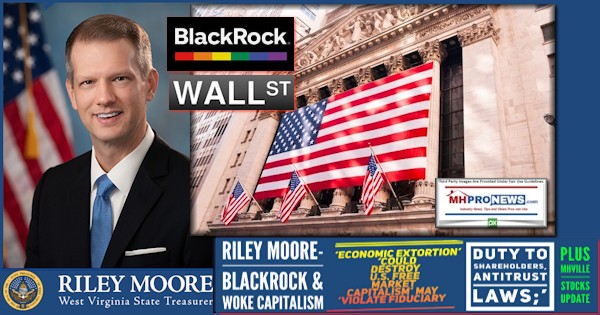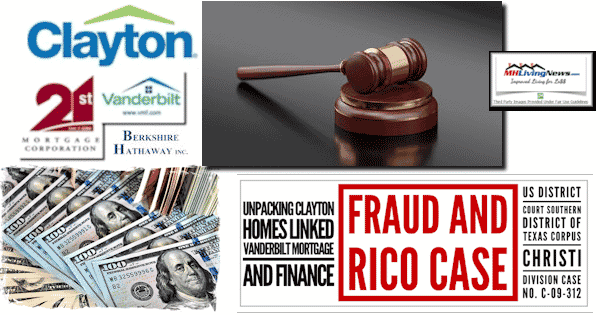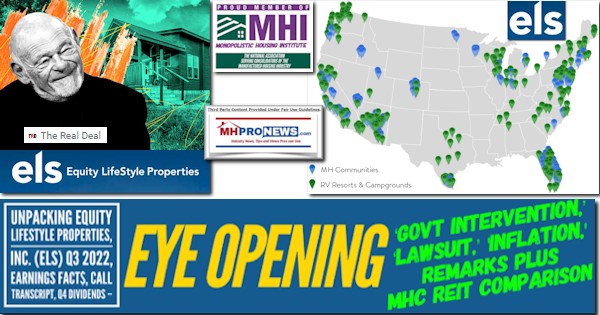 Manufactured Home Communities (a.k.a. 'Mobile Home Parks' – SIC) – Exploring UMH Properties; Fellow Manufactured Housing Institute Member Yes! Communities Suits and Settlements; plus MH Markets Updates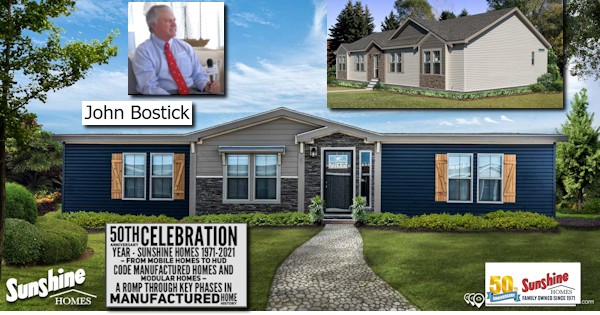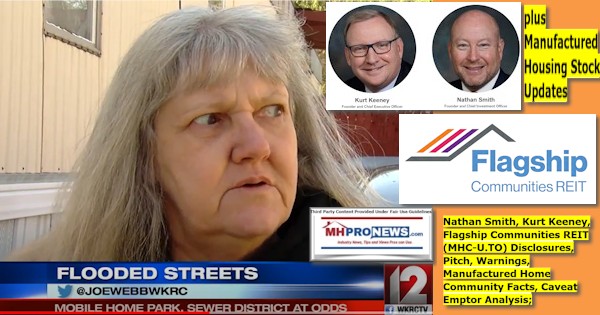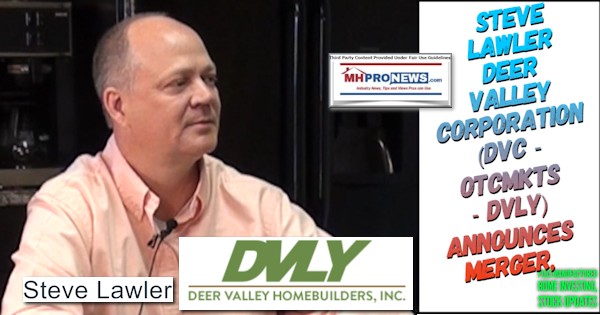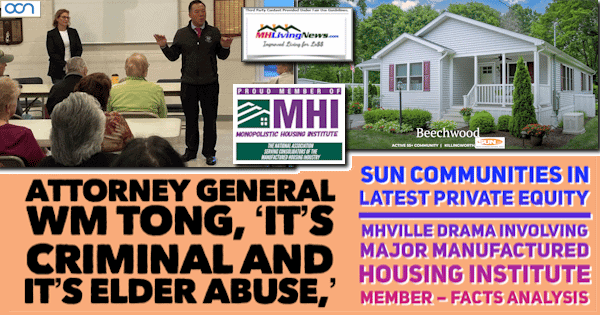 2022 …Berkshire Hathaway is the parent company to Clayton Homes, 21st Mortgage, Vanderbilt Mortgage and other factory-built housing industry suppliers.
· LCI Industries, Patrick, UFPI, and LP each are suppliers to the manufactured housing industry, among others.
· AMG, CG, and TAVFX have investments in manufactured housing related businesses. For insights from third-parties and clients about our publisher, click here.
Disclosure. MHProNews holds no positions in the stocks in this report.
· For expert manufactured housing business development or other professional services, click here.
· To sign up in seconds for our industry leading emailed headline news updates, click here.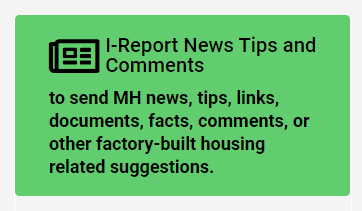 That's a wrap on this installment of "News Through the Lens of Manufactured Homes and Factory-Built Housing" © where "We Provide, You Decide." © (Affordable housing, manufactured homes, stock, investing, data, metrics, reports, fact-checks, analysis, and commentary. Third-party images or content are provided under fair use guidelines for media.) (See Related Reports, further below. Text/image boxes often are hot-linked to other reports that can be access by clicking on them.)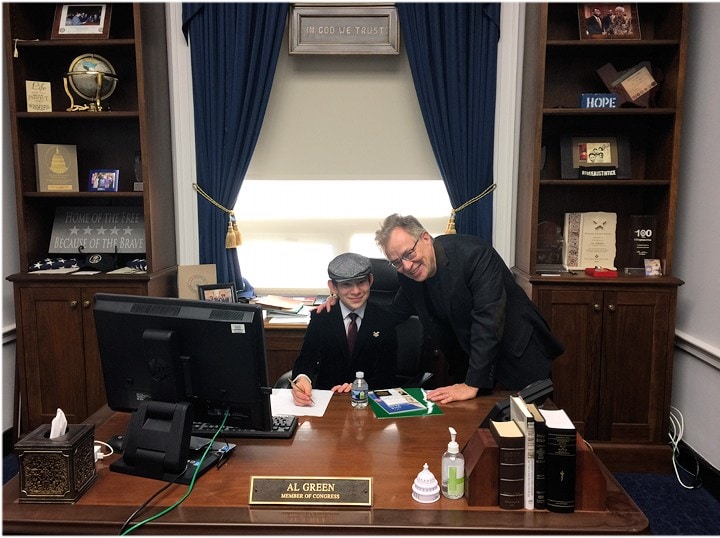 By L.A. "Tony" Kovach – for MHProNews.
Tony earned a journalism scholarship along with numerous awards in history. There have been several awards and honors and also recognition in manufactured housing. For example, he earned the prestigious Lottinville Award in history from the University of Oklahoma, where he studied history and business management. He's a managing member and co-founder of LifeStyle Factory Homes, LLC, the parent company to MHProNews, and MHLivingNews.com. This article reflects the LLC's and/or the writer's position and may or may not reflect the views of sponsors or supporters.
Facts You Didn't Know – Martin Luther King Jr – Videos, Insightful Quotes, Surprising Revelations, Videos, Reports, and Illustrations in Champion for Human Rights Including Affordable Housing
HUD Code Manufactured Home Building Down Nov 2022–Higher for Year per Manufactured Housing Association for Regulatory Reform Data, Facts-Insights Others Lack; plus MHVille Stocks-REITs Update
'Manufactured Housing Closes Year on Cool Note, But Optimism Grows for 2023' Says TRERC, But TMHA VP Rob Ripperda Lets Cat Out of Proverbial Bag, Exposing MHI; plus MHVille Market, Stocks Update
U.S. Housing Data Reveals Gaps-Underscores Vast Manufactured Housing Industry Potential, But Raises Corp, Trade Group Performance Concerns, Apparent Shareholder Effects; plus MHVille Stocks Update
After Admitted Failure, Manufactured Housing Institute Doubles Down on CrossMods® in AP Terminology Doc Acquired by MHProNews–Are MHI Leaders Sabotaging MHVille Independents? Plus MHStocks Update
Concessions by Speaker Kevin McCarthy in House Speaker's Battle Called 'Most Significant Win for Conservatives in a Decade' By Federalist's Emily Jashinsky Report; plus MHVille Stocks Updates