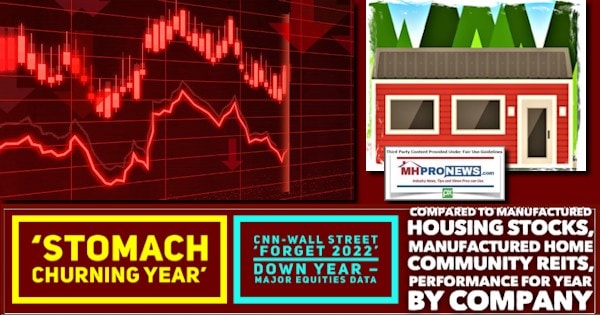 CNN Business in New York opened it top article with the words "A Stomach Churning Year" and led with these opening lines. "Wall Street is bidding goodbye — and good riddance — to 2022. It has been a year most investors would rather forget. Russia's invasion of Ukraine, snarled supply chains and another year of Covid turned markets on their head this year. Inflation surged around the globe and central banks hiked rates at a historic pace to keep price hikes from spiraling out of control. China, the world's second-largest economy, periodically shut down entire cities to contain the pandemic. Energy supplies were cut off, but recession fears send demand falling in the second half of the year anyway. Intense storms and climate change upended markets, too." Left-leaning CNN didn't mention Biden-era policies, but did mention that: Elon Musk's Tesla is down about 70%, making the auto tech company the third-worst performer this year. Meta, Facebook's parent company, also makes an appearance in the bottom 10 stocks — down 65%" Compared to the biggest losers, manufactured housing connected equities in several cases fared better, but far too many ended the year down along with the bulk of the broader equities market. Specifics will follow further into this report.
Most on the center-right could agree with the bulk of that CNN summary, save the last few words about 'climate change' upending markets. Apparently, CNN has once more ignored the memo from those scientific and research groups that deny that climate change is manmade or that the 'intense storms' are new, as perhaps the strongest hurricane on record – per left-leaning PBS – predates the industrial era.
That noted, per the WND Newscenter to MHProNews is the following annual snapshot report of the major markets. A cleaned up (de-glitched) list of manufactured housing connected parent companies and manufactured home focused firms will follow with their 1-year closing bell stock track reflecting a generally down year too.
2022 in U.S. stock market was worst year since … 2008!
Bidenflation just 1 of the headaches Americans are facing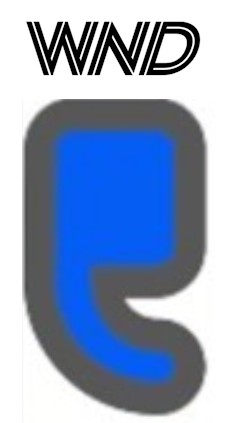 By Bob Unruh Published December 30, 2022 at 6:23pm
Under Joe Biden's economy during 2022, widows lost money.
So did widowers, husbands, wives, families, cousins and the guy who pours beers at the corner bar.
At least they did if they had money in the stock market, through investments or retirement funds and the like.
Business Insider reported U.S. stocks fell on the last day of trading, ending a "tough year."
The S&P 500 was down 20% for the year, a result that hasn't been that bad since the 2008 year.
Meanwhile the Dow Jones Industrial Average lost 9% in 2022, and the tech-heavy Nasdaq tumbled 33%.
The last trading day of the year ended "with a thud," the report said, after consumers were confronted with high inflation, up to 9.1%, high interest rates, high costs for energy and fuel, and more.
The report said the housing market "is still gloomy as ever as mortgage rates turned higher again, and Jeff Bezos' fortune was overtaken by Warren Buffett's.
At CNBC a report said stocks on Friday ended "a brutal 2022 with a whimper."
It said, "Friday marked the final day of trading in what has been a painful year for stocks. All three of the major averages suffered their worst year since 2008 and snapped a three-year win streak. The Dow fared the best of the indexes in 2022, down about 8.8%. The S&P 500 sank 19.4%, and is more than 20% below its record high, while the tech-heavy Nasdaq tumbled 33.1%."
"We've had everything from COVID problems in China to the invasion of Ukraine. They've all been very serious. But for investors, it is what the Fed is doing," said Art Cashin, director of floor operations for UBS.
That organization has been exploding interest rates by advances of up to three quarters of a point monthly – in its attempt to bring Biden's inflation under control.
The CNBC report also warned it's not over.
"As the calendar turns to a new year, some investors think the pain is far from over. They expect the bear market to persist until a recession hits or the Fed pivots. Some also project stocks will hit new lows before rebounding in the second half of 2023," the report said.
Cashin pointed out, "I would love to tell you that it is going to be like the 'Wizard of Oz' and everything is going to be in glorious color in a moment or two. I think we may have a bumpy first quarter, and depending on the Fed it may last a little longer than that."
Joe Biden's administration, meanwhile, posted online a document boasting about how good things are.
"We end the year with clear evidence that President Biden's economic strategy of growing the economy from the bottom up and the middle out is working…"
Biden, in fact, has orchestrated the spending of trillions of dollars that are being added to the national debt, even though his agenda has produced that high inflation, high interest, stagnant wages, mediocre job growth and more.
It brags about 10.5 million jobs added under Biden, without mentioning that many of those were restored following mandated shutdowns during the COVID pandemic.
Even that analysis, while advising it will "take time" to reach desired results, conceded there will be "setbacks along the way."
It boasted that gas prices are down more than $1.75 per gallon, but they still remain higher than when Biden took office when they exploded to levels as high as $5 and $6 a gallon in some states. ##
II. Additional Information with More MHProNews Analysis and Commentary in Brief 
Flashing back to the CNN reference at the top, the following 4 charts graphically depict what the drop in mainstream equities looks like.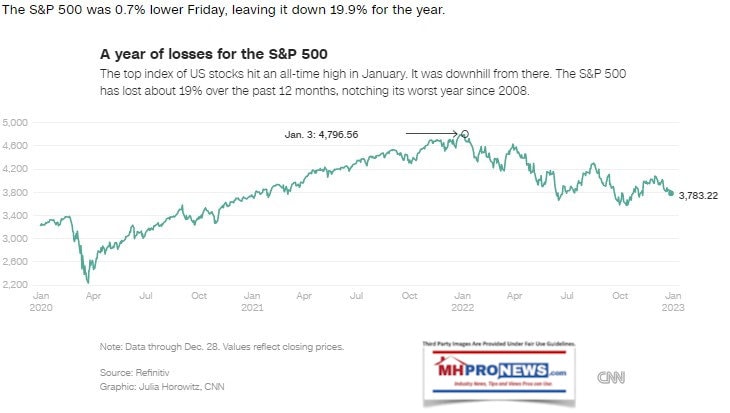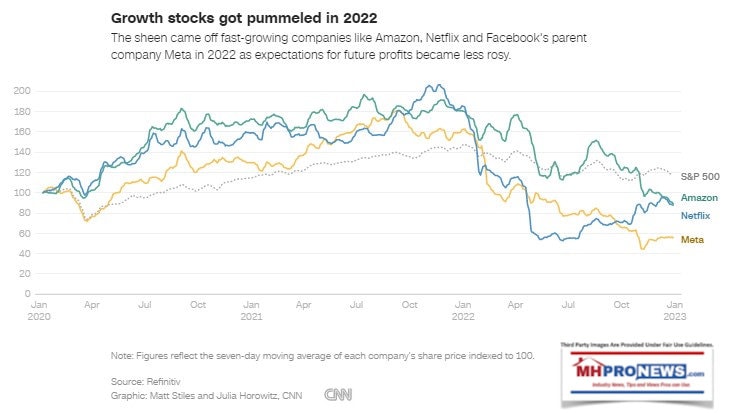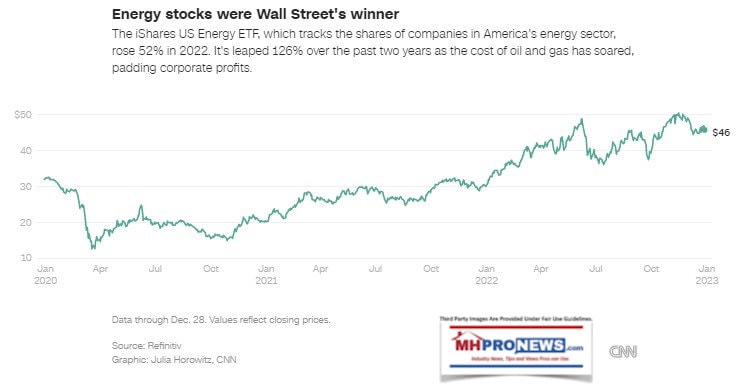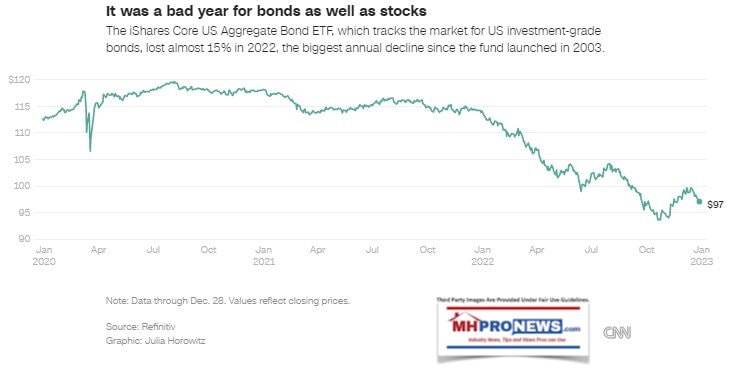 MHProNews has kept industry readers updated on the shift from a sellers' market in housing to the steady evidence of what the National Association of Realtors (NAR) declared  the U.S. was in a "housing recession" before the end of the summer. Housing has one of the biggest impacts on the economy. According to the National Association of Home Builders Eye On Housing on 1.27.2022, "Housing Share of GDP: 16.4%." In another report, NAHB said that "Housing's combined contribution to GDP generally averages 15-18%."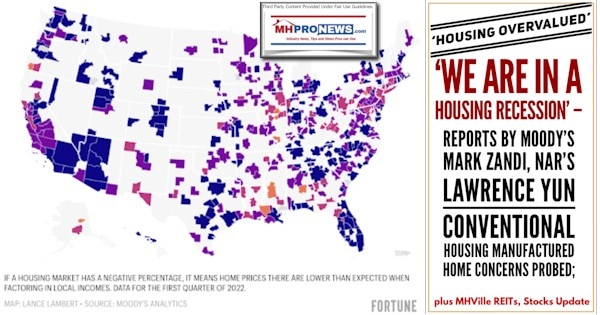 Manufactured homes share of new single-family construction has been in the 9 to 10 percent range for years, even though it was over double that in much of the 1990s.  Manufactured homes continued to rise even as mainstream housing fell. But the most recent report logged a year-over-year decline in manufactured housing too. Time will tell if that is a trend or an anomaly.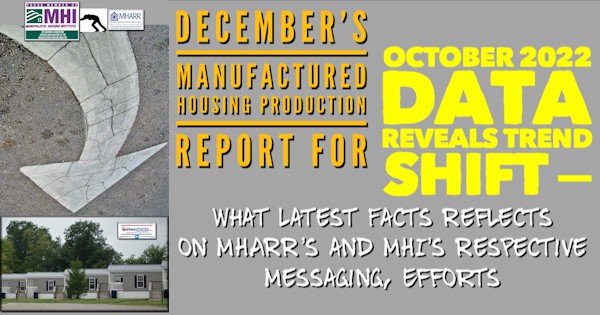 Manufactured housing's value proposition was documented using federal and other data in the report linked below.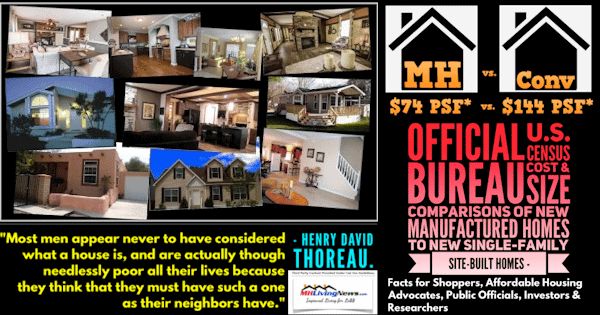 Barring the unforeseen, the MHProNews' 2022 year in review will conclude tomorrow. The review for the first 6 months of 2022 is found in the report linked below.
'Policies of Equitable Prosperity' – Restoring U.S. Commitment to Personal Freedoms, Free Markets, Property Rights – 'Good! You See it Differently!' Plus, Year in Review, MHVille Markets
That noted, here is the updated manufactured home connected equities. Note that companies such as Apollo, Blackstone, BlackRock, or Berkshire Hathaway have manufactured housing connected investments. Other publicly traded firms may largely focus on manufactured home production, vertically integrated retailing, or communities, for instance. Some companies such as Sun Communities (SUI) and Equity LifeStyle Properties (ELS) have manufactured home (MH) sites, recreational vehicle (RV) sites, or even marina slips in their portfolios. In alphabetical order are the following.
Apollo Global Management (APO – corporate holdings include investments in manufactured home land lease communities)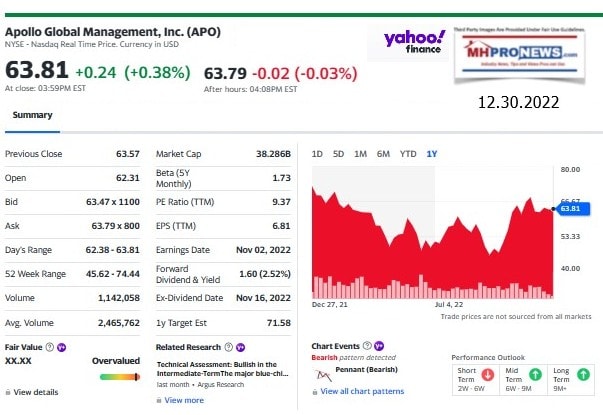 Berkshire Hathaway (BRK-A = parent company to Clayton Homes, 21st Mortgage, Vanderbilt Mortgage and Finance, Shaw, and other manufactured home industry connected firms).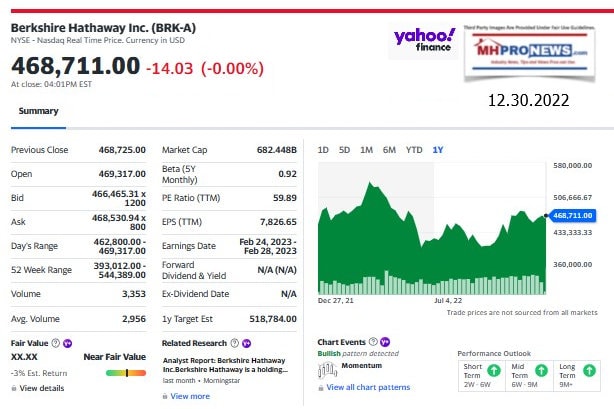 BlackRock (BLK- investments have included BRK)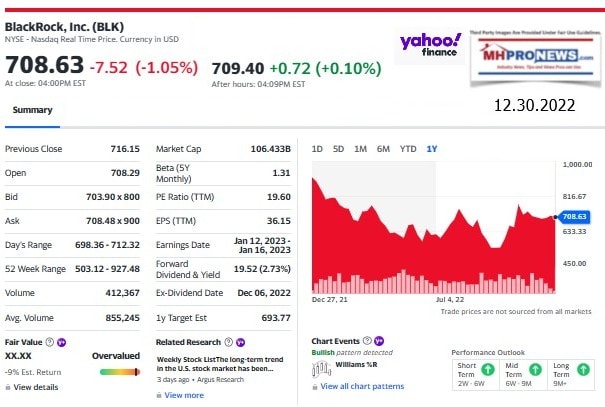 Brookfield Asset Management (BAM – corporate holdings include investments in manufactured home land lease communities)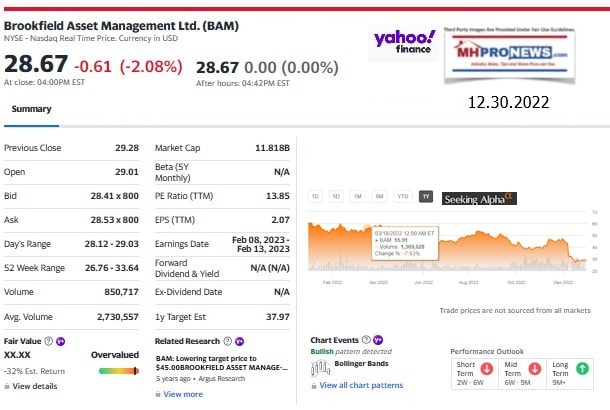 Canadian Apartment Properties (CDPYF- their holdings include manufactured home land lease communities)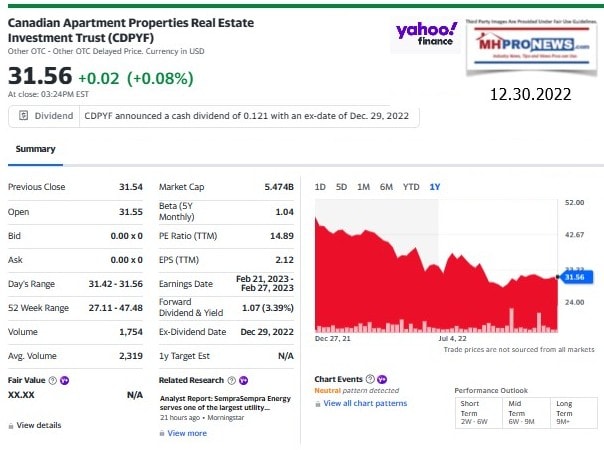 Carlyle Group, The (CG – corporate holdings include investments in manufactured home land lease communities).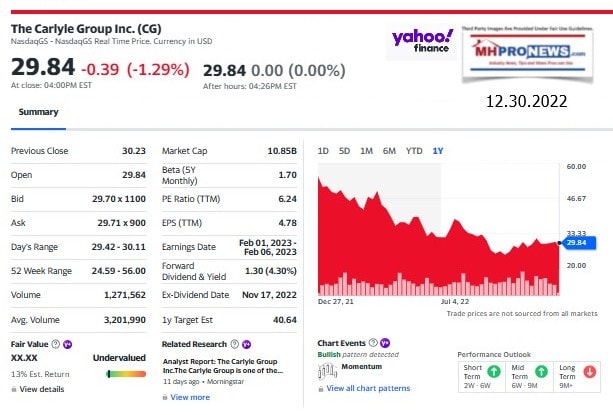 Cavco Industries (CVCO – focused on manufactured housing, but also offer modular, park model, and some commercial factory-built housing, plus vertically integrated retail and financial services).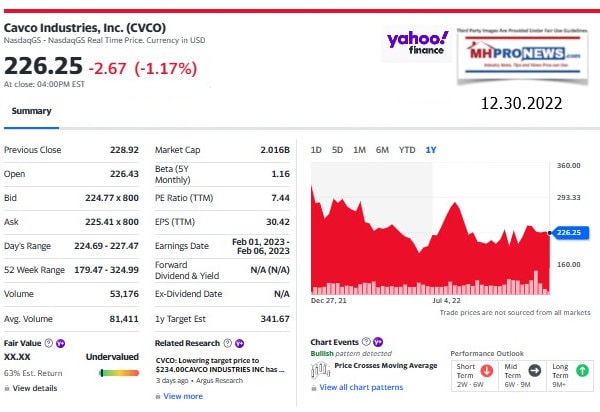 Colliers International (CIGI – commercial real estate includes working in the manufactured home communities and RV communities' sectors)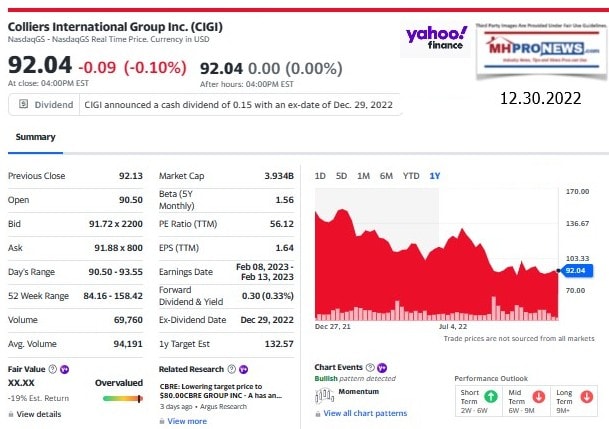 CoStar Group (CSGP – includes Loop Net manufactured home community listing and specific publishing, which MHProNews has critiqued previously).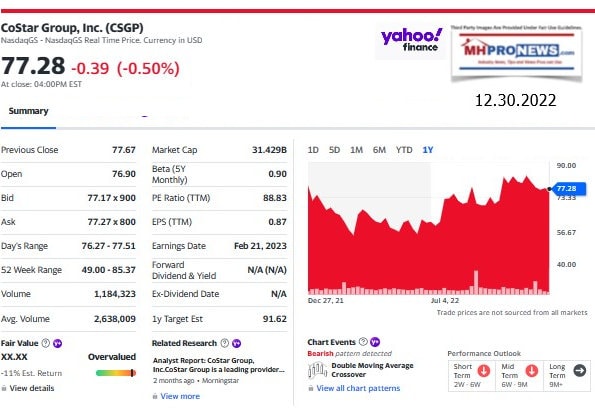 ECN Capital (parent company to Triad Financial Services, among the oldest and best-established independent sources of manufactured home financing in the U.S.)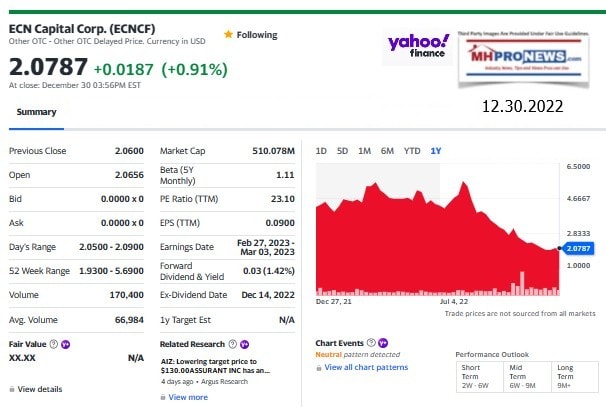 Equity LifeStyle Properties (ELS – manufactured housing real estate investment trust that includes RV parks and marina slips).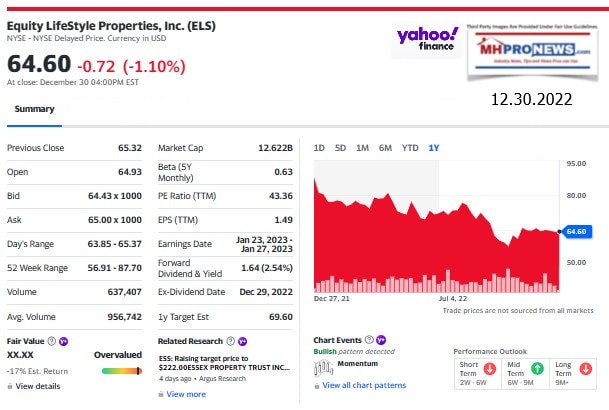 FG Financial Group (FGF – manufactured home land lease community investments)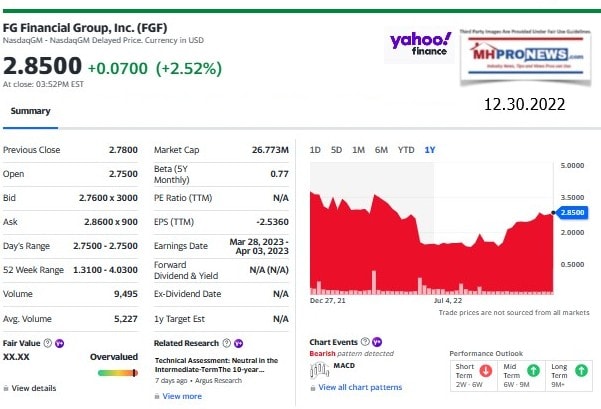 Flagship Communities REIT (MHC-UN.TO manufactured home land lease communities). Notice: while MHProNews has periodically critiqued Flagship and its leadership on a range of topics, it is a rare example in 2022 of a company that ended the year modestly up).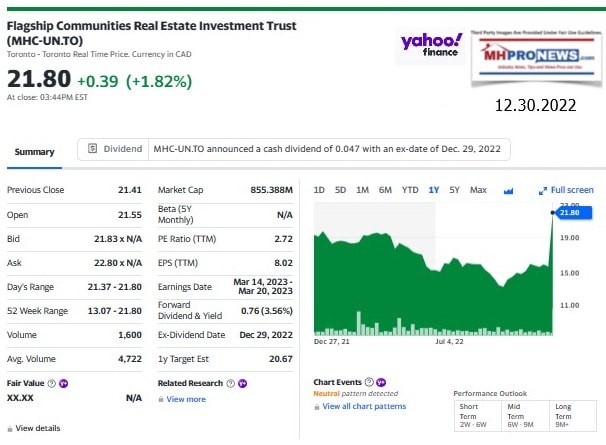 Killam Apt REIT (KMMPF – includes manufactured home land lease communities).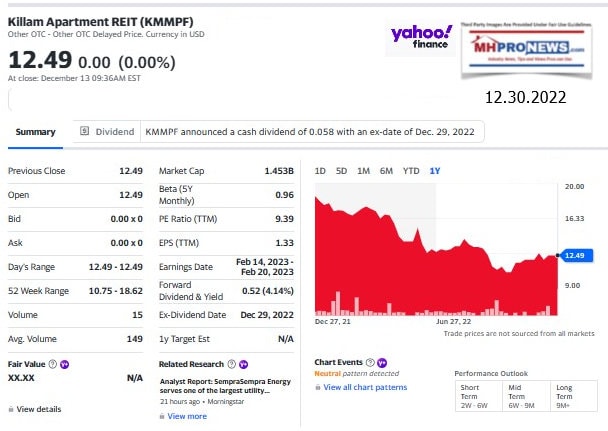 LCI Industries (LCII – includes manufactured housing production supplier).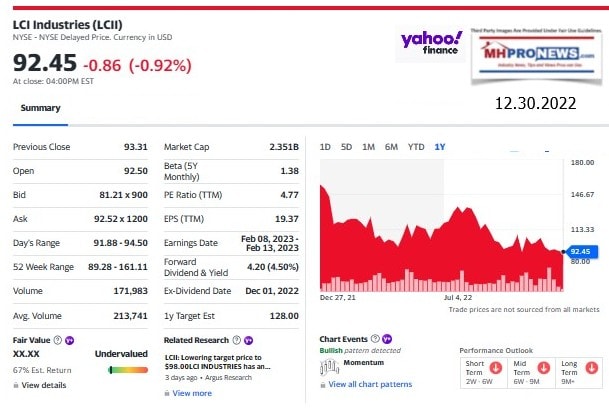 Legacy Housing (LEGH – a producer of HUD Code manufactured homes that is vertically integrated, with both captive and independent retailers, retail and wholesale financing and which is in the manufactured home development arena too. Note that LEGH is one of the rare firms that outsiders looking in (see bottom right of Yahoo graphic) are predicting short-, medium-, and longer-term increases in the stock's performance).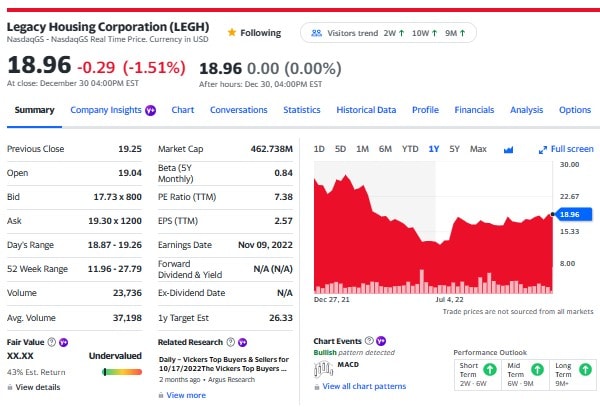 Louisiana Pacific Corp (LPX – a provider of lumber products to manufactured housing builders).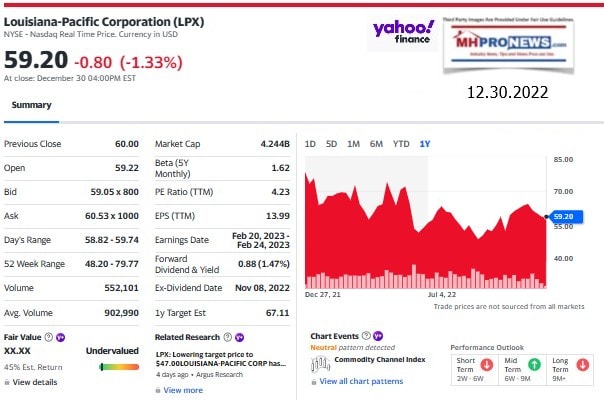 Manufactured Housing Properties (MHPC – manufactured home land lease communities portfolio operator).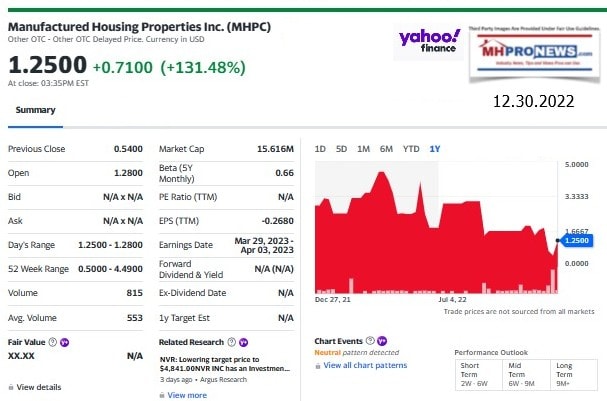 Marcus and Millichap (MMI – includes manufactured home community brokerage services).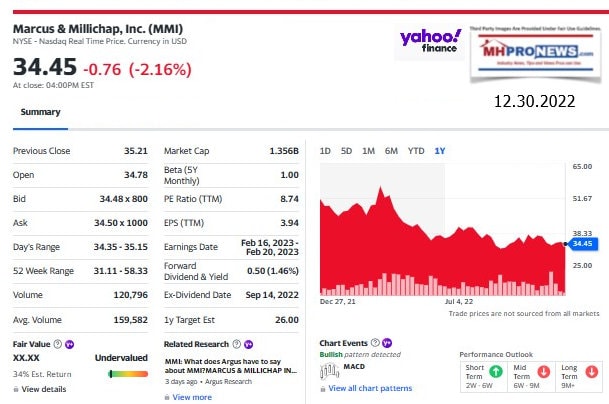 Nobility Homes (NOBH – a Florida-based producer of HUD Code manufactured homes that includes a vertically integrated retail operation, Prestige Homes).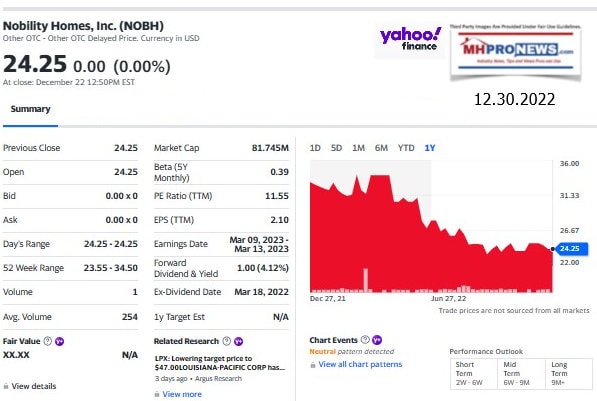 Patrick Industries (PATK – a supplier to the manufactured home industry, RVs and others).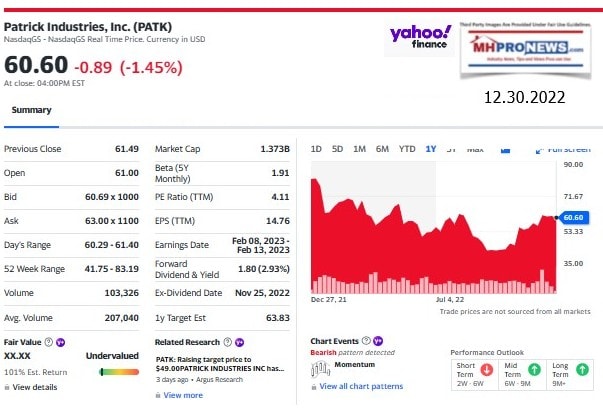 Skyline Champion Corp (SKY – a producer of HUD Code manufactured homes, other factory-built homes (modular), and which also includes vertically integrated retailer Titan Homes).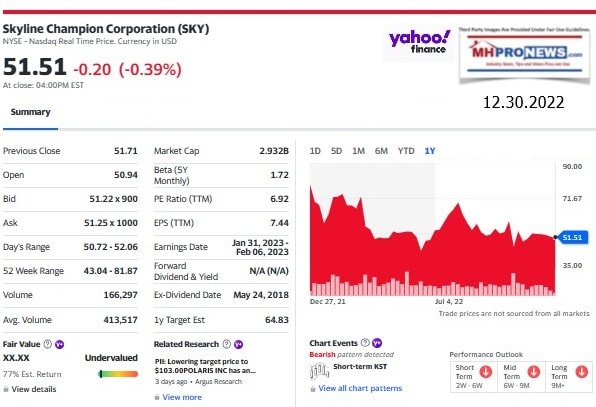 Sun Communities, Inc. (SUI – manufactured home land lease community operator, which also includes RV parks and marina slips).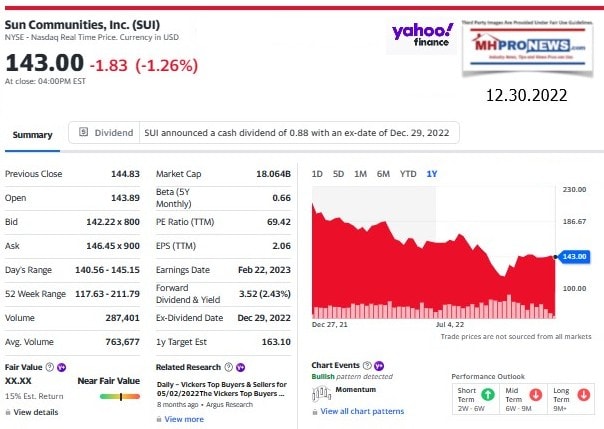 UMH Properties (UMH – a portfolio of manufactured home land lease communities).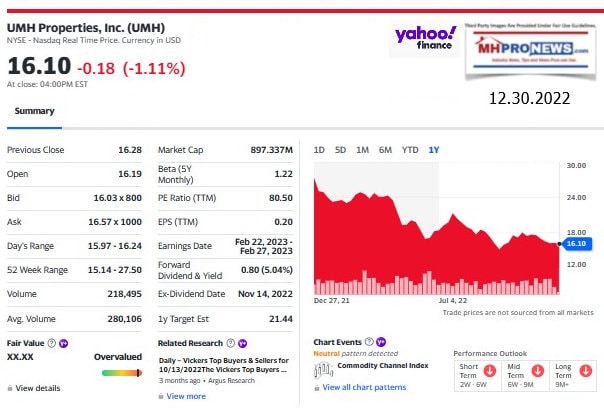 UFPI (UFPI – a producer of lumber products that includes supplying manufactured housing producers).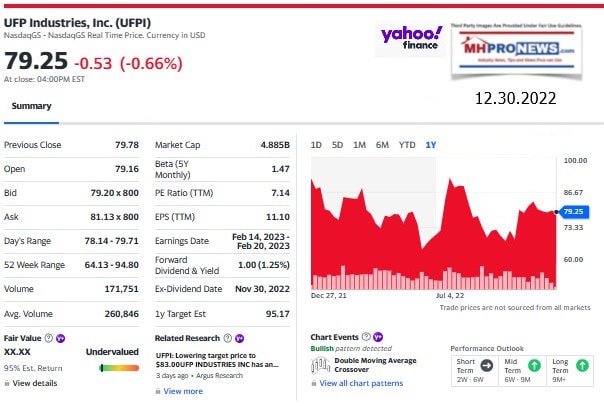 That's a wrap on this segment of today's year-in-review of manufactured housing equities report.
'Policies of Equitable Prosperity' – Restoring U.S. Commitment to Personal Freedoms, Free Markets, Property Rights – 'Good! You See it Differently!' Plus, Year in Review, MHVille Markets
Daily Business News on MHProNews Markets Segment
The modifications of our prior Daily Business News on MHProNews format of the recap of yesterday evening's market report are provided below. It still includes our signature left (CNN Business) and right (Newsmax) 'market moving' headlines. The macro market moves graphics will provide context and comparisons for those invested in or tracking manufactured housing connected equities.
In minutes a day readers can get a good sense of significant or major events while keeping up with the trends that are impacting manufactured housing connected investing.
Reminder: several of the graphics on MHProNews can be opened into a larger size. For instance: click the image and follow the prompts in your browser or device to OPEN In a New Window. Then, in several browsers/devices you can click the image and increase the size. Use the 'x out' (close window) escape or back key to return.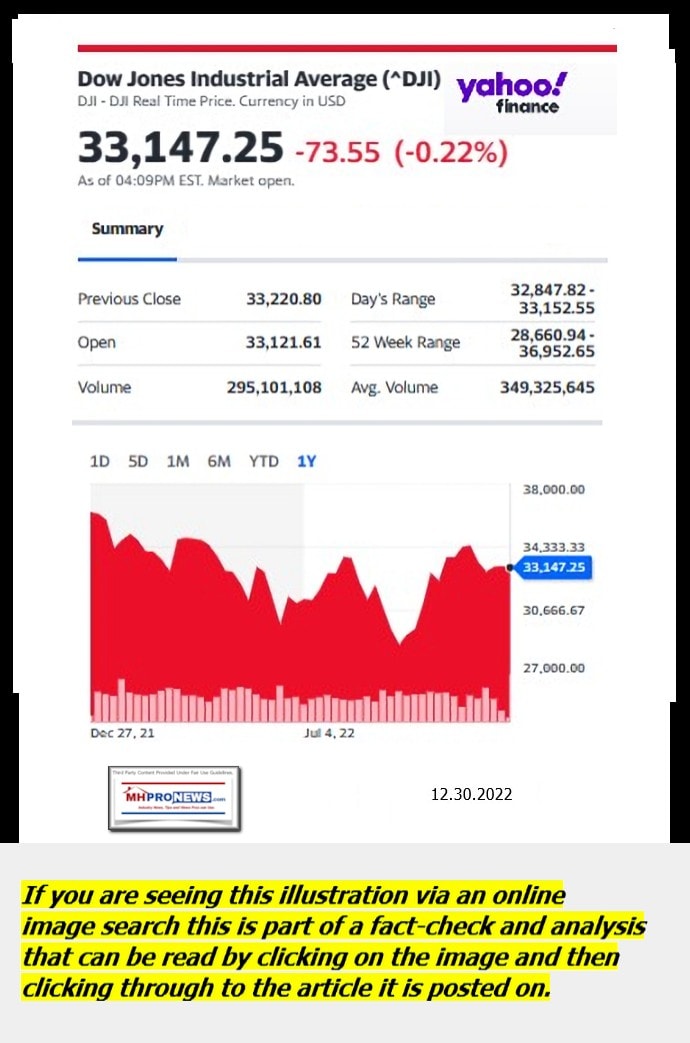 Headlines from left-of-center CNN Business – from the evening of 12.30.2022
A stomach-churning year
Wall Street would rather forget 2022. Here's a look at the upended markets in 5 charts
Federal Reserve Board Chairman Jerome Powell attends a news conference following a two-day meeting of the Federal Open Market Committee (FOMC) in Washington, U.S., July 27, 2022.
Fed watch 2023: When will rate hikes slow down
People walk by a Twitter logo at the company headquarters in downtown San Francisco, California, U.S., April 25, 2022.
The year that brought Silicon Valley back down to earth
SANTA MONICA, CA – SEPTEMBER 22: A Tesla vehicle is plugged into a Tesla charging station in a parking lot on September 22, 2022 in Santa Monica, California. Tesla is recalling over 1 million vehicles in the U.S. because the windows can pinch a persons fingers while being rolled up.
Tesla shares are down 70% for the year
Homes near Jackson, Wyoming, US, on Friday, Dec. 16, 2022.
Mortgage rates rose this week after falling for six straight weeks
An electric vehicle is plugged into a charger in Los Angeles, Thursday, Aug. 25, 2022.
Electric vehicle sales hit a tipping point in 2022
The soda market is flat, but not for Dr Pepper
NEW YORK, NEW YORK – DECEMBER 06: Traders work on the floor of the New York Stock Exchange during morning trading on December 06, 2022 in New York City. The Dow Jones opened low this morning continuing its downward trend dipping more than 400 points as the stock market closed on Monday.
Wall Street kills its darlings
Wall Street's biggest winners and losers in 2022
Indian maker of cough syrup linked to Uzbekistan deaths halts production
China has abandoned its zero-Covid policy. What will the economy look like in 2023?
Analysis: Why Southwest is still melting down
How Southwest failed the holidays: Four charts explaining the cancellations
Here's what could tip the global economy into recession in 2023
Ruble hits 8-month low against dollar, as falling oil prices and sanctions bite
Virgin Islands attorney general sues JPMorgan Chase over banking services for Jeffrey Epstein
Consumers kept the economy hot in 2022. Now they're losing steam
Why that 'free' Starbucks drink is about to cost you more
Why eggs have been so expensive
Russian sausage magnate dies after hotel fall in India
McDonald's tests system that could change the fast food industry
In Case You Missed It
YEAR IN REVIEW
Oura rings.
Oura
The tech we couldn't live without in 2022
From the McRib to the Choco Taco, here are 6 foods we lost in 2022
Oil and Turkish stocks were 2022 market winners. Russia funds and crypto tanked
Gas prices had a wild ride this year, making 2023 tough to predict
How 2022's most popular TikTok community can help you read more in 2023
AIRLINES
Passengers wait in line to check in for their flights at Southwest Airlines service desk at LaGuardia Airport, Tuesday, Dec. 27, 2022, in New York. The U.S. Department of Transportation says it will look into flight cancellations by Southwest that have left travelers stranded at airports across the country amid an intense winter storm.
Southwest got billions of dollars in taxpayer aid. Why is its service still a mess?
Southwest CEO responds to backlash over cancellations
United places order for 200 Boeing planes
Delta, pilots reach labor deal with 34% pay hike
Frontier Airlines no longer has a customer service phone line
Ryanair is booming as flyers ditch pricier airlines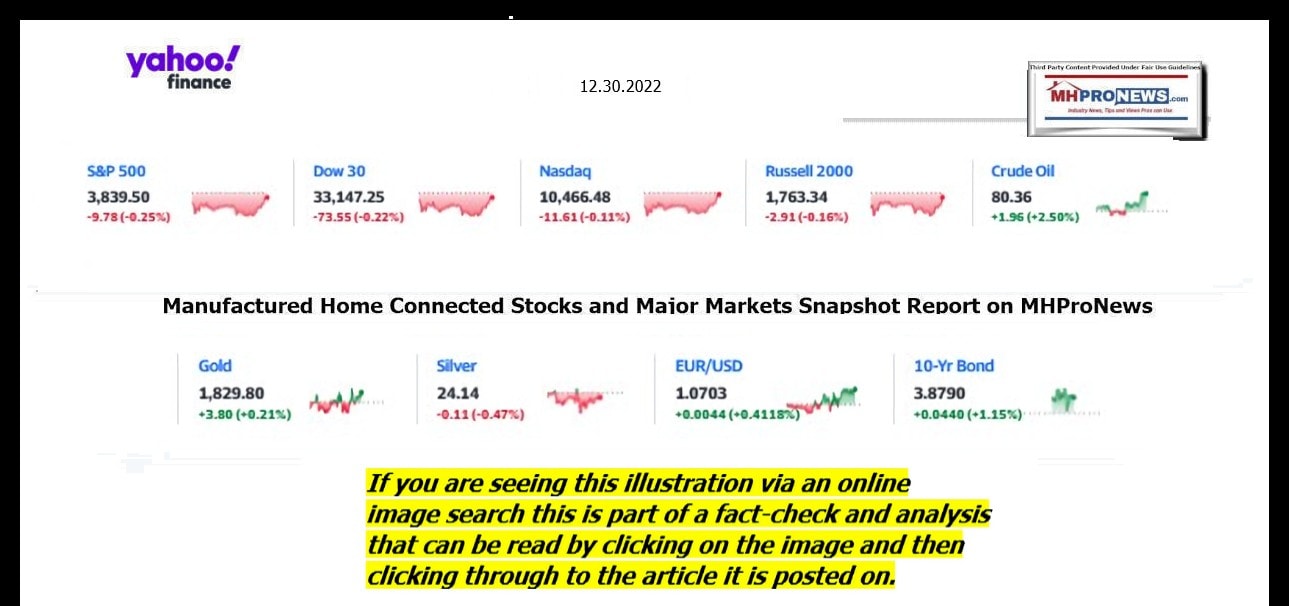 Headlines from right-of-center Newsmax 12.30.2022   
Man Arrested in Idaho Student Murder Case
Bryan Christopher Kohberger, 28, inset, has been arrested in connection with the killings of four University of Idaho students who were found dead Nov. 13 .
A person of interest in the killings of four University of Idaho students is in custody in northeastern Pennsylvania, law enforcement officials told NBC News on Friday. [Full Story]
Newsmax TV
Ex-AG Whitaker: Jan. 6 Panel Never Intended Trump to Testify | video
Alina Habba: Mar-a-Lago Raid Was to Get Anti-Trump 'Headline' | video
Meadows: Left's Meltdown Over Elon Is About Censorship | video
Dick Morris: Dems Changed Voting to Suit Their Base | video
Brandon Judd: Biden WH a 'Train Wreck' on Border Policy | video
Players: Pelé Brought Joy to Charmed Soccer Life | video
Rick Santorum: Santos Should Step Down | video
Steube: Dems Care Only About Power | video
More Newsmax TV
Newsfront
COVID Deaths Double in China: 11K Daily
Amid soaring COVID-19 infections in China, the United States is considering sampling plane wastewater to track emerging virus variants. Health experts in the United Kingdom estimate approximately 11,000 people per day are now dying from the disease in China. Three infectious…… [Full Story]
Senate Panel to Probe Social Security Watchdog
The Senate Finance Committee will launch an investigation into Social [Full Story]
Y. Dem Teases Santos-Modeled Bill to Punish Lying
Ritchie Torres, D-N.Y., will soon introduce a bill to punish [Full Story]
Report: Putin Feeling More 'Isolated' as War Drags Into '23
More than 10 months have elapsed since Russia's full-scale invasion [Full Story]
Related
Russia Targets Ukraine in New 'Kamikaze' Drone Attack
Putin, Xi Hold Talks as Russia Fires Another Ukraine Barrage
Blaine Holt to Newsmax: Ukraine-Russia Fighting Grows as Talks Near
Biden Pardons 6 Convicted of Murder, Drug, Alcohol Crimes
President Joe Biden on Friday pardoned six people who served out [Full Story]
Gun Advocates Say Legislation Targets Second Amendment Rights
A bill recently introduced in the House would, if passed, formalize a [Full Story] | Platinum Article
Dick Morris: Trump Just Won the '24 Election
Two serendipitous things happened and just dumped into Trumps lap [Full Story]
Person of Interest in Idaho Student Deaths in Custody in Pennsylvania
Police in the Pocono Mountains region of Eastern Pennsylvania [Full Story]
Democrats' Top 5 New Year's Resolutions
Democrats may have maintained control of the White House and the [Full Story] | Platinum Article
Report: House Republicans Seek Select Group for Probes
House Republicans have increased "demands" on House Minority Leader [Full Story]
Bill Gates Made 2022's Biggest Charitable Donation: $9.3B
The Chronicle of Philanthropy's annual list of the 10 largest [Full Story]
Vatican on Pope Benedict XVI: 'His Condition Is Stable'
Pope Emeritus Benedict XVI is in stable condition and was "able to [Full Story]
McCarthy Offers Concession in Speaker Motion Threshold Rule
House Minority Leader Kevin McCarthy is offering a concession on his [Full Story]
House Committee Releases Trump Tax Returns
A Democrat-controlled House of Representatives committee released six [Full Story]
Report: World Economic Forum Reverses in Twitter 'Cancel Campaign'
Twitter has been added to a list of social media sites where users [Full Story]
South Korea's Unannounced Rocket Launch Causes UFO Scare
South Korea's military confirmed it test-fired a solid-fueled rocket [Full Story]
Bankman-Fried Met With Biden Aides on Crypto Policy
Disgraced cryptocurrency titan Sam Bankman-Fried met with senior [Full Story]
Home Depot Co-founder Marcus: Nobody Works Anymore Because of Socialism
Billionaire Home Depot co-founder Bernie Marcus said he knows why the [Full Story]
Francis Says Pope Benedict 'Very Ill'
Former Pope Benedict's condition remains "grave" but stable, the [Full Story]
Related
Rituals for Benedict's Passing Could Be Template for Future Ex-popes
Trump Warns Dems After Tax Release: It's 'a Dangerous Two-Way Street'
Former President Donald Trump dismissed the release of his tax [Full Story]
Huckabee Sanders Aims to 'Transform Arkansas Education'
Arkansas Gov.-elect Sarah Huckabee Sanders announced on Friday that [Full Story]
Jake Sullivan to Visit Israel, Meet With Netanyahu
White House national security adviser Jake Sullivan will travel to [Full Story]
Divisive Influencer Andrew Tate Held on Trafficking, Rape Charges
Andrew Tate, a divisive social media personality and former [Full Story]
Former Players to Newsmax: Pelé Always Brought Joy to Charmed Soccer Life
Pel, who passed away Thursday at the age of 82 due to complications [Full Story] | video
Republicans From Biden Districts Will Vote Only McCarthy for Speaker
Both current and incoming House Republicans from swing districts that [Full Story]
GOP's Greene Puts Squabbles Aside After Raskin's Cancer Diagnosis
Marjorie Taylor Greene, R-Ga., was among the first House [Full Story]
Biden Seeks to Undo Trump-Era Rights for Health Workers
A new proposal from President Joe Biden's Department of Health and [Full Story]
Bernie Sanders Blasts Southwest's 'Corporate Greed'
Bernie Sanders, I-Vt., a frequent critic of big business but [Full Story] | video
Twitter Closes Seattle Office, Staff Will Work From Home
Twitter has reportedly closed its office doors in Seattle, asking [Full Story]
More Southwest Woes: Airport Cop Threatens to Arrest Stranded Passengers
A Southwest Airlines passenger stranded in Tennessee posted a video [Full Story]
Mark Meadows to Newsmax: Left's Meltdown Over Elon Is About Censorship
The left is melting down over Elon Musk's purchase of Twitter and his [Full Story] | video
More Newsfront
Finance
Inflation, Recession, Earnings to Drive Stocks in 2023
S. stock investors could not be more eager to turn the page on 2022, a brutal year dominated by market-punishing Federal Reserve rate hikes designed to tamp down the steepest inflation in 40 years…. [Full Story]
Bahamas Regulator Seized $3.5 Billion in FTX Crypto Assets
Peter Reagan: 5 Valuable Retirement Lessons We Learned in 2022
Michael Busler: Inflation Reduction Act Will Stall Economic Growth in 2023
Chevron to Load Venezuelan Oil for Export to US
More Finance
Health
The Health Benefits of a Dry January
It's been reported that 35% of legal-aged adults in the U.S. skipped alcohol for the entire month of January 2022. Staying sober for a certain period of time can help refresh and reinvigorate your body, say experts. Taking part in "Dry January," especially after a…… [Full Story]
How to Make and Keep New Year's Resolutions
Global Alarm Grows Over China COVID Surge
Getting COVID Booster Helps Your Antibodies Last Longer
Ketamine Could Yield Benefits for Severely Depressed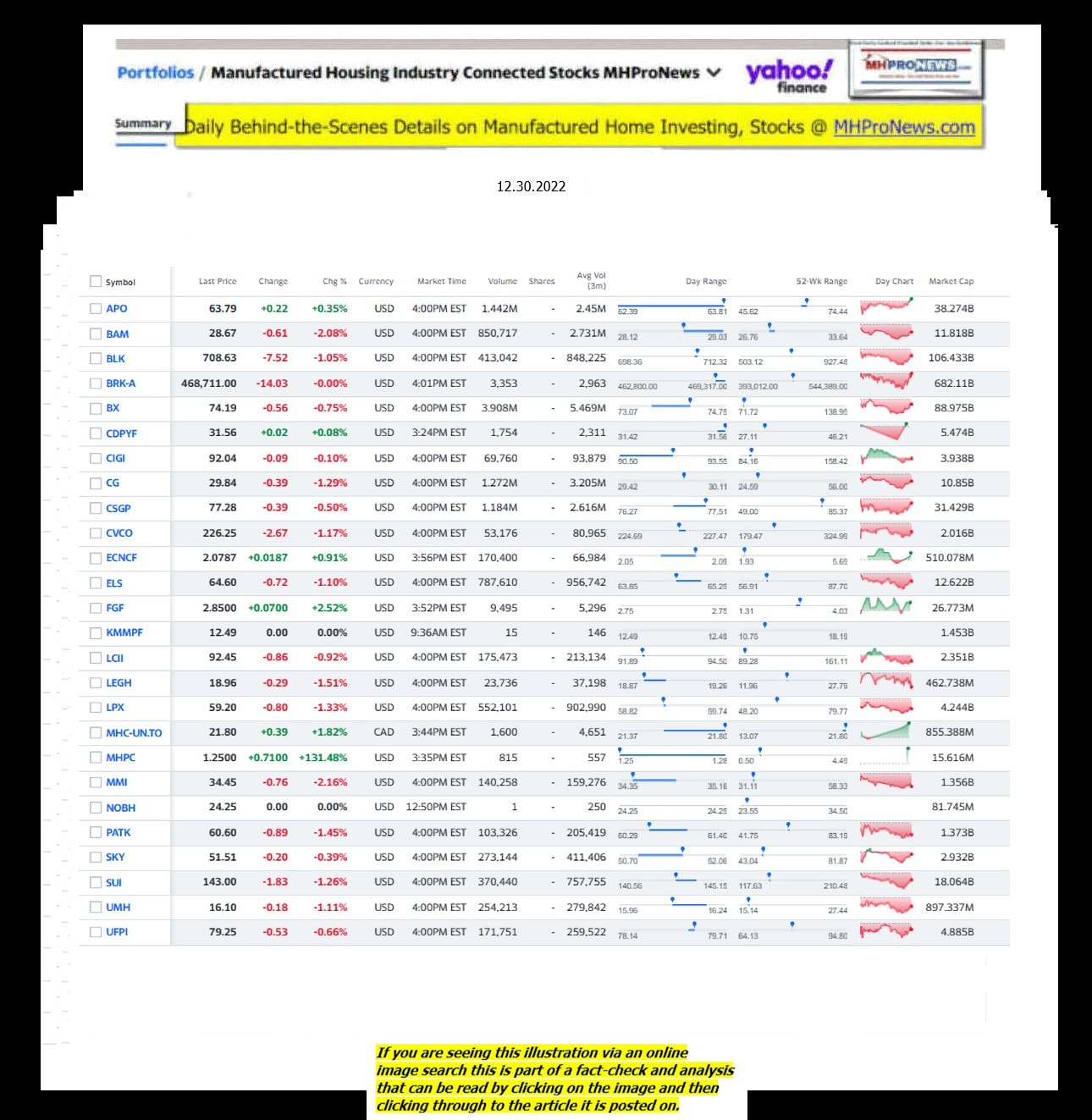 ====================================
Updated 12.31.2022
NOTE 1: The 3rd chart above of manufactured housing connected equities includes the Canadian stock, ECN, which purchased Triad Financial Services, a manufactured home industry finance lender.
NOTE 2: Drew changed its name and trading symbol at the end of 2016 to Lippert (LCII).
NOTE 3: Deer Valley was largely taken private, say company insiders in a message to MHProNews on 12.15.2020, but there are still some outstanding shares of the stock from the days when it was a publicly traded firm.  While MHProNews has been told that there is periodic activity on those few outstanding shares, in the past year, Yahoo's system reported none. Thus, DVLY did not appear in this annual report.
Note 4: some recent or related reports to the REITs, stocks, and other equities named above follow in the reports linked below.
Manufactured Housing Properties-Results for Three and Nine Months Ending September 30.2022–Exploring 'Mobile Home Park' Manufactured Home Community Investing; plus MHVille REITs, Stocks Update
Manufactured Housing's Next BIG Regulatory Battle That MHARR's Spotlighted and Which MHI Conveniently Ignored in Recent 'Manufactured Housing Institute News;' plus Sunday Weekly Headlines Recap
'Changes Will Benefit Customers,' Boost Sales-Legacy Homes CEO Duncan Bates – LEGH 'Delivered 22.5% Return on Equity in 1 Yr' – Corp Q3 2022 Insights, Analysis; plus MHVille REITs, Stocks Update  
'No Assurance Inflation Will Not Affect Our Future Profitability Financial Position'=Cavco Industries 10-Q, Solitaire Deal, More CVCO Data; Supreme Court Ruled-SEC Regs on False-Omitted Remarks
Skyline Champion Provides Quarterly Results, Adding Retail Centers, Improved Delivery Times-CEO Mark Yost Says 'Can Outperform Conventional Housing' Explored; Plus MHVille REITs, Stocks Update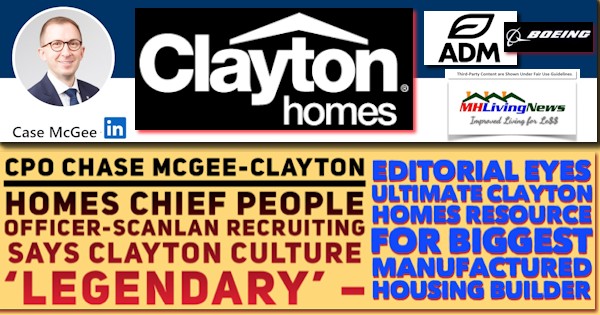 Triad Financial Services Q2-2022 FINANCIAL RESULTS, per ECN Capital – Several Bright Spots in Manufactured Home Market Highlighted, Including Communities, Retail, Land-Home, Floor; MHStocks Update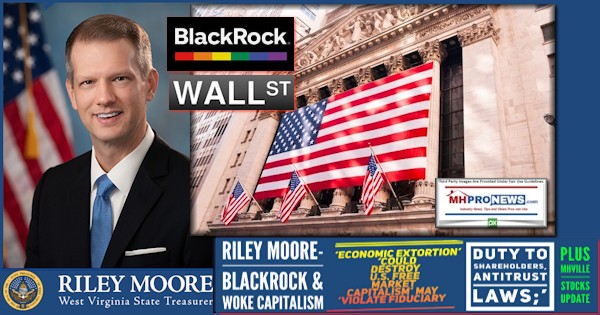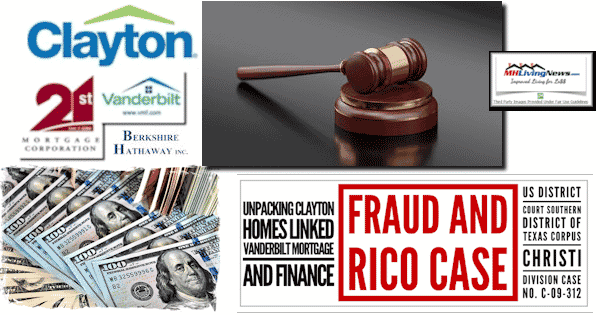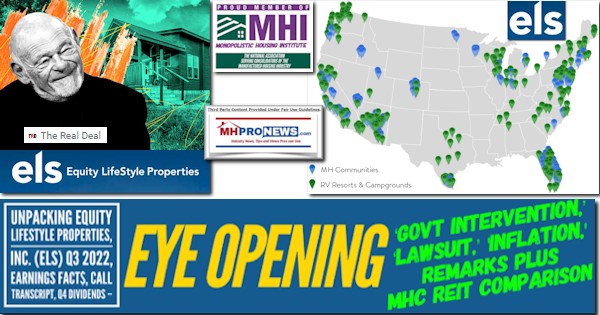 Manufactured Home Communities (a.k.a. 'Mobile Home Parks' – SIC) – Exploring UMH Properties; Fellow Manufactured Housing Institute Member Yes! Communities Suits and Settlements; plus MH Markets Updates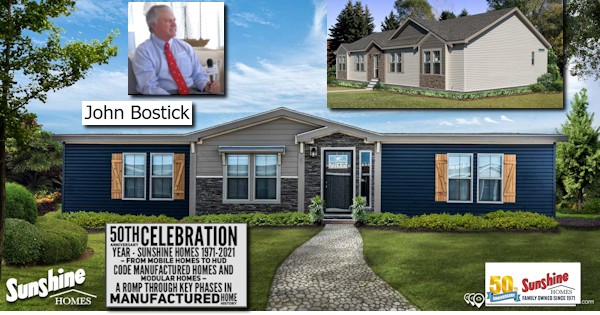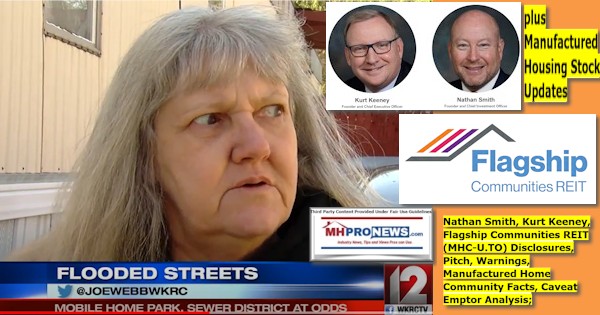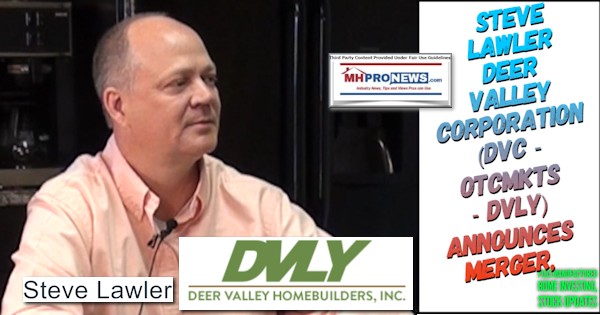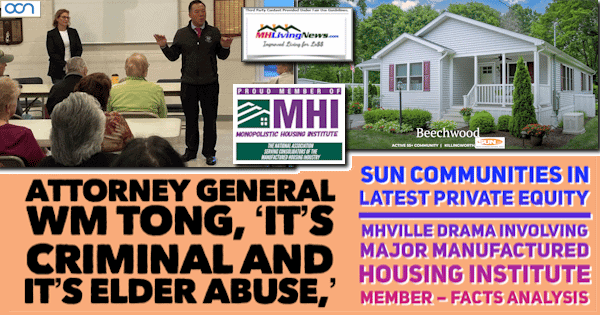 2022 …Berkshire Hathaway is the parent company to Clayton Homes, 21st Mortgage, Vanderbilt Mortgage and other factory-built housing industry suppliers.
· LCI Industries, Patrick, UFPI, and LP each are suppliers to the manufactured housing industry, among others.
· AMG, CG, and TAVFX have investments in manufactured housing related businesses. For insights from third-parties and clients about our publisher, click here.
Disclosure. MHProNews holds no positions in the stocks in this report.
· For expert manufactured housing business development or other professional services, click here.
· To sign up in seconds for our industry leading emailed headline news updates, click here.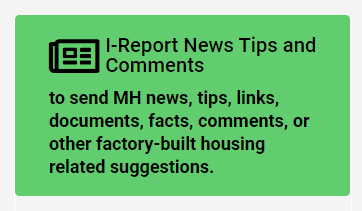 That's a wrap on this installment of "News Through the Lens of Manufactured Homes and Factory-Built Housing" © where "We Provide, You Decide." © (Affordable housing, manufactured homes, stock, investing, data, metrics, reports, fact-checks, analysis, and commentary. Third-party images or content are provided under fair use guidelines for media.) (See Related Reports, further below. Text/image boxes often are hot-linked to other reports that can be access by clicking on them.)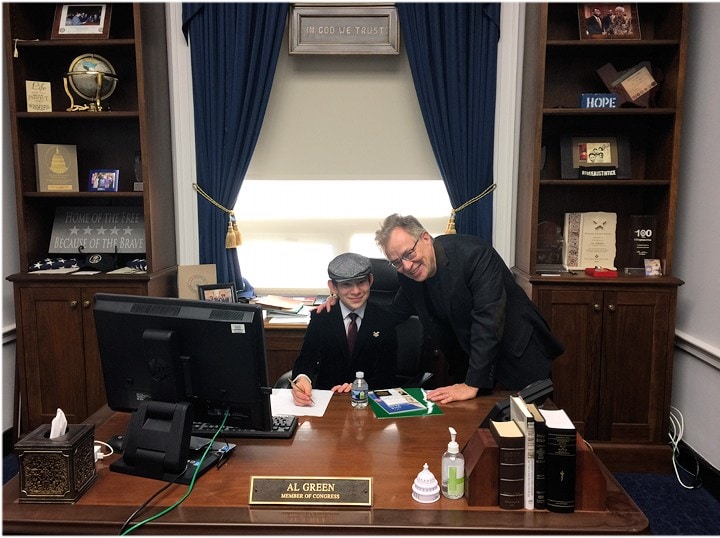 By L.A. "Tony" Kovach – for MHProNews.
Tony earned a journalism scholarship along with numerous awards in history. There have been several awards and honors and also recognition in manufactured housing. For example, he earned the prestigious Lottinville Award in history from the University of Oklahoma, where he studied history and business management. He's a managing member and co-founder of LifeStyle Factory Homes, LLC, the parent company to MHProNews, and MHLivingNews.com. This article reflects the LLC's and/or the writer's position and may or may not reflect the views of sponsors or supporters.
Manufactured Home Production Growth Continues in September 2022, per Manufactured Housing Association for Regulatory Reform-Added Facts, Analysis, plus MHVille REITs, MH Connected Stocks Update
Consumers 'Fears for the Future'-Mortgage Payments Surge Since 2021, Buyers Get Priced Out–Conventional Housing Woes are Manufactured Home Pro Opportunities; plus MHVille REITs, Stocks Update