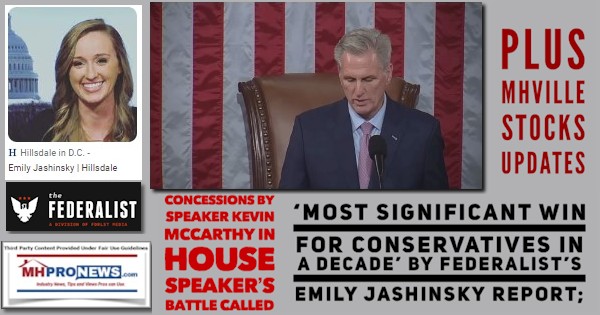 For those conservatives and others who might question if the 2022 battle for control of the House of Representatives will lead to any meaningful changes in Washington, D.C. the Federalist's culture editor Emily Jashinsky has called it "the most significant win for conservatives in a decade." "The press painted all of the HFC [House Freedom Caucus] with the same broad brush and missed the real story: They out-negotiated leadership and changed the House in a serious way." Those specific rules changes and analysis are the focus of Part I of today's "Industry News, Tips, and Views Pros Can Use" © in the following report provided by the WND NewsCenter to MHProNews on that Federalist column by Jashinsky. Part II will be additional facts and analysis on the points made in that report and related editorial. Part III of today's post will be the Daily Business News on MHProNews signature update on manufactured housing connected equities. For newcomers, those include manufactured home communities' (MHCs) real estate investment trusts (REITs) and our popular, time-saving left-right (CNN and Newsmax) headline recap of market-moving news.
Part I.
WND
Concessions in speaker fight 'most significant win for conservatives in a decade'
'They out-negotiated leadership and changed the House in a serious way'
By Peter LaBarbera Published January 9, 2023 at 5:47pm
An essay in the conservative Federalist approvingly quotes a "senior congressional aide" who calls the concessions won by dissident House Freedom Caucus Members in the battle to elect the House Speaker the "most significant win for conservatives in a decade."
"Everything that Republicans and conservatives say they hate — giant, thousand-page spending bills negotiated by a handful of people with little input from anyone else, plum committee assignments reserved for insiders, and a closed off amendment process — is addressed here," the Republican aide told the Federalist culture editor Emily Jashinsky in her Jan. 9 piece.
"The real story of [California Rep. Kevin] McCarthy's winding road to the speakership is bigger than he is, bigger than the GOP, and bigger than the 118th Congress," reads a subhead for the article.
"While the political establishment preferred to focus on personalities and melodrama, the concessions that [House Freedom Caucus (HFC)] members managed to wring out of McCarthy are shockingly consequential. Without another speaker candidate waiting in the wings, serious negotiators like Rep. Chip Roy knew they had the upper hand and could push the GOP establishment much further than anyone imagined," writes Jashinsky.
Meanwhile, Republicans like Texas Rep. Dan Crenshaw who took a hard line against HFC dissidents have political egg on their face, as the scope of the HFC's hard-fought reforms — which surely will benefit all Republicans working for conservative policies — comes into focus.
Crenshaw himself apologized for calling the Freedom Caucus holdouts "terrorists," but not before he was excoriated by leading conservatives for his insulting remarks.
Country singing star and conservative advocate John Rich, who has taken the stage on behalf of several major Republican candidates over the years, tweeted Monday to his 832,100 followers: "Hey @DanCrenshawTX, I for one am very disappointed, but not surprised that you called Republican holdouts in the House, 'terrorists.' Glad I decided not to play your event last year."
Hey @DanCrenshawTX , I for one am very disappointed, but not surprised that you called Republican holdouts in the House, "terrorists." Glad I decided not to play your event last year. https://t.co/FQHc71e7wA

— John Rich🇺🇸 (@johnrich) January 9, 2023
("In an interview with CNN Anchor Jake Tapper…Crenshaw said he used the term as a 'turn of phrase' and didn't mean to call his colleagues actual terrorists," the Houston Chronicle reported.)
Here are the main concessions cited in the Federalist as outlined by Rep. Andrew Ogles, R, Tn., in an article by Roger Simon January 6 in The Epoch Times:
As has been reported, it will only take a single congressperson, acting in what is known as a Jeffersonian Motion, to move to remove the speaker if he or she goes back on their word or policy agenda.
A 'Church'-style committee will be convened to look into the weaponization of the FBI and other government organizations (presumably the CIA, the subject of the original Church Committee) against the American people. [For more on the Church Committee, led by Sen. Rep. Frank Church, D-Id., see this piece by the National Constitution Center.]
Term limits will be put up for a vote.
Bills presented to Congress will be single subject, not omnibus with all the attendant earmarks, and there will be a 72-hour minimum period to read them.
The Texas Border Plan will be put before Congress. From The Hill: 'The four-pronged plan aims to 'Complete Physical Border Infrastructure,' 'Fix Border Enforcement Policies,' 'Enforce our Laws in the Interior' and 'Target Cartels & Criminal Organizations.''
COVID mandates will be ended, as will all funding for them, including so-called emergency funding.
Budget bills would stop the endless increases in the debt ceiling and hold the Senate accountable for the same."
The Federalist's take on the Speaker battle is no outlier. Far from it. Many activists and thought-leaders on the Right who have long complained about the D.C. legislative morass, the GOP's unprincipled "establishment" and go-along-to-get-along "RINO" ("Republican In Name Only") elites agreed. Now some are pressing other McCarthy allies who condemned the tactics and motives of the supposedly "selfish" Freedom Caucus upstarts to apologize for their harsh comments.
Greg Price, an influential conservative on social media, tweeted:
"I was reliably informed that the 20 R's were grandstanders who were going to get a Dem elected Speaker. Instead, they negotiated a Church Cmte, single subject bills, 3 Freedom Caucus members on the Rules Cmte, a plan to balance the budget, and McCarthy still ended up Speaker."
I was reliably informed that the 20 R's were grandstanders who were going to get a Dem elected Speaker. Instead, they negotiated a Church Cmte, single subject bills, 3 Freedom Caucus members on the Rules Cmte, a plan to balance the budget, and McCarthy still ended up Speaker.

— Greg Price (@greg_price11) January 7, 2023
In breaking news, it appears Crenshaw was beaten out in his bid for chairman of the House Committee on Homeland Security by conservative Rep. Mark Green (R-Tn.), as Politico reported. Price cheered what he said was a victory over a "neocon loser":
Freedom Caucus member @RepMarkGreen gets Homeland Security chair over neocon loser! https://t.co/RuJOE3mBHR

— Greg Price (@greg_price11) January 9, 2023
Some Fox News hosts also came in for a drubbing by conservatives for dismissing the Freedom Caucus dissenters and attacking their motives, with notable exceptions like Tucker Carlson, who championed their fight to wring concessions from McCarthy. For example, high-profile talker Sean Hannity was criticized for his disrespectful interview with Freedom Caucus dissenter Lauren Boebert, which one conservative on Twitter described as "cringeworthy."
Fox News alum and conservative Christian commentator Todd Starnes tweeted: "All those conservatives on Fox News and in talk radio who are pushing McCarthy are the same ones who told us to back Romney and McCain."
All those conservatives on Fox News and in talk radio who are pushing McCarthy are the same ones who told us to back Romney and McCain.

— toddstarnes (@toddstarnes) January 4, 2023
Jashinsky in The Federalist writes of the unlikely outcome:
"From 30,000 feet, a four-day delay in the speaker vote is hardly the outrage pundits framed it as. The rules package is mostly unobjectionable institutionalism. Sure, it's remarkable HFC won these concessions, but only because party leadership in D.C. is so unaccustomed to losing. The press painted all of the HFC with the same broad brush and missed the real story: They out-negotiated leadership and changed the House in a serious way." ##
Notice: the social media post below is not in the WND report.

Part II. Additional Information with More MHProNews Analysis and Commentary
Stating the obvious can bring clarity to issues. Behind every politician are the people who have put or kept them in office. In the case of now-Speaker McCarthy (CA-R), there are several voices on the political right that have said he may be better than Senate Minority Leader Mitch McConnell (KY-R), but 'that's not saying much.'  He is purportedly more in the pocket of the larger corporate interests is a claim by McCarthy critics.
For instance, pro-Trump talk radio pundit and author Wayne Allen Root ("WAR") tore into McCarthy last week during the battle for the speaker's gavel. Root, former Trump White House Advisor Steve Bannon, WND Publisher Joseph Farah, and MHProNews were among those took Rep. Matt Gaetz (FL-R) seriously and publicly called for Trump himself to be made the House Speaker. That the topic was popular is reflected by the fact that the article quickly rose to the top of all reports and remains the runaway #1 most read for January 2023 on MHProNews.
Friday Follies or For Real? Pick Up Your Phone – Call House Switchboard at (202) 224-3121 – Donald J. Trump for New Speaker of the House – Report, Insights, Commentary; plus MHVille Markets Update
While that may seem inconsequential at this point, the Federalist's Jashinsky viewpoint and others cited or alluded to by the WND report above ought to make it clear that the pushback against "neo-con" McCarthy is significant. It is worth noting that Trump himself was in some ways on both sides of the Kevin McCarthy for speaker debate, as the MHProNews report linked above establishes.
The case could be made that if a "Jeffersonian Motion" to vacate the chair were to occur, that Trump himself might emerge as one of those alternatives to McCarthy.
In the meanwhile, Trump has been publicly thanked by McCarthy for the part he played in bringing the holdouts in the House Freedom Caucus (HFC) into the deal that has now resulted in serious governing rules concessions.
So, much like Jashinsky's editorial argued, the changes negotiated by "conservatives" in the HFC could well prove to be quite significant. The HFC "MAGA" conservatives battle was not a meaningless exercise. Time alone will tell, but it has the potential for being consequential.
In an environment of runaway government in several states and at the federal level, these institutional concessions – if properly acted upon by Republicans – could prove to be a valuable point to bring more independent and Republican voters out in greater numbers in 2023 and 2024 election contests. More moderate Democrats, such as those who have concerns over a ballooning budget deficit, skyrocketing federal debt and what some call un-Constitutional runaway governmental power, could find the GOP message of greater interest in 2023 and 2024 too. All that is predicated on the big IF – if Speaker McCarthy holds to those principles and works with the HFC in meaningful ways. But with the rules in place, that may be more likely.
What does all this Washington theatrics mean for smaller businesses or the manufactured housing industry?
While the changes in the House may be seem to some to be nuanced, some of the commitments could be consequential. For instance, if the GOP manages to stop the hiring of an additional 87000 IRS agents, that alone could be a blessing to all those who might have been audited but won't be if the size of the revenue agency remains the same. By the way, a report on that topic indicates that millionaires are less likely to be audited than those who claim the Earned Income Credit. Per CBS News some 6 days ago: "Those who earn less than $25,000 and qualify for the Earned Income Tax Credit are audited at five times the rate of everyone else." A university connected source said on that point that: "Even though the IRS applied one-fourth of these hours to auditing millionaires, still barely over 1 out of every 100 millionaires were audited."
Another illusion about 'taxing the rich' is thus skewered by those pesky facts.
In conclusion for Part II, while the battle for a healthier American Republic is ongoing, some of the developments and lessons learned in 2022 and the battle for the speaker's role and related governing rules for the House could prove consequential. There is a reason why Joe Biden has said he wants to work with Republicans. To move any legislation, he has no choice. See the related reports to learn more.
Two Best Times to Plant a Tree – Epic Lessons on Errors – Democracy, Republic, Socialism, Capitalism, Distributism, Chestertonian Principles – Why it Matters – Sunday MHVille Weekly Headlines Recap
Victor Davis Hansen Goes There, Calling Events 'A Coup' – 'How Did a Virus Cancel the Constitution?' Pam Geller – 'U.S. Govt Overthrown Without Firing a Shot' – Claims, Evidence, and Analysis
'U.S. Should Break Up Monopolies' Democrat Robert Reich Guardian Plan Would Hit Clayton Homes, Skyline Champion, and Cavco Industries with Costly Antitrust Lawsuit – Statements, Facts, Analysis
Precipice – Reveals, Exposes American 'Leech Class' – Corp CEO Aims to Protect American Dream from Leeches in Key Roles – Eye Opener for Biz, Policy Leaders, More; plus MHVille Stocks, REITs Updates
Thursday Theatrics for MHI – Cornell Law, Writ of Mandamus, Manufactured Housing Woes and Manufactured Housing Institute Solutions Hiding in Plain Sight; plus MHVille Stocks, REITs Updates
NOTICE to newcomers: MHProNews has a reader engagement rate of about 3x that of CNN or Fox News, per data obtained from Webalizer 2.23 and comparisons to SimilarWeb metrics for those mainstream media outlets. The engagement rate of MHProNews vs. the Manufactured Housing Institute (MHI) website, per those same sources, is even more superior in our platform's favor. See the specifics among the other insights for the year in review reports to learn more about the hottest 'reader choice' articles month-by-month in 2022 and data comparison with others in media and MHI.
'The U.S. Can Solve Its Housing Crisis – It Just Needs To Start Building' Bloomberg, Washington Post Want More Manufactured Housing in 2023! Plus 2022 Year in Review, Sunday MHVille Weekly Headlines Recap
'Policies of Equitable Prosperity' – Restoring U.S. Commitment to Personal Freedoms, Free Markets, Property Rights – 'Good! You See it Differently!' Plus, Year in Review, MHVille Markets
Warren Buffett-Democratic Connected 'Dark Money' Group Arabella Advisors 'Scheme' Hits Headlines-Hate Politics? Others Do Too, But Ignoring Reality Poor Option; plus MHVille REITs, Stocks Update
Part III. Daily Business News on MHProNews Markets Segment
The modifications of our prior Daily Business News on MHProNews format of the recap of yesterday evening's market report are provided below. It still includes our signature left (CNN Business) and right (Newsmax) 'market moving' headlines. The macro market moves graphics will provide context and comparisons for those invested in or tracking manufactured housing connected equities.
In minutes a day readers can get a good sense of significant or major events while keeping up with the trends that are impacting manufactured housing connected investing.
Reminder: several of the graphics on MHProNews can be opened into a larger size. For instance: click the image and follow the prompts in your browser or device to OPEN In a New Window. Then, in several browsers/devices you can click the image and increase the size. Use the 'x out' (close window) escape or back key to return.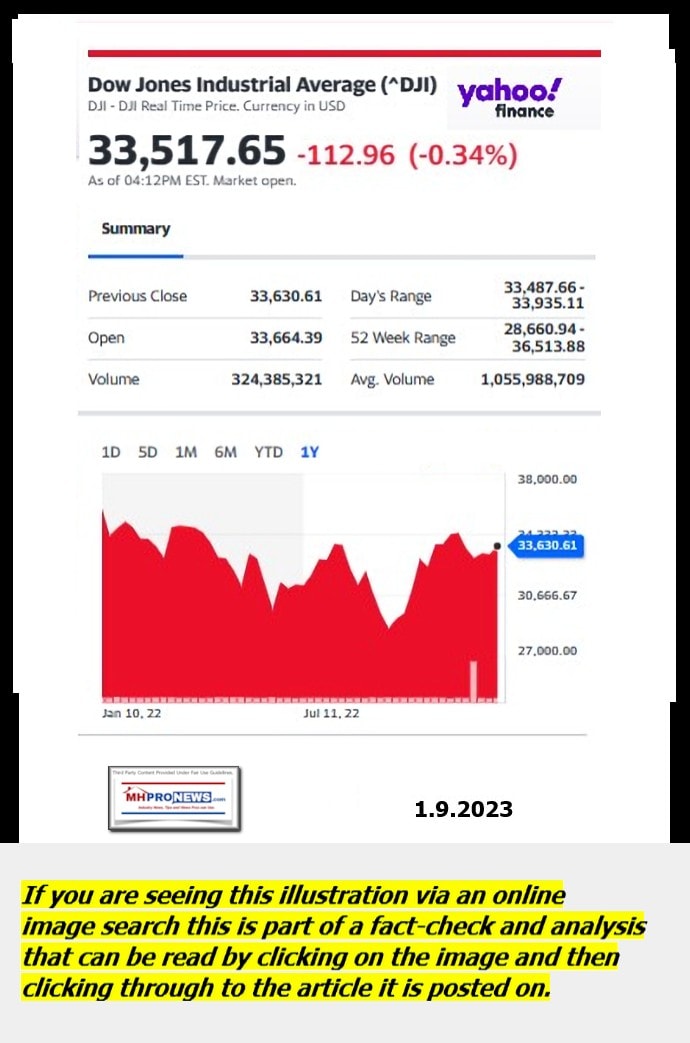 Headlines from left-of-center CNN Business – from the evening of 1.9.2023
Wall Street is feeling bullish
Traders work on the floor of the New York Stock Exchange during morning trading on January 04, 2023 in New York City. U.S. stocks rose at the start of the second day of trading in 2023. The stock market opened awaiting an economic data report on the U.S. economy amid the Federal Reserve's rate hikes to attempt to lower inflation.
The stock market is ignoring all the negative economic headlines. Should you?
House Republican Leader Kevin McCarthy listens during a 12th round of voting for a new speaker on January 6, 2023.
House speaker drama sparks fears of 2011-style debt ceiling crisis — or something worse
Traders work on the floor of the New York Stock Exchange (NYSE) on October 07, 2022 in New York City.
Bonds are back, but for how long?
NEW YORK, NEW YORK – DECEMBER 16: The Goldman Sachs headquarters building stands in Manhattan on December 16, 2022 in New York City. Goldman Sachs, the global investment bank, has announced that it plans on cutting up to 8% of its employees early next year as world economies and markets continue to struggle with inflation, the war in Ukraine and China's Covid policies among other issues.
Goldman Sachs will lay off up to 3,200 workers this week
The Amazon Lab126, a research and development company owned by Amazon.com, headquarters in Sunnyvale, California, U.S., on Wednesday, April 21, 2021. Silicon Valley has the lowest office vacancy rate in the U.S., even as technology companies embrace remote work.
Silicon Valley layoffs go from bad to worse
Steve Easterbrook, CEO of McDonald's Corp., attends the annual Allen and Co. Sun Valley media conference in Sun Valley, Idaho, U.S., July 10, 2019.
McDonald's ex-CEO will pay $400,000 for allegedly misleading investors about his firing
The Shiftall Mutalk mouthpiece puts a microphone over his mouth to quiet a user's voice while using a VR headset
Here are the best products we found at CES 2023
Senior mature business woman holding paper bill using calculator, old lady managing account finance, calculating money budget tax, planning banking loan debt pension payment sit at home kitchen table.
VIDEO
Video: 401(k) rules just got better. Here are the important changes
FILE PHOTO: A Walgreens store is seen in Chicago, Illinois, U.S. February 11, 2021.
'Maybe we cried too much' about people stealing, Walgreens executive admits
An employee hands a customer a receipt in a check-out line.
US consumers increased their borrowing by $28 billion in November
Key takeaways from the New York nurses strike
7,000 'exhausted and burnt out' NYC nurses walk out
Newborns in intensive care are caught in the middle of the nursing strike
What the return of Chinese tourists means for the global economy
Seattle public schools sue social media companies for allegedly harming students' mental health
Federal regulators investigating Musk Tesla 'Full Self Driving' tweet
411 is going out of service for millions of Americans
Virgin Orbit counts down to first space launch ever from UK soil
Deere gives farmers long-sought ability to repair their own tractors
Vince McMahon returns to WWE as a board member
Has inflation finally peaked?
LinkedIn is having a moment thanks to a wave of layoffs
Bed Bath & Beyond says its days are numbered. The same might be true for its big blue 20% coupons
Foodies left 'devastated' that Ronzoni will discontinue its beloved star-shaped pastina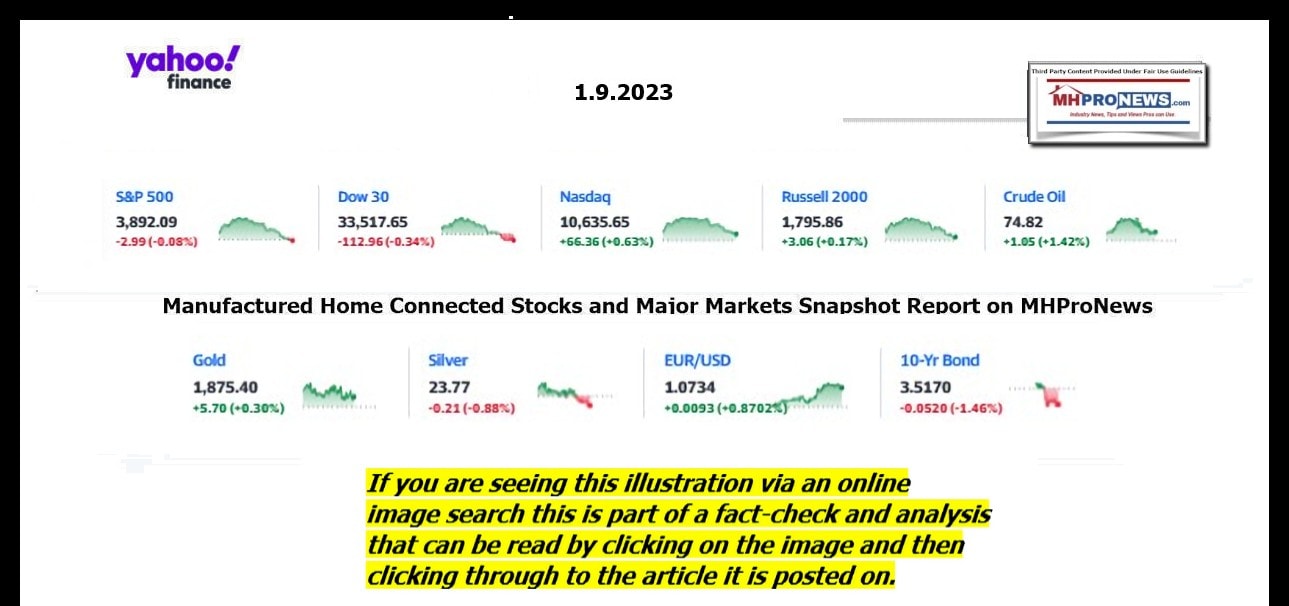 Headlines from right-of-center Newsmax 1.9.2023
'This Is Our Fight': Mistake to Cut Off Ukraine, Sen Says After Zelenskyy Meet
Failure to continue supporting Ukraine would be akin to Western nations' failure to combat the rise of Germany in the 1930s, King said. He said he plans to make that case to constituents and Republican lawmakers who have voiced skepticism of continued U.S. involvement in the war. [Full Story]
Newsmax TV
Chad Wolf: Biden Border Visit 'Myth' Over Substance | video
Texas AG: Follow Law to Handle Migrant Crisis | video
Mark Morgan: Biden Likely 'Told He Had to' Visit Border | video
Davidson: Border Patrol Wants to Enforce Laws, Not More Cash | video
Tim Burchett: Fiscal Responsibility Returns | video
Monica De La Cruz: Biden Saw 'Cleaned-Up' Version of Border | video
Blaine Holt: Bradleys 'Much Needed' in Ukraine | video
Ben Carson: COVID Still Being Used to Control Americans | video
Horowitz: GOP Being 'Too Nice' With Dems' Attacks | video
Newsfront
Hurricanes, Floods Bring $120B in Insurance Losses in '22
Hurricane Ian in the United States and floods and Australia helped to make 2022 one of the costliest years on record for natural disasters, Munich Re said on Tuesday, warning that climate change was making storms more intense and frequent…. [Full Story]
Stocks Flat as Investors Weigh Less Aggressive Rate Hikes
The S&P 500 index closed barely changed Monday as expectations that [Full Story]
Supreme Court Rejects Republican Bid to Defend Trump Immigration Rule
The U.S. Supreme Court on Monday rebuffed an effort by a group of [Full Story]
Report: GOP's Rogers to Exit Committee After Gaetz Scrap
Mike Rogers, R-Ala., whose confrontation Friday with Rep. Matt [Full Story]
Starbucks' China Expansion a 'Pact With the Devil'
Even with new Starbucks cafs opening in China every nine hours on [Full Story] | Platinum Article
Kremlin: New Western Armored Vehicles for Ukraine Will 'Deepen Suffering'
The Kremlin said on Monday that new deliveries of Western weapons, [Full Story]
Related
Ukraine: Russian Cyberattacks Could Be War Crimes
Moscow Ends Self-Proclaimed Ceasefire, Vows to Press Ahead in Ukraine
Ukraine School Spurns Russian Claim of Troops Killed There
Condi Rice & Robert Gates: Help Ukraine Repel Russia Quickly |video
US Says Iran May Be 'Contributing' to War Crimes in Ukraine
Mistake to Cut Off Ukraine Funding, Says Sen Who Met With Zelenskyy
Report: Russia to Begin Massive 500K Troop Mobilization
China Militarizes Civilian Ships, Posing Threat to US Shores, Global Trade
Experts say international trade and global security could be upended [Full Story] | Platinum Article
Special Grand Jury Ends Probe of Trump, 2020 Election
The special grand jury in Atlanta that has been investigating whether [Full Story]
Stock, Bond ETFs Draw Near-Record Cash in 2022
Investors plowed $867 billion into exchange-traded funds (ETFs) and [Full Story]
What You Need to Know About the New Alzheimer's Medication
A new Alzheimer's drug is hitting the market – the first with [Full Story]
Study: Sports and Other Exercise a Natural Antidepressant for Teens
An antidote to teenage depression might be found in school gymnasiums [Full Story]
Feds Review Musk Tweet on Disabling Tesla Driver Monitoring
A tweet from Elon Musk indicating that Tesla might allow some owners [Full Story]
This Diy Method Removes Wrinkles Like Crazy (Try Tonight)
Skincare Update
Think Tank: Chinese Invasion of Taiwan Would Cause Mass Deaths
A Chinese invasion of Taiwan in 2026 would result in thousands of [Full Story]
Iger Orders Disney Employees Back to the Office 4 Days a Week
Less than two months after returning to the helm of Disney, CEO Bob [Full Story]
Goldman Readies Biggest Layoffs Since Financial Crisis
Goldman Sachs Group will start cutting thousands of jobs across the [Full Story]
Moderna Considers Pricing COVID Vaccine Shot at $110 to $130
Moderna Inc is considering pricing its COVID-19 shot at $110 to $130 [Full Story]
Biden's Opening Move in Mexico Lands Well With López Obrador
President Joe Biden opened his visit to the North American leaders [Full Story]
Related
US Bishops to Biden: Reverse Course, Find 'Humane Solutions' on Immigration
El Paso Cleaned Up Before Biden's Visit
Biden to Meet with Mexican President, Days After Son of 'El Chapo' Bust
Tony Gonzales: Biden Broke Promise to Let Me Join Border Visit
Survey: Many Experts Say Russia Destined to Be Failed State
Nearly half (46%) of top foreign policy experts expect Russia to [Full Story]
Abramovich Moved $4 Billion to Children Weeks Before Ukraine Invasion
Sanctioned Russian oligarch Roman Abramovich transferred more than $4 [Full Story]
Gallup: Younger Americans More Likely to Post on Social Media
Younger Americans, most of whom grew up with social media, are more [Full Story]
George Santos Hit With First Formal Ethics Complaint
The Federal Election Commission received a formal complaint Monday [Full Story]
Report: Russia to Begin Massive 500K Troop Mobilization
Russia is reportedly cranking up its military in the war against [Full Story]
Stocks Could Fall Another 22%, Morgan Stanley Warns
S. equities could decline another 22%, on top of their 19.4% [Full Story]
Brothers Seek to Rectify Korean War Monument Mistakes
A somber monument for Korean War veterans has more than 36,000 names, [Full Story]
Soccer Player Who Wouldn't Kneel Receives $100K Settlement
A former Virginia Tech soccer player will receive $100,000 as part of [Full Story]
CBS-YouGov Poll: 65 Percent of Republicans Say Loyalty to Trump Important
Sixty-five percent of Republican voters said it's important for the [Full Story]
Brazil's Bolsonaro Hospitalized in Florida With Abdominal Pain
Former Brazilian President Jair Bolsonaro was admitted to a hospital [Full Story]
US Bishops to Biden: Reverse Course, Find 'Humane Solutions' on Immigration
The U.S. Conference of Catholic Bishops (USCCB) is not on board with [Full Story]
Russia Also Using Paramilitary Wagner Group Outside Ukraine
Russia is using the paramilitary Wagner Group to influence operations [Full Story]
Video Report: Israel Seizes $39M From Palestinian Authority
On Monday's "Wake Up America," Newsmax's Daniel Cohen reports on the [Full Story] | video
House Republicans Prepare to Probe Big Tech
Jim Jordan, R-Ohio, will chair a new House select committee that [Full Story]
Finance
5 Reasons to Hire a Financial Planner
A financial planner can help you, especially if you have a sizeable portfolio or complex financial needs. But beware. Not every financial planner is legally bound to put your best interests ahead of theirs…. [Full Story]
Hurricanes, Floods Bring $120B in Insurance Losses in '22
Rolls Royce Hits New Sales Record Despite $534,000 Average Price
Bed, Bath & Beyond Soars 31% in Meme-Stock Rally
Inflation Expectations Temper: N.Y. Fed
More Finance
Health
Avoid These 5 Foods for a Healthier 2023
If you want to lose weight this coming year, avoid low-quality "junk" foods. The 2022 State of Obesity Report found that 19 states now have obesity rates topping 35% and that 4 out of 10 U.S. adults is obese, says Eat This, Not That! The report notes that our obesity…… [Full Story]
How to Cope With Nicotine Withdrawal Symptoms
New Guidelines Call for Drugs, Surgery Earlier for Kids With Obesity
Tips to Stay Healthy While Traveling
Nearly 90 Percent of People in China Province Infected with COVID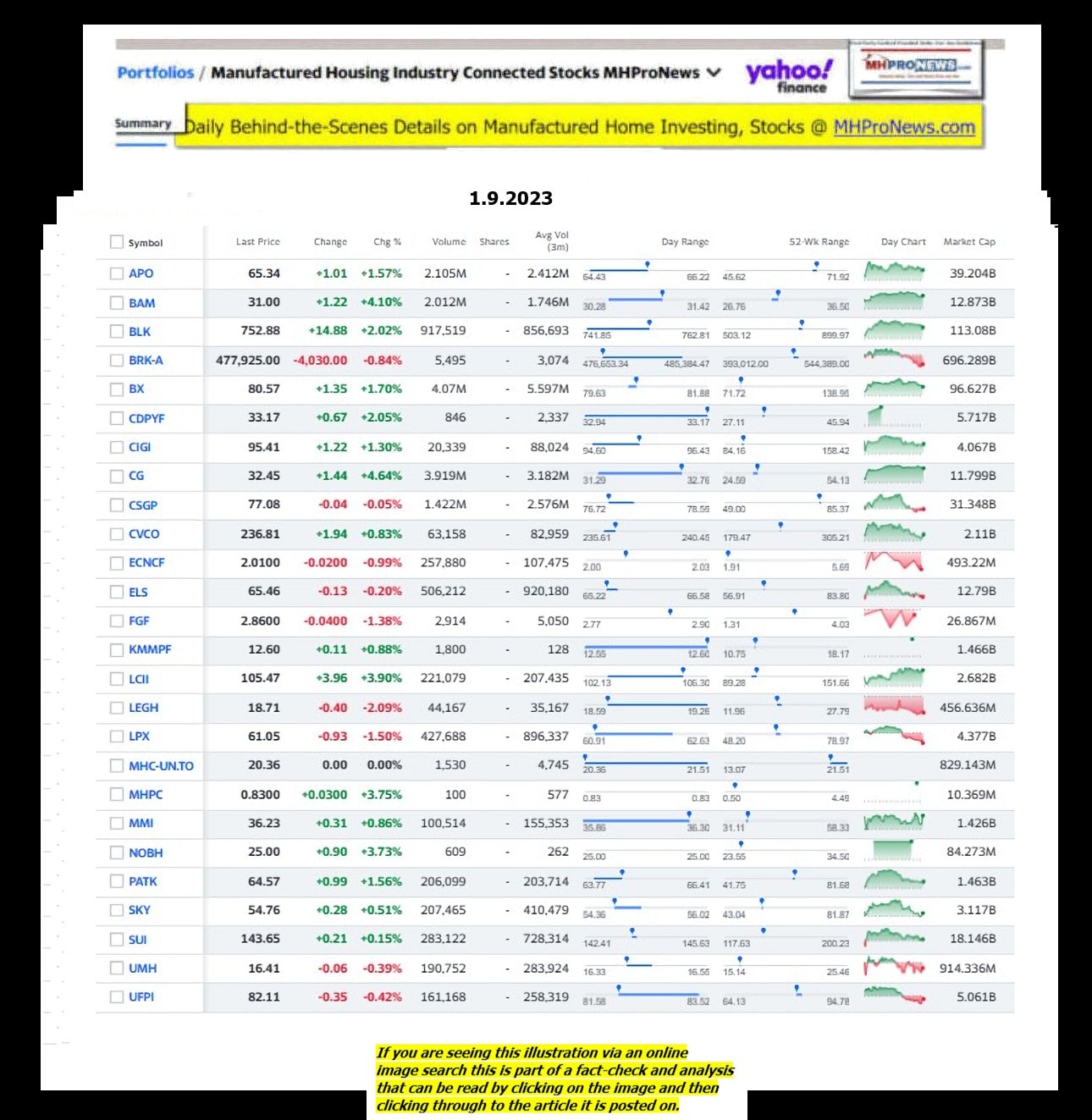 ====================================
Updated
NOTE 1: The 3rd chart above of manufactured housing connected equities includes the Canadian stock, ECN, which purchased Triad Financial Services, a manufactured home industry finance lender.
NOTE 2: Drew changed its name and trading symbol at the end of 2016 to Lippert (LCII).
NOTE 3: Deer Valley was largely taken private, say company insiders in a message to MHProNews on 12.15.2020, but there are still some outstanding shares of the stock from the days when it was a publicly traded firm.  Thus, there is still periodic activity on DVLY.
Note 4: some recent or related reports to the REITs, stocks, and other equities named above follow in the reports linked below.
Manufactured Housing Properties-Results for Three and Nine Months Ending September 30.2022–Exploring 'Mobile Home Park' Manufactured Home Community Investing; plus MHVille REITs, Stocks Update
Manufactured Housing's Next BIG Regulatory Battle That MHARR's Spotlighted and Which MHI Conveniently Ignored in Recent 'Manufactured Housing Institute News;' plus Sunday Weekly Headlines Recap
'Changes Will Benefit Customers,' Boost Sales-Legacy Homes CEO Duncan Bates – LEGH 'Delivered 22.5% Return on Equity in 1 Yr' – Corp Q3 2022 Insights, Analysis; plus MHVille REITs, Stocks Update  
'No Assurance Inflation Will Not Affect Our Future Profitability Financial Position'=Cavco Industries 10-Q, Solitaire Deal, More CVCO Data; Supreme Court Ruled-SEC Regs on False-Omitted Remarks
Skyline Champion Provides Quarterly Results, Adding Retail Centers, Improved Delivery Times-CEO Mark Yost Says 'Can Outperform Conventional Housing' Explored; Plus MHVille REITs, Stocks Update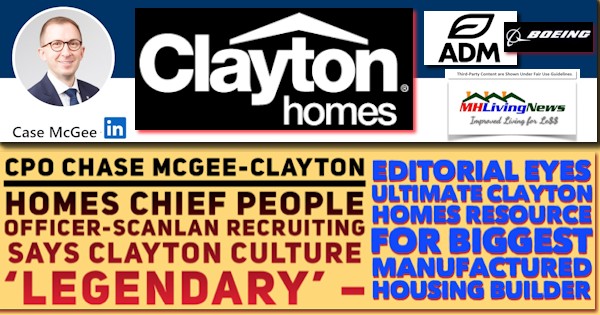 Triad Financial Services Q2-2022 FINANCIAL RESULTS, per ECN Capital – Several Bright Spots in Manufactured Home Market Highlighted, Including Communities, Retail, Land-Home, Floor; MHStocks Update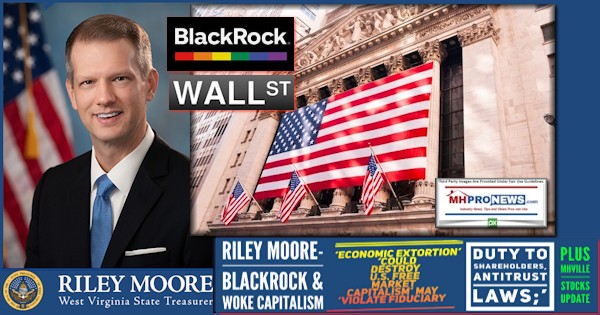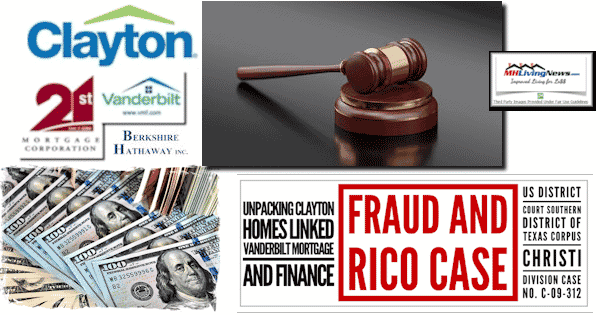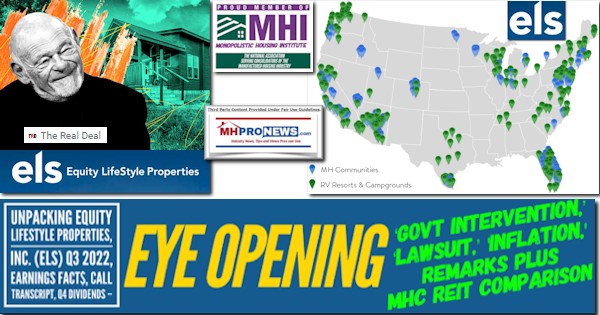 Manufactured Home Communities (a.k.a. 'Mobile Home Parks' – SIC) – Exploring UMH Properties; Fellow Manufactured Housing Institute Member Yes! Communities Suits and Settlements; plus MH Markets Updates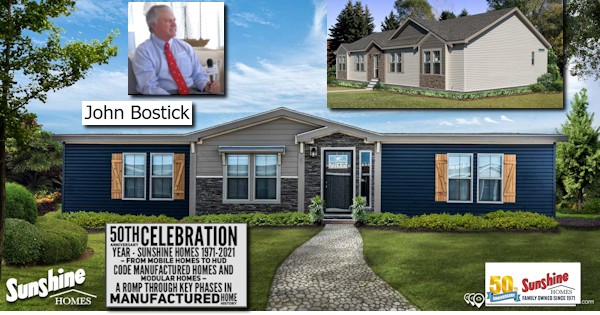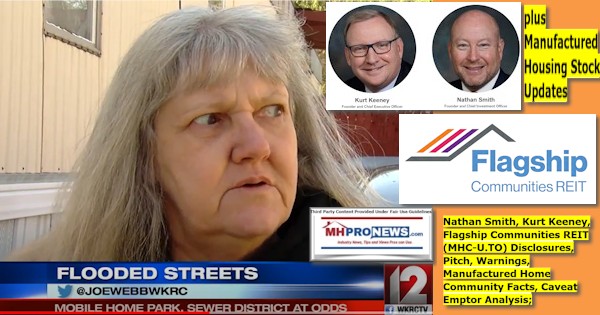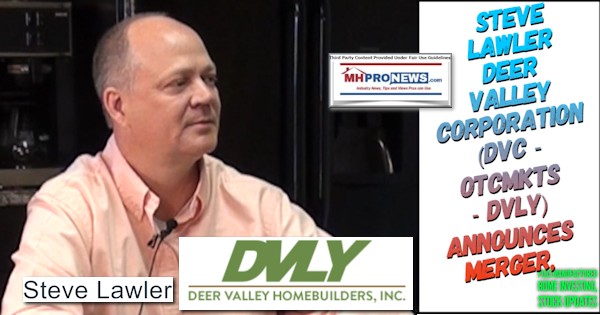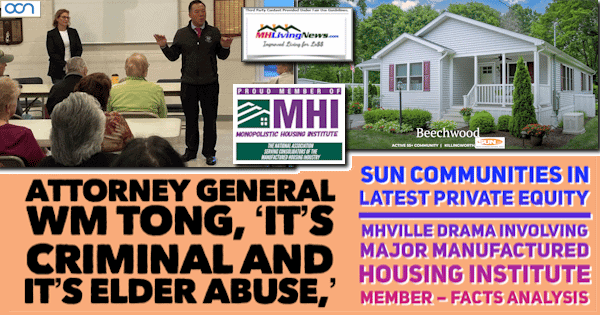 2022 …Berkshire Hathaway is the parent company to Clayton Homes, 21st Mortgage, Vanderbilt Mortgage and other factory-built housing industry suppliers.
· LCI Industries, Patrick, UFPI, and LP each are suppliers to the manufactured housing industry, among others.
· AMG, CG, and TAVFX have investments in manufactured housing related businesses. For insights from third-parties and clients about our publisher, click here.
Disclosure. MHProNews holds no positions in the stocks in this report.
· For expert manufactured housing business development or other professional services, click here.
· To sign up in seconds for our industry leading emailed headline news updates, click here.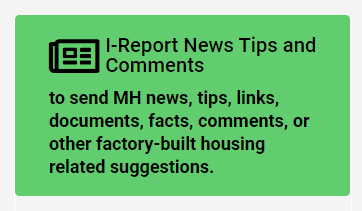 That's a wrap on this installment of "News Through the Lens of Manufactured Homes and Factory-Built Housing" © where "We Provide, You Decide." © (Affordable housing, manufactured homes, stock, investing, data, metrics, reports, fact-checks, analysis, and commentary. Third-party images or content are provided under fair use guidelines for media.) (See Related Reports, further below. Text/image boxes often are hot-linked to other reports that can be access by clicking on them.)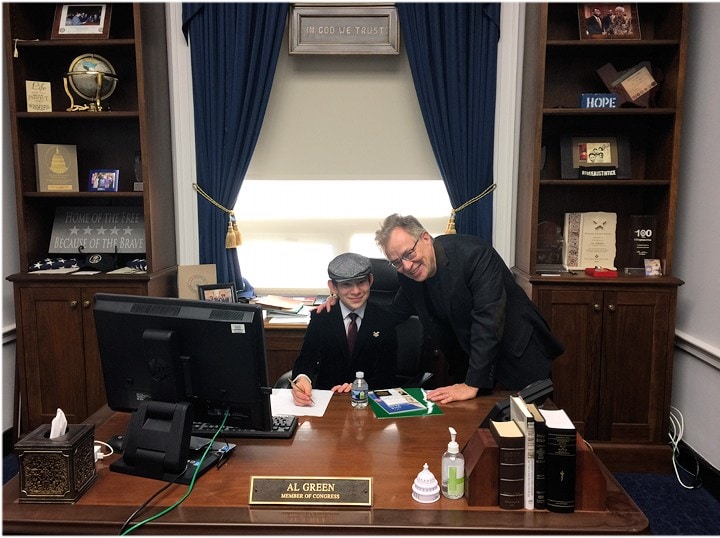 By L.A. "Tony" Kovach – for MHProNews.
Tony earned a journalism scholarship along with numerous awards in history. There have been several awards and honors and also recognition in manufactured housing. For example, he earned the prestigious Lottinville Award in history from the University of Oklahoma, where he studied history and business management. He's a managing member and co-founder of LifeStyle Factory Homes, LLC, the parent company to MHProNews, and MHLivingNews.com. This article reflects the LLC's and/or the writer's position and may or may not reflect the views of sponsors or supporters.
Consumers 'Fears for the Future'-Mortgage Payments Surge Since 2021, Buyers Get Priced Out–Conventional Housing Woes are Manufactured Home Pro Opportunities; plus MHVille REITs, Stocks Update