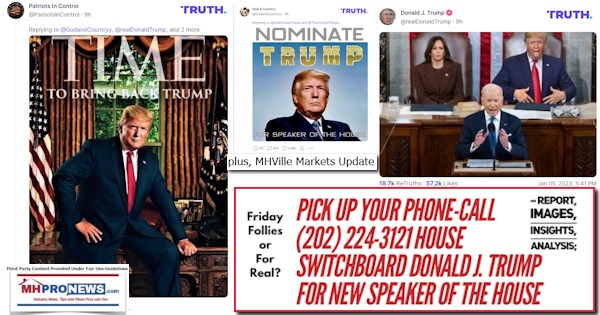 If you don't already know, you can find your representative in 2023 by using the federal look up tool at this link here. You can call your Congressional Representative via the House switchboard number at (202) 224-3121. Why do those facts matter? It may be a joke, or it may have been a trial balloon. If you haven't already heard or read all about it, Newsmax reported on Thursday evening that deposed President Donald J. Trump posted on his Truth Social account an image of himself as the next Speaker of the House. With 11 votes thus far and no joy for last year's House Minority Leader Kevin McCarthy failing to yield the necessary votes among Republicans for him to take the speaker's gavel in the new Congress, several pro-Trump voices have jumped on the bandwagon to call from Donald John Trump to be the next Speaker of the House, as the following report illustrates. Reasons to pick up the phone or otherwise contact your new/returning Congressional representative on this issue will follow and today's report will conclude with the Daily Business News on MHProNews MHVille equities markets updates.
Provided courtesy of the WND NewsCenter to MHProNews is their following editorial.
COMMENTARY WND NEWS CENTER
BETWEEN THE LINES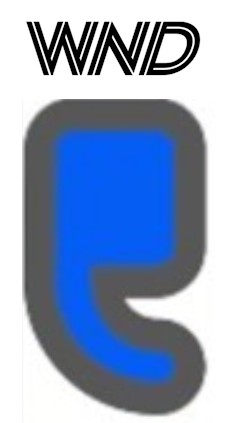 'Why not Trump?' for House speaker
Exclusive: Joseph Farah spotlights Steve Bannon's 100-day plan for ex-president taking the gavel
By Joseph Farah Published January 5, 2023 at 7:45pm
He said it – finally.
Steve Bannon said it. It was more than a question. It was a PLEA!
Regarding the failure to elect a House speaker, Bannon said: "Why not Trump? Why not Trump?"
"You have to get someone in the room for what the big issues are – and we know what the big issues are," said Bannon. "It's the investigations. We have to stop the madness. We have to stop the insanity of the global elites who run this country. It must be stopped, and it must be stopped now. If it isn't stopped now, it's over. We're not going to be the constitutional republic that we were bequeathed.
"I would like to get Mark Levin and all the constitutional republicans to join us in this cause. Because you're not going to have the constitutional republic if they still have ability to spend us into oblivion while they take all of the value and the they take all of the wealth. And that's the system we have. … So my vote now is 'why not Trump?' If you need a nasty piece of work in the room negotiating, give me the nastiest. And Trump is a beast. Why not Trump? Why not Trump? Why not? Why not?"
Steve Bannon

Trump House Speaker

For The First 100 Dayspic.twitter.com/BcD8vHeLsC

— Citizen Free Press (@CitizenFreePres) January 5, 2023
This is where it all started: me asking the question on Jan. 3, 2021, and Steve Bannon backing me up a few days later. I couldn't let go of the idea. Other people picked it up.
Then Rep. Matt Gaetz put his name into the mix Thursday, voting for Trump for speaker on the seven round of balloting. Later Gaetz nominated Trump for speaker, prior to the 11th roll call vote.
It was like magic when he dropped it.
It sounded as good as it originally sounded to me in 2021.
How does it work?
Any American can serve as speaker of the House. You don't have to be a member of the body.
Donald J. Trump has shown little interest in the job. But he doesn't need a job. He must be persuaded. The country needs him. He will answer the call of duty.
"This is why I'm excited about this," says Bannon. "You want him in the room negotiating the deals."
This is not a job, for Trump. It's one that requires his attention for 100 days or less. That's all.
Will he do it? Yes, if he's asked. If he has the people's support. He cannot say no to the American people. He'll do it if he's needed. And boy is he needed.
It can be done – Donald Trump will answer the bell.
Trump is listening. He's weighing the options. Obviously, he's not in it to lose. He wants to see a path to victory.
Will you give it to him, America?
Is he still the greatest president whoever served this country? Do we need him now? Will anyone else do?
See Bannon's full segment:
##
Part II. Additional Information with More MHProNews Analysis and Commentary
As Newsmax reported, "Former President Donald Trump on Thursday afternoon posted a photo of himself in the House speaker's chair after he was nominated by Rep. Matt Gaetz, R-Fla., and received two votes.
The photo posted on Trump's Truth Social network is digitally altered to show Trump in the House speaker's chair with President Joe Biden delivering a State of the Union address. Vice President Kamala Harris is seated behind Biden alongside Trump.
But rather than the typical serious look the speaker typically gives during the president's speech, Trump is sticking out his tongue and is holding his hands on his stomach." That post is shown below along with screen captures of several responses in that thread."
The embedded version of that post looks like this.  You can grab the scroll bar on the right to move the image down or back up again.
Screen captures from select Truth Social media posts responding to the Real Donald J. Trump post boosting him for Speaker of the House appear as follows.


Editorially speaking, this writer for MHProNews went on the record with this outcome in mind from the 2022 midterms months ago.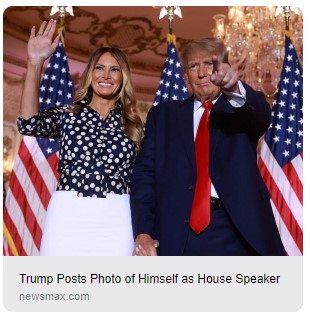 Due to redistricting or the 2022 election, your congressional representative may have changed, as did ours. The official Congressional representative look up tool is found at this link here. You can call your Congressional rep via the Capitol switchboard number at (202) 224-3121, or via your elected representative's website contact page.  Or sit on your hands, don't ask for Trump as the Speaker of the House, and claim the God-awful status quo. Your choice. Vote now.
My vote for Speaker of the House today?

Donald John Trump. pic.twitter.com/ajFdcHVPM5

— Rep. Matt Gaetz (@RepMattGaetz) January 5, 2023
"I'm going to nominate Donald Trump for Speaker of the United States House of Representatives!" @RepMattGaetz
(This was 9 months ago! 🔥🔥) pic.twitter.com/6ObBvKMBah

— Carrie ❤️ America (@FarmGirlCarrie) January 5, 2023
The moment big balls @RepMattGaetz voted for Trump Speaker of the House😂 pic.twitter.com/mTvEVPZBqE

— ꧁🍃 Ɣ 🍃꧂ (@V_its_me888) January 5, 2023
January 6th would be a good day for Trump to tweet he wants to be Speaker of The House. pic.twitter.com/ySfHCoJ9nm

— Stacy Rae 🇺🇸 (@stacyhrae) January 6, 2023
Donald J. Trump for Speaker of the House! 🇺🇸@realDonaldTrump @RepMattGaetz @DrPaulGosar @RepAndyBiggsAZ @HouseGOP @GOP

Retweet, if you agree. ✋ pic.twitter.com/0glxZgL1nx

— Warrior Renata (@Czesc45) January 6, 2023
Update at 11:52 AM. Despite several mainstream reports about a 'deal' to make Kevin McCarthy Speaker, McCarthy himself now denies that has been accomplished.  Talk radio callers are on this topic of Trump for Speaker.
Summary:

– McCarthy loses 11 votes for speaker
– Today, is reported to claim he has a deal on a call
– Walks it back saying he doesn't have a call but is in a great place
– Is now shouting at journalists to get off the call and he doesn't have a deal https://t.co/GPsLPPxiZw

— Newsquawk (@Newsquawk) January 6, 2023
We changed our planned report for MHProNews for today due to this development in the House Speaker's race. Retweet or share via social media all you want to, but the time to let your elected representative in the U.S. House know is this morning, or as early as possible this afternoon.  Find your rep at this link here.  Call the Switchboard at (202) 224-3121.  ##
Part III. Daily Business News on MHProNews Markets Segment
The modifications of our prior Daily Business News on MHProNews format of the recap of yesterday evening's market report are provided below. It still includes our signature left (CNN Business) and right (Newsmax) 'market moving' headlines. The macro market moves graphics will provide context and comparisons for those invested in or tracking manufactured housing connected equities.
In minutes a day readers can get a good sense of significant or major events while keeping up with the trends that are impacting manufactured housing connected investing.
Reminder: several of the graphics on MHProNews can be opened into a larger size. For instance: click the image and follow the prompts in your browser or device to OPEN In a New Window. Then, in several browsers/devices you can click the image and increase the size. Use the 'x out' (close window) escape or back key to return.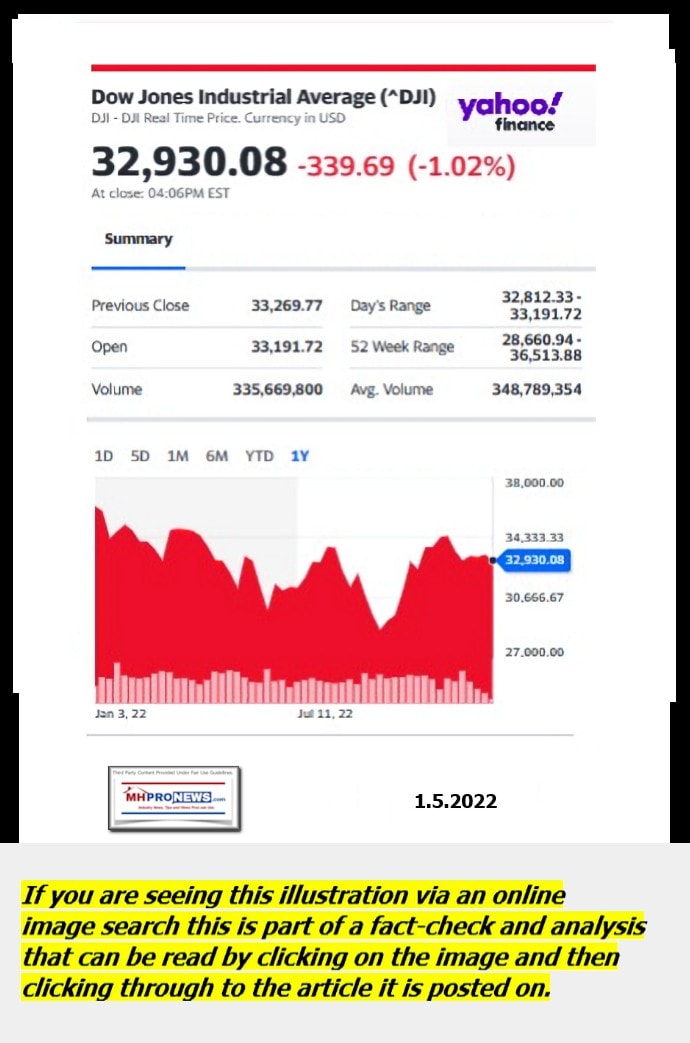 Headlines from left-of-center CNN Business – from the evening of 1.5.2023
Stocks tumble
The Dow Jones Industrial average (DJIA) is seen displayed on the trading floor at the
Dow sinks nearly 400 points on strong jobs reports
Maker of OXO and Osprey is laying off 10% of staff
Stitch Fix lays off 20% of workforce and its CEO steps down
LOS ANGELES, CALIFORNIA – FEBRUARY 25: A general view of the Team USA Delta Airlines Flight as Team USA departs For Beijing 2022 Winter Paralympic Games at Los Angeles International Airport on February 25, 2022 in Los Angeles, California.
Delta Air Lines is rolling out free Wi-Fi
A worker pushes a cart laden with ordered items among shelves at an Amazon warehouse on November 18, 2021 in Brieselang, Germany.
Amazon will lay off more than 18,000 workers
Cardi B speaks on stage during the 2021 People's Choice Awards held at Barker Hangar on December 7, 2021 in Santa Monica, California.
Cardi B's NSFW advice on inflation
Representative Director, Chairman and CEO of Sony Honda Mobility Yasuhide Mizuno in front of a Afeela concept vehicle during a press event at CES 2023 at the Mandalay Bay Convention Center on January 04, 2023 in Las Vegas, Nevada.
Sony and Honda reveal their new car brand
The BMW i Vision Dee is a concept car that literally changes color
L'Oreal develops devices for people with limited mobility to apply makeup
This L'Oreal device aims to help people with limited mobility apply makeup
A view of Bed Bath & Beyond Branch in New York City on September 22, 2020. Bed Bath & Beyond announced plans to permanently close about 200 stores over the next two years. This announcement appears to be the first iteration of that plan, report says.
Bed Bath and Beyond says it may not survive
What to expect from the jobs report on Friday
How to be a better investor in 2023
Here's what to expect in the housing market this year
Mortgage rates start 2023 twice as high as they were a year ago
Hackers post email addresses linked to 200 million Twitter accounts, security researchers say
New York City public schools ban access to AI tool that could help students cheat
More nurses reach tentative contract agreement, but negotiations at five hospitals continue
Germany and Norway will build a big hydrogen pipeline
Why crypto fraud is a game of whack-a-mole
US government moves to seize $460 million Robinhood stake linked to Sam Bankman-Fried
Bankrupt cryptocurrency lender Celsius Networks allegedly defrauded investors out of billions of dollars
How McCarthy's unprecedented leadership battle is a reflection of Fox News and right-wing media
'Monday Night Football' telecast was most watched in ESPN's history
Americans spent a record $212 billion online shopping this holiday season amid deep discounts
Dave & Buster's co-founder James 'Buster' Corley dies in apparent suicide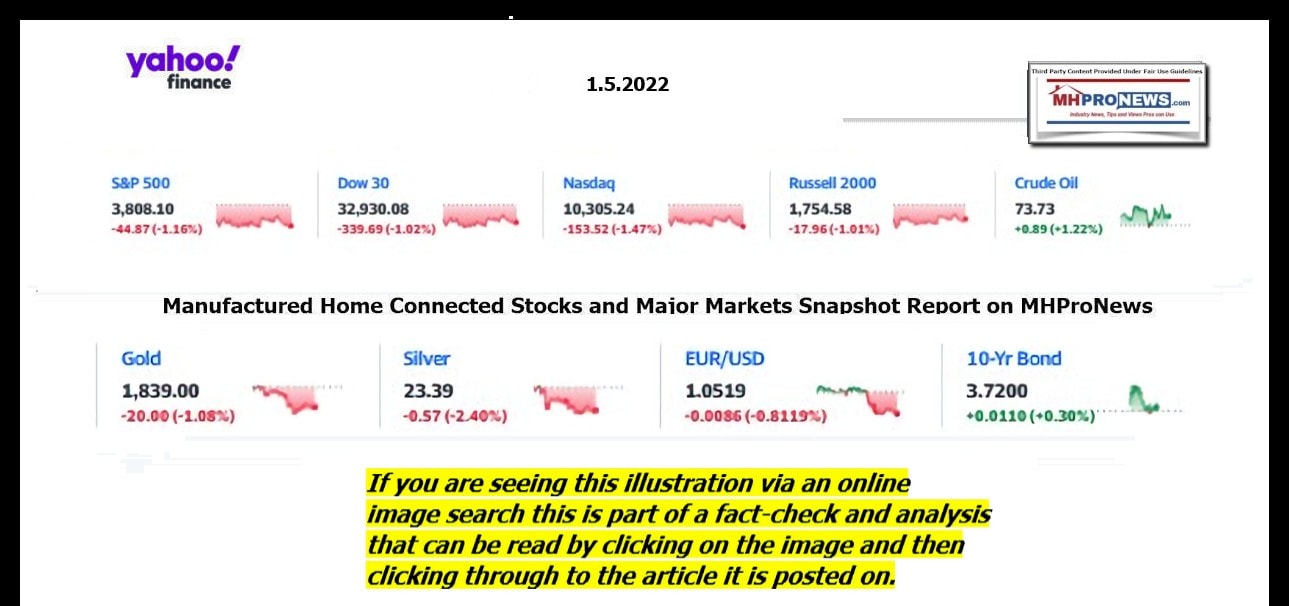 Headlines from right-of-center Newsmax 1.5.2023
Biden to Illegal Migrants: 'Do Not Just
Show Up at the Border'
Biden to Illegal Migrants: 'Do Not Just<br class='hidem'> Show Up at the Border'
The Biden administration Thursday announced it will allow Border Patrol agents to immediately turn away Cubans, Haitians, and Nicaraguans crossing the border illegally, expanding on an existing effort to stop Venezuelans from unlawfully entering the U.S. [Full Story]
House Speakership Battle
McCarthy Again Comes Up Short on 8th Vote; Round 9 Looms
Donalds Rips Cori Bush for 'Blatantly Outrageous' Attacks
Dick Morris to Newsmax: McCarthy Holdouts 'Destroying Their Political Careers'
Gaetz Throws Trump's Name Into Mix for Speaker
Elon Musk Tweets Support for Kevin McCarthy
Fallon: GOP Needs New Rule to Hold McCarthy Accountable | video
Dems Erupt After Scolding Over Rowdiness at Vote
Comer: House GOP Must Elect McCarthy | video
Pope Benedict, Emeritus: 1927-2022
Benedict Buried in Tomb in Vatican Grotto
Pope Francis Leads Benedict's Funeral as Supporters Seek Sainthood
Father Murray: Benedict's Funeral a 'Fitting End'
Video Report: Pope Benedict Remembered During Funeral at Vatican | video
Franco: Benedict's 'Humility' Made an Impact | video
Murray: Clear Differences Between Benedict, Francis
Pope Benedict Asked Biden Not to Attend His Funeral
Alar: Benedict's Resignation Widened Church Divide | video
Father Murray: Benedict's Legacy More Than Resignation | video
Newsmax TV
Waltz: House Republicans Must Get to Work
Doug Collins: GOP Infighting Getting 'Personal' | video
David Horowitz's 'Final Battle' Warns of Grave Crisis, Threat to Democracy | video
Peter Pitts: Alzheimer's Drug on Track for FDA Approval | video
Ronna McDaniel: Disinfo Campaign Skewing My Polls | video
Tim Burchett: Speaker Battle 'Healthy' | video
Meuser: McCarthy Opponents 'Petulant' | video
Peter King: Time for House GOP to Support McCarthy | video
Tenney: I Think McCarthy Is Going to Be the Next Speaker | video
Newsfront
South Carolina's Top Court Strikes Down 6-Week Abortion Ban
South Carolina's Supreme Court on Thursday ruled that a state law banning abortion after about six weeks of pregnancy is unconstitutional because it violates a right to privacy, handing a major win to abortion rights supporters in the U.S. South…. [Full Story]
Hackers Steal Emails of 200 Million Twitter Users
Hackers stole the email addresses of more than 200 million Twitter [Full Story]
Leaders of Turkey, Syria Could Meet for Peace: Erdogan
Turkish President Tayyip Erdogan said on Thursday he may meet Syria's [Full Story]
Daylight Saving Time Debate Spurs Heated Battles in Congress
The pronouncement is, "Let there be light" – but the burning question [Full Story] | Platinum Article
Ukraine Rejects Putin Call for Christmas Truce
Ukraine spurned an announcement by Russian President Vladimir Putin [Full Story]
Related
Putin Orders Army to Observe 36-Hour Cease-Fire in Ukraine
Poll: Americans Split on Attention Given to Jan. 6 Probe
A new poll reveals Americans are split on whether there has been too [Full Story]
Middle Class Likely to Sidestep a 'Richcession'
Consumer behavior during COVID stymied economists and the smart money [Full Story]
Tech Firms Slashing the Most Jobs
American technology firms dominated the number of announced job cuts [Full Story]
Hillary Clinton to Be Columbia University Professor
Columbia University could have a politically divisive new professor, [Full Story]
Fewer Americans File for Jobless Claims
Fewer Americans applied for jobless benefits last week, reflecting a [Full Story]
Ukraine Pleads With Allies to Send Tanks
Ukrainian officials reported heavy fighting in eastern regions on [Full Story]
Related
Putin Orders Russian Army to Observe 36-hour Cease-Fire in Ukraine
Putin Sends New Hypersonic Cruise Missiles to Atlantic
Ukraine to Get French Combat Vehicles
Russian Patriarch Calls for Orthodox Christmas Truce in Ukraine
Israeli FM Holds Call With Russia's Lavrov After Vowing to 'Speak Less' on Ukraine
Putin Tells Erdogan: Ukraine Must Accept Loss of Territories for There to Be Dialog
Ukraine Suffers Biggest Economic Fall in Independent Era Due to War
WH: We Can't Confirm Russia Destroyed HIMARS in Ukraine
Ukraine Says It Destroyed 2 Russian Ammo Depots Near Bakhmut
Between Battles, Ukraine's Soldiers Have a Place to Recover
Violence Paralyzes Mexican Stronghold of Sinaloa Drug Cartel
Organized crime paralyzed the western Mexico city of Culiacan, a [Full Story]
NYC Mayor Adams, City Hall Squabbling Over Rat-Related Court Summons
New York City Mayor Eric Adams and his own City Hall are at odds this [Full Story]
Chronic Procrastinators More Likely to Have Health Problems
College students who routinely cram at the last minute may not only [Full Story]
Florida Gov Will Cover the Cost to Install Solar if You Live in Leesburg
After the collapse of major cryptocurrency exchange FTX, the industry [Full Story]
Cigars as Addictive, Harmful as Cigarettes
Cigars are linked with victory, new babies and Winston Churchill, not [Full Story]
Donalds Rips Dem's 'Blatantly Outrageous' Attacks
Donalds Rips Dem's 'Blatantly Outrageous' Attacks
Byron Donalds, R-Fla. on Thursday ripped Rep. Cori Bush, D-Mo., [Full Story]
Gaetz Throws Trump's Name Into Mix for Speaker
Matt Gaetz, R-Fla., one of the holdouts against voting for House [Full Story]
Trump Announces Plan to 'Destroy Drug Cartels'
Former President Donald Trump vowed to "take down the [drug] cartels, [Full Story]
Oklahoma Bill Seeks to Ban Gender-Affirming Care Under Age 26
An Oklahoma bill filed Wednesday is designed to block anyoneyounger [Full Story]
Rasmussen Poll: GOP Voter Plurality Wants McCarthy as Speaker
Only 35% of likely voters say they want House Republicans to choose [Full Story]
Police: Idaho Slaying Suspect's DNA Found at Crime Scene
The DNA of the man accused of killing four University of Idaho [Full Story]
Biden DOJ Defends Student Debt Relief Program
President Joe Biden is facing an uphill battle for his student debt [Full Story]
Biden Announces First Southern Border Visit
President Joe Biden on Sunday will visit the southern border for the [Full Story]
Mother Complains 'Educational' Toy Plays Inappropriate Jokes
A mother this week went viral after uploading a video complaining [Full Story]
Putin Orders 36-Hour Ukraine Cease-Fire
Russian President Vladimir Putin on Thursday ordered a 36-hour [Full Story]
Ukraine: Iranian Drone Contained Parts From 13 US Companies
An Iranian drone shot down by Ukrainian forces last year contained [Full Story]
Soros Doubles Funding to Group Aiming to Pack Court
Billionaire George Soros has increased donations to a progressive [Full Story]
RNC Midterms Audit to Include Look at Trump's Influence
The Republican National Committee will include in its post-election [Full Story]
Democrat Sen. Stabenow of Michigan Won't Run Again
Michigan Sen. Debbie Stabenow, a member of the chamber's Democrat [Full Story]
Kennedy Decides Against Running for Louisiana Governor
John Kennedy, R-La., told supporters that he will remain in the [Full Story]
More Newsfront
Finance
Middle Class Likely to Sidestep a 'Richcession'
Consumer behavior during COVID stymied economists and the smart money on Wall Street. A U.S. recession in 2023 is likely to be as unusual. So atypical , in fact, that pundits are coming up with new terms for it…. [Full Story]
SEC Fines Ex-BlackRock Money Manager $250k
Delta to Offer Free Wi-Fi Starting Next Month
CEO of Failed Crypto Lender Celsius Sued for Fraud
Fed's Bullard Says 2023 May Be Year Inflation Surge Wilts
More Finance
Health
Chronic Procrastinators More Likely to Have Health Problems
College students who routinely cram at the last minute may not only see their grades suffer, but their health, too, a new study suggests. Researchers found that of more than 3,500 college students they followed, those who scored high on a procrastination scale were more…… [Full Story]
5 Causes of Painful Sciatica
Drinking Sugary Beverages Linked to Male-Pattern Baldness
Jill Biden to Undergo Mohs Surgery to Remove Skin Lesion
Cardiac Events a Frightening, Familiar Sight in Hockey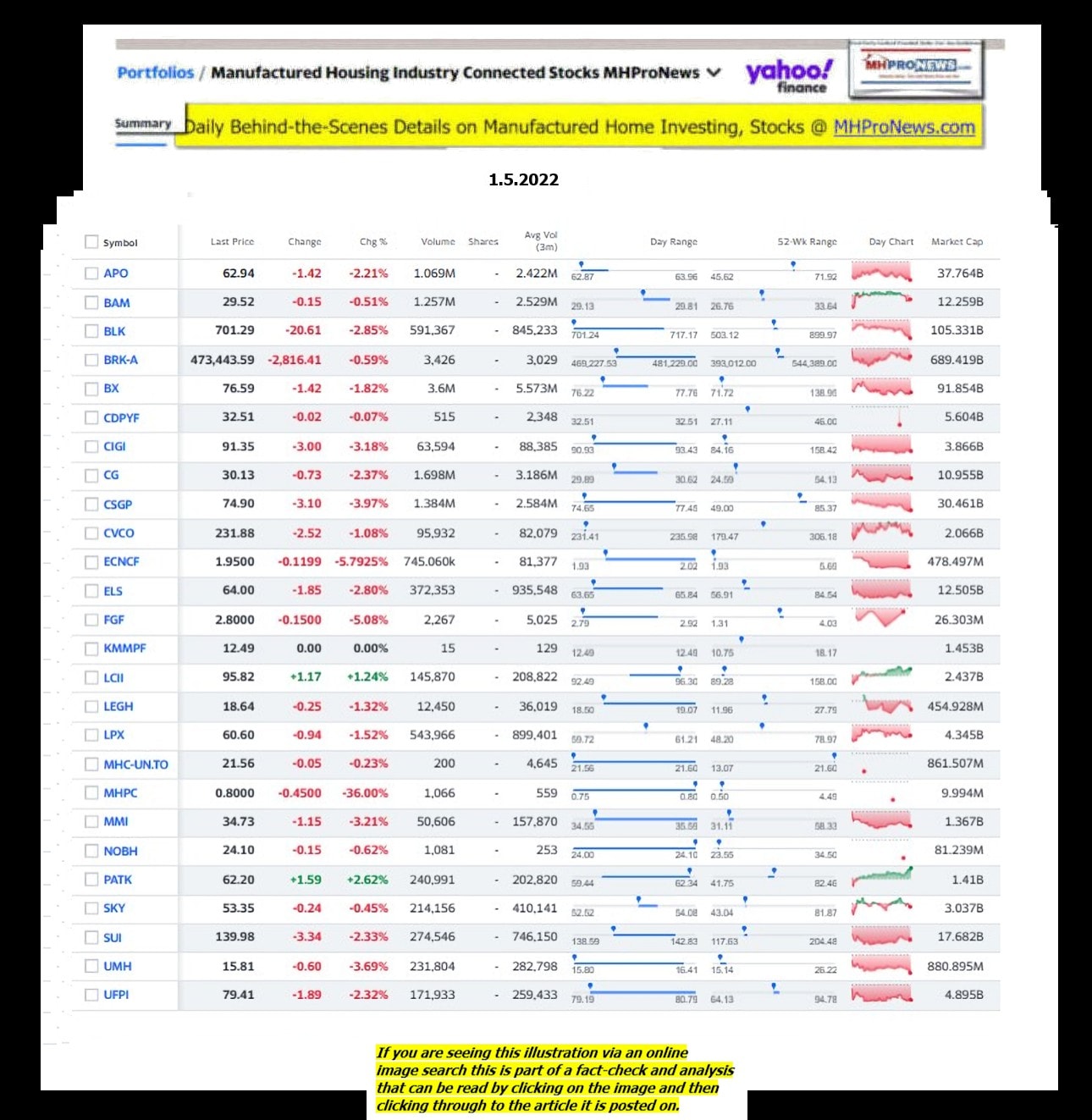 ====================================
Updated
NOTE 1: The 3rd chart above of manufactured housing connected equities includes the Canadian stock, ECN, which purchased Triad Financial Services, a manufactured home industry finance lender.
NOTE 2: Drew changed its name and trading symbol at the end of 2016 to Lippert (LCII).
NOTE 3: Deer Valley was largely taken private, say company insiders in a message to MHProNews on 12.15.2020, but there are still some outstanding shares of the stock from the days when it was a publicly traded firm.  Thus, there is still periodic activity on DVLY.
Note 4: some recent or related reports to the REITs, stocks, and other equities named above follow in the reports linked below.
Manufactured Housing Properties-Results for Three and Nine Months Ending September 30.2022–Exploring 'Mobile Home Park' Manufactured Home Community Investing; plus MHVille REITs, Stocks Update
Manufactured Housing's Next BIG Regulatory Battle That MHARR's Spotlighted and Which MHI Conveniently Ignored in Recent 'Manufactured Housing Institute News;' plus Sunday Weekly Headlines Recap
'Changes Will Benefit Customers,' Boost Sales-Legacy Homes CEO Duncan Bates – LEGH 'Delivered 22.5% Return on Equity in 1 Yr' – Corp Q3 2022 Insights, Analysis; plus MHVille REITs, Stocks Update  
'No Assurance Inflation Will Not Affect Our Future Profitability Financial Position'=Cavco Industries 10-Q, Solitaire Deal, More CVCO Data; Supreme Court Ruled-SEC Regs on False-Omitted Remarks
Skyline Champion Provides Quarterly Results, Adding Retail Centers, Improved Delivery Times-CEO Mark Yost Says 'Can Outperform Conventional Housing' Explored; Plus MHVille REITs, Stocks Update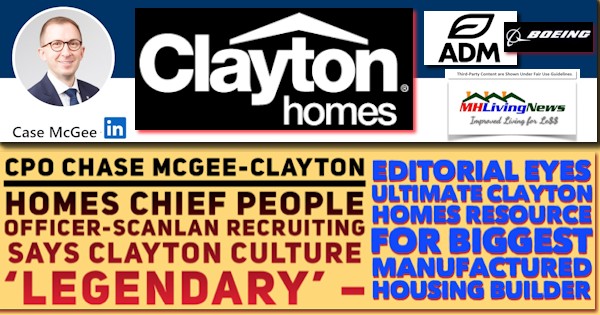 Triad Financial Services Q2-2022 FINANCIAL RESULTS, per ECN Capital – Several Bright Spots in Manufactured Home Market Highlighted, Including Communities, Retail, Land-Home, Floor; MHStocks Update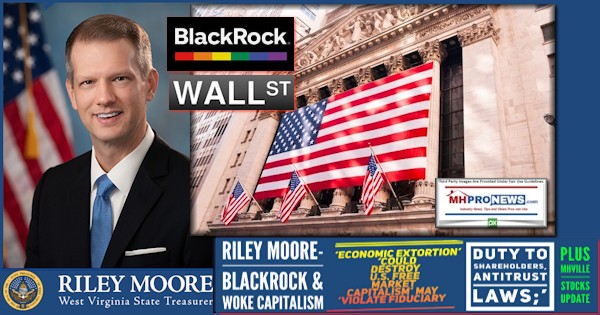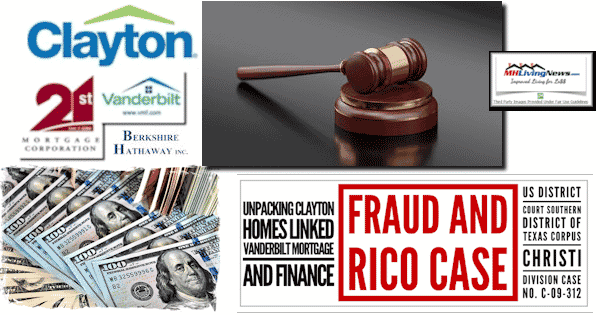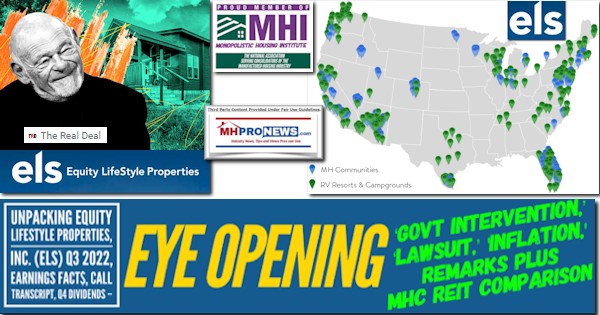 Manufactured Home Communities (a.k.a. 'Mobile Home Parks' – SIC) – Exploring UMH Properties; Fellow Manufactured Housing Institute Member Yes! Communities Suits and Settlements; plus MH Markets Updates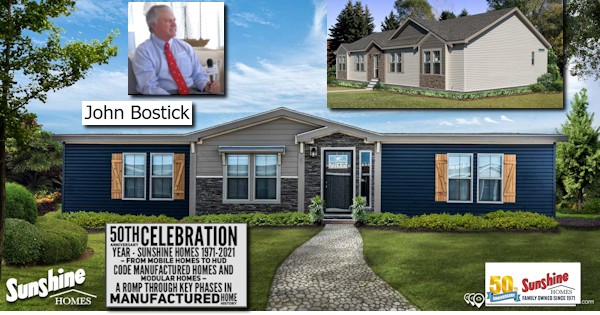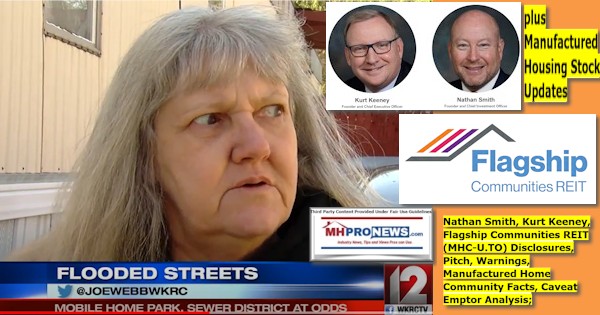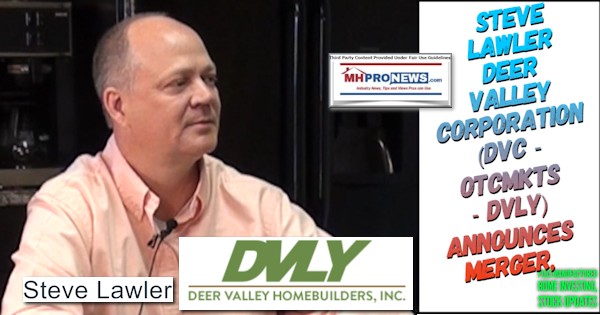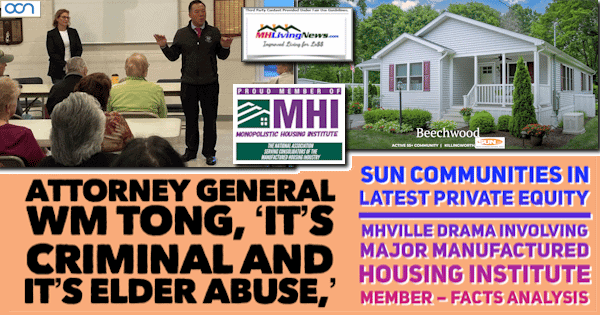 2022 …Berkshire Hathaway is the parent company to Clayton Homes, 21st Mortgage, Vanderbilt Mortgage and other factory-built housing industry suppliers.
· LCI Industries, Patrick, UFPI, and LP each are suppliers to the manufactured housing industry, among others.
· AMG, CG, and TAVFX have investments in manufactured housing related businesses. For insights from third-parties and clients about our publisher, click here.
Disclosure. MHProNews holds no positions in the stocks in this report.
· For expert manufactured housing business development or other professional services, click here.
· To sign up in seconds for our industry leading emailed headline news updates, click here.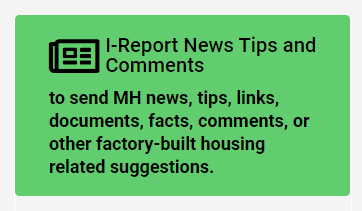 That's a wrap on this installment of "News Through the Lens of Manufactured Homes and Factory-Built Housing" © where "We Provide, You Decide." © (Affordable housing, manufactured homes, stock, investing, data, metrics, reports, fact-checks, analysis, and commentary. Third-party images or content are provided under fair use guidelines for media.) (See Related Reports, further below. Text/image boxes often are hot-linked to other reports that can be access by clicking on them.)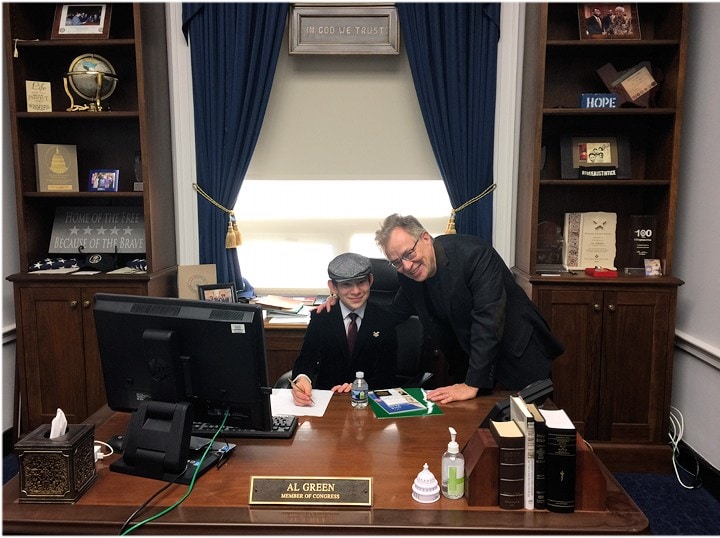 By L.A. "Tony" Kovach – for MHProNews.
Tony earned a journalism scholarship along with numerous awards in history. There have been several awards and honors and also recognition in manufactured housing. For example, he earned the prestigious Lottinville Award in history from the University of Oklahoma, where he studied history and business management. He's a managing member and co-founder of LifeStyle Factory Homes, LLC, the parent company to MHProNews, and MHLivingNews.com. This article reflects the LLC's and/or the writer's position and may or may not reflect the views of sponsors or supporters.
Consumers 'Fears for the Future'-Mortgage Payments Surge Since 2021, Buyers Get Priced Out–Conventional Housing Woes are Manufactured Home Pro Opportunities; plus MHVille REITs, Stocks Update