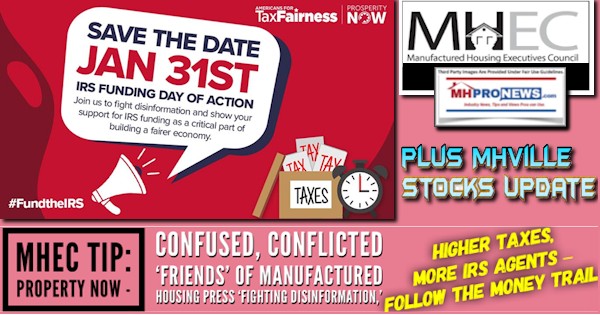 An email from a Manufactured Housing Executives Council (MHEC) executive to MHProNews provided the following news 'tip' on the Prosperity Now nonprofit and their apparent push for higher taxes, more IRS agents, and to "fight disinformation" in what could be described as a potential conflict of interest. Per that introductory comments to that emailed tip was the following message. "Our (former) "friends" at Prosperity Now, fighting to maintain Biden's 87,000 [new] IRS agents. Seems like an oxymoron, huh? Whatever "prosperity" you achieve "now," will soon be taken away by the very people you're marching for. Well, no one ever said that they were geniuses." Following the email from Prosperity Now to untold thousands on their email list sent on 1.30.2023 will be additional third-party information, facts, evidence, and a focused expert commentary.
In what follows, the name of the source and the link to the Prosperity Now "action kit" have been omitted. But the balance is as they've sent it to their readers, under the subject line shown.
Part I.

TOMORROW: Join Us for IRS Funding Day of Action to fight disinformation
Earlier this month, House Republicans voted to repeal $71 billion in new IRS funding secured last year in the Inflation Reduction Act. Some have gone so far as to introduce a bill to abolish the IRS and replace income taxes with a national sales tax.
In response, Americans for Tax Fairness and Prosperity Now are organizing a nationwide IRS Funding Day of Action TOMORROW to fight disinformation and support the public with the facts on why we need IRS funding. We'd love for you to join us—download the toolkit here!
Download the IRS Funding Day of Action Toolkit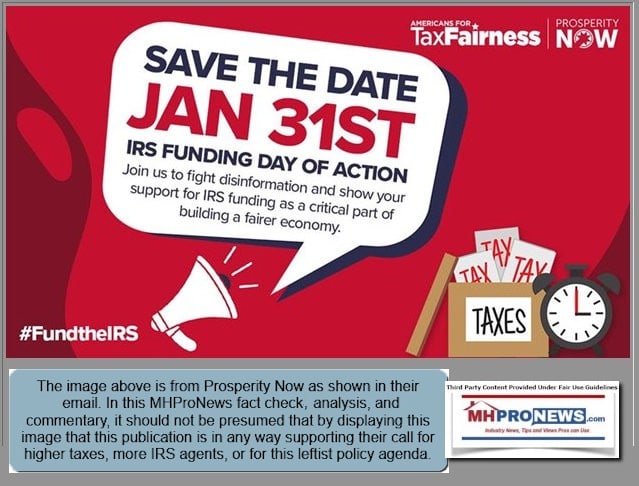 It is critical that we have a strong IRS that supports working families to collect the hundreds of billions of dollars that the wealthy and corporations already owe in taxes. The funding is also needed to boost IRS staffing so that tax refunds and phone calls from taxpayers get dealt with promptly.
We're banding together to fight back against the attacks on and disinformation about the IRS. We need to make sure the public and the media understand the importance of bolstering tax enforcement funding and taxpayer services at the IRS. Without a strong IRS, we cannot achieve a fair tax system.
Feel free to reach out to me (jain@prosperitynow.org) with any questions or other ways to plug in or add to this effort—we hope you can join us!
Sincerely,
Joanna Ain
Associate Director, Policy
Prosperity Now  ##
Additional Information with More MHProNews Analysis and Commentary
It would be fair to say that Prosperity Now, formerly the Corporation for Enterprise Development or CFED, has strong apparent supporters for HUD Code manufactured homes. Doug Ryan's strongly worded public call to "end the monopoly" over manufactured housing by Clayton Homes is an example of that statement.
That said, per Influence Watch, Prosperity Now is an obviously left-leaning organization. Here are the Influence Watch toplines: "Prosperity Now is a left-of-center advocacy group campaigning against wealth inequality. It receives funding from the government and left-of-center institutional funders." Given government funding, it may rather seems like self-interest on their part to call for more IRS agents to insure their own future."
Per Influence Watch, are the following "related profiles."
NON-PROFITS
MHProNews has spotlighted previously the ties between several nonprofits, including Prosperity Now, and leftist donor/organizations that have documented ties to billionaires George Soros, William "Bill" Gates III, and Warren E. Buffett. Buffett is Chairman of Berkshire Hathaway, parent company to Clayton Homes, 21st Mortgage Corporation, Vanderbilt Mortgage and Finance, Shaw, and other firms that operate in the manufactured housing industry space. Gates is a major shareholder in Berkshire as well.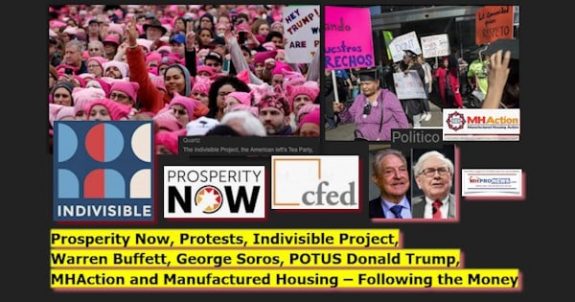 It ought to be kept in mind that at least what is projected to the public from Buffett, Gates, and Soros (among other billionaires that are the purported 'target' of 'tax fairness' by confused and conflicted Prosperity Now) are politically on the left. They have financially supported leftist candidates. They have financially supported investments in Communist China, with is terrible human rights and other abuses that arguably harm U.S. and taxpayer interests. Buffett, Gates, and Soros have apparently supported, through corporate and other interests, the Civic Alliance and the World Economic Forum, see those corporate lists in the document linked here.  Then, consider the factual insights from the flashback reports linked below.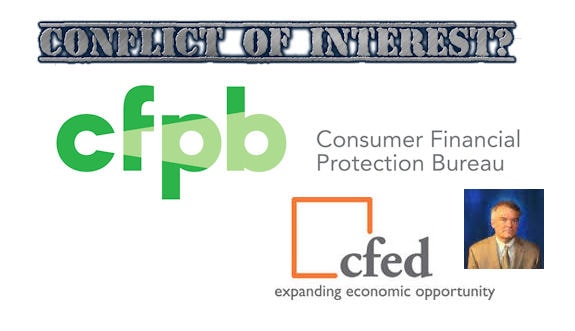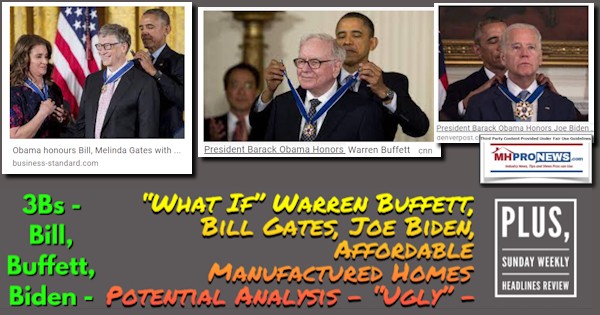 There is an apparent pattern by interests supported by Buffett, Gates, Soros and others that they are often on 'both sides' of apparent battles in manufactured housing. It is a reminder of another leftist's axiom. Recall that Buffett enjoys reading and has a reported interest in history and biographies.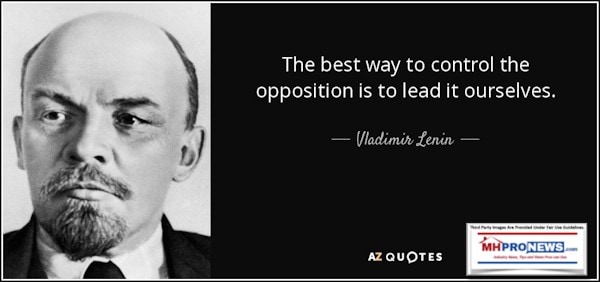 That said, it is also apparent to nuance and detail-minded industry professionals that Prosperity Now, and some of their leftist allies, are providing useful evidence-based critiques of manufactured housing industry abuses by corporate players tied to the Berkshire brands supported Manufactured Housing Institute (MHI). Note that the Chinese Communists reportedly tolerate a certain level of criticism by outsiders, so long as it doesn't get into 'too sensitive' territory that might be seen as a threat to their autocratic regime. That too might be a throwback to the notion by earlier communist leader, Vladimir Lenin, who quipped "The best way to control the opposition is to lead it ourselves." As an online character analysis of George Orwell's 1984 (Nineteen Eighty-Four) states: "A powerful and cunning man, O'Brien tricks Winston into believing that he is a member of the anti-Party Brotherhood." As CliffNotes says about O'Brien, the "character of O'Brien, a powerful member of the Inner Party who tricks Winston into believing that he is a member of" the anti-party Brotherhood but is instead an "Inner Party" socialist government official.
By supporting leftist causes, billionaires and their corporate interests may mask their purported offenses in the eyes of some and thereby buy 'good will.'
Ironically, and to the point made by the MHEC tipster, Prosperity Now's appeal to support more IRS agents appears to be criticizing some of their own donors and their allies, only not by name. But those donors to nonprofits are getting tax breaks for supporting those causes, as the report below that used data from another left leaning nonprofit group, IPS, made clear.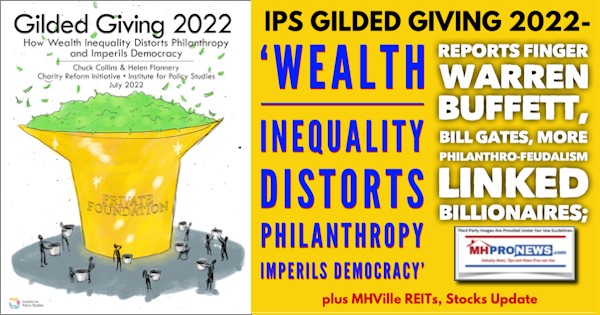 Part of the apparent purpose of such duplicity was revealed by unpacking billionaire Nick Hanauer's writings and statements on the topic of what he called Pitchfork Economics.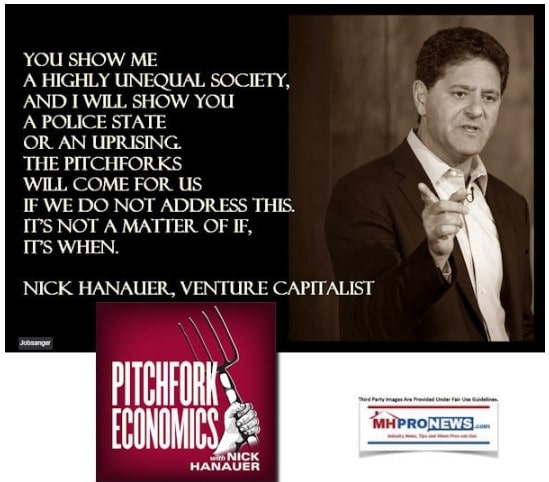 What Prosperity Now failed to mention is what the House Ways and Means Committee website said on January 9, 2023.
Fact Check: Hell-bent on Supercharging IRS Against Middle Class, Democrats Once Again Mislead Public
That press release stated the following.

As Republicans drew closer to passing legislation to protect the middle class and small businesses from an IRS supercharged with 87,000 new agents that would audit them, Democrats resorted to repeating long debunked arguments. Here are a few:
Claim: Republicans are falsely claiming the IRS will hire 87,000 new agents.
Fact: Treasury's own proposal published in 2021 shows that the IRS would add 86,852 full-time equivalent employees by 2031. When CBO analyzed the proposal, it acknowledged the IRS would more than double its head count.
Read: Brady on Manchin-Biden Bill: Attention Wal-Mart Shoppers–More IRS Audits Headed Your Way
Claim: The IRS isn't hiring for 87,000 new positions, they're just replacing retiring employees.
Fact: False—new funding is not needed to replace retiring employees because when an employee retires, the funding for that employee remains unspent until the position is filled again. If they weren't hiring tens of thousands of people, they wouldn't need $80 billion dollars. Even the Washington Post acknowledged this while partially retracting claims in a previous fact check.
Claim: New IRS funding will improve taxpayer service. 
Fact: Despite a clear need for greater taxpayer customer service amidst a historic tax return backlog, only $3.2 billion of Democrats' $80 billion is earmarked for that purpose.
From the Wall Street Journal editorial board: "Despite all this new money, Americans shouldn't expect better IRS service. The agency in the 2022 filing season answered a mere 10 percent of its phone calls…
"The Taxpayer Advocate Service revealed in June that as of May 31 the IRS was still sitting on 21.3 million unprocessed paper tax returns, with millions of taxpayers 'waiting six months or more to receive their refunds.' Yet the Schumer-Manchin bill devotes only $3.2 billion for 'taxpayer services.'"
Read: Democrats Want 87,000 New IRS Agents to Audit Walmart Shoppers
Claim: New IRS funding will lead to closing the so-called "tax gap" – the amount of money owed to the federal government that the IRS fails to collect.
Facts: 
The IRS's numbers are highly disputed. Former IRS Commissioner Rettig testified before Congress that the tax gap could be as high as $1 trillion—contradicting the official IRS estimate of $381 billion per year. President Biden's Tax Compliance Agenda uses an estimate of $630 billion. Yet the most recent IRS tax gap estimate actually showed that the US voluntary compliance rate increased significantly.
Worse, these estimates are outdated. All of these estimates are based on years-old data, including before a tax reform that simplified the tax code and improved compliance.
IRS fell short with past funding increases: Despite the Biden Administration's claim that more money will increase IRS audits and increase revenue from wealthy individuals and corporations, the Treasury Inspector General for Tax Administration actually found that despite using significant resources auditing large businesses, the IRS failed to bring in money to the Treasury from those audits nearly 50 percent of the time.
Read: The Numbers in Biden's Invasive Tax Gap Plan Don't Add Up
Read: Former Democrat Treasury Secretaries Want More Funding for IRS They Unleashed on Innocent Taxpayers
Claim: Republicans are fighting Democrats' $80 billion windfall for the IRS because they know it will allow the agency to go after wealthy tax cheats.
Facts: 
False. Studies from the nonpartisan Joint Committee on Taxation found an increased likelihood of audits for the middle class under Democrats' agenda.
Democrats voted against protecting taxpayers making less than $400,000 from increased audit scrutiny.
Even the CBO found that shielding lower- and middle-class taxpayers from audits in the bill would mean $20 billion fewer dollars in revenue collected by the agency.
Read: CBO: New IRS Audits Will Grab at Least $20B from Lower- & Middle-Income Families
Claim: Secretary Yellen and other top Biden officials promises are legally binding for the IRS, and won't lead to increased audits on the middle class.
Facts:
Reason Magazine reported there are no legal protections for the middle class in Democrats' law: "You'll just have to take their word for it."
Yellen didn't even make this promise. Her carefully worded "promise" has a loophole large enough to drive 87,000 IRS agents through:
"I direct that any additional resources—including any new personnel or auditors that are hired—shall not be used to increase the share of small business or households below the $400,000 threshold that are audited relative to historical levels."
In a September 2021 blogpost, CBO estimated that boosting IRS funding by $80 billion would increase tax revenues by $200 billion adding that "the proposal…would return audit rates to the levels of about 10 years ago; the rate would rise for all taxpayers." That was when audit rates for the middle class were at historic highs.
Read: Democrats Fail to Protect Middle Class From IRS Audits
Claim: Republicans are adding to the deficit by defunding IRS audits on the middle class.
Fact: Congress's nonpartisan scorekeeper admitted that it applies rules for spending inconsistently. In fact, using the agency's own guidelines,it should not have assumed so much revenue would come in from new audits, which enabled Democrats to use the IRS as a budget gimmick. Thanks to CBO's estimate of revenue from new audits of low-income families, Democrats could claim to pay for their Green New Deal handouts without significantly adding to the debt.
If Democrats are willing to cut their hundreds of billions of dollars in corporate giveaways, they won't need this tax hike on small businesses and families.
Claim: Republicans gutted the IRS over the last ten years and would prefer to defund the entire agency.
Fact: Republicans held the agency accountable and has even worked to reform it in a bipartisan way. After the IRS targeted conservative and tea party groups for scrutiny, President Obama agreed to cut the IRS budget. In recent years the agency's budget has risen significantly and the agency received well over $1 billion in supplemental funding during the pandemic. Republicans fought to pass the bipartisan Taxpayer First Act in 2019, which focused on improving the IRS and providing more resources. Democrats turned their backs on that bipartisan effort.
Read: New Schumer-Manchin Bill Will Supercharge Long History of IRS Abuses 
Claim: Republicans don't care about fixing the problems at the IRS like customer service and outdated technology.
Fact: False. Republicans' bill cuts the funding for IRS enforcement and operations support but keeps in place additional funding for taxpayer services and IT modernization. Republicans think the IRS needs internal reforms and significant management improvements, but ultimately Republicans are focused on making the IRS work for taxpayers, not against them.
Read: The Family and Small Business Taxpayer Protection Act ##
What the above doesn't reveal is that scores of those Democrats are routinely funded by left-leaning billionaires, and their corporate and nonprofit interests, including apparently, Prosperity Now. That statement is based on reports that often were made by left-leaning or Democratic supporting mainstream media.  Another point of critical analysis is that there are "establishment" Republicans who get support from those same billionaires and corporate interests. This is why there must be the kind of push-back from within the ranks of the GOP to hold people like Kevin McCarthy to stay on point with populist, vs. Establishment GOP, interests.
Concessions by Speaker Kevin McCarthy in House Speaker's Battle Called 'Most Significant Win for Conservatives in a Decade' By Federalist's Emily Jashinsky Report; plus MHVille Stocks Updates
There are Republicans who have publicly called for the abolition of the IRS and the federal income tax.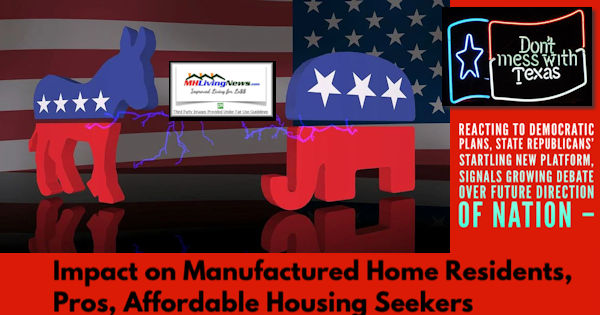 The game of divide and conquer or divide and rule are deliberately confusing. After all, these individuals must operate in the open.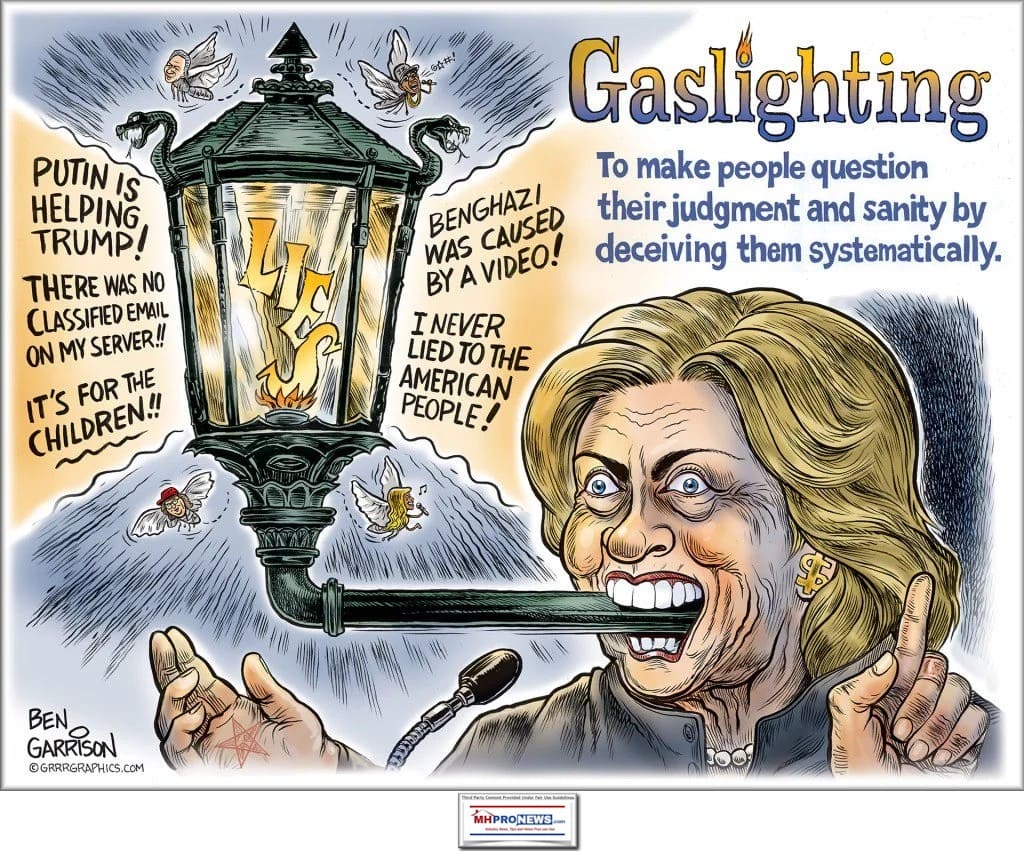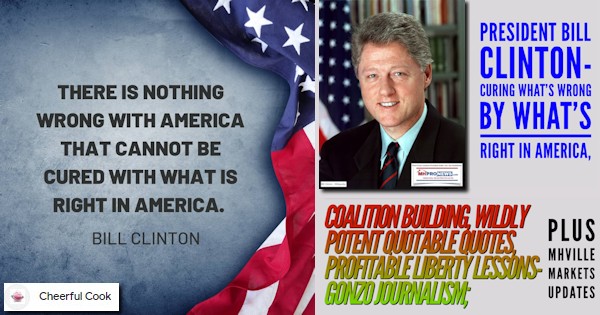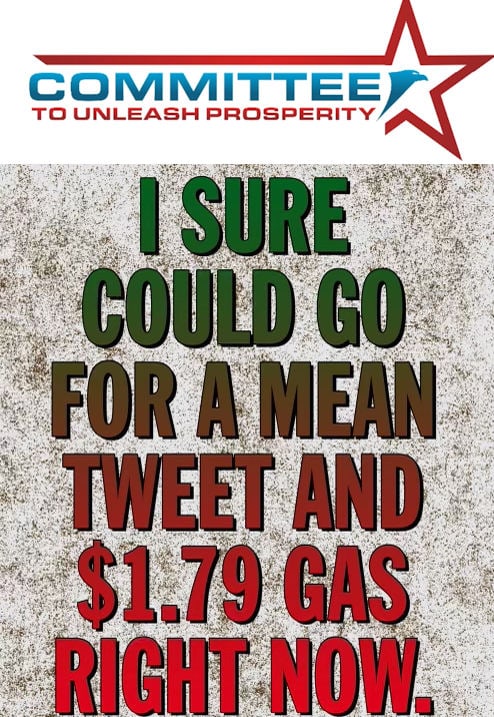 To keep the confusion to a minimum, it is useful to apply to every person and source the ancient and time-honored principle of separating the wheat from the chaff.
The last two years of federal policies in the Biden era have yielded 40-year record inflation. There are broadly speaking, two major causes to that phenomenon. One cause is revealed in the item below. Keep in mind that inflation hits the lower income classes the hardest. Those are the souls that Prosperity Now and others claim to be working on behalf of in their policy proposals.
Two Substantial Causes for Inflation
EJ Antoni in an article for the Washington Examiner entitled "The Fed is punishing Americans for the problems it created. It's time to rein it in" said this on 1.30.2023.
"The Federal Reserve has become borderline schizophrenic and downright destructive toward the American people. First, it created trillions of dollars to feed the government's out-of-control spending, bringing sky-high inflation. Now, in an attempt to fix the inflation problem, it has chosen to go after the American people instead of cutting off the government from its credit addiction. It's time for the Fed to be reined in."
Deeper in Antoni said this.
"When the economy skidded during the pandemic in early 2020, the Fed threw its printers into overdrive and flooded the economy with money in the hopes of easing the short recession that resulted from government-imposed shutdowns. It took interest rates to zero so that consumers and borrowers alike had access to plenty of credit to tide everyone over until the economy reopened.
And that's where the story should've ended. But the Fed continued creating money for two full years, mostly giving it to the Treasury through the purchase of bonds to cover the record-breaking deficit spending passed by Congress."
The Other Major Federal Cause of Inflation
But in fairness, it was a combination of "the Fed" and a Democratic controlled Congress and White House that fueled inflation. And who can be pointed to that makes that later point about the Democratic fingerprints on inflation? The then House Majority Whip, the number 3 Democratic member of that chamber, Representative James "Jim" Clyburn. He flatly told left-leaning MSNBC that Democrats knew they were voting for inflation. They passed those giant spending bills anyway.
With Republicans now narrowly in control of the House of Representatives, there is hope that the new Speaker Kevin McCarthy will reign in spending. The debt ceiling battle will be an obvious test.
The Often-Overlooked Costs of the Federal Income Tax System
To the issue raised by Prosperity Now, Freshbooks said on 1.5.2023 that: "It takes an average American taxpayer 11-13 hours to prepare their taxes according to the IRS."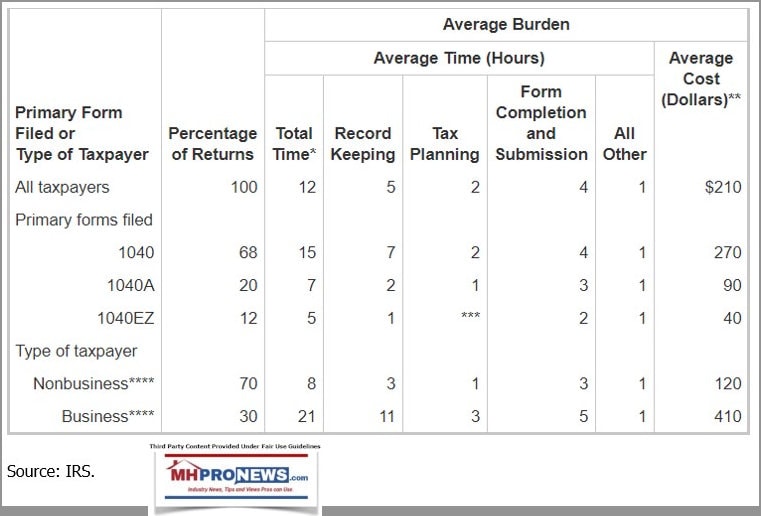 Per CNBC on 6.22.2022 "The IRS has also processed most of the 2022 filings — more than 143 million returns…" Trusting those data points and doing the math, 143 million tax returns times 12 hours 'average' per taxpayers yields a stunning 1,716,000,000. That's 1.716 billion manhours. Per Zip Recruiter: "As of Jan 24, 2023, the average hourly pay for a Hourly in the United States is $20.58 an hour." Given the accuracy of that data point, which another source put significantly higher, 20.58 per hour times 1.716 billion yields (all these per Google's calculator) $35.31528 billion in the approximate value of the time spent on tax returns. Recall that the federal government existed for well over a century without a federal income tax.
Because tax returns are filed under penalties of perjury and are hardly voluntary – they are compelled – one might think that freedom loving Americans would embrace a reasonable method to do away with the income tax altogether. After all, it is obvious that members of both major parties have at various times weaponized the IRS.
It is doubtful that the GOP efforts planned to discuss replacing the income tax with some other form of taxation, such as a federal sales tax on goods and services, the reasons why it is on the table are outlined herein. It is over 1.7 billion hours annually wasted on maddening paperwork. It is some $35 billion in tax preparation costs. Plus, there is the joy of audits – which is part of the goal of hiring 87,000 more IRS agents. As part of a Prager U video stated, there is evidence that tax experts, given the exact same tax information, rarely arrive at the same conclusion.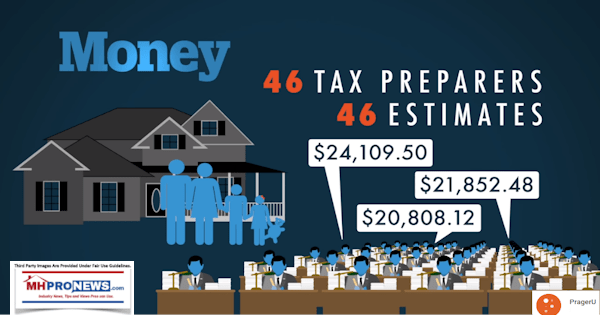 When experts can't agree on what is the correct tax, how is it "fair" to punish the average American doing a tax return for coming up with an 'incorrect' figure? Note that the Prager U video, which featured Steve Forbes – a flat tax advocate – cited a study by George Mason University. It came in with a significantly higher cost to the current income tax system. It is entirely possible that other factors were used by the univeristy researchers which would explain why their figure is so much higher than the basic math, shown above.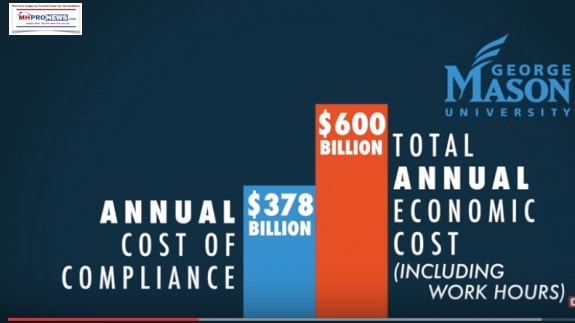 Hardly last or least is the point that income tax opponents have periodically made. Namely, that the income tax was a Marxist idea. Why are Americans wedded to a Marxist – i.e. communist – income tax system?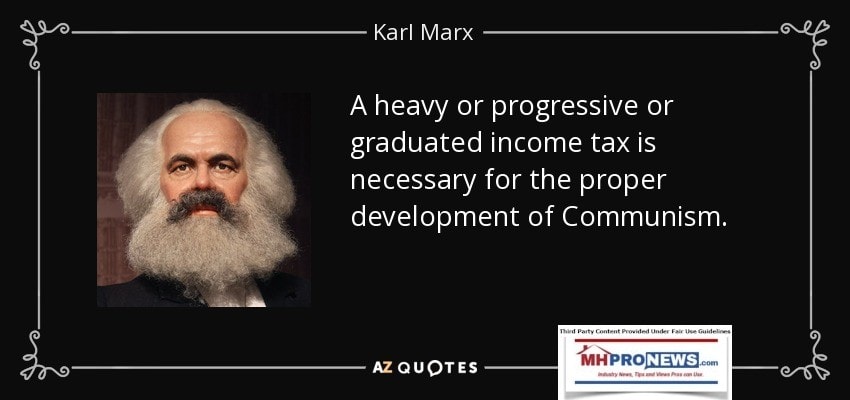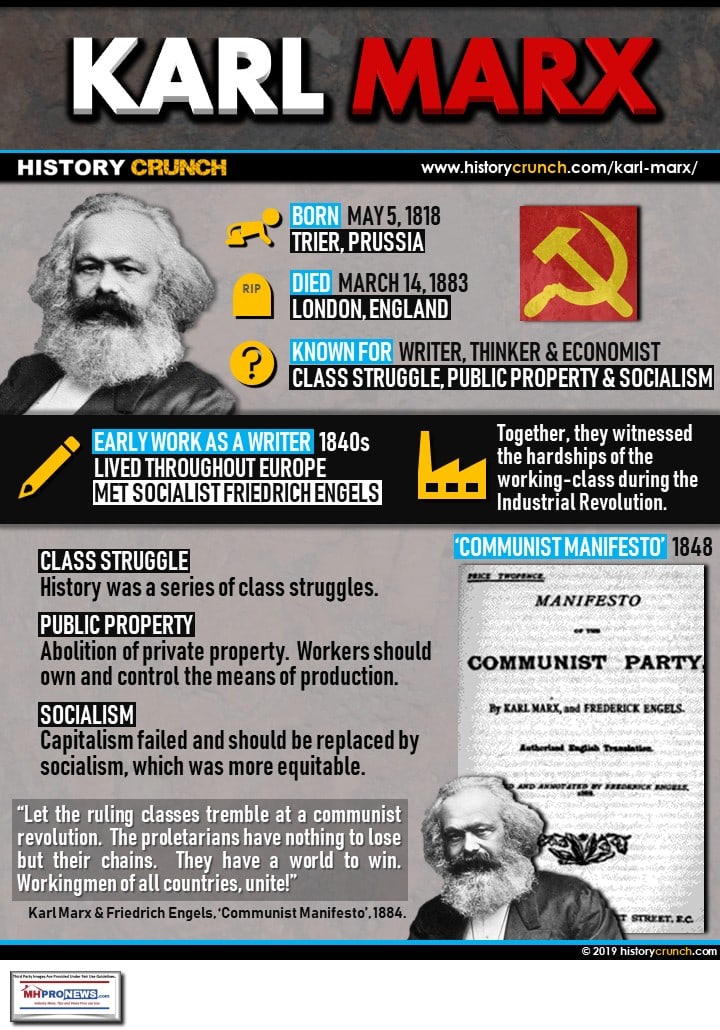 So, left-leaning Prosperity Now is promoting a system advocated by Karl Marx. Editorially speaking, pardon me, but how can you have prosperity – which to a significant degree requires freedom and free enterprise – in a socialist-communistic system? Perhaps they need to rethink their advocacy?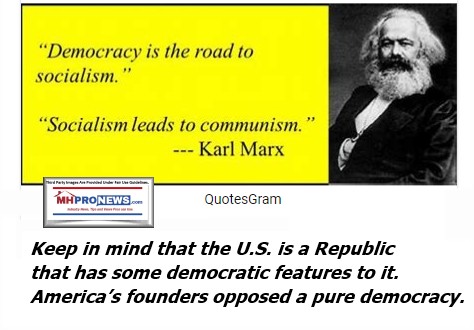 Prosperity Now and Doug Ryan have made numbers of useful points about manufactured housing. But Prosperity Now also promotes notions that are proven not to work for the masses, such as Marxist-socialist-communist ideals. Perhaps that MHEC exec that brought this issue to MHProNews attention had some of these ideas in mind when he said they aren't geniuses and are 'former friends' of manufactured housing?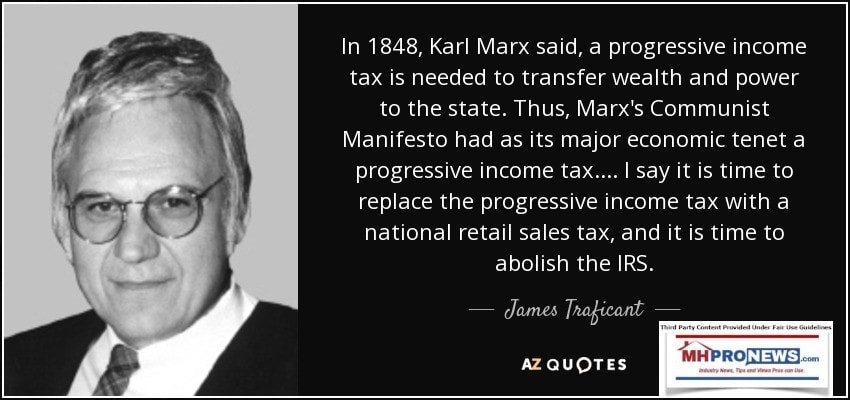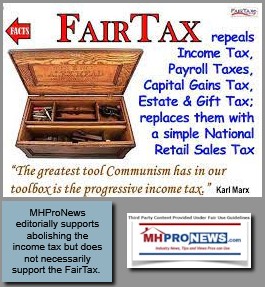 These are the sorts of tips, facts, and analysis that are found nowhere else in MHVille save MHProNews and our MHLivingNews sister site. Perhaps it is meaty, evidence-based reports like these that keep us the runaway #1 professional trade media in all of manufactured housing?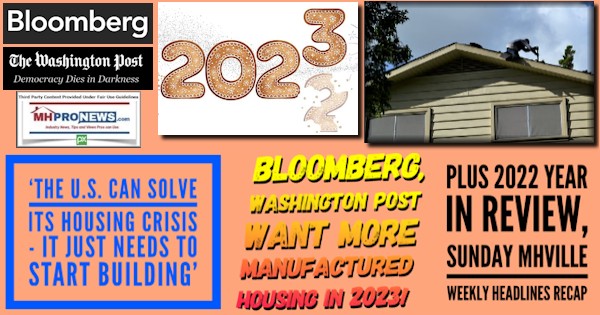 Part III. Daily Business News on MHProNews Markets Segment
The modifications of our prior Daily Business News on MHProNews format of the recap of yesterday evening's market report are provided below. It still includes our signature left (CNN Business) and right (Newsmax) 'market moving' headlines. The macro market moves graphics will provide context and comparisons for those invested in or tracking manufactured housing connected equities.
In minutes a day readers can get a good sense of significant or major events while keeping up with the trends that are impacting manufactured housing connected investing.
Reminder: several of the graphics on MHProNews can be opened into a larger size. For instance: click the image and follow the prompts in your browser or device to OPEN In a New Window. Then, in several browsers/devices you can click the image and increase the size. Use the 'x out' (close window) escape or back key to return.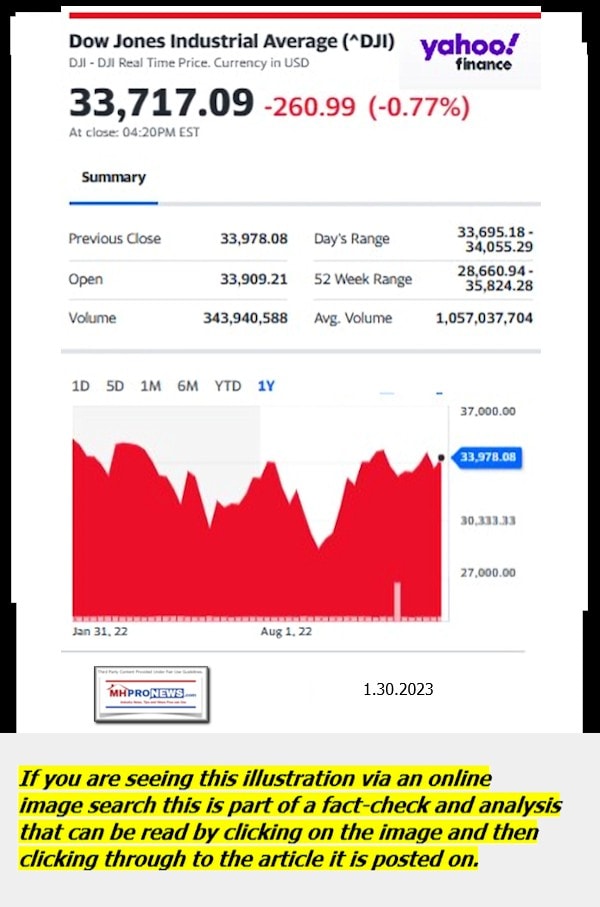 Headlines from left-of-center CNN Business – from the evening of 1.30.2023 
'Still overpaid'
Shareholders are hitting America's top CEOs with pay cuts in a trend that could be just the start
From worst to first: 2022's stock losers are leading the market this year
FAA promises changes to prevent repeat of air travel safety system collapse
New year, new voters in Fed policymaking
Winter heating costs likely won't be as high as feared, but many still need help
Ford drops the price of its Tesla competitor
Beer will cost more at this year's Super Bowl party
US court rejects J&J bankruptcy strategy for tens of thousands of talc lawsuits
This budget airline is making record profits
TikTok CEO to testify before Congress in March
Here's why you should always wait for the earnings call
Norway discovers huge trove of metals, minerals and rare earths on its seabed
Adani slams US short seller 'attack on India' as stock rout hits $70 billion
Renault will slash stake in Nissan as they overhaul their alliance
ASML says 'rules are being finalized' on chip export controls to China
Trader Joe's asked customers to rank their nine top products. Here they are
Union members are poised to reject Disney World contract offer
Jobs report to give further clues about where economy is headed
Real estate agents say they can't imagine working without ChatGPT now
Some auto insurers are refusing to cover certain Hyundai and Kia models
How media outlets are handling the Tyre Nichols arrest footage
Why urgent care centers are popping up everywhere
Advertised salary ranges are not set in stone. That's why you still have to negotiate
'GMA3' anchors Amy Robach and T.J. Holmes depart ABC after reported romantic relationship
What to Watch
Notice: the graphic below can be expanded to a larger size.
See instructions below graphic, or click and follow the prompts.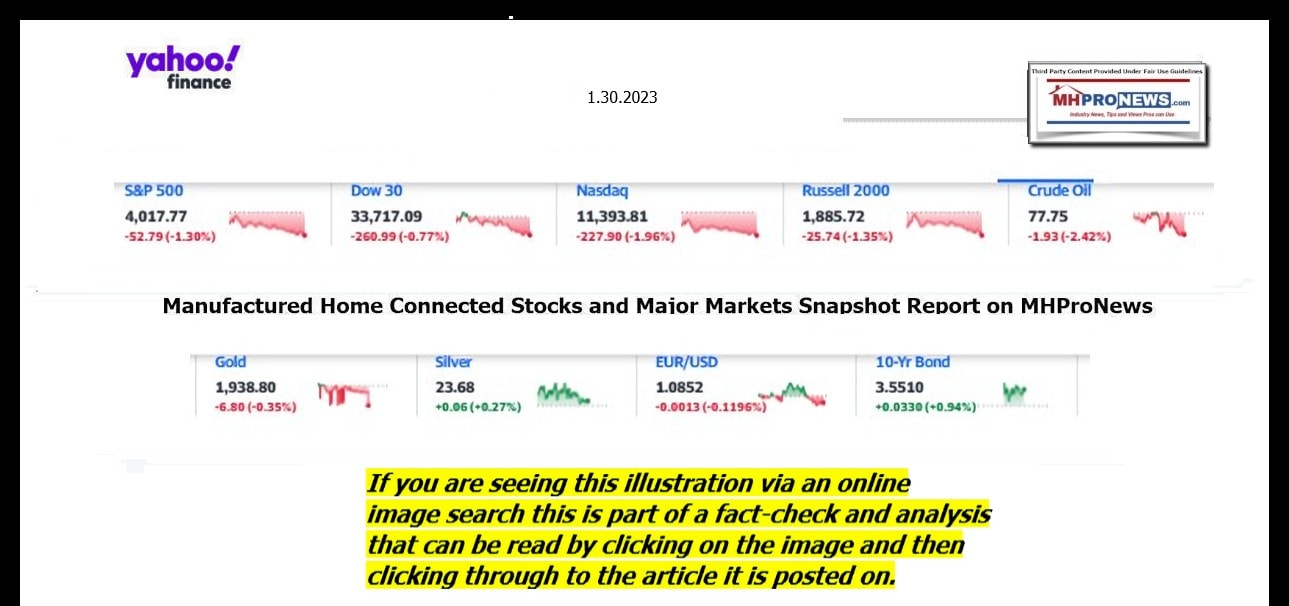 Headlines from right-of-center Newsmax 1.30.2023
US Surgeon General says 13 is too young to join social media. Hear why
'Make my dad famous': A daughter's quest to showcase her dad's artwork
See 'SNL' cast members hit on Michael B. Jordan after they find out he's single
Video: This tiny shape-shifting robot can melt its way out of a cage
Newsmax 1.30.2023
DOJ Denies House Panel's Request for Biden Docs Communications
Attorney General Merrick Garland at a recent Department of Justice news conference. (AP)
DirecTV Censors Newsmax
Jeffrey Lord: Congress Should Investigate Censorship | video
Va. AG: Trying to 'Squelch Dissent' Won't End Well | video
Sarah Palin: 'Censoring Newsmax' Starts Socialist Agenda
McCormick: Public Pushback Can Rein In Censorship | video
Tenney: Plan for Conservative Channel Worrisome | video
Facebook Users Lash Out at DirecTV for Newsmax Censorship
Markwayne Mullin: 'Newsmax Must Not Be Silenced!'
Jeffrey Lord: 'Ruling Class' Silencing Conservative Media | video
Dick Morris: 'Outrageous Act of Political Censorship' | video
Keith Self: AT&T DirecTV Govt's Propaganda Arm? | video
Lindsey Graham: Senate May Probe DirecTV's Newsmax Action
Tim Burchett: DirecTV's 'Liberal, Woke Move' | video
Trump Hits CNN/MSNBC Ratings: 'Put Newsmax Back On' | video
Trump Calls AT&T DirecTV 'Disgusting,' Urging Boycott
Newsmax TV
Tenney: Biden Must Compromise on Debt Ceiling | video
Blaine Holt: Zelenskyy Must 'Unify' Ukraine After Deputy Dismissals | video
D'Esposito: Immigration Must Be Handled 'Head On' | video
Grover Norquist: Debt Debate 'Deliberately Confusing' | video
John Bolton: Smarter Strategy Needed for Ukraine | video
Dick Morris: Biden Wants S.C. 1st Primary to Sway Others | video
Mark Morgan: Trump Confident on Border From Experience
Comer: WH 'Arrogant' About Documents
Newsfront
Ex-Twitter Execs to Testify on Block of Hunter Biden Story
Former Twitter employees are expected to testify next week before the House Oversight Committee about the social media platform's handling of reporting on President Joe Biden's son, Hunter Biden.The scheduled testimony, confirmed by the committee Monday, will be the first…… [Full Story]
Tech, Megacaps Drag Wall Street Down
Major U.S. stock indexes sank on Monday, weighed down by declines in [Full Story]
Watchdog Flags $5.4B in Fraudulent COVID Aid
The U.S. government likely awarded about $5.4 billion in COVID-19 aid [Full Story]
Russian forces claimed incremental gains in eastern Ukraine on Monday [Full Story]
Related
NATO's Chief Urges SKorea to Step Up Military Support for Ukraine
Kremlin: More Western Arms for Ukraine Will Only Lead to Escalation
Iran Summons Senior Ukraine Diplomat Over Comments on Drone Strike
Russian Shelling Kills 5 in Tough Eastern Ukraine Combat
Ukraine War Speeds Shift to Clean Energy: BP
Zelenskyy: We Need Faster Supplies, New Weapons to Confront 'Tough' Situation
France Doesn't Rule Out Sending Warplanes to Ukraine
6 Case's Geofence Warrants Raise 'Serious' Fourth Amendment Concerns
A federal judge's decision to uphold the Justice Department's use of [Full Story] | Platinum Article
Rasmussen Poll: 48 Percent Say Biden Docs Case Major Scandal
Nearly half of voters – 48% – said President Joe Biden's handling of [Full Story]
US-Israel Relations in 'Very Precarious' Spot After Palestinians' 'Aggressive Action'
The ongoing Israeli-Palestinian conflict reached its latest [Full Story] | Platinum Article
Judge Blocks New Jersey Ban on Guns at Beaches, Casinos
A federal judge on Monday blocked New Jersey's recently enacted bans [Full Story]
Comer: Must Probe Whether Biden Used Classified Docs for Profit
House Oversight Committee Chair James Comer, R-Ky., said his panel [Full Story]
Related
Ted Cruz: Search Hunter Biden's House for Classified Docs
Pompeo: With Ties to 'Every Major' College, Did China Access Biden Docs?
Rubio, Warner: Both Sides Want Senate Oversight on Biden, Trump Docs
Video Report: Israel Proposes Relaxing Gun Laws
After a terrorist attack, Israel's government is proposing relaxing [Full Story] | video
Progressive Groups Pressure ABA to Reject Common Definition of Antisemitism
Progressive activists are demanding that the American Bar Association [Full Story]
Man Who Disarmed Calif. Shooting Suspect Invited to Biden Speech
Brandon Tsay, the man who disarmed the suspectaccused of killing 11 [Full Story] | video
Gallup Poll: More Say Government Top Problem
Nearly a quarter of Americans say the government is the nation's top [Full Story]
'They Fire, We Hire' – Germany Seizes on Silicon Valley Talent
Faced with a tight labor market and a shortage of workers with key [Full Story]
25 Eye-opening Historical Photos
American Upbeat
TikTok CEO to Testify Before Congress
TikTok Chief Executive Shou Zi Chew will appear before the U.S. [Full Story]
The Number of Daily Steps Needed for Weight Loss
It's clear that staying active is key to being healthy, and fitness [Full Story]
Apple Working on Folding iPad
Apple is grinding away on a folding iPad that it aims to launch in [Full Story]
Study Pinpoints 6 Habits That Reduce Dementia Risk, Slow Memory Loss
A large study of more than 29,000 older adults has identified six [Full Story]
'24,' 'Runaways' Actor Annie Wersching Has Died at 45
Actor Annie Wersching, best known for playing FBI agent Renee Walker [Full Story]
China Urges McCarthy Not to Repeat Pelosi's Taiwan Trip
A Chinese official on Monday pushed U.S. House Speaker Kevin [Full Story]
Twitter Working on Payments Feature
Twitter Inc. is working to introduce payments on the social media [Full Story]
NFL Salary Cap Jumping to $224.8M in 2023
The NFL salary cap will jump to a record $224.8 million in 2023, the [Full Story]
NHL Hall of Famer Bobby Hull Dies at Age 84
Hockey Hall of Famer Bobby Hull, the first National Hockey League [Full Story]
Video Report: Trump Prays With S.C. Restaurant Worker
On Monday's "National Report," National Correspondent Logan Ratick [Full Story] | video
6th Memphis Police Officer Dismissed in Tyre Nichols Case
A sixth Memphis police officer has been dismissed from the force for [Full Story]
Conservatives Hit Lightfoot Over Chicago Crime
Chicago Mayor Lori Lightfoot has come under fire by conservatives [Full Story]
Report: Baltimore Schools Used Youth Program to Push COVID Vaccine
The City of Baltimore's public school system used a youth ambassador [Full Story]
Boris Johnson Says Putin Threatened Him With Missile Strike
British politician Boris Johnson saidin a BBC documentary that [Full Story]
Lisa Loring, TV's Original Wednesday Addams, Dead at 64
Lisa Loring, best known for her role as Wednesday Addams in the [Full Story]
Kari Lake: Rep. Gallego Is Arizona's 'AOC'
Former Arizona Republican gubernatorial candidate Kari Lake labeled [Full Story]
What a Walk-in Tub Should Cost if You're over 65
The Senior Scoop
More Newsfront
Finance
NFL Salary Cap Jumping to $224.8M in 2023
The NFL salary cap will jump to a record $224.8 million in 2023, the league informed teams Monday…. [Full Story]
Twitter Makes 1st Interest Payment on Musk Buyout Debt
J&J's LTL Bankruptcy Dismissed
Wall Street Falls Ahead of Mammoth Week With Fed, Earnings
US Fines Volvo $130M for Delayed Recalls
More Finance
Health
Study Pinpoints 6 Habits That Reduce Dementia Risk, Slow Memory Loss
A large study of more than 29,000 older adults has identified six habits that are linked with a lower risk of dementia and a slower rate of memory decline. The study, published in The BMJ, found that eating a balanced diet, exercising the mind and body, engaging in regular…… [Full Story]
A Neti Pot Could Help Relieve Your Clogged Sinuses
People With Epilepsy Often Experience Fear of Public Spaces
1 in 8 Older Americans Addicted to Junk Foods
How to Prevent Sports Overuse Injuries
Notice: the graphic below can be expanded to a larger size.
See instructions below graphic, or click and follow the prompts.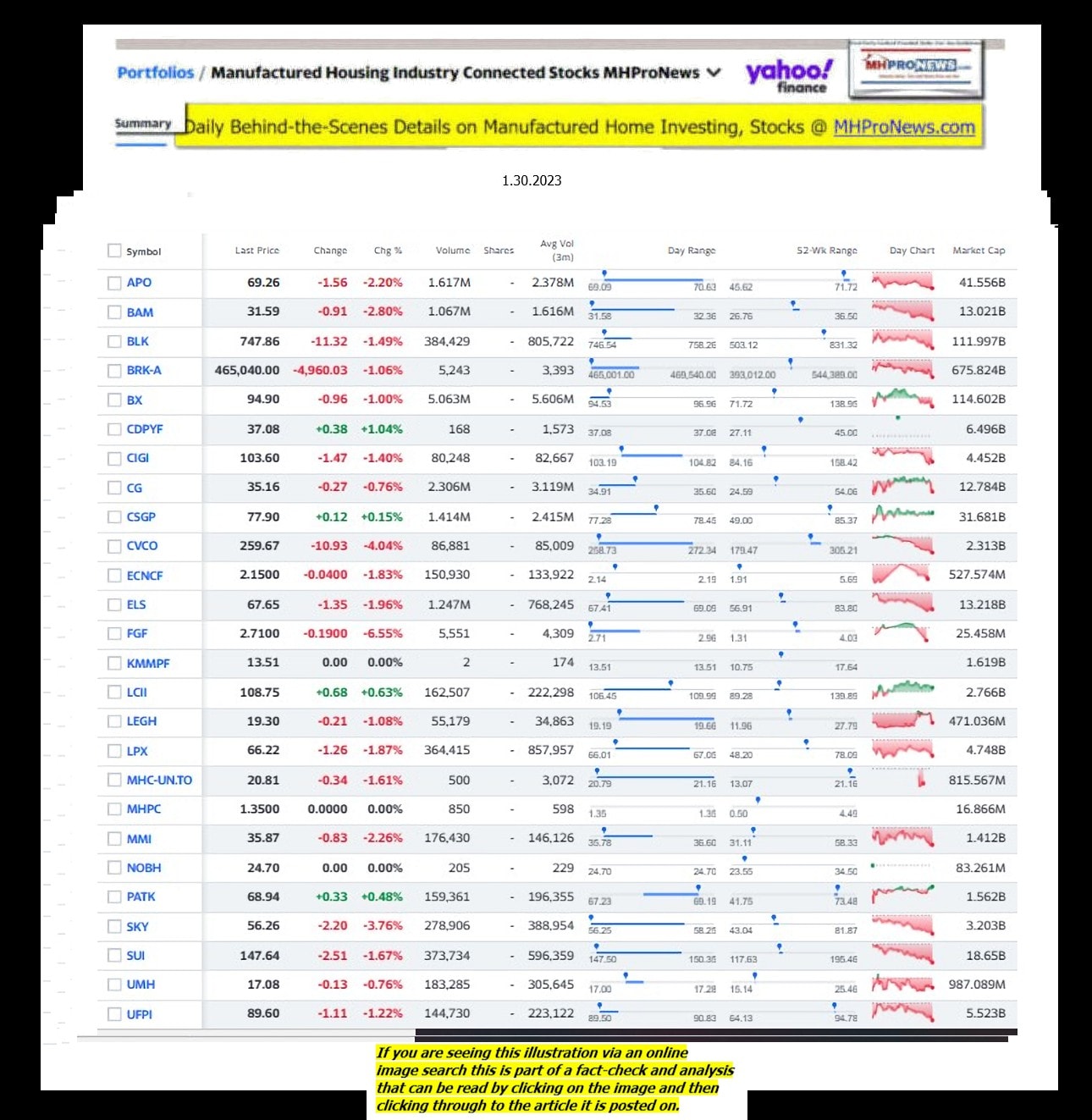 'Stomach Churning Year' CNN-Wall Street 'Forget 2022' Down Year – Major Equities Data Compared to Manufactured Housing Stocks, Manufactured Home Community REITs, Performance for Year by Company
====================================
Updated
NOTE 1: The 3rd chart above of manufactured housing connected equities includes the Canadian stock, ECN, which purchased Triad Financial Services, a manufactured home industry finance lender.
NOTE 2: Drew changed its name and trading symbol at the end of 2016 to Lippert (LCII).
NOTE 3: Deer Valley was largely taken private, say company insiders in a message to MHProNews on 12.15.2020, but there are still some outstanding shares of the stock from the days when it was a publicly traded firm.  Thus, there is still periodic activity on DVLY.
Note 4: some recent or related reports to the REITs, stocks, and other equities named above follow in the reports linked below.
'Manufactured Housing in the News,' Unpacking UMH CEO Sam Landy Op-Ed' It's Time for Bi-Partisanship on Affordable Manufactured Housing Homeownership' in HousingWire; plus MHMarkets Updates
Warren Buffett's Pledge to Kevin Clayton – 'You Can Access Plenty of Capital' for Projects – Quotes, Facts, Video, Transcript, and Implications for Manufactured Housing Industry
Manufactured Housing Properties-Results for Three and Nine Months Ending September 30.2022–Exploring 'Mobile Home Park' Manufactured Home Community Investing; plus MHVille REITs, Stocks Update
'Changes Will Benefit Customers,' Boost Sales-Legacy Homes CEO Duncan Bates – LEGH 'Delivered 22.5% Return on Equity in 1 Yr' – Corp Q3 2022 Insights, Analysis; plus MHVille REITs, Stocks Update  
'No Assurance Inflation Will Not Affect Our Future Profitability Financial Position'=Cavco Industries 10-Q, Solitaire Deal, More CVCO Data; Supreme Court Ruled-SEC Regs on False-Omitted Remarks
Skyline Champion Provides Quarterly Results, Adding Retail Centers, Improved Delivery Times-CEO Mark Yost Says 'Can Outperform Conventional Housing' Explored; Plus MHVille REITs, Stocks Update
Triad Financial Services Q2-2022 FINANCIAL RESULTS, per ECN Capital – Several Bright Spots in Manufactured Home Market Highlighted, Including Communities, Retail, Land-Home, Floor; MHStocks Update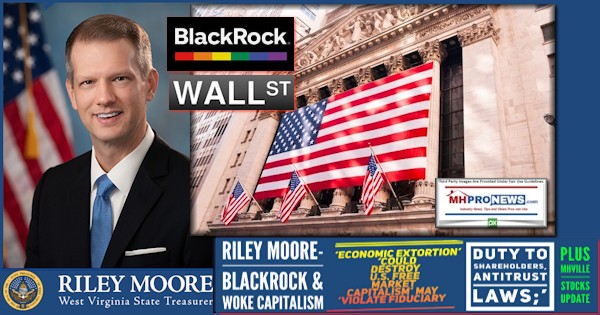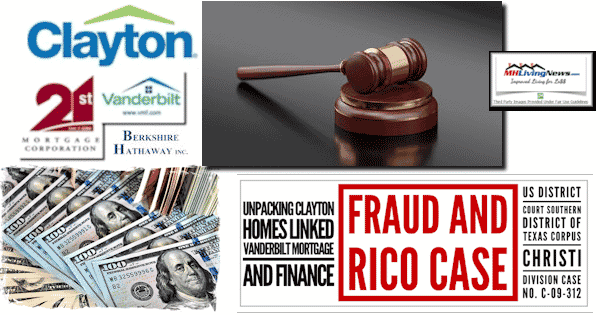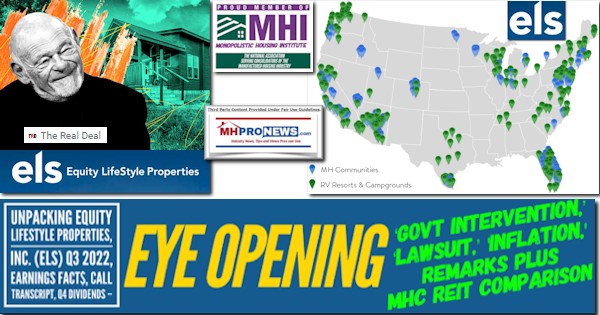 Manufactured Home Communities (a.k.a. 'Mobile Home Parks' – SIC) – Exploring UMH Properties; Fellow Manufactured Housing Institute Member Yes! Communities Suits and Settlements; plus MH Markets Updates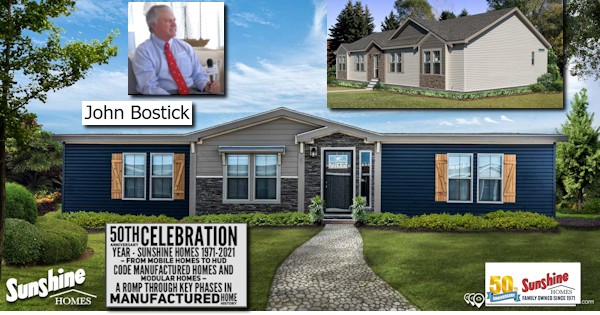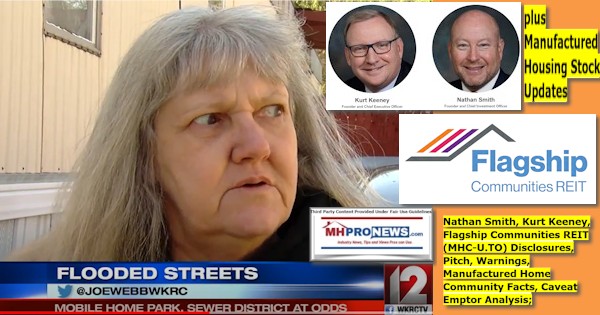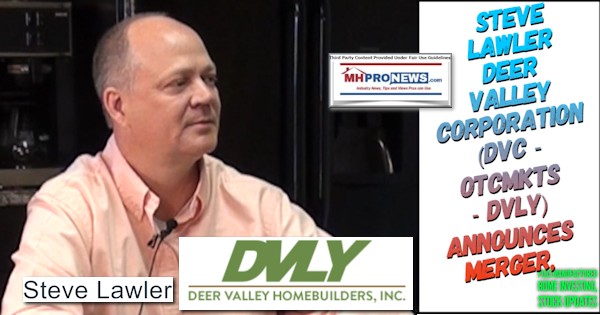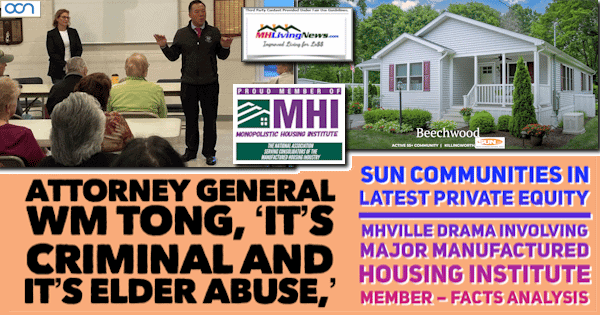 2023 …Berkshire Hathaway is the parent company to Clayton Homes, 21st Mortgage, Vanderbilt Mortgage and other factory-built housing industry suppliers.
· LCI Industries, Patrick, UFPI, and LP each are suppliers to the manufactured housing industry, among others.
· AMG, CG, and TAVFX have investments in manufactured housing related businesses. For insights from third-parties and clients about our publisher, click here.
Disclosure. MHProNews holds no positions in the stocks in this report.
· For expert manufactured housing business development or other professional services, click here.
· To sign up in seconds for our industry leading emailed headline news updates, click here.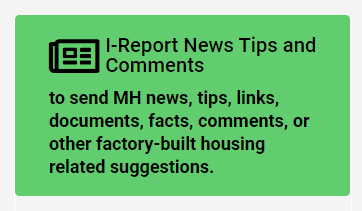 That's a wrap on this installment of "News Through the Lens of Manufactured Homes and Factory-Built Housing" © where "We Provide, You Decide." © (Affordable housing, manufactured homes, stock, investing, data, metrics, reports, fact-checks, analysis, and commentary. Third-party images or content are provided under fair use guidelines for media.) (See Related Reports, further below. Text/image boxes often are hot-linked to other reports that can be access by clicking on them.)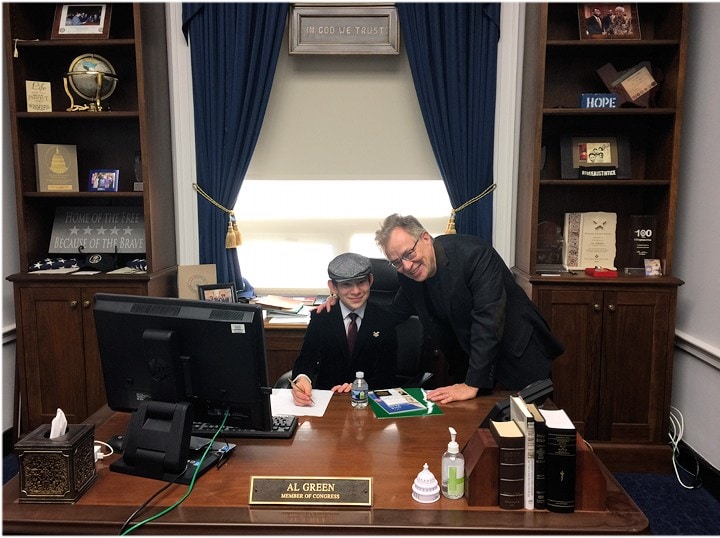 By L.A. "Tony" Kovach – for MHProNews.
Tony earned a journalism scholarship along with numerous awards in history. There have been several awards and honors and also recognition in manufactured housing. For example, he earned the prestigious Lottinville Award in history from the University of Oklahoma, where he studied history and business management. He's a managing member and co-founder of LifeStyle Factory Homes, LLC, the parent company to MHProNews, and MHLivingNews.com. This article reflects the LLC's and/or the writer's position and may or may not reflect the views of sponsors or supporters.
Facts You Didn't Know – Martin Luther King Jr – Videos, Insightful Quotes, Surprising Revelations, Videos, Reports, and Illustrations in Champion for Human Rights Including Affordable Housing
HUD Code Manufactured Home Building Down Nov 2022–Higher for Year per Manufactured Housing Association for Regulatory Reform Data, Facts-Insights Others Lack; plus MHVille Stocks-REITs Update
'Manufactured Housing Closes Year on Cool Note, But Optimism Grows for 2023' Says TRERC, But TMHA VP Rob Ripperda Lets Cat Out of Proverbial Bag, Exposing MHI; plus MHVille Market, Stocks Update
U.S. Housing Data Reveals Gaps-Underscores Vast Manufactured Housing Industry Potential, But Raises Corp, Trade Group Performance Concerns, Apparent Shareholder Effects; plus MHVille Stocks Update
After Admitted Failure, Manufactured Housing Institute Doubles Down on CrossMods® in AP Terminology Doc Acquired by MHProNews–Are MHI Leaders Sabotaging MHVille Independents? Plus MHStocks Update
Concessions by Speaker Kevin McCarthy in House Speaker's Battle Called 'Most Significant Win for Conservatives in a Decade' By Federalist's Emily Jashinsky Report; plus MHVille Stocks Updates