"The punishment which the wise suffer who refuse to take part
in the government, is to live under the government of worse men."
– Plato per BrainyQuote.
"When everyone is going left, look right."
– Sam Zell was a Zellist contrarian quip by a multi-decades of success in manufactured home community operation which is examined at this link here.
America is increasingly being ruled by Oligarchs, explained WCBM pundit Rob Carson in his opening monologue shortly after noon on 1.2.2023. For those who think that sounds like a 'conspiracy theory,' those need to consider what manufactured housing kingmaker Warren Buffett has repeatedly said. Over the course of some 15 years, Buffett would intone some variation of that very theme when he intoned that his class (i.e.: the American Oligarchs' class) have been waging "class warfare" and that his class "won." But the name of their game, per Buffett- or oligarch-watchers, is to palter, posture, project, and deflect. By occasionally making a big 'donation' to a cause, for example, the oligarchs may appear to be 'good guys.' By routinely supporting Democratic candidates who sound noble and big hearted, Buffett and his fellow oligarchs appear to support causes that liberals, leftists and much of American youth embrace. But it is only when the curtain is pulled back by comments from Buffett's own son Peter, or a Buffett nonprofit board member is examined, that a different reality than the illusion comes into focus.
When Zell's principles of investing were first rolled out, they shed light on an often contrarian method of seeing opportunities and capitalizing on them. Manufactured home land-lease communities were viewed in years gone by in a fashion that made them an attractive and 'contrarian' investment play. But fast forward to the 2022 year in review and Equity LifeStyle Properties (ELS) and much of the manufactured housing industry routinely slid (lost value) in a year where the broader markets also nose dived in the worst year since 2008. The facts below are unlikely to appear anywhere else in manufactured housing trade media.
'Stomach Churning Year' CNN-Wall Street 'Forget 2022' Down Year – Major Equities Data Compared to Manufactured Housing Stocks, Manufactured Home Community REITs, Performance for Year by Company
Compare those facts to what Zell has preached.
"When Everyone is Going Left, Look Right" ELS' Sam Zell Mantra, Chicago Manufactured Home Community Investment Firm Exposes Insights and Misunderstandings About Manufactured Home Community Investing
Those points noted, during 2022, U.S. equities lost some $8.2 trillion dollars in total value, per Highland County Press on 1.3.2022. That's despite the fact that the Washington Post published a Bloomberg editorial board missive dedicated to the notion that manufactured housing needs to be promoted. Millions of more manufactured homes are needed, but zoning and financing barriers are in the way. To regular MHProNews readers, doesn't that sound quite familiar?
MHProNews editorially responded to that Bloomberg-Washington Post article by publishing a press release that pointed to recent reports published on this platform, by MHLivingNews, or by the Manufactured Housing Association for Regulatory Reform (MHARR). That release which weaves several themes together – connecting the dots, as an industry expert that is a regular reader here has described our work – is provided below. But those fact-packed and quotation laced views beg the question. Why didn't the Manufactured Housing Institute (MHI) do the same thing? More to the point, why hasn't MHI so much as published a press release of their own that makes plain the same federal laws that already exist that could cause manufactured housing to roar back to surpass previous highs? More on that following this modestly adapted version of the MHProNews press release (an example of the adaptation is that the images are embedded in the article rather than being provide in a thumbnail at the right of the text).
'You Can Ignore Reality but Can't Ignore Consequences of Reality'–Affordable Housing, Manufactured Homes, 2022 in Review
The U.S. Can Solve Its Housing Crisis-It Just Needs to Start Building More says Bloomberg editorial in the Washington Post encouraging more manufactured homes.
WASHINGTON, D.C., UNITED STATES, January 2, 2023 /EINPresswire.com/ — "For all its complexities, America's nationwide housing crisis boils down to a problem of supply and demand: The country needs a lot more homes than it has, yet even ambitious reforms won't provide developers with enough incentive to bridge the gap." So said the editorial board of Bloomberg in a column that was published on the Washington Post. A key part of their op-ed is to encourage a wider embrace and increased support for HUD Code manufactured homes. While the op-ed has some apparent hits and misses, such as mistakenly calling manufactured housing "mobile homes," much of what the editorial encourages is a straightforward application of common sense to known facts. Those are some of the takeaways from a New Year's 2023 report on industry-leading ManufacturedHomeProNews.com (MHProNews.com).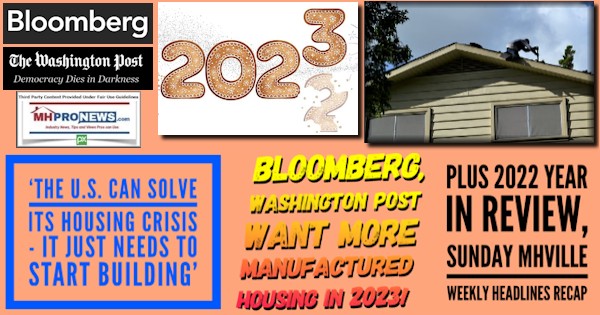 Left-leaning Bloomberg's editorial makes the point that more financing support for manufactured housing should come from Fannie Mae and Freddie Mac.
Efforts are needed, said the op-ed, to reverse the zoning barriers which limit the placement of manufactured housing.
In other words, their editorial calls for some of the very solutions that MHProNews and MHLivingNews have spotlighted and called for over the years.
Bloomberg's editorial is only some 800 words. So perhaps it is for reasons of length that they did not mention that the Housing and Economic Recovery Act (HERA) of 2008 made mandatory financial support for HUD Code manufactured housing. That provision of HERA is known as the Duty to Serve, or DTS. DTS, per several attorneys, nonprofits, industry advocates, and congressional lawmakers cited herein.
Mike Kapic, an AMAC volunteer and the author of the Hunt for Liberty, shared the following three thought-provoking quotable quotes with MHProNews which may apply to these surprising insights.
"You can ignore reality, but you cannot ignore the consequences of reality." – Ayn Rand
"If some men are entitled by right to the products of the work of others, it means that those others are deprived of rights." – Ayn Rand
"No one's rights can be secured by the violation of the rights of others." – Ayn Rand
The interesting and timely Bloomberg-WaPo op-ed provided several consequential realities for Americans, mainstream media, and political leaders to consider. Among them is the notion that conventional housing can't keep up with the demand for millions of more housing units. Nor can conventional housing builders achieve the price points that manufactured homes or modular housing can.
Bloomberg's op-ed, per the MHProNews analysis, correctly identifies zoning barriers as a hurdle that limits manufactured housing. A Manufactured Home Living News report (MHLivingNews) spotlighted HUD researchers who stated in 2021 that zoning barriers and NIMBYism are an issue that politicians from both major parties have been talking about for over 50 years.
Mark Weiss, J.D., President and CEO of the Manufactured Housing Association for Regulatory Reform (MHARR) told MHProNews the following. "With respect to zoning discrimination Congress, in the 2000 reform law (i.e.: the Manufactured Housing Improvement Act of 2000) strengthened and enhanced federal preemption in order to allow for invalidation of state or local "requirements," such as discriminatory zoning mandates, that have the effect of excluding mainstream manufactured homes.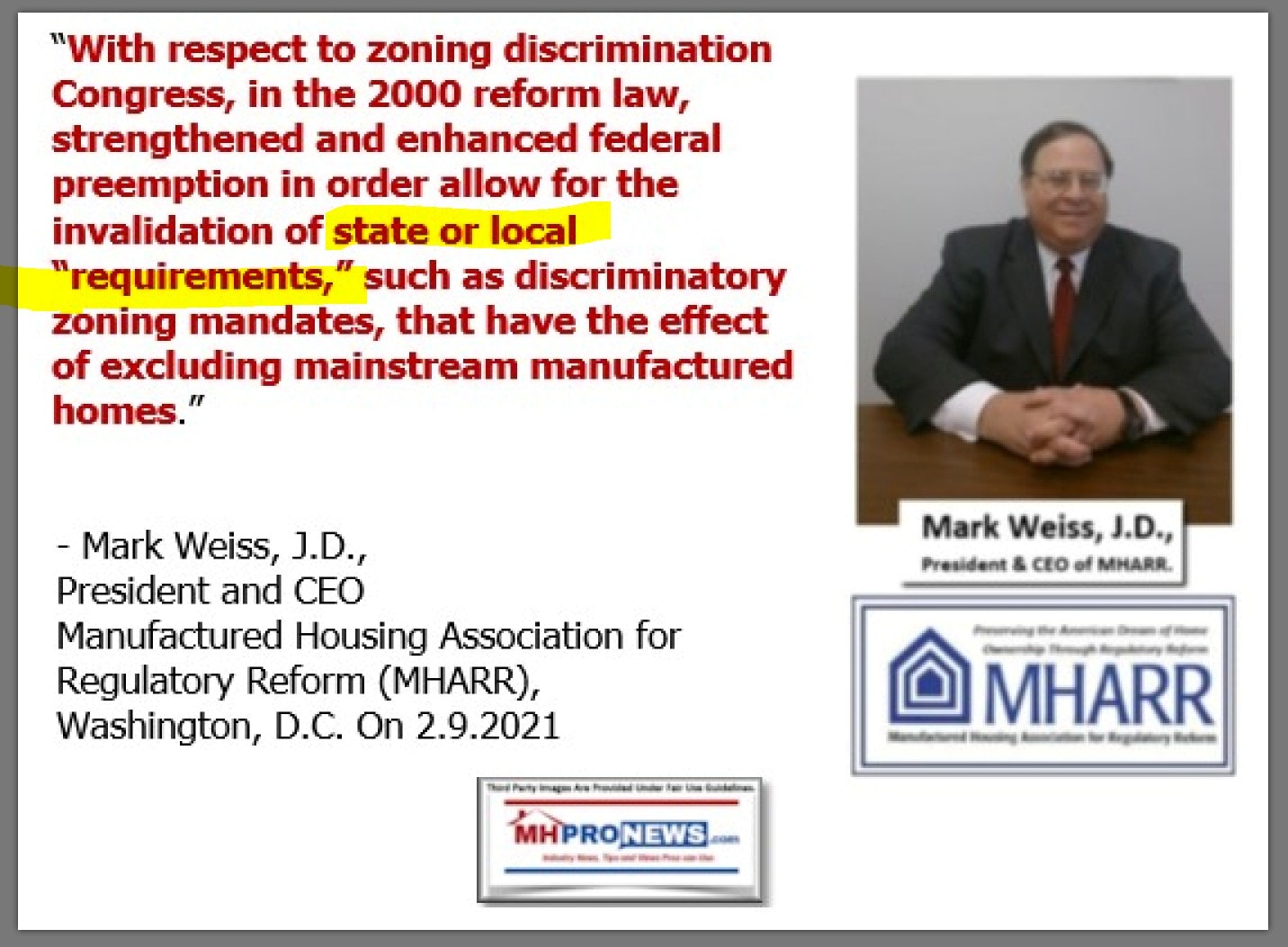 Democratic lawmakers involved in the enactment of the MHIA and its "enhanced preemption" clause said the following in a letter to HUD.
"More specifically, these combined changes have given HUD the legal authority to preempt local requirements or restrictions which discriminate against the siting of manufactured homes (compared to other single family housing) simply because they are HUD-code homes. We ask that HUD use this authority to develop a Policy Statement or regulation to address this issue, and we offer to work with you, to ensure that it comports with Congressional intent." This language from the MHIA is commonly referred to by informed manufactured housing professionals as "enhanced preemption."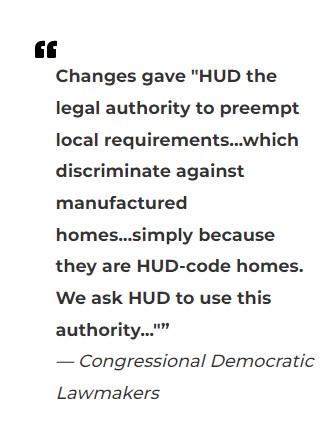 "Enhanced preemption" over local zoning barriers was an important part of the intention of Congress in enacting the Manufactured Housing Improvement Act (MHIA), as the quotation above reflects.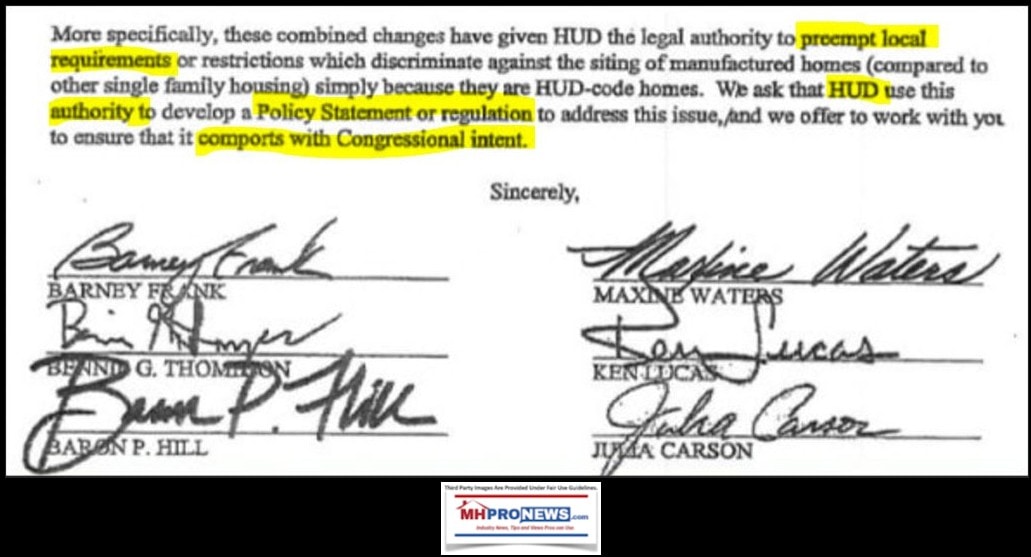 To the points made by Bloomberg in their pro-manufactured housing op-ed, according to the Urban Institute report on manufactured housing examined in a report linked further below, "As of January 2022, the average sales price had increased to $122,500, reflecting strong consumer demand, high inflation, and continued labor shortages. In comparison, the average price of new site-built homes in 2021, excluding land, was $365,900.12."
LendingTree and other sources have made it plain that modern manufactured housing appreciates at a similar rate as conventional housing, and in some states, went up in value more than conventional 'site built' or 'stick built' single family housing.
https://www.manufacturedhomelivingnews.com/unpacking-manufactured-homes-as-an-investment-lendingtree-mobile-home-values-are-rising-faster-than-single-family-home-values-when-do-mobile-and-manufactured-homes/
The new MHProNews report linked below also includes a recap of the dozens of the top stories reported in the manufactured housing industry in 2022.
https://www.manufacturedhomepronews.com/the-u-s-can-solve-its-housing-crisis-it-just-needs-to-start-building-bloomberg-washington-post-want-more-manufactured-housing-in-2023-plus-2022-year-in-review-sunday-mhville-we/
In a related article, MHProNews recently published a report that examined the following from the Pew Charitable Trusts remarks provided to MHProNews.
"Manufactured homes are an important source of housing, and more manufactured homes are part of the solution to America's housing shortage." So said Rachel Siegel, senior officer with the Pew Charitable Trusts research on modern manufactured homes.
The new and exclusive remarks by Siegel are related to issues that have recently covered by MHLivingNews and/or MHProNews, with excerpts quoted herein.
Federal Reserve research/authors James A. "Jim" Schmitz Jr. and David Fettig echoed Pew's praise of factory built manufactured homes. Comparing them to 'site built' housing, the research duo wrote that conventional house building is "often called stick-built construction, a highly labor-intensive method of making houses. There is, of course, a much more efficient way to produce housing, a low-cost substitute: factory production of homes." They elaborate by going into a history that dates back to the 1930s, but which today offers conventional home features for a much lower cost.
A common-sense question asked by some about manufactured homes is some variant of the following. If manufactured homes are such a good value, why aren't more of them being sold? That's a fair and intelligent inquiry. There are several possible replies that MHLivingNews has explored based on facts, evidence, and third-party research. For instance. Schmitz and Fettig wrote the following.
"There was a brief period, in fact, when US factory production [of homes] flourished. Factory production of homes soared during the 1960s, reaching 60 percent of single-family production by early 1970, threatening the very existence of traditional builders, especially those constructing smaller houses purchased by lower-income Americans.
In response, monopolies of stick-builders, including the National Association of Home Builders (NAHB) and the Department of Housing and Urban Development (HUD), developed extensive weapons to sabotage and harm factory producers of houses. NAHB and HUD strangled the production of factory homes. Production collapsed in the 1970s."
Per ProMarkets, "Jim Schmitz is an economist who has been studying monopoly since the early 1980s. He has been a member of the Research Department at the Federal Reserve Bank of Minneapolis since 1992." The title of their article on ProMarkets is: "Monopolies: Silent Spreaders of Poverty and Economic Inequality."

Pew doesn't mention problems associated with purported monopolistic practices.
But Pews' remarks to MHLivingNews.com added the following. "However, for many people it is very difficult to get [manufactured home] financing. Pew compared manufactured home applicants to other manufactured home applicants and found that when there is government support for manufactured home lending, buyers are more likely to be approved for a home-purchase loan. This was the case even when comparing similar applicants who applied for different kinds of loans. With increased government support, additional creditworthy applicants could benefit from owning a manufactured home."
That statement by Pew's Siegel also sheds light on the manufactured housing industry's underperformance by historic standards during an affordable housing crisis. See the illustration in this press release for the historic trends in manufactured housing in the 20th and 21st centuries for details.
Pew's research into manufactured housing financing was unpacked by MHProNews, MHLivingNews' sister site, at the link shown further below.
Following that MHProNews' report, Pew's comments on manufactured home lending were scrutinized by the Manufactured Housing Institute (MHI) in an email to their members. Pew provided their quoted remarks as a response to the following message issued by the Manufactured Housing Institute (MHI) to their members.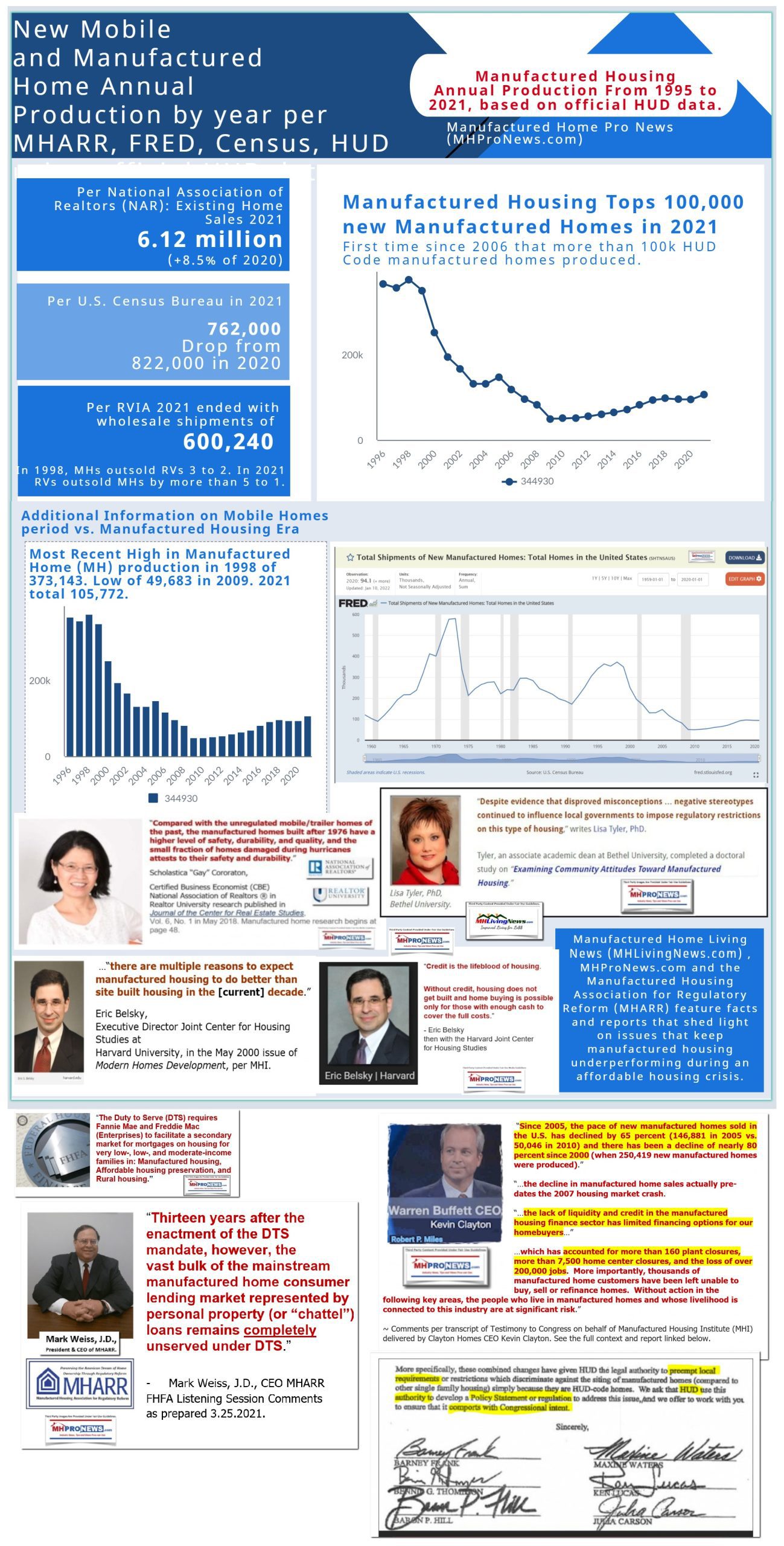 MHI's email said in part that: "A recent article from Pew concluded that many potential buyers of manufactured homes are unable to secure financing and suggests that expansion of Federal loan programs, particularly FHA Title I, could expand access to affordable housing. Pew found that lenders denied 54% of completed applications for financing manufactured home purchases in 2021, compared to a 7% denial rate for site-built homes. They also noted that due to this purported lack of access to financing, manufactured homes were more likely than site-built homes to be purchased in cash. The bulk of these denials came from conventional mortgages (52%) and personal property loans (64%); however, loans with federal backing such as FHA (14%) and VA (13%) manufactured home mortgage applications had significantly lower denial rates. Pew also suggested that loan applications are not denied because of home types or quality, but rather "higher credit standards for manufactured home borrowers."
A source connected to MHARR pointed out that those who ponder MHI's remarks need to examine the MHARR 2022 White Paper on Manufactured Housing.
https://manufacturedhousingassociationregulatoryreform.org/mharr-white-paper-exposes-public-relations-exploitation-notwithstanding-continuing-industry-failures/
Pew's concerns about a lack of competitive lending have also been the subject several reports, commentaries, and analyses by the Manufactured Housing Association for Regulatory Reform (MHARR). For instance, MHARR issued the following two recent statements about their efforts to get federal officials to advance more robust federal support for manufactured home lending, much as the Pew Trust's recent research has advocated.
https://manufacturedhousingassociationregulatoryreform.org/fhfa-has-repeatedly-reported-material-misrepresentations-to-congress-breach-of-responsibilities-under-hera-relating-to-dts/
To learn more about these issues, the following new and recent reports on MHLivingNews are relevant.
https://www.manufacturedhomelivingnews.com/our-journey-in-affordable-home-ownership-challenges-and-rewards-of-quality-affordable-manufactured-home-living-hopes-horrors-and-a-shocking-peek-into-gonzo-jou/
https://www.manufacturedhomelivingnews.com/new-freddie-mac-research-brief-says-majority-of-consumers-would-consider-purchasing-a-manufactured-home-most-have-good-perception-of-manufactured-housing-facts-analysis/
https://www.manufacturedhomelivingnews.com/debunking-manufactured-housing-myths-get-the-facts-says-mortgage-giant-freddie-macs-research-fhlmc-counters-clarifies-claims-about-trailer-houses-mobi/
About MHLivingNews
Since 2012, Manufactured Home Living News (ManufacturedHomeLivingNews.com or MHLivingNews.com) has published the expert commentary, third party legal and other research, facts checks, analysis and home buyer shopping tips that the public craves. Millions of pageviews occur at MHLivingNews.
Per Webalizer data on 19-Dec-2022 06:15 CST indicates that the typical visitor of MHLivingNews engages with some 7.46 pages viewed per visit. Visitors have logged millions of page views annually on MHLivingNews.
Some recent reports on MHLivingNews include the following topics.
https://www.manufacturedhomelivingnews.com/the-pros-and-cons-of-buying-a-manufactured-home-unpacking-lifehacker-jeff-somers-insights-on-mobile-manufactured-housings-affordable-homeownership-potential-hits-m/
https://www.manufacturedhomelivingnews.com/chief-economist-of-pantheon-macroeconomics-ian-shepherdson-sounds-alarms-on-growing-housing-conventional-housing-market-problems-silver-lining-found-in-correct-manufactured-home-living-options/
About MHProNews
MHProNews is the manufactured home industry's largest, most popular, and highest known engagement by manufactured housing industry professionals. Well over 13 million pageviews has been reported by Webalizer on the largest the baker's dozen cPanels on MHProNews in 2022. Per that same source, there is an average of some 10.75 pageviews per visitor to MHProNews, a rate several times greater than a number of mainstream media reports according to published online metrics.
Tag lines:
> "Industry News, Tips, and Views Pros Can Use"©.
> "Innovation, Information, Inspiration for Industry Professionals" ©.
> "Intelligence for your MHLife" ©.
> "We Provide, You Decide" © is a reference to comparing and contrasting the published statements of various trade groups.
MHProNews explores remarks or reports by the Manufactured Housing Association for Regulatory Reform (MHARR), the Manufactured Housing Institute (MHI), the Texas Manufactured Housing Association (TMHA), the Florida Manufactured Housing Association (FMHA), the Modular Home Builders Association (MHBA), the National Association of Realtors (NAR), the National Association of Home Builders (NAHB), the National Federation of Independent Business (NFIB), the Job Creators Network (JCN), Texas Real Estate Research Center, and others. Additionally, typically 5 times weekly, is a left-right mainstream media recap from CNN Business and Newsmax which provides headline news balance on MHProNews.
The critically acclaimed publication is the first and still only known manufactured home industry Daily Business News on MHProNews market report.
Manufactured Home Communities (MHC) Real Estate Investment Trusts (REITs), manufactured home industry connected stocks, along with a snapshot of the broader equities, and headline news that span the left-right media divide are provided. Unique looks at what is often mistakenly called "mobile home park investing" are also explored.
Expert insights unpack quarterly and other reports by publicly traded firms such as Skyline Champion (SKY), Cavco Industries (CVCO), Nobility Homes (NOBH), Legacy Housing (LEGH), Deer Valley Homebuilders, Sun Communities (SUI), Equity Lifestyle Properties (ELS), UMH Properties (UMH), Flagship Communities, The Carlyle Group, Blackstone, BlackRock, and others.
Recent reports on MHProNews include the following.
https://www.manufacturedhomepronews.com/50-states-manufactured-home-production-shipments-dec-2022-report-for-oct-2022-plus-fresh-census-info-yield-broad-manufactured-housing-vs-site-built-insights-plus-mhville-reits-stocks-update/
https://www.manufacturedhomepronews.com/has-the-manufactured-housing-industry-become-a-target-rich-environment-for-plaintiffs-attorneys-facts-news-plus-sunday-weekly-manufactured-home-industry-mhville-headlines-recap/
The later explores increasing contacts for expert and expert witness services as attorneys and law firms are probing the controversies in the manufactured home industry.
About MHProNews/MHLivingNews Co-Founder L. A. "Tony" Kovach
Kovach is one of the most vocal and public advocates for the full implementation of the Manufactured Housing Improvement Act of 2000 and its "enhanced preemption" provision that could be used to overcome local zoning barriers. Kovach is also an advocate for more competitive federal lending, in compliance with Congressional mandates, as the linked statement at the end of this press release demonstrates. Kovach believes that implementing existing federal laws that are favorable to manufactured housing is one of the fastest ways to resolve the affordable housing crisis.
Beyond thousands of articles on MHProNews/MHLivingNews, co-founder L. A. "Tony" Kovach has been published or cited by numbers of others. Examples include the Associated Press (AP), Chicago Sun Times, The Hill, PissedConsumer, LawnStarter, WND.com, Moxie Magazine, The Florida Times Union, Sarasota Herald Tribune, Gainesville Sun, WorldNetDaily.com, WND.com, Lakeland Ledger, Baptist Global News, Eternal Word Television Network (EWTN), Manufactured Home Merchandiser Magazine, Automated Builder, the National Association of Realtors, the Manufactured Housing Institute (MHI), the Manufactured Housing Association for Regulatory Reform (MHARR), public officials including the Consumer Financial Protection Bureau (CFPB), the Federal Housing Finance Agency (FHFA), and dozens of others.
Kovach is a multiple award winning history buff whose recognitions and accomplishments include the prestigious Lottinville Award in History from the University of Oklahoma (O.U.).
Kovach's video interviews of manufactured housing include James "Jim" Clayton founder of Clayton Homes, Joseph "Joe" Stegmayer formerly with Cavco Industries, Samuel "Sam" Landy of UMH Properties, Sunshine Homes' John Bostick, Danny Ghorbani and Mark Weiss with MHARR, Nathan Smith with SSK Communities (since rebranded Flagship Communities), and other manufactured home industry personalities.
MHProNews also features perhaps the most extensive set of written Q&A's and interviews in all of manufactured housing. They include personalities such as Sam Zell of Equity Lifestyle Properties, Tim Williams with 21st Mortgage Corporation, Danny Ghorbani and Mark Weiss, the later are both with the Manufactured Housing Association for Regulatory Reform (MHARR).
Kovach's statement to the FHFA on obstacles limiting the manufactured home industry and possible solutions which was published on their website at this link here.
##
###
Additional Information with More MHProNews Analysis and Commentary
MHProNews' leadership has long engaged with mainstream media through letters to various publications' editors, in fact-packed op-eds published by third-parties, and in numbers of press releases. In 2022 the pace of that engagement increased. Barring the unforeseen, that pattern may be accelerated.
What has MHI's and their leading brands' respective leadership response been to published critiques? For the most part, it might seem like the one-word answer to that would be 'silence.' That's constitutionally their God-given right to be mute. That noted, by definition, that means that the various evidence-based allegations lodged against them are not being directly challenged or refuted.
Newcomers to this publication and longtime readers alike need to be told or reminded that MHI reportedly hired an outside attorney to monitor our publications.
Another noteworthy point is that a different outside attorney stated in writing to a then-MHI member that MHI routinely monitors what others say about them and that they respond accordingly. That being so, it leads one to the reasonable conclusion that MHI is unable or unwilling to challenge the facts, evidence, and reason-based analysis provided by this platform.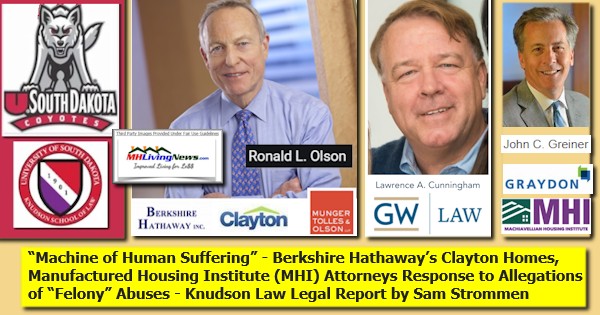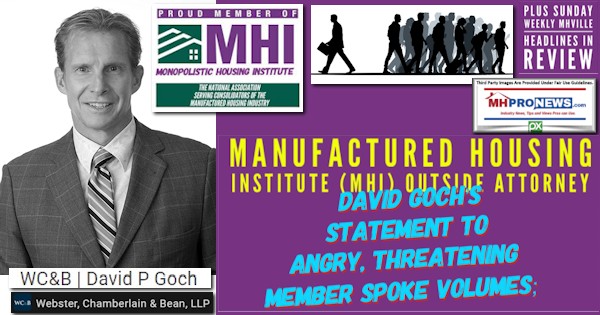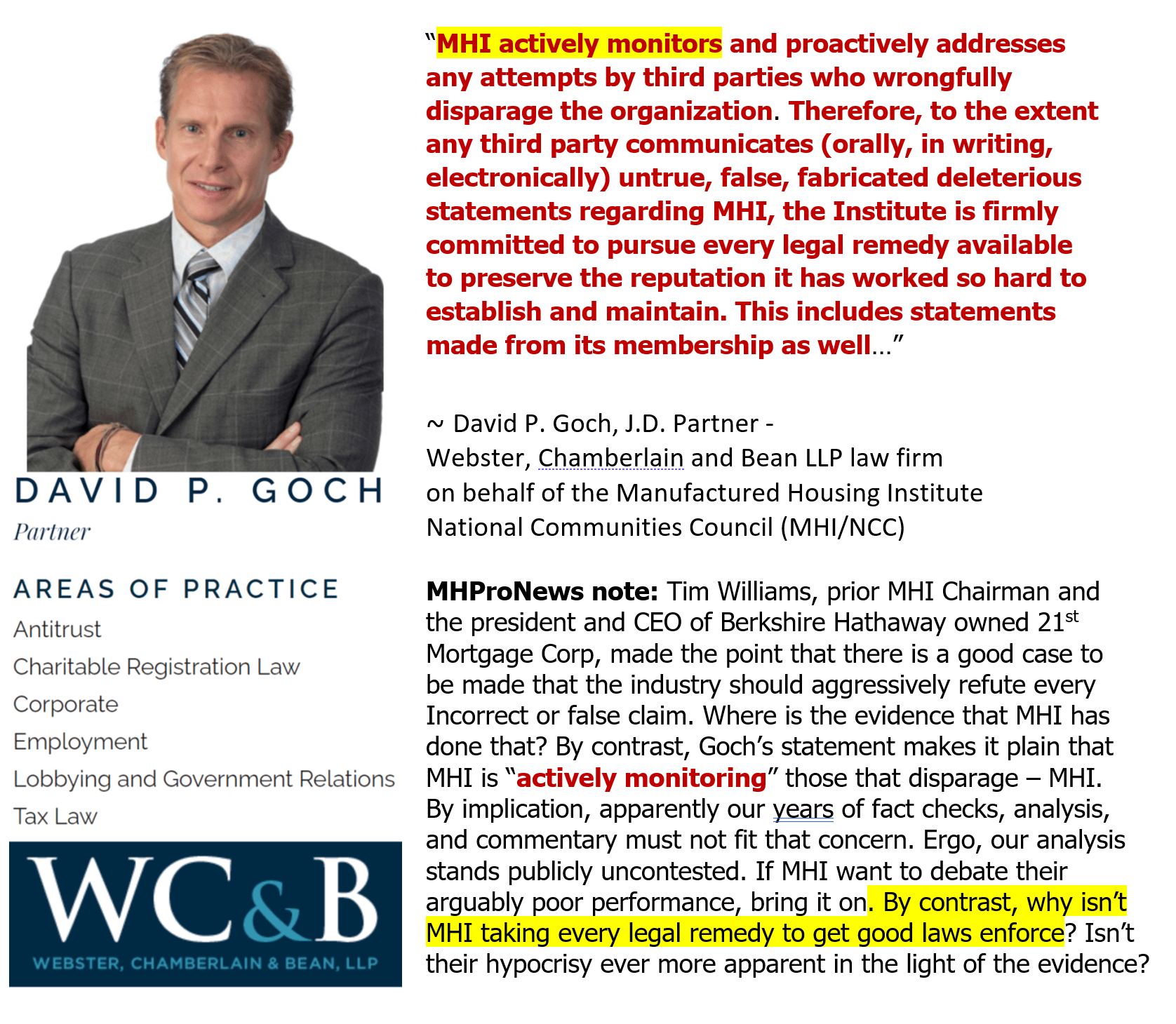 In recent years, MHI affiliates have barred this publication's team from attending the Louisville Manufactured Housing Show. Once more an outside attorney was hired to convey that message to MHProNews. For longtime industry professionals that should beg questions. For example, given that this publication – MHProNews – was widely praised by some of those same leaders for helping bring back the Louisville Show from then years of decline and its first cancellation for lack of attendance. Now MHProNews' team is barred from the event we played a key role in resurrecting? No supportive reasons are given by them for doing so? The legal implications are several, and won't be examined here, beyond the mention of these facts and obvious questions.
What this obviously means is that MHI has ducked accountability for years. The article below may shed light on why Louisville is particularly – shall we say, afraid? – to have MHProNews attend?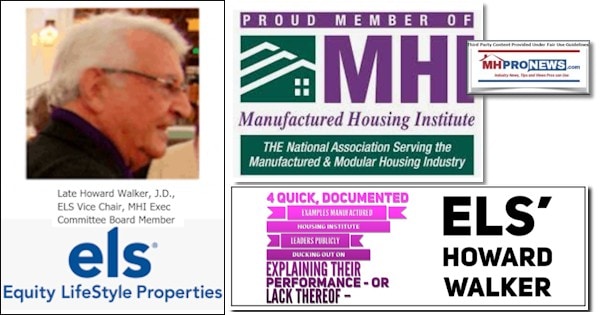 The oligarchs that purportedly manipulate much of what is occurring in America may posture or project something different than their authentic intention. Why? Per fellow 'oligarchs and plutocrats' billionaire Nick Hanauer, it is to avoid the pitchforks.
Consider the following factoids and their implication.
There is well documented affordable housing crisis that per estimates may be 3.8 million to over 8 million new units needed.
Manufactured housing is underperforming during an affordable housing crisis, even though manufactured homes are increasingly recognized by third-party researchers as an obvious solution to the affordable housing crisis.
Bloomberg-The Washington Post has editorially joined those who have for years called for more manufactured housing as an important part of the solution to the affordable housing crisis.
What Bloomberg's editorial didn't mention – and what will be explored in a planned follow up – are facts noted above. Congress already addressed the issues of less than competitive financing or all-too-common zoning/placement barriers to manufactured housing by passing federal laws by widely bipartisan margins.
Why aren't those federal laws being enforced? MHI – on paper – agrees that those federal laws mean what they say and aren't being enforced. But what is obviously lacking is MHI taking any effective litigation that could causes those laws to be enforced.
MHI's apparently following the posturing, paltering, projecting and divisionary tactics that numbers of American oligarchs have refined. MHI talks (or write) a seemingly good pro-manufactured housing narrative. But their actions – carefully examined – belie their posturing. An example from 2022 of how stark that is, and just how badly litigation and a more vigorous media approaches is needed are the words from HUD Secretary Marcia Fudge. She bluntly said that the status quo will remain what it is. Where was MHI's response??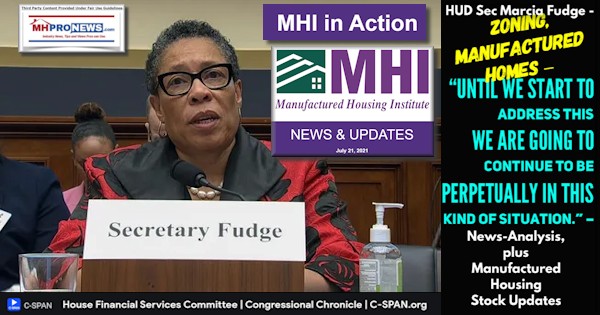 7.  Others in MHVille who are bloggers and publishers may get more advertisers and/or financial support, apparently because they tow the MHI and their dominating brands 'party line.'  Is it any wonder that they have much lower engagement than MHProNews has documented? Once the truth is exposed, like it or not, it is not easy to unsee. People may opt to poke their head in the sand, but it is not for the superior view. MHI's apparently part of a rigged system that operates broadly in America and illustrates how that rigged system operates in manufactured housing.  When outsiders looking in, as well as insiders who know all tend to agree that MHProNews has advanced the most compelling thesis for why the industry is underperforming that is something that MHI and their corporate leadership may sooner or later have to deal with head on.
Until then, the paltering, dodges and head fakes by the elites are a symptom of the fear that billionaire Nick Hanauer expressed. Decades before Hanauer's missive, Henry Ford said that if Americans understood what was occurring in the financial system there would be a riot before the next morning.  The rigged system isn't new. It has simply been refined and tweaked over the years. The rigged system has allowed manufactured housing to underperform so that the industry is steadily consolidated.  Something similar has occurred in other professions and industries too.  Many Democrats, specific Republicans, and their billionaire backers have long manipulated the system.  There is no need to take this author's word for it. Simply look at the statements made by the insiders who have been saying as much for decades.
Exposing this to the point that more of the public and more public officials become engaged in fixing this tragic mess is an obviously noble goal that this publication is happy to editorially support. Given that well over 13 million pageviews were reported by Webalizer on the largest the baker's dozen cPanels on MHProNews in 2022, that yields an average of some 10.75 pageviews per visitor to MHProNews.  It is a stunning level of engagement which strongly suggests that the industry and its various corporate and other interests find the reports here relevant. This is the contrarian reporting of what ought to be among the hottest investments in new manufactured housing growth, vs. putting so much stock in consolidation.
Warren Buffett's Pledge to Kevin Clayton – 'You Can Access Plenty of Capital' for Projects – Quotes, Facts, Video, Transcript, and Implications for Manufactured Housing Industry
'Stomach Churning Year' CNN-Wall Street 'Forget 2022' Down Year – Major Equities Data Compared to Manufactured Housing Stocks, Manufactured Home Community REITs, Performance for Year by Company
'Policies of Equitable Prosperity' – Restoring U.S. Commitment to Personal Freedoms, Free Markets, Property Rights – 'Good! You See it Differently!' Plus, Year in Review, MHVille Markets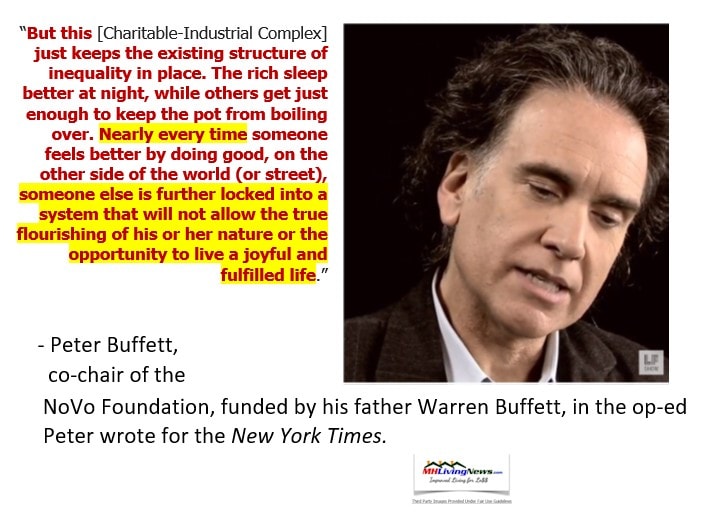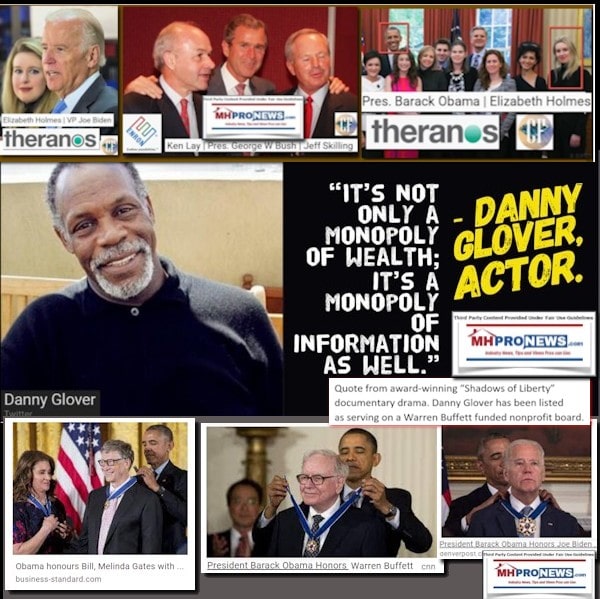 Warren Buffett-Democratic Connected 'Dark Money' Group Arabella Advisors 'Scheme' Hits Headlines-Hate Politics? Others Do Too, But Ignoring Reality Poor Option; plus MHVille REITs, Stocks Update
Manufactured Housing Institute (MHI) Claims Priorities Addressed in Congress' Year-End Legislative Package, Pros and Cons Fact Check, Analysis; plus MHVille REITs, Stocks Update
'Policies of Equitable Prosperity' – Restoring U.S. Commitment to Personal Freedoms, Free Markets, Property Rights – 'Good! You See it Differently!' Plus, Year in Review, MHVille Markets
"Mad as Hell" Speech; Corrective Steps for Govt Failures Beyond Elections-Writ of Mandamus, Federalism, Article V, and Jury Power – Facts, Georgetown Univ Law, and Viewpoints Relevant to MHVille
Statements and Reflections on Freedom in U.S.A. – Inspirational Quotes Past and Present to Start Each New Day and Every New Year Off Right
Plato died around 348 B.C., or some 348 years before Christ. Yet over 2300 years ago, Plato understood this truism. "The punishment which the wise suffer who refuse to take part in the government, is to live under the government of worse men."  History is packed with lessons, but only for those who are willing to examine those wise insights from years gone by.  When good people, for whatever reason, allow others to 'run' the government and do little or nothing beyond voting, then the obvious outcome is that worse people will run the system.  For those who might have missed it, or need to re-read and grasp the other powers beyond voting every 2 years, look deeply into the report linked below.
"Mad as Hell" Speech; Corrective Steps for Govt Failures Beyond Elections-Writ of Mandamus, Federalism, Article V, and Jury Power – Facts, Georgetown Univ Law, and Viewpoints Relevant to MHVille
Daily Business News on MHProNews Markets Segment
The modifications of our prior Daily Business News on MHProNews format of the recap of yesterday evening's market report are provided below. It still includes our signature left (CNN Business) and right (Newsmax) 'market moving' headlines. The macro market moves graphics will provide context and comparisons for those invested in or tracking manufactured housing connected equities.
In minutes a day readers can get a good sense of significant or major events while keeping up with the trends that are impacting manufactured housing connected investing.
Reminder: several of the graphics on MHProNews can be opened into a larger size. For instance: click the image and follow the prompts in your browser or device to OPEN In a New Window. Then, in several browsers/devices you can click the image and increase the size. Use the 'x out' (close window) escape or back key to return.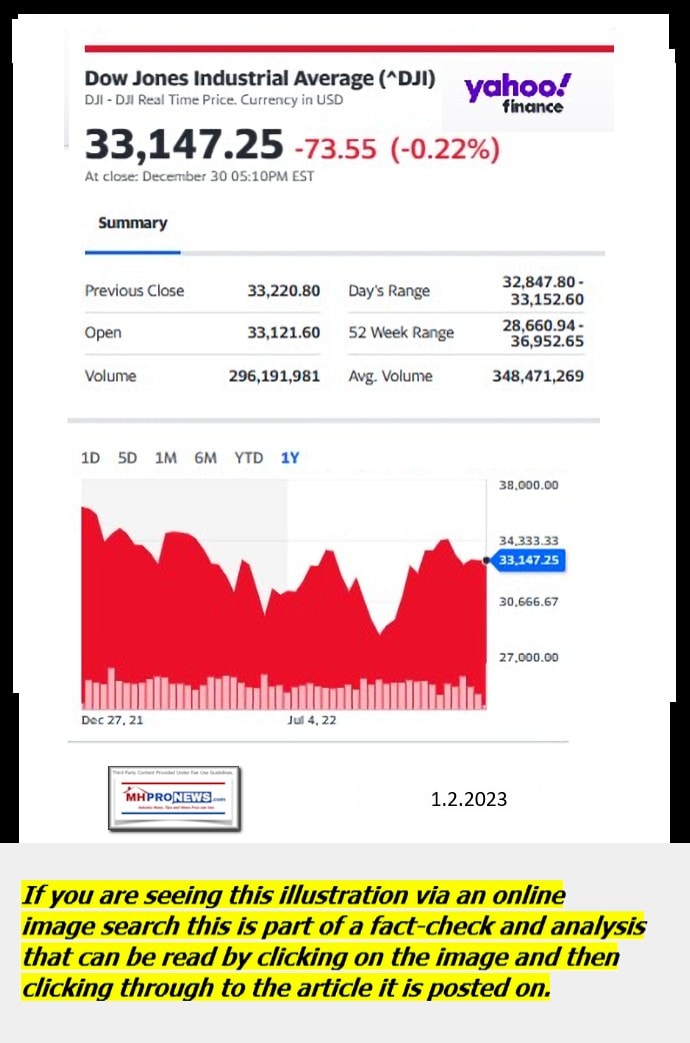 Headlines from left-of-center CNN Business – from the evening of 1.2.2023
Unanswered questions
Copies of former President Donald Trump and former first lady Melania Trump individual tax returns for 2017, released by the Democratic-controlled House Ways and Means Committee, are photographed Friday, Dec. 30, 2022. The returns, which include redactions of some personal sensitive information such as Social Security and bank account numbers, span nearly 6,000 pages, including more than 2,700 pages of individual returns, and more than 3,000 pages in returns for Trump's business entities.
Trump's tax returns from 2015 to 2020 are now public record. Why did he work so hard to keep all of this secret?
1 grocery inflation prices
What got really expensive this year, and what got cheaper
RaiseUpNY Coalition, including the Laborers Internation Union 79 and 32BJ SEIU, hold a rally at City Hall Park to fight for a higher minimum wage in Manhattan, New York, on November 15, 2022.
New Year's pay boost: These states are raising their minimum wage
The New York Stock Exchange, Wednesday, Dec. 14, 2022, in New York.
… And good riddance. Markets close out their worst year since 2008
NEW ROCHELLE, NEW YORK, UNITED STATES – 2020/12/01: Nurses of Montefiore New Rochelle Hospital on 2 days strike after contract negotiations ended with no agreement. Strike is over better pay, staffing, and more personal protective equipment as the COVID-19 pandemic resurges. Hospital officials disputed NYSNA (New York State Nurses Association) and stated that the hospital has 90-days of PPE (personal Protective Equipment) for its employees and offered generous deals to nurses including 7% wage increase and health insurance with no employee contributions and funding for the NYSNA Pension Fund.
New York nursing union announces intention to strike, delivers notices to eight hospitals across NYC
Federal Reserve Board Chairman Jerome Powell attends a news conference following a two-day meeting of the Federal Open Market Committee (FOMC) in Washington, U.S., July 27, 2022. REUTERS/Elizabeth Frantz
Fed watch 2023: When rate hikes will slow down
People walk by a Twitter logo at the company headquarters in downtown San Francisco, California, U.S., April 25, 2022.
The year that brought Silicon Valley back down to earth
NEW YORK, NY: News anchor Barbara Walters is photographed in her New York office for USA Today.
Barbara Walters, legendary news anchor, has died at 93
Wall Street kills its darlings
Wall Street's biggest winners and losers in 2022
Indian maker of cough syrup linked to Uzbekistan deaths halts production
Tesla shares are down 70% for the year
China has abandoned its zero-Covid policy. What will the economy look like in 2023?
Analysis: Why Southwest is still melting down
How Southwest failed the holidays: Four charts explaining the cancellations
Here's what could tip the global economy into recession in 2023
Electric vehicle sales hit a tipping point in 2022
Mortgage rates rose this week after falling for six straight weeks
The soda market is flat, but not for Dr Pepper
Why that 'free' Starbucks drink is about to cost you more
Why eggs have been so expensive
Russian sausage magnate dies after hotel fall in India
McDonald's tests system that could change the fast food industry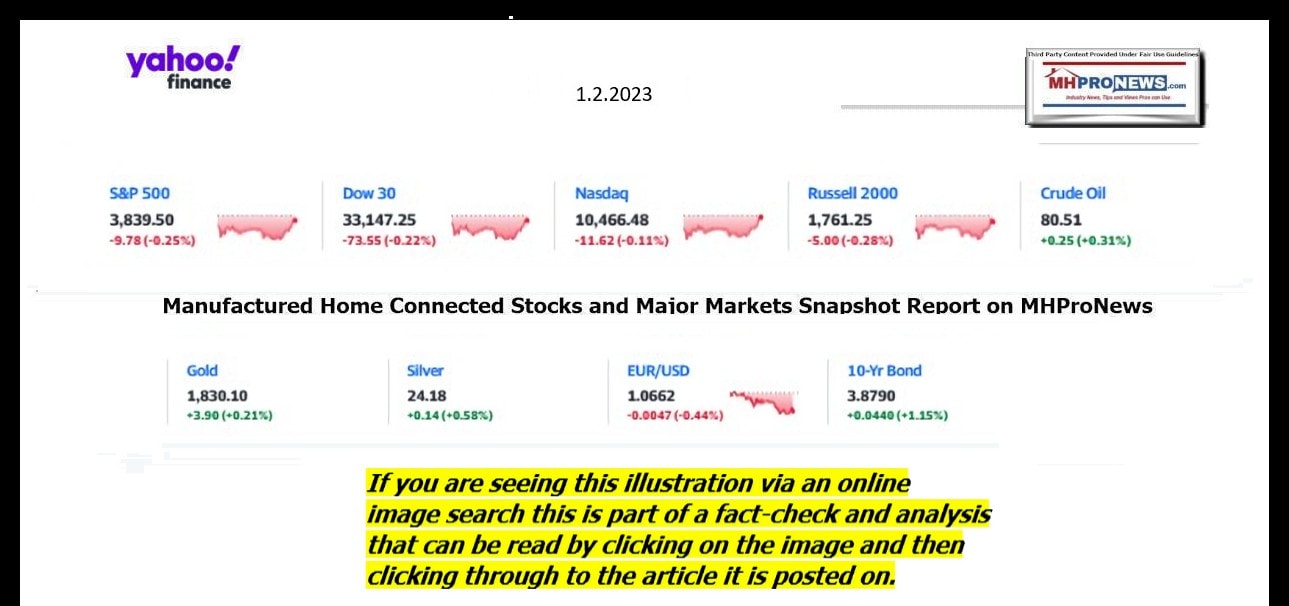 Headlines from right-of-center Newsmax 1.2.2023
'Radicalized' Suspect Charged With Attempted Murder in NYPD Attack
New York City Police Commissioner Keechant Sewell, left front, speaks to the media Saturday as Mayor Eric Adams, front right, looks on. (NYPD via AP)
'Radicalized' Suspect Charged With Attempted Murder in NYPD Attack
NYPD officers were attacked by a man wielding a machete just outside the security area for the Times Square New Year's Eve celebration on Saturday, leading to him being charged with two counts of attempted murder and two counts of attempted assault. [Full Story]
Related Stories
Kerik to Newsmax: Feds Will Focus on How Times Square Teen Radicalized
Alleged Attacker in N.Y. Had Note Urging Family to 'Repent to Allah'
NYPD Officers Injured, Suspect Shot Near New Year's Eve Event
Pope Benedict, Emeritus: 1927-2022
Crowds View Body of Former Pope Benedict in St. Peter's
Father Alar to Newsmax: 'Defense Of Truth,' 'Big Heart' Benedict's Legacy | video
Gerald Murray: Benedict Bravely Opposed 'Dictatorship of Relativism' | video
Italy, Germany Only State Delegations at Benedict's Funeral
'Lord, I Love You': Aide Recounts Benedict's Last Words
Jerusalem Catholics Mourn Loss of Pope Benedict XVI | video
Cardinal Dolan: Pope Benedict Bridged 'Faith, Reason' | video
Pope Francis Praises Benedict's Kindness, Faith
Vatican: Francis Will Lead Benedict's Funeral on Thursday
More Pope Benedict, Emeritus: 1927-2022
Newsmax TV
Birx: Fewer Tools Than Last Winter to Protect Vulnerable | video
Meuser: Letter Opposing McCarthy 'Nonsense' | video
Kerik: Feds Will Focus on How Times Square Teen Radicalized | video
Blaine Holt: Putin, Xi Talks Add to Efforts Against US Currency | video
Gimenez: 'Woke' Blue State Policies, More Crime | video
Norquist: Corporate Taxes Will Hurt Americans in 2023 | video
Pete Sessions: Texans 'Single Issue Members of Congress'
Van Drew: Title 42 'Better Than No Band-Aid at All' | video
Newsfront
Idaho Slay Suspect's Kin Voice Sympathy for Victims
Relatives of a man arrested in Pennsylvania in the slayings of four University of Idaho students expressed sympathy for the victims' families but also vowed to support him and promote "his presumption of innocence."Bryan Kohberger, 28, is eager to be exonerated and plans to…… [Full Story]
Fans Mourn Pelé at Public Viewing in Brazil Stadium
Thousands of mourners, from school students to supreme court [Full Story]
Marvel Actor Jeremy Renner in 'Critical Condition' After Snow Plow Accident
Marvel actor Jeremy Renner is in "critical but stable" condition [Full Story]
VP Harris: No Photo Without Negative COVID-19 Test
Senators and families attending swearing-in photo-opportunity [Full Story]
Showdown for McCarthy in GOP House Leadership Looms Tuesday
House GOP Leader Kevin McCarthy of California is reportedly shy of [Full Story]
Ukraine Says It Killed Hundreds of Russians in Donetsk Missile Strike
Ukraine says its army killed 400 Russian soldiers, and wounded [Full Story]
Related
Moscow Confirms Ukraine Rocket Strike Kills 63 Russian Troops
Ukraine Reports More Russian Drone Attacks
Russia Targets Infrastructure in Drone Attacks on Kyiv
Stumbling Treasury Rally Clouds Bond Market Outlook for 2023
Ukraine's Zelenskyy in New Year Message: 'Wish All of Us One Thing – Victory' |video
Accused NYPD Machete Attacker Charged With Attempted Murder
NYPD officers were attacked by a man wielding a machete just outside [Full Story]
January Watch: New Year, New Congress, Sundance
The New Year is set to bring a lot more than just fresh attempts to [Full Story] | Platinum Article
McConnell Hosts Biden in Ky. to Tout Infrastructure Bill
Senate Minority Leader Mitch McConnell, R-Ky., will join President [Full Story]
US Appeals Court: MAGA Hat Expression of Free Speech
Wearing a MAGA hat represents a person exercising his or her right to [Full Story]
Bob Good: 'True' Conservative to Challenge McCarthy
Bob Good, R-Va., said Monday that a "true" conservative will [Full Story]
Martina Navratilova Diagnosed With Throat, Breast Cancer
Tennis legend Martina Navratilova has been diagnosed with early stage [Full Story]
First Gen Z Congressman to 'Couch Surf' Due to D.C. Housing Woes
Ahead of being sworn in to Congress on Tuesday, Rep.-elect Maxwell [Full Story]
300 Migrants Make Landings at National Park in Florida Keys
A U.S. national park comprising a cluster of uninhabited islands in [Full Story]
Florida Will Cover the Cost to Install Solar if You Live in Leesburg
Smart Solar Install
Accused NYC Attacker Had Note Urging Family to 'Repent to Allah'
Trevor Bickford, the alleged Islamic extremist wielding a machete who [Full Story]
US Could Execute Its First Openly Transgender Woman
Unless Missouri Gov. Mike Parson grants clemency, Amber McLaughlin, [Full Story]
Asa Hutchinson: Jan. 6 'Disqualifies' Trump From GOP Presidential Nomination
The violence at the Capitol on Jan. 6, 2021, "disqualifies" former [Full Story]
Battleground States Mull Election Changes Before 2024
Key battleground states including Georgia and Ohio are moving to [Full Story]
Japan Says It Scrambled Jets to Monitor Chinese Aircraft Carrier Operations
Japan said on Monday it scrambled jet fighters and dispatched [Full Story]
Prince Harry Slams Buckingham Palace: 'Silence Is Betrayal'
Prince Harry said he tried to leave behind the British monarchy [Full Story]
Israeli Foreign Minister to Attend Abraham Accords Summit in Morocco
Israeli Foreign Minister Eli Cohen said on Monday he planned to [Full Story]
S. News & World Report Overhauls Law School Rankings
S. News & World Report is updating parts of its rankings for law [Full Story]
Pete Rose Places First Legal Ohio Sports Bet
Former baseball great Pete Rose placed Ohio's first legal sports bet [Full Story]
Musk: Fauci Twitter Files Released 'Later This Week'
Twitter's new owner, Elon Musk, announced that the next installment [Full Story]
SKorea, US Eye Exercises Using Nuclear Assets, Yoon Says
South Korea and the United States are discussing possible joint [Full Story]
Steil: Biden's Monetary Policy Driving Inflation
Republicans must immediately address President Joe Biden's "runaway" [Full Story]
Issa: 'No Alternative' to McCarthy for Speakership
There is no alternative for Congress' next speaker of the House, Rep. [Full Story]
Male Panda at Dutch Zoo Turns Out to Be Female
A 2-year-old giant panda at a Dutch zoo has caused a stir by turning [Full Story]
Trump: GOP Midterms Not My 'Fault,' It Was Abortion, Mitch
The 2022 midterm shortcomings of the Republican Party have been [Full Story] | video
Chief Justice John Roberts Raises Concerns About Judges' Safety
Supreme Court Chief Justice John Roberts on Saturday focused a [Full Story]
Magnitude 5.4 Earthquake Strikes Northern California
A 5.4-magnitude earthquake struck 9.3 miles southeast of California's [Full Story]
Amazon Left Scrambling As Shoppers Find out About Secret Deals
Online Shopping Tools
More Newsfront
Finance
66% of Money Managers See Stocks Rising at Least 6% in 2023
Institutional investors are bullish on 2023, with 60% expecting stocks to rise by at least 6% and nearly 20% foreseeing gains of 11% to 19%, according to a CNBC poll…. [Full Story]
Lauren Fix, The Car Coach: Acura's 2023 MDX Type S Sets the Standards for Luxury
FAA Slows Florida Air Traffic Due to Computer Problem
Winklevoss Says Crypto Broker Genesis Negotiating in Bad Faith
Tesla Reports Record Deliveries But Misses Estimates
More Finance
Health
Study: Poor Hydration Linked to Aging, Chronic Diseases
Drink up to slow down early aging and chronic disease, a new study suggests…. [Full Story]
Birx to Newsmax: US Has Fewer Tools Than Last Winter to Protect Vulnerable
NFL: Tagovailoa Showed No Concussion Signs in Game
Vaccine-Evasive Omicron Subvariant on the Rise
Fraud, Overspending Lead to $2 Billion Spent on COVID-19 Testing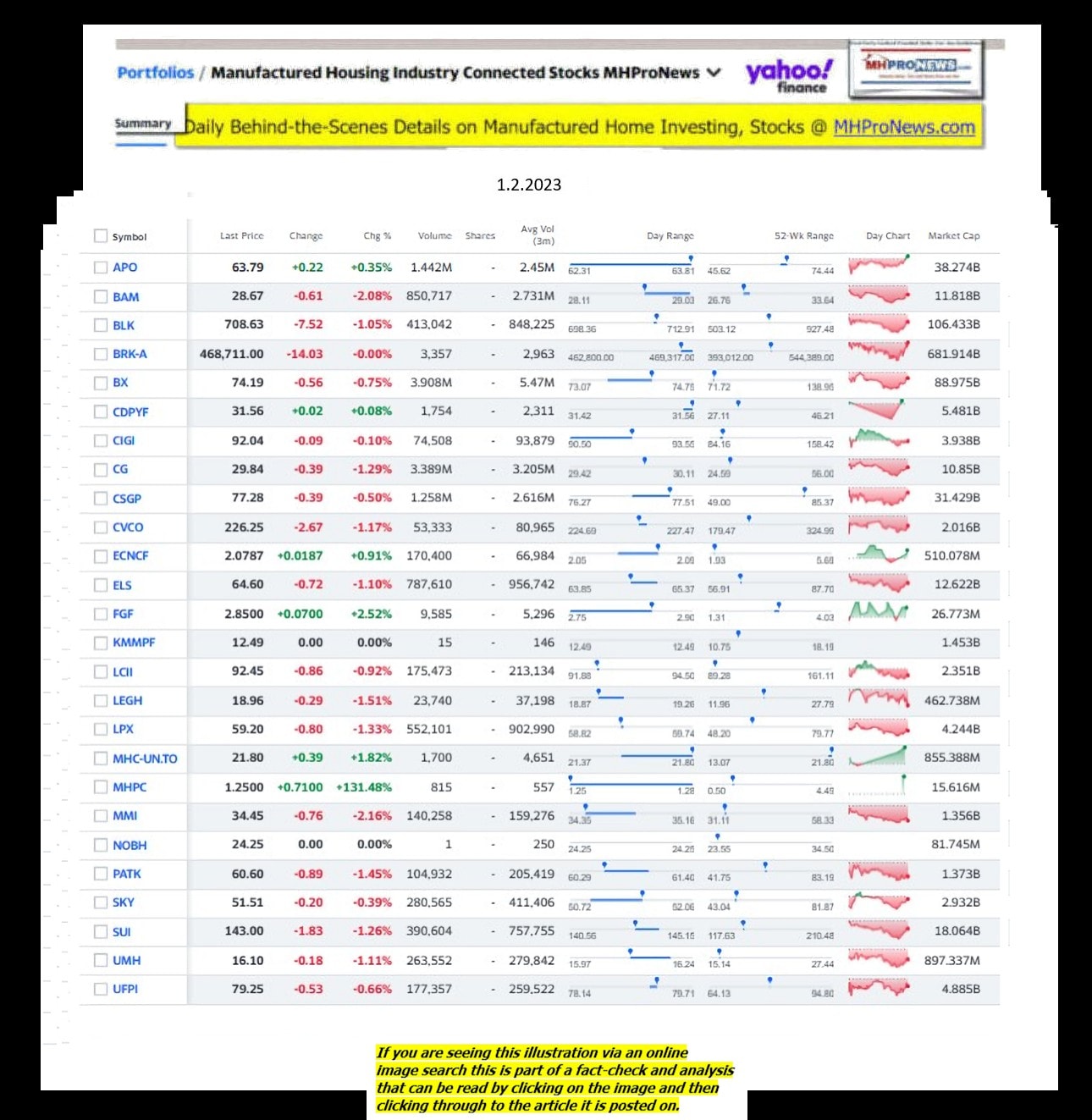 ====================================
Updated
NOTE 1: The 3rd chart above of manufactured housing connected equities includes the Canadian stock, ECN, which purchased Triad Financial Services, a manufactured home industry finance lender.
NOTE 2: Drew changed its name and trading symbol at the end of 2016 to Lippert (LCII).
NOTE 3: Deer Valley was largely taken private, say company insiders in a message to MHProNews on 12.15.2020, but there are still some outstanding shares of the stock from the days when it was a publicly traded firm.  Thus, there is still periodic activity on DVLY.
Note 4: some recent or related reports to the REITs, stocks, and other equities named above follow in the reports linked below.
Manufactured Housing Properties-Results for Three and Nine Months Ending September 30.2022–Exploring 'Mobile Home Park' Manufactured Home Community Investing; plus MHVille REITs, Stocks Update
Manufactured Housing's Next BIG Regulatory Battle That MHARR's Spotlighted and Which MHI Conveniently Ignored in Recent 'Manufactured Housing Institute News;' plus Sunday Weekly Headlines Recap
'Changes Will Benefit Customers,' Boost Sales-Legacy Homes CEO Duncan Bates – LEGH 'Delivered 22.5% Return on Equity in 1 Yr' – Corp Q3 2022 Insights, Analysis; plus MHVille REITs, Stocks Update  
'No Assurance Inflation Will Not Affect Our Future Profitability Financial Position'=Cavco Industries 10-Q, Solitaire Deal, More CVCO Data; Supreme Court Ruled-SEC Regs on False-Omitted Remarks
Skyline Champion Provides Quarterly Results, Adding Retail Centers, Improved Delivery Times-CEO Mark Yost Says 'Can Outperform Conventional Housing' Explored; Plus MHVille REITs, Stocks Update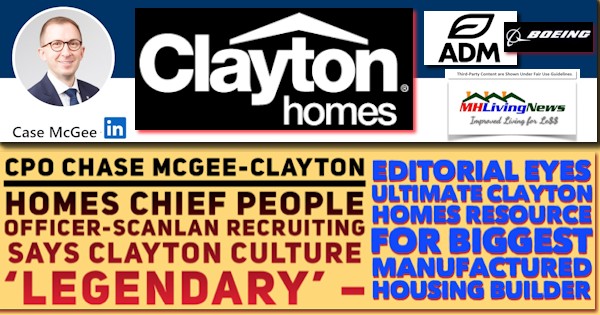 Triad Financial Services Q2-2022 FINANCIAL RESULTS, per ECN Capital – Several Bright Spots in Manufactured Home Market Highlighted, Including Communities, Retail, Land-Home, Floor; MHStocks Update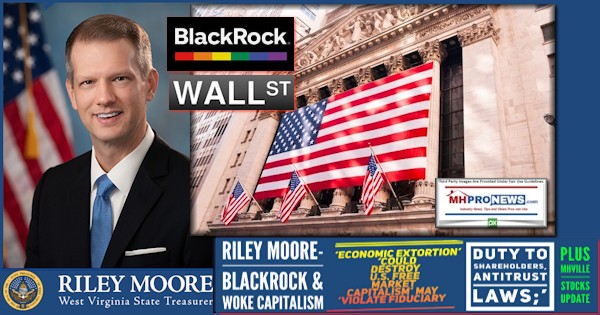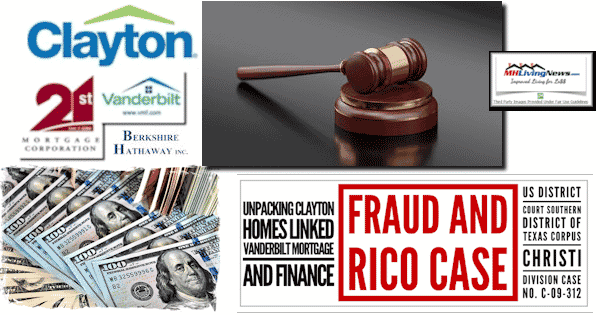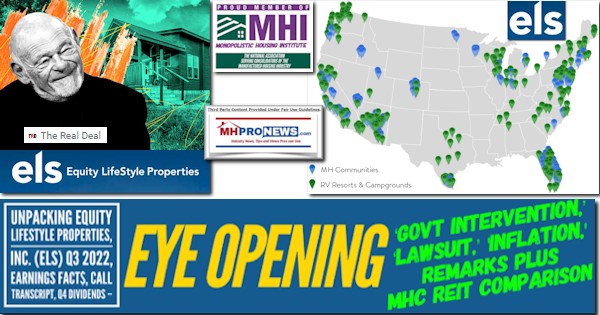 Manufactured Home Communities (a.k.a. 'Mobile Home Parks' – SIC) – Exploring UMH Properties; Fellow Manufactured Housing Institute Member Yes! Communities Suits and Settlements; plus MH Markets Updates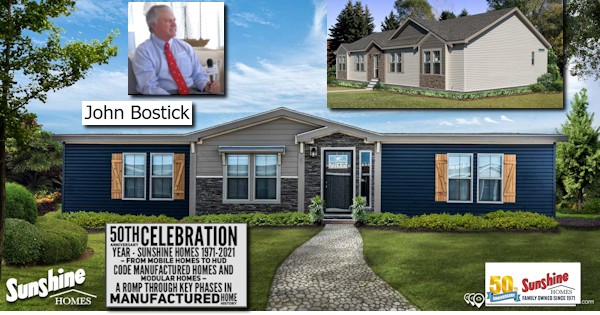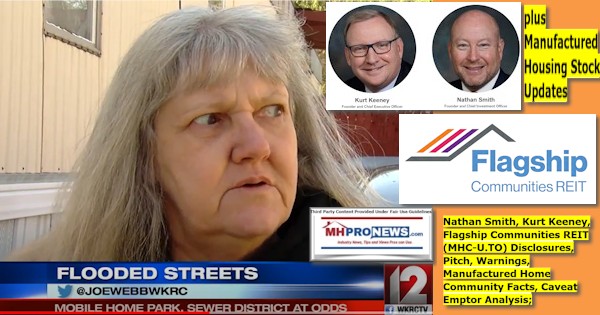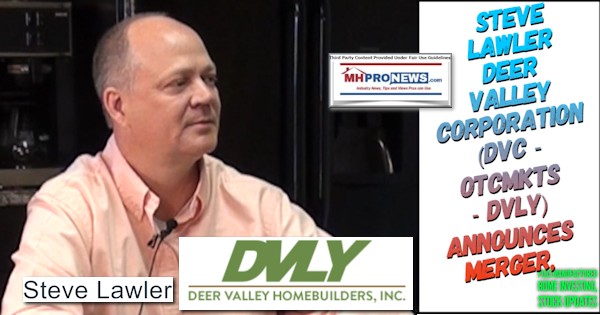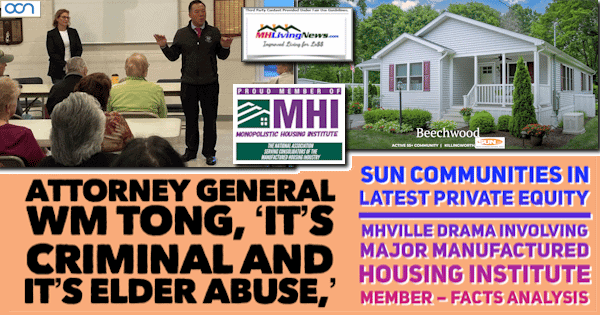 2022 …Berkshire Hathaway is the parent company to Clayton Homes, 21st Mortgage, Vanderbilt Mortgage and other factory-built housing industry suppliers.
· LCI Industries, Patrick, UFPI, and LP each are suppliers to the manufactured housing industry, among others.
· AMG, CG, and TAVFX have investments in manufactured housing related businesses. For insights from third-parties and clients about our publisher, click here.
Disclosure. MHProNews holds no positions in the stocks in this report.
· For expert manufactured housing business development or other professional services, click here.
· To sign up in seconds for our industry leading emailed headline news updates, click here.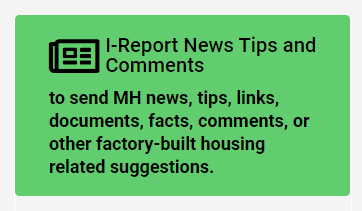 That's a wrap on this installment of "News Through the Lens of Manufactured Homes and Factory-Built Housing" © where "We Provide, You Decide." © (Affordable housing, manufactured homes, stock, investing, data, metrics, reports, fact-checks, analysis, and commentary. Third-party images or content are provided under fair use guidelines for media.) (See Related Reports, further below. Text/image boxes often are hot-linked to other reports that can be access by clicking on them.)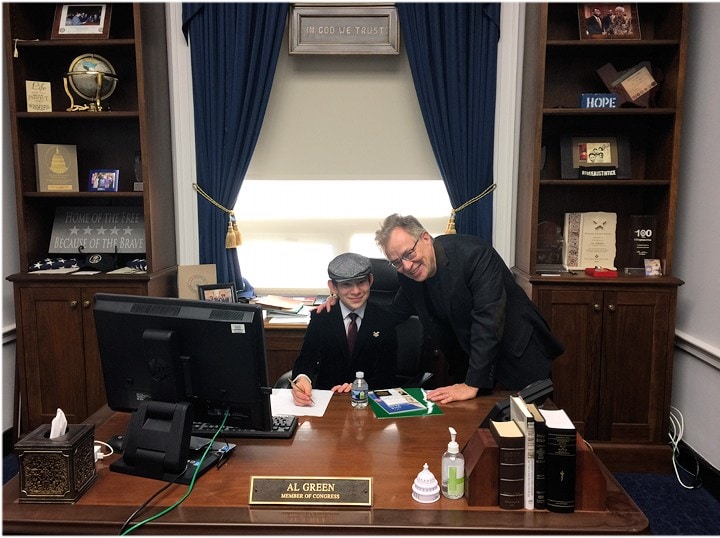 By L.A. "Tony" Kovach – for MHProNews.
Tony earned a journalism scholarship along with numerous awards in history. There have been several awards and honors and also recognition in manufactured housing. For example, he earned the prestigious Lottinville Award in history from the University of Oklahoma, where he studied history and business management. He's a managing member and co-founder of LifeStyle Factory Homes, LLC, the parent company to MHProNews, and MHLivingNews.com. This article reflects the LLC's and/or the writer's position and may or may not reflect the views of sponsors or supporters.
Manufactured Home Production Growth Continues in September 2022, per Manufactured Housing Association for Regulatory Reform-Added Facts, Analysis, plus MHVille REITs, MH Connected Stocks Update
Consumers 'Fears for the Future'-Mortgage Payments Surge Since 2021, Buyers Get Priced Out–Conventional Housing Woes are Manufactured Home Pro Opportunities; plus MHVille REITs, Stocks Update