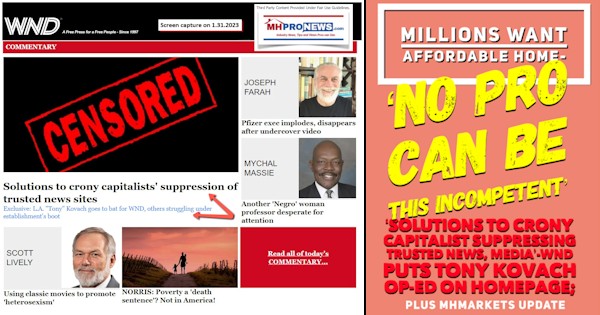 "About 28 million Americans plan on buying a home in the next 12 months, according to NerdWallet's recent annual Home Buyer Report. Typically, they're hoping to spend $200,000. This will be extremely difficult when the national median sales price of all homes, including condos, is $342,000, according to the latest data from Zillow," said MarketWatch and MSN, which amplified the Nerd Wallet produced research on 1.31.2023. Not unlike the recent Freddie Mac research report unpacked on MHLivingNews published last week that says 25 million American renters are "mortgage ready" for a manufactured home, these and other mainstream and research headlines practically beg the question. How can any serious professional promoting HUD Code manufactured housing at the national association level be so incompetent that they can't lead manufactured housing to production levels 5 to 10+ times their current levels?
Hold that apt inquiry, because a new Q&A with Danny Ghorbani, former Manufactured Housing Institute (MHI) vice president and the founding president of the Manufactured Housing Association for Regulatory Reform (MHARR) is nearly ready for publication. It specifically looks at MHI's role in the woefully underperforming status quo of manufactured housing. That pending exclusive Q&A with RV MH Hall of Fame Inductee Ghorbani will be published in the next few days here on MHProNews. Note, Ghorbani's take is his unique take. So, don't expect him to say the same things, or the same way, that this article does.
Speaking of exclusive, on WND's home page for 1.30.2023 and 1.31.2023 was the featured image shown above. It included this teaser by WND: "Exclusive: L.A. "Tony" Kovach goes to bat for WND, others struggling under establishment's boot."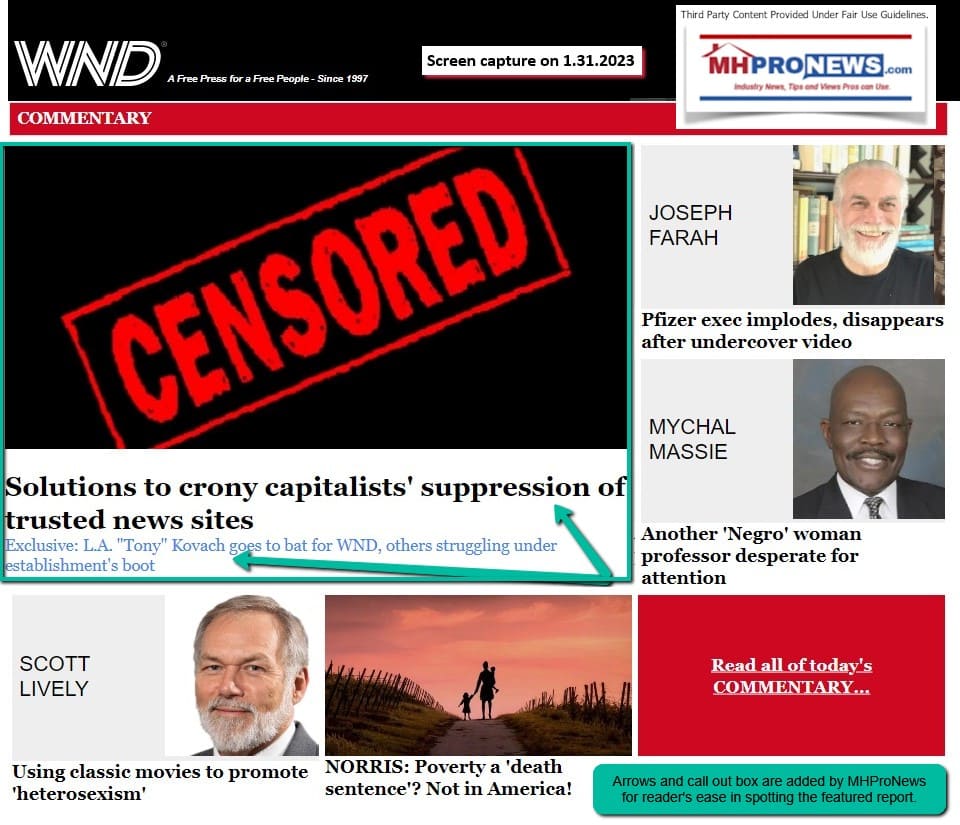 According to SimilarWeb, millions surf the WND.com news site.  On Monday evening, an op-ed submitted by MHProNews co-founder L. A. "Tony" Kovach appeared on their site. As noted, it was boldly featured on their home page. That fact- and evidence-packed op-ed is provided below, but the original with illustrations and their related links is found on the WND News Center site at this link here.
That column will be Part I of today's report. Part II will be additional related information with more MHProNews analysis and commentary. Part III is our signature Daily Business News on MHProNews' left-right (CNN-Newsmax) market-moving headline bullets and the graphical snapshots of the major markets and dozens of manufactured housing industry equities, stocks, and real estate investment trusts (REITs).
With that tee up, let's dive in.
Part I
FREE SPEECH
Solutions to crony capitalists' suppression of trusted news sites
Exclusive: L.A. "Tony" Kovach goes to bat for WND, others struggling under establishment's boot
By WND Guest Columnist Published January 30, 2023 at 7:20pm
L.A. "Tony" Kovach

WND.com. Parler. OANN TV. Newsmax TV. Prager U videos. A deposed President Donald J. Trump. These are just some of the media operations and a high-profile billionaire that have been substantially demonetized, throttled, and/or "deplatformed" in recent years by powerful corporations. Parler was taken completely offline for weeks before finally making a comeback. Thankfully, WND has avoided Parler's fate (being taken offline). But what is to be done about this pattern of abusive misbehavior by corporate giants? Are not millions of Americans hurt by this nefarious process? How can those impacted fight back?
Let's note that antitrust and other laws may create penalties for calling for a boycott of a named business. So, let's be clear that we are not hereby calling for a boycott.
That said, as to who is harmed, Reuters reported research that determined that oligopoly style of monopolization spreading in the U.S. costs Americans jobs and reportedly reduces employees pay by some 20%. So, this threat goes beyond dissenting liberals or conservatives in media. This hurts YOU and your loved ones financially.
Notable Democrat-supporting liberal Robert F. Kennedy Jr., J.D., (RFK Jr.) is suing corporate media giants. As WND reported, Kennedy said, "Nobody has ever complied their way out of totalitarianism."
Kennedy's lawsuit is significant because it is based on antitrust law.
Unlike some who file suits and never win, Kennedy and his organization have enjoyed several big court victories, including a recent one. The Defender explained, "Federal antitrust law prohibits firms from colluding to deny critical facilities or market access to rivals."
From the complaint itself: "CHD with this lawsuit aims to vindicate the freedom of speech and of the press. The Defendants are the BBC, The Washington Post, the Associated Press, and Reuters."
There are other hopeful developments about pushback against corporate giants.
"Red state" attorneys general and a treasurer reviewed their states' investments and made the decision to pull investments in those corporate giants. State-level probes foreshadow litigation. Several in big tech had their stocks take big hits in 2022. When "get woke and go broke" becomes a meaningful risk, it could in time cause changes among leftist corporate leadership.
If individuals decide to no longer do business with a company or a parent company of a firm because they have targeted liberal or conservative voices that don't blindly follow the corporate-government party line, so be it. Given the moves outlined by state officials, those who make such a choice could be in good company. Furthermore, we still possess First Amendment and other God-given and constitutionally protected rights. Obviously, people should avoid feeding hands that bite theirs.
People of goodwill should actively support – financially and through reading/viewing engagement – operations like WND that have been wrongfully targeted by corrupt crony capitalists and their federal, political henchmen.
The Civic Alliance and World Economic Forum (WEF) are two umbrella groups that have used corporate influence to push public officials for policies that big businesses apparently favor. Civic Alliance and WEF corporate member lists are found at this link. You may be surprised how many of those firms are often the epitome of the 0.1 of 1 percent "establishment elites" who have "rigged the system" in their own favor and that your business and/or family are buying products or services from.
So, on one level, people should discern if they should or should not financially support companies or organizations because their politics threaten the people's rights and livelihood.
Congress and state officials can and should hold hearings on these issues.
Republicans were punished by numbers of Civic Alliance/WEF members following the 2020 elections. NPR didn't mention the Civic Alliance or WEF in its report on corporations that punished the GOP, perhaps in part because some of those firms are donors to PBS and NPR. But a check of that corporate member list of WEF and Civic Alliance firms reveals several "hits" with companies NPR affiliate GBU named.
Popular author and WND columnist Patrice Lewis made a related point recently. Those threatened or oppressed by corporate powers ought to establish their own list of parallel institutions.
As an example of how readers can promote "A Free Press for a Free People," which WND has been for 25 years, consider this. If you call into talk radio, why not mention WND.com on air? Make WND part of the point you're making. Mention an article you read. Keep in mind that call screeners are looking out for plugs, so you may candidly mention a generic point to a call screener, but specifically mention an article's headline and WND.com by name once on air.
Social media may throttle conservatives and liberals who oppose the rigged system, but sharing links to a topic whenever possible can help.
Fine examples of recent WND reports worth sharing are the ones linked here and here. Both are hot topics.
Those points said, let's pivot back to the example from RFK Jr's legal action. Per the pleadings are the following.
"1. This is an antitrust action.
2. It is also an action to defend the freedom of speech and of the press."
Note how the following applies to WND, OANN, Newsmax, or Prager U, among others.
The world's dominant Internet platforms are facilities essential to the ability of small news publishers to compete and even to survive in the online news market. Indeed, for all practical purposes, to be denied access to those platforms is to be denied access to the market itself.
Thus the TNI [Trusted News Initiative] is a classic group boycott: "a concerted attempt by a group of competitors" to "disadvantage [other] competitors" by "cut[ting] off access" to a "facility or market necessary to enable the boycotted firm[s] to compete." Northwest Wholesale Stationers, 472 U.S. at 294.
Plaintiffs are among the many victims of the TNI's agreement and its group boycott.
Plaintiffs are online news publishers who, as a result of the TNI's group boycott, have been censored, de-monetized, demoted, throttled, shadow-banned, and/or excluded entirely from platforms like Facebook, YouTube, Twitter, Instagram, and Linked-In.
While the "Trusted News Initiative" publicly purports to be a self-appointed "truth police" extirpating online "misinformation," in fact it has suppressed wholly accurate and legitimate reporting in furtherance of the economic self-interest of its members.
For example, TNI members have deemed the following to be "misinformation" that could not be published on the world's dominant Internet platforms: (A) reporting that COVID may have originated in a laboratory in Wuhan, China; (B) reporting that the COVID vaccines do not prevent infection; (C) reporting that vaccinated persons can transmit COVID to others; and (D) reporting that compromising emails and videos were found on a laptop belonging to Hunter Biden."
There are numbers of takeaways from the above. One is that Kennedy, a Democrat, is indirectly exposing the Biden family and Democratic corruption through this litigation. Conservatives should bear in mind that perhaps 65 to 80% of the country largely agree on a range of issues. Strategic thinkers should carefully unpack the information linked here, because bigger audiences – and more supporters – are available.
Let's conclude by citing two items on WND that point to solutions to these vexing issues.
The first by this writer made the case for robust antitrust action.
Another is a related December 2022 topic that is essential for Christians and people of good will to grasp.
Lawmakers and public officials must be pushed into action. Elections are important, but engagement must be ongoing. The political left and corporate power have made an unholy alliance that never sleeps in the view of observers like Justin Haskins at the Heartland Institute. The money power must be uprooted to turn the tide in the battle for America's future and that of you and your loved ones. Carefully read the linked items to learn more. Prayer with good deeds works. ##
L.A. "Tony" Kovach is the co-founder of MHProNews and MHLivingNews which are widely acknowledged to be the largest, most-read and evidence-based trade media serving the affordable housing and mobile home/manufactured housing profession and consumers. ###
Part II. Additional Information with More MHProNews Analysis and Commentary
The same WND column by Kovach cited liberals as well as more conservative observers like Justin Haskins at the Heartland Institute's or WND columnist Patrice Lewis. Each of those writers have raised concerns about the problems caused by the steady consolidation of business and wealth in the hands of a relatively few people, who often support Democratic causes and candidates. Publisher Joseph Farah cited the retiring conservative author and former independent and Republican presidential candidate Pat Buchanan. Citing the left-leaning and billionaire Jeff Bezos Washington Post, Buchanan observed in a column that ""As a class billionaires added about $8 trillion to their total net worth from last year, totaling $13.1 trillion."
"While most of the world's wealthiest people prospered during the pandemic, thanks in part to stock prices," writes the Post, "millions of Americans grappled with job loss, food insecurity, debt, eviction and poverty." Query: Where was the outrage?" wrote Buchanan.
Former President Bill Clinton (D) Labor Secretary Robert Reich recently launched into a critique of this growing pattern of rising concentration of wealth, economic, and political power. Reich's analysis called for a "break up of monopolies." The application of Reich's thesis is explored in a recent MHProNews report linked below.
'U.S. Should Break Up Monopolies' Democrat Robert Reich Guardian Plan Would Hit Clayton Homes, Skyline Champion, and Cavco Industries with Costly Antitrust Lawsuit – Statements, Facts, Analysis
So, from the left-center, and right, there appears to be a growing realization of the need to break up monopoly power that is being reported by MHProNews.
Per Buchanan's column referenced above, he said the following. "today's billionaires' boys club has come to understand how to make its astonishing wealth acceptable, by ingratiating themselves with their old ideological enemies."
Buchanan continued, "Set up a tax-exempt foundation, fund it with billions of dollars, invite in liberals to sit on the board, and, at munificent salaries, to run it and distribute its income to liberal causes. The way to diminish leftist resentment at huge piles of private wealth is to give them a cut."  More pull quotes from Buchanan's "Where did all those Capitalist Pigs go" column are as follows.
Forbes's 35th annual ranking of billionaires, last year witnessed a population explosion. Some 660 new billionaires were added to the number for a total of 2,755.
And more than one in every four billionaires is an American.
"As a class billionaires added about $8 trillion to their total net worth from last year, totaling $13.1 trillion," says the Washington Post.
"The United States had the most billionaires, at 724, extending a rapid rise in wealth that hasn't happened since the Rockefellers and the Carnegies roughly a century ago. China, including Macau and Hong Kong, had the second highest number of billionaires: 698."
"While most of the world's wealthiest people prospered during the pandemic, thanks in part to stock prices," writes the Post, "millions of Americans grappled with job loss, food insecurity, debt, eviction and poverty."
Query: Where was the outrage?
In previous times like these, where the rich got richer and the poor and working class rode the rails, we would have heard the excoriations of economic populists and echoes of TR's "malefactors of great wealth" and FDR's "forces of entrenched greed."
But Forbes' report of the population explosion among billionaires in 2020 passed seemingly without protest.
The dogs did not bark. Why not?
Also, today's billionaires' boys club has come to understand how to make its astonishing wealth acceptable, by ingratiating themselves with their old ideological enemies.
Set up a tax-exempt foundation, fund it with billions of dollars, invite in liberals to sit on the board, and, at munificent salaries, to run it and distribute its income to liberal causes. The way to diminish leftist resentment at huge piles of private wealth is to give them a cut.
Buchanan noted to how Jeff Bezos' Amazon made it easier for Americans to 'survive' the lockdowns, which may have bought them a measure of good will.  He apparently hints that there are other factors, without going specifically into their respective media interests.
While Buchanan mentioned some insightful factors without specifically 'naming names,' the WND Kovach op-ed made the point that:  ""Red state" attorneys general and a treasurer reviewed their states' investments and made the decision to pull investments in those corporate giants." By citing liberal Democrats, like RFK Jr's antitrust action, or Robert Reich's call for antitrust effort, which has been the runaway top report on MHProNews in January 2023.
Runaway #1! Manufactured Home Pros Flock to Critiques of Industry Leaders' Effectiveness, Legal, Ethical Woes-Why MHIndustry Underperforms During Affordable Housing Crisis; Sunday Weekly MHRecap
Partisanship is therefore not the driving force behind the desire to see oligopoly monopolists and their corporate interests broken up and reigned in. Meaning, this is a trans-partisan movement that has the potential for uniting much of the left and right for those who provide the correct messaging and efforts.
President Bill Clinton-Curing What's Wrong by What's Right in America, Coalition Building, Wildly Potent Quotable Quotes, Profitable Liberty Lessons-Gonzo Journalism; plus MHVille Markets Updates
Circling back to the concerns about MHI's apparent failure to take massive opportunities and translate them into millions of new manufactured home sales is but one of several possible takeaways from this evidenced-laden article. The fact that MHI corporate and staff leaders, nor their attorneys, will respond to these concerns, is a fact that should be evaluated by independents, investors, consumers, and others.  But the fact remains. Numbers of third-party reports and studies have recently made similar points. The opportunities for manufactured housing are large to massive. Yet the results observed are only about 30 percent of the last manufactured housing industry high in 1998. How can MHI leaders be singing their own praises, given such a tepid results that have fostered consolidation in it wake?
After Admitted Failure, Manufactured Housing Institute Doubles Down on CrossMods® in AP Terminology Doc Acquired by MHProNews–Are MHI Leaders Sabotaging MHVille Independents? Plus MHStocks Update
MHEC Tip: Property Now – Confused, Conflicted 'Friends' of Manufactured Housing Press 'Fighting Disinformation,' Higher Taxes, More IRS Agents – Follow the Money Trail; plus MHVille Stocks Update
As Democrats Push National Rent Control, Biden White House Rolls Out Federal 'Renter Protection Actions' – MHEC Executive Sounds Alarm; plus MHVille REITs, Stocks, Markets Update
Call for Congressional Oversight Hearings of Manufactured Home Industry Regulators Highlighted by Manufactured Housing Association for Regulatory Reform (MHARR); plus MHVille Markets Update
Sec Carson vs. Fudge; Dec 22 Jan 23 Data – Single-Family, Multifamily Facts as Mortgage Rates Slide – 2023 Louisville Manufactured Housing Show-Facts & Analysis; plus MHVille Markets Updates
Over $1 Million! Manufactured Housing Institute Doc Drop! Top MHI Staff Pay Revealed. Additionally, Unpacking Evidence of Perjury, Fraud, Other Possible Federal Crimes; plus MHVille Stocks Update
'The U.S. Can Solve Its Housing Crisis – It Just Needs To Start Building' Bloomberg, Washington Post Want More Manufactured Housing in 2023! Plus 2022 Year in Review, Sunday MHVille Weekly Headlines Recap
If not for alternative media, in your face issues that the mainstream media often manages to ignore, or that big tech manages to censor, throttle or suppress, might not be known at all by thousands of industry pros, investors, and potentially millions of affordable housing seekers.  There are reasons why millions of pageviews are occurring every year on MHProNews, MHLivingNews, or by the tens of millions on sites like WND. Inquiring minds, the curious who seek not mere answers but want the truth, they want to know. They also want to know what can be done to remedy what's gone wrong in America. Learn more about these interconnected issues at the linked reports.
Notice: the graphic below can be expanded to a larger size.
See instructions below graphic, or click and follow the prompts.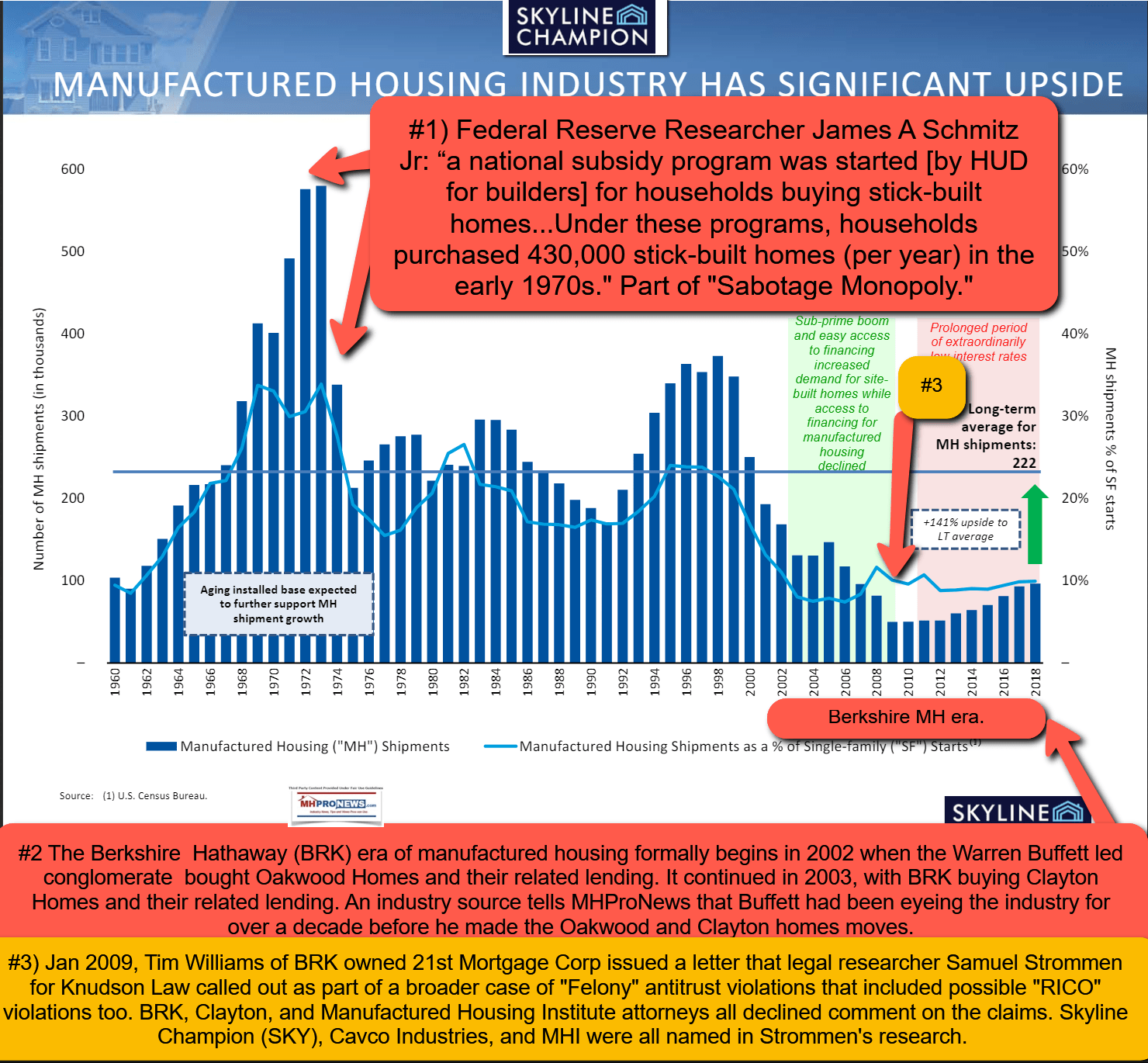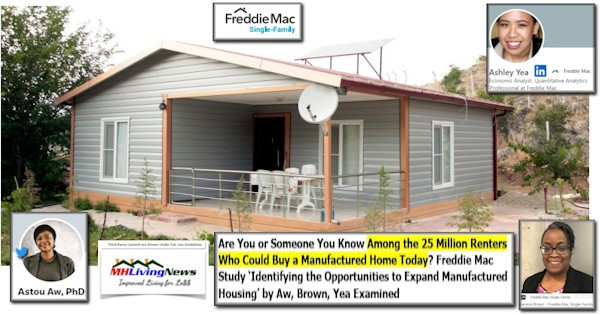 Part III. Daily Business News on MHProNews Markets Segment
The modifications of our prior Daily Business News on MHProNews format of the recap of yesterday evening's market report are provided below. It still includes our signature left (CNN Business) and right (Newsmax) 'market moving' headlines. The macro market moves graphics will provide context and comparisons for those invested in or tracking manufactured housing connected equities.
In minutes a day readers can get a good sense of significant or major events while keeping up with the trends that are impacting manufactured housing connected investing.
Reminder: several of the graphics on MHProNews can be opened into a larger size. For instance: click the image and follow the prompts in your browser or device to OPEN In a New Window. Then, in several browsers/devices you can click the image and increase the size. Use the 'x out' (close window) escape or back key to return.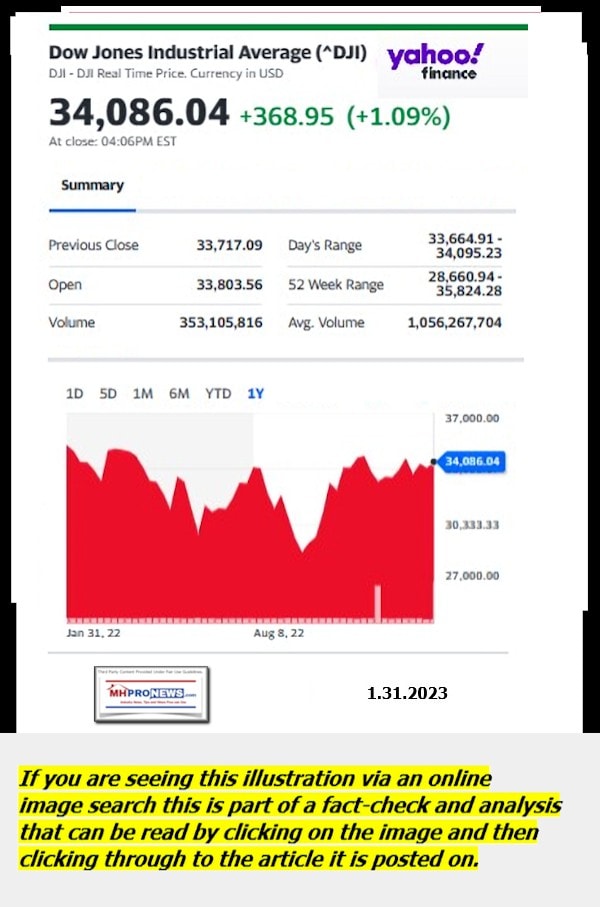 Headlines from left-of-center CNN Business – from the evening of 1.31.2023 
Cutting back hours
A pedestrian walks past the downtown Baltimore skyline in Federal Hill park in Baltimore, Maryland, U.S., on Friday, Nov. 20, 2020.
Maryland bill would subsidize employers that try a 4-day workweek
Apple has infringed on worker rights, NLRB investigators say
PayPal will lay off 2,000 workers, or 7% of staff
Instagram's founders are back with a new app
Tesla confirms DOJ has requested documents on Autopilot, 'Full Self-Driving'
Central banks have been fighting a war on inflation. They're not done yet
ChatGPT creator rolls out 'imperfect' tool to help teachers spot potential cheating
Stocks sizzled in January as rate hike and inflation fears ebbed
Why these chunky, ugly running shoes are selling like crazy
UPS reports record profit but forecasts a slower 2023
US consumers remain wary of the economy, new survey shows
French workers bring Paris to a standstill in second mass strike over pension reforms
US home prices dropped for the fifth month in a row in November
Wages continue to rise, but they still aren't keeping pace with inflation
Trump sues Bob Woodward for releasing audio of their interviews
ExxonMobil earnings more than double to annual record
As mass layoffs spread, tech workers are flocking to this app
The Covid sales boom is over for Pfizer
GM shares surge after record earnings and new stake in lithium company
Bob Born, the 'Father of Peeps,' has died
Global economic outlook slightly 'less gloomy,' Europe ekes out growth
Is this the beginning of the end for Big Oil's windfall?
Adani vs Hindenburg: India's top businessman faces biggest test
China's economic activity expands for the first time in months as Covid 'exit wave' ends
Notice: the graphic below can be expanded to a larger size.
See instructions below graphic, or click and follow the prompts.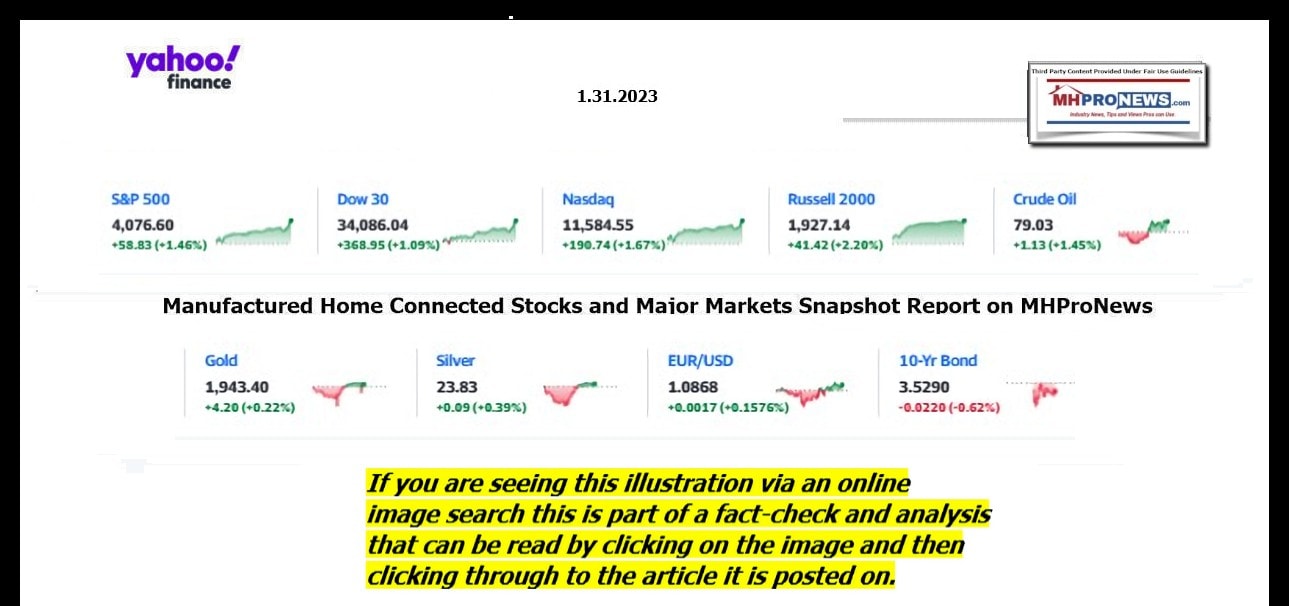 Headlines from right-of-center Newsmax 1.31.2023
US Says Russia Is Violating Last Remaining Nuke Treaty
Ukrainian officials say Russia lobbed a missile over its territory last year, loaded with a simulated nuclear warhead. (AP)
The United States said Tuesday that Russia was not complying with New START, the last remaining arms control treaty between the world's two main nuclear powers, as tensions soar over the Ukraine war. [Full Story]
DirecTV Censors Newsmax
Boebert: I Want to Ask DirecTV Why It Axed Newsmax | video
Biggs to Newsmax: Big Govt, Big Tech Censoring Conservatives | video
Scalise: 'We Should All Be Promoting Free Speech'
Meuser: Constituents 'Upset' by Newsmax Drop | video
Palin: DirecTV's Baffling Removal of Newsmax 'Blatant Censorship' | video
Speaker McCarthy 'Very Concerned' About Newsmax Drop, Warns AT&T | video
Letter From Wesley Hunt, 41 Congressmen to AT&T DirecTV Opposing Censorship
Matt Gaetz: Left Can't Tolerate Opposing Views | video
Dick Morris: DirecTV's Decision 'Purely' Political | video
Trump Hits CNN/MSNBC Ratings: 'Put Newsmax Back On' | video
Trump Calls AT&T DirecTV 'Disgusting,' Urging Boycott
Newsmax TV
Burchett: Charged Memphis Cops 'Thugs With Badges' | video
Gaetz: 'Undecided' on Kicking Ilhan Omar off Committee
Boebert: Hearings Should Net Criminal Referrals | video
Mark Morgan: Abbott Right to Hire Border Czar for Texas | video
Former Acting AG Whitaker: 'I Think the DOJ Is Stonewalling' | video
Blaine Holt to Newsmax: Zelenskyy Fighting Russia, Corruption | video
RNC's McDaniel: Will Work With Dhillon to Improve Party | video
Birx: Laws Needed Before Next Pandemic | video
Good: GOP Bill Would 'Expose' US Funding Ties With China | video
Pompeo Urges US to Prepare for War With China
Former Secretary of State Mike Pompeo is urging the U.S. military to prepare for a war with China…. [Full Story]
Video Report: Illegal Migrants Refuse to Leave NY Hotel
Illegal migrants are refusing to leave The Watson Hotel in New York [Full Story] | video
Biden Highlights Grant for Hudson Tunnel, Takes Aim at GOP
President Joe Biden Tuesday showcased a $292 million mega grant that [Full Story]
IRS 'Cash Grab' to Start With This Year's Taxes
The IRS will be looking into any transaction of $600 or more starting [Full Story]
FBI Searched Penn Biden Center in Mid-November
FBI Searched Penn Biden Center in Mid-November
The FBI searched the Penn Biden Center offices in mid-November after [Full Story]
Hockey Team Promotes Individual Rights on Pride Night, Faces Icy 'Woke' Backlash
While the New York Rangers may be skating on thin ice with LGBTQ+ [Full Story] | Platinum Article
New Russian Assault in Ukraine Unlikely to Achieve Breakthrough, UK Says
A large Russian force has advanced hundreds of meters in a major new [Full Story]
Related
Boris Johnson to Meet US Republicans, Push Ukraine Aid
Kyiv Berates Croatian President for Saying Crimea Won't Return to Ukraine
France Doesn't Rule Out Sending Warplanes to Ukraine
Biden Says No F-16s for Ukraine as Russia Claims Gains
Talk of Fighter Jets to Kyiv Could Strain Western Unity
Troy Nehls to Newsmax: Before Long, Zelenskyy Will Ask Biden for Troops |video
Boris Johnson Meets US Republicans, Pushes Ukraine Aid
IOC Rejects Russian Demand That Its Athletes Compete Without Restrictions
China Plans to Give Taliban Armed Drones
China is reportedly planning to fortify its economic position in [Full Story] | Platinum Article
Michael Jackson's Nephew to Play King of Pop in Biopic
Michael Jackson's nephew, Jaafar Jackson, will portray the King of [Full Story]
Study: Legalized Marijuana Doesn't Increase Substance Abuse
Living in a U.S. state where recreational weed is legal does not [Full Story]
US Earnings Run Ahead of Estimates, Even as Execs Voice Caution
The companies that produce goods at the heart of the U.S. consumer [Full Story]
White House Outraged by Exxon's Record Profits
The White House Tuesday expressed outrage at record profits recorded [Full Story]
Marriage Could Be 'Buffer' Against Dementia
Tying the knot is now tied to healthier aging brains: People who stay [Full Story]
US Labor Cost Growth Smallest in a Year
S. labor costs increased at their slowest pace in a year in the [Full Story]
A Neti Pot Could Help Relieve Your Clogged Sinuses
If you suffer from sinus congestion, especially during the winter [Full Story]
Britain's Truss Eyes Comeback, Consults With US Conservatives
Former British Prime Minister Liz Truss, who resigned in October [Full Story]
Former Putin Speechwriter Predicts Coup Next Year
Vladimir Putin might be facing a military coup within the next year, [Full Story]
China's New Export Rules Could Hamper US Solar Plans
The Wall Street Journal reported Tuesday that new Chinese export [Full Story]
Santos Recuses Himself From House Committees
Embattled freshman Rep. George Santos, R-N.Y., on Tuesday told fellow [Full Story]
AI Cheaters Beware: ChatGPT Releases Detection Tool
The maker of ChatGPT is trying to curb its reputation as a [Full Story]
Video Report: Israel Advances Bill to Revoke Terrorists' Citizenship
On Tuesday's "Wake Up America," Israel has advanced a bill to revoke [Full Story] | video
DeSantis: Congress Must Investigate AT&T for Deplatforming
Florida Gov. Ron DeSantis is calling for a congressional [Full Story] | video
Vance Returns Favor, Endorses Trump for 2024
J.D. Vance, R-Ohio, who won a tight race in November after [Full Story]
Florida Sheriff Sued for Defamation Over 'Wheel of Fugitive' Videos
A Florida man is suing the Brevard County Sheriff for defamation [Full Story]
Band That Sang Song Criticizing Bezos Fired From Amazon Arena Performance
A Seattle indie music band, which played last week between periods of [Full Story]
Musk Wants Twitter Stake Lawsuit Tossed
Elon Musk asked a U.S. judge to throw out a lawsuit claiming that his [Full Story]
Vance Says He'll Support Rep. Banks in Indiana Senate Race
J.D. Vance, R-Ohio, said Tuesday that he's supporting Rep. Jim [Full Story]
White House Again Pressed on Biden's Physical Exam
The White House's lack of transparency regarding classified documents [Full Story]
24 GOP Sens Opposing Raising Debt Limit Without Cuts
Twenty-four Republican senators have signed a letter to President Joe [Full Story]
Major Airlines Have Stopped Using Gendered Uniforms
A number of major airlines, including JetBlue, Virgin Atlantic, and [Full Story]
Food Inflation Slows in December, but Still Up 10 Percent
S. food prices increased 0.3% in December, a drop from 0.5% in [Full Story] | video
Finance
More Americans Choose to Rent Rather Than Buy
Fazed by the high costs of houses and apartments and their upkeep, plus rising mortgages, more Americans are renting rather than buying properties like never before, Fortune magazine reports…. [Full Story]
Peloton to Report Lower Cash Burn
FTC Asks Judge to Pause Meta VR Deal
Corporate Defaults to Rise to 6%: Moody's
PayPal to Slash 2,000 Jobs
More Finance
Health
Study: Legalized Marijuana Doesn't Increase Substance Abuse
Living in a U.S. state where recreational weed is legal does not appear to increase the average adult's risk of succumbing to "reefer madness," a new study of twins has determined. An adult living in a "legal" state is not more likely to develop any sort of substance abuse…… [Full Story]
The Number of Daily Steps Needed for Weight Loss
Study: People With Autism Might Feel Pain More Intensely
Study Pinpoints 6 Habits That Reduce Dementia Risk, Slow Memory Loss
People With Epilepsy Often Experience Fear of Public Spaces
Notice: the graphic below can be expanded to a larger size.
See instructions below graphic, or click and follow the prompts.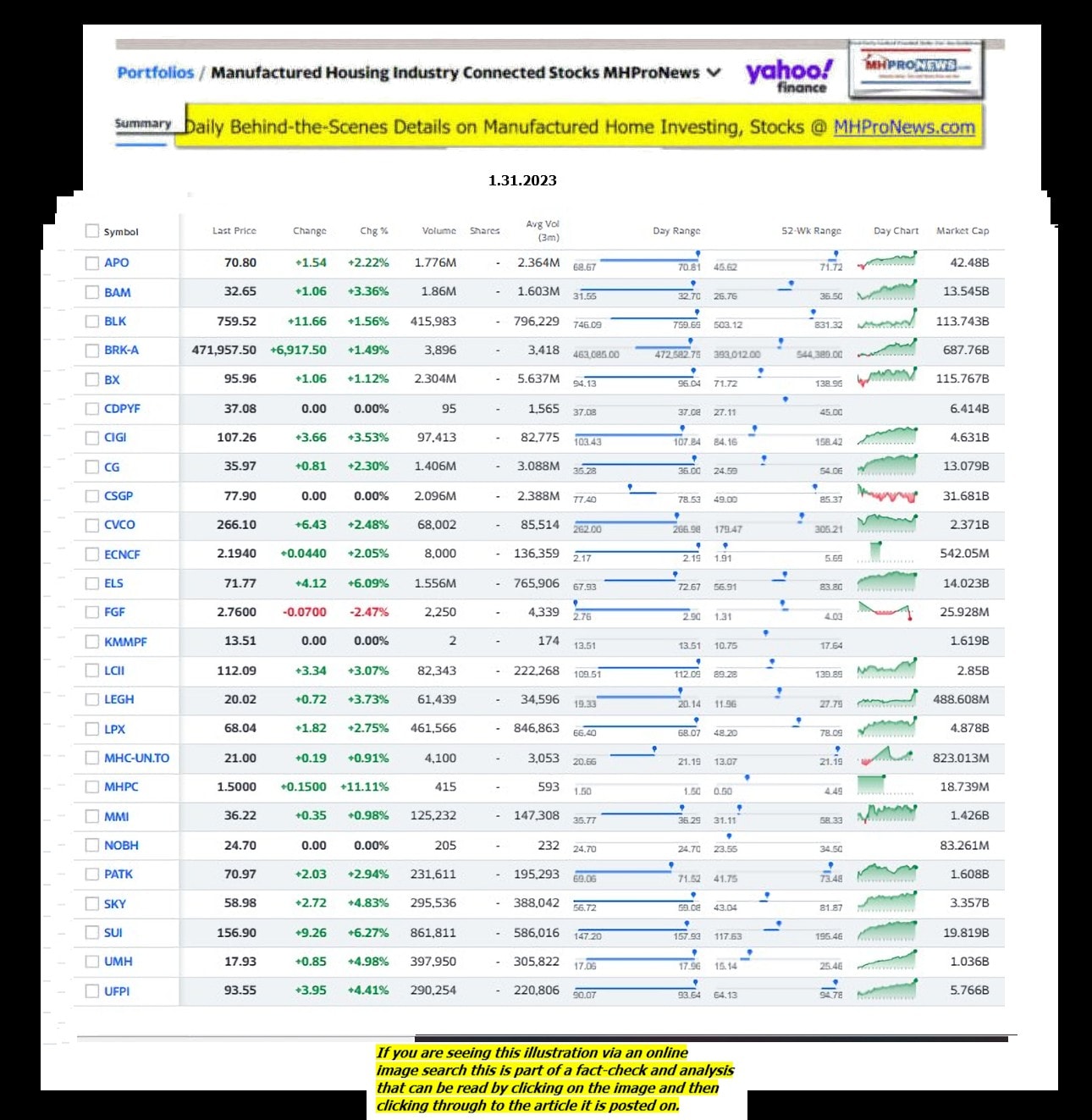 'Stomach Churning Year' CNN-Wall Street 'Forget 2022' Down Year – Major Equities Data Compared to Manufactured Housing Stocks, Manufactured Home Community REITs, Performance for Year by Company
====================================
Updated
NOTE 1: The 3rd chart above of manufactured housing connected equities includes the Canadian stock, ECN, which purchased Triad Financial Services, a manufactured home industry finance lender.
NOTE 2: Drew changed its name and trading symbol at the end of 2016 to Lippert (LCII).
NOTE 3: Deer Valley was largely taken private, say company insiders in a message to MHProNews on 12.15.2020, but there are still some outstanding shares of the stock from the days when it was a publicly traded firm.  Thus, there is still periodic activity on DVLY.
Note 4: some recent or related reports to the REITs, stocks, and other equities named above follow in the reports linked below.
'Manufactured Housing in the News,' Unpacking UMH CEO Sam Landy Op-Ed' It's Time for Bi-Partisanship on Affordable Manufactured Housing Homeownership' in HousingWire; plus MHMarkets Updates
Warren Buffett's Pledge to Kevin Clayton – 'You Can Access Plenty of Capital' for Projects – Quotes, Facts, Video, Transcript, and Implications for Manufactured Housing Industry
Manufactured Housing Properties-Results for Three and Nine Months Ending September 30.2022–Exploring 'Mobile Home Park' Manufactured Home Community Investing; plus MHVille REITs, Stocks Update
'Changes Will Benefit Customers,' Boost Sales-Legacy Homes CEO Duncan Bates – LEGH 'Delivered 22.5% Return on Equity in 1 Yr' – Corp Q3 2022 Insights, Analysis; plus MHVille REITs, Stocks Update  
'No Assurance Inflation Will Not Affect Our Future Profitability Financial Position'=Cavco Industries 10-Q, Solitaire Deal, More CVCO Data; Supreme Court Ruled-SEC Regs on False-Omitted Remarks
Skyline Champion Provides Quarterly Results, Adding Retail Centers, Improved Delivery Times-CEO Mark Yost Says 'Can Outperform Conventional Housing' Explored; Plus MHVille REITs, Stocks Update
Triad Financial Services Q2-2022 FINANCIAL RESULTS, per ECN Capital – Several Bright Spots in Manufactured Home Market Highlighted, Including Communities, Retail, Land-Home, Floor; MHStocks Update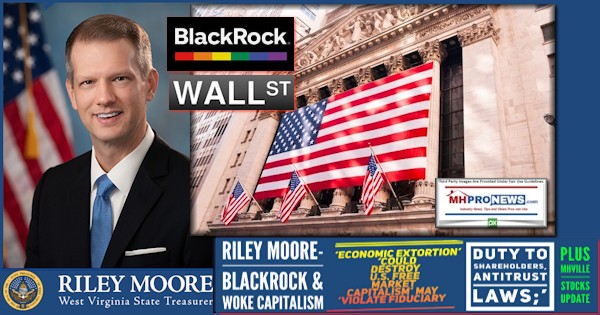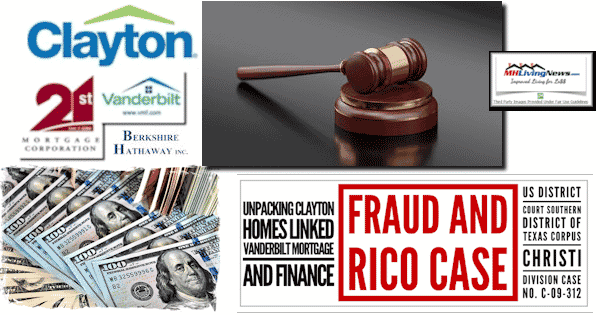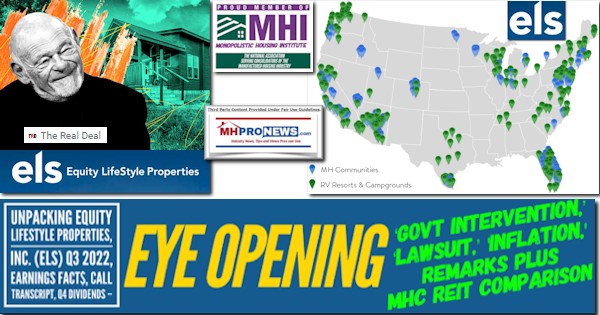 Manufactured Home Communities (a.k.a. 'Mobile Home Parks' – SIC) – Exploring UMH Properties; Fellow Manufactured Housing Institute Member Yes! Communities Suits and Settlements; plus MH Markets Updates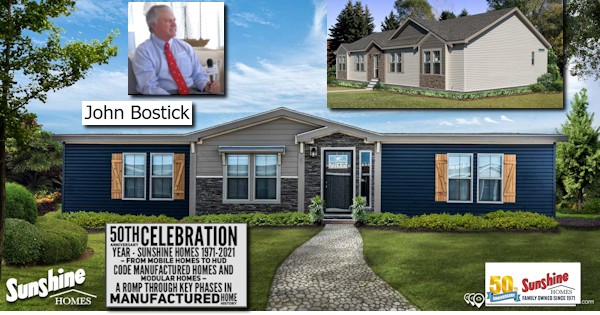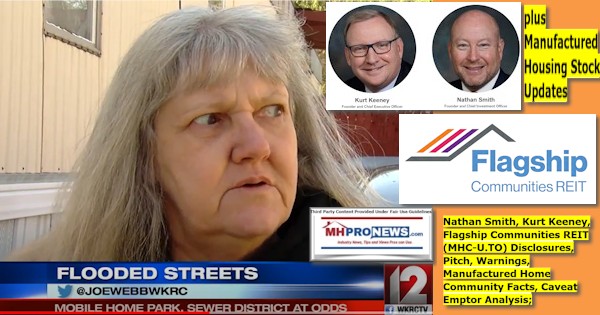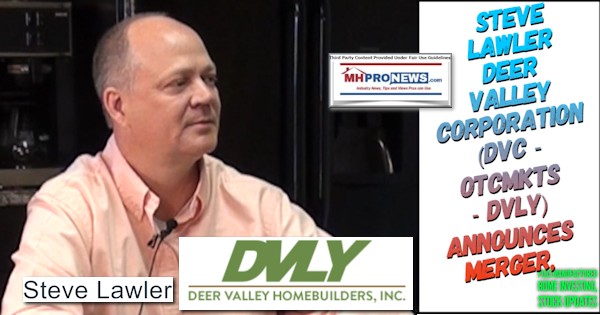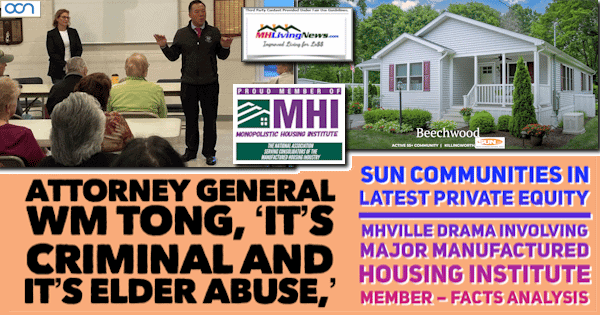 2023 …Berkshire Hathaway is the parent company to Clayton Homes, 21st Mortgage, Vanderbilt Mortgage and other factory-built housing industry suppliers.
· LCI Industries, Patrick, UFPI, and LP each are suppliers to the manufactured housing industry, among others.
· AMG, CG, and TAVFX have investments in manufactured housing related businesses. For insights from third-parties and clients about our publisher, click here.
Disclosure. MHProNews holds no positions in the stocks in this report.
· For expert manufactured housing business development or other professional services, click here.
· To sign up in seconds for our industry leading emailed headline news updates, click here.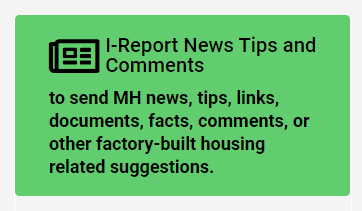 That's a wrap on this installment of "News Through the Lens of Manufactured Homes and Factory-Built Housing" © where "We Provide, You Decide." © (Affordable housing, manufactured homes, stock, investing, data, metrics, reports, fact-checks, analysis, and commentary. Third-party images or content are provided under fair use guidelines for media.) (See Related Reports, further below. Text/image boxes often are hot-linked to other reports that can be access by clicking on them.)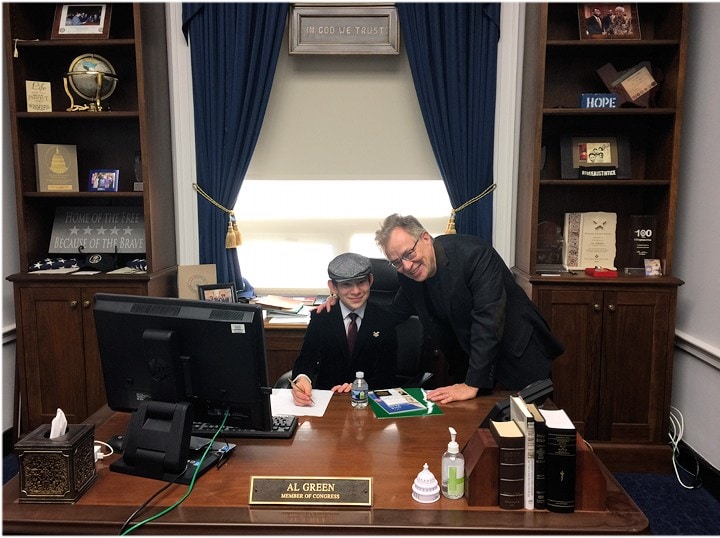 By L.A. "Tony" Kovach – for MHProNews.
Tony earned a journalism scholarship along with numerous awards in history. There have been several awards and honors and also recognition in manufactured housing. For example, he earned the prestigious Lottinville Award in history from the University of Oklahoma, where he studied history and business management. He's a managing member and co-founder of LifeStyle Factory Homes, LLC, the parent company to MHProNews, and MHLivingNews.com. This article reflects the LLC's and/or the writer's position and may or may not reflect the views of sponsors or supporters.
Facts You Didn't Know – Martin Luther King Jr – Videos, Insightful Quotes, Surprising Revelations, Videos, Reports, and Illustrations in Champion for Human Rights Including Affordable Housing
HUD Code Manufactured Home Building Down Nov 2022–Higher for Year per Manufactured Housing Association for Regulatory Reform Data, Facts-Insights Others Lack; plus MHVille Stocks-REITs Update
'Manufactured Housing Closes Year on Cool Note, But Optimism Grows for 2023' Says TRERC, But TMHA VP Rob Ripperda Lets Cat Out of Proverbial Bag, Exposing MHI; plus MHVille Market, Stocks Update
U.S. Housing Data Reveals Gaps-Underscores Vast Manufactured Housing Industry Potential, But Raises Corp, Trade Group Performance Concerns, Apparent Shareholder Effects; plus MHVille Stocks Update
After Admitted Failure, Manufactured Housing Institute Doubles Down on CrossMods® in AP Terminology Doc Acquired by MHProNews–Are MHI Leaders Sabotaging MHVille Independents? Plus MHStocks Update
Concessions by Speaker Kevin McCarthy in House Speaker's Battle Called 'Most Significant Win for Conservatives in a Decade' By Federalist's Emily Jashinsky Report; plus MHVille Stocks Updates