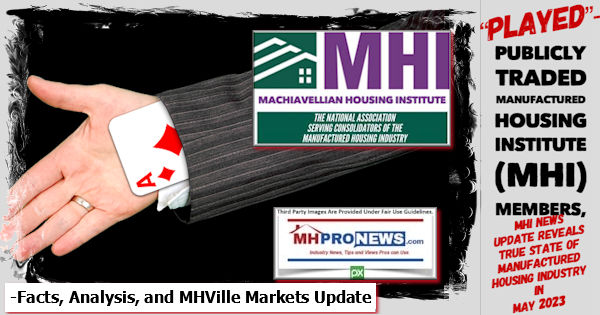 The latest national production data from the Manufactured Housing Association for Regulatory Reform (MHARR) reveals that the manufactured homes industry is now in month six (6) of a downturn during an affordable housing crisis. In MHI's recent emailed 'news' update, there is no mention of that fact, but remarks on various topics are mentioned instead, in a purported red hearing or distraction tactic fashion. "You've been played" WCBM talk radio and right-leaning Newsmax TV weekend host Rob Carson has repeatedly said to his radio listeners. "The system is rigged" said Senators Bernie Sanders (VT-Democratic Socialist), Elizabeth Warren MA-D), Donald J. Trump (Republican) and others like former California Governor Jerry Brown (click links for quote graphics, specifics). Carson also routinely warns his listeners about the power or the oligarchs in modern American society. One of those apparent oligarchs, Warren Buffett, plays an outside role in manufactured housing and has since his Berkshire Hathaway (BRK) conglomerate bought Clayton Homes and their affiliated in 2003 and a big stake in bankrupt Oakwood Homes in 2002. Buffett was boldly quoted by the left-leaning New York Times and Washington Post at saying that he and his fellow ultra billionaires are the ruling class in the U.S. which has successfully waged class warfare. MHProNews/MHLivingNews plans to update prior reports on the Warren Buffett Moat methods, but sufficient for now is the point that Buffett speaks about it, Kevin Clayton has confirmed it, and so has Clayton Homes general counsel and prior Manufactured Housing Institute (MHI) chairman Tom Hodges. The moat was cited as the Dirty Little Secret of Buffett led Berkshire by the left-leaning Nation, was decried while mentioning Clayton Homes by GuruFocus, and was specifically warned against by longtime Buffett admirer Robin —— with the Financial Times. Sometimes the best place to hide the truth is in plain sight, and Buffett mentioned just days ago that very insightful remark. Multiple year Buffett nonprofit board member and actor Danny Glover was cited by the award-winning documentary drama, Shadows of Liberty, as saying that there is a monopoly of wealth and information in the U.S. Clayton and their affiliated lending hold an outsized role in manufactured housing, evidenced by a series of interrelated facts and remarks consistent with Buffett's, Clayton's and Hodges' moat remarks. The truth about the troubling realities of Buffett's influence and power was raised at his recent annual meeting, where the Peter ——, chairman of the —— nonprofit, was arrested while speaking in favor of having Buffett removed as Berkshire board chairman. Despite collected evidence of Buffett's financial and media power and how they are flexed in manufactured housing, Buffett board member and attorney Ron Olson declined disputing the antitrust allegations raised by Samuel "Sam" Strommen of Knudson Law. Nor had Clayton, Hodges, MHI, or their respective attorneys responded to such allegations in inquiries like the one reported in the report linked here and again further below.
Part I
In order to successfully hide in plain sight, the case could be made that techniques such as paltering, posturing, and various distractions must be employed.
The public skirmishing between Fox News, leakers at Fox, and recently removed Fox News' top program host, Tucker Carlson has put the issue of how the news business operates in contemporary society front and center. Carlson's recent Twitter videos have garnered tens of millions of views. In them, Carlson says in his own words that news is often used to manipulate a platform's audience.
We're back. pic.twitter.com/sG5t9gr60O

— Tucker Carlson (@TuckerCarlson) May 9, 2023
Good evening pic.twitter.com/SPrsYKWKCE

— Tucker Carlson (@TuckerCarlson) April 27, 2023
While Carlson didn't use the word "paltering," the example he gave is in keeping with the meaning of paltering. Former award-winning CNN reporter and award-winning talk radio star Chris Plante – who recently got his own panel discussion program on Newsmax – has repeatedly said that the media's greatest power is the power to ignore.
ABC, CBS, NBC, CNN & MSDNC all ignored this. They aren't in the news business, they're in the Democrat Party propaganda business! pic.twitter.com/dMPqRZKslC

— Chris Plante Show (@ChrisPlanteShow) May 10, 2023
Chris Plante: The Right Squad starts now on @Newsmax! Tune in! pic.twitter.com/OftXjTSJwK

— Chris Plante Show (@ChrisPlanteShow) May 10, 2023
Plante has also stressed that the political left in America has gained "information dominance." That dominance has often become associated with left-leaning Democratic party politics. "ABC, CBS, NBC, CNN & MSDNC all ignored this. They aren't in the news business, they're in the Democrat Party propaganda business!" Of course, Fox News has also been accused as well of offering cover for some of the billionaire oligarchs. While there is a partisan angle to these issues, examples span the left-right media spectrum. Media expert Professor Chrysalis Wright, Ph.D., has said that all news isn't fake news, but that multiple sources must be examined in order to begin to grasp the reality of a situation.
Congratulations to our Outstanding Radio Talk Show Host MRC Bulldog Award winner, Chris Plante. pic.twitter.com/baBr0rzg91

— Media Research Center (@theMRC) May 11, 2023
Plante likes to say in tongue in cheek fashion: "it is good to be a Democrat." He asserts there is a left-leaning bias in the media. Plante routinely uses sharp satire, perhaps to entertain as much as it is to avoid being sued.
The left does not like freedom! pic.twitter.com/hsYM1sY9iL

— Chris Plante Show (@ChrisPlanteShow) May 11, 2023
It's good to be a Democrat! No story about this in the Washington Post. It looks like a newspaper but it's not. pic.twitter.com/WFngoy7Spz

— Chris Plante Show (@ChrisPlanteShow) May 11, 2023
National Panhandler Radio! https://t.co/0sSS9tic69

— Chris Plante Show (@ChrisPlanteShow) May 11, 2023
Leftist policies always hurt the people they're designed to help! https://t.co/ueK3VlR0o6

— Chris Plante Show (@ChrisPlanteShow) May 10, 2023
A recent thread for Plante has been on the topic of fascism. Plante cites Benito Mussolini as the expert, and then says that fascism is the union of corporate and government power.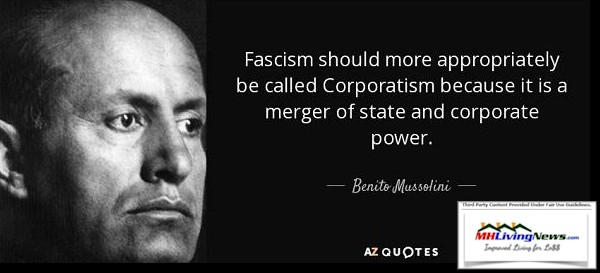 While the award-winning Plante has a way of making a well-used expression sound fresh each time he deploys it, which helps explain his attraction to a nationally syndicated audience from the flagship station of WMAL from 9 AM to noon Eastern, Plante's point about Mussolini and corporate power in America is quite in keeping with what personalities such as Danny Glover, Warren Buffett, and Berkshire's Vice Chairman Charlie Munger have said in their own words.
Imagine if we had an honest news media! pic.twitter.com/laLCj3eBEv

— Chris Plante Show (@ChrisPlanteShow) May 9, 2023
Notice: the graphic below and others can be expanded to a larger size.
See the instructions below the graphic below or click the image and follow the prompts.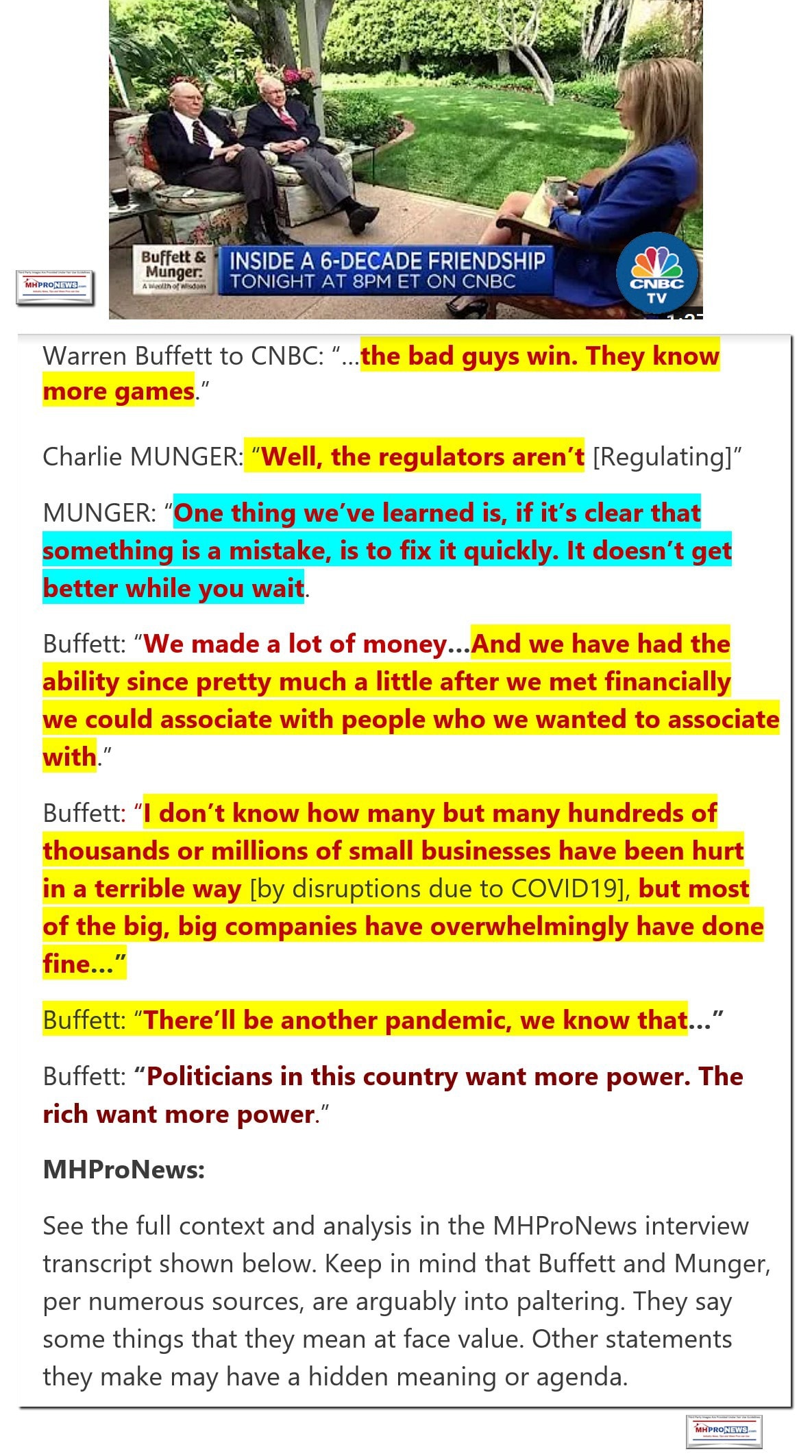 Restated – Tucker Carlson, Chris Plante, and Rob Carson – are among those shedding light on aspects of a problem that were identified by Shadows of Liberty over a decade ago. Meaning, these are not 'new' truths. The Shadows of Liberty documentary drama hits examples from both left and right leaning media. The video gave specific examples from informed sources who made their case on camera. Before and since then, there has been a steady stream of individuals, often those who have worked in media, who have blown the whistle on media corruption and how it benefits corporate and public officials.  One might think that Democratic presidential candidate, Robert F. Kennedy Jr., should recommend Shadows of Liberty as 'must see' viewing for his campaign supporters.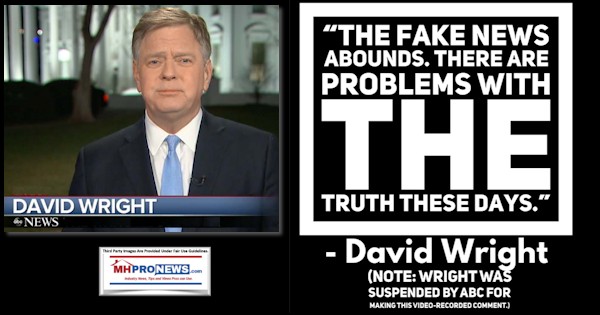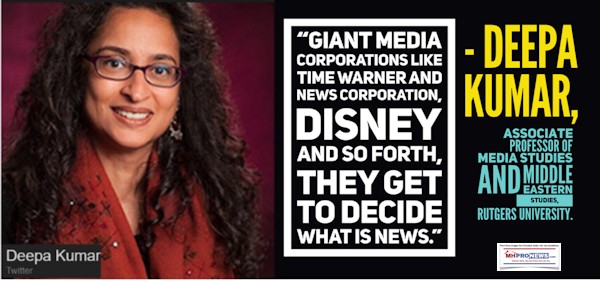 'Spirit of Rebellion' RF Kennedy Jr 'My Candidacy for Democratic Nominee for President Aims to End Corrupt Merger of State-Corporate Power Threatening New Feudalism in USA;' plus MHMarkets Updates
Not unlike mainstream media, which routinely has corporate and/or governmental connections, there are apparent parallels in manufactured housing trade media. Through a variety of subtle to blatant mechanisms, the bloggers and publications in MHVille's 'trades' – other than MHProNews/MHLivingNews  are arguably routinely examples of pro-MHI mouthpieces. Even if they may from time to time posture some negative item about some operation affiliated with MHI, or MHI itself, it is often done on a relatively minor point while ignoring the bigger picture.
It is with that evidence-based backdrop of national news, MHVille trade media insights and analysis that MHI's ability to "ignore" troubling realities should be explored.
One of those troubling realities is the manufactured housing industry's latest downturn, which has now reached six consecutive months. MHI's most recent 'news' to their members doesn't mention it. This is the Plante insight of the power of media, or organizations, to ignore at work.
But another vexing issue is related. Why does MHI fail to take obvious steps to address the underlying issues that have hampered manufactured housing in the first place?
Their smaller national trade association rival MHARR – the Manufactured Housing Association for Regulatory Reform – publishes the HUD Code manufactured home production data monthly and has for years. By contrast, MHI hides that month-by-month production and shipment information behind a members-only login.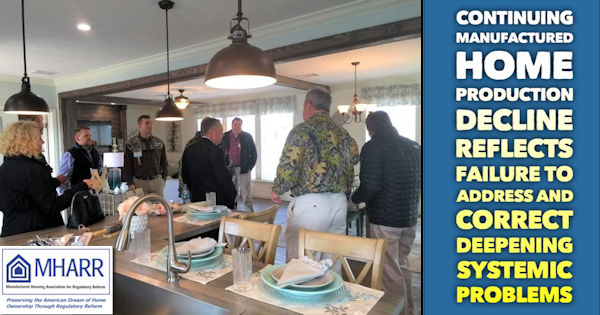 MHI apparently has more sources that unquestioningly spout their claims than MHARR does. If misinformation is repeated often enough, it may appear to be true. That historic lesson was deployed by several fascists, socialists, and communists in the 20th century.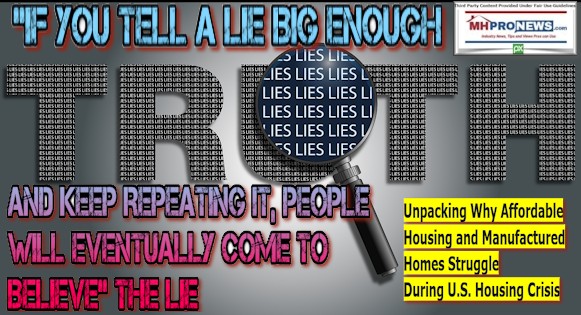 Conflicts of Interest and Conflicting Claims
MHI leaders have been asked repeatedly for copies of their bylaws and governing documents. These by law are supposed to be made available upon request. But ignoring realities or pesky issues like failing to produce governing documents is but one instance of information withholding, paltering, posturing, and the like. MHI claims to represent "all segments" of the manufactured housing industry. Yet, in practice, when trends and the 'money trail' are carefully examined, what emerges is this picture. By the manufactured housing industry underperforming, some of MHI's larger members that dominate that trade body get an indirect benefit. Underperformance results in stresses on smaller firms that over time seek to exit in the industry. Such barriers of entry, persistence, and exit are not commonly thought about by most Americans. But that is what makes it a useful tool in the hands of those who proclaim their firm uses "the moat" to press their competitors. In that moat building process, having allies proves useful. Dominating the information sources is also useful. Thus, Carlson's, Plante's, Glover's, or Carson's insights begin to come into sharper focus, at least with respect to how it plays out in manufactured housing.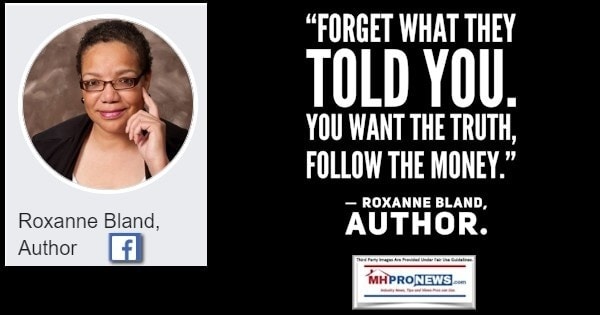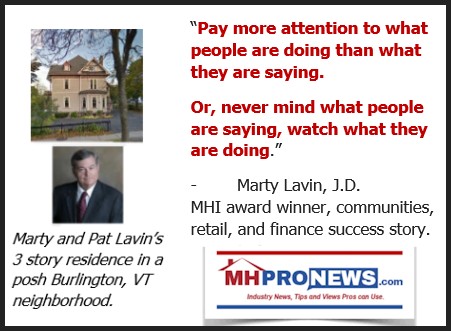 MHProNews uniquely unpacked ELS' investor presentation in the report linked below. Part of MHI member ELS' pitch is that scarcity and barriers of entry are a benefit for their business model. That graphic seems to contradict claims made by MHI that they are trying to grow the industry, as the report detailed.
Notice: the graphic below and others can be expanded to a larger size.
See the instructions below the graphic below or click the image and follow the prompts.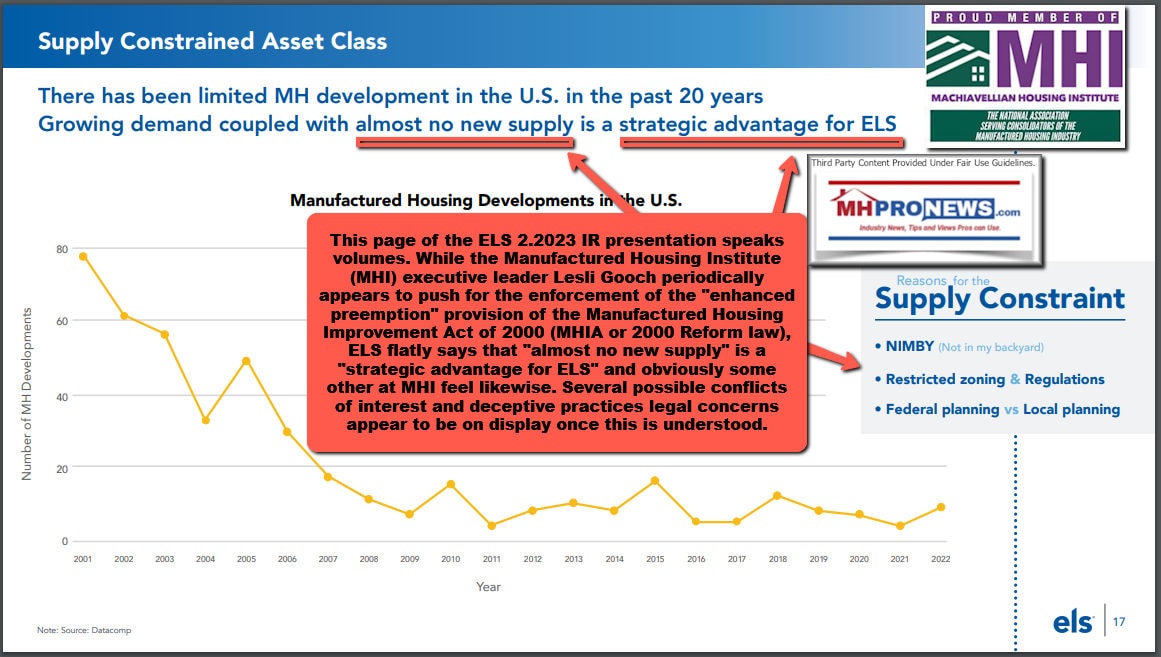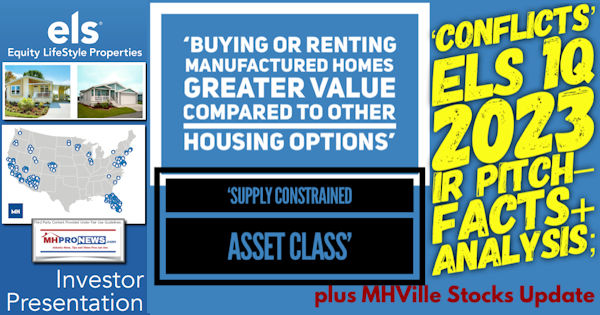 Among the points made in the above that needs to be highlighted and underscored from ELS' investment thesis is that scarcity and very little developing of new manufactured home communities are – in their view – an advantage.  While the case could be made the ELS is mistaken, which is explored in the article above, that's not ELS' stated view.
The flip side of that is that such scarcity puts the residents of those land-lease communities at a disadvantage. With few, if any, options to move in a specific area – plus the high costs associated with such a move, it is unlikely that most residents will in fact leave a land-lease by paying to move their dwelling. Thus, when so-called 'predatory' operators take advantage of that scenario, they are often able to execute stiff hikes in site fees with relatively few, if any, adverse consequences. Sometimes, residents are de facto forced from their homes. When that occurs, a community operator can move to legally obtain title. They can then lease or sell that home for the relatively modest cost of processing fees and updates to an abandoned unit in question. These are hardly secrets, as prominent MHI member Frank Rolfe has boldly said as much, in his own words.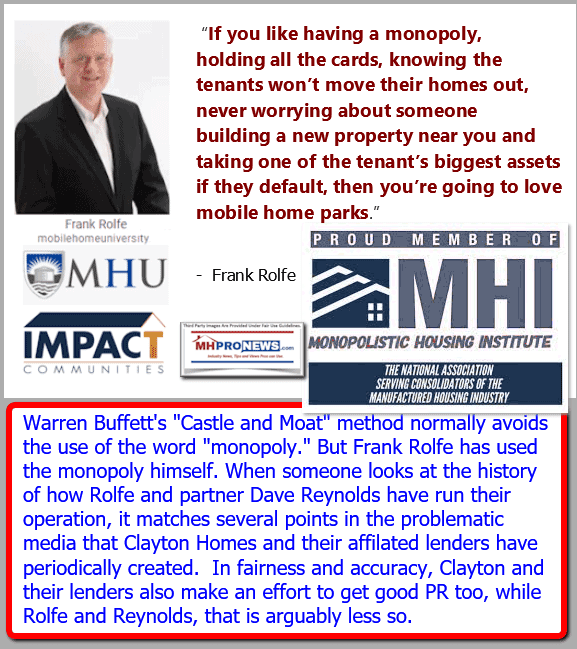 So, a scenario exists that led to a darker business model in the manufactured home industry that replaced the one that previously existed for decades. Resident leader Tim Sheahan explained that the original business model found in the manufactured home industry, i.e.: stiff competition between communities, resulted in reasonable site fees or "lot rents."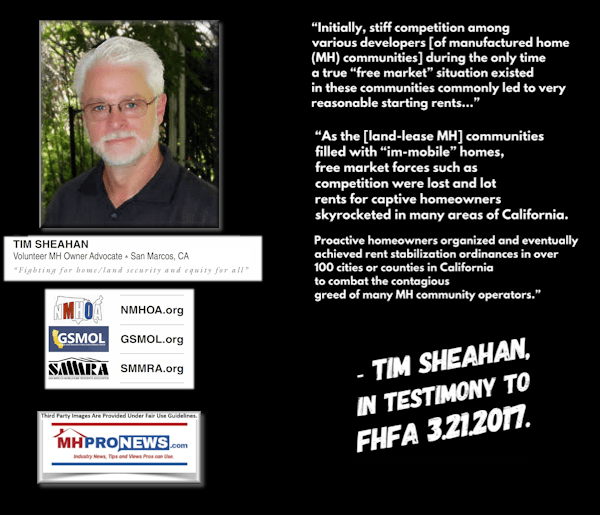 The solution to this, said the late resident-leader Robert "Bob" Van Cleef, is in part to restore the free enterprise balance to the market by fostering robust developing and options for manufactured homeowners.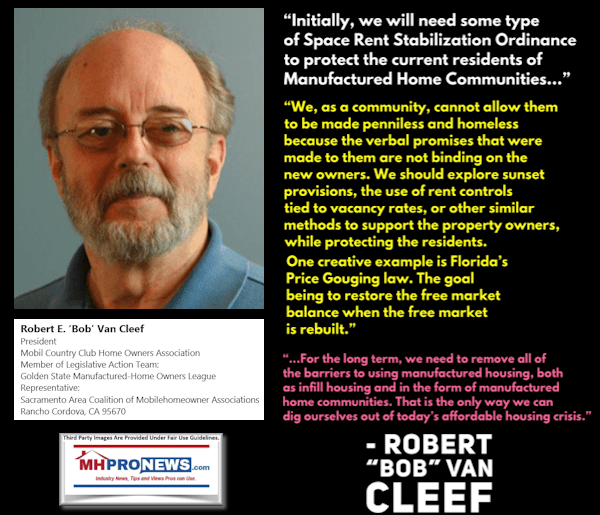 Another option is to convert as many existing communities to resident-ownership, and away from corporate ownership, as possible.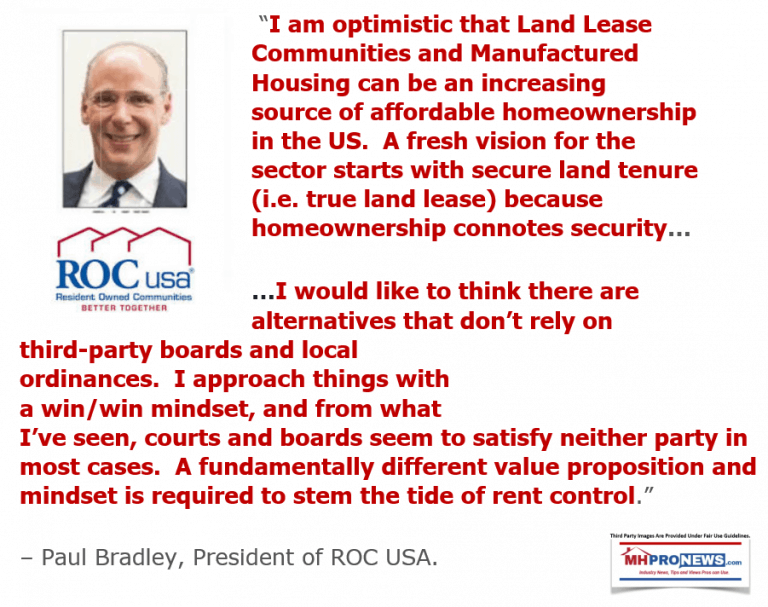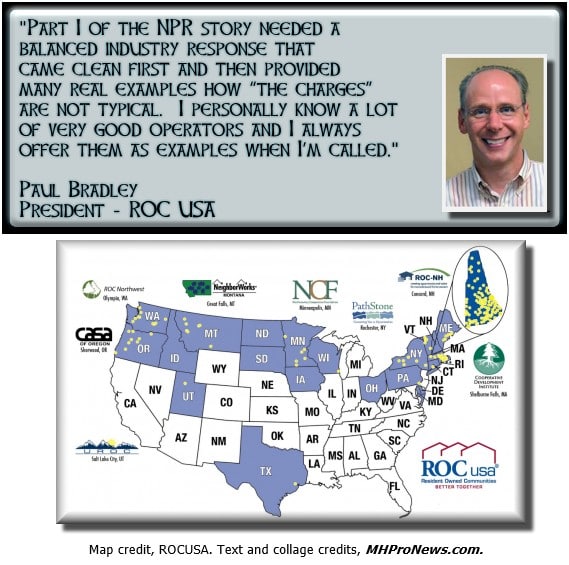 While there is some intellectual and other support for those possible solutions, the reality is that current federal policies have made it possible to turn existing laws on their head.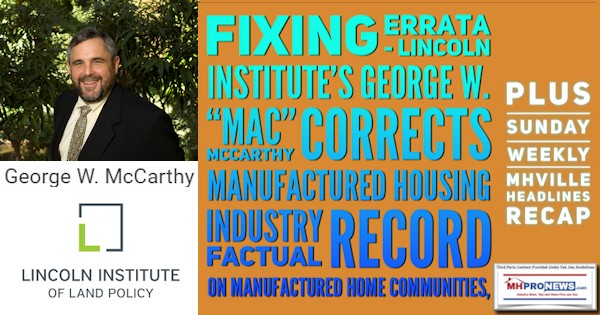 Bradley recently told MHProNews the following.

From what I have read from JLL, it looks like just short of 800,000 sites purchased by REITs and private equity since 2015.  The pace has slowed in the last 6 – 12 months, with interest rates rising.
My not unique take:  Private equity (small, medium and large) – with low cost debt from GSEs (but reflective of overall interest rate market for much of the last decade) – has driven up prices of MHCs and put immense pressure on site rents.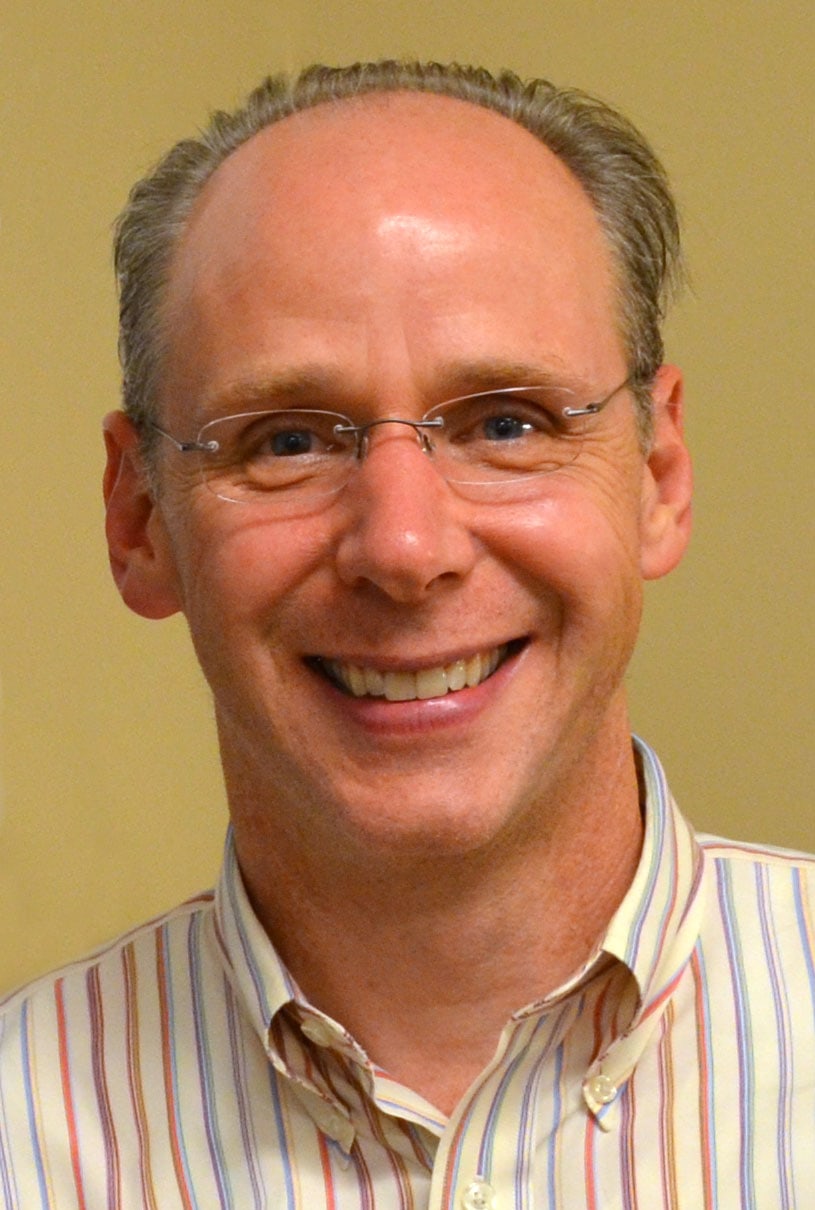 It was inevitable – consolidators consolidate industry segments.  But, I do fear the loss of local developer/owners to consolidators bc the more that it's just an income producing asset for far-away number crunchers, the more unaffordable it will become for working and retiree households.
It's leading me to work through how we will deconsolidate portfolios through resident ownership.  We're on it!"
Lincoln Land-Home Economics: How Manufactured Housing Can Help Solve National Housing Affordability Crisis-Clayton Backed NextStep's Epperson Contradicts Manufactured Housing Institute But Touts MH
The reports linked above are just some of the sources that have argued that the Duty to Serve (DTS) manufactured housing, mandated by the Housing and Economic Recovery Act (HERA) of 2008, has all but been turned on its head. DTS has been used to make living in corporate-owned land-lease communities less affordable.
Meanwhile, chattel lending support by the government sponsored enterprises (GSEs or Enterprises) mandated by HERA and supposedly enforced by the Federal Housing Finance Agency (FHFA) for manufactured housing has been negligible. Berkshire owned 21st Mortgage Corporation leader, Tim Williams, said he was "happy" at an MHI meeting about the how the government sponsored enterprises (GSEs) pilot programs "failed." The GSEs of Fannie Mae and Freddie Mac to get even their nominal pilot programs off the ground. That failure is arguably part of the Buffett moat.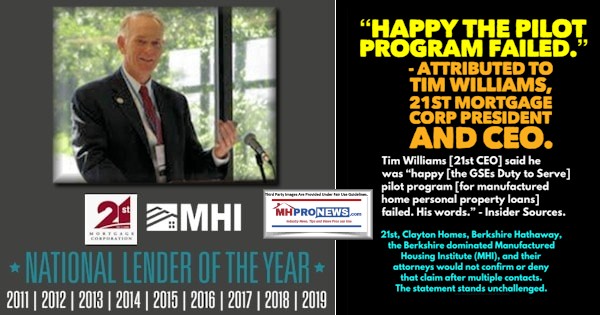 MHARR's leaders have repeatedly called out MHI for their tactics and behavior to manufactured housing industry members, while attempting to draw the attention of public officials.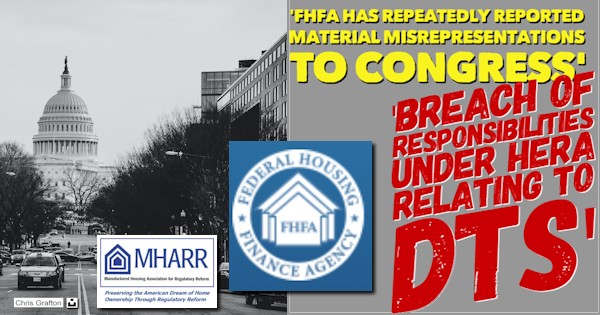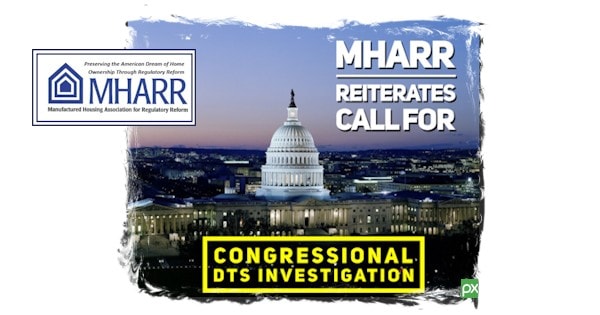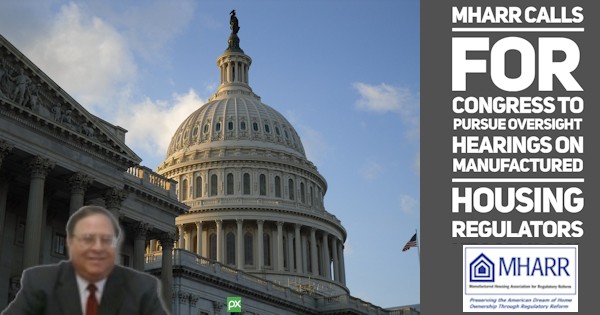 Part II – Additional Information with Related Commentary and More Expert Analysis
This pattern is hardly new. MHProNews has been reporting on this for several years. What has emerged, however, that could prove useful are these points.
Some of those publicly traded member firms of MHI have reduced to writing or in comments during earnings calls remarks that illustrate the reality of what was previously allegations based more on indirect evidence.
When publicly traded firms bluntly say that they are consolidating a sector of the industry, that should be taken seriously.
Despite the Biden White House Fact Sheet and related commentary that decried consolidation as a problem, the evidence reveals that manufactured housing continues to be consolidated.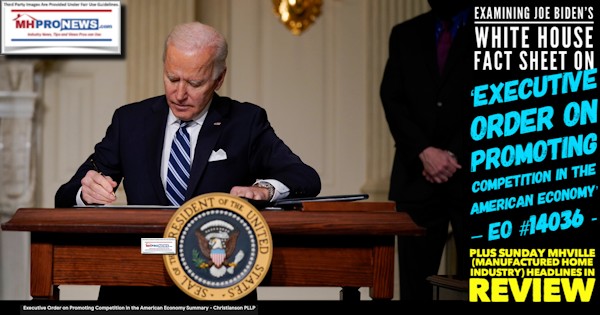 There may even be a 'hiding in plain sight" case of an apparent antitrust violation Cavco buying a competitor to close them, one that federal records reflect was reportedly a member of MHARR.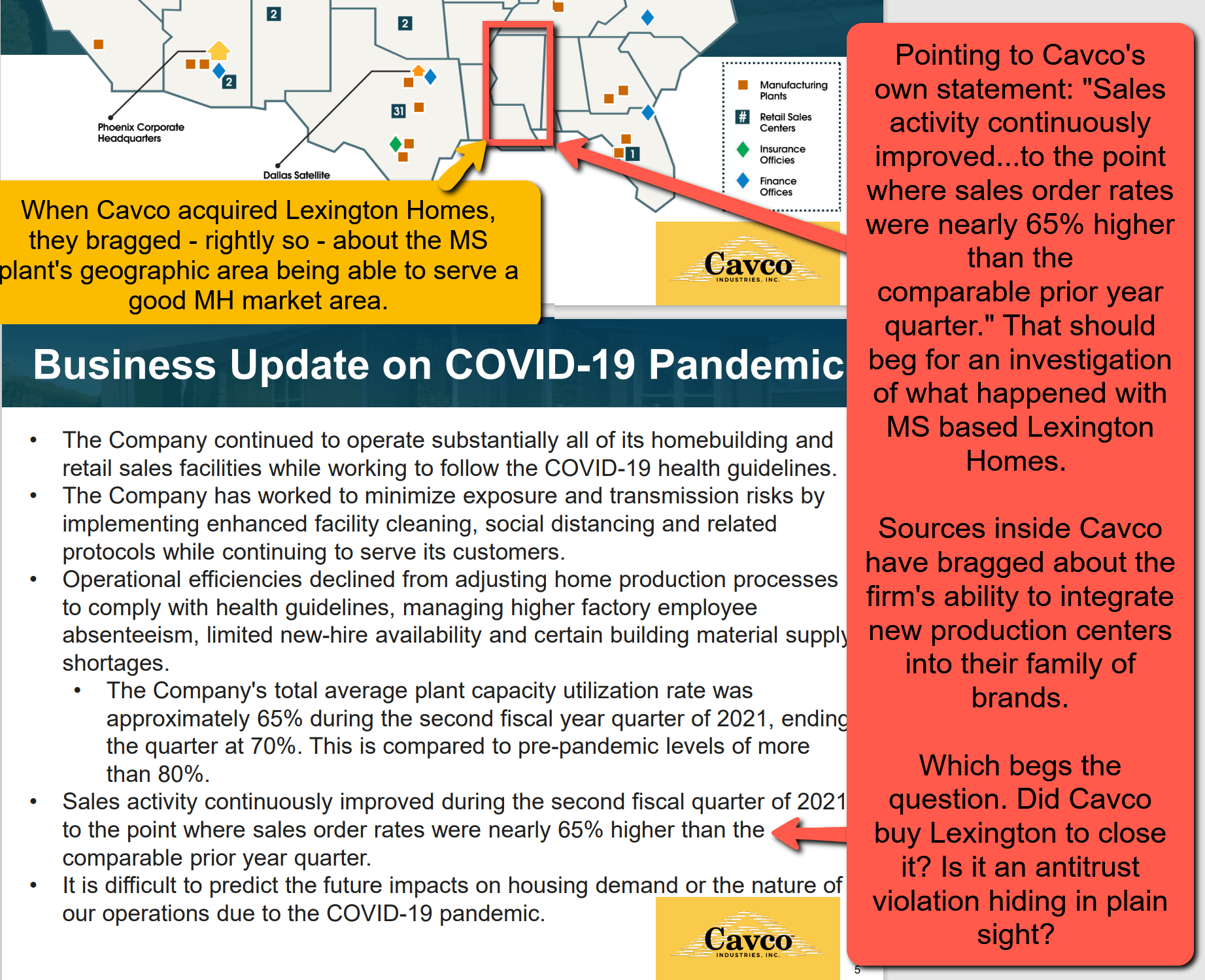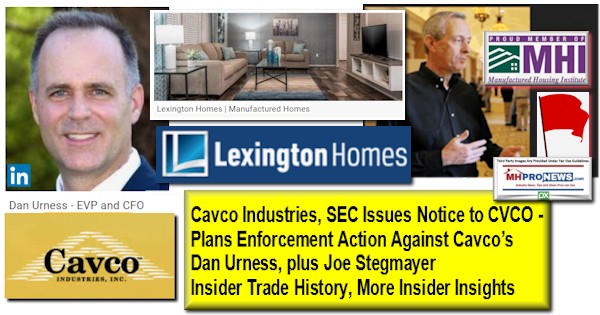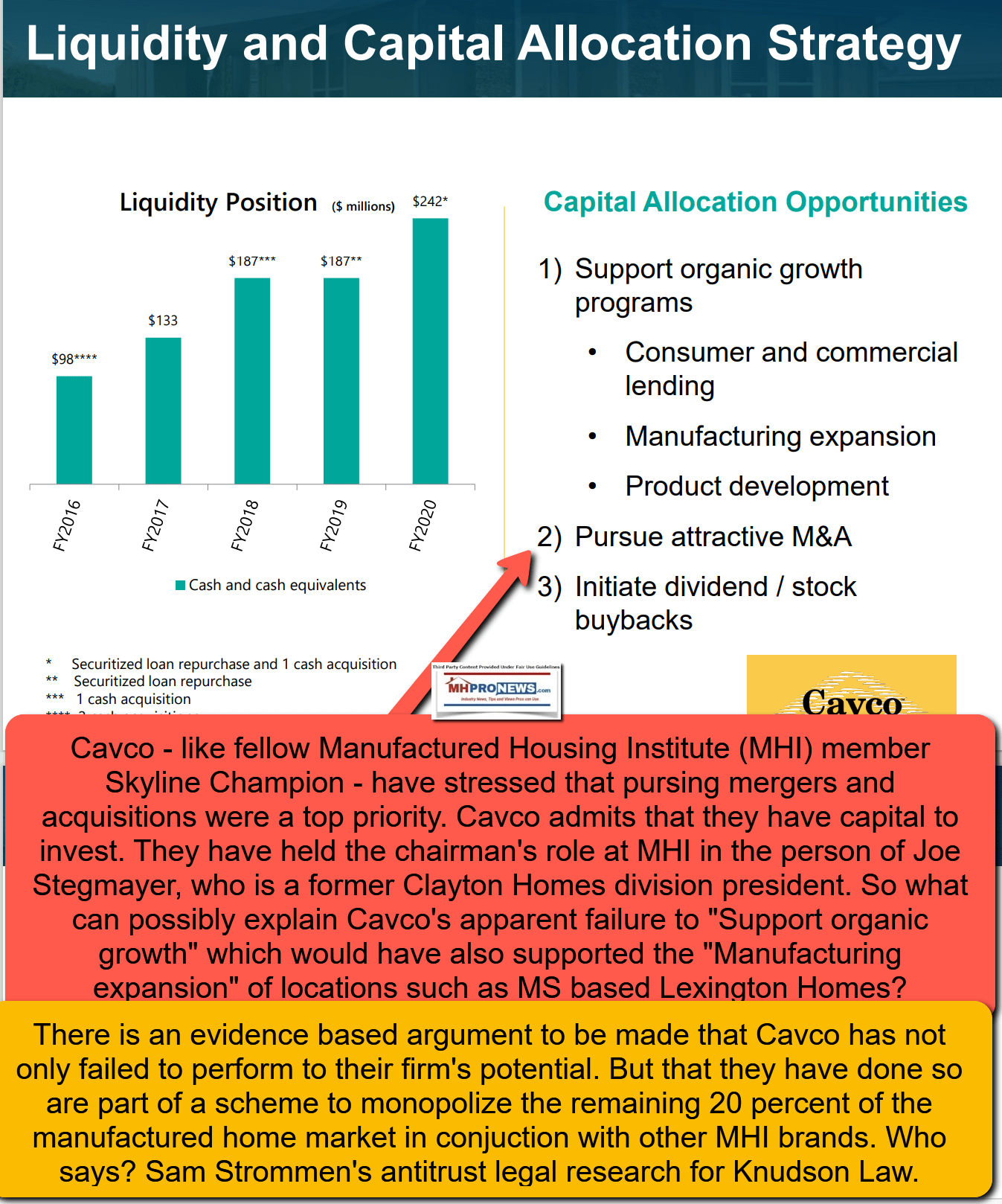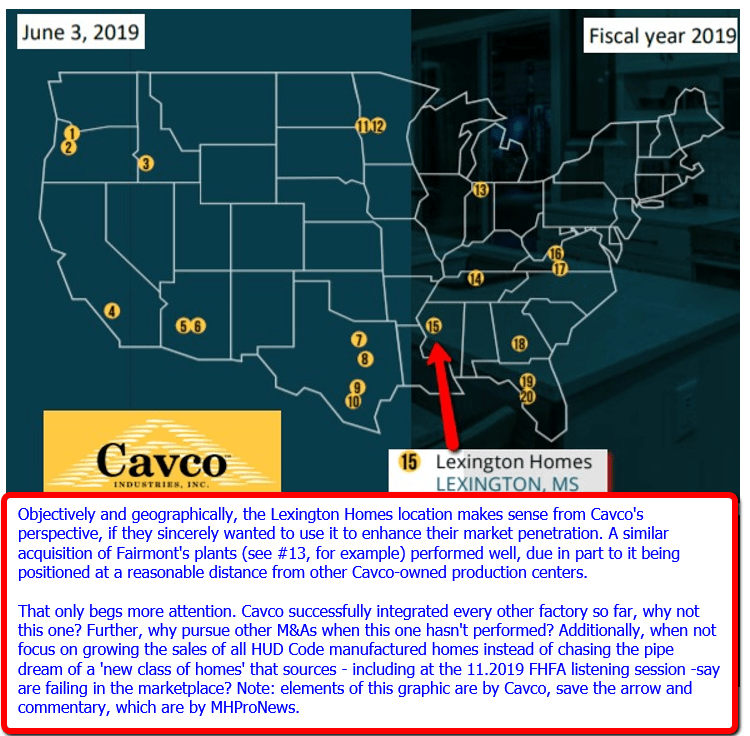 To the point of buying a competitor to close them, since Lexington was shuttered, other MHI members, and Cavco itself, have acquired and or started new production centers. Which begs the question, why were they unable to maintain that facility in one of the hottest manufactured housing markets in the U.S. – the South? While labor issues have been claimed, given the steady stream of "illegal" immigrants that have crossed the U.S.-Mexican border for years, that hardly seems plausible. If Cavco wanted to keep that factory going, does anyone serious doubt that they could have found a way to get the labor they wanted?
Cavco's obvious history of claimed violations of federal law were placed on full display during their battle with the Securities and Exchange Commission (SEC). Part of the SEC's documentation revealed some of the methods that Cavco corporate officials resorted to in order to gain insights on possible targets for acquisition. Among the questions that ought to be asked by honest public officials is this: did the SEC turn over evidence to the FTC and/or the Justice Department for possible antitrust violations? If not, why not?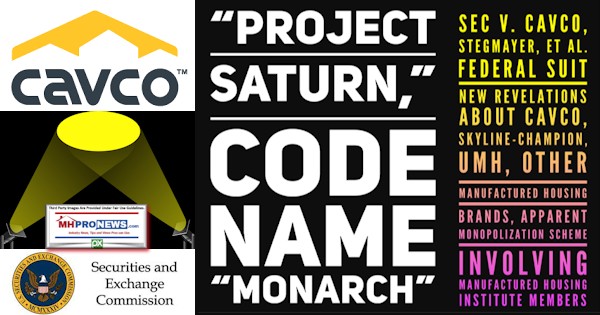 Whistleblower Payout! Cavco (CVCO) Settle with SEC in Securities and Exchange Commission Case vs. Cavco Former CEO Joseph Stegmayer, Daniel Urness – 21-cv-01507 U.S. District Court of AZ
Meanwhile, instead of reporting in a straightforward manner the increasingly obvious pattern of 21st century consolidation by some insider brands at MHI, for the most part, others in MHVille trade media seem more focused on playing footsie with MHI brands and MHI itself than on reporting on the growing evidence of industry underperformance and possible legal violations. That begs the question. To what extent may those 'information' and 'news' sources be themselves guilty of antitrust violations? Are MHInsider, ManufacturedHomes.com, and blogger George F. Allen colluding with consolidating-moat-building brands and/or MHI in exchange for ad dollars or other incentives?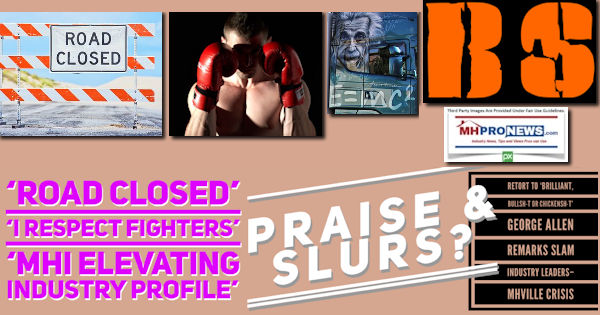 When asked to debate such questions publicly, Allen replied by email, "Not interested" on 3.24.2023. Why not? Would it hurt Allen and his allies for a fee meetings, which are billed in part as networking and deal making opportunities? Meaning, would the consolidators turn on Allen if he seriously and consistently helped expose them? One must keep in mind that Allen's history of 'education' and the tactics of some of his colleagues were exposed by mainstream media.
But to Allen's credit, he replied. Others in the MHI orbit have simply ducked even a two-word response. Perhaps exposes like the one below shed light on why MHI avoids concerns about evidence of antitrust, RICO, or other allegations.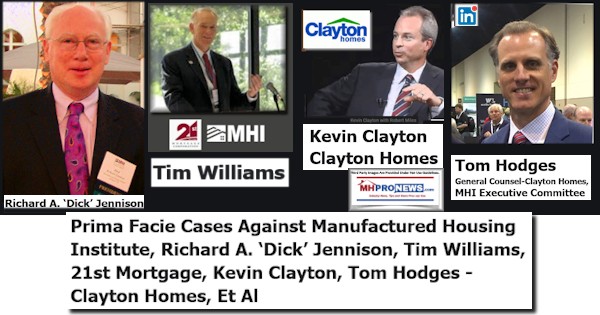 Added Insights, Summary and Conclusion
The Biden White House fact sheet on consolidation and the growing lack of competition raised legitimate points but did so in a manner that has since then failed to act to stop the problematic practices. It is no surprise, in some ways, because as MHProNews has pointed out, those wealthy people and their corporate interests that helped put him into the White House are Biden's meal ticket. The fact that much of the corporate media is failing to connect the dots on such evidence and common sense based issues should speak volumes.  Biden's so-called housing plan, which MHI noted with gusto that mentioned manufactured housing several times, nevertheless was followed by a drop in manufactured housing production, not an increase.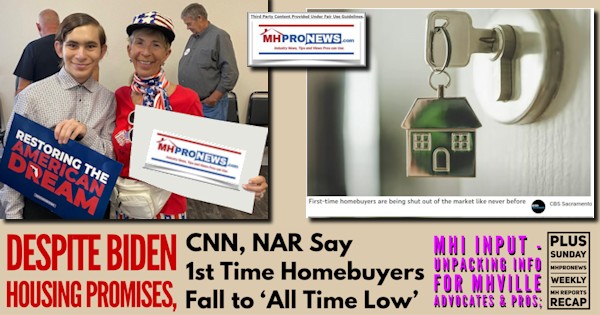 Buffett and others involved in manufactured housing and specifically involved at MHI have produced a raft of on the record remarks that Congress or other public officials could follow to see what became of the promises previously made. Did manufactured housing production grow? No, it fell following all of those mentions by the Biden White House of manufactured housing. Who benefits from that pattern? Apparently, MHI's consolidating members.
MHARR produced a White Paper about a year ago that outlines how years of promises to manufactured housing have failed to produce "on the ground" measurable results.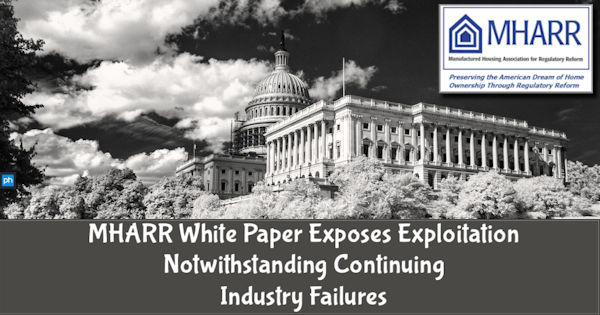 MHARR hammered MHI on their purported duplicity on the DOE manufactured housing energy rule issue.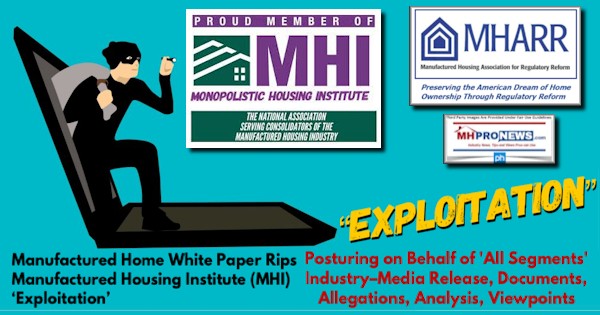 MHProNews pointed out well in advance of the failure of the nearly nonsensical 'effort' by MHI to pass legislation to stop the DOE effort, when their bill had no Senate companion and no Democratic support.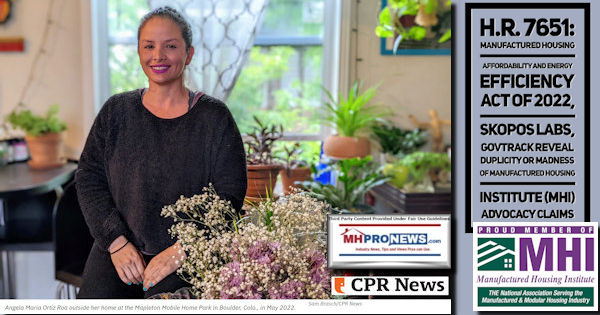 Restated, MHI postures efforts that produce little or no measurable results while the industry has in the 21st century operated at historically low levels. That is the opposite of what was supposed to occur when the Manufactured Housing Improvement Act of 2000 (MHIA or what MHARR calls the 2000 Reform Law). MHProNews, based on expert and insider insights, projected years in advance that what MHI later rebranded as CrossMods could be a "Trojan Horse" for the manufactured home industry.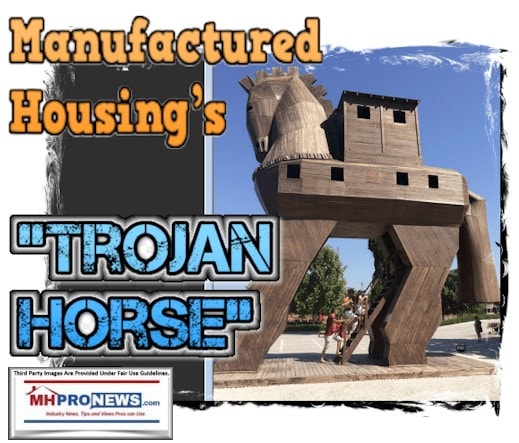 Why was MHProNews, on those and other issues, able to point out the mistakes by MHI and how those errors could benefit their consolidation focused brands? As Newsmax's Carson sometimes quips, "Because I'm not stupid." It takes a nearly choreographed level of duplicity to posture 'efforts' on behalf of "all segments" of the industry that when carefully examined routinely benefit the consolidator while others are harmed. Antirust researcher Samuel "Sam" Strommen with Knudson Law specifically called out by name Clayton Homes, Skyline Champion, Cavco Industries, the REIT sector, and MHI's role in creating a "Rube Goldberg Machine of Human Suffering." Strommen's heavily footnoted thesis was attempted to be mocked by MHI member-emeritus Allen, who arguably failed.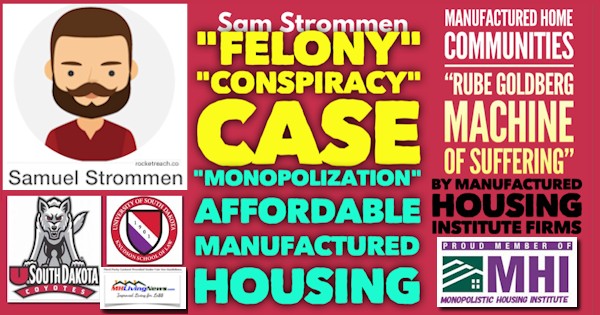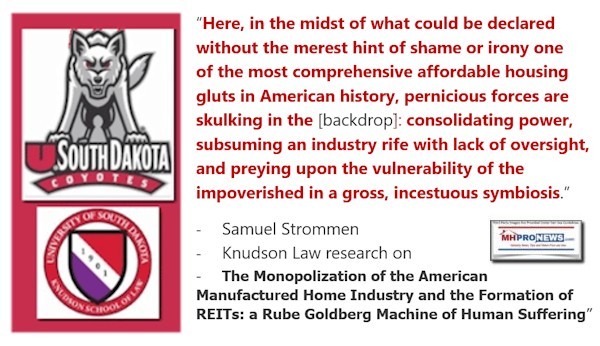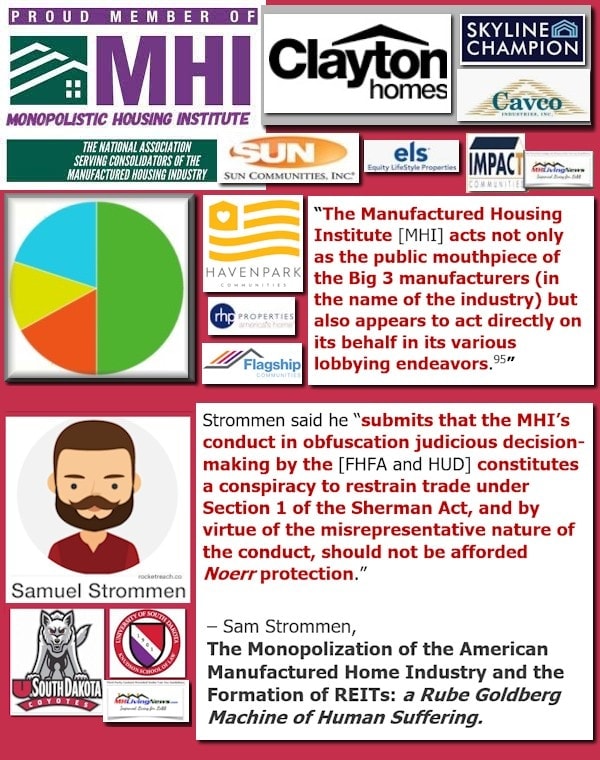 If Strommen was the only one that has made such antitrust allegations, it might be easier to dismiss his thoughtful research. But Minneapolis Federal Reserve researchers, apparently led by James A. "Jim" Schmitz Jr., have also pointed to "sabotage monopoly" tactics in manufactured housing. Schmitz has gone on to say that those tactics resulted in monopolization problems within the manufactured housing industry. What Schmitz and his colleagues often point to are the oligopoly style of monopolization.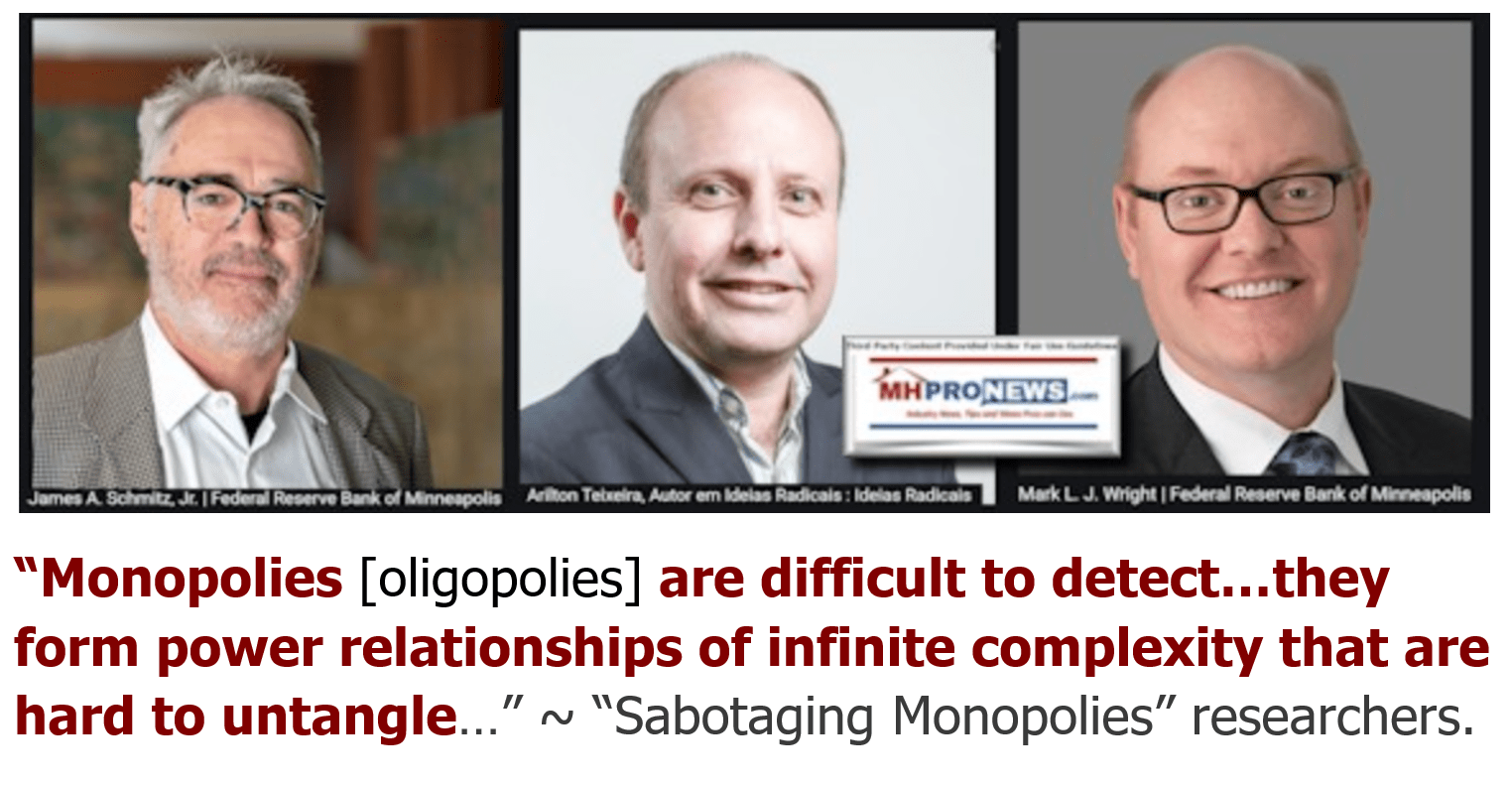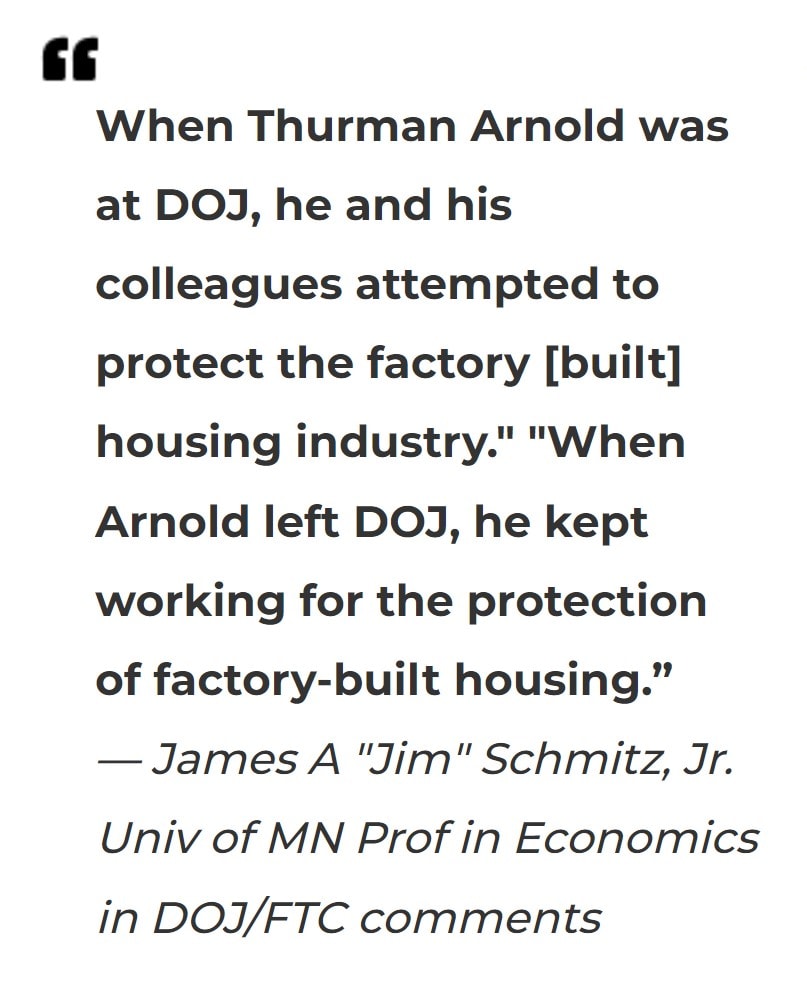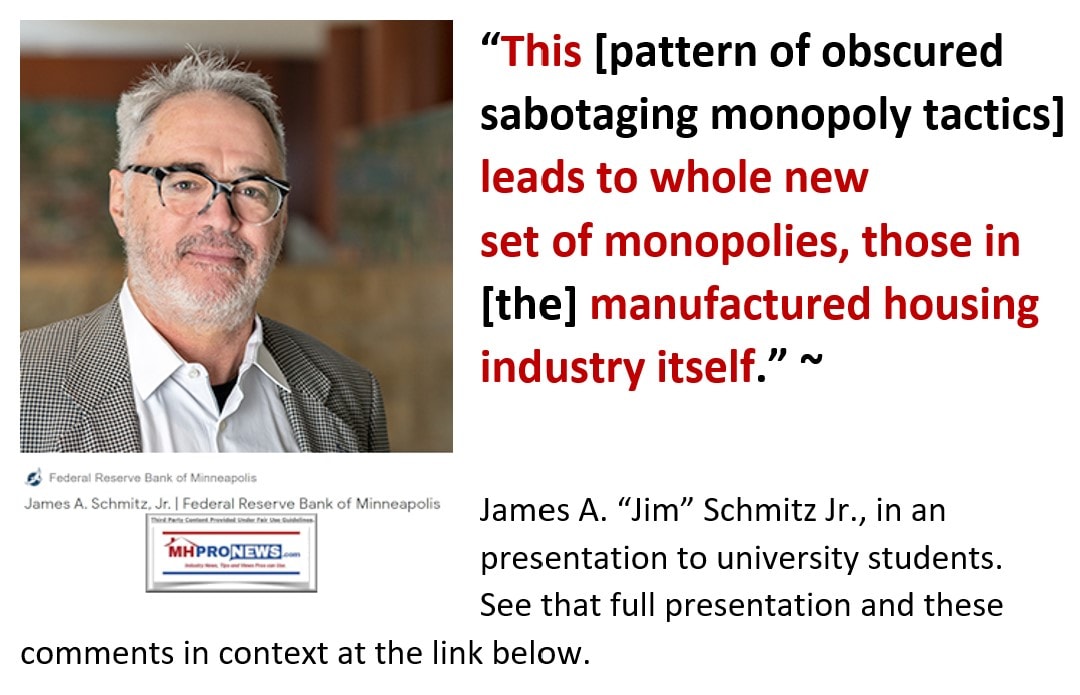 'Affordable Homes for Low Income Must Produce in Factory,' 'Years to Unravel Sabotage,' Grad Students Interest in Manufactured Housing, Factory-Home Solutions; plus Sunday Weekly Headlines Recap
Schmitz's and Strommen's politics are unknown to this publication. But Doug Ryan worked for left-leaning CFED, which was later rebranded as Prosperity Now. Ryan specifically called out MHI and Clayton Homes, for their respective roles in allegedly manipulation the financing system in manufactured housing.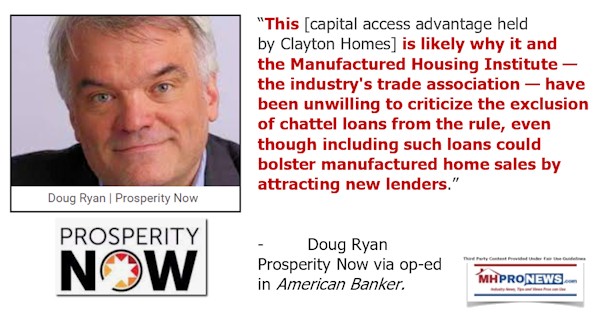 Several Democratic congressional leaders asked for the Justice Department and the Consumer Financial Protection Bureau (CFPB) to probe Clayton and their associated lending for possible antitrust violations.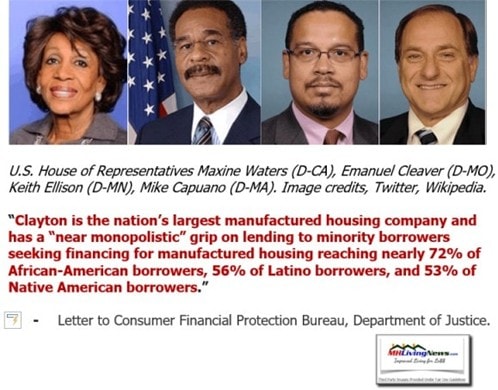 What happened to those Congressional referrals?
What have members of Congress, or the FHFA, done with similar and related concerns raised by MHARR?
MHARR Sharpens Attention to Causes, Cures for HUD Code Manufactured Housing Production Decline – Manufactured Housing Institute Flagged, CEO Weiss Wants Congress Probe; plus MHVille Stocks Update
As MHProNews previously reported, during the Trump Administration, DOJ officials reportedly had a meeting to discuss evidence of antitrust violations. What happened to the evidence and topics of concern that the DOJ considered as a result of that reported meeting of antitrust officials?
Whatever the case may be, if federal officials thought there was evidence enough to meet and discuss antitrust concerns in manufactured housing, these points raised above should be reason enough for state officials to probe manufactured housing. Virtually every state in the Union has a lack of affordable housing. Congress passed legislation in the MHIA of 2000 ("2000 reform law") to make manufactured housing more available. MHARR recently reminded HUD and their readers that HUD has a statutory duty that is more than structural standards, they have a duty to make affordable manufactured homes more available under the MHIA of 2000.
"Shell Game" Affordable Manufactured Home Threats "On Steroids" – Exclusive Probe into Manufactured Housing Industry's Twin Crises — a One-on-One Interview with MHARR President and CEO, Mark Weiss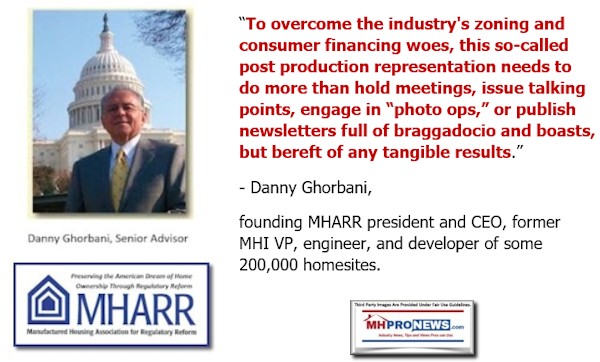 A member of Congress quizzed HUD Secretary Marcia Fudge about some of the MHIA and "enhanced preemption" related concerns. Fudge denied the premise and said that the industry could "perpetually" be in such a low state if action isn't taken. Those exchanges were caught on CSPAN video and are part of the report linked below.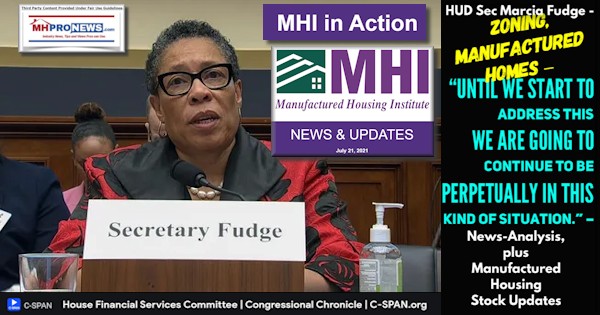 MHProNews and MHLivingNews have stood virtually alone among industry trade media in reporting these concerns and doing so on a consistent basis in recent years.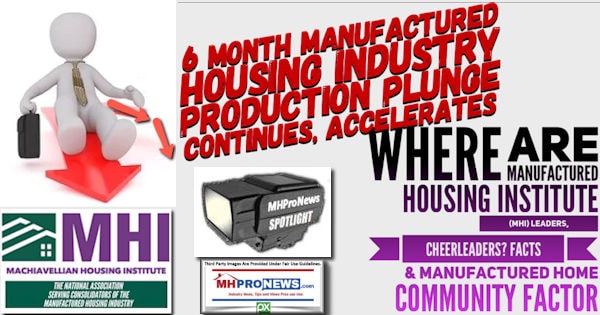 Not unlike Fudge's warning that the industry would "perpetually" be in this "kind of situation" dovetails with an MHI insider warned that the industry 'would never recover to prior levels of production in our lifetimes.'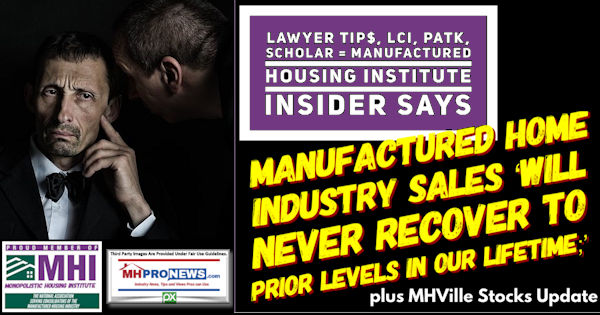 This writer has repeatedly brought these concerns to the attention of the industry and some public officials. An example is linked below.
https://www.manufacturedhomepronews.com/wp-content/uploads/2022/03/3.25.2021LATonyKovach-ListeningSessionStatementPimpleOnElephantsAssMHProNews.pdf
There are several ways that observers have described what occurs between elected public officials, regulators, and corporations. Democratic presidential nomination hopeful Robert F. Kennedy Jr. has raised concerns about the corrupt relationship between corporate interests and public officials.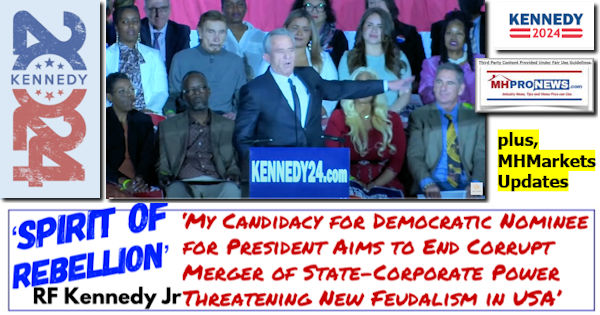 MHProNews has reported that the so-called "Iron Triangle" was at work during the Trump Administration, but also before and since.
Lesli Gooch, Ph.D. Schooled on Manufactured Housing Advocacy – Manufactured Housing Institute CEO's "Meandering Missive" on Manufactured Home Financing "Lunacy or Betrayal" – Clinton Jones, FHFA – "Iron Triangle" Unpacked
Be it called the revolving door, the Iron Triangle, a fascism-like relationship between corporate and governmental power, there are clear examples and evidence from voices that span the left-right divide of cronyism at the federal level. That broadly fits the thesis of Schmitz and his colleagues. It fits the allegations of HUD researchers, who said that politicians form both major parties have been promising a fix to affordable housing for over 50 years without serious progress.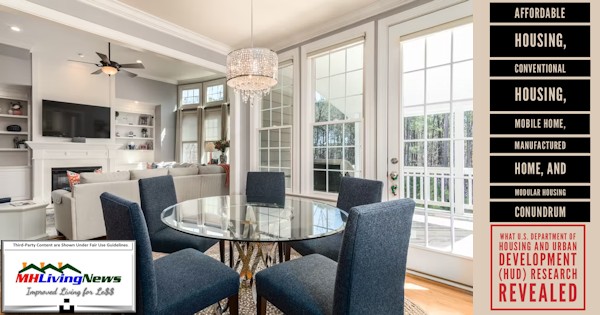 Before his death, former Office of Manufactured Housing Programs (OMHP) administrator William Wade "Bill" Matchneer told MHProNews that HUD's office of general counsel would not enforce the "enhanced preemption" provision of federal law.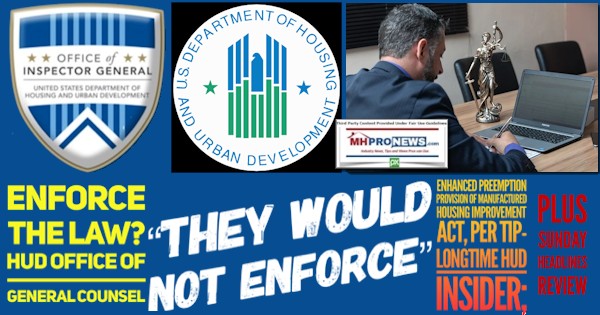 During hearings on that MHIA held by Congress, Cavco's Manuel "Manny" Santana similarly said HUD has "failed" manufactured housing.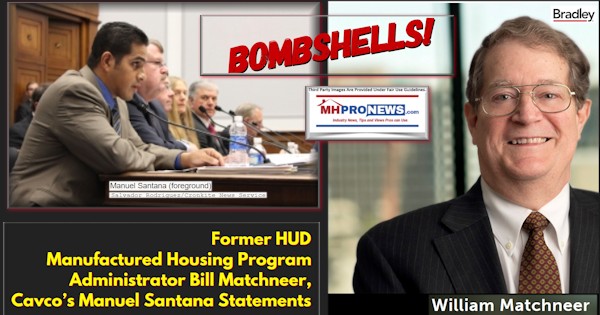 Despite seemingly positive efforts by HUD Secretary Ben Carson, M.D., who promised a new era of cooperation with the industry, Trump and Carson were both essentially exited. It is an open question if Carson would have championed the MHIA, or if he was even properly informed about "enhanced preemption."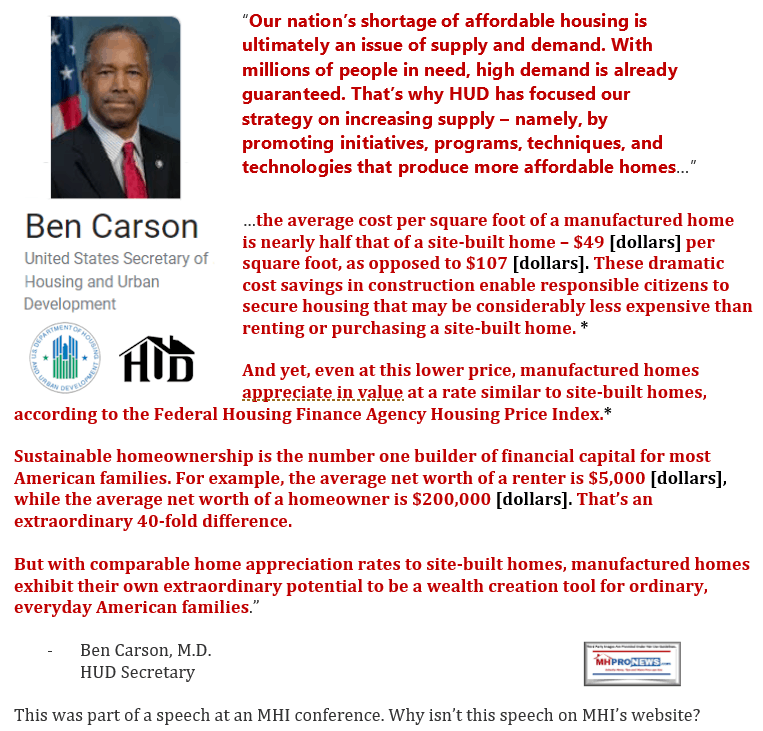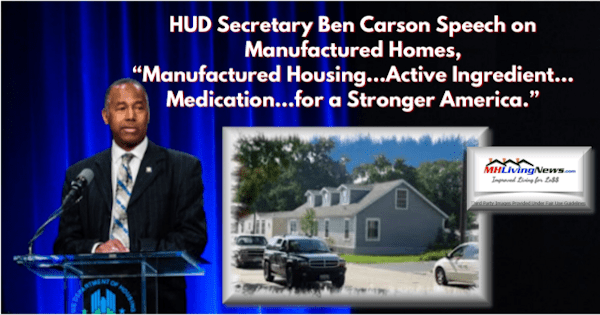 Kevin Clayton and Buffett have made it clear that they have the capital and information resources needed to do whatever Clayton might want.  Given that they have made no bold effort to promote the MHIA, DTS, and "enhanced preemption" it begs the question. Does Clayton want the status quo, despite whatever they may say publicly?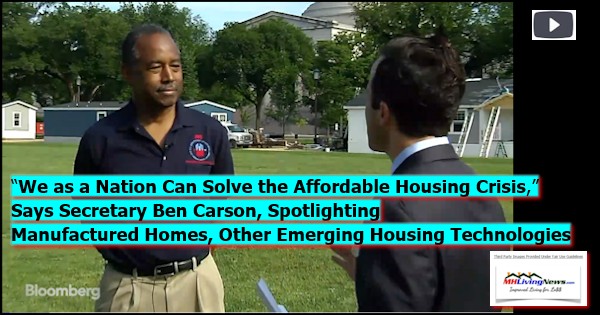 National Legal and Policy Center (NLPC) Moves on Warren Buffett-Berkshire Hathaway at SEC and Two Leftwing 'Disinformation' Nonprofits with Complaints at IRS; plus MHVille Markets Update
There is plenty of evidence that points toward this point. A relatively small number of insider firms at MHI are steadily consolidating manufactured housing and have been for the bulk of the 21st century. Given that they have the resources to legally, lobbying, and/or through information/educational campaigns could push for the full enforcement of laws meant to provide more manufactured housing, the remarks of Marty Lavin, J.D., come into focus.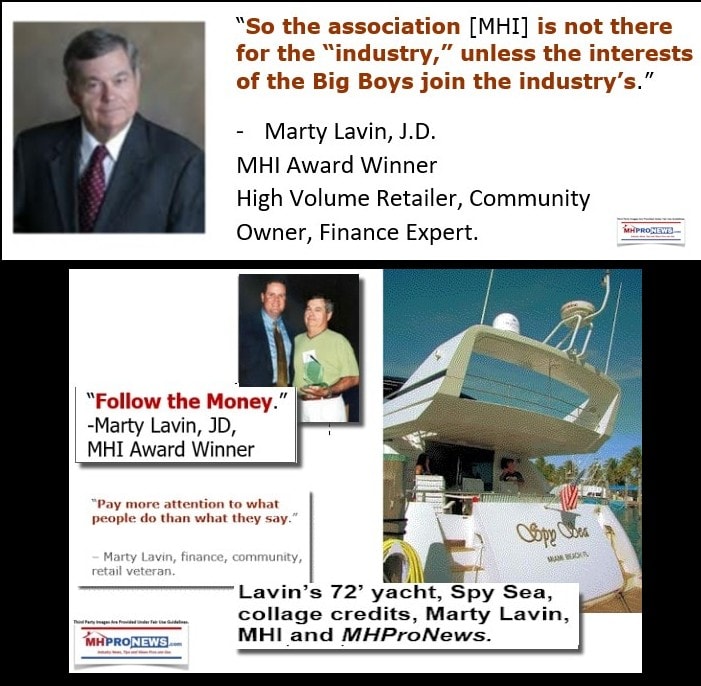 The routine failure of MHI to do what common sense dictates – if they were sincere in their desire to see manufactured housing grow in a robust fashion – begs questions which federal and state officials, along with others in the legal profession, could and should probe.  What they may find is this.
In the late 20th century, then manufactured housing production giants Fleetwood Enterprises and Champion were attempting to buy market share as the industry was relatively booming. But buying market share during a boom can be costly. Both old Fleetwood and pre-bankruptcy (BK) Champion firms ended up declaring insolvency. Fleetwood today is a subsidiary of Cavco Industries. Champion today is the product of the merger of Skyline Champion (SKY), which like Cavco, acquired several firms during the industry's years of 21st century underperformance.
Gates' insight into Buffett's method is an apparently useful one. So too is the one from Danny Glover.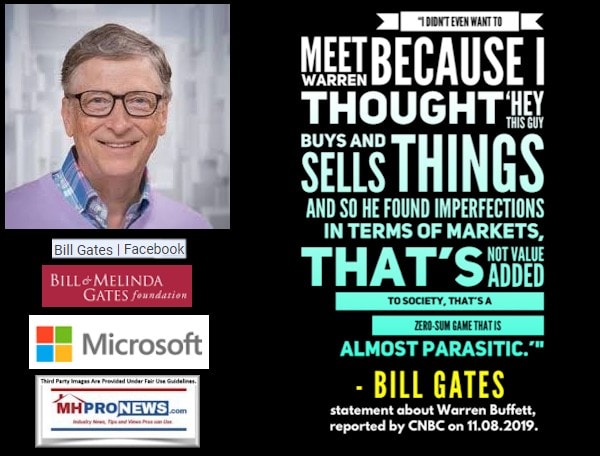 Underperformance, building the 'moat,' in a slow-motion fashion apparently creates barriers of entry, persistence, and exit. Those barriers benefit deep pocketed consolidators.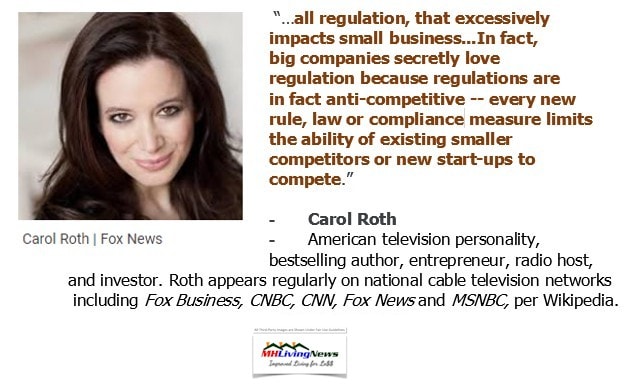 So, MHI goes on pretending that they are working for the interests of "all segments" of the industry. But they decline answering concerns like those stated above.
Longtime MH Retail Sales Manager Asks Manufactured Home Leaders – Why are Manufactured Housing Production Levels Today About Half of 1980s When Interest Rates Hit 20.5% APR on ARM Loans?
Berkshire, Clayton, and 21st Mortgage corporate officials and their attorneys have declined addressing these concerns.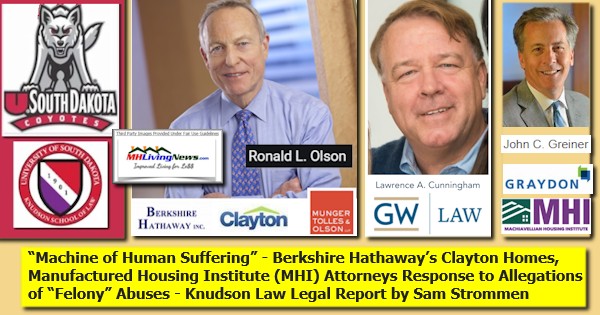 Yet, with the apparent approval of Tim Williams/21st Mortgage Corporation, prior MHI president and CEO publicly stated that the industry could achieve a level of 500,000 new HUD Code manufactured home production levels.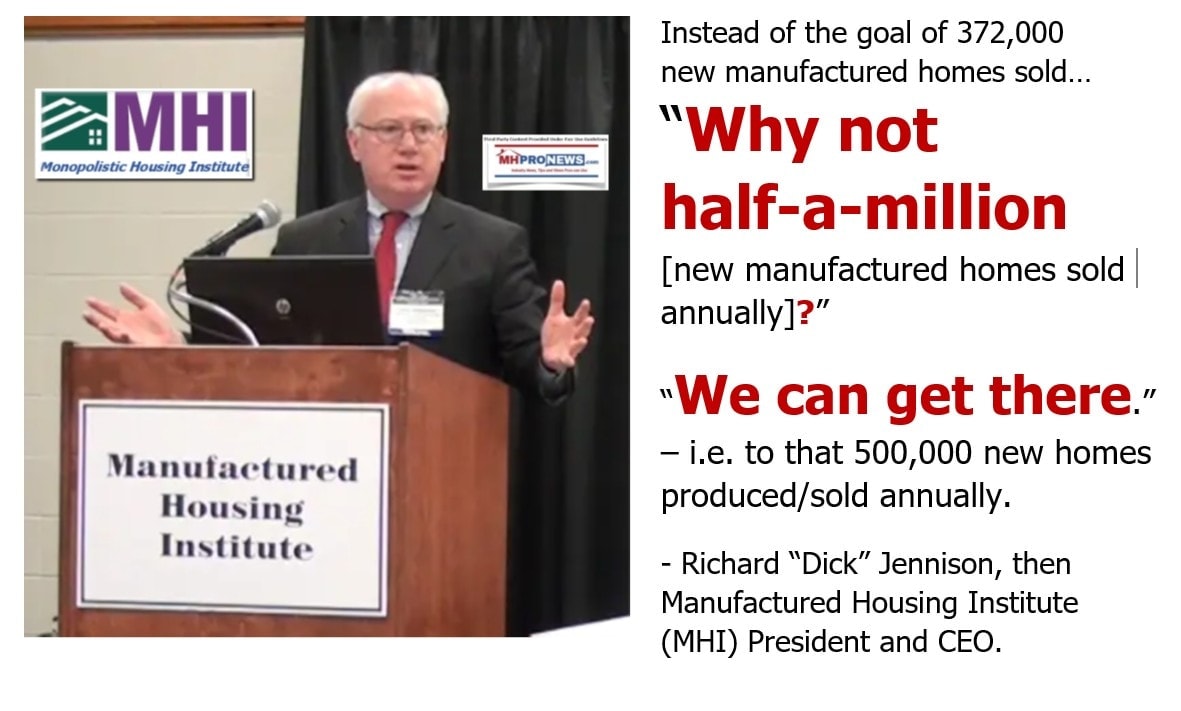 As a closing illustration of just how poorly MHI's leadership has handled "all segments" of the industry's interests is this comparison from 2021 of how successful the RV industry has been in growing their profession. In 1998, RVs were outsold by MHs by a ratio of some two (2) RVs to three (3) MHs. Fast-forward to recent years, RVs have outsold MHs by a ratio of some five (5) to one (1) or greater.
Notice: the graphic below and others can be expanded to a larger size.
See the instructions below the graphic below or click the image and follow the prompts.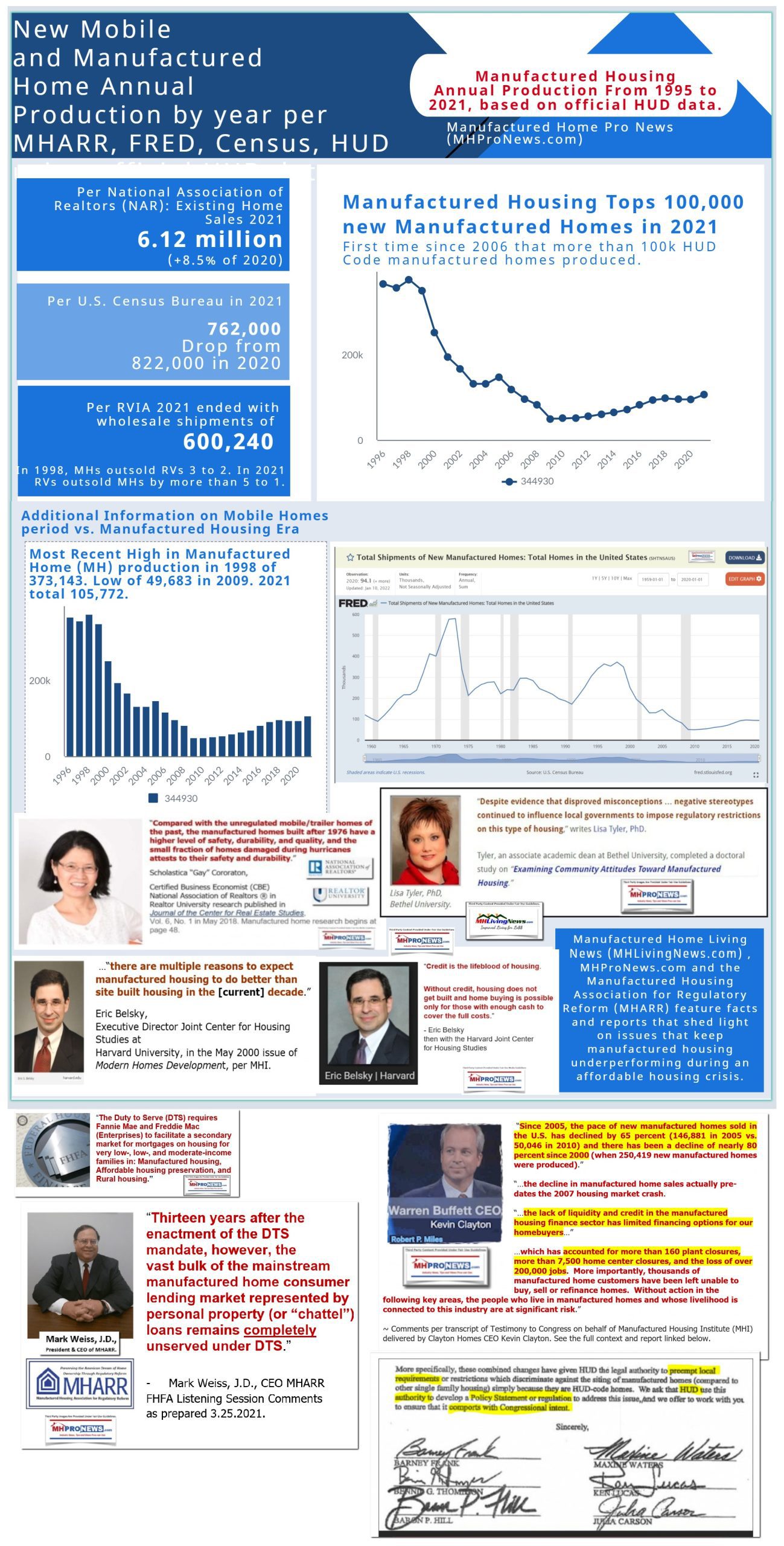 So, there is direct and indirect evidence that points to some level of collusion between major brands involved in MHI and efforts to consolidate the industry. Underperformance, under the circumstances reported and linked from herein results, in consolidation. MHI, their corporate leaders, and attorneys decline responding to these concerns. What passes for industry trade 'news' from sources other than MHARR, MHProNews, and MHLivingNews, routinely overlook such evidence and logical conclusions.
This article began with the periodic Carson asserting that "you are being played."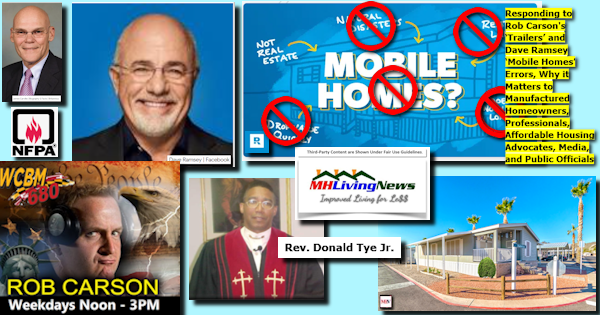 Plante has quipped about publications that 'look like a newspaper but are not.'
Carlson has talked about fake news in the sense of paltering, though he didn't use that terminology.
MHARR has pointed out how the lack of affordable housing proves the failure of the GSEs, but also demonstrates the failures of MHI.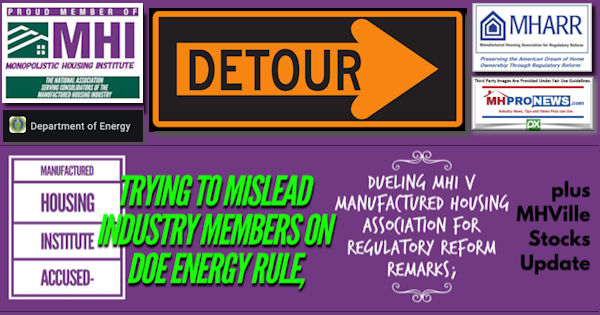 Antitrust violations routinely harm the interests of consumers, employees, and small businesses.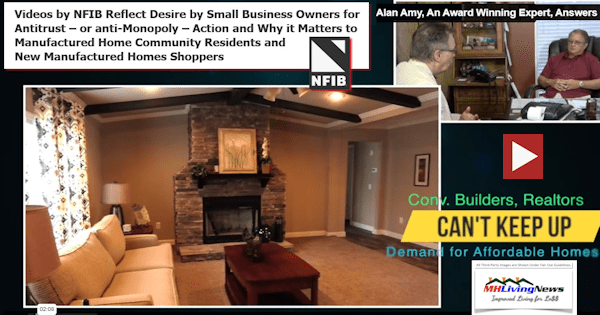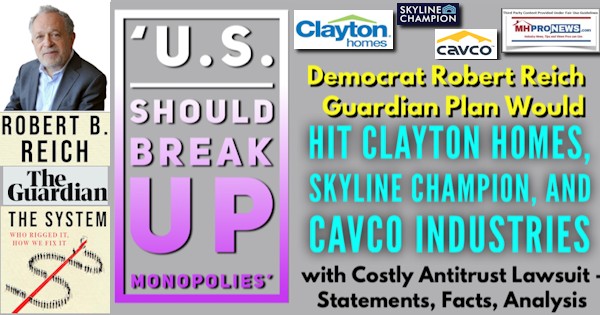 Manufactured housing industry data reflects 6 consecutive months of falling sales. This is despite the fact that manufactured homes are the most proven form of permanent affordable housing in the late 20th and early 21st centuries, and that fact that the U.S. is in the midst of a protracted affordable housing crisis.
'Deception and Misdirection'-MHI Proxy Response to Concerns About "Awards" to BBB D- rated Flagship Communities – 'Facts are Stubborn Things' Commentary; plus Sunday Weekly MHVille Headline Recap
'Trapped' – NBC Spotlights Fannie Mae-Freddie Mac-Fed Roles in 'Making Mobile Homes Less Affordable' Fueling 'Acquisition Spree' as 'New MHC Owners Hike Resident Costs;' plus MHVille Markets Update
Cavco's Inaugural Environmental, Social and Governance (ESG) Report Examined – 'Ask Questions-Raise Concerns if They Exist' – BBB Rating, Corp History, Other Factual Insights and Evidence Explored
"This country has always been run by elite, and it's an elitist democracy. And that's not a radical concept. It's elitist democracy." So said Danny Glover, per Brainy Quote. What is an elitist democracy? "The definition of an elite democracy is a democratic institution in which a small number of the citizenry holds and influences political power," says SmarterStudy.us. The National Institute for Health says in "Introduction. Elite Theory" posted on 2.10.2022 that Democratic elitism accepts the main premise of elite theory: "no societies are governed by the people, by a majority; all societies, including societies called democratic, are ruled by a minority' (Burnham 1943, p. 184)." While that claim is debatable, to the extent that the public may be deceived about the truth of a topic, be it manufactured housing or anything else, to that extent democratic institutions are being undermined and thwarted.
The fact that Daniel R. Mandelker recently wrote that there is a need for a nonprofit trade group to address litigation, legislative, and regulatory issues facing manufactured housing is a de facto slap in the face of MHI, which claims to represent all segments of the industry.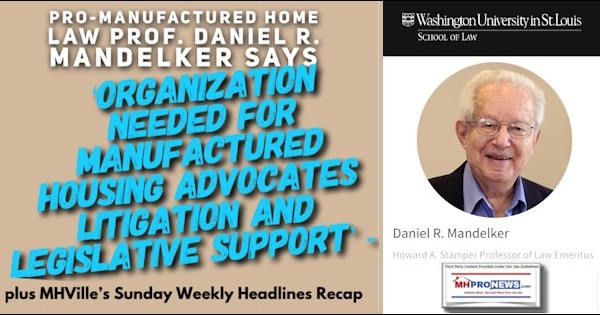 The fact that MHARR has called for years for a new post-production trade group that does what MHI claims and could team up with them to get good existing laws enforced speaks volumes.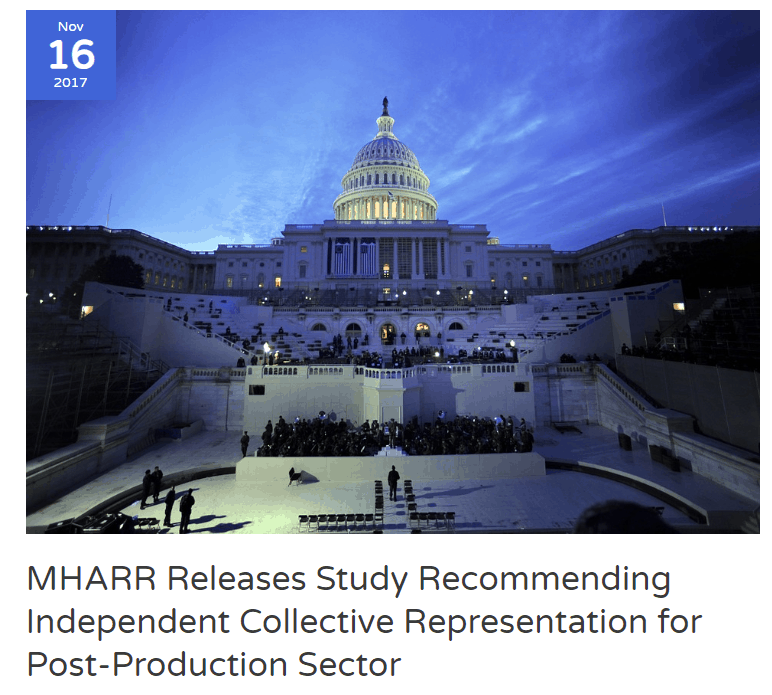 The methods of individual public manipulation, how people are "played," are numerous. The motivations are routinely similar and are summarized by the famous exchange in the classic movie Charades, quoted and linked below.  People attempt to deceive others because they want something. Deceivers think that the plain truth will not get their desired goal. So, various forms of deception, misdirection, paltering, posturing and the like are deployed to manipulate others.  This is not limited to manufactured housing, but this article makes the case that there is ample evidence that what has occurred in MHVille is relatively easy to spot, once someone knows what to look for and follows the evidence and money trails.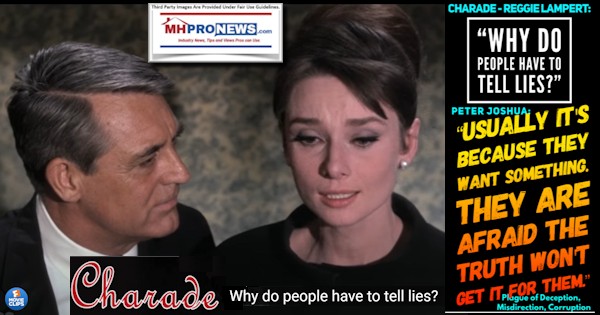 Thus, the reasons why manufactured housing is underperforming could routinely be traced back to a relatively few insider operations, often linked to MHI and/or an MHI state affiliate. So, the normal sources for 'defending' or 'promoting' manufactured housing are being thwarted through "sabotaging monopoly" tactics that includes what the Capital Research Center (CRC) has called deception and misdirection. Rephrased, the system is rigged. Regulators routinely aren't property regulating. The media, if powerful forces are involved, routinely dance around the role played by powerful and connected corporations.
A specific look at an MHI connected topic that was mentioned in their emailed 'news update' will be explored in the days ahead. Suffice it to say for now that what they are posturing and what their history is on that same topic are quite different. More to come, so, stay tuned to MHVille's obviously largest and most-read trade media, MHProNews and our MHLivingNews sister site for more.
'Potential Homebuyers on Sidelines Increasing Demand for Rentals' – Which Markets UP, Metros Where Rents Fell – What Data Tells Affordable Manufactured Housing Pros; plus MHVille Stocks Update
Part III – Daily Business News on MHProNews Markets and Headline News Segment
The modifications of our prior Daily Business News on MHProNews format of the recap of yesterday evening's market report are provided below. It still includes our signature left (CNN Business) and right (Newsmax) 'market moving' headlines. The macro market moves graphics will provide context and comparisons for those invested in or tracking manufactured housing connected equities.
In minutes a day readers can get a good sense of significant or major events while keeping up with the trends that are impacting manufactured housing connected investing.
Reminder: several of the graphics on MHProNews can be opened into a larger size. For instance: click the image and follow the prompts in your browser or device to OPEN In a New Window. Then, in several browsers/devices you can click the image and increase the size. Use the 'x out' (close window) escape or back key to return.
Headlines from left-of-center CNN Business – from the evening of 5.11.2023
Inside Jamie Dimon's war room
Jamie Dimon, billionaire and chief executive officer of JPMorgan Chase & Co., speaks during a Bloomberg Television interview at the JPMorgan Global Markets Conference in Paris, France, on Thursday, May 11, 2023. Dimon said US regulators are likely to overreact in their response to the turmoil that swept through the banking industry in March, leading to the collapse of four regional lenders.
The JP Morgan CEO is hunkering down to prepare his bank for the possibility of a US debt default. Here is his timeline
A foldable phone, new tablet and lots of AI: What Google unveiled at its big developer event
As PacWest shares dive, are we seeing the 2008 financial crisis all over again?
ABC News announces new anchors for 'GMA3'
Italian pasta prices are soaring. Rome is in crisis talks with producers
PacWest Bank shares tumble as crisis prompts customers to yank deposits
US employees are more satisfied than ever, new survey finds
Mortgage rates tick down for the second week in a row
Peloton is recalling 2 million bikes
Two dead in shooting at Mercedes-Benz plant in Germany
Big banks could face billions more in FDIC fees after bank collapses
Twitter's new encrypted message feature criticized by security and privacy experts
Another key inflation gauge cooled further in April
Norfolk Southern unveils compensation plans for homeowners near derailment site
White House wants to ban use of salary history in setting pay for new federal hires
GM Envolve takes direct aim at Ford's fleet business
Bank of England hikes interest rates for 12th time in battle with inflation
Home buying costs could spike by 22% if US defaults on its debt
Jerome Powell is losing America's confidence
Bob Iger to Ron DeSantis: Does Florida want our jobs and taxes or not?
Analysis: CNN faces harsh criticism after Trump unleashed a firehose of lies during its live town hall
Day care, margarine, car repairs: Here's what's costing Americans the most
Janet Yellen says US default would trigger a global economic downturn
Notice: the graphic below can be expanded to a larger size.
See the instructions below the graphic below or click the image and follow the prompts.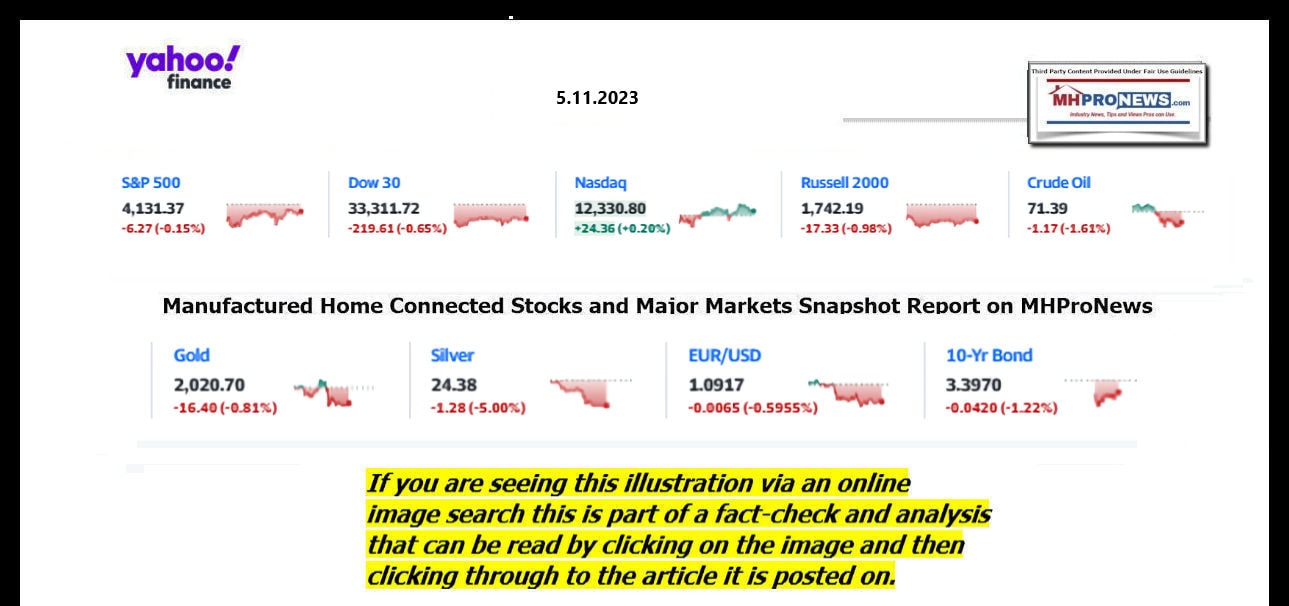 Headlines from right-of-center Newsmax 5.11.2023
House GOP Set to Pass New Asylum Restrictions
House Republicans were on track Thursday to pass a sweeping bill to build more U.S.-Mexico border wall and impose new restrictions on asylum seekers, countering President Joe Biden's policies just as migrants are amassing along the border with the end of coronavirus pandemic restrictions. [Full Story]
Self: Border Surge 'Existential Threat'
Tim Scott: Closing Border Best Way to Keep US Safe | video
Fitzgerald: WH Border Surge Reaction 'Alarming' | video
Cassidy: Biden Choosing Reelection Over Leadership | video
Rudy Giuliani: Rep. Comer 'Has the Goods' on Bidens | video
Nikki Haley: Biden Didn't Prepare for End of Title 42 | video
Blaine Holt: No US Strategy for Ukraine Aid | video
Burchett: WH Lies About Bidens
Newsfront
Left Furious With CNN as Trump 'Wins' Town Hall
Liberals were left fuming over CNN's town hall with Donald Trump as the former president firmly took control of the event. The town hall, hosted by CNN's Kaitlan Collins, aired Wednesday night from New Hampshire… [Full Story]
Related Stories
CNN Town Hall: Trump Says He'll Pardon Many Tied to 1/6
Trump: Biden Administration Will Rue End of Title 42
Trump: US Should Default If Biden Balks on Spending Cuts
Trump Defiant in CNN Town Hall
Trump: Sexual Assault Case Was 'Fake'
Bill Combats Normalizing With Syria's Assad
A bipartisan group of U.S. lawmakers introduced a bill on Thursday [Full Story]
Study: Newsmax Among Most Trusted Media
The Economist/YouGov's 2023 Trust in Media survey is out this week [Full Story]
Charlize Theron Threatens Anyone Who Comes for Drag Queens
Hollywood star Charlize Theron has taken aim at people who disapprove [Full Story]
Megyn Kelly: Fox Breached Tucker's Contract First
Fox News breached its contract with its primetime star Tucker [Full Story]
Related
CNN Labels Tucker Carlson 'Right-Wing Extremist'
Elon Musk: Tucker, Twitter Have Not Signed a Deal
Tucker Video Tops 106M Views in Less Than 24 Hours
Fox Suffers $50M Quarterly Loss After Dominion Litigation
Levi's to Expand Unisex Line Despite Bud Blowback
Citing customer demand, Levi's plans to slowly expand its [Full Story]
Commuters Should Be 'Aware,' 'Alert' on Public Transit
Urban areas nationwide have experienced a crime surge on public [Full Story] | Platinum Article
Senate Votes to Limit Critical Habitat Designation
The U.S. Senate voted narrowly Thursday to overturn two Biden [Full Story]
Zelenskyy: Ukraine Counteroffensive Needs More Time
Ukrainian President Volodymyr Zelenskyy says his country's military [Full Story]
Related
Western Weapons, Growing Experience Harden Ukrainian Air Defenses
Blaine Holt to Newsmax: No US Strategy for Ukraine Aid |video
Vatican: Peace Mission Underway to End War in Ukraine
Trump: Biden Turned US Into Dumping Ground for Illegal Aliens
President Joe Biden has "officially abolished what remained of [Full Story]
Biden Could Push Post-Title 42 Chaos on VP Harris
Vice President Kamala Harris could once again be drawn into the [Full Story] | Platinum Article
Judge's Halts NYC From Sending Migrants to Suburbs
Rockland County Supreme Court justice Thomas Zugibe on Thursday [Full Story]
11 Hunter Biden Laptop Letter Signers Have Visited Biden's WH
Between October 2021 and January 2023, at least 11 intelligence [Full Story]
Related
Israeli Airstrikes Kill Islamic Jihad's Rocket Commander
Buttigieg Calls Tesla 'Autopilot' Misleading
Tesla shouldn't be calling its partially automated driving system [Full Story]
Amazon Hates when You Do This, Bbut They Can't Stop You
Amazon Hates when You Do This, Bbut They Can't Stop You
Online Shopping Tools
Graham: Trump's Trial Designed to 'Tarnish' Him
The Rev. Franklin Graham condemned a jury's decision to find Donald [Full Story]
Grilling, Car Exhaust Toxins Linked to Arthritis
Toxic chemicals that develop from car exhaust, smoking and backyard [Full Story]
Fed's Kashkari Expects Tight Policy for 'Extended' Time
An extended period of high interest rates and an inverted yield curve [Full Story]
Vaccine Slows Return of Pancreatic Cancer in Trial
A gene-targeted personalized vaccine may delay the return of [Full Story]
White House Counsel Slams Comer Probe
The White House counsel's office ripped the investigation that [Full Story]
Surprise US-China Meeting May Signal Thaw
White House national security adviser Jake Sullivan and senior [Full Story]
Mega Tech Stocks, Up 45%, Cannot Be Ignored
The U.S. stock market rally this year is so narrow that the S&P 500 [Full Story]
NHL Players Who Fight More on Ice Have Shorter Lives
Fighting is par for the course in professional ice hockey, but a new [Full Story]
Texas Poised to Allow Chaplains in Public Schools
The Texas Legislature this week passed a bill that would allow public [Full Story]
FDA Eases Restrictions on Blood Donation
The U.S. Food and Drug Administration on Thursday set guidelines for [Full Story]
American Greatness Poll: Trump Leads DeSantis in Florida
Former President Donald Trump leads potential 2024 challenger Ron [Full Story]
Pakistan's Supreme Court Orders Release of Former PM Imran Khan
Pakistan's Supreme Court on Thursday ordered the release of former [Full Story]
Serbia's Mass Shootings Prompt National Reckoning
At one end of a long avenue leading through the western districts of [Full Story]
Yellen: 'Legally Questionable' to Use 14th Amendment
It would be "legally questionable" for President Joe Biden to use the [Full Story]
Japan Plans to Open NATO Liaison Office
Japan's foreign minister said the Pacific island nation is exploring [Full Story]
US Supreme Court Tosses Fmr Cuomo Aide's Bribery Conviction
The U.S. Supreme Court on Thursday overturned the bribery conviction [Full Story]
Finance
Bank Deposits Move to 'Super-Regionals'
Deposit withdrawals from U.S. banks following the collapse of Silicon Valley Bank were concentrated in around 30 "super-regional" institutions in the $50 billion to $250 billion range, similar to SVB, New York Fed researchers said…. [Full Story]
IRS to Protect Worker IDs to Deter Personal Threats
de Rugy: Neither Side Will Like Real Solutions for Nation's Debt
Fed's Waller: Climate Change Not a 'Serious Risk'
Banks Brace for Commercial Real Estate Recession
More Finance
Health
What Will Change as COVID Health Emergency Ends
The U.S. government on Thursday will end the COVID-19 Public Health Emergency that allowed millions of Americans to receive vaccines, tests and treatments at no cost. The emergency is also tied to telehealth flexibilities, Medicaid enrollment safeguards, and the ability of…… [Full Story]
Peloton Recalls 2.2 Million Bikes Due to Seat Issue
WHO Ends Mpox Public Health Emergency
FDA Approves First Alzheimer's Agitation Drug
Lingering Lyme Nerve Symptoms Tied to Immune Response
Notice: the graphic below can be expanded to a larger size.
See the instructions below the graphic below or click the image and follow the prompts.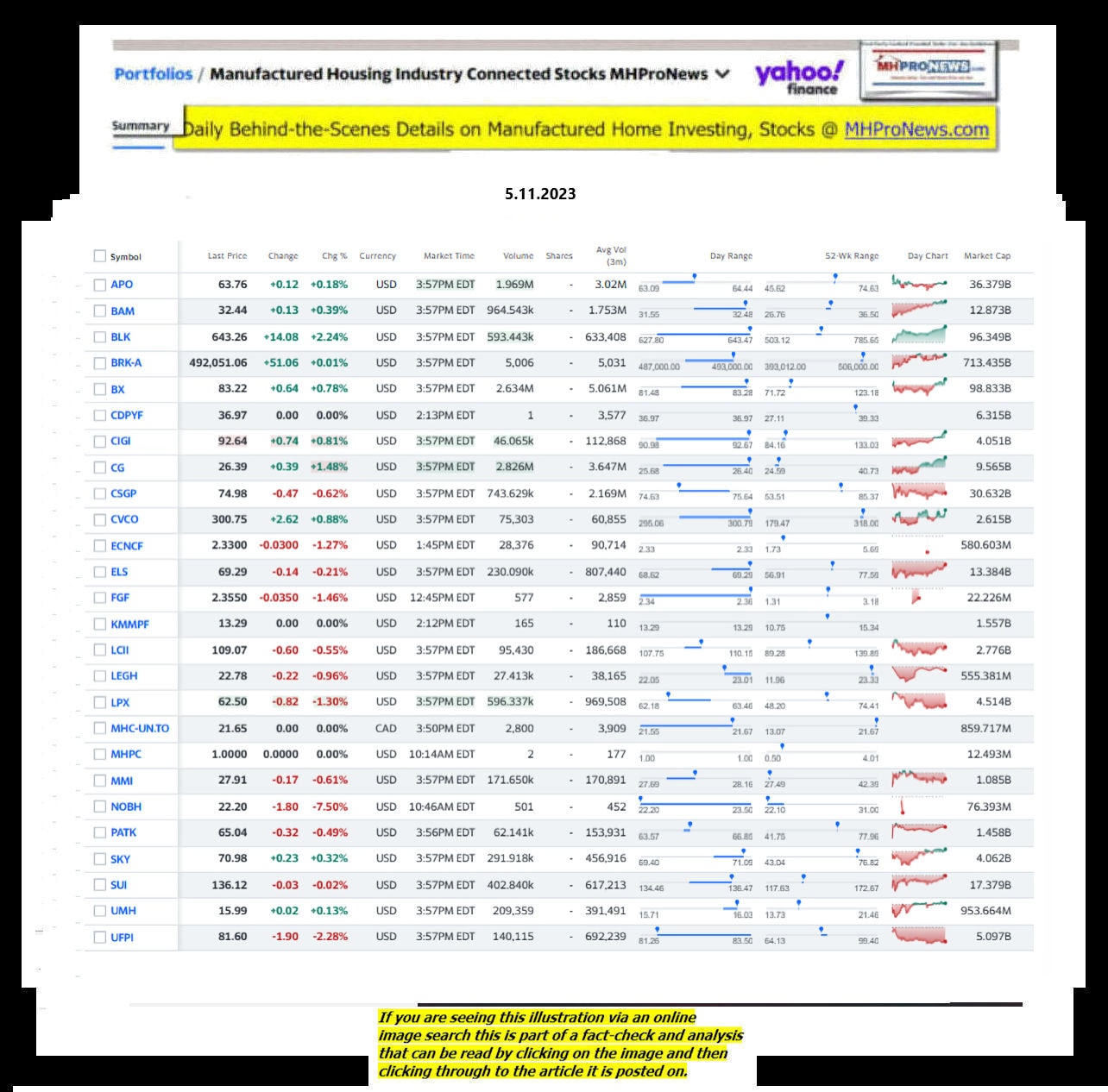 2022 was a tough year for many stocks. Unfortunately, that pattern held true for manufactured home industry (MHVille) connected stocks too.
See the facts, linked below.
'Stomach Churning Year' CNN-Wall Street 'Forget 2022' Down Year – Major Equities Data Compared to Manufactured Housing Stocks, Manufactured Home Community REITs, Performance for Year by Company
====================================
Updated
NOTE 1: The 3rd chart above of manufactured housing connected equities includes the Canadian stock, ECN, which purchased Triad Financial Services, a manufactured home industry finance lender.
NOTE 2: Drew changed its name and trading symbol at the end of 2016 to Lippert (LCII).
NOTE 3: Deer Valley was largely taken private, say company insiders in a message to MHProNews on 12.15.2020, but there are still some outstanding shares of the stock from the days when it was a publicly traded firm.  Thus, there is still periodic activity on DVLY.
Note 4: some recent or related reports to the REITs, stocks, and other equities named above follow in the reports linked below.
Sun Communities – 'Development in Our DNA,' ESG Stance, Q4 2022 Year End Results Earnings Call & PR – Facts, Insights Beyond PR and Official SUI Statements; plus MHVille REITs, Stocks Update
'Undervalued' Cavco Industries Touts Q Result$ 'Dire Need for Housing' 'January Traffic Up'- Rev Up 16%-Sales, Earnings, Mgmt Call Data–Analysis Beyond CVCO Statements; plus MHVille Stocks Update
'Killing's as Easy as Breathing' 'Bad Guys Know More Games' Warren Buffett Annual Berkshire Hathaway Letter, Clayton Homes, 21st, VMF-Manufactured Home Loans-Compelling MHVille Expert Views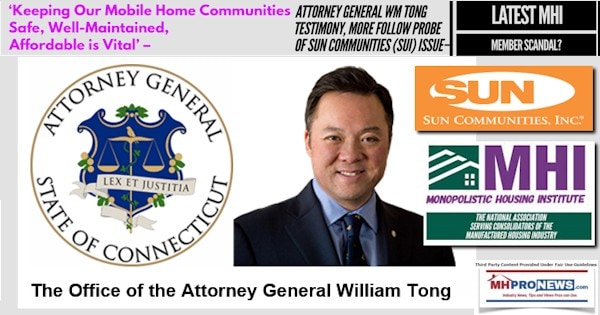 Nobility Homes, Inc. Sales and Earnings for its Fiscal Year 2022 Report, Result$ Best Inflation – Net After Taxes Up 34%, More Fact$; DeSantis ESG and NOBH; plus MHVille Stocks, Market Updates
'Manufactured Housing in the News,' Unpacking UMH CEO Sam Landy Op-Ed' It's Time for Bi-Partisanship on Affordable Manufactured Housing Homeownership' in HousingWire; plus MHMarkets Updates
Manufactured Housing Properties-Results for Three and Nine Months Ending September 30.2022–Exploring 'Mobile Home Park' Manufactured Home Community Investing; plus MHVille REITs, Stocks Update
'Changes Will Benefit Customers,' Boost Sales-Legacy Homes CEO Duncan Bates – LEGH 'Delivered 22.5% Return on Equity in 1 Yr' – Corp Q3 2022 Insights, Analysis; plus MHVille REITs, Stocks Update  
CEO Mark Yost, Skyline Champion Insiders SELL Million$ Value SKY Stock, Home Sales Drop-4th Q 2022 (3QFiscal2023), Official Result$-Facts, Analysis, Info Beyond PR; plus MHVille Stocks Update
Triad Financial Services Q2-2022 FINANCIAL RESULTS, per ECN Capital – Several Bright Spots in Manufactured Home Market Highlighted, Including Communities, Retail, Land-Home, Floor; MHStocks Update
BlackRock Document Exposes Central Banks like Federal Reserve on Recession; Manufactured Home Producer Cavco Industries 2022 Year End Results (CVCOQ3.23) Facts+Analysis; plus MHVille Stocks Update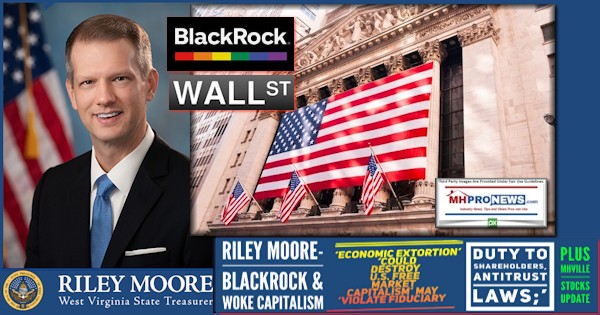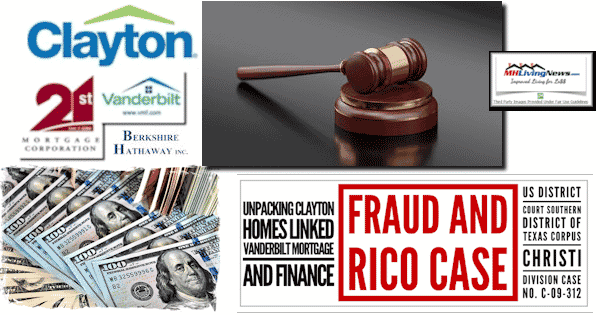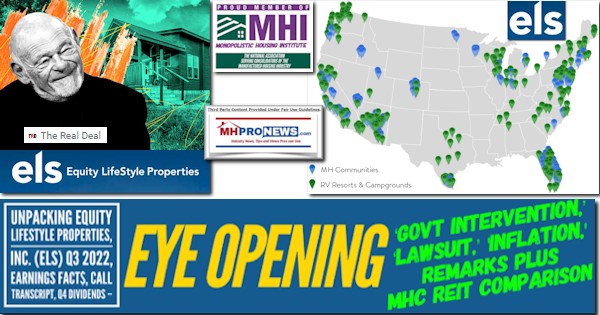 Manufactured Home Communities (a.k.a. 'Mobile Home Parks' – SIC) – Exploring UMH Properties; Fellow Manufactured Housing Institute Member Yes! Communities Suits and Settlements; plus MH Markets Updates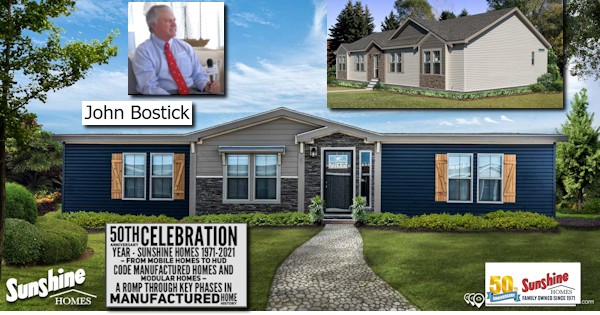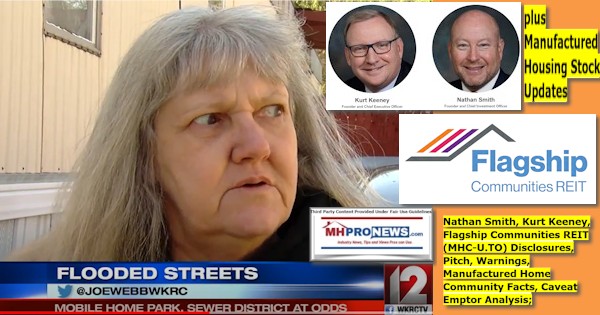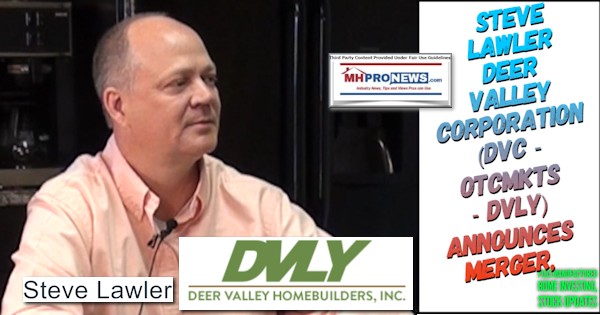 2023 …Berkshire Hathaway is the parent company to Clayton Homes, 21st Mortgage, Vanderbilt Mortgage and other factory-built housing industry suppliers.
· LCI Industries, Patrick, UFPI, and LP each are suppliers to the manufactured housing industry, among others.
· AMG, CG, and TAVFX have investments in manufactured housing related businesses. For insights from third-parties and clients about our publisher, click here.
Disclosure. MHProNews holds no positions in the stocks in this report.
· For expert manufactured housing business development or other professional services, click here.
· To sign up in seconds for our industry leading emailed headline news updates, click here.

Manufactured housing, production, factories, retail, dealers, manufactured home, communities, passive mobile home park investing, suppliers, brokers, finance, financial services, macro-markets, manufactured housing stocks, Manufactured Home Communities Real Estate Investment Trusts, MHC REITs.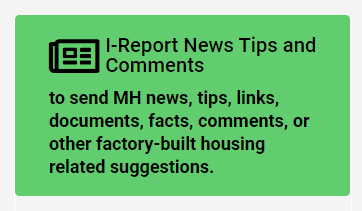 That's a wrap on this installment of "News Through the Lens of Manufactured Homes and Factory-Built Housing" © where "We Provide, You Decide." © (Affordable housing, manufactured homes, stock, investing, data, metrics, reports, fact-checks, analysis, and commentary. Third-party images or content are provided under fair use guidelines for media.) (See Related Reports, further below. Text/image boxes often are hot-linked to other reports that can be access by clicking on them.)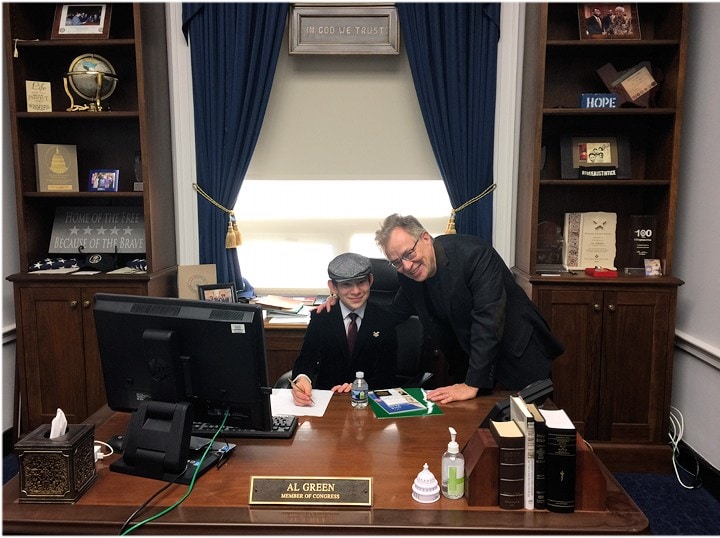 By L.A. "Tony" Kovach – for MHProNews.
Tony earned a journalism scholarship along with numerous awards in history. There have been several awards and honors and also recognition in manufactured housing. For example, he earned the prestigious Lottinville Award in history from the University of Oklahoma, where he studied history and business management. He's a managing member and co-founder of LifeStyle Factory Homes, LLC, the parent company to MHProNews, and MHLivingNews.com. This article reflects the LLC's and/or the writer's position and may or may not reflect the views of sponsors or supporters.
Anar Pitre-CEO Lotus Capital Partners-Vexing Manufactured Housing Institute Claims in Fact Check of Forbes 'What Manufactured Home Communities Investors Need to Know' – Inaccurate MHI Data Shown
Call for Congressional Oversight Hearings of Manufactured Home Industry Regulators Highlighted by Manufactured Housing Association for Regulatory Reform (MHARR); plus MHVille Markets Update
Official HUD Manufactured Housing Production Facts for Dec 2022 plus 2022 Year End Totals Explored by Manufactured Housing Association for Regulatory Reform (MHARR)-"Millions" Needed – Analysis
Facts You Didn't Know – Martin Luther King Jr – Videos, Insightful Quotes, Surprising Revelations, Videos, Reports, and Illustrations in Champion for Human Rights Including Affordable Housing
'Global Disinformation Index' Warren Buffett Ally Bill Gates' Microsoft Org Charged-Cutting Revenue to Conservative Views via Xandr, GDI; plus Sunday MHVille Headlines Recap
#1 Texas' Manufactured Housing Builders Survey Says They are 'Ready for a Rebound' But Data Point in Question, DOE MH Energy Rule Too – Facts, Analysis; plus, MHVille Stocks, Markets Update
Clayton-Next Step Off-Site Built 'White Paper'-Manufactured Homes, ThinkND 'Magic of the Mind-Everyday Illusion, Misdirection, Deception' MHI Members' Claims Analyzed; plus MHVille Markets Update
After Admitted Failure, Manufactured Housing Institute Doubles Down on CrossMods® in AP Terminology Doc Acquired by MHProNews–Are MHI Leaders Sabotaging MHVille Independents? Plus MHStocks Update
Concessions by Speaker Kevin McCarthy in House Speaker's Battle Called 'Most Significant Win for Conservatives in a Decade' By Federalist's Emily Jashinsky Report; plus MHVille Stocks Updates
Manufactured Housing Institute Claims 'Effective Branding' for 'Manufactured Housing'-Seriously? Target Rich Satirical Saturday Examines MHI Claims, Messaging, RESULT$; plus MHVille Stocks Update