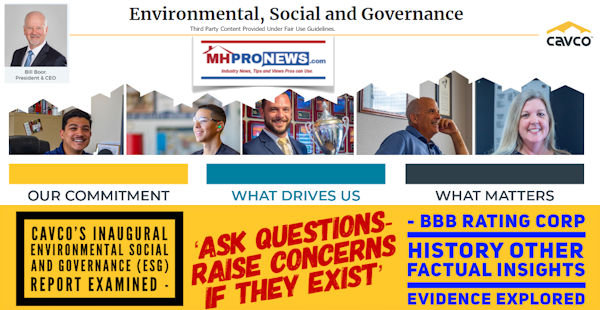 "Cavco's sustainable success relies on high standards of ethics and integrity in all of our relationships, and this all starts with treating one another with respect and dignity." (Italics added for emphasis.) "Ask questions. Raise concerns if they exist." Those words are quoted from page 3 of Cavco Industries (CVCO) March 2023 Code of Conduct and are attributed to William "Bill" Boor, President and CEO, Cavco Industries. This ESG subject is primarily focused on Cavco Industries, but it will include related issues involving their role at the Manufactured Housing Institute (MHI) and some of that trade group's prominent members.  As such, this periodic ESG series plans to explore firms that include Clayton Homes, park of Berkshire Hathaway (BRK). Our periodic series on ESG related included private equity giant BlackRock and recently explored Flagship Communities REIT (Real Estate Investment Trust). Boor was listed on the MHI website as the vice chairman for the MHI board of directors "executive committee." (Click link to see graphic). The board chairman is Craftsman Homes' Leo Poggione, and Cavco reportedly holds a large – if not total – stake in that firm. As MHLivingNews and MHProNews have dutifully reported on several occasions, MHI appears to have a credibility issue with respect to their own Code of Conduct. For example, Flagship was recently awarded with several MHI awards for "excellence in manufactured housing" even though that firm has a D- rating with the Better Business Bureau (BBB). Which begs the question, excellence in doing what? Do the unstated aims of MHI's leaders include the goal of diminishing the public's perception and trust of manufactured housing? If so, then perhaps on that basis a good case could be made to give Flagship an MHI "excellence" award. Otherwise, MHI giving firms like Flagship an 'award for excellence' is shocking and arguably misleading to the public, investors, mainstream media, and others.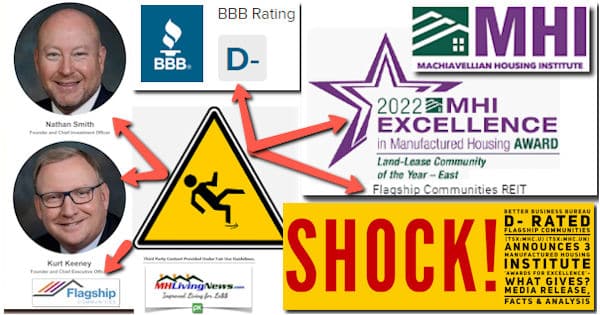 In the case of Cavco Industries, they too have won several MHI awards in recent years.  They have also appear to have been slammed by the BBB for a range of reasons that has earned them a poor rating with that organization.  Will Cavco's leadership respond to those concerns as one of the "relationships" that their "code of conduct" says requires transparency and high ethical and legal standards? Part II of this report will examine aspects of those questions.  It will do so in the context of the affordable housing crisis, which Cavco's leaders say that are focused on helping solve.
Part I of this report will be Cavco's press release of their ESG report.  Highlighting in their press release is added by MHProNews to further explore in Part II and beyond.
Part II of this report will include additional information with more MHProNews analysis and manufactured housing expert editorial commentary. It will raise a flag about Clayton Homes, which could have been today's topic, but our operation editorially decided to have the Clayton focused issue following this one on Cavco. Once both are published, a new wrinkle in this ESG saga will emerge that merits the manufactured housing industries' independent producers concerns, be those firms members of MHI, the Manufactured Housing Association for Regulatory Reform (MHARR), or none of those two national groups.
Part I
Cavco Industries Releases Its Inaugural Environmental, Social and Governance Report
Cavco Industries, Inc.
March 28, 2023·3 min read
Cavco Industries, Inc.
PHOENIX, Ariz., March 28, 2023 (GLOBE NEWSWIRE) — Cavco Industries, Inc. (Nasdaq: CVCO) ("Cavco" or the "Company") today announced the release of its inaugural Environmental, Social and Governance (ESG) website. In its commitment to continuous improvement and transparency, the Company incorporated this important new site into its new consumer-facing Affordable Homes Digital Marketplace at cavcohomes.com/esg.
"After being in business for over 50 years, we launched our first Corporate Responsibility Report in 2021," said Bill Boor, President and Chief Executive Officer. "It is rewarding to see our progress as we continue to execute with excellence, making improvements that grow Cavco's impact in the lives of our homeowners, our team members and those in the communities we touch, while enabling our long-term success."
Cavco's ESG site affirms the company's progress on its Corporate Responsibility Report roadmap released last year to advance its goals across the tenets of environmental stewardship, social responsibility and corporate governance.
Environmental Stewardship: Cavco is committed to integrating environmental initiatives into the company's long-term strategy. We will report regularly on our environmental initiatives and engage and train employees to increase internal environmental awareness.
Social Responsibility: Cavco prioritizes social responsibility, providing a safe and respectful workplace and investing in local communities. We are driven by the conviction that the best way to build value for all of our stakeholders is by investing in the development and success of our team members. At the very core of everything we do is our intention to help people buy and protect homes that improve their lives.
Corporate Governance: Cavco expects high standards of ethical conduct from its Directors, management and all employees as described in Cavco's Corporate Governance Guidelines and Code of Conduct. We will continue to focus on setting clear expectations and providing training, oversight and management involvement.
In addition to reporting on Cavco's progress on these three core pillars, the site also provides the company's latest related policies such as Environmental Stewardship, Product Safety and Quality and Promoting Diversity, Equity and Inclusion.
Complete information on these foundational policies and Cavco's ESG commitments can be found at cavcohomes.com/esg. ##
Part II – Additional Information from Cavco Industries, the BBB, and Other Sources Combined with More MHProNews Analysis and Commentary
The push for ESG by Cavco Industries at this time may be tactical, ironic, or perhaps to distract and push beyond their legal issues with the Securities and Exchange Commission (SEC).  For industry newcomers and those not familiar with the years of controversies and revelations, the two reports linked below are an apt introduction to what occurred and how the SEC and Cavco resolved those issues.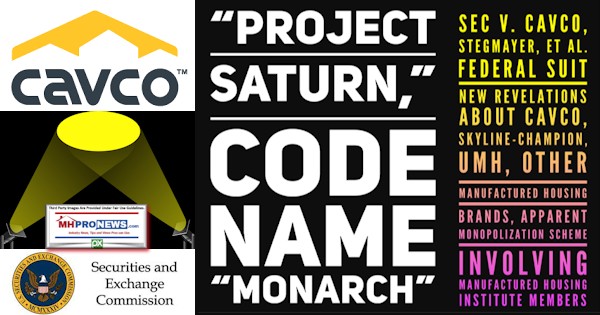 Whistleblower Payout! Cavco (CVCO) Settle with SEC in Securities and Exchange Commission Case vs. Cavco Former CEO Joseph Stegmayer, Daniel Urness – 21-cv-01507 U.S. District Court of AZ
It merits mention that during the time that Cavco was in the midst of that legal battle, while Joseph "Joe" Stegmayer formally 'stepped down' from his prior positions of authority, an insider at Cavco told MHProNews that for some time Stegmayer appeared to be wielding a similar level of authority that he held previously despite the 'change' in his status (see reports linked above). Additionally, it is no secret that Stegmayer retained his title as MHI chairman until his term expired. Stegmayer was a former Clayton Homes division president before joining Cavco. There are several wrinkles to that, which include, but are not limited to, the point that for some years, Cavco has held prominent positions in MHI's board leadership. Even during the SEC battle, after Stegmayer stepped down from his leadership role at Cavco, the apparently disgraced corporate official continued to retain his role in leadership at MHI.
It should also be noted that Cavco's stated position of being transparent and open to "all of our relationships" and to "Ask questions. Raise concerns if they exist" ought to be questioned in the light of the fact that Bill Boor and Leo Poggione have repeatedly declined comments to MHProNews on significant issues that involve their respective roles.  Consider examples of such outreaches and their relationship to insights from the recent report linked below.
Longtime MH Retail Sales Manager Asks Manufactured Home Leaders – Why are Manufactured Housing Production Levels Today About Half of 1980s When Interest Rates Hit 20.5% APR on ARM Loans?
Cavco said: "At the very core of everything we do is our intention to help people buy and protect homes that improve their lives." If so, manufactured housing is demonstrably underperforming.  The latest production and shipment report makes that abundantly clear. The case can be made that Cavco is likewise underperforming within that broader industry context.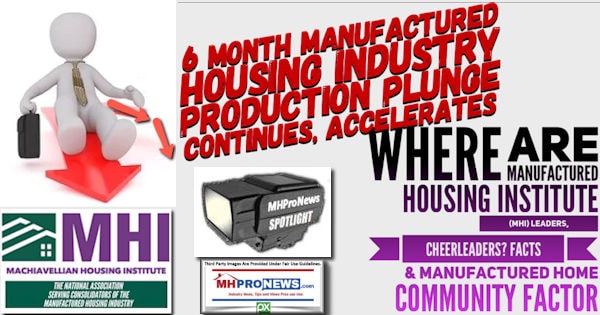 Ironically, it is Cavco's 2023 investor relations (IR) pitch deck that supplies information that demonstrates not only opportunities, but also to the significant degree that those opportunities have been squandered in the 21st century.
From Cavco's ESG page are these remarks on this date, with italics added for emphasis.
As a nationwide manufactured housing company, we endeavor to be a great corporate citizen. Anything less would be inconsistent with our values. Our business strategies, corporate responsibility priorities and the principles of ONE Cavco are inseparable.
Under this principle, Corporate Responsibility is not separable from operating and growing the business.
As MHProNews has repeatedly reported – and as Cavco leadership, investor relations (IR), and media contact have failed to respond to – are evidence-based concerns that Cavco is involved in a scheme to consolidate the manufactured housing industry's production, which of course has ripple effects on retail, communities, finance, and other aspects of the industry. That evidence is supported by insights supplied by insiders at Cavco and/or within MHI. It is supported by third-party researchers, such as Samuel "Sam" Strommen at Knudson Law (see linked below).  Cavco is considered to be one of the "big three" manufactured home builders at MHI.  They are specifically named by Strommen's research.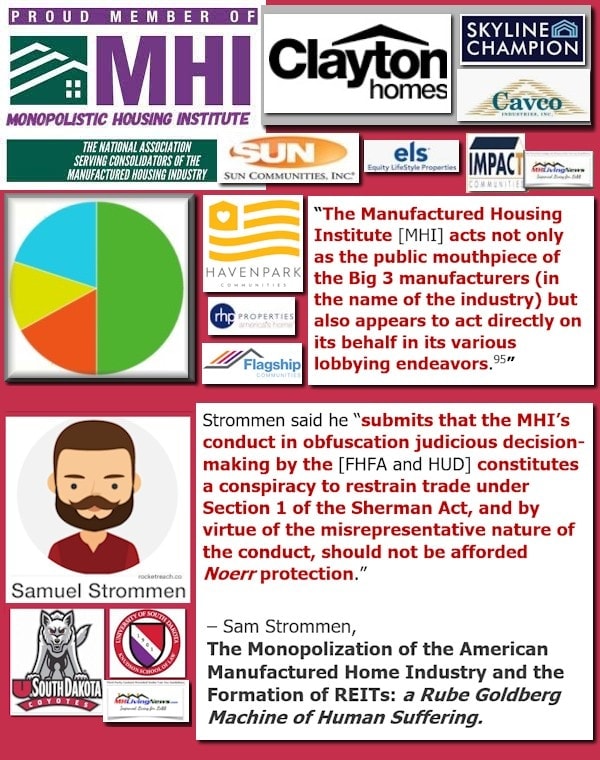 Restraint of trade is illegal under federal and state laws.  Given the impact that has on the lack of affordable housing, it is difficult to separate evidence-based allegations of restraint of trade from the obvious disconnect between their ESG claims that they want to be part of the solution to the affordable housing crisis.  "At the very core of everything we do is our intention to help people buy and protect homes that improve their lives." For clarity, MHProNews editorially agrees with the principle that manufactured housing can provide generational wealth building options that improve people's lives. But it is precisely because that is true that Cavco's own IR pitch deck demonstrate to the wide degree that Cavco is failing at that on the corporate level, and at the level of their currently outsized role at MHI.
Notice: the graphic below can be expanded to a larger size.
See the instructions below the graphic below or click the image and follow the prompts.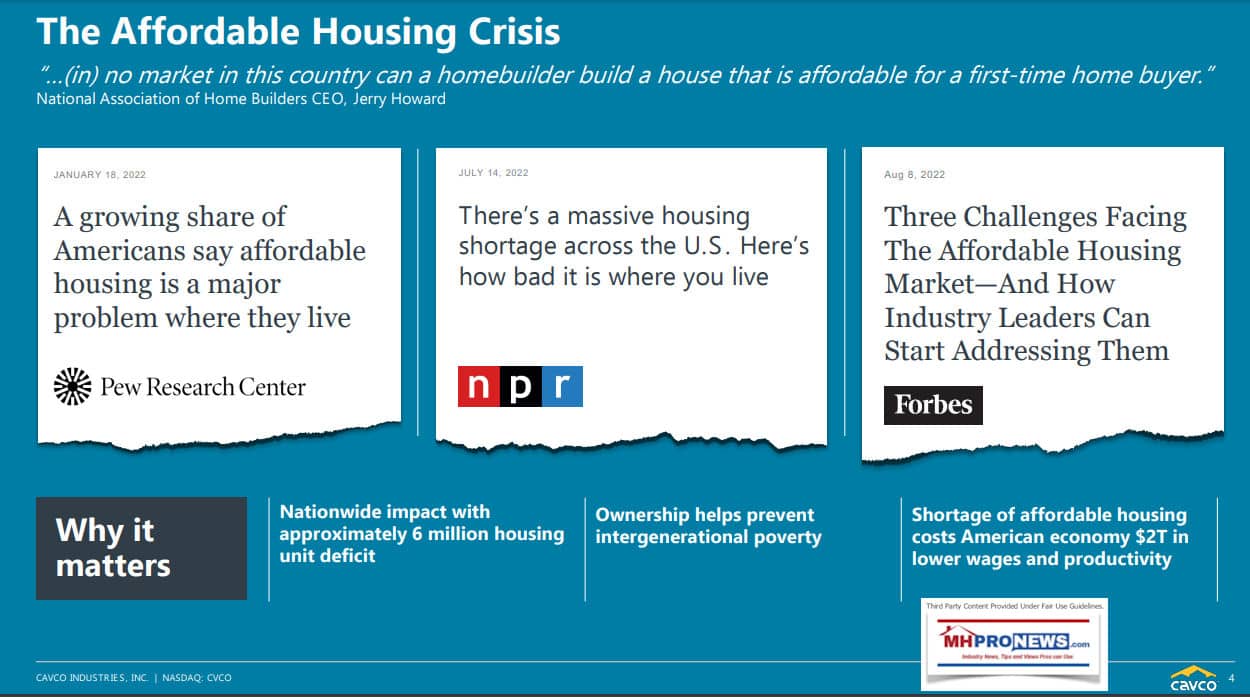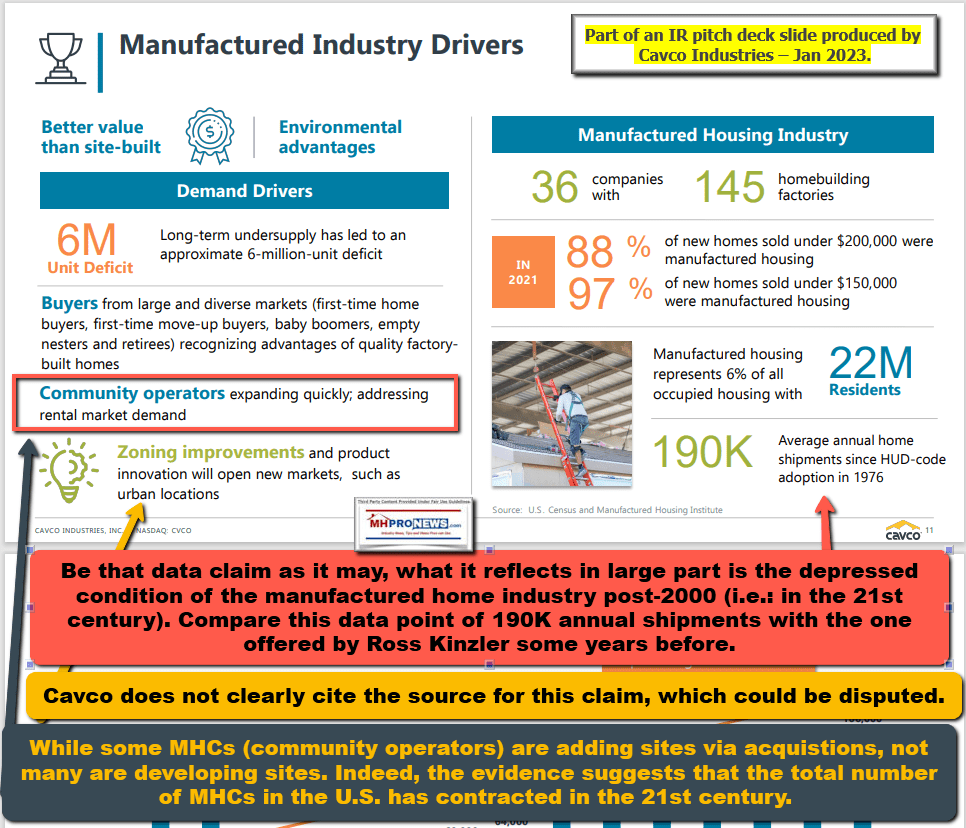 It is logically difficult for Cavco to sincerely claim that they are promoting certain ethical values while they are simultaneously seemingly a living contradiction of those claimed values.  It is not just that Cavco – via their role at MHI – are a party to the embarrassing ongoing "predatory" behaviors tolerated by MHI of its own members, in defiance of their code of ethical conduct. An ongoing drumbeat of negative mainstream media is the result of that behavior. See how that played out in a law professor's recently highlighted expose in a leftist publication and that attorney's Substack about other prominent MHI members.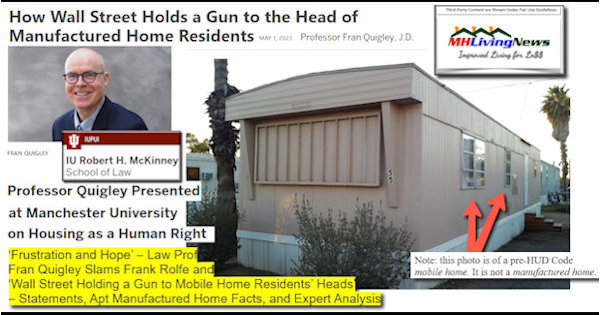 Also, in a more specific to Cavco instance, despite several MHI "excellence" awards, on this date the Better Business Bureau (BBB) rates Cavco Industries as a D-.
That D- ranking is nearly as bad a BBB rating as it gets, only F would be worse. In fairness, let's note that Cavco does better with Indeed's ratings by current and former employees, where the publicly traded firm (CVCO) gets a 3.1 stars out of 5, a 'fair' rating on this date.  According to the BBB: "BBB assigns ratings from A+ (highest) to F (lowest)." They also explains: "BBB ratings represent the BBB's opinion of how the business is likely to interact with its customers. The BBB rating is based on information BBB is able to obtain about the business, including complaints received from the public. BBB seeks and uses information directly from businesses and from public data sources."
But the BBB rating also raises a different question. What is a reasonable claim for the history of Cavco as a company? Encyclopedia says:

Cavco Independent Again in 2003
After an evaluation of Cavco's performance and the minor place Cavco operations had in Centex's overall business, in April 2003 Centex decided to spin off Cavco as an independent company."
The BBB website says that Cavco has been in business for 19 years. If Cavco believes that statement to be accurate, it should stand. But if Cavco believes that some of the BBB's statements and allegations are incorrect (and to this publication's editorial and expert view, in fairness, some of the remarks on Cavco leadership on the BBB website are outdated on this date), then why doesn't big Cavco assign someone to clean up any inaccurate information up with the BBB?
Per the BBB website on this date, the reason for the D- rating is stated as following.
Reasons for Rating
D–BBB rating
Cavco Industries Inc
Failure to respond to 18 complaint(s) filed against business
BBB appears to have a solid reputation on keeping up with business complaints and their reporting and possible resolution.  That said, the information on the BBB website about Cavco is outdated on at least two of their leadership positions, if not others. Per the BBB on this date, they said the following about Cavco's management.
Business Management
Mr. Norm Ball, Consumer Affairs Manager
Mr. Joe Stegmayer, President
Mr. Dan Urness, Billing Contact
Mr. Dave Blank, Vice President
Mr. Paul DeRoo, Vice President
Mr. Tim Gage, Vice President
Stegmayer and Urness are out. Those and any other errors above should be cleared up by Cavco, shouldn't they?
A Timeline on Cavco's Corporate History
Centex spun off Cavco in 2003. Here is how Reference for Business put it. "After an evaluation of Cavco's performance and the minor place Cavco operations had in Centex's overall business, in April 2003 Centex decided to spin off Cavco as an independent company." Cavco became a publicly traded firm in its own right (CVCO).
Zippia, apparently relying in part on information from Cavco, provides the following timeline of Cavco's corporate history.
CAVCO INDUSTRIES COMPANY HISTORY TIMELINE
1965
Cavco is a leading designer and builder of systems-built structures including manufactured homes, modular homes, commercial buildings, park model RV's, and vacation cabins. We operate 19 manufacturing facilities across the nation, which build the most widely recognized brand names in the industry: Cavco Homes, Fleetwood Homes, Palm Harbor Homes, Nationwide Homes, Fairmont Homes, Friendship Homes, Chariot Eagle and Destiny Homes. The company's insurance group, Standard Casualty, offers a wide range of insurance products for manufactured home owners and its finance subsidiary, CountryPlace Mortgage, offers a variety of homebuyer financing options. Based in Phoenix, Arizona, the company has built a reputation for quality, value and service since its founding in 1965.
1969
1969: Cavalier Manufacturing begins to produce mobile homes.
1973
Cavco Industries originated as a truck camper and travel trailer manufacturer, operating as an unincorporated association named Roadrunner Manufacturing Company. Founded in 1965, the company took the name Cavalier Manufacturing the following year. Cavalier began custom mobile home production in 1969, selling its products wholesale through dealerships in Arizona. Mobile home production became the sole focus of the company in 1973, when the original product lines were discontinued. Cavalier Manufacturing changed its name to Cavco Industries in 1974. That year Aldo Ghelfi retired as president and his son, Alfred Ghelfi, was promoted from simultaneous multiple positions of vice-president, secretary, and treasurer to the position of president.
1977
Cavco grew with the mobile home industry during the late 1970s. The company opened a second plant in Phoenix in 1977 to meet the backlog of orders for double-wide mobile homes. In 1979 Cavco formed the Modular Housing Division, using the brand name Sun Built Homes to provide larger, multi-section homes for permanent residential site location. Cavco sales rose from $4.2 million in 1975 (fiscal year December 31) to $20.4 million in 1979 (fiscal year September 30).
1986
1986: Cavco begins to manufacture and lease relocatable commercial structures.
1989
While lower mortgage rates benefited site-built housing construction, the manufactured home industry continued to struggle. Cavco halted plans to enter the Texas market in 1985 and decided to diversify its businesses and product offerings. In 1986 the company began to manufacture relocatable commercial modular structures, primarily used by construction companies as work-site offices. A subsidiary, CVC Leasing, handled leasing and sales. CVC expanded quickly, opening sales and marketing offices in six Western states by 1989, in Arizona, Nevada, New Mexico, Colorado, Utah, and southern California. That year CVC Leasing reported revenues of $3.4 million from a fleet of 418 units.
1991
Cavco expanded its dealer network to markets outside Arizona for the first time, including New Mexico, Colorado, and California, and found new opportunities overseas. Through Operation Independence, a nonprofit organization promoting trade with Israel, Cavco obtained a $4 million contract to manufacture 420 mobile homes to be used to house Jewish immigrants from the former Soviet Union. Each 480-square-foot unit met specific requirements of the Israeli government, including proper electrical wiring and outlets. Cavco delivered the homes to an intermediary in Houston in January 1991, which resold the units to the government of Israel. The contract option added another 770 units, for $5.6 million, pushing Cavco sales to $42.5 million in 1991. This foray into international markets prompted Cavco to seek other opportunities abroad, resulting in an exclusive dealer relationship with Auto Borg Enterprises in Japan.
As the manufactured home industry showed signs of improvement in the United States, Cavco founded Sun Built Homes, Inc. in 1991 to develop manufactured housing subdivisions, as well as to sell the homes directly to potential residents of manufactured housing subdivisions. Cavco initiated the Canyon View and Lynx Creek subdivisions in Green Valley and Dewey, Arizona, respectively.
1993
1993: Cavco opens a third manufacturing facility to meet demand for manufactured housing.
1995
CVC Leasing began to lease security storage containers in 1993, leading Cavco to sell the relocatable commercial structures leasing operation in 1994. Cavco applied $20.2 million from the sale of CVC Leasing to pay debt on assets sold and costs of the sale; a net gain of $3.7 million funded a new subdivision development and expansion of the container fleet. Cavco formed National Security Containers (NSC) to operate the security storage container business and added trailer van leasing as well. NSC refurbished containers at a facility in Texas, and then leased them through offices in San Antonio, Houston, Dallas, El Paso, and Phoenix. Cavco opened offices in Colorado and Louisiana in late 1995.
1996
The manufactured housing industry flourished with the housing industry as a whole during the 1990s, especially as quality improvements in manufactured homes made them indistinguishable from site-built homes. In September 1996 Cavco announced plans to build its fourth manufacturing plant, on a 23-acre site near Albuquerque. After its completion in the spring of 1997, Cavco manufactured ten houses per day at maximum capacity at the 143,000-square-foot facility, producing single-wide and double-wide manufactured homes for the Colorado and New Mexico markets.
1997
Under changed ownership, Cavco sought to increase revenue and to retain profits through the integration of manufacturing, retail sales, and financing. With the formation of Centex Finance Company in late 1997, retail dealers of Cavco products gained a financing option from a company with strong leverage capabilities. Centex Finance offered loans to all Arizona manufactured home dealers through its main office in Phoenix, while marketing representatives in Denver, Salt Lake City, and Albuquerque expanded the company's geographic reach. Cavco entered the retail market with the February 1998 acquisition of AAA Homes, Inc., the largest retailer of manufactured homes in Arizona, with revenues of $40 million in 1997. AAA Homes operated sales centers in Tucson, Sierra Vista, Casa Grande, Yuma, Mesa, and Apache Junction, Arizona, and sales offices in Fort Collins, Colorado, and Albuquerque.
1999
As production began at the Sequin facility in January 1999, Centex sold National Security Containers, receiving $8 million in redeemable preferred stock and $17.5 million in cash, providing funds for expansion of Cavco's retail network. The Cavco Retail Group opened stores in New Mexico, south central Texas, Colorado, and Arizona, for a total of 23 retail outlets in operation by the end of March 31, 2000.
2003
After an evaluation of Cavco's performance and the minor place Cavco operations had in Centex's overall business, in April 2003 Centex decided to spin off Cavco as an independent company. The share distribution, noted as a tax-free dividend, was completed June 30, with Joseph Stegmayer as chief executive officer. While sales increased slightly in late 2003, Stegmayer planned to proceed cautiously. ##
So, if Cavco is legitimately a firm that can trace its origins back to the mid-to-late 1960s and Cavalier Homes, then why would they allow the BBB to say that they are only about 19 years old? Isn't it irresponsible for Cavco's management to leave any misinformation unchallenged and uncorrected?
Which brings us back logically the to the wide disconnect between Cavco's ESG claims and their BBB rating of D-. If Cavco's leadership is at all sincere about ESG, then shouldn't each and every issue that a consumer has with Cavco's products be properly addressed and resolved?
Notice: the graphic below can be expanded to a larger size.
See the instructions below the graphic below or click the image and follow the prompts.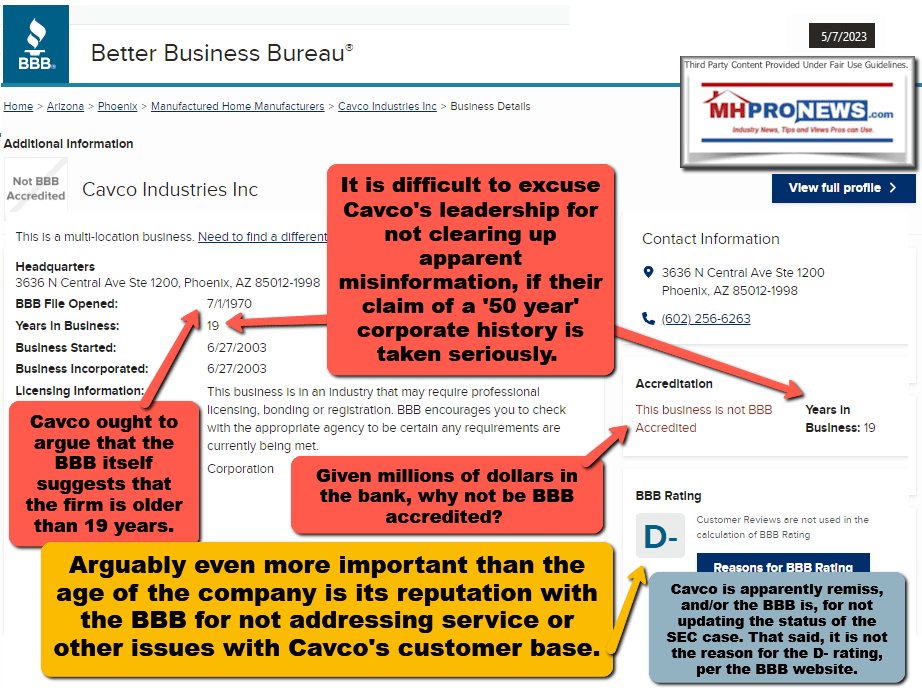 After all, it is former MHI president and CEO, Chris Stinebert who made the following apt point about what is necessary for manufactured housing to truly achieve its potential. MHI, and their corporate leadership, simply can't have it both ways. They can't claim the moral and ethical high ground and then fail to live up to their own stated standards.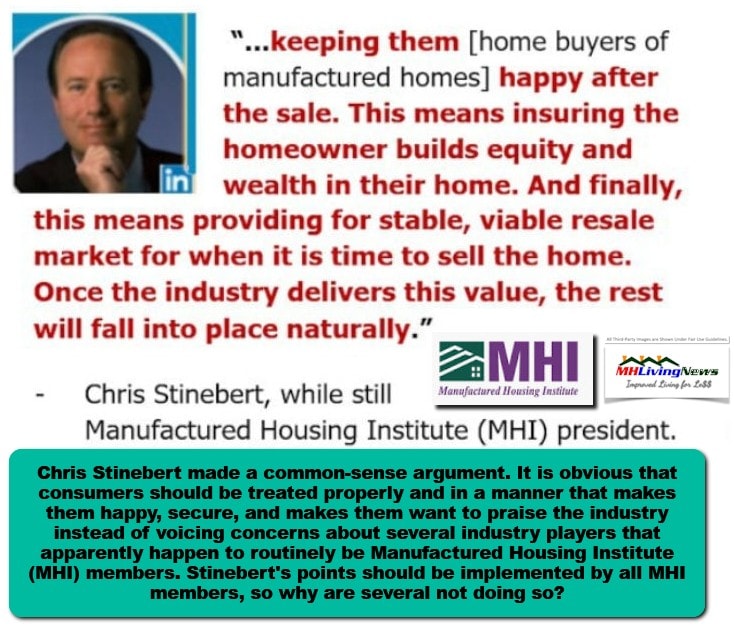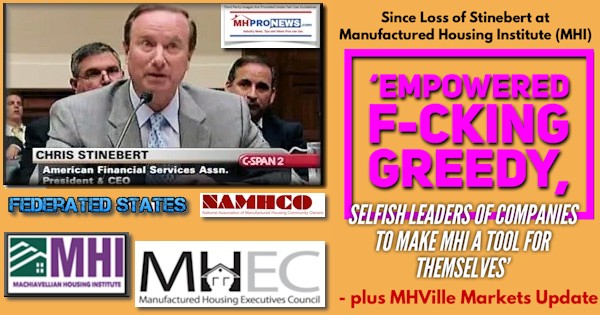 Battle over ESG
Not to be overlooked is the growing controversies over ESG in business and governmental affairs. So called "red states" are often pushing back against ESG. So too are Republican in Congress.  Doesn't that mean that Cavco's leadership ought to explain why they have launched their ESG platform at precisely a time when pushback against ESG is growing?
Flagship Communities REIT to Acquire 3 Manufactured Home Communities for $21 Million, Manufactured Housing Institute Firm Touts ESG Score as States Ramp Anti-ESG Actions; plus MHMarkets Update
'Alter Conceptual Model of Corporation and Bases of Corporate Law and Corporate Finance Collapse' Attorney Bruce Abramson Explains Legal, Financial Risks – 'What is ESG, and Why Should we Care?'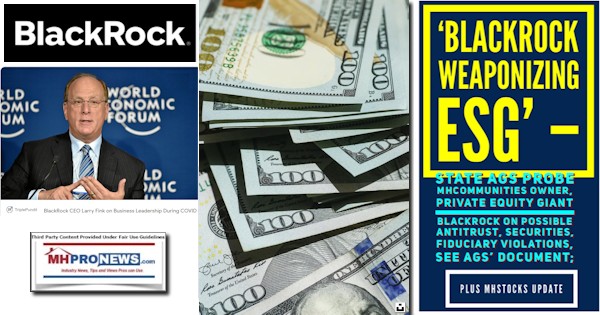 If Cavco's leadership is essentially signaling that they are moving (or clarifying) their stance with Democratic politics and policies, then shouldn't they transparently say that to their investors and the homebuying public?
MHProNews will provide Cavco another opportunity to clarify the kinds of concerns raised and linked from this report. Stay tuned for the outcome of that outreach to see if Cavco will in fact respond in a transparent, timely, and candid manner.  See the linked and related reports to learn more, and watch for planned follow ups on this and other industry connected firms in this periodic series on ESG related controversies.
From Cavco's own ESG page are these pull quotes.
Our Commitment – To Make a Difference Through:
Our drive to solve affordable housing issues in new and existing markets
What Drives Us
Helping our customers buy and protect homes that improve their lives
What Matters
4. Standing for integrity and ethics in everything we do
Note too that Cavco promised in writing to protect whistleblowers. It is logically a given that with the kinds of evidence-based issues raised herein, there are some in the company who know more about the subjects raised herein. Let the whistleblowers come forth.
In conclusion, the headline – citing Cavco's encouragement to "ask questions" "raise concerns if they exist" has been dutifully provided here by this trade platform. They claim to want to help customers buy homes, but thousands of manufactured homes today are being built for leasing, not purchases. They claim they want to drive solutions, then why is the industry underperforming in areas that they clearly have the ability to impact? They claim to stand for integrity and ethics, if so, will they respond to the concerns raised herein? Will Cavco's leadership address and sincerely answer these questions and concerns? Because the issues quite obviously exist, and they do so on a factual, evidence-laden basis. The ball for living up to their own words is now in Cavco's court. ##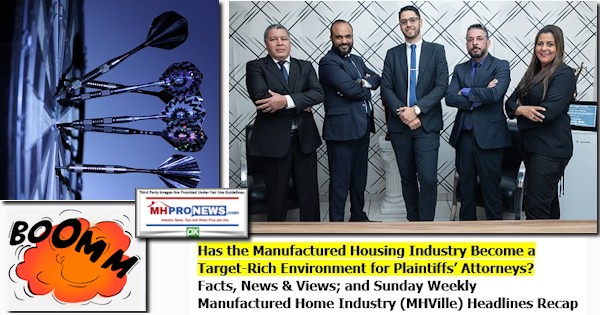 Manufactured Housing Institute (MHI) Claims Contradicted by Cavco Industries IR Statements, 'Shortage of Affordable Housing Costs Economy $2Trillion Annually;' plus MHVille Markets Update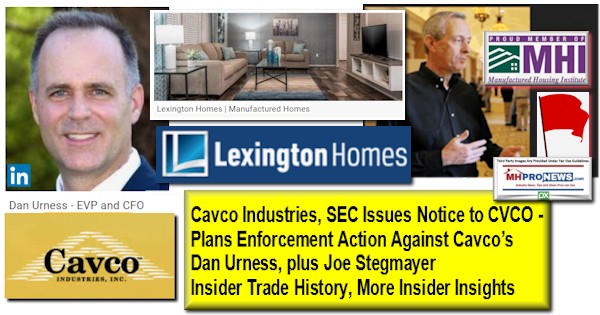 Warren Buffett Led Berkshire Hathaway has Over $100 Billion Available for Investing, Why That Matters to Manufactured Housing, MHEC Members Know How Gold Rules; plus Sunday Weekly Headlines Recap
Manufactured Housing Institute Claims 'Effective Branding' for 'Manufactured Housing'-Seriously? Target Rich Satirical Saturday Examines MHI Claims, Messaging, RESULT$; plus MHVille Stocks Update
6 Month Manufactured Housing Industry Production Plunge Continues, Accelerates – Where Are Manufactured Housing Institute (MHI) Leaders, Cheerleaders? Facts and Manufactured Home Community Factor
'HUD's Role in Manufactured Housing Not Just Structural, Also for Facilitating More Manufactured Homes' – Exclusive Q&A Specifies 'MHI's Failure' with HUD
'HUD Takes Action To Highlight and Research Land Use, Zoning Reforms' – Declares Manufactured Housing Institute (MHI) – 'HUD Highlighting Promising Reforms;' plus MHVille REITs, Stocks Update
Law Journal, Attorney General Statement on 'Judgement Against Manufactured Home Community Operators for Unfair-Illegal Rental Practices" – Has Momentum Grown for Legal Action vs 'Predators?'
'Production at Lowest Levels in a Decade' but 2023 Outlook 'Optimistic for Texas Manufactured Housing Industry,' says TRERC – Supply Chain, Finance, Report, Analysis; plus MHVille Stocks Update
'Irreparable Harm,' 'Public Interest,' 'Legal Defects,' 'DOE Seeks to Avoid Judicial Review' Cited by MHI-TMHA Attorneys v Dept of Energy – Pleadings and Developments; plus MHVille Stocks Update
'More Department of Energy Outrages Coming for Manufactured Home Industry and Consumers' – Overlooked Facts on EISA Law from Mark Weiss, CEO of MHARR 'Must Read' – plus MHVille Stocks Update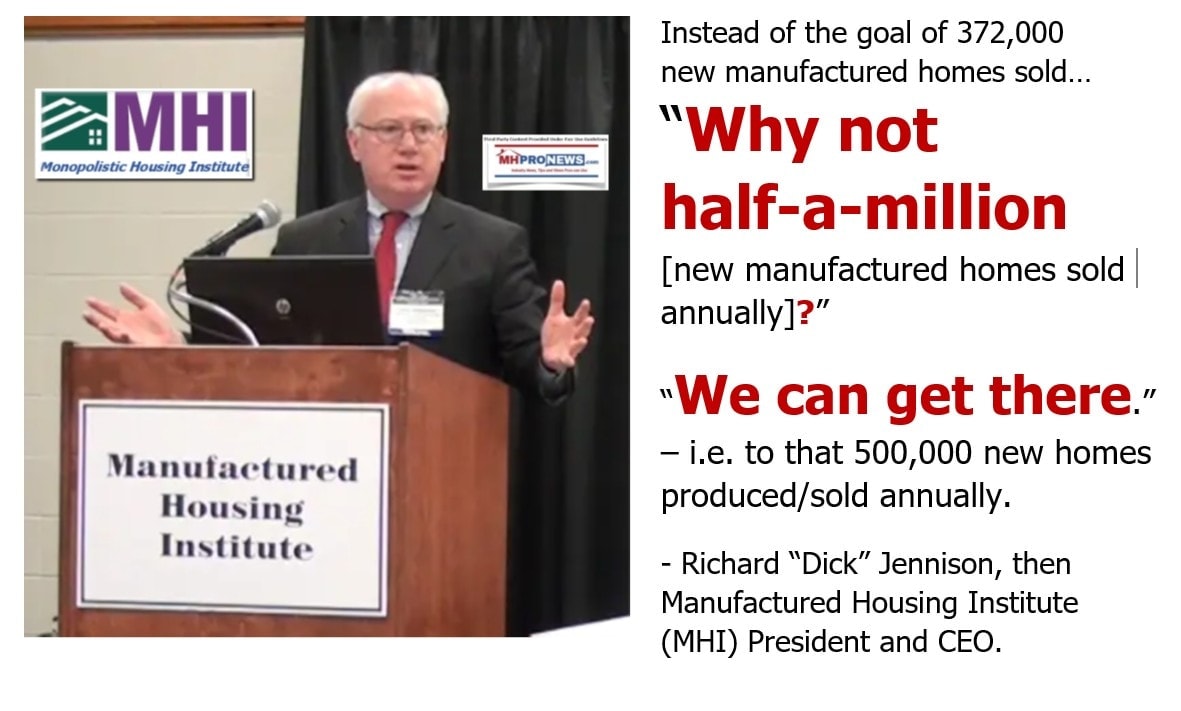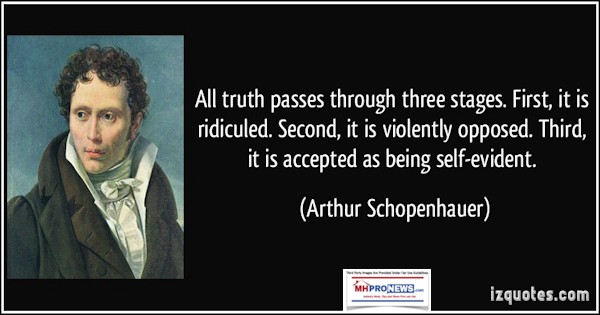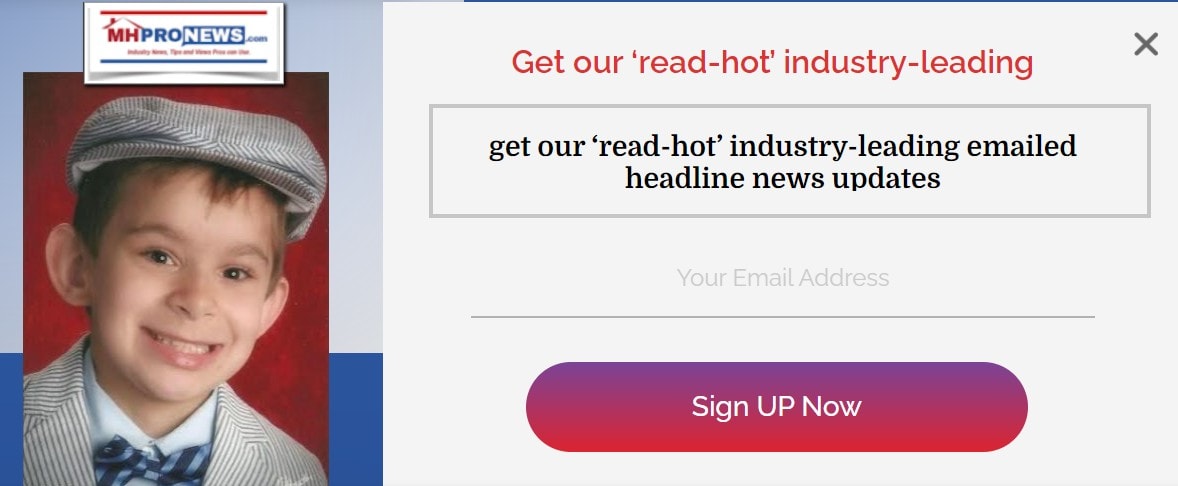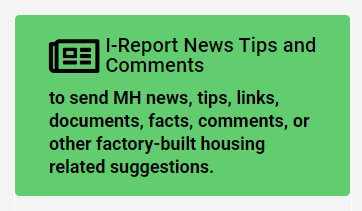 Again, our thanks to free email subscribers and all readers like you, as well as our tipsters/sources, sponsors and God for making and keeping us the runaway number one source for authentic "News through the lens of manufactured homes and factory-built housing" © where "We Provide, You Decide." © ## (Affordable housing, manufactured homes, reports, fact-checks, analysis, and commentary. Third-party images or content are provided under fair use guidelines for media.) (See Related Reports, further below. Text/image boxes often are hot-linked to other reports that can be access by clicking on them.)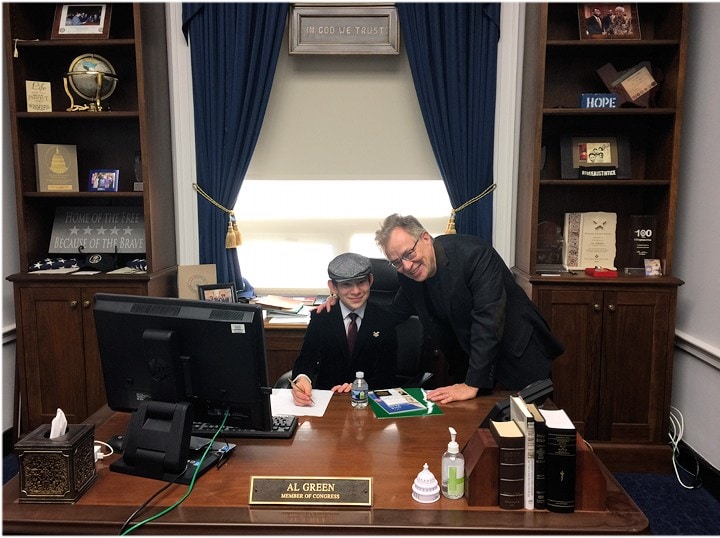 By L.A. "Tony" Kovach – for MHProNews.com.
Tony earned a journalism scholarship and earned numerous awards in history and in manufactured housing.
For example, he earned the prestigious Lottinville Award in history from the University of Oklahoma, where he studied history and business management. He's a managing member and co-founder of LifeStyle Factory Homes, LLC, the parent company to MHProNews, and MHLivingNews.com.
This article reflects the LLC's and/or the writer's position, and may or may not reflect the views of sponsors or supporters.
Connect on LinkedIn: http://www.linkedin.com/in/latonykovach
Related References:
The text/image boxes below are linked to other reports, which can be accessed by clicking on them.
Controversial Biden Housing Plan to 'Improve Equity' Draws Fire from States, Housing Experts – 'More Expensive For People With Good Credit To Buy Houses' Can 'Ravage' Retirement Savings, plus MHMarket Update
'Deception and Misdirection'-MHI Proxy Response to Concerns About "Awards" to BBB D- rated Flagship Communities – 'Facts are Stubborn Things' Commentary; plus Sunday Weekly MHVille Headline Recap
Manufactured Housing Institute 'Urges HUD Address Manufactured Housing in Affirmatively Furthering Fair Housing Rule'–Unpacked Evidence-Views, Tips, MHVille Insights on Manufactured Home Reality
'Trapped' – NBC Spotlights Fannie Mae-Freddie Mac-Fed Roles in 'Making Mobile Homes Less Affordable' Fueling 'Acquisition Spree' as 'New MHC Owners Hike Resident Costs;' plus MHVille Markets Update
Danny Ghorbani – Manufactured Housing's 'Elephant in the Room,' per Prior Manufactured Housing Institute Chair, Exclusive Q&A on Key MHIndustry Issues, plus Sunday Weekly MHVille Headlines Recap
'In the Business World, the Rear-View Mirror is Always Clearer than the Windshield'–Warren Buffett MHVille Leader Showcases Efforts to Renew American Dream; plus Sunday Weekly Headlines Recap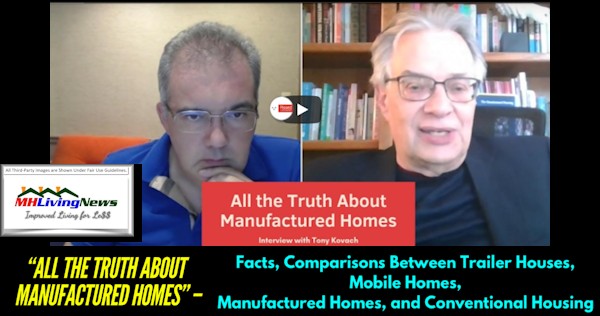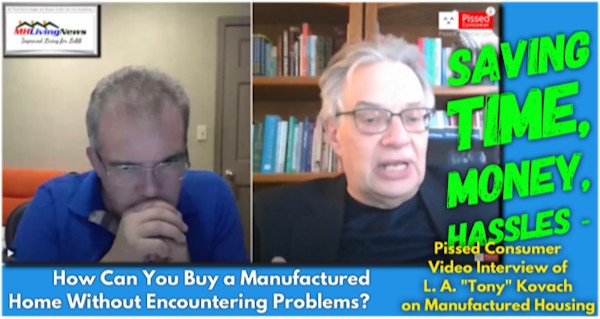 Flagship Communities – Hypocrisy, MHIndustry Corruption? 'Fragmented Industry with High Barriers to Entry and Imbalanced Supply and Demand Dynamics;' Plus Sunday MHVille Weekly Headlines Review
'Affordable Homes for Low Income Must Produce in Factory,' 'Years to Unravel Sabotage,' Grad Students Interest in Manufactured Housing, Factory-Home Solutions; plus Sunday Weekly Headlines Recap
No Kings in America? – John Sherman 'Speaks' to Manufactured Housing