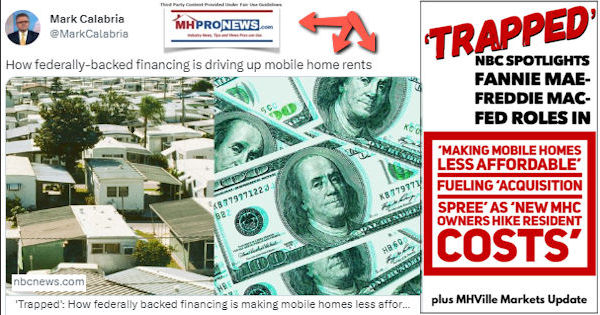 Former Trump Administration official Mark Calabria, Ph.D., posted the tweet below featuring an NBC News report earlier this month terminology-problematically entitled: 'Trapped': How federally backed financing is making mobile homes less affordable." In a flashback, Calabria and then Manufactured Housing Institute (MHI) executive vice president (EVP) Lesli Gooch, Ph.D., met personally as MHI advised their members and readers in an emailed photo op of their Trump era encounter. Despite that meeting with Dr. Gooch, Dr. Calabria's tweet said: "How federally-backed financing is driving up mobile home rents." It is apparently another great job of Gooch and company "raising the profile" of manufactured housing 'in Washington, D.C,' given that there have been no "mobile homes" built in the U.S. since June 15, 1976.
— Theseus 😈 (@AlexanderTheus) April 17, 2023
Flashback insight referenced above.
The caption below the MHI screen capture is the same as what was used by MHProNews back then.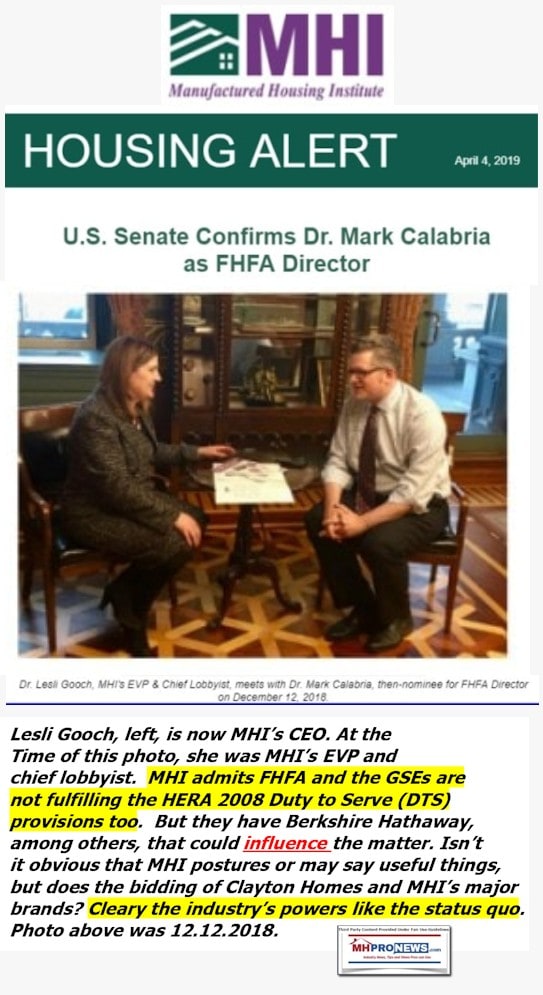 What Calabria didn't mention in his tweet posted above is that he headed up the Federal Housing Finance Administration (FHFA) for the Trump White House. Per that federal agency's website: "FHFA is responsible for ensuring that Fannie Mae and Freddie Mac operate in a safe and sound manner. This is done through prudential supervision and regulation." The FHFA also says under the heading: "Managing the Conservatorships of Fannie Mae and Freddie Mac" that: "In addition to prudential supervision and regulation of Fannie Mae and Freddie Mac, since 2008 FHFA has overseen the conservatorships of the Enterprises, in part through a scorecard that FHFA releases annually."
The left-leaning NBC News report is one of several mainstream media and other research sources that have made similar observations. Namely, that federal policy at the FHFA, under President Barack H. Obama, President Donald J. Trump, and Joseph R. "Joe" Biden, have de facto allowed an increasing volume of loans to be made under the Duty to Serve (DTS) Manufactured Housing legal premise that problematically made manufactured home living in hundreds of communities less affordable. The screen capture below is from the FHFA February 2022 pitch deck for their Duty to Serve (DTS) program overview.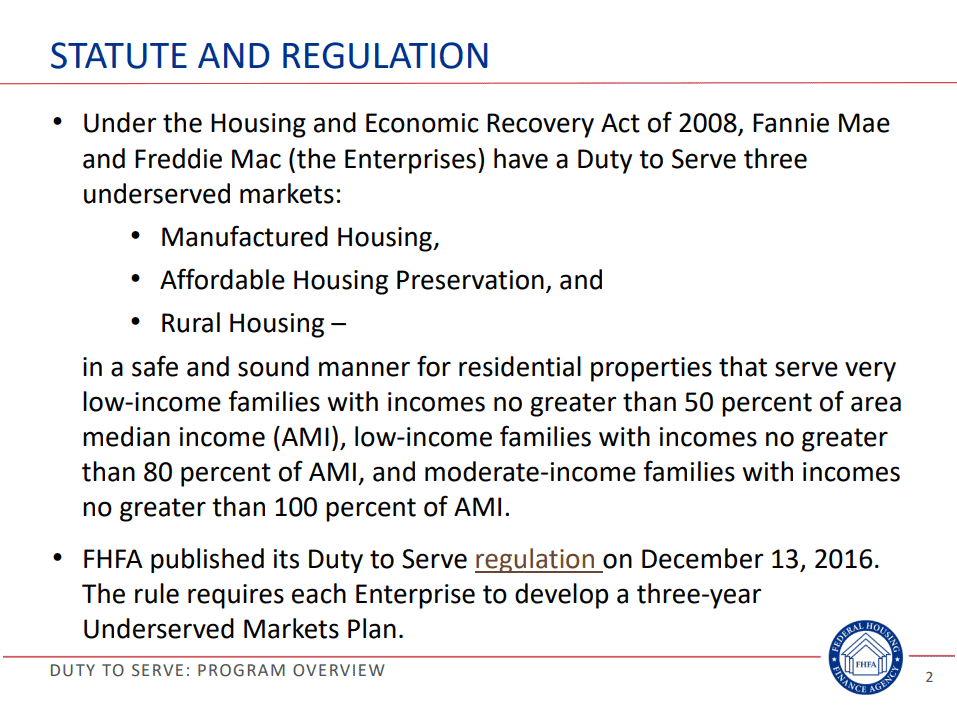 The response to Dr. Calabria's tweet by @AlexanderTheus also plays on a problematic stereotypes. Nevertheless, it has a note of truth to it in claiming that communities are often being purchase by consolidators at low interest rates from a Government Sponsored Enterprise (GSE – e.g.: Fannie Mae or Freddie Mac). Often even before cosmetic or serious upgrades are performed, the site fees are often hikes sharply, and new leases with pages of rules and regulations are laid on residents that add fines, fees, and conditions that didn't exist before with their prior management.
The Housing and Economic Recovery Act (HERA) s designed as Public Law (PL) 110–289—JULY 30, 2008. That law from the official Congress.gov website is linked here. Converting the PDF of that 261 page document into MS WORD and then performing a WORD search on this date revealed 15 results for the term "manufactured housing." There were NO results for the search term "mobile home." Per that MS WORD document search, the first of those 15 references to "manufactured housing" is found on page 4 of the PDF of HERA 2008. It says under the subheading:
TITLE I—FHA MODERNIZATION ACT OF 2008
The second "manufactured housing" reference is under: "Subtitle B—Manufactured Housing Loan Modernization." So, while some in the manufactured home industry think about HERA as being solely about the "Enterprises" or Government Sponsored Enterprises (GSEs) of Fannie Mae and Freddie Mac, it also implemented changes in FHA loans too. For example, the loan limits and down payment on manufactured housing secured loans were increased by HERA.
It is worth recalling that HERA, as Investopedia puts it, "The Housing and Economic Recovery Act (HERA) of 2008 was a piece of financial reform legislation passed by Congress in response to the subprime mortgage crisis." There were already federal regulations and regulatory structures in place before the subprime mortgage crisis. Those pre-HERA structures obviously didn't succeed in heading off the biggest financial crisis up to that point in the 21st century. The so-called "Great Recession" involved several factors, including problematic lending, an obviously failed federal regulatory systems, and apparently failed Congressional oversight.
Congress enacted H.R.3221 which when passed became Public Law (PL) 110-289 (HERA 2008). Title I of that law included, but was not limited to, the following elements.
TITLE I–REFORM OF REGULATION OF ENTERPRISES (e.g.: Fannie Mae, Freddie Mac)
Subtitle A–Improvement of Safety and Soundness Supervision
Subtitle B–Improvement of Mission Supervision
So, both the "safety and soundness" supervision and the "mission supervision" were supposed to be reformed, meaning, modified and changed – presumably for the better. As to Dr. Calabria's and his  current successor's role in that process, FHFA Director Sandra L. Thompson, they have specific legislative duties in this process.
On page 12 of the download of PL 110-289 (HERA 2008) is this:
''SEC. 1313. DUTIES AND AUTHORITIES OF DIRECTOR.
''(a) DUTIES.—
''(1) PRINCIPAL DUTIES.—The principal duties of the Director
shall be—
''(A) to oversee the prudential operations of each regulated entity; and
Part of PL 110-289 (HERA) says the following with respect to the Duty to Serve (DTS) manufactured housing.
''(a) DUTY TO SERVE UNDERSERVED MARKETS.—
''(1) DUTY.—To increase the liquidity of mortgage investments and improve the distribution of investment capital available for mortgage financing for underserved markets, each enterprise shall provide leadership to the market in developing loan products and flexible underwriting guidelines to facilitate a secondary market for mortgages for very low-, low-, and moderate-income families with respect to the following underserved markets:
''(A) MANUFACTURED HOUSING.—The enterprise shall develop loan products and flexible underwriting guidelines to facilitate a secondary market for mortgages on manufactured homes for very low-, low-, and moderate-income families.
Also included was affordable housing preservation and the duty to serve rural markets. Quoting some relevant parts of HERA:
''(B) AFFORDABLE HOUSING PRESERVATION.—The enterprise shall develop loan products and flexible underwriting guidelines to facilitate a secondary market to preserve housing affordable to very low-, low-, and moderate-income families, including housing projects subsidized under…
(C) RURAL MARKETS.—The enterprise shall develop loan products and flexible underwriting guidelines to facilitate a secondary market for mortgages on housing for very low-, and low-, and moderate-income families in rural areas.''; and
Manufactured housing was thus first up (A). But (A) didn't limit manufactured housing from also being considered under (B) "affordable housing preservation and (C) "rural markets." The prior and current directors of the FHFA are required by law to not only be aware of these facts, they are supposed to insure that these facts are being properly implemented. That's their duty and responsibility under the law.
With that background is the following.
Part I of today's report will spotlight insights from the NBC report linked here and amplified by sources such as Yahoo News, Flipboard, and News Break. 
Part II will provide additional information with more MHProNews analysis and commentary.
Part III is our Daily Business News on MHProNews macro- and manufactured home industry-connected stocks, real estate investment trusts (REITs), and the time saving insight supporting left (CNN)-right (Newsmax) headline recap.
Part I – NBC Report on GSEs Impact on MHCs, Plus…
Shannon Pettypiece for NBC News wrote on April 16, 2023 under the headline: "'Trapped': How federally backed financing is making mobile homes less affordable" with the subheading: "Low-interest loans supported by Fannie Mae and Freddie Mac have fueled a spree of acquisitions of mobile home parks where new owners drive up costs for longtime residents."
Pettypiece opened with this: "It wasn't long after residents of a mobile home senior community in Ohio were told that their property had been bought by a new owner, with the help of financing from federally backed Freddie Mac, that their costs started going up." 66-year-old Social Security recipient Kathy Bebout's community,  Navarre Village, "went up $55 last fall to $425 a month — far from the $5- to $10-a-year increases she was accustomed to under the family that previously owned the property." "Everyone's scared about what's going to happen, what's going to come. It has caused so much stress," said Bebout per NBC. "These poor people in here, they're not buying food or eating properly, everyone looks terrible, they're so worried about the rent." The report said that the buyer of Bebout's community was: "Legacy Communities LLC, which runs dozens of mobile home parks across the country. The loan for the acquisition was financed by Freddie Mac…"
MHProNews has previously reported on Legacy Communities at this link here.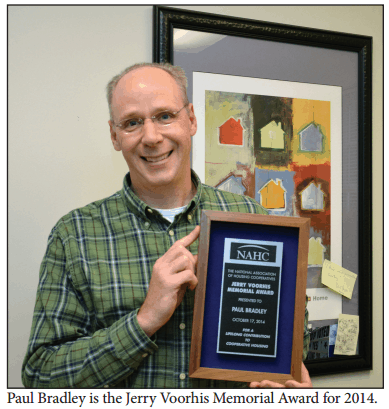 "Fannie and Freddie have added fuel to the fire. There's just no question," said Paul Bradley, president of ROC USA, which says they convert several commercially owned manufactured home communities a year into resident owned communities (ROCs) by arranging for the purchase and financing at competitive terms.
Per Bradley, "This competition to provide the lowest cost loans to park investors and their grab for market share helped fuel this."
Sen. Sherrod Brown (OH-D), per NBC, said: "These sudden and drastic rent increases are putting Ohio seniors, many of whom live on fixed incomes, in an impossible situation — they can't afford the rent increases, and they aren't able to sell their homes because few potential buyers can afford Legacy Communities' new lot rents."
Brown's remarks on the concerns related to Legacy Communities and private equity were the focus of an MHProNews report posted on December 21, 2022. More on that further below.
Quoting Pettypiece's narrative for NBC:

But a Democratic Senate staffer who looked into the issue said there didn't appear to be any violation of the existing laws or any clear legislative efforts on the table to strengthen requirements.
Fannie Mae financed $11.5 billion in manufacturing housing community loans between 2020 and 2022, and since getting into the manufactured housing business in 2000 it has financed more than 1,700 loans covering 750,000 manufactured housing sites, a Fannie Mae spokesperson said. Freddie Mac has purchased the loans for about 1,400 manufactured housing communities since it got into the business in 2014, which accounts for about 3% of the communities nationwide.
"Fannie Mae has been a leading source of liquidity for Manufactured Housing Communities since the early 2000s, and we remain committed to preserving and advancing this vital sector of the housing market," a Fannie Mae official said in a statement noting that it had no authority over rent decisions by the owner."
What the NBC report doesn't explicitly mention is that liquidity for land-lease communities was good prior to the GSEs increased involvement in the sector. Insurance companies and other lenders have, and sometimes still do, provide capital for manufactured home purchases and refinancing.  That said, even an unnamed Freddie Mac spokesperson implied as much, further below. That noted, returning to the Pettypiece interesting narrative for NBC. 

Freddie and Fannie officials said they have been taking steps in recent years to help protect residents of mobile home communities as part of their federal mandate to preserve affordable housing. Starting in 2019, the entities began offering a discounted interest rate to borrowers who put specific tenant protections in place for their residents and since 2022, they have required all borrowers to put those protections in place.
The protections require community owners to provide 30 days written notice of rent increases, a five-day grace period for rent payments, 60 days' notice before selling the community to a new owner, and measures to make it easier for people to sell their properties, such as the right to post a for-sale sign on their property.
But those protections don't have any limits on how much a new owner can increase rents, and housing advocates say they provide the bare minimum projections for mobile-home owners and should go further.
"It feels ironic in a very unfortunate way that Fannie and Freddie are actually, by purchasing these loans, they're making this problem worse not better," said Jim Gray, a nonresident senior fellow at the Lincoln Institute of Land Policy. "What Fannie and Freddie really should be doing is making it easier to help people buy their own community and yet what they're doing is they're helping these predatory investors buy communities."
It ought to be noted that Jim Gray worked for Calabria at the FHFA. More on that further below. That noted, back to NBC's report.
"Though putting too many restrictions in place for borrowers could drive them to other lenders outside Fannie and Freddie's network, where there would then be no tenant protections required, said a Freddie Mac spokesperson.
"We pioneered a requirement that all manufactured housing community loans we purchase include tenant protections, and we worked for years to get the market to adopt the standards," the spokesperson said in a statement. "Freddie Mac is committed to protecting as many MHC tenants as we can. It's a balancing act, as owner/operators can always opt for financing that does not include our protections."
Aside from limits on rent increases, housing advocates say one thing the firms could do is support mortgages for people looking to buy a manufactured home and make it easier for residents trying to buy their mobile home community to get financing via Fannie or Freddie, allowing them to benefit from the lower interest rates they provide.
Fannie and Freddie "are the most affordable market rate debt for manufactured housing communities," said Bradley of ROC USA. "So it's off the table for co-ops, but it's what industry is leveraging left and right."
In the meantime, residents at Navarre Village said they were anxiously awaiting what would come next for their community.
"The rumors are just flying and it's sad," said DiSabatino. "Here are these seniors that really have no idea what they're going to do or what they can do or how long they can afford to live here." ##
Part II Additional Information with More MHProNews Analysis and Commentary in Brief
The broad brush of what Pettypiece wrote for NBC has been reported by others in mainstream media. Some examples are linked below.
"Trailer Parks" "Feudal System"-Sheelah Kolhatkar "What Happens When Investment Firms Acquire Trailer Parks" New Yorker-Manufactured Home Pro Fact Check, Analysis
'Owning Mobile Home Can Leave You on Shaky Ground' 'Mobile Home Park Residents Sue Corp Landlord' per NPR, Other Media Spotlight Suits v Manufactured Home Communities; plus MH REIT-Stocks Update
New York Times – 'Mobile Home Parks Attract Investors' 'Threatening Stability' of Affordable Manufactured Home Living, Manufactured Housing Institute Member Firms Named, Laws Probed; Plus MHMarkets
NPR Investigation "How the Government Helps Investors Buy Mobile Home Parks, Raise Rent and Evict People" – Facts, Hits & Miss Analysis – plus Sunday Weekly Manufactured Home Headlines Recap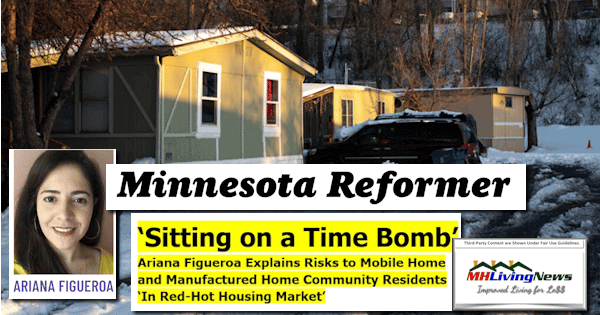 Reports like the ones above often lead to public officials probing, proposing legislation, or taking other legal action to curb the claims of abuses.
Law Journal, Attorney General Statement on 'Judgement Against Manufactured Home Community Operators for Unfair-Illegal Rental Practices" – Has Momentum Grown for Legal Action vs 'Predators?'
'Keeping Our Mobile Home Communities Safe, Well-Maintained, Affordable is Vital' – Attorney General Wm Tong Testimony, More Follow Probe of Sun Communities (SUI) Issue–Latest MHI Member Scandal?
"Deceptive Consumer Sales" Violation Manufactured Home Case Win by Attorney General Curtis Hill Announced
MH Community Resident Claims 'Intrusive and Scary' Attorney General Says 'Draconian' as AG Keith Ellison's Officials Intervene with 'Mobile Home Park's' New Owners, Will Other States Follow?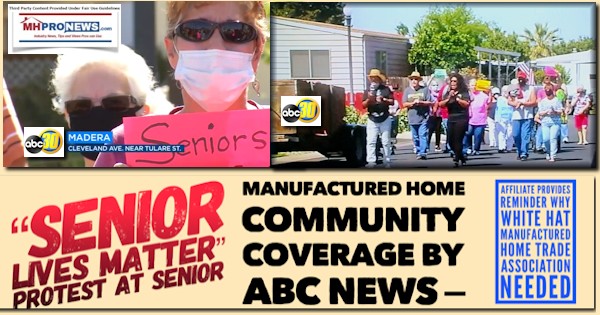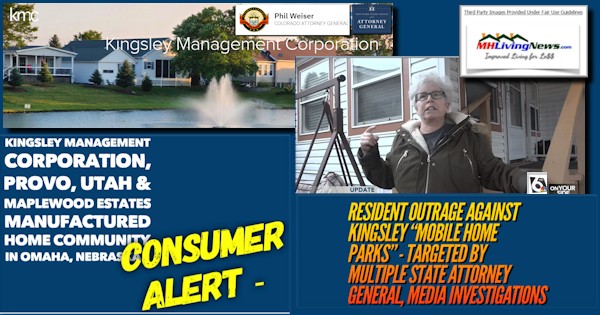 A routine pattern is discernable. Several of the firms that are involved in these troubling cases are members of MHI. Others may be members of a state association which may be deemed by MHI to be a 'state affiliate.  Once might think that MHI would actually care about their so-called Code of Ethical Conduct, which claims to have and enforce standards for behavior for members.  But as the facts and evidence-based allegations in the articles linked below reflect, there is no known case of MHI or their National Communities Council (NCC) division acting to remove a member for violations of their Code of Ethical Conduct. MHI, and their associated attorneys, have declined to respond to those or other previously reported concerns. So, the content of the linked articles stands unchallenged – days, weeks, months or years – after those various reports and expert analysis were published.  That includes the one linked below.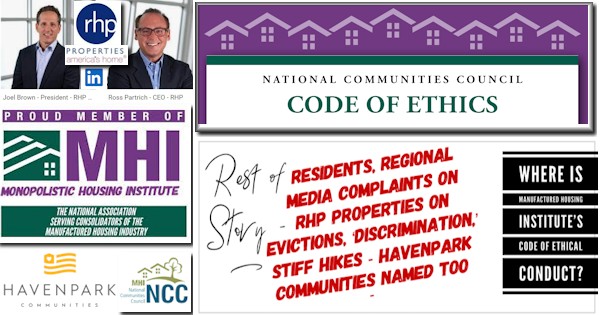 But not only is there no known enforcement action against an MHI member that has been credibly accused of "predatory" or problematic behavior. MHI has gone further and has given "awards" to some of those members. For instance. MHI, Flagship, and related attorneys were asked about the report below. So far, no response has been forthcoming.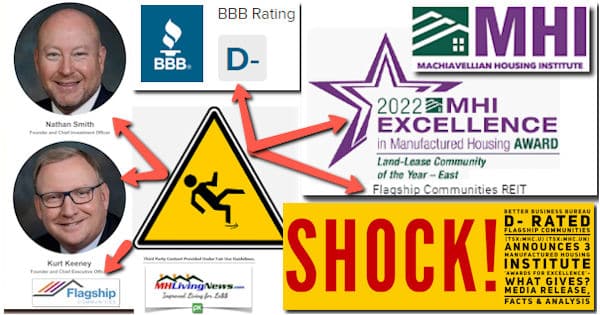 As a relevant disclosure and aside to Dr. Calabria's tweet of the NBC News report, shown above, he and FHFA officials were present during the various parts of the Listening Session reported below held in December of 2019. A live listening session in Washington, D.C. preceded the virtual one.
Notice: the graphic below can be expanded to a larger size.
See the instructions below the graphic below or click the image and follow the prompts.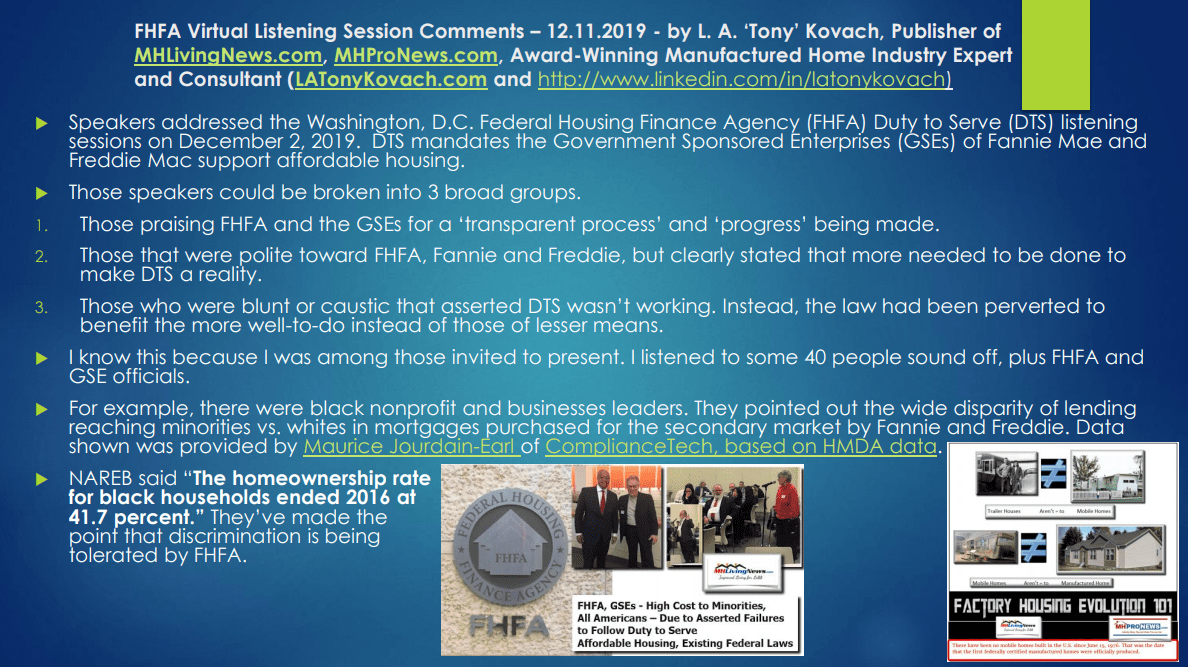 As another relevant flashback is the following. Dr. Calabria looks a bit nervous as he smiled, doesn't he?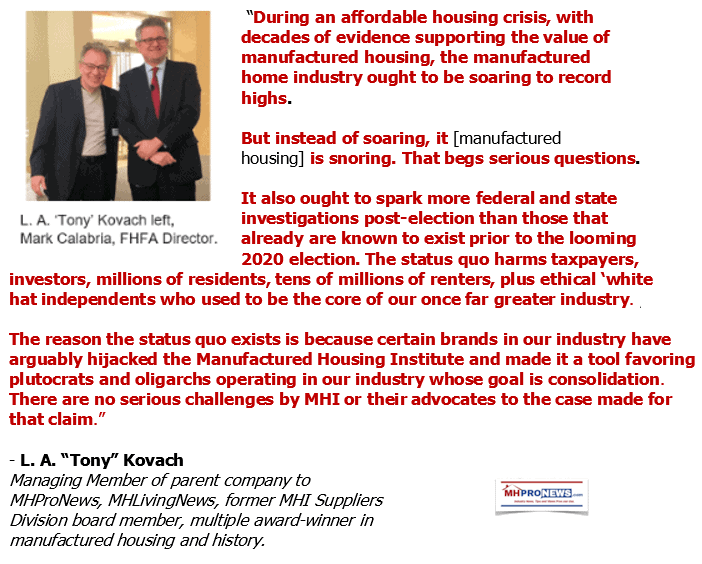 On page 2 of that listening session PowerPoint is this statement: "DTS had been perverted, diverted and turned on its head." Officials from Fannie Mae, Freddie Mac, and the FHFA were present. So too were staff for MHI. Recalling from the law, referenced in the preface above, that DTS was supposed to promote the mission of supporting loans for low income manufactured homebuyers. Specifically: "The enterprise [i.e.: Fannie Mae, Freddie Mac] shall develop loan products and flexible underwriting guidelines to facilitate a secondary market for mortgages on manufactured homes for very low-, low-, and moderate-income families." (Emphasis added). DTS enactment is almost 15 years in the rearview mirror. Imagine, as an analogy, if DOE were to give manufactured housing 15 years after they promulgated their so-called final rural last year before HUD Code manufactured home builders would be required to do what their regulations mandate?
But another item that NBC and others might have mentioned or emphasized is this. Jim Gray was noted by NBC. Gray previously worked in the DTS program.  He now works for the Lincoln Institute for Land Policy. Per their website: "As a nonresident senior fellow based in Washington, DC, Jim focuses on national affordable housing policy. From 2015 through September 2020, Jim helped create and lead the Duty to Serve Program at the Federal Housing Finance Agency, the regulator of Fannie Mae and Freddie Mac." What did Gray say as part of his exit remarks from the FHFA?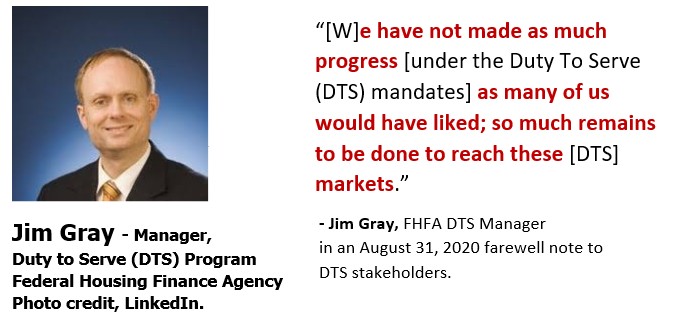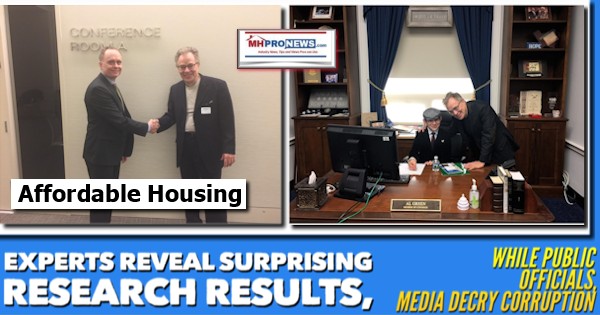 Much of mainstream media followed those remarks by this writer to the 2019 listen session referenced above by months or years. Regular readers of MHLivingNews and MHProNews were made aware of these issues well in advance of the controversies reported by mainstream media by NBC or others cited herein above. Meaning, the industry could have headed some of those cited controversies off. If MHI were at all sincere in their desire to 'enforce' (instead of giving awards to) their "code of ethical conduct" against those who engaged in evidence-based allegations of predatory practices, they have no good excuses, do they? Is it any surprise that neither MHI, nor their attorneys, respond to inquiries in the face of years of mounting evidence of their apparent failure to do what they claim?
John Kenneth Galbraith…
It is useful to recall a keen insight on federal regulators made years ago by John Kenneth Galbraith. Per GoodReads: "Moreover, regulatory bodies, like the people who comprise them, have a marked life cycle. In youth they are vigorous, aggressive, evangelistic, and even intolerant. Later they mellow, and in old age—after a matter of ten or fifteen years—they become, with some exceptions, either an arm of the industry they are regulating or senile."
It isn't just regulators that fail. It is also apparently some of the so-called advocates for manufactured housing. Untold thousands of independent manufactured home retailers have vanished while MHI claims to be working for the interests of "all segments" of the industry. Who says? How about Kevin Clayton, speaking on behalf of MHI to Congress during a field hearing.
Notice: the graphic below can be expanded to a larger size.
See the instructions below the graphic below or click the image and follow the prompts.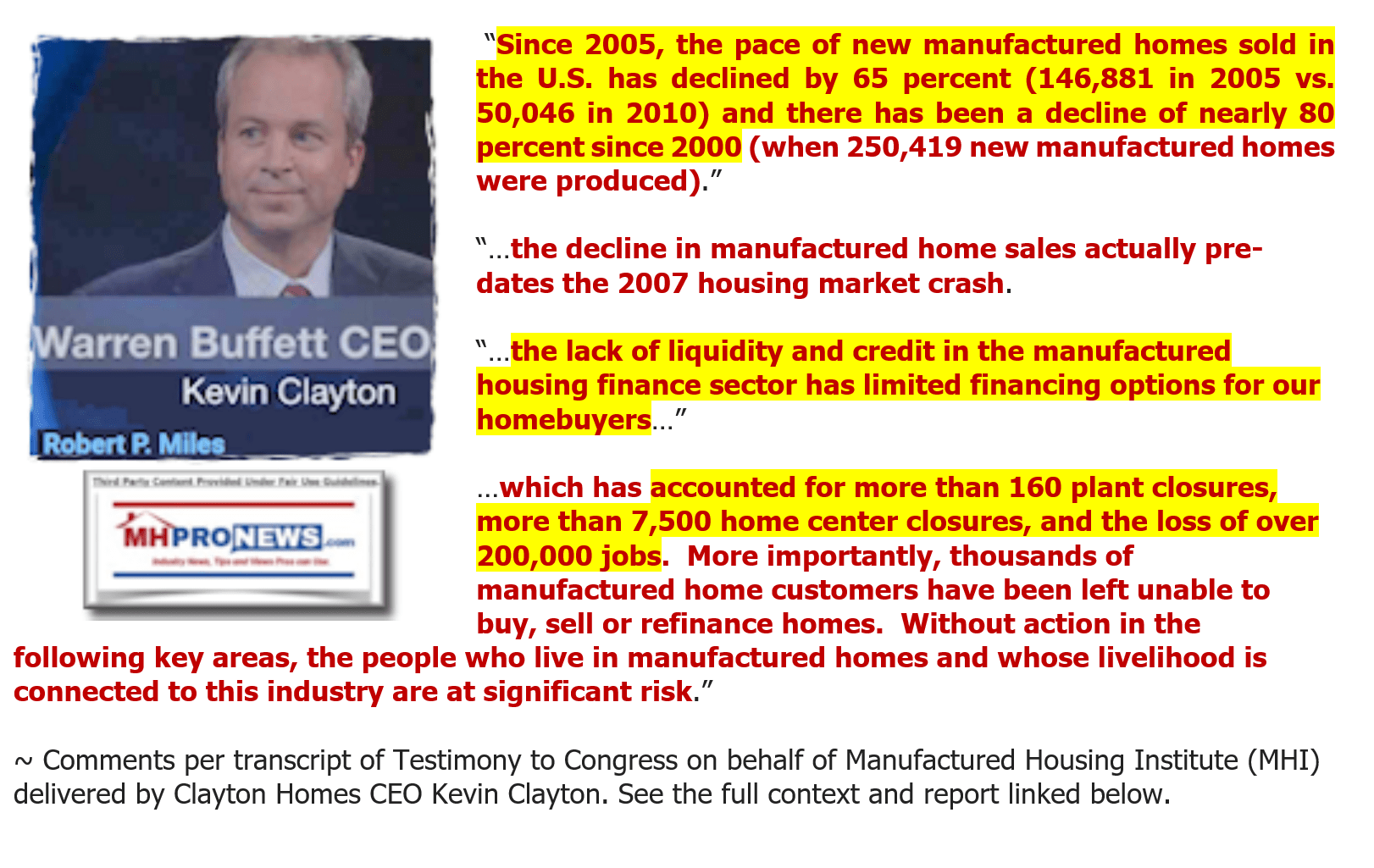 In contrast to the revolving door, the Iron Triangle, or the apparently corrupt crony capitalism (vs. honorable free enterprise) that seems to have infested much of what happens in the Washington, D.C. metro area, there are those who authentically do what their job titles suggest they should be doing. Some use pretty sounding, but demonstrably void of performance weasel words, while others walk their talk.
Manufactured Housing April Updates for all 50 States for February 2023 Troubling Facts Paired with 'Weasel Words' by Manufactured Home Industry 'Leaders' – Data, Examples, Viewpoints, and Analysis
Manufactured Housing Association Presses HUD for Specific Inclusion of HUD-Regulated Manufactured Homes in New Affirmatively Furthering Fair Housing (AFFH) Rule; plus MHVille Markets Update
It is difficult to intelligently deny that manufactured housing is underperforming when conventional housing – even in this higher cost mortgage environment than was true just a couple of years ago – are outperforming affordable manufactured housing.  The leaders of the various organizations named are mute in the face of the evidence compiled in reports like the one linked below.
New U.S. Conventional Housing Nears 450K Average as Sales Up in March 2023 vs Manufactured Housing's Reported Dive – Added Facts, Opportunities, Obstacles, MHMedia Views – plus MHVille Market Update
This report began by observing that Dr. Calabria, who had met with MHI's Dr. Gooch, called manufactured homes "mobile homes." Will we keep hearing or seeing MHI make the absurd claim that they are 'elevating the industry's profile' in Washington, D.C. or nationally? Or will MHI, their corporate and staff leaders, finally be too embarrassed by the factual reality that the manufactured home industry is demonstrably undeforming as measured by actual sales and production? It seems ever more apparent that MHI's goal, from the perspective of their dominating brands is to give some measure of cover for the ongoing consolidation of what remains of the independent operators in MHVille.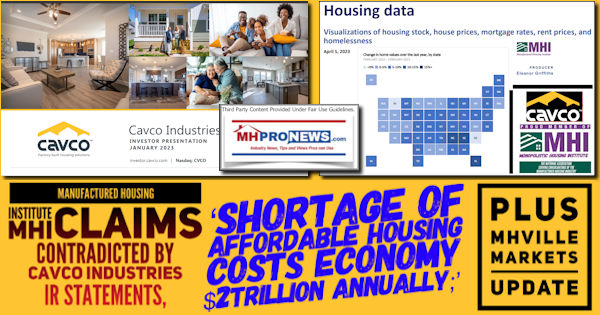 That said, some special reports are pending. One may be ready for publication by this weekend. Another should be ready by Monday. Stay tuned for those and to learn more about these issues, see the linked and related reports. As a closing segue, but one relevant to this paragraph, last year the typical MHProNews reader followed links like those herein hundreds of thousands of times. In fact, per third-party Webalizer data previously report, the typical visitor to this platform in 2022 had some 10.75 pageviews per visit on MHProNews. That's roughly 3 times the engagement as measured by pageviews per visitor as the giant CNN website has, per SimilarWeb data. To reverse the troubling 21st century trends in manufactured housing documented here and on MHLivingNews in the 21st century, one needs solid information. To reverse the hamstrung status quo in MHVille, one must be armed with the understanding and the courage to act. Because facts and proper reasoning don't lie. It is people with a sly agenda that aim to deceive. A rut has been called an open-ended grave and our industry is in a vexing but escapable rut that can and ought to be abandoned in favor of robust, profitable, and sustainable growth. ##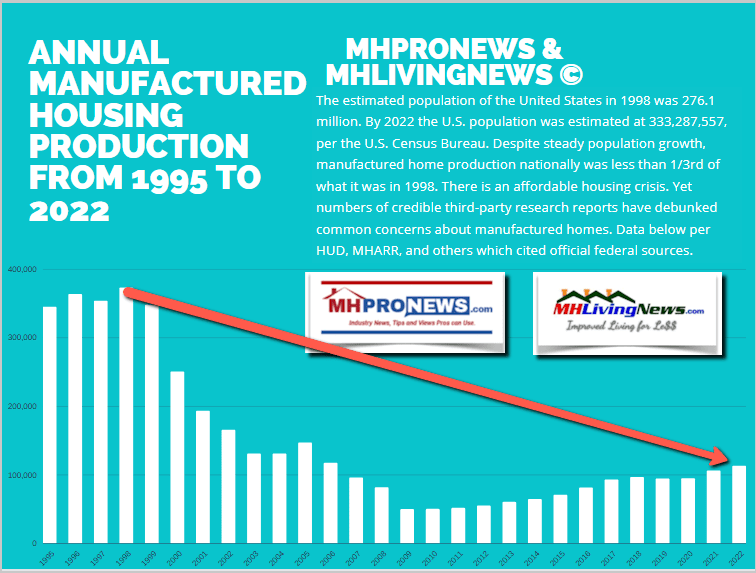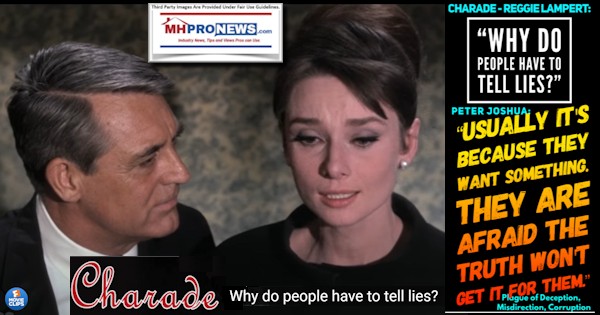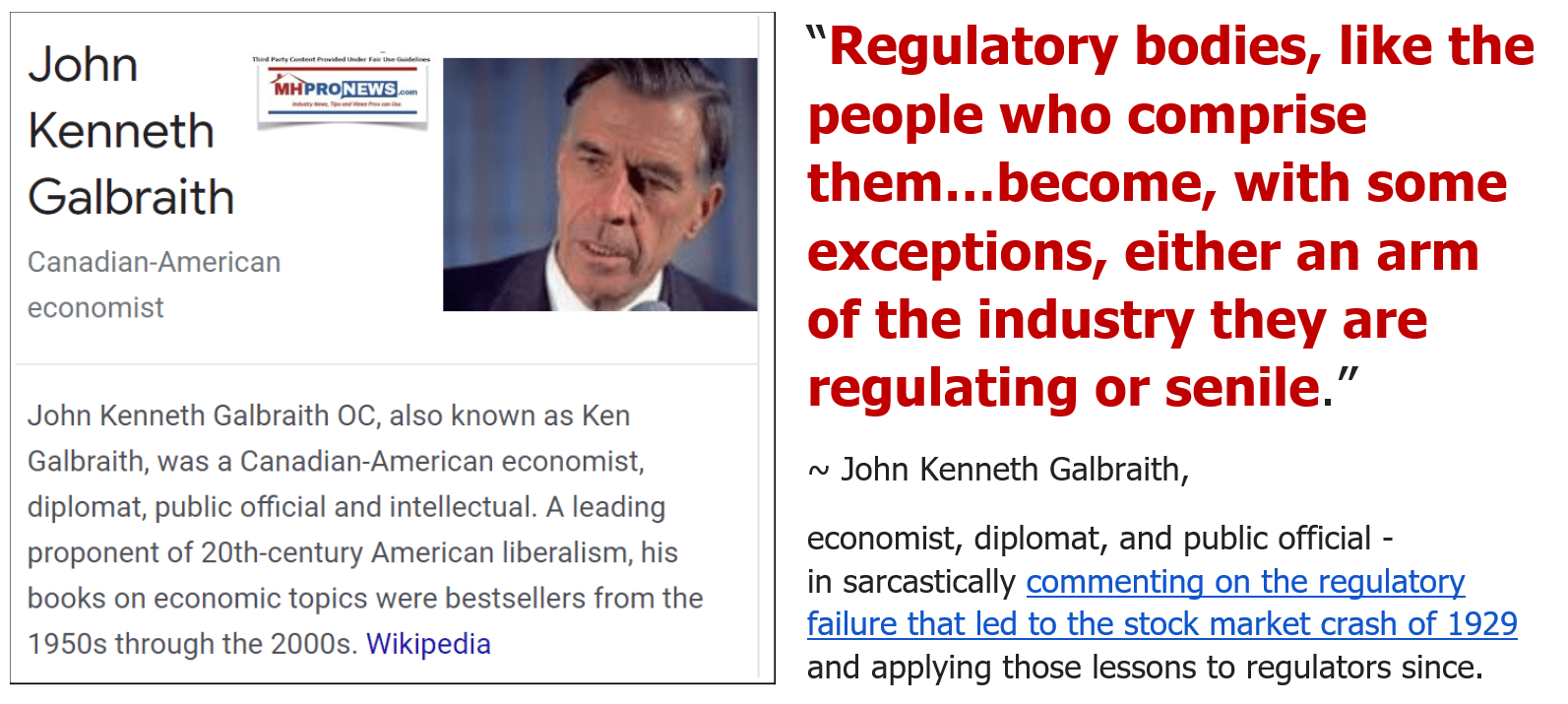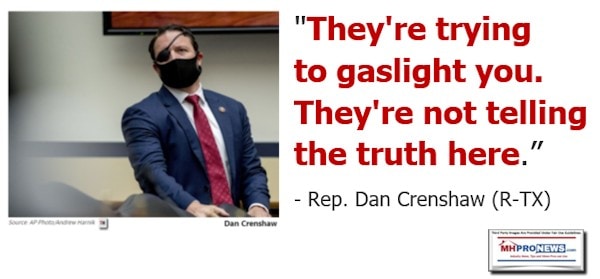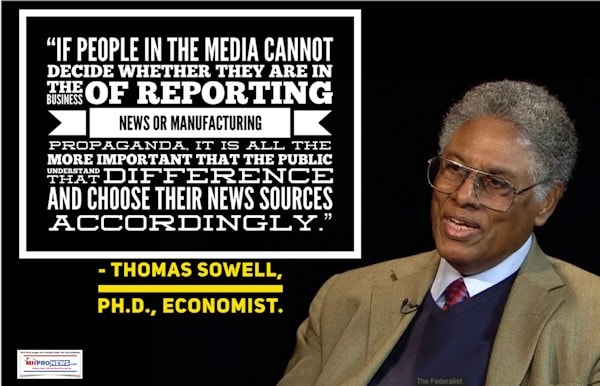 Part III. Daily Business News on MHProNews Markets Segment
The modifications of our prior Daily Business News on MHProNews format of the recap of yesterday evening's market report are provided below. It still includes our signature left (CNN Business) and right (Newsmax) 'market moving' headlines. The macro market moves graphics will provide context and comparisons for those invested in or tracking manufactured housing connected equities.
In minutes a day readers can get a good sense of significant or major events while keeping up with the trends that are impacting manufactured housing connected investing.
Reminder: several of the graphics on MHProNews can be opened into a larger size. For instance: click the image and follow the prompts in your browser or device to OPEN In a New Window. Then, in several browsers/devices you can click the image and increase the size. Use the 'x out' (close window) escape or back key to return.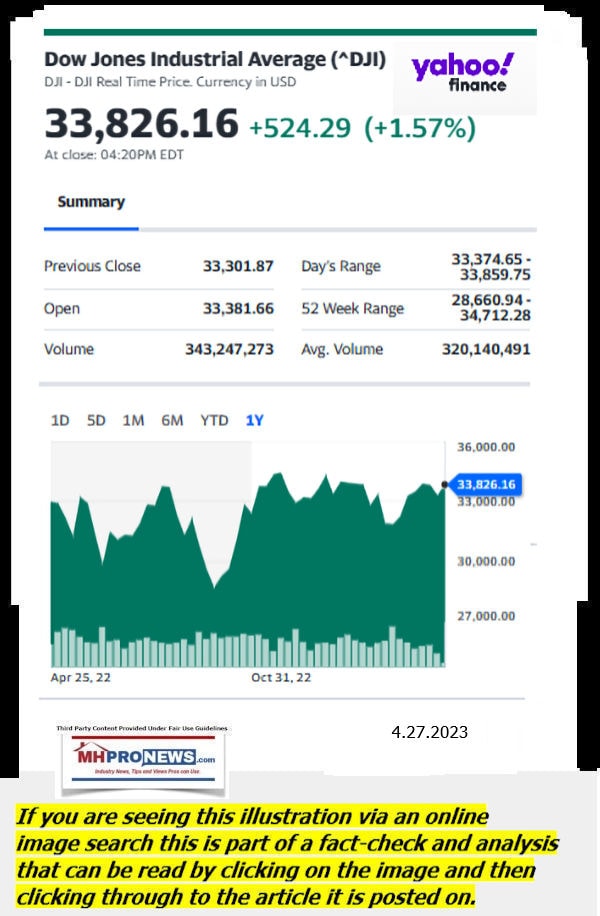 Headlines from left-of-center CNN Business – from the evening of 4.27.2023 
Stocks climb
A view outside the New York Stock Exchange during the celebration the final season of "The Marvelous Mrs. Maisel" on April 14, 2023 in New York City.
The Dow notches its best gain since January after a slew of strong earnings from Big Tech
Here's what the SVB report will (and won't) include, according to top former Fed official
Here's where you can use Bed Bath & Beyond coupons now
Gap's massive job cuts will save $300 million
You can make your Mercedes EV go faster for $60 a month
Mortgage rates tick up for the second week in a row
Southwest posts record revenue despite holiday meltdown
Barclays and Deutsche Bank defy banking jitters with strong profits
The US economy grew at a much slower pace in the first quarter
Federal appeals court tosses state antitrust suit seeking to break up Meta
Consultancies are coming off a pandemic boom. Are they still worth hiring?
Vice Media cancels its flagship 'Vice News Tonight' program as it makes 'painful' layoffs and restructures the company
Snapchat's new AI chatbot is already raising alarms among teens and parents
Pending home sales fell last month for the first time since November
John King passes 'Inside Politics' torch to Dana Bash as he takes on a new assignment at CNN
American living standards are on the line in the debt ceiling drama
How Elon Musk upended Twitter and his own reputation in 6 months as CEO
Here's what we know about First Republic Bank
Europe's top real estate sector hit as office sales plummet
Changes are coming to some mortgage fees next month
Disney has a 'strong case' against DeSantis over his 'retaliatory campaign,' First Amendment experts say
2023 layoff tracker: The latest on which companies have announced job cuts
Tucker Carlson breaks his silence but does not address his departure from Fox News
Notice: the graphic below can be expanded to a larger size.
See the instructions below the graphic below or click the image and follow the prompts.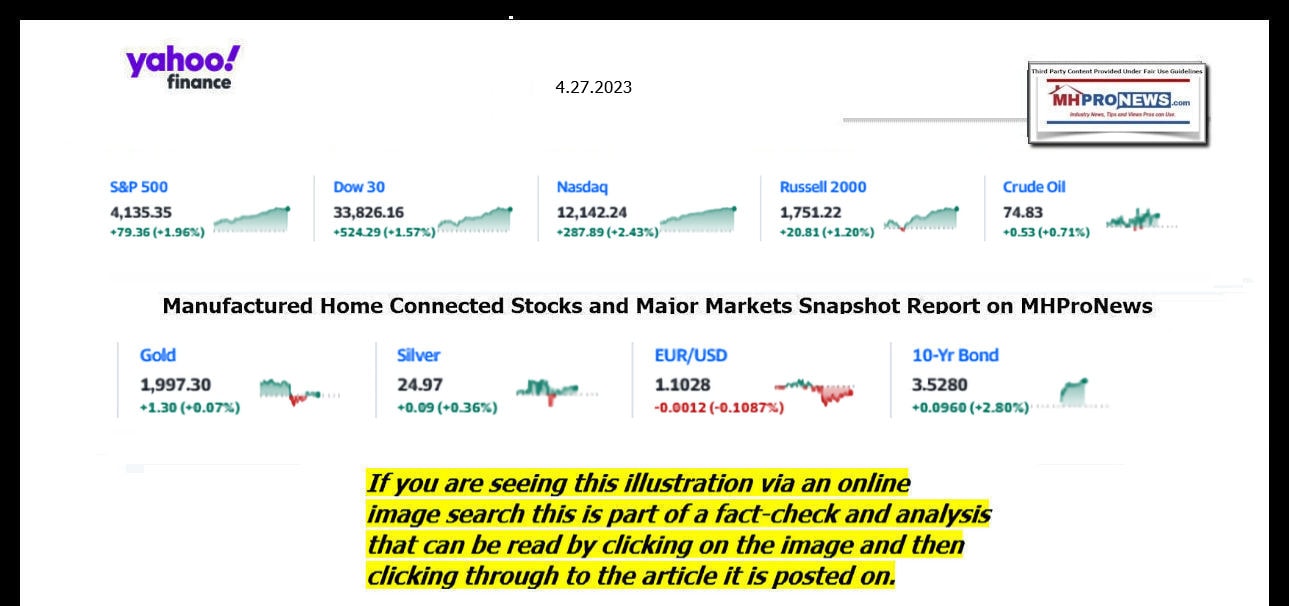 Headlines from right-of-center Newsmax 4.27.2023
Comer to Newsmax: Probe Could Bring a Biden Impeachment
Ukraine Official: 'We Hope China Stays Neutral'
Comer: Probe Could Bring Impeachment | video
Top Ukrainian: 'We Hope China Stays Neutral' | video
Roger Stone: DeSantis Won't Fight 'Deep State' | video
Tuberville: 'Crime' What Fox Did, I'm Watching Newsmax Now | video
Bill Barr: Hunter Biden Intel Letter 'A Political Stunt' | video
Wenstrup: CDC, Teachers Union Closed Schools | video
Ron Johnson: Biden Destroying US | video
Ramaswamy: 'Feel Pretty Good' About Lemon Ouster | video
Newsfront
Florida Gov. DeSantis Says Disney Lawsuit Is Political
Florida Gov. Ron DeSantis on Thursday shrugged off Disney's lawsuit against him as politically motivated, and said that it was time for the iconic company to stop enjoying favorable treatment in his state… [Full Story]
WH: Americans Should Exit Sudan Within 24-48 Hours
The situation in Sudan could worsen at any moment and Americans [Full Story]
Tucker Carlson Releases Video: Hints at Fox's Dishonesty
Expelled Fox News host Tucker Carlson released a video Wednesday [Full Story]
Related
Tuberville to Newsmax: 'Crime' What Murdoch Family Is Doing |video
Giuliani to Newsmax: Fox 'Moving to the Middle' Before Firing Carlson |video
Report: Carlson's Combativeness Prompted Ousting
Jedediah Bila to Newsmax: Carlson's Firing Likely Editorial Dispute
Guilfoyle to Newsmax: Carlson's Exit From Fox Loss for America |video
Murdoch's SkyNews Australia: Tucker Carlson Thought He Was Bigger Than Fox
Greene to Newsmax: Fox Caved to Woke Mob on Carlson |video
Jason Miller to Newsmax: Carlson Firing 'Bad' for Democracy
Carlson Video Exceeds 60M Views in Less Than 24 Hours
Tucker Carlson's two-minute video posted on Twitter containing his [Full Story]
Ukraine Invites Pope, Seeks Help on Deported Children
Ukraine's prime minister said on Thursday he had invited Pope Francis [Full Story]
Related
Russia's Wagner Chief: Just Joking About Suspending Artillery Fire
NATO Sends 1,500 Combat Vehicles, 230 Tanks to Ukraine
Archbishop: Moscow Weaponizes Russian Orthodox Church Against Ukraine
Russian Court Fines Wikipedia Again for Ukraine War Article
Ukrainians Mark Chernobyl Disaster Amid Nuclear Threats
Navratilova Slams Lia Thomas' Dis of Feminists
Tennis great Martina Navratilova, long a champion for women's sports, [Full Story]
Telecom Serbia Official: 'Proud' to Partner With Newsmax
Telecom Serbia, the largest fixed, mobile, internet and multimedia [Full Story] | video
Related
Newsmax, Telecom Serbia Sign License Agreement for Southeast Europe
Pentagon Leaks Suspect Made 'Violent' Threats, US Says
A US airman accused of leaking top-secret documents had a history of [Full Story]
Related
Air Force Suspends Alleged Leaker's Unit Commanders
Low Approval Ratings Not Dooming Biden Reelection Chances
President Joe Biden whose performance in office has prompted [Full Story] | Platinum Article
ERA Blocked Again, a Century After Intro
The Senate on Thursday fell short of the votes needed to enshrine [Full Story]
Fmr Theranos CEO Goes From Big Business to Big House
When disgraced Theranos fraudster Elizabeth Holmes reports to prison [Full Story] | Platinum Article
Emerson Poll: RFK Jr. Nets One-Fifth of Voters
A new Emerson College poll shows President Joe Biden with a lead for [Full Story]
Carolyn Bryant Donham, Central to Emmett Till Death, Dies
The white woman who accused Black teenager Emmett Till of making [Full Story]
Light Therapy Improves Cognitive Function
A new study published in the journal Brain and Behavior found that [Full Story]
Griner Vows to Not Play Overseas, Save for Olympics
Brittney Griner made her first appearance at a WNBA news conference, [Full Story]
Engagement Ring Sales Plunge Since COVID
The COVID-19 pandemic took a toll on dating and relationships, [Full Story]
US: Atlantic Russian Sub Activity Highest 'in Years'
Russian submarine activity in the Atlantic, potentially reaching Cold [Full Story]
Hertz Readies for Strong Summer Demand
S. car rental company Hertz Global Holdings Inc. said Thursday it [Full Story]
Study Uncovers Golf's Benefits for Arthritis Patients
Could golfing be good medicine for arthritis? Yes, according to [Full Story]
Karl Rove: Biden's 2024 Announcement 'Strange'
Karl Rove, who served as deputy chief of staff during the George W. [Full Story]
Businesses Draw Down Inventories in First Quarter
S. economic growth slowed more than expected in the first quarter [Full Story]
Volunteers Scramble to Help Teen Migrants in NYC
Hundreds of migrant teenagers have traveled solo to New York City [Full Story]
Biden Admin Plans Migrant Processing Centers Outside US
President Joe Biden's administration announced Thursday plans to [Full Story]
Trafalgar Poll: Most Back Texas Border Patrol Creation
A majority of voters in a new poll said they would support Texas in [Full Story]
Va. Gov. Jim Justice Officially Files for Senate Run
West Virginia GOP Gov. Jim Justice has officially filed for his run [Full Story] | video
Powerful New Obesity Drug Poised to Upstage Ozempic, Wegovy
Powerful New Obesity Drug Poised to Upstage Ozempic, Wegovy
As a growing number of overweight Americans clamor for Ozempic and [Full Story]
Jerry Springer, Politician-Turned-TV Ringmaster, Dies
Jerry Springer, the onetime mayor and news anchor whose namesake TV [Full Story]
Iran Seizes Oil Tanker in Gulf, US Navy Says
Iran seized a Marshall Islands-flagged oil tanker in the Gulf of Oman [Full Story]
Emerson Poll: Trump Builds Massive Lead Over DeSantis
Support for former President Donald Trump is continuing to grow as he [Full Story]
Al Sharpton Demands Details on Don Lemon's Firing by CNN
Civil Rights activist Rev. All Sharpton is demanding CNN explain why [Full Story]
Dangerous Bridges That Nobody in Their Right Mind Would Cross- Florida Tops List
StandardNews
More Newsfront
Finance
Doctors Dominate 9 of America's 10 Highest-Paying Jobs
Nine of the top 10 highest-paying jobs in America are all medical-related, with cardiologists earning the highest salary of all, Business Insider reports…. [Full Story]
Amazon $127.4B Quarterly Revenue Above Estimates
LVMH Zeros in on China for Global Tiffany Overhaul
As Megacaps Soar, Investors Grow Wary of Valuations
Wall St Rallies as Meta Earnings Offset Economy Worries
More Finance
Health
Study Uncovers Golf's Benefits for Arthritis Patients
Could golfing be good medicine for arthritis? Yes, according to researchers who found that for people with osteoarthritis, golfing lowered psychological distress and improved general health when compared with the general population. "Golf is a health-enhancing source of…… [Full Story]
Exercise May Help You Beat an Addiction
Keto, Paleo Diets Are Not Heart Healthy
Never Eat These Foods Past Their Expiration Date
What to Know About Medications Promising Weight Loss
Notice: the graphic below can be expanded to a larger size.
See the instructions below the graphic below or click the image and follow the prompts.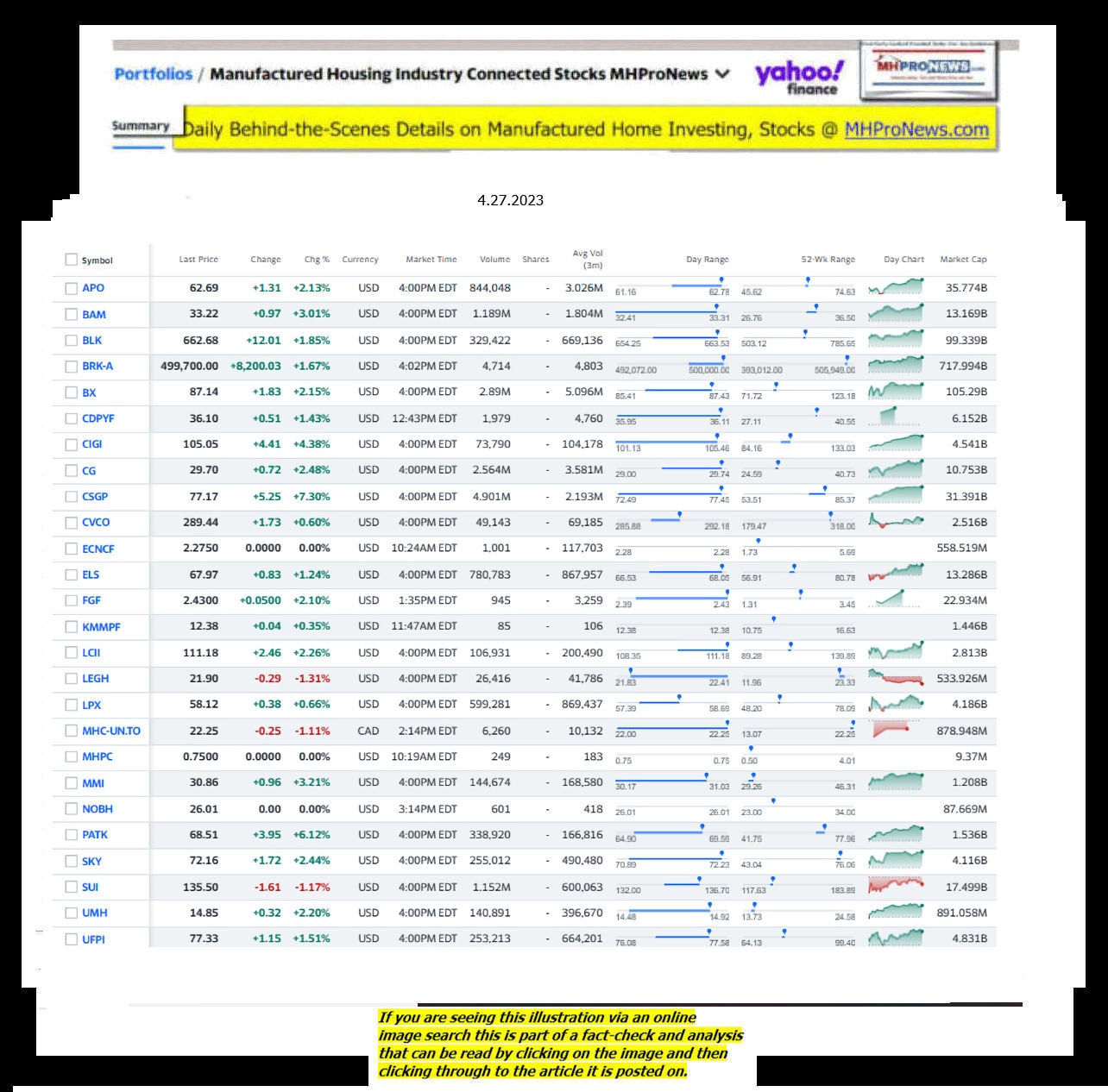 2022 was a tough year for many stocks. Unfortunately, that pattern held true for manufactured home industry (MHVille) connected stocks too.
See the facts, linked below.
'Stomach Churning Year' CNN-Wall Street 'Forget 2022' Down Year – Major Equities Data Compared to Manufactured Housing Stocks, Manufactured Home Community REITs, Performance for Year by Company
====================================
Updated
NOTE 1: The 3rd chart above of manufactured housing connected equities includes the Canadian stock, ECN, which purchased Triad Financial Services, a manufactured home industry finance lender.
NOTE 2: Drew changed its name and trading symbol at the end of 2016 to Lippert (LCII).
NOTE 3: Deer Valley was largely taken private, say company insiders in a message to MHProNews on 12.15.2020, but there are still some outstanding shares of the stock from the days when it was a publicly traded firm.  Thus, there is still periodic activity on DVLY.
Note 4: some recent or related reports to the REITs, stocks, and other equities named above follow in the reports linked below.
Sun Communities – 'Development in Our DNA,' ESG Stance, Q4 2022 Year End Results Earnings Call & PR – Facts, Insights Beyond PR and Official SUI Statements; plus MHVille REITs, Stocks Update
'Undervalued' Cavco Industries Touts Q Result$ 'Dire Need for Housing' 'January Traffic Up'- Rev Up 16%-Sales, Earnings, Mgmt Call Data–Analysis Beyond CVCO Statements; plus MHVille Stocks Update
'Killing's as Easy as Breathing' 'Bad Guys Know More Games' Warren Buffett Annual Berkshire Hathaway Letter, Clayton Homes, 21st, VMF-Manufactured Home Loans-Compelling MHVille Expert Views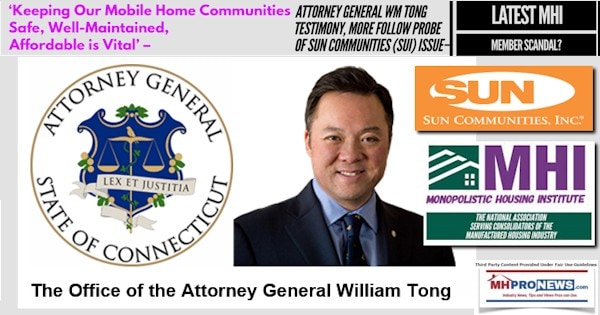 Nobility Homes, Inc. Sales and Earnings for its Fiscal Year 2022 Report, Result$ Best Inflation – Net After Taxes Up 34%, More Fact$; DeSantis ESG and NOBH; plus MHVille Stocks, Market Updates
'Manufactured Housing in the News,' Unpacking UMH CEO Sam Landy Op-Ed' It's Time for Bi-Partisanship on Affordable Manufactured Housing Homeownership' in HousingWire; plus MHMarkets Updates
Manufactured Housing Properties-Results for Three and Nine Months Ending September 30.2022–Exploring 'Mobile Home Park' Manufactured Home Community Investing; plus MHVille REITs, Stocks Update
'Changes Will Benefit Customers,' Boost Sales-Legacy Homes CEO Duncan Bates – LEGH 'Delivered 22.5% Return on Equity in 1 Yr' – Corp Q3 2022 Insights, Analysis; plus MHVille REITs, Stocks Update  
CEO Mark Yost, Skyline Champion Insiders SELL Million$ Value SKY Stock, Home Sales Drop-4th Q 2022 (3QFiscal2023), Official Result$-Facts, Analysis, Info Beyond PR; plus MHVille Stocks Update
Triad Financial Services Q2-2022 FINANCIAL RESULTS, per ECN Capital – Several Bright Spots in Manufactured Home Market Highlighted, Including Communities, Retail, Land-Home, Floor; MHStocks Update
BlackRock Document Exposes Central Banks like Federal Reserve on Recession; Manufactured Home Producer Cavco Industries 2022 Year End Results (CVCOQ3.23) Facts+Analysis; plus MHVille Stocks Update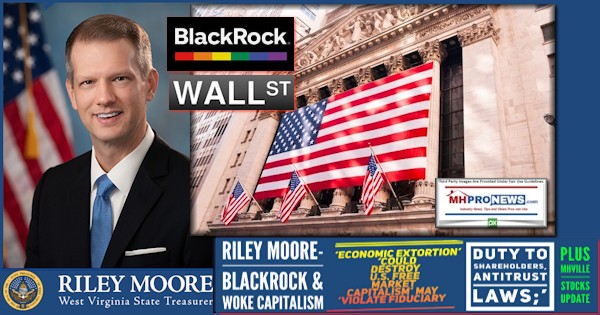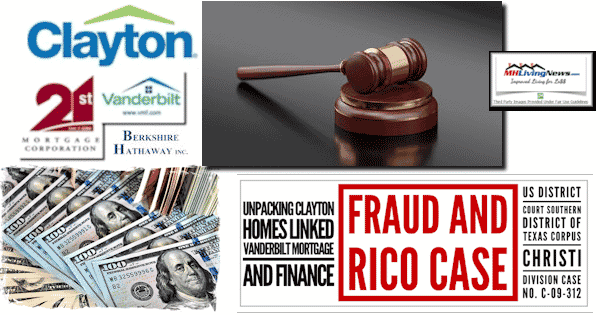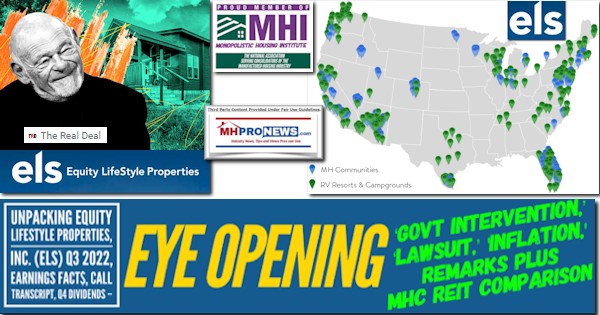 Manufactured Home Communities (a.k.a. 'Mobile Home Parks' – SIC) – Exploring UMH Properties; Fellow Manufactured Housing Institute Member Yes! Communities Suits and Settlements; plus MH Markets Updates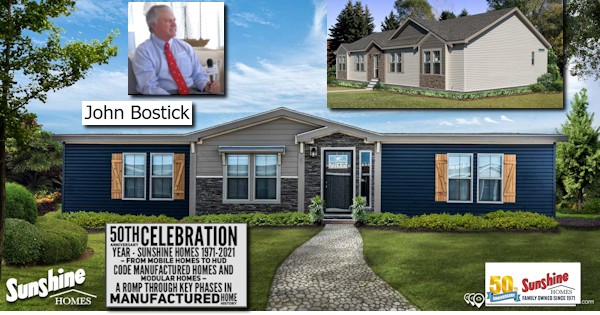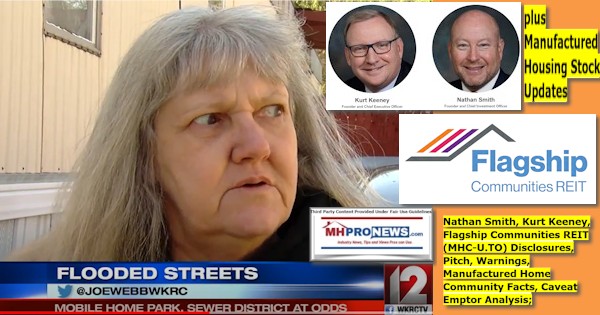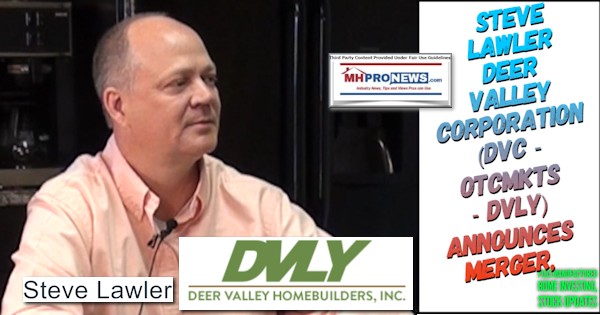 2023 …Berkshire Hathaway is the parent company to Clayton Homes, 21st Mortgage, Vanderbilt Mortgage and other factory-built housing industry suppliers.
· LCI Industries, Patrick, UFPI, and LP each are suppliers to the manufactured housing industry, among others.
· AMG, CG, and TAVFX have investments in manufactured housing related businesses. For insights from third-parties and clients about our publisher, click here.
Disclosure. MHProNews holds no positions in the stocks in this report.
· For expert manufactured housing business development or other professional services, click here.
· To sign up in seconds for our industry leading emailed headline news updates, click here.

Manufactured housing, production, factories, retail, dealers, manufactured home, communities, passive mobile home park investing, suppliers, brokers, finance, financial services, macro-markets, manufactured housing stocks, Manufactured Home Communities Real Estate Investment Trusts, MHC REITs.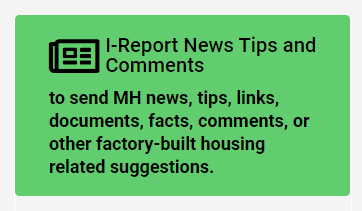 That's a wrap on this installment of "News Through the Lens of Manufactured Homes and Factory-Built Housing" © where "We Provide, You Decide." © (Affordable housing, manufactured homes, stock, investing, data, metrics, reports, fact-checks, analysis, and commentary. Third-party images or content are provided under fair use guidelines for media.) (See Related Reports, further below. Text/image boxes often are hot-linked to other reports that can be access by clicking on them.)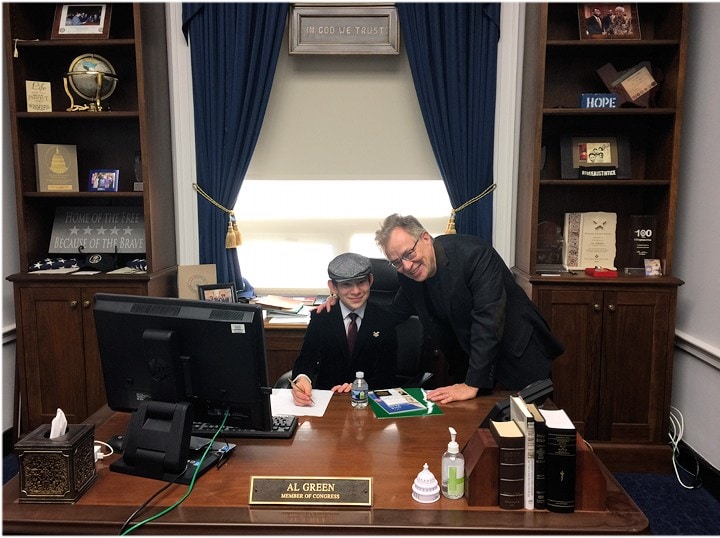 By L.A. "Tony" Kovach – for MHProNews.
Tony earned a journalism scholarship along with numerous awards in history. There have been several awards and honors and also recognition in manufactured housing. For example, he earned the prestigious Lottinville Award in history from the University of Oklahoma, where he studied history and business management. He's a managing member and co-founder of LifeStyle Factory Homes, LLC, the parent company to MHProNews, and MHLivingNews.com. This article reflects the LLC's and/or the writer's position and may or may not reflect the views of sponsors or supporters.
Anar Pitre-CEO Lotus Capital Partners-Vexing Manufactured Housing Institute Claims in Fact Check of Forbes 'What Manufactured Home Communities Investors Need to Know' – Inaccurate MHI Data Shown
Ma Nishtana – 'Why is This Night, Day Different from All Others?' The Pascha vs. Contemporary Orwellian Nightmare – the Sunday Weekly MHVille Headlines Recap
Call for Congressional Oversight Hearings of Manufactured Home Industry Regulators Highlighted by Manufactured Housing Association for Regulatory Reform (MHARR); plus MHVille Markets Update
Official HUD Manufactured Housing Production Facts for Dec 2022 plus 2022 Year End Totals Explored by Manufactured Housing Association for Regulatory Reform (MHARR)-"Millions" Needed – Analysis
Facts You Didn't Know – Martin Luther King Jr – Videos, Insightful Quotes, Surprising Revelations, Videos, Reports, and Illustrations in Champion for Human Rights Including Affordable Housing
'Global Disinformation Index' Warren Buffett Ally Bill Gates' Microsoft Org Charged-Cutting Revenue to Conservative Views via Xandr, GDI; plus Sunday MHVille Headlines Recap
#1 Texas' Manufactured Housing Builders Survey Says They are 'Ready for a Rebound' But Data Point in Question, DOE MH Energy Rule Too – Facts, Analysis; plus, MHVille Stocks, Markets Update
Clayton-Next Step Off-Site Built 'White Paper'-Manufactured Homes, ThinkND 'Magic of the Mind-Everyday Illusion, Misdirection, Deception' MHI Members' Claims Analyzed; plus MHVille Markets Update
After Admitted Failure, Manufactured Housing Institute Doubles Down on CrossMods® in AP Terminology Doc Acquired by MHProNews–Are MHI Leaders Sabotaging MHVille Independents? Plus MHStocks Update
Concessions by Speaker Kevin McCarthy in House Speaker's Battle Called 'Most Significant Win for Conservatives in a Decade' By Federalist's Emily Jashinsky Report; plus MHVille Stocks Updates