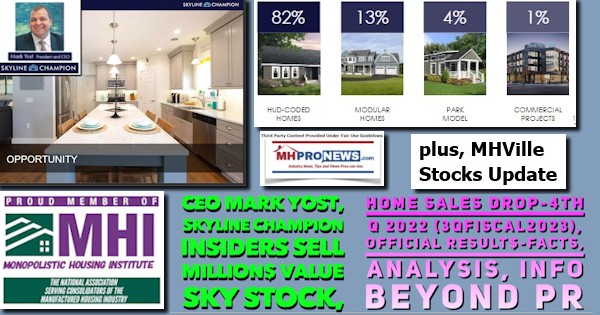 Citing Securities and Exchange Commission (SEC) formal disclosures, DefenseWorld reported on 2.6.2023 the sales of Skyline Champion (SKY) stocks by CEO Mark J. Yost and Director Gary E. Robinette worth millions of dollars. The stock sales occurred as corporate leaders witnessed declining manufactured housing sales, which they disclosed in their final news release for 2022 results (3QFiscal2023), which are provided in this report. New readers and longer-term followers of industry-leading MHProNews are reminded that manufactured housing has now officially had 3 full months of declining sales during an affordable housing crisis. Skyline Champion CEO Yost holds a board position in the Manufactured Housing Institute (MHI) per their listing here.
Part I – SEC and Other Behind-the-Curtain as well as Corporate Statements about Skyline Champion (SKY)
According to DefenseWorld on 2.6.2023 were the following statements about Skyline Champion. Highlighting is added by MHProNews, but their copy (text) is otherwise as in the original.

Insiders Place Their Bets
In other news, Director Gary E. Robinette sold 1,750 shares of Skyline Champion stock in a transaction dated Friday, November 18th. The stock was sold at an average price of $50.28, for a total transaction of $87,990.00. Following the completion of the sale, the director now directly owns 1,698 shares in the company, valued at approximately $85,375.44. The sale was disclosed in a filing with the SEC, which can be accessed through this link. In other news, Director Gary E. Robinette sold 1,750 shares of the firm's stock in a transaction on Friday, November 18th. The shares were sold at an average price of $50.28, for a total transaction of $87,990.00. Following the transaction, the director now owns 1,698 shares in the company, valued at approximately $85,375.44. The transaction was disclosed in a legal filing with the Securities & Exchange Commission, which can be accessed through the SEC website. Also, CEO Mark J. Yost sold 41,823 shares of the company's stock in a transaction dated Tuesday, January 17th. The stock was sold at an average price of $55.46, for a total value of $2,319,503.58. Following the sale, the chief executive officer now owns 113,370 shares of the company's stock, valued at approximately $6,287,500.20. The disclosure for this sale can be found here. Insiders have sold a total of 49,109 shares of company stock valued at $2,699,241 in the last three months. Insiders own 7.10% of the company's stock."
Note that compared to Legacy Housing (LEGH) has a far greater 'alignment' with their investors than Skyline Champion does, as LEGH management has periodically pointed out.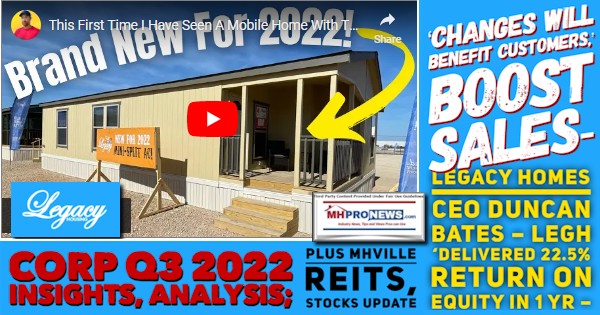 That same DefenseWorld report noted the following, mostly downward, shifts in analysist ratings. Note that only one of the analyst ratings that follow represented an improvement in their advice on investing in SKY.

Analyst Ratings Changes
Several equities research analysts recently commented on SKY shares. Craig Hallum reduced their price target on shares of Skyline Champion from $75.00 to $65.00 in a research report on Thursday, November 3rd. Royal Bank of Canada downgraded Skyline Champion from an "outperform" rating to a "sector perform" rating and lowered their price target for the company from $72.00 to $54.00 in a report on Thursday, November 3rd. Barclays downgraded Skyline Champion from an "overweight" rating to an "equal weight" rating and reduced their price objective for the stock from $65.00 to $60.00 in a research note on Wednesday, December 14th. Finally, StockNews.com raised Skyline Champion from a "hold" rating to a "buy" rating in a research note on Friday, January 27th."
Against the backdrop of that evidence is the following press release (PR) by Skyline Champion (SKY). For their press release, SKY's management have once more used Berkshire Hathaway (BRK) owned BusinessWire to distribute their news release. In the information below, highlighting is added by MHProNews. Following their release in Part II of today's report will be additional facts, insights, and analysis. Part III of today's report is our manufactured housing connected equities and Daily Business News on MHProNews market recap.
Skyline Champion Announces Third Quarter Fiscal Year 2023 Results

February 06, 2023 04:30 PM Eastern Standard Time
TROY, Mich.–(BUSINESS WIRE)–Skyline Champion Corporation (NYSE: SKY) ("Skyline Champion") today announced financial results for its third quarter ended December 31, 2022 ("fiscal 2023").
Third Quarter Fiscal 2023 Highlights (compared to Third Quarter Fiscal 2022)
Net sales increased 8.9% to $582.3 million
U.S. homes sold decreased 1.4% to 5,749
Total backlog decreased 34.6% to $532 million from the sequential second quarter
Average selling price ("ASP") per U.S. home sold increased 13.5% to $94,200
Gross profit margin expanded by 50 basis points to 29.9%
Net income increased by 22.5% to $82.8 million
Earnings per share ("EPS") increased 22.0% to $1.44
EBITDA increased 12.8% to $109.1 million
EBITDA margin expanded by 60 basis points to 18.7%
Net cash generated by operating activities of $85.5 million during the quarter
"We delivered solid sales and earnings growth in the third quarter," said Mark Yost, Skyline Champion's President and Chief Executive Officer. "While backlogs continue to trend toward historical levels due to retailer destocking, we saw positive demand in key channels and select markets during the quarter. The momentum in our business continues to be driven by our ability to increase engagement with a growing base of home buyers and highlights our unique offering of value-oriented home solutions. We are confident that Skyline Champion can continue to perform due to our attractive price points, differentiated product offering, and enhanced production capabilities."
Third Quarter Fiscal 2023 Results
Net sales for the third quarter fiscal 2023 increased 8.9% to $582.3 million compared to the prior-year period. The number of U.S. homes sold in the third quarter fiscal 2023 decreased 1.4% to 5,749. Volume levels during the quarter were impacted by reduced production schedules and backlogs normalizing to meet current seasonal demand. The ASP per U.S. home sold increased 13.5% to $94,200 due to the mix of units sold and price increases to offset cost inflation. The number of Canadian factory-built homes sold in the quarter decreased to 273 homes compared to 336 homes in the prior-year period due to a shift in product mix to larger homes and reduced demand in certain markets. Total backlog for Skyline Champion was $532 million as of December 31, 2022, compared to $814 million as of October 1, 2022. Backlogs continued to decrease to more normal levels, following historical highs, due to moderating order rates as retailers continued to destock existing inventory.
Gross profit increased by 10.7% to $174.1 million in the third quarter fiscal 2023 compared to the prior-year period. Gross profit margin was 29.9% of net sales, a 50-basis point expansion compared to 29.4% in the third quarter fiscal 2022. Gross profit margin improvement is being driven by higher pricing and the increase in retail sales as a percentage of total U.S. sales, resulting from our expansion of retail operations. These increases were partially offset by lower volume and higher input costs.
Selling, general, and administrative expenses ("SG&A") in the third quarter fiscal 2023 increased to $71.8 million from $65.8 million in the same period last year. SG&A as a percentage of net sales was 12.3%, consistent with prior year levels. The higher SG&A expense during the quarter was due to additional investments in new capacity and acquisitions as well as investments made to enhance our online customer buying experience partially offset by lower variable compensation expenses.
Net income increased by 22.5% to $82.8 million for the third quarter fiscal 2023 compared to the prior-year period. The increase in net income was driven by the increase in sales and profitability as well as net interest income versus expense last year.
EBITDA for the third quarter fiscal 2023 increased by 12.8% to $109.1 million compared to the third quarter fiscal 2022 driven by an increase in net sales and improved profitability. Adjusted EBITDA margin expanded by 60 basis points to 18.7% due to higher sales and profitability.
As of December 31, 2022, Skyline Champion had $712.4 million of cash and cash equivalents, an increase of $277.0 million as compared to prior fiscal year end.
Conference Call and Webcast Information:
Skyline Champion management will host a conference call tomorrow, February 7, 2023, at 9:00 a.m. Eastern Time, to discuss Skyline Champion's financial results and an update on current operations.
Investors and other interested parties can listen to a webcast of the live conference call by logging onto the Investor Relations section of Skyline Champion's website at skylinechampion.com. The online replay will be available on the same website immediately following the call.
The conference call can also be accessed by dialing (877) 407-4018 (domestic) or (201) 689-8471 (international). A telephonic replay will be available approximately two hours after the call by dialing (844) 512-2921, or for international callers, (412) 317-6671. The passcode for the live call and the replay is 13735585. The replay will be available until 11:59 P.M. Eastern Time on February 21, 2023.
About Skyline Champion Corporation:
Skyline Champion Corporation (NYSE: SKY) is the largest independent, publicly traded, factory-built housing company in North America and employs approximately 8,100 people. With more than 70 years of homebuilding experience and 42 manufacturing facilities throughout the United States and western Canada, Skyline Champion is well positioned with a leading portfolio of manufactured and modular homes, ADUs, park-models and modular buildings for the single-family, multi-family, and hospitality sectors.
In addition to its core home building business, Skyline Champion provides construction services to install and set-up factory-built homes, operates a factory-direct retail business with 31 retail locations across the United States, and Star Fleet Trucking, providing transportation services to the manufactured housing and other industries from several dispatch locations across the United States.
Skyline Champion builds homes under some of the most well-known brand names in the factory-built housing industry including Skyline Homes, Champion Home Builders, Genesis Homes, Athens Park Models, Dutch Housing, Atlantic Homes, Excel Homes, Homes of Merit, New Era, Redman Homes, ScotBilt Homes, Shore Park, Silvercrest, Titan Homes in the U.S. and Moduline and SRI Homes in western Canada.
Presentation of Non-GAAP Financial Measures
In addition to the results provided in accordance with U.S. generally accepted accounting principles ("U.S. GAAP") throughout this press release, Skyline Champion has provided non-GAAP financial measures, Adjusted EBITDA and Adjusted EBITDA Margin, which present operating results on a basis adjusted for certain items. Skyline Champion uses these non-GAAP financial measures for business planning purposes and in measuring its performance relative to that of its competitors. Skyline Champion believes that these non-GAAP financial measures are useful financial metrics to assess its operating performance from period-to-period by excluding certain items that Skyline Champion believes are not representative of its core business. These non-GAAP financial measures are not intended to replace, and should not be considered superior to, the presentation of Skyline Champion's financial results in accordance with U.S. GAAP.
Skyline Champion defines Adjusted EBITDA as net income or loss plus, (a) the provision for income taxes, (b) interest income or expense, net, (c) depreciation and amortization, (d) gain or loss from discontinued operations, (e) restructuring charges and impairment of assets, (f) other non-operating income and costs, including those for the acquisition and integration or disposition of businesses. Adjusted EBITDA is not a measure of earnings calculated in accordance with U.S. GAAP, and should not be considered an alternative to, or more meaningful than, net income or loss, net sales, operating income or earnings per share prepared on a U.S. GAAP basis. Adjusted EBITDA does not purport to represent cash flow provided by, or used in, operating activities as defined by U.S. GAAP. Skyline Champion believes that Adjusted EBITDA is commonly used by investors to evaluate its performance and that of its competitors. However, Skyline Champion's use of Adjusted EBITDA may vary from that of others in its industry. Adjusted EBITDA is reconciled from the respective measure under U.S. GAAP in the tables below. Adjusted EBITDA Margin is calculated as Adjusted EBITDA divided by net sales reported in the statement of operations.
Forward-Looking Statements
Statements in this press release, including certain statements regarding Skyline Champion's strategic initiatives, and future market demand are intended to be covered by the safe harbor for "forward-looking statements" provided by the Private Securities Litigation Reform Act of 1995. These forward-looking statements generally can be identified by use of words such as "believe," "expect," "future," "anticipate," "intend," "plan," "foresee," "may," "could," "should," "will," "potential," "continue," or other similar words or phrases. Similarly, statements that describe objectives, plans, or goals also are forward-looking statements. Such forward-looking statements involve inherent risks and uncertainties, many of which are difficult to predict and are generally beyond the control of Skyline Champion. We caution readers that a number of important factors could cause actual results to differ materially from those expressed in, implied, or projected by such forward-looking statements. Risks and uncertainties include regional, national and international economic, financial, public health and labor conditions, and the following: supply-related issues, including prices and availability of materials; labor-related issues; inflationary pressures in the North American economy; the cyclicality and seasonality of the housing industry and its sensitivity to changes in general economic or other business conditions; demand fluctuations in the housing industry, including as a result of actual or anticipated increases in homeowner borrowing rates; the possible unavailability of additional capital when needed; competition and competitive pressures; changes in consumer preferences for our products or our failure to gauge those preferences; quality problems, including the quality of parts sourced from suppliers and related liability and reputational issues; data security breaches, cybersecurity attacks, and other information technology disruptions; the potential disruption of operations caused by the conversion to new information systems; the extensive regulation affecting the production and sale of factory-built housing and the effects of possible changes in laws with which we must comply; the potential impact of natural disasters on sales and raw material costs; the risks associated with mergers and acquisitions, including integration of operations and information systems; periodic inventory adjustments by, and changes to relationships with, independent retailers; changes in interest and foreign exchange rates; insurance coverage and cost issues; the possibility that all or part of our goodwill might become impaired; the possibility that our risk management practices may leave us exposed to unidentified or unanticipated risks; the COVID-19 pandemic, which has had, and could continue to have, significant adverse effects on us; and other risks set forth in the "Risk Factors" section, the "Legal Proceedings" section, the "Management's Discussion and Analysis of Financial Condition and Results of Operations" section, and other sections, as applicable, in our Annual Reports on Form 10-K, including our Annual Report on Form 10-K for the fiscal year ended April 2, 2022 previously filed with the Securities and Exchange Commission ("SEC"), as well as in our Quarterly Reports on Form 10-Q, and Current Reports on Form 8-K, filed with or furnished to the SEC.
If any of these risks or uncertainties materializes or if any of the assumptions underlying such forward-looking statements proves to be incorrect, then the developments and future events concerning Skyline Champion set forth in this press release may differ materially from those expressed or implied by these forward-looking statements. You are cautioned not to place undue reliance on these statements, which speak only as of the date of this release. We anticipate that subsequent events and developments will cause our expectations and beliefs to change. Skyline Champion assumes no obligation to update such forward-looking statements to reflect events or circumstances after the date of this document or to reflect the occurrence of unanticipated events, unless obligated to do so under the federal securities laws.
SKYLINE CHAMPION CORPORATION

CONSOLIDATED BALANCE SHEETS

(Unaudited, dollars in thousands)

December 31,
2022
April 2,
2022
ASSETS
Current assets:
Cash and cash equivalents
$
712,448
$
435,413
Trade accounts receivable, net
47,515
90,536
Inventories, net
220,941
241,334
Other current assets
24,302
14,977
Total current assets
1,005,206
782,260
Long-term assets:
Property, plant, and equipment, net
165,857
132,985
Goodwill
196,574
191,970
Amortizable intangible assets, net
48,303
51,283
Deferred tax assets
14,733
17,750
Other noncurrent assets
81,014
58,371
Total assets
$
1,511,687
$
1,234,619
LIABILITIES AND STOCKHOLDERS' EQUITY
Current liabilities:
Floor plan payable
$
—
$
35,460
Accounts payable
39,352
92,159
Other current liabilities
220,931
222,493
Total current liabilities
260,283
350,112
Long-term liabilities:
Long-term debt
12,430
12,430
Deferred tax liabilities
5,725
5,124
Other
59,807
41,840
Total long-term liabilities
77,962
59,394
Stockholders' Equity:
Common stock
1,580
1,573
Additional paid-in capital
515,128
502,846
Retained earnings
670,533
327,902
Accumulated other comprehensive loss
(13,799
)
(7,208
)
Total stockholders' equity
1,173,442
825,113
Total liabilities and stockholders' equity
$
1,511,687
$
1,234,619
SKYLINE CHAMPION CORPORATION

CONSOLIDATED STATEMENTS OF OPERATIONS

(Unaudited, dollars and shares in thousands, except per share amounts)

Three Months Ended
Nine Months Ended
December 31,
January 1,
December 31,
January 1,
2022
2022
2022
2022
Net sales
$
582,322
$
534,690
$
2,115,028
$
1,569,112
Cost of sales
408,233
377,451
1,437,498
1,171,016
Gross profit
174,089
157,239
677,530
398,096
Selling, general, and
administrative expenses
71,820
65,825
228,017
181,188
Operating income
102,269
91,414
449,513
216,908
Interest (income) expense,
net
(5,409)
508
(7,293)
2,002
Other expense (income)
—
7
(634)
(36
)
Income before income
taxes
107,678
90,899
457,440
214,942
Income tax expense
24,865
23,277
113,384
53,696
Net income
$
82,813
$
67,622
$
344,056
$
161,246
Net income per share:
Basic
$
1.45
$
1.19
$
6.04
$
2.84
Diluted
$
1.44
$
1.18
$
6.00
$
2.81
SKYLINE CHAMPION CORPORATION

CONSOLIDATED STATEMENTS OF CASH FLOWS

(Unaudited, dollars in thousand)

Nine Months Ended
December 31,
2022
January 1,
2022
Cash flows from operating activities
Net income
$
344,056
$
161,246
Adjustments to reconcile net income to net cash provided by operating activities:
Depreciation and amortization
19,341
15,533
Amortization of deferred financing fees
266
599
Equity-based compensation
11,631
6,134
Deferred taxes
3,581
5,942
(Gain) loss on disposal of property, plant, and equipment
(143
)
696
Foreign currency transaction loss
844
55
Change in assets and liabilities:
Accounts receivable
42,847
11,419
Inventories
30,470
(19,133
)
Prepaids and other assets
(9,895
)
(22,954
)
Accounts payable
(52,663
)
(13,076
)
Accrued expenses and other liabilities
(26,291
)
17,945
Net cash provided by operating activities
364,044
164,406
Cash flows from investing activities
Additions to property, plant, and equipment
(38,177
)
(22,784
)
Cash paid for acquisition
(6,810
)
(207
)
Proceeds from disposal of property, plant, and equipment
224
70
Net cash used in investing activities
(44,763
)
(22,921
)
Cash flows from financing activities
Changes in floor plan financing, net
(35,460
)
8,583
Payments of deferred financing fees
—
(1,130
)
Payments on revolving debt facility
—
(26,900
)
Stock option exercises
596
1,099
Tax payment for equity-based compensation
(1,363
)
(3,007
)
Net cash provided by financing activities
(36,227
)
(21,355
)
Effect of exchange rate changes on cash, and cash equivalents
(6,019
)
(578
)
Net increase in cash and cash equivalents
277,035
119,552
Cash and cash equivalents at beginning of period
435,413
262,581
Cash and cash equivalents at end of period
$
712,448
$
382,133
SKYLINE CHAMPION CORPORATION

RECONCILIATION OF NET INCOME TO ADJUSTED EBITDA

(Unaudited, dollars in thousand)

Three Months Ended
Nine Months Ended
December 31,
January 1,
December 31,
January 1,
2022
2022
Change
2022
2022
Change
Reconciliation of Adjusted EBITDA:
Net income
$
82,813
$
67,622
$
15,191
$
344,056
$
161,246
$
182,810
Income tax expense
24,865
23,277
1,588
113,384
53,696
59,688
Interest (income) expense, net
(5,409)
508
(5,917)
(7,293)
2,002
(9,295
)
Depreciation and amortization
6,784
5,250
1,534
19,341
15,533
3,808
EBITDA
109,053
96,657
12,396
469,488
232,477
237,011
Transaction costs
—
—
—
338
—
338
Other
—
—
—
(973)
—
(973
)
Adjusted EBITDA
$
109,053
$
96,657
$
12,396
$
468,853
$
232,477
$
236,376
Contacts
Kevin Doherty … ##
Part II Additional Information with More MHVille Expert MHProNews Analysis and Commentary
Let's tee this up with two questions. Did anyone at Skyline Champion read Freddie Mac's research on:
"Identifying the Opportunities to Expand Manufactured Housing" by Astou Aw, Lariece Brown, Ashley Yea? (Note: this has no obvious publication date, but it was published in 2022 and prior to the Urban Institute's "The Role of Manufactured Housing in Increasing the Supply of Affordable Housing" by Karan Kaul Daniel Pang published in July 2022, which referenced it.
"Majority Of Consumers Would Consider Buying A Manufactured Home" published on June 29, 2022?
They obviously should have. Indeed, it is difficult to imagine a scenario where they would not have read both reports, and they would have read what MHLivingNews and/or MHProNews reported on those research briefs. Then, note from the Skyline Champion May 2022 investor relations 'pitch deck' (power point presentation) the following page.
Hold those thoughts in mind.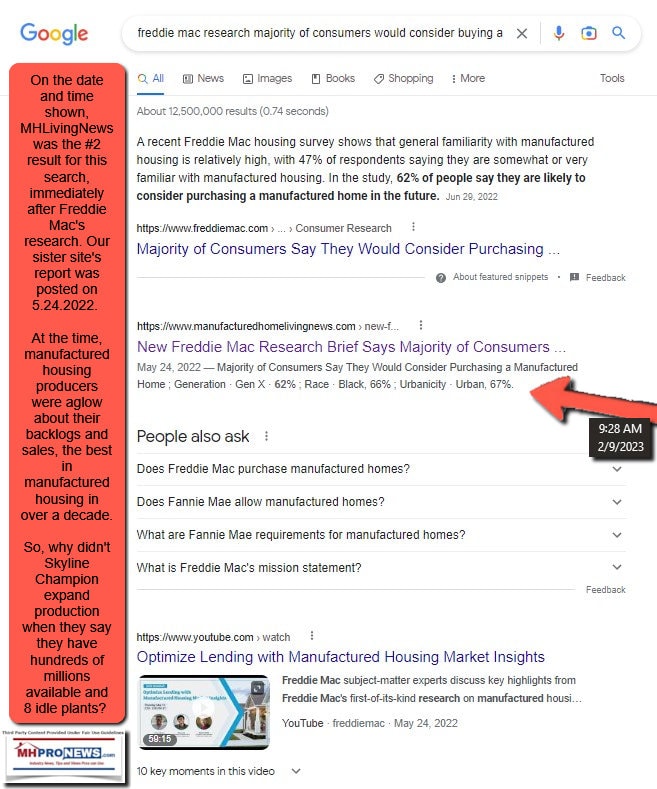 The Freddie Mac YouTube video above was uploaded on May 24, 2022.
On this date and time (about 9:30 AM ET) it only has 352 views.
Next. Skyline's own statement indicates that they are ramping up vertically integrated sales, though they phrased that somewhat differently in the press release above.  From their May 2022 Investor Relations (IR) 'pitch deck' (power point presentation or PDF) is the following page.
Notice: the graphic below can be expanded to a larger size.
See instructions below graphic or click the image and follow the prompts.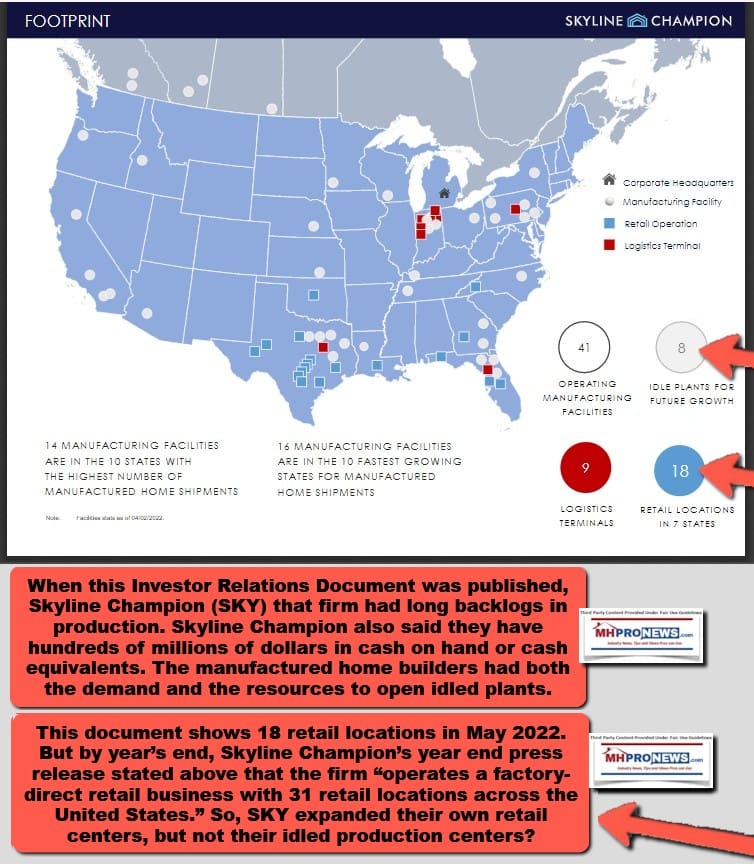 More on retailers and vertical integration shortly.
Further note that Skyline admits that there are "international" "risks," which apparently goes to the concerns raised in the report linked below. That is in keeping with the alert that MHProNews alerted readers to in the report linked below.
Manufactured Housing Industry Supply Chains in China, Asia at Risk-U.S., Japan, S. Korea, Taiwan, Australia, Philippines Prep for Conflict with Communist North Korea and China–War Could be 'Soon'
When Skyline Champion mentions risks caused by the "possible unavailability of additional capital when needed," one should consider the impact of MHI's failure to secure the full and proper implementation of DTS.  Neither Skyline Champion, nor MHI, can have it both ways. It should be apparent that more financing and more competitive rates is a plus for more manufactured housing sales, their press release above says as much in their disclosures. But that also means that when Fannie Mae and Freddie Mac fail to properly support their Congressionally mandated Duty to Serve Manufactured Housing, they are letting the home buying public, taxpayers, independent retail channels, and their stock shareholders/investors all down.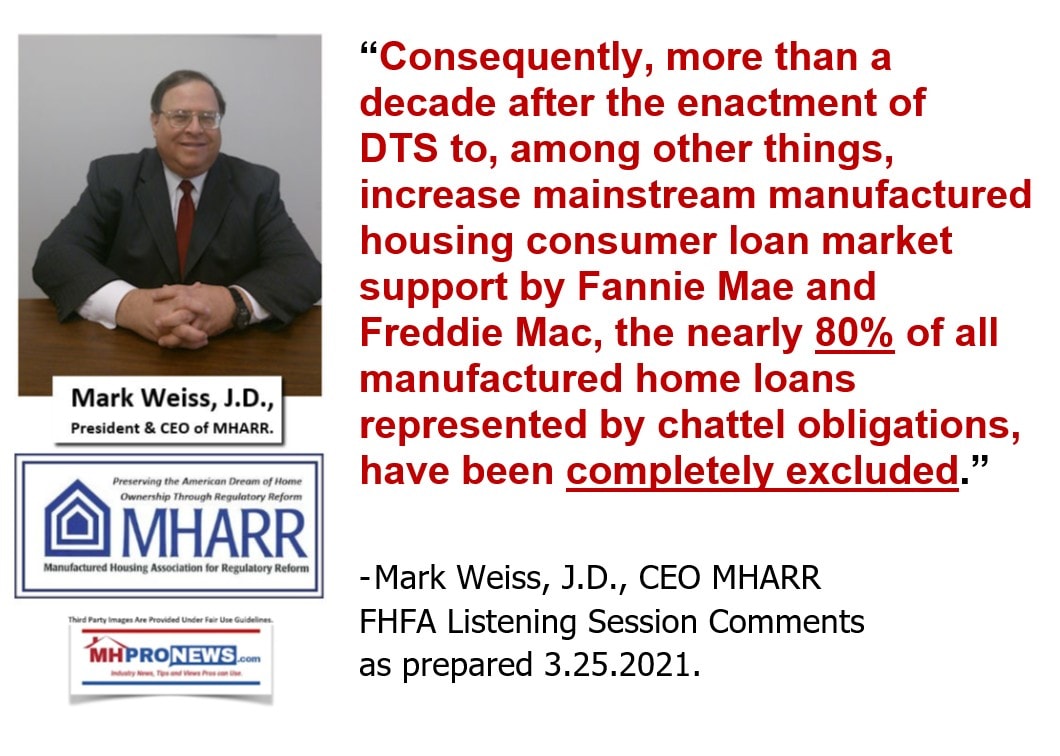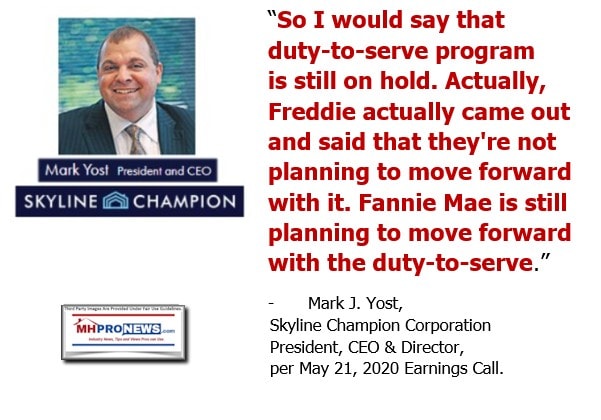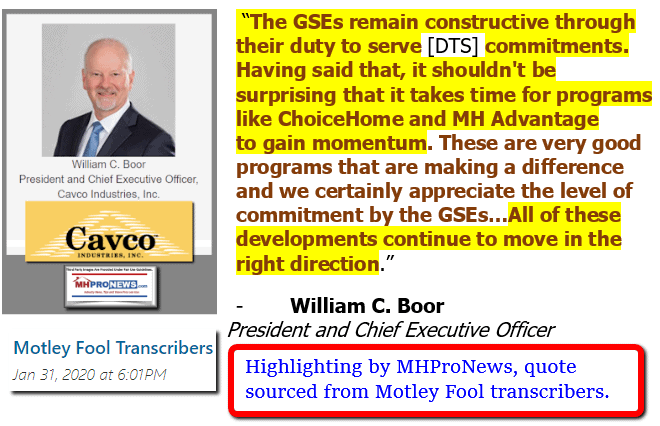 An arguably coy reference to the looming Department of Energy (DOE) rule implementation of new manufactured housing industry energy standards is another example of 'they can't have it both ways' in evidence in this report. In the above release, they said: "the extensive regulation affecting the production and sale of factory-built housing and the effects of possible changes in laws with which we must comply…" are among their risk factors. But Skyline Champion, which has an MHI board seat (as noted at the top of this report), has apparently not pressed MHI to take legal action, which the Manufactured Housing Association for Regulatory Reform (MHARR) has recommended. Once more, that is a looming harm ("risk") to marginal homebuyers, taxpayers, independent retailers, and their shareholders/investors.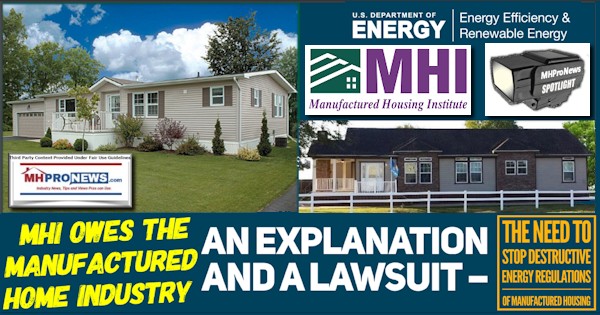 Notice: the graphic below can be expanded to a larger size.
See instructions below graphic or click the image and follow the prompts.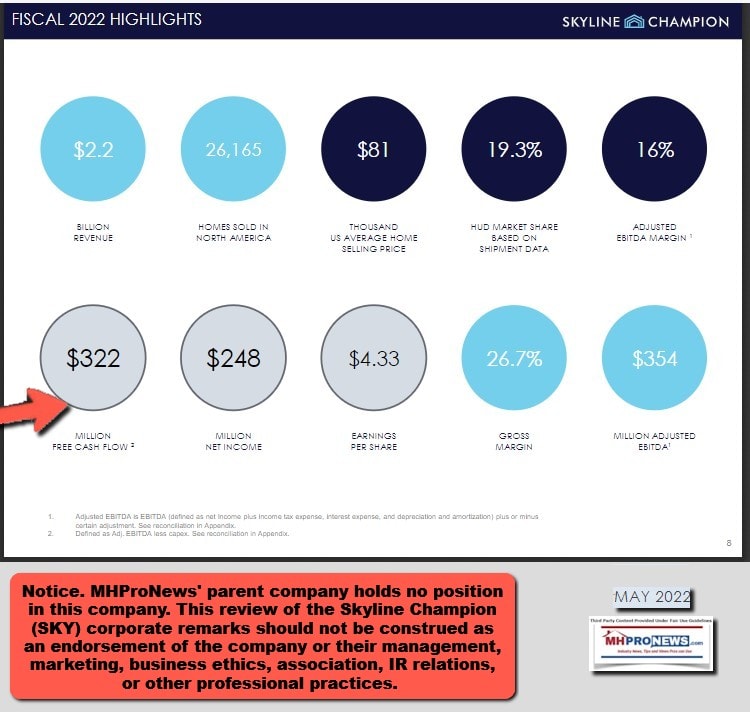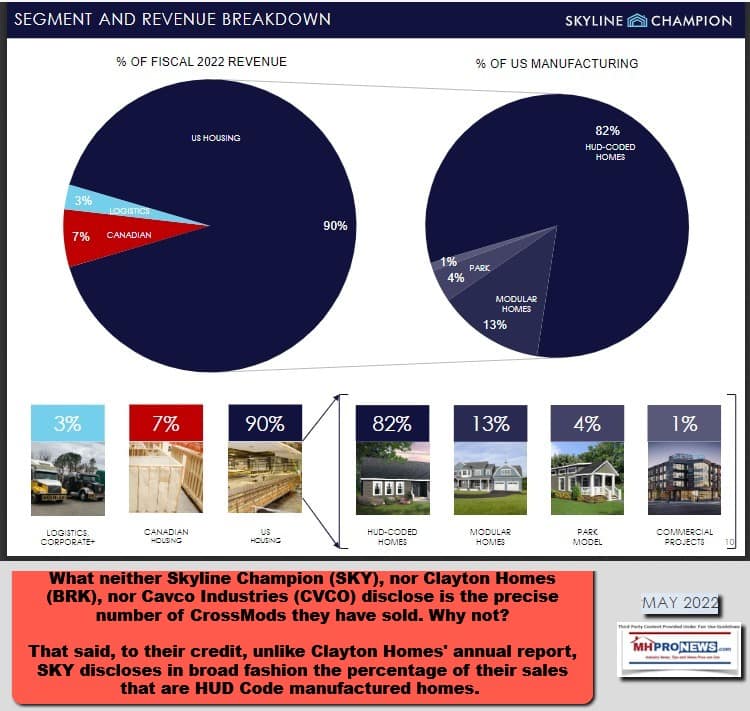 Retail and the Shift in MHVille Distribution Channel Volume
When SKY's forward-looking statements, which normally may cause some investors eyes to glaze over, include a notice that: "changes to relationships with, independent retailers" is on their radar of "risks," that could be a 'moat' move that Skyline Champion is participating in alongside Cavco Industries and Berkshire Hathaway owned Clayton Homes.
When they indicate an expansion of their own vertically-integrated retail channel, that could be a 'which came first?' issue, but facts would be available to the firm that could clear the question up. Did they begin to expand retail because of 'destocking,' or did expansion of their retail centers help fuel "destocking" by independents near their corporate owned retail stores?
A reasonable takeaway from the facts and statements shown is this. There are indications that the SKY management at some levels may be setting up at least some of their own independents for a fall. When it comes to the so-called Big Three (Big 3) at MHI of Clayton Homes, Skyline Champion and Cavco Industries, it has arguably not been a given that the producer/suppliers are on the side of independents for much of the 21st century. Consider the evidence-based 3rd party blasts shown herein, including those immediately below.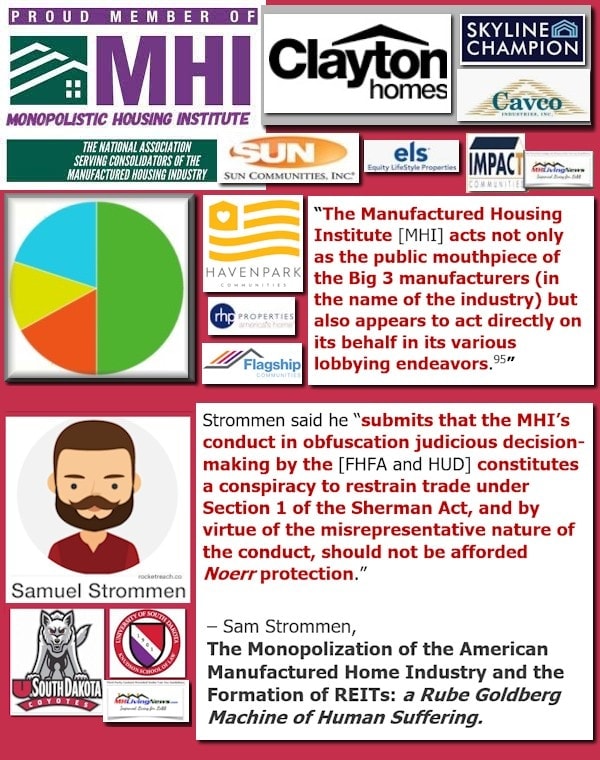 MHVillage – Endorsed by Manufactured Housing Institute (MHI), 'Information Key at MHVillage' Fact Check 'Best Data and Info from Around Country'-Clayton, Cavco Insights- Plus MHVille Stocks Update
Official HUD Manufactured Housing Production Facts for Dec 2022 plus 2022 Year End Totals Explored by Manufactured Housing Association for Regulatory Reform (MHARR)-"Millions" Needed – Analysis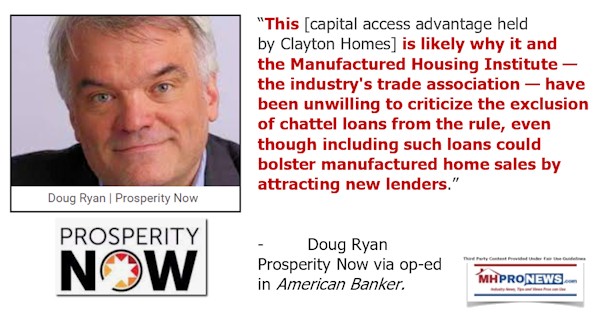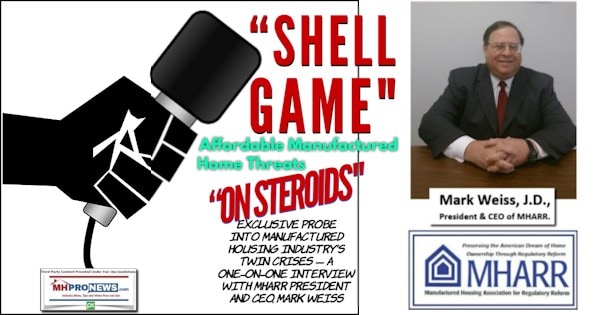 Many in MHVille have stopped talking much about COVID19. But it is certainly near the top of the list of factors that have impacted the economy, American (and global) politics, the housing market, and the manufactured housing industry.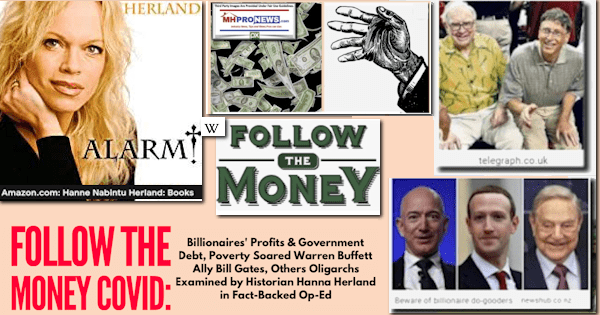 When their press release mentions legal issues, think about not only existing ones, but potential ones.
Call for Congressional Oversight Hearings of Manufactured Home Industry Regulators Highlighted by Manufactured Housing Association for Regulatory Reform (MHARR); plus MHVille Markets Update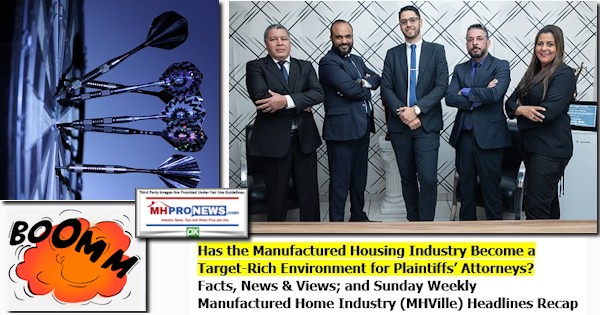 In their May 2022 Investor presentation, the firm said: "Skyline Champion Corporation is rethinking and transforming construction across the United States and Western Canada. We are making it possible for people to have a home that is built better, built faster and is more attainable today. We achieve this by providing off site solutions that are more innovative, affordable, and sustainable housing solutions for our customers and the end consumer." The "end customer" in that narrative is the retail homebuyer. But Skyline Champion's other "customers" are independent retailers, communities, builder-developers, and their own vertically integrated retailers. Their lingo of "off site built" homes is a page out of the Clayton Homes backed MHI playbook. Given the concerns noted herein, some of those remarks may well be paltering.
Under "STAKEHOLDER ENGAGEMENT" they said:
"Open and transparent communication with all our stakeholders –shareholders, employees, customers, suppliers, and communities we serve. Social responsibility to homebuyers, customers, employees and the communities in which they live and work."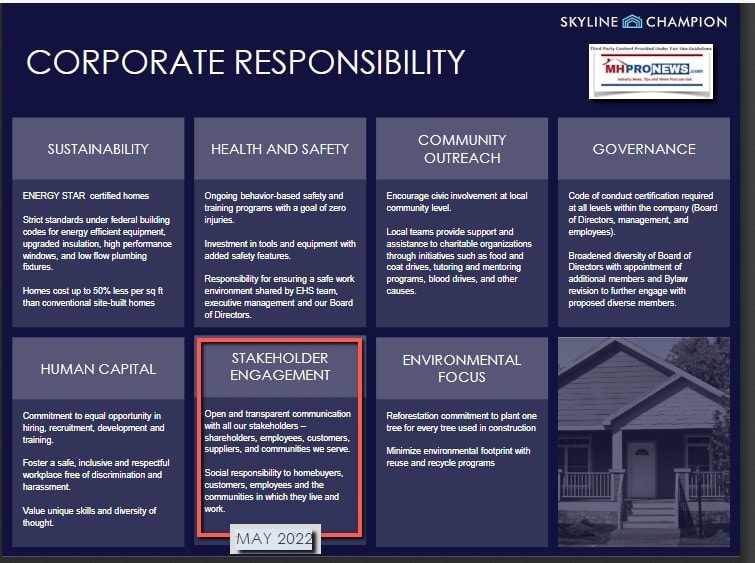 But the case can be made that MHI apparently isn't transparent. As a board member of MHI, they have an ability to do something about that, don't they? At a minimum, when antitrust, improper regulator engagement or other legal concerns come to the forefront, as MHARR and others have routinely pressed, Skyline Champion has its own set of responsibilities. So do their officers, members of management, and staff.
Speaking of staff, there is word that Terry Decio, part of the family tree from the Skyline portion of the organization, will be retiring.
Celebrating Arthur "Art" J. Decio, Founder Skyline Homes "Wonderful Life"-Manufactured Home+RV "Industry Legend"–Exclusive+Extensive Insights, Videos
Back to their May 2022 investor pitchbook, when Skyline Champion's management say that "60 percent of the U.S. population cannot afford a traditional home," that is a remark that cuts more than one way. In making that statement, or others that could be referenced, they also have fiduciary and other responsibilities.  If they are failing to live up to those remarks, there is arguably exposure.
Despite the fact that Skyline Champion's stock lost value in 2022, per the insights noted below, some analysts think the company's stock is poised for growth.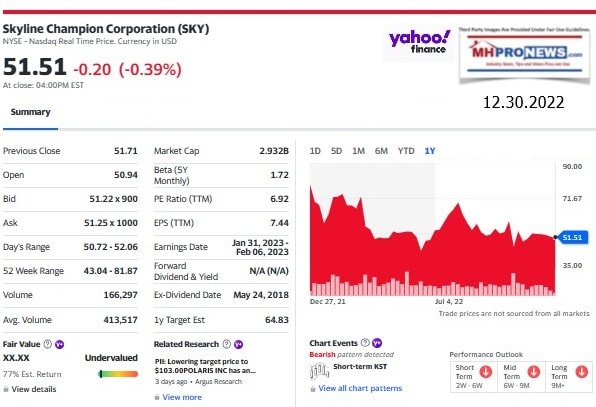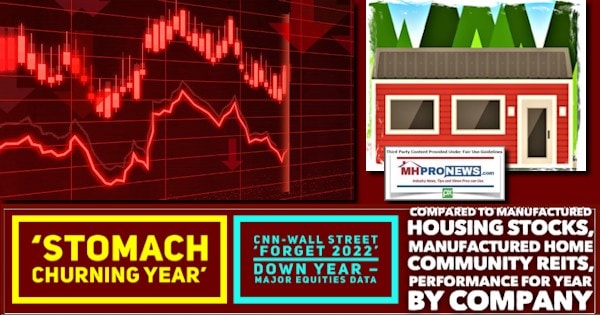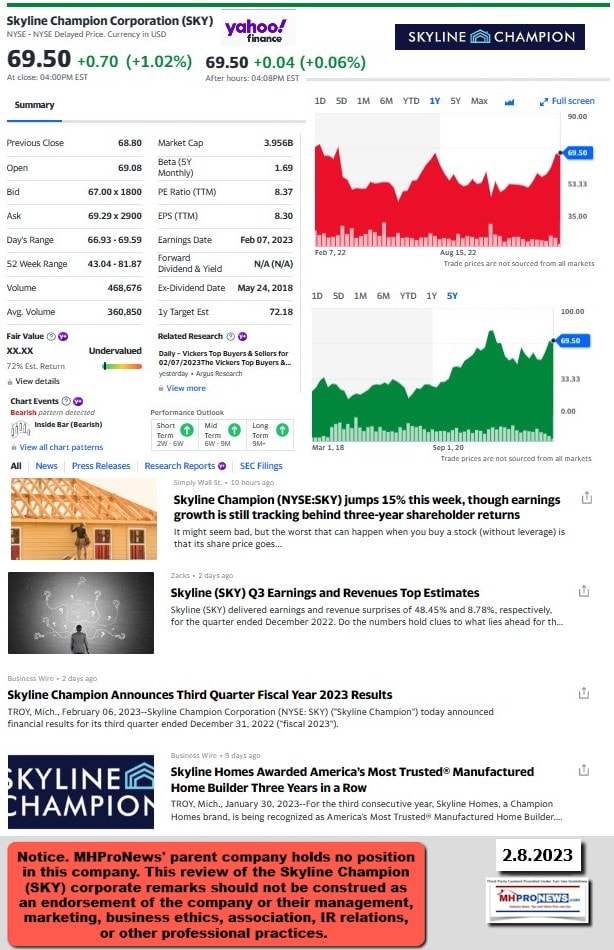 That said, their forward-looking statement "risks" and the factors noted herein are among the reasons that detail-oriented professionals should be cautious when it comes to this firm's leadership. This isn't a question of the product; it is a question of the policies and schemes of the leaders behind the products.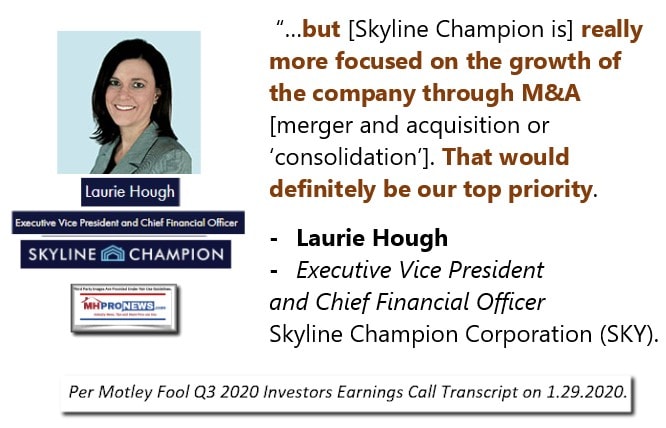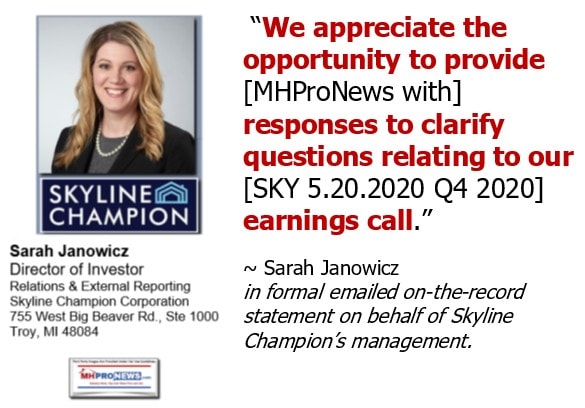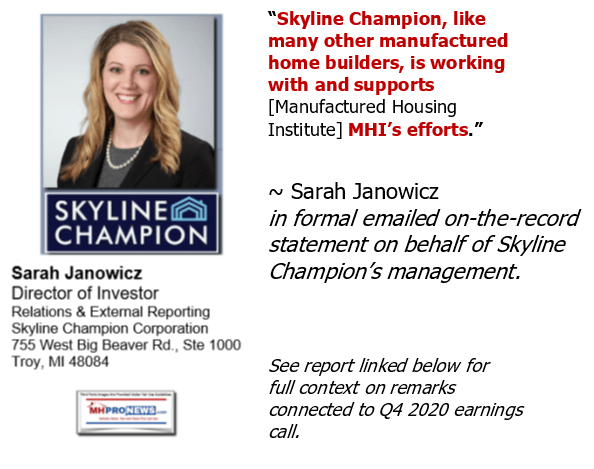 As but one more example of concern, on page 19 of their IR pitch deck, SKY said under "FINANCING AND REGULATORY ENVIRONMENT" that "EASING REGULATION AN ADDITIONAL TAILWIND" and "IMPROVING FINANCING ENVIRONMENT AS LENDERS RETURN TO MARKET." While it may be true that they take no responsibility (their disclaimers) for what happens the instant after they publish such remarks, the case could be made that those statements were paltering at best, or deceptive a worst, before they were made. MHProNews has published extensively on the MHI CrossMod® scheme. For Skyline Champion to even hint that there was improvement there is blatantly misleading. MHI itself has admitted that developers are moving away from CrossMods.
After Admitted Failure, Manufactured Housing Institute Doubles Down on CrossMods® in AP Terminology Doc Acquired by MHProNews–Are MHI Leaders Sabotaging MHVille Independents? Plus MHStocks Update
'Developers Moving Away from CrossMods®' Manufactured Housing Institute Oddly Admits Plan Undercuts 99 Percent of Manufactured Homes – MHI Doc, Facts, Analysis; plus MHVille REITs, Stock Updates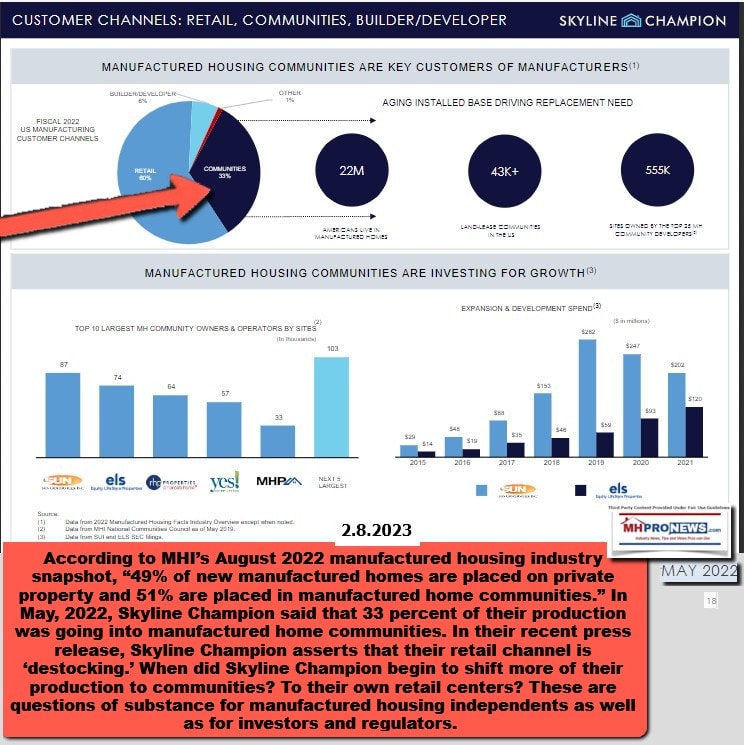 There are numbers of examples where Skyline Champion, along with other key MHI members, have arguably been failing in their responsibilities to their independent retailers and to their shareholders.
MHProNews plans to do another report in the near term that unpacks the firm's latest management discussion of quarterly results. Stay tuned, and in the meantime, dig into the linked and related reports to learn more about the nuances behind the numbers, observations, and remarks. Skyline's leaders may be relying too much on "Caveat emptor." Stay informed to the pluses, minuses, and sobering realities about the manufactured housing industry to the one and only industry professional trade media in MHVille that explores the apparent disconnects between corporate, nonprofit, or association claims and realities. ##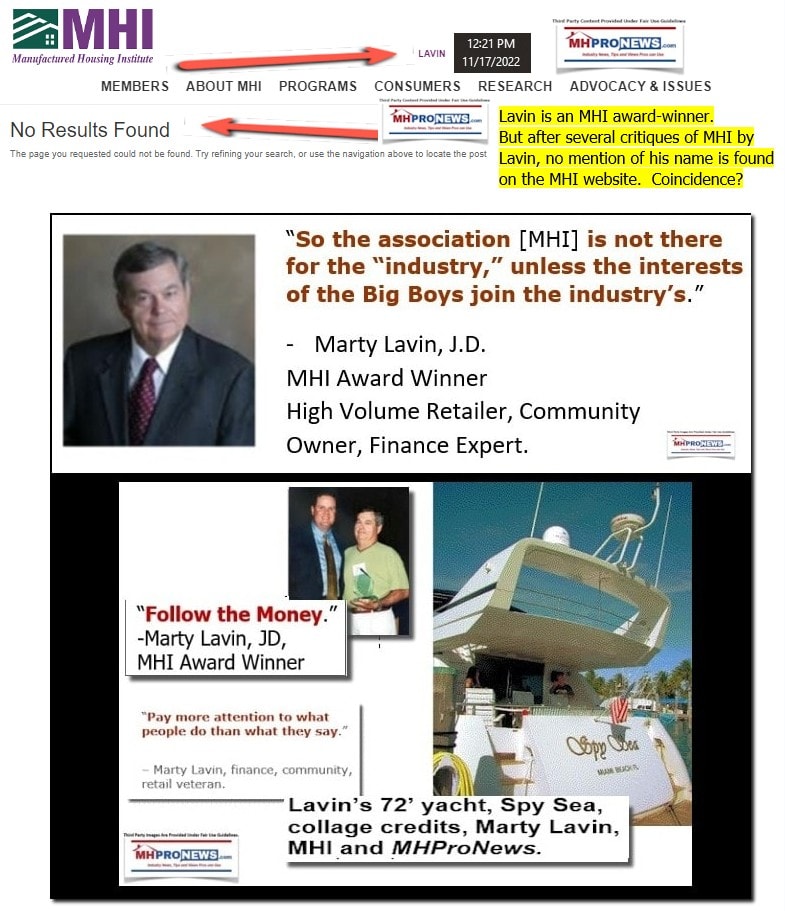 Danny Ghorbani – Manufactured Housing's 'Elephant in the Room,' per Prior Manufactured Housing Institute Chair, Exclusive Q&A on Key MHIndustry Issues, plus Sunday Weekly MHVille Headlines Recap

Part III. Daily Business News on MHProNews Markets Segment
The modifications of our prior Daily Business News on MHProNews format of the recap of yesterday evening's market report are provided below. It still includes our signature left (CNN Business) and right (Newsmax) 'market moving' headlines. The macro market moves graphics will provide context and comparisons for those invested in or tracking manufactured housing connected equities.
In minutes a day readers can get a good sense of significant or major events while keeping up with the trends that are impacting manufactured housing connected investing.
Reminder: several of the graphics on MHProNews can be opened into a larger size. For instance: click the image and follow the prompts in your browser or device to OPEN In a New Window. Then, in several browsers/devices you can click the image and increase the size. Use the 'x out' (close window) escape or back key to return.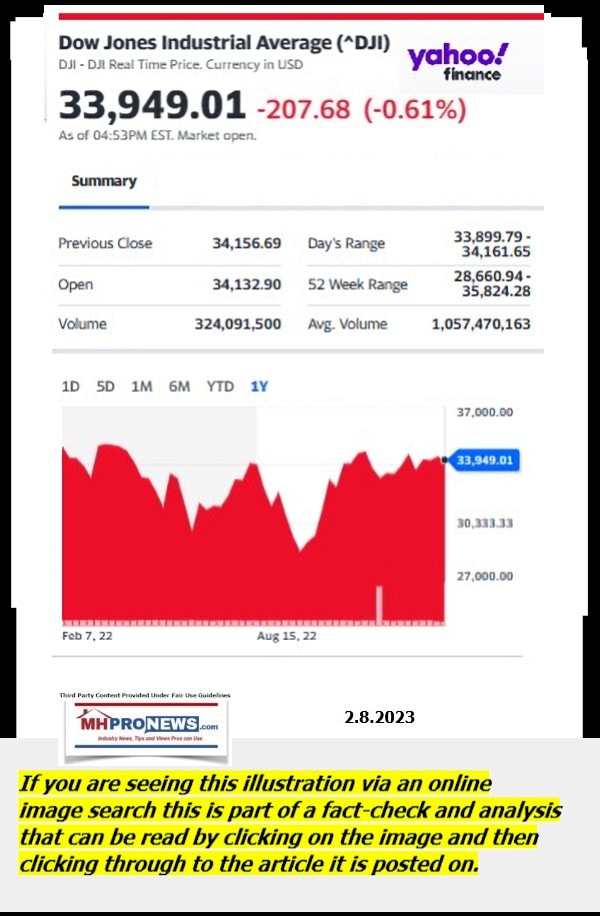 Headlines from left-of-center CNN Business – from the evening of 2.8.2023 
Bard's blunder
A logo sits illuminated outside the Google booth at ISE 2023 and IOT Solution World Congress at Fira Barcelona on January 31, 2023 in Barcelona, Spain.
The Google AI chatbot got a question wrong in a public demonstration
"It's a mess down here." Southwest pilots union to present more evidence of internal chaos during Christmas meltdown
Disney earnings outperform Wall Street expectations but Disney+ subscriber numbers fall
Twitter restricted in Turkey, according to network monitoring firm
Bed Bath & Beyond was a retail pioneer. Here's what went wrong
Discovery+ is sticking around. It's a strategy shift for Warner Bros. Discovery
UK competition regulator warns Microsoft's Activision deal could harm millions of gamers
Your Super Bowl party won't break the budget this year, but watch out for beer
How companies are trying to help victims of the earthquake in Turkey and Syria
Taco Bell's breakfast sales soar. It can thank Pete Davidson
Big Oil faces scrutiny after huge jump in profits
TotalEnergies hits pause on new Adani deal
Nigeria delays plans to replace its banknotes after chaotic scenes at ATMs
British postal service unveils first stamps featuring King Charles III
I tried Microsoft's new AI-powered Bing. Here's what it's like
Google details plans to use AI in search results
Uber reports 'strongest quarter ever' while the rest of Silicon Valley stalls
Turkey's stock market halted after earthquake leads to sharp selloff
Here's what keeps Jerome Powell up at night and interest rates high
US-China trade defies talk of decoupling to hit record high in 2022
Two rail unions reach deal with CSX railroad for paid sick time
Daines' Twitter account suspended after posting profile picture of himself hunting
Chinese savers stashed away $2.6 trillion last year but property crash will cool 'revenge spending'
Bed Bath & Beyond closes stores and raises $1 billion to stave off bankruptcy
Notice: the graphic below can be expanded to a larger size.
See instructions below graphic or click and follow the prompts.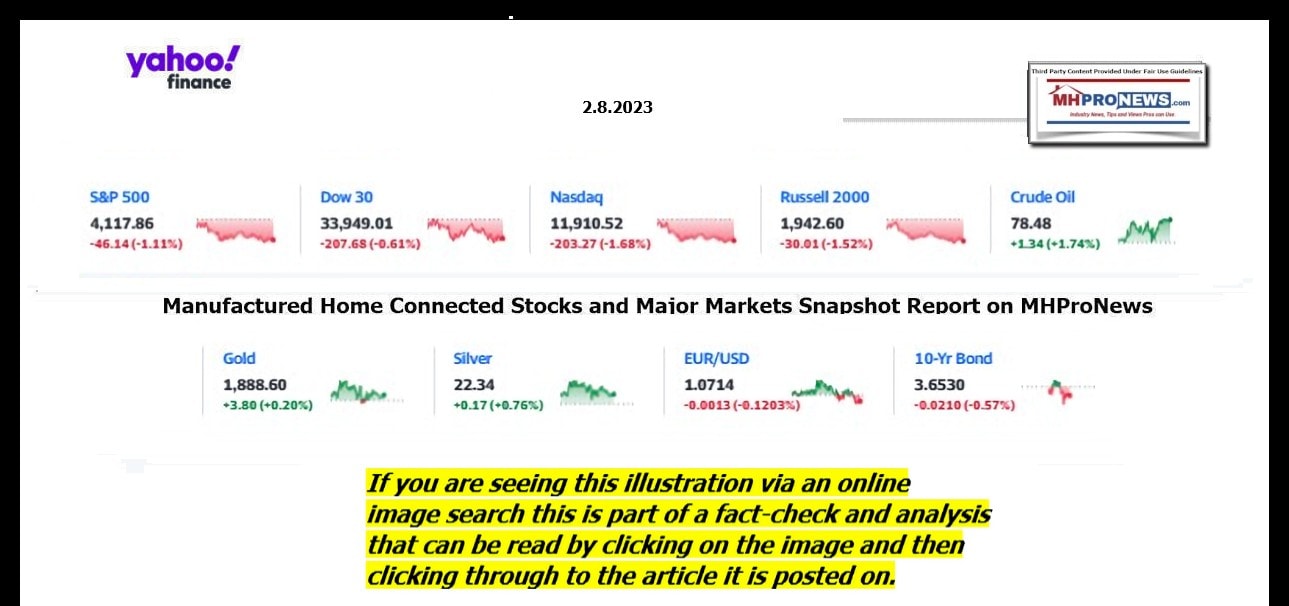 Headlines from right-of-center Newsmax 2.8.2023
WH Rejects Report US Was Behind Nord Stream Sabotage
The White House flatly rejects a new report by veteran investigative journalist Seymour Hersh that the US was behind the sabotage of the Nord Stream gas pipelines last year. [Full Story]
DirecTV Censors Newsmax
Burchett Urges DirecTV Probe in Oversight Hearing | video
Joe Lieberman: DirecTV's Actions 'Plain Un-American' | video
Markwayne Mullin: 'I Canceled DirecTV' | video
Daines: Newsmax, DirecTV Must Talk It Out | video
Garcia: 'Fight Like Hell' to Probe Censorship | video
Hern: Platforms 'Suppressing' Alternative Voices | video
Lankford: DirecTV Shouldn't Repeat Disney's Mistakes | video
Walberg: News Censorship 'Key Agenda' Item | video
Dershowitz: DirecTV Clearly 'Wrong,' Irresponsible | video
Trump: AT&T Dropped Newsmax for 'Political Reasons' | video
More Stories on AT&T DirecTV Censorship
Gordon Chang: Biden Gets 'D' on Balloon Response | video
Mullin: Biden SOTU 'Out of Touch,' 'Despicable' | video
Pat Fallon: Biden Speech 'Good, Bad, and Ugly' | video
Tenney: Biden Didn't Deliver Answers, Solutions | video
Blaine Holt: Zelensky Visits UK Amid 'Bad Situation' | video
Mike Rounds: China Takes Upper Hand 'in All Areas' | video
Jason Smith: GOP Must Not Fold on Debt Limit | video
21 Red-State AGs: Name Mexican Drug Cartels Terror Groups
Republican attorneys general in 21 states called on the Biden administration to designate Mexican drug cartels as foreign terrorist organizations…. [Full Story]
Wall Street Dips After Recent Gains, Alphabet Sinks
S. stocks ended down on Wednesday, paring most of the strong gains [Full Story]
Merkel Receives UNESCO Peace Prize for Welcoming Refugees
Germany's former chancellor Angela Merkel on Wednesday received a [Full Story]
Zelenskyy in UK Seeking More Arms: 'Evil' Will Lose
Britain announced an immediate surge of military deliveries to [Full Story]
Blaine Holt to Newsmax: Zelenskyy Visits UK Amid 'Bad Situation' |video
Germany's Scholz Criticizes 'Public Competition' to Send Arms to Ukraine
Ukraine May Start Targeting Inside Russian Borders
US Warship Sails Near Black Sea for 1st Time Since War
Chinese Spy Balloon Underscores New UFO Focus
Revelations of frequent balloon activity in recent years mirroring [Full Story] | Platinum Article
Blinken's China Trip Wasn't Worth Spy Balloon Fiasco
National security experts say that nothing on tap for the [Full Story] | Platinum Article
Investigators Implicate Putin for 2014 Downing of Malaysia Air Flight 17
International investigators looking into the downing of Malaysia [Full Story]
Biden's SOTU Most Wordy in 6 Decades
President Joe Biden's State of the Union address on Tuesday was the [Full Story]
John Gizzi: GOP Asks Why Nothing on China Spy Balloon?
Sanders' GOP Response: 'Choice Is Between Normal or Crazy'
Reaction to Biden's Address Polarized by Party
Four Supreme Court Justices Skipped Biden's SOTU
WH Unveils Plan to Mandate US-Made Goods in Infrastructure
Biden Hits GOP on Economy, Debt Limit in Address
Trump's 'Real State of the Union': 'Crisis, Calamity, and Disaster' |video
Greene: 'Not Sorry One Bit' for Yelling 'Liar' During Biden's Speech
Michael Jackson Estate Eyes Near-$1B Sale of Music Rights
The estate of Michael Jackson is closing in on a deal to sell half [Full Story]
Pentagon: US Sites of Interest Visited by Past Chinese Balloons
Four previous Chinese spy balloon flights over the United States [Full Story]
Fmr Twitter Exec: Blocking Hunter Biden Story Wrong
A former Twitter executive admitted that the New York Post's October [Full Story]
WH Calls Biden Oversight 'Bizarre Political Stunt'
US: Balloon Part of China's Surveillance Program
U.S. intelligence officials say the downed Chinese spy balloon is [Full Story]
Related
Trafalgar Poll: China Spy Balloon Situation Mishandled, Most Say
US, States Weigh Farmland Restrictions After Chinese Balloon
Retired Navy Admiral: 'Disconnect' in Understanding These Balloons
US Recession Still Likely: PIMCO
S. bond manager Pacific Investment Management Company (PIMCO) is [Full Story]
WH Rejects Report US Sabotaged Nord Stream Pipeline
The White House flatly rejected Wednesday a new report by veteran [Full Story]
Air Travel to Rebound to Pre-COVID Levels
Demand for commercial travel is expected to make a full recovery in [Full Story]
Jeffrey Epstein's Banks Seek to End Accusers' Lawsuits
JPMorgan Chase & Co. and Deutsche Bank AG called on a U.S. judge to [Full Story]
Lawsuits Pile Up as Parents Take on Social Media Giants
At about the time her daughter reached the age of 12, American health [Full Story]
More Than Half of Cancer Patients Develop Long COVID
Many cancer patients who are infected with COVID-19 are left with [Full Story]
Cost Rises in Mishandling of COVID-19 Unemployment Payments
Nearly $30 billion more in COVID-19 unemployment benefits was [Full Story]
Rick Scott Says 'Biden Should Resign' in New Ad
Florida Republican Sen. Rick Scott's campaign this week released an [Full Story]
Gaetz Replaces Roy on House Weaponization Panel
Matt Gaetz, R-Fla., has replaced Rep. Chip Roy, R-Texas, on the [Full Story]
Southwest Pilots Union Blasts Airline for Meltdown
The Southwest Airlines Pilots Association (SWAPA) will tell a U.S. [Full Story]
Bernie Sanders Demands Answers From Starbucks' Schultz
As Vermont Sen. Bernie Sanders settles into his new role as chairman [Full Story]
Will Ferrell, Alicia Silverstone Star in Super Bowl Ads
The Super Bowl is advertising's biggest, glitziest stage. Big name [Full Story]
Manchin Laments Country's 'Direction,' Doesn't Rule Out WH Run in '24
Joe Manchin, D-W.Va., left the door open on a possible run for [Full Story]
LeBron Passes Abdul-Jabbar as NBA's All-Time Scorer
Bronny James stepped over to his dad's locker and played the phone [Full Story]
Kamala Harris: I'm Running With Biden Again
Vice President Kamala Harris on Wednesday morning insisted that she [Full Story]
Romney: 'Sick Puppy' Santos Should Not Have Attended SOTU
Embattled New York Republican Rep. George Santos was chastised by a [Full Story]
CVS to Buy Oak Street Health for $9.5B
CVS Health Corp. said Wednesday it would buy primary care provider [Full Story]
Russia: US Call to Resume Nuclear Inspections 'Cynical'
Russia's foreign ministry said on Wednesday that demands from the [Full Story]
Germany's Scholz Questions Aid Lethal Race for Ukraine
German Chancellor Olaf Scholz on Wednesday criticized the public [Full Story]
American Shoppers Should Think Twice Before Buying from These 2 Stores
Online Shopping Tools
Finance
Michael Jackson Estate Eyes Near-$1B Sale of Music Rights
The estate of Michael Jackson is closing in on a deal to sell half its interests in the megastar's music catalogue, in a deal worth up to $900 million, Variety reported…. [Full Story]
Disney Earnings Beat as Visitors Crowd Theme Parks
Robinhood 4Q Revenue Rises 5%
Netflix Lays Out Plans for Account Sharing Crackdown
Employers Doling Out 4.1% Raises
More Finance
Health
Many Changes to Healthcare Coming as Pandemic Emergency Ends
Americans received unprecedented access to health care during the pandemic, including hassle-free public insurance and free tests, treatments and vaccines for COVID-19. Now, they need to prepare for most of that to unwind, experts say. "Essentially, Congress and the…… [Full Story]
'Mommy Brain' is not a Thing, Say Scientists
WHO: Risk From H5N1 Bird Flu Remains Low, But Should Be Monitored
CDC: Vaccination During Pregnancy Prevents Whooping Cough in Newborns
Married, Cohabitating People Have Better Blood Sugar Control
Notice: the graphic below can be expanded to a larger size.
See instructions below graphic or click and follow the prompts.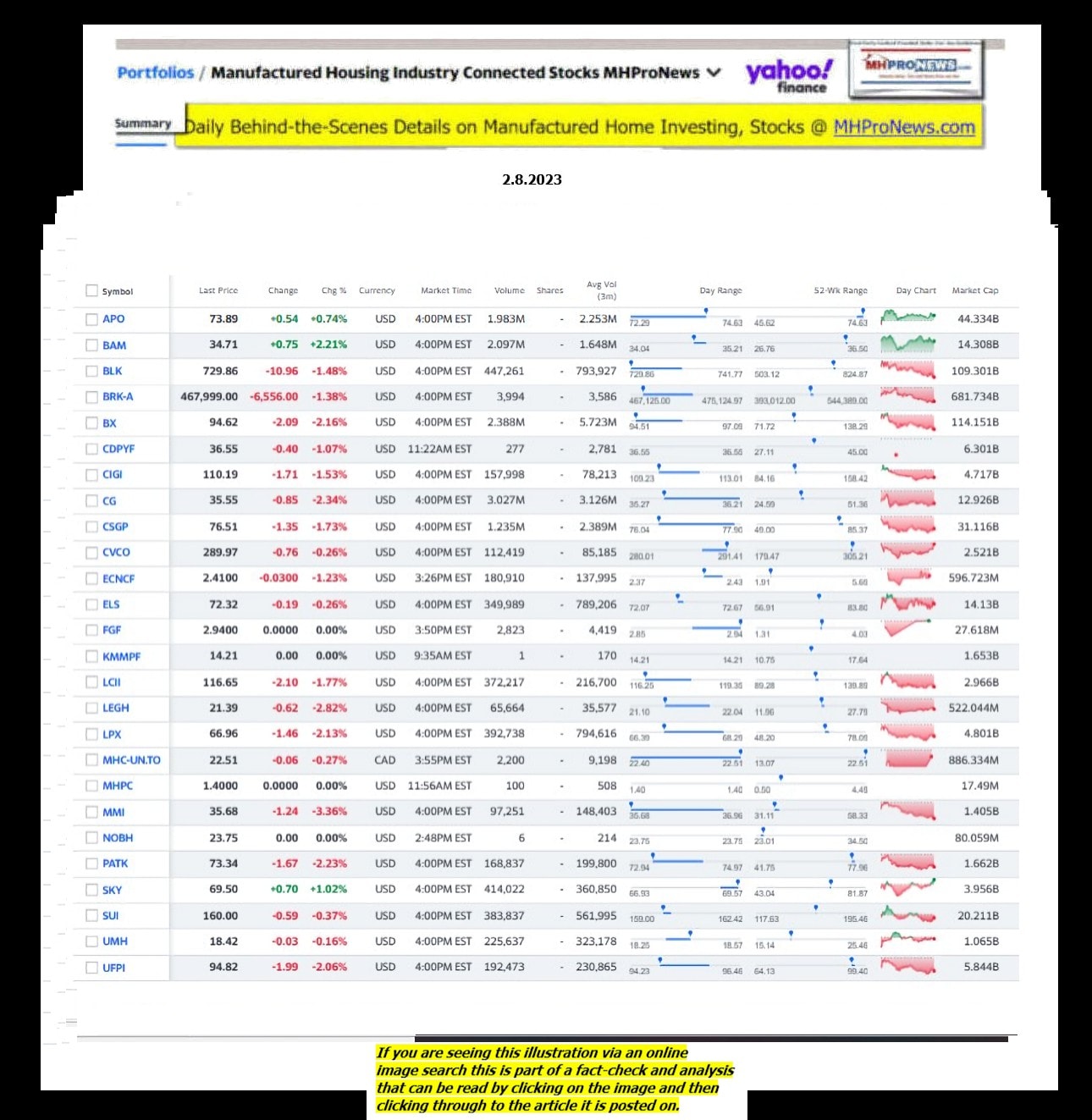 'Stomach Churning Year' CNN-Wall Street 'Forget 2022' Down Year – Major Equities Data Compared to Manufactured Housing Stocks, Manufactured Home Community REITs, Performance for Year by Company
====================================
Updated
NOTE 1: The 3rd chart above of manufactured housing connected equities includes the Canadian stock, ECN, which purchased Triad Financial Services, a manufactured home industry finance lender.
NOTE 2: Drew changed its name and trading symbol at the end of 2016 to Lippert (LCII).
NOTE 3: Deer Valley was largely taken private, say company insiders in a message to MHProNews on 12.15.2020, but there are still some outstanding shares of the stock from the days when it was a publicly traded firm.  Thus, there is still periodic activity on DVLY.
Note 4: some recent or related reports to the REITs, stocks, and other equities named above follow in the reports linked below.
'Manufactured Housing in the News,' Unpacking UMH CEO Sam Landy Op-Ed' It's Time for Bi-Partisanship on Affordable Manufactured Housing Homeownership' in HousingWire; plus MHMarkets Updates
Warren Buffett's Pledge to Kevin Clayton – 'You Can Access Plenty of Capital' for Projects – Quotes, Facts, Video, Transcript, and Implications for Manufactured Housing Industry
Manufactured Housing Properties-Results for Three and Nine Months Ending September 30.2022–Exploring 'Mobile Home Park' Manufactured Home Community Investing; plus MHVille REITs, Stocks Update
'Changes Will Benefit Customers,' Boost Sales-Legacy Homes CEO Duncan Bates – LEGH 'Delivered 22.5% Return on Equity in 1 Yr' – Corp Q3 2022 Insights, Analysis; plus MHVille REITs, Stocks Update  
'No Assurance Inflation Will Not Affect Our Future Profitability Financial Position'=Cavco Industries 10-Q, Solitaire Deal, More CVCO Data; Supreme Court Ruled-SEC Regs on False-Omitted Remarks
Skyline Champion Provides Quarterly Results, Adding Retail Centers, Improved Delivery Times-CEO Mark Yost Says 'Can Outperform Conventional Housing' Explored; Plus MHVille REITs, Stocks Update
Triad Financial Services Q2-2022 FINANCIAL RESULTS, per ECN Capital – Several Bright Spots in Manufactured Home Market Highlighted, Including Communities, Retail, Land-Home, Floor; MHStocks Update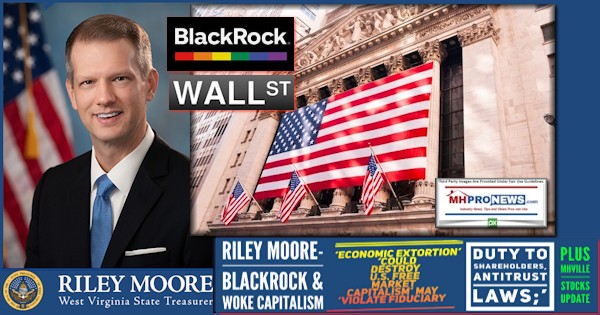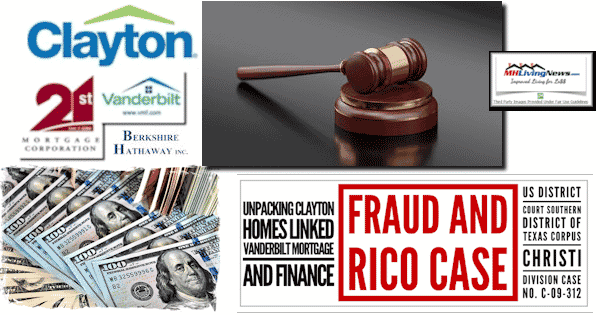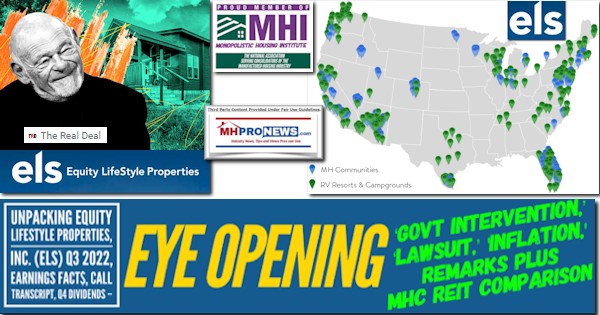 Manufactured Home Communities (a.k.a. 'Mobile Home Parks' – SIC) – Exploring UMH Properties; Fellow Manufactured Housing Institute Member Yes! Communities Suits and Settlements; plus MH Markets Updates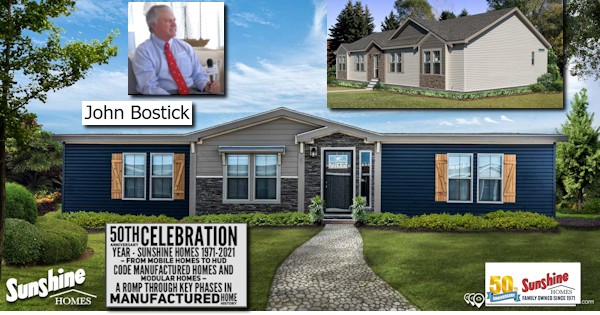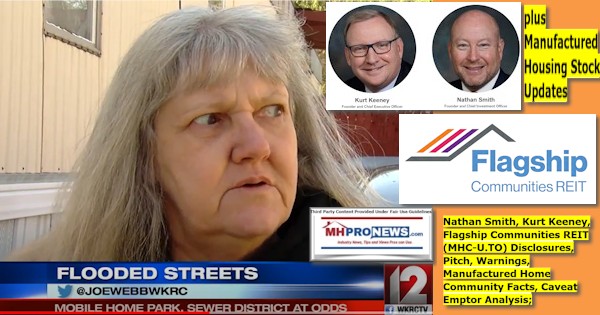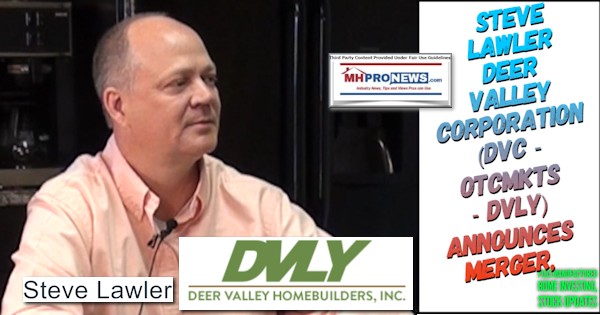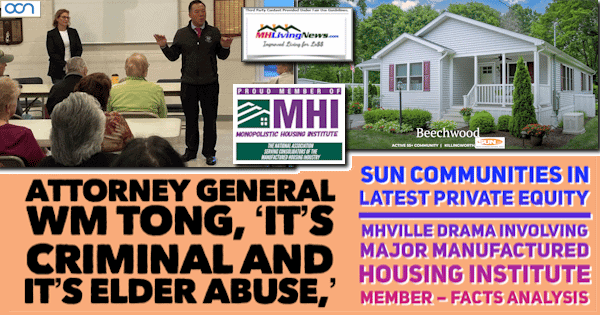 2023 …Berkshire Hathaway is the parent company to Clayton Homes, 21st Mortgage, Vanderbilt Mortgage and other factory-built housing industry suppliers.
· LCI Industries, Patrick, UFPI, and LP each are suppliers to the manufactured housing industry, among others.
· AMG, CG, and TAVFX have investments in manufactured housing related businesses. For insights from third-parties and clients about our publisher, click here.
Disclosure. MHProNews holds no positions in the stocks in this report.
· For expert manufactured housing business development or other professional services, click here.
· To sign up in seconds for our industry leading emailed headline news updates, click here.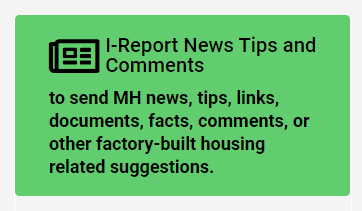 That's a wrap on this installment of "News Through the Lens of Manufactured Homes and Factory-Built Housing" © where "We Provide, You Decide." © (Affordable housing, manufactured homes, stock, investing, data, metrics, reports, fact-checks, analysis, and commentary. Third-party images or content are provided under fair use guidelines for media.) (See Related Reports, further below. Text/image boxes often are hot-linked to other reports that can be access by clicking on them.)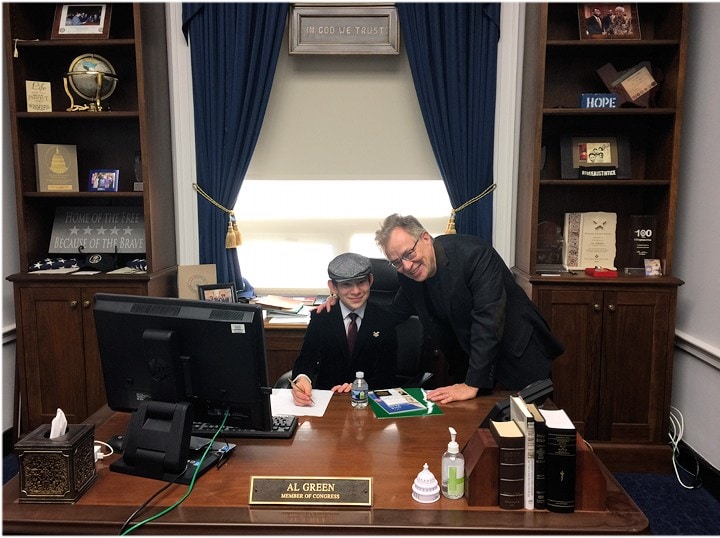 By L.A. "Tony" Kovach – for MHProNews.
Tony earned a journalism scholarship along with numerous awards in history. There have been several awards and honors and also recognition in manufactured housing. For example, he earned the prestigious Lottinville Award in history from the University of Oklahoma, where he studied history and business management. He's a managing member and co-founder of LifeStyle Factory Homes, LLC, the parent company to MHProNews, and MHLivingNews.com. This article reflects the LLC's and/or the writer's position and may or may not reflect the views of sponsors or supporters.
Facts You Didn't Know – Martin Luther King Jr – Videos, Insightful Quotes, Surprising Revelations, Videos, Reports, and Illustrations in Champion for Human Rights Including Affordable Housing
HUD Code Manufactured Home Building Down Nov 2022–Higher for Year per Manufactured Housing Association for Regulatory Reform Data, Facts-Insights Others Lack; plus MHVille Stocks-REITs Update
'Manufactured Housing Closes Year on Cool Note, But Optimism Grows for 2023' Says TRERC, But TMHA VP Rob Ripperda Lets Cat Out of Proverbial Bag, Exposing MHI; plus MHVille Market, Stocks Update
U.S. Housing Data Reveals Gaps-Underscores Vast Manufactured Housing Industry Potential, But Raises Corp, Trade Group Performance Concerns, Apparent Shareholder Effects; plus MHVille Stocks Update
After Admitted Failure, Manufactured Housing Institute Doubles Down on CrossMods® in AP Terminology Doc Acquired by MHProNews–Are MHI Leaders Sabotaging MHVille Independents? Plus MHStocks Update
Concessions by Speaker Kevin McCarthy in House Speaker's Battle Called 'Most Significant Win for Conservatives in a Decade' By Federalist's Emily Jashinsky Report; plus MHVille Stocks Updates