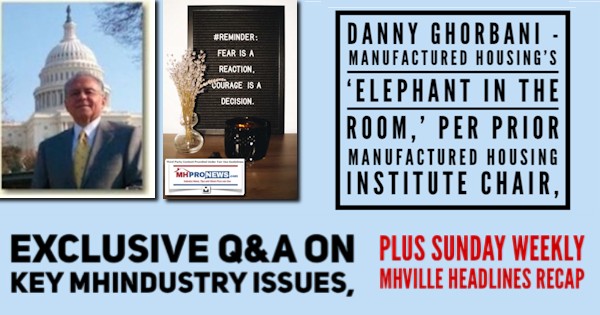 During a Manufactured Housing Institute (MHI) meeting, a prior MHI chairman referred to Danny Ghorbani as "the elephant in the room." Why "the elephant in the room" for MHI? That's a fair question.
Ghorbani is an engineer by training, which means facts, evidence and solid science are all part of his education. Engineers don't deal in wishful thinking, they deal in facts and reality.
He brought those skills to this factory-built housing industry. What is today called MHI hired him as a vice president (VP). As an MHI VP, he was involved in organizing the Louisville Manufactured Housing Show when it was an event several times its size and scope in recent years. The Louisville Manufactured Housing Show was so large in the Ghorbani era that it attracted mainstream news internationally.
Per the RV MH Hall of Fame website, Ghorbani was also involved in developing some 200,000 home sites for our industry. In the 21st century? Zero. So one might think that Ghorbani's views are worth carefully considering.
He witnessed the transformation of the old mobile homes of yesteryear into the manufactured housing standards established by Congress and HUD's response to the construction and safety standards that went into effect on June 15, 1976. After years at MHI, after leaving their association, certain manufactured housing producers who were 'independents' approached Ghorbani to form what was called the Association for Regulatory Reform (ARR). ARR, was later renamed and for decades has been the Manufactured Housing Association for Regulatory Reform (MHARR).
Ghorbani became a symbol for MHARR. Ghorbani's columns in the now defunct Journal of Manufactured Housing published by Jim Visser became monthly must-reading for industry members. Now retired, Ghorbani is still the senior adviser to Mark Weiss, J.D., who has taken up the leadership reigns at MHARR. In the late 20th century, Ghorbani helped enact the Manufactured Housing Improvement Act of 2000 (MHIA), in conjunction with MHI leadership including then MHI president and CEO Chris Stinebert. Ghorbani and MHARR were involved in the enactment of the Duty to Serve (DTS) Manufactured Housing enacted as part of the Housing and Economic Recovery Act (HERA) of 2008.
It is against that backdrop that MHProNews presents the following exclusive Question and Answer (Q & A), shown below.
MHProNews Q & A With Danny Ghorbani
USING MHARR'S WHITE PAPER TO EVALUATE THE VERACITY OF MHI'S PUBLIC RELATIONS ACTIVITIES
MHProNews QUESTIONS :
You may or may not have read or even noticed the increase in recent years in the volume of public relations materials that Manufactured Housing Institute (MHI) puts out. One specific "news" item that MHI published in late December 2022 is titled "MHI Priorities Are Addressed in Congress' Year End Package."
My questions are:
What is your general view of this MHI's "news" item, as well as MHI's public relations and published self-promotion materials in general?
and;
How can industry members who are routinely bombarded with these MHI materials, intelligently evaluate their veracity as well as their actual benefit (if any) to the industry and consumers?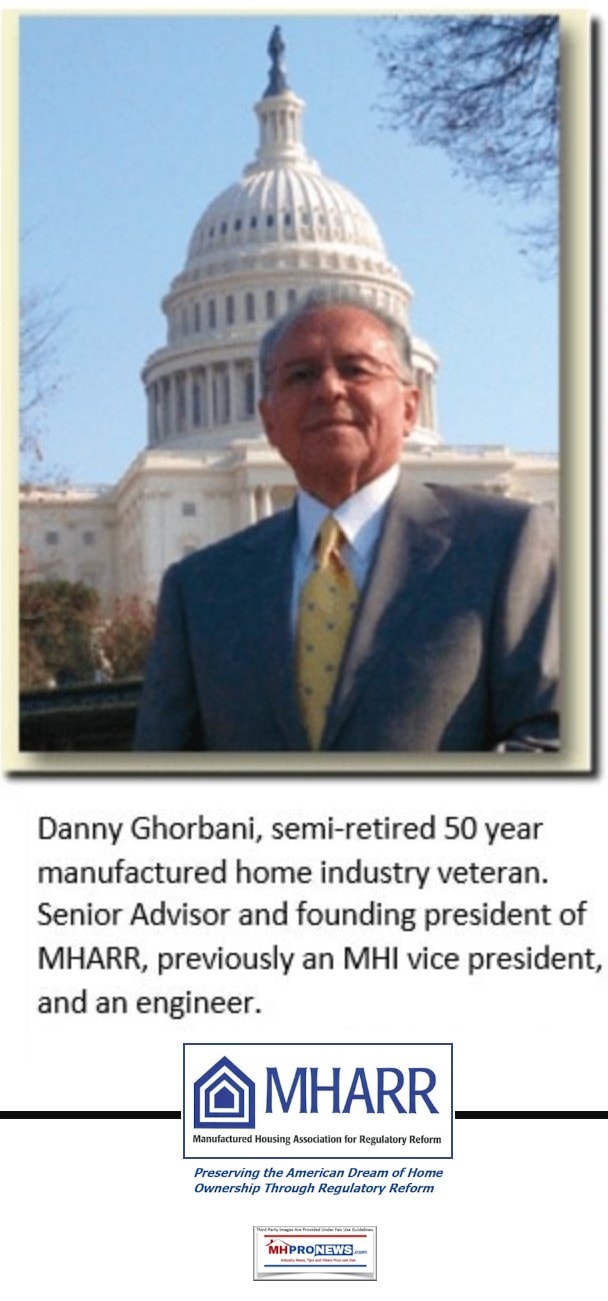 Danny Ghorbani's ANSWERS:
Thank you, Tony.
To be frank, I don't particularly seek to read anything published by MHI. That being said, though, one can't help but notice the tactics that MHI employs to saturate the industry with its braggadocious material. Here's how the scheme works. MHI publishes a "fluff" news item and that is exposure number one. Then trusting state associations take that "fluff" and publish it in their own newsletters to provide exposure number two. And if a state association has local chapters (which many do), those chapters may publish the same material, or forward it to their members, and that is exposure number three. Then the same content is typically used for discussion at their assorted meetings, seminars, conferences, "congresses" and parties (just to name a few) and before you know it, the "fluff" piece and its contents are widely circulated.
Now, to be sure, MHI is entitled to say and do as it wishes, but you also are absolutely correct that in an industry as complex as ours,  which is comprehensively regulated by the federal government, industry members exposed to such materials need some method or means to evaluate the  veracity, accuracy and legitimacy of what they are reading and/or hearing, as well as their ULTIMATE BENEFIT (if any) to the industry and consumers.
In conjunction with the above — and as an aside — this is why I am a bit disappointed with my state association colleagues for not EQUALLY exposing in their newsletters the materials they routinely receive from MHARR in order to provide members with fully-accurate and fully- balanced information. But that is another subject for another time.
To return to your initial question, yes, I have had a quick glance at this supposed "news" item, and in my opinion, there is "no 'there' there" with respect to MHI's "priorities" allegedly being included in Congress' legislative package, as it fits the same old MHI pattern of "all talk and no [meaningful] action." So, this is just the latest in an ongoing series of self-promotion and public relations efforts that MHI has been pursuing for years.
They are able to get away with this sleight-of-hand, because there has never before existed a workable tool that readers could use to fact-check the veracity of these claims and these MHI materials. This should change, though, following the July 2022 publication of MHARR's latest White Paper, entitled "The Exploitation of Federal Housing Finance and Mortgage Assistance Programs and Potential Solutions."
With this White Paper, industry members can compare the White Paper's analysis and conclusions with MHI's claims that its supposed "priorities" are included in Congress' bloated $1.7 trillion taxpayer-funded spending bill. From that comparison, it becomes apparent that very little or none of that spending and related program activity will EVER, IN REALITY, REACH THE GROUND in the form of TANGIBLE BENEFITS that would result in a voluminous increase in manufactured home production and a corresponding increase in sales of NEW manufactured homes to and for the lower and moderate-income Americans who depend on HUD Code homes as their only source for affordable homeownership.
Sadly, though, MHI often uses such self-promotion and public relations activities to divert the industry's attention from something else that it is either doing or failing to do…a sort of "razzle- dazzle" that magicians would use to distract audiences while performing "tricks." A perfect example of this phenomenon is an item in the alleged "priorities" list, where MHI brags about a "directive to HUD to substantially engage with the DOE on [energy] efficiency standards for manufactured housing." As I explained in the last Q & A about the DOE energy rule, this is nothing new, as coordination between DOE and HUD —  and the MANUFACTURED HOUSING CONSENSUS COMMITTEE (MHCC), I might add — was already in the original enabling legislation, EISA (i.e., the Energy Independent and Security Act of 2007).
MHI, then, having made a serious error in "going along to get along" with DOE and energy rule PROPONENTS in their nonsensical "negotiated rulemaking" process and NOT joining with MHARR to ensure united industry opposition, now wants the industry to forget all of that because of this supposed directive? Particularly at a time when the horrible results of MHI's ill-advised actions on the DOE energy rule are about to saddle the industry and consumers with thousands of dollars in extra regulatory compliance costs for each NEW home — which would further devastate our industry's ability to increase production and expand its affordable housing market — MHI brags about the re-do of something that was already there and MHI failed to press for the good of ALL members of our industry?
The question thus arises, is MHI doing this in order to divert the industry's attention from its repeated mistakes on the DOE energy rule from the beginning, or is MHI doing this in order to divert the industry's attention from failing to take the lead on a legal challenge and injunction against DOE to force it back to the drawing board — something that MHI could and should have done as soon as DOE published its final rule in May 2022 but didn't. Meanwhile, the clock is winding-down closer and closer to the May 31, 2023 implementation date for that miserable and unnecessary rule.
It goes without saying that if all of this self-promotion that MHI routinely publishes to tout its alleged "accomplishments" had ever reached the ground in actuality, our industry would have not been stuck near, but mostly below, a production level of 100,000 homes per year since 2007. In fact, the one time that MHI has accomplished something of substance to truly benefit the industry and consumers, is when it was FORCED twice by its members to fully cooperate  and work closely with MHARR — once to develop and pass the landmark 2000 Reform Law and a second time to develop and pass the "Duty to Serve the Underserved Markets" provision of the Housing and Economic Recovery Act of 2008 (HERA). Unfortunately, though, MHI didn't FULLY commit itself (i.e., by using all the levers of power, including the federal courts and congressional oversight hearings) to the full and proper implementation of ALL provisions of these two beneficial laws (particularly and especially provisions related to post production matters), resulting in the continuing economic stagnation of the industry to date. MHI, therefore, talks a good game about these laws, but has never taken decisive action to force their full and proper implementation … particularly in the post-production realm.
In my view, MHI's modus operandi regarding self-promotion needs to be understood and taken into account by those who might trustingly be inclined to accept such statements at face value. This is why MHARR's White Paper would (and should) be a tremendous help to industry members as a tool to evaluate and decide for themselves the veracity of MHI claims and whether such activities would result in actual TANGIBLE BENEFITS that would ACTUALLY REACH THE GROUND and have a real-world impact for both the industry and consumers.
To close, then, after the pandemic of 2020 and with the Biden administration's focus on federal housing, finance and mortgage assistance programs emphasizing affordable housing, it became apparent that self-promotion opportunities flowing from these programs would be irresistible to MHI even though, as the White Paper explains in detail, very few or none of them ACTUALLY REACH THE GROUND for manufactured housing. Therefore, MHARR determined that an educational and "straight-talk" research paper was warranted. This led to the development and publication of the July 2022 MHARR White Paper. A comprehensive document, the White Paper methodically and factually explains why our industry and its consumers are — and continue to be — deprived of the benefit of virtually any and all federal programs and government largesse that might otherwise apply. The reasons for this major problem — and how they can be corrected — are all in the July 2022 MHARR White Paper…and MHI holds the key to correct all of them if the association so wishes, as virtually all relate to deficiencies impacting the post production aspects of  new HUD Code homes (e.g., discriminatory zoning laws and consumer finance, among others) for which MHI collects hefty REPRESENTATION  dues from industry members, thus making the correction of such matters a duty owed by MHI to its members.
The July 2022 MHARR White Paper, therefore, is a must read for any and all individuals who have the slightest interest in the advancement, success and prosperity of this great manufactured housing industry. For a copy of this document, readers should call (202/783-4087) or email the association at MHARRDG@AOL.COM.
Danny D. Ghorbani
202/262-2170
dannyghorbani@aol.com ##
The White Paper Danny Ghorbani has referenced is linked below.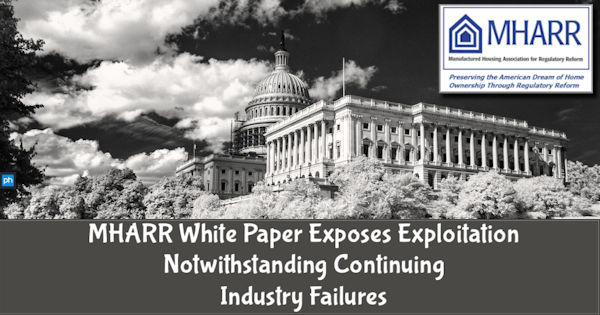 The MHI priorities claims mentioned in the Q&A above is found in the MHProNews report linked below.
Manufactured Housing Institute (MHI) Claims Priorities Addressed in Congress' Year-End Legislative Package, Pros and Cons Fact Check, Analysis; plus MHVille REITs, Stocks Update
Today's postscript will be on a different, but for some pros, a related topic.
With no further adieu, here are the headlines for the week that was 1.29.2023 to 2.5.2023
What's New and Recent on MHLivingNews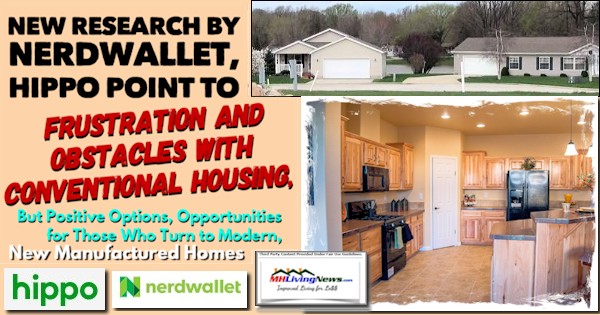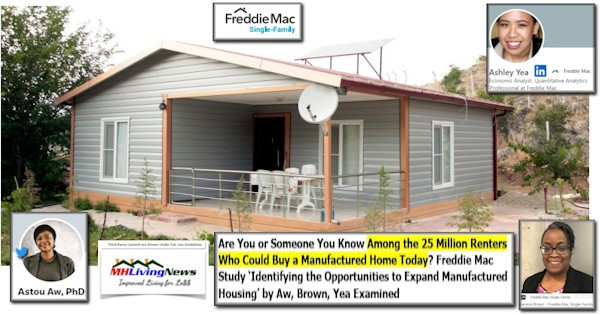 What's New on the Masthead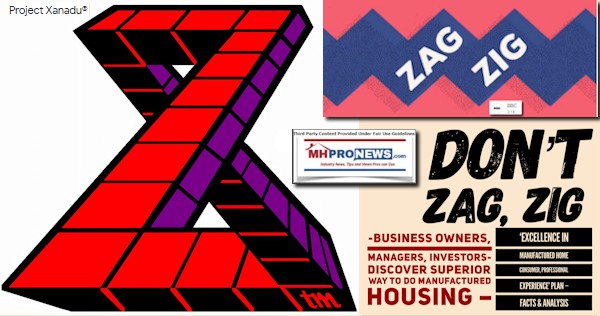 What's New and Recent from Washington, D.C. from MHARR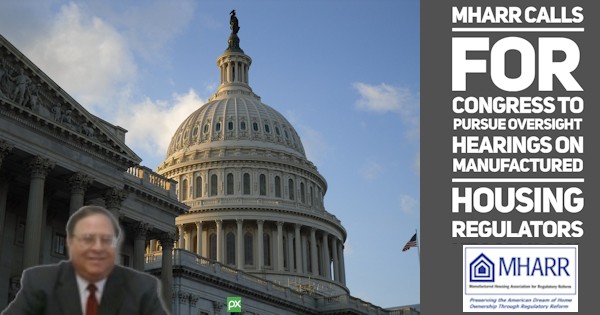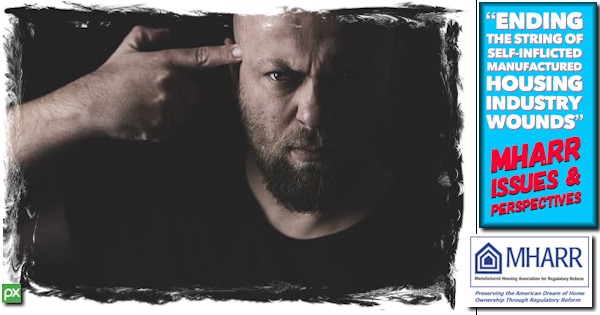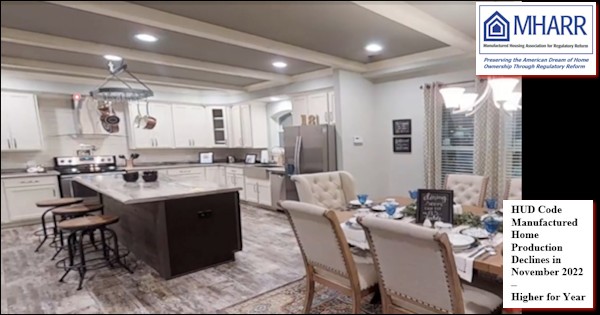 Note: MHProNews is told to expect MHARR's December 2022 and year and report tomorrow, 2.6.2023. Watch for it.
What's New on the Words of Wisdom by Tim Connor, CSP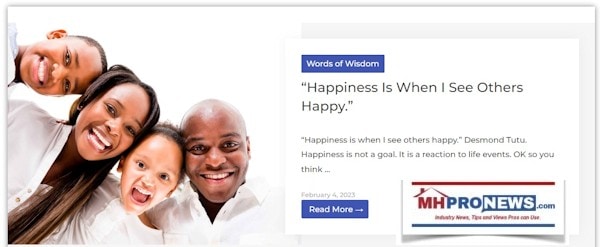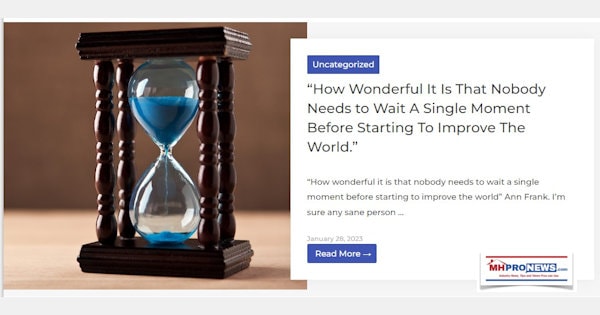 What's New on the Daily Business News on MHProNews
Saturday 2.4.2023
BlackRock Document Exposes Central Banks like Federal Reserve on Recession; Manufactured Home Producer Cavco Industries 2022 Year End Results (CVCOQ3.23) Facts+Analysis; plus MHVille Stocks Update
Friday 2.3.2023
'Looks like 112,882 in 2022 vs. 105,772 in 2021, so a 6.7% Increase' BUT – Manufactured Housing Production Has Sharp Fall in Dec 2022, Data Reveals Several Concerns; plus MHVille Markets Update
Thursday 2.2.2023
ELS Manufactured Home Communities 4Q2022 Report-MH Sales Up But Concern 'Govt Intervention to Stabilize Site-Built Single-Family Housing Not Manufactured Housing'-TWP, Facts, Analysis-plus MHVille Markets Update
Wednesday 2.1.2023
Millions Want Affordable Home-'No Pro Can be This Incompetent' 'Solutions to Crony Capitalist Suppressing Trusted News, Media'-WND Puts Tony Kovach Op-Ed on Homepage; plus MHMarkets Update
Tuesday 1.31.2023
MHEC Tip: Property Now – Confused, Conflicted 'Friends' of Manufactured Housing Press 'Fighting Disinformation,' Higher Taxes, More IRS Agents – Follow the Money Trail; plus MHVille Stocks Update
Monday 1.30.2023
Lincoln Land-Home Economics: How Manufactured Housing Can Help Solve National Housing Affordability Crisis-Clayton Backed NextStep's Epperson Contradicts Manufactured Housing Institute But Touts MH
Sunday 1.29.2023
Calculated Risk: '1.51 Million Total Housing Completions in 2022, Including Manufactured Homes, Most Since 2007' – BUT…Facts, Insights, Analysis – plus Sunday Weekly MHVille Headlines Recap
Postscript 
As noted in the headlines for the week in review, the so-called "MHI 2.0" leadership are once again involved in the now third month of decline for manufactured housing production. This drop is occurring during a well-documented affordable housing crisis. No matter how MHI leaders – be they corporate board members or Arlington VA staff – may wish to "Razzle Dazzle" various segments of the industry, they can't escape the evidence. Cavco's William "Bill" Boor told investors that manufactured housing had a chance to catch up with [conventional] building. After that remark by Boor, manufactured housing production is in decline again, and is still hovering at only about 9 to 10 percent of all single-family housing starts.
Ghorbani's thinking and his points about the MHARR White Paper should therefore be carefully digested.
In essence, he's saying when MHI makes a claim, compare it to that MHARR White Paper. But step back from his points and consider the following new development.
While Skyline Champion (SKY) can tout winning their latest 'award,' what news emerged from the largest hedge fund in the world?
BlackRock, per Nasdaq and Fintel, just cut its position in Skyline Champion. Given that manufactured housing has tremendous opportunities, as several of the reports and the Masthead linked here documents, why would BlackRock cut its stake in Skyline Champion? Quoting Nasdaq on 2.1.2023: "Fintel reports that BlackRock has filed a 13G/A form with the SEC disclosing ownership of 3.85MM shares of Skyline Corp. (SKY). This represents 6.8% of the company. In their previous filing dated February 1, 2022 they reported 4.01MM shares and 7.10% of the company, a decrease in shares of 4.19%…"
When BlackRock Cuts a sizable stake by over 4 percent, that sends a message. It is like saying, your industry and company may have great opportunities, but we don't see you actually acting in a fashion that would cause those opportunities to actually be properly pursued.
Skyline Champion's President and CEO Mark Yost serves on the MHI board of directors.
MHI and their leaders can't have it both ways.
MHI can't be the biggest trade association representing "all segments" of the manufactured home industry and then not shoulder responsibility for what occurs in the post-production side of the industry. MHARR is a production trade association, not a post-production trade group. Sales of manufactured homes at retail falls into the MHI's bucket, not MHARR's.
In what MHI proclaimed with "Razzle Dazzle" fanfare, "MHI 2.0" with Lesli Gooch, Ph.D. As CEO, and Mark Bowersox as their president. But MHI 2.0 is now presiding over the third monthly decline in production has occurred. Oops.
During "MHI 2.0" leadership, MHI has had to publicly admit that their much-ballyhooed CrossMods scheme was being eschewed by developers. Oops.
After Admitted Failure, Manufactured Housing Institute Doubles Down on CrossMods® in AP Terminology Doc Acquired by MHProNews–Are MHI Leaders Sabotaging MHVille Independents? Plus MHStocks Update
'Developers Moving Away from CrossMods®' Manufactured Housing Institute Oddly Admits Plan Undercuts 99 Percent of Manufactured Homes – MHI Doc, Facts, Analysis; plus MHVille REITs, Stock Updates
While Bloomberg and the Washington Post were saying that manufactured housing could close the gap, under MHI 2.0 'leadership,' the industry is now in month three of declines. Oops.
'The U.S. Can Solve Its Housing Crisis – It Just Needs To Start Building' Bloomberg, Washington Post Want More Manufactured Housing in 2023! Plus 2022 Year in Review, Sunday MHVille Weekly Headlines Recap
Where have all the street retailers gone? According to MHI, now 51 percent of new manufactured housing shipments are going into land lease manufactured home communities (MHCs). What will happen to production when the effective capacity of essentially all MHCs are achieved? That day when the the vast majority of manufactured home communities are at or near 100 percent capacity is not so far off. What razzle dazzle by MHI will save the industry from that looming downturn? Oops.
Ghorbani reminds the industry that MHI can't have it both ways.
But it isn't only Ghorbani that has issued a wake up call. It's BlackRock that has sent a signal by cutting their stake in MHI member Skyline Champion (SKY) by over 4 percent.
If MHI is held at their word, then they are failing by their own standards. The data doesn't lie.
And MHI member Texas Manufactured Housing Association (TMHA) has all but admitted that MHI's so-called plan for the DOE energy standards was "razzle dazzle" too.
'Manufactured Housing Closes Year on Cool Note, But Optimism Grows for 2023' Says TRERC, But TMHA VP Rob Ripperda Lets Cat Out of Proverbial Bag, Exposing MHI; plus MHVille Market, Stocks Update
One can't say why Ghorbani chose to use the phrase "Razzle Dazzle." But recall that the Justice Department (DOJ) website says it's a phrase used to describe potentially criminal flimflam or fraud. Oops, MHI?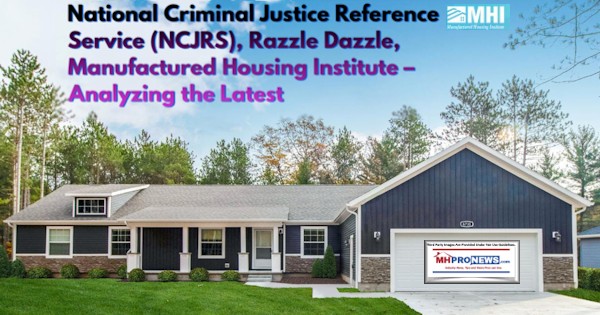 Years of previous reports on CrossMods are just one example out of many that reveal the importance of Ghorbani's and MHARR's White Paper insights.
MHI and their corporate and staff leaders are on a hot seat of their own making.
Has the Manufactured Housing Industry Become a Target-Rich Environment for Plaintiffs' Attorneys? Facts, News & Views; plus, Sunday Weekly Manufactured Home Industry (MHVille) Headlines Recap
MHI's performance is apparently several sandwiches short of a picnic.
Watch for the planned more detailed report on December 2022 production and shipment results, planned for Monday afternoon. Then circle back and re-read what the thorn in MHI's side, the elephant in MHI's room, Ghorbani said in the Q&A above. ###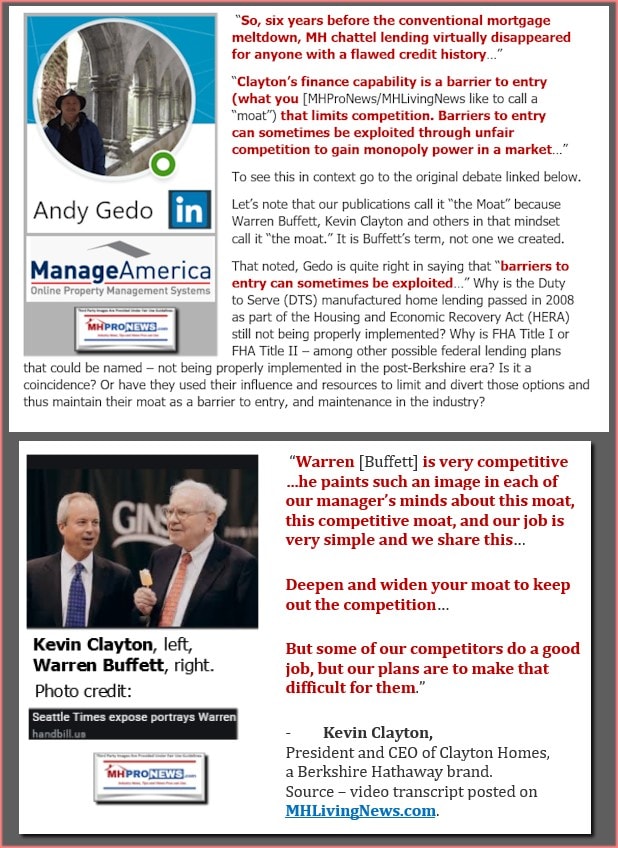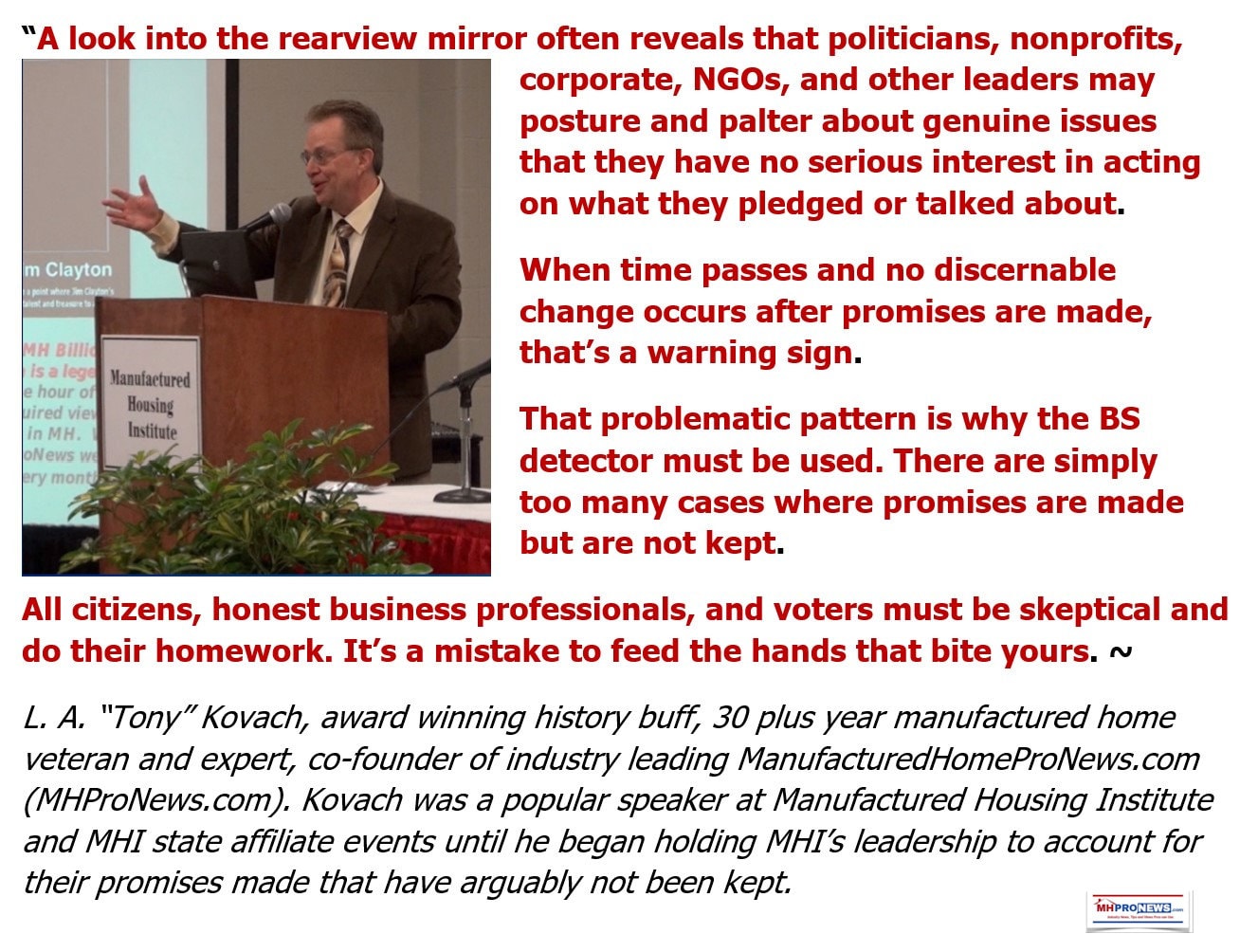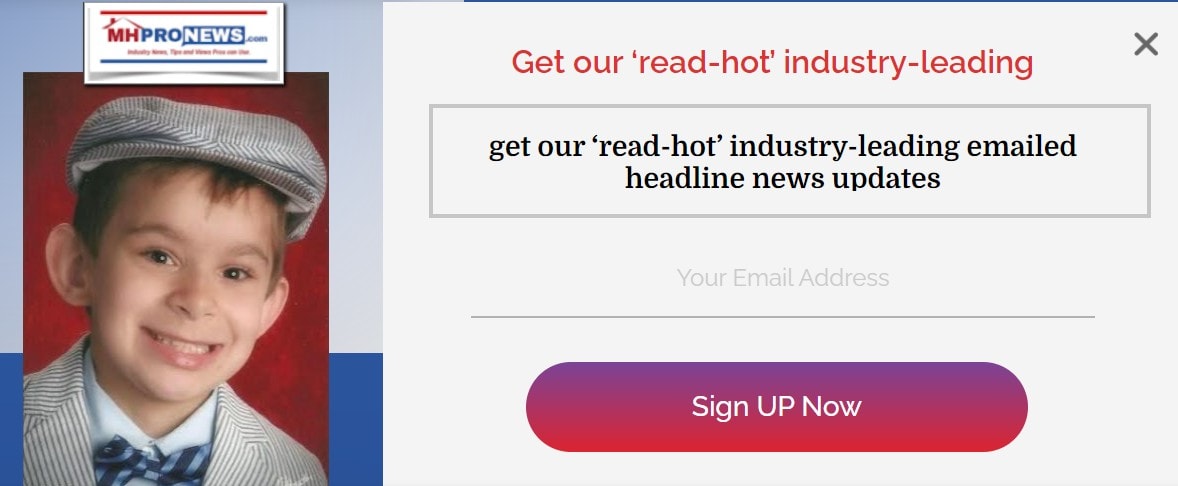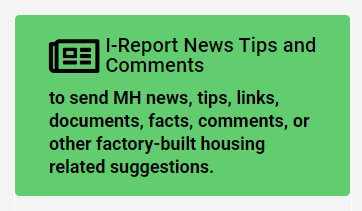 Again, our thanks to free email subscribers and all readers like you, our tipsters/sources, sponsors and God for making and keeping us the runaway number one source for authentic "News through the lens of manufactured homes and factory-built housing" © where "We Provide, You Decide." © ## (Affordable housing, manufactured homes, reports, fact-checks, analysis, and commentary. Third-party images or content are provided under fair use guidelines for media.) (See Related Reports, further below. Text/image boxes often are hot-linked to other reports that can be access by clicking on them.)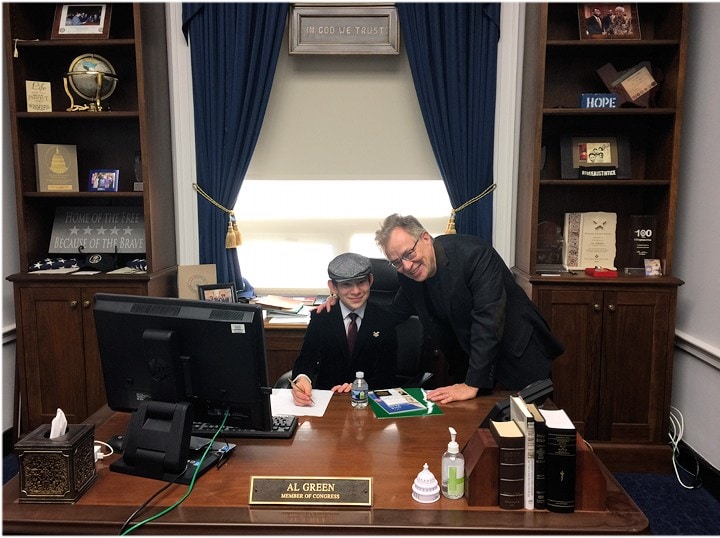 By L.A. "Tony" Kovach – for MHProNews.com.
Tony earned a journalism scholarship and earned numerous awards in history and in manufactured housing.
For example, he earned the prestigious Lottinville Award in history from the University of Oklahoma, where he studied history and business management. He's a managing member and co-founder of LifeStyle Factory Homes, LLC, the parent company to MHProNews, and MHLivingNews.com.
This article reflects the LLC's and/or the writer's position, and may or may not reflect the views of sponsors or supporters.
Connect on LinkedIn: http://www.linkedin.com/in/latonykovach
Related References:
The text/image boxes below are linked to other reports, which can be accessed by clicking on them.'
'Everyone Needs Deadlines' 'First Things First' and '7 Habits of Highly Successful People' – Pre-Christmas Preview of Manufactured Housing Year in Review; plus Sunday Weekly MHVille Headlines Recap
Has the Manufactured Housing Industry Become a Target-Rich Environment for Plaintiffs' Attorneys? Facts, News & Views; plus, Sunday Weekly Manufactured Home Industry (MHVille) Headlines Recap
'In the Business World, the Rear-View Mirror is Always Clearer than the Windshield'–Warren Buffett MHVille Leader Showcases Efforts to Renew American Dream; plus Sunday Weekly Headlines Recap
Manufactured Housing's Next BIG Regulatory Battle That MHARR's Spotlighted and Which MHI Conveniently Ignored in Recent 'Manufactured Housing Institute News;' plus Sunday Weekly Headlines Recap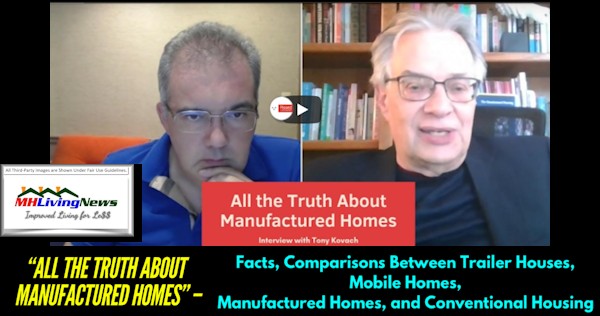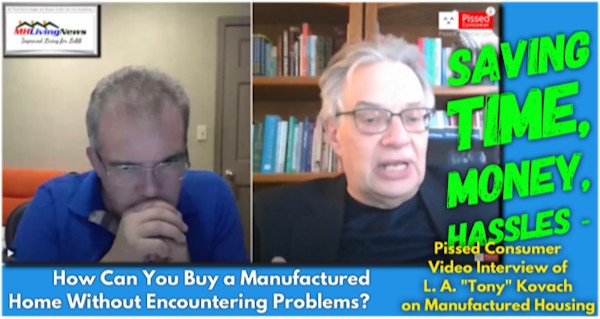 Flagship Communities – Hypocrisy, MHIndustry Corruption? 'Fragmented Industry with High Barriers to Entry and Imbalanced Supply and Demand Dynamics;' Plus Sunday MHVille Weekly Headlines Review
'Affordable Homes for Low Income Must Produce in Factory,' 'Years to Unravel Sabotage,' Grad Students Interest in Manufactured Housing, Factory-Home Solutions; plus Sunday Weekly Headlines Recap
Russian Disinformation? CNN and WND Report on "World Government Summit," Joe Biden Address to Business Roundtable on "the New World Order;" plus Sunday Weekly Headlines Review