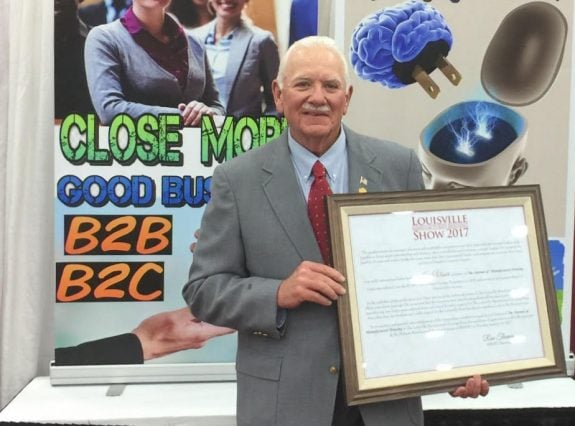 The publisher of The Journal of Manufactured and Modular Housing, Jim Visser, was honored at the 2017 Louisville Manufactured Housing Show with the framed 'thank you' document, shown in the photo at the left.
Visser announced in late November 2016 that he will no longer be publishing the Journal after his December issue, see related story, linked here.
While there has reportedly been interest by some industry parties in purchasing the Journal, no deals were reached.  As of this publication time, their phone is now disconnected and the Journal's home page has gone offline (see screen capture, below).
So, after about 36 years of publishing, "the last of the Mohicans" who pioneered manufactured housing trade publishing has closed.
The venerable Manufactured Home Merchandiser, and MHI's long defunct Modern Homes closed some 8 or more years ago. State, community, and national trade associations still send out emailed news to their members, which normally number a few hundred total readers each.
An experiment a few years ago for a fine quality, print/online quarterly trade publication lasted less than 2 years.  As that now-closed publisher told MHProNews, their costs, time and small audience size made that project unsustainable.  Those same factors that caused that publisher to shut down – costs, time demands, small early audience, modest total industry size – are what tends to discourage others who have considered the manufactured housing publishing market.
The modular housing professional market is even more modest in size than HUD Code manufactured homes.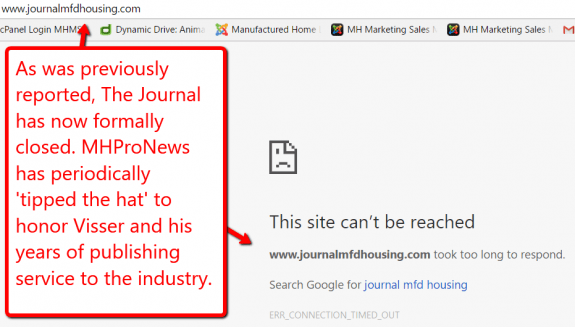 There also remains a smattering of bloggers, who are typically more self-promotion than true news or standard trade publication focused.
Today's MH Industry Trade Publishers
By contrast, MHProNews.com and MHLivingNews.com continue to reign as the industry's leading sources for professional and public/educational/lifestyle focused manufactured home trade publishing.  Thousands of industry professionals logon to MHProNews daily, as do investors, media and other interested professionals. Most of the MHProNews audience is from the U.S., but about 4% are in Canada or from key "developer/investor nations" globally.  That high daily engagement rate that MHProNews has is one reason for the success of this multi-media platform.
MHLivingNews is public focused, with an even broader cross-section looking for lifestyle and educational insights about manufactured homes there.

This Daily Business News module – now featuring writer RC Williams and Matthew Silver as editor – has long led the industry in timely factory-

built housing focused reports, all from an independent perspective. Silver has been with MHProNews for a total of about 6 years.
As a programming note, our February 2017 featured articles will be going live by the end of next week.  ##
(Editor's notes: We thank our readers and sponsors for their ongoing and growing support. For advertising and sponsorship opportunities, contact tony@mhmsm.com or call 863-213-4090.)
(Photo credits are as shown above.)

Submitted by Soheyla Kovach.