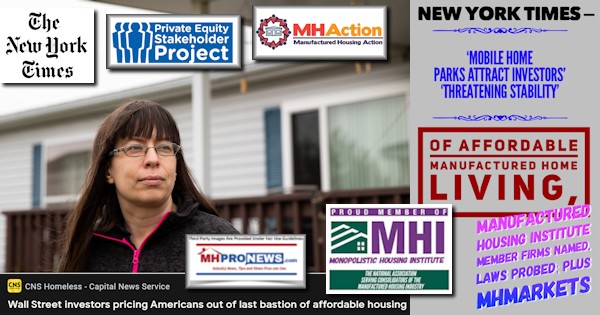 On 3.27.2022 the New York Times ran a report under the headline "Mobile home parks attract investors; rent boosts less risky when tenants can't afford to move, potential buyers told." Northwest Arkansas Online and several other media outlets republished their report, apparently verbatim, thus amplifying the issues raised by the New York Times article. Left-, center- and right-leaning media have covered the NYTimes article which examines manufactured home industry business practices that are far from flattering for the industry. Among the background issues are points raised by the recent MHProNews report and analysis linked below. It features testimony to the U.S. Senate provided by the Private Equity Stakeholder Project (PESP), which has at various times operated in concert in publishing white papers and testimony with Manufactured Housing Action (MHAction).
U.S. Senate Banking Testimony -'How Private Equity Landlords are Changing the Housing Market'– Private Equity Stakeholder Project Hits News–More MHC Development Wanted; plus MHVille Markets
Despite the bold announcement by the so-called "Manufactured Community Owners' Association of America" which said via MHR that they will "immediately" start "Bringing Fight to the Manufactured Home Community Sector of the Industry," there is no apparent evidence on Google on 3.30.2022 of any response by the "MCOAA" to the New York Times article. Note to those seeking an authentic post-production trade group – caveat emptor – the MCOAA does not yet seem to be fulfilling any of their grandiose claims.
'Announcing!' 'Manufactured Community Owners' Association of America' 'Finally Bringing Fight To Manufactured Home Community Sector of the Industry' – plus Sunday Weekly Manufactured Housing Headlines Review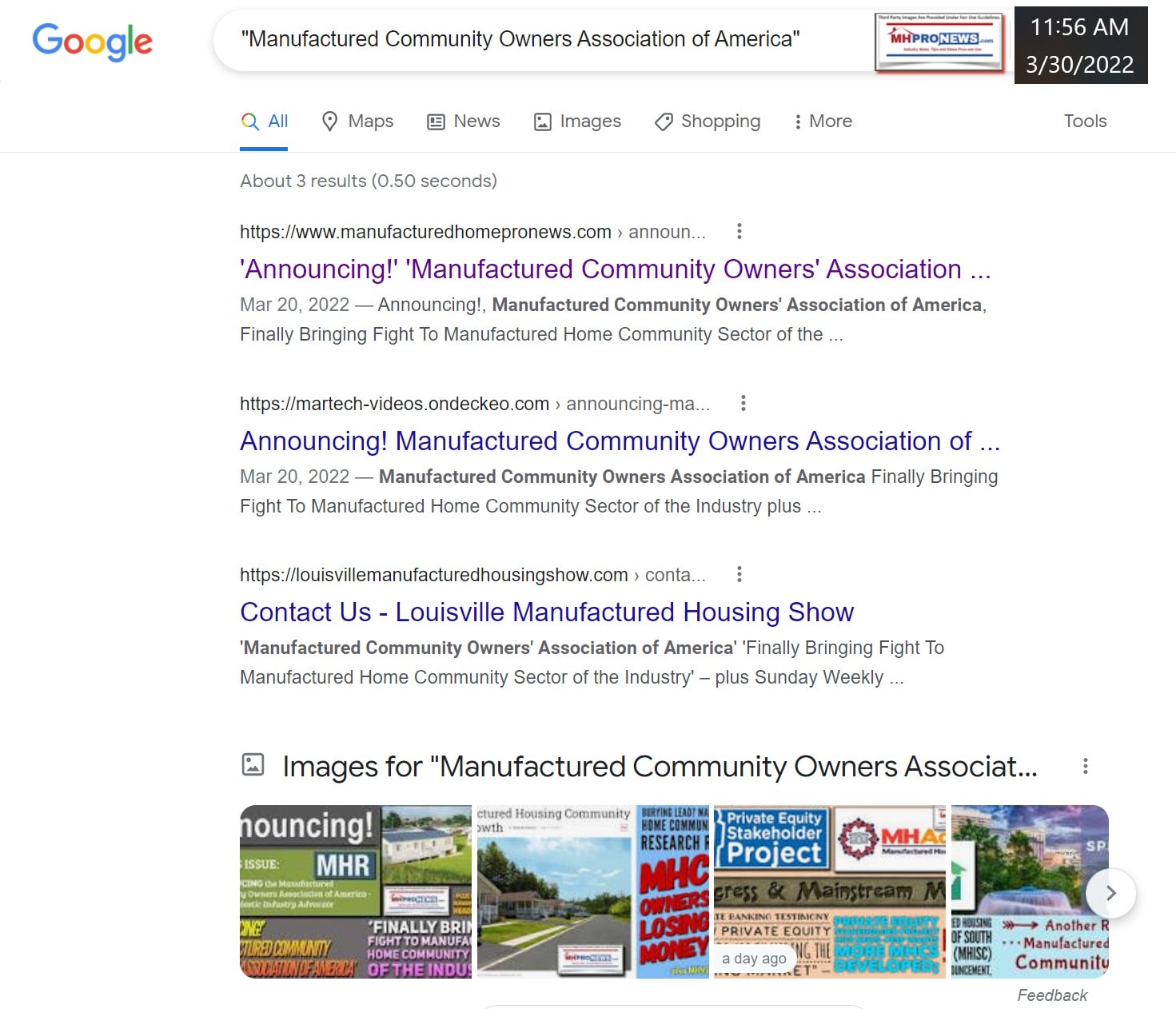 There arguably tie into the runaway #1 most-read report at present on MHProNews, which is linked below.
FeganScott Class Action v Manufactured Housing Institute Member ELS: "Announces Investigation into Equity LifeStyle Properties for Widespread, Chronic Neglect of Mobile Home Properties Across U.S." – plus MHMarket Updates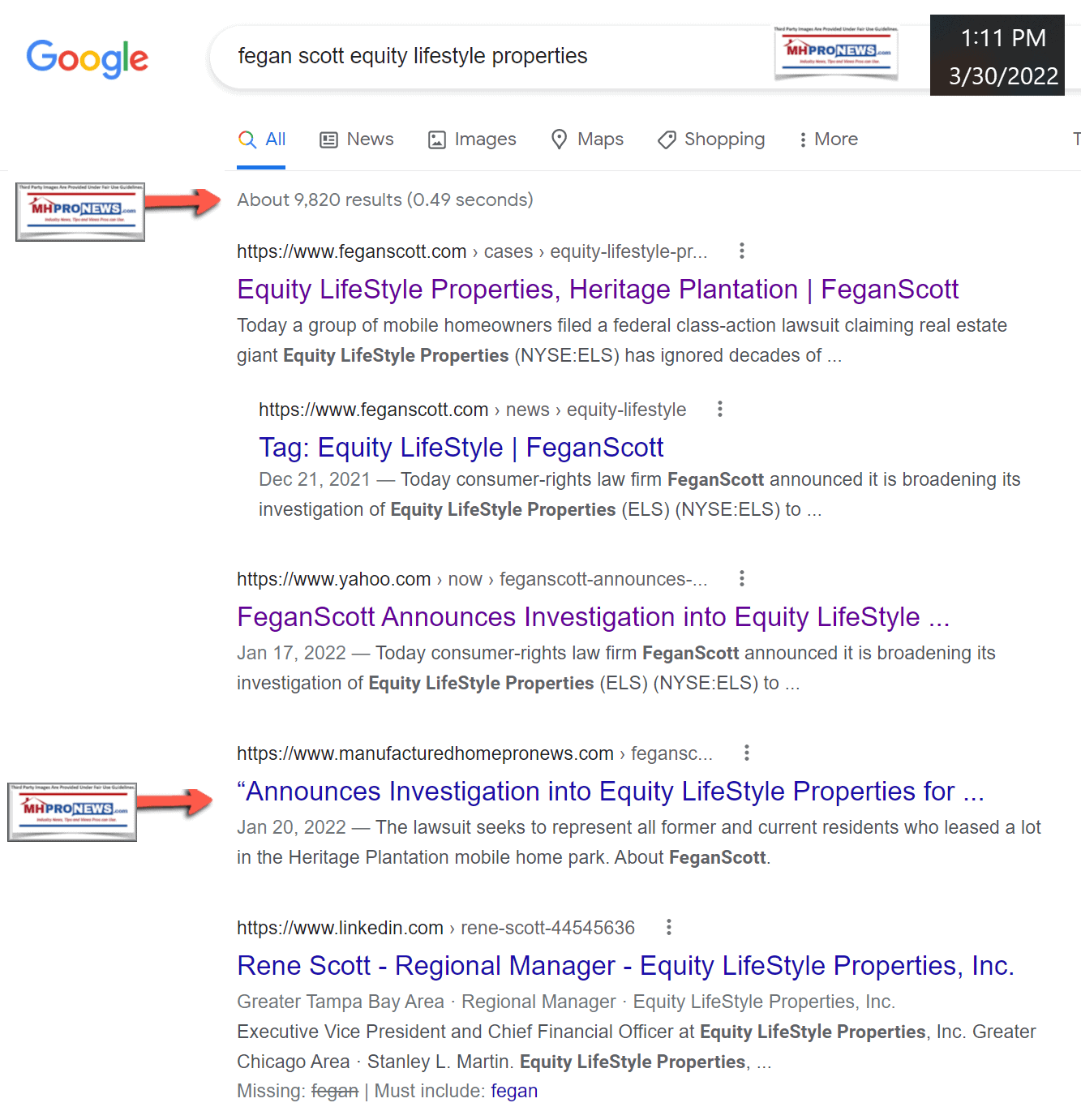 Among the personalities at the Manufactured Housing Institute (MHI) that have disparaged the group, periodically sparks controversies such as the one from the New York Times (further below) yet magically fails to get reprimanded or ejected from MHI membership under the so-called code of ethical conduct are Frank Rolfe and Dave Reynolds.
MHAction Demand Letter to Impact Communities' Dave Reynolds, Frank Rolfe's Partner, Calls on Manufactured Housing Institute to Cancel Impact Communities MHI Membership – "Hypocrisy Anyone?"
Will the most recent New York Times report change that pattern of MHI failing to act against "Frank and Dave" or others like them? Despite what MHI outside attorney David Goch has claimed, based on previous evidence and trends, any action against the duo or others like them seems doubtful.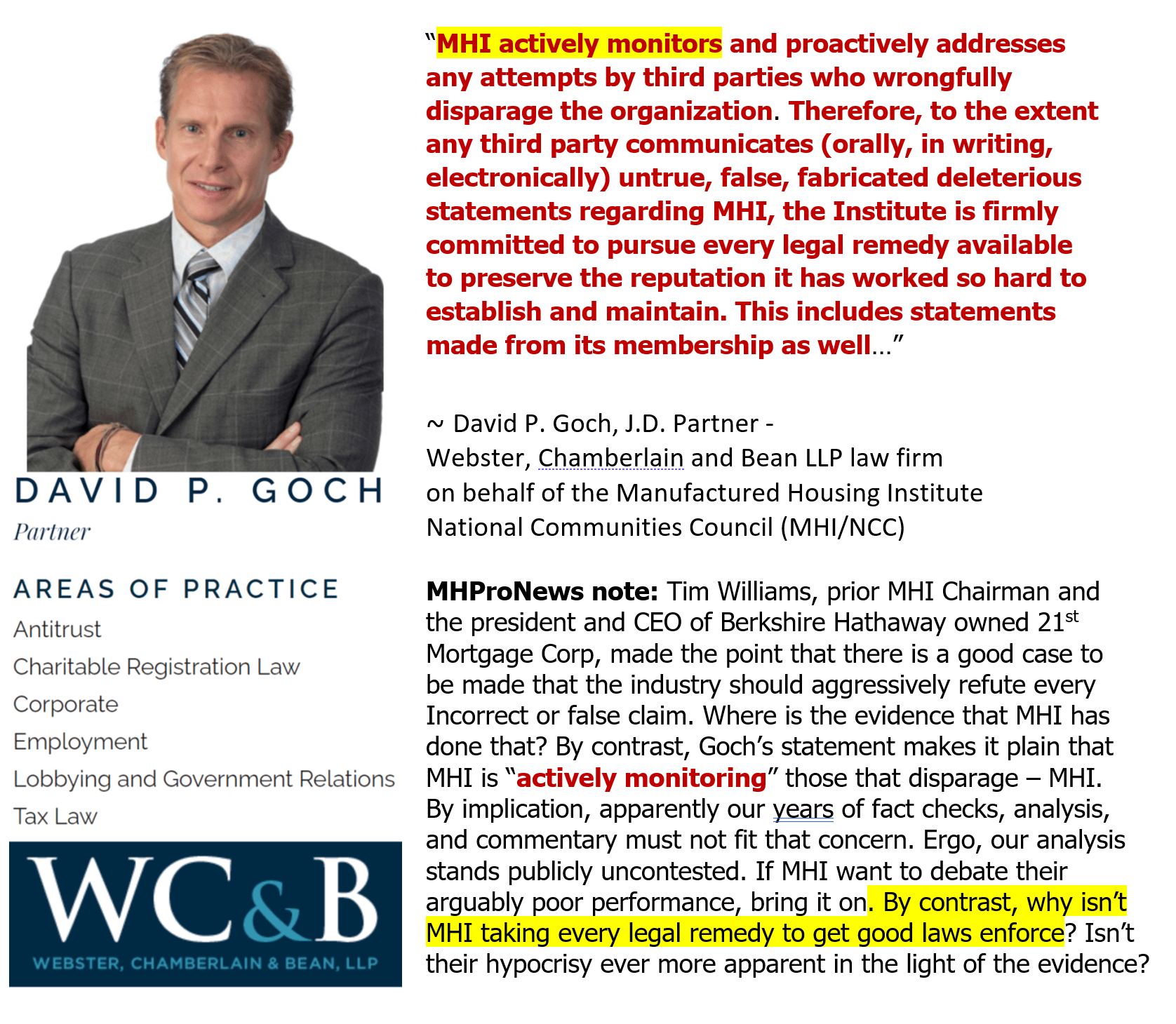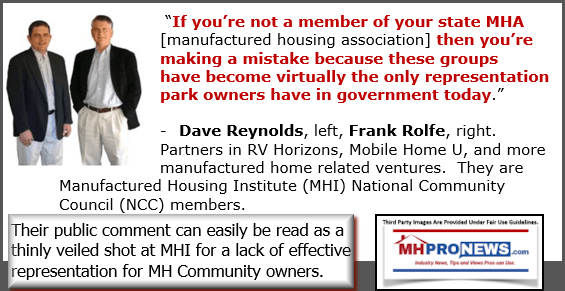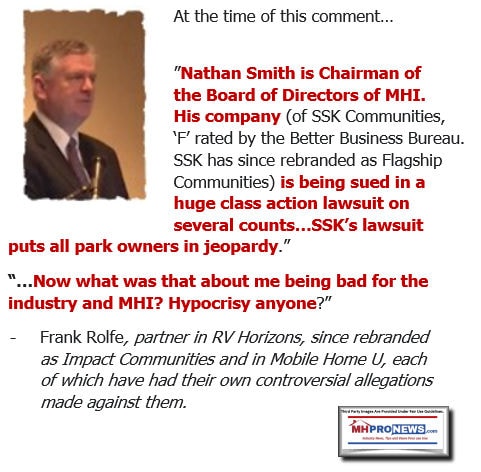 Based on New York Times article is the following on NWAonline was the following. More related insights regarding their report will be explored afterward. Terminology errors (example: 'mobile home parks') are in the original. Correct terminology is found linked here.
Mobile home parks attract investors; rent boosts less risky when tenants can't afford to move, potential buyers told
by The New York Times | Today at 7:12 a.m.
GOLDEN, Colo. — Across the country, manufactured-housing park residents are finding their homes at the center of a bull's-eye as many investment companies expand their mobile home park portfolios at a fast pace, threatening the stability of one of the nation's few remaining sources of affordable housing.
When Sarah Clement moved to the Golden Hills mobile home park two years ago, she said she loved the friendliness of her neighbors and getting to watch the sun rise over the scrubby mesa to her east and set behind the foothills of the Rocky Mountains to the west. And living there was affordable on her salary as an athletic trainer: After purchasing the manufactured home, the rent for the plot it sits on was just $625 a month.
Residents of Golden Hills got organized. They formed a cooperative to offer to buy the park themselves and were on track to obtain financing from ROC USA Capital, which supports resident-owned communities across the country.
For months, the three-block stretch of beige single- and double-wide homes bustled with community meetings; residents distributed flyers. Local politicians rallied around them, and the city voted to zone the park for manufactured-home use only.
But in July, the owners rejected their initial offer and a higher one a few months later, and sold the park instead to Harmony Communities, a manufactured-home operator with 5,000 residents in 33 parks across the western United States. The company quickly applied 50% rent increases and issued a 12-page, single-spaced list of new park rules.
A spokesperson for Harmony Communities, George Antypas, defended the rent increase, noting that the new rents were still below those at similar parks nearby. "We believe in charging a fair market rent," Antypas said, adding that the additional revenue would go toward repair costs and that there were need-based subsidies available from the city.
Then, just a month after purchasing the park, the company offered to sell it to the residents — at a far higher price than the company had just paid for it. Once again, the deal fell through, when the company declined the residents' offer in January.
Facing both the rent increases and the cost of altering their homes to comply with the park's new rules, residents are rushing to search for other housing but finding few if any options in Golden, a town just west of Denver. At an apartment complex up the road, one-bedroom units start at $2,400 a month, almost $1,000 more than Clement said she paid for the same size apartment there in 2018.
Industry leaders are blunt about the business model: According to materials for a "boot camp" for aspiring mobile home park investors prepared by Mobile Home University, which is run by two of the largest mobile home park owners in the country, "the fact that tenants can't afford the $5,000 it costs to move a mobile home keeps revenues stable and makes it easy to raise rents without losing any occupancy."
Real Capital Analytics, a market research firm, said in a June 2021 report that investors had accounted for 23% of manufactured housing purchases over the previous two years, up from 13% in the two years before that. That has made the investors among the country's largest landlords. About 22 million people live in manufactured homes in the United States, according to the Manufactured Housing Institute, a national trade organization. Fannie Mae said manufactured housing represents more than 6% of the nation's housing units.
With prices and rents for all kinds of housing soaring in many parts of the country, demand for manufactured housing is climbing. Many young professional families and college students turn to mobile home parks as a final vestige of relatively affordable housing.
"It is, and has been historically, an affordable home that people can own — at least, halfway own — and generate some wealth, some equity," said Paul Bradley, president of ROC USA.
As park after park has come under corporate ownership, momentum has built in mobile home parks across the country and in state legislatures to protect the affordability of the parks by putting them into the residents' hands.
When the Sans Souci mobile home park near Boulder's scenic Flatirons was purchased by a corporate landlord in 2018, residents weren't given a chance to make an offer. It wasn't until residents received a notification of new rules attached to their door that residents learned the park had even been put up for sale, according to a resident. A few weeks later, maintenance crews showed up and began mowing down bushes, trees and flowers.
Under the ownership of the company, Strive Communities, the park raised rents by 12% and issued new rules for park maintenance instructing residents, many of them aging artists and self-described hippies, to remove years of collected art and decorations from their yards.
"They wanted a uniform-looking, appearing, park," said Cynthia Ceelen a 23-year resident. "That was their end goal, so that in three to five years they could resell."
According to Strive Communities, the rent increases were intended to bring rates closer to market rate, and the company invested nearly $1 million in park improvements.
The residents went to their elected representatives, calling for legislation that would require park owners to give residents notice when they intended to sell, a provision called an "opportunity to purchase" requirement. Gov. Jared Polis signed the requirement into Colorado law in 2020, and similar laws are on the books in other states.
That same year, Strive Communities notified the residents that the park was up for sale.
They made an offer and in 2021 became the owners of their park.
But in the two years since Colorado's opportunity-to-purchase law went into effect, only Sans Souci and two other parks have been sold to residents. In 20 cases, park owners failed to notify residents in compliance with the law before selling, according to data from the state Department of Local Affairs. In others, residents were notified but struggled to coalesce quickly enough to make a purchase offer.
State Rep. Andrew Boesenecker's home city of Fort Collins has seen a flurry of park sales in the past few years, including a recent sale for $57 million. He says the opportunity-to-purchase law doesn't go far enough.
In legislation introduced this month, Boesenecker proposes requiring park owners to allow residents or a local government to make the first offer. The bill would also limit rent increases to 3% a year. Another bill is being drafted that would give residents access to a loan fund that would help them compete with private equity firms, many of which receive government-sponsored financing to purchase parks.
Topics
Golden hills, Colorado, Harmony Communities, State Rep. Andrew Boesenecker, ROC USA Capital, Mobile Home University, Manufactured Housing Institute, Sarah Clement, Cynthia Ceelen, George Antypas, Paul Bradley
##
Additional Information, More MHProNews Analysis and Commentary
The case can be made that much of what occurs in manufactured housing is a kind of kabuki theater.

The Manufactured Housing Institute (MHI), for example, may seem to say the right things but then fails to follow through with actions that match the rhetoric. Some examples linked below make that point.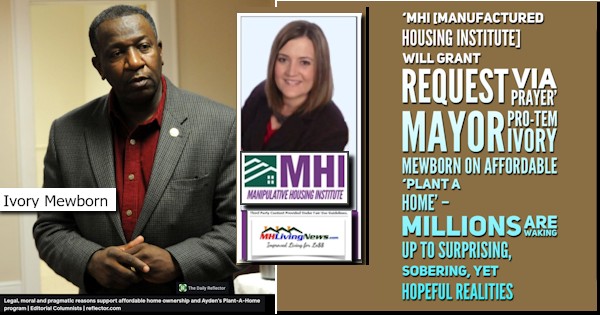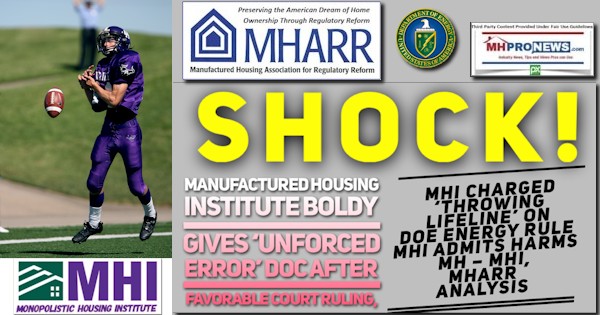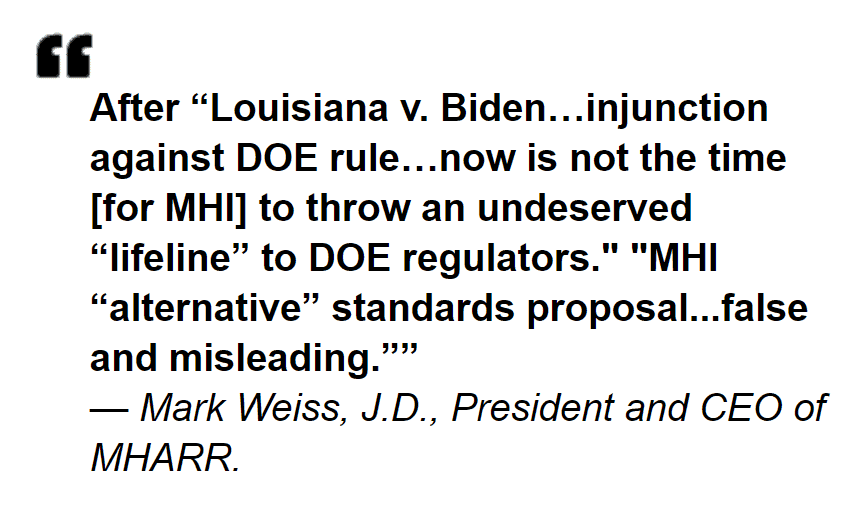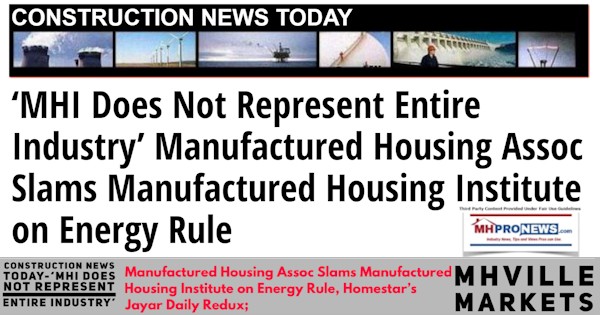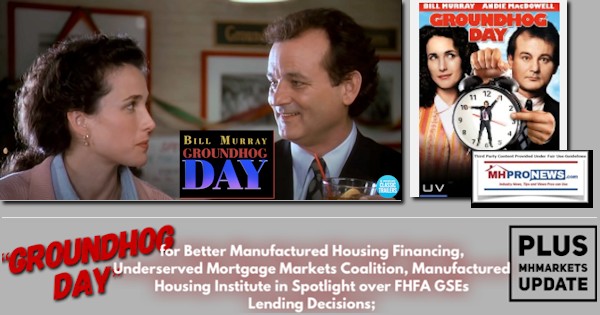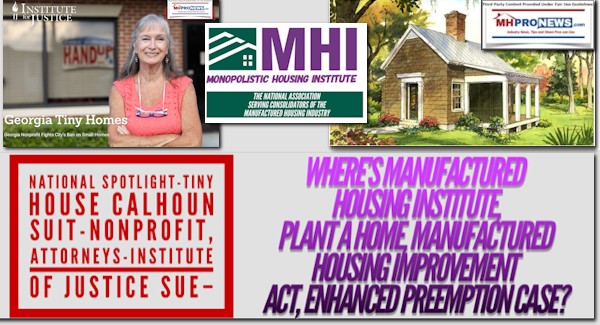 Sgt Schultz, Perry Mason Allusions-Prominent Manufactured Housing Institute (MHI) Members, Allies Reveal Apparent MHI Ruse – Manufactured Housing Institute Facts About More, Better MHLoan$
Then, someone must wonder why MHAction and/or the Private Equity Stakeholder Project can produce often useful research, which end up informing the background reports of mainstream media, but then fails to propose consistently propose the types of solutions that could solve the issues they understandably rail against. The Denver Post and other media have reported that the legislation that was sought and finally achieved after years of effort failed to accomplish the stated aims.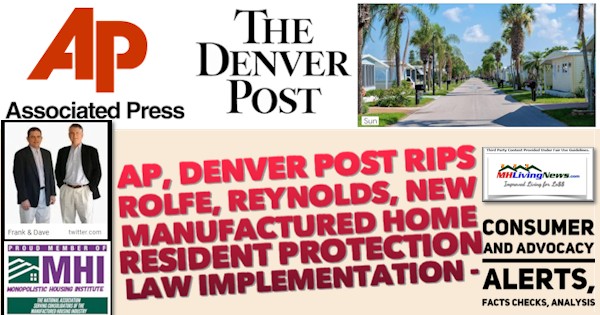 It was the Golden State Manufactured Homeowners League that pointed out that the Tides is funding MHAction. It was MHLivingNews that point connected the money trail dots between the Tides, Warren Buffett, and George Soros.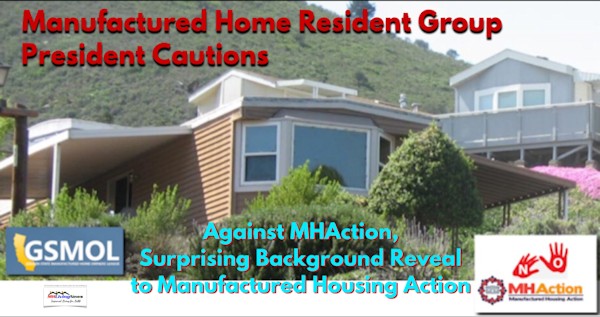 MHAction Statements – Revealing! – George Soros, Clayton Homes, Warren Buffett, Manufactured Home Lending – Liz Voigt Tears Fannie, Freddie, "Predatory" Manufactured Housing Institute Community Members; plus, Manufactured Home Stock Updates
Using the principle of separating the wheat from the chaff, what might be useful about MHI or MHAction should be retained. But what is problematic must also be pointed out and properly decried. Because there certainly seems to be Buffett-Berkshire connected bucks funding both MHI and MHAction.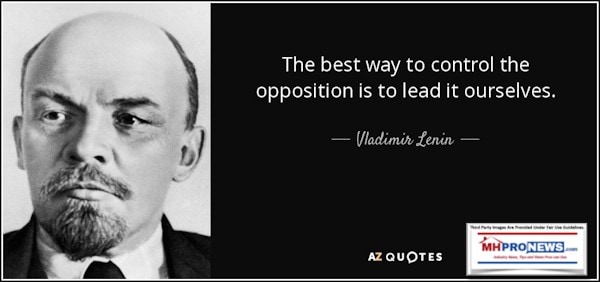 There are genuine and apparently misleading 'advocacy' occurring in manufactured housing. The genuine should be applauded, while the 'deception and misdirection' ought to be supplanted. When it is sufficiently deceptive, public officials and/or plaintiffs' attorneys should be exploring the issues to see if they are legally actionable.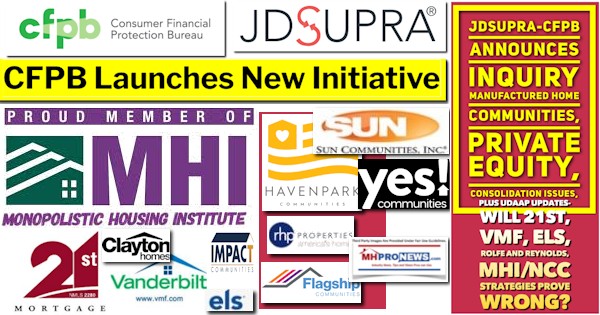 Exploring New Congressional Push for More Affordable Housing, January 2022 Manufactured Housing Production Facts; plus, Sunday Weekly Manufactured Home Headlines Review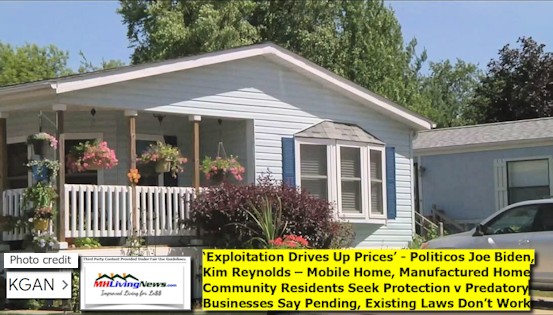 Next up is our daily business news recap of yesterday evening's market report, related left-right headlines, and manufactured housing connected equities.
The Business Daily Manufactured Home Industry Connected Stock Market Updates.  Plus, Market Moving Left leaning CNN and Right-leaning (Newsmax) Headlines Snapshot. While the layout of this daily business report has been evolving over time, several elements of the basic concepts used previously are still the same. For instance. The headlines that follow below can be reviewed at a glance to save time while providing insights across the left-right media divide. Additionally, those headlines often provide clues as to possible 'market-moving' news items.
Market Indicator Closing Summaries – Yahoo Finance Closing Tickers on MHProNews…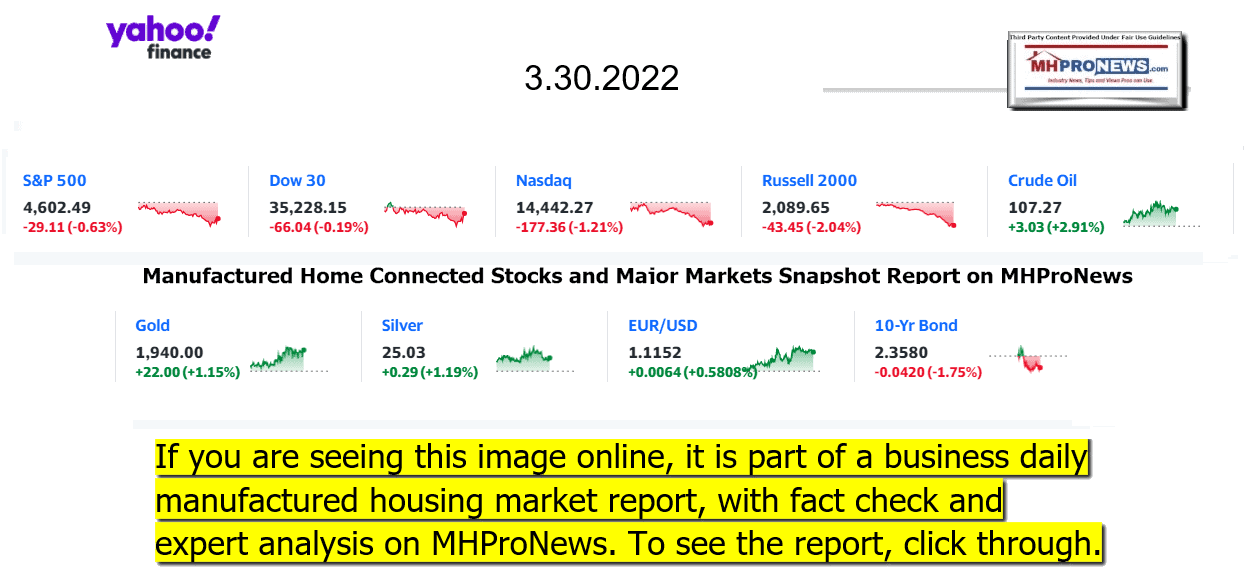 Headlines from left-of-center CNN Business – from the evening of 3.30.2022
Problems pile up
Trucks pass through a checkpoint on a highway leading from Shanghai, China, on Wednesday, March 30, 2022. Shanghai's lockdown will have even greater ramifications for China and the world than the already significant impact from the lockdown in the tech hub of Shenzhen, according to Bloomberg Intelligence.
Why the global supply chain mess is getting so much worse
Russian oil tankers are vanishing off the map
Germany issues 'early warning' of possible gas shortages as Russia threatens supplies
Do bond investors know something others don't?
Western companies have a habit of dealing with dictators. Russia shined a spotlight on them
US employers added 455,000 private-sector jobs in March
The Great Resignation is taking root around the world
4 million Americans quit their jobs last month
World Bank freezes Afghan projects after Taliban bans girls from school
Companies are spending more than ever buying their own stock. Biden wants to put a stop to that
Wind and solar generated a record 10% of the world's power in 2021
See how inflation is affecting renters and homeowners across the US
Prenuptial agreements aren't just for the rich. Here's what you should know
Why Ukraine is expected to stay on American screens and top of mind
Shoppers place purchases into vehicle outside a Five Below Inc. store in Bloomington, Illinois, U.S., on Wednesday, July 25, 2018.
Toys 'R' Us is gone. This discount toy store is filling the void
Enrique Alvarez, 42, left, of Tustin, and Afrouz (cq) Alvarez, 41, along with other couples, tie the knot on unforgettable 2/22/22 wedding date at the Old County Courthouse in downtown on Tuesday, Feb. 22, 2022 in Santa Ana, CA.
Weddings are booming again. They're bigger and more expensive than ever
Traders sleep by their desks as China's financial hub locks down
FEAR OF SLOWDOWN
FILE – Pedestrians walk past the New York Stock Exchange on Thursday, Feb. 24, 2022.
We're nearing a recession, if this indicator is right again
What men's underwear tells you about economic downturn
Recession risks are 'uncomfortably high,' Mark Zandi says
The Fed faces challenging job of soft landing the economy
Economist explains risks of recession and stagflation
AMAZON
Why Amazon makes you click a box to redeem coupons
Amazon faces union election at two warehouses
How Bezos sold books to start his empire
Nerdy, geek: Friends describe Jeff Bezos in his 20s
Amazon scores legendary broadcaster
Headlines from right-of-center Newsmax – evening of 3.30.2022
Russia Bombards Areas Where It Pledged to Scale Back
A crane operates at the regional government headquarters of Mykolaiv, Ukraine, after a Russian attack, on Wednesday. At least 15 people were killed in a missile strike on the regional government headquarters on Tuesday in the southern city of Mykolayiv. (AP)
Russian Invasion of Ukraine
Russia's Ruble Rebound Raises Questions of Sanctions' Impact
Biden Promises Ukraine $500M More in Direct Aid
Russia: Beijing, Moscow Form 'Democratic World Order'
'All Night' Shelling Casts Doubt on Russia's Deescalation
Putin Fires 4 Scientists Who Criticized NATO Confrontation
Russia, China Condemn 'Illegal' Sanctions on Moscow Over Ukraine
UK Issues 25,500 Visas to Ukrainian Refugees
UN Names Experts to Probe Possible Ukraine War Crimes
Russia's Ukraine Invasion Could Cause Global Food Crisis, Experts Warn platinum
4M Refugees Have Fled Ukraine: UN
More Russian Invasion of Ukraine
Newsmax TV
Reschenthaler: Biden 'Radically Far Left' With Jackson Pick
Ernst: Senator Seeking Status of Weapons Approved for Ukraine | video
Ukraine MP Rudik: Shelling in Kyiv Worse After Pullback Claims
Ted Cruz: Biden's 'Painful' Gaffes Make US Look Weak | video
Mast: Biden Budget Has Wrong Priorities | video
Van Duyne: Is Biden Leading? | video
Scalise: Nobody on 'World Stage' Knows What Biden Means | video
Reschenthaler: Biden's Putin Comments Give Russia 'Ammunition' | video
More Newsmax TV
Newsfront
Report: DOJ's Hunter Biden Investigation Heats Up
CNN reported Wednesday that a Justice Department investigation into Hunter Biden's business dealings had intensified and was probing whether Biden and associates violated money laundering, tax, and foreign lobbying laws…. [Full Story]
Texas A&M University will give free tuition to Ukrainian students [Full Story]
Biden: Decision Coming Soon on COVID Curbs at Border
S. President Joe Biden said on Wednesday a decision will come soon [Full Story]
Biden Gaffes, Staff Spin Prompt Questions on Who Speaks for US
A series of recent gaffes by President Joe Biden – and the White [Full Story] | Platinum Article
Related
Ted Cruz to Newsmax: Biden's 'Painful' Gaffes Make US Look Weak |video
CDC Scraps COVID Warning for Cruise Travel
The U.S. Centers for Disease Control and Prevention (CDC) on [Full Story]
White House: Biden Didn't See Will Smith-Chris Rock Fray
President Joe Biden didn't watch the Oscars, so he doesn't have any [Full Story]
Related
What Would Will Smith Face if Charged?
Bruce Willis 'Stepping Away' Amid Aphasia Diagnosis
Bruce Willis will be taking a break from acting after being diagnosed [Full Story]
Related
How Aphasia Affects Communication
Russia's Ukraine Invasion Could Cause Global Food Crisis, Experts Warn
With Russia and Ukraine – two of the world's largest wheat exporters [Full Story] | Platinum Article
Russia: Beijing, Moscow Form 'Democratic World Order'
A top-ranking Russian official Wednesday said his country and China [Full Story]
FEC Fines Clinton Campaign, DNC for Funding Steele Dossier
The Federal Election Commission has fined Hillary Clinton's 2016 [Full Story]
Oscars Board of Governors Sets Full Board Meeting After Will Smith's Attack on Chris Rock
Days after Will Smith stormed onto the stage of the Oscars and hit [Full Story]
Republicans: Teachers' Unions Coordinated With CDC to Keep Schools Shut
Teachers' unions and the Centers for Disease Control and Prevention [Full Story]
Russia Threatens Wikipedia Over 'War' Description
Roskomnadzor, Russia's official internet regulatory agency, has [Full Story]
Kareem Abdul-Jabbar: Smith Harmed Women, Blacks, and Himself
Tiger Woods Fuels Comeback Talk
Tiger Woods has fueled rumors of a return to pro golf at the 2022 [Full Story]
Warren Commends Biden for Billionaire's Tax, Calls for CEO Pay Reform
Elizabeth Warren on Tuesday commended President Joe Biden's [Full Story]
Susan Collins Says She'll Vote to Confirm Supreme Court Nominee Jackson
Maine Sen. Susan Collins said Wednesday she plans to vote to confirm [Full Story]
6 Committee Pressures AG Garland to Act
Members of House Speaker Nancy Pelosi's Jan. 6 select committee are [Full Story]
US Growth in Q4 Revised Slightly Lower to 6.9%
The U.S. economy ended 2021 by expanding at a healthy 6.9% annual [Full Story]
Disney's Fight Against Florida's Parental Rights Law Reveals LGBTQ Agenda
The Walt Disney Company's fight against Florida's Parental Rights in [Full Story]
RNC Releases Striking Campaign Video on Southern Border Crisis
The Republican National Committee (RNC) has released the first video [Full Story]
Facebook Paid GOP Firm to Malign TikTok
Ex-US Marine Launches Hunger Strike in Russian Jail: Parents
Former U.S. Marine Trevor Reed has begun a hunger strike in a Russian [Full Story]
South Korea Conducts Rocket Launch Days After North's ICBM Test
US Mortgage Rates Hit 4.8% in Biggest Spike in 11 Years
The interest rate on the most popular U.S. home loan jumped last week [Full Story]
Russian Freighter Flown to US After Firm Granted Order to Repossess
A Boeing 747-8 freighter that BOC Aviation Ltd. leased to Russia's [Full Story]
Russian Internet Regulator to Fine Google for 'False Content'
Roskomnadzor, Russia's official internet regulatory agency, announced [Full Story]
China, US, Russia, Pakistan Will Hold Afghanistan Talks
A top U.S. diplomat will meet this week in China to discuss issues in [Full Story]
San Francisco Fed Blames Inflation on Biden Admin. Spending
The San Francisco Federal Reserve on Monday issued a study suggesting [Full Story]
Seoul: NKorea Fired Old ICBM, Not New Big One, Last Week
South Korea on Tuesday dismissed North Korea's claim to have launched [Full Story]
Garcetti's Nomination as Ambassador to India in Doubt
Los Angeles Mayor Eric Garcetti's nomination as U.S. ambassador to [Full Story]
More Newsfront
Finance
CDC Scraps COVID Warning for Cruise Travel
The U.S. Centers for Disease Control and Prevention (CDC) on Wednesday removed its COVID-19 notice against cruise travel, around two years after introducing a warning scale showing the level of coronavirus transmission risk on cruise ships…. [Full Story]
Marsha Blackburn to Newsmax: Biden's Budget Doesn't Focus on Priorities
Apple's Big Oscar Win Caps Big Tech's Entertainment Play
China's Cooling Economy Takes Some Heat out of Commodity Prices
Gazprom Offices Targeted in EU Antitrust Raids
More Finance
Health
FDA OKs Another Pfizer/Moderna COVID Booster for 50 & Up
S. regulators on Tuesday authorized another COVID-19 booster for people age 50 and older, a step to offer extra protection for the most vulnerable in case the coronavirus rebounds…. [Full Story]
Bruce Willis Diagnosed With Aphasia, Stepping Away From Acting, Says Family
Bruce Willis to Retire from Acting After Brain Disorder Diagnosis
'Overgrowth' of Brain Area in Infancy Could Help Diagnose Autism Earlier
Nurses: Guilty Verdict for Dosing Mistake Could Cost Lives
MHProNews has pioneered in our profession several reporting elements that keep our regular and attentive readers as arguably the best informed in the manufactured housing industry. Among the items shared after 'every business day' (when markets are open) is our left-right headline recap summary. At a glance in two to three minutes, key 'market moving' news items are covered from left-of-center CNN Business and right-of-center Newsmax. "We Provide, You Decide." © Additionally, MHProNews provides expert commentary and analysis on the issues that others can't or won't cover that help explain why manufactured housing has been underperforming during the Berkshire era while an affordable housing crisis and hundreds of thousands of homeless in America rages on. These are "Industry News, Tips, and Views Pros Can Use" © features and others made and kept us the runaway #1 in manufactured housing trade publisher for a dozen years and counting.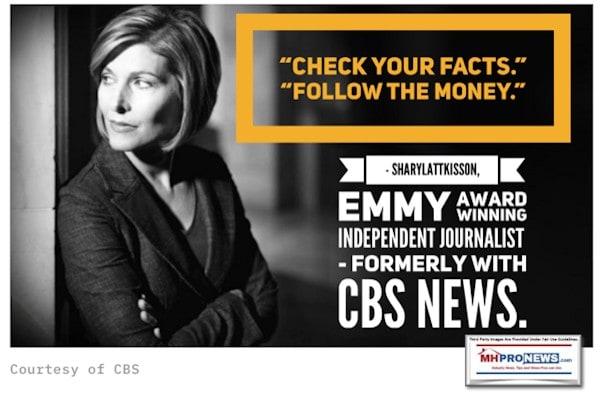 Manufactured Housing Industry Investments Connected Equities Closing Tickers
Some of these firms invest in manufactured housing, or are otherwise connected, but may do other forms of investing or business activities too.
NOTE: The chart below includes the Canadian stock, ECN, which purchased Triad Financial Services, a manufactured home industry lender
NOTE: Drew changed its name and trading symbol at the end of 2016 to Lippert (LCII).
NOTE: Deer Valley was largely taken private, say company insiders in a message to MHProNews on 12.15.2020, but there are still some outstanding shares of  the stock from the days when it was a publicly traded firm.  Thus, there is still periodic activity on DVLY.
Manufactured Home Communities (a.k.a. 'Mobile Home Parks' – SIC) – Exploring UMH Properties; Fellow Manufactured Housing Institute Member Yes! Communities Suits and Settlements; plus MH Markets Updates
Clayton-21st Storm Watch – Sinatra's Summer Wind Blows Early? – Manufactured Housing Moat Breach – Manufactured Home Values Increasing Faster than Site-Built – Case for Something New in 2022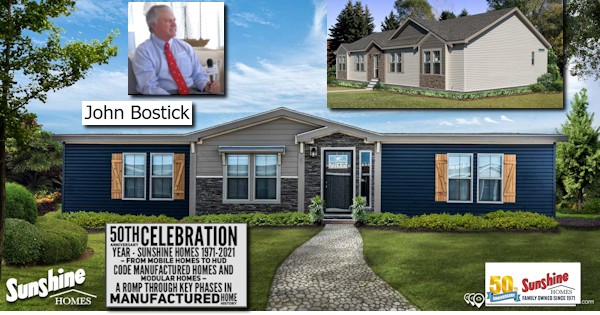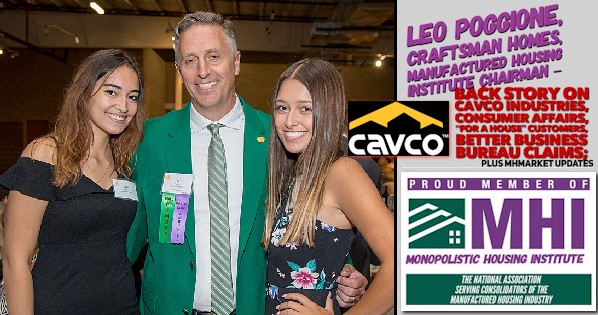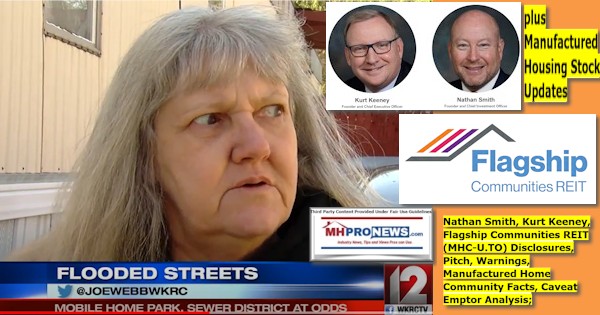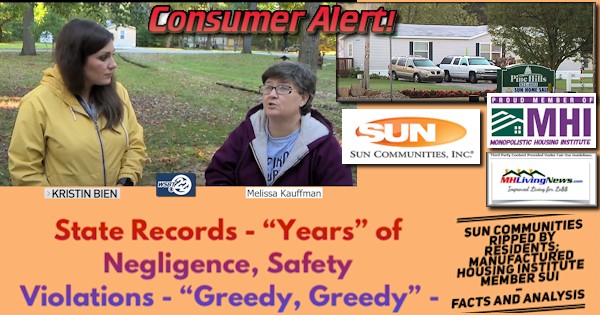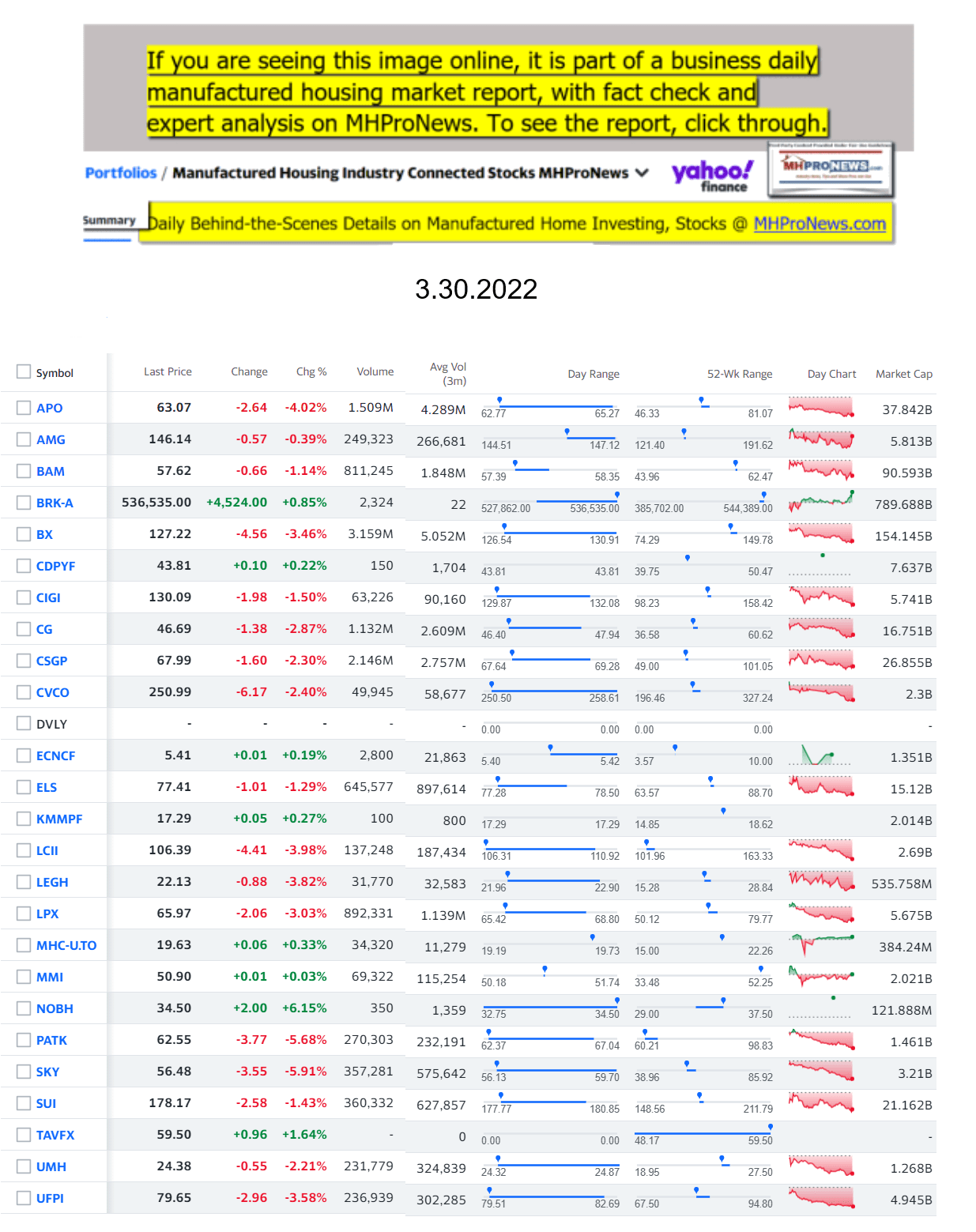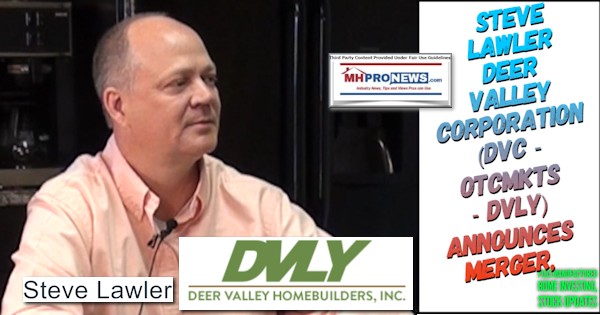 Sample Kudos over the years…
It is now 12+ years and counting…
Learn more about our evolutionary journey as the industry's leading trade media, at the report linked below.
· For expert manufactured housing business development or other professional services, click here.
· To sign up in seconds for our industry leading emailed headline news updates, click here.

Disclosure. MHProNews holds no positions in the stocks in this report.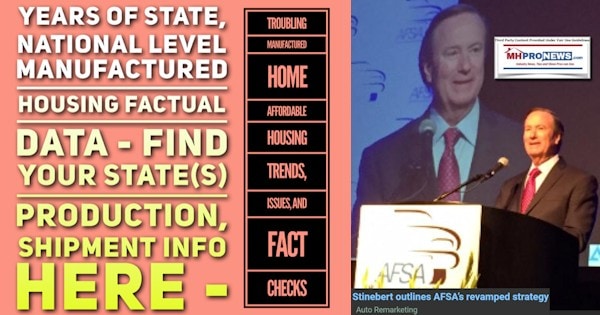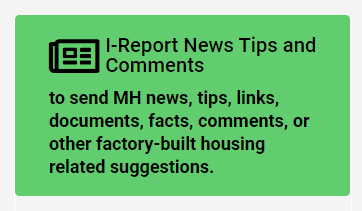 That's a wrap on this installment of "News Through the Lens of Manufactured Homes and Factory-Built Housing" © where "We Provide, You Decide." © (Affordable housing, manufactured homes, stock, investing, data, metrics, reports, fact-checks, analysis, and commentary. Third-party images or content are provided under fair use guidelines for media.) (See Related Reports, further below. Text/image boxes often are hot-linked to other reports that can be access by clicking on them.)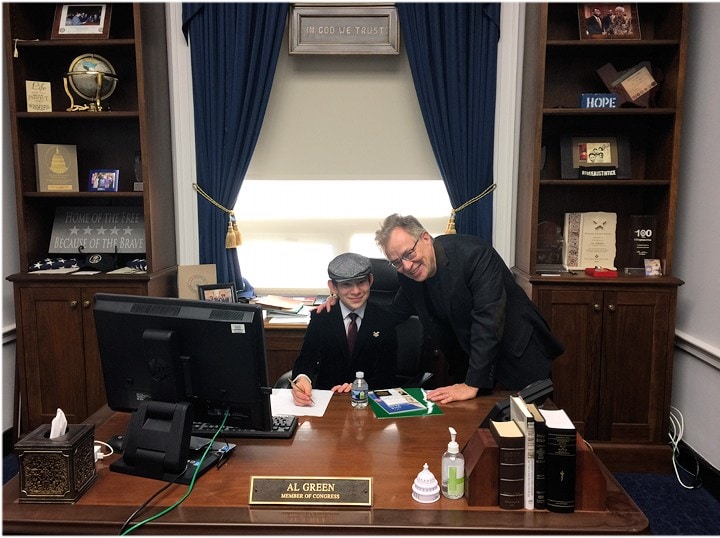 By L.A. "Tony" Kovach – for MHProNews.
Tony earned a journalism scholarship along with numerous awards in history. There have been several awards and honors and also recognition in manufactured housing. For example, he earned the prestigious Lottinville Award in history from the University of Oklahoma, where he studied history and business management. He's a managing member and co-founder of LifeStyle Factory Homes, LLC, the parent company to MHProNews, and MHLivingNews.com. This article reflects the LLC's and/or the writer's position and may or may not reflect the views of sponsors or supporters.