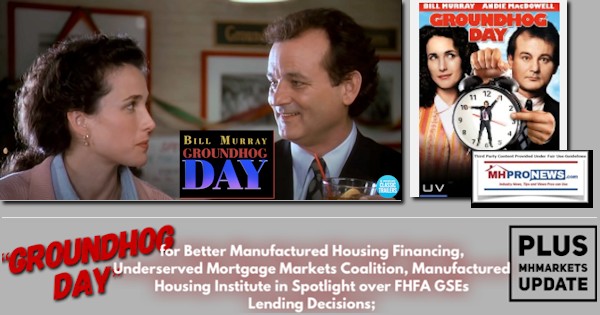 "Regarding chattel loans which represent the bulk of the manufactured housing [MH] consumer financing market, this is more like "Groundhog Day" than "laying groundwork." Fannie and Freddie have already had years to study the MH chattel market and "lay the groundwork" for what they should have been doing all along — supporting that market." So said Mark Weiss, J.D., President and CEO of the Manufactured Housing Association for Regulatory Reform (MHARR) when asked to comment on the details released by the proposals advanced by the Underserved Mortgage Markets Coalition. The Lincoln Land Institute is part of that nonprofit coalition which is on record asking FHFA to press Fannie and Freddie to provide more competitive financing for manufactured housing. Lincoln Land happens to have James "Jim" Gray on its staff. Per their website, "Jim Gray. Senior Fellow. As a nonresident senior fellow based in Washington, DC, Jim focuses on national affordable housing policy." Gray was for years the manager of the FHFA's underserved markets program, such as it has been. Gray admitted in an exit message that not much progress has occurred. While the FHFA has signaled a step forward by rejecting the proposals made by Government Sponsored Enterprises (GSEs) of Fannie Mae and Freddie Mac, it should be market significant, not more tokenism. That last point is part of what MHARR has argued in their exclusive comments to MHProNews.
As to the Groundhog Day allusion by Weiss, as some of the younger set may not recall or have been exposed to, is a 1993 romantic comedy starring Bill Murray, Andie MacDowell, and Chris Elliott and directed by Harold Ramis. But the comment by Weiss doesn't mention what is missing and apparent from the Underserved Markets Coalition. Namely, that the Manufactured Housing Institute is no part of the coalition, though they claim to be supporting more manufactured home lending.
Additionally, the evidence indicates that Next Step has clear ties to Berkshire Hathaway (BRK) owned Clayton Homes. It would be uncharacteristic for a group funded by Clayton or Berkshire to sincerely advocate for something that would undermine Clayton's strong chokehold over manufactured home chattel lending.  Who has made such an argument? The Consumer Financial Protection Bureau (CFPB) data, third parties commenting on that status quo, and the specific and sharp comments by Doug Ryan with Prosperity Now when it was still known as CFED. See those, further below.
Blueprint Shows How Fannie Mae and Freddie Mac Can Create More Housing Opportunities
By Lincoln Institute Staff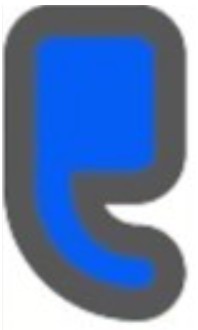 Two weeks after a U.S federal agency rejected affordable housing plans from Fannie Mae and Freddie Mac, a coalition of housing organizations has released a blueprint showing how the two government-sponsored enterprises can better reach underserved mortgage markets.
On January 5, the Federal Housing Finance Agency (FHFA) rejected three-year plans from Fannie Mae and Freddie Mac to comply with Duty to Serve, a federal regulation that requires the enterprises to prioritize and improve affordable housing finance opportunities in three historically neglected markets: manufactured housing, affordable housing preservation, and rural housing. Fannie Mae and Freddie Mac must substantially improve their plans in all three areas, and a new blueprint from the Underserved Mortgage Markets Coalition provides a path that would likely lead to approval.
The coalition consists of 20 leading U.S. affordable housing organizations seeking to hold Fannie Mae and Freddie Mac accountable to their founding purpose: to bring housing finance opportunities to American families not traditionally served by the private market.
"I applaud FHFA for rejecting the proposed Duty to Serve plans," said George W. McCarthy, president and CEO of the Lincoln Institute of Land Policy, one of the convenors of the coalition. "If Fannie Mae and Freddie Mac adopt the modest consensus recommendations of the Underserved Mortgage Markets Coalition, that would be a win for the enterprises, FHFA, and affordable housing in the United States."
…
The members of the Underserved Mortgage Markets Coalition include:
Center for Community Progress
cdcb
Enterprise Community Partners
Fahe
Grounded Solutions Network
Housing Assistance Council
Housing Partnership Network
Lincoln Institute of Land Policy
Local Initiatives Support Corporation
National Council of State Housing Agencies
National Community Stabilization Trust
National Housing Trust
NeighborWorks America
Next Step
Novogradac
Opportunity Finance Network
Prosperity Now
RMI
ROC USA
Stewards of Affordable Housing for the Future ##
Additional Information, More MHProNews Analysis and Commentary in Brief
Jim Gray's LinkedIn page says: "My aspiration is to use public policy to empower low wealth people. I have done that primarily by trying to improve how affordable homeownership programs work. I secured a large, multi-year grant from the Ford Foundation to create sustainable homeownership that helps more families buy homes now, maintain those homes and keeps them affordable for future generations of new homebuyers. I am open to other paths to empower people and communities." It also notes that Gray was with the Federal Housing Finance Agency (FHFA) for 9 years 5 months, of which the last 4 years and 7 months were in the role of "Manager, Duty to Serve Program Manager," from Apr 2016 – Oct 2020. Gray said as part of his exit message from FHFA the following.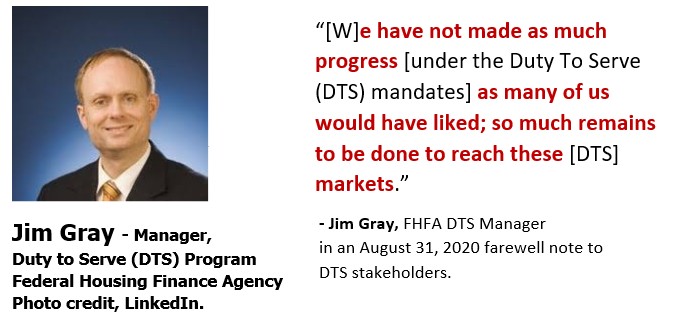 MHARR's Weiss full statement to MHProNews, some of which was shown above, said the following.
"Regarding chattel loans which represent the bulk of the manufactured housing consumer financing market, this is more like "Groundhog Day" than "laying groundwork." Fannie and Freddie have already had years to study the MH chattel market and "lay the groundwork" for what they should have been doing all along — supporting that market."  The time for study, groundwork, preparation, "pilots" and every other sort of "illusion of motion" pseudo-activity is over. They've had all the time they need — more than a decade.  Now is the time for them to support the chattel market as directed by Congress, in market-significant numbers."
MHProNews' L. A. "Tony" Kovach exposed the evidence of deception in his comments to the FHFA that were published on 3.25.2021 on the FHFA Listening Session website.
What has occurred since then is the confirmation of what an MHI tipster told MHProNews in late 2020. Namely, that Tim Williams, president and CEO of 21st Mortgage Corp, a Berkshire owned sister-brand to Clayton Homes, that he was glad that the pilot project failed. That indicates 21st/Clayton/Berkshire's actual stance toward the GSEs making market significant lending on manufactured homes. They said they wanted it, but in fact oppose it. But Williams' comments also arguably illustrate insider knowledge of what not one, but both of the GSEs would announce for their next 3 year plan months in advance of the actual publication of their document. How else would he have said he was glad that the program had failed? Past tense, as if it were already a done deal? That was MONTHS before the formal announcement.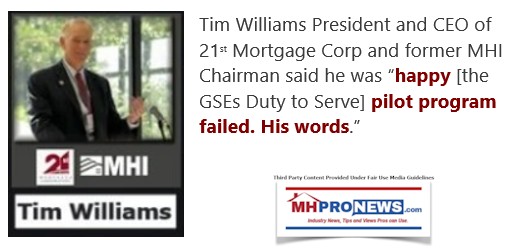 The apparent paltering and deception by Warren Buffett, Berkshire team members, and their allies that dominate the Manufactured Housing Institute (MHI) are increasingly coming into focus. While billions are pouring into the finance or refinancing of manufactured home land-lease communities, which are often MHI members, there has been only a trickle that has flowed into the manufactured home single-family housing market. Per known data, virtually none of that has been for chattel lending.
MHLivingNews led the charge in pointing out the oddity of Buffett's remarks, publishing a report on the video above on May 23, 2019.
White Collar Shakedown, Fear, Hobbs Act, and Manufactured Housing Independents Struggles
Per Yahoo, "Buffett said it would be "very good for America" if Fannie Mae and Freddie Mac did more to help finance manufactured homes, such as those made by Berkshire-owned Clayton Homes."
HousingWire didn't explicitly mention it in their report. But the obvious absence of MHI from this letter speaks volumes that stand in stark contrast to their stated claims of wanting more market competitive lending.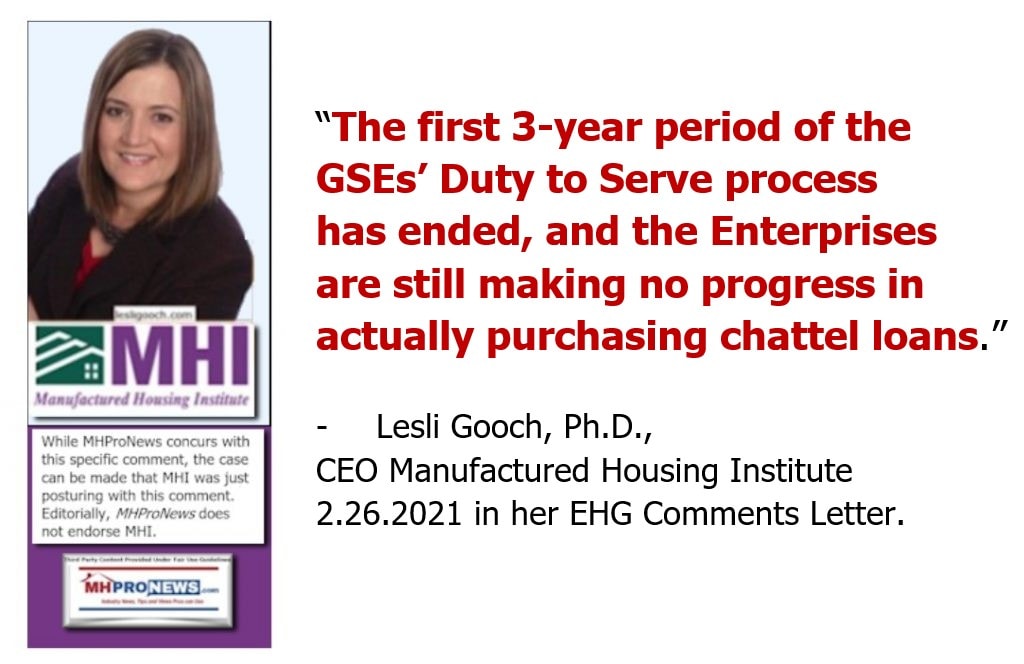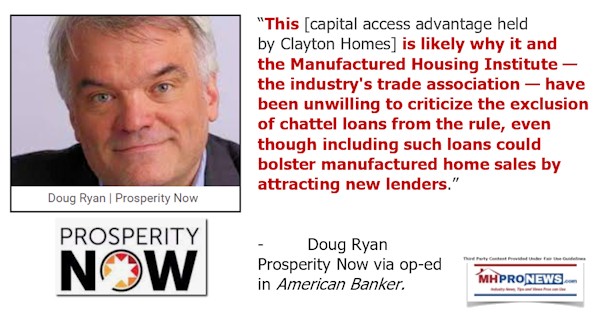 To the credit of the Underserved Mortgage Markets Coalition, something is better than nothing. More market competitive lending for manufactured housing is logically better than less. That noted, the National Housing Conference (NHC) president and CEO, David Dworkin has previously made the obvious argument. The GSEs, said Dworkin who had direct experience in that realm, are fully capable of making the personal property (home only or chattel loans) on manufactured housing.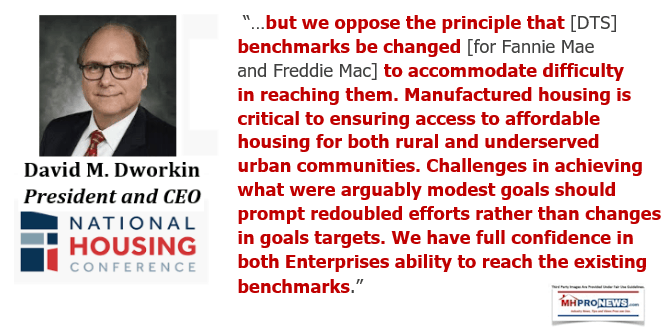 The FHFA must be pressed to end Groundhog Day on implementation of a law that was enacted over 13 years ago.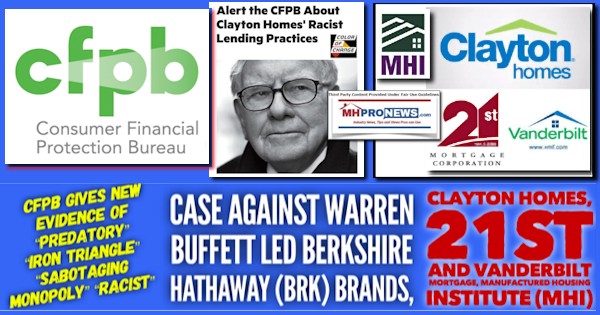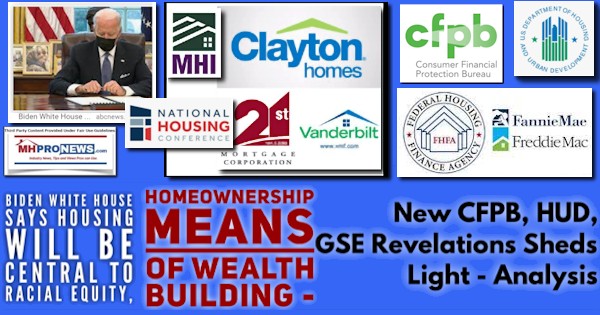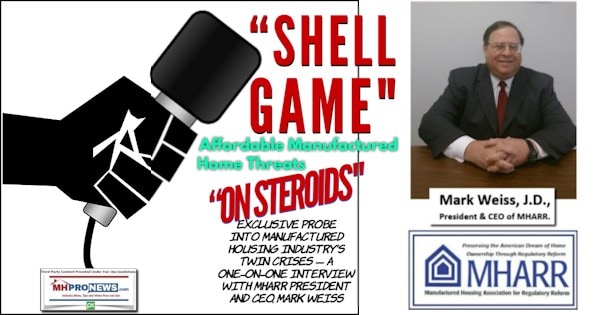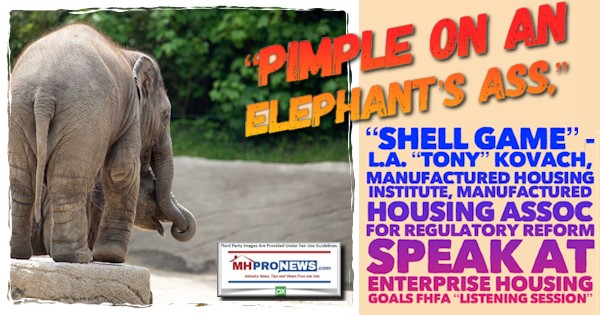 Kevin Clayton – Wacky Wednesday in MHVille – Why Wonky Wit Works in Accountability, Education, Reports & Views in Manufactured Housing and Beyond; plus Macro, Manufactured Home Markets Recap
##
Next up is our business daily recap of yesterday evening's market report, related left-right headlines, and manufactured housing connected equities.
The Business Daily Manufactured Home Industry Connected Stock Market Updates.  Plus, Market Moving Left (CNN) – Right (Newsmax) Headlines Snapshot. While the layout of this daily business report has been evolving over time, several elements of the basic concepts used previously are still the same. For instance. The headlines that follow below can be reviewed at a glance to save time while providing insights across the left-right media divide. Additionally, those headlines often provide clues as to possible 'market-moving' news items.
Market Indicator Closing Summaries – Yahoo Finance Closing Tickers on MHProNews…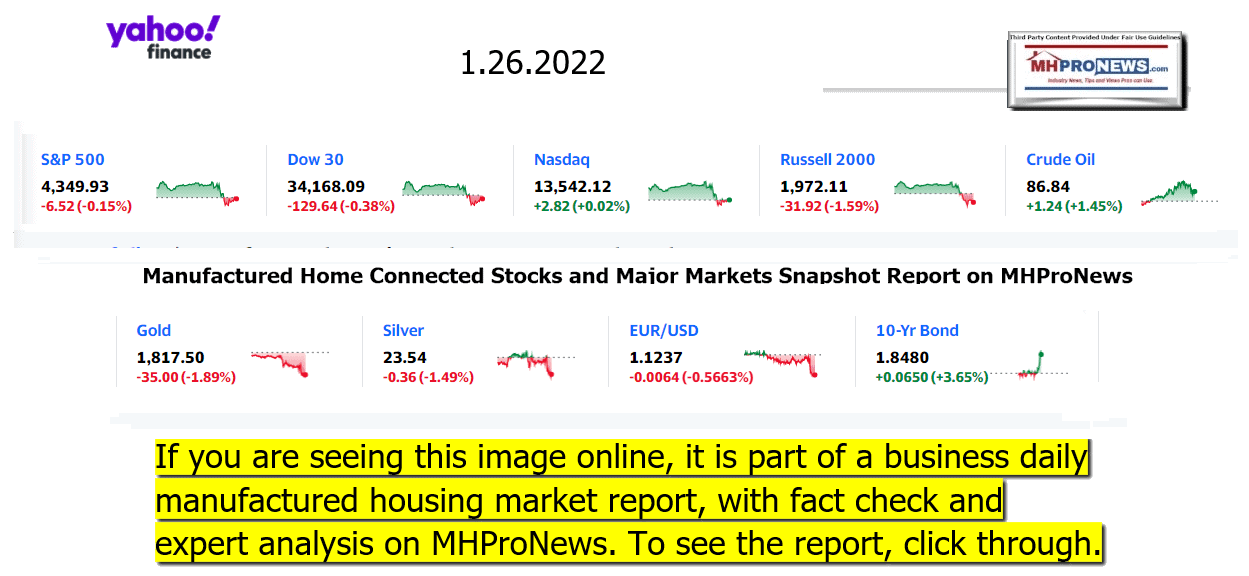 Headlines from left-of-center CNN Business – from the evening of 1.26.2022
Record profits
Tesla Model 3 on display in a Tesla Service Center in Frankfurt, Germany, in February 2019.
Tesla posted earnings of $2.9 billion, more than tripled its results from a year ago
The Fed is getting ready to raise interest rates
Rate hikes have been good for stocks. This time might be different
LIVE UPDATES Stocks finish mostly lower as Fed signals interest rate hikes are coming 'soon'
Analysis: Just forget your 401(k) password
It sure looks like GM is about to pull the plug on the Bolt
The global electric vehicle race is gathering speed
Boeing posts massive losses due to 787 Dreamliner problems
Double-decker highways are back. But they're not going to solve traffic jams
A year after GameStop mania, meme stocks have tumbled
Surging food prices are hurting those who can least afford it
Exclusive: Price hikes coming for Oscar Mayer hot dogs, Velveeta cheese
McDonald's is selling fan-made menu hacks
What is SWIFT and why it might be the weapon Russia fears most
A worker picks coffee cherries during a harvest in Fredonia, Antioquia department, Colombia, on Wednesday, Dec. 1, 2021. The forecast for 2021-22 production was lowered to 13.8 million bags from 14.1 million bags previously due to "potentially heavy rains from La Nina weather forecast to materialize in late 2021 and early 2022," the USDA Foreign Agricultural Service says in the report.
Climate change is coming for our coffee
Dustin Hoffman (left) and Tom Cruise in the 1988 movie "Rain Man", directed by Barry Levinson.
The Buick Roadmaster Tom Cruise drove in 'Rain Man' is up for sale
INVESTING
President Joe Biden speaks in the South Court Auditorium in the Eisenhower Executive Office Building on the White House Campus in Washington, Friday, Jan. 21, 2022.
White House: Biden doesn't use stocks to judge the economy
Bad news for Biden: Stocks are getting crushed
Get ready for more wild swings. Volatile markets are back
Kohl's, Peloton and Unilever have to watch their backs
Johnson & Johnson expects its Covid vaccine sales to surge — but still lag its rivals
REAL ESTATE
SHENZHEN, CHINA – JANUARY 11: The Evergrande Group headquarters building in Shenzhen is pictured on January 11, 2022 in Shenzhen, Guangdong Province of China.
Evergrande asks international creditors for more time
Here's what to expect when buying a home in 2022
Mortgage rates are highest since March 2020
Do you have what it takes to become a landlord?
How to get in on the real estate boom without actually buying a house
Headlines from right-of-center Newsmax – evening of 1.26.2022
At Least 3 Judges Being Eyed as Biden Mulls High Court Pick
Liberal U.S. Supreme Court Justice Stephen Breyer will retire in June, at the end of this term, multiple media outlets reported Wednesday. President Biden is expected to move swiftly on tapping a successor, and has repeatedly stated his intent to name a black woman to the role. [Full Story]
Related Stories
Justice Stephen Breyer to Retire
Biden Stands By Pledge to Nominate a Black Woman to the Supreme Court: WH
Justice Breyer Fortified Abortion Rights, Doubted Death Penalty
Schumer: Senate Will Act on Breyer's Replacement 'With All Deliberate Speed'
Ukraine Tensions Grow
All Parties Agree on Need for Ceasefire in East Ukraine
US Embassy Urges American Citizens to Leave Ukraine Now
Ukraine Crisis Could Escalate to Nuclear Conflict platinum
Graham to Newsmax: Ukraine Attack Would 'Turn the World Upside Down' | video
Pope Francis: 'Please, No More War'
Blinken: No Concessions in Response to Russia on Ukraine
Rasmussen: Just 31% Want U.S. to Defend Ukraine with Troops
Trump: Biden Risking 'World War III' With Russia
More Ukraine Tensions Grow
Newsmax TV
Van Drew: Ukraine Evacuation Call Betrays Biden Weakness
Thune: Putin Preying on Biden's Foreign Policy Weakness | video
Graham: Ukraine Attack Would 'Turn the World Upside Down' | video
Babin: Biden's Russia Rhetoric Isn't Giving Allies Confidence | video
County Exec. Blakeman: NY Mask Mandate Unconstitutional | video
Dershowitz: NYT 'Clearly' Defamed Sarah Palin | video
Jeff Van Drew: Pelosi Reelection Bid 'Doing Harm' to Democratic Party | video
Ric Grenell: Lack of Diplomacy on Ukraine Shows Blinken's Weakness | video
More Newsmax TV
Newsfront
DOJ Charges Man Who Sold Gun to Synagogue Gunman
The Department of Justice has charged the man who sold the pistol used by the Colleyville Congregation Beth Israel synagogue hostage terrorist with a federal crime…. [Full Story]
Biden, NYC Mayor Slated to Talk Gun Crime Next Week
President Joe Biden is slated to meet with New York City Mayor Eric [Full Story]
Wall Street Gains Evaporate After Fed Tees Up Tightening Timeline
The S&P 500 ended lower on Wednesday, taking an abrupt nosedive that [Full Story]
Ukraine Crisis Could Escalate to Nuclear Conflict
President Joe Biden's mismanagement could inadvertently bungle the [Full Story] | Platinum Article
Related
US Embassy Urges American Citizens to Leave Ukraine Now
Biden to Meet Qatar Leader as Energy Worries Loom in Europe
Britain Hints at Putin Sanctions, Drawing Warning From Kremlin
Justice Stephen Breyer to Retire
Liberal U.S. Supreme Court Justice Stephen Breyer will retire in [Full Story]
Related
Justice Breyer Fortified Abortion Rights, Doubted Death Penalty
Biden Stands By Pledge to Nominate a Black Woman to the Supreme Court: WH
Schumer: Senate Will Act on Breyer's Replacement 'With All Deliberate Speed'
At Least 3 Judges Being Eyed as Biden Mulls High Court Pick
'Wendy Bell Common Sense' to Debut Saturday on Newsmax
Newsmax Media Inc. announced Wednesday that 21-time Emmy Award winner [Full Story]
Navy Separates 23 More Unvaccinated Sailors
The U.S. Navy announced Wednesday that it separated 23 sailors for [Full Story]
Left-Wing Media Turns on 'Done With COVID' Liberals Weiss, Maher
Liberals were in a lather after left-leaning columnist and author [Full Story] | Platinum Article
Sec. of State: 'Every Indication' Russia Will Invade Ukraine by Mid-February
The U.S. State Department sees "every indication" Russia will use [Full Story]
Gun Rights Group Sues California City Over Liability Law
A gun rights group and a gun owner have filed a lawsuit against a [Full Story]
All Parties Agree on Need for Ceasefire in East Ukraine
Political advisers from Russia, Ukraine, France, and Germany agreed a [Full Story]
HHS Secretary Criticized as 'Ghost' During Pandemic
Health and Human Services Secretary Xavier Becerra has come under [Full Story]
Biden Gets CEO Support for Economic Agenda
President Joe Biden on Wednesday secured the blessing of several [Full Story]
McConnell-Aligned Groups Build Huge War Chest for Midterms
Political groups aligned with Senate Minority Leader Mitch McConnell, [Full Story]
Ruth Bader Ginsburg's Scholarly Book Collection Auctioned
Items from the late Supreme Court Justice Ruth Bader Ginsburg's [Full Story]
Rasmussen: Just 31% Want U.S. to Defend Ukraine with Troops
Less than one-in-three voters want the United States to send troops [Full Story]
WTO: China Can Slap Duties on $645 Million of US Imports
The World Trade Organization on Wednesday handed a fresh victory to [Full Story]
Senate Judiciary Republicans Demand Answers in Colleyville Attack
Senate Judiciary Committee Republicans, including Sen. Ted Cruz, of [Full Story]
Trump: GOP 'Largely' Unified Behind Me
Former President Donald Trump says the Republican Party "largely" is [Full Story]
Pope Francis: 'Please, No More War'
Pope Francis on Wednesday led a day of prayer for peace in Ukraine, [Full Story]
Biden's Asylum-Reform Efforts Produce Mixed Results
President Joe Biden and Vice President Kamala Harris have vowed to [Full Story]
Woman Who Encountered Monkey Insists She Is 'Not Sick' Despite Reports
A woman who is believed to have fallen ill after a close encounter [Full Story]
Senate Dems: Build Back Better Likely to Drop SALT Changes
The revised version of the Build Back Better Act will likely not [Full Story]
'Seinfeld' Actress Kathryn Kates Dead at 73
Kathryn Kates, best known for her roles in "Seinfeld," "The Many [Full Story]
Herschel Walker Rasies Nearly $10M in Georgia Race
When it comes to fundraising for his Georgia Senate campaign, [Full Story]
San Jose Makes Landmark Bid to Address Gun Violence Through Fees, Insurance
The city of San Jose, California, is looking to address gun violence [Full Story]
Pew Poll: Confidence Dropping on How Biden Is Handling COVID
Americans are nowhere near as confident now in President Joe Biden's [Full Story]
Pelosi's Stock Trades Attract Growing Following Online
A year since a Reddit-driven retail trading frenzy rocked the markets [Full Story]
Toomey Knocks Biden's Fed Nominees for Lack of Experience
Pat Toomey, R- Pa., the ranking member on the Senate banking [Full Story]
Trump Endorses Morgan Ortagus, If She Runs
Former State Department spokeswoman Morgan Ortagus has not officially [Full Story]
Disney Rethinks 'Snow White' Remake After Peter Dinklage Slams Use of Dwarves
Actor Peter Dinklage has criticized Disney for its live-action remake [Full Story]
More Newsfront
Finance
Fed Plans to Raise Rates as Soon as March to Cool Inflation
The Federal Reserve signaled Wednesday that it plans to begin raising its benchmark interest rate as soon as March, a key step in reversing its pandemic-era low-rate policies that have fueled hiring and growth but also escalated inflation…. [Full Story]
Arizona Quickest State to Hit $1B Sports Wagering Mark
Tesla Sees Supply Chain Issues Throughout 2022, After Record Earnings
Levi Strauss Beats Quarterly Revenue Estimates on Robust Denim Demand
'Sold by Amazon' Program Ends Following State Investigation
More Finance
Health
The 'Stealth' Version of Omicron Has Hit the US
Scientists and health officials around the world are keeping their eyes on a descendant of the omicron variant that has been found in at least 40 countries, including the United States. This version of the coronavirus, which scientists call BA.2, is widely considered…… [Full Story]
Volunteers Will Catch COVID to Determine How Much Virus Triggers Infection
Fat Injections Effective Against Plantar Fasciitis Pain: Study
Medicare Now Posts Key Nursing Home Staffing Info for Consumers
5 Common Causes of Ear Pain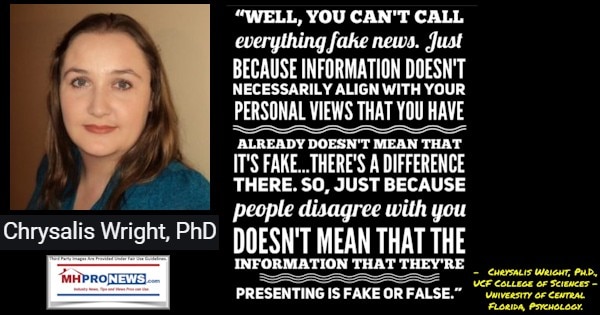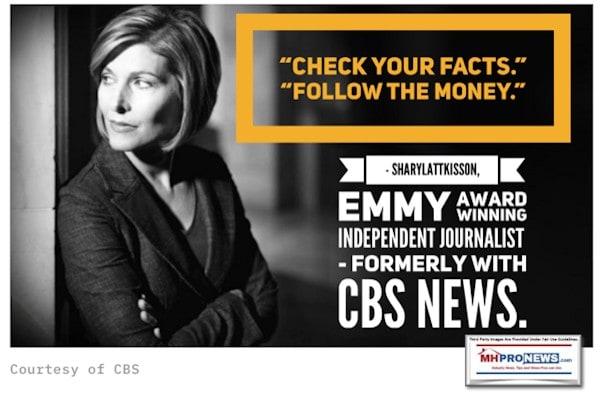 Manufactured Housing Industry Investments Connected Equities Closing Tickers
Some of these firms invest in manufactured housing, or are otherwise connected, but may do other forms of investing or business activities too.
NOTE: The chart below includes the Canadian stock, ECN, which purchased Triad Financial Services, a manufactured home industry lender
NOTE: Drew changed its name and trading symbol at the end of 2016 to Lippert (LCII).
NOTE: Deer Valley was largely taken private, say company insiders in a message to MHProNews on 12.15.2020, but there are still some outstanding shares of  the stock from the days when it was a publicly traded firm.  Thus, there is still periodic activity on DVLY.
Clayton-21st Storm Watch – Sinatra's Summer Wind Blows Early? – Manufactured Housing Moat Breach – Manufactured Home Values Increasing Faster than Site-Built – Case for Something New in 2022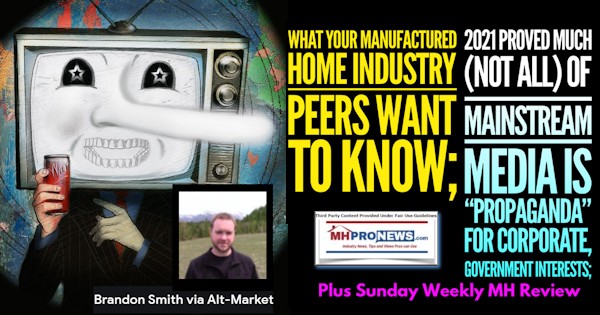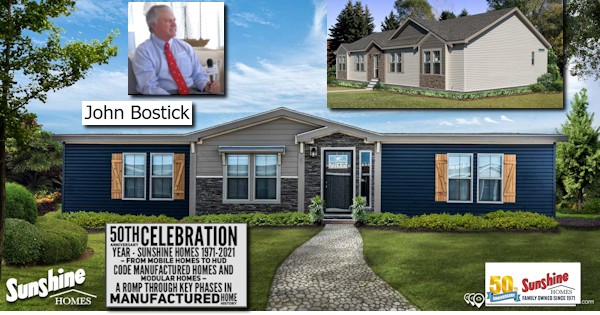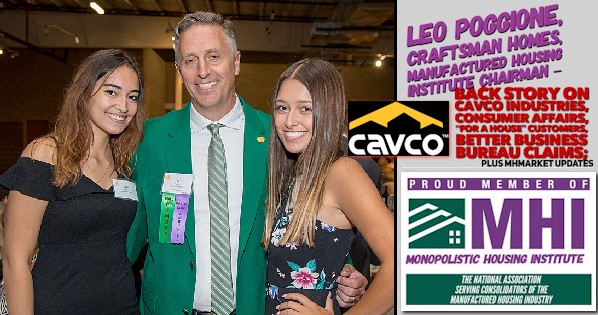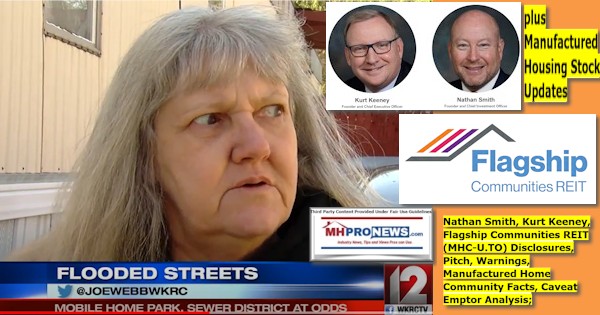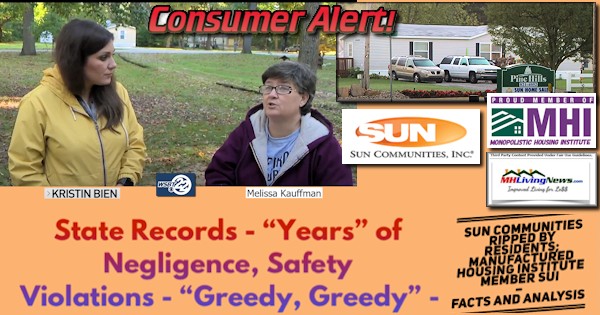 In cases such as Apollo, Berkshire Hathaway, Blackstone or others, manufactured housing may only be part of their corporate interests. Note: depending on your browser or device, many images in this report can be clicked to expand. Click the image and follow the prompts. To return to this page, use your back key, escape or follow the prompts.

https://www.manufacturedhomepronews.com/steve-lawler-deer-valley-corporation-dvc-otcmkts-dvly-announces-merger-plus-manufactured-home-investing-stock-updates/

https://www.manufacturedhomepronews.com/nobility-homes-financial-position-very-strong-sales-strong-but-challenges-including-lending-and-others-examined-plus-manufactured-housing-stocks-update/

2022 dawns

…

Berkshire Hathaway is the parent company to Clayton Homes, 21st Mortgage, Vanderbilt Mortgage and other factory built housing industry suppliers.


·

LCI Industries, Patrick, UFPI, and LP each are suppliers to the manufactured housing industry, among others.




·

AMG, CG, and TAVFX have investments in manufactured housing related businesses.

For

insights from third-parties and clients about our publisher

, click here.


Enjoy these 'blast from the past' comments.

MHProNews. MHProNews – previously a.k.a. MHMSM.com – has celebrated our 11th year of publishing, and is starting our 12th year of serving the industry as the runaway most-read trade media.
Sample Kudos over the years…
It is now 11+ years and counting…
Learn more about our evolutionary journey as the industry's leading trade media, at the report linked below.
· For expert manufactured housing business development or other professional services, click here.
· To sign up in seconds for our industry leading emailed headline news updates, click here.

Disclosure. MHProNews holds no positions in the stocks in this report.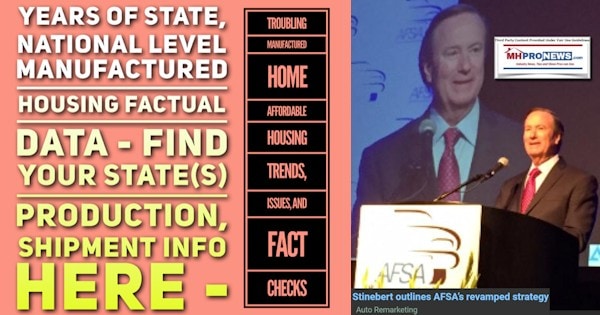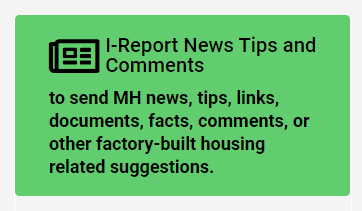 That's a wrap on this installment of "News Through the Lens of Manufactured Homes and Factory-Built Housing" © where "We Provide, You Decide." © (Affordable housing, manufactured homes, stock, investing, data, metrics, reports, fact-checks, analysis, and commentary. Third-party images or content are provided under fair use guidelines for media.) (See Related Reports, further below. Text/image boxes often are hot-linked to other reports that can be access by clicking on them.)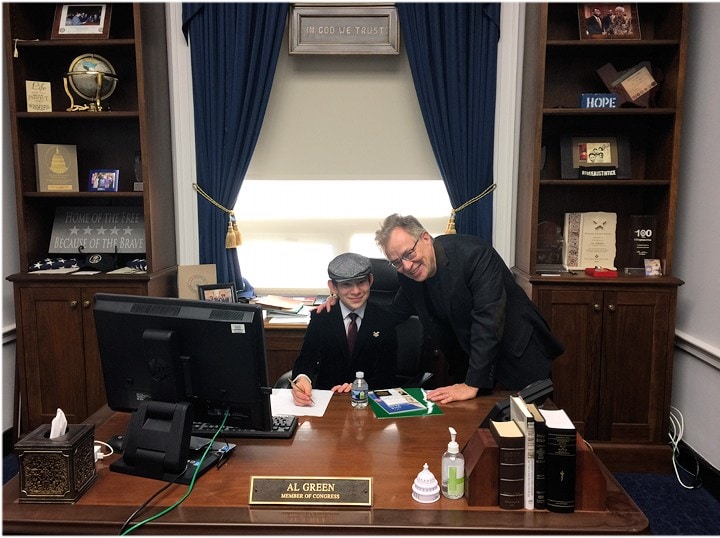 By L.A. "Tony" Kovach – for MHProNews.
Tony earned a journalism scholarship along with numerous awards in history. There have been several awards and honors and also recognition in manufactured housing. For example, he earned the prestigious Lottinville Award in history from the University of Oklahoma, where he studied history and business management. He's a managing member and co-founder of LifeStyle Factory Homes, LLC, the parent company to MHProNews, and MHLivingNews.com. This article reflects the LLC's and/or the writer's position and may or may not reflect the views of sponsors or supporters.