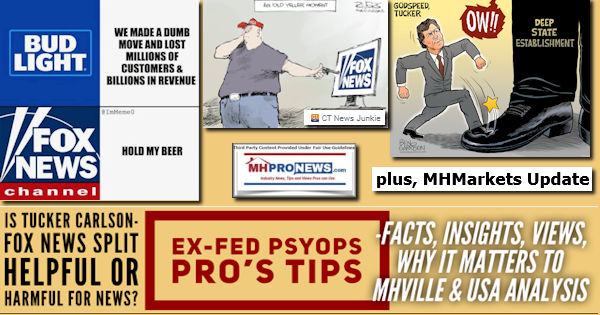 There has been hours of airtime and podcasts – along with a small ocean of digital and actual ink spilled – on the subject of Tucker Carlson's 'unexpected' departure from his leading primetime cable newscast on Fox News. One might wonder if this is an example of 'Circus Politics Intended to Distract Us, Don't Be Distracted' as explained by John and Nisha Whitehead of the Rutherford Institute a month ago. Some are claiming this could be "the end of" Fox News, perhaps overlooking the point that Bill O'Reilly was similarly their top-rated on-air talent prior to Carlson. When O'Reilly left, Fox News and O'Reilly both adjusted and each ended up doing fine. Recent remarks by informed individuals underscore that this issue is more than merely about the popular Carlson or Fox News. To frame the views and analysis that follows in Part II of this report is the report in Part I from the WND News Center provided to MHProNews as shown below.
WND
Fox News a big ratings loser after Tucker ouster
Newsmax gleeful: 'Skyrocketing ratings' as it gains in cable wars
By WND News Services
Published April 27, 2023 at 7:34pm
The Nielsen ratings are in and Fox News is a big loser after jettisoning its top-rated, prime-time host Tucker Carlson, even losing to CNN in the key demographic group of viewers aged 25-54.
CNN's Anderson Cooper beat out Carlson's temporary replacement, Brian Kilmeade, in the key 8:00 p.m. Eastern time slot once dominated by Tucker.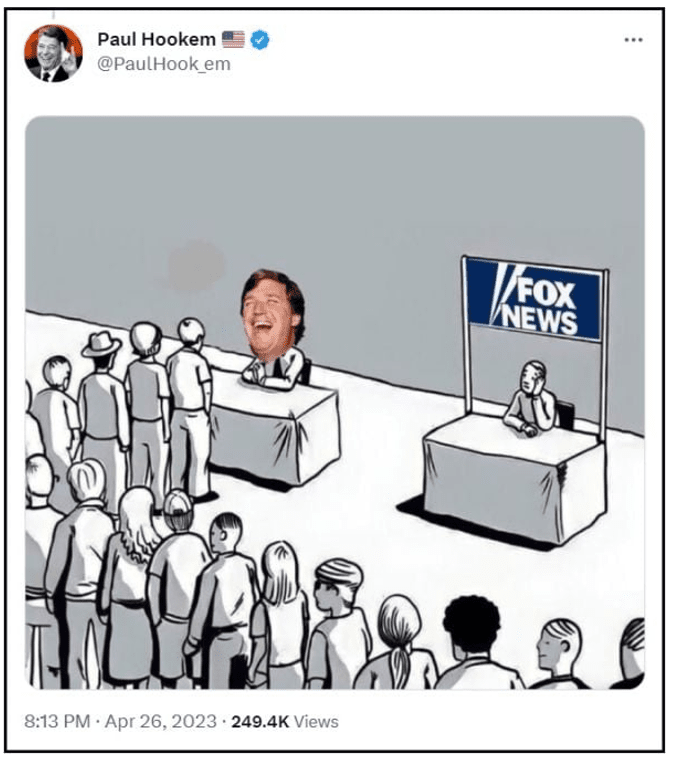 "'Fox News Tonight' managed to top cable news competitors CNN and MSNBC in total audience. But the channel, typically a ratings powerhouse, suffered a rare loss in the hour among the advertiser-coveted demographic of viewers age 25 to 54," the Los Angeles Times reported Wednesday.
Popular online broadcaster Tim Pool (@timcast on Twitter) called the new ratings "embarrassing" for Fox.
And just like it did after Fox News called the state of Arizona for Joe Biden Election Night in 2020, Newsmax is benefiting greatly from conservatives' outrage over Rupert Murdoch's network's actions.
.@timcast describes how Fox News' ratings are doing in comparison to CNN: "Talk about embarrassing." pic.twitter.com/PjUG2zR5uf

— The Post Millennial (@TPostMillennial) April 27, 2023
Kilmeade of the Fox morning show "Fox & Friends" was put in the unenviable position of being the first temporary host in Carlson's old 8:00 p.m. Eastern time slot. He pulled in less than half of the star anchor's typical audience size Monday.
The L.A. Times, citing Nielsen ratings figures, said the temporary program "Fox News Tonight" with Kilmeade at the helm earned 1.7 million viewers. "The number is 47% below what 'Tucker Carlson Tonight' delivered in the 8 p.m. Eastern hour a week earlier on April 16," the Times reported, noting that Carlson averaged 3.2 million nightly viewers in the first quarter of 2023.
And two other big Fox shows that followed Carlson every night suffered with his sudden and yet unexplained departure, which was widely blasted by conservatives on social media, with many snarkily comparing Fox's marketing acumen to Bud Light's.
"Without the tentpole that Carlson's program provided, the ratings for other Fox News shows were down as well. 'Hannity' averaged 2 million viewers, a decline of 20% from the previous week. 'The Ingraham Angle' scored 1.56 million, down 12%," reported the Times.
Newsmax, a cable channel that also streams its live programming for free (unlike Fox), was giddy as it registered a huge post-Tucker-at-Fox ratings boost. Seemingly on a perpetual quest to catch Fox as the leading right-leaning cable network, Newsmax tweeted out Wednesday: "Skyrocketing Ratings! [Up] 187% total audience, [Up] 216% total women, [Up] 195% adults 35-64."
Newsmax ratings last night! pic.twitter.com/7uH6GkAkCu

— 1Donna Sue (@D0nnasue1) April 26, 2023
The Times reported that Eric Bolling's Newsmax show, "Eric Bolling The Balance," experienced a fivefold increase in its audience, according to Nielsen, pulling in 562,000 viewers in the same time slot as Carlson's at Fox News. Bolling, like several of Newsmax's on-air hosts and reporters – e.g., Greta Van Susteren, Rob Schmitt, Greg Kelly, James Rosen and Heather Childers – once worked at Fox News.
"The rest of the Newsmax lineup saw a lift as well, with the audiences for 'Rob Schmitt Tonight,' 'Prime News' and 'Greg Kelly Reports' all doubling in size from a week ago," the Times reported.
But Newsmax executives' celebration might be premature: "Many viewers who sampled Newsmax after the 2020 election eventually returned to Fox News," it reported.
Meanwhile, Carlson's teaser video, tweeted out Wednesday night at 8:00 p.m., exactly when his old show began each night on Fox, garnered a whopping 64 million views by press time, in less than 24 hours. The words "Good Evening," which is how he began each Fox program, accompanied the tweeted video:
Good evening pic.twitter.com/SPrsYKWKCE

— Tucker Carlson (@TuckerCarlson) April 27, 2023
The fantastic success of what is essentially Carlson's first "broadcast" not tethered to a cable network has many observers – especially younger conservative "influencers" like Benny Johnson who have built up massive audiences on their own – predicting the demise of cable news.
Johnson, who has 1.4 million followers, tweeted Wednesday morning, when Carlson's video had already amassed 42 million views: "Tucker's Twitter Video now has 42M views. His average viewership on Fox News was 3M. That means Tucker's first crack at making his own content outside corporate censorship delivered 15x the viewers. Tucker is an animal. This is the end of cable news as we know it."
Tuckers Twitter Video now has 42M views.

His average viewership on Fox News was 3M.

That means Tucker's first crack at making his own content outside corporate censorship delivered 15x the viewers.

Tucker is an animal.

This is the end of cable news as we know it. pic.twitter.com/TkAP9YWM4I

— Benny Johnson (@bennyjohnson) April 27, 2023
Along those lines, MAGA attorney-pundit and Townhall columnist Kurt Schlichter opined Thursday that with his curious ouster by Fox, "Tucker … might end up being the transitional figure in the movement of conservatives away from network brand identification to individual brand identification."
— Global 🌎 Memes (@BlessssYouGod) April 27, 2023
"Tucker Carlson is neither down nor out; he is going to come back bigger and badder than ever," Schlichter writes, echoing countless conservatives who are rejoicing at the prospect of Carlson having the freedom to discuss anything he wants, bereft of Fox's political pressures.
Moreover, Schlichter writes, many Republicans will be more loyal to Tucker than they are to Fox:
Tucker, the network's flagship opinion host, is gone, as are a lot of people will go with him wherever he lands. They did not consider themselves "Fox viewers" – they considered themselves "Tucker viewers." The GOP will face a similar dilemma as the 2024 race heats up – there are a lot of people who consider themselves "Trump voters" and not "Republican voters." Tucker has a lot of love; we will see how much love Fox has.
The regime media and the leftists do not understand that a lot of conservatives have been annoyed with Fox for quite a while – these cons think Fox is soft. But that misunderstands what Fox is, or at least what it strives to be. Fox, for its part, has to both be the network that welcomes the 50% of Americans the regime media rejects and also maintain old school journalistic standards. The problem is that the Fox audience has little patience for old school journalistic standards in an age where the rest of the media slanders it as a bunch of racist, sexist monsters who think that only women can get pregnant. The audience wants a cheerleader network, and not just in the prime-time opinion shows, and that creates a significant tension regarding Fox's identity.
Part II – Additional Information with More MHProNews Analysis and Commentary in Brief
Per Newsmax on 4.29.2023: "Former Fox News host Tucker Carlson is more popular than the network that fired him, according to the latest Rasmussen Reports survey. Of likely U.S. voters surveyed, 59% surveyed said they had a favorable view of Carlson compared with 52% for Fox. More believe Carlson's departure will make Fox worse, not better (32%-19%). Among Republicans, 47% said letting Carlson go would make Fox News worse, compared with 13% who said otherwise."
A self-identified Biden fan tweeted the following in response to the Carlson's purported termination by Fox News.
— Travis Allen (Biden Fan) (@TravisAllen02) April 27, 2023
According to the right-leaning Epoch Times, in a report that included content from the left-leaning Associated Press (AP), said on 4.28.2023 that "Fox News Ratings Drops 56 Percent After Tucker Carlson's Exit."
Tucker averaged 3.2 million nightly viewers before Fox pushed him out (highest in cable news)

Only 1.7 million tuned in to watch his replacement Brian Kilmeade, a 47% drop

That means 1.5 million Tucker fans have already turned off Fox News

— DC_Draino (@DC_Draino) April 27, 2023
The short term hit for Fox has been compared to the cost for Bud Light and its parent company in their recently woke-trans marketing play.
— The Arctic Pilot (@LewFikes) April 25, 2023
ZeroHedge, Breitbart and Ex-Psyops Officer Scott Bennett
ZeroHedge, in a post authored by Paul Joseph Watson via Summit News said that: "A former US Army psychological warfare officer says that Tucker Carlson was fired by Fox News because of the regime's agenda to maintain an "uninformed semi lobotomized quasi retarded population."" More on that further below.
Per right-leaning Breitbart, the following are elements of the transcript of Carlson's video tweet.
"One of the first things you realize when you step outside the noise for a few days is how many genuinely nice people there are in this country," Tucker began. "Kind and decent people. People who really care about what's true, and I know a bunch of hilarious people also. A lot of those. It's got to be the majority of the population. Even now. So that's heartening."
Tucker explained how this made him realize the intense stupidity displayed during "most of the debates you see on television."
"They are completely irrelevant. They mean nothing," he said. "In five years, we won't even remember that we had them. Trust me as someone who's participated. And yes, at the same time, and this is the amazing thing, the undeniably big topics, the ones that will define our future, get virtually no discussion at all: War, civil liberties, emerging science, demographic change, corporate power, natural resources."
"When was the last time you heard a legitimate debate about any of those issues," he continued. "It has been a long time. Debates like that are not permitted in American media."
Carlson said that both political parties and their donor classes have basically decided what Americans will be talking about based on what benefits them. He likened this "consensus" to a one-party state, what some conservative activists often refer to as the "uniparty."
"Our current orthodoxies won't last. They're brain-dead. Nobody actually believes them," he said. "Hardly anyone's life is improved by them. This moment is too inherently ridiculous to continue, and so it won't. The people in charge notice, that's why they're hysterical and aggressive. They're afraid. They've given up persuasion, they're resorting to force. But it won't work. When honest people say what's true, calmly and without embarrassment, they become powerful."
Carlson concluded his message with a call to hope:
At the same time, the liars who have been trying to silence them shrink. And they become weaker. That's the iron law of the universe. True things prevail. Where can you still find American saying true things. There aren't many places left, but there are some, and that's enough. As long as you can hear the words there is hope. See you soon. "
ZeroHedge's report on this topic said: "The remarks were made by US counter-terror expert Scott Bennett." Bennett's analysis of the Fox-Carlson split goes like this, per Paul Joseph Watson.

According to Bennett, Carlson posed too much of a threat to institutional power because he turned Americans into proper "researchers and thinkers".
Carlson offered an "intellectualism, truthfulness, and an analytical depth that no other news personality has ever done in the history of the United States as far back as I can remember," said Bennett.
Tucker needed to be "silenced" because he represented too big a threat to the "powers and principalities, institutions and agendas that seek an unenlightened uninformed semi lobotomized quasi retarded population that do not question, do not research, do not analyze but simply digest and follow instructions," according to Bennett.
"Tucker Carlson also exposed the fraud and money laundering racketeering crimes of FTX and the Democrat Party in Ukraine involving the United States government. He exposed the US biochemical labs in Ukraine and their connection to the Democrat Party, President Barack Obama, Vice President Biden, Hillary Clinton, George Soros, Bill Gates, and other US government agencies and pharmaceutical companies," Bennett told Sputnik.
The ex-host's anti-regime rhetoric "could no longer be tolerated by the corrupt American media and political establishment," said Bennett, adding that his exit signals "the death of American media".
The former US army psyops officer suggested that Senator Chuck Schumer had threatened to utilize the CIA and the FBI to deploy secret government operations against Tucker to get him off air unless he was fired.
Schumer previously called for Carlson to be taken off air after he broadcast footage showing the January 6 'riot' leaders were actually allowed into the Capitol and chaperoned around by authorities." The balance of the article can be seen here or here.
Tucker Takeaways?
Tucker said: "most of the debates you see on television…are completely irrelevant. They mean nothing. In five years, we won't even remember that we had them. Trust me as someone who's participated." That's akin to Donald Trump in 2015 saying that the system is rigged, he knew, because he used the rigged system himself.
Carlson said: "the undeniably big topics, the ones that will define our future, get virtually no discussion at all: War, civil liberties, emerging science, demographic change, corporate power, natural resources." The donor class, the billionaires and their corporate base or allies that own or control much of mainstream media don't allow discussions on the truly serious issues Carlson named: "Debates like that are not permitted in American media."
"The people in charge [i.e.: "the donor class," the 1%ers, the oligarchs, etc.] notice, that's why they're hysterical and aggressive. They're afraid. They've given up persuasion, they're resorting to force. But it won't work. When honest people say what's true, calmly and without embarrassment, they become powerful."
Now, compare and contrast what Carlson mused in that viral tweet above with what announced Democratic candidate Robert F. Kennedy Jr. has said in his campaign announcement and subsequent remarks. "My mission over the next 18 months of this campaign and…throughout my presidency will be to end the corrupt merger of state and corporate power…" (Emphasis added.) More on that in the recent report linked below.
'Spirit of Rebellion' RF Kennedy Jr 'My Candidacy for Democratic Nominee for President Aims to End Corrupt Merger of State-Corporate Power Threatening New Feudalism in USA;' plus MHMarkets Updates
Kennedy has moved from around 10 percent in polling among Democrats just before his formal announcement, to 14 percent when he announced, to "19% in the Fox News poll released Wednesday night," said the left-leaning USA Today. 
Please help me share this video announcing my run for President of the United States. #Kennedy24 pic.twitter.com/OLvOXZlRHC

— Robert F. Kennedy Jr (@RobertKennedyJr) April 20, 2023
Joe Rogan & Dave Smith on RFK's Speech and the DNC Wanting to Cancel the Democratic Primaries

"They don't want to let RFK on a stage with Biden. RFK will rip that old man up!" 🔥@RobertKennedyJr @joerogan @ComicDaveSmith pic.twitter.com/yVcv9McHux

— Chief Nerd (@TheChiefNerd) April 27, 2023
Neo-con National Review has called RFK Jr. a populist on the left. Perhaps so. But that only makes the point that MHProNews made in the report earlier this year that perhaps the majority of the country would support an agenda that challenges what Carlson called the ruling orthodoxies.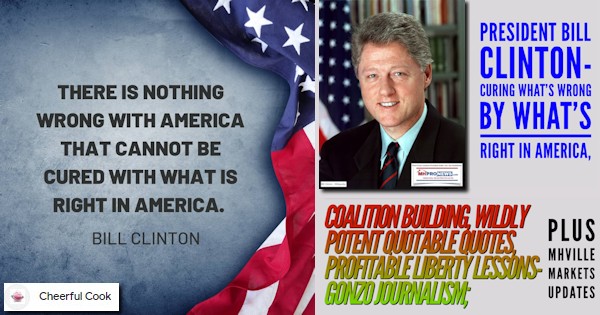 Nor is that to pat our own backs, but rather to convey the point that there have been individuals on both sides of the left-right divide that have articulated key points that could unite the majority of the country. Here is how ex-Clinton Administration official and longtime Democrat, Robert Reich, put it some years ago.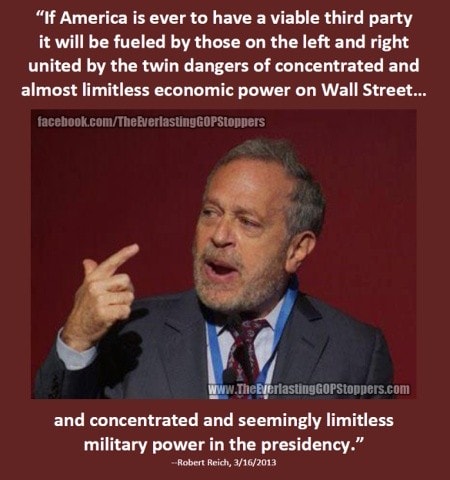 Carlson spoke of fear of the public being a driving force among the ruling elites that strives to keep Americans divided. That ex-federal psyops pro Scott Bennett said something similar. Per Bennett: "powers and principalities, institutions and agendas that seek an unenlightened uninformed semi lobotomized quasi retarded population that do not question, do not research, do not analyze but simply digest and follow instructions."  While Carlson, Bennett and others may at times use some hyperbole for effect and emphasis the core points have a researched- and evidence-based ring of truth.
MHProNews and MHLivingNews have used the following pithy quote by Danny Glover periodically for years.
"It's not only a monopoly of wealth; it's a monopoly of information as well," said Glover on the still relevant and compelling Shadows of Liberty documentary video.  But it isn't about just news, it is about big tech, social media, and what Glover aptly called "information" which properly understood includes the educational and nonprofit landscapes too.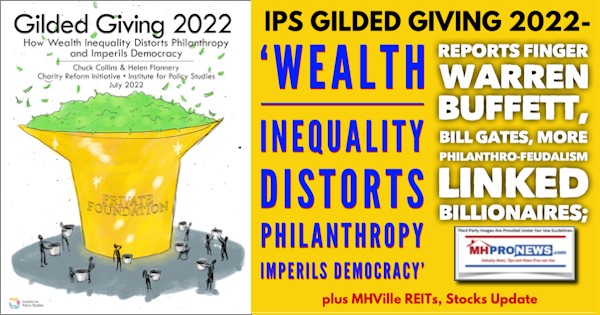 At its core, it is not merely a matter of Democrat vs. Republican. It is rather a question of which politico is in the pockets of who in 'the donor class,' 'the ruling elites,' or the "ruling" "oligarchs and plutocrats." MHProNews and our MHLivingNews sister site have been seeking to convey that understanding for years to our readers.
2024 presidential candidate Trump seems to understand that dynamic. He has called out and punished the Bush wing of the Republican party (a.k.a. "RINOs") for years. He runs against those donor class types as much as he does against Joe Biden and the Democrats.
MHProNews reminded readers that it is left-wing publications that have at various times admitted that the deeper pocketed donors have dominated Democratic Party politics for years.  That doesn't mean that some in the Republican Party don't also benefit. It is more about the individual candidate's platform and principles than the party, as Robert F. Kennedy Jr. is exemplifying.
To Carlson's point about fear among the ruling elites, Nick Hanauer let part of the proverbial cat out of the bag by saying that the oligarchs and plutocrats are trying to avoid the pitchforks.  Carlson didn't mention Hanauer's notion of Pitchfork Economics, but he could have. It isn't that Hanauer is necessarily trying to be 'a good guy.' Rather, the case can be made that he is trying to save his own hide and that of other deep pocketed Democratic supporters.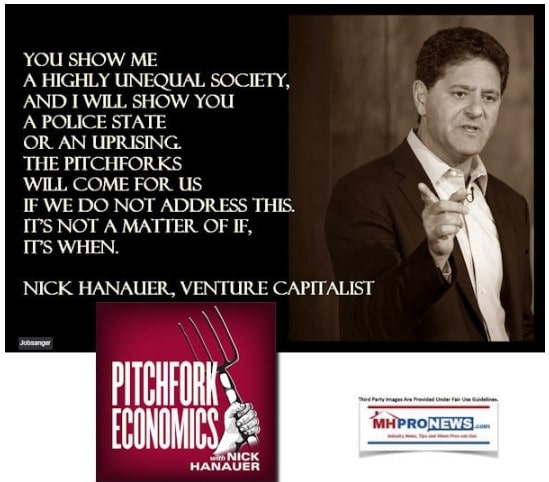 Fox vs. Newsmax…
As a disclosure and reminder, shortly after the 2020 election, MHProNews pivoted from getting our right-leaning headlines from Fox Business to getting them from Newsmax. We believed that we detected the direction that the Fox News network was going. It wasn't a secret, as the political cartoon below from 2019 reflects.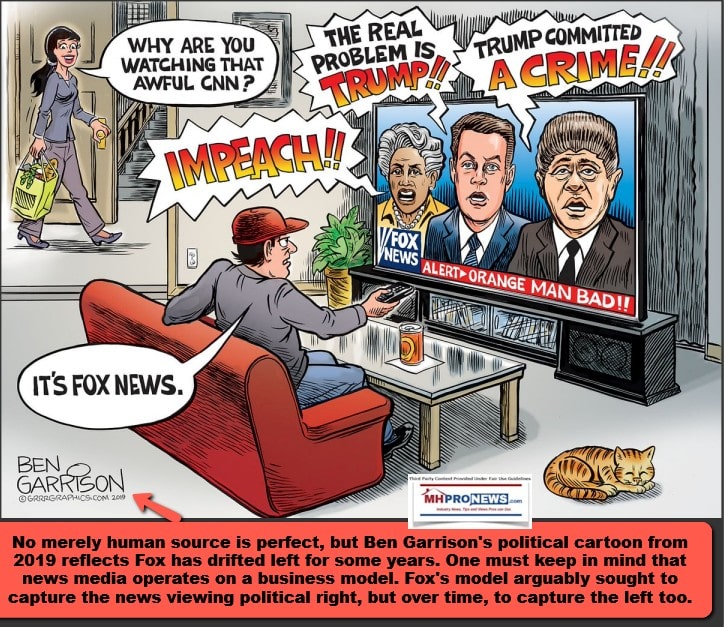 CNN has consistently been on the political left for years. Fox News has apparently been trying to get a bigger share of the left-leaning audience for some years without losing their right leaning viewers. Good luck with that try by Fox sans Carlson. Their parent company's stock tanked by about a billion dollars in value the first day of the Carlson being pulled by Fox News management. They are, as MHProNews noted earlier in the week, on track to pull a Bud Light.
When MHProNews pivoted in late 2020 to headlines from Newsmax to provide balance to those from CNN, it wasn't because Newsmax is perfect. Fox News demonstrably has a bigger budget and bank account, and it shows on production.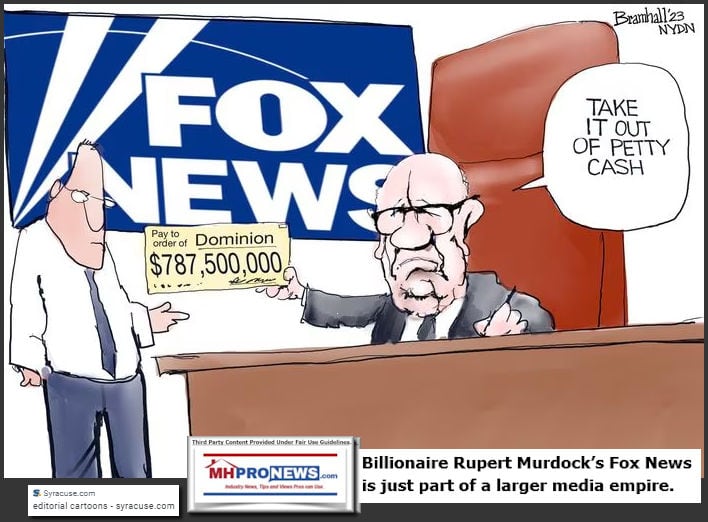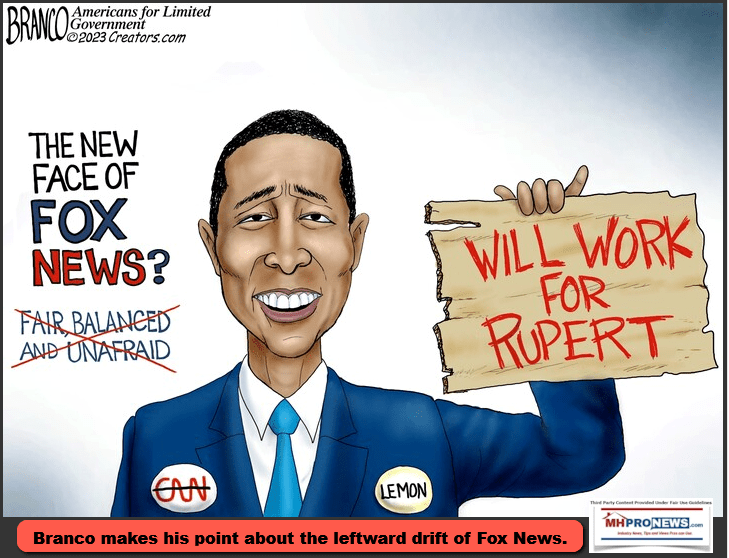 About 2.5 years ago, this exchange took place on Fox News' Outnumbered. Historian and former Speaker of the House Newt Gingrich (R) was pointing out the link between large donations from sources assoicated with George Soros were helping fund campaigns for district attorney by left-wining Democratic candidates. The Fox News panel on Outnumbered shut Gingrich down. But in hindsight, Gingrich raised an important point to understand why crime is rising. If leftwing prosecutors don't agressively prosecute suspects that law enforcement believes are guilty and have sufficient evidence to convict beyond a reasonable doubt, then why would there be a surprise that crime is rising? Additionally, it was one of those Soros connected D.A.'s that has launched the controversial "indictment" of former President Donald J. Trump on a federal offense linked to a state misdemeanor. Legal experts have decried the move as purely political that may ultimately be dismissed because federal prosecutors declined to prosecute the same allegation.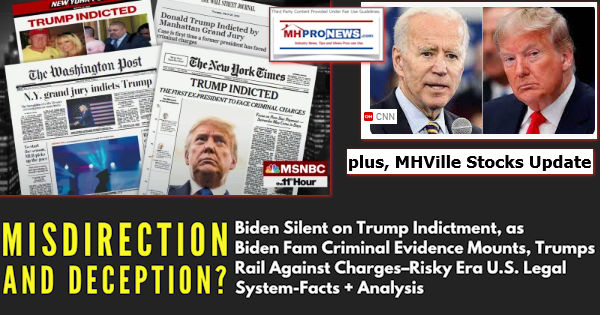 Proudly Jewish Dennis Prager – founder of PragerU, author, and a talk radio host – noted with respect to the Carlson-Fox controversy that talk radio is bigger in its audience than cable news. He said that is often overlooked. Prager recalled a young person who asked him 'how do we know what is true?' He said he reacted by saying, "Those who censor are lying." Prager said leftism is antiethentical to liberalism, but noted that many on the left simply vote left even when it may contractic their liberal values. He said throughout history when the left begins to take power they censor. Interesting food for thought.
That said, back to MHProNews' reasoning for switching to headlines from Newsmax over Fox is this. Newsmax seems to be more consistently conservative in their views, while still having the types of panel discussions that feature voices from the left and right that made Bill O'Reilly and Fox News 'famous' on the right for some years. Newsmax appears to be more authentically conservative, akin to how CNN is consistently pro-Democratic. Perhaps if more viewers stick with Newsmax, their ad revenue will likely grow and then so can their production and other abilities could increase commensurately. Something similar could be said about other conservative outlets, like One America News (OAN), The Blaze, Real America's Voice, and so on. As a media observer, the quality of Newsmax's production has already improved since 2020. Time will tell.
Deposed President Trump at a campaign event in New Hampshire on Thursday 4.27.2023 said that this troubling period of U.S. history may ultimately prove to be good in this respect. Trump made the claim that as people see the actual outcomes from Democratic policies that people will increasingly wake up to the harms being caused by Joe Biden and his allies in Congress. While that may make sense, the challenge is the question of habits and propaganda has on people. So long as much of the media, increasingly including Fox News, can continue to stir up a sort of knee-jerk Trump hatred, it may not be as powerful a motivation as the former president thinks. Once again, time will tell.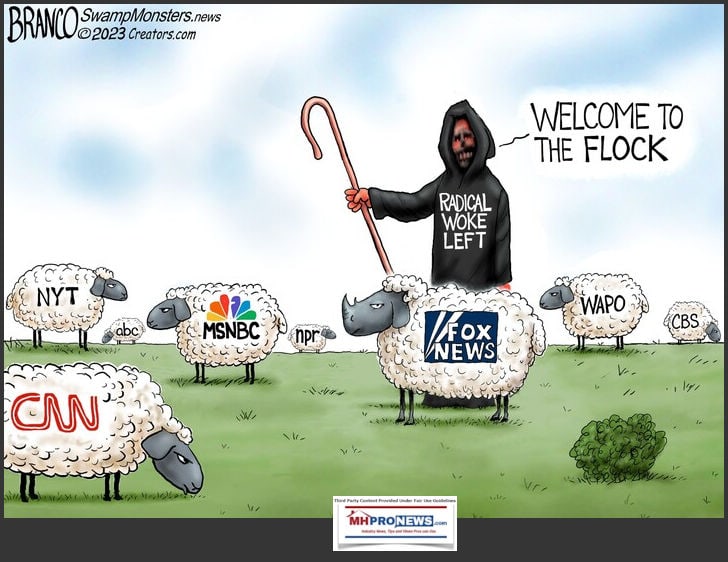 Takeaways and Conclusion
That psyops officer, Carlson, RFK Jr. and others have at various times raised a similar concern. Big business, big media, big tech, and their billionaire oligarchs are often working in concert with public officials (i.e.: at least part of the government) in a manner that mirrors fascism. Benito Mussolini, a socialist, is credited with defining fascism is the blending of state and corporate power. Democrat Kennedy and some on the left like Naomi Wolf, Glen Greenwald, Matt Taibi, and others on the right like WMAL's Chris Plante, WCBM's Rob Carson, as well as Trump and his supporters – have raised a similar concern.
What is occuring in the U.S. is in many ways an information operation. That information that is hyped and info that dominate media and their allies are censored or throtted. Manufactured housing is inexorably caught up in that struggle. If one agrees with Glover's remark cited above and recalled below, then this is an issue that is hiding in plain sight. It is not a conspiracy in the way that some may think of that term.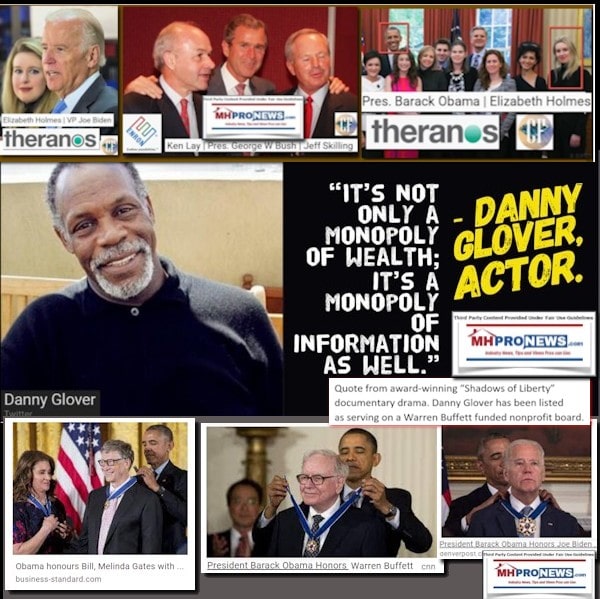 It is not always easy to report: "news, tips, and views pros can use" when the issues are complex, and the articles will likely end up stepping on some toes. Only by painting the picture as best as MHProNews can so that thoughtful professionals can ponder the evidence and make their decisions accordingly. Accurately supplied information and inspiration are necessary to change the status quo. Otherwise, the status quo will most likely continue.  To end on a hopeful note, the fact that Bud Light and Fox are both experiencing a consumer reaction, perhaps the corporate powers will take note and adjust. But arguably more important is this.  Individuals, acting in quiet but effective concert, can and do have a powerful voice. Woke businesses that are punished by consumers should be evidence for those who have concerns for the future to realize that there is always hope. As Tucker said on his last broadcast, it also helps if Americans spend a few minutes a day praying for the future of the country. Prayer and intelligent action is a proven formula. ##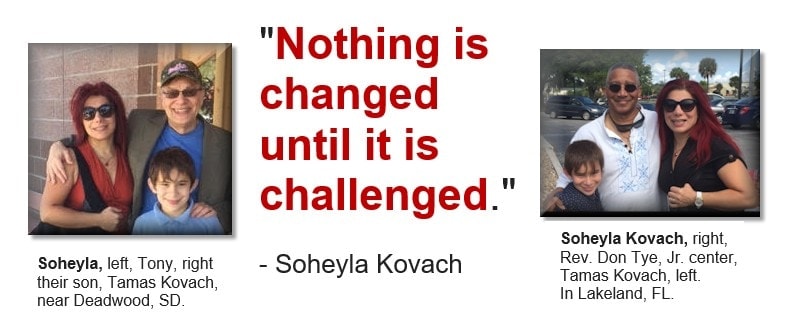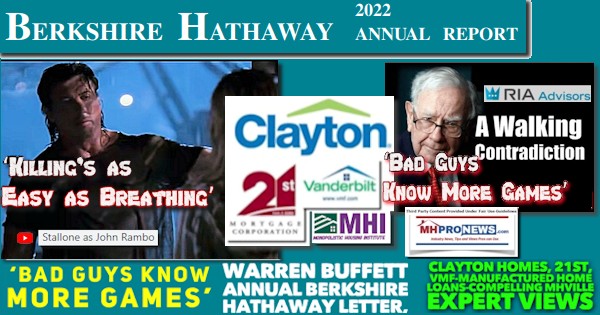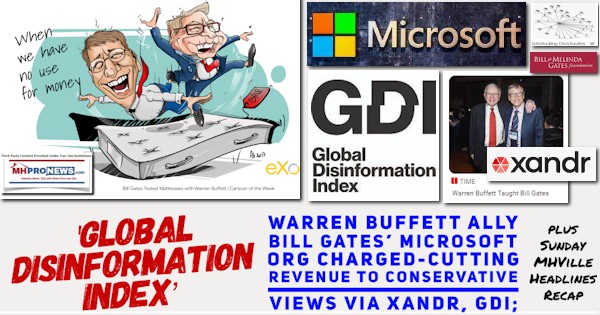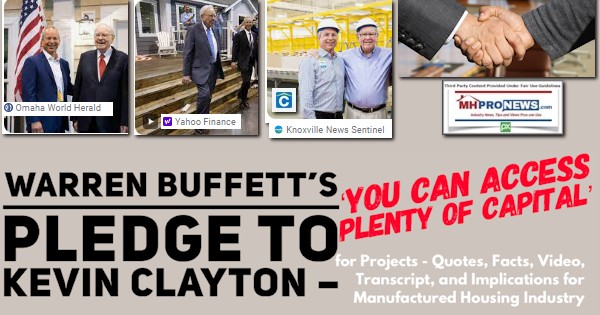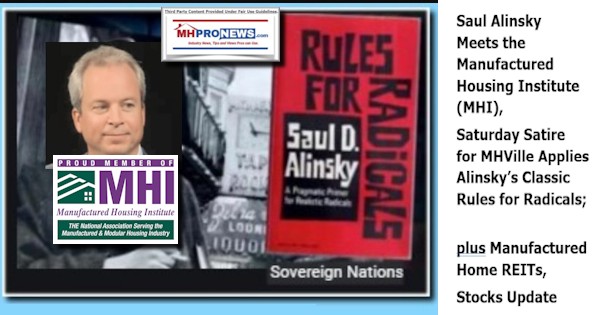 Part III. Daily Business News on MHProNews Markets Segment
The modifications of our prior Daily Business News on MHProNews format of the recap of yesterday evening's market report are provided below. It still includes our signature left (CNN Business) and right (Newsmax) 'market moving' headlines. The macro market moves graphics will provide context and comparisons for those invested in or tracking manufactured housing connected equities.
In minutes a day readers can get a good sense of significant or major events while keeping up with the trends that are impacting manufactured housing connected investing.
Reminder: several of the graphics on MHProNews can be opened into a larger size. For instance: click the image and follow the prompts in your browser or device to OPEN In a New Window. Then, in several browsers/devices you can click the image and increase the size. Use the 'x out' (close window) escape or back key to return.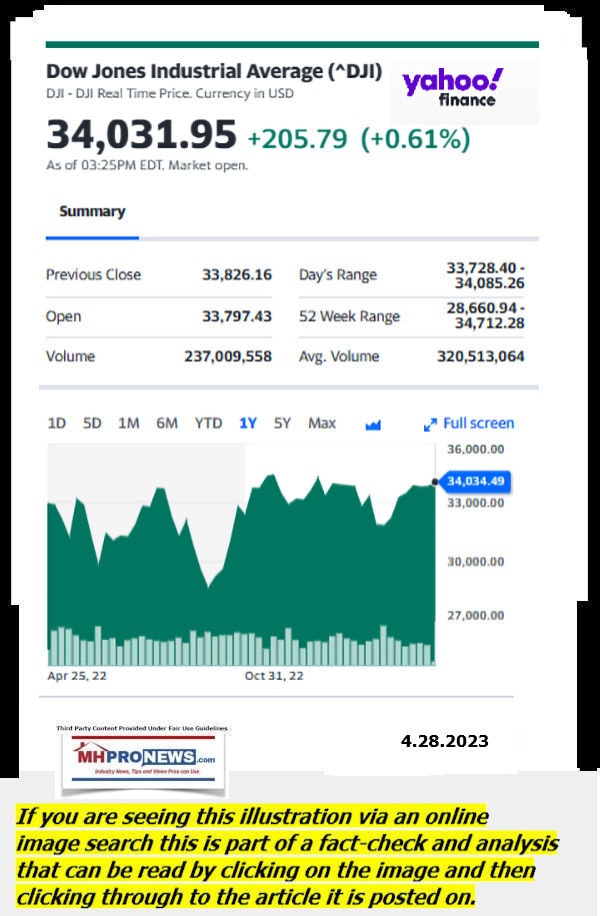 Headlines from left-of-center CNN Business – from the evening of 4.28.2023 
Contagion
A Signature Bank branch stands in Manhattan on March 13, 2023 in New York City. The bank was closed by bank regulators on Sunday. The move by the state's Department of Financial Services seeks to prevent a banking crisis spurred by the failure of Silicon Valley Bank.
Risky crypto investments and 'poor management' caused Signature Bank to fail, FDIC's report finds
Fed autopsy on SVB faults bank's management — and its own oversight
Jenny Craig is reportedly winding down its weight-loss centers and warning of mass layoffs
First Republic teeters on the edge — again
Twitter's former CEO has a new app that looks a lot like Twitter
Is $250,000 still the right limit for deposit insurance? The debate is on
The Fed's favorite inflation measure cooled again in March
Got expired Bed Bath & Beyond coupons? These retailers will take them
How to negotiate your college's financial aid offer
Why did First Republic have a target on its back?
North America's largest transportation network suspends use of Twitter for service alerts
US worker pay gains picked up in the first quarter
ExxonMobil, Chevron earnings down from record levels but top forecasts
Europe's economy ticks up in the first quarter but worries linger
ESG investing is dying. That's not a bad thing
BBC chairman resigns after controversy involving loan deal for former PM Boris Johnson
Amazon posts $3.2 billion profit as it goes through multiple rounds of layoffs
Leaked Breitbart messages highlight right-wing media struggle over Republican party's future
You can make your Mercedes EV go faster for $60 a month
Musician Ed Sheeran sang and played guitar on the stand during copyright infringement trial
Here's what the SVB report will (and won't) include, according to top former Fed official
Gap's massive job cuts will save $300 million
Notice: the graphic below can be expanded to a larger size.
See the instructions below the graphic below or click the image and follow the prompts.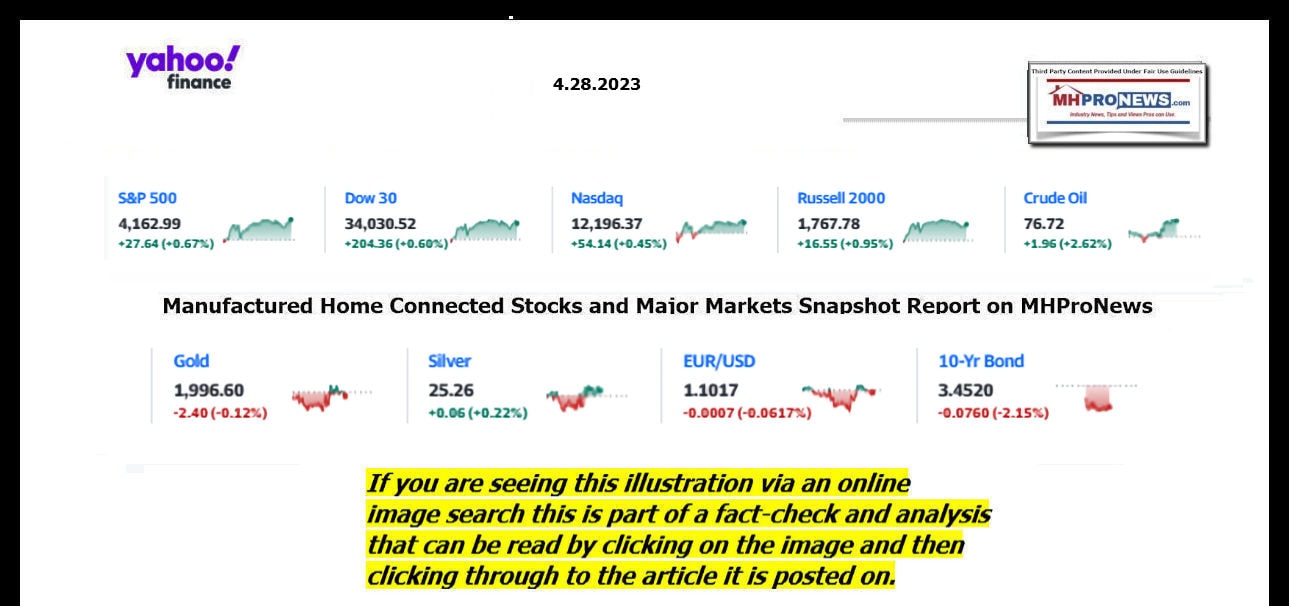 Headlines from right-of-center Newsmax 4.28.2023
Newsmax in Top Rankings on Apple, Android App Stores
Newsmax's mobile app has been climbing by leaps and bounds this week, reaching the third-place spot on Apple's iOS downloads for iPhones in the free news category, before settling in fifth place on Friday and making similar advances on the Android store. [Full Story]
Newsmax TV
Mace: Both Sides Brought Spending 'Debacle'
Kirk Cameron: Pushback Isn't Hindering Message | video
Ric Grenell: 'I Think It's Over' for Biden
Mom: School Secretly Transitioned My Daughter | video
Ukraine MP Rudik: China Not Trusted Broker for Peace | video
Noem: South Dakota Most 2A-Friendly State | video
Birx: Gain-of-Function Labs Need Strict Rules | video
Nunes: Biden Won't Make It Through Election Cycle | video
Jason Miller: DeSantis 'Running Into a Buzz Saw' in '24 | video
Comer: Probe Could Bring Impeachment | video
Newsfront
Trump on Abortion: Would 'Look at' Signing 15-Week Ban
Former President Donald Trump on Thursday said he would "look at" signing a 15-week abortion ban if elected in 2024…. [Full Story]
Carlson Video Exceeds 60M Views in Less Than 24 Hours
Tucker Carlson's two-minute video posted on Twitter containing his [Full Story]
Related
Massie to Newsmax: Carlson Firing 'Stupid Move' by Fox |video
Giuliani to Newsmax: Fox 'Moving to the Middle' Before Firing Carlson |video
Tucker Carlson Releases Video: Hints at Fox's Dishonesty
Greene to Newsmax: Fox 'Caved to the Woke Mob' on Carlson |video
Bill Allows DeSantis to Run for President While Governor
Republican Ron DeSantis would not have to resign as Florida governor [Full Story]
Sudan Lab Seizure Sparks Fears of Biohazard Leak
News that Sudanese fighters have seized control of the National [Full Story] | Platinum Article
Rasmussen Poll: Carlson More Popular Than Fox News
Former Fox News host Tucker Carlson is more popular than the network [Full Story]
Fox News Ratings Collapse by 50% as Newsmax Soars
After Tucker Carlsons firing from Fox News this past Monday, the [Full Story]
Twitter Allowed User Who Threatened to Kill Obama to Stay Online
Twitter's safety team allowed a user to stay on its platform despite [Full Story]
George Foreman Film Out: Jesus Bigger Than Fame
As the film chronicling his life, "Big George Foreman," premieres, [Full Story]
Russian Missile and Drone Attack in Ukraine Kills 16
Russia fired more than 20 cruise missiles and two drones at Ukraine [Full Story]
Related
Reports: Russia Fires 'Butcher of Mariupol'
Ukraine Wrapping up Preparations for Counteroffensive
Ukraine Tried to Kill Putin With Drone Strike
GOP House Members Rip 'Violent' Ambush on Riley Gaines
Thirteen Republican members of the House Committee on Education and [Full Story]
May Watch: Cinco de Mayo, Moms, Memorial Day
Alexandria Ocasio-Cortez, D-N.Y., may not show up in a "Tax The [Full Story] | Platinum Article
Newsmax in Top Rankings on Apple, Android App Stores
Newsmax's mobile app has been climbing by leaps and bounds this week, [Full Story]
Telecom Serbia Official: 'Proud' to Partner With Newsmax
Telecom Serbia, the largest fixed, mobile, internet and multimedia [Full Story] | video
Related
Newsmax, Telecom Serbia Sign License Agreement for Southeast Europe
DeSantis Holds Money Advantage Over GOP Contenders
Florida Gov. Ron DeSantis has one key advantage over Republican [Full Story]
McCarthy Calls on DeSantis to 'Negotiate' With Disney
House Speaker Kevin McCarthy, R-Calif., said this week that Florida [Full Story]
Trump: No Longer Using 'Crooked Hillary'
Joking he will be retiring the nickname of "Crooked" Hillary Clinton, [Full Story] | video
Related
Trump Vows to Investigate Prosecutors
Trump Vows to Declare War on Mexican Drug Cartels |video
Trump Chides Sen. Graham as 'Progressive' |video
Trump: 'Dig, We Must; Drill, We Must' to Unlock Energy, Lower Inflation |video
Fed Slams Its Own Failures in Historic SVB Bank Run
The Federal Reserve issued a scathing assessment Friday of its [Full Story]
'Diva' Don Lemon Will Spend Summer on the Beach
Don Lemon, fired last week from his job as a CNN anchor, said he [Full Story]
Biden Eyes Wall Street for $1B Campaign Backing
President Joe Biden is courting Wall Street execs in an effort to [Full Story]
IRS to Hire Armed Agents
The Internal Revenue Service is hiring armed special agents to work [Full Story]
Related
IRS Chief: Armed Staff Not Hired for Audits
Abortion Bans Fail in Deep Red South Carolina, Nebraska
Abortion bans in deeply conservative Nebraska and South Carolina each [Full Story]
Pressure Mounts for Compromise on Debt Ceiling
With House Republicans uniting behind a debt-ceiling package, the [Full Story]
Core Inflation Persists, Consumer Spending Flat
S. consumer spending was unchanged in March, while underlying [Full Story]
Pence Testifies Before Grand Jury Probing Trump, Jan. 6
Former Vice President Mike Pence reportedly testified in front of a [Full Story]
US Sanctions Russia, Iran Entities for Detained Americans
The Biden administration on Thursday sanctioned Russia's Federal [Full Story]
UN Urges Taliban to Reverse Bans on Women
The U.N. Security Council unanimously approved a resolution Thursday [Full Story]
Vice Undergoes Layoffs, Ends Key Show
Vice Media Group is beginning a process of staff terminations and [Full Story]
House GOP Unveils Sweeping Immigration Package
House Republicans on Thursday unveiled a pair of immigration bills [Full Story]
IRS Won't Hire Armed Auditors: New Chief Werfel
Internal Revenue Service Commissioner Danny Werfel Thursday said the [Full Story]
DOJ Watchdog Warns Congress of FISA Courts Abuses
Justice Department Inspector General Michael E. Horowitz warned [Full Story]
Wall Street Notches Biggest Gain in Months
U.S. stocks closed sharply higher Thursday and Treasury yields [Full Story]
Dangerous Bridges That Nobody in Their Right Mind Would Cross- Florida Tops List
Finance
Fed Admits It Botched SVB Bank Collapse
The Federal Reserve issued a scathing assessment Friday of its failure to identify problems and push for fixes at Silicon Valley Bank before the U.S. lender's collapse, and promised tougher supervision and stricter rules for banks…. [Full Story]
Wall Street Applauds Revamped Bank Oversight
Chinese Small-Cap Stocks Surge in Meme-Like Rally
Lauren Fix, The Car Coach: What You Need to Know About Lithium Ion Battery Fires
First Republic Shares Plunge 32% on FDIC Reports
More Finance
Health
Coping With Stress Can Reverse Accelerated Aging
A new study published in Cell Metabolism found that the biological age of humans increases rapidly in response to different forms of stress. But the study also found that this accelerated aging can be reversed after a period of recovery from stress. Before April and Stress…… [Full Story]
ChatGPT Rated Better Than Doctors for Empathy, Advice
Don't Ignore These Pancreatic Cancer Warning Signs
Weight-Loss Surgery Halves Risk for Some Cancers
Menopause Costs Billions in Treatments, Lost Work
Notice: the graphic below can be expanded to a larger size.
See the instructions below the graphic below or click the image and follow the prompts.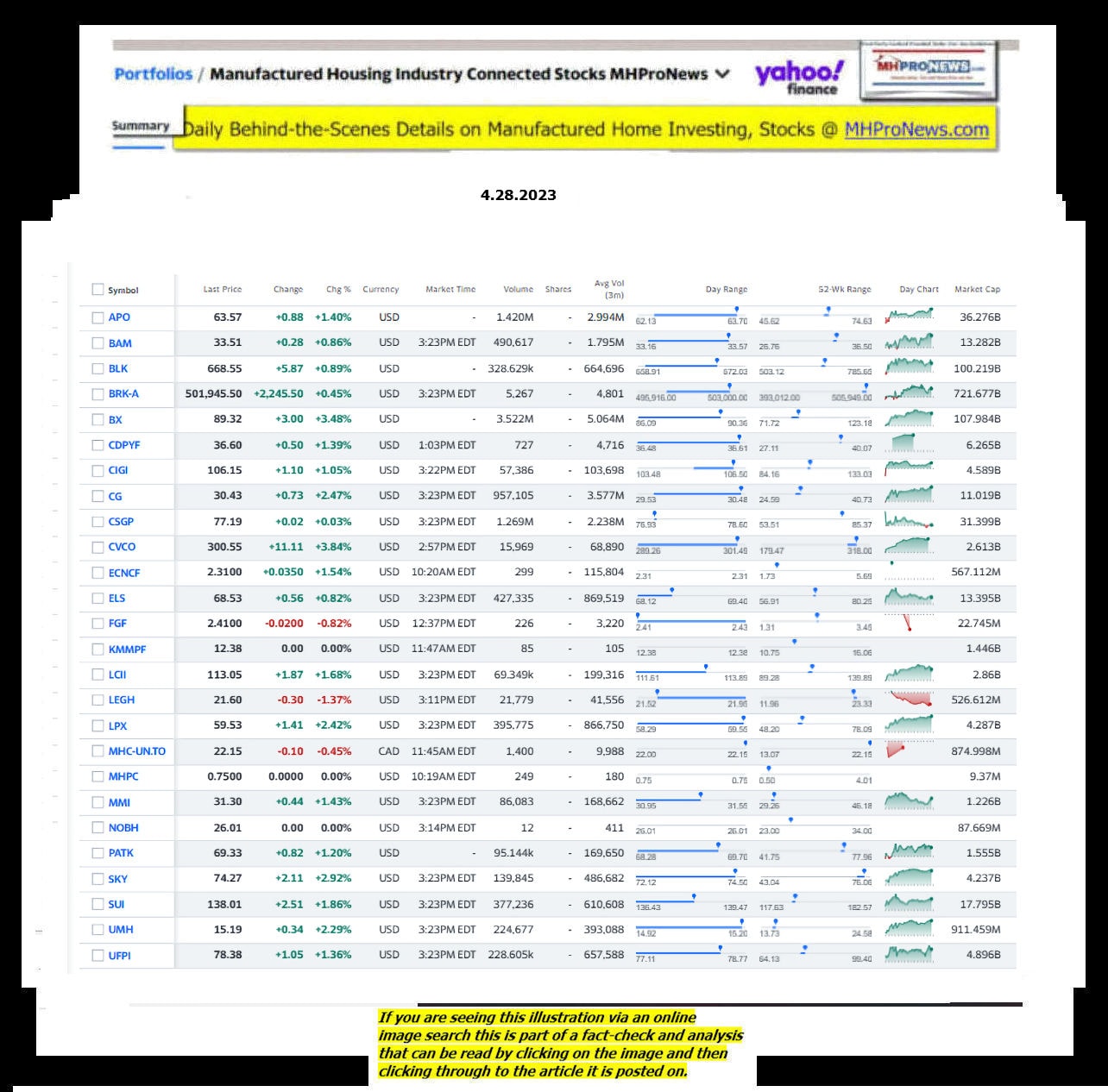 2022 was a tough year for many stocks. Unfortunately, that pattern held true for manufactured home industry (MHVille) connected stocks too.
See the facts, linked below.
'Stomach Churning Year' CNN-Wall Street 'Forget 2022' Down Year – Major Equities Data Compared to Manufactured Housing Stocks, Manufactured Home Community REITs, Performance for Year by Company
====================================
Updated
NOTE 1: The 3rd chart above of manufactured housing connected equities includes the Canadian stock, ECN, which purchased Triad Financial Services, a manufactured home industry finance lender.
NOTE 2: Drew changed its name and trading symbol at the end of 2016 to Lippert (LCII).
NOTE 3: Deer Valley was largely taken private, say company insiders in a message to MHProNews on 12.15.2020, but there are still some outstanding shares of the stock from the days when it was a publicly traded firm.  Thus, there is still periodic activity on DVLY.
Note 4: some recent or related reports to the REITs, stocks, and other equities named above follow in the reports linked below.
Sun Communities – 'Development in Our DNA,' ESG Stance, Q4 2022 Year End Results Earnings Call & PR – Facts, Insights Beyond PR and Official SUI Statements; plus MHVille REITs, Stocks Update
'Undervalued' Cavco Industries Touts Q Result$ 'Dire Need for Housing' 'January Traffic Up'- Rev Up 16%-Sales, Earnings, Mgmt Call Data–Analysis Beyond CVCO Statements; plus MHVille Stocks Update
'Killing's as Easy as Breathing' 'Bad Guys Know More Games' Warren Buffett Annual Berkshire Hathaway Letter, Clayton Homes, 21st, VMF-Manufactured Home Loans-Compelling MHVille Expert Views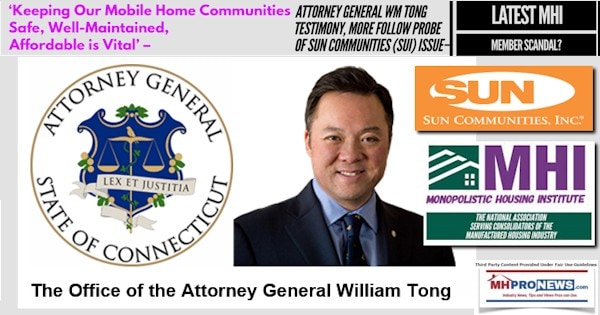 Nobility Homes, Inc. Sales and Earnings for its Fiscal Year 2022 Report, Result$ Best Inflation – Net After Taxes Up 34%, More Fact$; DeSantis ESG and NOBH; plus MHVille Stocks, Market Updates
'Manufactured Housing in the News,' Unpacking UMH CEO Sam Landy Op-Ed' It's Time for Bi-Partisanship on Affordable Manufactured Housing Homeownership' in HousingWire; plus MHMarkets Updates
Manufactured Housing Properties-Results for Three and Nine Months Ending September 30.2022–Exploring 'Mobile Home Park' Manufactured Home Community Investing; plus MHVille REITs, Stocks Update
'Changes Will Benefit Customers,' Boost Sales-Legacy Homes CEO Duncan Bates – LEGH 'Delivered 22.5% Return on Equity in 1 Yr' – Corp Q3 2022 Insights, Analysis; plus MHVille REITs, Stocks Update  
CEO Mark Yost, Skyline Champion Insiders SELL Million$ Value SKY Stock, Home Sales Drop-4th Q 2022 (3QFiscal2023), Official Result$-Facts, Analysis, Info Beyond PR; plus MHVille Stocks Update
Triad Financial Services Q2-2022 FINANCIAL RESULTS, per ECN Capital – Several Bright Spots in Manufactured Home Market Highlighted, Including Communities, Retail, Land-Home, Floor; MHStocks Update
BlackRock Document Exposes Central Banks like Federal Reserve on Recession; Manufactured Home Producer Cavco Industries 2022 Year End Results (CVCOQ3.23) Facts+Analysis; plus MHVille Stocks Update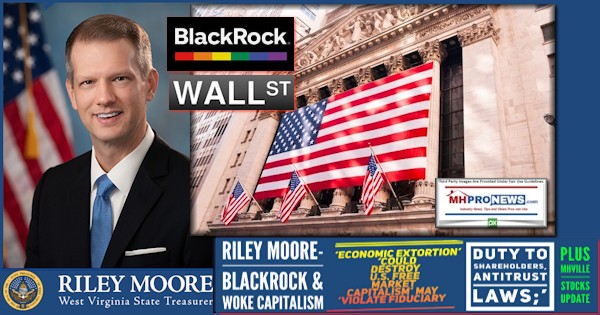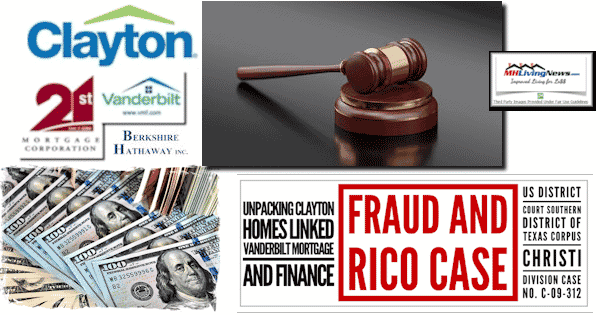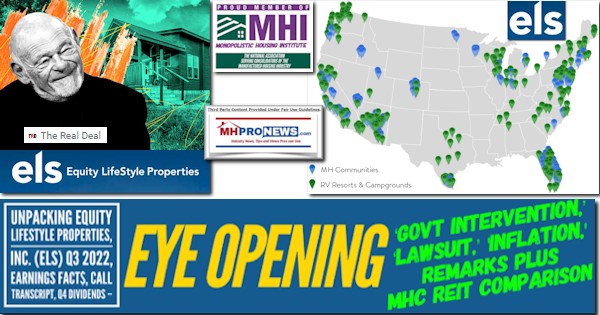 Manufactured Home Communities (a.k.a. 'Mobile Home Parks' – SIC) – Exploring UMH Properties; Fellow Manufactured Housing Institute Member Yes! Communities Suits and Settlements; plus MH Markets Updates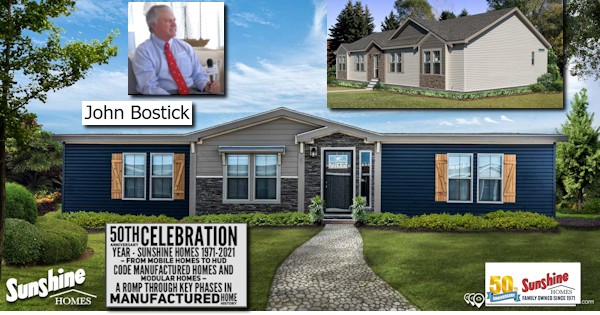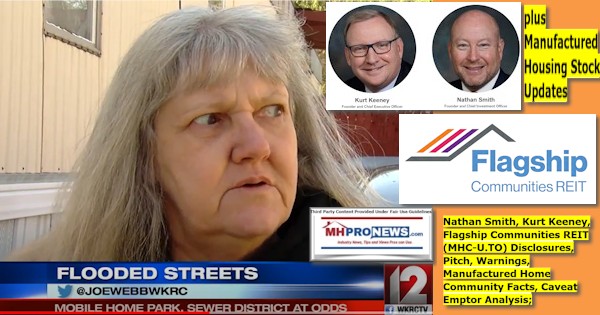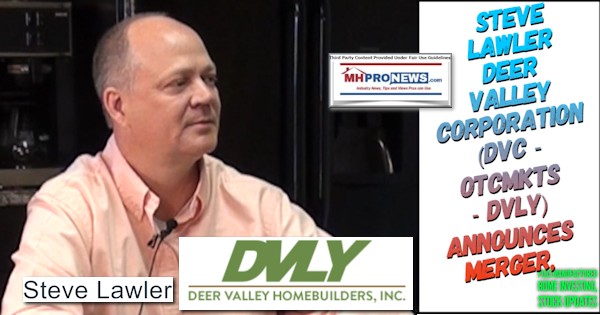 2023 …Berkshire Hathaway is the parent company to Clayton Homes, 21st Mortgage, Vanderbilt Mortgage and other factory-built housing industry suppliers.
· LCI Industries, Patrick, UFPI, and LP each are suppliers to the manufactured housing industry, among others.
· AMG, CG, and TAVFX have investments in manufactured housing related businesses. For insights from third-parties and clients about our publisher, click here.
Disclosure. MHProNews holds no positions in the stocks in this report.
· For expert manufactured housing business development or other professional services, click here.
· To sign up in seconds for our industry leading emailed headline news updates, click here.

Manufactured housing, production, factories, retail, dealers, manufactured home, communities, passive mobile home park investing, suppliers, brokers, finance, financial services, macro-markets, manufactured housing stocks, Manufactured Home Communities Real Estate Investment Trusts, MHC REITs.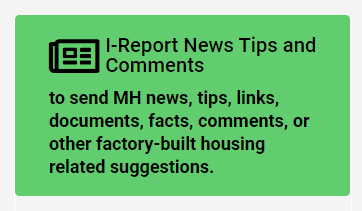 That's a wrap on this installment of "News Through the Lens of Manufactured Homes and Factory-Built Housing" © where "We Provide, You Decide." © (Affordable housing, manufactured homes, stock, investing, data, metrics, reports, fact-checks, analysis, and commentary. Third-party images or content are provided under fair use guidelines for media.) (See Related Reports, further below. Text/image boxes often are hot-linked to other reports that can be access by clicking on them.)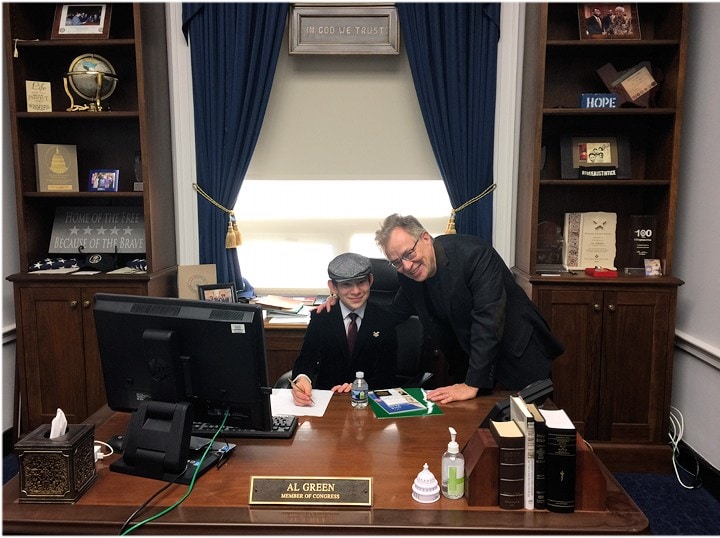 By L.A. "Tony" Kovach – for MHProNews.
Tony earned a journalism scholarship along with numerous awards in history. There have been several awards and honors and also recognition in manufactured housing. For example, he earned the prestigious Lottinville Award in history from the University of Oklahoma, where he studied history and business management. He's a managing member and co-founder of LifeStyle Factory Homes, LLC, the parent company to MHProNews, and MHLivingNews.com. This article reflects the LLC's and/or the writer's position and may or may not reflect the views of sponsors or supporters.
Anar Pitre-CEO Lotus Capital Partners-Vexing Manufactured Housing Institute Claims in Fact Check of Forbes 'What Manufactured Home Communities Investors Need to Know' – Inaccurate MHI Data Shown
Ma Nishtana – 'Why is This Night, Day Different from All Others?' The Pascha vs. Contemporary Orwellian Nightmare – the Sunday Weekly MHVille Headlines Recap
Call for Congressional Oversight Hearings of Manufactured Home Industry Regulators Highlighted by Manufactured Housing Association for Regulatory Reform (MHARR); plus MHVille Markets Update
Official HUD Manufactured Housing Production Facts for Dec 2022 plus 2022 Year End Totals Explored by Manufactured Housing Association for Regulatory Reform (MHARR)-"Millions" Needed – Analysis
Facts You Didn't Know – Martin Luther King Jr – Videos, Insightful Quotes, Surprising Revelations, Videos, Reports, and Illustrations in Champion for Human Rights Including Affordable Housing
'Global Disinformation Index' Warren Buffett Ally Bill Gates' Microsoft Org Charged-Cutting Revenue to Conservative Views via Xandr, GDI; plus Sunday MHVille Headlines Recap
#1 Texas' Manufactured Housing Builders Survey Says They are 'Ready for a Rebound' But Data Point in Question, DOE MH Energy Rule Too – Facts, Analysis; plus, MHVille Stocks, Markets Update
Clayton-Next Step Off-Site Built 'White Paper'-Manufactured Homes, ThinkND 'Magic of the Mind-Everyday Illusion, Misdirection, Deception' MHI Members' Claims Analyzed; plus MHVille Markets Update
After Admitted Failure, Manufactured Housing Institute Doubles Down on CrossMods® in AP Terminology Doc Acquired by MHProNews–Are MHI Leaders Sabotaging MHVille Independents? Plus MHStocks Update
Concessions by Speaker Kevin McCarthy in House Speaker's Battle Called 'Most Significant Win for Conservatives in a Decade' By Federalist's Emily Jashinsky Report; plus MHVille Stocks Updates