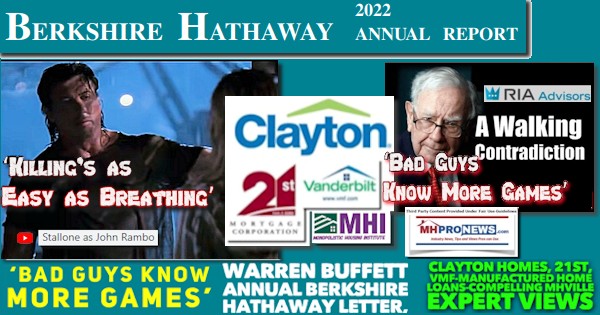 "The disposition of money unmasks humans," says a line in the latest Warren Buffett annual letter to Berkshire Hathaway shareholders. Another pull quote: "Early on, write your desired obituary – and then behave accordingly." The Buffett letter and the annual report for 2022 are provided herein. It includes specifics about Berkshire's vertically integrated subsidiary Clayton Homes, the dominating builder in the manufactured home industry. To tee it up this fact- and quote-packed analysis and expert commentary on why HUD Code manufactured housing is underperforming during an affordable housing crisis, some arguably relevant quotations are useful. "And…the bad guys win," said Warren Buffett in a video interview with CNBC's Becky Quick, "They know more games." In an HBO video documentary about Buffett that he participated in, Buffett's legendary ties to nonprofits are explored, including those involved in the abortions of millions of American babies, who per third-party research reportedly are often blacks and minorities. Buffett's own son Peter, who helps head up the Warren funded Novo Foundation, said in an op-ed to the New York Times the following. "But this [philanthro-feudalistic charitable industrial complex] just keeps the existing structure of inequality in place. …someone else is further locked into a system that will not allow the true flourishing of his or her nature or the opportunity to live a joyful and fulfilled life." Said Warren to left-leaning CNBC's Quick, "Politicians in this country want more power. The rich want more power."
The following insights about Warren Buffett's methods may be among the most important for grasping Buffett's "castle and moat" techniques is this remark from his close colleague in business and nonprofit interests, William "Bill" Gates III. During an interview with CNBC, Gates said: "I didn't even want to meet Warren because I thought, 'hey this guy buys and sells things and so he found imperfections in terms of markets, that's not value added to society, that's a zero sum game that is almost parasitic.'" Clearly, Gates got over that self-proclaimed notion, because now Gates' investments include a large block of Berkshire shares, and the two have been deeply involved in the Gates Foundation on which Buffett not only donated billions of dollars to, but also served for years as a trustee.
In an apparent piece of social commentary inserted into the dialog of the hit movie Rambo: "When you're pushed, killing's as easy as breathing. When the killing stops in one place, it starts in another, but that's okay… 'cause you're killing for your country. But it ain't your country who asks you, it's a few men up top who want it. … And nobody tells the truth." Rambo didn't mention paltering in that clip where character John Rambo played by Sylvester "Sly" Stallone, per IMDB in the 2008 movie, "Rambo." Hyperbole for effect noted, paltering and posturing are closer to reality than the darker Rambo line, "And nobody tells the truth."
From this fact-packed analysis and MHVille expert commentary, a case could be made that few people and organizations have more financial power or the interrelated political and media clout in the U.S. than Warren Buffett, his Berkshire brands, and the nonprofits that he helps fund with his enormous wealth.
Given Buffett's financial, media, political, nonprofit, entertainment, and other forms of power and influence, one might think that if manufactured housing was to achieve its true potential in American society, that Buffett is an individual who uniquely has access to resources and connections necessary to make that happen.
But since Buffett-led Berkshire's formal entry into manufactured housing occurred via investments made in 2002 (Oakwood) and 2003 (Clayton Homes and its vertically integrated brands that include 21st Mortgage Corporation and Vanderbilt Mortgage and Finance – VMF), instead of growing, manufactured housing has overall declined. Given the enormous economic power, political and media clout, and nonprofit influences that Buffett and Berkshire can access, how can that decline in manufactured housing be unless for some reason that decline was a desired outcome for a period of time? Note that 15 to 16 years after Berkshire's formal entry via their stake in Oakwood and buying vertically integrated Clayton Homes, manufactured housing is still operating at a lower total production level than occurred in 2002 and 2003.
Notice: the graphic below can be expanded to a larger size.
See instructions below graphic or click the image and then follow the prompts.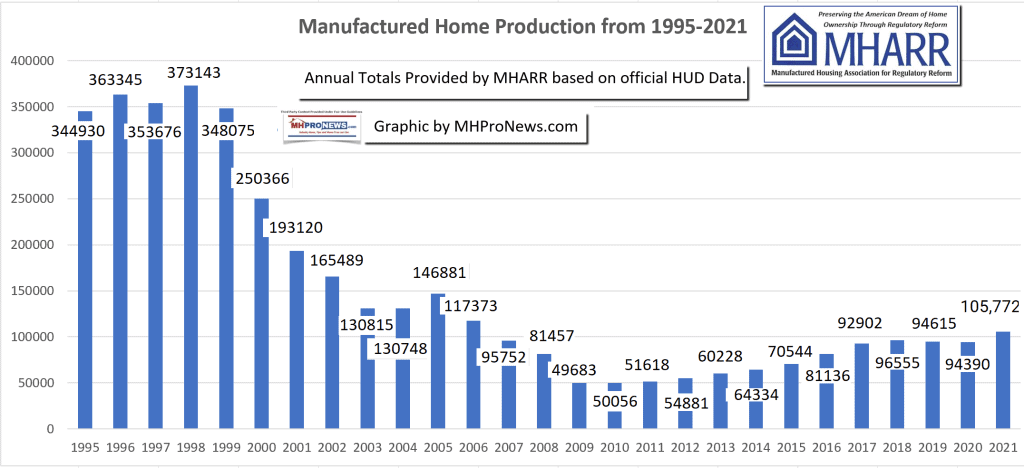 "We change our behavior when the pain of staying the same becomes greater than the pain of changing, said Dr. Henry Cloud & Dr. John Townsend. "We change our behavior when the pain of staying the same becomes greater than the pain of changing. Consequences give us the pain that motivates us to change." Hold their thoughts for later.
Following this preface is part I of the MHProNews report, analysis and expert commentary on Buffett led Berkshire's claims about Clayton Homes from his annual letter/report to shareholders. In Part II is additional information with more MHProNews analysis, commentary, and more industry expert views and opinions.
Part I
Per CNBC on 2.25.2023: "Warren Buffett published his highly anticipated annual letter to Berkshire Hathaway shareholders on Saturday. The letter has been an annual tradition for the 92-year-old "Oracle of Omaha" for more than six decades and it has become a must read for investors around the globe."
"At yearend 2022, Berkshire was the largest owner of eight of these giants: American Express, Bank of America, Chevron, Coca-Cola, HP Inc., Moody's, Occidental Petroleum and Paramount Global," said part of this new Buffett annual letter. As an interesting side note, Paramount's plan for 2023 included a 'Paramount Plus Sylvester Stallone Reality Series,' which features the star of Rocky, Rambo, and Tulsa King (per NextTV).
Michael P. Lebowitz in a post for RIA Advisers said after reviewing Buffett comments entitled "A Walking Contradiction" that: "In this article we look at a few recent statements and action of Buffett's to highlight some contradictions that lie in their wake. Our conclusion is that it is far better to watch what "The Oracle" does as an investor than hang on his words."
From the Berkshire Hathaway (BRK) 2022 Annual Report pages K15-16 is the following with respect to Clayton Homes.
Building Products
Clayton

Clayton Homes, Inc. ("Clayton"), headquartered near Knoxville, Tennessee, is a vertically integrated housing company offering traditional site-built homes and off-site (factory) built housing, including modular, manufactured, CrossMod™ and tiny homes. In 2022, Clayton delivered approximately 53,000 off-site built and 11,750 site-built homes. Clayton also offers home financing and insurance products and competes on price, service, location and delivery capabilities.
All Clayton Built® off-site built homes are designed, engineered and assembled in the U.S. As of December 2022, offsite backlog was $256 million, down 82% from the prior year end. Clayton sells off-site built homes through independent and company-owned home centers, realtors and subdivision channels. Clayton considers its ability to offer financing to retail purchasers a factor affecting the marketplace acceptance of its off-site built homes. Clayton's financing programs utilize proprietary loan underwriting guidelines to evaluate loan applicants.
Since 2015, Clayton's site-built division, Clayton Properties Group, has expanded through the acquisition of nine builders across 18 states with over 310 subdivisions, supplementing the portfolio of housing products offered to customers. Clayton's site-builders currently own and control approximately 70,000 homesites, with a home order backlog of approximately $1.4 billion as of December 2022.
Historically, access to key housing inputs such as lumber, steel and resin products has been adequate. During 2021 and the first half of 2022, the availability and pricing of these and other inputs was volatile. Input shortages coupled with reduced labor and subcontractor availability increased the time needed to construct a home, increasing the levels of work-in-process inventory. These constraints began to lessen in the latter half of 2022 due to improved availability and pricing of key inputs, increased order cancellations and lower overall demand for new home construction.
Clayton's building products business has benefited in recent years from the low interest rate environment. However, interest rates in the U.S. increased significantly during 2022, which contributed to slowing demand for new home construction.
Clayton's home building business regularly makes capital and non-capital expenditures with respect to compliance with federal, state and local environmental regulations, primarily related to erosion control, permitting and stormwater protection for site-built home subdivisions. The financing business originates and services loans which are federally regulated by the Consumer Financial Protection Bureau, various state regulatory agencies and reviewed by the U.S. Department of Housing and Urban Development, the Government National Mortgage Association and government-sponsored enterprises. …##
Skipping ahead to page K53 is the following from the Berkshire Annual Report for 2022.
Building products

The building products group includes manufactured and site-built home construction and related lending and financial services (Clayton Homes), flooring (Shaw), insulation, roofing and engineered products (Johns Manville), bricks and masonry products (Acme Building Brands), paint and coatings (Benjamin Moore) and residential and commercial construction and engineering products and systems (MiTek). 2022 versus 2021
Revenues of the building products group increased $3.9 billion (15.7%) in 2022 and pre-tax earnings increased $1.4 billion (41.3%) compared to 2021. Pre-tax earnings as percentages of revenues were 16.6% in 2022 and 13.6% in 2021. During 2021 and much of 2022, our businesses experienced relatively strong customer demand and higher sales volumes. Our building products businesses benefited in recent years from the low interest rate environment. However, interest rates in the U.S. increased significantly during 2022, which contributed to slowing demand for new home construction in the fourth quarter. As such, comparative revenues and earnings in the near term will likely decline from current levels.
Clayton Homes' revenues were approximately $12.7 billion in 2022, an increase of $2.2 billion (21.1%) over 2021. Revenues from home sales for the year increased $2.1 billion (25.1%) in 2022 to approximately $10.4 billion, primarily due to higher average selling prices. New home unit sales increased 6.2% in 2022, reflecting a 6.0% increase in factory-built manufactured home unit sales and a 7.1% increase in site-built home unit sales. However, unit sales in the fourth quarter of 2022 declined 3.9% from 2021, and our net order backlog declined significantly during 2022. We expect the comparative decline in unit sales to accelerate in the near term. Financial services revenues, which include mortgage, insurance and interest income from lending activities, increased 4.7% in 2022 compared to 2021. Loan balances, net of allowances for credit losses, were approximately $21.3 billion as of December 31, 2022, an increase of approximately $2.5 billion from December 31, 2021. Actual and anticipated loan foreclosures rose during the fourth quarter of 2022.
Pre-tax earnings of Clayton Homes were approximately $2.4 billion in 2022, an increase of $685 million (40.7%) compared to 2021. Earnings in 2022 reflected higher home sales, gross margin rates and net interest income. As previously mentioned, we expect unit home sales to decline in the near term and we anticipate earnings will also decline in 2023 compared to 2022.
Aggregate revenues of our other building products businesses were approximately $16.2 billion in 2022, an increase of 11.8% versus 2021. The increase was primarily due to higher average selling prices, and to a lesser extent, from higher unit volumes in certain product lines and product mix changes. Significant cost inflation in 2021, that continued through 2022, largely drove the higher selling prices.
Pre-tax earnings of the other building products businesses were approximately $2.4 billion in 2022, an increase of 41.9% over 2021. Pre-tax earnings as a percentage of revenues was 15.0% in 2022, a 3.2 percentage point increase compared to 2021. Earnings in 2022 benefitted from higher selling prices and strong demand in certain product categories, as well as an increase in gains from certain business divestitures and asset sales and reduced impairment and restructuring charges. The increase in earnings in 2022 also reflected the negative impact of severe winter storms in the first quarter of 2021, which reduced sales and increased production and other operating costs in 2021.
Building products (Continued)
2021 versus 2020
Revenues of the building products group increased $3.7 billion (17.6%) in 2021 and pre-tax earnings increased $532 million (18.6%) compared to 2020. Pre-tax earnings as percentages of revenues were 13.6% in 2021 and 13.5% in 2020. During 2021, our businesses experienced strong customer demand and higher sales volumes. We also experienced various forms of supply chain disruptions that contributed to considerable raw material and logistics cost inflation and supply constraints.
Clayton Homes' revenues were approximately $10.5 billion in 2021, an increase of $1.9 billion (22.2%) over 2020. Revenues from home sales increased $1.8 billion (26.5%) in 2021 to approximately $8.3 billion, reflecting increased revenue per home sold, changes in sales mix and a net increase in new units sold. Unit sales of site-built homes increased 15.8% in 2021, while factory-built manufactured home unit sales increased 1.5%. Site-built home unit sales were constrained by longer construction periods arising from supply chain constraints and labor shortages. Financial services revenues increased 7.8% in 2021 compared to 2020. Loan balances, net of allowances for credit losses, were approximately $18.8 billion as of December 31, 2021, an increase of approximately $1.7 billion compared to December 31, 2020.
Pre-tax earnings of Clayton Homes were approximately $1.7 billion in 2021, an increase of $440 million (35.3%) compared to 2020. Earnings in 2021 reflected higher earnings from home sales, mortgage originations, net interest income and lower provisions for expected credit losses, partially offset by the impact of rising manufacturing and supply chain costs. The provision for expected credit losses in 2020 was unusually high and included provisions for the expected impact of the COVID19 pandemic.
Aggregate revenues of our other building products businesses were approximately $14.5 billion in 2021, an increase of 14.4% versus 2020. The increase was primarily due to higher average selling prices driven by significantly higher input and supply chain costs, as well as higher unit volumes for paint and coatings, flooring, insulation, roofing and other engineered products.
Pre-tax earnings of the other building products businesses were approximately $1.7 billion in 2021, an increase of 5.7% over 2020. Pre-tax earnings as a percentage of revenues were 11.8% in 2021, a 1.0 percentage point decrease compared to 2020. While customer demand in 2021 was generally strong, reduced availability of materials and other product inputs from supply chain disruptions negatively affected operating results. In addition, higher restructuring and impairment charges contributed to the reduction in our pre-tax margin rates. … ##
From page K61 of the BRK annual report is the following one-line reference to Clayton Homes.
"BHFC's borrowings are used to fund a portion of loans originated and acquired by Clayton Homes and equipment held for lease by our railcar leasing business." BHFC is short for BERKSHIRE HATHAWAY FINANCE CORP, which Google indicates was founded in 2003.
From page A3 is this one line insight on the total number of Clayton Homes employees. "Clayton Homes . . . . . . . . . . . . . . . . . . . . . . . . . . . . . . . . . . .            20,229."
At one point a few years ago, the Manufactured Housing Institute (MHI) said there were some 75,000 full time equivalent (FTE) employees in manufactured housing nationally. That number has since been referenced by publicly traded Cavco Industries, headed for years by an ex-Clayton Homes Division President, namely, Joseph "Joe" Stegmayer. Based on that number, which is almost certainly out of date, Clayton's team would have something like one out of every four or so people employed in manufactured housing would be employed by Clayton. As an aside, note that Stegmayer agreed to a large settlement for his role in the Securities and Exchange Commission (SEC) legal action against Cavco. Cavco also agreed to a 7-figure settlement.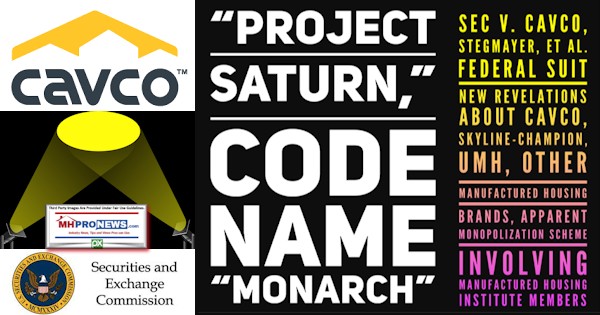 'No Assurance Inflation Will Not Affect Our Future Profitability Financial Position'=Cavco Industries 10-Q, Solitaire Deal, More CVCO Data; Supreme Court Ruled-SEC Regs on False-Omitted Remarks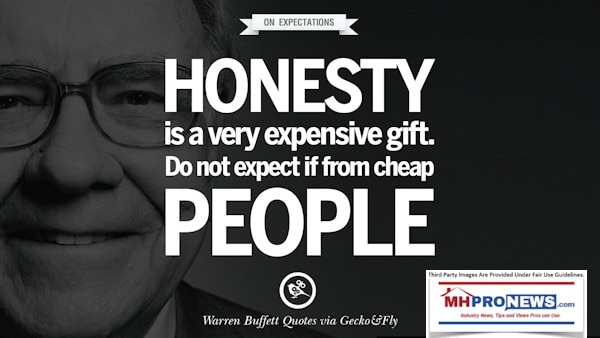 Part II Additional Information with more MHProNews Analysis and Commentary in Brief
The 2022 Buffett annual letter is linked here as a download.
The 2022 Berkshire Hathaway annual report, which includes the Buffett letter, is linked here as a download.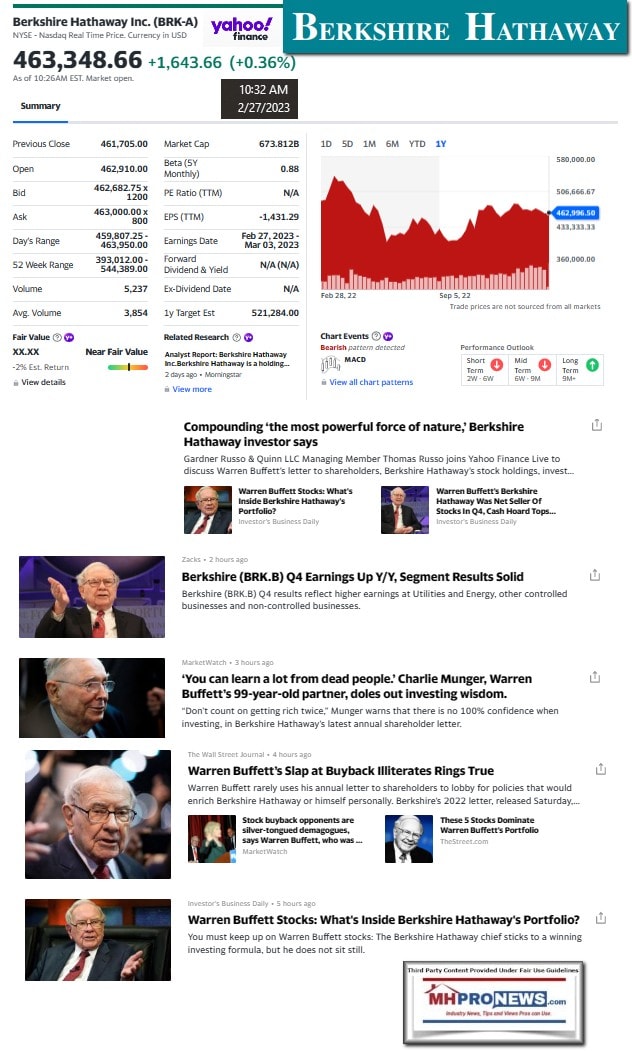 In fairness, the drop in Berkshire's share value in 2022 occurred with several other manufactured housing industry connected equities.
'Stomach Churning Year' CNN-Wall Street 'Forget 2022' Down Year – Major Equities Data Compared to Manufactured Housing Stocks, Manufactured Home Community REITs, Performance for Year by Company
A few interesting quotes from Buffett's annual letter include these pull quotes from his Vice Chairman Charlie Munger.
Patience can be learned. Having a long attention span and the ability to concentrate on one thing for a long time is a huge advantage.
You can learn a lot from dead people. Read of the deceased you admire and detest.
Finally, I [Buffett] will add two short sentences by Charlie that have been his decision-clinchers for decades: "Warren, think more about it. You're smart and I'm right."
Buffett pull-quotes from his letter.
Capitalism has two sides: The system creates an ever-growing pile of losers while concurrently delivering a gusher of improved goods and services. Schumpeter called this phenomenon "creative destruction."
Charlie and I – along with our families and close friends – continue to have very significant investments in Berkshire, and they trust us to treat their money as we do our own.
Beating "expectations" is heralded as a managerial triumph. That activity is disgusting. It requires no talent to manipulate numbers: Only a deep desire to deceive is required. "Bold imaginative accounting," as a CEO once described his deception to me, has become one of the shames of capitalism.
During the decade ending in 2021, the United States Treasury received about $32.3 trillion in taxes while it spent $43.9 trillion. … Huge and entrenched fiscal deficits have consequences. The $32 trillion of revenue was garnered by the Treasury through individual income taxes (48%), social security and related receipts (341⁄2%), corporate income tax payments (81⁄2%) and a wide variety of lesser levies. Berkshire's contribution via the corporate income tax was $32 billion during the decade, almost exactly a tenth of 1% of all money that the Treasury collected. And that means – brace yourself – had there been roughly 1,000 taxpayers in the U.S. matching Berkshire's payments, no other businesses nor any of the country's 131 million households would have needed to pay any taxes to the federal government. Not a dime.
At Berkshire we hope and expect to pay much more in taxes during the next decade. We owe the country no less: America's dynamism has made a huge contribution to whatever success Berkshire has achieved – a contribution Berkshire will always need. We count on the American Tailwind and, though it has been becalmed from time to time, its propelling force has always returned.
Be the last bulleted quote as it may, there was this quip about Buffett and taxes. Beyond tax deductions, one reason for his donations to nonprofits appears to be to have influence through his foundation and nonprofits that his 'philanthropy' supports.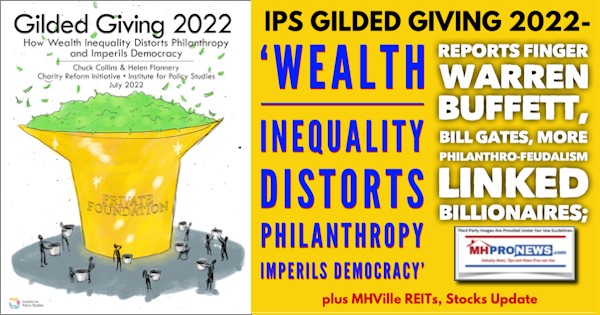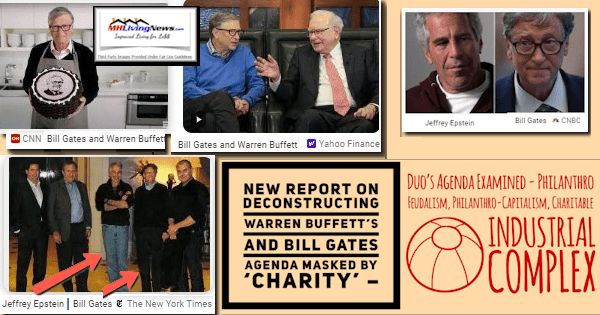 MHProNews/MHLivingNews plans a follow up report that will go into greater detail on the issues related to Berkshire, Clayton, their nonprofit, political, media and other influences.  But for now, a flashback to the fact-packed and legal-research supported remarks by Samuel "Sam" Strommen with Knudson Law are a useful place to start.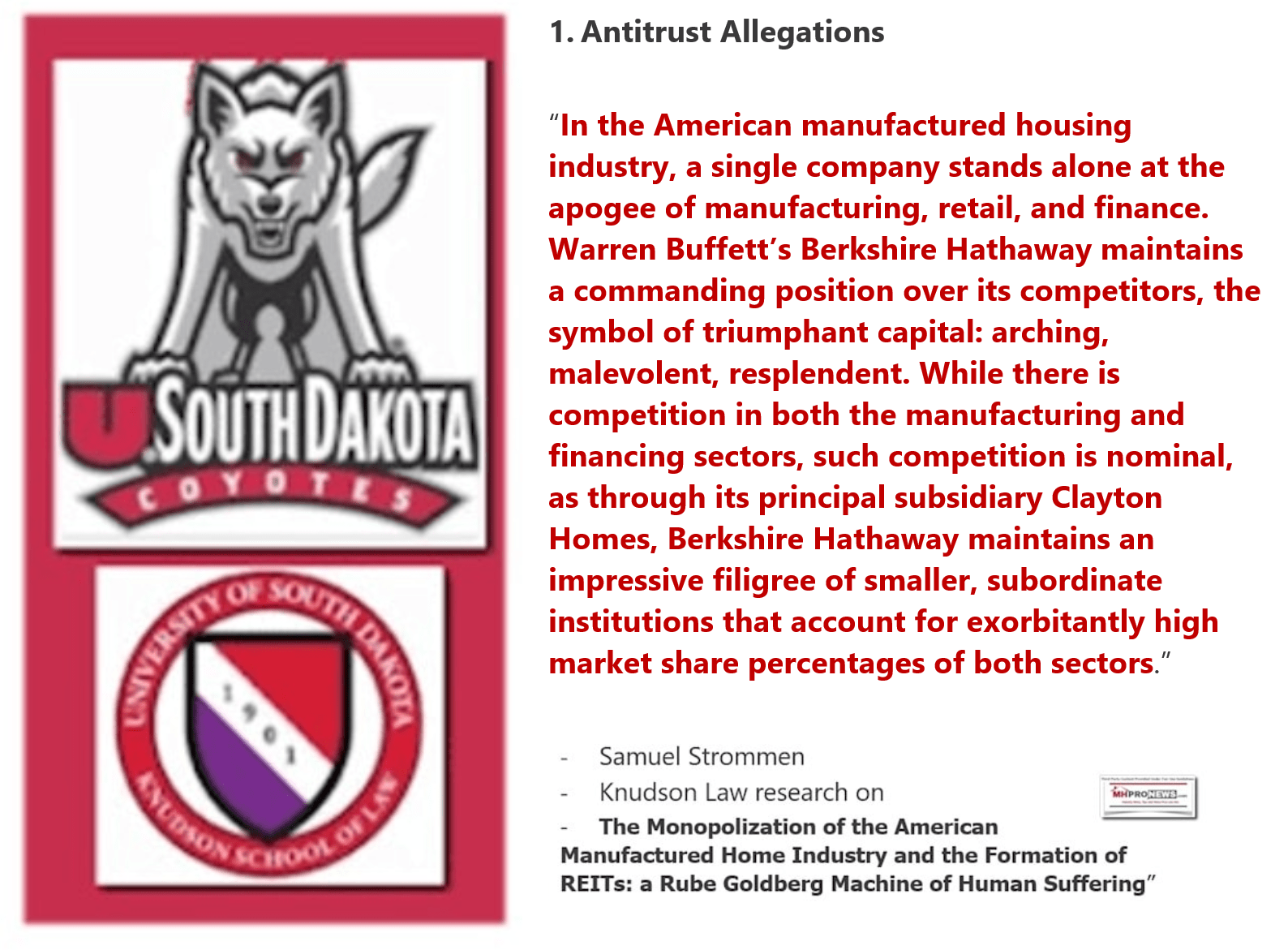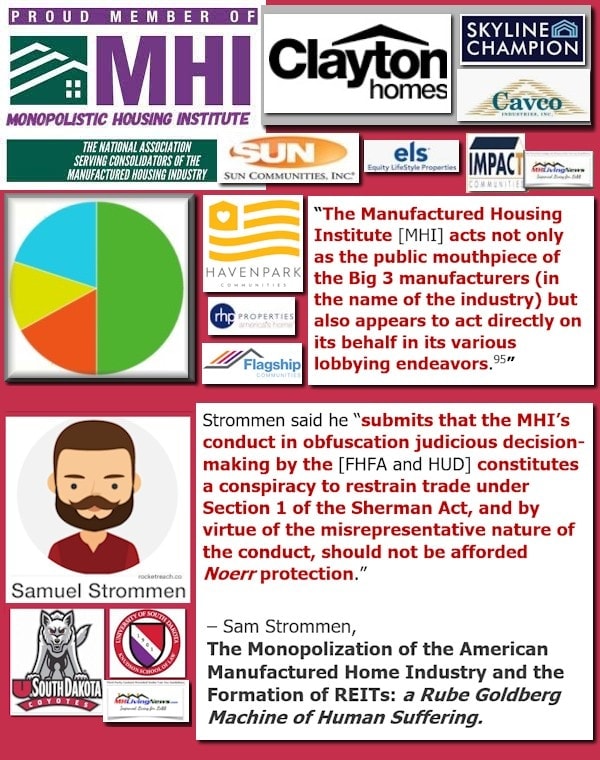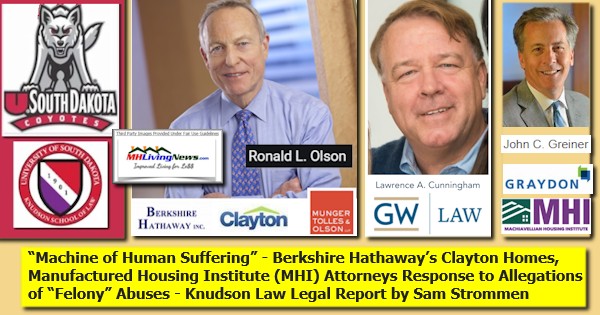 So that there is not a misimpression by first time or newer readers of MHProNews that Strommen's insights are in any sense a one-off, Doug Ryan with Prosperity Now (formerly known as CFED) ripped Clayton Homes, MHI, and their purportedly monopolistic lending practices.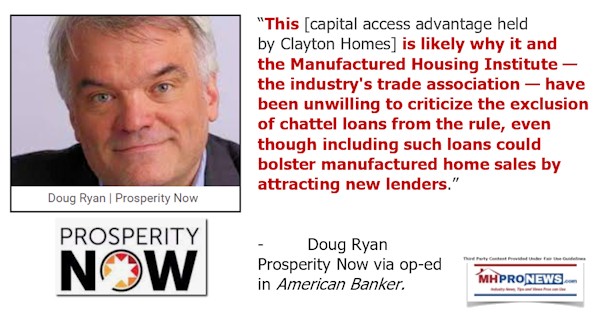 Buffett for years has supported Democrats, per information found on Open Secrets which relies on Federal Election Commission (FEC) data.  That said, these Democrats ripped Berkshire-owned Clayton for their "near monopolistic" grip on manufactured home lending to minorities.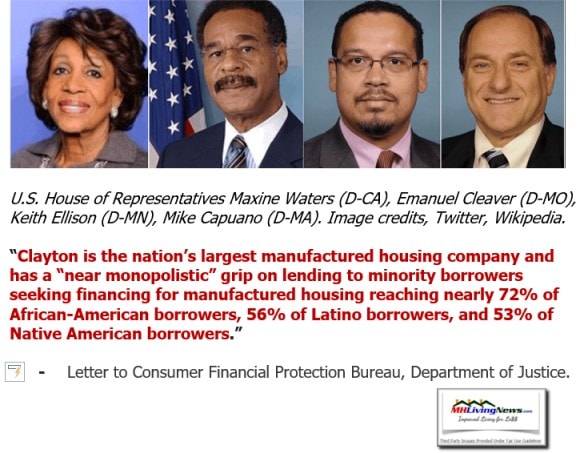 Clayton, MHI and Berkshire attorney Ron Olson are among those who declined to respond to concerns raised about what Strommen said was an apparent antitrust violation in the letter shown below from Tim Williams of 21st Mortgage Corporation. Note the linked report that follows explores that topic and links related information.
Notice: the graphic below can be expanded to a larger size.
See instructions below graphic or click the image and then follow the prompts.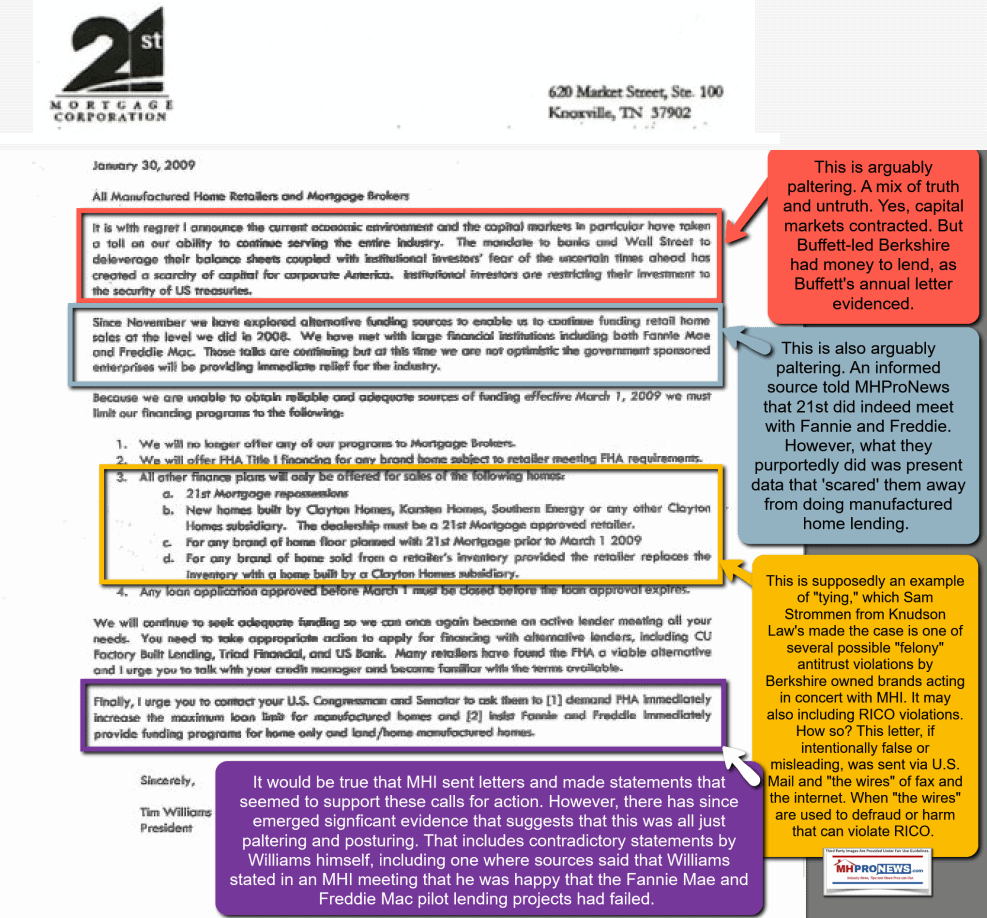 Warren Buffett's Pledge to Kevin Clayton – 'You Can Access Plenty of Capital' for Projects – Quotes, Facts, Video, Transcript, and Implications for Manufactured Housing Industry
Minneapolis Federal Reserve senior economist James A. "Jim" Schmitz Jr is apparently pro-manufactured housing. He believes that forces outside of the industry have limited the industry, based on evidence he and his colleagues have reviewed and published.  Schmitz also notes that this pattern has fostered monopolization of the manufactured home industry from within.
'Affordable Homes for Low Income Must Produce in Factory,' 'Years to Unravel Sabotage,' Grad Students Interest in Manufactured Housing, Factory-Home Solutions; plus Sunday Weekly Headlines Recap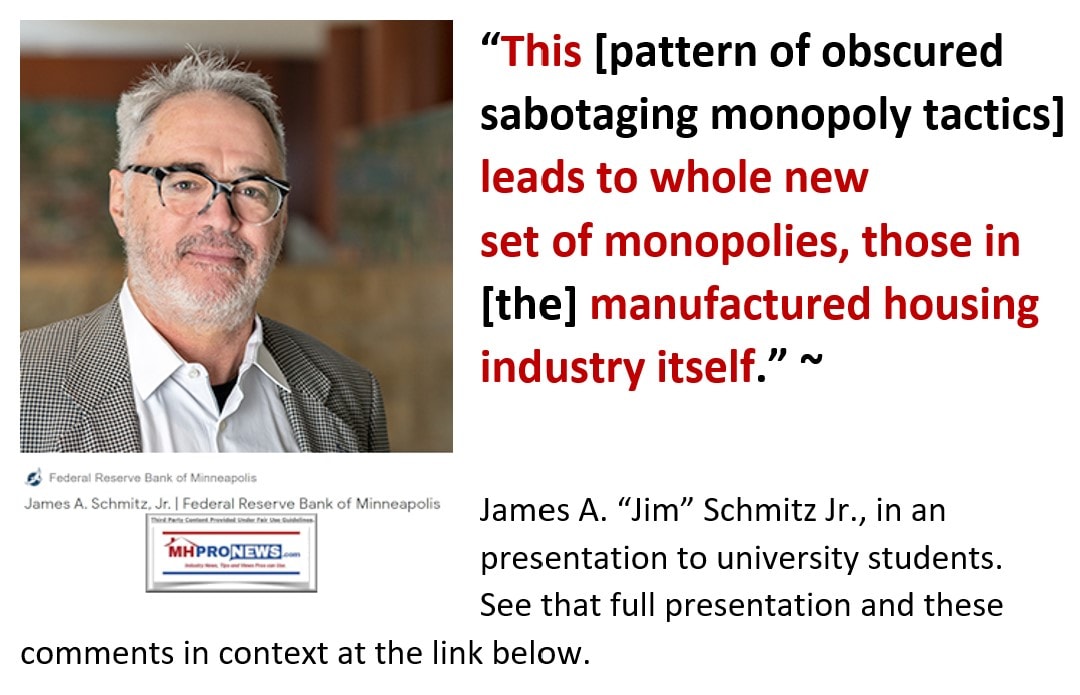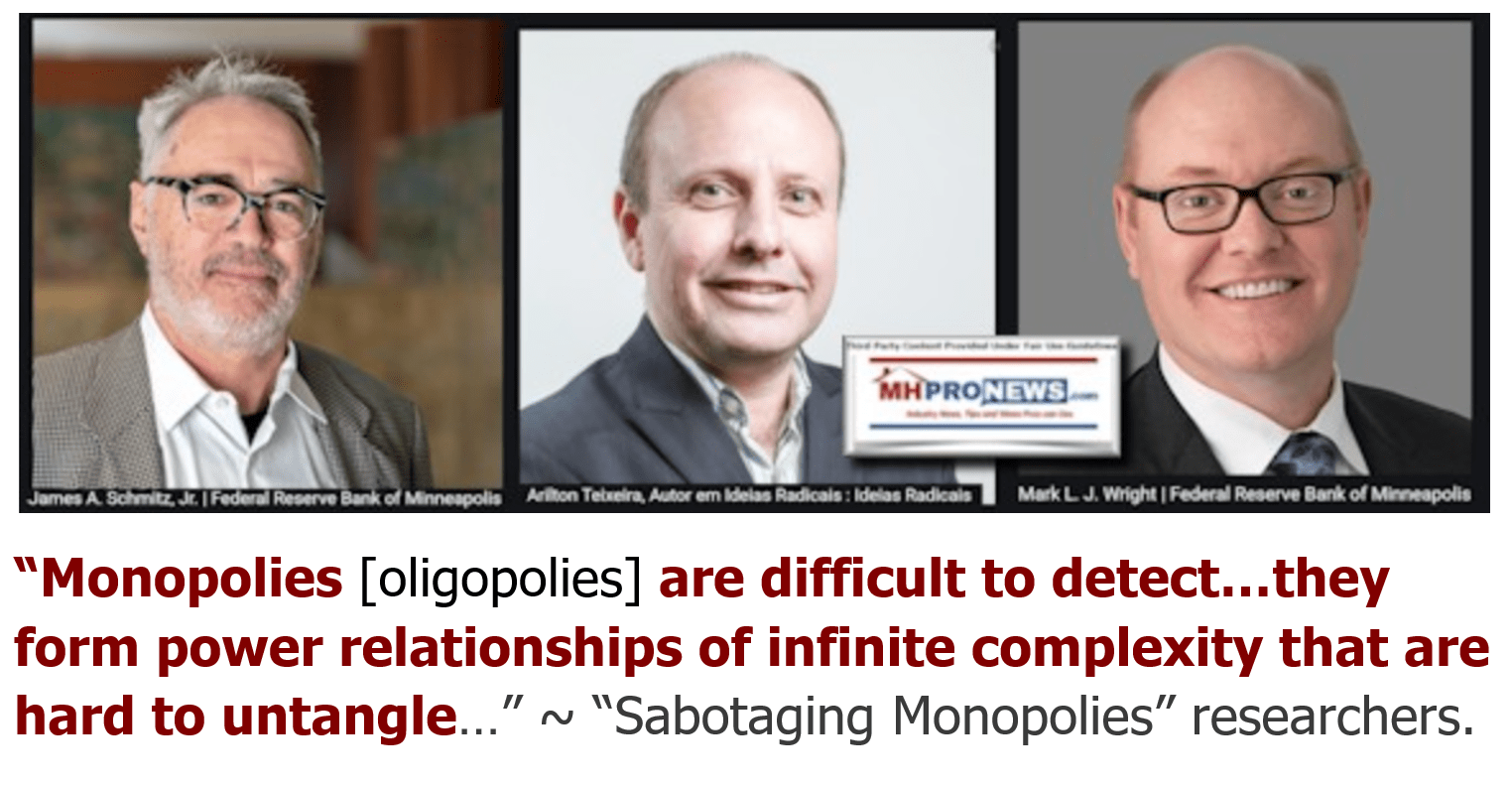 Notice: the graphic below can be expanded to a larger size.
See instructions below graphic or click the image and then follow the prompts.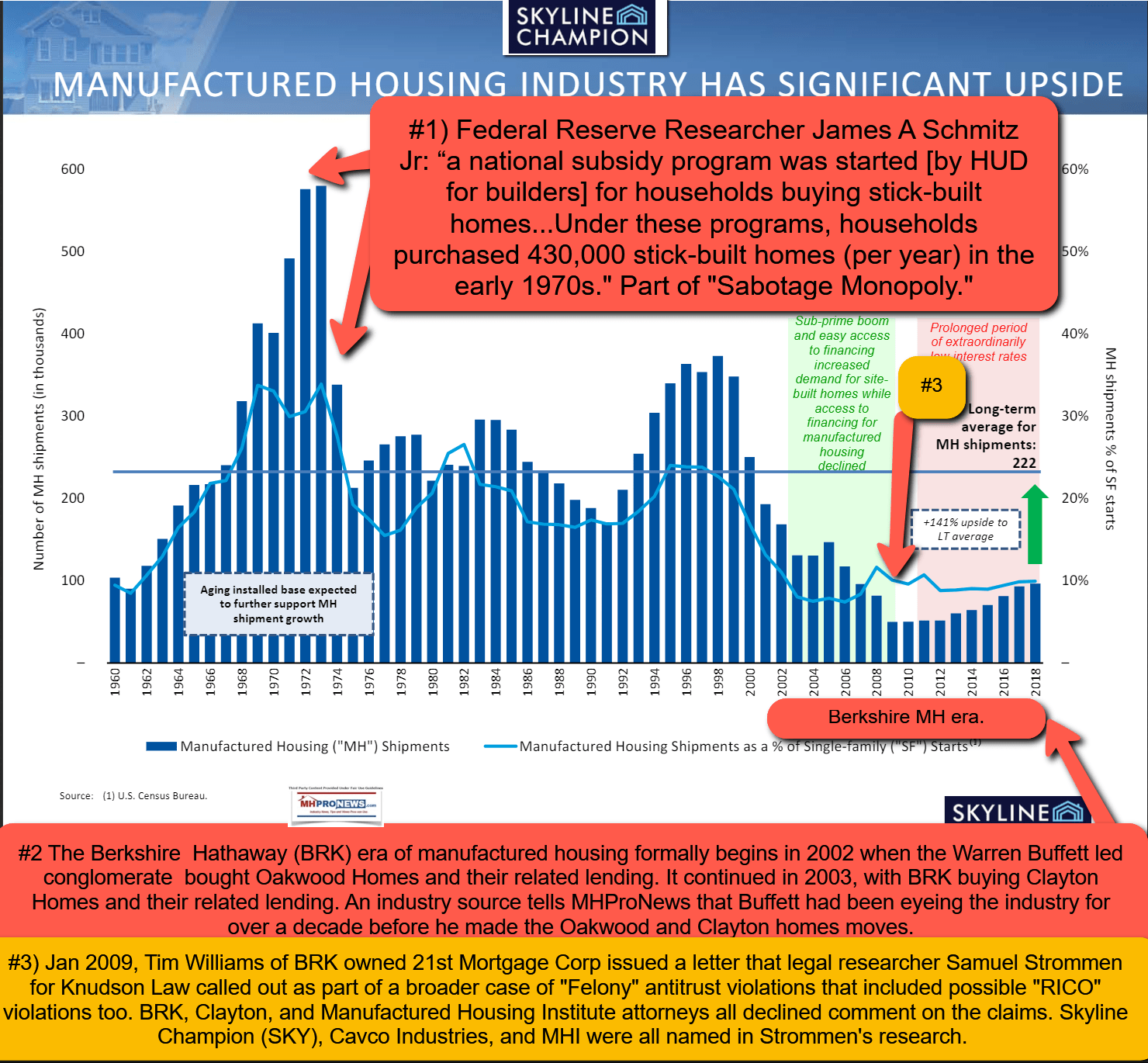 Even a relatively quick dip of the toes that explores the manufactured housing industry and then looks carefully at Berkshire's and Clayton's respective behaviors can result in the clear impression that something odd is afoot.  The evidence suggests that Clayton often didn't opt to grow organically as much as they did by acquisitions. Those acquisitions were often the result of plunging sales of manufactured housing in the 21st century following the far more robust MHVille industry performance in the 1990s.  A stark illustration of the difference between the direction that manufactured housing took is to glance at the RV industry's data. In 1998, RVs were outsold by MH by a ratio of some 2 (RVs) to 3 (MHs).  But in recent years, that spread dramatically flipped, where RVs often outsold MHs by some 5 RVs to 1 MHs.
Notice: the graphic below can be expanded to a larger size.
See instructions below graphic or click the image and then follow the prompts.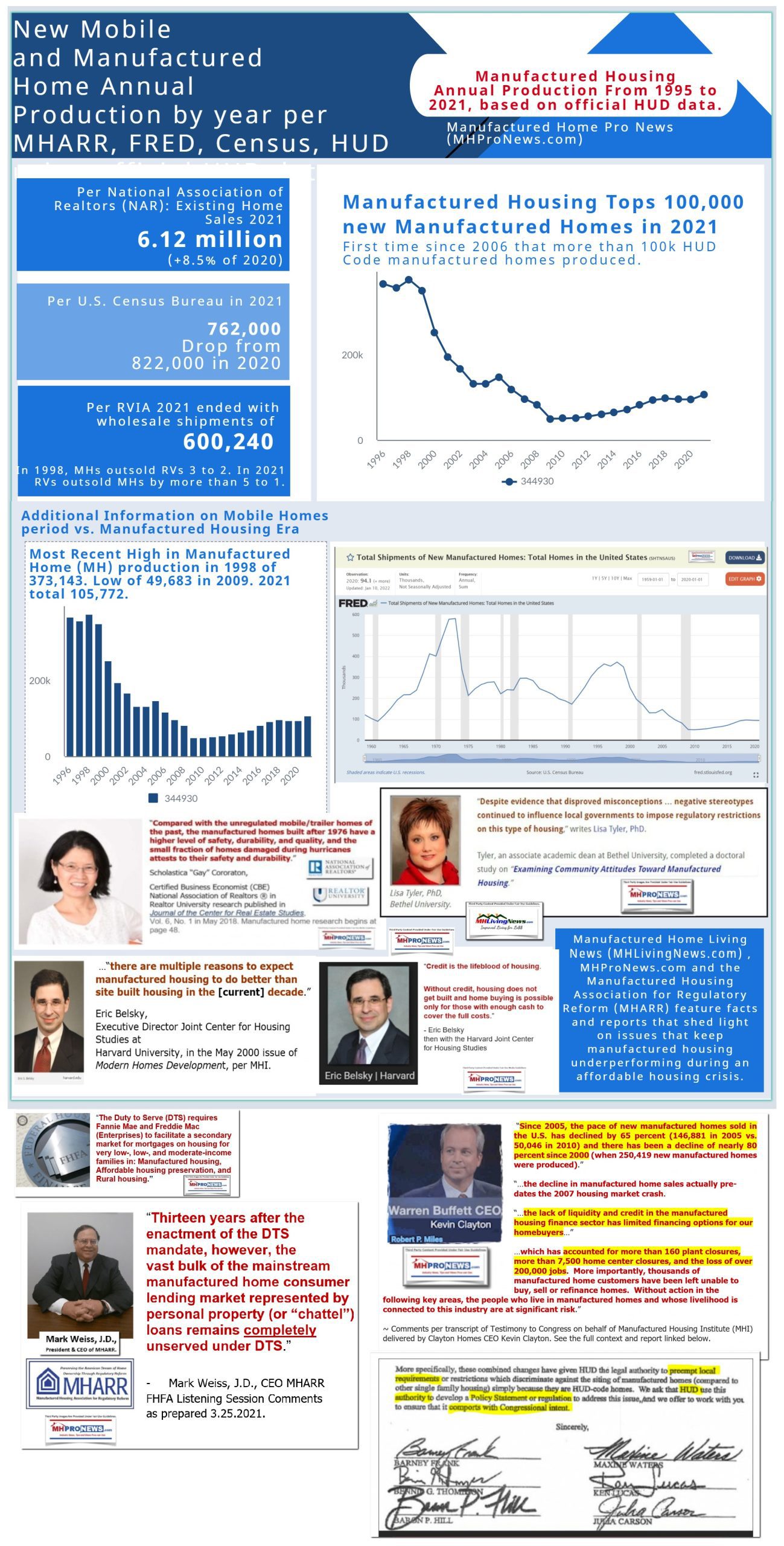 See the linked reports which pack facts, evidence, and further insights, which routinely include data and remarks from Clayton, quotes from Buffett, and other insights. It paints a picture that apparently supports the conclusion that Strommen and others have pointed toward. Those insights include the 'castle and moat' tactics that Buffett, Clayton, and others have pointed to as methods to improve Clayton's "durable competitive advantages," to use the Buffett lingo.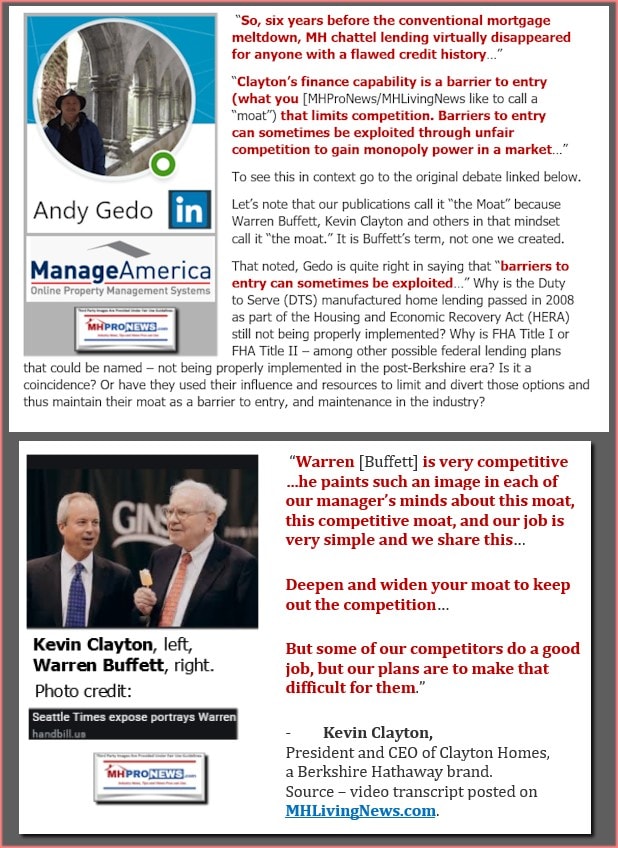 Clayton-Next Step Off-Site Built 'White Paper'-Manufactured Homes, ThinkND 'Magic of the Mind-Everyday Illusion, Misdirection, Deception' MHI Members' Claims Analyzed; plus MHVille Markets Update
'U.S. Should Break Up Monopolies' Democrat Robert Reich Guardian Plan Would Hit Clayton Homes, Skyline Champion, and Cavco Industries with Costly Antitrust Lawsuit – Statements, Facts, Analysis
The Clayton annual review for 2022, if it follows previous years, is some weeks away from being produced. Until then, this review of their 2021 annual report should be of interest to those thirsting to know more.
'Announcing!' 'Manufactured Community Owners' Association of America' 'Finally Bringing Fight To Manufactured Home Community Sector of the Industry' – plus Sunday Weekly Manufactured Housing Headlines Review  
'Global Disinformation Index' Warren Buffett Ally Bill Gates' Microsoft Org Charged-Cutting Revenue to Conservative Views via Xandr, GDI; plus Sunday MHVille Headlines Recap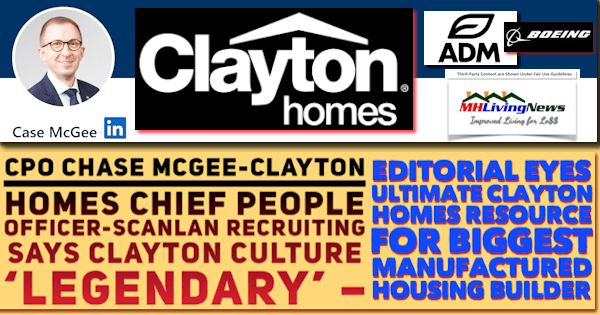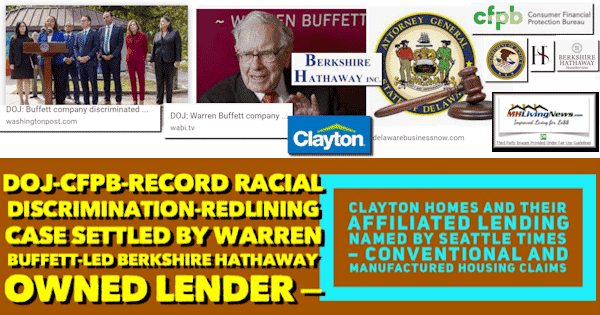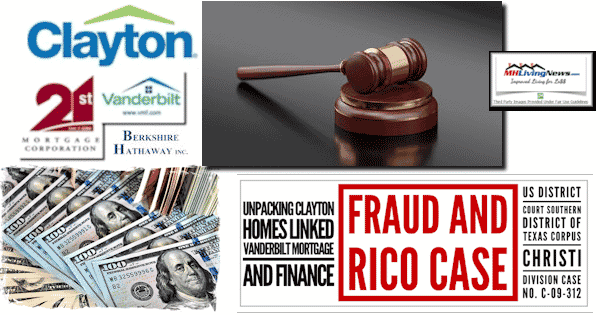 "Partner in Crime" "Get Access" "Gain Trust" v "Scapegoating" – Maxwell Trial Begins – Bill Gates, Leon Black, Clinton, More Big Names Could Shakeup Big Biz, Politics & MHVille – Plus, MHMarket Updates
Clayton-21st Storm Watch – Sinatra's Summer Wind Blows Early? – Manufactured Housing Moat Breach – Manufactured Home Values Increasing Faster than Site-Built – Case for Something New in 2022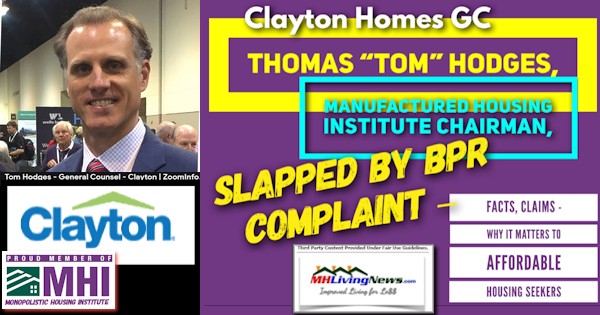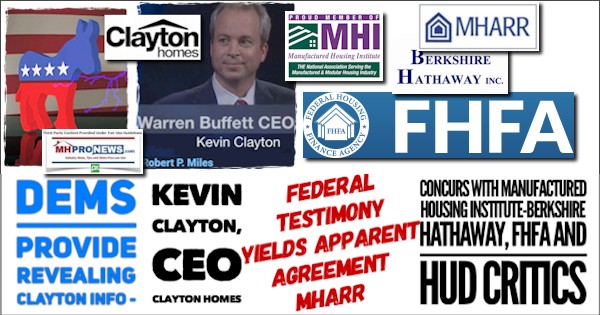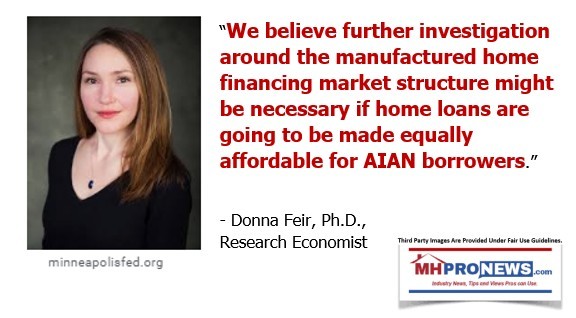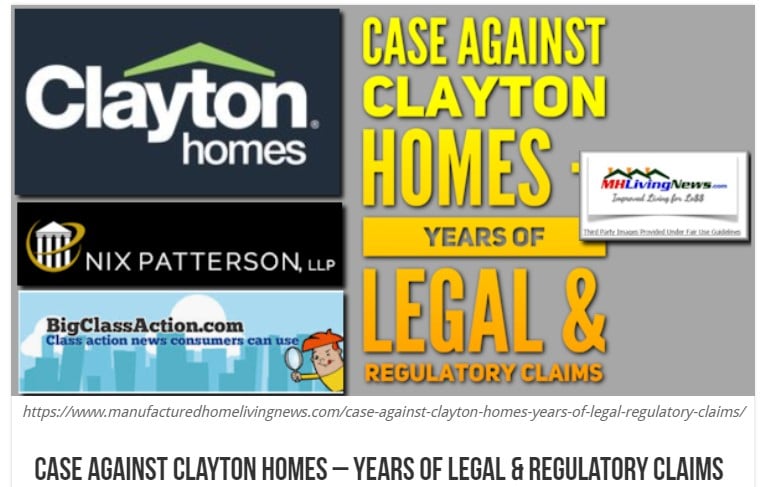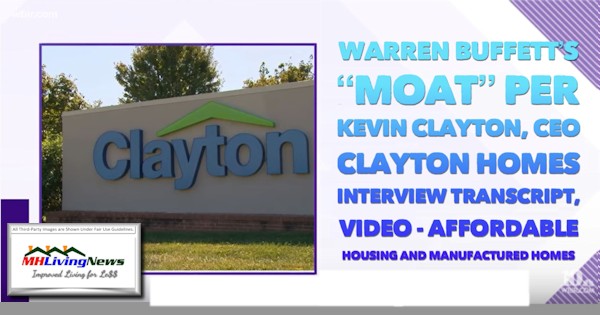 Looking Ahead, Closing Insights, Summary and Conclusions
Watch for a follow up report planned in the weeks ahead. Because no one else in MHVille trade media has invested the time, expertise, and pulled together the evidence on these issues as has MHProNews/MHLivingNews. That may explain why in 2022 our reports had such high engagement per visit by the typical reader.
Per Webalizer data on 19-Dec-2022 06:15 CST indicates that the typical visitor of MHLivingNews engages with some 7.46 pages viewed per visit. Visitors have logged millions of page views annually on MHLivingNews.
Well over 13 million pageviews has been reported by Webalizer on the largest the baker's dozen cPanels on MHProNews in 2022. Per that same source, there is an average of some 10.75 pageviews per visitor to MHProNews, a rate several times greater than a number of mainstream media reports according to published online metrics.
Though it is the end of the month, it would be no surprise – based on years of prior experiences with such reports, fact checks, and expert commentaries – to see this report surge near the top of all reports for February 2023.
It may have seemed out of place to use the Stallone line about killing in the preface of this report. But when someone carefully examines the methods deployed by Clayton, it becomes clear that killing off competitors through purportedly unethical if not illegal behavior is an evidence-based concern. The dreams of thousands of independent businesses, many that had served the public well for years, vaporized during the 21st century after Berkshire bought Oakwood and Clayton. As MHARR noted in their recent remarks, good federal laws have been thwarted. If Buffett and Clayton wanted to see the industry grow robustly, wouldn't they insist on those laws being enforced?
METANOIA – Manufactured Housing Institute, Manufactured Housing Association for Regulatory Reform 'Wake Up Call' on Consumer Finance and Discriminatory Zoning; plus Sunday Weekly MHVille Recap
Paltering is all too common in modern America.  That said, there are good reasons for pro-manufactured housing growth federal laws should be robustly applied.
Consider NAACP Resolution on Reversing Impact of Restrictive Zoning and Highways on Fair Housing; Black NFL Star Turned Congressman Burgess Owens Take on NAACP; plus MHVille Stocks Update
One of the quotes from the Berkshire bunch above is about the value of studying an issue and reading. Serious MHProNews readers grasp that insight.
Unpacking MH Attorney Kurt Kelley's 'Predictability in Law is the Key to a Prosperous Republic.' Is USA Democracy or Republic? Why it Matters to Businesses, Pros, Consumers, or any American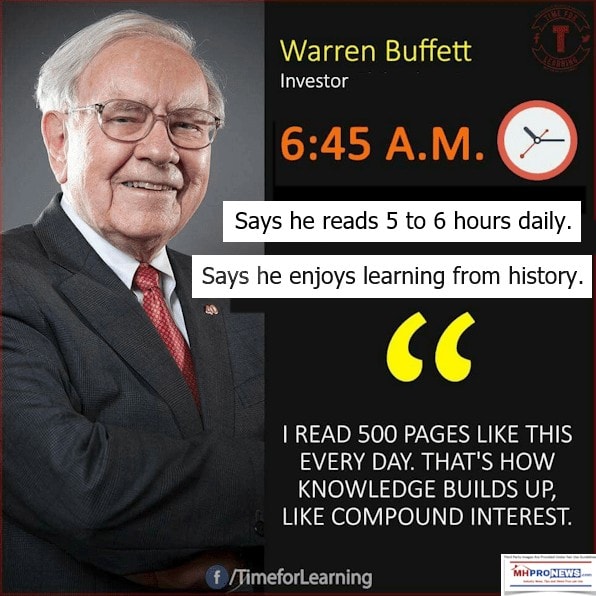 How Buffett uses that knowledge is different than how most people may use it. MHProNews has editorially supported the call for robust antitrust and other legal efforts. That is how the Buffett-Berkshire-Clayton moats could be successfully and profitably breached. Until then, expect more of the same.  Because as Warren said, 'bad guys know more games.' Don't believe it? Just ask Warren and follow the money trail and links to the evidence. ###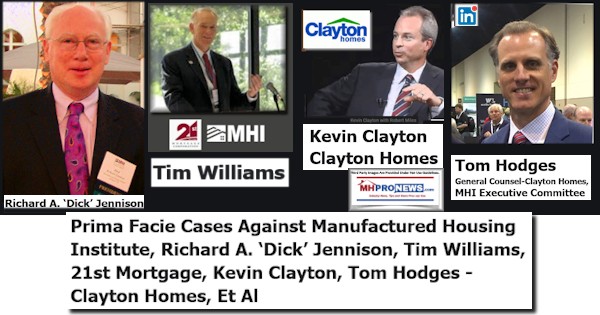 Has the Manufactured Housing Industry Become a Target-Rich Environment for Plaintiffs' Attorneys? Facts, News & Views; plus, Sunday Weekly Manufactured Home Industry (MHVille) Headlines Recap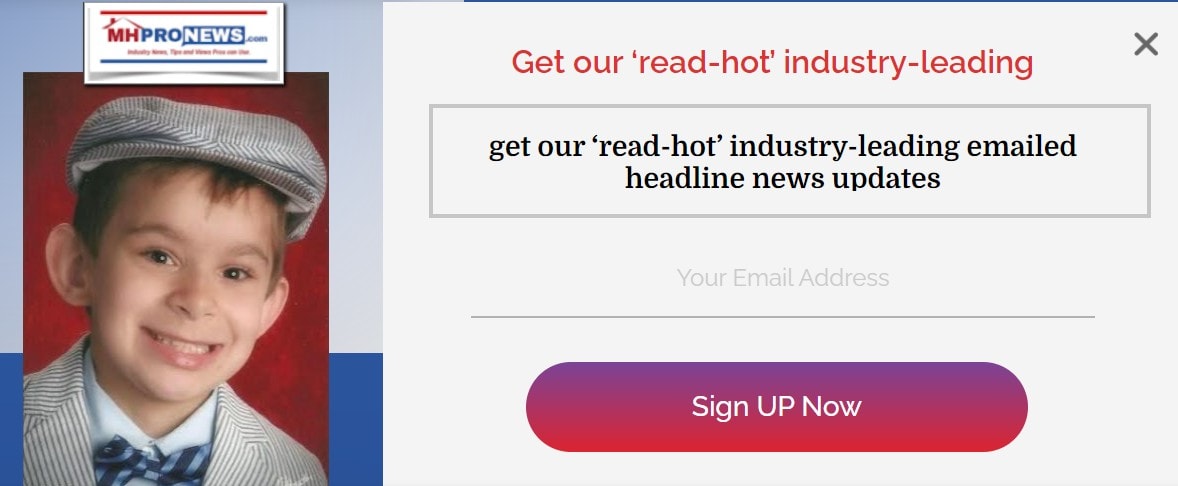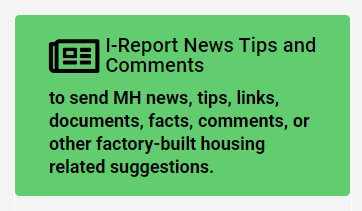 Again, our thanks to free email subscribers and all readers like you, as well as our tipsters/sources, sponsors and God for making and keeping us the runaway number one source for authentic "News through the lens of manufactured homes and factory-built housing" © where "We Provide, You Decide." © ## (Affordable housing, manufactured homes, reports, fact-checks, analysis, and commentary. Third-party images or content are provided under fair use guidelines for media.) (See Related Reports, further below. Text/image boxes often are hot-linked to other reports that can be access by clicking on them.)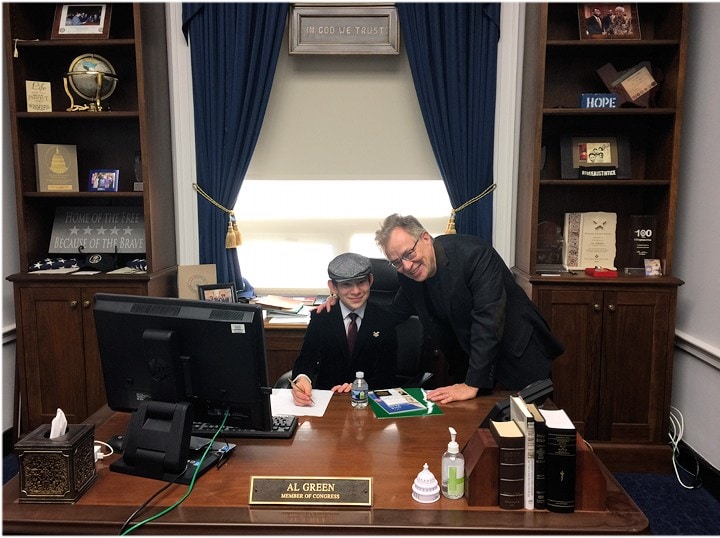 By L.A. "Tony" Kovach – for MHProNews.com.
Tony earned a journalism scholarship and earned numerous awards in history and in manufactured housing.
For example, he earned the prestigious Lottinville Award in history from the University of Oklahoma, where he studied history and business management. He's a managing member and co-founder of LifeStyle Factory Homes, LLC, the parent company to MHProNews, and MHLivingNews.com.
This article reflects the LLC's and/or the writer's position, and may or may not reflect the views of sponsors or supporters.
Connect on LinkedIn: http://www.linkedin.com/in/latonykovach
Related References:
The text/image boxes below are linked to other reports, which can be accessed by clicking on them.'
'Everyone Needs Deadlines' 'First Things First' and '7 Habits of Highly Successful People' – Pre-Christmas Preview of Manufactured Housing Year in Review; plus Sunday Weekly MHVille Headlines Recap
'In the Business World, the Rear-View Mirror is Always Clearer than the Windshield'–Warren Buffett MHVille Leader Showcases Efforts to Renew American Dream; plus Sunday Weekly Headlines Recap
Manufactured Housing's Next BIG Regulatory Battle That MHARR's Spotlighted and Which MHI Conveniently Ignored in Recent 'Manufactured Housing Institute News;' plus Sunday Weekly Headlines Recap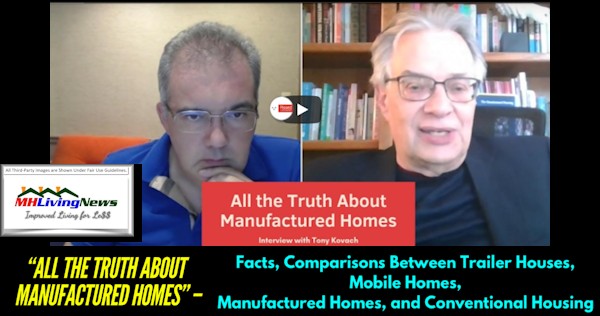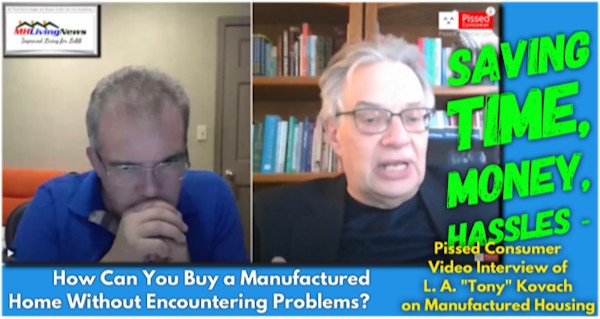 Flagship Communities – Hypocrisy, MHIndustry Corruption? 'Fragmented Industry with High Barriers to Entry and Imbalanced Supply and Demand Dynamics;' Plus Sunday MHVille Weekly Headlines Review
'Affordable Homes for Low Income Must Produce in Factory,' 'Years to Unravel Sabotage,' Grad Students Interest in Manufactured Housing, Factory-Home Solutions; plus Sunday Weekly Headlines Recap
Russian Disinformation? CNN and WND Report on "World Government Summit," Joe Biden Address to Business Roundtable on "the New World Order;" plus Sunday Weekly Headlines Review