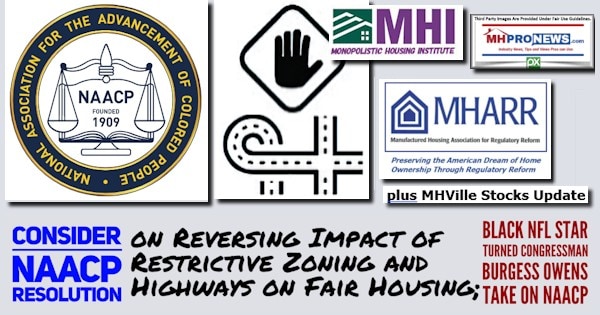 It should go without saying that the black community is not monolithic, any more than other ethnic, gender, religious or other groups act in total lockstep. To behave in total union is almost contrary to human nature, because our nature makes us individuals rather than automatons. That said, this report will consider insights from a black and minority focused nonprofit group "Founded in 1909, the National Association for the Advancement of Colored People (NAACP) is the nation's oldest civil rights organization," per Influence Watch. The NAACP has its critics, which includes black NFL star Clarence Burgess Owens. Owens earned his Super Bowl ring playing for the Oakland Raiders as their free safety. In an interview with Breitbart years before he began his successful run to become a U.S. Congressman, Owens said the following. "The NAACP was not a black-run, black-originated organization. It was run by 21 white, socialist, atheist, Marxist Democrats. It was the antithesis of Rev. Martin Luther King Sr.'s community at that time, which was capitalist, Christian, very pro-life, and pro-America." Indeed, per Influence Watch, the NAACP is being buffeted by challenges within the black community as it struggles in the wake of the Black Lives Matter movement for relevance. Be that as it may, the NAACP is still a recognized minority rights promoting organization with a century-plus history as a voice for blacks, even though it tends to lean left and Democratic in its politics despite its nonpartisan nonprofit status. What follows in Part I a and b of today's report are resolutions made by the NAACP as it relates to housing and the wealth generation that flows from homeownership in the context of barriers to achieving a higher rate of minority home ownership.  Note that the NAACP has officially said that zoning, financing, and other barriers are thwarting higher rates of homeownership for blacks.
Early on during the newly installed Biden Administration, which ran on a platform that postured a support for black "equity" and a range of projected initiatives that were supposed to benefit minorities, the Manufactured Housing Institute (MHI) apparently did some posturing on the issue of more home ownership for blacks and minorities.  MHI's CEO Lesli Gooch's published an op-ed whose words on the surface seemed nice enough. But as the first and second linked reports below reveal, when given an opportunity for actually supporting a black couple in their quest for support of buying a new manufactured home, Gooch said their interests and MHI's were 'aligned,' but she and MHI apparently refused to act. Note how Gooch used the language of racial equity adopted by the Biden regime.
 "Advancing Racial Equity Through Manufactured Housing" Lesli Gooch, Manufactured Housing Institute CEO's Impressive Op-Ed – Manufactured Housing Institute's National Mortgage News Analysis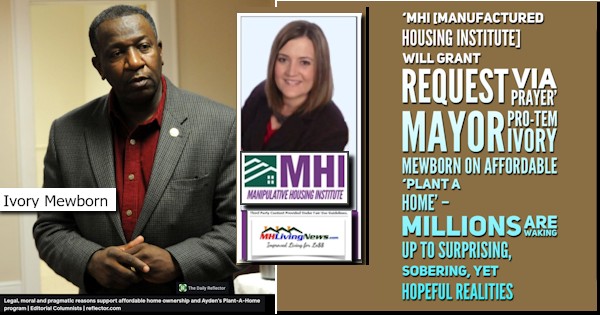 While a fraction of the size of MHI, the Manufactured Housing Association for Regulatory Reform (MHARR) has at times been dubbed "mighty MHARR" because of their historic ability to use facts to force issues by being a consistent and persistent advocate.  For a recent example, while MHI might deny it, in its persistent call for months by MHARR leaders that MHI engage in litigation to stop the Department of Energy (DOE) manufactured housing energy rule from going into effect, a rule that MHI and MHARR on the surface both seemed to formally agree would harm industry and consumer interests, MHI ignored MHARR's public pressure for months. But earlier this month, without mentioning MHARR, MHI finally did file suit to stop the DOE's harmful rule from going into effect. More on those topics are found in the reports linked below.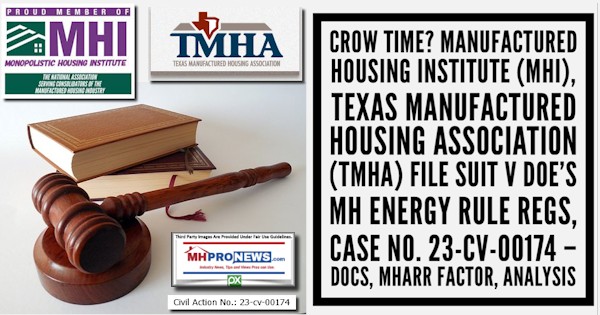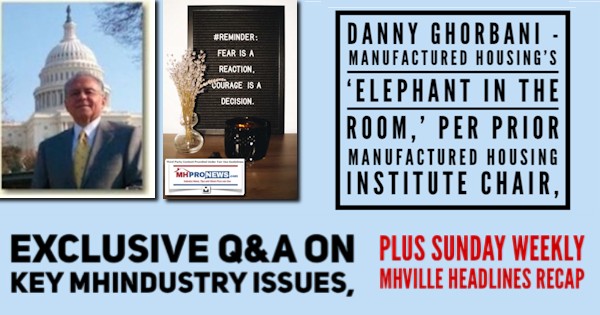 MHI 'Special Bulletin' DOE MH Energy Regs Lawsuit 'Effort to Ensure Consistent Industry Message,' Will Manufactured Housing Institute Launch More Suits? Plus Sunday Weekly MHVille Headlines Recap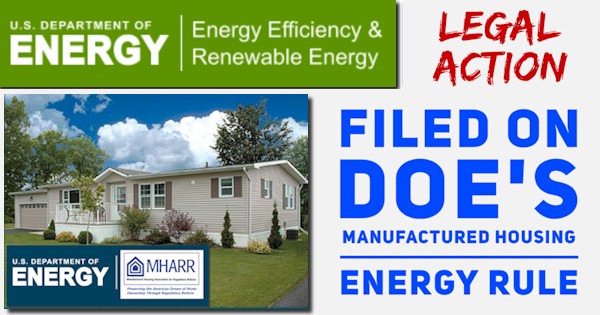 However much MHI leaders and messaging may seek to avoid publicly admitting that MHARR pressed for and eventually obtained their publicly sought MHI legal action on the DOE MH energy rule, that is quite obviously what occurred. Other examples of such MHARR outcomes despite months of initial resistance by their larger rivals at MHI are found listed in a post linked here.
With that backdrop, MHARR has issued a renewed call for MHI to similarly use its resources to press federal agencies to enforce laws that would provide access to more manufactured home ownership for potentially millions of people. From the article linked below, MHARR said: "Both the double-digit contraction of the HUD Code manufactured housing market during the last quarter of 2022 and the continuing stagnation of the broader market at levels far below the documented need for millions of affordable housing in the United States, illustrates the continuing negative impact of two key issues – (1) the lack of federal support for largest single component of the manufactured housing consumer financing market (i.e., chattel lending); and (2) the lack of concrete federal action to eliminate discriminatory zoning barriers against affordable HUD Code housing, as well as the ongoing failure of the industry's post-production national representation (i.e., the Manufactured Housing Institute) to take aggressive, assertive and definitive action to confront and resolve these matters."
Latest Wake-Up Calls for the Manufactured Home Industry on Consumer Financing and Discriminatory Zoning
It is with that brief, roughly 2- to 3-minutes of reading backdrop above, MHProNews now pivots to formal statements made by the NAACP in their 2022 convention. Per that group: "All resolutions contained in this packet were reviewed by the 113th Convention of the NAACP, held July 19, 2022 at its Legislative Meeting in Atlantic City, New Jersey. These resolutions were ratified by the National Board of Directors on October 15, 2022 and are now the Official Policy of the National Association for the Advancement of Colored People." In Part II of today's report, MHProNews will unpack and examine those items, as well as consider some linked information from two black leaders who have served in the housing arena at HUD: one conservative, one progressive. Part III of today's report will feature our Daily Business News on MHProNews manufactured housing connected equities update, which includes the left-right media snapshot of market moving headlines.
Part I a. Per the NAACP
ECONOMIC DEVELOPMENT 1. Closing the Wealth Gap in Homeownership
WHEREAS, Systemic racism has left Black families behind, the typical White family holds eight times the amount of wealth held by the typical Black family, according to the 2019 Survey of Consumer Finances. The disparities continue after these students leave school. Due to lower family wealth and racial discrimination in the job market, Black students are far more likely than white students to experience negative financial events after graduating- including loan default, higher interest rate payments, and higher graduate school debt balances; and
WHEREAS, Crisis-level student debt hinders economic progress in many ways, including reinforcing racial wealth inequality. According to the U.S. Census, as of the second quarter of 2021, the Black homeownership rate was 44.6 percent compared to 74.2 percent for Whites. That's down from the recent high achieved in the second quarter of 2020 but up significantly from the half-century low of 40.6 percent measured in the second quarter of 2019. In spite of an apparent increase in homeownership among Blacks in 2020, the gap in homeownership rates between Black homeowners and White homeowners is still a staggering 30 percentage points; and
WHEREAS, According to the 2021 State of Housing in Black America (SHIBA) Report, there was a surge in Black millennials home buying during the first months of the pandemic, contributing to an increasing Black homeownership. This surge is largely attributed to the greater buying power that millennials have compared to other generations, reflecting a greater ability to save and invest, especially among middle-class Black millennials, who have higher incomes and more stable employment; and
WHEREAS, For many Black millennials, student loan debt is the biggest hurdle in homeownership, as it can limit the amount of savings that can be used for a down payment in the general population; and
WHEREAS, Debt to income ratio is reported as the main reason for denial for over 35 percent of Black millennial applicants compared with 28 percent of White millennial applicants. Study of millennial student debt shows that Black millennial Bachelor's degree holders had a median debt of $31,000 compared to $26,726 for White millennials; and
WHEREAS, Between June 2020 and May 2021, the private and philanthropic sectors have made at least $215 billion in racial equity commitments; and
WHEREAS, Nationwide, the home price inflation increase over the year ending August 2021 was 14.9 percent. Currently, home prices are on the rise, and income levels are stagnant. Based on the economy, homeownership and ultimately Black wealth will also remain stagnant, and
WHEREAS, This resolution reaffirms and builds upon prior NAACP resolutions to promote homeownership that include, the 2012 NAACP resolution, "Saving Homeownership and Building Wealth in African American Communities" and the 2020 resolutions, "Down Payment Assistance Program To Increase Black Homeownership", "Wealth Building and Homeownership", and, "Ditch the College Debt" and the 2021, "Student Debt Cancellation $50,000 & Beyond."
THEREFORE, BE IT RESOLVED, that the National Association for the Advancement of Colored People (NAACP) offers its full and ongoing support and backing for the efforts of building Black wealth by closing the homeownership gap.
BE IT FURTHER RESOLVED, that the NAACP demands the President of the United States to make good on his promise to cancel and reform student debt. The NAACP requests the President of the United States, the Federal Housing Finance Agency (FHFA), the U.S. Department of Housing and Urban Development (HUD), and Congress initiate policies and legislation that will help Black American first time home buyers who want to purchase a home, but have large student loan payments.
BE IT FINALLY RESOLVED that the NAACP demands the President of the United States to secure support from his Administration, and from financial institutions with racial equity commitments to closing the homeownership gap. ##
Part I b. Next up from the NAACP was the following.
RESOLUTION
Reversing the Impact of Restrictive Zoning and Interstate Highways on Fair Housing
WHEREAS, The mission of the NAACP includes recognizing and advocating for civil rights whenever advancement historically has been limited; and
WHEREAS, Discriminatory housing policies created conditions through state-sponsored segregation that limited access and opportunities for Black Americans, ultimately instituting a racial wealth gap that has been perpetuated through the reinforcement of residential segregation patterns, and fueled by government housing policies that were purported to prohibit discrimination; and
WHEREAS, Housing segregation persists because of these factors: federal and state housing programs that forced Black families into public housing by strategically limiting the schools and accommodations for Black people to one area, followed by the limitation of resources, the migration of power plants and high pollution manufacturing companies to the predominantly Black areas, the denial of access to equal education through the underfunding of predominantly Black public schools, and the refusal of equal employment opportunities as a result of restricted access to the city center and its job market; and
WHEREAS, Governments used infrastructure redevelopment programs, under the guise of urban renewal, to build highways that further segregate Black communities, and contemporaneously, the Federal Housing Administration implemented racially restrictive covenants to form segregated all-White neighborhoods; and
WHEREAS, The government used infrastructure projects such as highways and parks to split or, in some cases, demolish Black neighborhoods and wealth. While government infrastructure was purported to be a means of economic advancement, these projects destroyed existing economies by isolating Black neighborhoods and fast-tracking suburbanization trends that perpetuated segregation; and
WHEREAS, Black communities were often targeted for these projects because they did not have the social or economic standing to oppose them; and
WHEREAS, Statistically, wealth allows for people to invest in the form of education or homeownership, but financial assets beyond those required for daily living costs are heavily concentrated at the top of the income bracket, while those at the bottom of the income distribution hold essentially no wealth at all; and
WHEREAS, The average Black household income is about 60% of the average White household income, while Black wealth is only about 10% of white wealth. Given that many Americans hold the majority of their wealth in home equity, the inability of Black Americans to acquire property as a result of redlining and restrictive zoning put a significant limitation on the economic advancement of Black Americans; and
WHEREAS, Homes in Black neighborhoods are significantly undervalued, which is an additional limitation on the ability of Black Americans to participate in and benefit from the housing market; and
WHEREAS, Public education is generally funded through property taxes; thus, where property values are higher, public education is more efficiently funded. However, even in areas where property values are low but taxes per dollar are proportionally higher, public schools are still left with less funding per student than schools in areas with higher property values but lower taxes per dollar; and
WHEREAS, Children in predominately Black low-income areas are deprived of a quality education and fundamental resources based solely on the average income in their neighborhood. To the extent that education determines income and economic mobility, this poses an inarguable limitation to racial economic equality; and
WHEREAS, The impacts of restrictive zoning and racially targeted infrastructure bills are evidenced by the racial wealth gap, specifically disparities in the generation and preservation of wealth through homeownership that disadvantages the Black community respective to other communities; and
WHEREAS, The biggest hindrance to homeownership among Black Americans is affordability and access, with the First-Time Homebuyer Tax Credit often not being received by its intended beneficiaries.
THEREFORE, BE IT RESOLVED, The NAACP will advocate for government or private programs that improve access to homeownership through subsidizing down payment assistance and closing costs for low-income families in need of assistance, and other measures that improve access. ##
Part 1 c. The entire downloadable packet of pages of NAACP facts, statements, and resolutions is found at this link here.
Part II Additional Information with More MHProNews Analysis and Commentary in Brief
After a change of leadership at MHI that trade group and MHARR publicly worked with each other to enact the Manufactured Housing Improvement Act (MHIA) of 2000. The MHIA legislation was widely bipartisan. Note that MHARR pressed for that bill's provisions for some time before MHI finally got on board following their leadership shift. A key provision of the MHI is a provision commonly referred to in manufactured housing industry circles as "enhanced preemption" or the federal preemption of local zoning barriers whenever affordable manufactured housing is being barred for what amounts to discriminatory reasons. The language of the MHIA makes it plain that it was intended as an affordable housing bill which provided consumer protections not commonly found in far more costly conventional housing.
Notice: the graphic below can be expanded to a larger size.
See instructions below graphic or click and follow the prompts.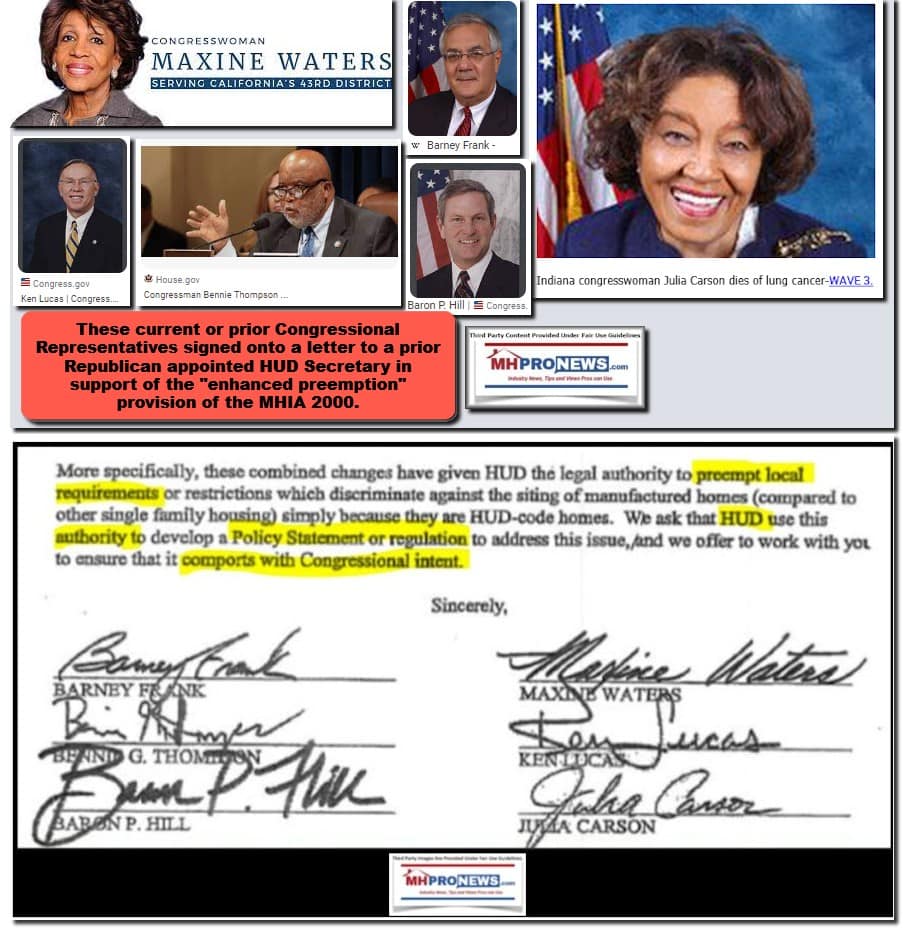 As was noted at the top, the NAACP has its supporters as well as its critics. To the point that now Congressman C. Burgess Owens (UT-R) made about the history of the NAACP including white, progressive, and socialist planks, some of what is found in their statements could point to the concerns he raised.  That said, looking at their document in an objective fashion, it does point to several statistically supported and demonstrable facts. For example, lower rates of homeownership are routinely a disadvantage to the wealth building capabilities of any individual, community, or group. That noted, if the NAACP's leadership is sincere in pressing ahead for more affordable home ownership, one might think that they would be pressing to support the MHIA's enhanced preemption provisions. Their website says: "We are 2 million+ activists united in the fight to end racial inequality."  Then why aren't they publicly pressing the Biden regime of their posturing and failure in the housing arena? Because when even left-leaning and generally pro-Democratic media outlets are reporting that the gains previously being made during the Trump Administration for more black and minority homeownership have reversed during the Biden regime. See the facts in the linked reports that support that contention.
Despite Biden Housing Promises, CNN, NAR Say 1st Time Homebuyers Fall to 'All Time Low' – MHI Input – Unpacking Info for MHVille Advocates & Pros; plus Sunday MHProNews Weekly MH Reports Recap
Fears of Future – MILLIONS of Millennials Move Back in 2022 with Parents-Facts, Top Reasons, and Possible Silver Lining for Manufactured Housing Pros, Investors; plus MHVille REITs, Stocks Update
Additionally, it was Democratic House Whip James Clyburn who said last fall that his party supported policies that he asserted they knew would cause inflation. That inflation is harming lower incomes, including minorities, disproportionately more than the wealthy.
Straight from Top Democrat's Lips to Your Eyes, Ears – 'We Knew Recovery Plan Would Cause Inflation' – Thank James Clyburn for Some Straight Talk – Sunday Weekly MHVille Headlines Recap
Like the man's tweets or persona or not, James Darlington makes the evidence-based argument that Trump was doing more for the economic, safety, and other benefits than his predecessors (including Presidents Bush and Obama), or his successor in PINO Joe Biden.
'Oh, Donald [Trump], What Are We Going to Do With You?' Jim Darlington Op-Ed on Deep State, Pros and Cons of 'Wild Man vs Monk' Explored; plus MHVille Market Updates
Senator Tim Scott (SC-R) mentions progress in increasing home ownership rate among blacks during the Trump years, which he says he worked with the Trump team to accomplish.
Senator Thom Tillis (NC-R) in this CSPAN captured discussion with then HUD Secretary Ben Carson both speak about their experiences with, and understanding of, manufactured housing.
As HUD Secretary, to be objective, Carson failed to press the case for the full and proper implementation of the MHIA's "enhanced preemption" provision too, as has others before and since. But in fairness, there are legitimate questions if MHI, which spent significant time with Dr. Carson ever brought the issue to his attention in a public fashion where the then HUD Secretary might have given a public response. While letters were written by MHI and MHARR to Carson, there is no known example of Carson responding to those letters. Put differently, there is a question if he was kept in the dark on this topic.  By contrast, there is a record of HUD Secretary Marcia Fudge being asked specifically about enhanced preemption. Her response was stunning. See the two reports linked below to learn more.
While the cost of all housing has increased since these remarks, the percentage of savings for
modern manufactured homes compared to conventional housing is the same. Since these
remarks by then HUD Sec. Carson, LendingTree has joined others in saying that manufactured
homes are appreciating at a similar, and sometimes faster rate than conventional housing.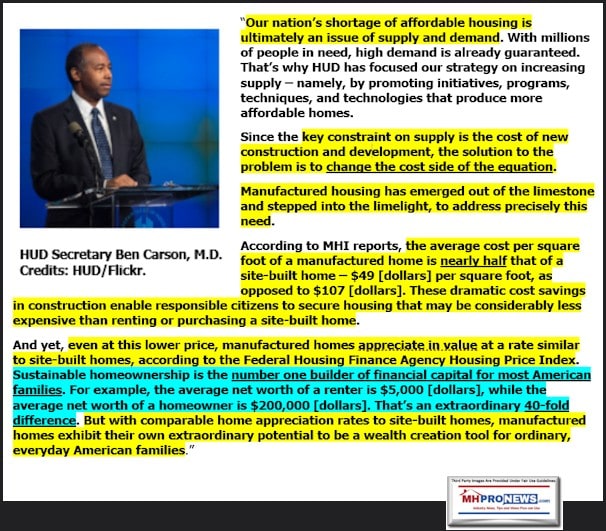 Sec Carson vs. Fudge; Dec 22 Jan 23 Data – Single-Family, Multifamily Facts as Mortgage Rates Slide – 2023 Louisville Manufactured Housing Show-Facts & Analysis; plus MHVille Markets Updates
HUD Sec Marcia Fudge – Zoning, Manufactured Homes – "Until We Start to Address This We Are Going to Continue to be Perpetually in This Kind of Situation." – News-Analysis, plus Manufactured Housing Stock Updates
An evidence-based case can be made that perhaps the fastest way to close the affordable housing gap and the racial equity disparity that the NAACP argued is caused in part by zoning and other artificial barriers is for organizations like the NAACP to come out publicly in support of the full and proper implementation of the MHIA's enhanced preemption provision. While the issue may appear to be partisan, and certainly can be weaponized by either party, the facts ought to speak for themselves.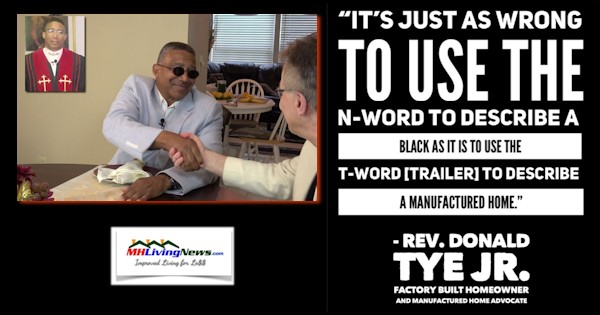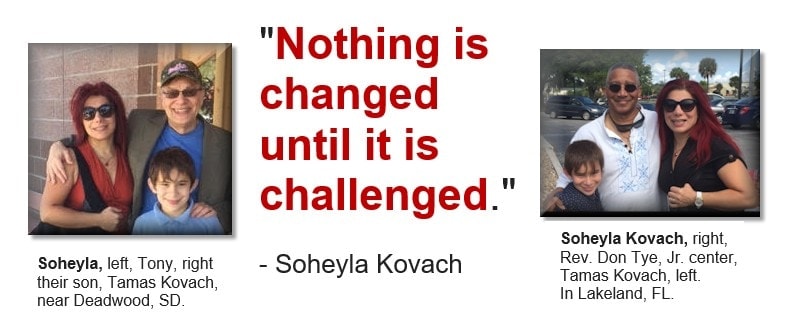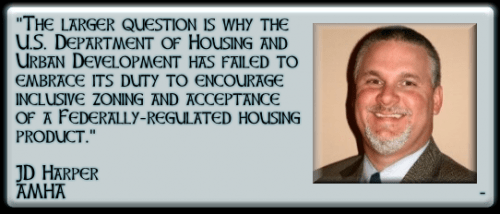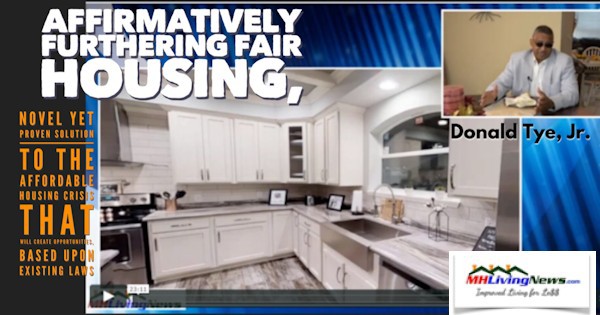 There is plenty of posturing on these topics by politicos and others. But the report by two HUD researchers in September of 2021 provided the eye-opening statement that zoning and placement barriers have been a problem that members of both major parties have talked about for 50 years, yet little has changed.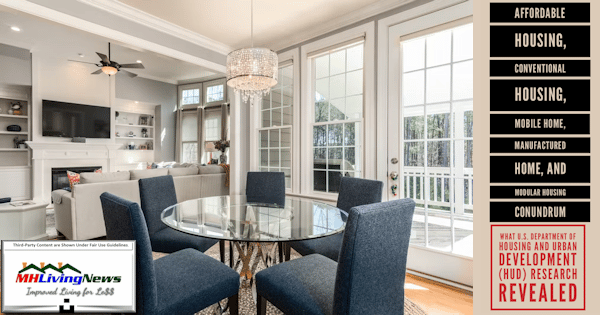 It should be obvious that a black president and his HUD Secretary also failed to implement the MHIA and its enhanced preemption provision. So, there is troubling evidence that special interests, which the NAACP and others may rail against, has not yet specifically explored how these have played out in the manufactured housing marketplace.
Notice: the graphic below can be expanded to a larger size.
See instructions below graphic or click and follow the prompts.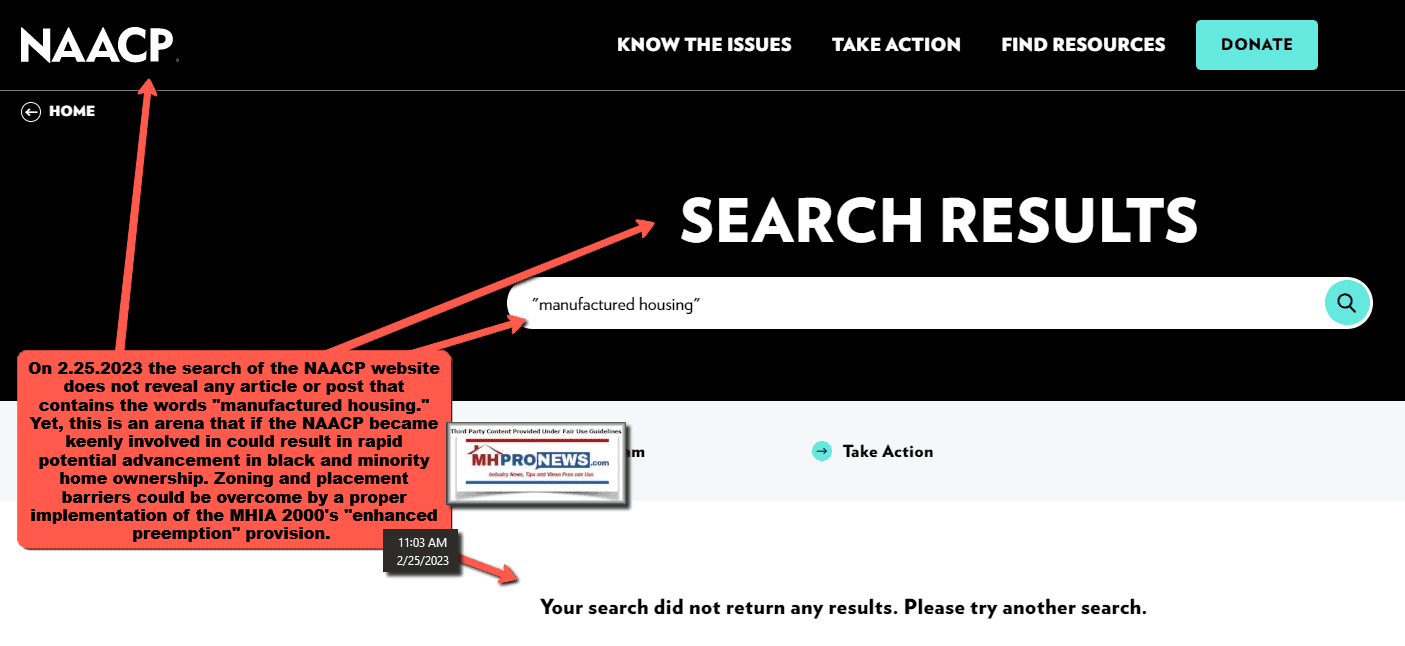 The Obama-Biden Administration produced compelling research commissioned by HUD that documented how manufactured housing could be used as urban infill, and how manufactured homes sited next to conventional housing time and again witnessed both types of homes appreciating side-by-side. It is one of several research reports found on the MHLivingNews website that is not found on the MHI website.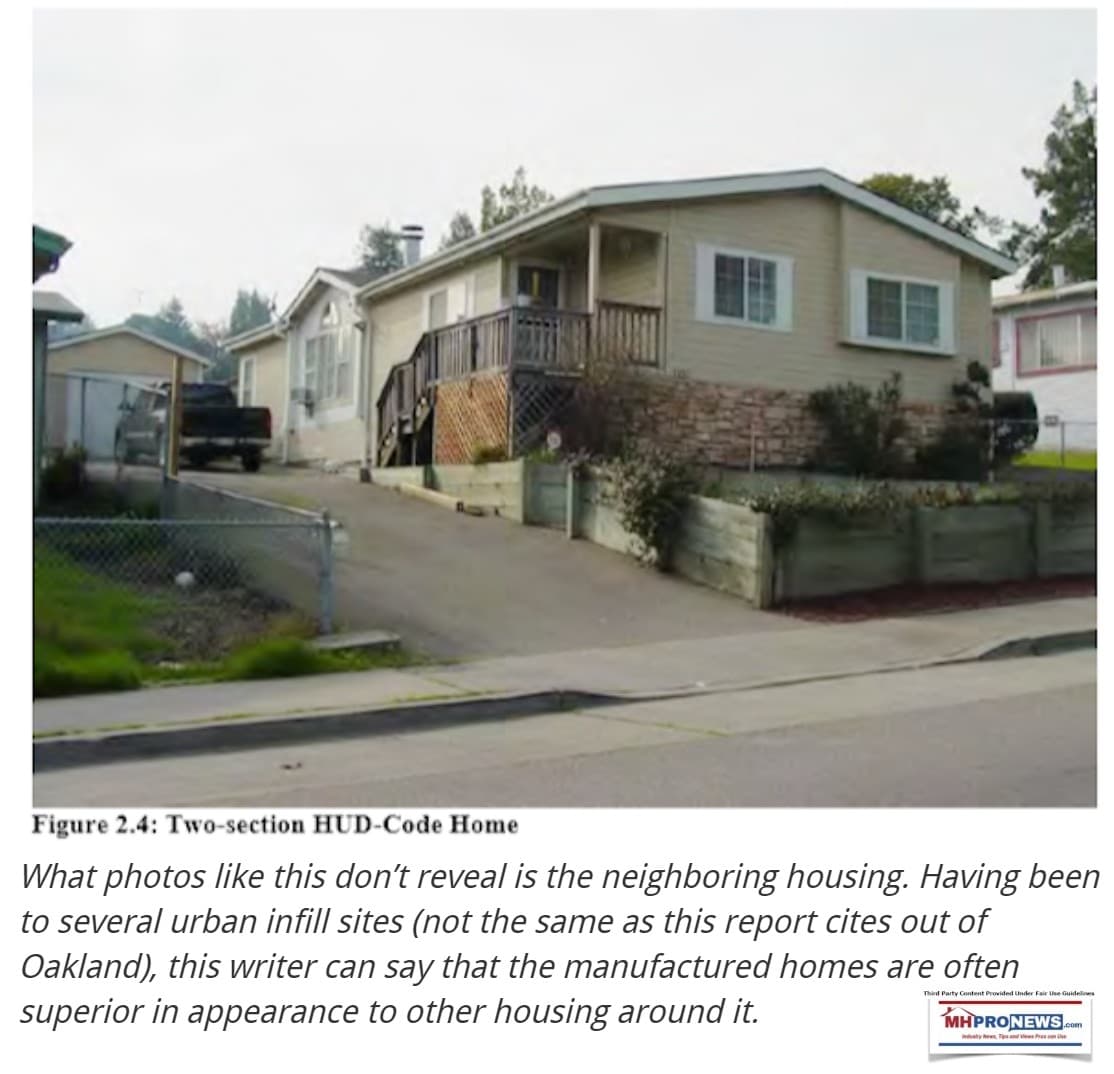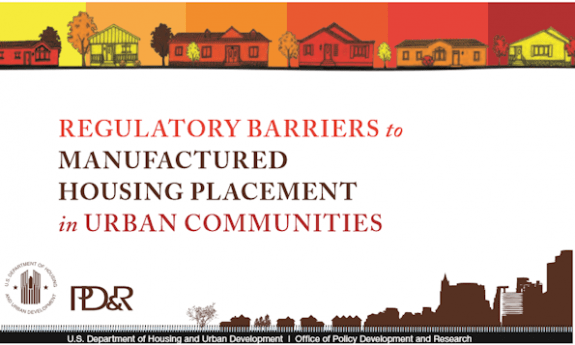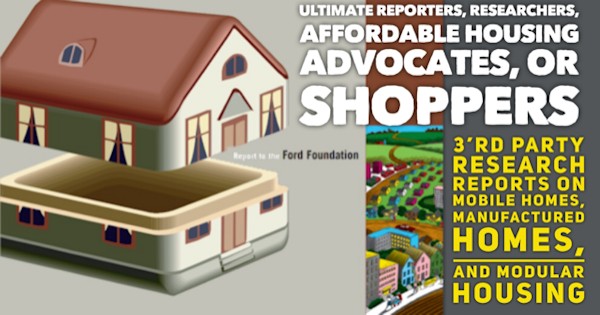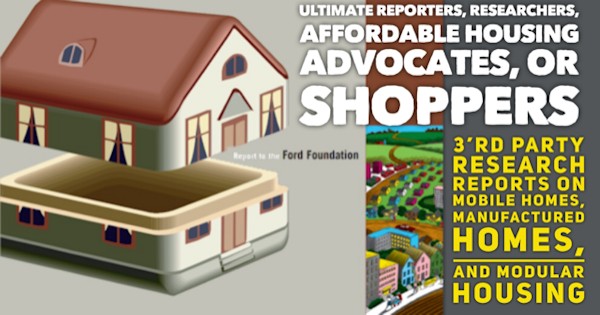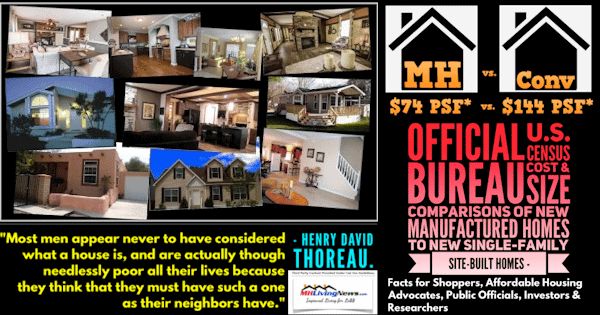 There is a proven common-sense solution to the affordable housing crisis that is hiding in plain sight. People of good will from all backgrounds that want to see all Americans enjoy the blessings and benefits of wealth-building affordable home ownership could promote this solution of pressing public officials to enforce existing laws. That is potentially easier and faster than asking for new legislation which has no guarantees of enactment. See the related reports to learn more.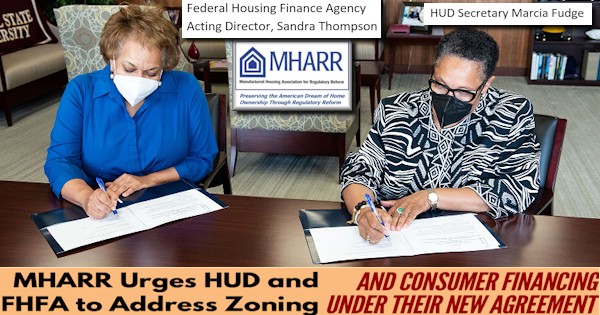 President Bill Clinton-Curing What's Wrong by What's Right in America, Coalition Building, Wildly Potent Quotable Quotes, Profitable Liberty Lessons-Gonzo Journalism; plus MHVille Markets Updates
'U.S. Should Break Up Monopolies' Democrat Robert Reich Guardian Plan Would Hit Clayton Homes, Skyline Champion, and Cavco Industries with Costly Antitrust Lawsuit – Statements, Facts, Analysis
Unpacking MH Attorney Kurt Kelley's 'Predictability in Law is the Key to a Prosperous Republic.' Is USA Democracy or Republic? Why it Matters to Businesses, Pros, Consumers, or any American
Part III. Daily Business News on MHProNews Markets Segment
The modifications of our prior Daily Business News on MHProNews format of the recap of yesterday evening's market report are provided below. It still includes our signature left (CNN Business) and right (Newsmax) 'market moving' headlines. The macro market moves graphics will provide context and comparisons for those invested in or tracking manufactured housing connected equities.
In minutes a day readers can get a good sense of significant or major events while keeping up with the trends that are impacting manufactured housing connected investing.
Reminder: several of the graphics on MHProNews can be opened into a larger size. For instance: click the image and follow the prompts in your browser or device to OPEN In a New Window. Then, in several browsers/devices you can click the image and increase the size. Use the 'x out' (close window) escape or back key to return.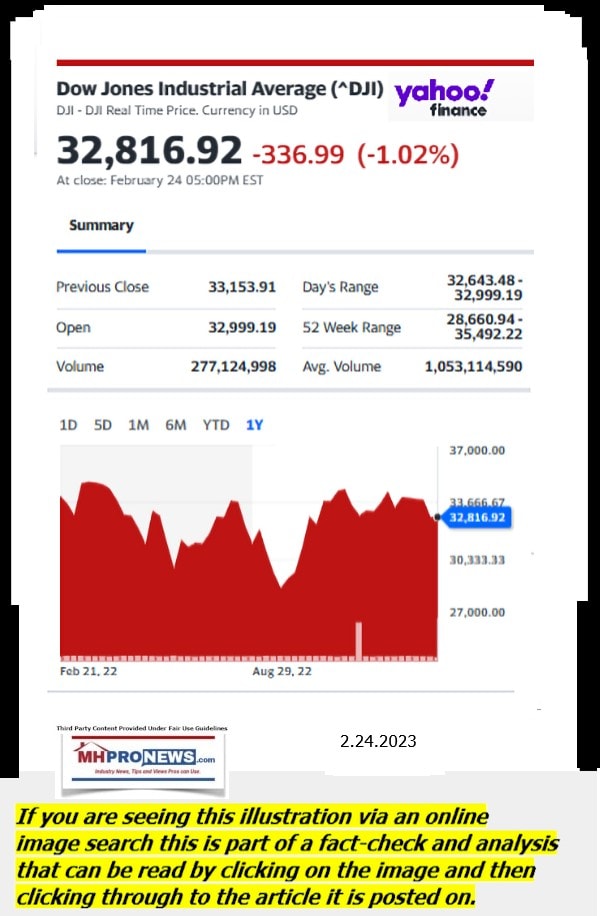 Headlines from left-of-center CNN Business – from the evening of 2.24.2023 
End of an era
The tech industry has lost a generation of women leaders. 'It's almost like starting from scratch'
'It's a major blow': Dominion has uncovered 'smoking gun' evidence in case against Fox News, legal experts say
How the Supreme Court could reshape the internet as you know it
Thomas H. Lee, pioneer of leveraged buyouts, is dead at 78
Telecom giant to cut 8,500 jobs
New home sales rise as prices drop in January
Inflation surprisingly rose in January, according to the Fed's preferred gauge
These are the countries where Netflix is cutting prices
Boeing forced to halt 787 Dreamliner deliveries once again
Molson Coors' funny ad went too far, regulator says
Air fryer recall: 2 million Cosori air fryers recalled because of fire hazard
The UK's fruit and vegetable shortage could last at least until May
Why today's inflation report is so important
Regal Cinemas owner Cineworld says shareholders will be wiped out
China is helping to prop up the Russian economy. Here's how
Washington Post: Bezos hires investment firm to explore possibility of NFL team bid
Biden nominates former MasterCard exec Ajay Banga to lead World Bank
401(k) balances rise, despite economic and market challenges
Carvana's losses widen as the used-car market stalls
Ozy Media founder Carlos Watson arrested and charged with fraud
FTX founder Sam Bankman-Fried indicted on new criminal charges, including campaign finance violations
A Florida TV station offered viewers raw, emotional coverage of the shooting of its own journalists
DOJ seeks court sanctions against Google over 'intentional destruction' of chat logs
BBC won't be 'put off' covering India by tax raids and censorship
Notice: the graphic below can be expanded to a larger size.
See instructions below graphic or click and follow the prompts.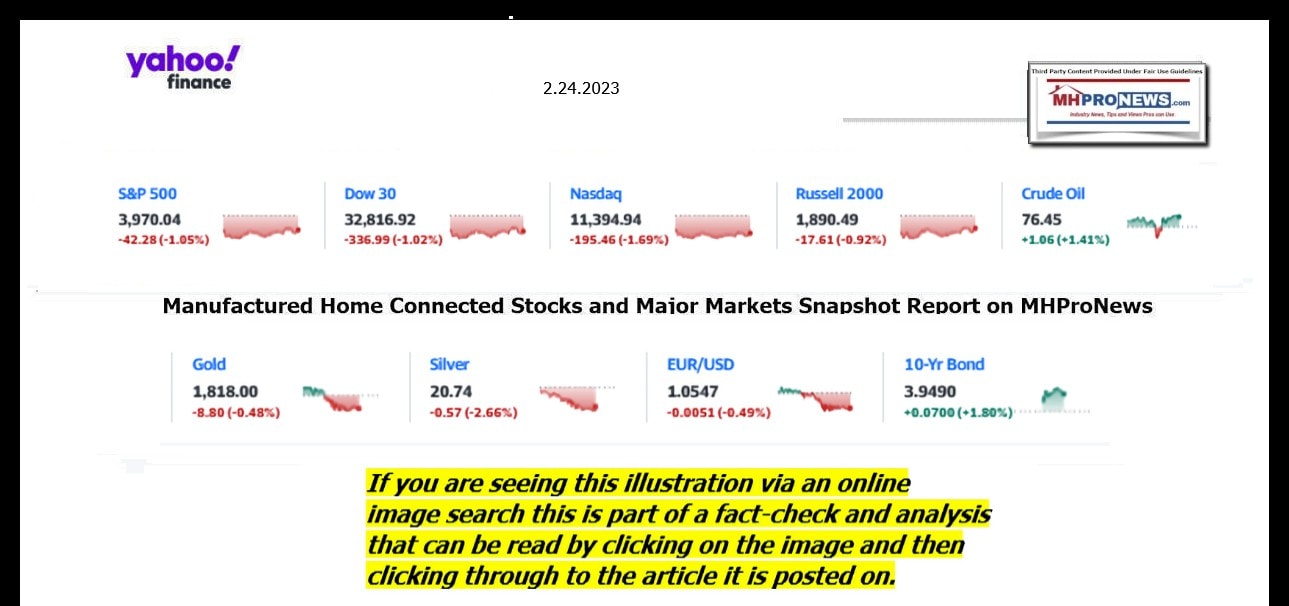 Headlines from right-of-center Newsmax 2.24.2023
First Lady Insists Joe's Going to Seek a Second Term
First lady Jill Biden gave one of the clearest indications yet that President Joe Biden will run for a second term, telling The Associated Press Friday that there's "pretty much" nothing left to do but figure out the time and place for the announcement. [Full Story]
DirecTV Censors Newsmax
Comer: DirectTV Needs to Work This Out 'or Else'
Hageman: AT&T's Deplatforming Violates Free Speech
Fry: DirecTV's Actions Should Be 'Wake-Up Call'
DesJarlais: Oversight to Probe DirecTV Actions | video
McCormick: Conservatives, Hit DirecTV in Wallet | video
Hinson: Everybody 'Frustrated' by DirecTV Decision | video
Moore: DirecTV 'Snuffed Out' Newsmax | video
Eric Burlison: DirecTV Made a 'Horrible Decision' | video
Wall Street Journal Hid Facts in DirecTV Censorship
Devin Nunes: Left Threatens Conservative Media Ads | video
More Stories on AT&T DirecTV Censorship
More DirecTV Censors Newsmax
Newsmax TV
Bacon: Biden Always 'Behind' in Ukraine Aid
Comer: Bidens Obstruct Effort to Get Hunter's Financial Data
Gordon Chang: China Gives Lethal Aid to Russia | video
Giuliani: Buttigieg 'Doesn't Know a Damn Thing' on Train Crisis
Spartz: China Isn't Being 'Very Genuine' | video
Ukraine MP Rudik: We Will Win if Allies Provide Weapons | video
Dershowitz: Ga. Jury Exposed for 'Get Trump' Scheme | video
Bishop: Trump Connected in East Palestine | video
Blaine Holt: US 'Woefully Behind' on Hypersonic Weapons | video
Cline: Judiciary Panel Sheds Light on Border | video
More Newsmax TV
Newsfront
Tony Blair: Vladimir Putin Cannot Be Allowed to Win
Former British Prime Minister Tony Blair called on the West to shore up its resolve to defeat Russian aggression in Ukraine in an opinion piece published in The Telegraph on the eve of the conflict's first anniversary, saying "what is at stake is fundamental."… [Full Story]
Related Stories
Ukraine's Zelenskyy to Meet China's Xi
US Commits $2 Billion in Drones, Ammunition, Aid to Ukraine
Ukraine May Not Get M1 Abrams Tanks for Months: Army Secretary
China Calls for Russia-Ukraine Cease-Fire, Peace Talks
Russian Envoy Disrupts UN's Moment of Silence for Ukraine
Not Enough Data to Support Multiple Annual COVID Boosters: CDC Advisers
There is not sufficient evidence to recommend more than one COVID-19 [Full Story]
History Says Fed Can't Tame Inflation Without Recession: Report
There is no recent precedent for a central bank successfully [Full Story]
GOP Embraces Early Voting to Beat Dems at 'Their Own Game'
Republicans have begun to embrace early voting in an attempt to [Full Story]
'Rust' Producers to Pay $100,000 Safety Fine After Shooting
Producers of the Western movie "Rust"on Friday said they agreed to [Full Story]
Gallup Poll: 45 Percent 'Satisfied' With Social Security, Medicare
Americans, at 45% according to a Gallup poll released Friday, are [Full Story]
Poll: DeSantis Tops Trump by 8 Points Among Calif. Republicans
Thirty-seven percent of California's registered Republicans say they [Full Story]
Strange Interactions With AI Chatbots Raise Concerns
Strange Interactions With AI Chatbots Raise Concerns
Artificial intelligence-backed tech has allowed consumers to turn to [Full Story] | Platinum Article
Cost-Cutting Google Even Canning the Robots
Google parent Alphabet is pulling the plug on Everyday Robots, its [Full Story]
East Palestine Mayor, Giuliani Meet, Make Buttigieg Wait
Transportation Secretary Pete Buttigieg waited 20 days to visit the [Full Story]
Related
Buttigieg: Norfolk Southern to Pay for Train Wreck in Ohio
Nikki Haley's Cognitive Test for Politicians Gains Traction
A mental competency test for politicians older than 75 proposed by [Full Story] | Platinum Article
Too Little Dietary Salt Can Mean Trouble for Heart Failure Patients
It may seem counterintuitive, but a new study review suggests that [Full Story]
First Lady Says Biden Ready to Run
First lady Jill Biden gave one of the clearest indications yet that [Full Story]
Prosecutors Say Alex Murdaugh Changing Story in Murder Trial
A state prosecutor on Friday accused disbarred South Carolina lawyer [Full Story]
Fed Needs Recession to Win Inflation Fight: Study
The Federal Reserve will be hard-pressed to lower inflation without a [Full Story]
Activist Williamson First Dem to Announce 2024 Presidential Bid
Best-selling spiritual author and political activist Marianne [Full Story]
Dahl's Original Books to Be Released After Rewrite Backlash
Publisher Puffin UK announced Friday it would release the original [Full Story]
House Panel Probes Penn Biden Center Over Classified Docs
The House Committee on Education and the Workforce is investigating [Full Story]
Winter Blast Leaves 1M Homes Without Power in the US
About a million homes were without power as a bitter cold winter [Full Story]
NKorea Says It Fired Cruise Missiles as Rivals Trained
North Korea said Friday it test-fired long-range cruise missiles off [Full Story]
Inflation Gauge Tracked by Fed Accelerates to 5.4 Percent
The Federal Reserve's preferred inflation gauge ticked higher in [Full Story]
Classified Docs Found After Being Moved Back to Mar-a-Lago
Justice Department officials want to know why a box containing [Full Story]
IRS Hiring Stifled by Reliance on 'Archaic' Tech
The Internal Revenue Service is struggling to hire workers partly due [Full Story]
Chad Johnson Saved Money by Living in Bengals' Stadium for 2 Years
While most other NFL newcomers would live it up with a lavish [Full Story]
White Supremacists Behind Over 80 Percent of Extremism-Related US Murders in 2022
Mass shootings in the United States accounted for most [Full Story]
Russia Launches Rescue Ship to Space Station After Leaks
Russia launched a rescue ship on Friday for two cosmonauts and a NASA [Full Story]
Judge Orders Trump Deposition in Suit Brought by Strzok, Page
A federal judge ordered the deposition of former President Donald [Full Story]
Republicans to Hold Their First Presidential Debate in Wisconsin
The Republican Party's presidential candidates will hold their first [Full Story]
Scott Perry's Lawyers Argue Speech, Debate Clause on Phone Data
Scott Perry, R-Pa., is arguing the speech and debate clause of [Full Story]
Cruz: Zelenskyy 'Engaged in 'Theater' During Biden Visit
Ted Cruz, R-Texas, accused Ukrainian President Volodymyr [Full Story]
Emotional Outburst Disrupts Death Penalty Trial in N.Y. Attack
Emotions were high Thursday in death penalty proceedings for a man [Full Story]
Finance
Food Makers Nix Slow-Selling Specialty Products
Major consumer companies including Kraft Heinz Co. and Conagra Brands Inc. are culling product lines to combat sky-high costs and falling consumer demand, executives said this week…. [Full Story]
Lauren Fix, The Car Coach: Used Car Prices Pop Back Up Due to Rising Inflation
Meta Rolls Out New AI Large Language Model
US Charges Russian on Ukraine Invasion Anniversary
Trevor Gerszt: If the Fed Is Hiking Rates, Why Isn't Gold Climbing?
More Finance
Health
Too Little Dietary Salt Can Mean Trouble for Heart Failure Patients
It may seem counterintuitive, but a new study review suggests that consuming too little salt could be harmful to heart failure patients…. [Full Story]
Men Working Heavy-Labor Jobs May Get Fertility Boost
Alcohol Might Speed Progression of Alzheimer's in Brain
Axios Poll: GOP Says Opioids Top Health Threat
Air Force Probing Possible Links Between Cancer, ICBM Bases
Notice: the graphic below can be expanded to a larger size.
See instructions below graphic or click and follow the prompts.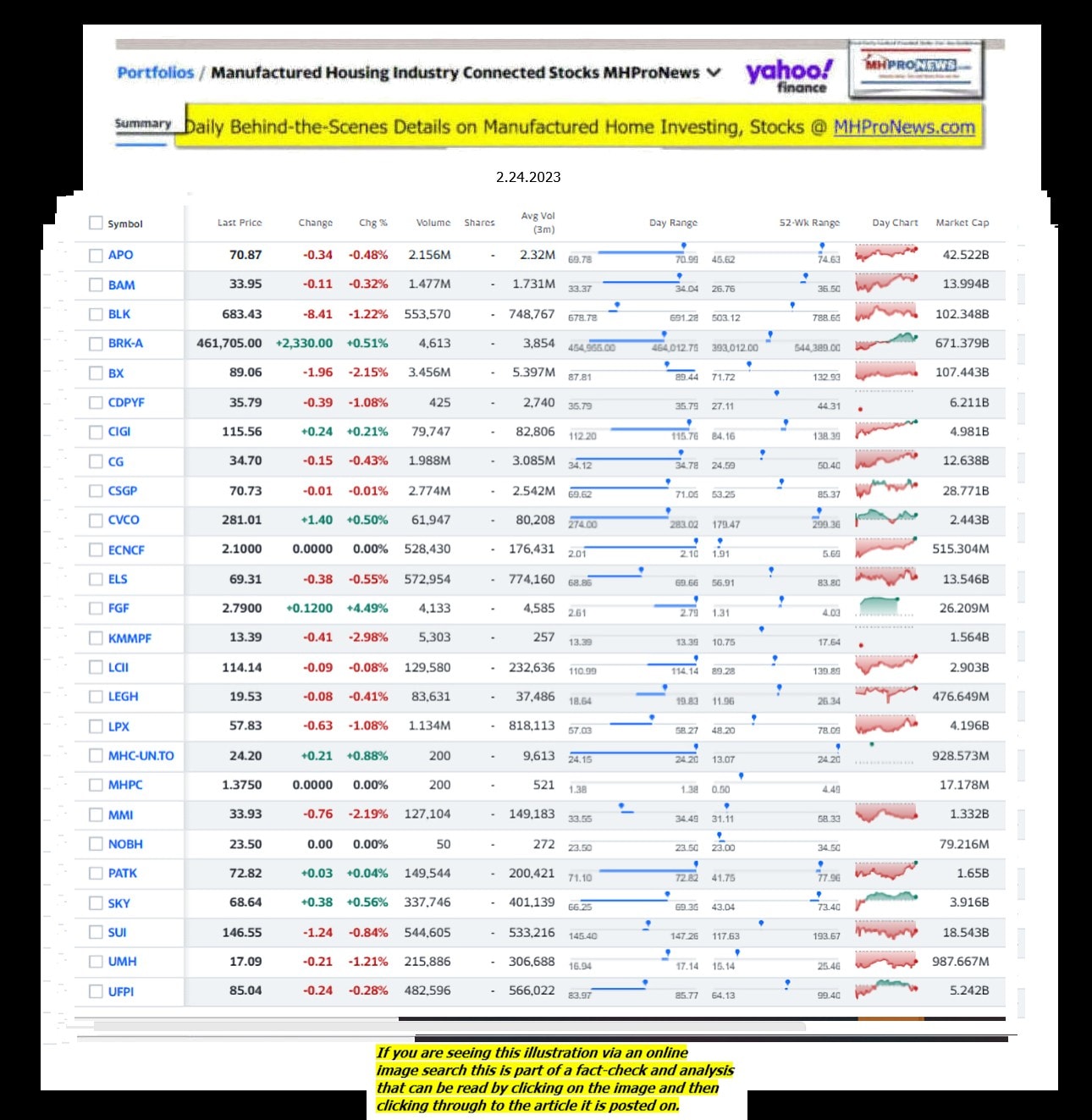 2022 was a tough year for stocks. Unfortunately, that pattern held true for manufactured home industry (MHVille) connected stocks too.  See the facts, linked below.
'Stomach Churning Year' CNN-Wall Street 'Forget 2022' Down Year – Major Equities Data Compared to Manufactured Housing Stocks, Manufactured Home Community REITs, Performance for Year by Company
====================================
Updated
NOTE 1: The 3rd chart above of manufactured housing connected equities includes the Canadian stock, ECN, which purchased Triad Financial Services, a manufactured home industry finance lender.
NOTE 2: Drew changed its name and trading symbol at the end of 2016 to Lippert (LCII).
NOTE 3: Deer Valley was largely taken private, say company insiders in a message to MHProNews on 12.15.2020, but there are still some outstanding shares of the stock from the days when it was a publicly traded firm.  Thus, there is still periodic activity on DVLY.
Note 4: some recent or related reports to the REITs, stocks, and other equities named above follow in the reports linked below.
Nobility Homes, Inc. Sales and Earnings for its Fiscal Year 2022 Report, Result$ Best Inflation – Net After Taxes Up 34%, More Fact$; DeSantis ESG and NOBH; plus MHVille Stocks, Market Updates
'Manufactured Housing in the News,' Unpacking UMH CEO Sam Landy Op-Ed' It's Time for Bi-Partisanship on Affordable Manufactured Housing Homeownership' in HousingWire; plus MHMarkets Updates
Warren Buffett's Pledge to Kevin Clayton – 'You Can Access Plenty of Capital' for Projects – Quotes, Facts, Video, Transcript, and Implications for Manufactured Housing Industry
Manufactured Housing Properties-Results for Three and Nine Months Ending September 30.2022–Exploring 'Mobile Home Park' Manufactured Home Community Investing; plus MHVille REITs, Stocks Update
'Changes Will Benefit Customers,' Boost Sales-Legacy Homes CEO Duncan Bates – LEGH 'Delivered 22.5% Return on Equity in 1 Yr' – Corp Q3 2022 Insights, Analysis; plus MHVille REITs, Stocks Update  
CEO Mark Yost, Skyline Champion Insiders SELL Million$ Value SKY Stock, Home Sales Drop-4th Q 2022 (3QFiscal2023), Official Result$-Facts, Analysis, Info Beyond PR; plus MHVille Stocks Update
Triad Financial Services Q2-2022 FINANCIAL RESULTS, per ECN Capital – Several Bright Spots in Manufactured Home Market Highlighted, Including Communities, Retail, Land-Home, Floor; MHStocks Update
BlackRock Document Exposes Central Banks like Federal Reserve on Recession; Manufactured Home Producer Cavco Industries 2022 Year End Results (CVCOQ3.23) Facts+Analysis; plus MHVille Stocks Update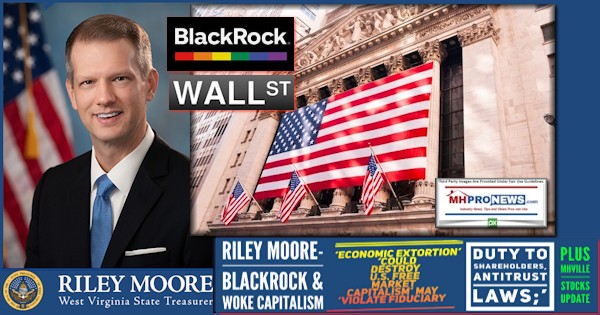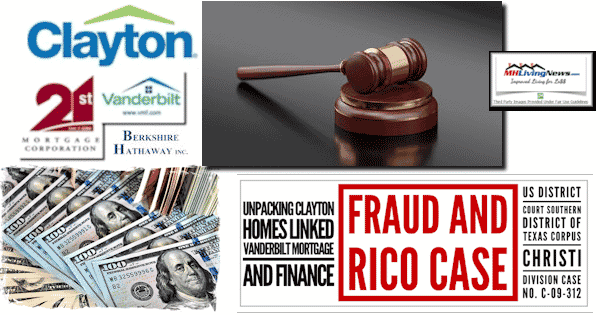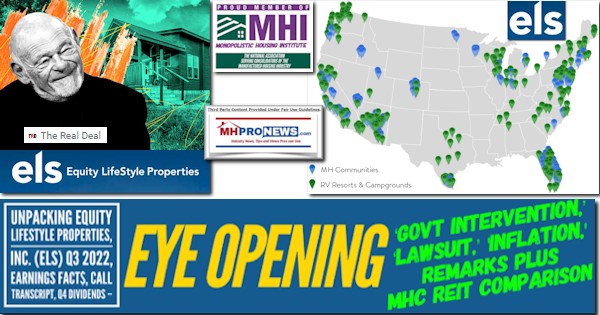 Manufactured Home Communities (a.k.a. 'Mobile Home Parks' – SIC) – Exploring UMH Properties; Fellow Manufactured Housing Institute Member Yes! Communities Suits and Settlements; plus MH Markets Updates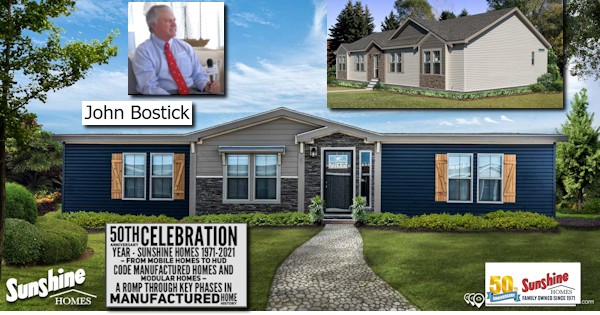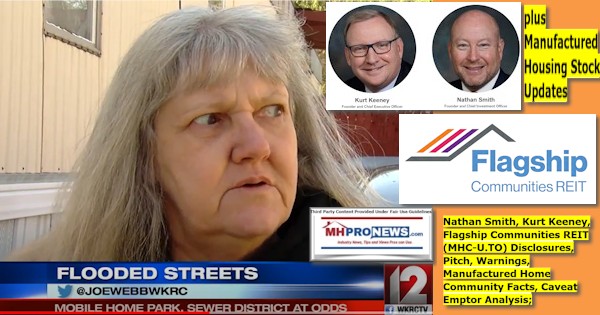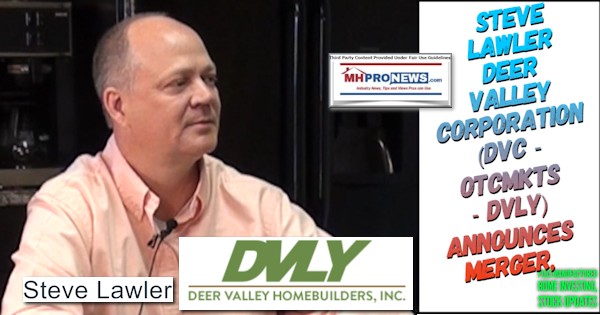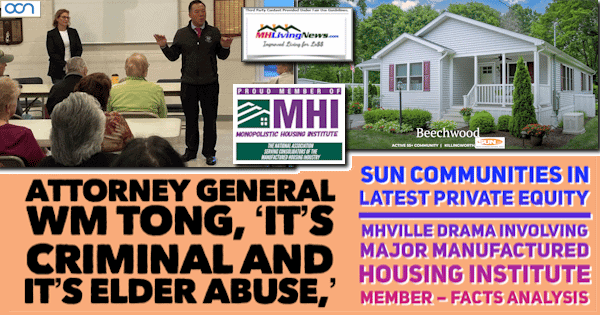 2023 …Berkshire Hathaway is the parent company to Clayton Homes, 21st Mortgage, Vanderbilt Mortgage and other factory-built housing industry suppliers.
· LCI Industries, Patrick, UFPI, and LP each are suppliers to the manufactured housing industry, among others.
· AMG, CG, and TAVFX have investments in manufactured housing related businesses. For insights from third-parties and clients about our publisher, click here.
Disclosure. MHProNews holds no positions in the stocks in this report.
· For expert manufactured housing business development or other professional services, click here.
· To sign up in seconds for our industry leading emailed headline news updates, click here.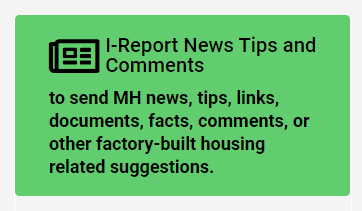 That's a wrap on this installment of "News Through the Lens of Manufactured Homes and Factory-Built Housing" © where "We Provide, You Decide." © (Affordable housing, manufactured homes, stock, investing, data, metrics, reports, fact-checks, analysis, and commentary. Third-party images or content are provided under fair use guidelines for media.) (See Related Reports, further below. Text/image boxes often are hot-linked to other reports that can be access by clicking on them.)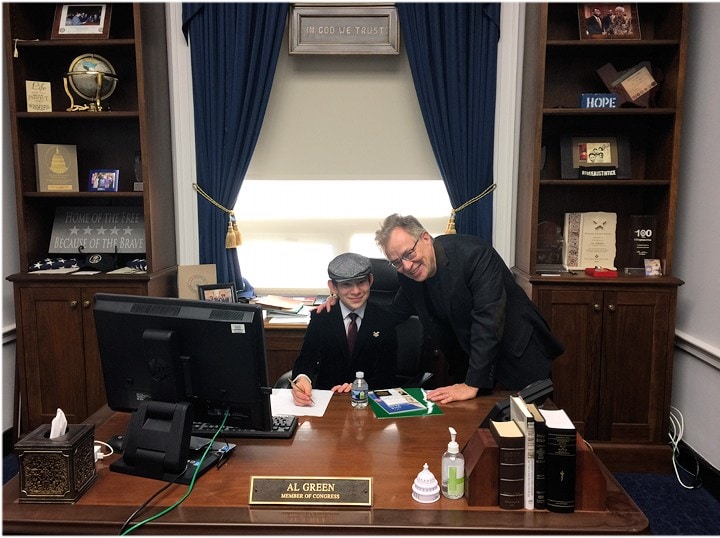 By L.A. "Tony" Kovach – for MHProNews.
Tony earned a journalism scholarship along with numerous awards in history. There have been several awards and honors and also recognition in manufactured housing. For example, he earned the prestigious Lottinville Award in history from the University of Oklahoma, where he studied history and business management. He's a managing member and co-founder of LifeStyle Factory Homes, LLC, the parent company to MHProNews, and MHLivingNews.com. This article reflects the LLC's and/or the writer's position and may or may not reflect the views of sponsors or supporters.
Call for Congressional Oversight Hearings of Manufactured Home Industry Regulators Highlighted by Manufactured Housing Association for Regulatory Reform (MHARR); plus MHVille Markets Update
Official HUD Manufactured Housing Production Facts for Dec 2022 plus 2022 Year End Totals Explored by Manufactured Housing Association for Regulatory Reform (MHARR)-"Millions" Needed – Analysis
Facts You Didn't Know – Martin Luther King Jr – Videos, Insightful Quotes, Surprising Revelations, Videos, Reports, and Illustrations in Champion for Human Rights Including Affordable Housing
'Global Disinformation Index' Warren Buffett Ally Bill Gates' Microsoft Org Charged-Cutting Revenue to Conservative Views via Xandr, GDI; plus Sunday MHVille Headlines Recap
#1 Texas' Manufactured Housing Builders Survey Says They are 'Ready for a Rebound' But Data Point in Question, DOE MH Energy Rule Too – Facts, Analysis; plus, MHVille Stocks, Markets Update
Clayton-Next Step Off-Site Built 'White Paper'-Manufactured Homes, ThinkND 'Magic of the Mind-Everyday Illusion, Misdirection, Deception' MHI Members' Claims Analyzed; plus MHVille Markets Update
U.S. Housing Data Reveals Gaps-Underscores Vast Manufactured Housing Industry Potential, But Raises Corp, Trade Group Performance Concerns, Apparent Shareholder Effects; plus MHVille Stocks Update
After Admitted Failure, Manufactured Housing Institute Doubles Down on CrossMods® in AP Terminology Doc Acquired by MHProNews–Are MHI Leaders Sabotaging MHVille Independents? Plus MHStocks Update
Concessions by Speaker Kevin McCarthy in House Speaker's Battle Called 'Most Significant Win for Conservatives in a Decade' By Federalist's Emily Jashinsky Report; plus MHVille Stocks Updates