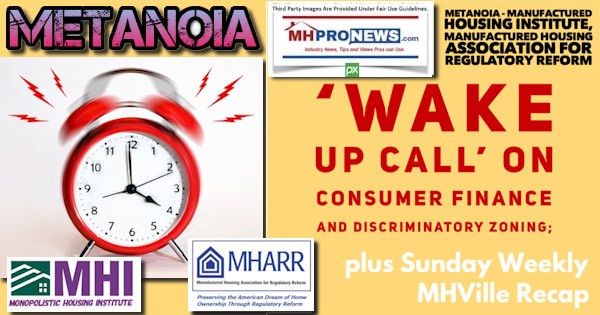 Metanoia "is commonly understood as "a transformative change of heart; especially: a spiritual conversion" according to the definition from left-leaning Wikipedia. Left-leaning Rolling Stone used the term on 6.28.2022 in this sentence: "According to Hunter, and the Greek Orthodox Church, metanoia means to change one's mind; to expand it in such a way as to have a new perspective on the world or one's self." Merriam-Webster gives the etymology of the word in this more secular definition as being derived from the Greek: "from metanoiein to change one's mind, repent, from meta- + noein to think, from nous mind." Be it secular and/or spiritual, there is a public call in the media release below that could include a topline that the manufactured home industry's self-described post-production trade association, i.e.: the Manufactured Housing Institute (MHI), experience a "metanoia." An MHI metanoia would arguably imply that they should have a change of mind and heart that results in them stepping up and doing their self-proclaimed job properly and effectively.
The following is a media release from the Manufactured Housing Association for Regulatory Reform (MHARR). The MHARR release will be followed by this publication's traditional manufactured housing industry (MHVille) Sunday weekly headlines recap, mildly inspired by the Sunday morning network news shows that review mainstream news reports in review.

Latest Wake-Up Calls for the Manufactured Home Industry on Consumer Financing and Discriminatory Zoning
FEBRUARY 23, 2023
TO:       HUD CODE MANUFACTURED HOUSING INDUSTRY MEMBERS
FROM:  MHARR
RE:       LATEST WAKE-UP CALLS FOR THE INDUSTRY ON CONSUMER FINANCING AND DISCRIMINATORY ZONING
Both the double-digit contraction of the HUD Code manufactured housing market during the last quarter of 2022 and the continuing stagnation of the broader market at levels far below the documented need for millions of affordable housing in the United States, illustrates the continuing negative impact of two key issues – (1) the lack of federal support for [the] largest single component of the manufactured housing consumer financing market (i.e., chattel lending); and (2) the lack of concrete federal action to eliminate discriminatory zoning barriers against affordable HUD Code housing, as well as the ongoing failure of the industry's post-production national representation (i.e., the Manufactured Housing Institute) to take aggressive, assertive and definitive action to confront and resolve these matters.
Each of the items addressed below, illustrate just the latest and most recent instances of the failure of the federal government to ensure the equal and equitable treatment of manufactured housing – and manufactured housing consumers – within the post-production realm, as well as the failure of the post-production sector's national representation to effectively address those issues. These fundamental roadblocks to the greater utilization of affordable HUD Code homes, in turn, as was addressed in MHARR's July 2022 White Paper, "The Exploitation of Federal Housing Finance and Mortgage Funding Assistance Housing Programs and Potential Solutions" (copy attached), effectively ensure that the billions of dollars being spent by the Biden Administration on affordable housing programs and initiatives do not reach the ground in relation to manufactured housing and do not benefit either actual or potential manufactured housing purchasers. With production thus being needlessly suppressed by these factors, and with at least two more years of elevated Biden Administration housing expenditures lying ahead, the broader industry must insist on more assertive and more effective action on these matters by MHI. Put differently, affordable HUD Code manufactured housing cannot fulfill its statutorily-recognized role as a prime source of affordable homeownership so long as new communities cannot be developed and new homes cannot be financed due to continuing zoning and consumer financing discrimination that is already prohibited by federal law (i.e., the "Duty to Serve" provision of the Housing and Economic Recovery Act of 2008 and the enhanced federal preemption of the Manufactured Housing Improvement Act of 2000). Instead, action needs to be taken to enforce those laws for the benefit of both the industry and consumers.
FANNIE AND FREDDIE MODIFIED "DUTY TO SERVE" PLANS CONTINUE TO DENY FULLY-COMPETITIVE CONSUMER LENDING TO 80% OF MH MARKET
The Federal Housing Finance Agency (FHFA) – the federal agency responsible for the implementation of the Duty to Serve Underserved Markets (DTS) provision of the Housing and Economic Recovery Act of 2008 (HERA) — has published the latest approved revisions to the current 2022-2024 DTS plans submitted by mortgage giants Fannie Mae and Freddie Mac. While these revisions will have some relatively minor impacts on the manufactured housing market, they totally fail to address the complete absence of manufactured housing chattel loan support in the Fannie Mae DTS plan, or Freddie Mac's ongoing delay of any DTS chattel loan support until the last year of its plan under a token pilot program that could still be deleted prior to implementation, as has been the case with previous proffered chattel loan "pilot" programs. MHARR has consistently cited this failure to provide essential support for the vast bulk of the manufactured housing finance market in comments that it has submitted to FHFA and its engagement with senior FHFA officials.
Under Fannie Mae's plan revisions, the structure of its DTS lending program for resident-owned, non-profit or government-owned manufactured housing communities would be altered by eliminating specific performance subcategories for the three different types of ownership and instead aggregating all into one over-arching, omnibus target. Beyond this structural change, the update would also decrease Fannie Mae's targets for loan purchases of manufactured home communities with "tenant site lease protections" over the entire three-year DTS plan period, based on alleged "constraints in the macroeconomic environment" with "MHC sales during the first half of 2021 … on pace for the lowest annual sales activity since 2017." Meanwhile, Fannie Mae's DTS plan makes no provision whatsoever for support of the nearly 80% of manufactured housing purchase loans – disproportionately relied-upon by lower income minority groups – financed and titled as chattel.
For its part, Freddie Mac's DTS plan revisions will increase targets for purchases of loans on manufactured homes titled as real property and communities with tenant pad lease protections, but does not increase or move forward in time its minimal 2024 chattel loan purchase pilot program.
In summary, then, some 15 years after the adoption of the statutory Duty to Serve mandate, the Government Sponsored Enterprises (GSEs) have purchased and/or otherwise supported through DTS exactly zero manufactured home purchase chattel loans – despite being expressly authorized by Congress to do so. Effectively, therefore, both Fannie Mae and Freddie Mac – and FHFA as their federal regulator – have totally neglected and ignored the nearly 80% of the affordable manufactured housing market served by personal property lending (according to U.S. Census Bureau data) and the millions of Americans who seek (and are being denied) access to the nation's leading source of affordable homeownership. This complete and contemptuous ongoing failure on the part of both the GSEs and FHFA deserves thorough congressional oversight, including a hearing requiring them to provide specific answers and remedies for their longstanding failure to comply with applicable law.
HUD CONTINUES TO IGNORE ANTI-MH DISCRIMINATORY ZONING
The U.S. Department of Housing and Urban Development (HUD) has issued the latest proposed iteration of its so-called "Affirmatively Furthering Fair Housing" (AFFH) rule. Under the proposed rule, published in the Federal Register on February 9, 2023, states and localities would be required to develop and implement "Equity Plans" designed not only to prevent housing discrimination against "protected classes," but to also "proactively take meaningful actions to overcome patterns of segregation, promote fair housing choice, eliminate disparities in housing-related opportunities and foster inclusive communities that are free from discrimination."
Insofar as the AFFH proposed rule – like previous proposed versions — specifically cites restrictive "land use and zoning ordinances" as factors that "impede the development and maintenance of affordable housing commensurate with need," MHARR has consistently called for the use of regulatory powers conferred by AFFH and the enhanced federal preemption of the Manufactured Housing Improvement Act of 2000 to promote zoning that allows for the liberal siting and utilization of HUD Code manufactured homes and, where needed, the invalidation of zoning mandates that discriminatorily exclude or restrict the placement of affordable manufactured homes.
For example, in October 11, 2018 comments, MHARR urged HUD, in modifying its AFFH regulations to: "(1) apply a modified AFFH structure to, among other things, seek the elimination of local zoning or placement ordinances that discriminatorily exclude or limit the placement of  HUD-regulated manufactured homes and/or manufactured housing communities in compatible areas; (2) seek to prevent the adoption of any additional ordinances or measures of that type and/or effect; and (3) failing voluntary local compliance with such criteria, take action to federally preempt such ordinances or measures" under the authority provided by both AFFH and the enhanced federal preemption of the 2000 reform law.
Insofar as discriminatory and exclusionary zoning continues to needlessly and baselessly restrict the role that manufactured housing otherwise would – and should – fulfill in meeting the nation's need for affordable homeownership and non-discriminatory access for all Americans to such homeownership, and continues to prevent manufactured housing from fully and effectively participating in all federal government housing and homeownership programs, as detailed in MHARR's July 2022 White Paper ("The Exploitation of Federal Housing Finance and Mortgage Funding Assistance Programs and Potential Solutions"), MHARR will submit comments in this rulemaking again urging the adoption of measures and requirements that would allow for the invalidation of such zoning mandates.
Comments in response to the AFFH proposed rule are due on or before April 10, 2023. MHARR urges all manufactured housing industry members to submit comments and will publish its own submission in advance for use and/or citation by other industry members.
That said, while MHARR will address both AFFH and DTS at its upcoming Board of Directors meeting, the broader industry should and, indeed, must take the opportunity to address and remedy these fundamental roadblocks to greater industry production and a more readily-available supply of affordable housing for all Americans, as is addressed in MHARR's above-referenced White Paper. ##
cc: Other Manufactured Housing Stakeholders and Officials
Manufactured Housing Association for Regulatory Reform (MHARR)
1331 Pennsylvania Ave N.W., Suite 512
Washington D.C. 20004
Phone: 202/783-4087
Fax: 202/783-4075
Email: MHARR@MHARRPUBLICATIONS.COM
Website: manufacturedhousingassociation.org
Attachments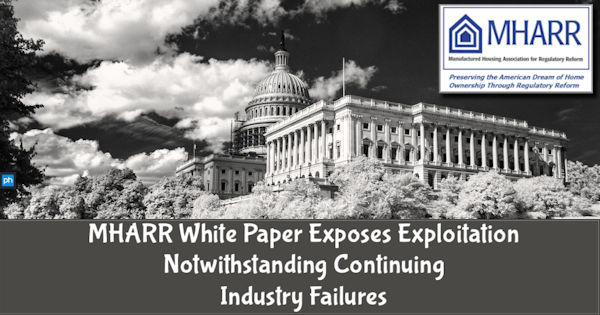 Additional Information with More MHProNews Analysis and Commentary in Brief
MHProNews held this report for our Sunday feature because the week in review is often an illustration of just how effectively, nor not, MHI's work appears to be in the real world beyond their own statements and that of their surrogates. Specifically, to MHARR's point that nearly 15 years has elapsed since the Duty to Serve Manufactured Housing was made law as part of the widely bipartisan HERA 2008 legislation, where is their any signs of progress toward Fannie Mae or Freddie Mac initiating a chattel loan program channel to the secondary finance markets?  Yet that is what Fannie and Freddie do daily for conventional housing.
Similarly, MHProNews/MHLivingNews has increasingly in recent years pointed to the obvious disconnects between MHI claiming that they want to see DTS and the MHIA's "enhanced preemption" provisions fully enforced juxtaposed to the evidence to the contrary. While MHI has mentioned their 'support' for those laws in comments letters that are lightly, if at all, read by most of mainstream media, the fact that over 22 years has elapsed since "enhanced preemption" became part of federal law speaks volumes.
What speaks even louder is how MHI pivoted towards working with various housing nonprofits instead of collaborating with MHARR. If that was such a shrewd strategy, where is the support of those conventional housing supporting nonprofits for DTS? For the MHIA's enhanced federal preemption clause? One could spend a lifetime looking with no satisfactory result. Yet, the MHI of yesteryear worked with MHARR to accomplish the enactment of the MHIA and its potential ability to override discriminatory zoning barriers. See the report on the NAACP linked below in the weekly recap of report as an example of how that plays out.
Other reports that follow will shed further light on the concerns raised by MHARR, or the brief analysis by MHProNews herein. For instance, look carefully at the reports on MHLivingNews, linked below. Who at MHI is policing their own members, such as "Frank and Dave" and other brands who are MHI members and are subject to their self-proclaimed "code of ethical" conduct? Who at MHI is monitoring the misinformation from third-parties about manufactured housing, as prior MHI chairman and prominent MHI member Tim Williams/21st Mortgage Corporation indicated was a prudent standard?  Put differently, review the various reports for the week that was with MHI's behavior and MHARR's white paper and fresh call to action on zoning and DTS in mind.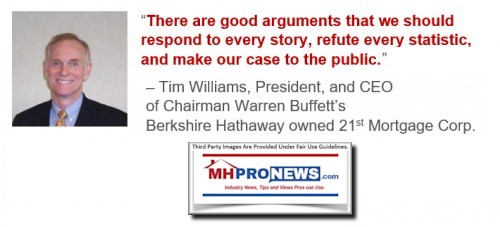 While there is scant evidence of MHI doing the above, in fairness to Williams, he also insightfully said the following.

Thanks again, Tim.
Don't miss today's postscript.
With no further adieu, here are the headlines for the week that was from 2.19 to 2.26.2023.
What's New in February on MHLivingNews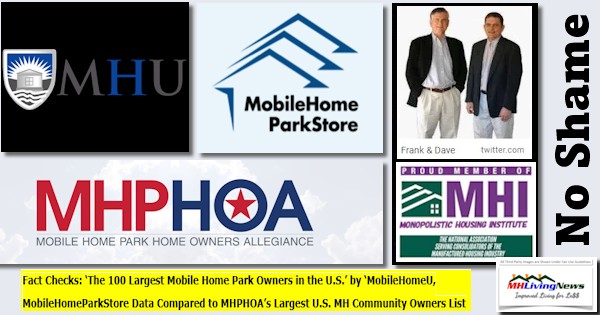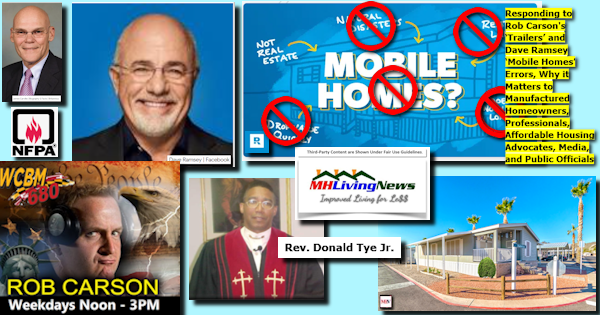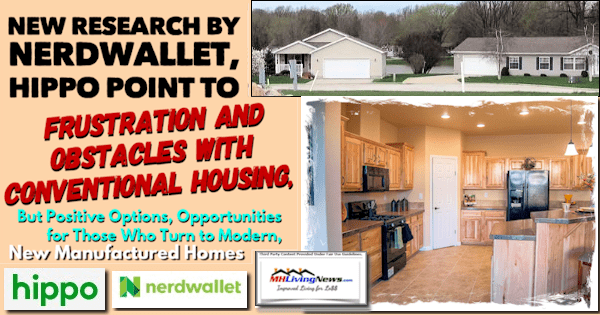 What's New in February on the Masthead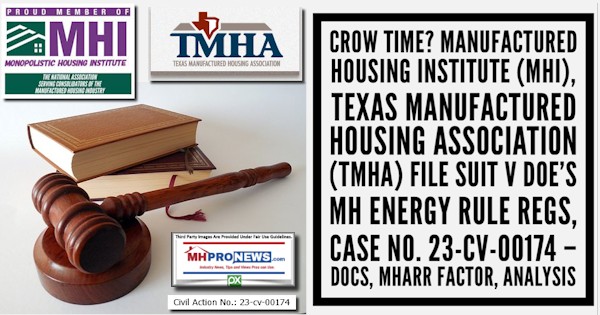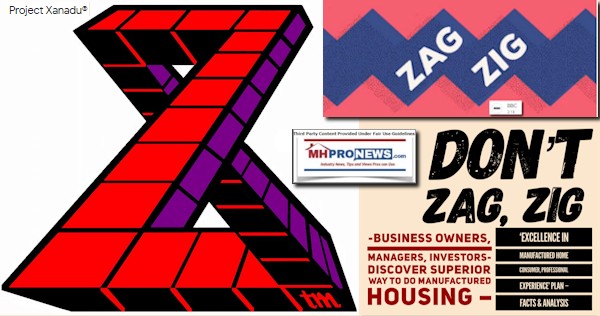 What's New in February from Washington, D.C. from MHARR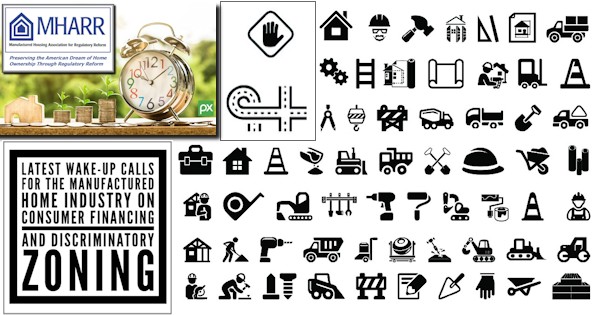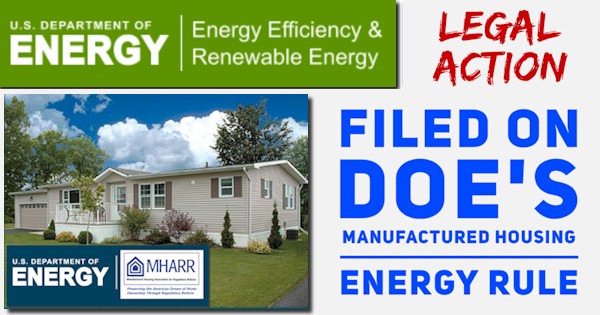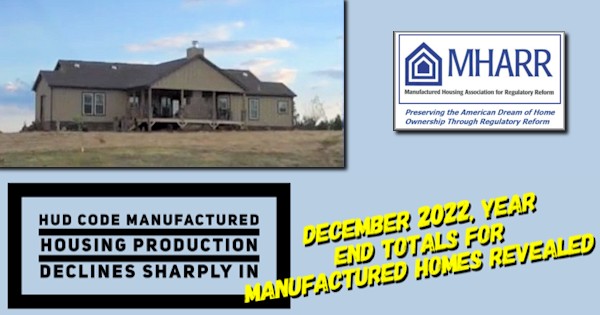 What's New This Week on the Daily Business News on MHProNews
Saturday 2.25.2023
Consider NAACP Resolution on Reversing Impact of Restrictive Zoning and Highways on Fair Housing; Black NFL Star Turned Congressman Burgess Owens Take on NAACP; plus MHVille Stocks Update
Friday 2.24.2023
'Oh, Donald [Trump], What Are We Going to Do With You?' Jim Darlington Op-Ed on Deep State, Pros and Cons of 'Wild Man vs Monk' Explored; plus MHVille Market Updates
Thursday 2.23.2023
'Status Symbol for Ultra-Wealthy'-Montauk Shores Condo MH Community 'Trailer' Fetches Record $3.75 Million-Photos, Videos, Location-Location-Location Insights; plus, MHVille Markets Update
Wednesday 2.22.2023
'Undervalued' Cavco Industries Touts Q Result$ 'Dire Need for Housing' 'January Traffic Up'- Rev Up 16%-Sales, Earnings, Mgmt Call Data–Analysis Beyond CVCO Statements; plus MHVille Stocks Update
Tuesday 2.21.2023
'Every Journey to Something is a Journey Away From Something' 'More Energy Needed for Mediocrity Than Pursuing Excellence' Shrewd Matthew Kelly Quotes – 'God Wants Our Future Bigger Than Our Past'
Monday 2.20.2023
Unpacking MH Attorney Kurt Kelley's 'Predictability in Law is the Key to a Prosperous Republic.' Is USA Democracy or Republic? Why it Matters to Businesses, Pros, Consumers, or any American
Sunday 2.19.2023
MHI 'Special Bulletin' DOE MH Energy Regs Lawsuit 'Effort to Ensure Consistent Industry Message,' Will Manufactured Housing Institute Launch More Suits? Plus Sunday Weekly MHVille Headlines Recap
Postscript
We began this article with the word that has Greek origins, namely, "metanoia." It is a call to a radical and positively transformative change.  Another work with Greek origins is "epiphany." While it is commonly used by Christians, "epiphany" could be applied in a secular sense as a manifestation that produces a proverbial 'aha!' moment. As Merriam Webster said about "epiphany" in a non-Christian sense, it is a "usually sudden manifestation or perception of the essential nature or meaning of something. (2) : an intuitive grasp of reality through something (such as an event) usually simple and striking. (3) : an illuminating discovery, realization, or disclosure." This writer for some time attended years of MHI meetings as a dues paying member of that trade organization. It is easy for someone going to their meetings to say in MHI's defense that they appear to say many of the same things that MHARR does. But when carefully examined, MHARR is a post-production trade group. MHI, by contrast, is a production and post-production trade group. As MHI says it, they represent "all segments" of the industry. So, on post-production issues, it is MHI that shoulders the responsibility for the apparent failures that MHARR's latest critique, posted above, spotlights.
It was early on in this writer's attendance at MHI meetings that the question was posed to Tim Williams/21st Mortgage Corp and a prominent MHI leader – why not sue to get the industry's rights under federal law enforced? Williams looked at me with a smile. He said that the day may come when they do that, but they wanted to try other things first.  That was a decade or more ago. When will that day come, Tim? When will that day come Lesli Gooch (MHI CEO)? Mark Bowersox (MHI President)? Leo Poggione (MHI-Chair with CVCO ties)?  When will that day come Kevin Clayton (Clayton Homes CEO, BRK)? Bill Boor (Cavco Industries (CVCO))? Mark Yost (Skyline Champion (SKY))?  And the list can go on.
The 'aha' moment is that the same roadblocks exist today as did when the MHIA and DTS were made law, over 22 years ago and approaching 15 years ago respectively.  When following the money trail, a relatively few MHI brands have increasingly been consolidating the industry in the 21st century. This is an apparent slow-motion oligopoly style of monopolization. When MHI and their corporate leaders are asked about such concerns, they for a time engaged with MHProNews. But as it became apparent that MHProNews' leadership wanted authentic growth with pro-consumer behaviors, someone(s) at MHI made their decision. That decision was not to dismiss predatory brands, but rather to dismiss the organization (MHProNews'/MHLivingNews' parent company) that was asking questions at meetings that must have made the powers that be at that organization uncomfortable.
MHI has openly proclaimed they are teaming up with conventional housing organizations. Is it any wonder that they didn't discipline in any known fashion Lesli Gooch when she was documented to have financial conflicts of interest between manufactured housing and conventional housing?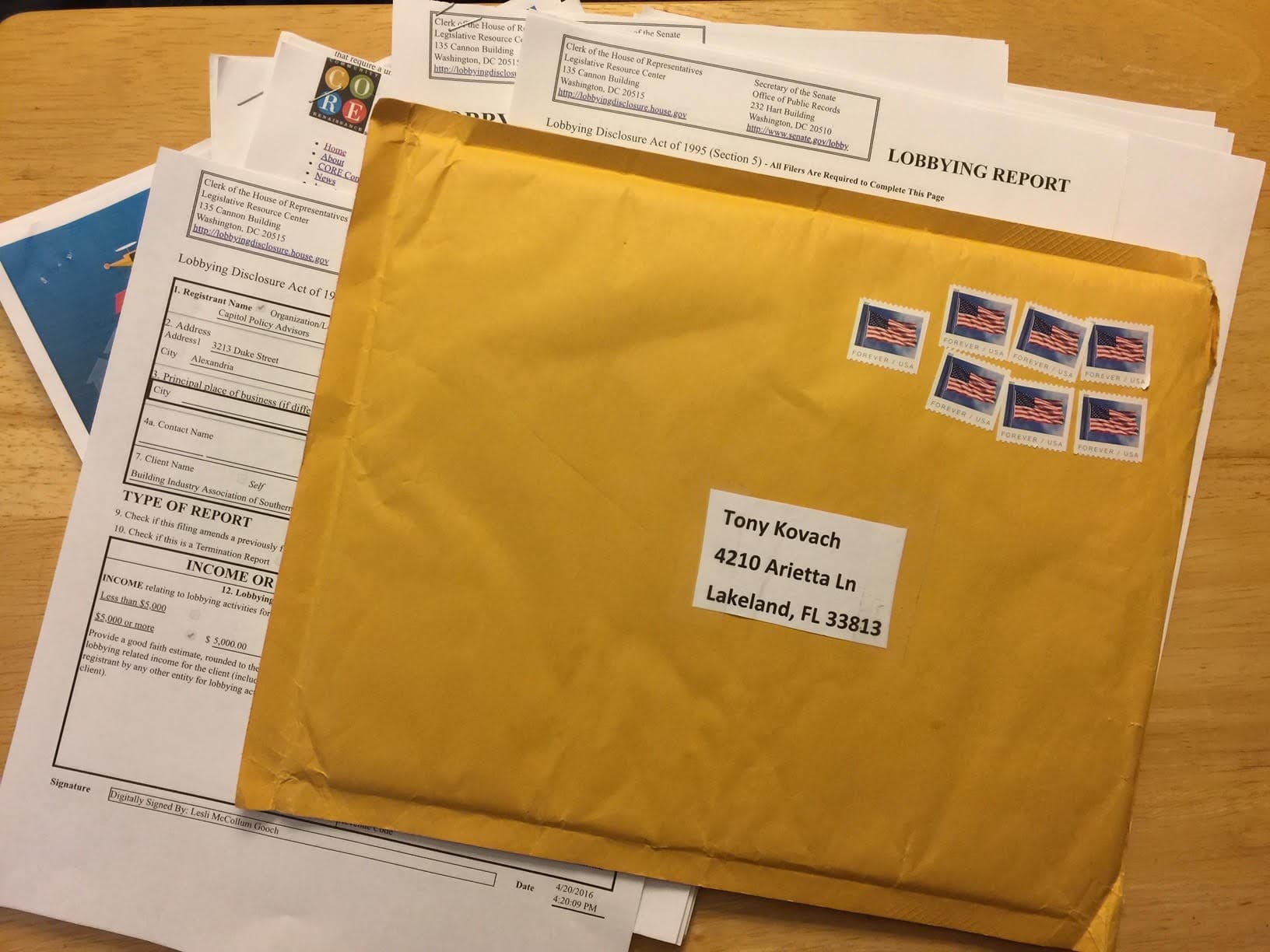 Whistleblower's Documents on Lesli Gooch – Manufactured Housing Institute CEO – New Discoveries
Part of MHARR's organizational principle is that their members don't have to proclaim their membership in that organization publicly. Sure, someone who is determined to discover their members can do so. But they can largely be stealth if that is their desire.  One could debate the merits and demerits of that stance decades into their organization's existence. But one possible point that could be taken away by those in the post-production sector that may want to launch a genuine, vs. ersatz, post-production trade group is that they could follow the MHARR model of more stealth membership for the first few years.  Later, as a new post-production trade group gains traction, they could proudly 'come out' as members of the new trade group.  It must not be forgotten that MHI's prior president, Chris Stinebert early in the Berkshire Hathaway era of manufactured housing, publicly can be said to have spanked his own trade group before departing MHI.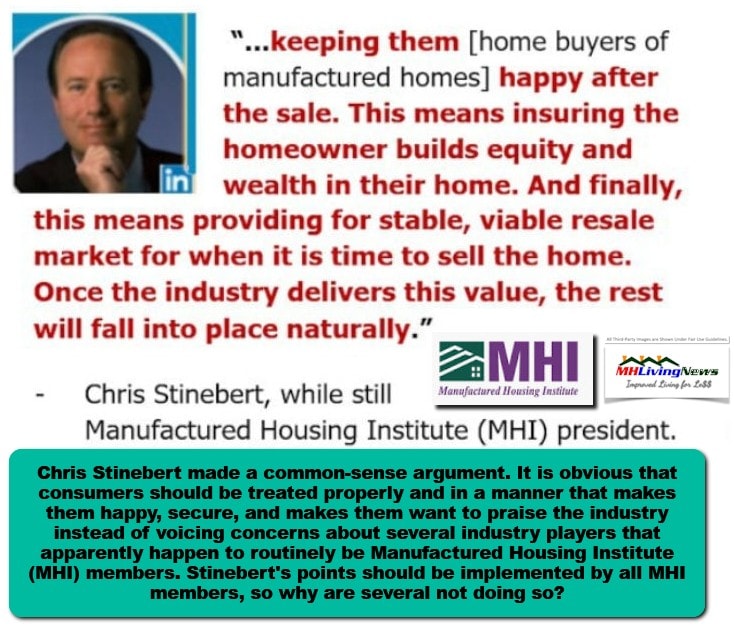 It took years before this writer, attending MHI meetings, began to realize that nothing substantive was changing save the numbers of independents in the industry. Posturing and projecting efforts, without yielding actual results, could prove to be a shrewd strategy. But once that strategic gambit is exposed, then those who are part of such a scheme become exposed to an array of legal issues.  Because that MHI board and staff have a fiduciary duty to act in the best interest of all of their members, not just the consolidators.
Over $1 Million! Manufactured Housing Institute Doc Drop! Top MHI Staff Pay Revealed. Additionally, Unpacking Evidence of Perjury, Fraud, Other Possible Federal Crimes; plus MHVille Stocks Update
Has the Manufactured Housing Industry Become a Target-Rich Environment for Plaintiffs' Attorneys? Facts, News & Views; plus, Sunday Weekly Manufactured Home Industry (MHVille) Headlines Recap
MHI's apparently pro-consolidation leaders has arguably painted themselves into a corner. By making bold claims for years, they ought to be held to those standards and claims as yardsticks for measuring their performance.  Perhaps if they have a metanoia, a true conversion, a change of mind and heart, the industry's professionals might forgive them. But absent a such a conversion, the epiphany for growth-oriented professionals, investors, consumer advocates, public officials, and others is this. The industry's trajectory in the 21st century has been toward dramatic underperformance. The facts don't lie. The MHI member publicly traded firms often make this point themselves in their investor relations packets.  MHARR has called for congressional hearings. That is one of several possible starting places. State level hearings, state level attorney(s) general probes are other ways. In the watchdog tradition of news media, MHProNews will continue to shine a light on the facts that point to a 'sabotaging monopoly' undermining of the industry. By MHI teaming up with the competitors of manufactured housing instead of pro-MH industry growth MHARR, it becomes more difficult for MHI leaders to shirk responsibility for their apparent pattern of behavior in the most of the 21st century. That's the call to metanoia. That's the epiphany that explains MHVille underperformance. Thankfully, MHARR has been instrumental in exposing this pattern. ##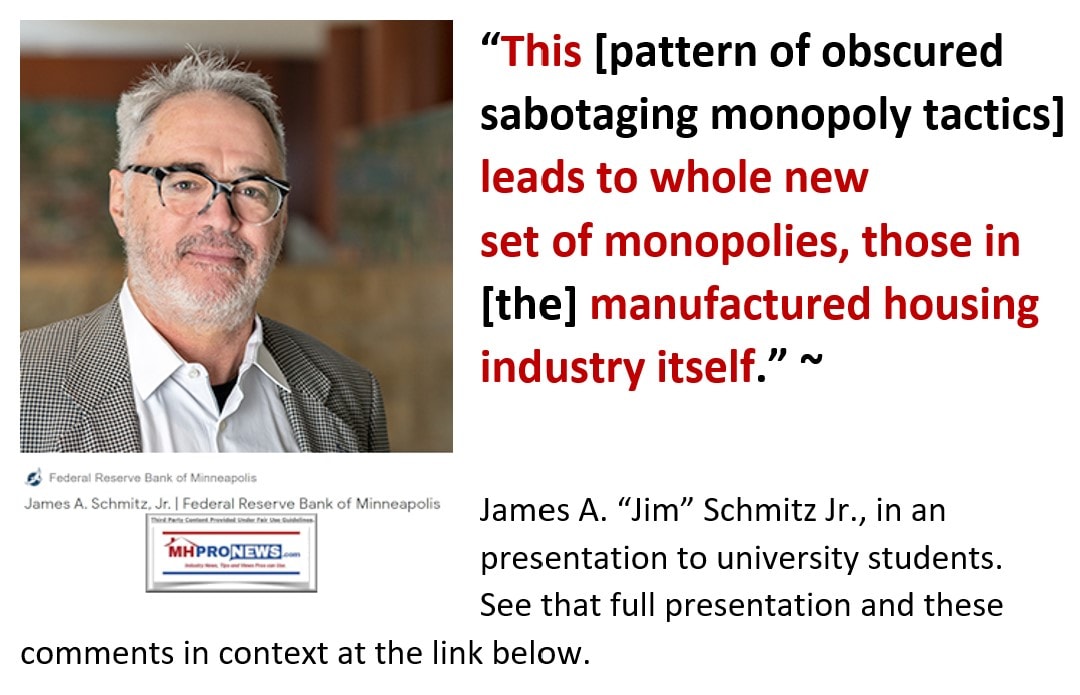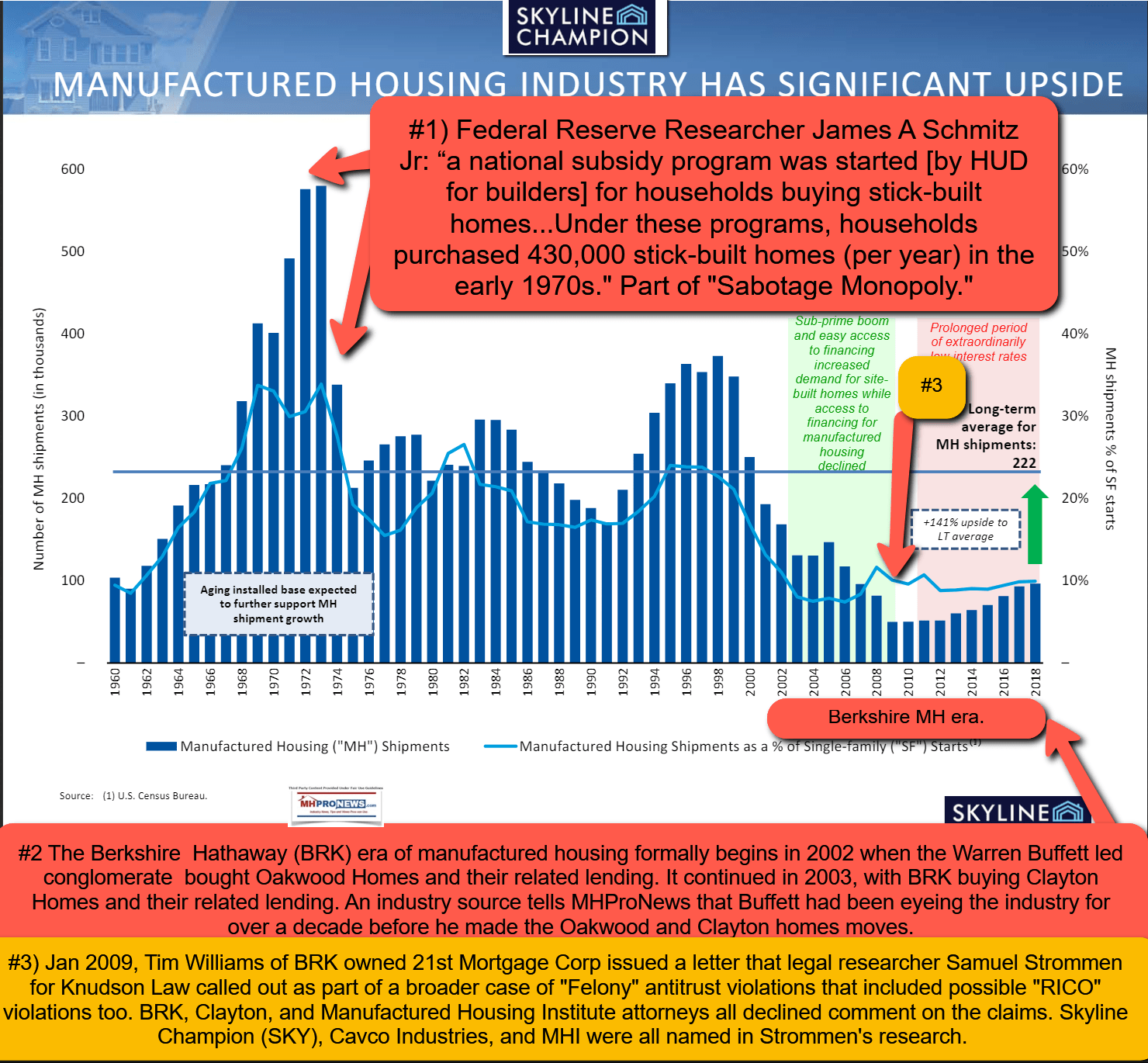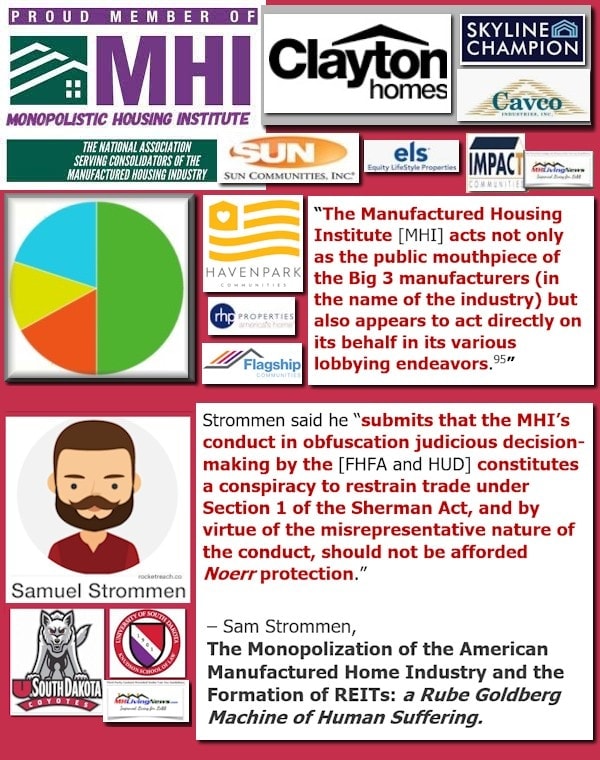 'The U.S. Can Solve Its Housing Crisis – It Just Needs To Start Building' Bloomberg, Washington Post Want More Manufactured Housing in 2023! Plus 2022 Year in Review, Sunday MHVille Weekly Headlines Recap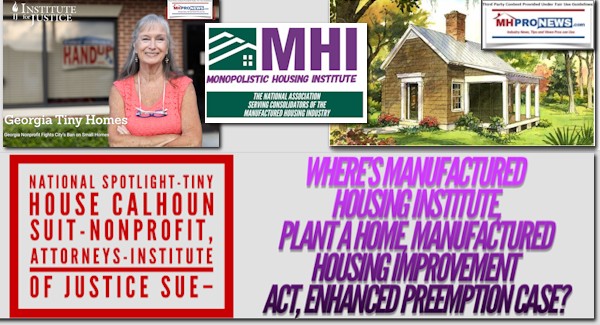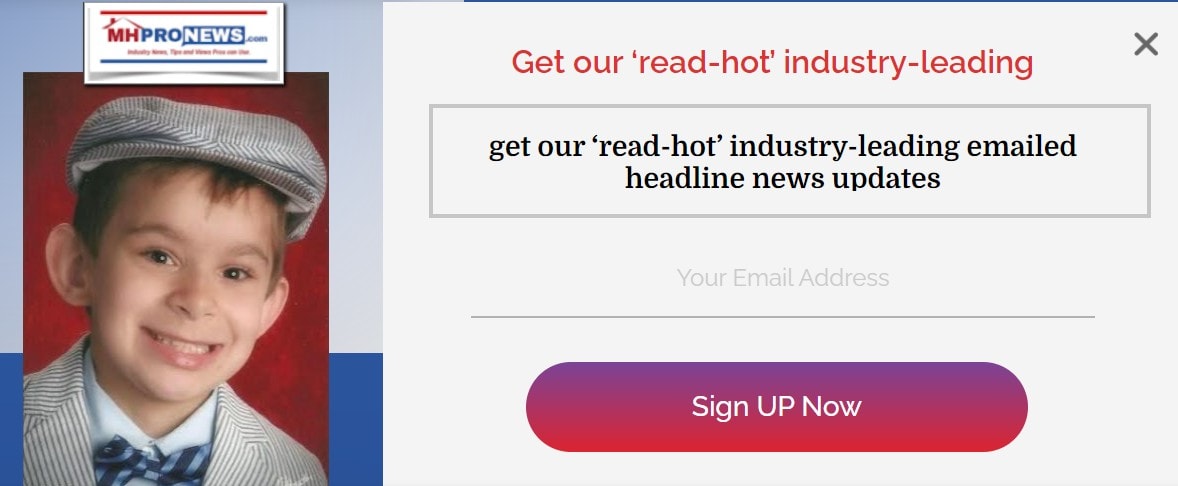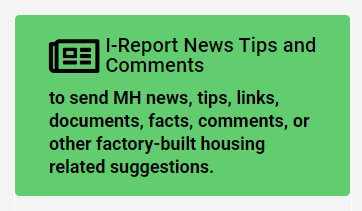 Again, our thanks to free email subscribers and all readers like you, as well as our tipsters/sources, sponsors and God for making and keeping us the runaway number one source for authentic "News through the lens of manufactured homes and factory-built housing" © where "We Provide, You Decide." © ## (Affordable housing, manufactured homes, reports, fact-checks, analysis, and commentary. Third-party images or content are provided under fair use guidelines for media.) (See Related Reports, further below. Text/image boxes often are hot-linked to other reports that can be access by clicking on them.)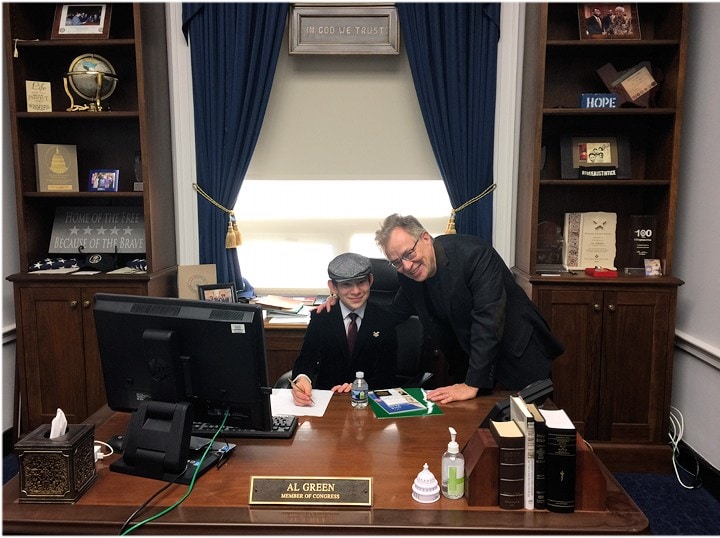 By L.A. "Tony" Kovach – for MHProNews.com.
Tony earned a journalism scholarship and earned numerous awards in history and in manufactured housing.
For example, he earned the prestigious Lottinville Award in history from the University of Oklahoma, where he studied history and business management. He's a managing member and co-founder of LifeStyle Factory Homes, LLC, the parent company to MHProNews, and MHLivingNews.com.
This article reflects the LLC's and/or the writer's position, and may or may not reflect the views of sponsors or supporters.
Connect on LinkedIn: http://www.linkedin.com/in/latonykovach
Related References:
The text/image boxes below are linked to other reports, which can be accessed by clicking on them.'
'Everyone Needs Deadlines' 'First Things First' and '7 Habits of Highly Successful People' – Pre-Christmas Preview of Manufactured Housing Year in Review; plus Sunday Weekly MHVille Headlines Recap
'In the Business World, the Rear-View Mirror is Always Clearer than the Windshield'–Warren Buffett MHVille Leader Showcases Efforts to Renew American Dream; plus Sunday Weekly Headlines Recap
Manufactured Housing's Next BIG Regulatory Battle That MHARR's Spotlighted and Which MHI Conveniently Ignored in Recent 'Manufactured Housing Institute News;' plus Sunday Weekly Headlines Recap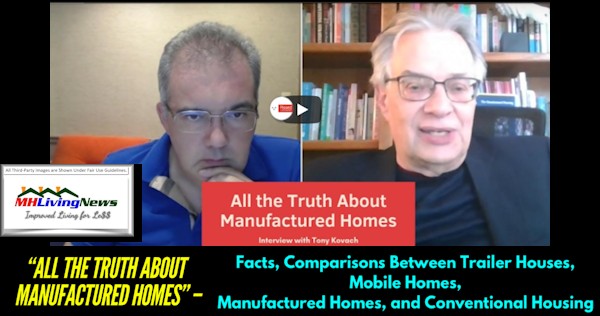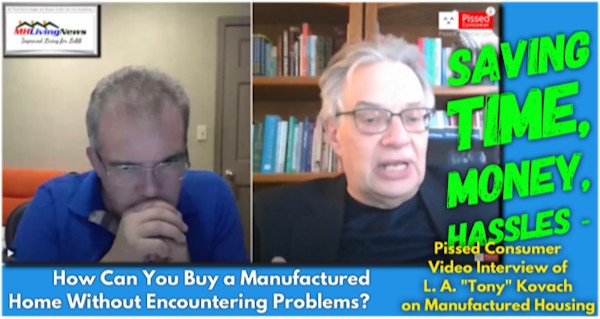 Flagship Communities – Hypocrisy, MHIndustry Corruption? 'Fragmented Industry with High Barriers to Entry and Imbalanced Supply and Demand Dynamics;' Plus Sunday MHVille Weekly Headlines Review
'Affordable Homes for Low Income Must Produce in Factory,' 'Years to Unravel Sabotage,' Grad Students Interest in Manufactured Housing, Factory-Home Solutions; plus Sunday Weekly Headlines Recap
Russian Disinformation? CNN and WND Report on "World Government Summit," Joe Biden Address to Business Roundtable on "the New World Order;" plus Sunday Weekly Headlines Review