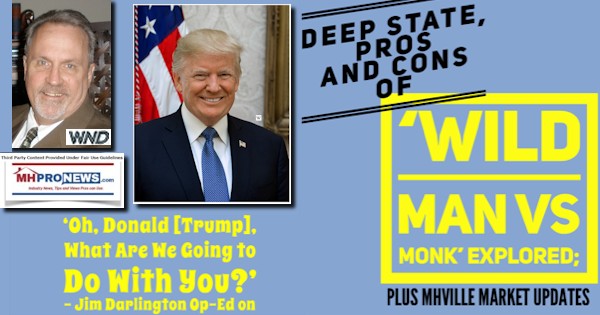 The op-ed that follows by Jim Darlington reflect his thoughts, which may or may not align with those of this publication's editorial perspectives. That said, Darlington's thesis is a useful topic as it tees up what could become a crowded Republican field and signals that Joe Biden will have Democrats challenging him for his party's presential nomination too. Given the importance of the rule of law to our profession and all others, this following op-ed provided by the WND News Center to MHProNews was deemed to be a thoughtful and timely issue. That Part I topic will be followed in Part II with additional information with more MHProNews analysis and commentary on the evolving 2024 presidential campaign hopefuls and related business and investing issues. Part III is our signature macro and manufactured housing market connected equities updates which includes the left-right headlines recap. Whether you support deposed President Donald J. Trump, another candidate, or a different party, the comments by Darlington are interesting and a useful place to dive into the emerging 2023-2024 campaign season.
WND says of op-ed author Darlington that: "Jim Darlington was raised in the left and rebelled to the far left in the '70s. Came to his political senses in the '80s. Came to Jesus Christ in the '90s. Now is praying for America…" MuckRack indicates that Darlington also writes for Nature and American Thinker, among others. Here MuckRack's listing of the platform's he writes for: "Nature, WND, American Thinker, Tri-State Livestock News, USSA News, Cause Action, Freedom Bunker, Newcastle News Letter Journal."
With that backdrop and plan for this column, here is Darlington's op-ed. The highlighting in the article that follows is added by MHProNews, as an item to be unpacked in Part II, but the text is otherwise as published.
Part I
THE DEEP STATE
Why we must reelect Trump the Imperfect
Exclusive: Jim Darlington declares, 'We need a wild man, not a monk'
By Jim Darlington
Published February 23, 2023 at 7:29pm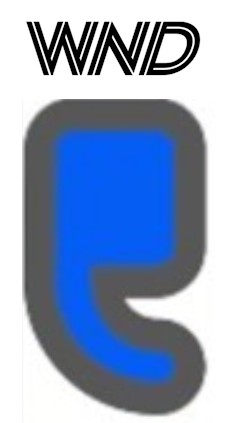 Oh Donald, what are we going to do with you?
One might actually believe that former President Trump needs to "come clean" to get our full support, but it seems pretty unlikely. He isn't all that big on admitting his mistakes. Maybe it simply isn't possible. A handful of the righteous might honor an act of good conscience – but the rabid pack of leftist predators would turn his words into teeth with which to tear him to pieces.
We may love him. We may be grateful for the purposeful combativeness that led to the America First movement, as close to a national resurrection from near death as can be imagined. We may not think there is anyone better suited to fight the powers of darkness without being compromised from without. He is happily too rich to be bought. But can we look without seeing a man already compromised from within? A man who is still bragging about the vaccine that "saved millions"?
It didn't. There isn't just a question of troubling "baggage." God help him, but he stands at the front of an endless procession of hearses.
Trump got played. He got steered into a partnership with the devil, masquerading as Tony Fauci & Company. The maniacs who had sought that one chink in his armor had finally reached their epiphany. It's been noted that he is something of a germaphobe, whose concern for the well-being of the electorate is paramount. So, they hooked him into panic porn along with the rest of us. They set the stage to maximize the death count, both real and pretended.
They also convinced him to leave the mass murders in the nursing homes (like infected blankets for the Indians) to the justice of the (Democratic) states, though federal laws were plainly broken.
They led him by the nose, threatening to tar him as a monster if he didn't press the mass production and delivery of "ventilators," which were truly no more than killing machines. Within a month he could boast to having glutted the market here and started exporting worldwide.
The success stories he'd begun to share were only "anecdotal," so they told him to back off calling for treatment first, with hydroxychloroquine or ivermectin or any of a hundred normal medical symptomatic prescriptions to alleviate breathing difficulties, proven to be quite effective in earlier flu seasons. They seem to have convinced him that it would only interfere with his great Operation Warp Speed [OWS] to produce a vaccine and save the day. It was a trap that had been laid out far in advance. He allowed the World Health Organization (which surely served China first) to dictate ruinous policies. He allowed the medical profession to be penultimately subverted, honest doctors challenged or ruined, and forced to promote an insane regimen of sending people home, untreated, to wait for the symptoms to worsen to the point at which hospitalization was required, with a requisite course of treatment there, most likely to be fatal. (Yes, folks, about 80% of those who were put on ventilators died.)
Did the president grasp that, by law, no vaccine could gain "emergency approval" if there were effective alternative treatments? Did he cease and desist in suggesting any such alternatives when it was made clear that they might render his cherished OWS moot? Did he invite the Frontline Doctors into the White House for further discussion when they proclaimed their treatments successes from the Capitol steps? Did he object to their being slandered and silenced by the national media? Did Dr. Scott Atlas really get his attention? Did Donald Trump really perform his due diligence?
Do we need to become "Never-Trumpers" to ask these questions? Or do we need to address these issues as we might with a beloved family member? "Dammit, Donald, you can do better!" Can we see in Trump a man of magnificent accomplishment, however dreadfully imperfect?
Do we need to ask who else is there who might actually be able to turn the tide against our approaching national annihilation?
Our prayer must be that in 2024 the fear of God (and/or of a righteously enraged electorate) might caution the cheaters and frauds just enough that the awakening giant of patriotic America may finally begin to prevail.
As for Donald Trump, let him make his public confessions to the ghostwriter he hires, sometime in the 2030s. The only confession that matters or leads to change is the quietly desperate one that a man makes to God. Those shared only with men tend to be of the Pharisees' manner, spoken to men for men's approval. For him to admit to any shortcomings now would only throttle any chance of correcting those things he did that were less than magnificent, and would provide our enemies with the shovels they long to use to bury him.
Let Trump be Trump. We need a wild man, not a monk. For all his sins let him be all the more determined. Churchill stomached the catastrophe of the World War I campaign he ordered in Gallipoli, where the Turkish army slaughtered English soldiers by the tens of thousands. He buried it in his heart where it burned and tempered a steel conviction that enabled him to will the impossible against the insurmountable onslaught of Hitler's demonic attack.
The man is not stupid. So, it behooves us (me) not to be stupid. If we are willing to follow the man who represents our only actual path away from the utter destruction being planned for us, we must see clearly. Trump is not one who cares to admit his mistakes. Fine! But hasn't he shown, throughout his life, an ability to learn from them? No one knows better than he how immense, how rich and how heartless is the Deep State, which Trump, more than anyone, exposed. It beat him once. He really doesn't like to lose. And he's really into payback. Just keep watching and ask, what causes the panicked fear of the leftist minions? Why do their attacks continue however absurd and impotent?
Trump the Imperfect is the perfectly singular instrument for an America First victory. He knows how deep the rots goes, and he knows it in his gut. All the better to maintain the triumph, we pray God is willing, when we have risen to join him, to fight for him.
And to reelect him. ##
Jim Darlington was raised in the left and rebelled to the far left in the '70s. Came to his political senses in the '80s. Came to Jesus Christ in the '90s. Now is praying for America. He is married to a wise woman who loves the Lord with a passion. His email address is jedarlington@protonmail.com.
Part II
Additional Information with More MHProNews Analysis and Commentary 
One of the headlines in Part III reads: "401(k) Balances Plunge by 23 Percent in 2022." That is one of several reasons for this timely topic. Regardless of what partisans and blind loyalists might say, the wealth of everyday Americans broadly rose during the Trump years, and broadly have retreated during the Biden regime.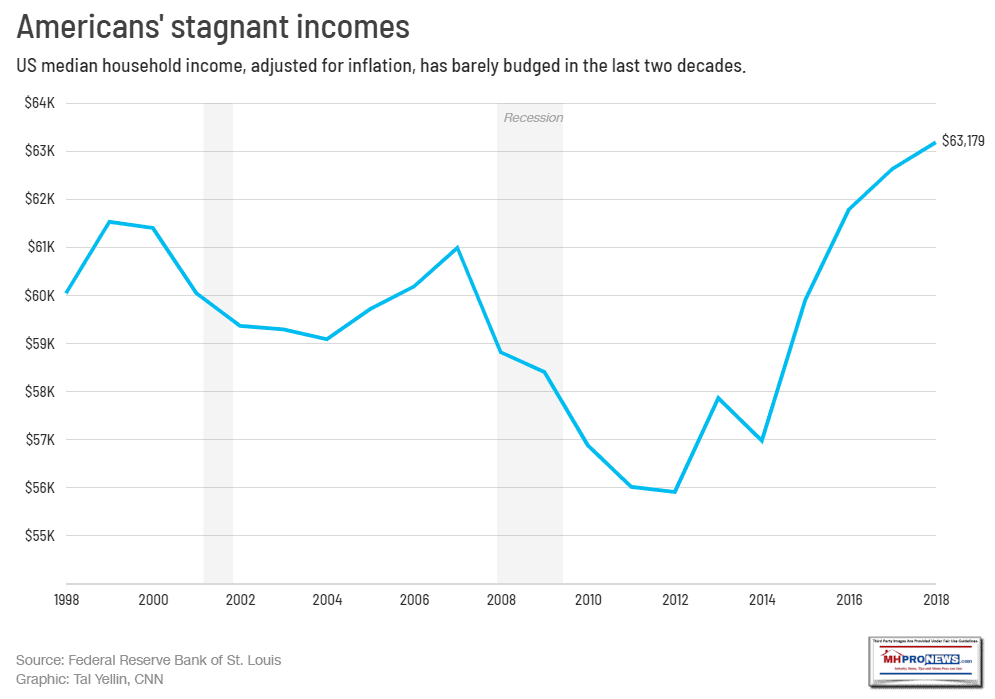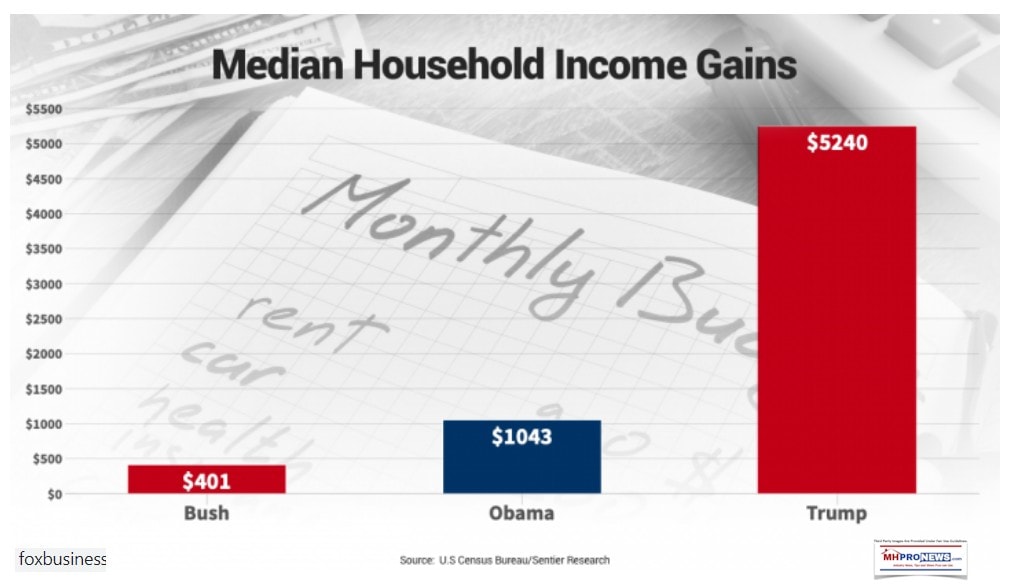 Before diving in, as a disclosure for new readers and reminder for long term ones, MHProNews publicly endorsed Donald J. Trump in the 2016 and 2020 contests. In 2016, the public letter by Soheyla Kovach, MHProNews' cofounder appeared for a time on the Trump campaign site, until it was changed during the transition period. The screen capture below reflects the accuracy of those statements. That said, right or wrong, numbers of prior Trump voters (some, two time voters for "the Donald," as is true of this politically independent writer) have told MHProNews that they are looking for someone new from the GOP in 2024.
Darlington hits a note that another WND columnist, Wayne Allen Root (WAR) has hit. Root also thinks Trump erred on the vax program and COVID19. But Root says he can easily vote for and support Trump again despite that error.
As pro-ethical business and pro-consumer manufactured housing industry trade publishers, we called balls and strikes during the POTUS Obama, Trump, and now Biden Regime years. We reported claims and then the follow ups. Each had their hits and misses as measured by what they claimed and what they delivered.
What follows IS NOT at this time an endorsement of Trump over other possible GOP candidates. That said, Trump largely delivered on his promises to cut regulations, cut taxes, defend the southern border with Mexico, tariff Communist China, began the end of the conflict in Afghanistan which the Biden regime then botched to the tune of tens of billions of dollars in equipment left behind and American and other lives lost or abandoned. During the Obama-Biden years, Ukraine was invaded by Russia and Crimea was taken from that former Soviet 'republic.' During the Trump years, the Russians reportedly fomented unrest, but never formally invaded until a year into the PINO Biden regime. Relatively speaking, North Korea quieted and so too did Iran. Inflation was low. Borrowing costs were lower. Energy costs, notably fuel at the pump, was lower. America became energy independent and began to export surplus energy. Manufacturing began to grow. Black, Hispanic, women, and other groups had record low unemployment compared to numbers of Trump's predecessors. Many don't stop and think that Biden's economy is still partially driven by policies and tax rates that were established during the Trump years. Crime was lower. The list could go on.
There are several who are waiting for Gov. Ron DeSantis (FL-R) to run. There are thoughts that perhaps 10 or more Republicans will declare and campaign. The common wisdom among pundits is if more than 3 are running (and there already are three announced GOP candidates), then Trump wins the nomination.
To Darlington's points, it is not dissimilar from what Jim Clayton told MHProNews in 2016 about 'Donald the Disrupter.'
The MHProNews take is simple. It is foolish to put every egg into any candidate's basket this early on. The picture may look quite different a year or 15 months from now. Should the 2024 contest come down to PINO Biden, Kamala Harris, Michelle Obama, Gov Gavin Newsome (CA-D), or any other similar Democrats who's name has been floated or prominently discussed, virtually any Republican is preferable to any of those Democrats.
That said, while some nuances of Darlington's thoughts may merit refining or restating, his broad points are quite correct. Is any 2016 or 2020 Trump voter seriously going to vote for a Democrat in 2024 if Trump is the GOP nominee? While a small number might, broadly speaking it is unlikely.
This publication thinks that Trump, or any truly solution oriented Republican, Democratic, or minor party candidate that wants to fix what's gone wrong in America must think that vigorous antitrust action must be near the top of the list. It is a group of "usual suspects" in the billionaire, corporate, nonprofits and donor class that are near the root cause of most of what is wrong in America. Break up the corporate powers using existing legal tools as swiftly as possible, and watch the American Dream begin to spring back to life. Trimming down the federal government and reforming the federal government is a must. A restoring of federalism as envisioned by the founders is also necessary. If someone thinks that the Deep State is a serious problem then the solution to the Deep State is to upend its roots causes.
MHProNews would be pleased to support deposed President Trump once again, should circumstances make that possible. There are some other GOP candidates that could be supported. If Robert F. Kennedy Jr. (among other) possible Democrats decided to run for his party's nomination (unlikely, it seems at this time), they would be worthy of consideration.
Candidates need support as they campaign. But as the fog of the primaries begins to clarify the field, should it come down to Trump vs. someone akin to Biden et al, the choice ought to be easy. If Donald and a solid running mate get the nod from GOP voters (we are independents, so in FL can't vote in the Republican primaries), Darlington's points are quite close to those we've previously published. See the related reports to learn more.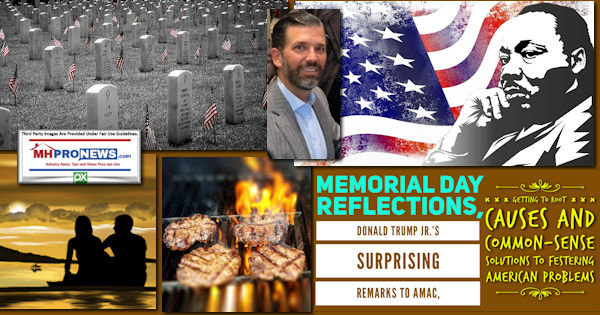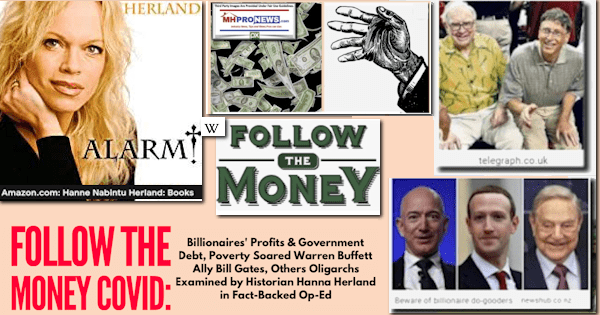 Largely Pro-Biden Washington Post Expose Big Errors in Biden-Era Fed COVID19 Policies that Impacted Housing and Businesses, Including Manufactured Home Industry, Millions of Current and Would Be Homeowners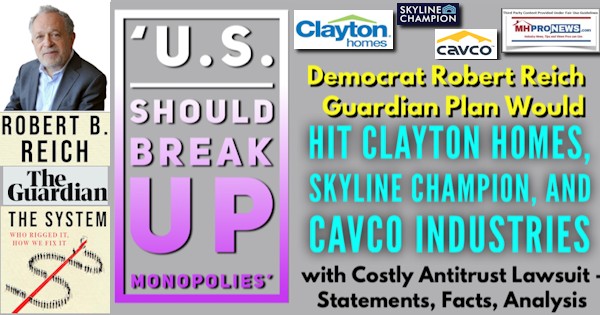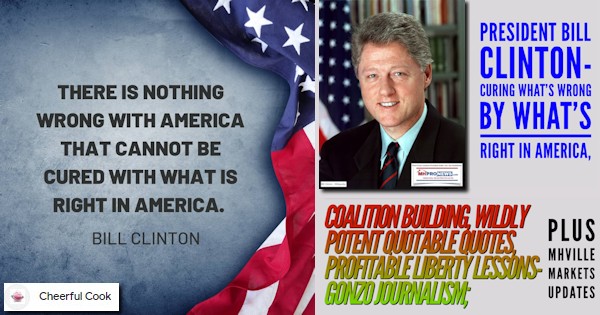 Part III. Daily Business News on MHProNews Markets Segment
The modifications of our prior Daily Business News on MHProNews format of the recap of yesterday evening's market report are provided below. It still includes our signature left (CNN Business) and right (Newsmax) 'market moving' headlines. The macro market moves graphics will provide context and comparisons for those invested in or tracking manufactured housing connected equities.
In minutes a day readers can get a good sense of significant or major events while keeping up with the trends that are impacting manufactured housing connected investing.
Reminder: several of the graphics on MHProNews can be opened into a larger size. For instance: click the image and follow the prompts in your browser or device to OPEN In a New Window. Then, in several browsers/devices you can click the image and increase the size. Use the 'x out' (close window) escape or back key to return.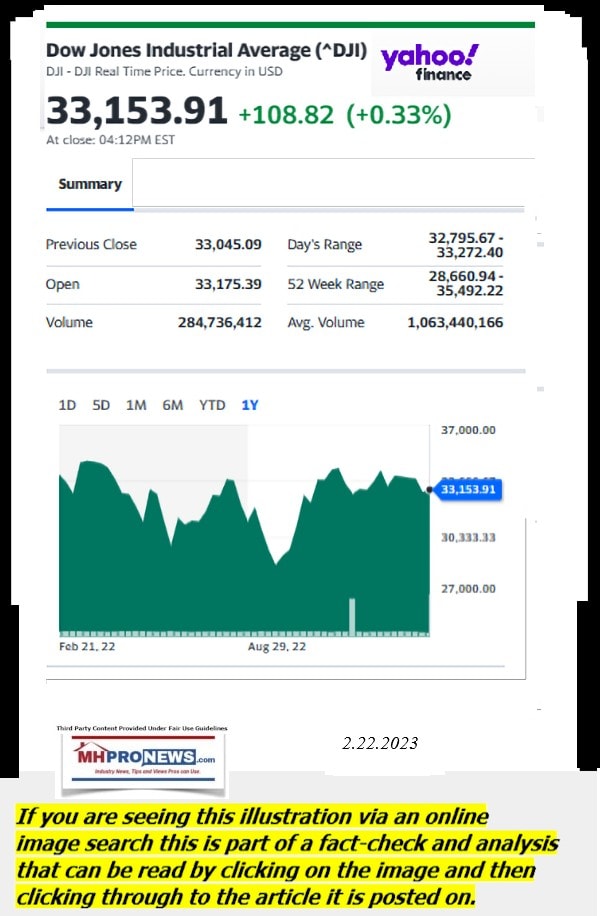 Headlines from left-of-center CNN Business – from the evening of 2.23.2023 
Mortgage rates rise
Higher borrowing costs are likely to put a crimp in the Spring buyers' season
Ozy Media founder Carlos Watson arrested and charged with fraud
A Florida TV station offered viewers raw, emotional coverage of the shooting of its own journalists
401(k) balances rise, despite economic and market challenges
DOJ seeks court sanctions against Google over 'intentional destruction' of chat logs
BBC won't be 'put off' covering India by tax raids and censorship
Biden nominates former MasterCard exec Ajay Banga to lead World Bank
FTX founder Sam Bankman-Fried indicted on new criminal charges, including campaign finance violations
New from the Mercedes' 2024 E-class: Angry Birds
Domino's stock tumbles 11% as delivery problems persist
One of Europe's top banks is being sued for financing fossil fuels
Americans have a collective $21 billion in unspent gift cards
The US economy grew less in fourth quarter than previously believed
European Commission bans TikTok from official devices
Why UK supermarkets are rationing fruit and vegetables
It's market bulls vs. Fed hawks on Wall Street
Norfolk Southern, in wake of toxic derailment, gives in on sick days for one of its unions
Russia's economy is hurting despite Putin's bluster
Toyota accepts union demands for biggest wage hike in two decades
Chinese apps remove ChatGPT as global AI race heats up
Companies can no longer silence laid-off employees in exchange for severance
Getting laid off? Know your rights
China is helping to prop up the Russian economy. Here's how
NPR to cut 10% of its staff in 'a major loss' for the public radio network, CEO says
Notice: the graphic below can be expanded to a larger size.
See instructions below graphic or click and follow the prompts.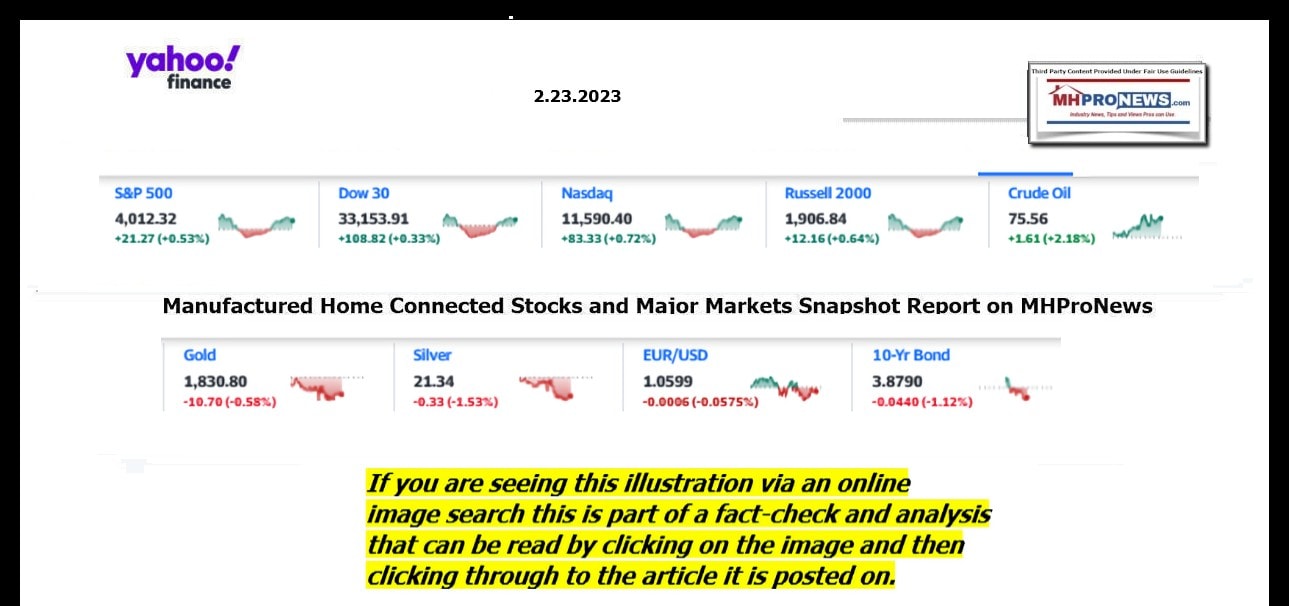 Headlines from right-of-center Newsmax 2.23.2023
Comer Demands Info on State Dept. Funding Group Blacklisting Conservatives
DirecTV Censors Newsmax
Rep. Hinson: Everybody 'Frustrated' by DirecTV Decision | video
Rep. Moore: DirecTV 'Snuffed Out' Newsmax | video
Rep. Eric Burlison: DirecTV Made a 'Horrible Decision' | video
Rep. Bill Johnson: I'll Be 'Front, Center' With Big Tech | video
Wall Street Journal Hid Facts in DirecTV Censorship
Devin Nunes: Left Threatens Conservative Media Ads | video
Brian Andersson: Left Won't Engage in Debate | video
More Stories on AT&T DirecTV Censorship
More DirecTV Censors Newsmax
Newsmax TV
Rep. Meuser: 'Too Little, Too Late' on East Palestine | video
Rep. Moore: GOP to 'Learn a Lot' From Southern Border Hearing
Gordon Chang: Russia-China Dividing World in Two | video
Blaine Holt: Ukraine War in a 'Much More Dangerous Place' | video
Don Jr.: FEMA Only Acted After Ohio Trip Was Announced | video
Rep. Spartz: EU Cannot Allow Russia, China to Control Europe | video
Guilfoyle: While Biden Goes to Ukraine, Trump's in Ohio | video
Schlapp, Gorka: Trump Will Do the Job Right | video
Newsfront
Buttigieg: Rail Co. to Pay 'as Long as People Feel Effects' of Derailment
Transportation Secretary Pete Buttigieg on Thursday said the federal government will force the operator of a train carrying hazardous chemicals that derailed in East Palestine, Ohio, to pay for damages to the people in the community, Reuters reported…. [Full Story]
Alec Baldwin Pleads Not Guilty in Shooting, Can Still Work
Actor Alec Baldwin has pleaded not guilty to felony charges of [Full Story]
Sens. Lee, Klobuchar Press DOJ to Examine Ticketmaster
Sens. Mike Lee, R-Utah, and Amy Klobuchar, D-Minn., leaders of a [Full Story]
Trump Shows Instincts, Puts Blue-Collar Americans First With Ohio Visit
Former President Donald Trump's visit on Wednesday to East Palestine [Full Story] | Platinum Article
California Dems Propose Gender-Neutral Bathrooms in Schools
California could become the first state in the nation to require [Full Story]
Bankman-Fried Faces New Fraud Charges
Sam Bankman-Fried was hit with new criminal charges Thursday, in an [Full Story]
SPONSOR: Users say-'this works so well I only need 1 a day'
After 84 Year Ban, 'ADHD Drops' Are Now Legal Without a Prescription
SPONSOR: Users say-'this works so well I only need 1 a day' [Full Story]
Ukraine Defends Front Line as Putin Talks Up Nukes
Ukraine said its forces had repelled Russian assaults along the [Full Story]
Related
Finland to Send 3 Leopard Tanks to Ukraine
Survey: US Adults Divided on Which Country Will Win Russia-Ukraine War
23 House Republicans Demand Transparency on Ukraine Aid
NATO Chief Sees 'Some Signs' China Could Back Russia's War
UN Passes Nonbinding Resolution Calling for Russia to Leave Ukraine
Yellen: 'Serious Consequences' If China Helps Russia Evade Sanctions
Harvey Weinstein Gets 16 Years for Rape, Sexual Assault
A Los Angeles judge on Thursday sentenced Harvey Weinstein to 16 [Full Story]
Distrust of Health Officials in Ohio Disaster 'Result of' COVID Failures
Growing distrust in public health officials in the aftermath of the [Full Story] | Platinum Article
Schumer Irked After Tucker Carlson Accesses Jan. 6 Tapes
Senate Majority Leader Chuck Schumer, D-N.Y., criticized House [Full Story]
Jamie Dimon: Fed Has 'Lost a Little Bit of Control of Inflation'
JPMorgan Chase CEO Jamie Dimon said Thursday the Federal Reserve has [Full Story]
Pope Nationalizes Vatican Assets, Property in New Reform
Pope Francis has essentially nationalized all assets and property [Full Story]
Angela Davis Shocked to Learn She Had Ancestor on Mayflower
Racial activist Angela Davis was shocked to learn she is descended [Full Story]
Cuba's Population Is Dramatically Decreasing
Cuba's population is plummeting amid mass migration, an aging [Full Story]
Domino's Pizza Inc. fell short of quarterly sales estimates Thursday, [Full Story]
How a Four-Day Work Week Improves Health
A large study conducted in the U.K. found that a four-day work week [Full Story]
Rasmussen Poll: Haley Scores Higher Than Biden, Trails Trump
A new Rasmussen Reports poll shows former South Carolina Gov. Nikki [Full Story]
Alcohol Might Speed Progression of Alzheimer's in Brain
Even modest drinking can speed up the loss of brain cells and [Full Story]
'Stubborn' Food Inflation Reduces Shoppers' Appetite for Other Goods
As American shoppers stomach soaring food prices, they are cutting [Full Story]
NYC Retailers Tap K-9 Units to Sniff Out Shoplifters
Some of the busiest commercial districts in New York City are taking [Full Story]
Video Report: Israel Considers Attack on Iranian Nuclear Sites
On Thursday's "Wake Up America," Israel reportedly is considering a [Full Story]
Putin: Moscow Will 'Focus on Strengthening the Nuclear Triad'
Russian President Vladimir Putin, after pulling out of the New START [Full Story]
Axios Poll: GOP Says Opioids Top Health Threat
A new poll from Axios and Ipsos shows that Republicans rate opioids [Full Story]
401(k) Balances Plunge by 23 Percent in 2022
The average 401(k) balance lost 23% of its value in 2022, in line [Full Story]
Pa. Gov. Shapiro Says He'll Reject Calls for Sen. Fetterman to Resign
Pennsylvania Gov. Josh Shapiro says he hasn't gotten any pressure [Full Story]
NTSB: Train Crew Got Safety Alert Just Before Derailment
The crew operating a freight train that derailed in East Palestine, [Full Story]
NBA All-Star Game Suffers Lowest TV Ratings Ever
NBA All-Star Game Suffers Lowest TV Ratings Ever
Sunday's NBA All-Star Game earned its smallest TV audience ever, [Full Story]
Poll: Nearly Two-Thirds of US Doctors, Nurses Feel Burned Out
America's healthcare workforce is under unprecedented strain, and [Full Story]
Israel's UN Ambassador: NY Times 'Libelous Narratives' Spur Hatred of My Country
Israel's Ambassador to the United Nations Gilad Erdan sent a scathing [Full Story]
Poll: DeSantis Tops Trump by 5 Points Among Mich. Republicans
Forty-seven percent of Michigan Republican primary voters say they [Full Story]
Transportation Chief Buttigieg Tours Ohio Derailment Site
Transportation Chief Buttigieg Tours Ohio Derailment Site
U.S. Transportation Secretary Pete Buttigieg toured the wreckage of [Full Story]
Finance
401(k) Balances Plunge by 23% in 2022
The average 401(k) balance lost 23% of its value in 2022, in line with the 20% drop in the S&P 500 benchmark index, according to Fidelity data released Thursday…. [Full Story]
2 Charged With Insider Trading on Kodak COVID News
Biden Taps Former MasterCard CEO to Head World Bank
Wells Fargo Lays Off Bankers, Days After Palm Desert Retreat
Egg Prices Will Fall Nearly 30% This Year, Farm Agency Says
More Finance
Health
Poll: Nearly Two-Thirds of US Doctors, Nurses Feel Burned Out
America's healthcare workforce is under unprecedented strain, and leaders of the medical profession are scrambling to support doctors and nurses who are burning out in record numbers…. [Full Story]
Air Force Probing Possible Links Between Cancer, ICBM Bases
Apple No-Prick Diabetes Sensor at Proof-of-Concept Stage
Moderna's Skin Cancer Therapy Receives FDA's Breakthrough Tag
GSK Study Shows Long-Acting HIV Shot as Effective as Daily Pill
Notice: the graphic below can be expanded to a larger size.
See instructions below graphic or click and follow the prompts.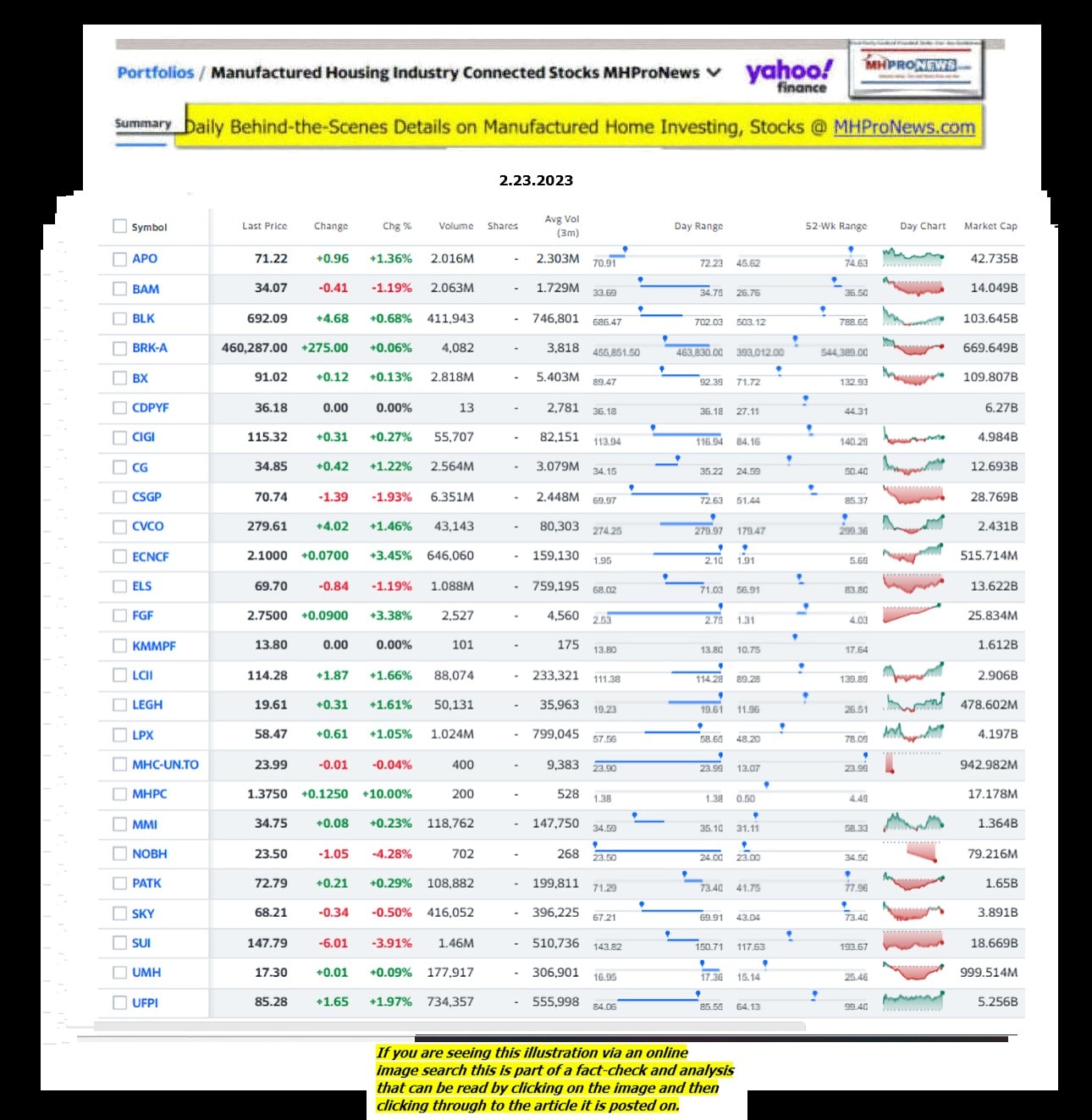 2022 was a tough year for stocks. Unfortunately, that pattern held true for manufactured home industry (MHVille) connected stocks too.  See the facts, linked below.
'Stomach Churning Year' CNN-Wall Street 'Forget 2022' Down Year – Major Equities Data Compared to Manufactured Housing Stocks, Manufactured Home Community REITs, Performance for Year by Company
====================================
Updated
NOTE 1: The 3rd chart above of manufactured housing connected equities includes the Canadian stock, ECN, which purchased Triad Financial Services, a manufactured home industry finance lender.
NOTE 2: Drew changed its name and trading symbol at the end of 2016 to Lippert (LCII).
NOTE 3: Deer Valley was largely taken private, say company insiders in a message to MHProNews on 12.15.2020, but there are still some outstanding shares of the stock from the days when it was a publicly traded firm.  Thus, there is still periodic activity on DVLY.
Note 4: some recent or related reports to the REITs, stocks, and other equities named above follow in the reports linked below.
Nobility Homes, Inc. Sales and Earnings for its Fiscal Year 2022 Report, Result$ Best Inflation – Net After Taxes Up 34%, More Fact$; DeSantis ESG and NOBH; plus MHVille Stocks, Market Updates
'Manufactured Housing in the News,' Unpacking UMH CEO Sam Landy Op-Ed' It's Time for Bi-Partisanship on Affordable Manufactured Housing Homeownership' in HousingWire; plus MHMarkets Updates
Warren Buffett's Pledge to Kevin Clayton – 'You Can Access Plenty of Capital' for Projects – Quotes, Facts, Video, Transcript, and Implications for Manufactured Housing Industry
Manufactured Housing Properties-Results for Three and Nine Months Ending September 30.2022–Exploring 'Mobile Home Park' Manufactured Home Community Investing; plus MHVille REITs, Stocks Update
'Changes Will Benefit Customers,' Boost Sales-Legacy Homes CEO Duncan Bates – LEGH 'Delivered 22.5% Return on Equity in 1 Yr' – Corp Q3 2022 Insights, Analysis; plus MHVille REITs, Stocks Update  
CEO Mark Yost, Skyline Champion Insiders SELL Million$ Value SKY Stock, Home Sales Drop-4th Q 2022 (3QFiscal2023), Official Result$-Facts, Analysis, Info Beyond PR; plus MHVille Stocks Update
Triad Financial Services Q2-2022 FINANCIAL RESULTS, per ECN Capital – Several Bright Spots in Manufactured Home Market Highlighted, Including Communities, Retail, Land-Home, Floor; MHStocks Update
BlackRock Document Exposes Central Banks like Federal Reserve on Recession; Manufactured Home Producer Cavco Industries 2022 Year End Results (CVCOQ3.23) Facts+Analysis; plus MHVille Stocks Update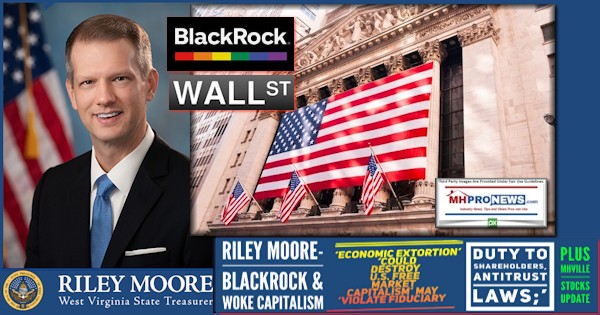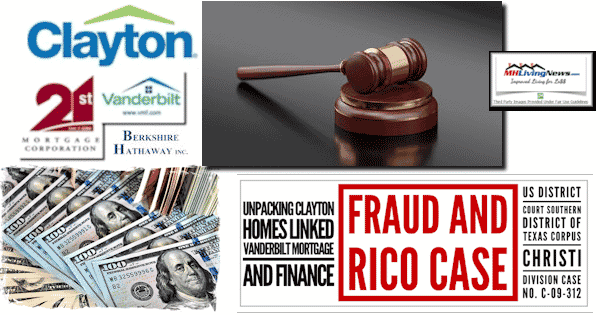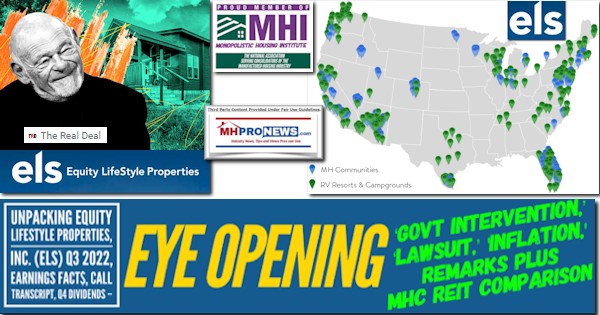 Manufactured Home Communities (a.k.a. 'Mobile Home Parks' – SIC) – Exploring UMH Properties; Fellow Manufactured Housing Institute Member Yes! Communities Suits and Settlements; plus MH Markets Updates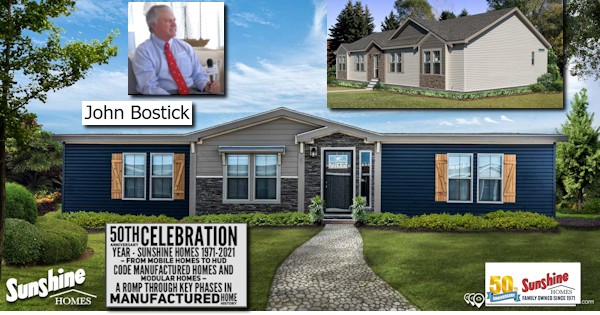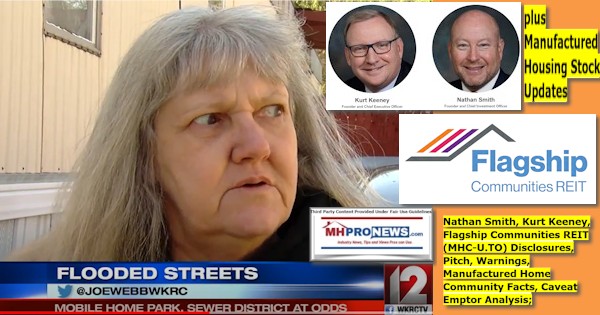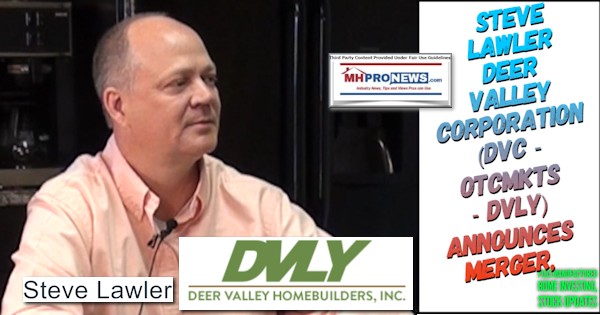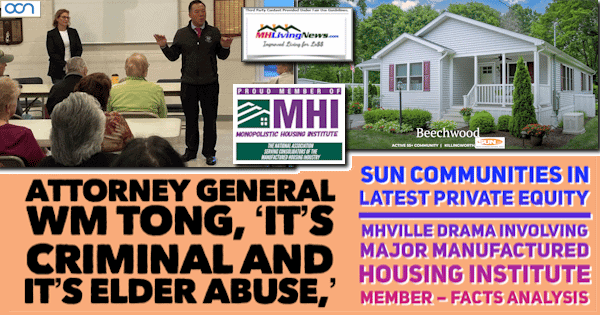 2023 …Berkshire Hathaway is the parent company to Clayton Homes, 21st Mortgage, Vanderbilt Mortgage and other factory-built housing industry suppliers.
· LCI Industries, Patrick, UFPI, and LP each are suppliers to the manufactured housing industry, among others.
· AMG, CG, and TAVFX have investments in manufactured housing related businesses. For insights from third-parties and clients about our publisher, click here.
Disclosure. MHProNews holds no positions in the stocks in this report.
· For expert manufactured housing business development or other professional services, click here.
· To sign up in seconds for our industry leading emailed headline news updates, click here.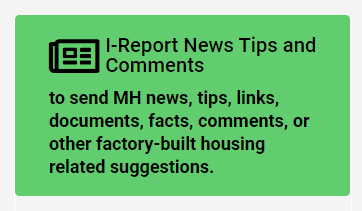 That's a wrap on this installment of "News Through the Lens of Manufactured Homes and Factory-Built Housing" © where "We Provide, You Decide." © (Affordable housing, manufactured homes, stock, investing, data, metrics, reports, fact-checks, analysis, and commentary. Third-party images or content are provided under fair use guidelines for media.) (See Related Reports, further below. Text/image boxes often are hot-linked to other reports that can be access by clicking on them.)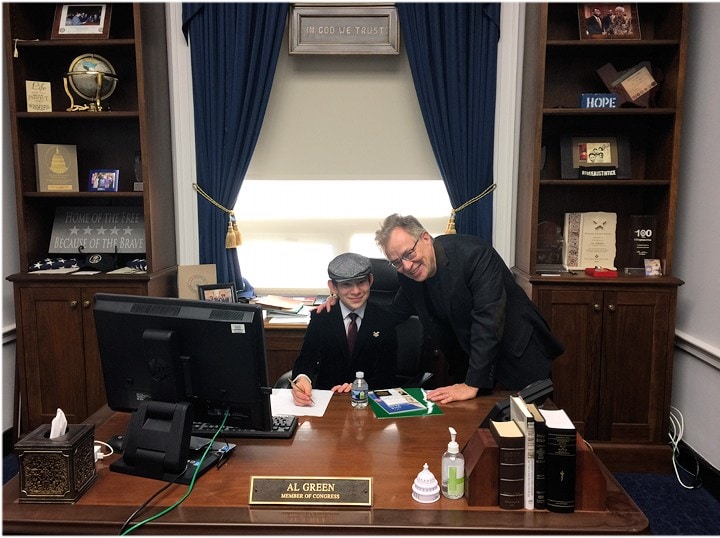 By L.A. "Tony" Kovach – for MHProNews.
Tony earned a journalism scholarship along with numerous awards in history. There have been several awards and honors and also recognition in manufactured housing. For example, he earned the prestigious Lottinville Award in history from the University of Oklahoma, where he studied history and business management. He's a managing member and co-founder of LifeStyle Factory Homes, LLC, the parent company to MHProNews, and MHLivingNews.com. This article reflects the LLC's and/or the writer's position and may or may not reflect the views of sponsors or supporters.
Call for Congressional Oversight Hearings of Manufactured Home Industry Regulators Highlighted by Manufactured Housing Association for Regulatory Reform (MHARR); plus MHVille Markets Update
Official HUD Manufactured Housing Production Facts for Dec 2022 plus 2022 Year End Totals Explored by Manufactured Housing Association for Regulatory Reform (MHARR)-"Millions" Needed – Analysis
Facts You Didn't Know – Martin Luther King Jr – Videos, Insightful Quotes, Surprising Revelations, Videos, Reports, and Illustrations in Champion for Human Rights Including Affordable Housing
'Global Disinformation Index' Warren Buffett Ally Bill Gates' Microsoft Org Charged-Cutting Revenue to Conservative Views via Xandr, GDI; plus Sunday MHVille Headlines Recap
#1 Texas' Manufactured Housing Builders Survey Says They are 'Ready for a Rebound' But Data Point in Question, DOE MH Energy Rule Too – Facts, Analysis; plus, MHVille Stocks, Markets Update
Clayton-Next Step Off-Site Built 'White Paper'-Manufactured Homes, ThinkND 'Magic of the Mind-Everyday Illusion, Misdirection, Deception' MHI Members' Claims Analyzed; plus MHVille Markets Update
U.S. Housing Data Reveals Gaps-Underscores Vast Manufactured Housing Industry Potential, But Raises Corp, Trade Group Performance Concerns, Apparent Shareholder Effects; plus MHVille Stocks Update
After Admitted Failure, Manufactured Housing Institute Doubles Down on CrossMods® in AP Terminology Doc Acquired by MHProNews–Are MHI Leaders Sabotaging MHVille Independents? Plus MHStocks Update
Concessions by Speaker Kevin McCarthy in House Speaker's Battle Called 'Most Significant Win for Conservatives in a Decade' By Federalist's Emily Jashinsky Report; plus MHVille Stocks Updates