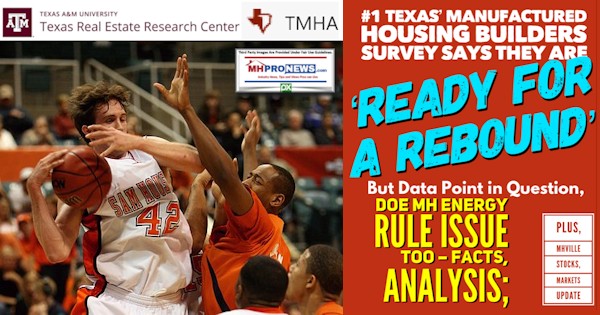 The Texas Real Estate Research Center (TRERC) issued a press release in conjunction with the Texas Manufactured Housing Association (TMHA) on Thursday February 16, 3:50 PM ET. To the well informed, that release has some questionable items, an obvious miss, and perhaps terminology/phraseology anomalies. Texas is the #1 production and shipment state in the U.S. for HUD Code Manufactured Housing.  A "rebound" is being projected by their latest report.  The TRERC press release will be Part I of today's report. Part II will provide additional information with more MHProNews facts, analysis, and commentary in brief. Part III will be the Daily Business News on MHProNews stocks, left-right headline news summary, and market report recap.

Part I.

 Texas' housing manufacturers ready for a rebound
COLLEGE STATION, Tex. (Texas Real Estate Research Center) – Manufactured housing sales have slumped for 15 consecutive months, according to the Texas Manufactured Housing Survey (TMHS), but the latest data indicate improvements on the horizon.
"Supply-chain disruptions and surging demand in 2021 and early 2022 forced housing manufacturers to turn customers away due to capacity constraints," said Wesley Miller, senior research associate at the Texas Real Estate Research Center (TRERC). "The tables turned in April of last year when demand dropped in response to higher interest rates. Manufacturers slowed production and subsequently shrank payrolls."
While sales and production remained subdued in January, expectations elevated for the third straight month, and the TMHS business-activity index swung 60 points upward—its largest monthly movement in either direction since the survey started in June 2020.
"The supply chain has been steadily improving over the last six months," according to TRERC Research Economist Dr. Harold Hunt. "Freight and fuel costs have dropped, although we are seeing fuel prices rebound slightly as of late."
The TMHS corroborated these developments through consistent decreases in the supply-chain disruptions and raw-materials price indices.
"Mortgage interest rates have also come down from their highs, and the combination of these factors are contributing to the recent optimism," said Hunt.
Despite improved sentiments regarding macroeconomic factors, housing manufacturers are increasingly concerned about regulatory costs and the impact on their operations.
"The Department of Energy's (DOE) efficiency standards for manufactured homes are scheduled to go into effect May 31 of this year," said Rob Ripperda, vice president of the Texas Manufactured Housing Association. "The Department of Housing and Urban Development (HUD), however, administers the manufactured-housing program and opted not to recommend the wholesale adoption of the DOE standards into the HUD code."
Ripperda said the Manufactured Housing Consensus Committee (MHCC) instead proposed energy efficiency updates that more appropriately considered the cost impacts of the changes and preserved the program's statutory obligation to affordability. He said that with MHCC submitting recommendations, HUD is expected to draft and publish proposed rules that will process through the formal comment and finalization periods.
"There is little chance that all those steps occur before the May 31st implementation deadline," Ripperda said, "and members of Congress are calling for DOE to delay implementation and to work directly with HUD to ensure the standards between the two agencies are not contradictory." …
—30—
Part II. Additional Information with More MHProNews Analysis and Commentary 
MHProNews has contacted the TRERC on a questioned data point in their report. Managing Editor Bryan Pope acknowledged the questioned, saying he would follow up with the issue experts to seek an informed reply.  Their release opened (see above) with the remark that "Manufactured housing sales have slumped for 15 consecutive months, according to the Texas Manufactured Housing Survey (TMHS), but the latest data indicate improvements on the horizon." While that might be true in some technical sense (for example, sales at retail vs. wholesale sales), the official information gathered by HUD and provided by the Manufactured Housing Association for Regulatory Reform (MHARR) indicates something different. The below are a recap of the information found on the MHARR website at this link here.
For each month, the number reflects the total combined shipments of single and multi-sectional HUD Code manufactured homes for Texas in the month as shown.
Dec (2022) 1081
Nov 1297
Oct 1404
Sept 1598
Aug 1856
Jul 1466
Jun 2098
May 1820
Apr 1877
Mar 2121
Feb 1592
Jan 1655
Dec (2021) 1474
Nov 1611
Oct 1571
The evidence from the above is clearly different than the claim that: "Manufactured housing sales have slumped for 15 consecutive months…"
Furthermore, other portion of their report seem outdated and or contradicted by the developments on the DOE Manufactured Housing Energy Rule linked below.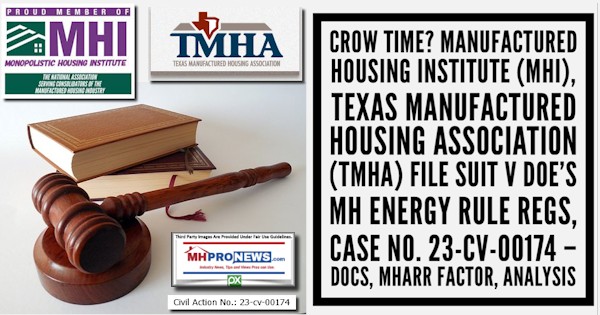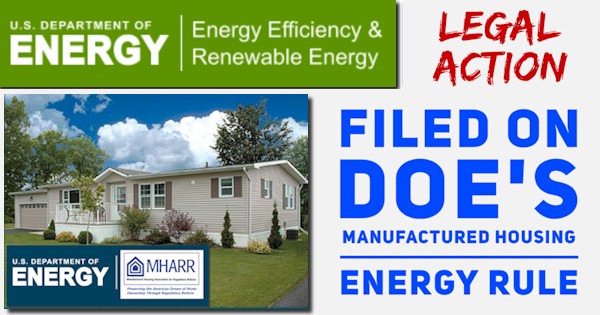 Last month, the TRERC media release cited TMHA's Rob Ripperda saying: "Manufacturers have five more months to prepare for the Department of Energy's (DOE) new conservation standards and the Environmental Protection Agency's updated Energy Star program requirements," said Rob Ripperda, vice president of the Texas Manufactured Housing Association. "These adjustments require a lot of retooling, design updates, new materials sourcing, and a host of other process changes for each of Texas' 26 manufacturing plants. The final impact on construction costs is unknown." The context is found in the report below.
'Manufactured Housing Closes Year on Cool Note, But Optimism Grows for 2023' Says TRERC, But TMHA VP Rob Ripperda Lets Cat Out of Proverbial Bag, Exposing MHI; plus MHVille Market, Stocks Update
MHProNews has asked TRERC about why their release doesn't mention the TMHA-MHI lawsuit.
It should be noted that TMHA was an important part of the effort to enact the Manufactured Housing Improvement Act of 2000 (MHIA).
Implementation of the Manufactured Housing Improvement Act of 2000, Congressional Hearing, Redux
Now that MHI and the TMHA have filed suit to 'stop' or slow down the implementation of the DOE energy rule, the question has been raised: will they finally file suit to force HUD to implement the Manufactured Housing Improvement Act of 2000?  More specifically, its enhanced preemption provision?
Other possible inconsistencies between the above and what may be found in various remarks in the spring into the summer of 2022 by Manufactured Housing Institute (MHI) member producers that are publicly traded and issue quarterly facts and statements.
'Record Results' – Cavco Industries 2022 Q4 Results, CEO Bill Boor Said 'Dramatic' Rate Increases Means 'Decreased Affordability,' 'Many Hopeful Buyers' Left Out, 'Fundamental Undersupply Remains'  
Cavco Industries Announces Planned Buyout of Manufactured Home Builder and Manufactured Housing Retailer Solitaire Homes, Official Statement and Information Beyond the New Release
Skyline Champion Provides Quarterly Results, Adding Retail Centers, Improved Delivery Times-CEO Mark Yost Says 'Can Outperform Conventional Housing' Explored; Plus MHVille REITs, Stocks Update
Skyline Champion (SKY) Provides Latest Quarterly Data, 'Kisses' the Berkshire Hathaway 'Ring' in Process, Manufactured Housing Pro News Analysis, Insights; plus MHC REITs, ManuHome Stock Update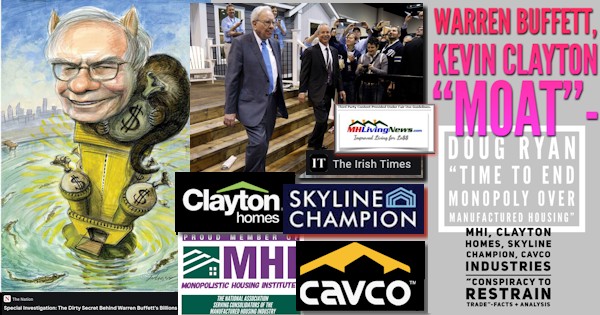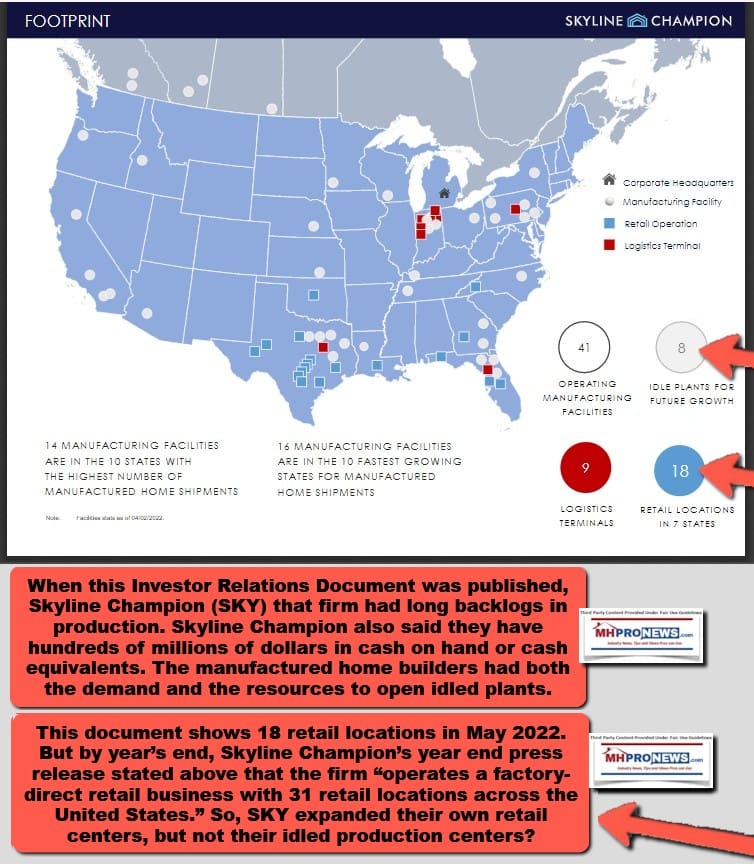 CEO Mark Yost, Skyline Champion Insiders SELL Million$ Value SKY Stock, Home Sales Drop-4th Q 2022 (3QFiscal2023), Official Result$-Facts, Analysis, Info Beyond PR; plus MHVille Stocks Update
'Better Quality Manufactured Home Buyers' 'More Regulatory Relief' – Skyline Champion Corporation (SKY) CEO Mark Yost on Q4 2022 Results – Earnings Call Transcript, Facts & Analysis
Clayton-Next Step Off-Site Built 'White Paper'-Manufactured Homes, ThinkND 'Magic of the Mind-Everyday Illusion, Misdirection, Deception' MHI Members' Claims Analyzed; plus MHVille Markets Update
There are more factual and evidence-based reports than those shown to be found on MHProNews and/or MHLivingNews that raises questions about some of the remarks from the TMHA and TRERC.  Use the search tool to learn more.
If TRERC and/or the TMHA provides relevant information to the questions raised about factual inconsistencies noted above, MHProNews may provide a follow up report and/or could update this post. Stay tuned.
Official HUD Manufactured Housing Production Facts for Dec 2022 plus 2022 Year End Totals Explored by Manufactured Housing Association for Regulatory Reform (MHARR)-"Millions" Needed – Analysis
Danny Ghorbani – Manufactured Housing's 'Elephant in the Room,' per Prior Manufactured Housing Institute Chair, Exclusive Q&A on Key MHIndustry Issues, plus Sunday Weekly MHVille Headlines Recap
Nobility Homes, Inc. Sales and Earnings for its Fiscal Year 2022 Report, Result$ Best Inflation – Net After Taxes Up 34%, More Fact$; DeSantis ESG and NOBH; plus MHVille Stocks, Market Updates
MHVillage – Endorsed by Manufactured Housing Institute (MHI), 'Information Key at MHVillage' Fact Check 'Best Data and Info from Around Country'-Clayton, Cavco Insights- Plus MHVille Stocks Update
Part III. Daily Business News on MHProNews Markets Segment
The modifications of our prior Daily Business News on MHProNews format of the recap of yesterday evening's market report are provided below. It still includes our signature left (CNN Business) and right (Newsmax) 'market moving' headlines. The macro market moves graphics will provide context and comparisons for those invested in or tracking manufactured housing connected equities.
In minutes a day readers can get a good sense of significant or major events while keeping up with the trends that are impacting manufactured housing connected investing.
Reminder: several of the graphics on MHProNews can be opened into a larger size. For instance: click the image and follow the prompts in your browser or device to OPEN In a New Window. Then, in several browsers/devices you can click the image and increase the size. Use the 'x out' (close window) escape or back key to return.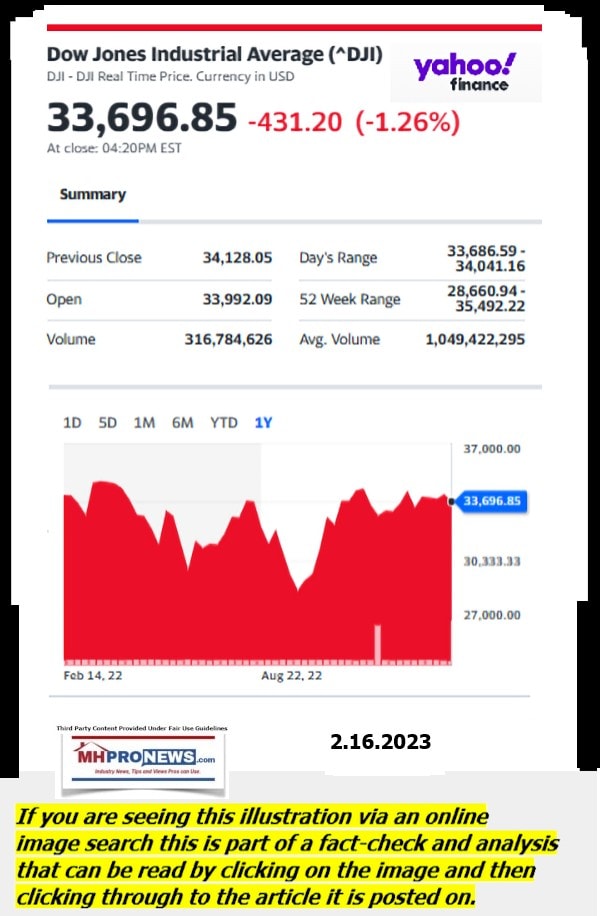 Headlines from left-of-center CNN Business – from the evening of 2.16.2023 
Tesla recall
Automaker warns that 363,000 vehicles equipped with 'Full Self-Driving' driver assist can pose a safety risk
Stocks slide as investors worry about more rate hikes
Judge says Bankman-Fried could 'conceivably' have bail revoked
World Bank head David Malpass has 'no regrets' over leadership, following surprise resignation
Search of BBC offices by Indian government ends after three day raid
The dark side of Bing's new AI chatbot
Mortgage rates jump to 6.32%
Household debt hit record $16.9 trillion last quarter, as consumers loaded up their credit cards
YouTube CEO is stepping down after nearly a decade in role
The world's biggest food company says prices will rise further this year
US new home construction fell in January for the fifth straight month
Nigeria reissues old banknote as cash fiasco threatens to disrupt election
Producer prices rose in January but annual inflation continued to cool
California's heavy rains deliver hope of a lifeline for one devastated industry — rice
Tesla accused of firing union supporters days after organizing effort starts
This program is using VR training to help solve the nationwide mechanic shortage
Don't underestimate the American shopper
China sanctions Lockheed, Raytheon after vowing to retaliate against US restrictions
Starbucks doubles down on Asia Pacific with biggest expansion in five years
Two miners found dead after ground collapses beneath them
Dutch chip firm ASML says former China employee stole data
Alarming new study finds half of Americans believe news organizations intend to mislead and misinform with their reporting
Stanford scholars co-signed Sam Bankman-Fried's $250 million bail deal
Production halt on Ford's electric F-150 Lightning will last at least a week and half
Notice: the graphic below can be expanded to a larger size.
See instructions below graphic or click and follow the prompts.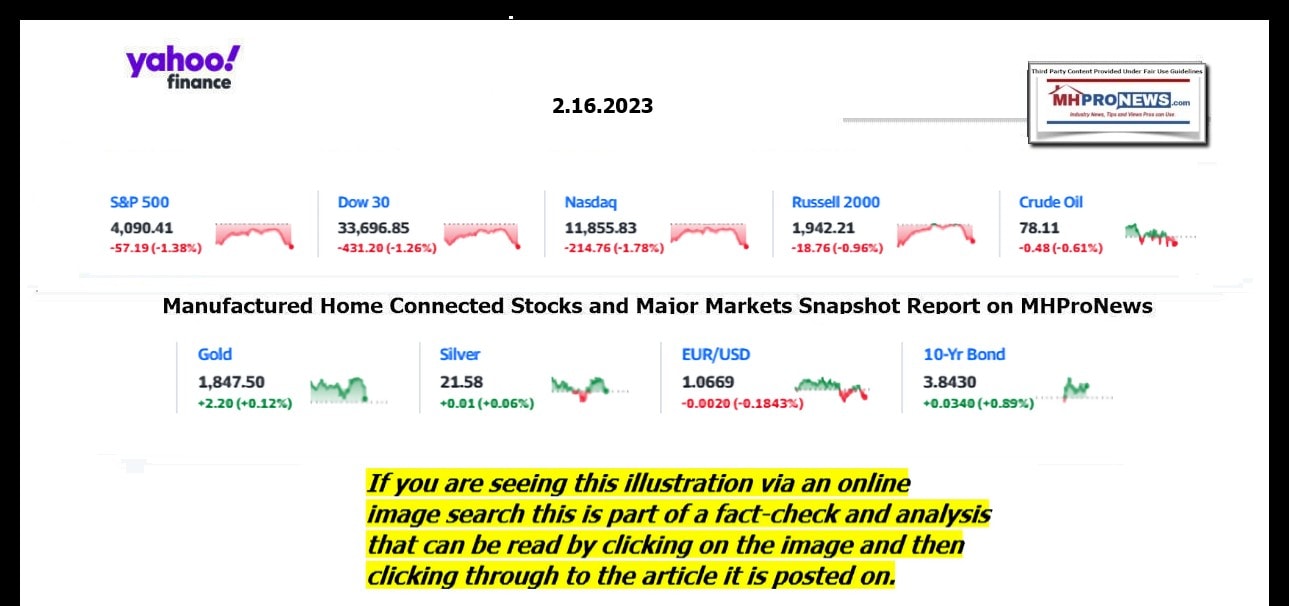 Headlines from right-of-center Newsmax 2.16.2023
Jim Jordan Wants Answers on FBI Memo Targeting Catholics
House Judiciary Chairman Jim Jordan, R-Ohio, and Rep. Mike Johnson, R-La., are demanding the FBI turn over information regarding a since-rescinded agency memo that tagged some Catholics as violent extremists due to their religious beliefs. [Full Story]
DirecTV Censors Newsmax
CPAC Chairman Urges AT&T, DirecTV to Reinstate Newsmax
RNC's McDaniel: Members Urged to Fight DirecTV Censorship
Hern: DirecTV Censorship a 'Grave Concern' | video
Penny Young Nance: AT&T Dropping Network is 'Censorship' | video
Jeffrey Lord: DirecTV Move Not Surprising Given Obama, Clinton Ties | video
Monica Crowley to Biden FCC Pick: Follow Up on Probe | video
Cruz: DirecTV Censorship 'Indefensible' | video
Texas AG Paxton: State Should Probe AT&T | video
Steil: Censorship 'Worthy of a Review' | video
Kiley: DirecTV 'Deplatforming' Conservatives | video
Alina Habba: Newsmax Removal 'Needs to Be Investigated' | video
Biden FCC Nominee: 'Very Troubled' by Newsmax Cut | video
Spartz: DirecTV, Monopolies Will Turn US Into 'Oligarchy'
Newsmax TV
Jerome Adams: Bad News Won't Come From Biden Physical | video
RNC's McDaniel: GOP Must Fight to Retire Biden | video
Hern: Biden 'Doesn't Want to See the Problem' at Border | video
Johnson: Norfolk Southern Should Answer Questions | video
Blaine Holt: Senators Got 'Doublespeak' on Balloon, Aircraft | video
Cornyn: Biden Causing Anxiety by Keeping UFOs 'Hush-Hush' | video
Matt Cartwright: No 'Maintenance' of Rail Cars a 'Red Flag' | video
Whitaker: Late for Clapper to 'Find Religion' on Laptop | video
More Newsmax TV
Newsfront
Fetterman Checks Into Hospital for Severe Depression
S. Sen. John Fetterman checked himself into Walter Reed medical center Wednesday to receive treatment for severe clinical depression, his office said…. [Full Story]
Wall Street Ends Down Sharply on Rate-Hike Worries
Wall Street ended sharply lower Thursday after unexpectedly strong [Full Story]
NORAD: More Russian Aircraft Over Alaska on Tuesday
The North American Aerospace Defense Command had to scramble fighter [Full Story]
Biden Wants 'Sharper Rules' on Unknown Aerial Objects
President Joe Biden said Thursday the U.S. is developing "sharper [Full Story]
New Study Finds Vaping Not Healthier Than Smoking
A new study builds upon earlier evidence that vaping isn't any [Full Story]
Vance to Buttigieg: Don't Blame Trump for Train Derailment
J.D. Vance, R-Ohio, on Thursday slammed Department of [Full Story]
US Reliance on 'Emerging' Tech Could 'Handcuff' Forces in War Against China
The recent flight of a Chinese spy balloon over the United States and [Full Story] | Platinum Article
Cautious But Steady Consumers Buoy US Economy
Call it the Goldilocks consumer.Defying high inflation and sharp [Full Story]
Putin War Official Falls to Her Death
Marina Yankina, a top Russian defense official, was found dead [Full Story]
Related
Why Putin Is Eyeing Moldova as Next Possible Russian Target |Platinum Article
Ukraine's Zelenskyy to Open Berlin Film Festival
Israeli Foreign Minister Visits Ukraine for Talks With Zelenskyy
How Ukraine War Has Shaped US Planning for a China Conflict
Tim McCarver, Big League Catcher and Broadcaster, Dies at 81
Tim McCarver, the All-Star catcher and Hall of Fame broadcaster who [Full Story]
Why Putin Is Eyeing Moldova as Next Possible Russian Target
With a major Russian offensive in Ukraine now officially underway to [Full Story] | Platinum Article
Quinnipiac Poll: Trump Tops DeSantis by 6 Points for '24
Former President Trump leads by six points over Florida Gov. Ron [Full Story]
Georgia Grand Jury: No 2020 Election Fraud, Witnesses Might Have Perjured
The special grand jury that investigated the 2020 presidential [Full Story]
Putin, Wagner Group Target Serbian Government as Protests Hit Capital
Russian President Vladimir Putin – who continues to lose allies as [Full Story]
Gizzi: Did Nikki Haley, Sarah Sanders Hit at Trump?
Both Nikki Haley and Sarah Sanders made calls for leadership by a new [Full Story]
Video Report: Ron DeSantis Fights Back Against 'Book Ban' Criticism
On Thursday's "National Report," Florida Gov. Ron DeSantis is [Full Story] | video
NYC Mayor: Retail Theft Hurts Low-Income Workers
New York City Mayor Eric Adams says shoplifting in the Big Apple is [Full Story]
Senate Unanimously Condemns China's 'Invasion' of US Airspace
The U.S. Senate this week unanimously approved tworesolutions to [Full Story]
CPAC Chairman Urges AT&T, DirecTV to Reinstate Newsmax
Denouncing the censorship of Newsmax, CPAC Chairman Matt Schlapp sent [Full Story]
Tesla Recalls 362,000 Self-Driving Cars
Tesla Inc. is recalling 362,000 U.S. vehicles because its Full [Full Story]
WSJ to Nikki Haley: 'Why Do You Want to Be President?'
Former U.N. Ambassador Nikki Haley needs to offer specifics on why [Full Story]
'Eye of the Tiger' Writer Slams Haley's Use of the Song
Frankie Sullivan, one of the writers of "Eye of the Tiger," had a [Full Story]
RSV Vaccine for Seniors Could Be Available by Next Cold, Flu Season
Older people have vaccines available to prevent severe influenza and [Full Story]
FEC: Santos Must Name Campaign Treasurer
The Federal Election Commission (FEC) is forcing embattled Rep. [Full Story]
ICE Detention Centers Criticized for Poor Conditions
Conditions at immigration detention centers continue to grow worse as [Full Story]
NY Times Publishes Column Defending Rowling's Trans Views
The New York Times published a column supporting J.K. Rowling's views [Full Story]
Rasmussen Poll: Most Back Ban on Minor Sex Changes
Fifty-eight percent of likely voters say they approve of legislation [Full Story]
RNC's McDaniel to Newsmax: GOP Must Fight to Retire Biden
Republican National Committee Chairwoman Ronna McDaniel told Newsmax [Full Story] | video
Tesla Fires Employees in Retaliation to Union Campaign: Complaint
Tesla Inc. Wednesday laid off dozens of employees from its Autopilot [Full Story]
Jobless Applications Fall Again Despite Fed Rate Push
Fewer Americans filed for jobless benefits last week despite efforts [Full Story]
DeSantis: Removal of Roberto Clemente Book 'a Joke'
Florida Republican Gov. Ron DeSantis blamed teachers unions for [Full Story]
Finance
Cautious But Steady Consumers Buoy US Economy
Call it the Goldilocks consumer.Defying high inflation and sharp interest rate hikes, Americans keep spending – a trend that, if sustained, could keep the economy humming just enough to help avoid a much-predicted recession…. [Full Story]
Fed Officials: More Rate Hikes Key to Lowering Inflation
Gucci Banks on Private 'Salons' for the Ultrarich
Fidelity to Expand Workforce by 4,000
More Finance
Health
How to Switch Off Your Work Brain
Americans are suffering from burnout. A recent survey by the American Psychological Association found that 79% suffer from work-related stress; 36% said their job caused cognitive weariness; 32% were emotionally exhausted; and 44% were physically fatigued. We need a… [Full Story]
Plant-Based Diet May Lower Risk for Prostate Cancer Progression, Recurrence
Instant Noodles Responsible for 30 Percent of Scalding Injuries
Study Finds Most Baby Formula Health Claims Not Backed by Science
Tailoring Medication to DNA Reduces Side Effects
Notice: the graphic below can be expanded to a larger size.
See instructions below graphic or click and follow the prompts.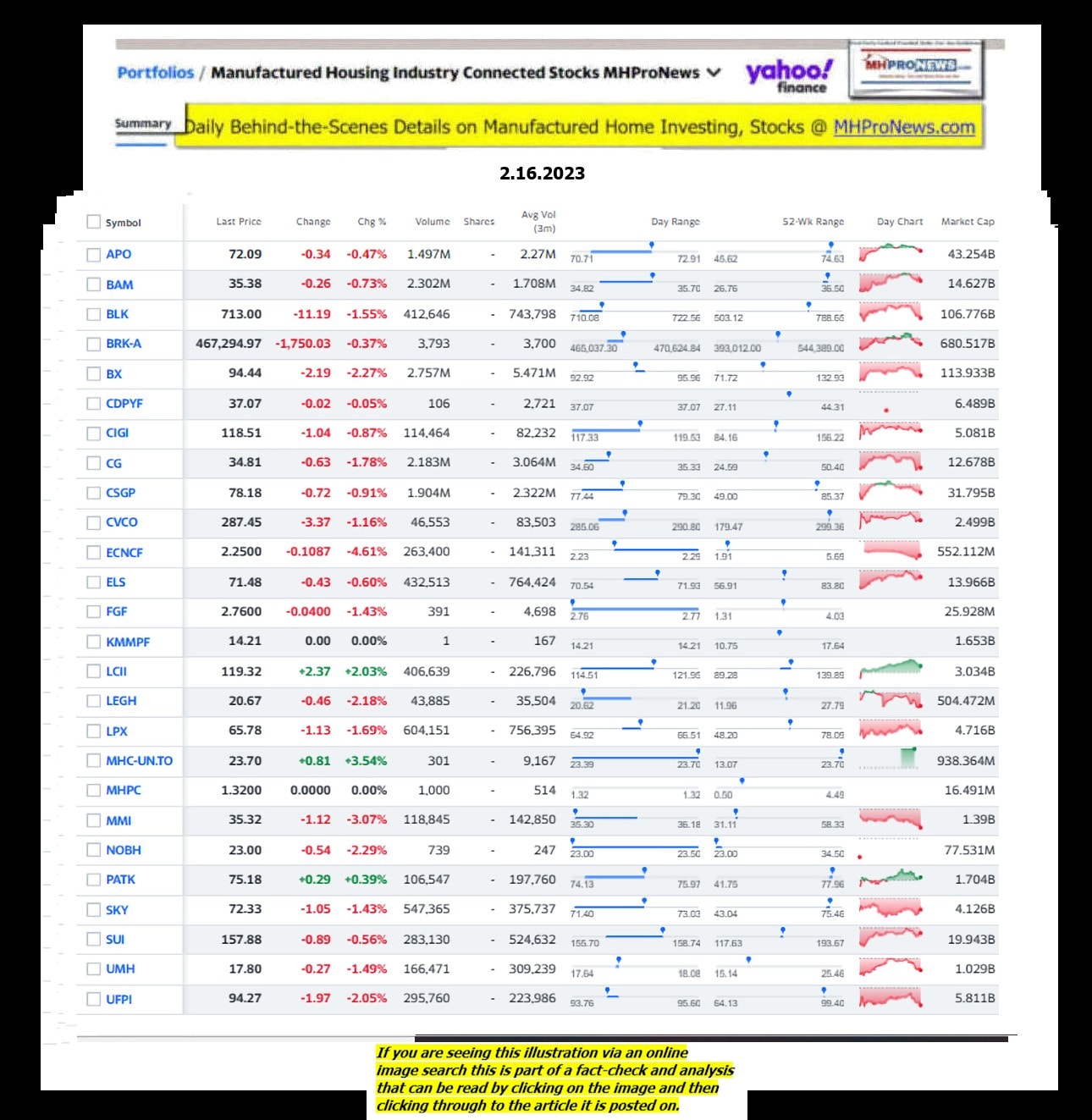 'Stomach Churning Year' CNN-Wall Street 'Forget 2022' Down Year – Major Equities Data Compared to Manufactured Housing Stocks, Manufactured Home Community REITs, Performance for Year by Company
====================================
Updated
NOTE 1: The 3rd chart above of manufactured housing connected equities includes the Canadian stock, ECN, which purchased Triad Financial Services, a manufactured home industry finance lender.
NOTE 2: Drew changed its name and trading symbol at the end of 2016 to Lippert (LCII).
NOTE 3: Deer Valley was largely taken private, say company insiders in a message to MHProNews on 12.15.2020, but there are still some outstanding shares of the stock from the days when it was a publicly traded firm.  Thus, there is still periodic activity on DVLY.
Note 4: some recent or related reports to the REITs, stocks, and other equities named above follow in the reports linked below.
'Manufactured Housing in the News,' Unpacking UMH CEO Sam Landy Op-Ed' It's Time for Bi-Partisanship on Affordable Manufactured Housing Homeownership' in HousingWire; plus MHMarkets Updates
Warren Buffett's Pledge to Kevin Clayton – 'You Can Access Plenty of Capital' for Projects – Quotes, Facts, Video, Transcript, and Implications for Manufactured Housing Industry
Manufactured Housing Properties-Results for Three and Nine Months Ending September 30.2022–Exploring 'Mobile Home Park' Manufactured Home Community Investing; plus MHVille REITs, Stocks Update
'Changes Will Benefit Customers,' Boost Sales-Legacy Homes CEO Duncan Bates – LEGH 'Delivered 22.5% Return on Equity in 1 Yr' – Corp Q3 2022 Insights, Analysis; plus MHVille REITs, Stocks Update  
'No Assurance Inflation Will Not Affect Our Future Profitability Financial Position'=Cavco Industries 10-Q, Solitaire Deal, More CVCO Data; Supreme Court Ruled-SEC Regs on False-Omitted Remarks
Skyline Champion Provides Quarterly Results, Adding Retail Centers, Improved Delivery Times-CEO Mark Yost Says 'Can Outperform Conventional Housing' Explored; Plus MHVille REITs, Stocks Update
Triad Financial Services Q2-2022 FINANCIAL RESULTS, per ECN Capital – Several Bright Spots in Manufactured Home Market Highlighted, Including Communities, Retail, Land-Home, Floor; MHStocks Update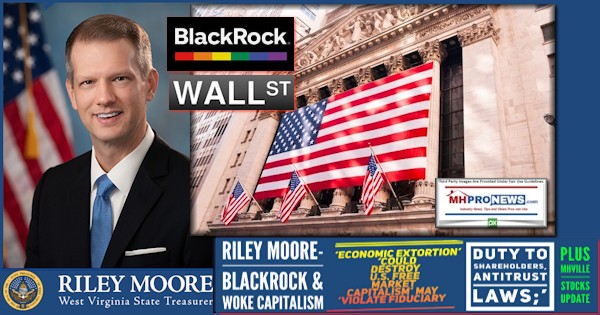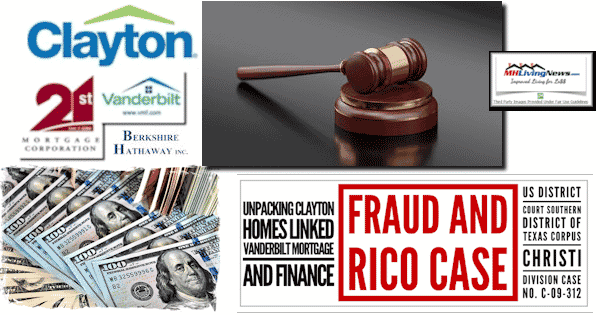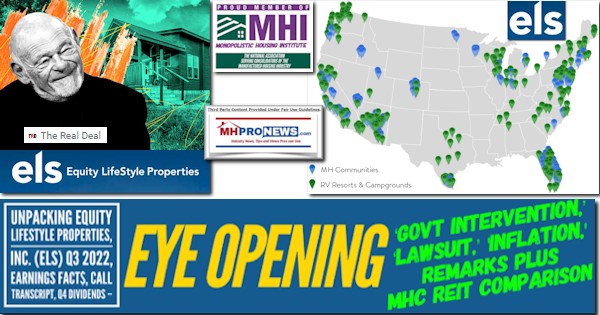 Manufactured Home Communities (a.k.a. 'Mobile Home Parks' – SIC) – Exploring UMH Properties; Fellow Manufactured Housing Institute Member Yes! Communities Suits and Settlements; plus MH Markets Updates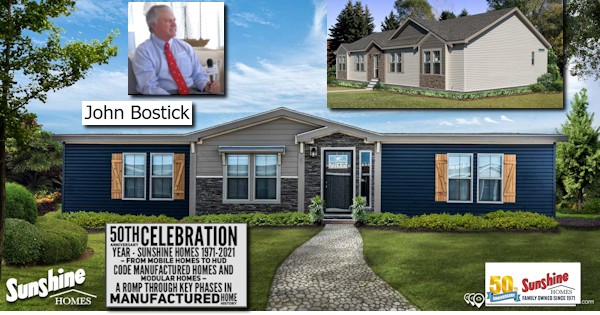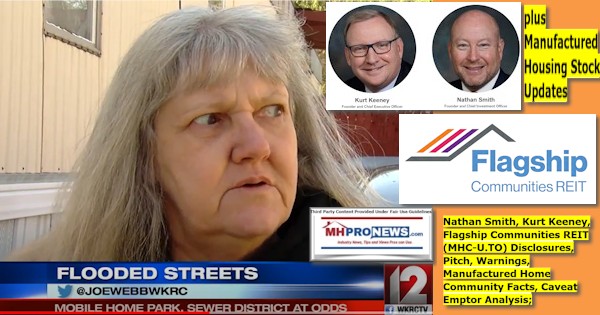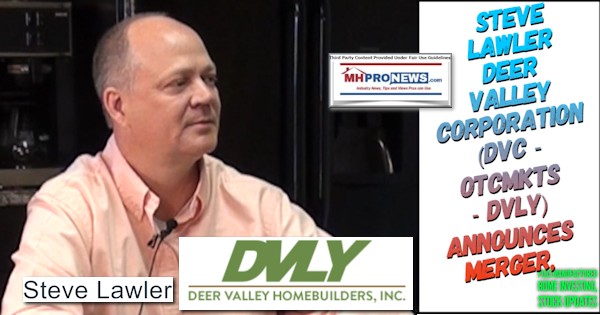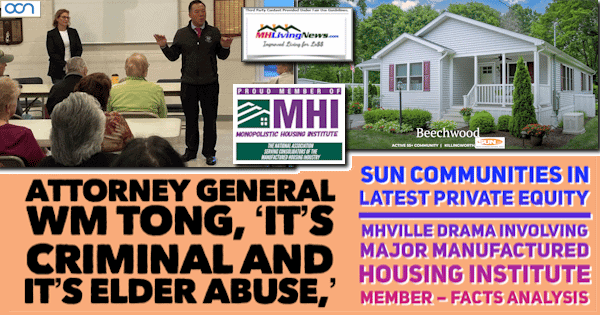 2023 …Berkshire Hathaway is the parent company to Clayton Homes, 21st Mortgage, Vanderbilt Mortgage and other factory-built housing industry suppliers.
· LCI Industries, Patrick, UFPI, and LP each are suppliers to the manufactured housing industry, among others.
· AMG, CG, and TAVFX have investments in manufactured housing related businesses. For insights from third-parties and clients about our publisher, click here.
Disclosure. MHProNews holds no positions in the stocks in this report.
· For expert manufactured housing business development or other professional services, click here.
· To sign up in seconds for our industry leading emailed headline news updates, click here.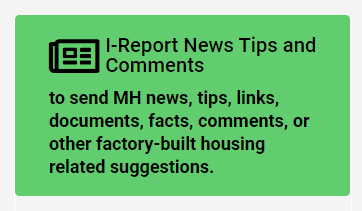 That's a wrap on this installment of "News Through the Lens of Manufactured Homes and Factory-Built Housing" © where "We Provide, You Decide." © (Affordable housing, manufactured homes, stock, investing, data, metrics, reports, fact-checks, analysis, and commentary. Third-party images or content are provided under fair use guidelines for media.) (See Related Reports, further below. Text/image boxes often are hot-linked to other reports that can be access by clicking on them.)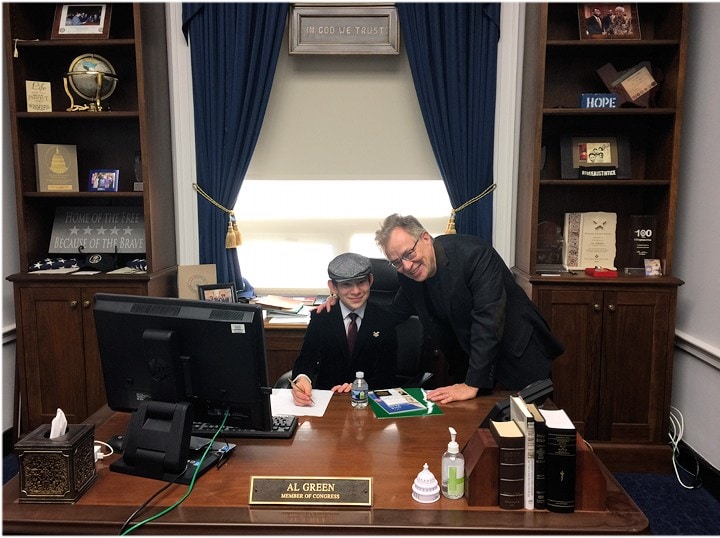 By L.A. "Tony" Kovach – for MHProNews.
Tony earned a journalism scholarship along with numerous awards in history. There have been several awards and honors and also recognition in manufactured housing. For example, he earned the prestigious Lottinville Award in history from the University of Oklahoma, where he studied history and business management. He's a managing member and co-founder of LifeStyle Factory Homes, LLC, the parent company to MHProNews, and MHLivingNews.com. This article reflects the LLC's and/or the writer's position and may or may not reflect the views of sponsors or supporters.
Facts You Didn't Know – Martin Luther King Jr – Videos, Insightful Quotes, Surprising Revelations, Videos, Reports, and Illustrations in Champion for Human Rights Including Affordable Housing
HUD Code Manufactured Home Building Down Nov 2022–Higher for Year per Manufactured Housing Association for Regulatory Reform Data, Facts-Insights Others Lack; plus MHVille Stocks-REITs Update
'Manufactured Housing Closes Year on Cool Note, But Optimism Grows for 2023' Says TRERC, But TMHA VP Rob Ripperda Lets Cat Out of Proverbial Bag, Exposing MHI; plus MHVille Market, Stocks Update
U.S. Housing Data Reveals Gaps-Underscores Vast Manufactured Housing Industry Potential, But Raises Corp, Trade Group Performance Concerns, Apparent Shareholder Effects; plus MHVille Stocks Update
After Admitted Failure, Manufactured Housing Institute Doubles Down on CrossMods® in AP Terminology Doc Acquired by MHProNews–Are MHI Leaders Sabotaging MHVille Independents? Plus MHStocks Update
Concessions by Speaker Kevin McCarthy in House Speaker's Battle Called 'Most Significant Win for Conservatives in a Decade' By Federalist's Emily Jashinsky Report; plus MHVille Stocks Updates