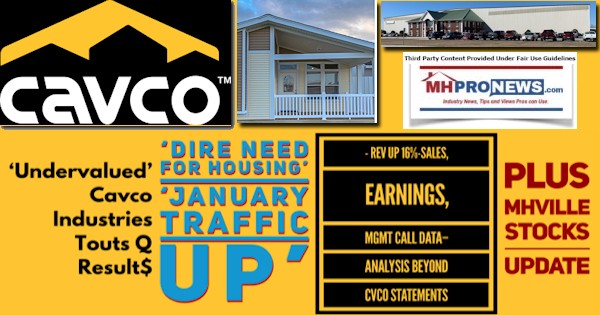 According to the analysts considered by Yahoo Finance (see graphic further below), Cavco Industries (CVCO) is considered to be 'undervalued.' Some others in the manufactured housing industry that are tracked by MHProNews are, by comparison, believed to be 'overvalued.' So Cavco on some level can be said to compare favorably with others in the industry.  That noted, during an affordable housing crisis, Cavco is arguably underperforming as is the industry that they are operating in. While the SEC fiasco under Joseph "Joe' Stegmayer's leadership is now supposedly in the rear view mirror, all indications are that it cost the firms millions of dollars in legal, insurance, fines, time, and other costs.
Part I of today's report is the transcript that follows is per Seeking Alpha, with spacing or some other errors corrected by MHProNews. Highlighting is added by MHProNews.
Part II includes Additional Information with More MHProNews Analysis and Commentary.
Part III is our Daily Business News on MHProNews macro-markets, time saving and insight generating left-right mainstream headline news snapshot, and our manufactured home industry connected stock, equities, manufactured home communities (MHCs) Real Estate Investment Trusts (REITs) updates for 2.21.2023.
Part I
Cavco Industries, Inc. (CVCO) Q3 2023 Earnings Call Transcript
Feb. 03, 2023 3:20 PM ET Cavco Industries, Inc. (CVCO)
Q3: 2023-02-02 Earnings Summary
Play Call Press Release10-Q
EPS of $6.66 beats by $0.87 | Revenue of $500.60M (15.96% Y/Y) misses by $12.91M
Cavco Industries, Inc. (NASDAQ:CVCO) Q3 2023 Earnings Conference Call February 3, 2023 1:00 PM ET
Company Participants
Mark Fusler – Corporate Controller & IR
Bill Boor – President & CEO
Allison Aden – EVP & CFO
Paul Bigbee – Chief Accounting Officer
Conference Call Participants
Daniel Moore – CJS Securities
Danny Eggerichs – Craig-Hallum
Jay McCanless – Wedbush
Operator
Thank you for standing by and welcome to the Third Quarter Fiscal Year 2023 Cavco Industries, Inc. Earnings Conference Call. At this time, all participants are in a listen-only mode. After the speakers' presentation, there will be a question-and-answer session. [Operator Instructions] As a reminder today's conference call is being recorded.
I would now like to turn the conference to your host Mr. Mark Fusler, Corporate Controller and Investor Relations. Please go ahead.
Mark Fusler
Good day, and thank you for joining us for Cavco Industry's third quarter fiscal year 2023 earnings conference call. During this call, you'll be hearing from Bill Boor, President and Chief Executive Officer; Allison Aden, Executive Vice President and Chief Financial Officer; and Paul Bigbee, Chief Accounting Officer.
Before we begin, we'd like to remind you that the comments made during this conference call by management may contain forward-looking statements, including the statements of expectations or assumptions about Cavco's financial and operational performance, revenues, earnings per share, cash flow or use, cost savings, operational efficiencies, current or future volatility in the credit markets or future market conditions.
All forward-looking statements involve risks and uncertainties, which could affect Cavco's actual results and could cause its actual results to differ materially from those expressed in any forward-looking statements made by or on behalf of Cavco.
I encourage you to review Cavco's filings with the Securities and Exchange Commission, including without limitation, the company's most recent Forms 10-K and 10-Q which identify specific factors that may cause actual results or events to differ materially from those described in the forward-looking statements.
This conference call also contains time sensitive information that is accurate only as of the date of this live broadcast, Friday, February 3, 2023. Cavco undertakes no obligation to revise or update any forward-looking statement, whether written or oral to reflect events or circumstances after the date of this conference call, except as required by law.
Now I'd like to turn the call over to Bill Boor, President and Chief Executive Officer. Bill?
Bill Boor
Welcome and thank you for joining us today to review our results for the third quarter of fiscal 2023. This quarter, we achieved another significant year-over-year improvement in revenues and profit. Revenue was up 16% and pretax profit was 29%. Units sold were approximately flat and the improved financial results were driven primarily from year-over-year average selling price and gross margin improvement.
Operationally, while adjusting to the changing market, our plants continue the reach high levels of efficiency. We generally calculate capacity utilization using all available operating days. For the quarter, this yielded an approximate 65% utilization. However, we operated about 84% of the total available days due to holidays, weather driven downtime and market downtime. On a days operated basis, we ran at about 80% capacity utilization. This indicates that our plants are doing the right thing by adjusting to the market conditions while remaining ready to go when orders improve.
Cancellations continued during the quarter, but only at about 60% of the previous quarter's rate. And the bulk of the cancellations were in regions that had lagged the initial stages of the downturn. So in a sense the process has been moving through the regions and for some of the earliest hit areas, cancellations are no longer a major factor. As backlogs reduced to much lower levels, the cancellations naturally become less of a factor because the order to delivery timeframe is so much closure to real time.
Retailer inventories are still an issue that clouds the picture of underlying demand. This is because wholesale orders will naturally be slower than homebuyer purchases until retailer inventories are reduced to their targets. Inventory resolution will not be an abrupt change in the market. It's happening every day and each retailer that individually gets to their target moves us closer to a one to one relationship between homebuyer demand and manufacturing orders.
Third quarter order rates were hit from all sides. The economy's effect on consumer activity, seasonality, and the industry wide excess inventory have all resulted in declines in the backlog. Our backlog is down 34% sequentially to $427 million or approximately 9 to 11 weeks at current production rates. Well, we normally don't get into the first quarter updates. In this market, I think it's important to share what we're seeing in the first month and the new year. We are seeing early indications of a seasonal pickup in traffic as well as in quotes, which have increased considerably in January.
In fact, we view quotes as a leading indicator of future orders and over the past several weeks, quotes have been at or above the level we've seen in the last year and a half. These observations are positive indicators about underlying demand and that we might experience with seasonal pickup in order rates. So there is reason for optimism that a pickup in demand might accelerate the inventory correction and resolve an increased wholesale orders.
It's very difficult to predict when the inventory issue will be behind us because we're still watching the see how orders develop going into the spring. However, my best guess is we have a few more months of feeling some level of the inventory drag. For the most part, price has held up well to this point, recognizing that there is a range of competitive pricing pressure from location to location. This is and always will be a cyclical industry and prices never stay stagnant for very long. Again, the question about near term price movements will largely be answered when we see how orders develop in the coming months as well.
Let me change course and touch on a few developments in our growth strategy. First, we've talked about this in the past. We successfully started up the new Hamlet, North Carolina plant this quarter. That plant is fully staffed with a strong management team and production of employees that carried over from the prior owner's volumetric building operation. We needed to execute a complex transition to ready the plant for HUD production. And that project was delivered on time and on budget. So really a great job by everyone at both in Hamlet.
On January 3, we closed on the previously announced Solitaire Homes acquisition. We're excited about the opportunities this combination brings. Solitaire has four production lines as well as 22 retail stores. We anticipate significant value added opportunities that include filling out product lines across the combined retail network, bringing best practices to the Solitaire production facility, and accessing their retail network to enhance sales in our insurance company.
I'd also like to take a minute to discuss our work in the area of digital marketing. I might not talk enough about developments we are prospectively working on in the company. So it's important for me to make it a point to tell you when our major company efforts come to fruition. This is one of the situations because we've been working on this for some time now and have reached a big milestone.
In January, we went live with cavcohomes.com, our new consumer facing digital home marketplace. Launching this new website makes it easier for homebuyers to discover and research 1,500 manufactured, modular and park model floor plans, and 2,700 stock models across our flagship brands. It also connects them to our 1,500 retailers and communities based on their geographic area.
The home shopper can seamlessly research floor plans, photos, videos, virtual tours and product availability using any smart device. This new site enhances the experience for our retailers as well. They now have the ability to have their own pricing photos, videos and special offers to the dealer specific microsites that we are providing for them. The site is integrated with our ERP system, giving retailers and customers easy access to dealer and product information, as well as current availability.
And perhaps most importantly, our dealers benefit from the directed leads and phone calls generated by consumers using this digital marketplace. I know that's a mouthful, but this is really a major milestone. It opens up a new era for Cavco to build our brand nationally and to more effectively reach and serve our customers. Launching with the site is the culmination of a tremendous collaboration between our technical and marketing teams.
Through this work, we've not only built site, we've built a powerful organizational capability in the team. And that digital marketing team under the leadership of Colleen Rogers, our Senior VP of Marketing Communications, will continue to add an improve upon the foundation they've created for the benefit of our homebuyers and retail partners.
With that, I'd like to turn it over to Allison to discuss the quarter's financial results in more detail.
Allison Aden
Thank you, Bill. Net revenue for the period was $500.6 million, up 16% or $68.9 million compared to $431.7 million during the prior year's third fiscal quarter. Within the factory built housing segment, net revenue was $481.2 million, up 16.3% or $67.6 million compared to $413.6 million in the prior year's third quarter. This increase was primarily due to a 15.9% increase in average revenue per home sold due to product pricing increases.
Financial Services segment net revenue was $19.4 million, up 7.1% or $1.3 million from $18.1 million. This year-over-year increase was due to a higher number of insurance policies in force. Consolidated gross profit as a percentage of net revenue was 26.2% consistent with the 26.7% in the same period last year. In the factory built housing segment, gross profit percentage increased to 25.5% in Q2 of 2023 versus 25.2% in Q3 of 2022, primarily due to product pricing.
Gross margin as a percentage of revenue in Financial Services decreased to 46.6% in Q3 of 2023 from 61.2% in Q3 of 2022 due to the impact of weather related events in Arizona and Texas. Selling, general and administrative expenses were $58.9 (ph) million or 11.8% of net revenue compared to $60.3 million or 14% of net revenue during the same quarter last year. The SG&A dollar decrease is primarily due to lower cost of third-party consultants assisting with the energy tax credit project and was partially offset by greater incentive and commission wages on improved earnings.
Net other income was $3.2 million compared to $4.3 million in the prior year quarter. The decrease is primarily driven by $2.4 million in lower unrealized gains of corporate equity securities, partially offset by higher interest income earned on commercial loans and cash balances. Pretax profit was $76.1 million up 29.2% or $17.2 million compared to $58.9 million in the prior year period. The effective income tax rate was 21.7% compared to a benefit of 35.1% in the same period last year.
Our third quarter of fiscal 2022 income tax included a non-recurring benefit of $34.4 million, pretax credits related to the sale of energy efficient homes. Excluding this item, our tax expense as a percentage of pretax income would have been 23.3% in that period. Net income attributed to Cavco shareholders was $59.5 million compared to net income of $79.6 million in the same period last year, the diluted earnings per share were $6.66 versus $8.57 per share.
In addition, I note our next quarter will include the results of our recent acquisition of Solitaire Homes. Through that acquisition, we acquired finished home inventory at the retail site. Purchase accounting requires us to record that inventory at fair value upon acquisition, which means we'll not recognize a profit upon sale of those homes.
As a result, we will see an impact to our margins of approximately 150 basis points to 200 basis points in the next couple of quarters as we sell through these homes. This is the same dynamic that happens on all acquisitions and the cash we will receive for these homes is not affected by the accounting treatment. We are bringing this to your attention because of the amount of inventory we are purchasing, which is driven by the fact that we're purchasing several retail locations.
Before we discuss the balance sheet, I'd like to take a minute to highlight that we continue to execute on our capital allocation priorities with the recently closed acquisition of Solitaire Homes, the opening of our Glendale, Arizona and Hamlet, North Carolina manufacturing facilities and our share repurchase of 34 million in the quarter. The purchase of Solitaire Homes will utilize approximately $93 million in cash before closing adjustments, leaving us with just over $280 million in cash subsequent to the purchase. We will continue to appropriately deploy this capital including share repurchases.
Now I'll turn it over to Paul to discuss the balance sheet.
Paul Bigbee
Thanks, Allison. Today, I'm going to walk through changes in the December 31, 2022 balance sheet compared to April 2, 2022. The cash balance was $376.1 million, up 54% or $131.9 million from the end of the prior fiscal year. The increase is primarily due to net income adjusted for non-cash items and changes in working capital, providing cash of approximately $230 million. This amount was partially offset by common stock buybacks of $73 million and purchases of property, plant and equipment, primarily at our new facilities in Hamlet, North Carolina and Glendale, Arizona.
Investments, including short-term, decreased primarily due to the return of capital from one of our joint ventures involved with home sales. Inventories decreased due to lower raw materials and a decline in inventory at the retail lots. Prepaid and other assets were higher from greater prepaid income taxes, partially offset by lower assets recorded in regard to the repurchase option on delinquent loans that have been sold to Ginnie Mae.
Property, plant and equipment is up primarily due to the purchase of the facility in Hamlet, North Carolina and continued development of the Glendale, Arizona facility as discussed previously. Accrued expenses and other current liabilities increased from higher rebates payable, more setup, freight, combination work and warranty reserves, all on higher sales. Lastly, stockholders' equity was approximately $955.5 million, up 15.1% or $125 million from the end of the prior fiscal year.
This completes the financial report, and I'll turn it back to you, Bill.
Bill Boor
Thanks, Paul. As Allison and Paul explained, our balance sheet remains very healthy, which supports a continuation of the consistent capital allocation path we've been delivering upon. While the industry is working through the abrupt (ph) quarter drop off for the past several months and the resulting decrease in backlogs, we view these mini cycles as something to be well managed within the much bigger picture of the dire need for housing.
We view the return to a strong market where manufactured housing demand stretches available capacity is inevitable given the nationwide lack of affordable housing. And we feel very good about our continuing strategy. We'll continue to invest in operational improvements and growth, and we will continue using share repurchases to responsibly manage the balance sheet.
With that, Valerie, please open the line for questions.
Question-and-Answer Session
Operator
A – Mark Fusler
All right. Dan Moore, are you with us? I think I see you in the queue.
Daniel Moore
I am indeed. I did not hear the prompt there.
Bill Boor
Yeah. Go ahead, Dan.
Daniel Moore
Good morning. Thanks for taking the question. Appreciate it. Maybe start with Bill, just can you delineate at all between trends in terms of traffic inquiries, quotes across retail versus REITs and institutions as well as maybe community developers, just your different end markets. Are you seeing — what are you seeing across them? And are you seeing more interest from customers trading down from traditional site built, even if it's not translating directly to orders because of the inventory issue.
Bill Boor
Yeah. I can take a stab at that. First, I think we've been pretty consistent through this time period that communities have remained strong. So the big impact we've seen recently of decreased retail activity has mostly been more of the street retailer side. So I'd say communities continue to be strong. And a lot of our comments here, which I don't — I want to present a very balanced picture, right? We've got a few data points here in January.
We thought it was important to talk about January because I know my level of interest in trying to figure out where we're going here. It's just a few data points, but they're encouraging data points. Most of that reflects what I would characterize as a generally optimistic mood on the street retailer side coming back up. So communities have been consistent, Street retailers slowed down. The inventory is still there, but there looks to be some reason for some optimism with the data points we have in January.
As far as the trade down, I think that's been consistently happening. And I'm always a little bit frustrated because we haven't figured out a great way to give people a sense of the magnitude of that dynamic, but we know it goes on, right? And we know it because we've got retail that's having — that's talking to folks that might come in and say, I didn't expect that manufacturer helps. But given the way things are going, I want to see what you've got and they end up buying something they're happy with.
And I think we also hear it from our independent retailers. So I can't really just give you any sense of how big that trend is. But I know that it certainly is something that this industry has taken some ground on over the last couple of years, actually, with the run-up in pricing. Does that cover it, Dan? Did you have another aspects I missed?
Daniel Moore
No, that's very helpful. Kind of switching gears, I guess, a little bit. Backlog about nine to 11 weeks. Do you — how should we think about production over the next, say, one to two quarters? Do you expect to curtail production given the decline in backlogs? Are you comfortable continuing to produce over 4,000 homes before we — obviously, before we add layer in Solitaire, given the order rates that you're seeing, just trying to think about how you're kind of managing that backlog versus when you need to see a significant uptick in orders.
Bill Boor
Yeah. It's probably a really important question to talk about for a minute because the last couple of years, we reported backlog numbers and it was just across the board, right? I mean everything was going up, and it didn't — there wasn't much differentiation region to region, and it didn't really matter because the numbers were big, right, Dan.
But to expand on your question a little bit and give you a little bit more flavor, when we do that kind of estimate of weeks, that's very much an average now in a situation like this. And the situation does vary from plant to plant, region to region, meaning we do have plants that have considerably less backlog, and we've got some that have very, very strong backlogs.
So I told you in the scripted part of the call that we did have some market downtime this past quarter. And that takes different forms, extended holiday outages that we took advantage of where backlogs were lower. And some of our plants, a good number of our plants, actually, have adjusted to four day work weeks. So that was what was going and that kind of lowered our running time of available days to about 84%.
And we're continuing in that mode until those individual plants that see even the lower end backlog in weeks, they start to see it stabilize and come up. So a very long winded kind of conceptual answer to you, but I do expect that we'll still not operate all available days. But as we see cancellations abate and get closer to a 1:1 flow-through of homebuyer orders, which I think is happening every day. And if we get kind of the seasonal order pickup that we're starting to see signs of, that's all good news for reducing that market downtime.
Just I'll throw this in, again, we're always a little bit hesitant to get into the mode of giving up to the minute updates on these calls. We'd like to focus on the quarter we're reporting on. But I did comment on quotes being significantly up. Also kind of tell you that we looked at orders written, right, not net of cancellations. And last few weeks, they've been honestly comparable to about late summer, early fall of last year. So I'm going to keep qualifying my statements at a couple of data points doesn't mean we're out of the woods by any means, but they're good data points.
Daniel Moore
No, that's really helpful, Bill. I guess and I know you don't want to get into the exact guidance in terms of production number of units. But it sounds like Q4, the last quarter was a reasonable proxy for where we will be, give or take, in the short term versus a big leg down or anything of that nature?
Bill Boor
Yes.
Daniel Moore
Lastly, maybe one or two more ASPs, just expectations as raw materials come down, we expect those to continue to tick modestly lower?
Bill Boor
Yeah. I've kind of always maybe a little bit of an outlier on this question because I read a little bit less to materials and being a direct relationship and a little bit more to how backlogs are going and how competitive it gets for manufacturing orders. And there, again, I apologize that I can't give you a generalized answer, but it really is playing out in local markets. We have seen some markets where backlogs dropped quickly and to lower levels where there's been some tax sliding on price.
And we've seen in others where it just doesn't make sense to reduce price because the backlog still remain or the issue of dealer inventories is really what's restricting orders, not a reduction in price. So again, hard to generalize. We are in a more competitive environment in some geographies and this backlog stabilize, I think we'll be able to make it through this with not a lot of price leakage.
Daniel Moore
Very helpful. Lastly for me, I'll jump out. Allison, I apologize. There were some disturbance and I missed what you said about SG&A. It was lower in the quarter sequentially. What were the factors and just how do we think about what the run rate maybe including Solitaire.
Allison Aden
Yeah. Thank you. Apologies for the background noise. Lower sequentially due to the reduction in third-party expenses. Third quarter last year, we were right in the middle of our tax energy credit efficient project. So we had a large outflow for support on that by third parties by the offset of then commissions and variable compensation that we have been slow with based on all of these. So basically, SG&A still being the component of about 40% that's variable, now we can leverage as we expand and contract.
Daniel Moore
Okay. I'll jump back if any follow-ups. Thank you.
Mark Fusler
Thanks, Dan.
Operator
Thank you. And our next question will come from Danny Eggerichs from Craig-Hallum. Your line is open.
Danny Eggerichs
Yeah. On for Greg Palm today. Thanks for taking the questions. I was hoping to just hit on that last one real quick on SG&A. I mean, it still was quite a bit lower than the Street was modeling here. So I guess before layering on Solitaire, is that say, $59 million number, a more reasonable baseline to go off of?
Allison Aden
I think the current quarter that we just left kind of represents more of a steady state, if you will. We did absorbed a year ago, an amount that was significant as we talked about because we were going and working with very expertise on the third-party side for the tax credits. What you're seeing now is a more relatively related consistent level. There always has a fluctuation on SG&A, which helps our model because 40% of it is variable compensation and commission structure as is the industry that will ebb and flow with the revenue. So if you modeled at a level of SG&A revenues now, probably a realistic picture.
Danny Eggerichs
Okay. That's helpful. I guess, just kind of in terms of the overall demand backdrop, maybe for that current quarter, what kind of cadence you saw throughout the months? I appreciate the color on January. It sounds like starting to see things pick up. And then maybe just more broadly, I guess, realistic scenarios for industry shipments for the calendar year '23.
Bill Boor
Yeah. It's a million dollar question, last one. What's the question on the cadence in the last quarter?
Danny Eggerichs
Just for this fiscal quarter three, how, I guess, more of a monthly cadence, how you saw that play out throughout the quarter?
Bill Boor
Okay. Yeah. You got it, I mean, it's interesting because you think of those months, there's a lot of holidays in there and there's seasonal slowing too. So it's a little bit messy to interpret the month-to-month within that quarter. I guess, one of the things that we commented on is that cancellations were for the entire quarter were about 60% of what they were in the previous quarter, which I think is a good sign as well. So I would say cancellations were improving throughout the quarter, kind of they're still present but they're going down. And order rates just typically slow down more in December than we do in the other months. So a lot of things going on there.
Danny Eggerichs
Okay. I'll leave it there for now. Thanks.
Bill Boor
Okay.
Operator
Thank you. [Operator Instructions] And our next question will come from Jay McCanless from Wedbush. Your line is open.
Jay McCanless
Hey. Good afternoon. So my first question with Solitaire, any kind of guidance you could give us around what you think run rate annual revenues would be? And then also maybe what collectively calendar year '22 shipments were from the combined entities?
Allison Aden
So I mean for Solitaire kind of what we've said is overarchingly that the deal went about 10% overall. So also a similar ASPs and the gross margin as the rest of the — as we work through the rest of the fiscal year. We did touch upon that for the next two quarters because of purchase accounting, the margin will be down a bit. That's for the reasons that we know about and expect. But basically, if we can think about it as we said about in the prior quarters, which is about a 10% increase to our overall capacity.
Bill Boor
10% manufacturing capacity.
Allison Aden
Manufacturing capacity, yes.
Bill Boor
Jay, I think you had asked revenue, don't want people to tack that on to the company level revenue.
Jay McCanless
Understood. Just trying to make sure, get a sense of how we need to model this out. I guess the second question, what — do you feel like this might be a quarter where you're seeing an inflection point in the backlog with cancellations starting to come down or does it feel like the inventory in the channel is still a little too heavy to make that call?
Bill Boor
Yeah. That's where I want to be really balanced. I mean we're trying to give you guys as much of an update view of what we're sensing in the market as we can. But it doesn't mean we have a clear view of how things are going to unfold here in the next couple of months. I would say, when we turned the corner on the calendar year, I was really focused on, are we going to see a seasonal uptick, right? Because the doomsday scenario would have been that when higher activity and traffic deposits ultimately orders. If we had turned the corner and the economy was kind of winning the game, and we didn't see that seasonal — the indications that seasonal pickup that would have been — that would have been a negative sign.
Just as I explained, the good news is, over a period of a few weeks here, right, you get beyond the first week or so of January, and you finally start seeing some data really kind of encouraging data around traffic, quotes as I talked in the earlier discussion. And I think I said here in one of the answers that even orders were back up to levels that were from pretty healthy times. So the early indications are good. We're going to keep our eye on it. There's a lot going on in the economy. There's still uncertainty out there.
And I think all that stuff connect (ph) have to unfold for us to really know how things are going to shape up for the year. I think for the industry shipments, I'm talking calendar years now, started off with an unbelievably strong first half to push in three quarters of the year, and we finished up overall in shipments as an industry, but that was with the tail off there in the last couple of months.
I think Mark (ph) might have the data, I think November was seasonally adjusted rate of November industry shipments was down in the mid-90,000 range. So there was a bit of a tail off there. We're probably going to start off a little slow in this calendar year. And if things go well, it will be a reverse of last year. That's what we're kind of hoping for</span..
Jay McCanless
Got you. We've seen mortgage rates come down really since October. Are you seeing the same type of decline in mortgage rates for chattel (ph)?
Bill Boor
No. Chattel states, chattel is a fancy [indiscernible] sticky. So we haven't seen chattel move really at all over the last couple of months. It tends to be independent of land home rates. So nothing to note as far as improvement there. Net chattel rates, I'm looking around because I don't have all the data. I think chattel rates are running in the high 8%s to low 9% right now.
Jay McCanless
That's good to know. Thank you.
Bill Boor
[indiscernible] about half the year.
Jay McCanless
Got you. And then — and I apologize if you might touch on this earlier, but just what are you hearing from the park operators these days? How are they thinking about '23 and what should we expect to hear from them?
Bill Boor
Yeah. I mean there's been a bit of a rock in the whole thing. They've just been staying and I'm generalizing, but I think it's a good generalization that community operators, it's particularly large REITs that we deal with quite a bit. They've been pretty steady with significant growth plans, a lot of capital put to work, and they've got lots that they can't get paid for if they don't get a house on them. So I've talked in the past that there's — I use a term buffer a little bit, maybe too often talking about this industry.
But one of the buffers, I think we have is downturns really is within the communities where their model may be to have a person own their home and come put it on one of their lots, so they can get the land lease payments, but they also are doing a lot of buying homes and renting them. And so they kind of become a solution for that homebuyer that can't afford right now to own. And I think that gives some resiliency to those community operators when we look at it from a demand perspective. So they've been very consistent. I don't think there's been much at all of waning in their demand through this whole period.
Jay McCanless
That's great to hear. I mean, what do you think now is the mix of community operators versus retail dealers and maybe versus what it was last year?
Bill Boor
Yeah. I don't think, I'd note a huge shift. I mean, over time, that's been about 30% community operators or about 30% of the industry. So I get your question, I mean, it stands the reason if they're normally crazy and Street realtors take a pause. That's going to shift a little bit. But I don't think it's shifted that dramatically that I focus on it personally.
Jay McCanless
Okay. Great. Thanks for taking all my questions.
Bill Boor
Yeah. Thank you.
Operator
Thank you. And I am showing no further questions from our phone lines. I'd now like to turn the conference back over to Bill Boor for any closing remarks.
Bill Boor
Okay. Thank you. Again, it's been great to report on another quarter of strong results. I think the financial results just continue to highlight the ability of this organization. Across manufacturing, retail lending, and our insurance operations, our leaders are working really closely together, and they're flexibly responding to the market dynamics, and they're staying focused on the through-the-cycle opportunities, which I think is really important. So I want to thank everyone, as always, for your interest in Cavco, and we look forward to keeping you updated.
Operator
Thank you. This does conclude today's conference call. Thank you for your participation. You may now disconnect. Everyone, have a wonderful day. ##
Notice: The graphic below was not part of the Seeking Alpha transcript above. Note 2: there seems to be a few typos, beyond spacing or punctuation errors (e.g.: "so much closure to real time" may actually be "so much closer to real time"), but the text above is provided as per the original, save for the highlighting which was added by MHProNews. Note 3: additional highlighting is planned for the above transcript. UPDATED at 3:00 PM ET.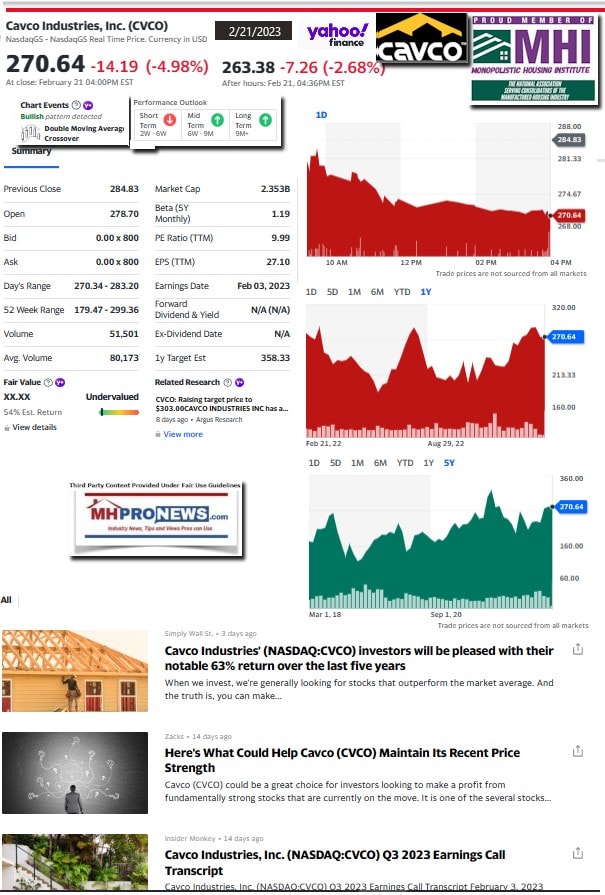 Part II Additional Information with More MHProNews Analysis and Commentary
First, let's note that MHProNews has placed an inquiry with Cavco Industries (CVCO) about information from their firm that is arguably related to their 2022 performance. MHProNews will plan to present their response. The questions are perhaps tougher than the ones from the outside market analysts on this quarterly earnings conference call.
Next, There are several questions that ought to be poised, but let's focus on one that has not yet been put to Cavco management. It is the issue of product mix going to manufactured home communities (MHCs). Jay McCanless said: "I mean, what do you think now is the mix of community operators versus retail dealers and maybe versus what it was last year?" To which Cavco's William "Bill" Boor replied, "Yeah. I don't think, I'd note a huge shift. I mean, over time, that's been about 30% community operators or about 30% of the industry." That followed on Boor's remark, also related to volume from MHCs, that "they've been very consistent. I don't think there's been much at all of waning in their demand through this whole period."
Boor is the vice chairman for Manufactured Housing Institute (MHI). Leo Poggione, Craftsman Homes, is the MHI Chairman. Cavco reportedly has a large stake, perhaps now outright ownership of, Craftsman Homes. So, the chair and vice chair have direct ties with Cavco.
That said, MHI in a documented updated for August 2022 claimed that "49% of new manufactured homes are placed on private property and 51% are placed in manufactured home communities." Yet their May 2021 version of that same document stated that "69% of new manufactured homes are placed on private property and 31% are placed in manufactured home communities." That's a significant shift, 'if true.'
So, Cavco, which has essentially the top two board positions on MHI's so-called Executive Committee, said in their earnings call that the total is about 30 percent. MHI said that for 2021 that was around 31 percent, but by August 2022 it was then supposedly 51 percent. That's a sizable shift. Which means it is a significant disconnect between what Cavco and MHI are claiming. Are they looking at different "industry" data? If this important data point is off, then what else is awry? Who is correct or closer to being correct, and who is wrong?
A new piece of evidence has come to MHProNews' attention which is being investigated. It will relate to communities, and thus also to manufacutred home industry capacity and overall health. Suffice it to say for now that there are several indicators that the numbers of manufactured home communities that have closed for redevelopment or other purposes has far outpaced those which have opened. There are indicators that manufactured home community occupancy is increasingly reaching capacity nationally. Some individual communities or areas are at or near capacity, others, less so. But as MHProNews asked MHI leaders in 2017, the day is coming when the communities are going to be order fewer homes once they reach capacity. Isn't that going to become an obvious drag on future production? Be it roughly 30 or 50 percent of Cavco's (and presumably somewhat similar for other producers) production, if suddenly the orders from communities drops sharply because far fewer homes are needed by MHCs, that spells a downturn, unless the retail sector picks up the slack.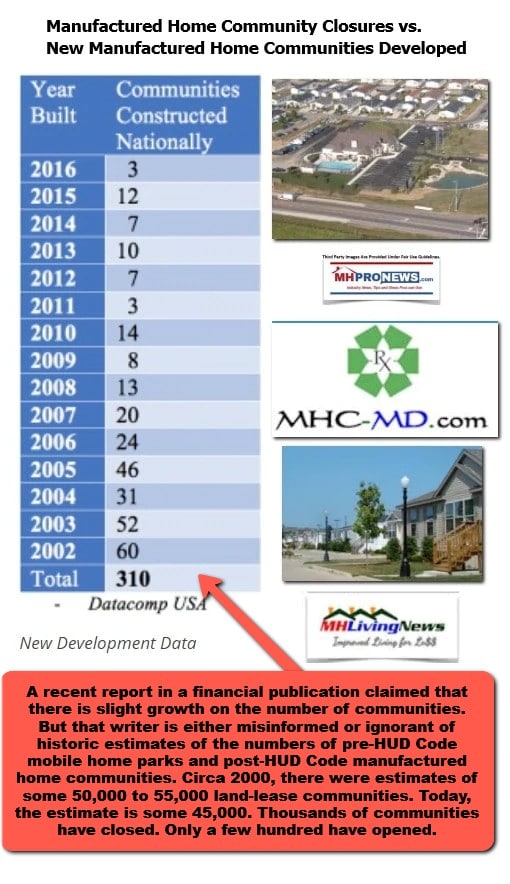 MHProNews encourages readers to see the prior reports on Cavco, and recent industry data and insights in the reports linked below and herein. Pending possible responses from our inquiries to Cavco's leadership, we'll hold our powder dry on other possible topics. Stay tuned to MHProNews for more insights and information than are found on any known manufactured housing focused trade site in the U.S.A.
BlackRock Document Exposes Central Banks like Federal Reserve on Recession; Manufactured Home Producer Cavco Industries 2022 Year End Results (CVCOQ3.23) Facts+Analysis; plus MHVille Stocks Update
'U.S. Should Break Up Monopolies' Democrat Robert Reich Guardian Plan Would Hit Clayton Homes, Skyline Champion, and Cavco Industries with Costly Antitrust Lawsuit – Statements, Facts, Analysis
MHI 'Special Bulletin' DOE MH Energy Regs Lawsuit 'Effort to Ensure Consistent Industry Message,' Will Manufactured Housing Institute Launch More Suits? Plus Sunday Weekly MHVille Headlines Recap
Official HUD Manufactured Housing Production Facts for Dec 2022 plus 2022 Year End Totals Explored by Manufactured Housing Association for Regulatory Reform (MHARR)-"Millions" Needed – Analysis
MHVillage – Endorsed by Manufactured Housing Institute (MHI), 'Information Key at MHVillage' Fact Check 'Best Data and Info from Around Country'-Clayton, Cavco Insights- Plus MHVille Stocks Update
Unpacking MH Attorney Kurt Kelley's 'Predictability in Law is the Key to a Prosperous Republic.' Is USA Democracy or Republic? Why it Matters to Businesses, Pros, Consumers, or any American
Part III. Daily Business News on MHProNews Markets Segment
The modifications of our prior Daily Business News on MHProNews format of the recap of yesterday evening's market report are provided below. It still includes our signature left (CNN Business) and right (Newsmax) 'market moving' headlines. The macro market moves graphics will provide context and comparisons for those invested in or tracking manufactured housing connected equities.
In minutes a day readers can get a good sense of significant or major events while keeping up with the trends that are impacting manufactured housing connected investing.
Reminder: several of the graphics on MHProNews can be opened into a larger size. For instance: click the image and follow the prompts in your browser or device to OPEN In a New Window. Then, in several browsers/devices you can click the image and increase the size. Use the 'x out' (close window) escape or back key to return.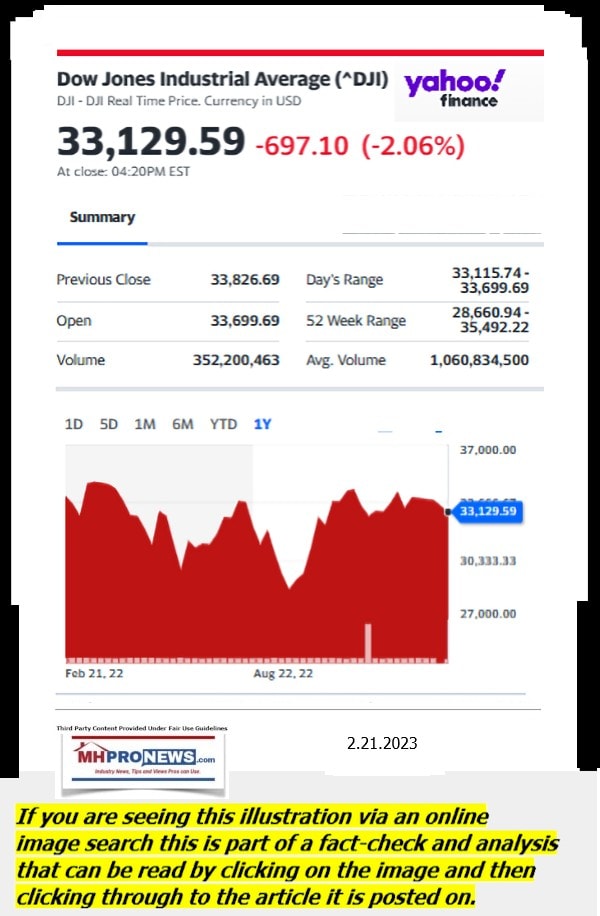 Headlines from left-of-center CNN Business – from the evening of 2.21.2023 
Stocks get slammed
People walk by the New York Stock Exchange (NYSE) on February 14, 2023 in New York City.
Spencer Platt/Getty Images
Dow slides nearly 700 points after retail earnings disappoint
Mormon Church to pay fine to settle charges it hid an approximately $32 billion investment fund
Starbucks wants you to try olive oil coffee. And we did
Live Updates: Supreme Court hears Gonzalez v. Google case against Big Tech
Takeaways from the Supreme Court's hearing in blockbuster internet speech case
Howard Schultz: Unions 'a manifestation of a much bigger problem'
Home sales sank in January for the 12th straight month
Walmart warns it's in for a tough year
Home Depot to spend $1 billion more on hourly workers
Credit Suisse shares plunge again on report of regulatory probe
Two Supreme Court cases this week could upend the entire internet
How oil and gas companies think about their shareholders
Don Lemon to return to CNN, will undergo formal training following sexist comments, network boss says
Men did a lot more childcare while trialing a four-day work week
Standard Chartered plans hiring spree in Hong Kong as city reopens to China
A first generation iPhone fetches $63,000 at auction
James O'Keefe ousted from right-wing activist group Project Veritas
Black couples pay a higher tax penalty for marriage than White couples. Here's why
London is handing out free meals for all elementary school children
Prices for single-family homes are falling in these cities
Meta is launching a pay-for-verification subscription service for Facebook and Instagram
Elon Musk is currently working for Tesla for free. That could change
Lufthansa cancels over 1,300 flights as airport workers strike
Here's what's open and closed on Presidents Day 2023
Notice: the graphic below can be expanded to a larger size.
See instructions below graphic or click and follow the prompts.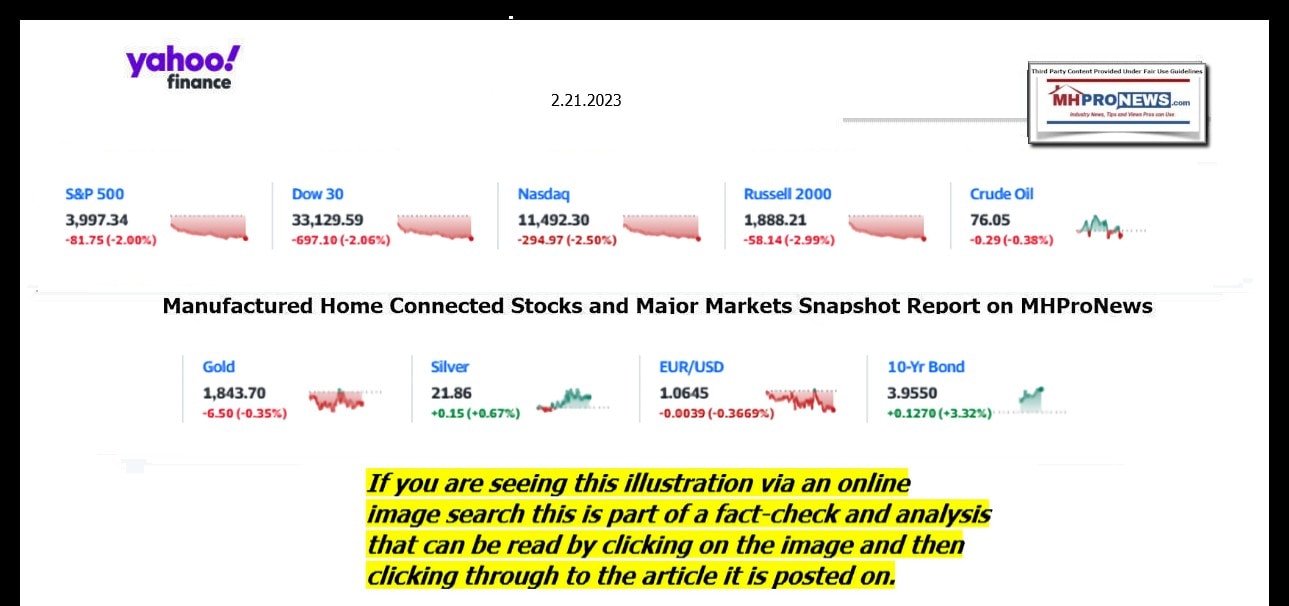 Headlines from right-of-center Newsmax 2.21.2023
Notice: our headline capture for Newsmax failed yesterday. MHProNews regrets the error.
Notice: the graphic below can be expanded to a larger size.
See instructions below graphic or click and follow the prompts.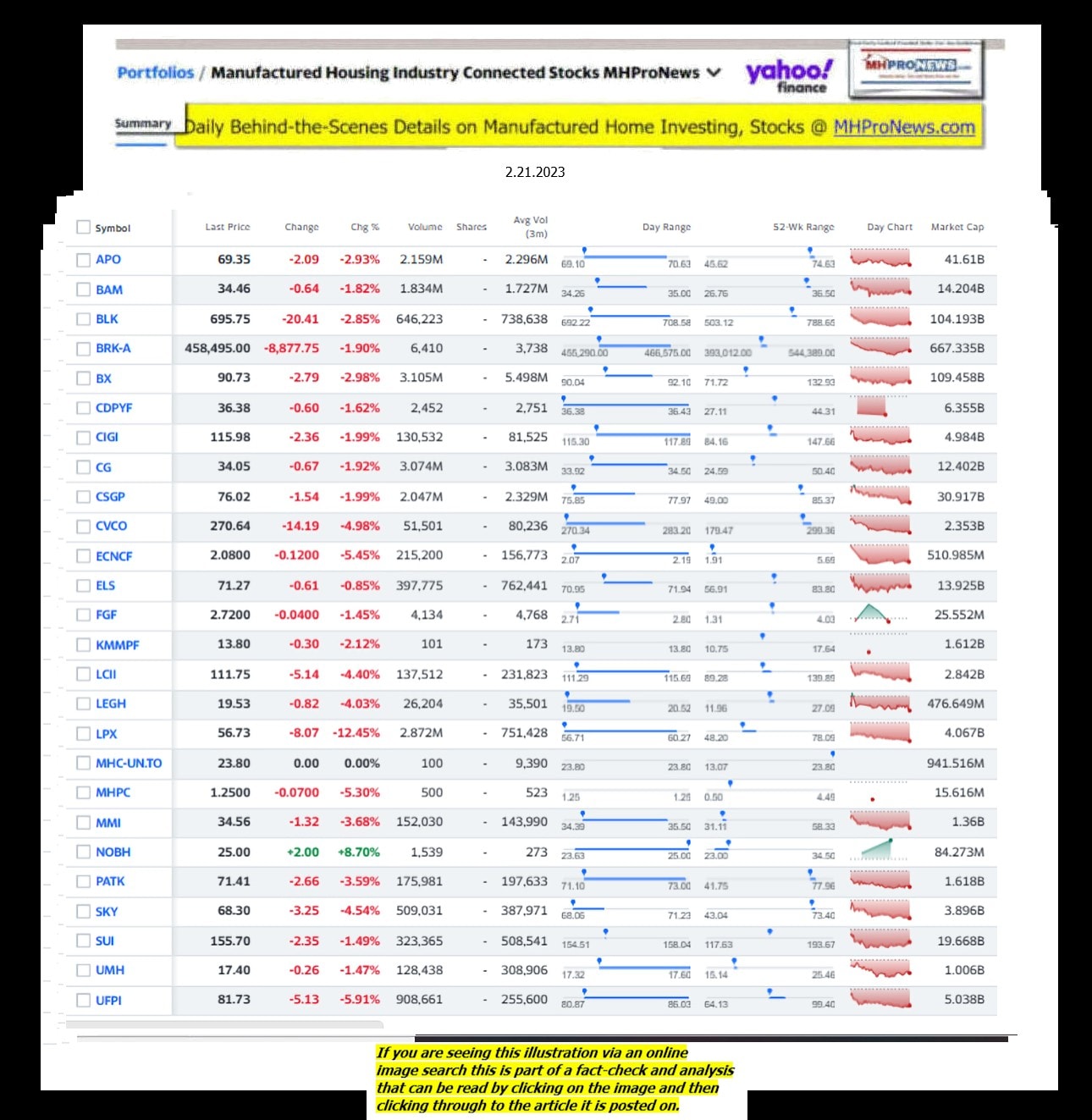 'Stomach Churning Year' CNN-Wall Street 'Forget 2022' Down Year – Major Equities Data Compared to Manufactured Housing Stocks, Manufactured Home Community REITs, Performance for Year by Company
====================================
Updated
NOTE 1: The 3rd chart above of manufactured housing connected equities includes the Canadian stock, ECN, which purchased Triad Financial Services, a manufactured home industry finance lender.
NOTE 2: Drew changed its name and trading symbol at the end of 2016 to Lippert (LCII).
NOTE 3: Deer Valley was largely taken private, say company insiders in a message to MHProNews on 12.15.2020, but there are still some outstanding shares of the stock from the days when it was a publicly traded firm.  Thus, there is still periodic activity on DVLY.
Note 4: some recent or related reports to the REITs, stocks, and other equities named above follow in the reports linked below.
Nobility Homes, Inc. Sales and Earnings for its Fiscal Year 2022 Report, Result$ Best Inflation – Net After Taxes Up 34%, More Fact$; DeSantis ESG and NOBH; plus MHVille Stocks, Market Updates
'Manufactured Housing in the News,' Unpacking UMH CEO Sam Landy Op-Ed' It's Time for Bi-Partisanship on Affordable Manufactured Housing Homeownership' in HousingWire; plus MHMarkets Updates
Warren Buffett's Pledge to Kevin Clayton – 'You Can Access Plenty of Capital' for Projects – Quotes, Facts, Video, Transcript, and Implications for Manufactured Housing Industry
Manufactured Housing Properties-Results for Three and Nine Months Ending September 30.2022–Exploring 'Mobile Home Park' Manufactured Home Community Investing; plus MHVille REITs, Stocks Update
'Changes Will Benefit Customers,' Boost Sales-Legacy Homes CEO Duncan Bates – LEGH 'Delivered 22.5% Return on Equity in 1 Yr' – Corp Q3 2022 Insights, Analysis; plus MHVille REITs, Stocks Update  
CEO Mark Yost, Skyline Champion Insiders SELL Million$ Value SKY Stock, Home Sales Drop-4th Q 2022 (3QFiscal2023), Official Result$-Facts, Analysis, Info Beyond PR; plus MHVille Stocks Update
Triad Financial Services Q2-2022 FINANCIAL RESULTS, per ECN Capital – Several Bright Spots in Manufactured Home Market Highlighted, Including Communities, Retail, Land-Home, Floor; MHStocks Update
BlackRock Document Exposes Central Banks like Federal Reserve on Recession; Manufactured Home Producer Cavco Industries 2022 Year End Results (CVCOQ3.23) Facts+Analysis; plus MHVille Stocks Update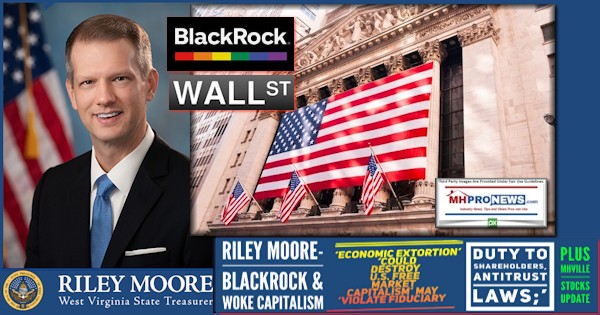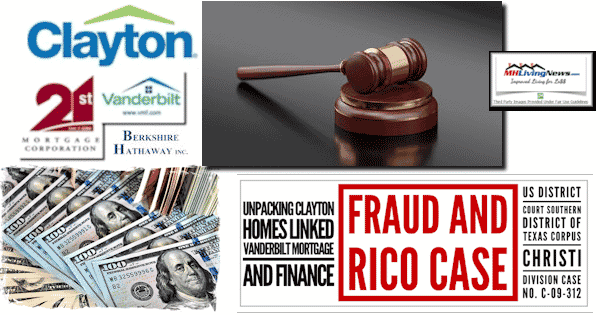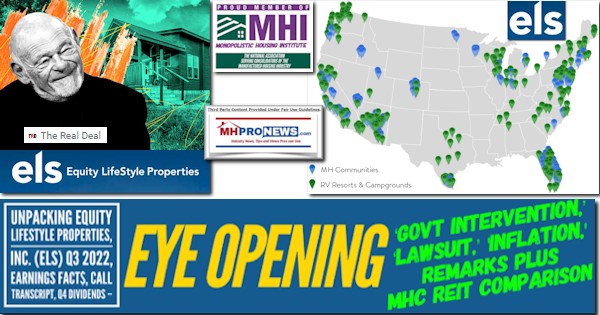 Manufactured Home Communities (a.k.a. 'Mobile Home Parks' – SIC) – Exploring UMH Properties; Fellow Manufactured Housing Institute Member Yes! Communities Suits and Settlements; plus MH Markets Updates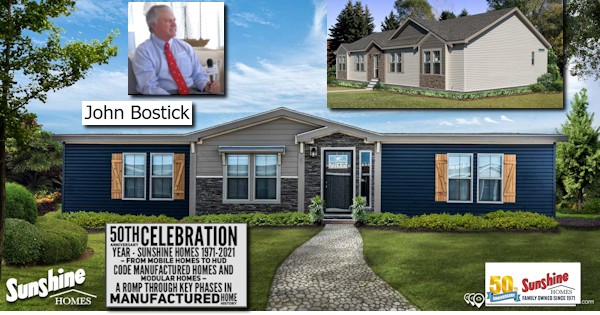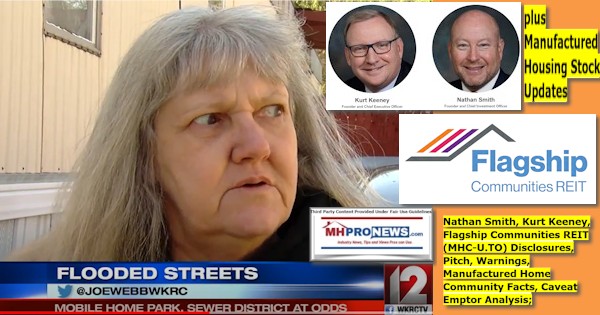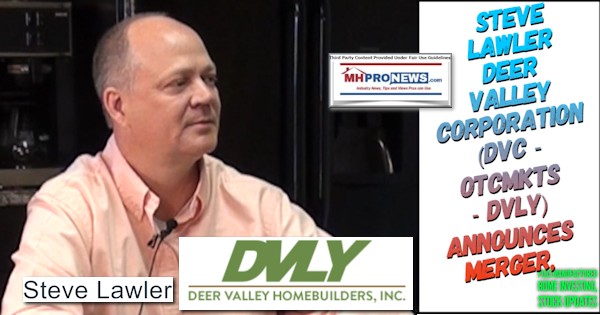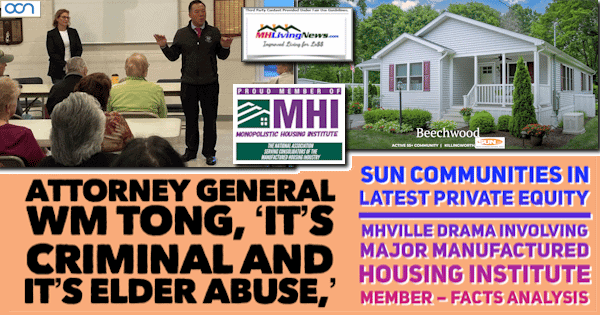 2023 …Berkshire Hathaway is the parent company to Clayton Homes, 21st Mortgage, Vanderbilt Mortgage and other factory-built housing industry suppliers.
· LCI Industries, Patrick, UFPI, and LP each are suppliers to the manufactured housing industry, among others.
· AMG, CG, and TAVFX have investments in manufactured housing related businesses. For insights from third-parties and clients about our publisher, click here.
Disclosure. MHProNews holds no positions in the stocks in this report.
· For expert manufactured housing business development or other professional services, click here.
· To sign up in seconds for our industry leading emailed headline news updates, click here.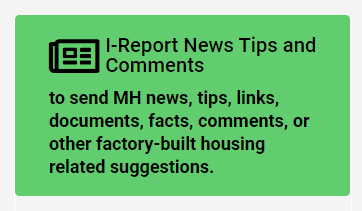 That's a wrap on this installment of "News Through the Lens of Manufactured Homes and Factory-Built Housing" © where "We Provide, You Decide." © (Affordable housing, manufactured homes, stock, investing, data, metrics, reports, fact-checks, analysis, and commentary. Third-party images or content are provided under fair use guidelines for media.) (See Related Reports, further below. Text/image boxes often are hot-linked to other reports that can be access by clicking on them.)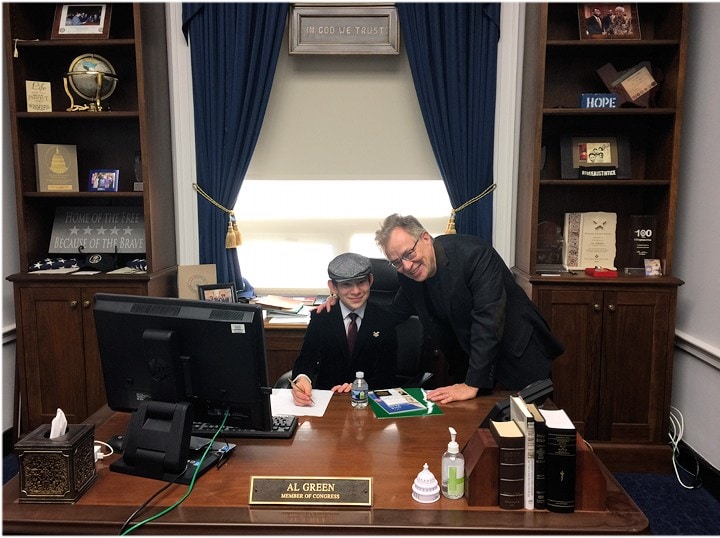 By L.A. "Tony" Kovach – for MHProNews.
Tony earned a journalism scholarship along with numerous awards in history. There have been several awards and honors and also recognition in manufactured housing. For example, he earned the prestigious Lottinville Award in history from the University of Oklahoma, where he studied history and business management. He's a managing member and co-founder of LifeStyle Factory Homes, LLC, the parent company to MHProNews, and MHLivingNews.com. This article reflects the LLC's and/or the writer's position and may or may not reflect the views of sponsors or supporters.
Call for Congressional Oversight Hearings of Manufactured Home Industry Regulators Highlighted by Manufactured Housing Association for Regulatory Reform (MHARR); plus MHVille Markets Update
Official HUD Manufactured Housing Production Facts for Dec 2022 plus 2022 Year End Totals Explored by Manufactured Housing Association for Regulatory Reform (MHARR)-"Millions" Needed – Analysis
Facts You Didn't Know – Martin Luther King Jr – Videos, Insightful Quotes, Surprising Revelations, Videos, Reports, and Illustrations in Champion for Human Rights Including Affordable Housing
'Global Disinformation Index' Warren Buffett Ally Bill Gates' Microsoft Org Charged-Cutting Revenue to Conservative Views via Xandr, GDI; plus Sunday MHVille Headlines Recap
#1 Texas' Manufactured Housing Builders Survey Says They are 'Ready for a Rebound' But Data Point in Question, DOE MH Energy Rule Too – Facts, Analysis; plus, MHVille Stocks, Markets Update
Clayton-Next Step Off-Site Built 'White Paper'-Manufactured Homes, ThinkND 'Magic of the Mind-Everyday Illusion, Misdirection, Deception' MHI Members' Claims Analyzed; plus MHVille Markets Update
U.S. Housing Data Reveals Gaps-Underscores Vast Manufactured Housing Industry Potential, But Raises Corp, Trade Group Performance Concerns, Apparent Shareholder Effects; plus MHVille Stocks Update
After Admitted Failure, Manufactured Housing Institute Doubles Down on CrossMods® in AP Terminology Doc Acquired by MHProNews–Are MHI Leaders Sabotaging MHVille Independents? Plus MHStocks Update
Concessions by Speaker Kevin McCarthy in House Speaker's Battle Called 'Most Significant Win for Conservatives in a Decade' By Federalist's Emily Jashinsky Report; plus MHVille Stocks Updates