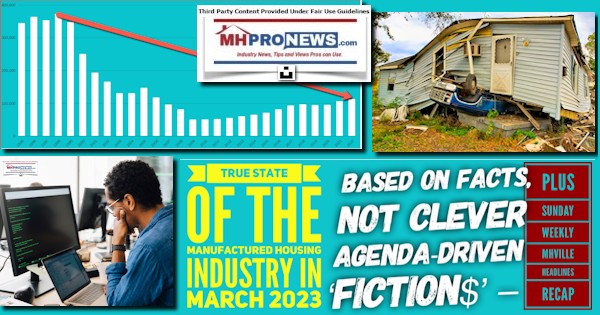 From the Manufactured Housing Institute (MHI) newsroom page is this statement: "From the factories where they're built to the communities they create, manufactured housing is building for tomorrow – helping more people than ever before live their own American Dream.  We're setting new standards in manufacturing and breaking misconceptions about what affordable housing means." That is per MHI statements found on 3.11.2023 on the MHI page which has other claims that are caught in the screen capture linked here. What's missing or incorrect about that specific remark? How about: "helping more people than ever before live their own American Dream." The graphic below factually demonstrates that manufactured homes (MH) are performing at less than 1/3rd of the production level achieved by the MH industry in 1998. That sobering fact is despite the apt point that MHI's current vice chairman, William "Bill" Boor, said that manufactured housing had the opportunity to catch up with conventional builders. That sharp decline in manufactured housing during an affordable housing crisis is despite the fact that MHI's prior President and CEO, Richard "Dick" Jennision, suggested several years ago that manufactured housing ought to be targeting 500,000 new manufactured homes produced a year. That means, 2022 results are less than 1/4th of the potential Jennison asserted was doable. Rephrased, we now know that manufactured housing is underperforming. There are not more manufactured homes "than ever" "helping more people" "live their own American Dream." Rather, there are fewer achieving the American Dream in 2022 and early 2023 than were buying a new manufactured home in 1998.
Are MHI leaders in charge of their website merely wrong? Misinformed? Or are they paltering? What's going on at what is supposed to be a pro-manufactured housing industry trade group?
Where is the graphic by MHI, or one produced by any of their mouthpieces, that reflect the insights above in a single image like the one shown below?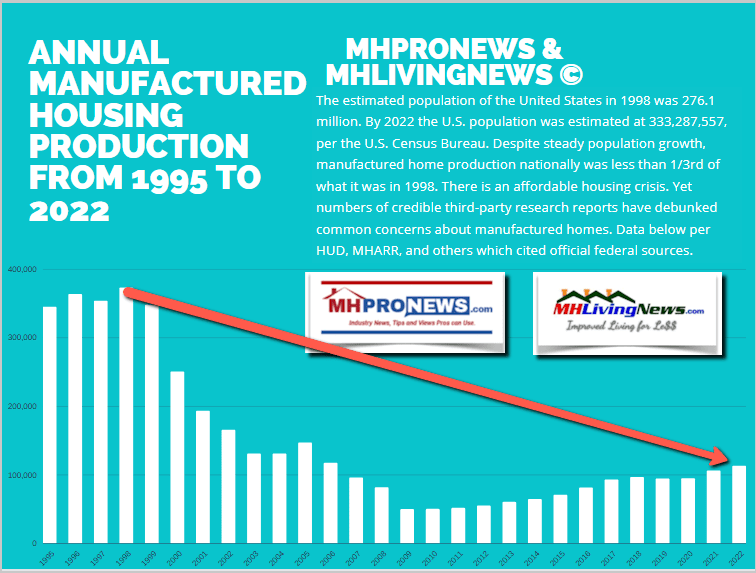 One must keep in mind that thousands of manufactured housing industry professionals never experienced the last heyday of the industry in 1998. If some professionals only read MHI claims, or those of MHI's mouthpieces, they may not realize that manufactured housing is in decline. If MHI fumbles the ball on their lawsuit with the Texas Manufactured Housing Association (TMHA) against the DOE energy rule, then the industry's production could slide further in 2023 than what occurred in the second half of 2022.
This week's headlines in review (recap) each shed light on the macro and industry specific issues that help either a newcomer or an industry veteran to better understand reality.  When a string of deceptive or misleading statements, actions, and claims are often how 'insiders' operate, understanding that reality is helpful.
But understanding is an initial step. There has to be follow up steps, as the Masthead linked below reminds readers.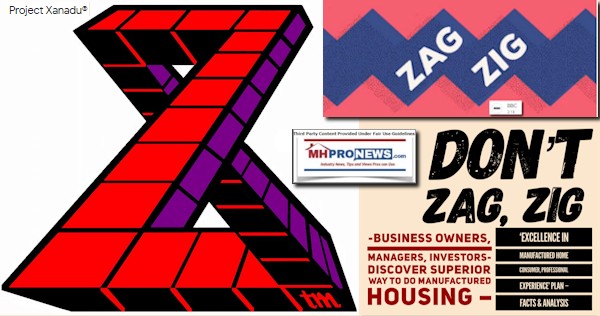 Manufactured housing is underperforming during an affordable housing crisis. In a self-declared effort to control the narrative, MHI hired an outside agency to handle PR on the DOE issue. When MHProNews reached out to that contact, no known reply was provided. When MHProNews reached out to MHI leaders and attorneys, no known written reply was provided.
Don't miss today's postscript
To better understand why MHI's claim quoted opening claim – which ought to be true, but based on known facts sadly is not accurate – read the reports that follow. Because, quoting from the opening paragraph above: "There are not more manufactured homes "than ever" "helping more people" "live their own American Dream." Rather, there are fewer achieving the American Dream in 2022 and early 2023 than were buying a new manufactured home in 1998."
That's one piece of the puzzle that explains the sobering reality that explains why there are fewer manufactured homes being built and sold today than there was some 25 years ago.
With no further adieu, see the headlines for the week that was from 3.5 to 3.12.2023.
What's New and Recent on MHLivingNews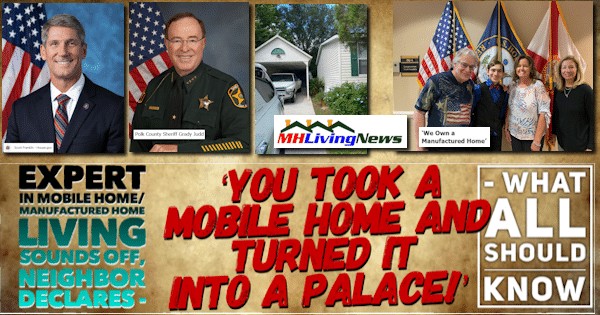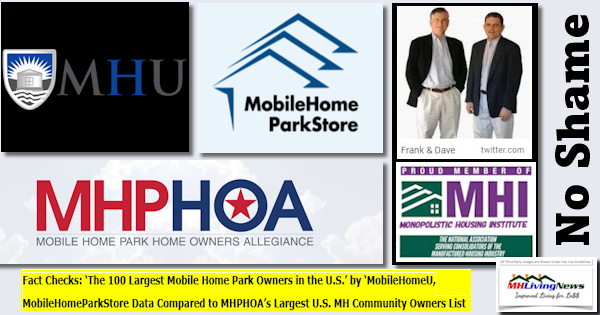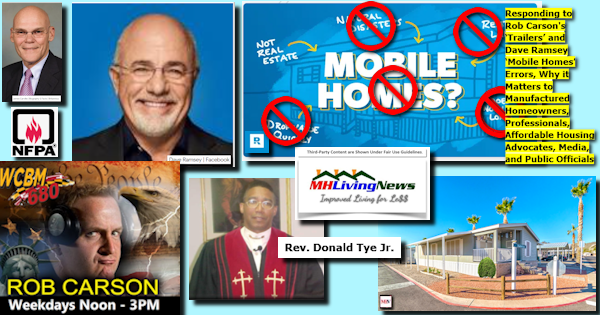 What's New and Recent from Washington, D.C. from MHARR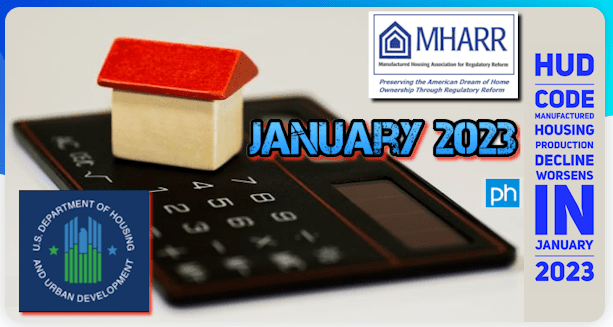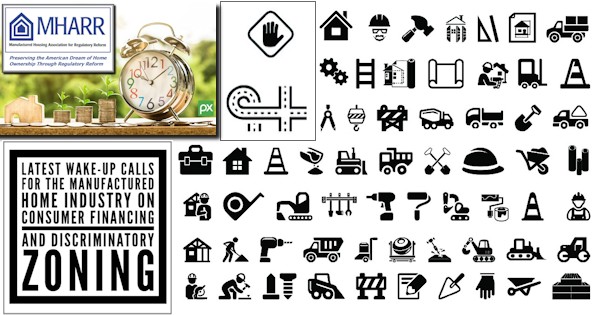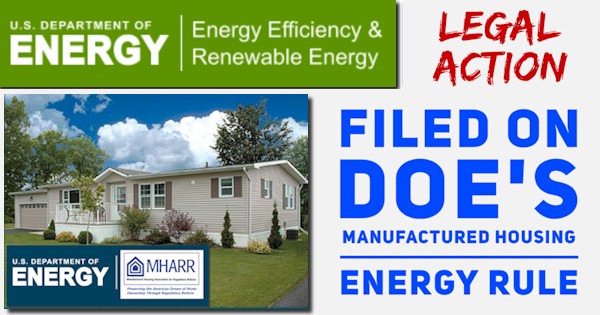 What's New and Recent on the Masthead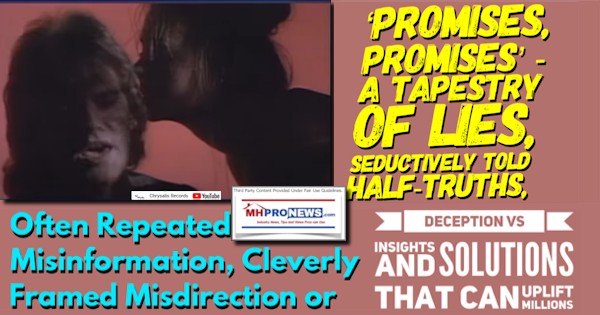 What's New on the Daily Business News on MHProNews.
Saturday 3.11.2023
'Firecracker for Scumbags' Remarks, While Manufactured Home Industry-Leading Texas Manufactured Housing Activity 'Stabilizes After 2022 Correction'
Friday 3.10.2023
'No CEO or Company is Above the Law' Says FTC, But 'Weaponization' of Fed Agency Explored in Judiciary Report – Sobering Manufactured Housing Industry Related Insights; plus MHVille Stocks Update
Thursday 3.9.2023
UMH Properties Surprise$, 4th Q2022 Result$, Earnings Call Transcript, Demand Strong-But Sales Drop, Nuveen, Fannie Factor, 58K per Site, Israel $ Deal Taylor Swift & Springsteen; plus
Wednesday 3.8.2023
'Will They Fold Like a Cheap Suit?' Department of Energy Reply to Manufactured Housing Institute/Texas Manufactured Housing Association (MHI/TMHA) Suit-Facts+Insights; plus MHVille Stocks Update
Tuesday 3.7.2023
MHARR Sharpens Attention to Causes, Cures for HUD Code Manufactured Housing Production Decline – Manufactured Housing Institute Flagged, CEO Weiss Wants Congress Probe; plus MHVille Stocks Update
Monday 3.6.2023
'Alter Conceptual Model of Corporation and Bases of Corporate Law and Corporate Finance Collapse' Attorney Bruce Abramson Explains Legal, Financial Risks – 'What is ESG, and Why Should we Care?'
Sunday 3.5.2023
HUD Code Manufactured Home Production Decline Worsens in January 2023 per MHARR – Cavco Wm 'Bill' Boor Remark on Manufactured Housing Comes Into Sharper Focus; Sunday MHVille Headlines Recap
Postscript
There are several other known and emerging facts that are planned for publication in the days ahead.
There are reportedly thousands of more land-lease manufactured home communities (MHC) then MHI, MHVillage, "Frank and Dave" or many others report.
While there are more communities than has been claimed by various 'experts,' the total numbers of communities is steadily declining.
So, not unlike manufactured housing production, the numbers of manufactured home communities at the turn of the century was higher than it is today.
Another red flag for manufactured housing is the claim by MHI that the percentage of new manufactured homes going into land-lease communities suddenly surged in 2022 when compared to 2021 or 2020. If their claim is true, that begs obvious questions.
For instance. What explains the strong shift in production from retailers to MHCs?
Given that UMH Properties, a larger MHI supporting and member brand, claims that they could not get inventory during a significant part of 2022 (see report linked in the recap above above), what does that claim mean to retailers and other MHCs?
There are times that trade media, or other news media, can reasonably and accurately provide answers.
But there are also times that trade media, or other news media, can only raise the questions. The discovery of the facts will rely upon whistleblowers, public officials, perhaps plaintiffs' shareholders attorneys, or others who have knowledge or the ability to compel information to dig into an issue.
MHI for years has failed to get and maintain a reasonable database of all retailers and MHCs. While they posture some information about MHCs, it has long been dated, as MHProNews has repeatedly noted. MHI makes no printed and public apologies, much less acknowledges the concerns raised by MHProNews. That said, MHI has steadily inched up their claims on the total community count. That said, for those who may rely on MHI, correctly or incorrectly, for accurate information could be under the misconception that the community count has grown. The opposite has occurred, per data often reflected by MHI's own members.
This data below is now known to be outdated.
That noted, it is still indicative of problems with
MHI and MHI member claims about this MHC count topic. The numbers of
manufactured home communities that are closing are outpacing the number
which are being opened. That is arguably not the sign of a healthy industry.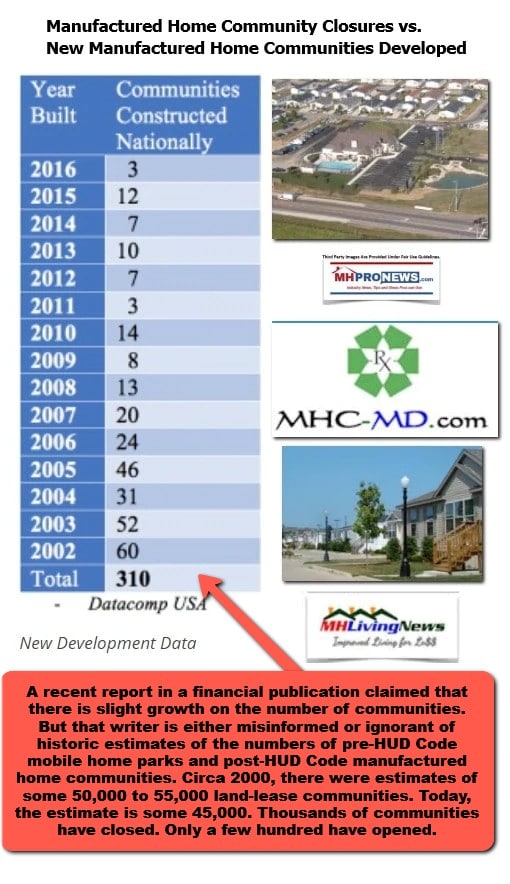 What MHProNews and MHLivingNews can do is provide the best-known information available at a specific moment in time based upon the troubling realities of 'weaponized' information in MHVille and beyond.
See the most recent Masthead to learn more. Because information, and misinformation, warfare has been part of what has gone wrong in MHVille and beyond. Given the trillions of dollars spent by the federal government, given the millions of dollars spent by MHI, given the tens of billions of dollars in market cap that manufactured home industry businesses represent, one might think there would be better and more reliable information. Other industries' nonprofits produce data publicly and timely. MHARR produces timely data publicly, but given their mission, they have no specific reason to produce data on anything that is not directly new HUD Code manufactured home production related.
It is MHI that claims, rightly or wrongly, to represents "all segments" of manufactured housing.
It is MHI that delayed, for whatever reason(s), to file litigation against the looming effective date of the DOE rule for manufactured housing.
MHI's team cannot have it both ways. MHI's staff are either experts motivated to do the correct things for "all segments" of the industry, OR they are posturing, inept, or unstated agenda motivated hired hands.
MHI is either working for all segments, or they are working for a select few in a manner that is not openly declared by MHI which even several MHI members have said aims at consolidating some aspect of the manufactured home industry.
As 'old' Fleetwood and 'old' Champion from the late 1990s and early 2000s learned the hard way, buying up retail (or other) assets while the industry is growing or relatively booming is costly and not easy. A decade into the 21st century, 'old' Fleetwood and 'old' Champion were in bankruptcy. Fleetwood is now under the Cavco Industries (CVCO) umbrella. Champion is now Skyline Champion (SKY). Both have demonstrably 'grown' more through consolidation of existing brands than through organic growth. MHI is credibly accused of fumbling an opportunity to remove the chassis on HUD Code manufactured homes too.
Because publicly traded firms have statements at odds with those of MHI, a case can be made that the publicly traded claims may bear more consideration than seemingly hit and miss (cheap) words uttered by whomever MHI.
Because MHI won't discuss or debate their performance, these concerns are publicly unchallenged.
The most prominent 'debate' in the last 5 years was by pro-MHI member Andy Gedo of ManageAmerica. After several back and forth remarks and replies over the course of some time, Gedo politely tossed in the towel and exited the discussion. But Gedo merits kudos for having made the effort. If Gedo, an intelligent fellow who is willing to make candid admissions in seeking to make the case for MHI and its dominating brands could not disprove the thesis advanced by this platform, why is it a surprise if others don't dare take that same challenge?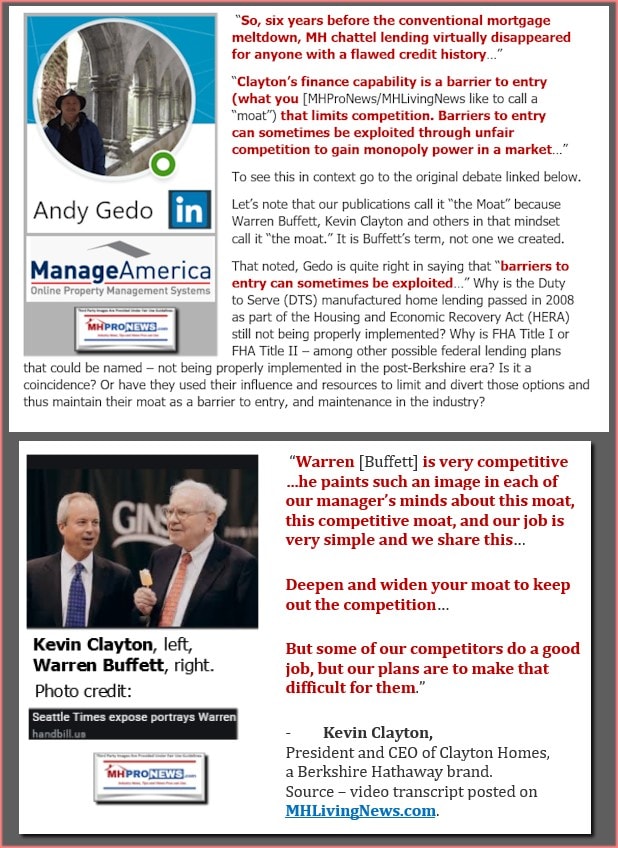 Neither Tim Williams (either one of them – 21st or OMHA), nor Kevin Clayton, nor anyone for MHI, nor Jim Ayotte, nor MHI or various MHI affiliated state association attorneys, nor MHI's often 'bought and paid' for trade media (non-MHProNews, non-MHLivingNews) have accepted the simple invitation to debate the trade association's performance. Why not?
The answer is obvious, isn't it? If they could win such a discussion or debate, then wouldn't they have done so years ago?
The true state of the manufactured home industry's production is once again in retreat. That production is less than a 1/3 of what it was in 1998, some 25 years ago.  Yet the population has grown since then by some ###
METANOIA – Manufactured Housing Institute, Manufactured Housing Association for Regulatory Reform 'Wake Up Call' on Consumer Finance and Discriminatory Zoning; plus Sunday Weekly MHVille Recap
Sun Communities – 'Development in Our DNA,' ESG Stance, Q4 2022 Year End Results Earnings Call & PR – Facts, Insights Beyond PR and Official SUI Statements; plus MHVille REITs, Stocks Update
'Every Journey to Something is a Journey Away From Something' 'More Energy Needed for Mediocrity Than Pursuing Excellence' Shrewd Matthew Kelly Quotes – 'God Wants Our Future Bigger Than Our Past'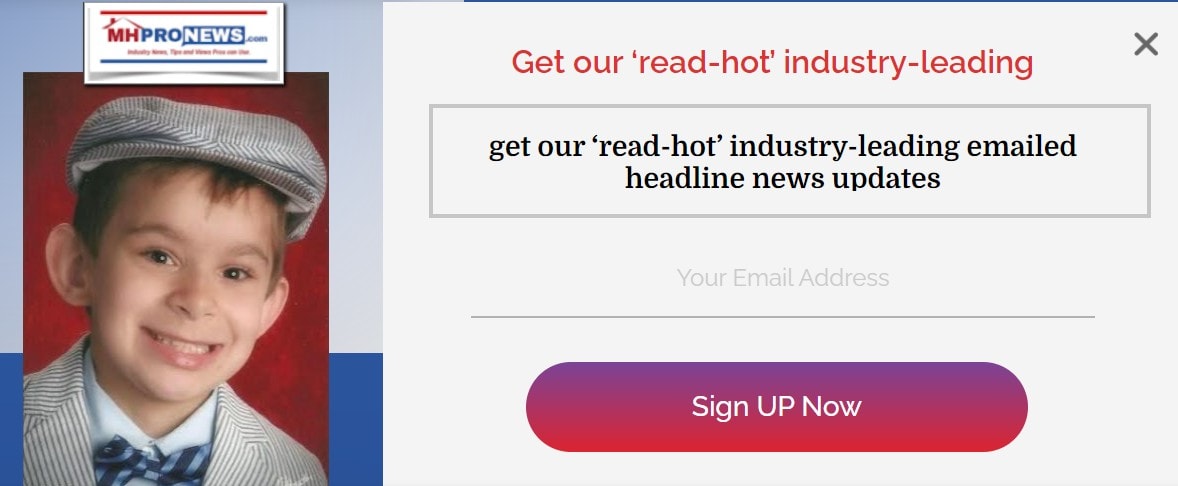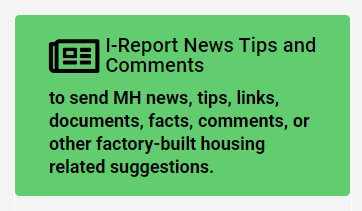 Again, our thanks to free email subscribers and all readers like you, as well as our tipsters/sources, sponsors and God for making and keeping us the runaway number one source for authentic "News through the lens of manufactured homes and factory-built housing" © where "We Provide, You Decide." © ## (Affordable housing, manufactured homes, reports, fact-checks, analysis, and commentary. Third-party images or content are provided under fair use guidelines for media.) (See Related Reports, further below. Text/image boxes often are hot-linked to other reports that can be access by clicking on them.)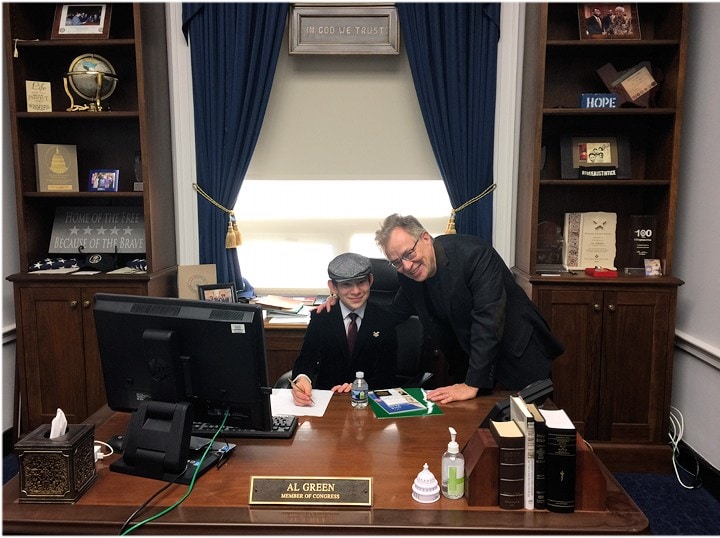 By L.A. "Tony" Kovach – for MHProNews.com.
Tony earned a journalism scholarship and earned numerous awards in history and in manufactured housing.
For example, he earned the prestigious Lottinville Award in history from the University of Oklahoma, where he studied history and business management. He's a managing member and co-founder of LifeStyle Factory Homes, LLC, the parent company to MHProNews, and MHLivingNews.com.
This article reflects the LLC's and/or the writer's position, and may or may not reflect the views of sponsors or supporters.
Connect on LinkedIn: http://www.linkedin.com/in/latonykovach
Related References:
The text/image boxes below are linked to other reports, which can be accessed by clicking on them.'
'Everyone Needs Deadlines' 'First Things First' and '7 Habits of Highly Successful People' – Pre-Christmas Preview of Manufactured Housing Year in Review; plus Sunday Weekly MHVille Headlines Recap
'In the Business World, the Rear-View Mirror is Always Clearer than the Windshield'–Warren Buffett MHVille Leader Showcases Efforts to Renew American Dream; plus Sunday Weekly Headlines Recap
Manufactured Housing's Next BIG Regulatory Battle That MHARR's Spotlighted and Which MHI Conveniently Ignored in Recent 'Manufactured Housing Institute News;' plus Sunday Weekly Headlines Recap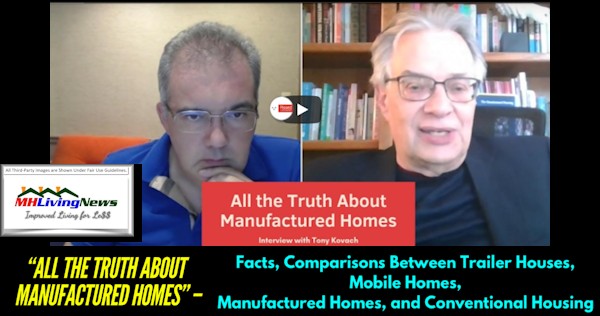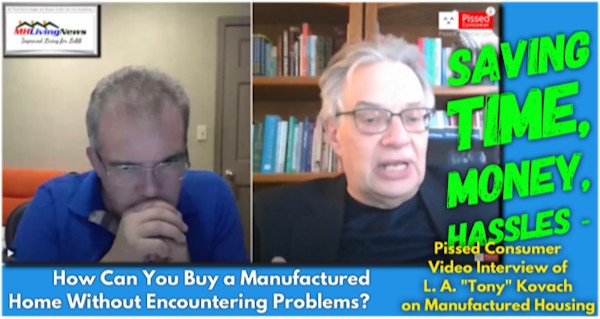 Flagship Communities – Hypocrisy, MHIndustry Corruption? 'Fragmented Industry with High Barriers to Entry and Imbalanced Supply and Demand Dynamics;' Plus Sunday MHVille Weekly Headlines Review
'Affordable Homes for Low Income Must Produce in Factory,' 'Years to Unravel Sabotage,' Grad Students Interest in Manufactured Housing, Factory-Home Solutions; plus Sunday Weekly Headlines Recap
Russian Disinformation? CNN and WND Report on "World Government Summit," Joe Biden Address to Business Roundtable on "the New World Order;" plus Sunday Weekly Headlines Review