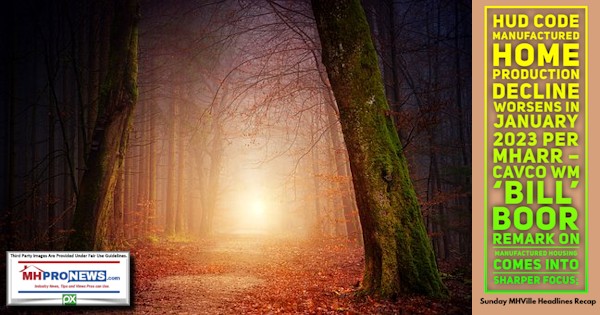 As the headline indicates, HUD Code manufactured housing has entered its fourth straight month of decline. As the report and analysis that follows will reflect, that reported decline was preceded by remarks from Cavco Industries (CVCO) CEO William "Bill" Boor. Boor is also the Manufactured Housing Institute (MHI) vice chairman. Indeed, as MHProNews has previously noted, and others in manufactured housing 'trade media' have routinely failed to inform their readers, Cavco currently has in effect two out of the five positions from the MHI board's so-called "executive committee." MHI's chairman is Leo Poggione, who leads Craftsman homes, which per various Cavco corporate information is essentially a company subsidiary.
Boor's remarks and their context are found in the report linked below. Note that as of 3.4.2023 at 4:33 PM, none of the other periodic (not quarterly) trade media are checked, none of them have covered the topics shown below. More on that in today's postscript.
'Undervalued' Cavco Industries Touts Q Result$ 'Dire Need for Housing' 'January Traffic Up'- Rev Up 16%-Sales, Earnings, Mgmt Call Data–Analysis Beyond CVCO Statements; plus MHVille Stocks Update
Hold those thoughts as MHProNews presents the press release provided by the Manufactured Housing Association for Regulatory Reform (MHARR) in Part I of today's report and Sunday weekly recap of the headlines for the week in review.

FOR IMMEDIATE RELEASE                                                                    Contact: MHARR                                                                                                                  (202) 783-4087
HUD Code Manufactured Home Production Decline Worsens in January 2023
Washington, D.C., March 3, 2023 – The Manufactured Housing Association for Regulatory Reform (MHARR) reports that according to official statistics compiled on behalf of the U.S. Department of Housing and Urban Development (HUD), HUD Code manufactured housing industry year-over-year production declined once again in January 2023. Just-released statistics indicate that HUD Code manufacturers produced 6,951 homes in January 2023, a 23.6% decrease from the 9,110 new HUD Code homes produced in January 2022.
With this report, MHARR is updating and slightly revising the format of its monthly top-ten shipment state data. Previous reports in this series included cumulative shipment statistics dating back to the beginning of the industry production rebound in August 2011. Beginning with this report, and with more than a decade having now passed since that watershed point, MHARR will re-start the cumulative shipment data to better reflect current and continuing trends in 2023 and beyond. Accordingly, a further analysis of the official industry statistics shows that the top ten shipment states from January 2023 — with monthly, cumulative, current year (2023) and prior year (2022) shipments per category as indicated — are: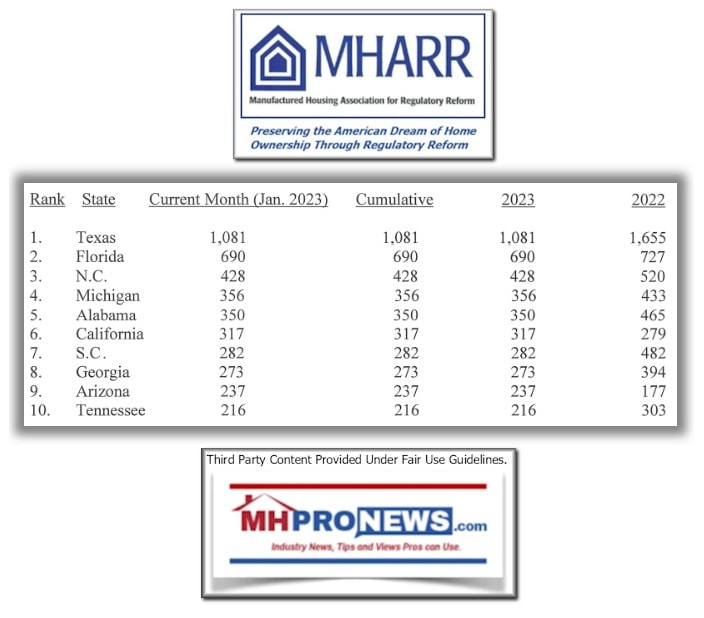 With monthly year-over-year production declines having been recorded during all three months of the Fourth Quarter of 2022, this latest data now confirms four consecutive months of progressively worsening year-over-year production/shipment declines, at a time when the need for affordable housing and homeownership stands at record levels. As MHARR's February 23, 2023 Memorandum, entitled "Latest Wake-Up Calls for the Industry on Consumer Financing and Discriminatory Zoning" indicates, the industry, and especially its supposed national post-production representation, cannot continue to pursue what amounts to a passive, ineffective stance when these two major elements continue to needlessly and drastically suppress industry growth and progress.
             The Manufactured Housing Association for Regulatory Reform is a Washington, D.C.-based national trade association representing the views and interests of independent producers of federally-regulated manufactured housing.
— 30 –
It is apparently all too easy for numbers in the balance of what passes for manufactured housing industry's trade media to ignore obvious questions. For example.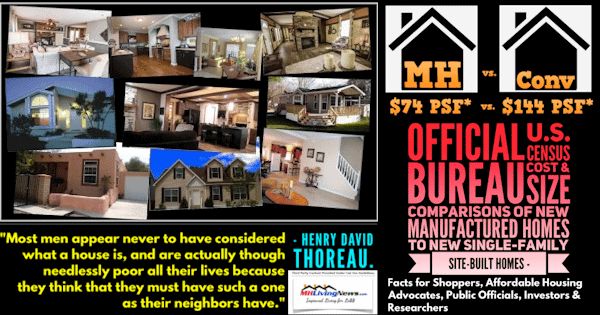 To be sure, there are more questions than those nine listed above that ought to be explored. But see for yourself. Try to find how many, if any, among those 9 fact- and common sense driven questions are found on what passes for competition in MHVille trade media. Odds are outstanding that they will only be found on MHProNews, and/or on our MHLivingNews sister site.
Among the headlines for the week that was is the report for Friday (3.3.2023) that spotlights "A Pimple on an Elephant's Ass" two years later. Those prescient remarks are demonstrably as relevant today as they were when first posted by the FHFA on their website. Then see that other reports, several of which shed light on the 9 questions above and the sobering production and shipment data shown in this Sunday's feature and recap. How many others in MHVille trade media can even suggest with evidence that their efforts forced pivots?
Has MHVille Reporting Forced Pivots? TRERC, TMHA, Manufactured Housing Institute Each Change Tune Following MHARR, MHProNews Reports – Fact Check, Analysis; plus Manufactured Home Community REITs, Stocks Update
Those 9 questions and related evidence, some of which will find additional support among the week's headlines below, beg obvious questions for other MHVille trade writers. But they should also raise legal and liability questions for MHVille trade groups and consolidating corporations that routinely are members of MHI. Is that relationship between predatory and consolidating brands merely coincidental? Again, see the reports for the week that was, several of which unpack the evidence and answers to those questions.
Don't miss today's postscript.
With no further adieu, here are the headlines for the week that was from 2.26.2023 to 3.5.2023.
The Latest from MHLivingNews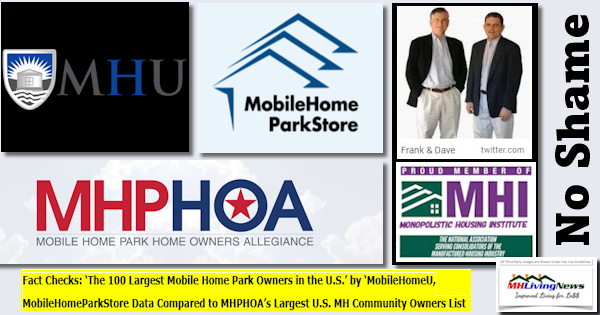 Notice: the article below could have been framed in the context of Tim William's/21st Mortgage Corporation remarks quoted below. When will MHI do what they claimed they would do with the resources that MHI members have devoted to them?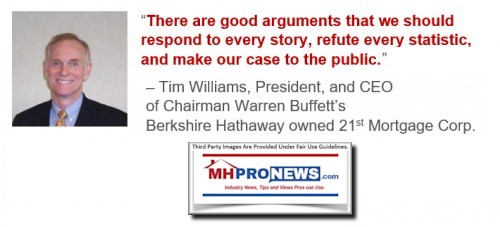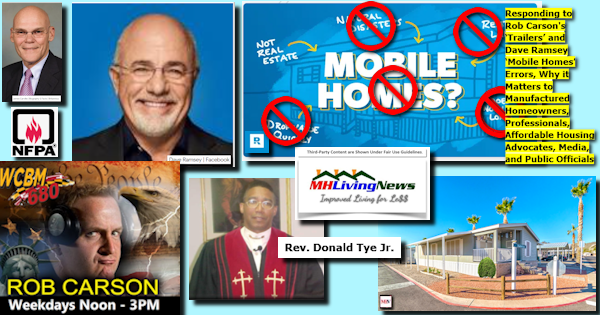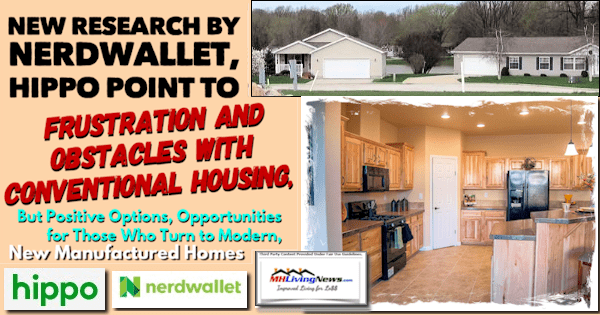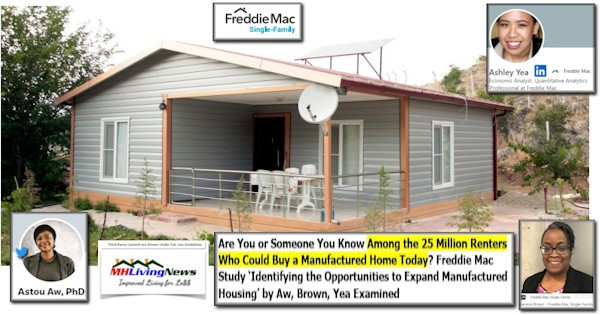 What's News from Washington, D.C. from MHARR
HUD Code Manufactured Housing Production Decline Worsens in January 2023
Latest Wake-Up Calls for the Manufactured Home Industry on Consumer Financing and Discriminatory Zoning
Legal Action Filed on DOE's Manufactured Housing Energy Rule
What's New and Recent on the Masthead
'Keeping Our Mobile Home Communities Safe, Well-Maintained, Affordable is Vital' – Attorney General Wm Tong Testimony, More Follow Probe of Sun Communities (SUI) Issue–Latest MHI Member Scandal?
Crow Time? Manufactured Housing Institute (MHI), Texas Manufactured Housing Association (TMHA) File Suit v DOE's MH Energy Rule Regs, Case No. 23-cv-00174 – Docs, MHARR Factor, Analysis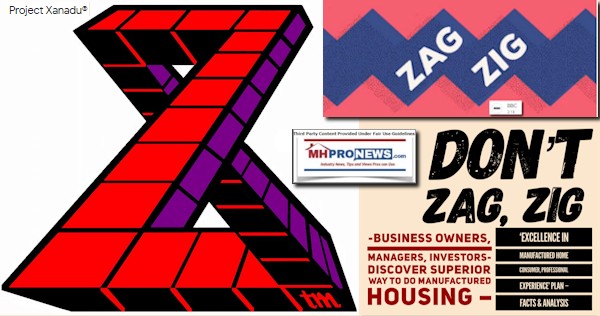 What's New on the Daily Business News on MHProNews
Saturday 3.4.2023
Sun Communities – 'Development in Our DNA,' ESG Stance, Q4 2022 Year End Results Earnings Call & PR – Facts, Insights Beyond PR and Official SUI Statements; plus MHVille REITs, Stocks Update
Friday 3.3.2023
Two Years After 'A Pimple on an Elephant's Ass' What's Changed for Manufactured Housing and America? U.S. Affordable Housing Crisis' Rearview Mirror Explored – Expert Analysis; plus MHVille Markets Recap
Thursday 3.2.2023
Manufactured Housing Institute 'Housing Alert' 'Supreme Court Case Challenges CFPB Funding' MHI Backstory, Implications Explored – Legal Contingency Champions Wanted; plus MHVille Stocks Update
Wednesday 3.1.2023
Chinese-USA Military Tensions and Manufactured Housing, Other Industry Supply Chains in China, Military Chief's Warning May Provoke MHVille Changes; plus Manufactured Home Industry Stocks Update
Tuesday 2.28.2023
NAR's Yun and Economist Joel Griffith Sound Off – 'Time to stop home prices from going through the Roof,' MetLife Forecasts Investors Will Own 40% of SF Rentals by 2030; plus MHVille Markets Update
Monday 2.27.2023
'Killing's as Easy as Breathing' 'Bad Guys Know More Games' Warren Buffett Annual Berkshire Hathaway Letter, Clayton Homes, 21st, VMF-Manufactured Home Loans-Compelling MHVille Expert Views
Sunday 2.26.2023
METANOIA – Manufactured Housing Institute, Manufactured Housing Association for Regulatory Reform 'Wake Up Call' on Consumer Finance and Discriminatory Zoning; plus Sunday Weekly MHVille Recap
Postscript
Following those headlines, which includes fact- and evidence packed reports and analysis that are supported by expert analysis, a simple question could once more be asked. Where is the balance of the manufactured housing industry's trade media on some of those 9 questions? Hold that thought, which will be picked up shortly below.
Let's look back to some recent reports beyond those listed above on MHProNews for some context and relevance. For instance. Skyline Champion (SKY) witnessed some of their insiders' selling stocks in late 2022. That may not always be a sign of trouble ahead, but there are reasons that the Securities and Exchange Commission (SEC) requires insider buying or selling to be publicly disclosed. How many of our competitors bothered to look at their formal facts and statements? Then, how many asked the tough questions like those 9 above?
CEO Mark Yost, Skyline Champion Insiders SELL Million$ Value SKY Stock, Home Sales Drop-4th Q 2022 (3QFiscal2023), Official Result$-Facts, Analysis, Info Beyond PR; plus MHVille Stocks Update
Next, the small business focused Job Creators Network (JCN) recently said that small businesses are increasingly the victims of the current economy and administration. As the report linked below reflects, the also small business focused National Federation of Independent Business (NFIB) and others have weighed in on the challenges faced by independent (non-larger corporate owned) businesses. Good luck in trying to find a similar report among any of our wanna-be rivals.
'Small Businesses are Victims' Job Creators Network (JCN) American Small Business Prosperity Plan-Tax, Reg, Change Supports Job Creating Small Businesses-Action; plus MHVille Markets Update
MHProNews is part of the broader news media, but trade media is a specialized subset of journalism.  But being media doesn't mean that we routinely cheer what others in media do or fail to do. News media is widely distrusted in the U.S. today, across the left-right spectrum, as Pew and the New York Times research demonstrated. News has often been weaponized in the 21st century, as MHProNews and MHLivingNews have reported and then periodically noted for years. A recent example of concerns about the lack of objective reporting that pulls back the veil on issues of importance in the U.S. are found linked below.
Historian Herland Reveals Plot: 'Employ Trickery, Deceit, Law-Breaking, Withhold-Conceal Truth, We Must Write Sowing Masses with Hate, Revulsion, Scorn Towards Enemies,' plus MHVille Markets Update
The NAACP on zoning, consultant and author Matthew Kelly, and attorney Kurt Kelley remarks are oblique examples of how mainstream media all too often fails to connect the dots on issues that arguably are significant to manufactured housing, as well as other sectors of the U.S. economy.
Consider NAACP Resolution on Reversing Impact of Restrictive Zoning and Highways on Fair Housing; Black NFL Star Turned Congressman Burgess Owens Take on NAACP; plus MHVille Stocks Update
'Every Journey to Something is a Journey Away From Something' 'More Energy Needed for Mediocrity Than Pursuing Excellence' Shrewd Matthew Kelly Quotes – 'God Wants Our Future Bigger Than Our Past'
Unpacking MH Attorney Kurt Kelley's 'Predictability in Law is the Key to a Prosperous Republic.' Is USA Democracy or Republic? Why it Matters to Businesses, Pros, Consumers, or any American
Note too that in citing Kelley, we have once more applied the ancient and proven principle of separating the wheat from the chaff. Fairness still matters to some, including the writer of this post.
Then note that Kelley's business interests include, but are not limited to, his quarterly publication called MHReview (MHR). Kelly's wise comments cited above stand in contrast to the fact that MHR articles that happen to cover industry 'news' topics are often weeks behind this site or others. No offense, but that is the nature of a quarterly publication. Furthermore, Kelley respectfully said that he was steering clear of articles that aimed to hold MHI accountable for their actions and inactions. Unlike some of his rivals, Kelley doesn't overpromise and then under deliver.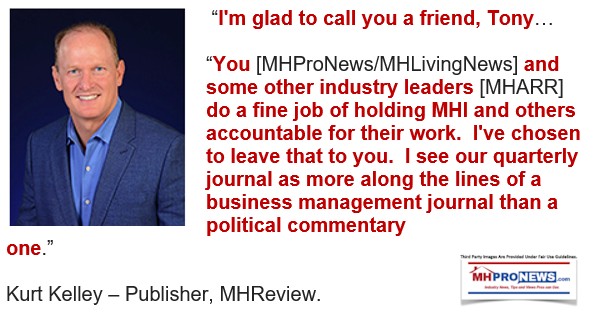 Good for Kelley in as much as the was upfront and public about those stances. Once more, kudos to Kelley for his keen insights in the report cited above and linked here for reader's convenience.  As one more public word of encouragement to Kelley, some of his interviews revealed the stark disconnect between remarks made by MHI affiliates and their corporate leaders. While it wasn't Kelley that connected those dots, by getting those remarks, it made it possible for MHProNews and MHLivingNews to explore their significance. Why is it that others didn't do likewise?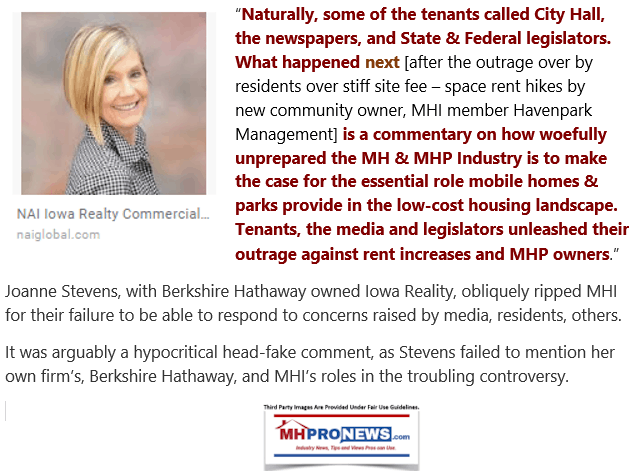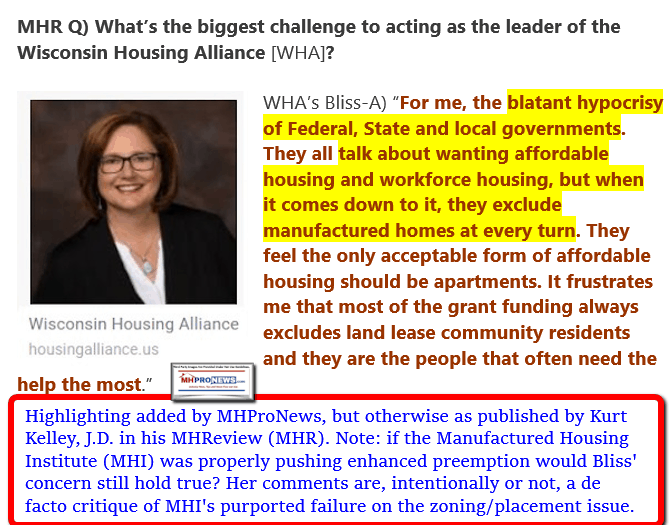 More specifically about others in MHVille trade publishing. What about MHVillage's MHInsider, which as the fact-check linked below revealed is essentially an "MHI endorsed" publication? MHProNews explored the facts claimed, relationships, and readership of on the surface might seem to be the next 'closest' publication to MHProNews/MHLivingNews. Like two others that follow, MHInsider makes bold claims which when carefully examined they obviously fail to deliver on.
MHVillage – Endorsed by Manufactured Housing Institute (MHI), 'Information Key at MHVillage' Fact Check 'Best Data and Info from Around Country'-Clayton, Cavco Insights- Plus MHVille Stocks Update
In an article about the MHI lawsuit on MHInsider, there is a remark that says: "MHInsider is the leader in manufactured housing news …" – seriously?
As of 3.5.2023 at the time shown, there is no mention of the manufactured housing shipment data on MHInsider. There is no mention about the disconnects between what TMHA/TRERC said about the trends (see below). There is no mention in their article about the MHI-TMHA lawsuit about MHARR pressing for this legal action for close to a year. So, in what sense are they "the leader" in manufactured housing news? Talk, it seems – be that talk verbalized or published – can be cheap and misleading. No wonder the known data doesn't support their claims.
MHI and the TMHA are cooperating on the lawsuit vs. the DOE. TMHA is part of the information sourcing that supply's the Texas A&M University Texas Real Estate Research Center (TRERC) monthly report, a recent one of which is shown below. It said in part that a rebound for manufactured housing was coming. Really? Where is that rebound revealed in the January 2023 data? As MHARR reported above, Texas in 2022 had produced 1,655 new HUD Code manufactured homes in January of 2022. In January 2023, Texas only produced some 1,081 news manufactured homes.  The Texans this writer knows would call that a sharp decline, not a 'rebound.' Oddly, even the MHInsider calendar date – at the time of the fact check shown here – says "Saturday 3.4.2023" when it was already Sunday 3.5.2023.  Oops. But that is a minor glitch compared to others that are apparent. For the informed who want some comic relief that wasn't intentional, check 'em out.
#1 Texas' Manufactured Housing Builders Survey Says They are 'Ready for a Rebound' But Data Point in Question, DOE MH Energy Rule Too – Facts, Analysis; plus, MHVille Stocks, Markets Update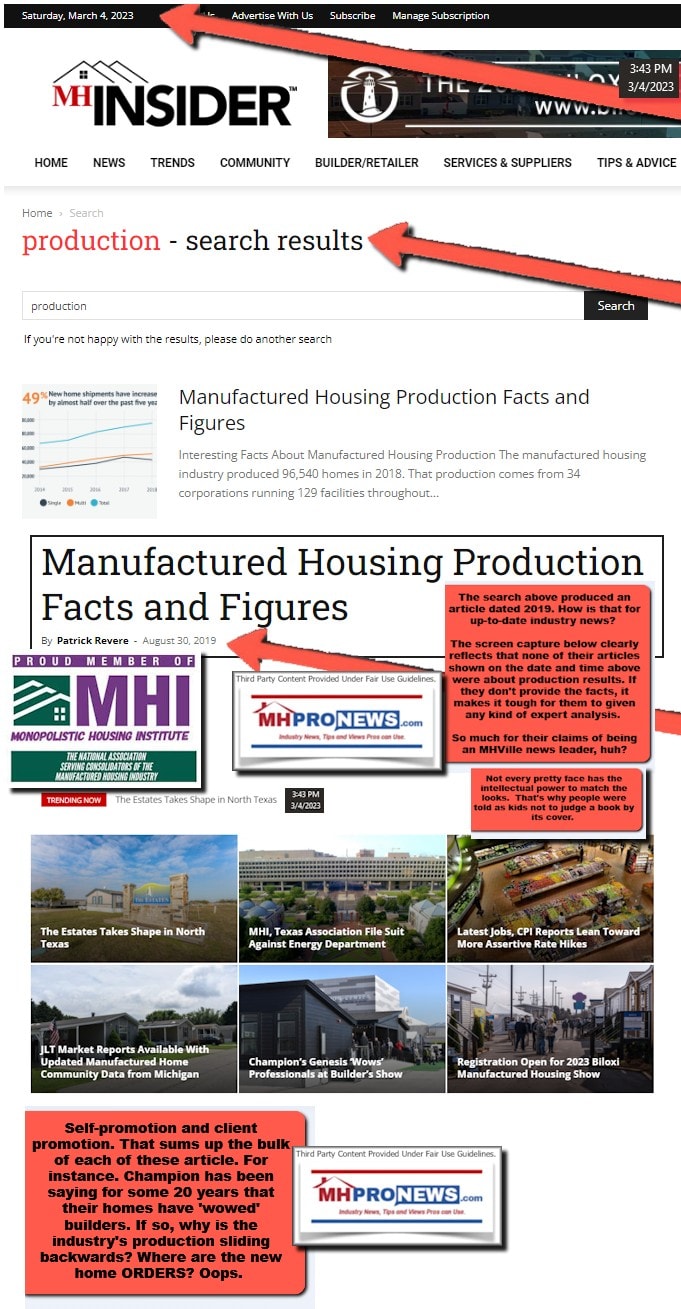 In fairness, as of Saturday evening (3.4.2023) the more accurate of the 3 bloggers/publishers that follows appears to be ManufacturedHomes. But a closer look reveals issues there too.
On the positive side, at least their publication mentions the data, and they reference both MHI and MHARR as sources for their data. Oddly, their report is dated 3.2.2023 and MHARR's information wasn't published until 3.3.2023. MHARR didn't have that data until the morning of 3.3.2023. So, why did ManufacturedHomes back-date their post? And why did that website oddly claim "Overall, the future of manufactured homes is looking bright as the industry continues to evolve and innovate in response to changing consumer needs and preferences despite economic uncertainties of a struggling economy."
Quoting both MHI and MHARR, that same site said: "Despite all the economic headwinds, supply and workforce issues, the shipment/production of manufactured homes in 2022 was the largest increase in over 15 years." While that may be true to an extent, it only underscores how badly manufactured housing has performed in the 21st century. Why did they fail to include a graphic like the one below?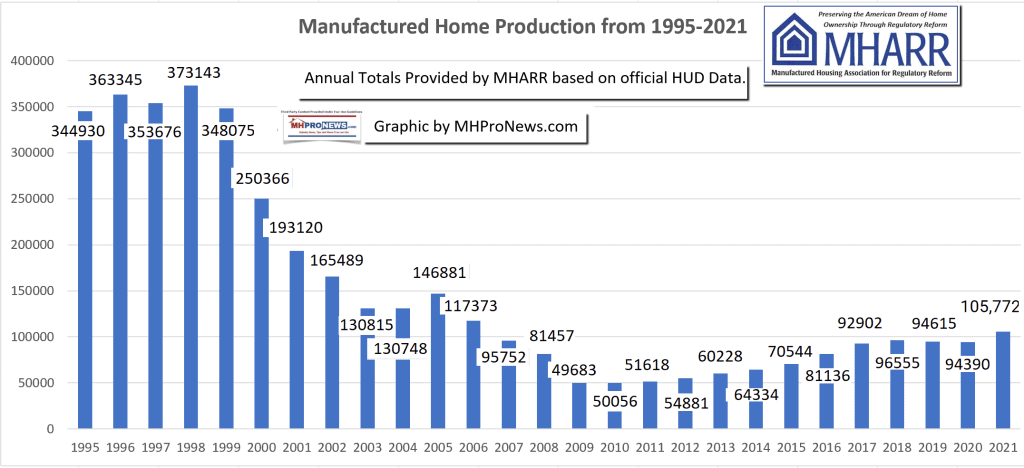 Including their headline, byline, date – everything in that post – per MS Word, ManufacturedHomes had a total of only 378 words for their entire report. Seriously?
They didn't mention recent corporate filings.
They didn't mention the oddities of the TMHA/TRERC reports and how those fail to line up with the newest data.
Yet ManufacturedHomes boldly – and apparently misleadingly – claims in all caps "WELCOME TO THE DEFINITIVE ONLINE RESOURCE FOR MANUFACTURED HOMES."  As Joe Biden might say, "Come on, man!"
Where are any of the 9 points found in the top part of this report raised by ManufacturedHomes above? Yet ManufacturedHomes has MHARR members for clients. Why do they carry MHI's water in a post about the DOE energy rule lawsuit, but fail to mention that MHARR has been pressing for litigation for the better part of a year? For a platform that may not exist at all if not for MHARR member support, they oddly play footsie with MHI, and MHI members, and are themselves an MHI member, per reports.
Next up is the dependable George F. Allen's blog, who dependably pats his own back and provides certain services to those who are willing to pay for them. Allen has moved his commentary from the Community-Investor name toward the EducateMHC blog. After years of railing, understandably so, about the misuse of terminology in the manufactured housing industry and the manufactured home community sector, the subtitle to Allen's blog oddly says: "Mobile Home & Land Lease Community Advocate & Expert." Perhaps fortunate (i.e.: face saving) for Allen is the point that the colors are faint, so it isn't easy to read the words "mobile home" "advocate" or "expert." Doesn't his daughter do websites? Is this the best he can manage?
There is no post since February 24, 2023 as of 3.57 AM on 3.5.2023 on Allen's self-proclaimed: "EducateMHC alone is the online advocate, historian, trend tracker, and text resource for these two business models!"  The EducateMHC blog seems to be significantly self-promotional in nature. But he does tip the hat to those that Allen wishes to showcase for whatever financial or other motivations he may have. Out of his 4 opening sentences, 3 end in exclamation marks on the date and time noted. "HUD-Code manufactured housing is federally-regulated, performance-based, factory-built housing! And land lease communities (a.k.a. manufactured home communities & 'mobile home parks') comprise the investment real estate component of manufactured housing!" Perhaps Allen's elementary school English class on the use of exclamation marks in writing stuck too deeply in his mind? It is difficult to say.
Allen at least postures being for 'mom and pop' operations. To his credit, in days and years gone by, he admitted in writing that this platform does the superior job of holding the powers that be in manufactured housing to accountability. That said, what is there that keeps Allen from holding others accountable today?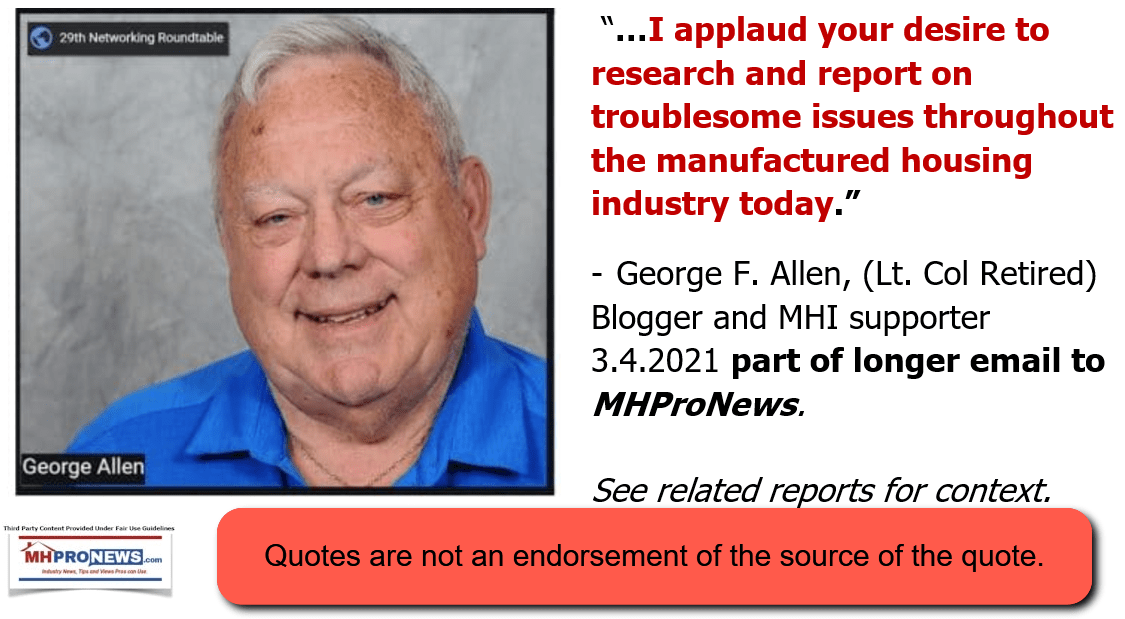 The most recent visible post by Allen on the time noted doesn't mention shipment data at all. Time may tell, but it would be a shocker if included the kind of facts and analysis that are linked above, because they would tend to debunk the credibility of MHI's claims and would tend to support the credibility and consistency of MHARR.
But instead of celebrating the small-business, and independent producers MHARR, Allen launches into a curious attack on MHARR's founding president and CEO, Danny Ghorbani. Keep in mind Allen's self-praise about being the "alone" the "online advocate, historian, trend tracker" for manufactured housing and his self-proclaimed 'expertise.' The following are from Allen's 2.24.2023 post.

MHI Takes Legal Action to Delay DOEs 'Energy Conservation Standards for Manufactured Housing'
Despite a recent (5 February 2023) lambasting of the Manufactured Housing Institute ('MHI') by MHARR's long retired founder/still influencer Danny Ghorbani*1, for not engaging with the Department of Energy's ('DOE') 'Energy Conservation Standards for Manufactured Housing', MHI on 14 February sent an Important Message to Members from Chairman Leo Poggione, describing the institute's recent legal action to delay implementation of said standards on 31 May 2023.
The following summary paragraph well-describes what I've seen, heard and read about MHI's ongoing efforts to stop implementation of the DOE standards: "For several years, MHI has been pursuing a multipronged strategy to stop implementation of the DOE standards until the standards are properly incorporated into the HUD Code. Progress has been made with HUD and lawmakers, and we are continuing to work with DOE and HUD to find a workable and affordable solution. However, with the looming deadline and continued lack of clarity from DOE, MHI decided legal action was the only option available." …
For someone who preens about being a 'historian' and 'online trend tracker,' one might have thought that Allen would realize that there could be a cause-effect relationship to what he unfairly described as: "Despite a recent (5 February 2023) lambasting of the Manufactured Housing Institute ('MHI') by MHARR's long retired founder/still influencer Danny Ghorbani*1, for not engaging with the Department of Energy's ('DOE') 'Energy Conservation Standards for Manufactured Housing', MHI on 14 February sent an Important Message to Members from Chairman Leo Poggione, describing the institute's recent legal action to delay implementation of said standards on 31 May 2023."
George: why not try this. "5 February" comes before "14 February" (his usage, not that of most Americans in recording dates).  Since Ghorbani's Q&A was first published exclusively on MHProNews, Allen fails at the test of giving credit to the source, which is part of trade or other journalism 101. Credit the source whenever known and the only time one should not credit the source is when the source is giving an anonymous tip, which was not the case in what Allen referenced.
Note that clearly Allen is reading MHProNews. He's not alone, as MHProNews is demonstrably the most informative, most read, and largest platform of its kind in manufactured housing for over a dozen years. The top brass – along with numbers of the rank and file – of most industry corporations, trade groups, independents, and nonprofits are also readers of MHProNews – because we provide "Industry News, Tips and Views Pros Can Use." © We also routinely provide information from multiple sources, so that "We Provide, You Decide." ©  Furthermore, by giving analysis that stands the tests of time, logic, and common sense, our platforms uniquely provide "Intelligence for Your MHLife." ©
By contrast, what does Allen provide beyond too many exclamation points and the lack of those same tag line qualities referenced above?
In fairness and as a disclosure, Allen and ManufacturedHomes are the two least visited sources checked by MHProNews. MHInsider is obliquely useful because it is 'endorsed' by MHI in revealing their agenda and its various factual and logical disconnects. Allen is plainly in the MHI corner, so too is ManufacturedHomes. That said, for a time Allen was a big MHI critic who also slammed some of their dominating brands. What caused Allen's stark pivot from the remarks shown quoted below? Why did MHI and their dominating brands reembrace Allen after shunning him? They don't answer those questions, why not? That said, this flashback reveals just how far Allen has come, for what? Filthy lucre, and not even much of that?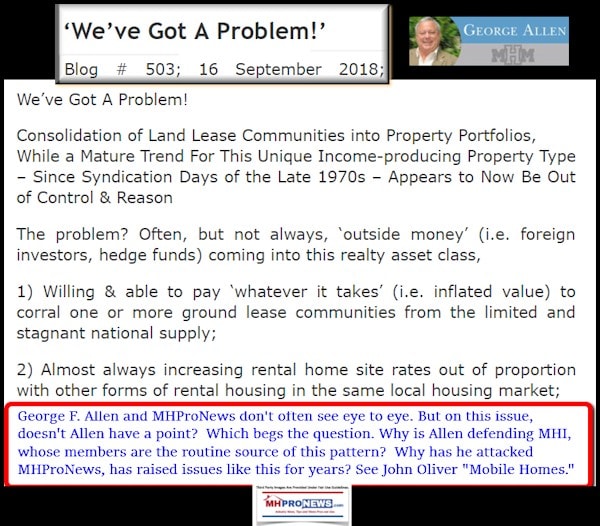 That said, Allen unjustly critiqued Samuel Strommen with Knudsdon Law, who made similar points, but backed them up with well over 100 references and footnotes.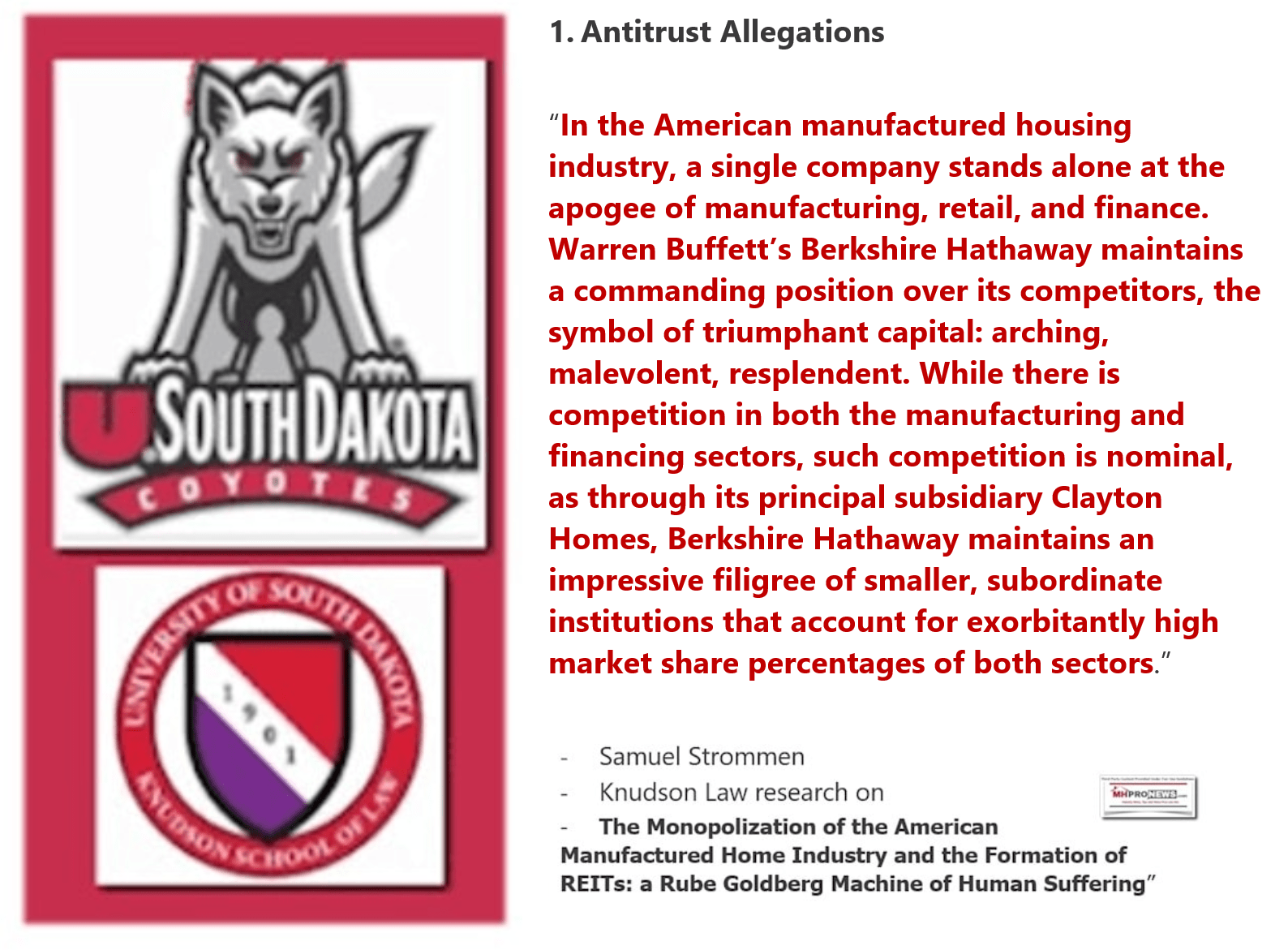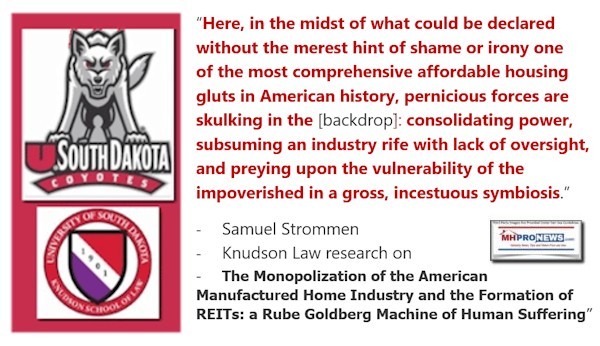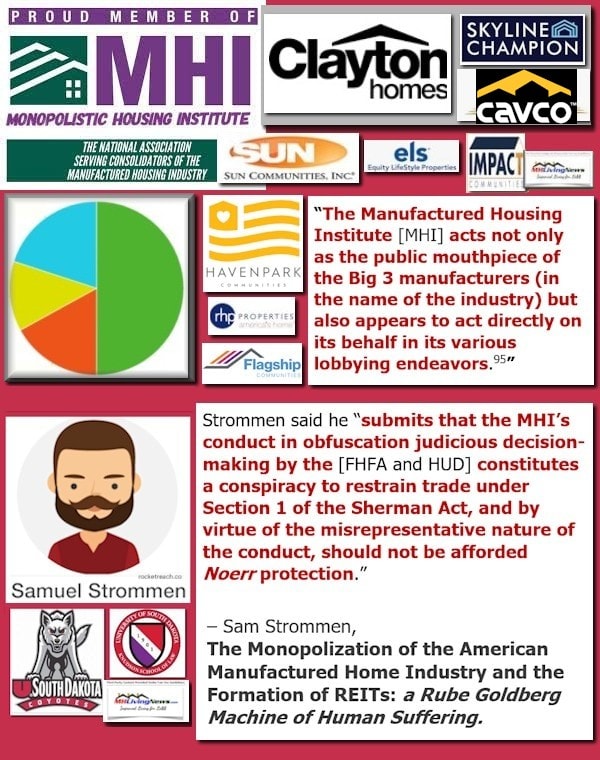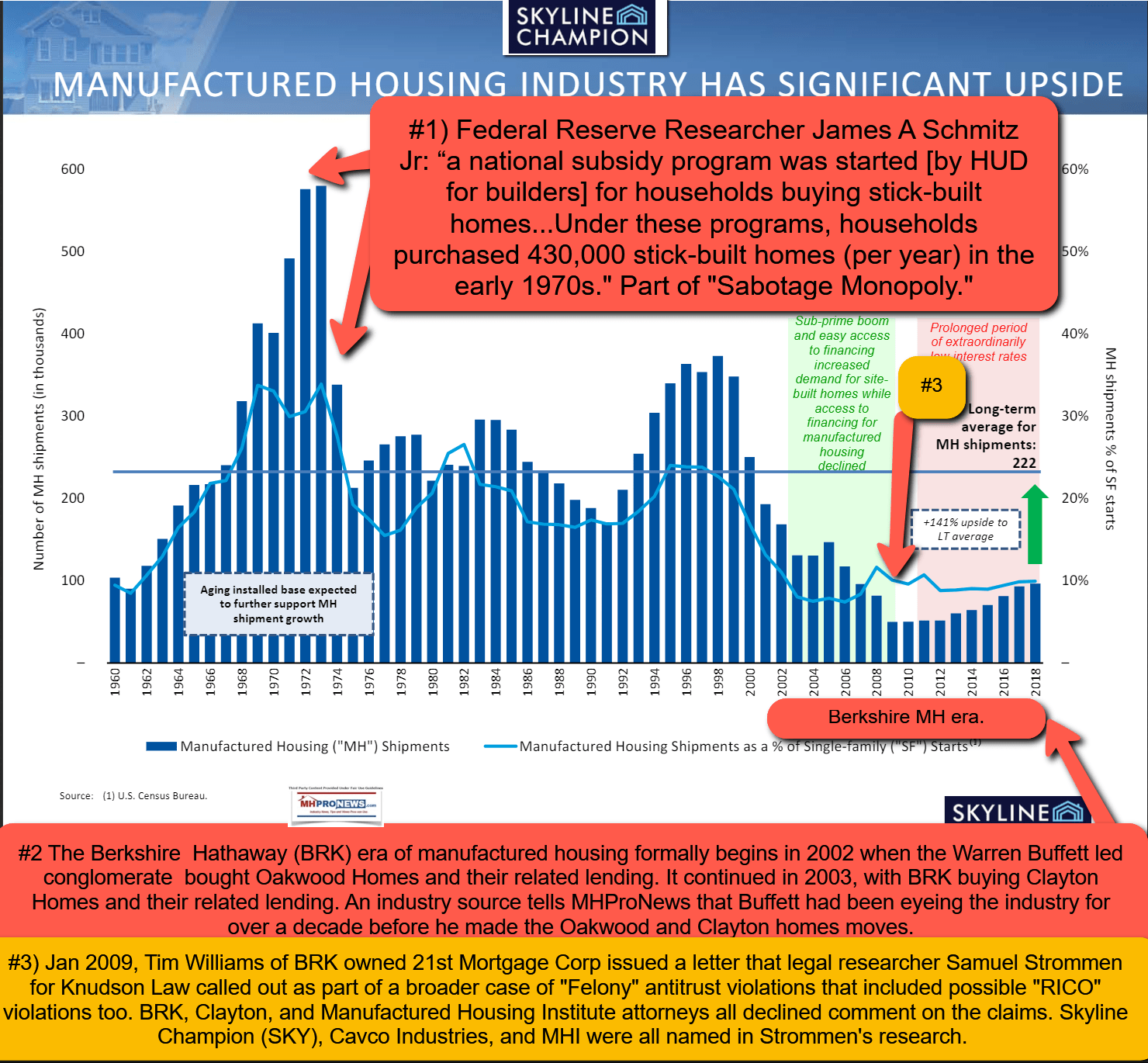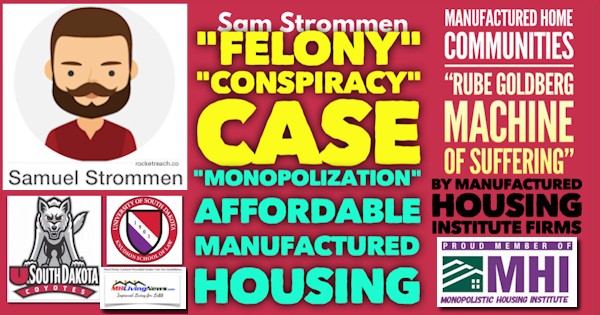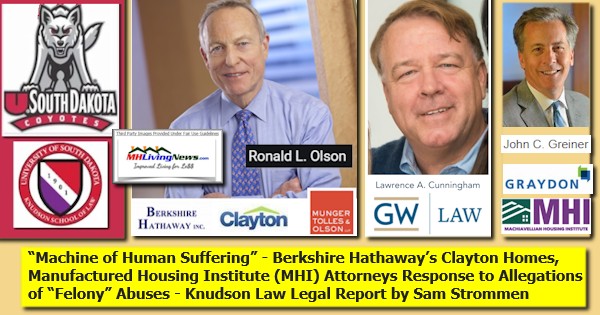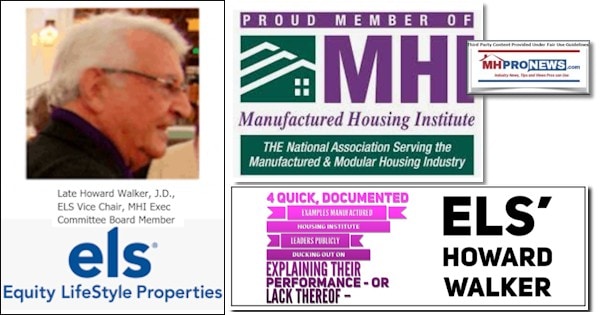 MHProNews has publicly and editorially admitted that for a time we were mistaken in trusting MHI at face value. The Society for Professional Journalists doesn't say one has to repeatedly correct an error, but we have done so several times in recent years. Why?
One, it is good for humility and credibility to admit error.
Two, in hindsight, there is a kind of odd advantage that MHProNews now uniquely posses. By leaving so much content that cast MHI in a more favorable light, it demonstrates that we were not driven by some bias. The facts reflect that MHProNews promoted MHARR news alongside MHI's for years. That was true even though MHARR for years paid nothing while MHI and several of their members did at various times pay for their promotional information to be published on our site. Perhaps more important, MHProNews began to expose MHI and their dominating corporate brands while they were advertisers. Bluntly, we didn't let ad dollars or our client list interfere with editorial and news decisions. Unlike others who apparently kiss up to the powers that be and brownnose ad nauseum, MHProNews lets the facts, evidence, and applied commonsense lead us.
Can any of our wanna be competitors say the say things without lying?
Our formula for industry engagement in recent years is simple.
A) We publish every day on MHProNews. We publish several times a month on MHLivingNews.
B) We cite our sources unless a source wishes to remain anonymous.
C) We provide depth that no other publication in MHVille trade media history has every provided. Look at the quarterly reports of publicly traded firms for an example. We provide what they said in depth. Then, we give an authentic analysis – a critique at times – of what they said was accurate, inaccurate, or inconsistent, etc.
D) We don't pull quotes out of context for a gotcha moment. Readers can and do dive into lengthier articles that respects the reader by allowing them to see the information for themselves. Then, we provide a clearly labeled analysis. Indeed, our entire website is covered by the slogan: "Industry News, Tips, and Views Pros Can Use" © found on the top left of virtually every page on this website.
E) Perhaps our greatest weakness is typos. But given the amount of accurate information and useful analysis that we produce, our readers have clearly made the decision that they will graciously overlook a typo or spacing error to get the information they may not find anywhere else, and certainly not wrapped up for them to readily digest and act upon as they deem appropriate.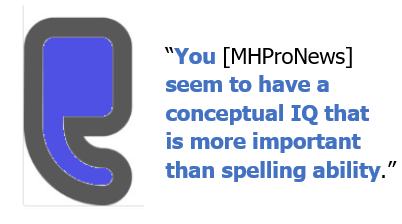 In calling out by name our would-be rivals, properly viewed, this critique is an opportunity for any or all of them to step up to the plate and improve the quality and quantity of their 'news.'
If they were willing to work as hard as this publication's team has for years, they may well be able to outdo us on some level (other than perhaps artistic). Kelley's MHR looks professional. MHInsider has a crisp look and ManufacturedHomes does too. Allen's site, poor fellow, simply looks decades out of date. But then, his analysis and commentary often misses the mark too.
As a disclosure, Allen and this writer cooperated for a time years ago. To put it bluntly, when it was perceived that Allen failed to keep up with his end of the bargain, we stopped cooperating. We have since invited Allen, who's behavior included getting cozy with MHI and their dominating brands, to publicly debate MHI's performance, or his own as a trade publisher. He has ducked that for years, but he has company.
It is entirely possible that MHI's total traffic, plus traffic on the 'news' blogs of MHInsider, ManufacturedHomes, and Allen combined do not equal the traffic and engagement found on MHProNews. But they won't make public their data in a similar way that our publication has.
'The U.S. Can Solve Its Housing Crisis – It Just Needs To Start Building' Bloomberg, Washington Post Want More Manufactured Housing in 2023! Plus 2022 Year in Review, Sunday MHVille Weekly Headlines Recap
Indeed, the known facts, previously reported, support that conclusion. None of those named have dared question publicly those claims about our superior content, traffic and engagement. Indeed, MHProNews has specifically invited MHI, Allen, and others in the MHI orbit to publicly debate in a moderated format MHI's performance. They have routinely declined that offer.
So there is a publicly unchallenged #1 in manufactured housing industry trade media. Unlike Allen or some of the others, they have not been given the praise by MHI's leaders that this publication earned. What differed between us and them is that when the 'aha' light came on, MHProNews noted our error, and then pursued the facts, evidence, money-trail, and applied logic where they lead us. The others have not. That said, let's bring this back to the opening point. Why is manufactured housing underperforming during an affordable housing crisis?
It should be obvious that MHI and their dominating brands, regardless of what they might say, apparently like the status quo for their own reasons.
If MHI and their dominating brands authentically took the steps to admit past errors and then take the necessary steps to lead robust growth, perhaps no one would cheer them more than this publication and writer.
As Allen's clumsy summary oddly highlighted, it was shortly before MHI announced their lawsuit that MHARR senior advisor Ghorbani restated their desire to see an industry-wide litigation launched. MHI decided to go it alone. MHI further decided not to mention MHARR, and neither MHInsider nor ManufacturedHomes (which as noted arguably exists to a serious extent due to years of MHARR members supporting them) mentioned MHARR in their respective 'reports' on the MHI lawsuit.
None of them mentioned the obvious logic that now that MHI has sued on the DOE issue, they should also sue over "enhanced preemption" and the failure of the GSEs to follow the Congressionally mandated "Duty to Serve" (DTS) manufactured housing in lending by providing chattel loan support.
It is entirely possible that the industry would be in far worse shape than it is if not for the stalwart effort by MHARR's modest but stubborn staff in pursuing the industry's rights under various federal laws.
Certainly, a prima facie case has been made by MHProNews, Samuel Strommen with Knudson Law, and James A. "Jim" Schmitz Jr (among others) that shed light on how public officials, and key trade groups (including MHI and their dominating brands) have worked to subvert manufactured housing's true potential.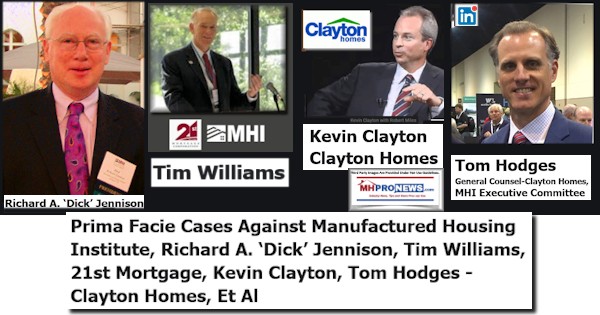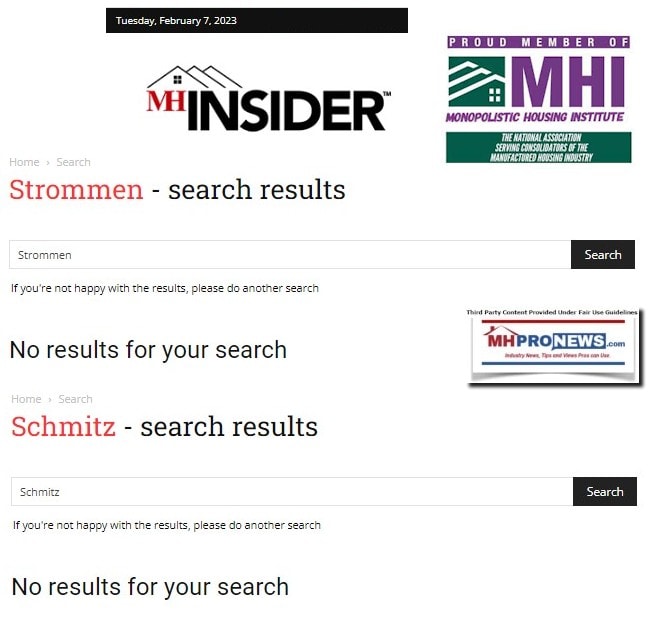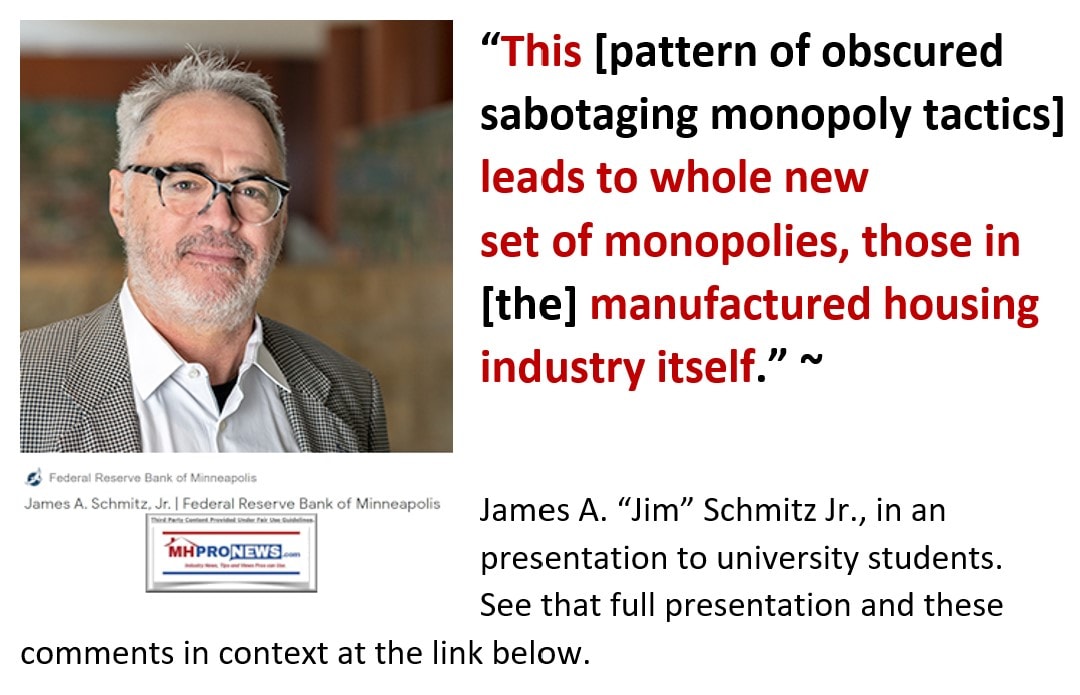 It remains to be seen whether or not stakeholders and shareholders launch a series of legal efforts against MHI and/or some of their publicly traded companies. A similar question might be asked – will public officials intervene by probing and launching their own legal efforts involving key manufactured housing industry players?
Has the Manufactured Housing Industry Become a Target-Rich Environment for Plaintiffs' Attorneys? Facts, News & Views; plus, Sunday Weekly Manufactured Home Industry (MHVille) Headlines Recap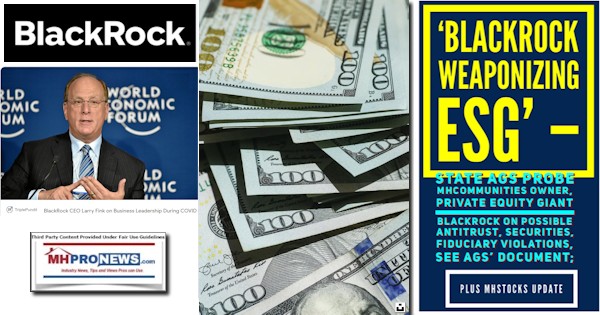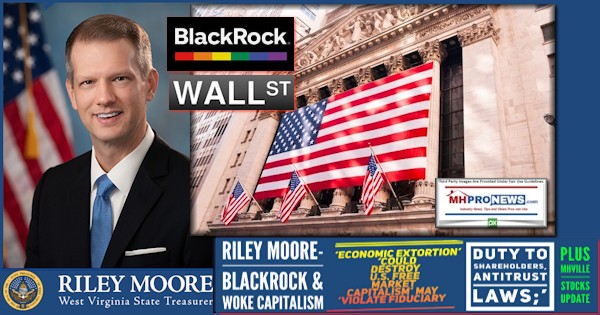 Time alone will tell. But MHProNews will continue to report the facts, evidence, and provide the authentic expert analysis that others in MHVille apparently claim in hollow words but routinely eschew in practice.
As the report linked below spelled out, a brighter and more profitable future is possible for firms that take specific steps as outlined.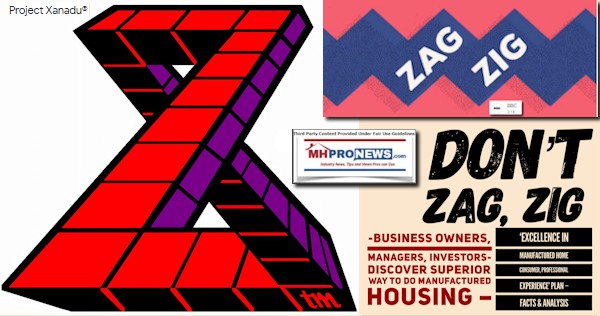 Almost by definition, consolidators in MHI have targeted manufactured housing independents. Allen hasn't said so plainly in some time. Others may have implied it, or ignored it, but none are using the facts and evidence routinely to make the obvious points that MHI insiders seemingly deem to often be politically incorrect to openly discuss.
Yet, for community operators that want to exit without screwing their residents, they could sell to their residents via the ROC process. HUD Code manufactured home producers that want to sell – how many have explored selling to their employees and management team in an ESOP or other similar structure? Part of the point here is that someone may be able to accomplish their personal goal without further fueling the imbalance between MHI's consolidators and the balance of the industry.
Will one or more MHI publicly traded brands break ranks? Will another current or ex-MHI staffer or publicly traded company insider come forward with insights and evidence that could explode the respective posturing and paltering of their leadership?  Stay tuned.
Because it is always possible that someone in mainstream media may at some point break ranks from their corporate ad, capital or other masters and do what MHProNews did. Namely, follow the facts, evidence, and let applied common sense lead where they authentically take the sincere journalist.
It is possible that one or more public officials may order new inquiries into what has gone wrong in MHVille. This is still America. Good things are still possible following enough ugliness.
Come what may, through it all, count on MHProNews to deliver the facts, evidence, expert views, and analysis that alone shed light among what is palmed off as MHVille trade media on why manufactured housing is underperforming during an affordable housing crisis. Consolidators are dominating now. But MHARR's pushback has once more paid off. Looking back at U.S. history, the Gilded and Robber Barron ages in U.S. history were finally brought to an end through antitrust efforts. Because what history teaches is that whatever has happened before can happen again. ##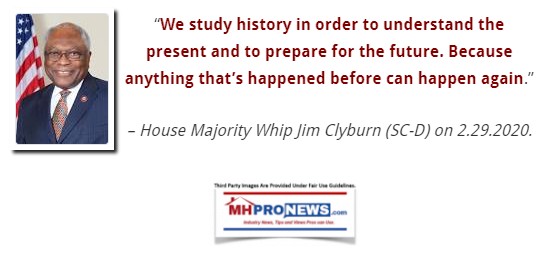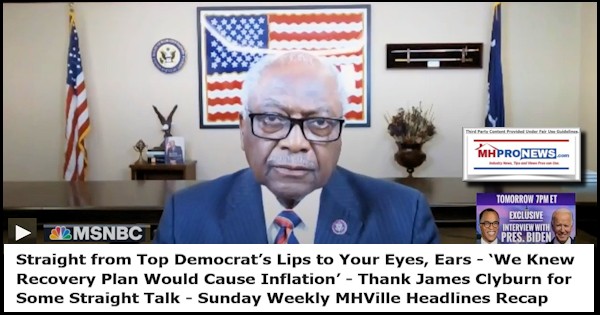 PS: When it comes to an MHVille news source that produces more than fluff for the insiders, occasional cheap shots against those who would challenge them, or self-serving agendas, there is simply no one else that measures up MHProNews. No one. Who says? Oddly, critics and quietly applauding supporters alike.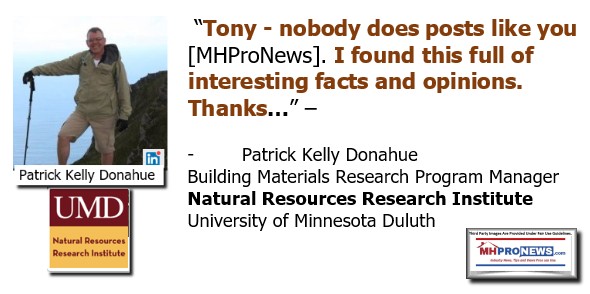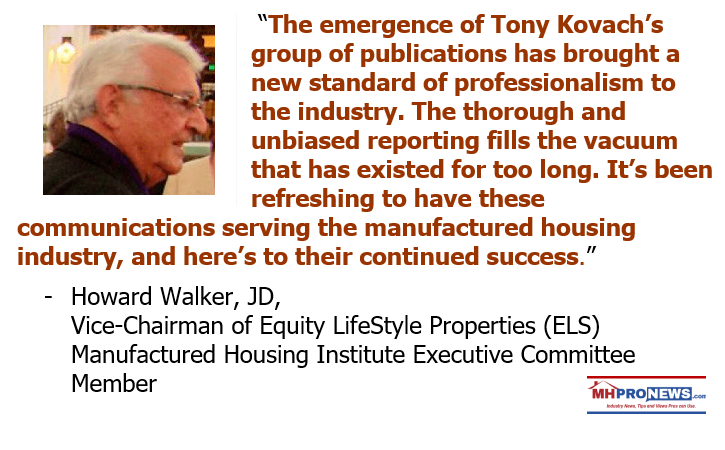 And who else gives you periodic lighter moments that still make relevant points?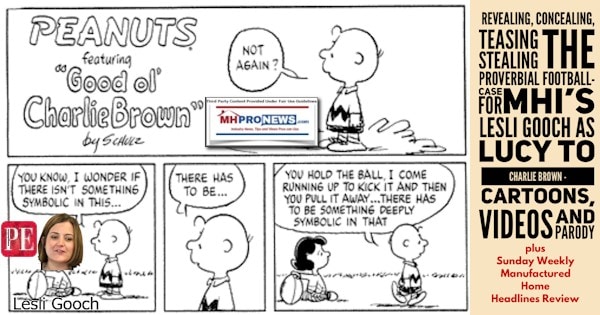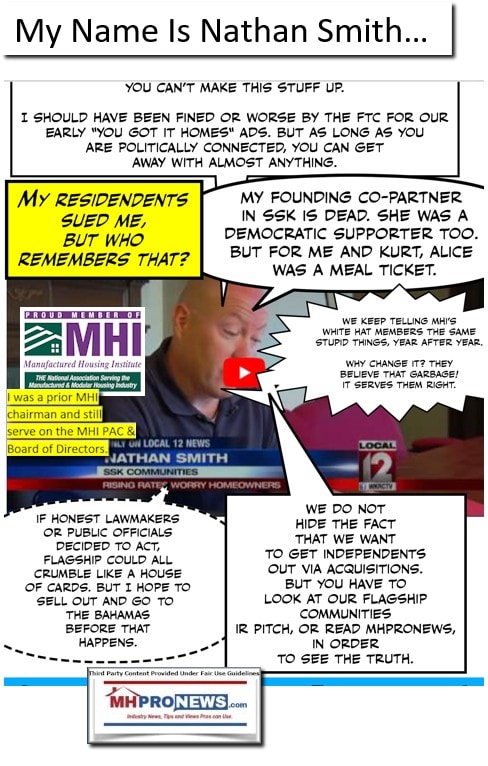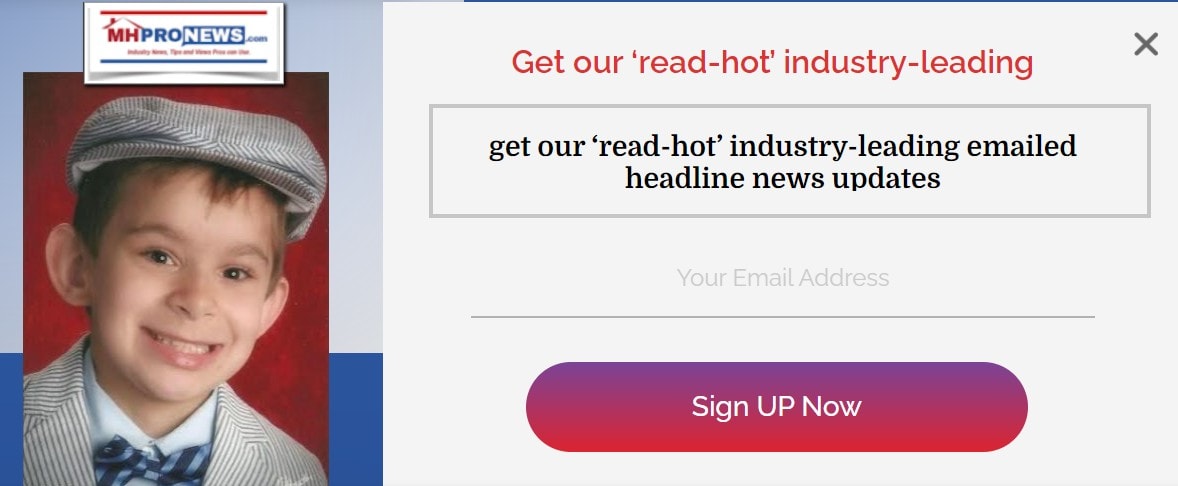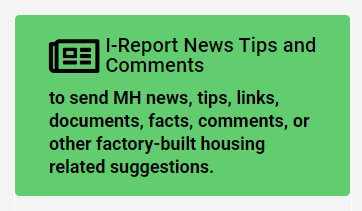 Again, our thanks to free email subscribers and all readers like you, as well as our tipsters/sources, sponsors and God for making and keeping us the runaway number one source for authentic "News through the lens of manufactured homes and factory-built housing" © where "We Provide, You Decide." © ## (Affordable housing, manufactured homes, reports, fact-checks, analysis, and commentary. Third-party images or content are provided under fair use guidelines for media.) (See Related Reports, further below. Text/image boxes often are hot-linked to other reports that can be access by clicking on them.)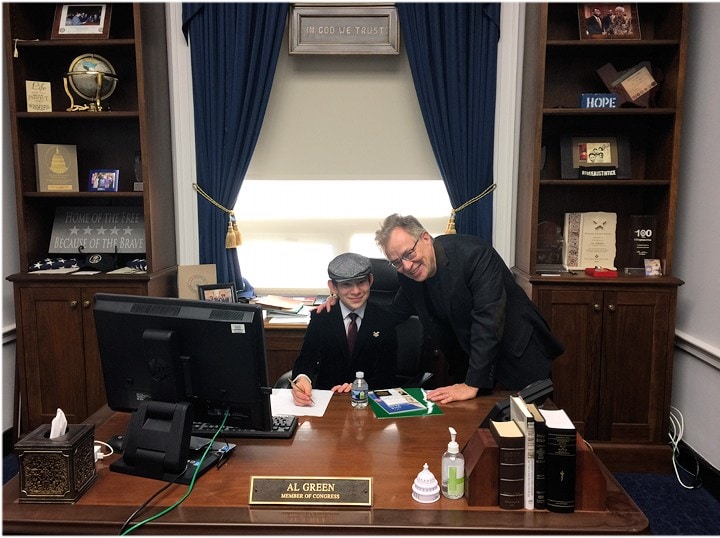 By L.A. "Tony" Kovach – for MHProNews.com.
Tony earned a journalism scholarship and earned numerous awards in history and in manufactured housing.
For example, he earned the prestigious Lottinville Award in history from the University of Oklahoma, where he studied history and business management. He's a managing member and co-founder of LifeStyle Factory Homes, LLC, the parent company to MHProNews, and MHLivingNews.com.
This article reflects the LLC's and/or the writer's position, and may or may not reflect the views of sponsors or supporters.
Connect on LinkedIn: http://www.linkedin.com/in/latonykovach
Related References:
The text/image boxes below are linked to other reports, which can be accessed by clicking on them.'
'Everyone Needs Deadlines' 'First Things First' and '7 Habits of Highly Successful People' – Pre-Christmas Preview of Manufactured Housing Year in Review; plus Sunday Weekly MHVille Headlines Recap
'In the Business World, the Rear-View Mirror is Always Clearer than the Windshield'–Warren Buffett MHVille Leader Showcases Efforts to Renew American Dream; plus Sunday Weekly Headlines Recap
Manufactured Housing's Next BIG Regulatory Battle That MHARR's Spotlighted and Which MHI Conveniently Ignored in Recent 'Manufactured Housing Institute News;' plus Sunday Weekly Headlines Recap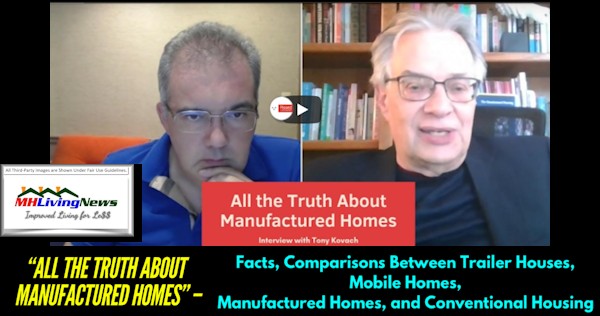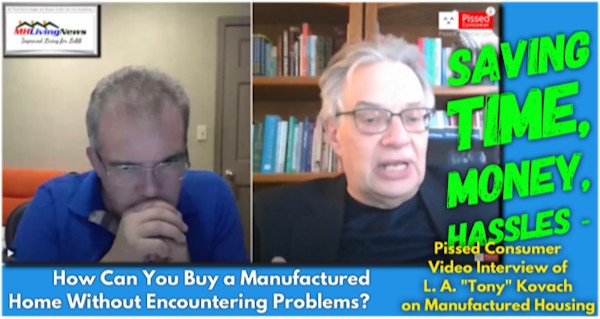 Flagship Communities – Hypocrisy, MHIndustry Corruption? 'Fragmented Industry with High Barriers to Entry and Imbalanced Supply and Demand Dynamics;' Plus Sunday MHVille Weekly Headlines Review
'Affordable Homes for Low Income Must Produce in Factory,' 'Years to Unravel Sabotage,' Grad Students Interest in Manufactured Housing, Factory-Home Solutions; plus Sunday Weekly Headlines Recap
Russian Disinformation? CNN and WND Report on "World Government Summit," Joe Biden Address to Business Roundtable on "the New World Order;" plus Sunday Weekly Headlines Review