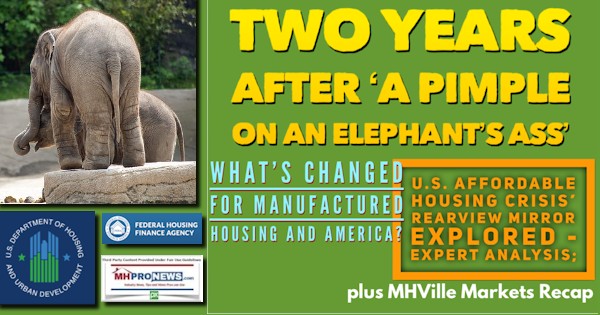 After some finger pointing and figurative arm wrestling, the Federal Housing Finance Administration (FHFA) published on their website the following fact-packed commentary on the realities of the manufactured housing industry as seen through the lens of remarks by several relevant third-party comments. Each person's and/or organization's remarks are clearly identified. They are woven together under the quoted and colorful title "A Pimple on an Elephant's Ass." That remark on the FHFA's webpage is a reference to the sadly billions lost some two (2) plus decades ago by lenders that utilized the Government Sponsored Enterprises (GSEs or Enterprises) of Fannie Mae and Freddie Mac in lending on HUD Code manufactured homes as compared to the trillions of dollars in similar losses incurred by those same entities and millions of Americans in the U.S. conventional housing and related financial crisis circa 2008, which is now some 15 years into the rearview mirror. Part I of this MHProNews fact check and editorial viewpoint will include word-for-word the entire 1440 words (about 5 minutes reading) commentary still proudly found on the FHFA "listening session" webpage at this link here and posted at this link here. Part II will be additional information and MHVille expert analysis that will reveal that while some things have obviously changed, much of that difference has only underscored the facts, rationale and ongoing validity cited in the evidence-laden A Pimple on an Elephant's Ass commentary by widely acknowledged manufactured housing industry expert L. A. "Tony" Kovach. Rephrased, Part II cites the facts that demonstrate why Part I is still entirely relevant as a roadmap for authentic and positive change that could be obtained for solving the affordable housing crisis, which left-leaning Bloomberg and the Washington Post, among others, recently reported necessitated building far more HUD Code manufactured homes.
'The U.S. Can Solve Its Housing Crisis – It Just Needs To Start Building' Bloomberg, Washington Post Want More Manufactured Housing in 2023! Plus 2022 Year in Review, Sunday MHVille Weekly Headlines Recap
Part III of today's article will be the Daily Business News on MHProNews manufactured housing industry connected equities markets recap, related graphical snapshots, and the market-moving left (CNN Business) and right (Newsmax) time saving and insight generating headlines summary. Given that brief preface, let's carefully dive into "A Pimple…" as if it were accurate, prophetic, relevant, and because it demonstrably remains so.
Part I
Enterprise Housing Goals FHFA Listening Session 3.25.2021
By L. A. "Tony" Kovach  
That's how a Manufactured Housing Executives Council (MHEC) member described to MHProNews the comparative losses on manufactured homes to losses incurred in conventional housing during the 2008 housing-financial crisis. He compared those trillions in losses on houses to the far more modest losses experienced by lenders operating in HUD Code Manufactured Homes in the late 1990s into the early 2000s.
Despite that comparative pimple, Fannie Mae, Freddie Mac, and others periodically point back to that problematic so-called "GreenSeco era." That's 2 decades in the rearview mirror. How can that be an excuse for treating manufactured homes so differently than conventional housing in access to lending?
The FHFA website says that Enterprise Housing Goals are supposed to "FOSTER competitive, liquid, efficient, and resilient (CLEAR) national housing finance markets that support sustainable homeownership and affordable rental housing…"
Before and after passage of the Housing and Economic Recovery Act (HERA) of 2008 and the
Congressional mandate of Duty to Serve (or DTS) for manufactured housing by Fannie Mae, Freddie Mac – FHFA and other regulators have paid lip service to supporting manufactured homes.   That negatively impacts millions. Who says?
HUD Secretary Marcia Fudge spoke recently about the tragedy of increased homelessness in America.
HUD's sad report is fascinating because James Schmitz Jr. – a researcher for the Minneapolis Fed, and three colleagues – published reports accusing HUD and builders of collusion in deliberately undermining manufactured housing.
Schmitz and those researchers argued that collusion between HUD and builders is a case of "sabotage monopoly."
They said that sabotaging collusion between HUD and builders increased homelessness, harmed minorities, and cut off the lower income class of all backgrounds from the benefits of affordable manufactured home ownership.
Schmitz and his colleagues wrote positively about the manufactured home option.
Scholastica "Gay" Cororaton's research for the National Association of Realtors also praised modern manufactured homes.
What makes Schmitz and his colleagues' charge of HUD's role in "sabotage monopoly" more compelling are comments from Bill Matchneer. Attorney Matchneer is the former HUD administrator for the Office of Manufactured Housing Programs (OMHP).
Matchneer said HUD's Office of General Counsel consistently failed to enforce the enhanced preemption clause made law when the Manufactured Housing Improvement Act of 2000 (MHIA or 2000 Reform law) was enacted.
Jim Gray, formerly with the FHFA Duty to Serve program, said in his exit message that FHFA and GSEs – "[W]e have not made as much progress [toward meeting the Duty to Serve mandates] as many of us would have liked; so much remains to be done to reach these [DTS] markets."
In December 2019, I made two different listening session presentations on the DTS mandates; one virtual and another live in Washington, D.C.
In both presentations, I made the evidence-based case how disgraceful it was that the FHFA and GSEs have ignored the law to the harm of millions.
GSEs and FHFA failures arguably included key corporate members of the Manufactured Housing Institute or MHI.
Several scheduled to present today are aware of the issues I'm raising. Because some worked for HUD, FHFA, GSEs, or are otherwise connected to the manufactured housing industry.
For instance. Lesli Gooch, Ph.D., with the Manufactured Housing Institute (MHI) made statements in her filed EHG comments letter that sound supportive of manufactured homes.
But upon closer examination, Ms. Gooch focused on an unproven plan that Berkshire Hathaway (BRK) owned Clayton Homes – which supports MHI – in their push for their branded CrossModTM homes scheme.
Where was Gooch's similarly robust support for all other mainstream manufactured homes?
Fannie calls CrossModTM MH Advantage®.
Freddie calls their version of CrossModTM CHOICEHome®.
The known data reveals that these programs are market failures.
Supposedly there have been double-digit sales nationally of CrossModTM – under whatever name – in the last few years. That's in a market producing some 95,000 HUD Code manufactured homes annually.
Attorney and manufactured home finance veteran Marty Lavin – an MHI award winner – did consulting for Fannie Mae. Lavin told MHLivingNews that MHAdvantage ® was likely to be as successful as MH Select®. Lavin said MH Select® was also a virtual goose egg.
David Dworkin, CEO of the National Housing Conference in federal comments said that manufactured housing was necessary for affordable housing.
Dworkin was fully confident that the GSEs could successful do manufactured home loans.  Dworkin previously worked for a GSE as a Vice President.
Edward Golding worked for HUD and the FHA.
In 2018, Golding and 3 colleagues did a post for the Urban Institute. It was a entitled "Manufactured homes could ease the affordable housing crisis. So why are so few being made?"
Citing FHFA data, Golding and his co-authors in that Urban Institute report said manufactured homes appreciated in value. They said manufactured homes could appreciate even more given access to affordable sustainable GSE loans.
What that Urban Institute post didn't disclose on that specific page is that Berkshire chairman Warren Buffett is a lifetime trustee of the Urban Institute.
The applied logic of Golding, Dworkin, MHARR's Mark Weiss, and others should make it plain that the GSEs could and should be doing robust lending in manufactured housing.
Oxford Bank has made personal property loans on manufactured homes for some 2 decades. Oxford reportedly loans with credit scores that mirror those of Berkshire owned 21st Mortgage.  Oxford purportedly does so profitably and sustainably and at lower interest rates than 21st.
Given those facts and legal mandates, what possible excuse can FHFA and the GSEs give for not robustly making mainstream manufactured home loans for both personal property as well as mortgage lending?
I am consultant L.A. "Tony" Kovach. I've worked in the insurance, RV, trade show, and other professions. But all told, I have some 30 years' experience in manufactured housing retail, communities, with financial service firms, and builders of HUD Code manufactured homes.
Keep in mind that I was an MHI member for years. I was elected by my peers to sit on the MHI Suppliers Division board.
For a time, I was arguably fooled by the purported paltering and posturing of the MHI flim-flam that has undermined manufactured housing.
That paltering pattern harms millions of Americans while thousands of independent retailers, producers, and others went out of business or sold out at discount.
Applying the "Iron Triangle" notion and Schmitz's "Sabotage Monopoly" principles suggest that insiders rigged the market in ways that undermine the interests of various competitors.
The late Democratic Senator William Proxmire said that in Washington, two things shed light on what occurs.
There are no coincidences.
The other is follow the money.
I encourage all to Google each of these topics yourself!
—-
For instance, Google "Sam Strommen from Knudson Law" on manufactured housing research.
Strommen's report called what is happening in manufactured housing a case of "Felony" antitrust violations with possible RICO aspects involved.
Strommen has no axe to grind in our profession.
Strommen concluded that manufactured housing was being subverted from within and mentioned Clayton, MHI, other MHI members, plus the Buffett "castle and moat" method too.
Given the degrees, evidence, and experiences of those involved, I have a hard time making the argument for incompetence causing the status quo.
The Rev. Martin Luther King Jr said:
"He who passively accepts evil is as much involved in it as he who helps to perpetrate it. He who accepts evil without protesting against it is really cooperating with it."
What comes next should include a full and proper implementation of federal laws that include the
Those good laws need to be fully and properly implemented to restore the free market and liberate millions who want affordable home ownership made possible by mainstream manufactured homes. Pax et bonum. ##
Part II – Additional Information with More MHProNews Analysis and Commentary in Brief
"Given the degrees, evidence, and experiences of those involved, I have a hard time making the argument for incompetence causing the status quo." Since those remarks were posted on the FHFA website, manufactured housing continued to overall rise modestly for the next roughly 18 months before they have more recently began to fall (see graphic and linked reports below).  Since those remarks, the Biden regime proclaimed their administration's housing plan which the Manufactured Housing Institute (MHI) touted included several references to HUD Code manufactured housing. Unfortunately for the American people and the professionals in our industry, the numbers of first-time homebuyers have plummeted to new lows in the Biden-Harris era, per CNN and the National Association of Realtors (NAR). Unfortunately for MHI's leaders and their independent members, they have continued to tout about their access to congressional and federal officials.  MHI leaders in 2022 once again proclaimed 'momentum,' the manufactured housing industry has gone into a three month decline on production. Isn't it odd that twice in the past 5 years when MHI boldly proclaims "momentum" that the industry's production levels fell in the wake of that remark? Whether that drop in manufactured housing production will continue for a fourth straight month is expected to be revealed by new data that will be published soon. See the reports linked below for the data that supports each of the key points made in this paragraph. Because at MHProNews, we are about evidence, facts, an analysis that stands the test of time. To those inside or outside of MHVille (an affectionate name for the artificially diminished manufactured housing industry) who want authentic, robust and ethically profitable progress as opposed to mere head fakes, paltering, posturing, photo-ops, or "deception and misdirection" the reason our publication is the documented runaway leader for news and views is because our evidenced-based commentary demonstrably stands the test of time and has for years.
Notice: the graphic below can be expanded to a larger size.
See the instructions below the graphic or click the image and follow the prompts.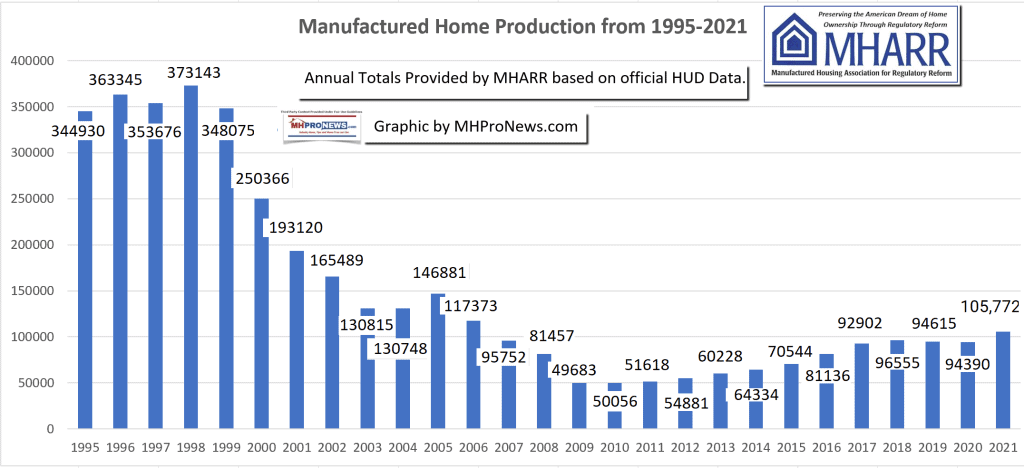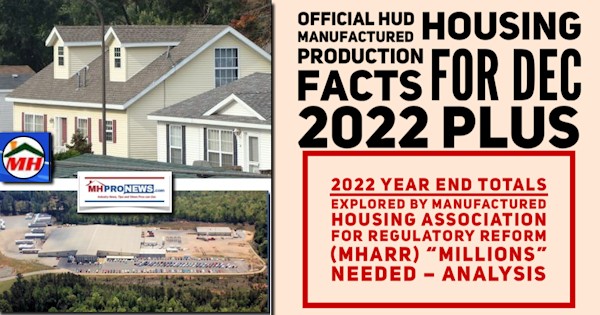 Despite Biden Housing Promises, CNN, NAR Say 1st Time Homebuyers Fall to 'All Time Low' – MHI Input – Unpacking Info for MHVille Advocates & Pros; plus Sunday MHProNews Weekly MH Reports Recap
Fears of Future – MILLIONS of Millennials Move Back in 2022 with Parents-Facts, Top Reasons, and Possible Silver Lining for Manufactured Housing Pros, Investors; plus MHVille REITs, Stocks Update
There are some common themes in recent years, precisely because those themes are routinely relevant to what must be seen as manufactured housing's underperformance.  As a brief but sincere celebration of our READERS – thousands daily, likely professional people much like yourself – are digging far deeper into these issues than was true when MHProNews began running daily business news briefs well over a decade ago.  A look back reveals that our format used to be much more like USA Today adapted for MHVille.  They began with paragraph length articles. It was 'good' for clicks and while useful and groundbreaking in manufactured housing trade media at the time, those short articles did not have the ability to dig deeply enough into a subject for professionals and newcomers alike to walk away with a deeper understanding.  Of necessity, USA Today style briefs may bring awareness, but not depth of understanding. Following that earlier format, articles became longer, more akin to what Axios does in a brief that still provides some insight. But in the past few years as we decreased the number of posts but increased their length so as to allow a fuller development of a topic, visitors have largely responded by embracing meat and depth over skinny mentions of a topic.   The result of this shift to longer reports that provide more facts, evidence, and expert analysis? When compared to giant news sites such as CNN or Fox, MHProNews experiences several times their rate of visitor engagement as measured by pages per visit. Those facts are found at this link here. For clarity, obviously CNN and Fox have millions of more visitors. But in pages per visitor, they both pale in comparison to our site's visitor engagement with the news and industry expert views content.
That segue aside, MHProNews began encouraging readers to spend 15 minutes a day on industry news over a decade ago. Now, there are numbers who are spending 30 minutes daily, based on the evidence.  Understanding requires time. That time invested in reading, per Warren Buffett, is worth it.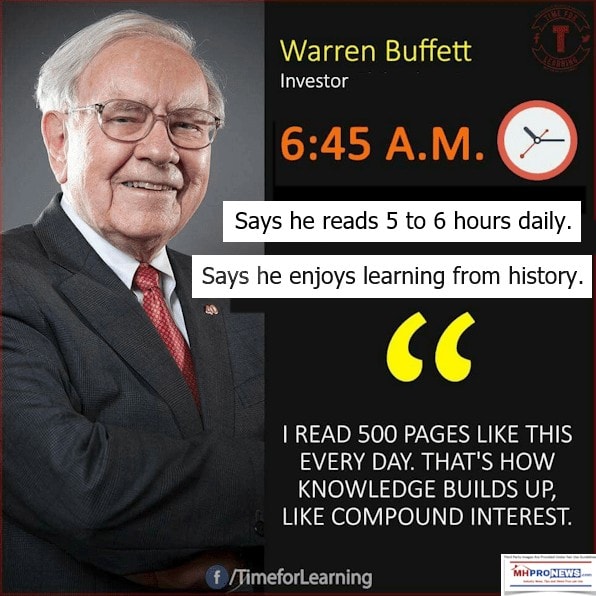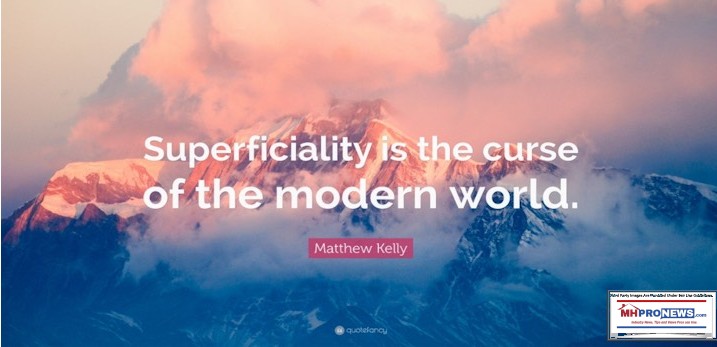 That segue aside, useful insights, but still apparently self-contradictory in terms of actual performance, are found in the Biden White House Fact Sheet on Competition.  It made the evidence-based point that consolidation of several industry sectors has accelerated. True enough. But what hasn't occurred, per outsiders looking in – such as antitrust guru Matt Stoller – is any actual improvement in those issues during Biden's watch. Oh, there's talk. But isn't that how paltering and posturing work? Talk that sounds good, but the actual behavior or outcomes don't match the preceding political time-buying verbiage? Some of those critiques come from voices on the left and Biden's own party.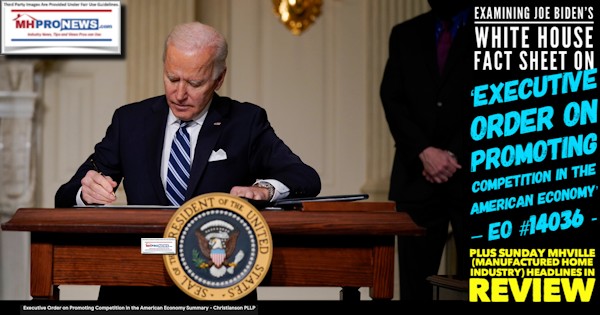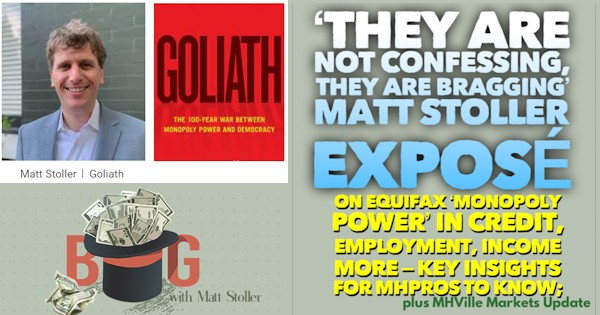 Applying longtime Democrat and former Clinton (D) Administration official Robert Reich's facts and antitrust arguments sheds light on the still timely insights found in "A Pimple on an Elephant's Ass."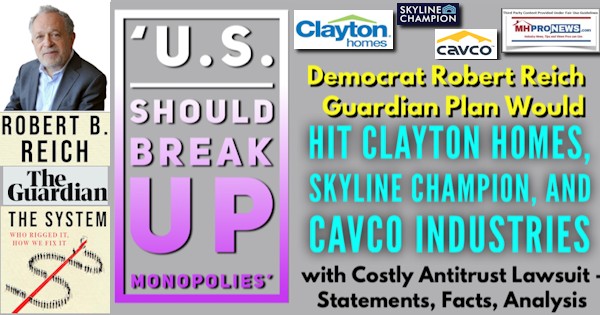 Since "A Pimple..." was posted Reuters and others documented that corporate power and consolidation have depressed U.S. wages by some 20 percent.
While some have become lulled into thinking that 'the low price' offered by big box stores or online giant Amazon is 'saving' money, when all of the factors are considered, the case can be made that it has cost most everyday Americans a serious loss in earning power. Wealth continues to shift upward to those connected to those corporate giants.
Put differently, every employee reading this report could see a big bump in pay if these issues often caused by corporate giants were properly resolved. Nor should small businesses panic at such thoughts, because their larger rivals could be broken up under antitrust laws. Odds are excellent that you'd be making more money too. Note that these are not a left or right issue, they are facts that need to be explored and addressed on their own nonpartisan merits.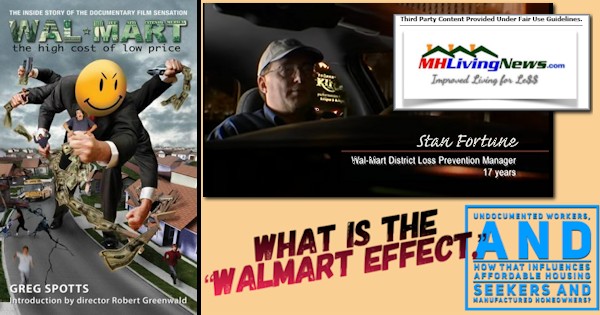 'Monopolies Take a Fifth of Your Wages' -Treasury Report Asserts Employee Harms, Says, FTC, DOJ to 'Improve Competition' by 'Vigorously Enforcing Antitrust Laws;' plus MHVille Updates
A Pimple…was published well before LendingTree documented that manufactured housing in the past 5 years has been appreciating at a similar, and often faster, rate than conventional housing. For that matter, MHLivingNews published the report linked below months before MHI members Clayton Homes and NextStep published their take on that appreciation topic.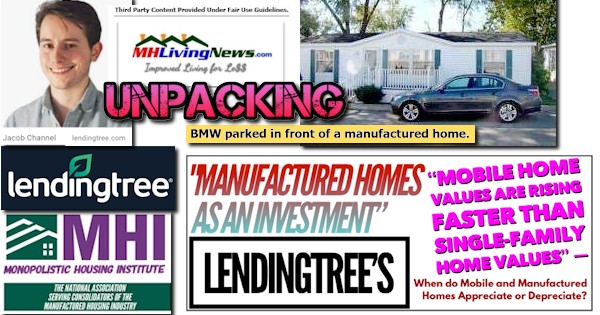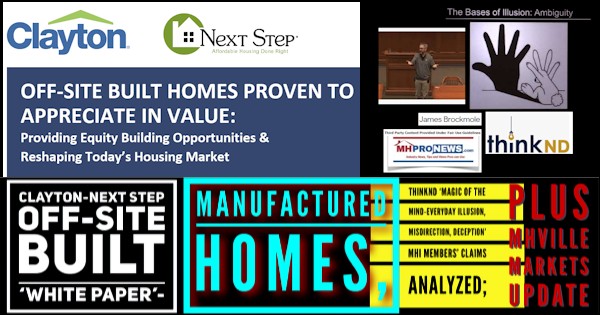 HUD during the Secretary Carson and Fudge eras have been compared since that post by the FHFA.  But a close look at those reports reveals that the evidence since has supported the facts and concerns raised in Pimple.  MHI's role in that process is reflected in part by the CSPAN video and transcript found in the second linked report that follows.
Sec Carson vs. Fudge; Dec 22 Jan 23 Data – Single-Family, Multifamily Facts as Mortgage Rates Slide – 2023 Louisville Manufactured Housing Show-Facts & Analysis; plus MHVille Markets Updates
HUD Sec Marcia Fudge – Zoning, Manufactured Homes – "Until We Start to Address This We Are Going to Continue to be Perpetually in This Kind of Situation." – News-Analysis, plus Manufactured Housing Stock Updates
MHI has not directly responded to the concerns raised in "A Pimple…". But they have belatedly filed suit against the DOE, a move that MHProNews – and MHARR – have both called for since shortly after the DOE manufactured housing energy rule was finalized.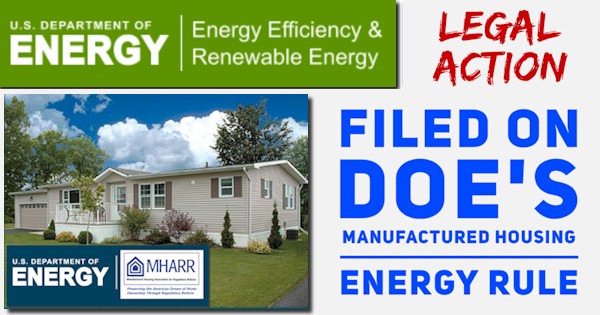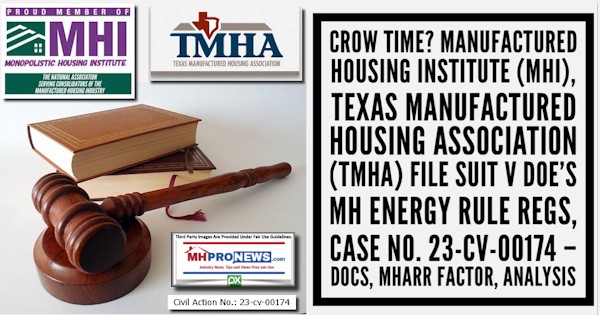 While noteworthy litigation has been launched in favor of tiny house rights since Pimple, there has not (yet) been a similar legal effort by MHI. Why not?  When good laws are going unenforced year after year and so-called lobbying is obviously not getting the job done, when will the geniuses involved in MHI leadership realize that the time to litigate is overdue? Or do they have a different agenda than they one that they publicly proclaim that benefits from the status quo?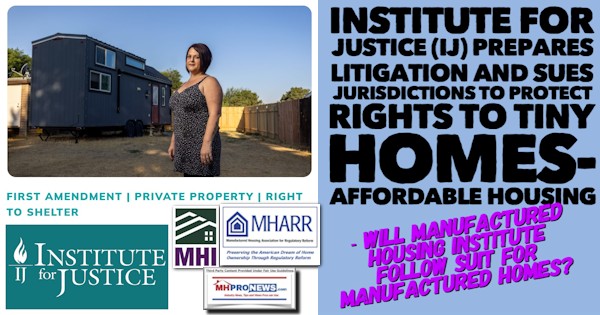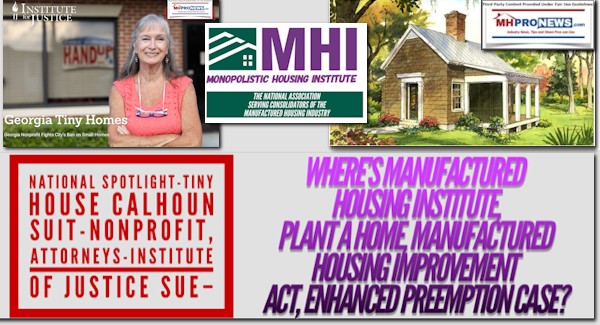 Since Pimple, the evidence in favor of the robust use of more manufactured housing has only grown. Routinely relevant reports, all be they still imperfect, nevertheless offer useful insights and facts. Those facts are found on MHProNews/MHLivingNews, but are routinely missing from MHI's website. Why is that so, if MHI sincerely wants to see manufactured housing industry growth that benefits "all segments" of the industry? ICYMI, these reports are packed with facts, evidence, and insights that reveal that manufactured housing could be soaring instead of snoring.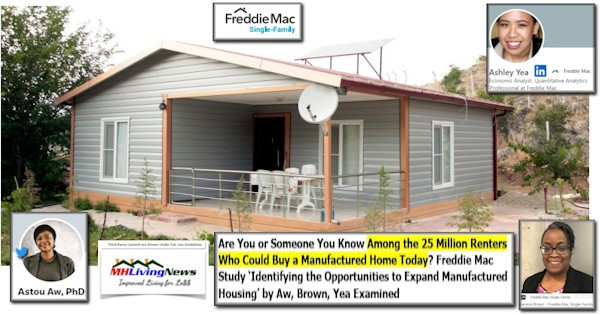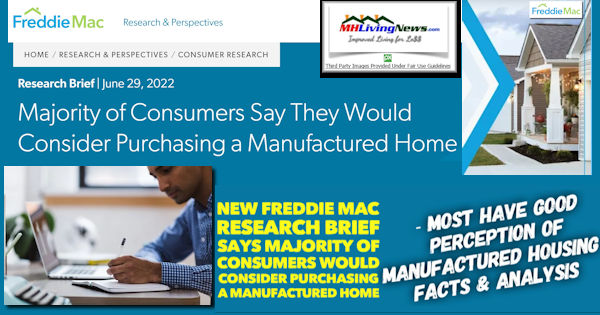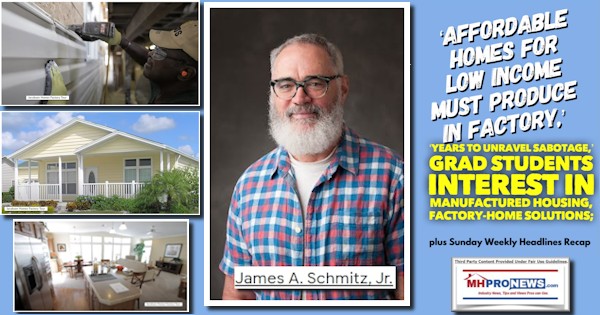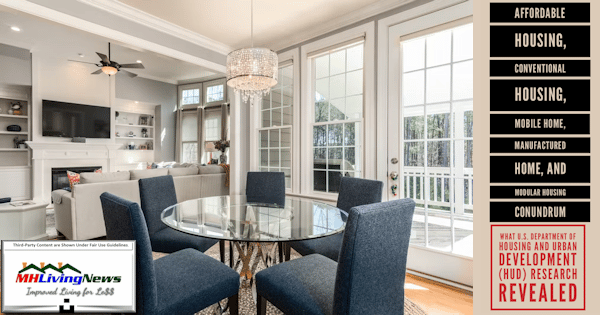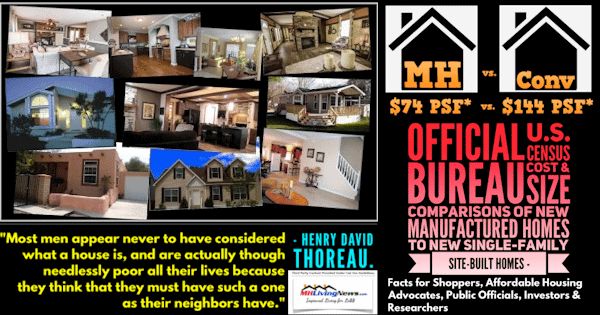 Since the executive summary found in Pimple, MHARR and their team leaders have sharpened their focus on the role that MHI has played in keeping the manufactured housing industry underperforming.
Danny Ghorbani – Manufactured Housing's 'Elephant in the Room,' per Prior Manufactured Housing Institute Chair, Exclusive Q&A on Key MHIndustry Issues, plus Sunday Weekly MHVille Headlines Recap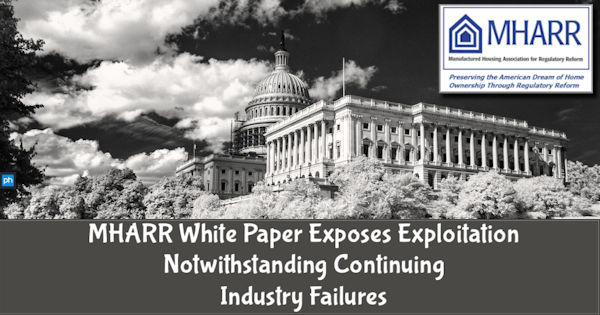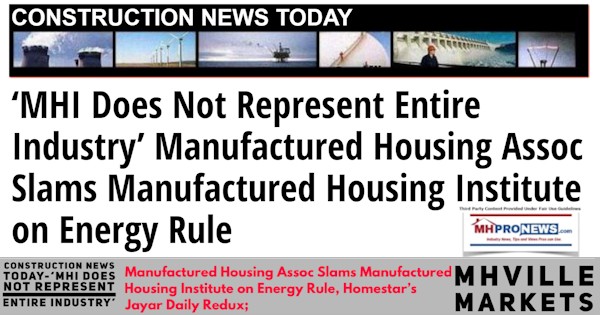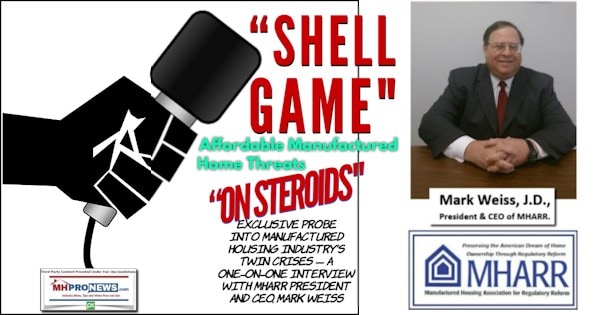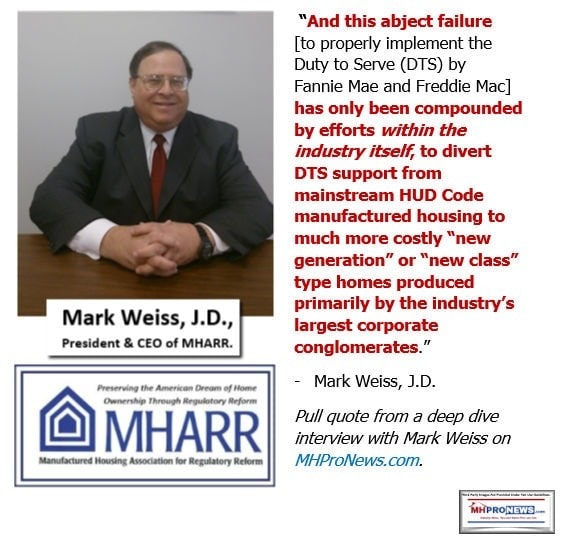 Also since Pimple was posted on the FHFA website, MHProNews/MHLivingNews have increased their engagement with mainstream media.  The evidence and reasoning are increasingly being spread to scores of websites online with each press release.
The bottom lines? They should include, but are not limited to, the following bullets.
There are significant developments that have occurred, as the examples linked herein and crosslinked from each of those reports are growing.
NONE of those reports contradicts the facts or thesis found in "A Pimple on an Elephant's Ass". Indeed, they all tend to support the evidence and reasoning.
As the Masthead recently noted, these facts could be used by forward-looking industry professionals and/or newcomers to deploy a program that could result in robust industry growth.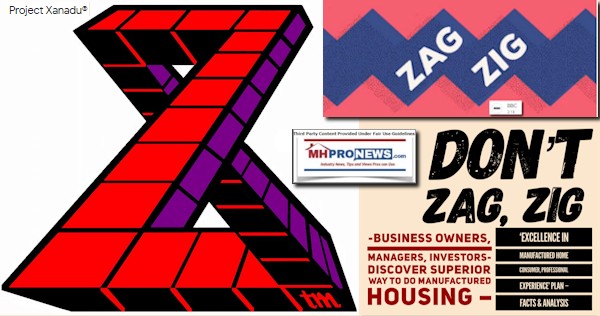 While reports on MHProNews pre-2016 might contain at times some less than stellar analysis, those since 2017 will increasingly focus on the growing evidence that manufactured housing has been limited by a combination of outsiders and insiders who believe that their selfish interests ought to supersede the intentions of widely bipartisan Congressional mandates.
Stay tuned to MHProNews/MHLivingNews for the evidence-packed reports, fact-checks, and expert analysis that demonstrably stand the test of time.  The national data for manufactured housing industry in January 2023 manufactured housing production and shipments is expected soon. Stay tuned. ##
Concessions by Speaker Kevin McCarthy in House Speaker's Battle Called 'Most Significant Win for Conservatives in a Decade' By Federalist's Emily Jashinsky Report; plus MHVille Stocks Updates
'Killing's as Easy as Breathing' 'Bad Guys Know More Games' Warren Buffett Annual Berkshire Hathaway Letter, Clayton Homes, 21st, VMF-Manufactured Home Loans-Compelling MHVille Expert Views
METANOIA – Manufactured Housing Institute, Manufactured Housing Association for Regulatory Reform 'Wake Up Call' on Consumer Finance and Discriminatory Zoning; plus Sunday Weekly MHVille Recap
Consider NAACP Resolution on Reversing Impact of Restrictive Zoning and Highways on Fair Housing; Black NFL Star Turned Congressman Burgess Owens Take on NAACP; plus MHVille Stocks Update
Part III. Daily Business News on MHProNews Markets Segment
The modifications of our prior Daily Business News on MHProNews format of the recap of yesterday evening's market report are provided below. It still includes our signature left (CNN Business) and right (Newsmax) 'market moving' headlines. The macro market moves graphics will provide context and comparisons for those invested in or tracking manufactured housing connected equities.
In minutes a day readers can get a good sense of significant or major events while keeping up with the trends that are impacting manufactured housing connected investing.
Reminder: several of the graphics on MHProNews can be opened into a larger size. For instance: click the image and follow the prompts in your browser or device to OPEN In a New Window. Then, in several browsers/devices you can click the image and increase the size. Use the 'x out' (close window) escape or back key to return.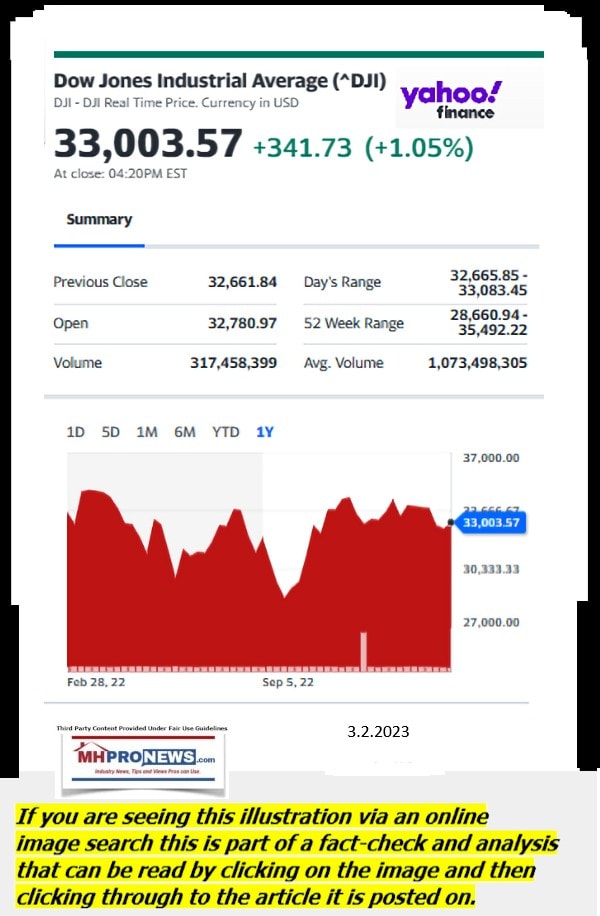 Headlines from left-of-center CNN Business – from the evening of 3.2.2023 
#BoycottHersheys
A backlash is spreading on Twitter over its Women's Day campaign
DOJ launches new effort to target corporate sanctions evasion
Why GoodRx is emailing customers about sharing their health information
Democratic senators urge Meta not to market its metaverse app to teens
Silvergate Capital shares plunge as bank reveals doubts about its viability
Mortgage rates rise for the fourth week in a row
The gulf between Black homeowners and White is actually getting bigger, not smaller
Target, Macy's and Best Buy see consumers cut back, search for discounts
Mortgage applications drop to 28-year low as rates climb
Fox News election fraud revelations could take down the network's embattled chief
Elizabeth Holmes gave birth to her second child and wants to delay her prison sentence
The US dollar is at a crossroads
The devil's in the details in Europe's troubling inflation data
One of China's richest women takes over for her father at real estate developer Country Garden
Tesla to build next plant in Mexico
Starbucks displayed 'egregious and widespread misconduct' in union fight, judge says
Alphabet's self-driving car unit has cut 8% of its staff this year
Paul Ryan grilled for remaining on Fox board of directors amid election fraud revelations
Gas surcharges have ended. But not everyone is happy
Mike Lee says his personal Twitter account was suspended
The US gender pay gap: Why it hasn't narrowed much in 20 years
TikTok to set one-hour daily screen time limit by default for users under 18
Why you're about to see ChatGPT in more of your apps
The 5 airplane near crashes under investigation
Notice: the graphic below can be expanded to a larger size.
See the instructions below the graphic below or click the image and follow the prompts.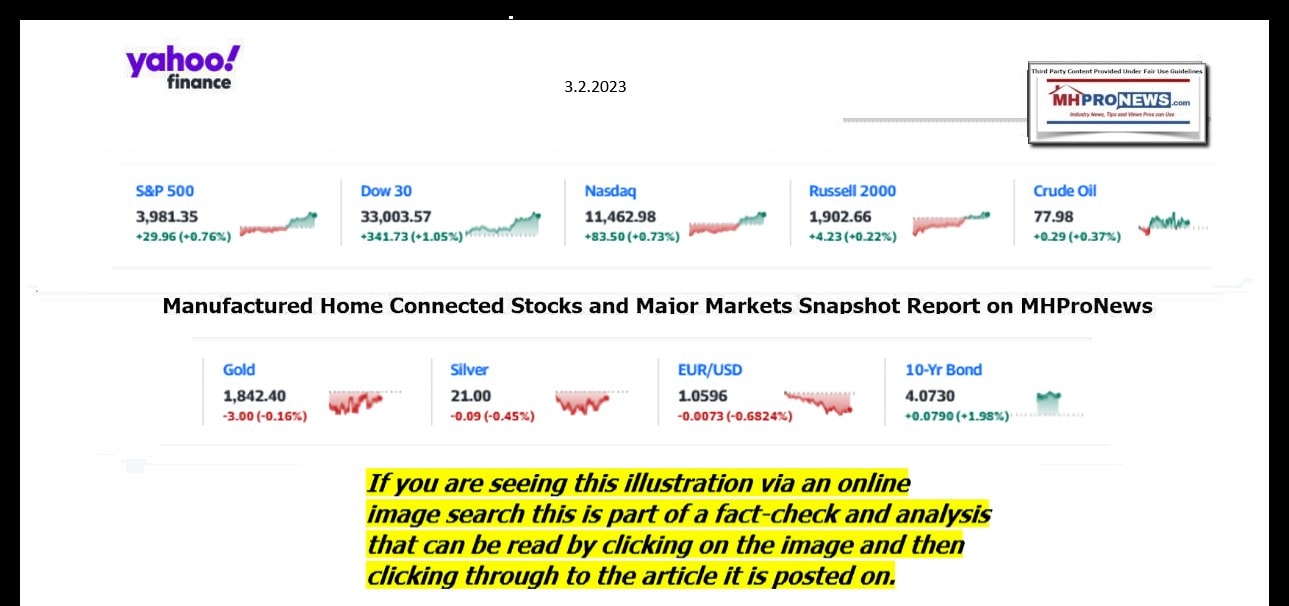 Headlines from right-of-center Newsmax 3.2.2023
Report: Top FBI Officials Opposed Mar-a-Lago Raid
Comer: Democrats Are All for Censoring Conservative Speech
Waltz: Congress Should 'Intervene' in DirecTV/Newsmax
Bean, Letlow: Disheartened by Censorship | video
Vance: DirecTV Wrong to Deplatform 'Important Voice' | video
Dusty Johnson: DirecTV Acting Like CCP
More Stories on AT&T DirecTV Censorship
Steube: Deliberate COVID Leak Wouldn't Surprise Me
Johnson: Senate Call to Release COVID Intel Positive
Murphy: Biden Failing With China | video
Former AG Whitaker: Garland Extends DOJ Politicization | video
Cammack: GOP Must 'Unite' Behind 'Kitchen Table Issues'
Lankford: Don't Let Wokeness Guide Investment | video
Matt Schlapp: CPAC Ready to Go for Presidential Hopefuls | video
Canadian Attorney: Why I Joined Ukrainian Military | video
Burchett: Biden Won't Back Efforts to Ban TikTok | video
Dershowitz: Protesting SCOTUS Is Constitutional | video
More Newsmax TV
Newsfront
Biden Won't Veto GOP Bill Blocking Changes to D.C. Crime Laws
President Joe Biden told Senate Democrats that he will not veto a Republican-led resolution blocking Washington, D.C.'s criminal code revisions, Senate Majority Leader Chuck Schumer said on Thursday… [Full Story]
Stocks Gain as Bostic Backs Quarter-Point Hike
S. stocks rallied Thursday, as Treasury yields pulled back from [Full Story]
DOJ: Trump Could Possibly Be Sued for Jan. 6-Related Injuries
Former President Donald Trump could possibly be sued for injuries [Full Story]
Report: Top FBI Officials Opposed Mar-a-Lago Raid
Some high-ranking FBI officials objected to the Justice Department's [Full Story]
CFO Warns NewsGuard About Targeting Conservative Media
Florida's Chief Financial Officer Jimmy Patronis is warning left-wing [Full Story]
The 6 COVID 'Conspiracies' That Were Correct
Americans who even suggested that the COVID-19 virus may have leaked [Full Story] | Platinum Article
Social Media Users Ask: How Did Hospitalized Fetterman Sign Letter?
Blinken, Lavrov Meet Face-to-Face First Time Since Ukraine Invasion
Secretary of State Antony Blinken urged his Russian counterpart to [Full Story]
Why Have There Been No More Balloon, 'UFO' Shoot-Downs?
After the detection and subsequent takedown of a high-altitude [Full Story] | Platinum Article
Lawmakers: Norfolk Southern Turning Away Affected Residents
Three Pennsylvania lawmakers say Norfolk Southern isn't providing [Full Story]
Biden Pushes for $1.6B Funding for Pandemic Fraud Measures
President Joe Biden's administration is asking Congress to approve [Full Story]
Biden Admin Releases New Cybersecurity Strategy
The U.S. government plans to expand minimum cybersecurity [Full Story]
Murdoch Testified Fox News Hosts Endorsed Idea That Biden Stole Election
Fox Corp. Chairman Rupert Murdoch acknowledged under oath that some [Full Story]
China Leads US in Global Competition for Key Emerging Technology: New Study
China has a "stunning lead" in 37 out of 44 critical and emerging [Full Story]
Finally Legal "The Best Pain Reliever" Now Available In Florida
Healthline News
Chicago Police Superintendent to Step Down in 2 Weeks
The Chicago Police Department's superintendent announced Wednesday he [Full Story]
Related
Chicago Police Officer Dies, Suspect Wounded in Shootout
Hershey Boycott Sought Over Transgender Woman in Promo
Calls are rising on social media for a boycott of Hershey's products [Full Story]
Deion Sanders Sparks Religious Freedom Debate at Colorado
Pro Football Hall of Famer Deion Sanders has been caught up in a [Full Story]
Applications for Jobless Claims Fall for 3rd Straight Week
The number of people applying for unemployment benefits in the U.S. [Full Story]
Chicago Violence, Corporate Exodus Led to Lightfoot's Mayoral Loss
Surging crime and the exodus of major corporations, including Boeing, [Full Story]
Michigan Man Arrested for Threatening Jewish State Employees
The FBI arrested a Michigan man and charged him with allegedly [Full Story]
Twitter's New 'Violent Speech' Policy Similar to Past Rules
Twitter on Wednesday unveiled a new policy prohibiting "violent [Full Story]
Matt Schlapp to Newsmax: CPAC Ready to Go for Presidential Hopefuls
Conservative Political Action Conference head Matt Schlapp and his [Full Story] | video
Air Force Fires Nuclear Base Leaders After Failed Inspection
Several high-level military officials at Minot Air Force Base in [Full Story]
Consumer Product Safety Commission Wants Information on Gas Stove Hazards
The Consumer Product Safety Commission announced it would ask the [Full Story] | video
Pro-Life Group Wants Planned Parenthood Abortion-Pill Profit Probe
The pro-life organization 40 Days for Life sent a letter to the House [Full Story] | video
Wuhan-Linked Virologist Suggests Hedgehogs to Blame for COVID-19
A virologist with links to the Wuhan Institute of Virology and Dr. [Full Story]
SCOTUS Leaning Toward Letting New Jersey Leave Port Watchdog With New York
S. Supreme Court justices on Wednesday indicated they might rule in [Full Story]
FBI's New Embrace of COVID Lab Leak Theory Exposes Intel Community Rift
Despite the FBI's admission earlier this week that COVID-19 "most [Full Story]
Senate Votes to Kill Biden Rule on Woke Investing, Setting Stage for WH's 1st Veto
The Senate on Wednesday embraced a resolution on Wednesday that aims [Full Story]
House Committee Advances CCP Organ Harvesting Bill
The House Foreign Affairs Committee advanced a bill to protect [Full Story]
Twitter Reinstates Sen. Mike Lee's Personal Account
Twitter on Wednesday reversed the suspension of Sen. Mike Lee's [Full Story]
Finance
30-Year Mortgages Surge to 7.1%
The average 30-year U.S. mortgage rate surged to 7.1%, reflecting higher Treasury yields and expectations that the Federal Reserve will continue to raise its benchmark rate and keep it there until inflation recedes, Mortgage News Daily reported Thursday…. [Full Story]
ESPN Aims to Become Hub of All Live Sports
Ken Nuss: Long-Term-Care Insurance via an Annuity Has Many Pros, Some Cons
Macy's, Best Buy Profits Underscore Consumer Slowdown
Best of Mobile World Congress: ChatGPT Interactive Glasses
More Finance
Health
Exercising 11 Minutes Daily Could Prevent One in 10 Early Deaths
One in 10 early deaths could be prevented if everyone engaged in a small amount of daily exercise such as a brisk 11-minute walk, a large study said on Wednesday. Physical activity is known to reduce the risk of heart disease, cancer and other leading causes of death, but…… [Full Story]
Study: Noninvasive Procedure Effective Against Enlarged Prostate
Wearing an Eye Mask During Sleep Boosts Cognitive Function
New Spinal Cord Implant Effective Against Diabetic Neuropathy
Colon Cancer Rising in Younger People
Notice: the graphic below can be expanded to a larger size.
See the instructions below the graphic below or click the image and follow the prompts.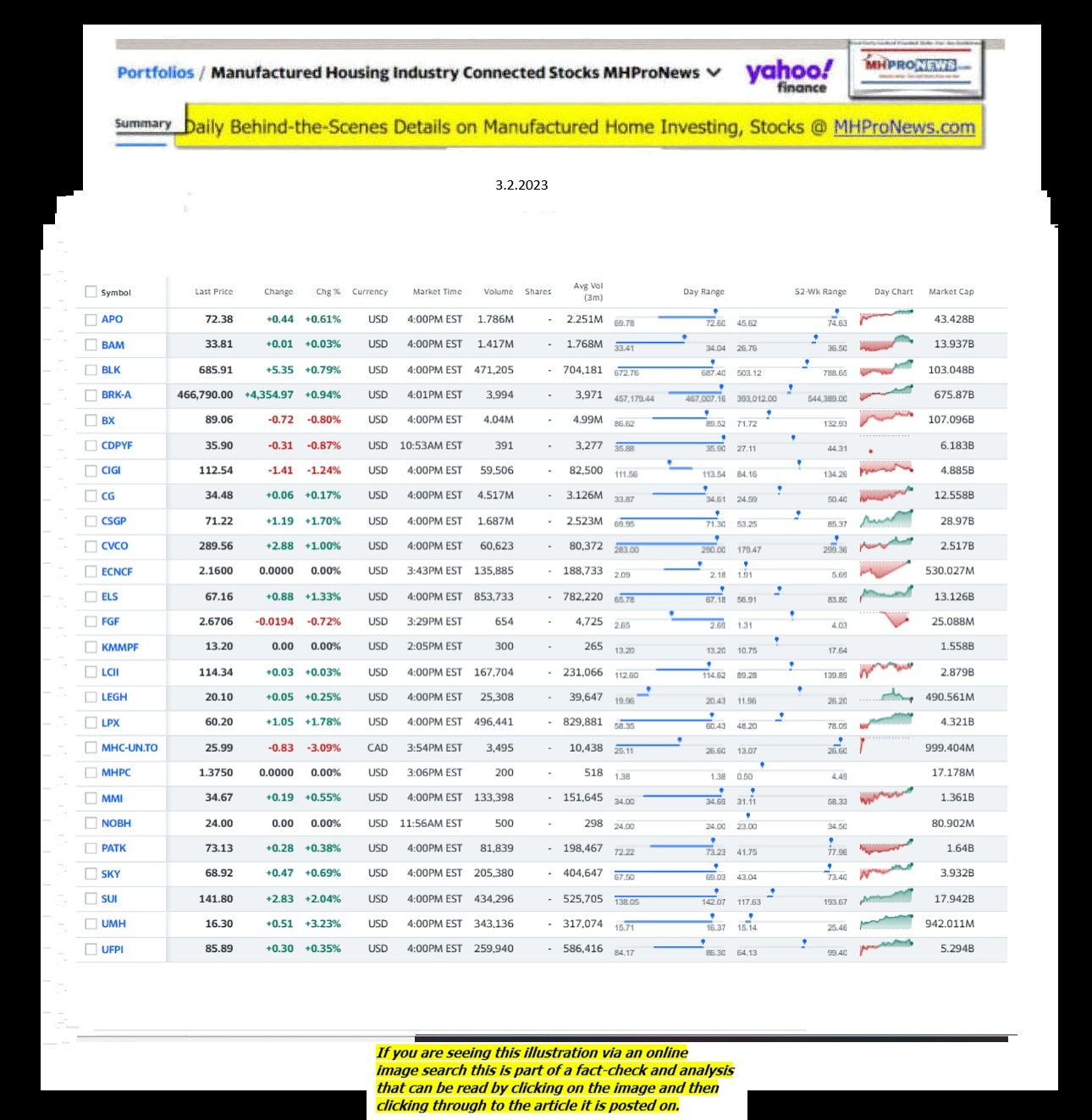 2022 was a tough year for many stocks. Unfortunately, that pattern held true for manufactured home industry (MHVille) connected stocks too.  See the facts, linked below.
'Stomach Churning Year' CNN-Wall Street 'Forget 2022' Down Year – Major Equities Data Compared to Manufactured Housing Stocks, Manufactured Home Community REITs, Performance for Year by Company
====================================
Updated
NOTE 1: The 3rd chart above of manufactured housing connected equities includes the Canadian stock, ECN, which purchased Triad Financial Services, a manufactured home industry finance lender.
NOTE 2: Drew changed its name and trading symbol at the end of 2016 to Lippert (LCII).
NOTE 3: Deer Valley was largely taken private, say company insiders in a message to MHProNews on 12.15.2020, but there are still some outstanding shares of the stock from the days when it was a publicly traded firm.  Thus, there is still periodic activity on DVLY.
Note 4: some recent or related reports to the REITs, stocks, and other equities named above follow in the reports linked below.
Nobility Homes, Inc. Sales and Earnings for its Fiscal Year 2022 Report, Result$ Best Inflation – Net After Taxes Up 34%, More Fact$; DeSantis ESG and NOBH; plus MHVille Stocks, Market Updates
'Manufactured Housing in the News,' Unpacking UMH CEO Sam Landy Op-Ed' It's Time for Bi-Partisanship on Affordable Manufactured Housing Homeownership' in HousingWire; plus MHMarkets Updates
Warren Buffett's Pledge to Kevin Clayton – 'You Can Access Plenty of Capital' for Projects – Quotes, Facts, Video, Transcript, and Implications for Manufactured Housing Industry
Manufactured Housing Properties-Results for Three and Nine Months Ending September 30.2022–Exploring 'Mobile Home Park' Manufactured Home Community Investing; plus MHVille REITs, Stocks Update
'Changes Will Benefit Customers,' Boost Sales-Legacy Homes CEO Duncan Bates – LEGH 'Delivered 22.5% Return on Equity in 1 Yr' – Corp Q3 2022 Insights, Analysis; plus MHVille REITs, Stocks Update  
CEO Mark Yost, Skyline Champion Insiders SELL Million$ Value SKY Stock, Home Sales Drop-4th Q 2022 (3QFiscal2023), Official Result$-Facts, Analysis, Info Beyond PR; plus MHVille Stocks Update
Triad Financial Services Q2-2022 FINANCIAL RESULTS, per ECN Capital – Several Bright Spots in Manufactured Home Market Highlighted, Including Communities, Retail, Land-Home, Floor; MHStocks Update
BlackRock Document Exposes Central Banks like Federal Reserve on Recession; Manufactured Home Producer Cavco Industries 2022 Year End Results (CVCOQ3.23) Facts+Analysis; plus MHVille Stocks Update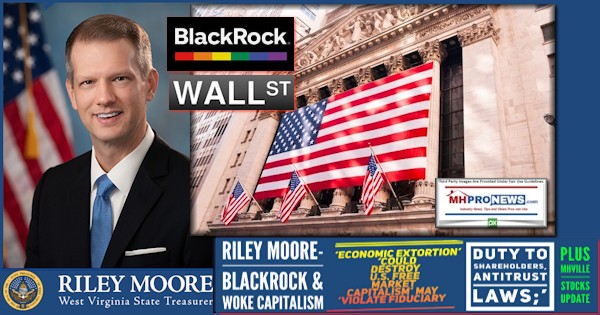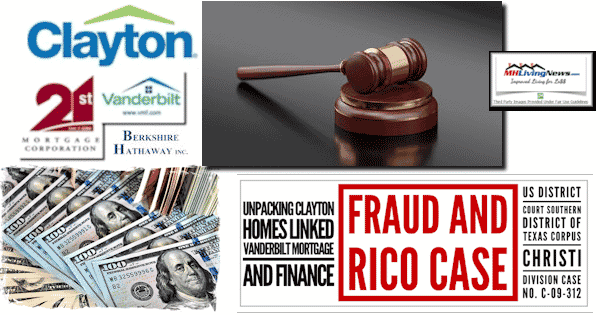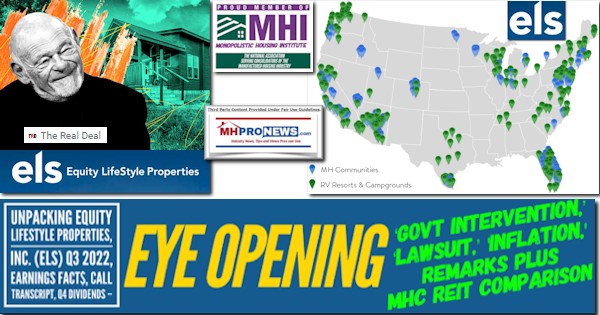 Manufactured Home Communities (a.k.a. 'Mobile Home Parks' – SIC) – Exploring UMH Properties; Fellow Manufactured Housing Institute Member Yes! Communities Suits and Settlements; plus MH Markets Updates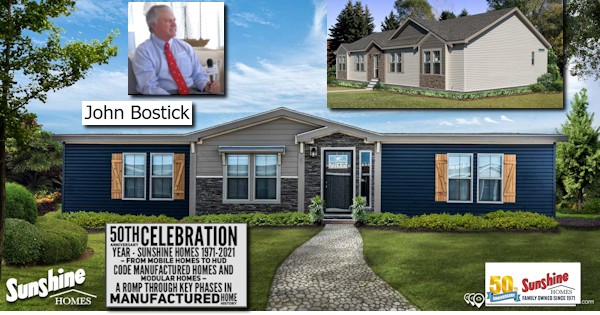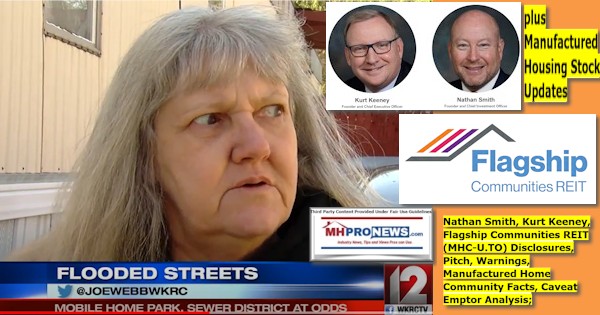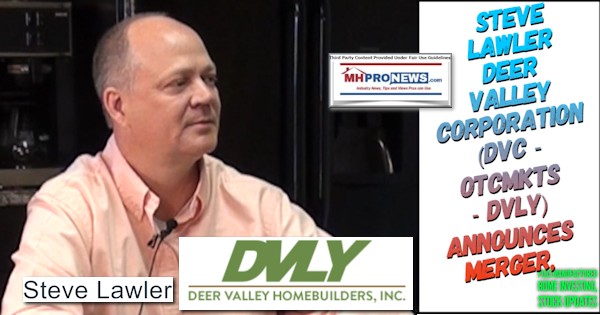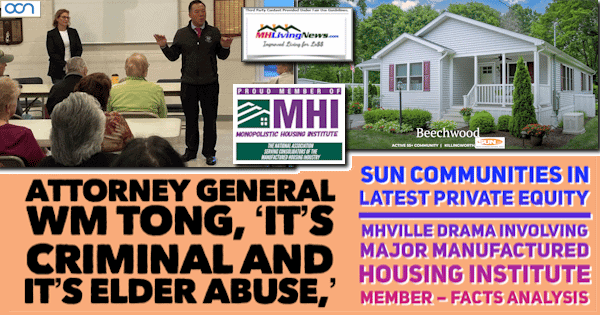 2023 …Berkshire Hathaway is the parent company to Clayton Homes, 21st Mortgage, Vanderbilt Mortgage and other factory-built housing industry suppliers.
· LCI Industries, Patrick, UFPI, and LP each are suppliers to the manufactured housing industry, among others.
· AMG, CG, and TAVFX have investments in manufactured housing related businesses. For insights from third-parties and clients about our publisher, click here.
Disclosure. MHProNews holds no positions in the stocks in this report.
· For expert manufactured housing business development or other professional services, click here.
· To sign up in seconds for our industry leading emailed headline news updates, click here.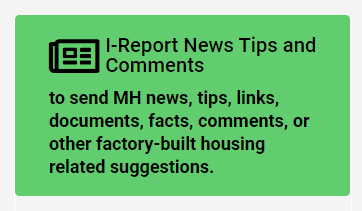 That's a wrap on this installment of "News Through the Lens of Manufactured Homes and Factory-Built Housing" © where "We Provide, You Decide." © (Affordable housing, manufactured homes, stock, investing, data, metrics, reports, fact-checks, analysis, and commentary. Third-party images or content are provided under fair use guidelines for media.) (See Related Reports, further below. Text/image boxes often are hot-linked to other reports that can be access by clicking on them.)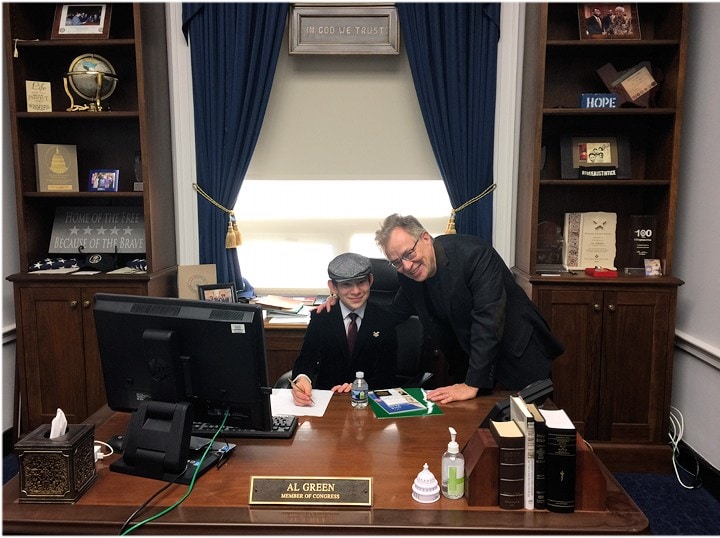 By L.A. "Tony" Kovach – for MHProNews.
Tony earned a journalism scholarship along with numerous awards in history. There have been several awards and honors and also recognition in manufactured housing. For example, he earned the prestigious Lottinville Award in history from the University of Oklahoma, where he studied history and business management. He's a managing member and co-founder of LifeStyle Factory Homes, LLC, the parent company to MHProNews, and MHLivingNews.com. This article reflects the LLC's and/or the writer's position and may or may not reflect the views of sponsors or supporters.
Call for Congressional Oversight Hearings of Manufactured Home Industry Regulators Highlighted by Manufactured Housing Association for Regulatory Reform (MHARR); plus MHVille Markets Update
Official HUD Manufactured Housing Production Facts for Dec 2022 plus 2022 Year End Totals Explored by Manufactured Housing Association for Regulatory Reform (MHARR)-"Millions" Needed – Analysis
Facts You Didn't Know – Martin Luther King Jr – Videos, Insightful Quotes, Surprising Revelations, Videos, Reports, and Illustrations in Champion for Human Rights Including Affordable Housing
'Global Disinformation Index' Warren Buffett Ally Bill Gates' Microsoft Org Charged-Cutting Revenue to Conservative Views via Xandr, GDI; plus Sunday MHVille Headlines Recap
#1 Texas' Manufactured Housing Builders Survey Says They are 'Ready for a Rebound' But Data Point in Question, DOE MH Energy Rule Too – Facts, Analysis; plus, MHVille Stocks, Markets Update
Clayton-Next Step Off-Site Built 'White Paper'-Manufactured Homes, ThinkND 'Magic of the Mind-Everyday Illusion, Misdirection, Deception' MHI Members' Claims Analyzed; plus MHVille Markets Update
U.S. Housing Data Reveals Gaps-Underscores Vast Manufactured Housing Industry Potential, But Raises Corp, Trade Group Performance Concerns, Apparent Shareholder Effects; plus MHVille Stocks Update
After Admitted Failure, Manufactured Housing Institute Doubles Down on CrossMods® in AP Terminology Doc Acquired by MHProNews–Are MHI Leaders Sabotaging MHVille Independents? Plus MHStocks Update
Concessions by Speaker Kevin McCarthy in House Speaker's Battle Called 'Most Significant Win for Conservatives in a Decade' By Federalist's Emily Jashinsky Report; plus MHVille Stocks Updates