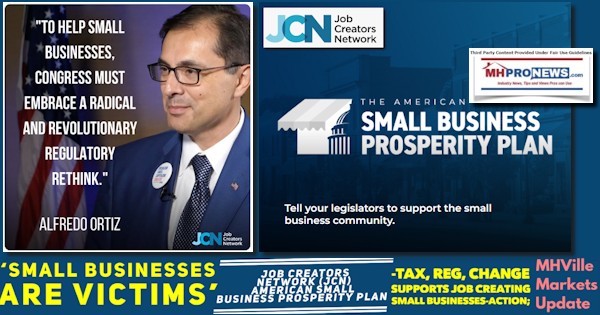 "The US economy is teetering on the verge of a deep recession because of Biden's tax and spend and borrow and regulate economy. Small businesses are the victims. The American Small Business Prosperity Plan by the Job Creators Network tackles these major economic failings and would expand opportunities for small biz growth and expansion. The next Congress must adopt this agenda…if we are to save our economy and the small businesses that are the fuel of our economic engine." So said Stephen Moore, economist and co-founder Committee to Unleash Prosperity. "Small businesses are the drivers of the economy, creating two out of every three new jobs. There is no one better to get us out of this recession than them, and no one who understands them like the Job Creators Network. Their American Small Business Prosperity Plan puts small businesses at the forefront and gives Congress an outline to ensure their success will put our economy back where it belongs," said John Motta, Chairman of the Coalition of Franchisee Associations and small business owner.
"Small businesses are the backbone of the American economy. Members of the 118th Congress should support this pro-growth policy agenda to make these small business job creators a priority. Tell your elected leaders in Washington to support it here." Says the JCN website call to action in support of the plan.
"The new Congress should bolster the RFA to exempt small businesses from all new federal-agency regulations unless there's a clear, overriding, and compelling interest." Read more in @NRO: https://t.co/HzIGx0I51A pic.twitter.com/aXJ2rWWJxe

— Job Creators Network (@JobCreatorsUSA) February 13, 2023
Andy Puzder, Former CEO of CKE Restaurants, Chairman of 2ndVote Value Investments, Inc. and JCN Board Member said: "Whether the issue is growth killing taxes, over-regulation, competing with China, or the Biden administration's manufactured energy crisis; The American Small Business Prosperity Plan covers it all. The Job Creators Network's Plan addresses the multitude of problems facing small businesses in the Biden era, giving the incoming Congress a set of defined problems to tackle and the solutions needed to steer America back in the right direction. This the right plan at the right time."
Other comments in support of "The American Small Business Prosperity Plan" offered by the Job Creators Network (JCN) – with the endorsement of lawmakers, business, and nonprofit leaders – are found in their document found as a download linked here. Among those backing the plan is Representative Kevin McCarthy (R-CA), Speaker of the House: "House Republicans are eager to work with Job Creators Network and the small business community on the American Small Business Prosperity Plan to reignite the American economy and American Dream. Small businesses were decimated by the Covid-19 pandemic and onerous government restrictions on business activity. The commonsense provisions in the Prosperity Plan can help bring small businesses back."
By clicking here, and scrolling down to the "Send the Plan to Your Elected Leaders in Congress" anyone can tweak or send as is a message to their congressional representative and both U.S. Senators.  The form automatically completes the name of the lawmakers (one representative, two senators)
U.S. Lawmaker's Name
As your constituent, I hereby request that you support the small business community—which drives the economy and helps so many achieve the American Dream. To that end, the Job Creators Network (JCN) has partnered with former Speaker of the House Newt Gingrich to develop the American Small Business Prosperity Plan. It includes eight key policy positions you can take that will help foster small business growth. The core tenants of the plan include:
1)   Make the Tax Cuts and Job Act Permanent
2)   Unleash Domestic Energy Production
3)   Healthcare Reform to Benefit Small Business and Families
4)   Exempt Small Businesses From New Regulations
5)   Rein-in Government Spending to Combat High Inflation
6)   Expand Access to Capital for Small Businesses
7)   Dignity of Work Requirement for Recipients of Government Assistance
8)   Get Tough on China and Unclog Obstructed Supply Chains
Visit SmallBusinessProsperityPlan.com to find out more details around each of the eight policies. Thank you in advance for empowering Mainstreet by getting behind these small business-friendly policies. ##
Part II. Additional Information with More MHProNews Analysis and Commentary in Brief
With respect to JCN's focus on regulatory and tax relief, they are not alone. The National Federation of Independent Business (NFIB) holds similar views.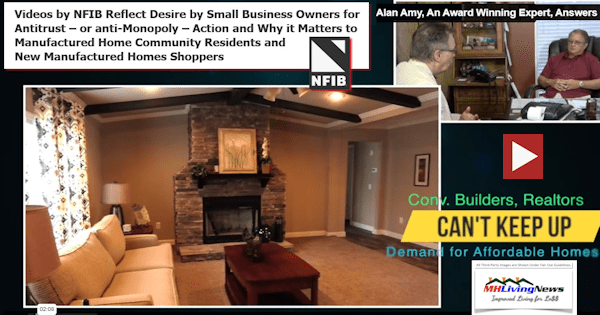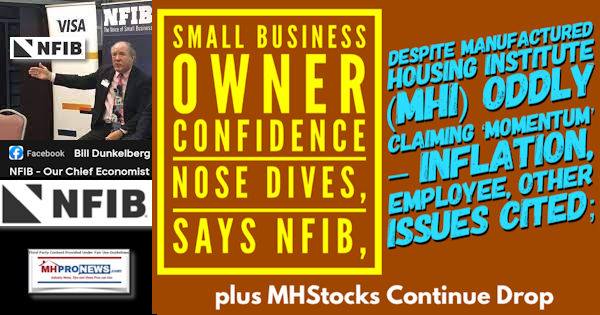 Editorially, MHProNews and MHLivingNews have long supported the principles of limiting regulations, taxes, and government overreach as historically proven methods for authentic economic progress, i.e. 'American Prosperity.'
In support of those efforts, MHProNews has routinely spotlighted the work of voices inside and outside of manufactured housing.  There are thoughtful statements made by people that span the left-right divide.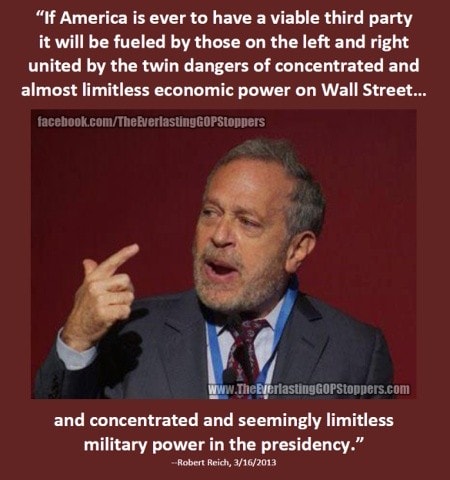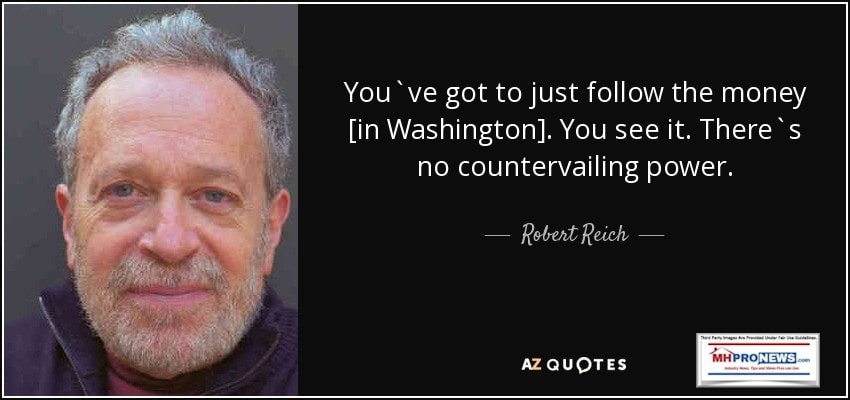 'U.S. Should Break Up Monopolies' Democrat Robert Reich Guardian Plan Would Hit Clayton Homes, Skyline Champion, and Cavco Industries with Costly Antitrust Lawsuit – Statements, Facts, Analysis
Among them are the smaller independent producers at the Manufactured Housing Association for Regulatory Reform (MHARR). As their name implies, they too favor the notion that effective regulations doesn't require or mean over-regulation. Studies and experts have pointed out that regulations are more harmful to smaller businesses than bigger ones.  For instance, the graphic below, produced by the National Association of Manufacturers (NAM), was uploaded on MHProNews on September 28, 2018.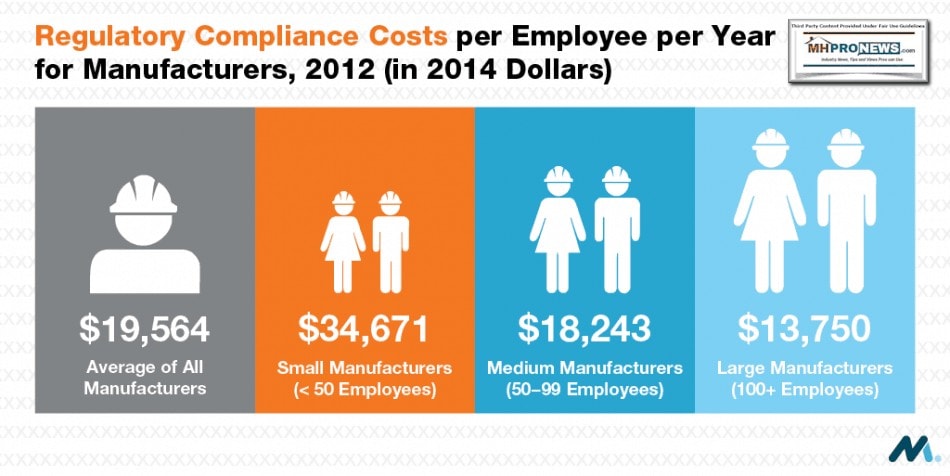 Several of the 'barriers' to manufactured housing are aptly identified as falling under the 'regulatory' umbrella. For instance, MHProNews/MHLivingNews has periodically pointed to an Obama-Biden Administration research report commissioned by HUD's Policy Development and Research (PD&R) document. Put differently, even a Democratic Administration has in principle said something similar to what JCN or MHARR have been calling for over the years.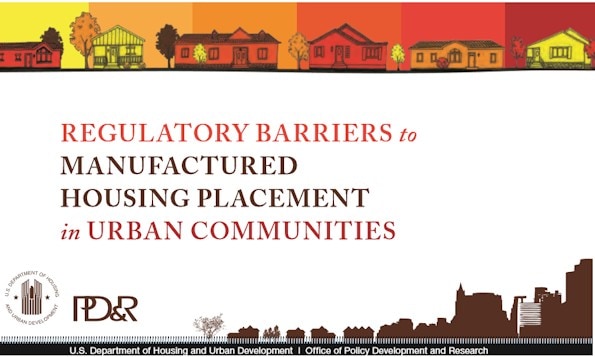 Another HUD research report, published during the Biden era, is found linked below.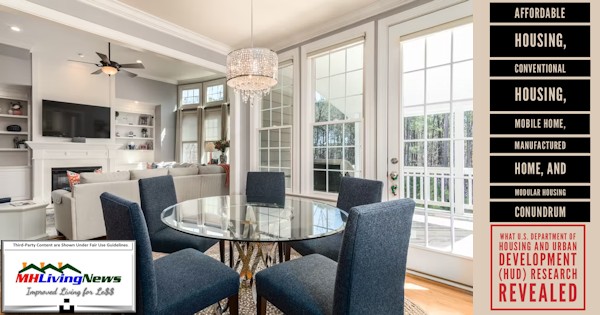 MHARR President and CEO, Mark Weiss, J.D., has said for years that the manufactured home industry was being artificially limited in what he called a "shell game" "on steroids." See the exclusive MHProNews interview linked below.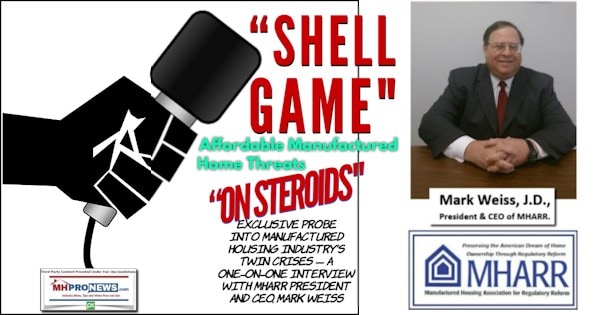 Besides long festering throttles to manufactured housing in the finance and zoning/placement arenas, are the looming threats of the Department of Energy (DOE) rule – which the Texas Manufactured Housing Association (TMHA), what the Manufactured Housing Institute (MHI) calls an "affiliate" – implied was a fait accompli.
'Manufactured Housing Closes Year on Cool Note, But Optimism Grows for 2023' Says TRERC, But TMHA VP Rob Ripperda Lets Cat Out of Proverbial Bag, Exposing MHI; plus MHVille Market, Stocks Update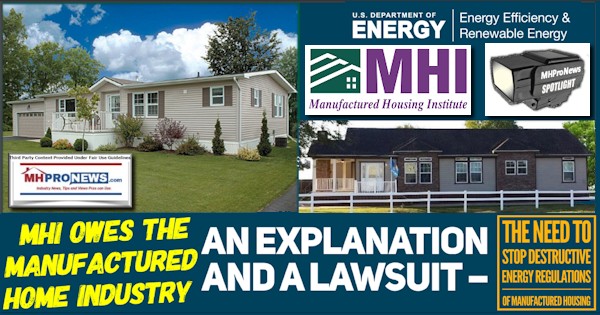 On paper to the uninformed, MHI may appear to say similar things as MHARR. But upon closer examination, MHI's behavior (see the evidence in the reports linked above and below) is actually an apparent de facto sly support of more regulations. If so, then they are arguably paltering, posturing, and deploying "deception and misdirection" in action.  But that take on MHI's behavior wouldn't be a surprise to Carol Roth, who flatly stated that big business secretly loves regulations because it harms smaller businesses.
MHI v MHARR Pushback on HUD 'Unnecessary' 'High Cost' Fire Sprinkler Plan Since Data Says Manufactured Homes 'As Safe or Safer Than Site-Built Housing'–Multi Unit Drama; plus MHVille REITs, Stocks Update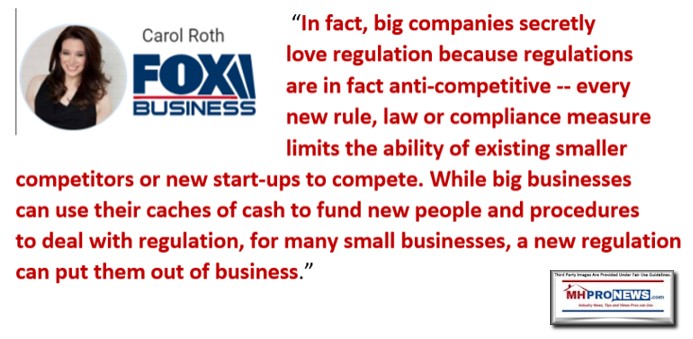 When MHI, or their attorneys, are asked to respond to such concerns, they may acknowledge the receipt of the inquiry, but they have in recent years failed to respond to thorny, evidence-based, and substantive concerns posed to their staff and corporate leadership.
Over $1 Million! Manufactured Housing Institute Doc Drop! Top MHI Staff Pay Revealed. Additionally, Unpacking Evidence of Perjury, Fraud, Other Possible Federal Crimes; plus MHVille Stocks Update
After Admitted Failure, Manufactured Housing Institute Doubles Down on CrossMods® in AP Terminology Doc Acquired by MHProNews–Are MHI Leaders Sabotaging MHVille Independents? Plus MHStocks Update
If MHI occasionally accomplished something (not a photo op, not a video opportunity, but an actual forward movement (resulting in fewer harmful regulations, the enforcement of things that MHI claims and MHARR supports, and more sales, then MHI's position might have some credibility. But roughly since the Berkshire Hathaway era of manufactured housing industry history, what has in fact occurred is the biggest fall in production since the earliest day of the mobile home industry over 50 years ago. That's simply a thorny but accurate description of the facts.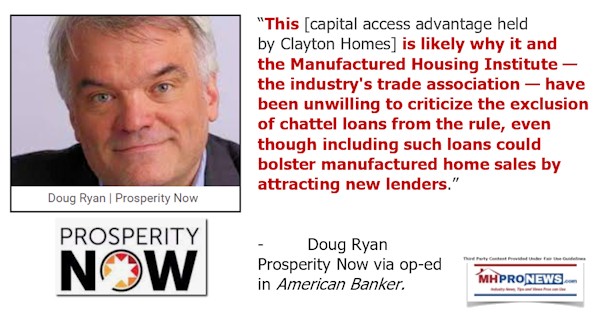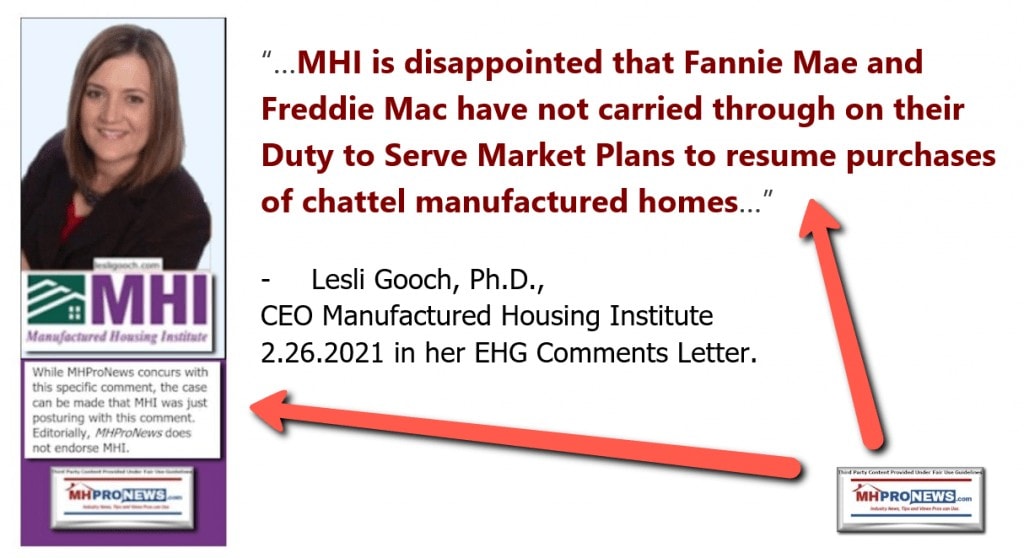 MHI and their leaders can't have it both ways.  The remarks by prior MHI chairman, Tim Williams (Berkshire Hathaway owned 21st Mortgage Corp, a Clayton Homes affiliate) contradict Gooch's self-proclaimed 'disappointment.'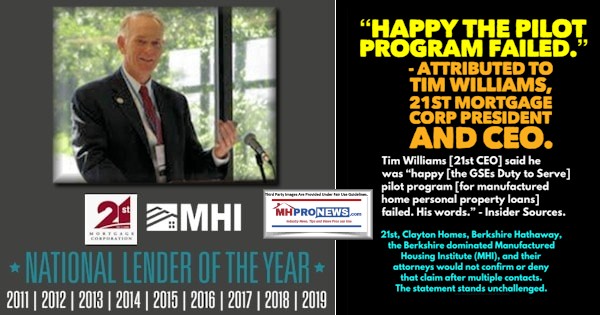 Examples found in the three linked reports above indicate that MHI, their staff and corporate leaders, has been caught in self-contradictory behaviors and remarks.  Are serious thinkers really going to believe that Warren Buffett can't get the FHFA, HUD/FHA, or the GSEs to do what federal law requires?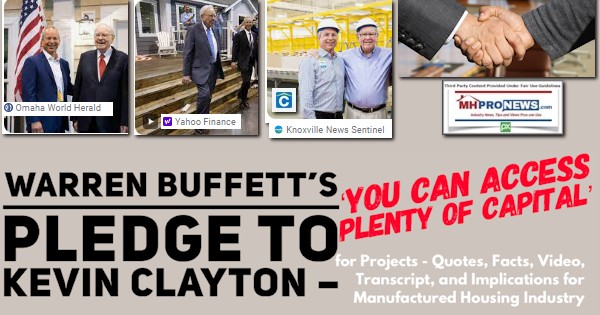 The fact that their attorneys don't push back on that claim can be understood by objective thinkers as a silent admission.  The facts from production data speak for themselves.  What they say doesn't lead clear thinkers who want the truth to have confidence in MHI's ability – and/or desire – do deliver for 'all segments' of manufactured housing, as they claim.
Official HUD Manufactured Housing Production Facts for Dec 2022 plus 2022 Year End Totals Explored by Manufactured Housing Association for Regulatory Reform (MHARR)-"Millions" Needed – Analysis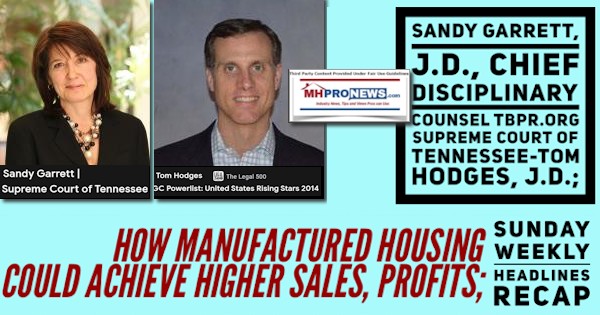 MHI's corporate leaders can't have it both ways.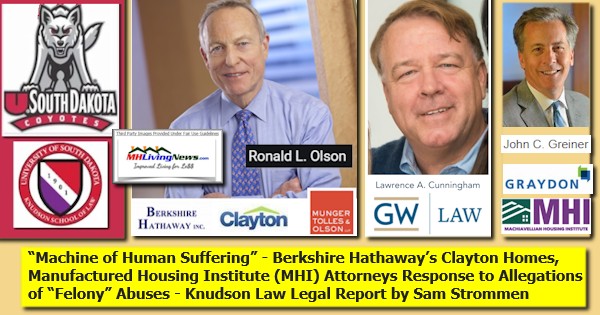 A fair reading of this comment by outside MHI attorney David Goch, J.D., is that MHI and their counsel have read what we've published, and they do not constitute 'wrongful disparagement' of their "organization."  We've asked them to respond to such reports. Silence.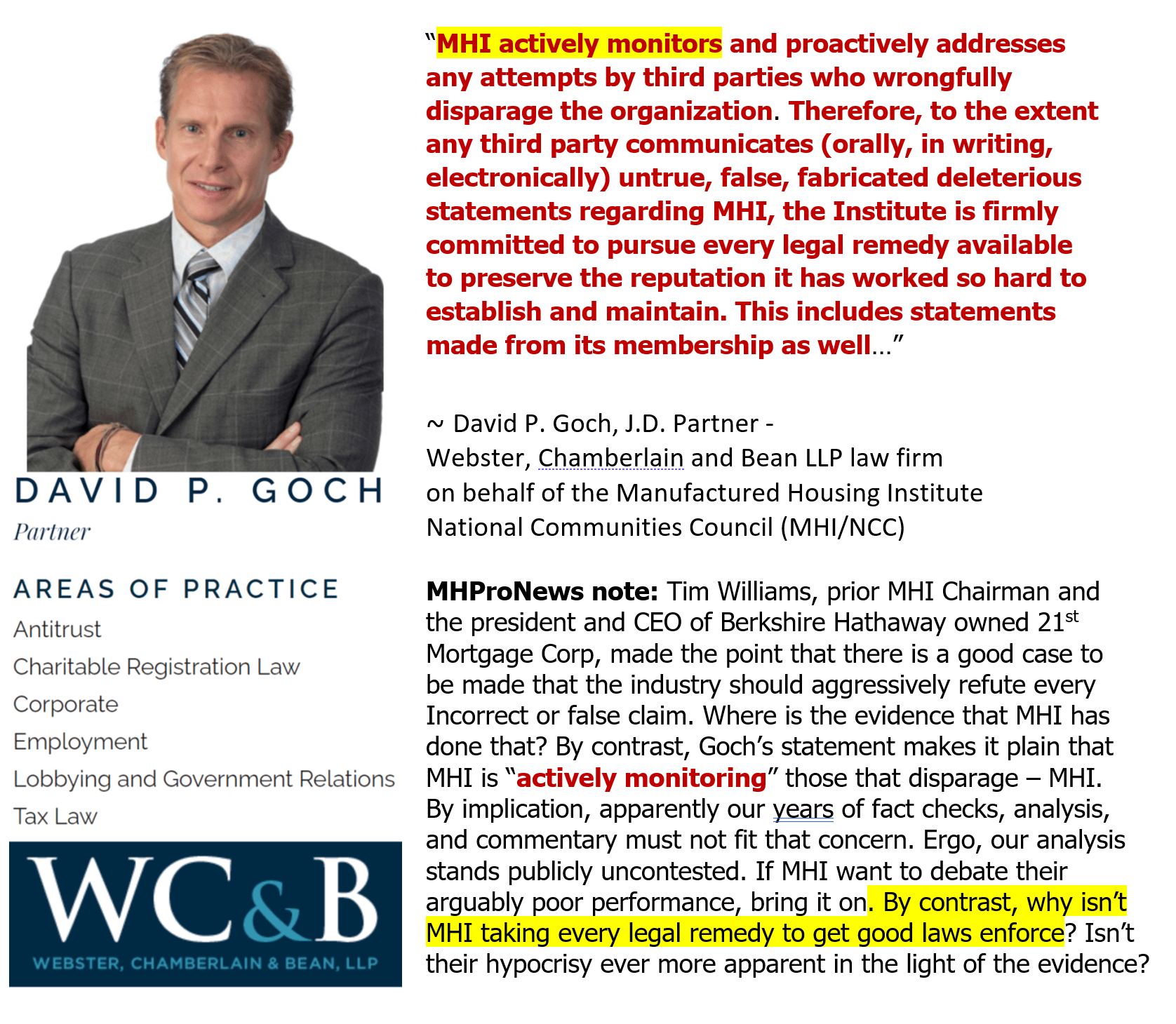 Flash UPDATE –
Facts and Analysis in Brief. At about 3:30 AM on 2.15.2023, roughly 1o hours after the report and analysis above was drafted, MHProNews was notified of the following.
CASE
The Manufactured Housing Institute et al v. The United States Department of Energy et al
SUMMARY
The Manufactured Housing Institute and Texas Manufactured Housing Association filed a lawsuit against the U.S. Department of Energy on Tuesday in Texas Western District Court. The suit, brought by Maynard Cooper & Gale and Simpson McMahan Glick & Burford, challenges energy standards promulgated by the department last year. The case is 1:23-cv-00174, Manufactured Housing Institute et al. v. United States Department of Energy et al. ##
##
Commentary and Analysis in Brief: after months of MHARR, MHProNews, and MHLivingNews highlighting this issue and the need for MHI to act by filing suit, MHI and their attorneys have consistently declined comment on the need for MHI to sue. At first blush, this suit by MHI with the TMHA may be promising. As the maxim goes, the devil is in the details. The question now becomes: is this suit sincere, or is it more MHI posturing designed to fail?
MHProNews will continue to monitor and report on this case and the other topics covered herein as is deemed warranted. If MHI's corporate and staff leadership should deign to come off their high horse and decide to issue a statement (or better yet, respond to previous inquiries) to MHProNews, count on us to provide such in put along with our expert analysis and commentary.
Another question that this MHI-DOE suit now raises is this. Now that MHI is finally using their legal resources, will they do so on the other issues reported on above? The MHIA and 'enhanced preemption? DTS to get a level playing field with the GSEs for manufactured home chattel (personal property, home only) financing? Will they begin to do an authentic image/education program, or will they continue with fig leaf efforts and their inane CrossMods scheme?
At a minimum, MHARR merits credit for highlighting this issue and others consistently and persistently. They are to be applauded for their consistency and honorable efforts. See the report linked here, among others.

Part III. Daily Business News on MHProNews Markets Segment
The modifications of our prior Daily Business News on MHProNews format of the recap of yesterday evening's market report are provided below. It still includes our signature left (CNN Business) and right (Newsmax) 'market moving' headlines. The macro market moves graphics will provide context and comparisons for those invested in or tracking manufactured housing connected equities.
In minutes a day readers can get a good sense of significant or major events while keeping up with the trends that are impacting manufactured housing connected investing.
Reminder: several of the graphics on MHProNews can be opened into a larger size. For instance: click the image and follow the prompts in your browser or device to OPEN In a New Window. Then, in several browsers/devices you can click the image and increase the size. Use the 'x out' (close window) escape or back key to return.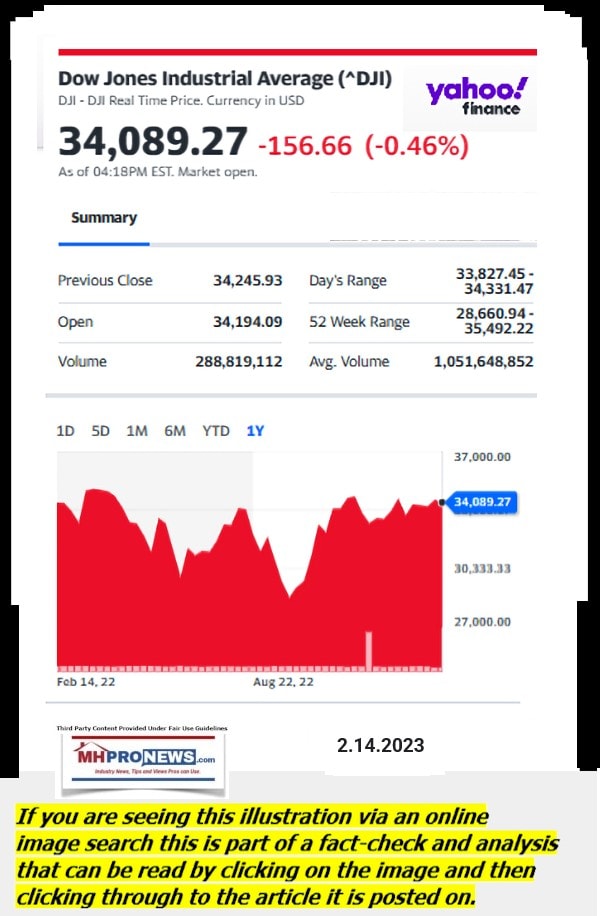 Headlines from left-of-center CNN Business – from the evening of 2.14.2023 
Manufacturing delayed
Ford halts production of electric F-150 because of a possible issue with the battery
An employee halves a Subway sandwich at a Subway restaurant on January 12, 2023 in Austin, Texas. Subway has reportedly begun exploring a sale which could value the sandwich chain at more than $10 billion, according to the Wall Street Journal.
Subway has confirmed that the 58-year-old chain is seeking a buyer
Stocks sink after inflation rose more than expected in January
Biden announces a Boeing and Air India deal for more than 200 jets
Senators blast Big Tech companies over kids' safety amid renewed push for legislation
Crypto is joining the grown-up table, and no one is happy about it
Microsoft's Bing AI demo called out for several errors
Judge orders Sam Bankman-Fried back to court after learning how he accessed the internet remotely
As inflation jumps, tourists steer clear of high-end hotels
Feeling ripped off on Valentine's Day? Popular chocolate boxes look big, but have more plastic than ever
Inflation was still hot in January, but some prices are cooling off
India's market regulator is looking into the explosive allegations against Adani Group
Tesla workers trying to form union at Buffalo facility
Hyundai and Kia roll out a software patch that makes cars harder to steal
Pepsi's Peeps-flavored soda is back
'Broken promises.' Tech industry's real estate pullback leaves communities reeling
Eggs are 70% more expensive than they were a year ago
UK strikes hit a 30-year high as inflation erodes pay
Barney the purple dinosaur is back and he has a new look
Labor showdown looming at NJ Transit, one of nation's largest commuter railroads
Ford to cut 11% of its European workforce in EV push
Amazon's Zoox robotaxi drives on public roads in California for the first time
Indian authorities raid BBC offices after broadcast of Modi documentary
Why traders are so infatuated with inflation
Notice: the graphic below can be expanded to a larger size.
See instructions below graphic or click and follow the prompts.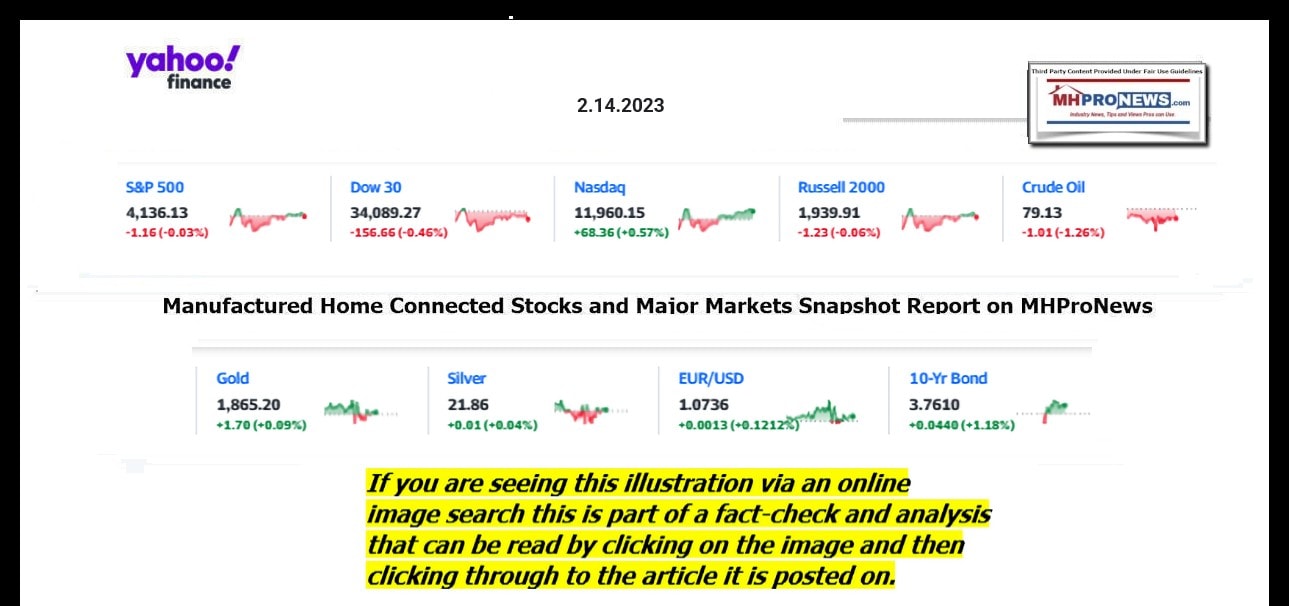 Headlines from right-of-center Newsmax 2.14.2023
Supreme Court Considering Case of Prayer Vigil That Offended Atheists
The suit comes as the high court, comprising mostly conservatives justices, has increasingly taken a protective stance on religious freedom. A hearing is set for Friday. Oral arguments will be scheduled if four out of the nine justices vote to hear the case. [Full Story]
DirecTV Censors Newsmax
Lawler: 'Critically Important' DirecTV Restores Newsmax | video
Tenney: AT&T's Losses Show Newsmax's Value | video
Davidson: AT&T's Stock Drop Sends Message | video
Cruz Launches Probe of Big Tech Censorship
Mike Flood: Rural Americans Rely on Network | video
Donalds: Oversight Mulls DirecTV Hearing | video
Jewish Leaders: AT&T DirecTV Must Return Newsmax
Kiley: Bias Against Right 'Has Been Brewing' | video
John Schneider: AT&T Stock Drop Shows People's Power | video
Trump on Falling AT&T Stock: It'll Only 'Get Worse' | video
Van Duyne: Investigate Censorship Like DirecTV's | video
More Stories on AT&T DirecTV Censorship
Newsmax TV
Davidson: Silent on Train Crash, Buttigieg Must Go
Davidson: Silent on Train Crash, Buttigieg Must Go | video
Kirk Cameron Hits AOC's Christian Super Bowl Ad Slam | video
Flood: TikTok Ban 'Absolutely' Possible | video
Michael Pillsbury: Spy Balloon Fits China's Plans for Power | video
Blaine Holt: Ammo Warnings Raise US Readiness Concerns | video
Rosendale: China Hinders US With Accumulated Debt | video
Gordon Chang: China Infiltrating US Through Mexico | video
Dershowitz: FBI Must Tread Carefully on Religion | video
Fred Fleitz: We Need Answers on UFO Takedowns
Newsfront
Police Seek Motive of Gunman Who Killed 3 at Michigan State
The gunman who killed three students and wounded five at Michigan State University was a 43-year-old with a previous gun violation who fatally shot himself after an hourslong manhunt that ended in a confrontation with police miles from campus, officials said…… [Full Story]
Bank CEOs See Economic Pessimism Lifting, But Focus on Costs, Jobs
Companies and households are feeling better about the economy despite [Full Story]
Biden FCC Pick Faces Opposition
President Joe Biden's pick for a key fifth seat on the Federal [Full Story]
Power Trip: Fleet of Weaponized SUVs Hitting Streets With a 'Vengeance'
Main Street may soon be invaded by a fleet of cars that look [Full Story] | Platinum Article
Rising Toll Makes Quake Deadliest in Turkey's Modern History
Turkish President Recep Tayyip Erdogan announced Tuesday that more [Full Story]
NATO Allies Weigh More Arms for Ukraine as Russian Artillery Batters Bakhmut
Russian forces bombarded Ukrainian troops and towns along front lines [Full Story]
Related
US Defense Secretary Austin: Ukraine Has Urgent Requirements
Kremlin: NATO Becoming More Involved in Ukraine Conflict
Germany to Produce Ammo for Air Defense Guns Sent to Ukraine
Top Russian Military Official Poisoned in 'Assassination Attempt'
Yermak: Time for Ukraine to Join NATO
Report: Russia Has Held 6,000 Ukrainian Children for 'Reeducation'
White House: No Evidence Objects Were Part of Chinese Surveillance
White House officials said Tuesday that there's no evidence the three [Full Story]
Related
'Harmful' Chinese Spy Balloons Could Target US With Electromagnetic Bomb |Platinum Article
First Missile Strike at Aerial Object Over Lake Huron Missed
Pompeo Blasts Biden Admin Takedown of Spy Balloon, High-Altitude Objects
Five Years Later, Parkland Massacre Still Too Painful to Recall for Some
Five years to the day a gunman killed 17 people and wounded 17 others [Full Story]
Erin Brockovich: Biden Needs to 'Step Up' Efforts on Ohio Train Derailment
Environmental activist Erin Brockovich is calling for President Joe [Full Story]
Related
Buttigieg Defends Fed Response to Train Derailment in Ohio
Davidson to Newsmax: After Silence on Train Crash, Buttigieg Has 'Got to Go' |video
US Sen. Dianne Feinstein Not Seeking Reelection
S. Sen. Dianne Feinstein announced Tuesday that she will not seek [Full Story]
Experimental 'on Demand' Male Contraceptive Shows Promise
If women have the "morning after" pill, could men one day have an [Full Story]
Y. AG James: Trump Ordered to Pay $110K for Contempt of Court
New York Attorney General Letitia James said Tuesday that a court [Full Story]
'Soylent Green' Fulfilled Eerie Prophecy
Five decades have passed since "Soylent Green" was released, and the [Full Story]
Tesla N.Y. Workers Launch Campaign to Organize a Union
Tesla workers at a factory in New York are launching a campaign to [Full Story]
Ford Halts F-150 Lightning Production
Ford Motor Co. halted production and shipment of its F-150 Lightning [Full Story]
The Best Place to Sit in Case of a Plane Crash
Plane crashes are extremely rare. The odds of dying in a plane crash [Full Story]
Buck Urges Big Tech Regulation to Restore Free Speech
Big Tech companies must be regulated to restore free speech and [Full Story]
China Plays a Key Adversarial Role in TikTok Discussion
Amid concerns about TikTok's data and algorithm, the U.S. government [Full Story]
Rasmussen Poll: Low Marks for Biden on Fentanyl Crisis
Nine in 10 U.S. voters say the deadly drug fentanyl penetrating the [Full Story]
Ron Klain Recounts 'Blowup' With Manchin on Spending Bill
Former White House chief of staff Ron Klain recounted the "blowup" [Full Story]
Tim Scott Adds Iowa Stop to Fuel 2024 Speculation
Tim Scott, R-S.C., further fueled speculation of a future White [Full Story]
FTC Commissioner Christine Wilson to Resign
Christine Wilson, the sole Republican on the U.S. Federal Trade [Full Story]
Police Name Gunman Who Killed 3 at Michigan State University
Police identified the 43-year-old man who killed three students and [Full Story]
Secretive Network Helps Russian Antiwar Protesters Flee Country
Hundreds of Russian antiwar dissidents, who are targeted by Moscow, [Full Story]
Trump: Many Mar-a-Lago Docs Were 'Empty Folders'
Former President Donald Trump on Tuesday again insisted that many of [Full Story]
Report: House GOP Mulls Reclaiming Unused COVID Money
Members of the GOP House majority are eyeing unused billions in [Full Story]
Inflation Still High at 6.4 Percent, as Price Pressures Reemerge
Rising rent and a gasoline price rebound helped keep US consumer [Full Story]
Pence Expected to Make Novel Claim in Fight Against Subpoena
Former Vice President Mike Pence is getting set to fight a subpoena [Full Story]
Nikki Haley Formally Kicks Off 2024 Presidential Campaign
Former U.N. Ambassador Nikki Haley on Tuesday officially announced [Full Story]
Lawsuit: Alabama Man 'Likely' Froze to Death in Jail's Freezer
A Walker County, Alabama man, Anthony "Tony" Mitchell, 33, was [Full Story]
Lindsey Graham, Dick Durbin Team Up on DREAM Act Amnesty Bill
It's another new Congress, which means another chance for Sen. [Full Story]
Finance
Bank CEOs See Economic Pessimism Lifting, But Focus on Costs, Jobs
Companies and households are feeling better about the economy despite recession predictions, the heads of top U.S. banks said Tuesday, although the elevated economic uncertainty is still seeing banks tightly control costs and cut staff numbers…. [Full Story]
Ken Griffin's Citadel Securities Takes 5.5% Stake in Crypto Bank Silvergate
Berkshire Reduces Stake in Activision Blizzard, BNY Mellon
Bob Ciura: 3 High-Yielding Stocks With Monthly Dividends
Obamacare Helps Drive 18% Decline in People With Medical Debt
More Finance
Health
New Study Pinpoints Who Benefits Most From COVID Boosters
COVID-19 booster shots appear to benefit folks 50 and older but less so for younger people, a new study suggests. For the study, researchers ran a statistical analysis using death rates from COVID, and looked at the vaccines' effectiveness in protecting people from dying of… [Full Story]
Nutritious Foods You Can Eat Without Gaining Weight
ADHD Meds in Pregnancy Do Not Raise Child's Risk for ADHD, Autism
How to Prevent Dating Apps From Affecting Your Mental Health
Pancreatic Cancer Increasing Among Young Women
Notice: the graphic below can be expanded to a larger size.
See instructions below graphic or click and follow the prompts.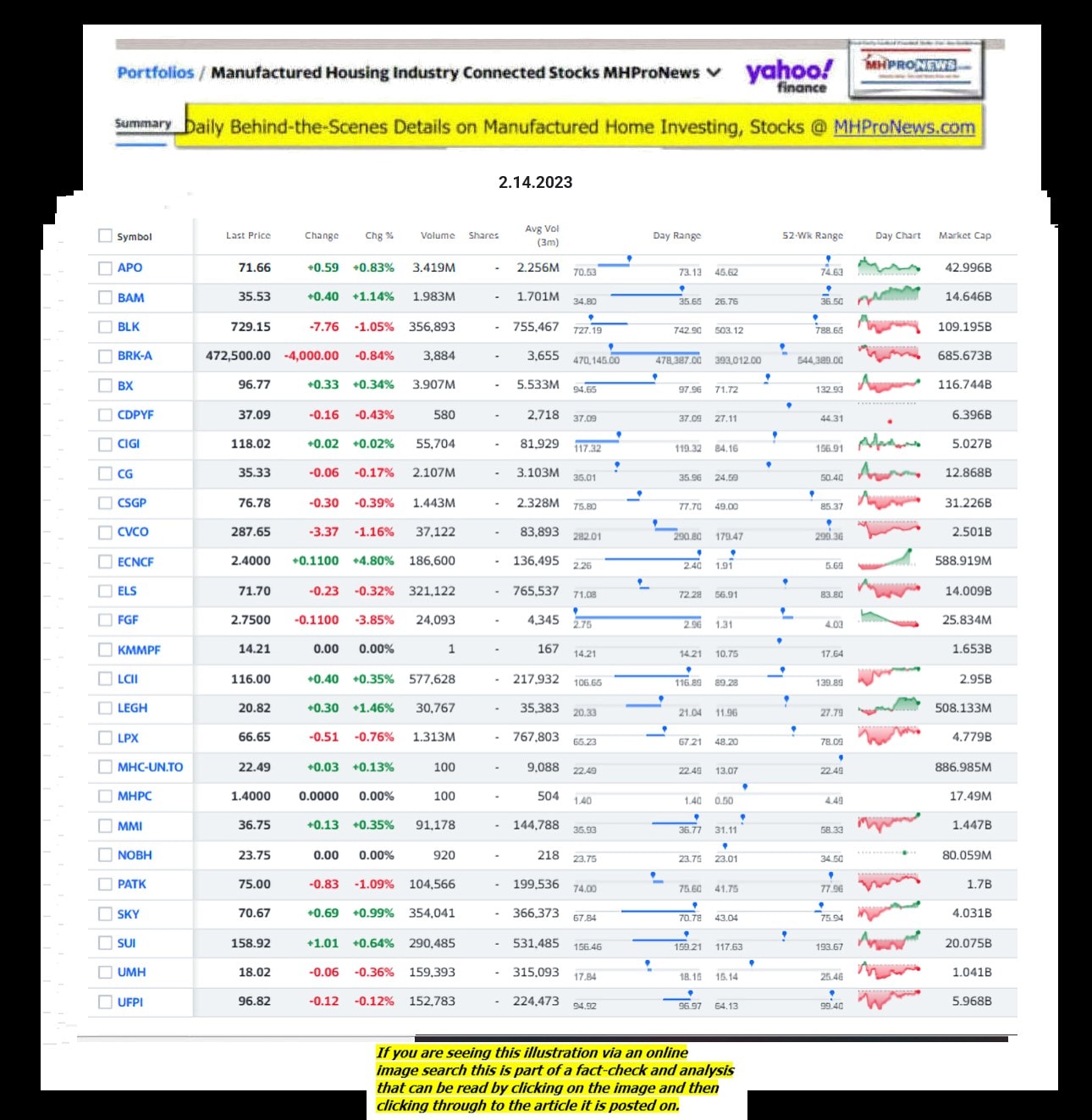 'Stomach Churning Year' CNN-Wall Street 'Forget 2022' Down Year – Major Equities Data Compared to Manufactured Housing Stocks, Manufactured Home Community REITs, Performance for Year by Company
====================================
Updated
NOTE 1: The 3rd chart above of manufactured housing connected equities includes the Canadian stock, ECN, which purchased Triad Financial Services, a manufactured home industry finance lender.
NOTE 2: Drew changed its name and trading symbol at the end of 2016 to Lippert (LCII).
NOTE 3: Deer Valley was largely taken private, say company insiders in a message to MHProNews on 12.15.2020, but there are still some outstanding shares of the stock from the days when it was a publicly traded firm.  Thus, there is still periodic activity on DVLY.
Note 4: some recent or related reports to the REITs, stocks, and other equities named above follow in the reports linked below.
'Manufactured Housing in the News,' Unpacking UMH CEO Sam Landy Op-Ed' It's Time for Bi-Partisanship on Affordable Manufactured Housing Homeownership' in HousingWire; plus MHMarkets Updates
Warren Buffett's Pledge to Kevin Clayton – 'You Can Access Plenty of Capital' for Projects – Quotes, Facts, Video, Transcript, and Implications for Manufactured Housing Industry
Manufactured Housing Properties-Results for Three and Nine Months Ending September 30.2022–Exploring 'Mobile Home Park' Manufactured Home Community Investing; plus MHVille REITs, Stocks Update
'Changes Will Benefit Customers,' Boost Sales-Legacy Homes CEO Duncan Bates – LEGH 'Delivered 22.5% Return on Equity in 1 Yr' – Corp Q3 2022 Insights, Analysis; plus MHVille REITs, Stocks Update  
'No Assurance Inflation Will Not Affect Our Future Profitability Financial Position'=Cavco Industries 10-Q, Solitaire Deal, More CVCO Data; Supreme Court Ruled-SEC Regs on False-Omitted Remarks
Skyline Champion Provides Quarterly Results, Adding Retail Centers, Improved Delivery Times-CEO Mark Yost Says 'Can Outperform Conventional Housing' Explored; Plus MHVille REITs, Stocks Update
Triad Financial Services Q2-2022 FINANCIAL RESULTS, per ECN Capital – Several Bright Spots in Manufactured Home Market Highlighted, Including Communities, Retail, Land-Home, Floor; MHStocks Update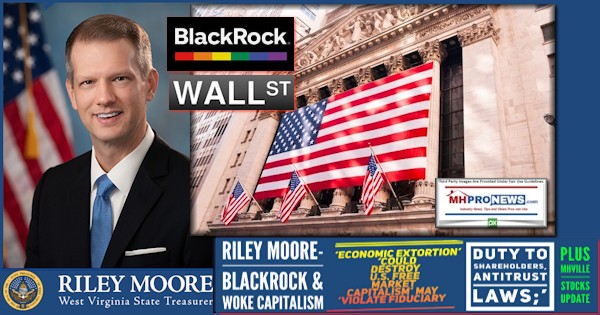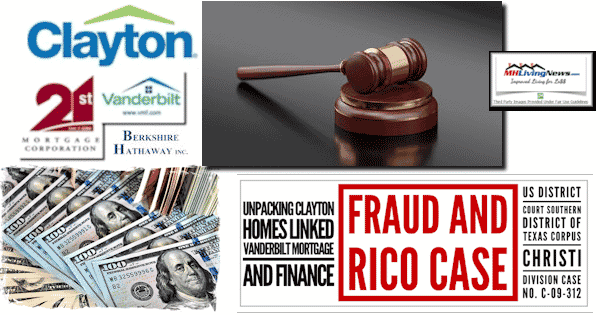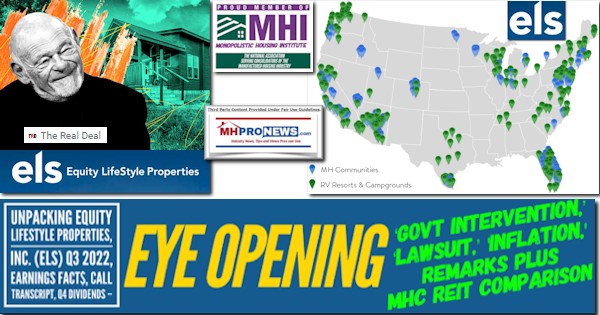 Manufactured Home Communities (a.k.a. 'Mobile Home Parks' – SIC) – Exploring UMH Properties; Fellow Manufactured Housing Institute Member Yes! Communities Suits and Settlements; plus MH Markets Updates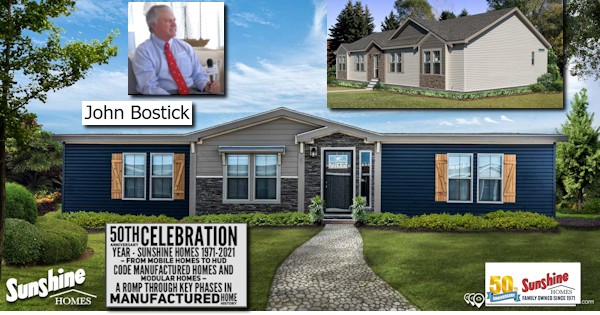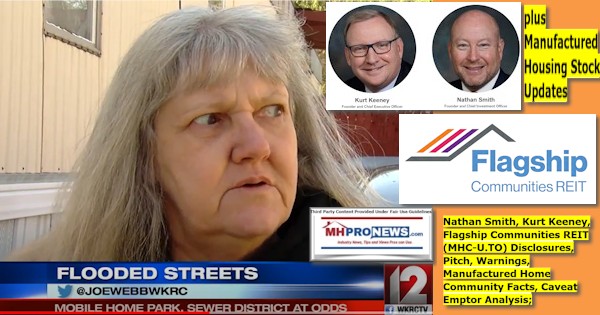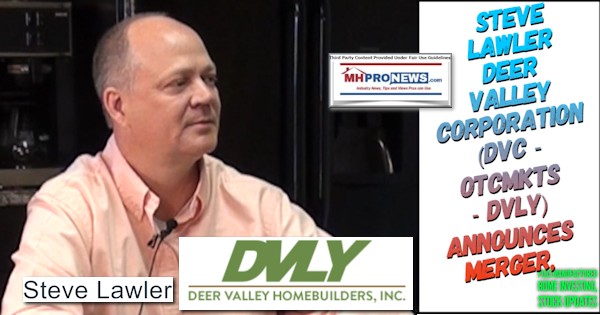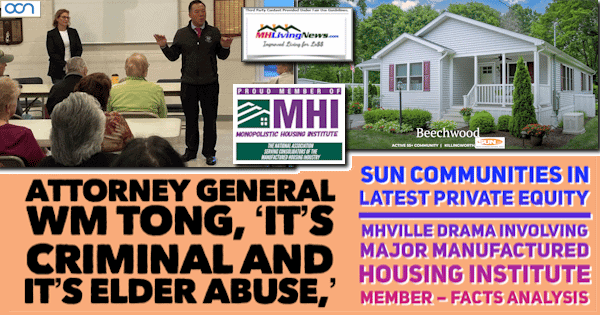 2023 …Berkshire Hathaway is the parent company to Clayton Homes, 21st Mortgage, Vanderbilt Mortgage and other factory-built housing industry suppliers.
· LCI Industries, Patrick, UFPI, and LP each are suppliers to the manufactured housing industry, among others.
· AMG, CG, and TAVFX have investments in manufactured housing related businesses. For insights from third-parties and clients about our publisher, click here.
Disclosure. MHProNews holds no positions in the stocks in this report.
· For expert manufactured housing business development or other professional services, click here.
· To sign up in seconds for our industry leading emailed headline news updates, click here.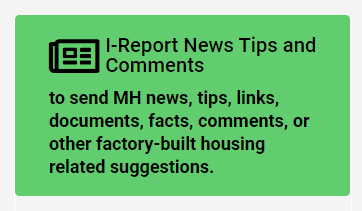 That's a wrap on this installment of "News Through the Lens of Manufactured Homes and Factory-Built Housing" © where "We Provide, You Decide." © (Affordable housing, manufactured homes, stock, investing, data, metrics, reports, fact-checks, analysis, and commentary. Third-party images or content are provided under fair use guidelines for media.) (See Related Reports, further below. Text/image boxes often are hot-linked to other reports that can be access by clicking on them.)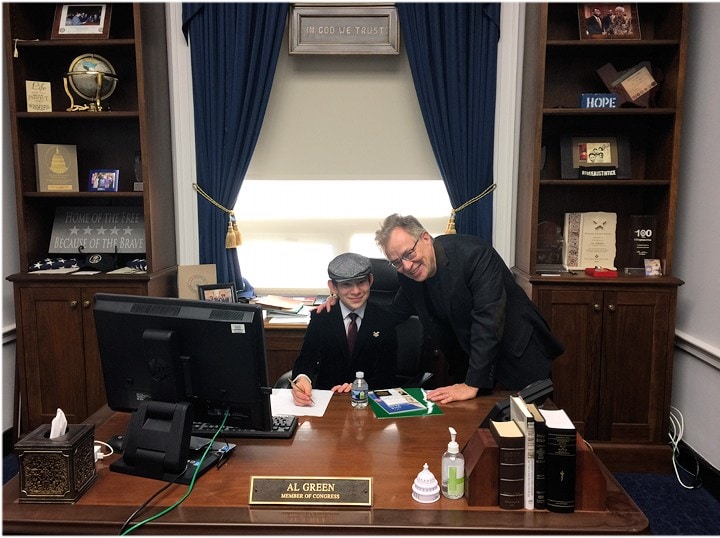 By L.A. "Tony" Kovach – for MHProNews.
Tony earned a journalism scholarship along with numerous awards in history. There have been several awards and honors and also recognition in manufactured housing. For example, he earned the prestigious Lottinville Award in history from the University of Oklahoma, where he studied history and business management. He's a managing member and co-founder of LifeStyle Factory Homes, LLC, the parent company to MHProNews, and MHLivingNews.com. This article reflects the LLC's and/or the writer's position and may or may not reflect the views of sponsors or supporters.
Facts You Didn't Know – Martin Luther King Jr – Videos, Insightful Quotes, Surprising Revelations, Videos, Reports, and Illustrations in Champion for Human Rights Including Affordable Housing
HUD Code Manufactured Home Building Down Nov 2022–Higher for Year per Manufactured Housing Association for Regulatory Reform Data, Facts-Insights Others Lack; plus MHVille Stocks-REITs Update
'Manufactured Housing Closes Year on Cool Note, But Optimism Grows for 2023' Says TRERC, But TMHA VP Rob Ripperda Lets Cat Out of Proverbial Bag, Exposing MHI; plus MHVille Market, Stocks Update
U.S. Housing Data Reveals Gaps-Underscores Vast Manufactured Housing Industry Potential, But Raises Corp, Trade Group Performance Concerns, Apparent Shareholder Effects; plus MHVille Stocks Update
After Admitted Failure, Manufactured Housing Institute Doubles Down on CrossMods® in AP Terminology Doc Acquired by MHProNews–Are MHI Leaders Sabotaging MHVille Independents? Plus MHStocks Update
Concessions by Speaker Kevin McCarthy in House Speaker's Battle Called 'Most Significant Win for Conservatives in a Decade' By Federalist's Emily Jashinsky Report; plus MHVille Stocks Updates