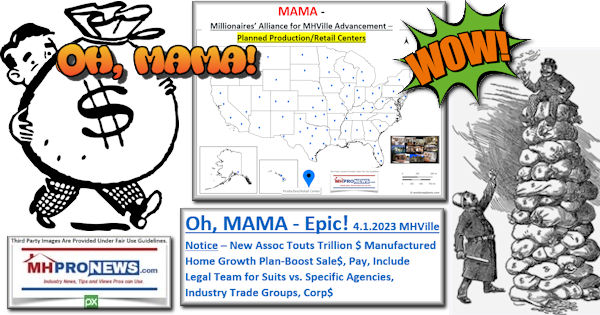 Ready for a career or job change but want to stay in manufactured housing? Are you an attorney looking for a new gig in the manufactured home industry? Are you a manager in MHVille that remembers the glory days when manufactured home sales were 3x higher than they are today and want the modern profession to achieve far more? Get your resume, CVs, and references ready. Be prepared for a shake up that can yield increased earnings and opportunities. Or are you an accredited investor looking for serious rates of return instead of the anemic showing by MHVille in 2022? A ten-year trillion-dollar plan has been announced by a group of charismatic and proven business leaders who have been tracking reports on MHProNews for the past several months. They have stated their intention to do all of the things that the Manufactured Hypocrisy Institute (MHI) and their insiders have refused to properly do for whatever reasons.
Here is the outline of the plan offered by the millionaires who want to become billionaires and who are involved in the visionary and historic plan. More on each of the bullets will follow.
1) Authentic Promotion, Education, and Defense of the Realities of Manufactured Housing. The Millionaires' Alliance for MHVille Advancement (MAMA) will factually and in an ongoing way explain why manufactured homes are the myth-defying runaway most proven option for affordable home ownership in a permanent dwelling. They will use third-party research to emblazon the appealing message that offers multi-generational wealth building for resident-owners.
2) Profitably developing new fee simple and land-lease communities using existing federal, state, and other programs that are widely overlooked. This would create 'places to put' manufactured homes that would allow the industry to grow at a record pace.
3) Assemble a legal team that will break the status quo through a series of legal actions against federal, state, and local officials to compel adherence to existing federal laws. More below. Additionally, file antitrust, RICO, Hobbs Act, and other legal actions against 'predatory' brands and those who have deployed 'the moat' strategy in a 'sabotaging monopolistic' effort to limit manufactured housing for their own selfish, consolidation reasons. Combined with zoning and related issues, these are key factors why there are so few affordable homes in the U.S. today.
4) Form a PAC that would lawfully and authentically use its influence with candidates and lawmakers to gain and keep their support for the following.
A). Full enforcement of the MHIA of 2000, including its 'enhanced preemption' provision.
B). Use lobbying and legal efforts to compel proper enforcement of the Duty to Serve (DTS) manufactured housing, to reform Ginnie Mae home only lending via elimination of the 10/10 rule, and reform all other government loan programs so that manufactured homes have parity in lending with conventional 'site built' housing.
C). Sue the Monopolistic Housing Institute (MHI) and DOE for their collusion in the pending manufactured housing energy rule scam that aims to limit, eliminate, or consolidate the industry's remaining manufactured housing industry producers.
5) . Organize Manufactured Home Community (MHC) Residents and provide legal assistance to allow them to sue their Machiavellian Housing Institute (MHI) member companies for predatory practices. Either large cash settlements and/or converting their properties into Resident Owned Communities (ROCs) would be the goal of those suits. Further, give MHC residents the opportunity to say what they love about their manufactured homes to boost the lifestyle message while still accomplishing the goal of bringing the predatory era tactics practiced by too consolidating manufactured home communities to a close.
6) Open approximately 72 new production center with 'factory' retail centers adjacent to each plant for maximizing efficiency and to allow for plant tours when appropriate. The map below shows the initial plan which would put the vast majority of the U.S. population within less than 350 miles of a new U.S. manufactured home building center.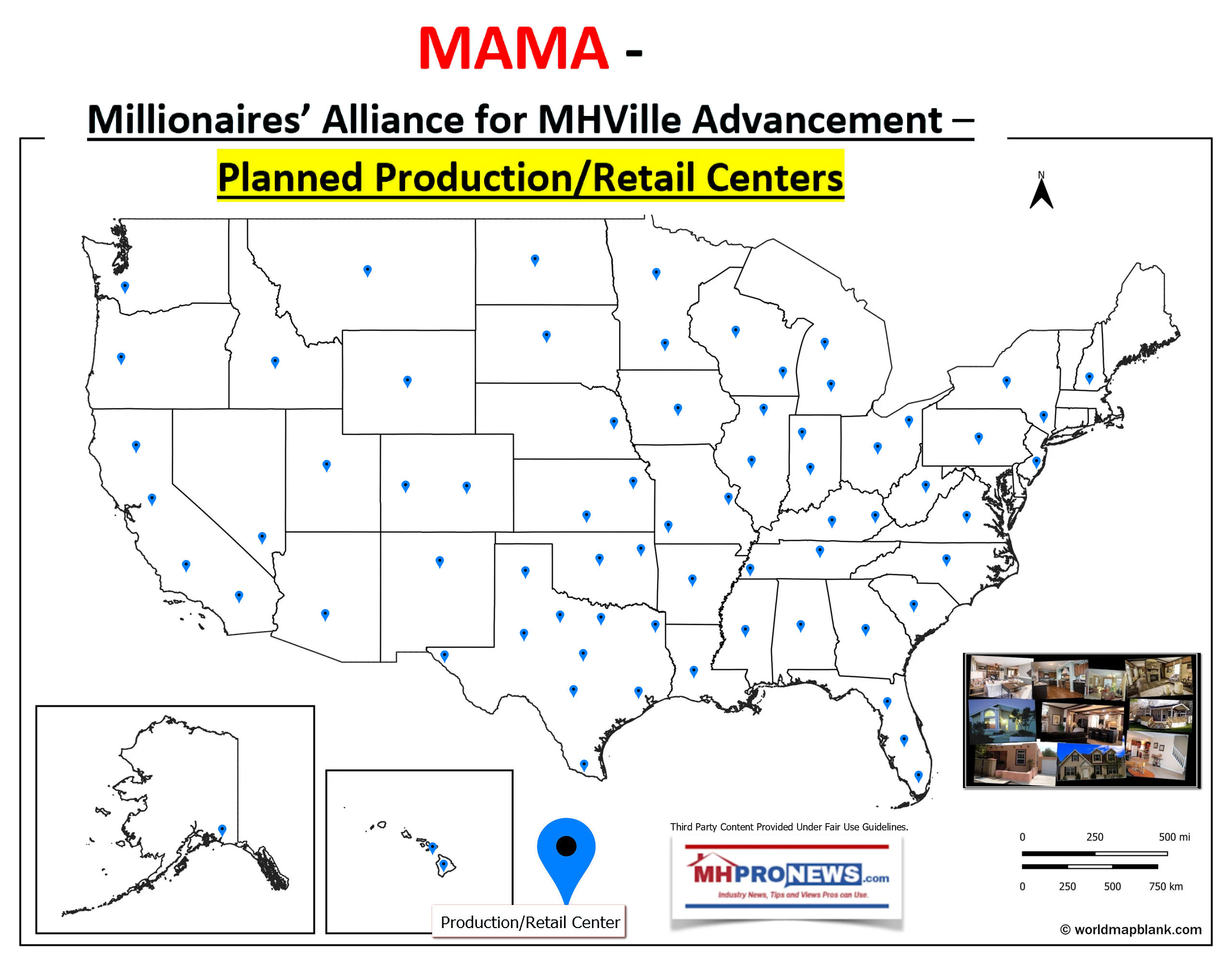 7) Produce multiple story modular housing or commercial products were warranted for urban building. Initial product mix would be 90 (+/-) percent HUD Code with the balance modular or other standards based on market.
8) Within 24 months of launch, 72 building centers with associated retail, supplies, and financial services would be in operation. Within 36 months, those building centers are estimated to produce 1000 homes per production center annually on average, so 900×72 = 64,800 HUD Code manufactured homes.
9) Within 4 years the MAMA investors project that their network would produce more manufactured homes than the current combined total of all HUD Code home producers in the U.S. More plants and capacity are added based on growth, ROI, need to deploy more capital, etc.
10) Within 5 years, the MAMA team think they'll have scores of deals in place with real estate offices, and conventional builders across the country, and in Alaska and Hawaii too. The MAMA team expects to significantly increase the number of factories and associated retail, financial services, supplies, and décor offices. Perhaps 300 (+/-) building centers will be purring by the end of year 5. They could yield 270,000 new homes, over and above the production of the rest of the industry. The investors believe that by roughly years 3-4, current HUD Code builders will completely realize that the "shell game" has been forever changed in manufactured housing. That will mean that existing builders will have to fine tune and gear up too if they don't want to be left behind. Thus, by year 5, perhaps 425,000 HUD Code manufactured homes will be built and sold annually nationally. Meaning, an authentic return to the historic pattern that made mobile and manufactured housing great years ago will return in earnest. CrossMods advocates will be humiliated,
11) In the next 5 years, the investors believe there will be an explosion of new HUD Code manufactured home builder-retail-financial services-supplies-decor centers. By the end of the decade, over a million HUD Code manufactured homes could be built annually. In 2023 dollars, that would about $90,000,000,000 in annual sales. Due to land, developing, furnishings, financial services, brokerage, and other factors, the total could top $300 billion a year. Meaning, by the start of the second decade, a trillion-dollar industry will be achieved or within reach.
12) Create a bright line distinction between the kinds of brands that have attracted negative media in MHVille and those which have a history of properly serving their customers in a manner that brings referrals.
Official U.S.
There is more than the above outline, because as was recently reported, Law Prof. Daniel R. Mandelker recently said 'an organization is needed for manufactured housing advocates for litigation and legislative [lobbying] support.' Specifically, Mandelker said: "A support organization is needed that can provide litigation and legislative support to help manufactured housing advocates with zoning reform." That is part of what MAMA will do, but it will do it pressing the enforcement of existing laws.
That said, this Masthead editorial is being published on April 1, 2023. Or rather, it is 'April fool's day.' But don't get mad at the messenger. Rather, it is long overdue time to get mad and get even with those in the manufactured home industry that have thwarted this type of vision from already being the U.S. reality. Because if you check out the links, which are serious and evidence-based, it will become clear that this outline is not merely a joke, save on those who have kept the industry underperforming for the entire 21st century. There are likely to be thousands among MH Industry Pros who will carefully ponder this outline, plus others beyond the industry.
So, this is not just a jab in the guts and eyes of the powers that be at the Mendacious Housing Institute (MHI), meaning, their dominating brands. It is a potentially serious outline for advancing the industry in a profitable fashion that could serve millions of Americans in the next 10 years.
The laws needed for the industry are largely already in place.
What is necessary is the will, vision, and muscle to make their proper implementation a reality.
Oddly, MHI's leaders have said as much, but they have obviously failed to properly act on it because they think that keeping the industry underperforming is their ticket to 'safe' profits through steady consolidation.
The good news is that MHARR – the Manufactured Housing Association for Regulatory Reform already exists as a pro-growth trade group. They have demonstrated that corruption with wink-and-a-nod collusion arguably occurring at the Monopolistic Hypocrisy Institute (MHI) need not be the norm.
By way of contrast, the current business model harms the interests of almost everyone.
Employees would make more with the 4.1.2023 plan above.
Millions of Americans could become homeowners instead of renters.
As millions become renters, building inter-generational wealth could explode in America.
As vacancies in rental properties at some point may begin to rise, rents will come down.
Even if manufactured homes went up somewhat in price due to higher pay, they would still be well below the price of conventional housing.
Honest politicos could become YIMBY and MHVille supporters.
Reams of third-party research already debunks the beliefs that have for too long been a factor that has kept manufactured housing underperforming.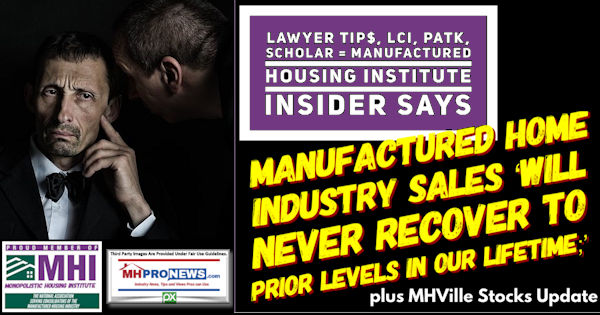 There are already people in MHVille that could begin this process. But be it existing, newcomers, or some combination of those needed, the brightest possible future of manufactured housing would be secured.
Those involved on the 'ground floor' could see very healthy returns on investment.
Those embedded in the current, and often corrupt, organizations that make up the Mendacious Hypocrisy Institute (MHI) would no doubt have access to documents that could put several of the industry's duplicitous leaders behind bars for an array of possible criminal violations.
The American Dream would be revived.
Justice could be done.
It is NOT an April Fool's Joke to remind readers that once upon a time, a single start up reportedly produced thousands of factory-built (pre-HUD Code mobile homes) in just 2 years. If it has been done before, it can be done again. Indeed, the report linked below is a perennial top 50 on MHProNews. That suggests that potential MAMA type investors are already researching the industry to do something akin to the concepts above.  This is DOABLE. The Rollohome story is also a reminder of just how poorly the modern 'industry's leaders' are doing.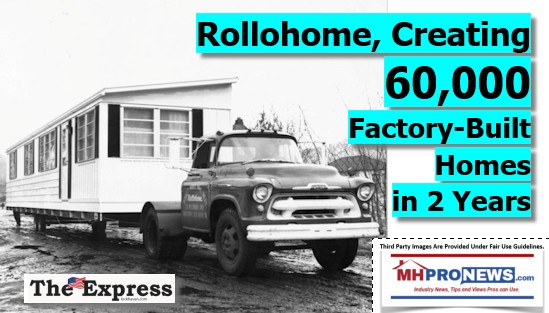 Those nodding their heads could be part of this brave new world that would not be anything like the dystopian novel that the Manufactured Hypocrisy Institute's 'leaders' have given us. We should be feasting and celebrating instead of settling for bread-crumbs and begging for more. It would take some courage to challenge the status quo. It would have 'risks.' But the demand for housing is already there. The evidence in favor of manufactured homes already exists. The negatives could be Jiu-Jitsued into positives. It won't be a surprise if this becomes one of the hottest read reports on our site for months to come. It is all courtesy of your acclaimed (and by opponents, defamed) seasoned industry veteran Masthead editorial writer. ##
Longtime MH Retail Sales Manager Asks Manufactured Home Leaders, Why are Manufactured Housing Production Levels Today About Half of 1980s When Interest Rates Hit 20.5% APR on ARM Loans?, Manufactured Housing Institute, MHI, Clayton Homes, Kevin Clayton, Tom Hodges, Lesli Gooch, Leo Poggione, William Bill Boor, Mark Yost, David Goch, Daniel R.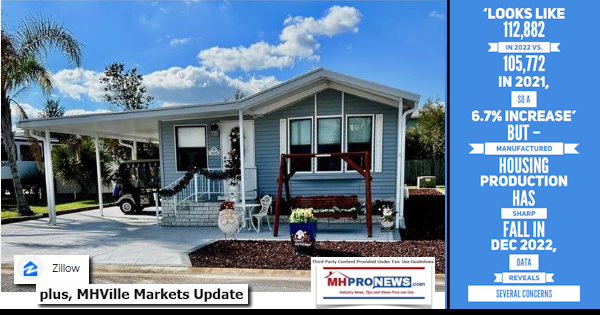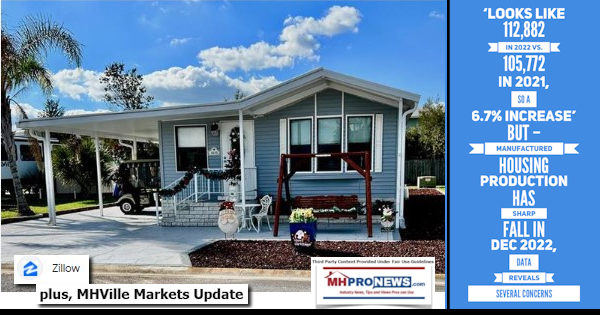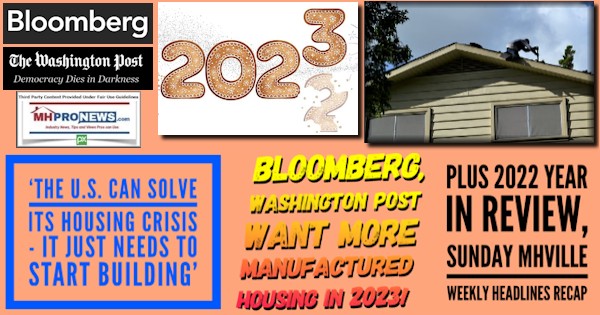 No Description
The graphic above and the report below are no joke. When state preemption kicked in for routinely factory-built ADUs in California, shipments soared.  That strongly suggests that something similar could occur in manufactured housing if federal 'enhanced preemption' was properly implemented. Couple that with other items linked from this report and there is a formula to create a trillion-dollar manufactured home industry for visionaries with the necessary commitments to make it happen despite 'moat' building competitors. 
In a literal April Fool's Day (4.1.2021) email to their members, the Manufactured Housing Institute (MHI) – with no apparent sense of irony – said: " MHI is currently reviewing the provisions of the [Biden-Harris White House] proposal to identify opportunities for manufactured housing and areas of concern for our members."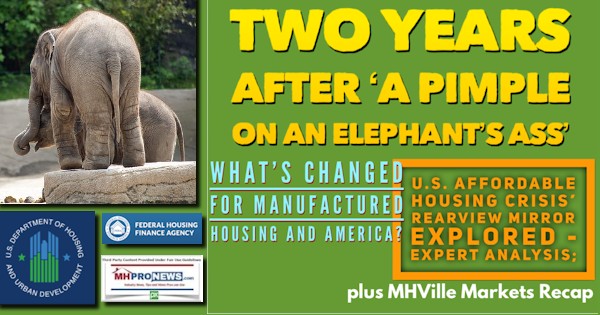 'U.S. Should Break Up Monopolies', The U.S. should break up monopolies – not punish working Americans for rising prices, Democrat Robert Reich, the Guardian, columnist, Plan Would Hit Clayton Homes, Skyline Champion, Cavco Industries. Costly Antitrust Lawsuits, Statements, Facts, Analysis, antitrust, pro-competition, anti-monopoly,

Stay tuned for more of what is 'behind the curtains' as well as what is obvious and in your face reporting that are not found anywhere else in MHVille. It is all here, which may explain why this is the runaway largest and most-read source for authentic manufactured home "News through the lens of manufactured homes and factory-built housing" © where "We Provide, You Decide." © ## (Affordable housing, manufactured homes, reports, fact-checks, analysis, and commentary. Third-party images or content are provided under fair use guidelines for media.) (See Related Reports, further below. Text/image boxes often are hot-linked to other reports that can be access by clicking on them.)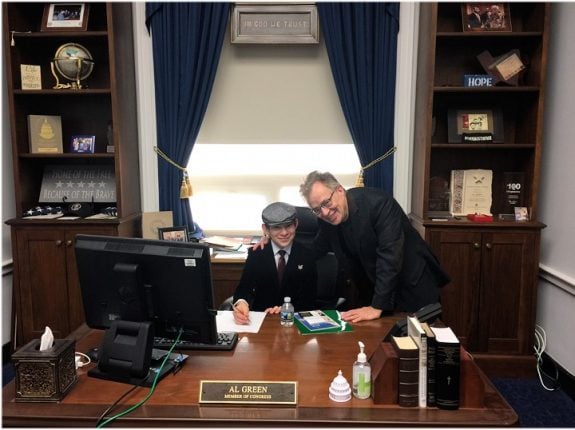 By L.A. "Tony" Kovach – for MHProNews.com.
Tony earned a journalism scholarship and earned numerous awards in history and in manufactured housing.
For example, he earned the prestigious Lottinville Award in history from the University of Oklahoma, where he studied history and business management. He's a managing member and co-founder of LifeStyle Factory Homes, LLC, the parent company to MHProNews, and MHLivingNews.com.
This article reflects the LLC's and/or the writer's position, and may or may not reflect the views of sponsors or supporters.
Connect on LinkedIn: http://www.linkedin.com/in/latonykovach
Related References:
The text/image boxes below are linked to other reports, which can be accessed by clicking on them.
Pondering 'The Only Place Success Comes Before Work is in the Dictionary' – Vince Lombardi – How it Applies in All Professions, Including Manufactured Housing – Life Hacks Analysis
"Federated States Newsletter" Uncovers Manufactured Housing Institute Behavior and Lack of Effectiveness at Their Own Claimed Advocacy – MHI's Own Words, 3rd Party Facts, Plus Expert Commentary