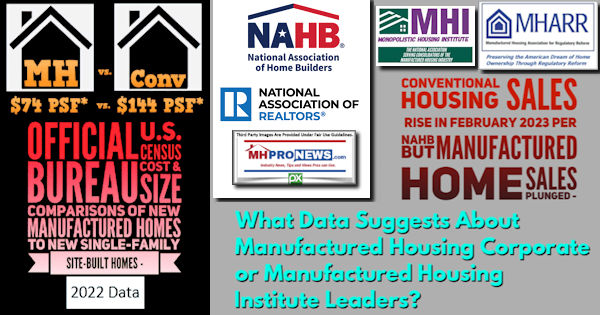 First comes the facts, per the Manufactured Housing Institute (MHI), the National Association of Home Builders (NAHB), and the Manufactured Housing Association for Regulatory Reform (MHARR). MHI's latest emailed remarks to members dated 4.3.2023 are found at this link here. Recall Cavco Industries' claims linked here and here. Then, consider in Part I below what the National Association of Home Builders said about February 2023 conventional housing data, posted below. Part II below reflects the press release from MHARR. Part III herein include additional information with more MHProNews Masthead Analysis of the facts and the manufactured housing expert views of the various sources and data points.
Part I – per the NAHB, with the Bracketed Highlighting added by MHProNews
New Home Sales Remain Relatively Flat in February
Published Mar 23, 2023

Higher mortgage rates and home prices, as well as increased construction costs contributed to lackluster new home sales in February, but signs point to improvement later in the year.
Sales of newly built, single-family homes in February increased 1.1% to a 640,000 seasonally adjusted annual rate [SAAR] from a downwardly revised reading in January, according to newly released data by the U.S. Department of Housing and Urban Development and the U.S. Census Bureau. However, new home sales are .
"Builders continue to face challenges in terms of higher interest rates, elevated construction costs and access to critical materials like electrical transformers," said Alicia Huey, chairman of the National Association of Home Builders (NAHB) and a custom home builder and developer from Birmingham, Ala. "Nonetheless, the lack of existing home inventory means demand for new homes will rise as interest rates decline over the coming quarters."
"The February new home sales data points to an increase for the monthly pace of single-family construction starts later in 2023 given a rise in builder sentiment and an increase for sales of homes not yet started construction," said NAHB Chief Economist Robert Dietz. "However, concerns remain about the tightening of credit conditions for acquisition, development and construction loans for smaller builders due to recent stress for the banking system."
A new home sale occurs when a sales contract is signed or a deposit is accepted. The home can be in any stage of construction: not yet started, under construction or completed. In addition to adjusting for seasonal effects, the February reading of 640,000 units is the number of homes that would sell if this pace continued for the next 12 months.
New single-family home inventory fell for the fifth straight month. The February reading indicated an 8.2 months' supply at the current building pace. A measure near a 6 months' supply is considered balanced. However, single-family resale home inventory stands at a reduced level of 2.5 months.
The median new home sale price rose in February to $438,200, up 2.5% compared to a year ago. Elevated costs of construction have contributed to a rise in home prices. A year ago, roughly 15% of new home sales were priced below $300,000, while that share is now just 10% of homes sold.
Regionally, on a year-to-date basis, new home sales fell in all regions, down 29.2% in the Northeast, 21.3% in the Midwest, 7.3% in the South and 40.6% in the West. ##

Increasingly Concerning Manufactured Home Production Decline Continues in February 2023
Washington, D.C., April 3, 2023 – The Manufactured Housing Association for Regulatory Reform (MHARR) reports that according to official statistics compiled on behalf of the U.S. Department of Housing and Urban Development (HUD), HUD Code manufactured housing industry year-over-year production declined sharply in February 2023. Just-released statistics indicate that HUD Code manufacturers produced 6,577 homes in February 2023, a 29.1% decrease from the 9,281 new HUD Code homes produced in February 2022. Cumulative production for 2023 is now 13,528 homes, a 26.4% decrease from the 18,391 homes produced over the same period during 2022.
A further analysis of the official industry statistics shows that the top ten shipment states from January 2023 — with monthly, cumulative, current year (2023) and prior year (2022) shipments per category as indicated — are:
The production decline indicated by the February 2023 official statistics now marks the fifth consecutive month of production declines within the manufactured housing industry. Worse yet, the degree of year-over-year decline continues to steepen, with progressively greater declines over each month of that five-month period. Again, all of this is occurring at a time of unprecedented demand for affordable housing, thus illustrating once again, not only the long-term destructive impacts of discriminatory zoning and consumer financing on the HUD Code manufactured housing market, but also the failure of federal affordable housing aid and assistance to "reach the ground" for manufactured housing consumers, as illustrated by MHARR's July 2023 White Paper on that subject. The steepening decline could also represent the leading edge of severely negative market impacts that are certain to correspond with the introduction of ultra-costly federal "energy" standards for manufactured housing, and market anticipation of those standards. Regardless, however, the industry and its representatives cannot simply stand by as the market viability of the industry's homes is undermined. Therefore, decisive industry action to address and resolve these crucial post-production matters (i.e., zoning and consumer financing discrimination), as advocated by MHARR, is long overdue.
In conjunction with the above-referenced and destructive DOE "energy" rule, the underlying enabling law, as most industry members are not yet currently aware, necessarily ties manufactured housing energy standards to the International Energy Conservation Code (IECC), thus institutionalizing ongoing automatic cost increases with each new iteration of the IECC under its three-year revision cycle. MHARR has already analyzed this looming threat and will share that analysis with the industry and public later this week.
The Manufactured Housing Association for Regulatory Reform is a Washington, D.C.-
based national trade association representing the views and interests of independent producers of federally-regulated manufactured housing. ##
Manufactured Housing Association for Regulatory Reform (MHARR)
1331 Pennsylvania Ave N.W., Suite 512
Washington D.C. 20004
Phone: 202/783-4087
Fax: 202/783-4075
Email: MHARR@MHARRPUBLICATIONS.COM
Website: manufacturedhousingassociation.org ###
Part III Additional Information with More Masthead MHProNews Analysis and Commentary
The Masthead is the editorial blog of MHProNews, but virtually every page of this website has on the top left corner the MHProNews logo with the tag line [manufactured housing] "Industry News, Tips, and Views Pros Can Use." © While the following can be considered opinions, they are those of a highly acclaimed and multiple award-winning multi-decade manufactured home industry professional who personally recalls the years when manufactured housing production was 2x and 3x plus times their current levels. So, unlike authors, bloggers, or publishers who have sold few to no manufactured homes in their lifetimes, this writer knows the industry's facts, history, and the face-to-face experience of managing and owning a retail operation in times with much higher interest rates than we presently have and still better results. With that glimpse into the 'can do' and 'hands on' leadership expertise, are the following facts, evidence-based insights, analysis, and commentary.
There surely must be a reason why MHI failed to even mention the new home production and shipment data for February 2023 in their most recent emailed 'news' update dated 4.3.2023, see that linked here.
NAHB provided data in their press release, shown above.
MHARR provided factual data with a brief analysis of that data.
Unlike the NAHB or MHARR, MHI provided no data about the industry downturn. Instead of facts and data, MHI provided messages on a dizzying array of self-promotional issues in what appears to be a psychological and sociological campaign of manipulation, deception, and misdirection.
Arrogantly or devilishly, take your pick, no mention is made by MHI to their members that the industry's downturn is now 5 months old. While MHARR has been sounding the alarm, not so MHI. Why is that so?
Don't expect an honest answer or candid analysis to those facts and question from MHI, nor from their apparently 'bought and paid for' surrogates. Those surrogates may get their 'reward' indirectly and/or directly, but they nevertheless 'enjoy' some combination of MHI 'endorsement,' financial support, membership, or other benefits that seems to keep them largely cheerleading or deflecting.
NAHB and others use a metric known as the SAAR or Seasonally Adjusted Annual Rate.  Comparing NAHB with MHARR data indicates that manufactured housing – which is far more affordable to begin with – has nevertheless fallen sharper than more costly conventional housing.
Quoting from the above in Part I, per the NAHB: "the February reading of 640,000 units is the number of homes that would sell if this pace continued for the next 12 months."
Let's take the data from MHARR in Part II and do similarly. 6,577 new HUD Code manufactured homes x 12  months = 78,924 new homes for the year. That would be a sharp decline from 2022 results, or even for several of the preceding years, see the chart below.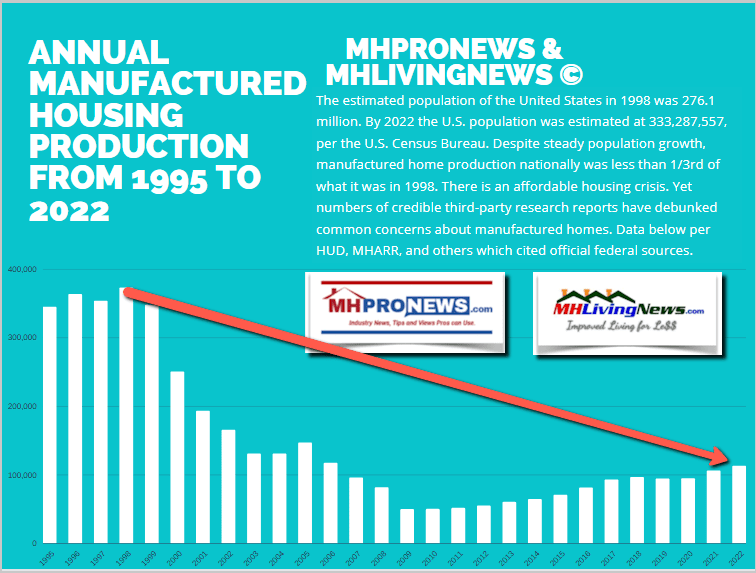 Who recalls that it was just a few months ago that Bloomberg and the Washington Post touted manufactured homes and how they could be a solution for the affordable housing crisis?
" For all its complexities, America's nationwide housing crisis boils down to a problem of supply and demand: The country needs a lot more homes than it has, yet even ambitious reforms won't provide developers with enough incentive to bridge the gap."
Or who besides MHLivingNews in MHVille trade media shared and reported the Freddie Mac research that points to how robust manufactured housing sales could and ought to be?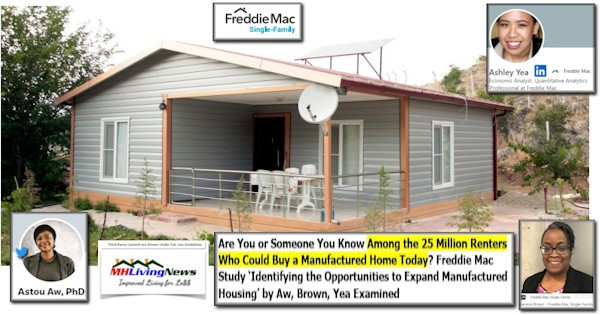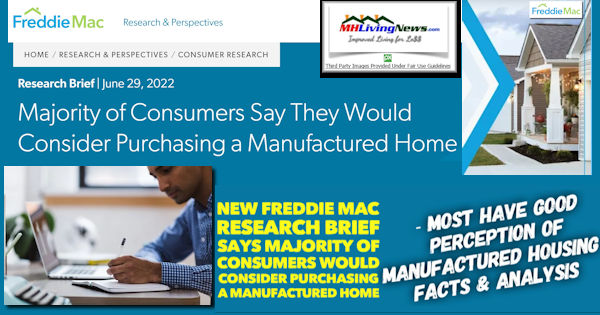 Then look at the data from the National Association of Realtors (NAR) which dates back to the mobile home era and all of the manufactured housing industry until the 21st century year shown below.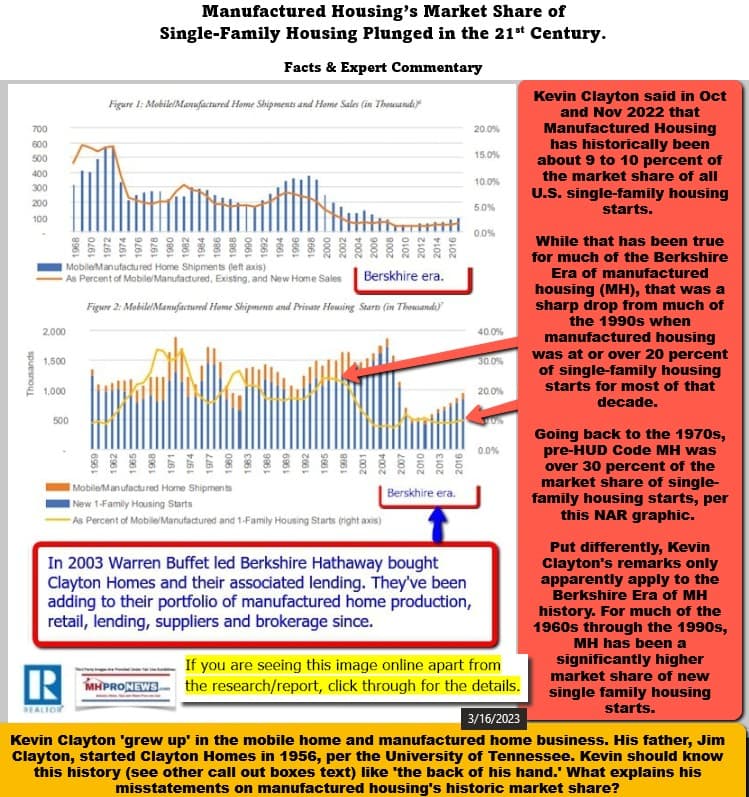 Note that annual totals (not seasonally adjusted) are about 3 times the current rate in the 1980s as they are today. The 1980s, as the report linked here revealed, MHI leaders declined comment on that report, related data, claims by MHARR, law professor Daniel R. Mandelker, or cited other sources. Where is the similar effort by others that blog or provide 'news' about manufactured housing to hold those corporate and staff leaders of MHI accountable for the troubling and problematic pattern for the industry? How can anyone that pretends to be doing anything like objective 'journalism' fail to point out that the industry is in a tail spin? Or that MHI and several of their corporate leaders and attorneys won't bother to explain how they plan to fix this plunge?
MHProNews alone, among known manufactured housing industry bloggers and publishers (who routinely carry water and/or deflect for MHI), foreshadowed a downturn in 2022 while the industry was still roaring. That note of concern occurred in the report linked below. When MHI claimed "momentum," MHProNews reminded readers that the last time MHI used that phrase in the latter part of 2018, the previously 2½ year industry downturn began.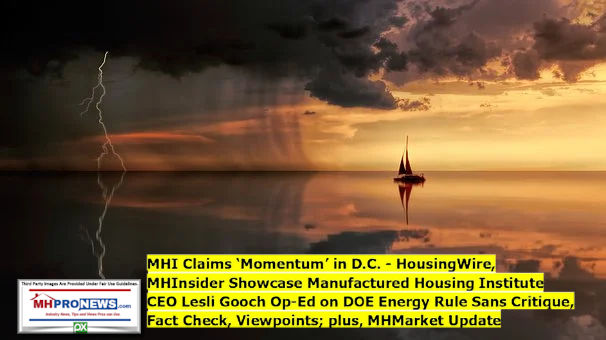 But that dip appears to be modest compared to data that emerging from this one. Again, see the 21st century annual results and last part of the 1990s chart posted above. The facts don't lie, but don't expect MHI to even show those facts without psychological or sociological manipulation or effective slight-of- hands. As has been previously noted, it would be unjust to say that every MHI member is attempting to manipulate data or insights given to "all segments" of the industry's members. Very specific board members and senior staff, plus counsel, are arguably responsible for the current state of information and policies that have placed the industry in this troubling spot. During an affordable housing crisis, inherently affordable manufactured housing is falling faster than far more expensive conventional housing. The concerns that MHARR raised above are relevant.
That said, MHARR does not address specific MHI corporate statements that clearly indicate in various investor-focused reports that several of MHI's dominating brands have for years been more focused on consolidation (mergers and acquisitions or M&A) than they are on organic growth.
Put differently, MHI may say something that indicates their stance is similar to that of MHARR. But a careful look reveals that MHI's remarks are often an illusion that is contradicted by specifics from their own leading corporate voices. Put bluntly, a con job appears to be at play. MHI is the instrument of the con artists who happen to wear suits or business casual attire.
When business leaders tell their investors that they are more focused on consolidation than organic growth, and the corporate data supports that posture, why shouldn't such statements be given a measure of credence? But if MHI and corporate behavior (including, but not limited to, various public remarks) appears to be inconsistent, additional warning flags are merited.
As a pressing example of MHI's arguably Machiavellian maneuvers, contrast what MHI has said recently on the DOE issue to what MHARR has said.
Manufactured Housing Institute, Accused, Trying to Mislead, Manufactured Home Industry Members, DOE Energy Rule, Dueling, MHI vs.
Note that MHI has doubled down on their position in their remarks posted above on their DOE stance.
Carefully considering all of the known facts, no seasoned, objective, and successful professional could be so stupid as to believe that what MHI is advocating is the smartest course of action. It is OBVIOUS that MHARR's point that DOE should be forced to scrap the currently flawed process and 'start over' is the correct one. That MHI is arguing for delay only, not for a complete redo, is 'in-your-face' arrogance, association malpractice, and an apparent breach of their respective leaders fiduciary duties. They claim to be working for all segments of the industry. If so, then why does their behavior routinely benefit what attorney Marty Lavin referred to as 'the big boys' behind MHI?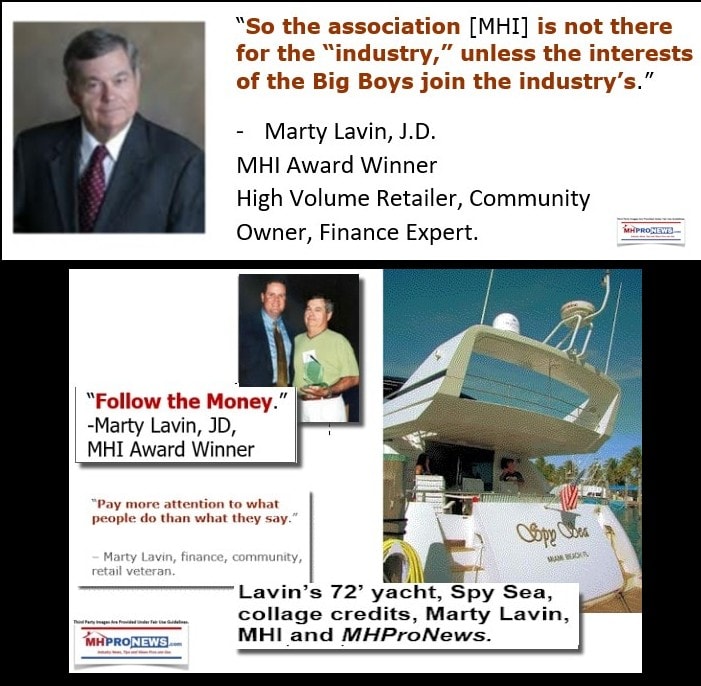 Then, look at the evidence from the recent report linked below.
Scholar, Legal Tip$, LCI = Manufactured Housing Institute Insider Says Manufactured Home Industry Sales 'Will Never Recover to Prior Levels In Our Lifetime;' plus MHVille Stocks Update, manufactured home community real estate investment trusts (MHC REITs), manufactured housing production, factories, retail, dealers, suppliers, finance, brokers, mobile home park passive investing,
Then, look at the Oh, MAMA report. The industry could be catapulting toward a trillion dollars in the next decade, IF the right policies and investments were being made. Imagine investing in Apple before the iPhone. Statista said in 2023: "Since its introduction to the market in 2007, Apple has sold more than 1.5 billion units worldwide." Reuters said in January 2022 that: "Apple's shares have climbed around 5,800% since co-founder and former Chief Executive Steve Jobs unveiled the first iPhone in January 2007." That same report said that Apple has a "$3 trillion market value." It is not too much to say that manufactured housing could be something like that kind of performance, BUT NOT if current leading MHI corporate and staff leaders and their policies continue.
Oh, MAMA – Epic! 4.1.2023 MHVille Notice – New Assoc Touts Trillion $ Manufactured Home Growth Plan-Boost Sale$, Pay, Include Legal Team for Suits vs Specific Agencies, Industry Trade Groups, Corp$
This platform is not defending or promoting NAHB. But for comparison, consider their statement: "The National Association of Home Builders of the United States strives to protect the American Dream of housing opportunities for all, while working to achieve professional success for its members who build communities, create jobs and strengthen our economy."  Where is MHI's efforts to properly promote the American Dream of affordable home ownership? NAHB's remarks sounds more like MHARR's tag line, doesn't it?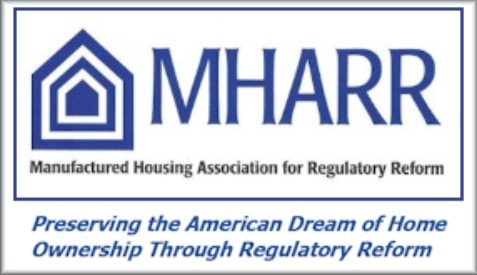 Privately held companies that don't have investors have far more flexibility, one could argue, than publicly held ones where an array of legal requirements and protections are at least supposed to be in place. MHProNews/MHLivingNews, citing hard facts, third-party research, and applying common sense plus industry expertise, has frequently noted that MHI and their corporate leaders are behaving in a way that appears to violate several laws.
Kevin Clayton Video, Interview w/Transcript, 'Historic' Claims, ManufacturedHomes.com, MHVillage, MHInsider, Patrick Revere, Clayton Homes 'Double' Production, Illumines Decades of Manufactured Housing Industry Underperformance, 3.16.2023, plus MHVille Stocks Update, mobile home park investing, manufactured housing production, factories, retail, suppliers, finance, brokers, manufactured home communities, manufactured home communities REITs, Real Estate Investment Trusts,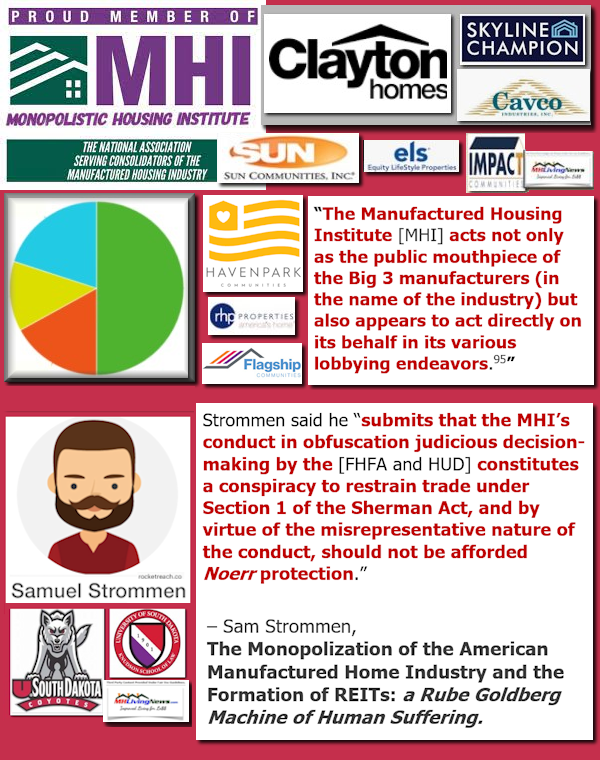 Let's presume, for discussion's sake, that MHI-TMHA's attorneys and MHI leaders don't pivot from their current stated stance of merely delaying the DOE rule. Should the industry's downturn sharpen, savvy shareholders plaintiffs' attorneys could sue. At some point, state and/or federal antitrust, RICO, Hobbs Act, SEC, or other cases might be brought. Accountability for massive con games is often delayed, as Enron, Bernie Madoff, WorldCom, Theranos, or Sam Bankman Fried (SBF) and alleged FTX fraudster illustrates. True, MHI leaders (corporate and senior staff) may 'get away with it.' But it is also true that they might be held to account. See the linked related reports, and cross-linked facts, evidence, and analysis to learn more.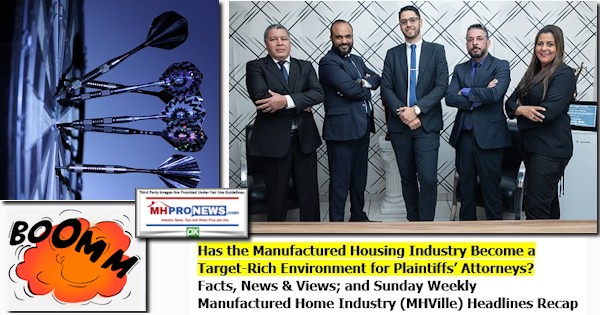 The Belsky Factor
MHI's leaders can't have it both ways. When MHI touted Eric Belsky's research at the turn of the century, there were different people in place at MHI at the time. By contrast, MHARR's leaders are essentially unchanged. At the turn of the century, MHI was pointing out that manufactured housing could surpass conventional housing by 2010. That certainly didn't happen, but then, Chris Stinebert left MHI. There is an evidence-based argument to be made that MHI has steadily changed for the worse for manufactured housing independents and affordable housing advocates since.
According to a well-placed source from the ranks of state associations and Manufactured Housing Institute (MHI) leadership, the loss of Chris Stinebert marked a new era for MHI and the industry's trade post-production and umbrella trade associations. In a telephone call to MHProNews that source said, "MHI has made inroads.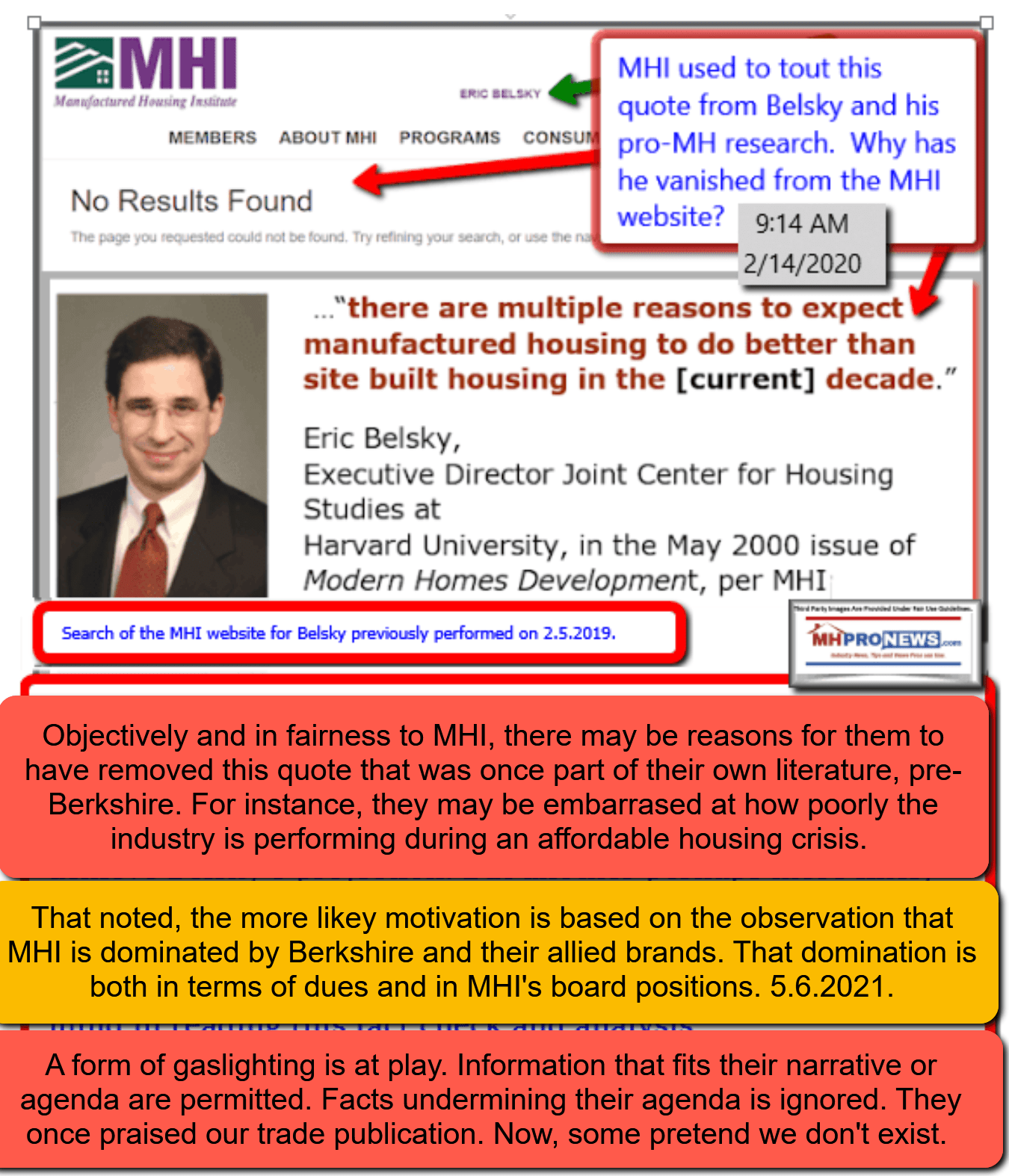 Summing Up
MHARR, MHProNews, and MHLivingNews have been the three primary sources for factual, evidence-based, pro-white hat business (as opposed to black hat led businesses), pro-robust growth, pro-consumer reports and analysis. It is no surprise that all of the pro-MHI bloggers, publishers, and nonprofits that share 'MHI news' largely walk in lockstep. While their audiences may individually be smaller than MHProNews/MHLivingNews, they nevertheless create an 'echo chamber' that may appear to give MHI an unwarranted credibility and 'trustworthiness.'
For billions of Catholics and other Christians, this is Holy Week. Miracles 2000 years ago, since, and now do occur. Some people have an amazing change of heart, mind, and behavior. But free will is a mark of humanity. The reason that bad behavior is possible is precisely because people can opt to be sinful or 'bad.' None of us born since those epic events that mark Holy Week are perfect. We all need a level of mercy and forgiveness. That said, history tells us that some will be obstinate. They will remain in their problematic behaviors. Some may respond to grace from God and change. What will happen with the current leaders involved at MHI? God knows, but time alone will tell the rest of us mere mortals. Count on MHProNews/MHLivingNews to monitor and report as warranted. But what appears certain at this moment is this. If more costly site built housing is outperforming more affordable manufactured housing during an affordable housing crisis, then MHI 'leaders' must be doing something terrible wrong. ##
Oh, MAMA – Epic! 4.1.2023 MHVille Notice – New Assoc Touts Trillion $ Manufactured Home Growth Plan-Boost Sale$, Pay, Include Legal Team for Suits vs Specific Agencies, Industry Trade Groups, Corp$

Stay tuned for more of what is 'behind the curtains' as well as what is obvious and in your face reporting that are not found anywhere else in MHVille. It is all here, which may explain why this is the runaway largest and most-read source for authentic manufactured home "News through the lens of manufactured homes and factory-built housing" © where "We Provide, You Decide." © ## (Affordable housing, manufactured homes, reports, fact-checks, analysis, and commentary. Third-party images or content are provided under fair use guidelines for media.) (See Related Reports, further below. Text/image boxes often are hot-linked to other reports that can be access by clicking on them.)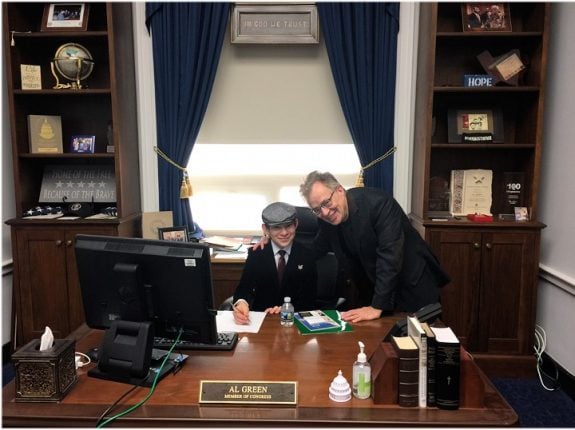 By L.A. "Tony" Kovach - for MHProNews.com.
Tony earned a journalism scholarship and earned numerous awards in history and in manufactured housing.
For example, he earned the prestigious Lottinville Award in history from the University of Oklahoma, where he studied history and business management. He's a managing member and co-founder of LifeStyle Factory Homes, LLC, the parent company to MHProNews, and MHLivingNews.com.
This article reflects the LLC's and/or the writer's position, and may or may not reflect the views of sponsors or supporters.
Connect on LinkedIn: http://www.linkedin.com/in/latonykovach
Related References:
The text/image boxes below are linked to other reports, which can be accessed by clicking on them.
Pondering 'The Only Place Success Comes Before Work is in the Dictionary' – Vince Lombardi – How it Applies in All Professions, Including Manufactured Housing – Life Hacks Analysis
"Federated States Newsletter" Uncovers Manufactured Housing Institute Behavior and Lack of Effectiveness at Their Own Claimed Advocacy – MHI's Own Words, 3rd Party Facts, Plus Expert Commentary