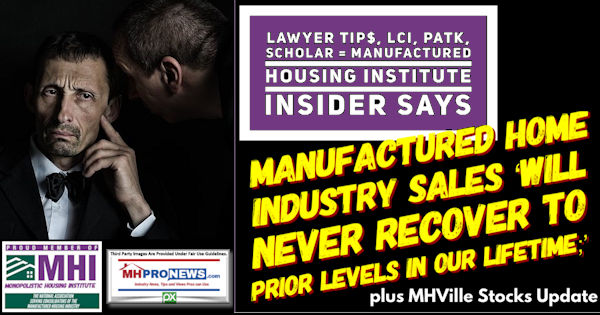 MHLivingNews has for years provided third-party generated reports documenting the manufactured housing industry's authentic potential. Manufactured home industry potential is in the tens of millions of total units, per research by Freddie Mac. Recall that a prior 21st century Manufactured Housing Institute (MHI) president, when prompted by MHProNews and in video recorded remarks, publicly said the industry could achieve 500,000 total shipments annually. Some would say 500K new HUD Code manufactured homes annually is a low estimate. That said, there are those who take the opposite view. Some insiders think that manufactured housing may never recover from its current 'stuck in low gear' on sales and production status quo.
A longtime Manufactured Housing Institute (MHI) linked attorney reacted to the report and analysis linked here with the headline comment. For those who missed it, the jumping off point was: "Longtime MH Retail Sales Manager Asks Manufactured Home Leaders – Why are Manufactured Housing Production Levels Today About Half of 1980s When Interest Rates Hit 20.5% APR on ARM Loans?" That MHI connected attorney explained his take on why manufactured housing was underperforming: "Very simple answer. Faulty lending [on chattel loans caused the industry's plunge]. This event changed the industry forever and is unlikely to change back as long as [potential new] lenders remember." MHProNews responded to that party by pointing to the facts and evidence provided in the "Pimple" report. The attorney replied saying: "in your lifetime nothing will change in HUD deliveries." With years of relationships among MHI insider sources, he added "Remember," said the lawyer, I "told you so."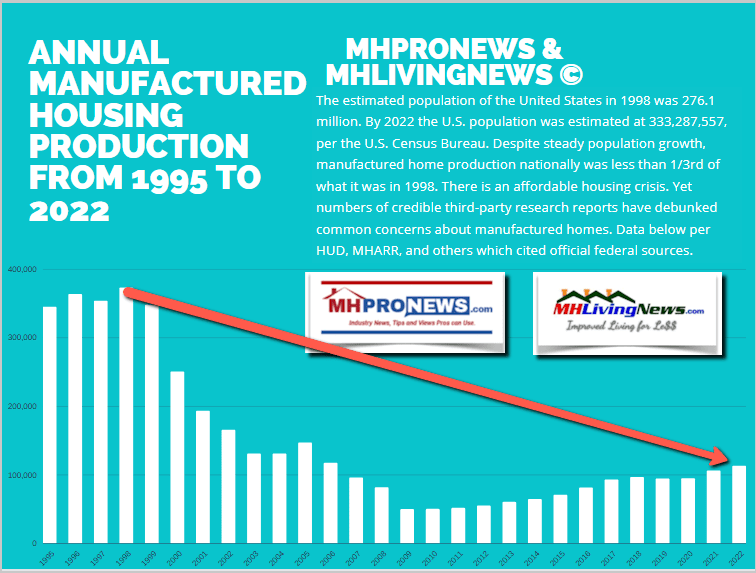 Part I: Manufactured Home Industry Insider and Scholarly Insights
Be that legal professional correct or incorrect, the statements above are troubling but may prove to be significant. But a few relevant segues can help paint a broader picture that sheds light on this MHI connected 'insider' attorney's remarks.
Recall that a high-ranking official with an MHI-member producer of HUD Code manufactured homes said the industry was facing a downturn within a year if pending issues weren't properly addressed. About a year after MHProNews published those remarks, manufactured housing's most recent downturn began. Restated, that pro's prognosis proved to be correct.
Then remember that a MHARR official said that the manufactured home industry's sales and production could plunge if MHI fails in their 'efforts' on the DOE energy issue. About 6 months later, the downturn began.
MHProNews reported MHI's claim last summer of momentum. MHProNews observed that the last time the industry's largest national trade group made the 'momentum' claim, a downturn followed. Some may have scoffed at the time, but just a few months later, the latest downturn began.
MHI Claims 'Momentum' in D.C. – HousingWire, MHInsider Showcase Manufactured Housing Institute CEO Lesli Gooch Op-Ed on DOE Energy Rule Sans Critique, Fact Check, Viewpoints; plus MHMarket Update
That downturn of the most proven affordable housing option in U.S. history is now in its fourth month, per official data.
HUD Code Manufactured Home Production Decline Worsens in January 2023 per MHARR – Cavco Wm 'Bill' Boor Remark on Manufactured Housing Comes Into Sharper Focus; Sunday MHVille Headlines Recap
MHLivingNews and MHProNews pointed out a few days ago that law professor and zoning expert Daniel R. Mandelker's remarks: "A support organization is needed that can provide litigation and legislative support to help manufactured housing advocates with zoning reform." Mandelker's working paper on "Getting Zoning for Manufactured Housing Right" named a corporate official at Clayton Homes in Mandelker's acknowledgements.  Clayton, a major backer of MHI, is apparently in the unusual spot of not pointing out to Mandelker that his point could be construed as an (unintended) slam of MHI's lack of success in the zoning barriers issue (see Part II).
Now, this week, that MHI connected legal source is completely confident in the prediction: "in your lifetime nothing will change in HUD [Code manufactured home] deliveries."
It is a concern that ought to be taken seriously.
MHProNews replied to that MHI connected attorney that: 'You maybe correct. But that begs the question, why? Are we to believe that Warren Buffett can't dramatically move the needle upward in manufactured home sales and production, if that was his and his compatriots' goal? Is it really just bad lending from 20+ years ago?'
There has been no reply to that follow up inquiry. Once upon a time (1994 and before), Lippert (LCI) was a manufactured housing supplier. In 1994, they began to pick up interests in the recreational vehicle industry. Today, on the LCI "about us" page, here is how Lippert describes itself: "Lippert™ is a leading, global manufacturer and supplier of highly engineered products and customized solutions, dedicated to shaping, growing and bettering the RV, marine, automotive, commercial vehicle and building products industries." Manufactured housing is no longer specifically mentioned.  The screen capture below from the LCI investor presentation underscores that outline.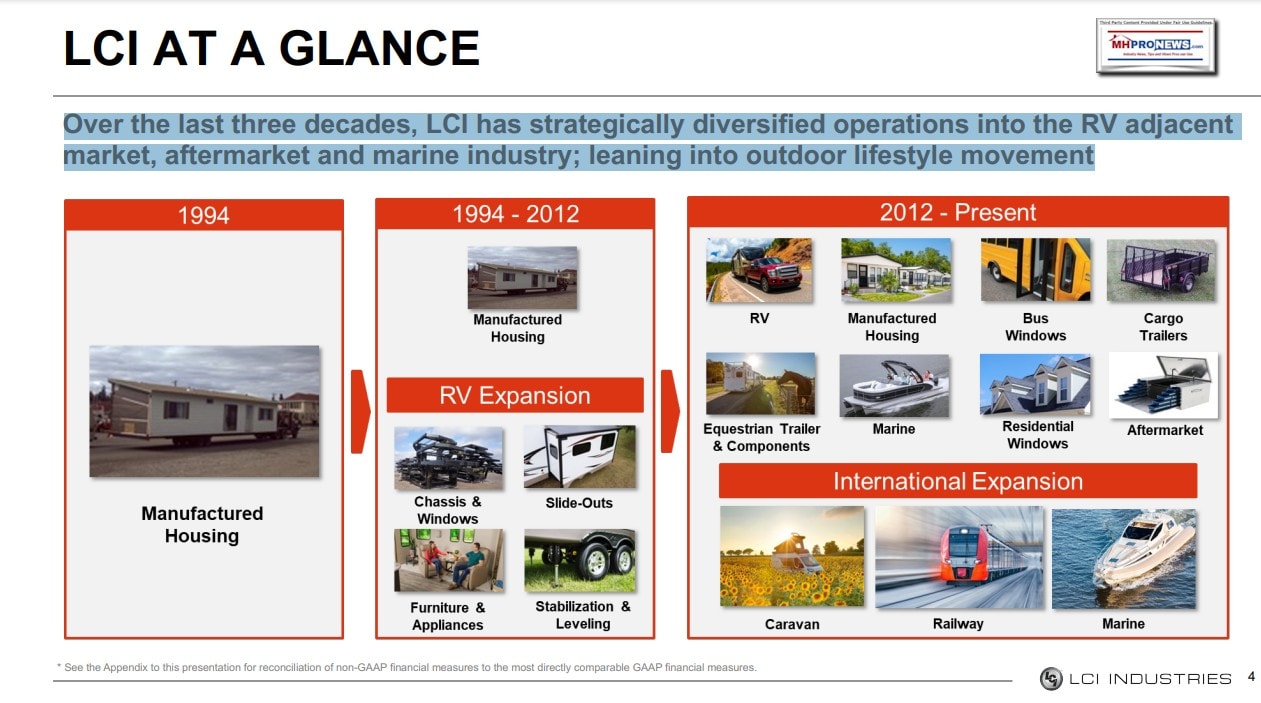 It isn't just LCI/Lippert that must rely more on RVs than on manufactured homes. Supplier Patrick (PATK) reports their roots in Elkhart Indiana date back to 1959, is also far more RV focused than their providing products for the manufactured housing industry. Patrick says 53 percent of their business in FY 2022 was RVs vs. only 15 percent of net sales in that same year coming from manufactured housing. Note: even marine business, which like RVs is routinely luxury and recreational in nature, outperforms MH for Patrick 21 percent vs. 15 percent in FY 2022. While some manufactured home sales are for 2nd homes, the vast majority are for primary residences.  Put differently, when other indicators are examined to help measure the true state of the manufactured housing industry, the picture that emerges is that the 20th century was far kinder to manufactured housing than has been the 21st century.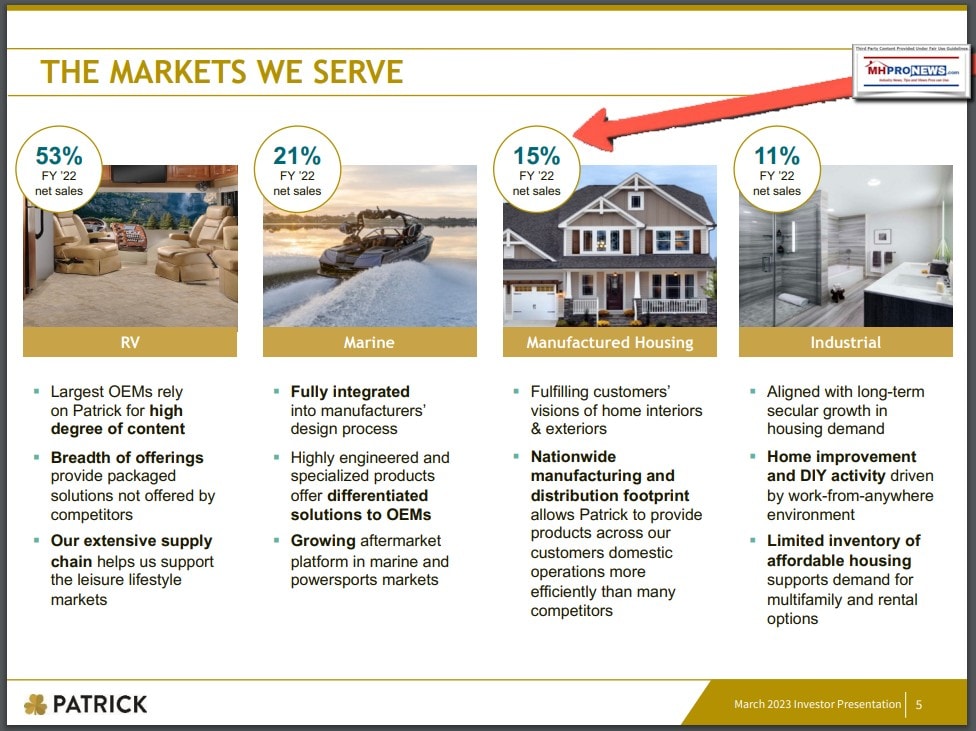 Recall that the RV business in 1998, the same year that manufactured housing hit its last peak, trailed manufactured home (MH) production by a ratio of 3 MH to 2 RVs. By 2021, the ratio was nearly 6 RVs to 1 MH. Yet MH is a permanent affordable housing option. RVs, while certainly used by some as 'housing,' is marketed as getaway (recreational) housing.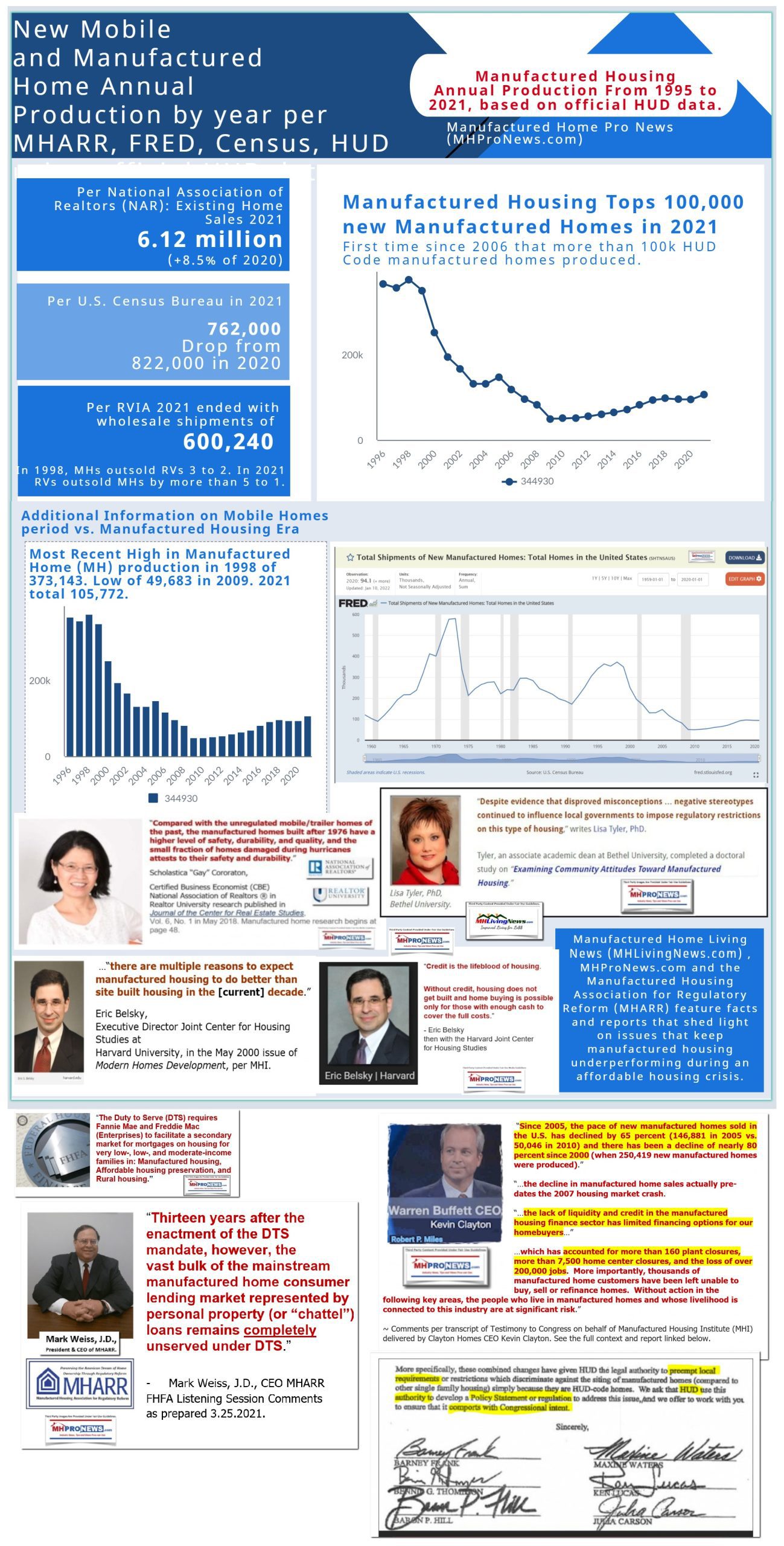 With those points in mind, let's pivot back to that attorney with ties to several MHI member brands, including, but not limited to, Warren Buffett led Berkshire Hathaway (BRK) owned companies.
Part II: Additional Information with More MHProNews Analysis and Commentary
In order to fix what has gone wrong in manufactured housing, one should first have clarity about what the history and potential for manufactured homes could be.  When those factors are considered, manufactured housing could be several times its current size.  The latter fact – that the industry could be multiple times larger, ought to be motivation for those who have for whatever reasons allowed the industry to be limited from within.  If someone agrees that manufactured housing is stuck in a rut, the solution begins by understanding the rut, its causes and consequences.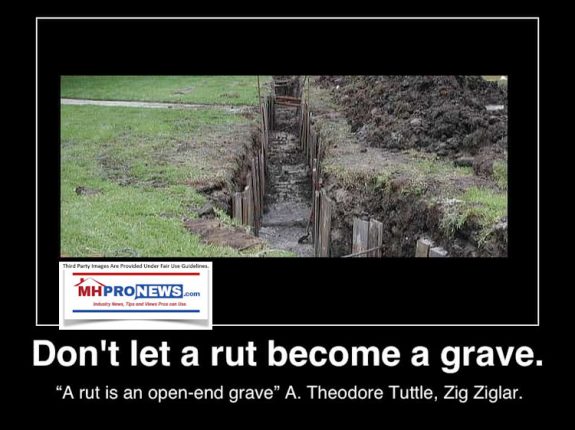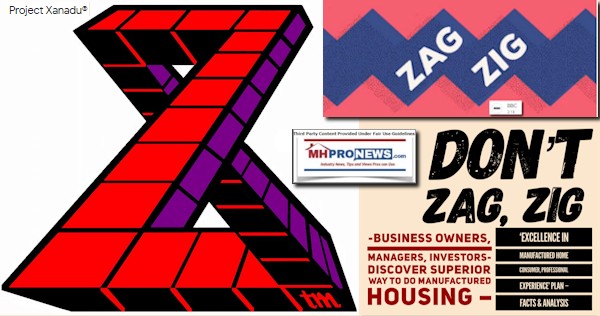 In a sense there is no surprise that back-and-forth messages with that MHI-insider source resulted in ready responses, up until this MHProNews inquiry:
'You maybe correct. But that begs the question, why? Are we to believe that Warren Buffett can't dramatically move the needle upward in manufactured home sales and production, if that was his and his compatriots' goal? Is it really just bad lending from 20+ years ago?'
With the above in mind, recall that another party, as was mentioned by MHProNews, recently offered to 'introduce' our concerns to a prominent U.S. senator. It is a kind gesture. There are reasons to consider that offer. Because if even one U.S. senator seriously became what Lesli Gooch occasionally, if errantly, calls 'a champion' for the manufactured home industry, perhaps others would pay more attention to what has gone wrong in MHVille. But that offer of enlisting a senator also begs questions. Phrased somewhat differently, but the following inquiries were put to the party making that offer.
Doesn't Warren Buffett, or other leaders at Berkshire Hathaway, have the ability to call numerous U.S. Senators and Congressmen in both major parties?
Doesn't Warren Buffett, or other leaders at Berkshire Hathaway, have the ability to pick up the phone and call the White House? Can't they get 'enhanced preemption,' the DOE energy rule, or the Duty to Serve (DTS) manufactured housing properly addressed in short order, if that was their desire and goal?
As with that MHI connected attorney, there has been no specific reply to those questions immediately above. But other communications occurred instead. Meaning, the questions and their ramifications  can be uncomfortable.  That MHI connected attorney could step up to the plate and do or say more. That source could step up and reveal more. But that party declines doing so. The same may be true with that other source that has offered the senator's ear. Time will tell.  But either way, the questions are revealing as to the true state of the manufactured housing industry.
True State of the Manufactured Housing Industry in March 2023 Based on Facts, Not Clever Agenda-Driven 'Fiction$' – plus Sunday Weekly MHVille Headlines Recap
Questions that are carefully and earnestly considered can be revealing, even if they go unanswered. The point of those questions ought to be clear.
Anyone who grasps how much money influences politics and regulations should quickly recognize the next points.
1) Buffett and Berkshire Hathaway (BRK) wield major influence in Washington and in mainstream media. Berkshire used to own dozens of newspapers, and reportedly 'holds the paper' on those publications.  Meaning, if Buffett wanted to, he could rapidly focus mainstream media attention on manufactured housing, if that was what he wanted to do.
2) Bill Gates, a close Buffett ally with a sizable stake in Berkshire stock. Gates also has 'access' in D.C. and beyond. Gates has brands which includes their own mainstream media interests.
3) Larry Fink at BlackRock is another high-profile corporate leader that happen to be part of our daily tracked stocks because of their ties to manufactured housing.
Jeannette Cooperman, on 9.15.2021 had an article published entitled "How a Company Called BlackRock Shapes Your News, Your Life, Our Future." In it Cooperman wrote the following.

Who controls the corporations who control our news? A helpful index was just compiled—not by mainstream media, but by Harvard researchers exploring media's future. Skimming the list, I see two names again and again: BlackRock Fund Advisors and Vanguard Group. …
Together, BlackRock and Vanguard own:
Eighteen percent of Fox.
Sixteen percent of CBS, and therefore also of Sixty Minutes.
Thirteen percent of Comcast, which owns NBC, MSNBC, CNBC, and the Sky media group.
Twelve percent of CNN.
Twelve percent of Disney, which owns ABC and FiveThirtyEight.
Between ten and fourteen percent of Gannett, which owns more than 250 Gannett daily newspapers plus USA Today.
Ten percent of the Sinclair local television news, which controls seventy-two percent of U.S. households' local TV.
A large unspecified chunk of Graham Media Group, which owns Slateand Foreign Policy.
Maybe media is a better investment than I thought…"
What Cooperman and other researchers have exposed is this. Corporate giants like Buffett/Berkshire, Gates/Microsoft and other financial/philanthro-capitalist interests, and BlackRock have massive sums of money to invest. Through ads and through direct media interests at their disposal, they and others often wield tremendous influence over the media that we consume.  What ails manufactured housing is not just capital access, zoning, or the looming DOE energy rule.
Manufactured Housing Institute Accused of Trying to Mislead Industry Members on DOE Energy Rule, Dueling MHI and Manufactured Housing Association for Regulatory Reform Remarks; plus MHVille Stocks Update
What limits manufactured housing is also the fact that titans of American capitalism apparently find the status quo in our industry preferrable. It is almost beyond reasonable doubt, because the money and influence they wield is tremendous.
Keep in mind that the Biden-Harris 2020 campaign website made it clear. They acknowledged that access in Washington, D.C. is a form of capital.  With an army of lobbyists, with trillions of dollars in capital to invest, the behemoths named above (and others) are obviously able to move the needle in manufactured housing if that was their desire. 
Meaning, be his prediction correct or not, that insider attorney with ties to MHI has a valid point. So long as the 'powers that be' in manufactured housing apparently want the status quo, it is likely to continue.
That said, then consider the flip side of that notion.
Will issues that limit manufactured housing improve? Only if pressure is brought on the people and organizations behind the status quo. 
The battle between a growing number of states and BlackRock, for instance, is just beginning to take shape.
Riley Moore-Blackrock & Woke Capitalism 'Economic Extortion' 'Could Destroy U.S. Free Market Capitalism' May 'Violate Fiduciary Duty to Shareholders, Antitrust Laws;' Plus MHVille Stocks Update
'Blackrock Weaponizing ESG'– State AGs Probe MHCommunities Owner, Private Equity Giant Blackrock on Possible Antitrust, Securities, Fiduciary Violations, See AGs' Document; plus MHStocks Update
The reasons to lay out this evidence pattern and the notions of 'insiders' with 'connections' are many. When someone considers this array of raw information, capital, political and other power, it may seem daunting. In a sense, that insider's bet is the safer bet.  After all, MHI at this moment is now essentially openly flaunting once more the point that they want to make a deal with DOE on the energy rule.  Parallels could be drawn from MHI and other key issues that limit the industry, such as zoning. MHI has been jawboning the industry for approaching 2 decades on this issue. Does anyone seriously think that MHI is going to change course now? Isn't something similar on DTS also apparent?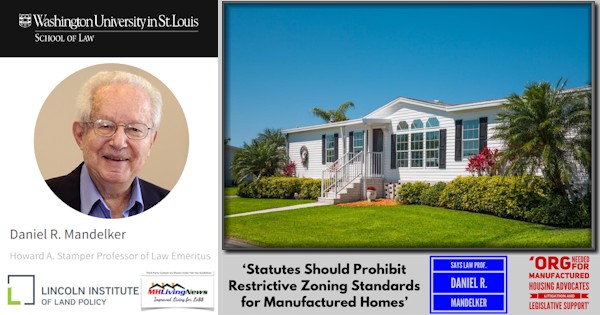 MHARR for years has the made the detailed case that a new post-production trade group is needed.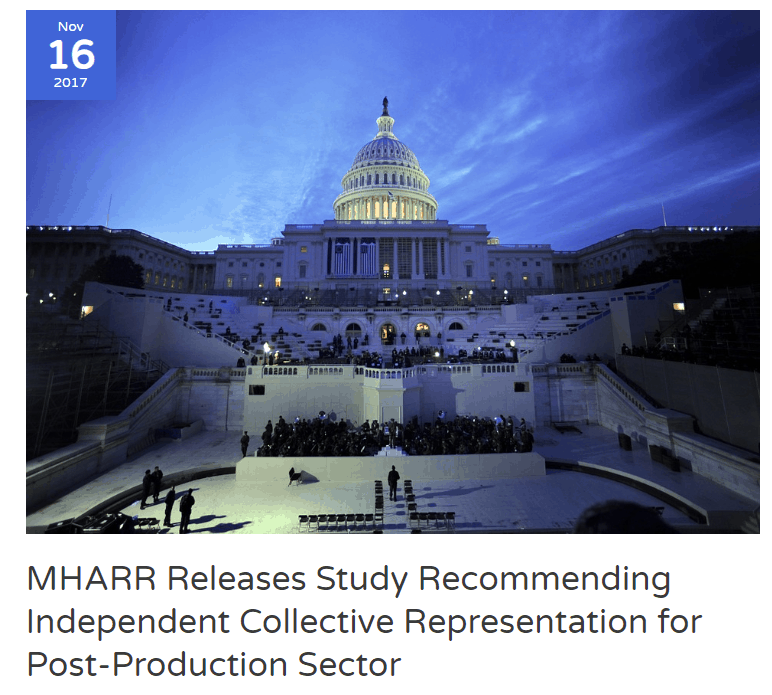 But not only has MHARR made that case, ironically, in an oblique fashion, as was noted above, so too has law professor Daniel R. Mandelker. See the reports linked below, but a key line: "A support organization is needed that can provide litigation and legislative support to help manufactured housing advocates with zoning reform." This from an attorney that has studied the issues related to zoning barriers.
Pro-Manufactured Home Law Prof. Daniel R. Mandelker Says 'Organization Needed for Manufactured Housing Advocates Litigation and Legislative Support' – plus MHVille's Sunday Weekly Headlines Recap
MHProNews alone broke the story that MHI arguably did not properly disclose to their 'general' members/readers what Secretary Fudge said in a congressional hearing. See, hear, or read – or all three, if you so prefer – what HUD Secretary Marcia Fudge said. Ask yourself, why didn't MHI report the troubling part of that exchange?
HUD Sec Marcia Fudge – Zoning, Manufactured Homes – "Until We Start to Address This We Are Going to Continue to be Perpetually in This Kind of Situation." – News-Analysis, plus Manufactured Housing Stock Updates
Manufactured Housing Institute Claims 'Effective Branding' for 'Manufactured Housing'-Seriously? Target Rich Satirical Saturday Examines MHI Claims, Messaging, RESULT$; plus MHVille Stocks Update
MHARR's president and CEO, Mark Weiss, has said that a 'shell game' has been played against manufactured housing. Danny Ghorbani has ripped the MHI song and dance too. Good laws exist that are not being properly enforced. Yet, the power of these titanic hands are operating in plain sight.  It isn't as if it is only manufactured housing that is being toyed with. Clearly, their are giants involved in keeping the southern border (as but one example) de facto open, though there are federal laws already in place that dictate otherwise.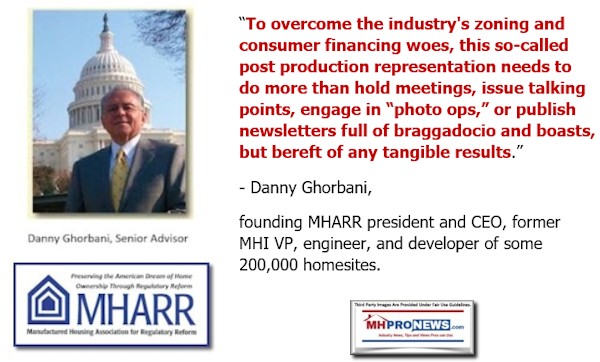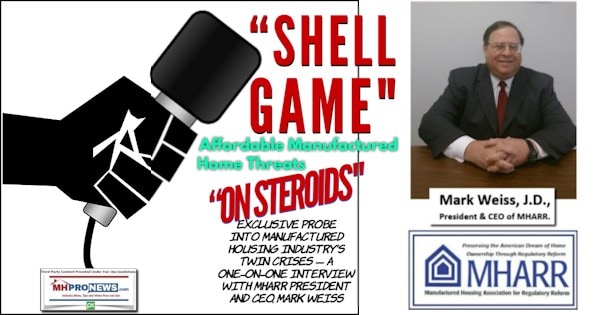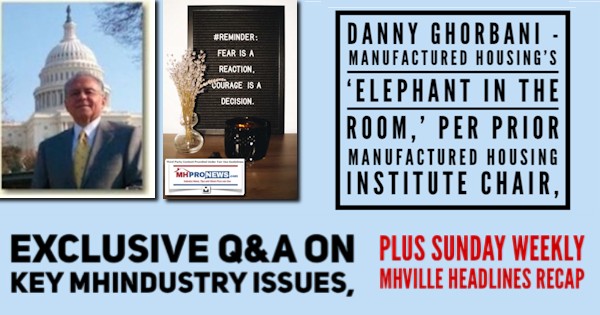 It is easy to say that The Rutherford Institute's (TRI) John and Nisha Whitehead are exaggerating. If so, nevertheless their hyperbole is making a keen point.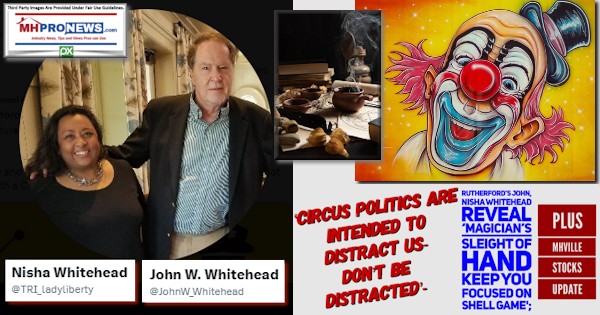 MHProNews began laying the foundation for the sobering reality of our nation, and by extension, manufactured housing, when we began to point to the wheat among the chaff in the statements from billionaire Nick Hanauer. It isn't that each and every point that Hanauer has made is spot on, they are not. But the notion that the an uprising would occur, or a police state would take shape, in order to keep America's wealthiest and most powerful safe from 'the rabble' of "we the people" is hard to ignore.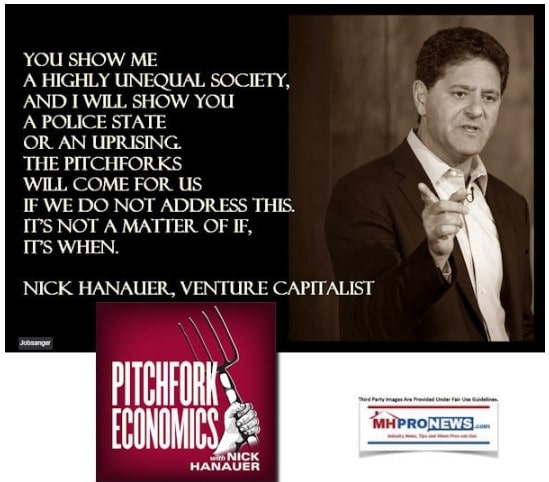 Whitehead and Hauner represent views that are metaphorically akin to the surfaces on the same uncut gem. One can embrace the wheat from each and become wiser in the process.
All that said, the 'rulers' of manufactured housing are relatively few in number.  There are more employees in their various firms by far than there are rulers.  Once those employees realize that they are being improperly led, to their own detriment, that could lead to organizing and positive change. The many can beat the money.  It has occurred before in U.S. history. It can happen now.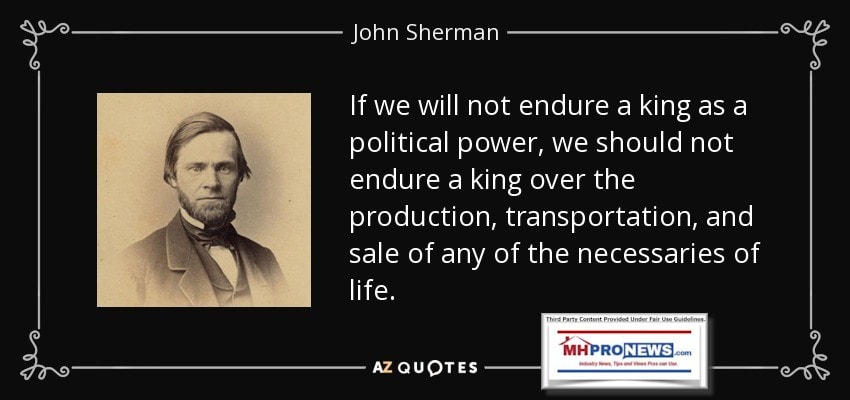 As a political independent who can point to the reasons someone should not trust either major party, there are reasons for hope too.  Robert F. Kennedy Jr. appears to be warming up in the bullpen for a possible run for the Democratic nomination for president. Kennedy, a lifelong Democrat, would be about as loathed among his party's donor class as Buffett-Gates-Fink et al loathe Donald Trump being the nominee for the Republicans. Populists may be rising again in both major parties.
Last but not least, no one should discount the possibilities that some wonderous and as yet unforeseen event could occur. Beyond the miracle of existence, the same God that gave us Creation, the same God that laughed at the tower of Babel being built, is the same Creator God that exists today. God can inspire and raise up new or known leaders. America is in some ways a miracle. It is a messy miracle, to be sure, but it is a miracle all the same. The history of the world has long been that of rulers and their relatively few allies RULING the masses of the people. Prayer, informed prudent action, and courage are needed to face the challenges of our day. The rewards for doing so are many. The risks for not doing so are to allow our freedoms and opportunities to be dictated by others. The many can beat the money. It has been done before in American history. That alone means it can occur again. But 'we the people" must understand what it is that is keeping us down. Then we must grasp that when financial and influence giants were tumbled before, that too can occur again. Bernie Madoff to Sam Bankman Fried, are just some of the examples of how the once mighty have fallen. With enough people of good will acting, each doing their minor part, it can happen again for manufactured housing and for America. That's what keeps us going. We are in it to win it. ##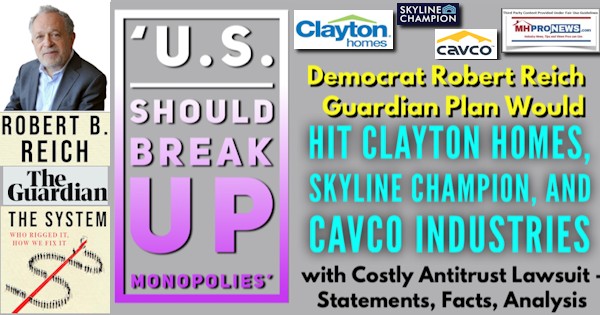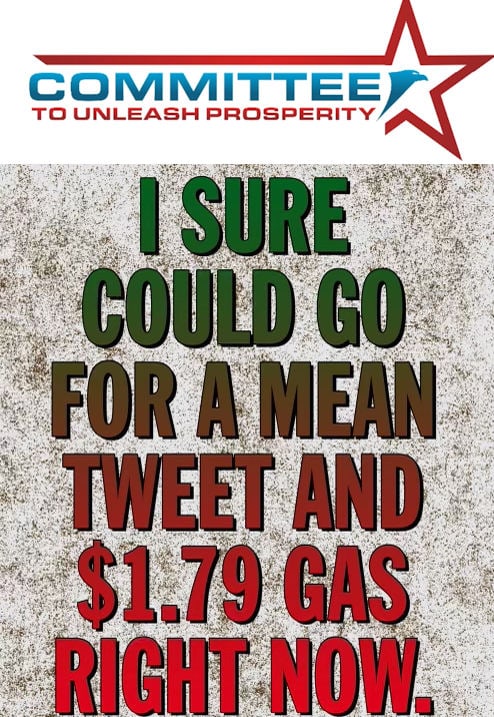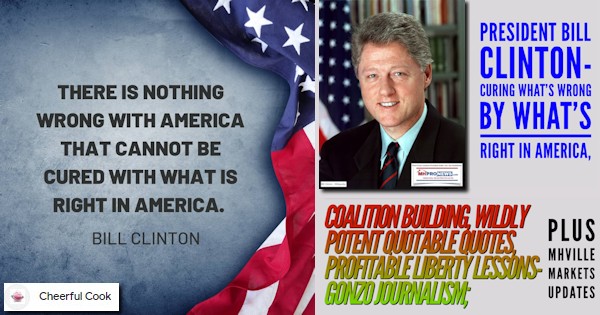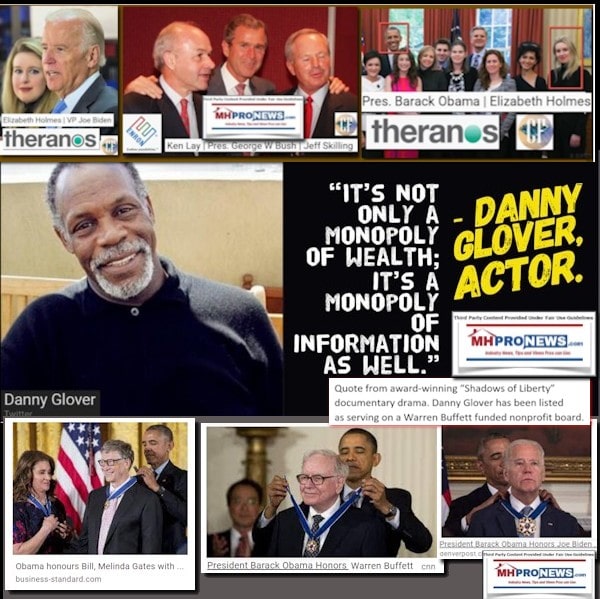 Part III. Daily Business News on MHProNews Markets Segment
The modifications of our prior Daily Business News on MHProNews format of the recap of yesterday evening's market report are provided below. It still includes our signature left (CNN Business) and right (Newsmax) 'market moving' headlines. The macro market moves graphics will provide context and comparisons for those invested in or tracking manufactured housing connected equities.
In minutes a day readers can get a good sense of significant or major events while keeping up with the trends that are impacting manufactured housing connected investing.
Reminder: several of the graphics on MHProNews can be opened into a larger size. For instance: click the image and follow the prompts in your browser or device to OPEN In a New Window. Then, in several browsers/devices you can click the image and increase the size. Use the 'x out' (close window) escape or back key to return.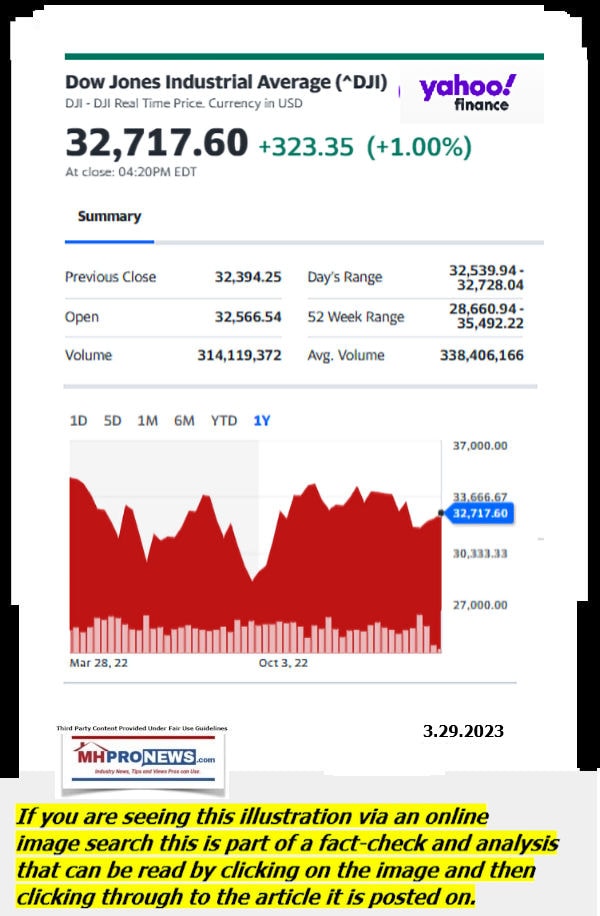 Headlines from left-of-center CNN Business – from the evening of 3.29.2023 
·         Lyft missed its moment
·         Passengers connect with drivers at the Rideshare Lot at LAX Airport in Los Angeles, CA, on August 20, 2020.
·         The ride-hailing service had a chance to catch up with Uber. Instead it got left behind
·         Fox News CEO said correspondent's fact-check of Trump's election lies was 'bad for business,' new emails show
·         End of an era: Lamborghini goes hybrid…and very fast
·         FDA requires medical devices be secured against cyberattacks
·         Elon Musk and other tech leaders call for pause in 'out of control' AI race
·         Cup Noodles' new ramen flavor puts your breakfast cravings into a cup
·         Macy's will have a new CEO. He's from Bloomingdale's
·         Bernie Sanders confronts former Starbucks CEO Howard Schultz on company's labor practices
·         Federal judge rules Google tried to 'hide the ball' by deleting chat logs in a big antitrust case
·         Traders work on the floor of the New York Stock Exchange (NYSE) in New York City, U.S., March 28, 2023.
·         LIVE UPDATES
·         Stocks climb as investor concerns about turmoil in the banking sector ease
·         UBS brings back Sergio Ermotti as CEO to oversee Credit Suisse rescue
·         Arkansas sues TikTok, ByteDance and Meta over mental health claims
·         Adidas does rapid U-turn in Black Lives Matter logo dispute
·         Bank of England calls for urgent action on funds that nearly toppled UK financial system
·         High egg prices send profits at largest US producer soaring more than 700%
·         Credit Suisse is still helping ultra-wealthy Americans evade taxes, Senate panel says
·         Foot Locker is closing 400 stores. They may become an eyesore
·         Corporate greed is jacking prices higher. It could push customers over the edge
·         Alibaba's restructuring and Jack Ma's homecoming are all part of China's plan
·         300 million jobs could be affected by latest wave of AI, says Goldman Sachs
·         China gave huge loans to some countries. Now it's spending billions to bail them out
·         The US case against Binance calls out one of the worst-kept secrets in crypto
·         California governor signs bill giving energy commission oversight power on oil companies
·         EV startup Lucid to cut about 18% of its workforce
Notice: the graphic below can be expanded to a larger size.
See the instructions below the graphic below or click the image and follow the prompts.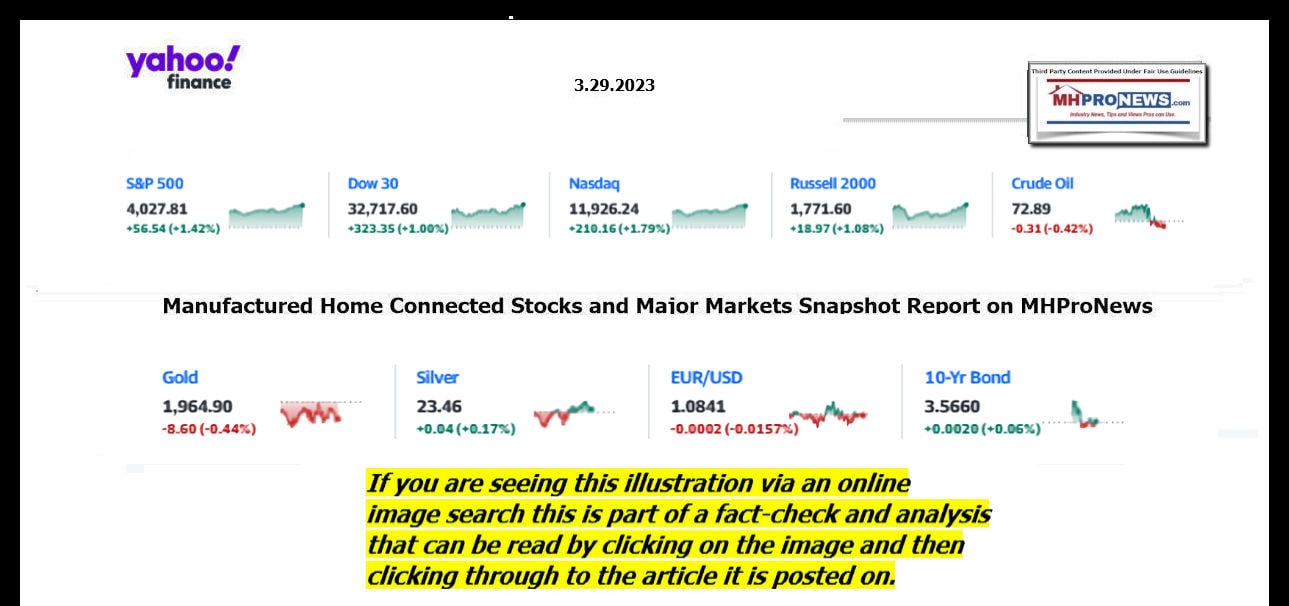 Headlines from right-of-center Newsmax 3.29.2023
·         Cruz: Biden 'Utterly Disgraceful' for Declining to Host Key Ally Netanyahu
·         "Biden gleefully hosts anti-American radicals like [Brazilian President Luiz Inácio Lula da Silva] Lula, while shunning close American allies like Netanyahu. It's clear that Biden and his officials are high from funding what they believe to be successful anti-government protests in Israel," the Texas senator tweeted Wednesday. [Full Story]
·         Trump's Legal Issues
·         Grand Jury Off for Weeks; Break Said to Be Planned
·         Trump Lauds Grand Jury as It Takes Extended Break
·         Trump Grand Jury Off for Month Due to Planned Break
·         Rep. Steil: House Deserves Answers From DA
·         Trump Lawyer to Newsmax: DA Bragg's Case 'Dead'
·         Robert Costello: Bragg 'Gerrymandering' to Make Case | video
·         Dershowitz: Bragg 'Bringing Shame' to DA's Office | video
·         Lara Trump: Cuomo Unlikely Trump Ally | video
·         Dershowitz: Grand Jury Could Save Trump From Indictment | video
·         Rep. Armstrong: Bragg Oversight Within Congress' Authority | video
·         Rep. Cline: Biden 'Gaslighting' on Border Budget Claims
·         Rep. Steil: Tap Brakes on New Banking Rules | video
·         Rep. Tim Walberg: Protect College Religious Groups | video
·         Rep. Ben Cline: Biden 'Gaslighting' on Border Budget | video
·         Sen. Ron Johnson: Liberalism Embedded Everywhere | video
·         Rep. Ronny Jackson: Border National Security Threat | video
·         Dershowitz: Pence Under No Obligation to Testify | video
·         Scott Perry: 'Meticulous' Bank Records on Biden Tangle | video
·         Newsfront
·         China Vows to 'Fight Back' If Taiwan Leader Meets McCarthy
·         China vowed on Wednesday to "fight back" should Taiwan President Tsai Ing-wen meet the U.S. House speaker during a trip to the United States.Tsai left on Wednesday for the United States, from where she will head to Guatemala and Belize to shore up ties with diplomatic…… [Full Story]
·         Wall St Gains With Aid From Micron Rosy Outlook
·         U.S. stocks ended sharply higher Wednesday, with the Nasdaq and S&P [Full Story]
·         Pope Francis Hospitalized for 'Pulmonary Infection'
·         Pope Francis has gone to Rome's Gemelli hospital for a previously [Full Story]
·         Quinnipiac: Trump Still Tops DeSantis in '24 Matchup
·         Former President Donald Trump remains just ahead of Florida Gov. Ron [Full Story]
·         Nashville Cops Response to School Shooter 'Textbook'
·         The actions of the two Metro Nashville Police Department officers who [Full Story] | Platinum Article
·         Related
·         Tenn. Gov. Lee: Shooter Killed 2 of My Family Friends |video
·         Dr. John Lott to Newsmax: Gun-Free Zones 'Magnets' for Attacks |video
·         Nashville Police Chief: Shooter Bought 7 Guns Legally
·         Video Shows Nashville School Shooter During Rampage
·         Father Speaks to Reporters on Daughter's Shooting Death
·         Arizona Gov. Aide Resigns Over Tweet After Shooting
·         Sen. Rounds: Gun Control Has Gone as Far as We Can Go
·         Fmr Spies: Hunter Biden China Case Is Tip of the Iceberg
·         The probe into China's relationship with President Joe Biden's son, [Full Story] | Platinum Article
·         Musk Urges Pause on AI, Citing 'Risks to Society'
·         Elon Musk and a group of artificial intelligence experts and industry [Full Story]
·         Zelenskyy Warns Any Russian Victory Could Be Perilous
·         Ukrainian President Volodymyr Zelenskyy warned Tuesday that unless [Full Story]
·         Related
·         Zelenskyy Invites Xi to Visit Ukraine; Kremlin: We Have No Say
·         Ukraine Says No Eviction 'by Force' of Kyiv Monks
·         Germany to Send Additional 12 Billion Euros to Ukraine
·         Germany Buying Howitzers to Replace Some Sent to Ukraine
·         Spain to Send 6 Leopard Tanks to Ukraine After Easter
·         Ukraine Condemns IOC on Russian, Belarusian Athletes
·         UN Atomic Watchdog Chief Returns to Ukraine Nuclear Plant
·         Russia: All Nuke Data Exchanges With US Have Ended
·         Senate Passes Repeal of Iraq War Authorizations
·         Senators advanced cross-party legislation on Wednesday to repeal [Full Story]
·         Trump Applauds Grand Jury While It Takes Break
·         Former President Donald Trump took to Truth Social on Wednesday to [Full Story]
·         Related
·         Trump Grand Jury Off Past Easter Due to Planned Break
·         Mark Hamill Lends Voice to Ukrainian Air Raid Alert
·         "Attention. Air raid alert," the voice says with a Jedi knight's [Full Story]
·         Report: Russian Spy Posed as Student in D.C.
·         The Justice Department recently filed a federal indictment against a [Full Story]
·         U.S. Senators blasted ex-Starbucks Chief Executive Howard Schultz [Full Story]
·         Video Report: Hostiles Plan 'Trans Day of Vengeance'
·         Liberal activist groups that were behind violent race and [Full Story] | video
·         US Officials Seek to Boost Offshore Wind Energy
·         The U.S. Energy Department said Wednesday it has a new strategy to [Full Story]
·         Judge Upholds Boy Scouts' $2.46 Billion Sex Settlement
·         A U.S. judge Tuesday affirmed the Boy Scouts of America's $2.46 [Full Story]
·         Mexico: Punish Culprits for 38 Migrant Center Deaths
·         Mexican President Andres Manuel Lopez Obrador on Wednesday vowed to [Full Story]
·         Rare $35M Pink Diamond Set for Auction in N.Y.
·         A rare, vividly rosy-purple diamond, called the Eternal Pink and [Full Story]
·         Hunter's Art Dealer Doesn't Give Committee Info
·         Georges Bergs, the art dealer who sold Hunter Biden's paintings to [Full Story]
·         Air Force Sec: China's Expansion of Nuclear Forces 'Disturbing' Development
·         Air Force Secretary Frank Kendall says China's expansion of its [Full Story]
·         Sen. Cruz: Biden 'Utterly Disgraceful' Shunning Netanyahu
·         President Joe Biden says he won't be inviting Israeli Prime Minister [Full Story]
·         JPMorgan's Jamie Dimon to Be Deposed on Epstein
·         JPMorgan's Jamie Dimon to Be Deposed on Epstein
·         Jamie Dimon, the chief executive of JPMorgan Chase & Co., will be [Full Story]
·         Arizona Gov. Aide Resigns Over Tweet After Shooting
·         After many GOP lawmakers called for Arizona Democrat Gov. Katie [Full Story]
·         Rep. Gallagher: China Sees AI as Surveillance Weapon
·         Rep. Mike Gallagher, R-Wis.,chair of the House China Select [Full Story]
·         Melissa Joan Hart Helped Kids Flee School Shooting
·         Actress Melissa Joan Hart helped children flee Nashville's Covenant [Full Story]
·         Pending Home Sales Post 3rd Straight Monthly Gain
·         Contracts to buy U.S. previously owned homes increased for a third [Full Story]
·         US to Auction Gulf of Mexico Oil Under Climate Bill
·         The Biden administration will auction oil and gas leases across more [Full Story]
·         Scientists Irked as T-Rex Skeleton Auctioned
·         Some scientists are not pleased that a 67-million-year-old [Full Story]
·         Newsmax, DIRECTV Finalize Renewal
·         DIRECTV and Newsmax Media, Inc. announced today that they reached a [Full Story]
·         Tenn. Gov. Lee: Shooter Killed 2 of My Family Friends
·         Two women who lost their lives in Monday's school shooting at The [Full Story] | video
·         Ark. Bathroom Bill Criticized by Some as Too Extreme Is Revamped
·         An Arkansas bathroom bill that went further than a 2016 North [Full Story]
·         Finance
·         Official Blames Bank Execs, Fed for SVB Failure
·         Silicon Valley Bank executives, supervisors at the Federal Reserve, and the regulatory system all failed when considering the collapsed U.S. lender, the Fed's top bank oversight official told a congressional hearing on Wednesday… [Full Story]
·         UPDATE 2-Chevron, Exxon Are Big Buyers in US Gulf of Mexico Drilling Auction
·         Moody's: Banking Crisis Negligible on US Credit
·         Fed's Powell, House Republicans Discuss FDIC Limits
·         Maxime Rieman: 4 Ways Retirees Can Minimize the Cost of Travel
·         More Finance
·         Health
·         8,000 Steps Just Once a Week Cuts Mortality Risk
·         Walking 8,000 steps – about four miles (6.4 kilometers) – one or two days a week may significantly reduce the risk of an early death, according to a study released on Tuesday. While regular exercise is known to lower mortality risk, the study published in the journal JAMA…… [Full Story]
·         Pulsed Radiofrequency Therapy Relieves Sciatica
·         Heart Attack 6 Times More Likely in Week After Flu
·         FDA Approves First OTC Opioid Overdose Reversal Drug
·         Weight Loss Benefits Heart, Even If Some Regained
Notice: the graphic below can be expanded to a larger size.
See the instructions below the graphic below or click the image and follow the prompts.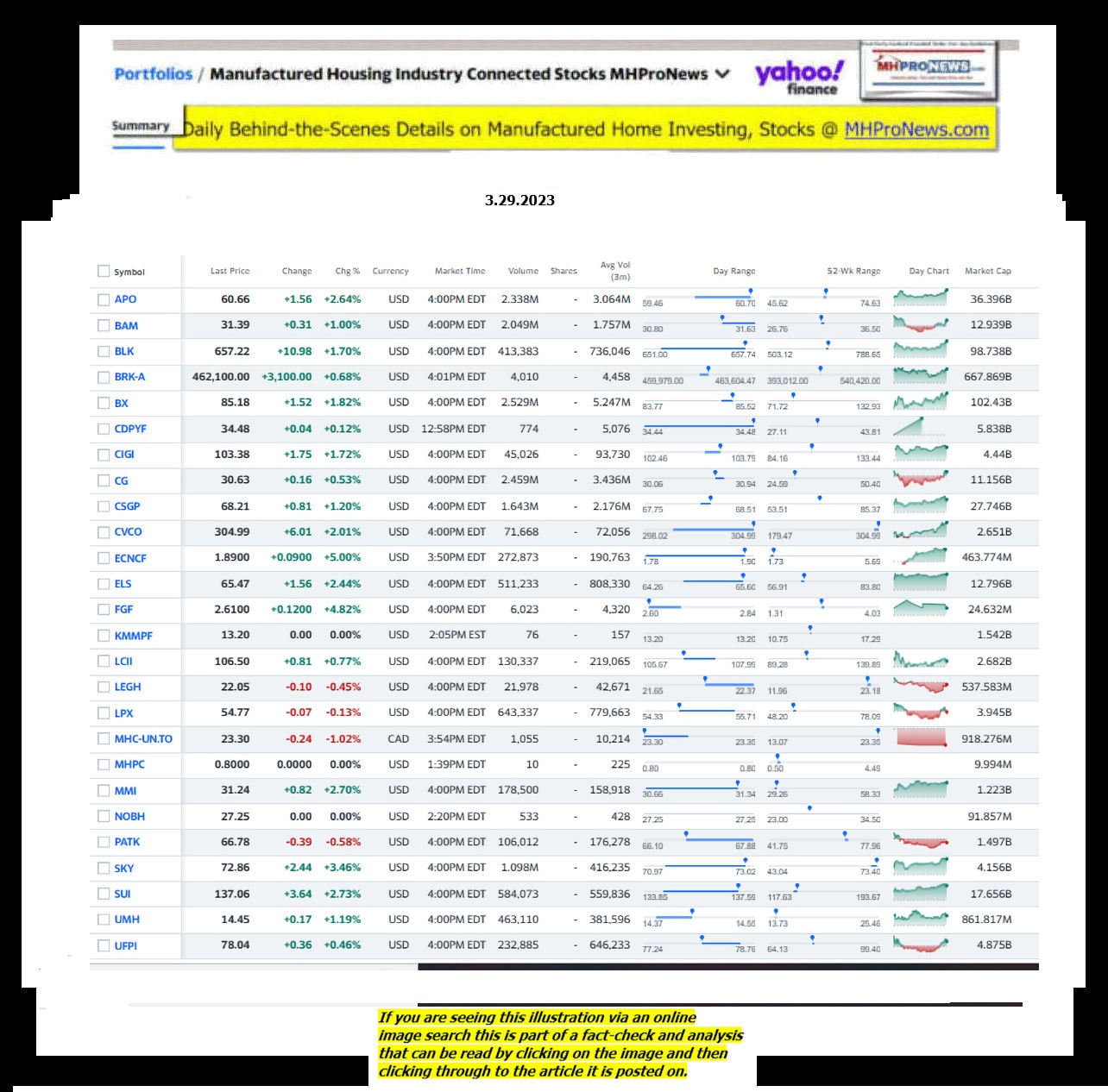 2022 was a tough year for many stocks. Unfortunately, that pattern held true for manufactured home industry (MHVille) connected stocks too.
See the facts, linked below.
'Stomach Churning Year' CNN-Wall Street 'Forget 2022' Down Year – Major Equities Data Compared to Manufactured Housing Stocks, Manufactured Home Community REITs, Performance for Year by Company
====================================
Updated
NOTE 1: The 3rd chart above of manufactured housing connected equities includes the Canadian stock, ECN, which purchased Triad Financial Services, a manufactured home industry finance lender.
NOTE 2: Drew changed its name and trading symbol at the end of 2016 to Lippert (LCII).
NOTE 3: Deer Valley was largely taken private, say company insiders in a message to MHProNews on 12.15.2020, but there are still some outstanding shares of the stock from the days when it was a publicly traded firm.  Thus, there is still periodic activity on DVLY.
Note 4: some recent or related reports to the REITs, stocks, and other equities named above follow in the reports linked below.
Sun Communities – 'Development in Our DNA,' ESG Stance, Q4 2022 Year End Results Earnings Call & PR – Facts, Insights Beyond PR and Official SUI Statements; plus MHVille REITs, Stocks Update
'Undervalued' Cavco Industries Touts Q Result$ 'Dire Need for Housing' 'January Traffic Up'- Rev Up 16%-Sales, Earnings, Mgmt Call Data–Analysis Beyond CVCO Statements; plus MHVille Stocks Update
'Killing's as Easy as Breathing' 'Bad Guys Know More Games' Warren Buffett Annual Berkshire Hathaway Letter, Clayton Homes, 21st, VMF-Manufactured Home Loans-Compelling MHVille Expert Views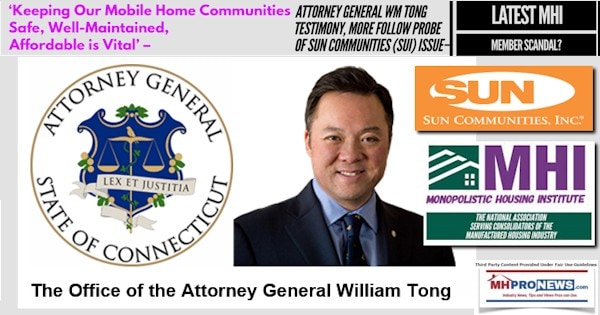 Nobility Homes, Inc. Sales and Earnings for its Fiscal Year 2022 Report, Result$ Best Inflation – Net After Taxes Up 34%, More Fact$; DeSantis ESG and NOBH; plus MHVille Stocks, Market Updates
'Manufactured Housing in the News,' Unpacking UMH CEO Sam Landy Op-Ed' It's Time for Bi-Partisanship on Affordable Manufactured Housing Homeownership' in HousingWire; plus MHMarkets Updates
Manufactured Housing Properties-Results for Three and Nine Months Ending September 30.2022–Exploring 'Mobile Home Park' Manufactured Home Community Investing; plus MHVille REITs, Stocks Update
'Changes Will Benefit Customers,' Boost Sales-Legacy Homes CEO Duncan Bates – LEGH 'Delivered 22.5% Return on Equity in 1 Yr' – Corp Q3 2022 Insights, Analysis; plus MHVille REITs, Stocks Update  
CEO Mark Yost, Skyline Champion Insiders SELL Million$ Value SKY Stock, Home Sales Drop-4th Q 2022 (3QFiscal2023), Official Result$-Facts, Analysis, Info Beyond PR; plus MHVille Stocks Update
Triad Financial Services Q2-2022 FINANCIAL RESULTS, per ECN Capital – Several Bright Spots in Manufactured Home Market Highlighted, Including Communities, Retail, Land-Home, Floor; MHStocks Update
BlackRock Document Exposes Central Banks like Federal Reserve on Recession; Manufactured Home Producer Cavco Industries 2022 Year End Results (CVCOQ3.23) Facts+Analysis; plus MHVille Stocks Update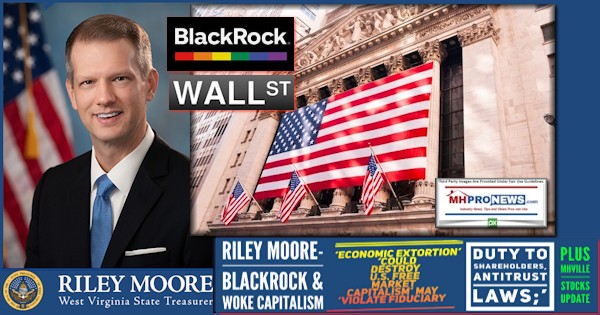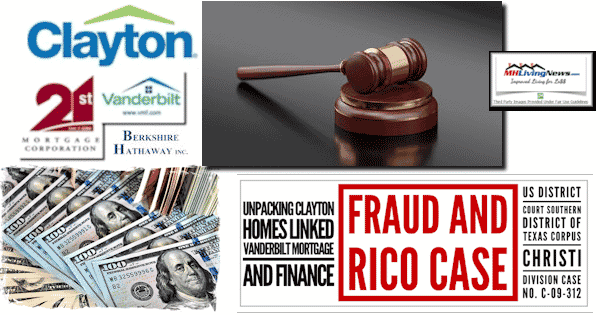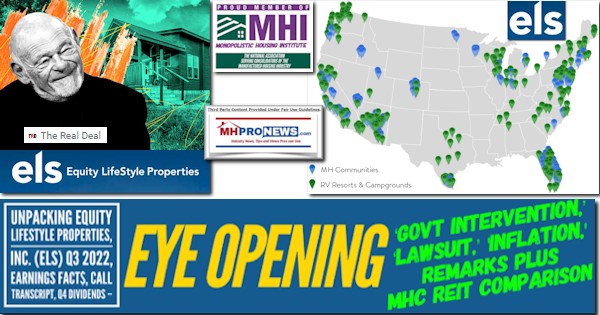 Manufactured Home Communities (a.k.a. 'Mobile Home Parks' – SIC) – Exploring UMH Properties; Fellow Manufactured Housing Institute Member Yes! Communities Suits and Settlements; plus MH Markets Updates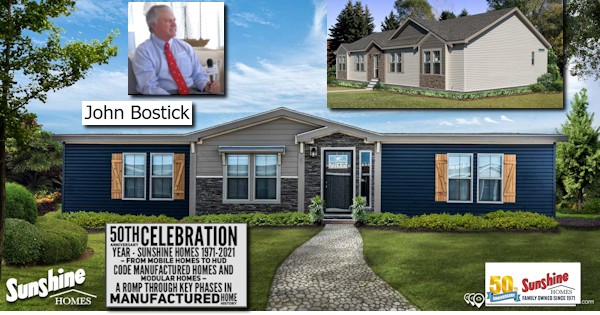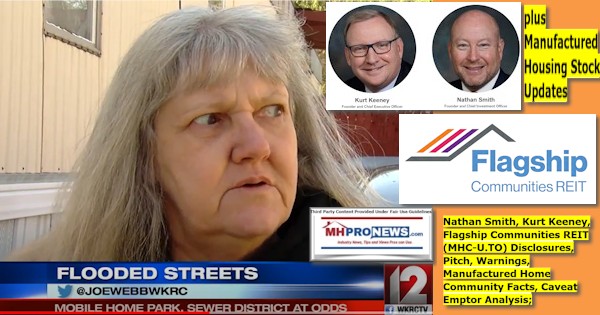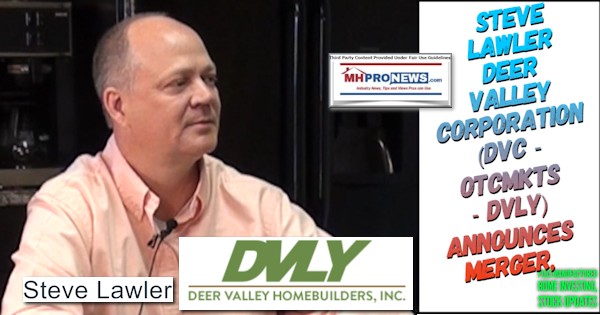 2023 …Berkshire Hathaway is the parent company to Clayton Homes, 21st Mortgage, Vanderbilt Mortgage and other factory-built housing industry suppliers.
· LCI Industries, Patrick, UFPI, and LP each are suppliers to the manufactured housing industry, among others.
· AMG, CG, and TAVFX have investments in manufactured housing related businesses. For insights from third-parties and clients about our publisher, click here.
Disclosure. MHProNews holds no positions in the stocks in this report.
· For expert manufactured housing business development or other professional services, click here.
· To sign up in seconds for our industry leading emailed headline news updates, click here.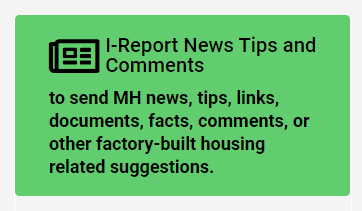 That's a wrap on this installment of "News Through the Lens of Manufactured Homes and Factory-Built Housing" © where "We Provide, You Decide." © (Affordable housing, manufactured homes, stock, investing, data, metrics, reports, fact-checks, analysis, and commentary. Third-party images or content are provided under fair use guidelines for media.) (See Related Reports, further below. Text/image boxes often are hot-linked to other reports that can be access by clicking on them.)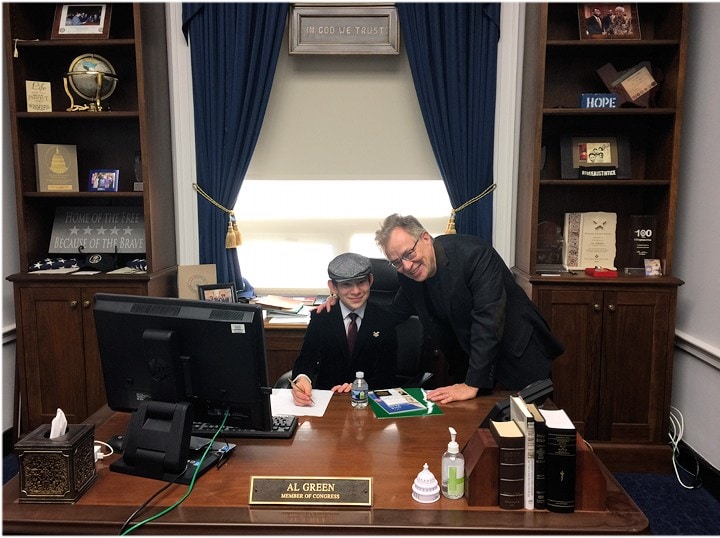 By L.A. "Tony" Kovach – for MHProNews.
Tony earned a journalism scholarship along with numerous awards in history. There have been several awards and honors and also recognition in manufactured housing. For example, he earned the prestigious Lottinville Award in history from the University of Oklahoma, where he studied history and business management. He's a managing member and co-founder of LifeStyle Factory Homes, LLC, the parent company to MHProNews, and MHLivingNews.com. This article reflects the LLC's and/or the writer's position and may or may not reflect the views of sponsors or supporters.
Call for Congressional Oversight Hearings of Manufactured Home Industry Regulators Highlighted by Manufactured Housing Association for Regulatory Reform (MHARR); plus MHVille Markets Update
Official HUD Manufactured Housing Production Facts for Dec 2022 plus 2022 Year End Totals Explored by Manufactured Housing Association for Regulatory Reform (MHARR)-"Millions" Needed – Analysis
Facts You Didn't Know – Martin Luther King Jr – Videos, Insightful Quotes, Surprising Revelations, Videos, Reports, and Illustrations in Champion for Human Rights Including Affordable Housing
'Global Disinformation Index' Warren Buffett Ally Bill Gates' Microsoft Org Charged-Cutting Revenue to Conservative Views via Xandr, GDI; plus Sunday MHVille Headlines Recap
#1 Texas' Manufactured Housing Builders Survey Says They are 'Ready for a Rebound' But Data Point in Question, DOE MH Energy Rule Too – Facts, Analysis; plus, MHVille Stocks, Markets Update
Clayton-Next Step Off-Site Built 'White Paper'-Manufactured Homes, ThinkND 'Magic of the Mind-Everyday Illusion, Misdirection, Deception' MHI Members' Claims Analyzed; plus MHVille Markets Update
After Admitted Failure, Manufactured Housing Institute Doubles Down on CrossMods® in AP Terminology Doc Acquired by MHProNews–Are MHI Leaders Sabotaging MHVille Independents? Plus MHStocks Update
Concessions by Speaker Kevin McCarthy in House Speaker's Battle Called 'Most Significant Win for Conservatives in a Decade' By Federalist's Emily Jashinsky Report; plus MHVille Stocks Updates