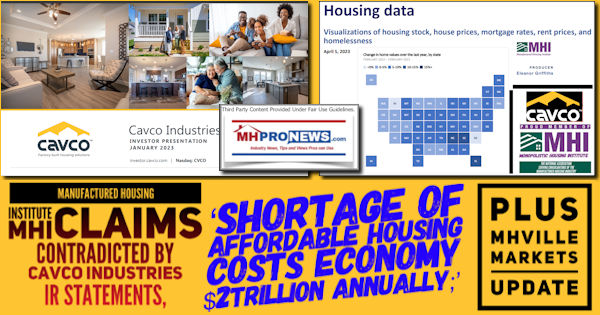 Apparently, some Manufactured Housing Institute (MHI) leaders are 'feeling the heat' of the routine issue raised by MHProNews, MHLivingNews, the Manufactured Housing Association for Regulatory Reform (MHARR), and some in mainstream media. That question or issue is this. Why is manufactured housing underperforming during a widely acknowledged affordable housing crisis? Prominent MHI member Cavco Industries (CVCO), for example, quoted the following in their January 2023 investor relations (IR) presentation the following statement. ""…(in) no market in this country can a [conventional] homebuilder build a house that is affordable for a first-time home buyer." – National Association of Home Builders CEO, Jerry Howard." That quotation is used by Cavco to frame an array of data they provide current and potential investors with why the manufactured home industry – and their firm – ought to be a good place to invest with confidence. Be that as it may, several of Cavco's remarks and data-points seem to run afoul of the most recent MHI "Federated States" newsletter. That newsletter appears to aim in part to deflect MHI from accountability for the industry's underperformance during this affordable housing crisis that has pushed some 9 million younger American households to move back in with mom and/or dad in 2022 alone.
In Part 1 of this report, the full segment of that 4.10.2023 MHI Federated States newsletter is provided below. That segment should be of specific interest to virtually all industry readers, investors, and advocates of affordable manufactured housing is provided in full herein.
In Part 2 of this report, Cavco Industries remarks and claims to current and potential investors are provided as a comparison to compare and contrast remarks made by MHI.
Part 3 is additional information with more MHProNews analysis and commentary in brief.
Part 4 is our signature Daily Business News on MHProNews market report.
Imagine if just one out of 9 of those Americans that moved back in with mom and dad in 2022 had bought a manufactured home instead. Instead of MHI's research 'excuses' for why manufactured housing is underperforming, that cites far more costly conventional housing data in an arguably red-herring fashion, why hasn't MHI made the vigorous and public case for accepting manufactured homes or legally enforcing the industry's rights via litigation, as they claim to be doing on the MHI-TMHA DOE lawsuit? But instead, the industry is in its 5th month of a downward spiral.
With that outline, let's dive into the facts, evidence, and vexing-for-some in MHVille 'leadership' insights.
Part 1 – from MHI's 4.10.2023 "Federated States" Newsletter
New Data Shows a Sluggish U.S. Housing Market Continuing through the Start of 2023

MHI recently published an updated overview of the U.S. housing market for April 2023. This data includes changes in housing starts and shifts in housing prices and overall value. Of note, monthly housing starts steadily decreased throughout 2022 continuing into 2023, from a high of 164,300 starts in April 2022 to 104,900 in February 2023. Additionally, home values increased in every state in 2022, except for Washington, DC and Idaho, with Florida experiencing the highest gains at 11.1 percent. Finally, new residential sales increased between December and January by 7.2 percent across the U.S.; the South saw the highest increases at 17.1 percent. New residential sales notably decreased in the Northeast by 40 percent and the Midwest by 1.4 percent. The West saw the largest increase at 8.1 percent.
According to MHI's most recent Economic Report, 6,577 new manufactured homes were produced in February 2023, representing a roughly 5.5 percent decrease from January to February. However, year over year production was down 29 percent, with the industry producing 2,704 fewer homes than in February 2022. Given the data from across various sectors of the housing industry, there appears to be a continued slowing in housing production closing out 2022 and moving into 2023. As the economy remains a concern for consumers, especially in the context of high inflation and mortgage rates, continued hesitancy from potential homebuyers should be expected in the near-term. Read the housing overview." [Omitted link from "Read" led to a 'members only' login]. ##
Note the MHI download hidden behind a 'members only' login is found at this link here.
Part 2 – from Cavco Industries January 2023 Investor Relations PowerPoint (Slide) Presentation
Slidebean says that: "A pitch deck is usually a 10-20 slide presentation designed to give a short summary of your startup vision, company, and your business plan to potential …" From page 18 of Cavco's IR pitch-deck are the following bullets.
Digital marketing
Manufacturing technology innovation
Two new production facilities ramping up
Focus on environmental issues and opportunities
Zoning improvements opening up new, urban market opportunities
Continuing to invest in productivity improvements across 31 production lines
A factoid that is seemingly missing from Cavco's pitch is the fact that the industry is now into month 5 of a downturn. In fairness, while it would be difficult (to impossible) for the presentation to say that specific number (5 months of downturn so far) at that time, nevertheless, by January 2023 the downturn in manufactured housing sales and production was already acknowledged by Bill Boor in their most recent earnings call.
'Undervalued' Cavco Industries Touts Q Result$ 'Dire Need for Housing' 'January Traffic Up'- Rev Up 16%-Sales, Earnings, Mgmt Call Data–Analysis Beyond CVCO Statements; plus MHVille Stocks Update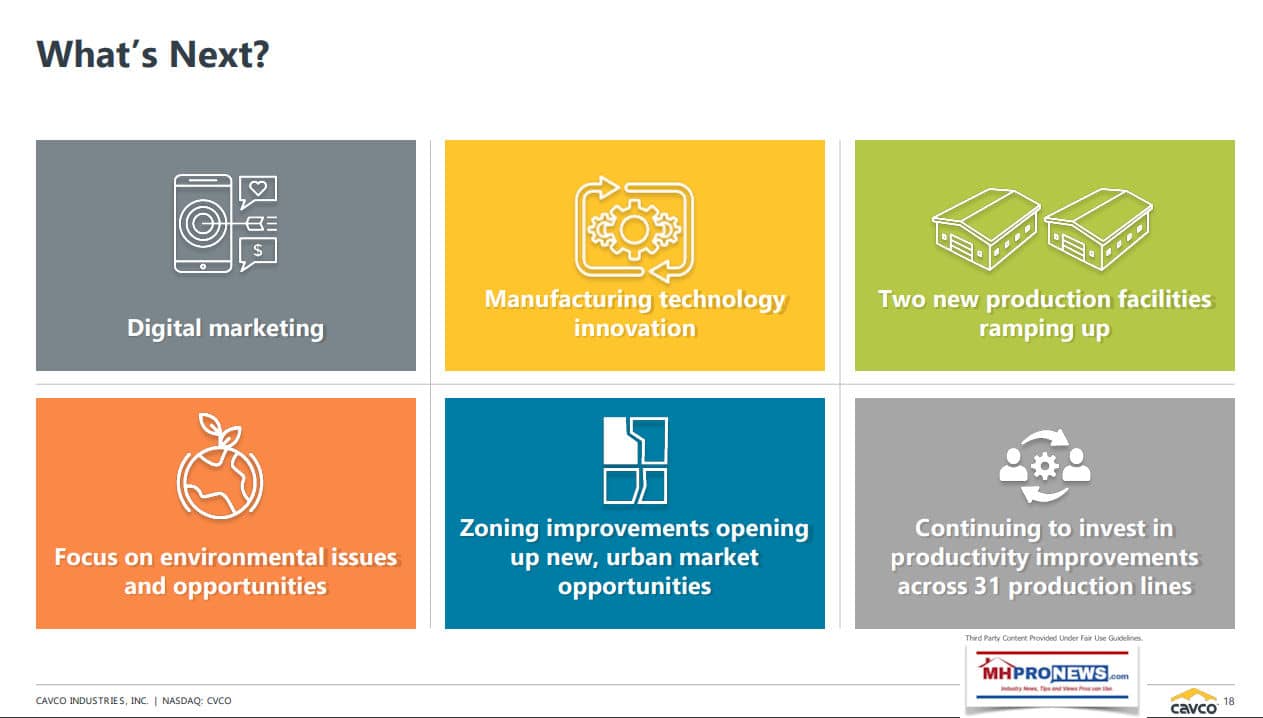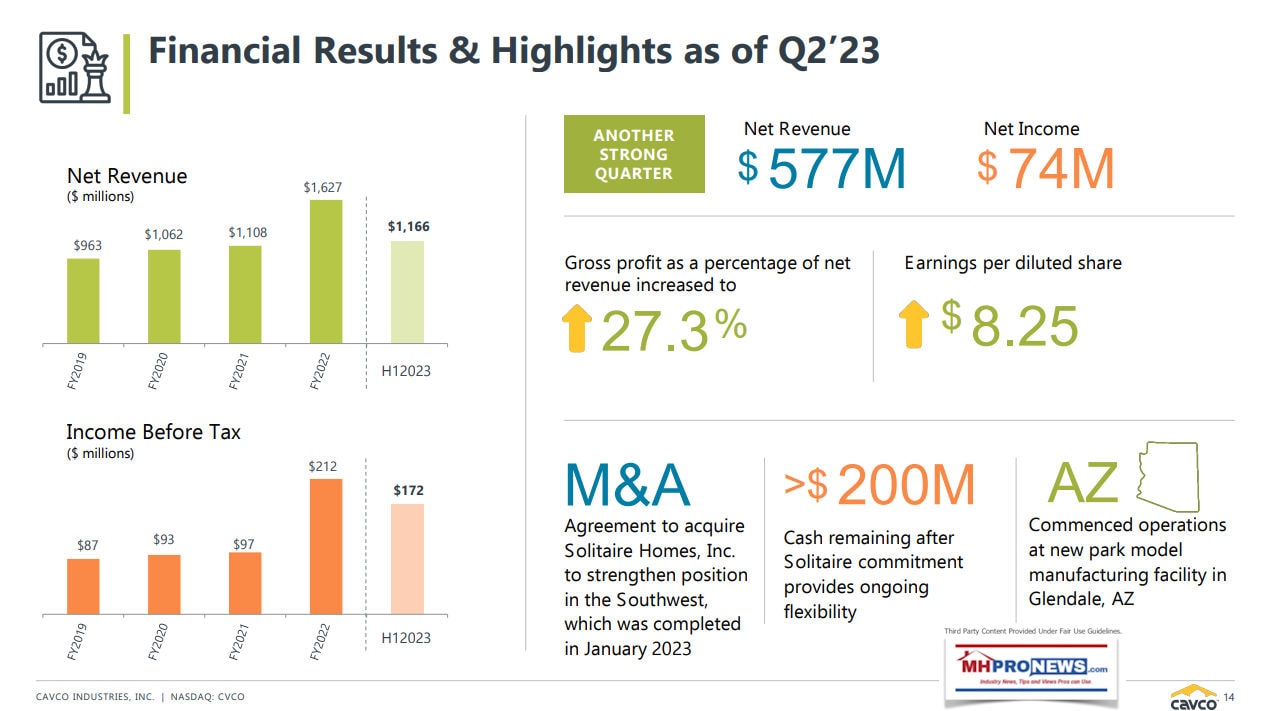 According to William "Bill" Boor, President and CEO of Cavco from the above: "Third quarter order rates were hit from all sides. The economy's effect on consumer activity, seasonality, and the industry wide excess inventory have all resulted in declines in the backlog. Our backlog is down 34% sequentially to $427 million or approximately 9 to 11 weeks at current production rates. Well, we normally don't get into the first quarter updates. In this market, I think it's important to share what we're seeing in the first month and the new year. We are seeing early indications of a seasonal pickup in traffic as well as in quotes, which have increased considerably in January." He said: "On a days operated basis, we ran at about 80% capacity utilization."
Boor also said: "Retailer inventories are still an issue that clouds the picture of underlying demand. This is because wholesale orders will naturally be slower than homebuyer purchases until retailer inventories are reduced to their targets. Inventory resolution will not be an abrupt change in the market. It's happening every day and each retailer that individually gets to their target moves us closer to a one to one relationship between homebuyer demand and manufacturing orders."
Boor and a de facto colleague with Cavco have held important seats on the MHI board of directors.
But since that date, on 3.27.2023 – prior to MHI's 4.10.2023 emailed news item quoted herein – was the inquiry to MHI leaders found in the linked report below. It factually and empirically challenges – and de facto debunks – the notion of retailer inventory levels being a plausible excuse for the current downturn. MHI leaders, including but not limited to Boor, were mute in response.
Longtime MH Retail Sales Manager Asks Manufactured Home Leaders – Why are Manufactured Housing Production Levels Today About Half of 1980s When Interest Rates Hit 20.5% APR on ARM Loans?
What few, if any, beyond MHProNews/MHLivingNews are raising concerns over is the following trend that once more challenges both Boor and MHI's narrative. According to data from MHI, cited in the report below, the industry has shifted from most manufactured homes going to privately owned land to a modest majority now going into land-lease manufactured home communities.
Anar Pitre-CEO Lotus Capital Partners-Vexing Manufactured Housing Institute Claims in Fact Check of Forbes 'What Manufactured Home Communities Investors Need to Know' – Inaccurate MHI Data Shown
1) If Cavco's claim (provided without specific evidence) that "Zoning improvements opening up new, urban market opportunities" then what explains the shift of most sales into land-lease?
2) Furthermore, be it Cavco or any other MHI manufactured home builder, indicates that production is now going more into land-lease than privately owned sites, what happens to manufactured housing production once communities reach capacity? It is widely acknowledged that more communities are closing than opening. 
Fixing Errata – Lincoln Institute's George W. "Mac" McCarthy Corrects Manufactured Housing Industry Factual Record on Manufactured Home Communities, plus Sunday Weekly MHVille Headlines Recap
Anar Pitre-CEO Lotus Capital Partners-Vexing Manufactured Housing Institute Claims in Fact Check of Forbes 'What Manufactured Home Communities Investors Need to Know' – Inaccurate MHI Data Shown
3) The fact that manufactured home communities are steadily edging toward capacity is documented by another MHI member, Marcus and Millichap Inc (MMI). According to their 2H22 National Market report, the vacancy rate of communities range from under 1 percent in several Western U.S. markets to a maximum of 11.4 percent in Lansing, MI. But the bulk of their vacancy rates appear to be 5 percent or less (14 markets 5 percent or less vs. 6 markets at 6.4 percent to 11.4 percent.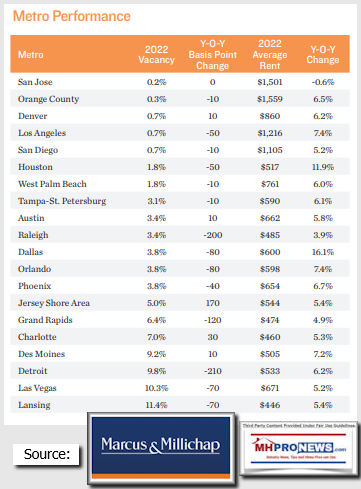 4) Certainly, Cavco can pick or choose the references in 2022 that document their accurate statement about the affordable housing crisis in the U.S., and why that should spell opportunity for their firm. That same argument more broadly holds for the entire manufactured housing industry. But that only begs the question: why is MHI, which Cavco holds key roles in, failing to successfully advance the industry's claimed growth agenda? Isn't Cavco by making the case that their product can solve the affordable housing crisis also pointing fingers right back at Cavco and MHI leaders?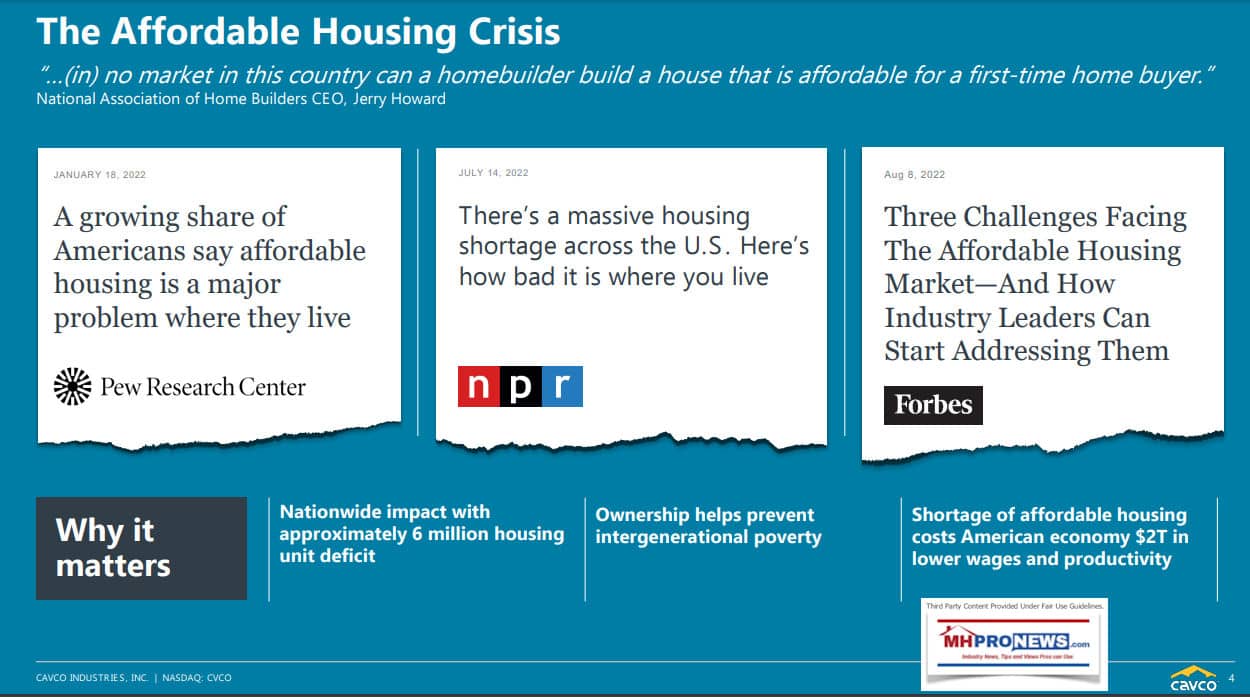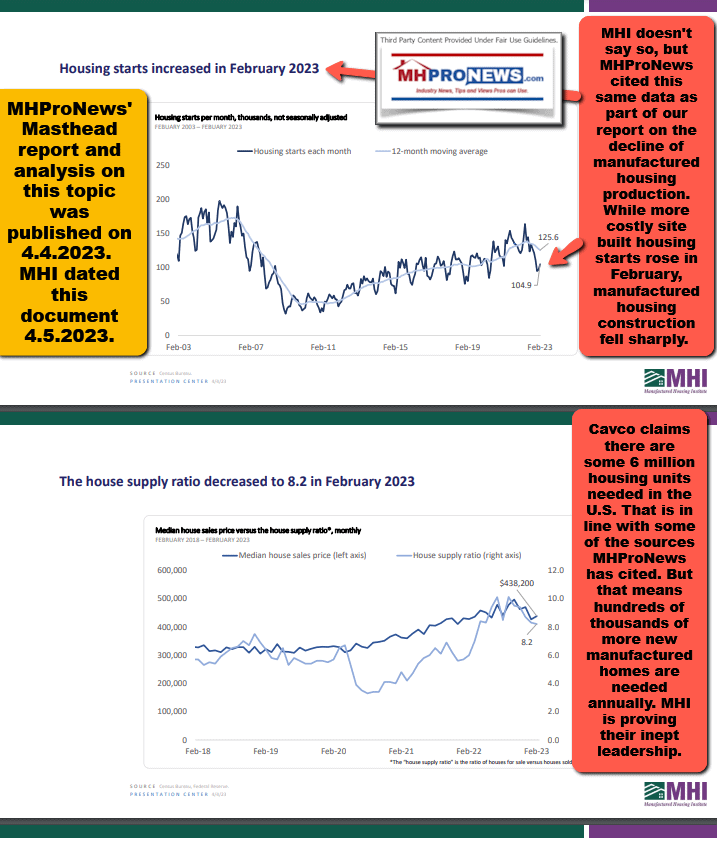 5) Why would MHI even need to spend any precious time and money defending their efforts if the industry was growing robustly and sustainably? Obviously, this 'research report' by MHI is contradicted by Cavco's pitch deck and is contradicted by MHProNews' Masthead facts and analysis. Instead of posturing, preening, paltering, and pretending for their own members about how effective they are – or why their 'results' are justified – why don't they actually do what they claim so there is no need for them to defend anything?? Restated, why not produce genuinely measurable results?!? But time after time, MHI is busy explaining why they are so great, when the data demonstrates something different.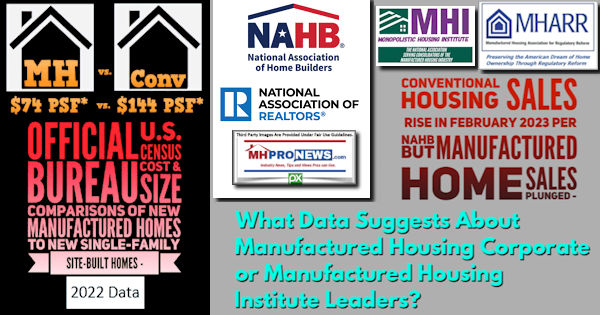 6) While the data in the graphic that follows from Cavco is broadly correct, it is nevertheless arguably misleading in its statements.  See the MHProNews infographic just below for greater context and a more accurate depiction of what is occurring in MHVille in the 21st century.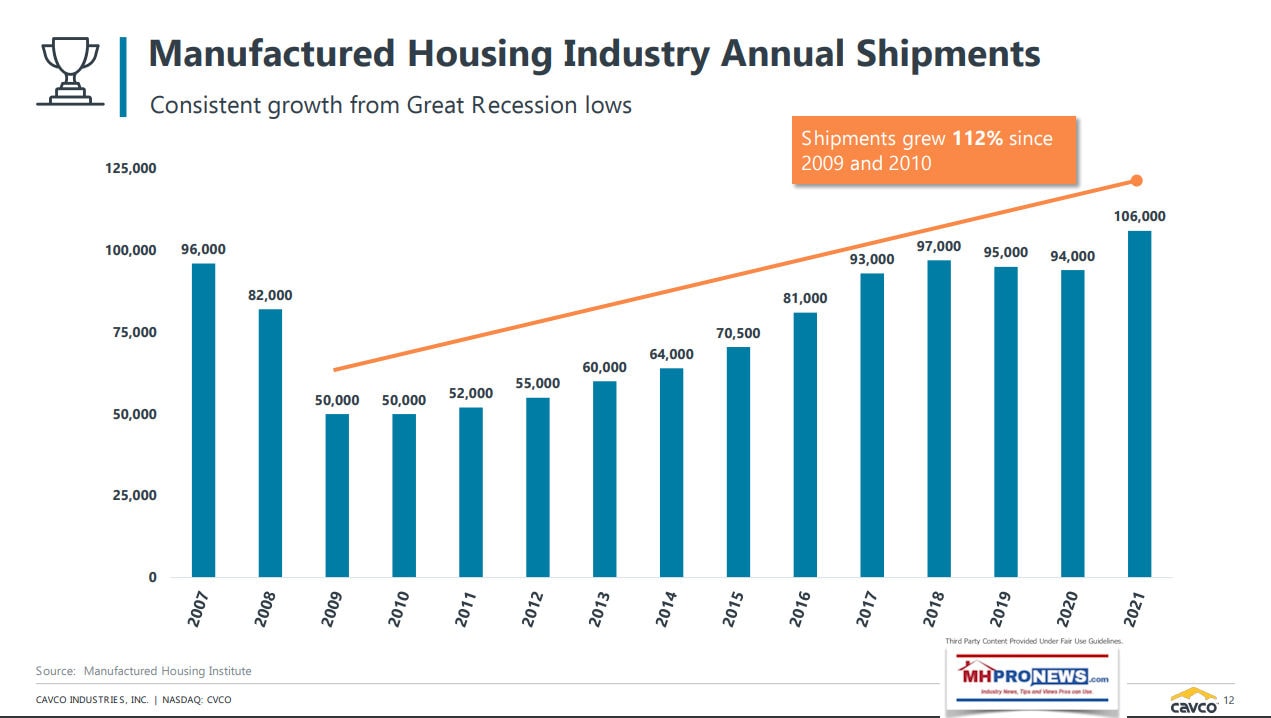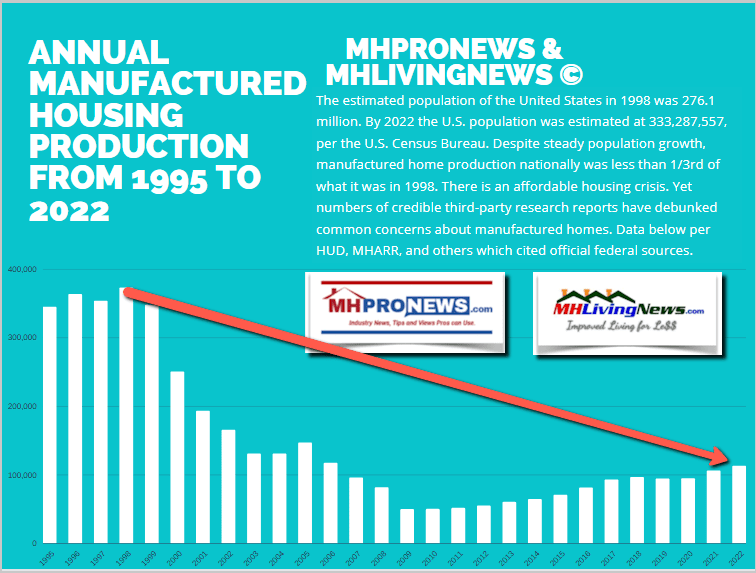 7) The two graphics above are almost a textbook example of paltering. Cavco's information is broadly correct. But by leaving out the years prior, it paints a very different picture than what MHProNews' fuller context revealed.  Additionally, while leadership at MHI has changed since 2000, MHARR and MHI worked together to get the Manufactured Housing Improvement Act of 2000 (MHIA or what MHARR calls the 2000 Reform law) passed. The MHIA and its 'enhanced preemption' was supposed to boost sales of affordable housing. That begs the question, why didn't sales grow? Was it the 'great recession,' as Cavco suggests? Or was it something else? If it was the great recession, then why did MH sales collapse before 2009-2010? Why didn't Cavco or MHI mention the role that Berkshire Hathaway owned 21st Mortgage play in the collapse of 2009-2010?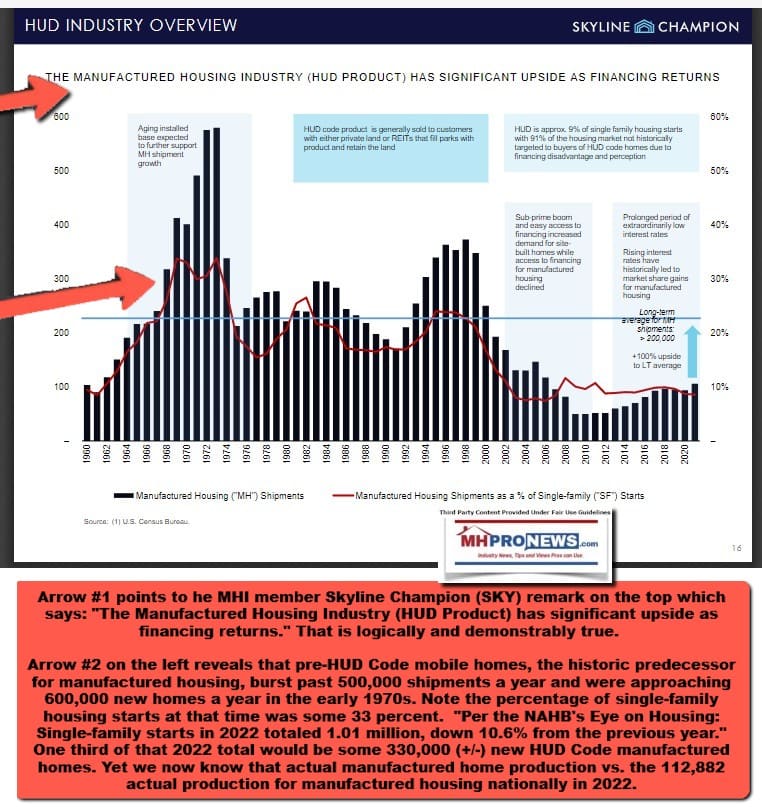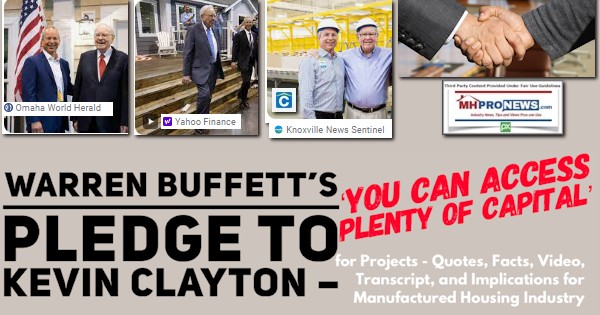 Part 3 – Additional information with more MHProNews Analysis and Commentary in Brief
The evidence-based case can be made that if someone organizes the various statements and remarks made by MHI, Cavco Industries (CVCO), Skyline Champion (SKY), or Clayton Homes-Berkshire Hathaway (and MH related BRK brands), the problem that emerges is that they may contradict themselves and each other.
Why do those contradictions emerge?
Why is manufactured housing underperforming and in decline during an affordable housing crisis?
Why is a longtime MHI insider telling MHProNews that the industry will never recover to its previous highs in our lifetime?
MHProNews posed specific questions to MHI leaders in the report linked below. That report was dated 3.27.2023. Then, on 4.4.2023, MHProNews produced its report and analysis of the 5th month in a row of the current manufactured housing industry downturn. One day later, MHI produces its 'report' on the U.S. housing market, which when carefully examined supports several of MHProNews' assertions, as was noted above.
Longtime MH Retail Sales Manager Asks Manufactured Home Leaders – Why are Manufactured Housing Production Levels Today About Half of 1980s When Interest Rates Hit 20.5% APR on ARM Loans?
Lawyer Tip$, LCI, PATK, Scholar=Manufactured Housing Institute Insider Says Manufactured Home Industry Sales 'Will Never Recover to Prior Levels In Our Lifetime;' plus MHVille Stocks Update
What neither MHI, nor Cavco, Skyline Champion, or Clayton Homes can withstand is the array of facts and evidence that demonstrates that the industry should be doing much better than it is. Instead of straight talk, MHI leaders can provide remarks that are contradicted by their peers or themselves.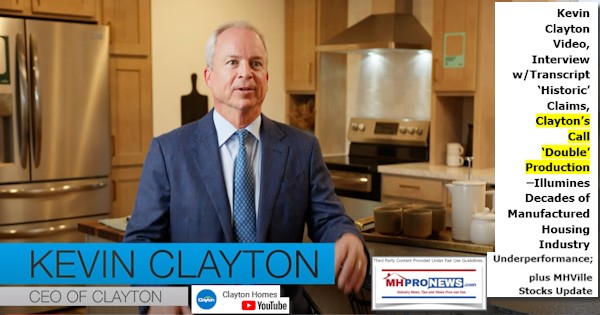 Bill Boor and company may think they have dodged a bullet when the SEC case against them closed for a mere 7 figure settlement. Perhaps. Or perhaps they have just entered a new phase of exposure and accountability?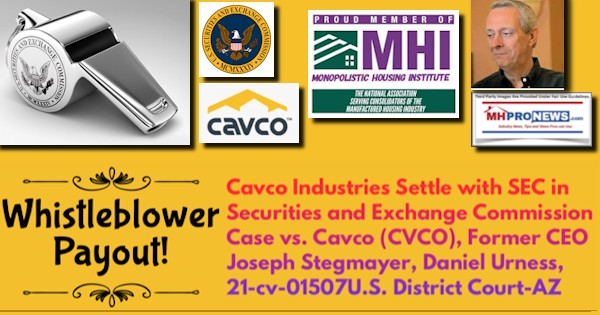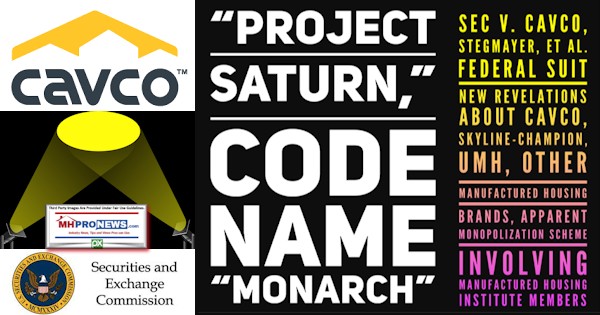 "Project Saturn" and Code Name "Monarch" – terms that the SEC claimed former Cavco leader Joe Stegmayer was using with insiders to mask their attempted manipulation of the manufactured housing market – revealed the apparently clever (in a devious way) that insiders could manipulate the system in manufactured housing. While others in MH trade media might have mentioned the case briefly, they routinely failed to pull back the veil on the gut-wrenching details the vexing matter revealed.
"Project Saturn" and Code Name "Monarch" sound like something out of a cheap dime-novel from the 1950s. But they were circa 2018 era (before, since) events that led to the steady consolidation of the manufactured home industry. Insiders at MHI are near the heart of that pattern. See the documents linked here and here.
Manufactured housing is underperforming during an affordable housing crisis. That much is essentially undisputed. The excuses given by MHI connected leaders for what that is so don't hold up to close scrutiny.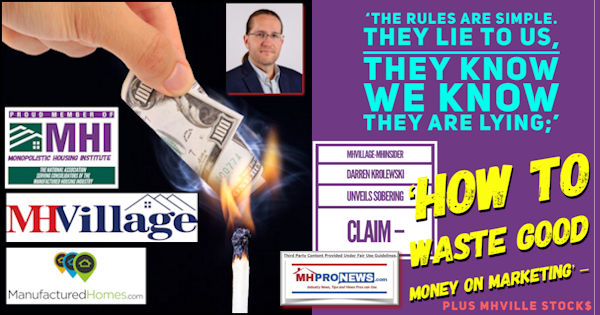 There are a few intrepid souls who truly love manufactured housing and believe that the industry can and should have better days ahead. Some of them are willing to provide tips, documents, and evidence, which are necessary, useful, and appreciated. Sometimes a tip comes in on who is sleeping with whom that isn't their spouse. While not irrelevant, that's not what MHProNews is focused on.  Perhaps we should? But we'd rather focus on facts, evidence, and applied common sense that clearly paint a picture that MHI's leaders are routinely failing the industry and have for most of the 21st century.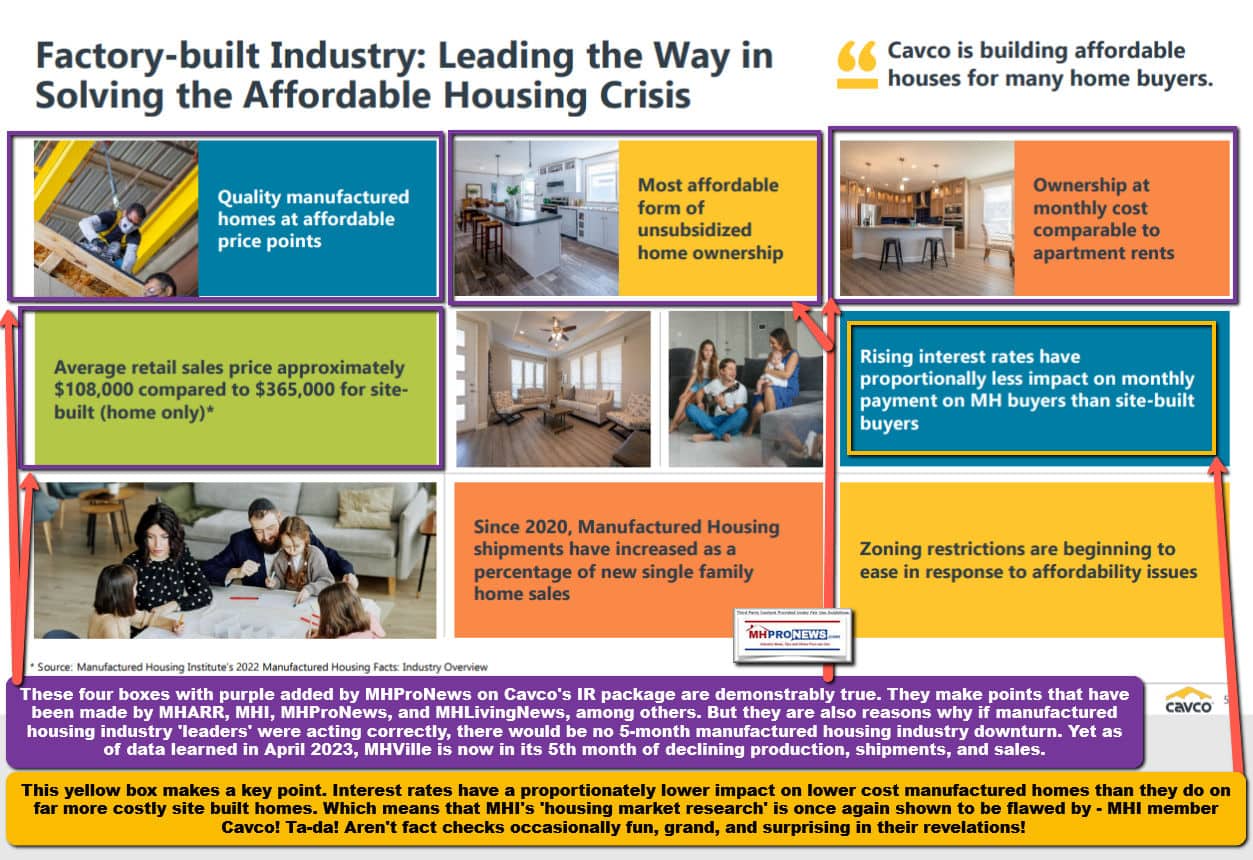 The industry is apparently rigged in favor of consolidators. They think that is 'safer money,' or they have implicitly agreed that for now the industry underperforming is good for themselves.  But the industry is capable of so much more.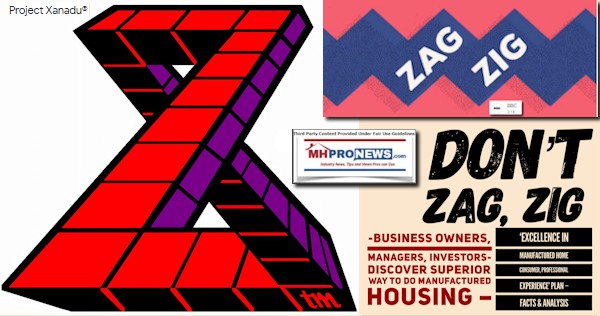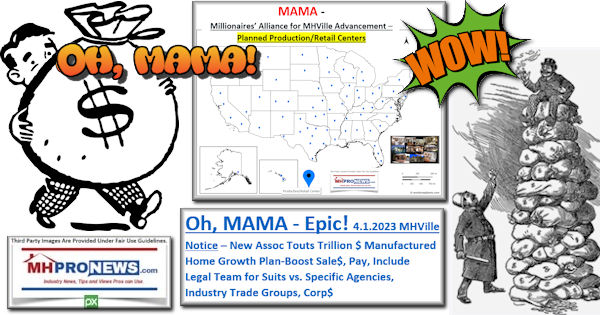 NAMHCO fizzled. But they made an important point that ought never be forgotten.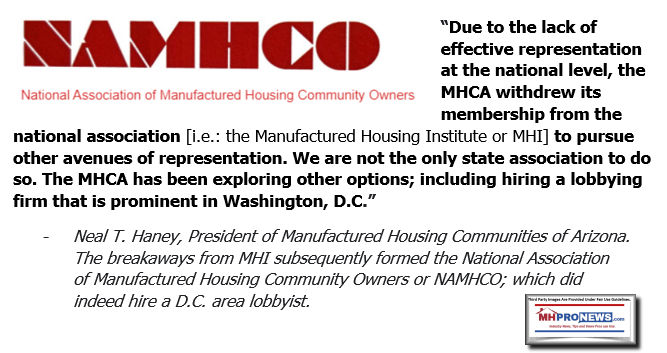 Not to wear out the 'atta boys' to MHARR, but MHARR has been making the argument for over a decade that the industry needs a new post-production sector trade group. Their most-detailed one, linked below, still stands the test of time. Read it now, and see for yourself if its points are as relevant now as they were then.  That speaks volumes.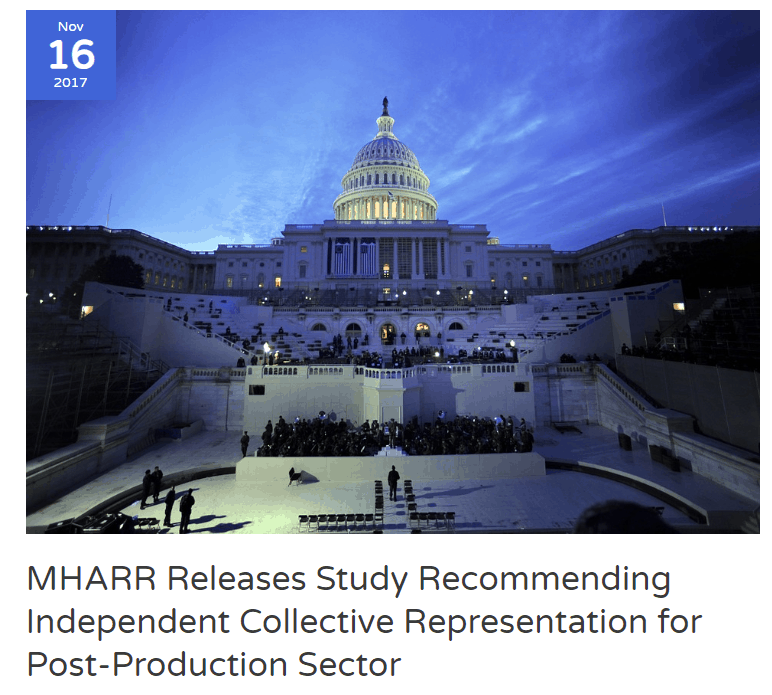 Similarly, the MHARR White Paper that is now approaching one year old is linked below. It too has stood the test of time.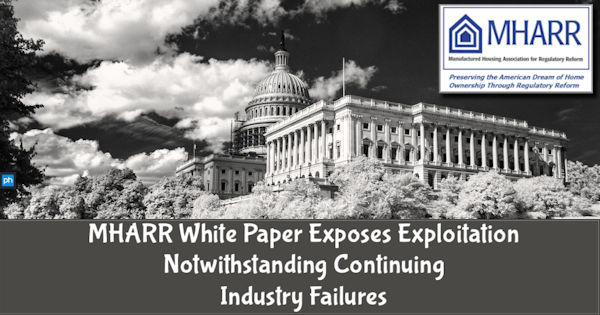 Once someone has decoded the manufactured housing industry insiders' BS generating system, it becomes obvious that more posturing is done by MHI than useful performance. If MHI leaders want to debate that claim publicly, let's set it up at a university or collage. It could be live or virtual.
Why do people lie or act deceptively? The classic movie Charades made that point clear.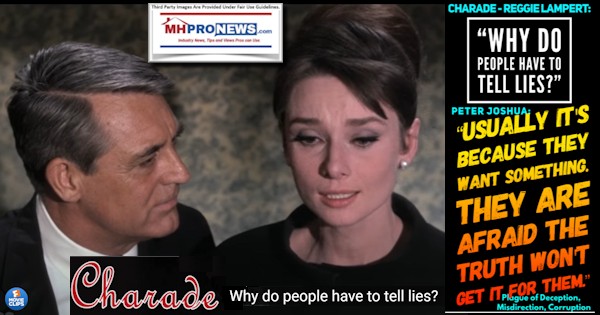 One of the previous slides from Cavco Industries shown was from page 4 of their IR pitch deck, shown above. Next to 'why it matters' it has these remarks: Nationwide impact with approximately 6 million housing unit deficit | Ownership helps prevent intergenerational poverty | Shortage of affordable housing costs American economy $2T in lower wages and productivity. It has been a while since MHProNews/MHLivingNews has made that third point, and kudos to Cavco for making it. The first point about a 6 million unit housing shortage is arguably far more accurate than the claim by Freddie Mac that the housing shortage was some 3.8 million units. The second point about increasing 'equity' for minorities and all other groups in a fashion that can lift or prevent intergenerational poverty is another telling point; one also previously made by MHProNews/MHLivingNews by pointing to third-party research.  That said, why is it that Cavco and other 'big firms' that dominate MHI can't seem to get manufactured housing on a steady, robust growth track?
The late, great Abraham Lincoln made a compelling observation about those who lie (or palter, etc.). It is difficult to keep all of the conflict claims made straight.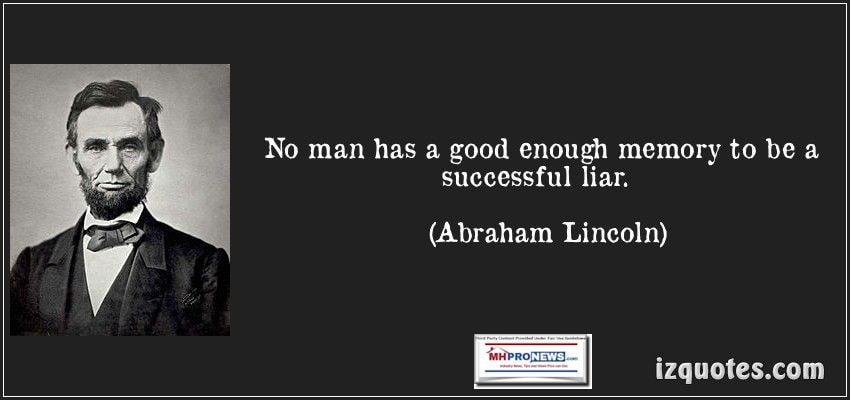 But another 19th century character, Samuel Clemmens, a.k.a. "Mark Twain" made an equally important claim. It is easier to fool people than to convince them that they have been fooled.  It takes time and painstaking effort to align the various remarks that when laid out 'side by side' or sequentially in a way that reveals just how self-contradictory MHI and their leaders have been. See the flashback posted by Lance Inderman, who is associated with a vertically integrated manufactured housing independent.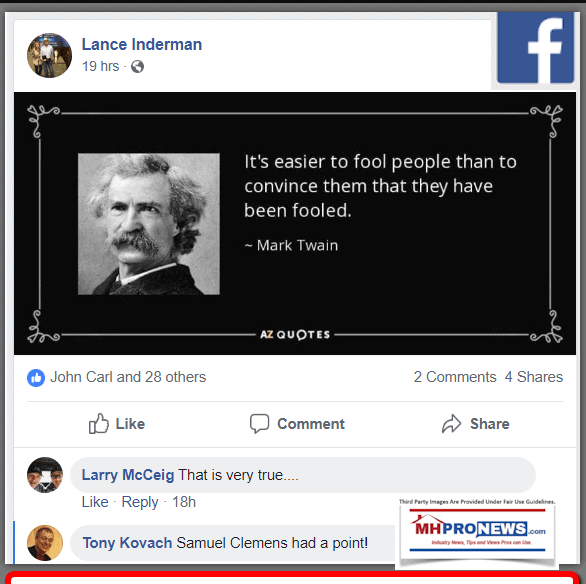 There is only so much that federal or state officials will overlook. The system may be rigged in favor of insiders, but reports like the one linked here and here reflect that the system does still work from time to time. If MHI leaders came right out and said, 'we want to help some of our largest members consolidate the industry in violation of federal and state antitrust laws,' it could be difficult for antitrust enforcement to ignore that kind of behavior.  But with the wink and a nod, a healthy dose of paltering and posturing, the political payoffs and Iron Triangle are still in vogue. How long this 'shell game' may last is a fair question. But once that dam breaks, expect public officials to be pointing to reports on MHProNews, MHLivingNews, or from MHARR to bolster their claims that some have rigged manufactured housing for their own purposes. Doing so has cost the economy some $2 trillion dollars a year, says Cavco Industries. When the public figures out the ways these impact their lives on a practical level, there may be a hue and cry like hasn't been seen in the U.S. for many years. ###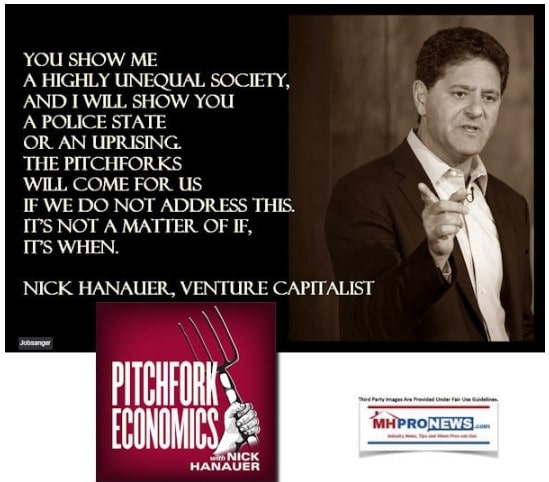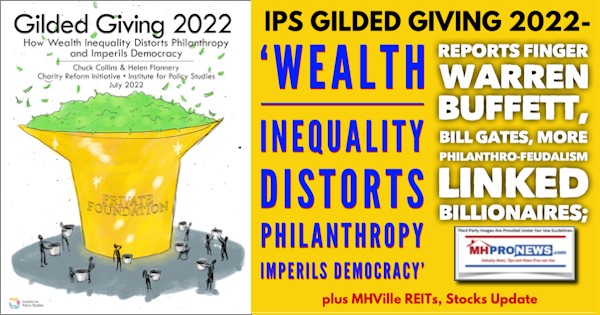 NIMBY vs YIMBY, Homelessness and Housing Insecurity – Re-Discovering Complete Value of Affordable Housing, Multifamily Housing vs. Manufactured Homes Reimagined – Castles and Moats Analysis
"Thou Shall Not Steal," $2 Trillion Annually Lost to Lack of Affordable Homes, Making the Manufactured Home Case
'Undervalued' Cavco Industries Touts Q Result$ 'Dire Need for Housing' 'January Traffic Up'- Rev Up 16%-Sales, Earnings, Mgmt Call Data–Analysis Beyond CVCO Statements; plus MHVille Stocks Update
Programming Notice: MHProNews/MHLivingNews may return to these documents referred to above from Cavco Industries and MHI in the days ahead. Stay tuned.
Part 4 – Daily Business News on MHProNews Markets Segment
The modifications of our prior Daily Business News on MHProNews format of the recap of yesterday evening's market report are provided below. It still includes our signature left (CNN Business) and right (Newsmax) 'market moving' headlines. The macro market moves graphics will provide context and comparisons for those invested in or tracking manufactured housing connected equities.
In minutes a day readers can get a good sense of significant or major events while keeping up with the trends that are impacting manufactured housing connected investing.
Reminder: several of the graphics on MHProNews can be opened into a larger size. For instance: click the image and follow the prompts in your browser or device to OPEN In a New Window. Then, in several browsers/devices you can click the image and increase the size. Use the 'x out' (close window) escape or back key to return.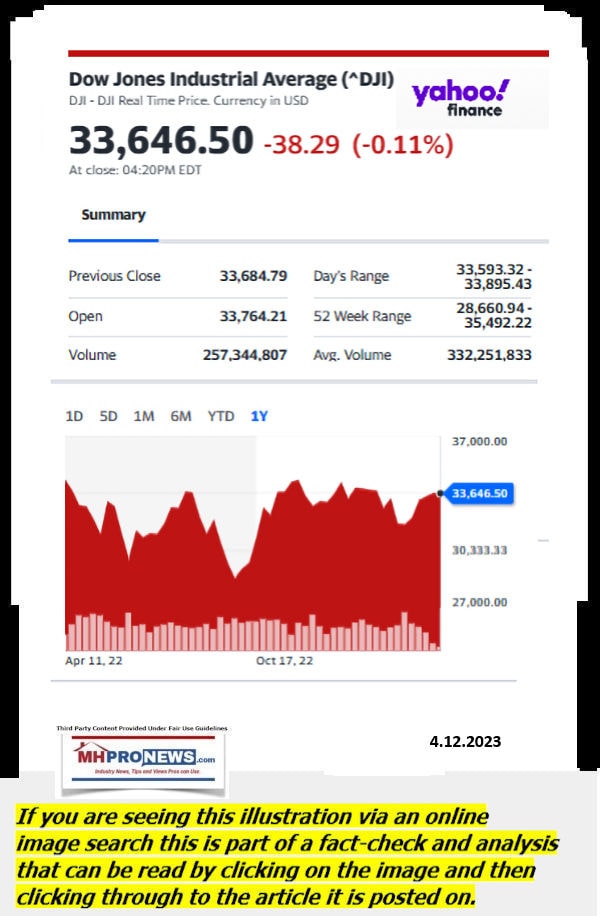 Headlines from left-of-center CNN Business – from the evening of 4.12.2023 
Failed strategy
'We are not going anywhere,' Walmart said in 2020. Now, it's closing four Chicago stores. Walmart on 4720 S Cottage Grove Ave, Chicago, IL 60615.
From Google Maps
Walmart to close half its stores in Chicago in a stunning reversal of the retail giant's commitment to corporate racial justice
Warner Bros. Discovery unveils super-streamer 'Max'
Uber is funding an e-bike trade-in program to curb battery fires
Inflation hits the mailbox: Postage stamp prices are rising, again
NPR stops using Twitter after receiving 'government funded media' label
Arkansas governor signs sweeping bill imposing a minimum age limit for social media usage
The banking crisis will tilt US into recession, say Fed economists
Dominion judge sanctions Fox for withholding evidence, plans to appoint special master in latest blow to network
Brainard: US banking system is 'sound' and 'stable'
Leon Levine, discount store pioneer, dies at 85
US government's proposal to boost EV sales is challenging but not impossible
Food prices ease for the first time since 2020. Here's what's getting cheaper
Juul to pay $462 million to six states in its largest settlement ever
Bud Light's inclusive ad campaigns are good for business, experts say
FBI warns consumers not to use public phone charging stations
Warren Buffett wants harsher penalties for top leaders of failed banks
How to avoid the next crisis? Banks may have to hold more cash
US inflation falls to lowest level since May 2021
Investors are watching guidance this earnings season, but might not like what they see
Whole Foods closes San Francisco flagship store after one year, citing worker safety
Elon Musk says he's cut about 80% of Twitter's staff
Who says romance is dead? Couples are using ChatGPT to write their wedding vows
Judge rules Dominion can't bring up January 6 at Fox News defamation trial, scolds Fox attorneys over Rupert Murdoch's role
Notice: the graphic below can be expanded to a larger size.
See the instructions below the graphic below or click the image and follow the prompts.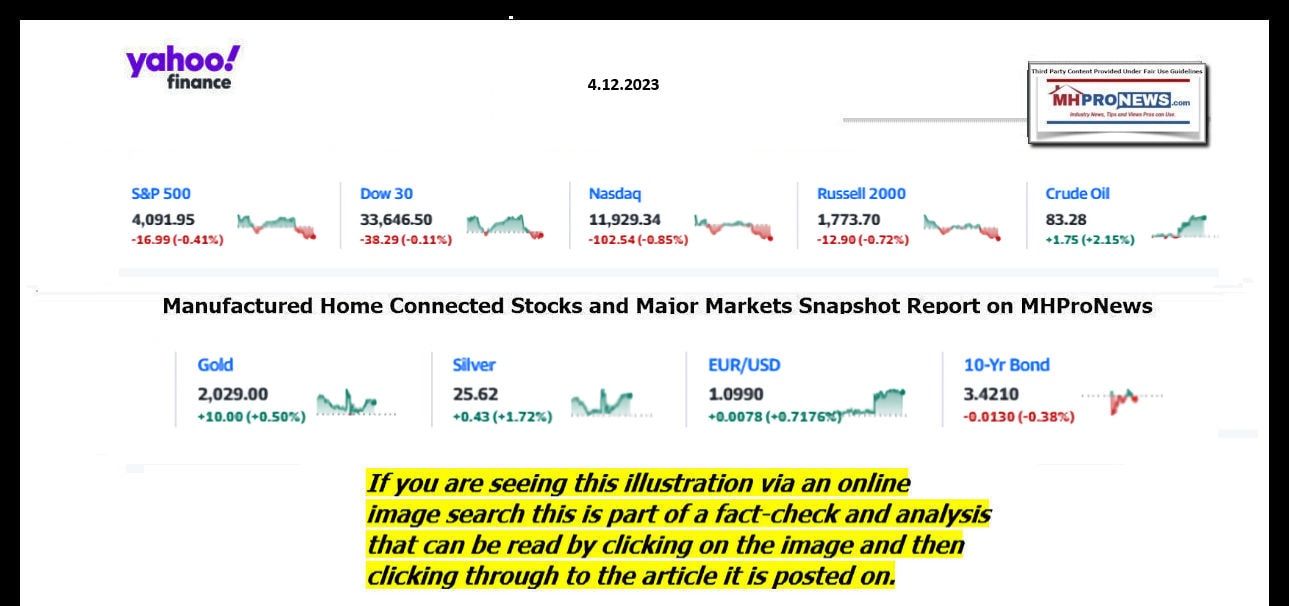 Headlines from right-of-center Newsmax 4.12.31.2023
Trump Hits Former Lawyer Michael Cohen With $500M Lawsuit
Former President Donald Trump is suing his former lawyer Michael Cohen for more than $500 million, according to a filing in a Florida court Wednesday. [Full Story]
Trump's Legal Issues
Trump Lawyer Binnall: Bragg Can't Ignore Congress
Bodega Clerk, Others to Testify in Bragg Hearing
Kristi Noem: Bragg's 'Malfeasance' Is 'So Far Out of Line' | video
Trump Due Back in N.Y. Over AG's Fraud Suit
Jordan Fires Back at Bragg Lawsuit
Bragg Sues House Panel Over GOP Probe of Trump Case
Dershowitz: Trump's N.Y. Judge Should Step Down | video
Trump Appeals to Block Pence's Special Counsel Testimony | video
House Judiciary to Hold 'Field Hearing' in NYC
More Trump's Legal Issues
Newsmax TV
SEAL O'Neill: 'Too Many Have Access' to Classified Info
Texas AG Paxton: Austin DA Sought BLM Case, Ignores Others | video
Wesley Hunt: Biden's Blaming 'Opposite of Leadership'
McCaul: Taiwan 'Not Fully Prepared' for Invasion | video
Pence: FDA Overstepped on Approving Abortion Pill | video
Huckabee: If 1/6 Was Insurrection, So Was Tenn. Protest | video
Chang: In Ukraine, China Sees 'Green Light' for Taiwan | video
Biggs: Mayorkas Lying About Border Security | video
RNC's Alvarez: Biden Not Ready to Work on 2024 | video
Newsfront
2nd Black Lawmaker Returned to Tenn. House
The second of two Black Democrats expelled from the Republican-led Tennessee House will return to the Legislature after a Memphis commission voted to reinstate him Wednesday, nearly a week after his banishment for supporting gun control protesters…. [Full Story]
Walter Reed Shifts Catholic Pastoral Care
The management of Walter Reed National Military Medical Center has [Full Story]
AOC Plans Challenge to Sen. Kirsten Gillibrand
Alexandria Ocasio-Cortez, D-N.Y., is planning on making a run [Full Story]
Ukraine: Russia 'Worse Than ISIS' After Beheading Video
Ukraine compared Russia on Wednesday to Islamic State and called on [Full Story]
Related
Russia Strikes as Ukraine Tries to Reinforce Bakhmut
As Ukraine war Drags On, Civilians' Mental Health Needs Rise
Russia's Wagner Claims it Controls Most of Bakhmut
Chang to Newsmax: In Ukraine, China Sees 'Greenlight' for Taiwan | video
Military Hospital Chided for Shift in Catholic Pastoral Care
The management of Walter Reed National Military Medical Center has [Full Story]
'Real Face of Jesus' Revealed in Newsmax Magazine
New scientific and forensic evidence examined by Newsmax magazine in [Full Story]
Wall St Closes Lower After Fed Minutes, Inflation Data
S. stocks ended lower Wednesday after minutes from the Federal [Full Story]
Chinese Assault on Taiwan Still 'Unacceptably Risky'
Despite China's military declaring that it is "ready to fight" after [Full Story] | Platinum Article
Twitter's Musk Joins Chorus of 'Defund NPR'
After National Public Radio canceled its Twitter account for having [Full Story] | video
Calls to Ignore Abortion Drug Ruling 'Undermine' Judiciary
Legal experts say it's not only "unusual" for politicians to urge [Full Story] | Platinum Article
China Continues to Struggle With Biosafety
China has an ongoing problem with ensuring safety while handling [Full Story]
Biden Feels He's 'Coming Home' in Ireland
Tracing his family lineage, President Joe Biden received a rock [Full Story]
Report: Judge Puts Sanction on Fox News
The judge overseeing Dominion Voting Systems' lawsuit against Fox [Full Story]
Lawsuit: Guards Beat, Taunt Inmate With, 'You Can't Breathe'
Advocates for prisoners' rights filed a civil rights lawsuit against [Full Story]
Matthew McConaughey Recalls Terrifying Flight Experience
Matthew McConaughey is sharing details of his terrifying experience [Full Story]
Influencers' Tax Write-Offs Dumbfound Accountants
Social media influencers, who number in the millions in the U.S., are [Full Story]
Fed's Daly Calls March Inflation Data 'Good News'
San Francisco Federal Reserve Bank President Mary Daly Wednesday said [Full Story]
Fed Officials Foresee 'Mild Recession' for 2023
Turmoil in the banking system after two major banks collapsed led [Full Story]
Trump Sues Michael Cohen for More Than $500 Million
Former President Donald Trump is suing his former lawyer Michael [Full Story]
Schwarzenegger Terminates LA Neighborhood Pothole
Arnold Schwarzenegger took matters into his own hands and filled an [Full Story]
DOJ Suggests No Jail Time for Trans Catholic Church Vandal
A man who identifies as a woman vandalized a Catholic church in [Full Story]
Manchin Only Vulnerable Senate Dem Not to Reveal Plans
There will be 21 Senate seats Democrats have to defend in 2024 to [Full Story]
FTX Says It Has Recovered $7.3 Billion in Assets
Bankrupt crypto exchange FTX has recovered over $7.3 billion in cash [Full Story]
Leaked Docs Suggest US Has Special Forces in Ukraine
Despite Biden administration assurances the U.S. commitment to aid [Full Story]
Prince Harry Will Attend Father's Coronation, Meghan Won't
Prince Harry will attend his father King Charles III's Coronation [Full Story]
US Names Veterinary Drug, Fentanyl Mixture 'Emerging Threat'
The U.S. has named a veterinary tranquilizer as an "emerging threat" [Full Story]
Trump Seeking Delay in E. Jean Carroll Defamation Case
Former President Donald Trump is seeking a delay in the upcoming [Full Story]
Italy Declares State of Emergency Over Migrant Surge
Italy's government on Tuesday declared a six-month national state of [Full Story]
NPR Quits Twitter After Being Labeled 'State-Affiliated'
National Public Radio (NPR) said Wednesday it will no longer post [Full Story]
Mike Pence to Newsmax: FDA Exceeded Authority in Approving Abortion Pill
Former Vice President Mike Pence said a ruling by a federal judge in [Full Story] | video
Legal Abortions Down 6 Percent After Dobbs Ruling
In the six months since the Supreme Court's decision ending the right [Full Story]
Homecoming King Sees Who Was Named Queen and Immediately Gives Crown Away
Give It Love
More Newsfront
Finance
Fed Officials Foresee 'Mild Recession' for 2023
Turmoil in the banking system after two major banks collapsed led many Federal Reserve officials to envision fewer rate increases this year out of concern that banks will reduce their lending and weaken the economy…. [Full Story]
Slowing Inflation Shifts Investor Focus to Earnings
New Vehicle Prices Finally Fall Below Sticker Price
To Understand Capitalism, We Must Debunk Its Myths
Goldman Sachs no Longer Expects Rate Hike in June
More Finance
Health
Therapy May Improve Income Along With Mental Health
Therapy can help improve your mental health, your stress levels and maybe even your relationship with your mom. It may also help improve your financial situation – a benefit many may not be aware of. According to 2018 data featured in the European … [Full Story]
High Blood Pressure in 30s, Worse Brain Health by 70s?
Rehab Care for Opioid Addiction Often Tough to Find: Study
US Halts New Patients on Merck's MS Drug, Shares Dive
Wireless Pacemakers Might Soon Be an Option for Kids
Notice: the graphic below can be expanded to a larger size.
See the instructions below the graphic below or click the image and follow the prompts.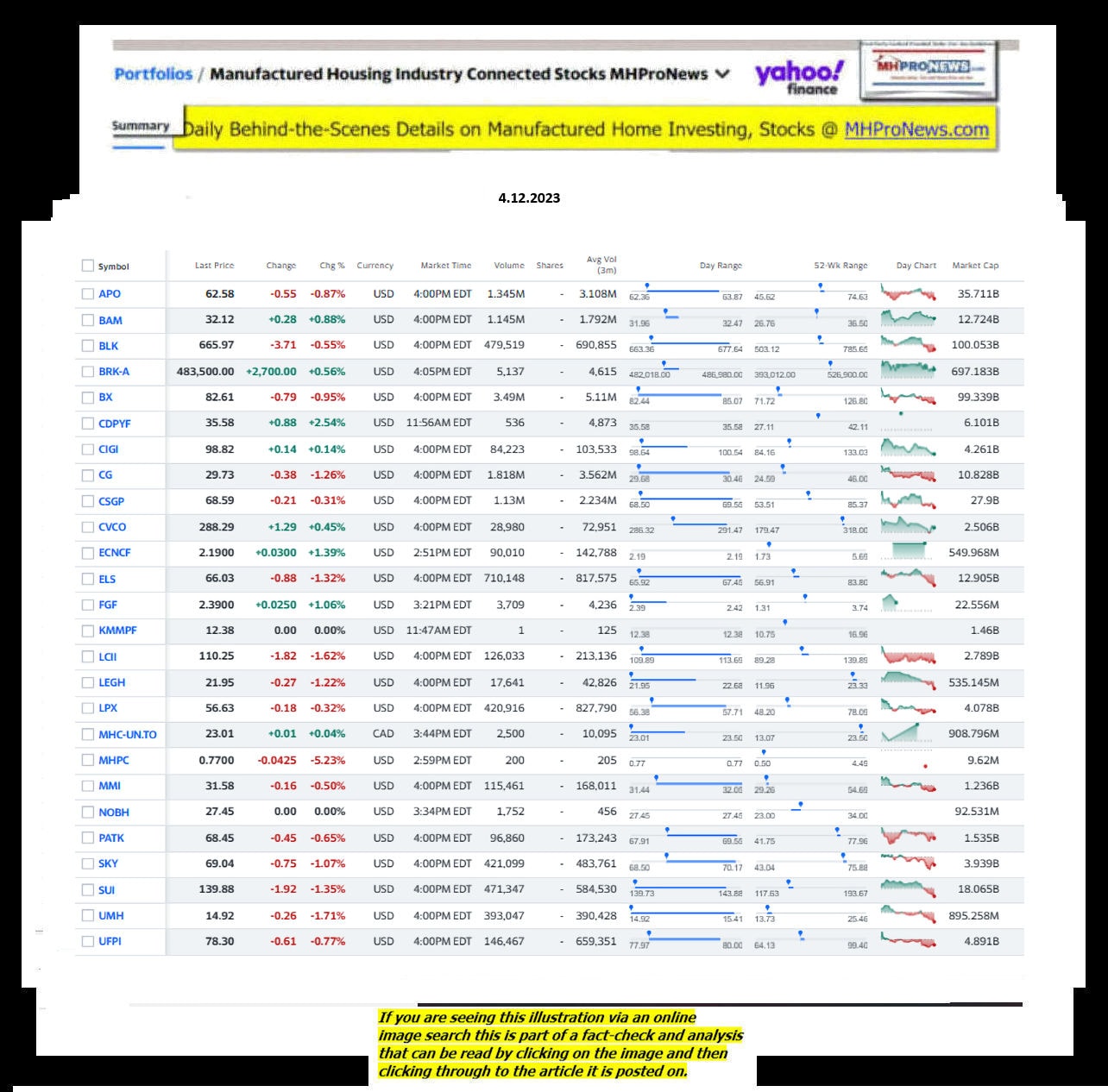 2022 was a tough year for many stocks. Unfortunately, that pattern held true for manufactured home industry (MHVille) connected stocks too.
See the facts, linked below.
'Stomach Churning Year' CNN-Wall Street 'Forget 2022' Down Year – Major Equities Data Compared to Manufactured Housing Stocks, Manufactured Home Community REITs, Performance for Year by Company
====================================
Updated
NOTE 1: The 3rd chart above of manufactured housing connected equities includes the Canadian stock, ECN, which purchased Triad Financial Services, a manufactured home industry finance lender.
NOTE 2: Drew changed its name and trading symbol at the end of 2016 to Lippert (LCII).
NOTE 3: Deer Valley was largely taken private, say company insiders in a message to MHProNews on 12.15.2020, but there are still some outstanding shares of the stock from the days when it was a publicly traded firm.  Thus, there is still periodic activity on DVLY.
Note 4: some recent or related reports to the REITs, stocks, and other equities named above follow in the reports linked below.
Sun Communities – 'Development in Our DNA,' ESG Stance, Q4 2022 Year End Results Earnings Call & PR – Facts, Insights Beyond PR and Official SUI Statements; plus MHVille REITs, Stocks Update
'Undervalued' Cavco Industries Touts Q Result$ 'Dire Need for Housing' 'January Traffic Up'- Rev Up 16%-Sales, Earnings, Mgmt Call Data–Analysis Beyond CVCO Statements; plus MHVille Stocks Update
'Killing's as Easy as Breathing' 'Bad Guys Know More Games' Warren Buffett Annual Berkshire Hathaway Letter, Clayton Homes, 21st, VMF-Manufactured Home Loans-Compelling MHVille Expert Views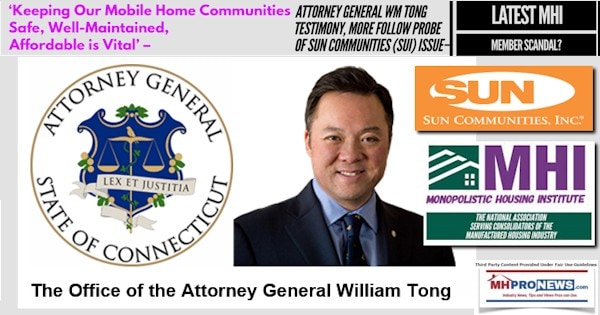 Nobility Homes, Inc. Sales and Earnings for its Fiscal Year 2022 Report, Result$ Best Inflation – Net After Taxes Up 34%, More Fact$; DeSantis ESG and NOBH; plus MHVille Stocks, Market Updates
'Manufactured Housing in the News,' Unpacking UMH CEO Sam Landy Op-Ed' It's Time for Bi-Partisanship on Affordable Manufactured Housing Homeownership' in HousingWire; plus MHMarkets Updates
Manufactured Housing Properties-Results for Three and Nine Months Ending September 30.2022–Exploring 'Mobile Home Park' Manufactured Home Community Investing; plus MHVille REITs, Stocks Update
'Changes Will Benefit Customers,' Boost Sales-Legacy Homes CEO Duncan Bates – LEGH 'Delivered 22.5% Return on Equity in 1 Yr' – Corp Q3 2022 Insights, Analysis; plus MHVille REITs, Stocks Update  
CEO Mark Yost, Skyline Champion Insiders SELL Million$ Value SKY Stock, Home Sales Drop-4th Q 2022 (3QFiscal2023), Official Result$-Facts, Analysis, Info Beyond PR; plus MHVille Stocks Update
Triad Financial Services Q2-2022 FINANCIAL RESULTS, per ECN Capital – Several Bright Spots in Manufactured Home Market Highlighted, Including Communities, Retail, Land-Home, Floor; MHStocks Update
BlackRock Document Exposes Central Banks like Federal Reserve on Recession; Manufactured Home Producer Cavco Industries 2022 Year End Results (CVCOQ3.23) Facts+Analysis; plus MHVille Stocks Update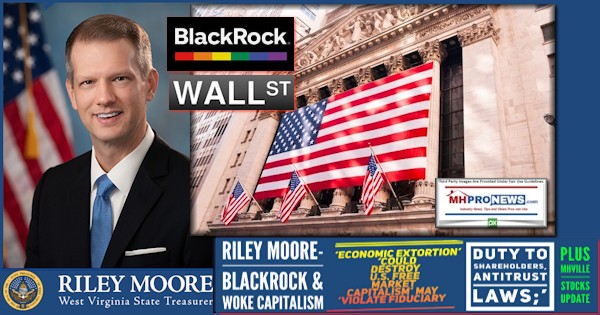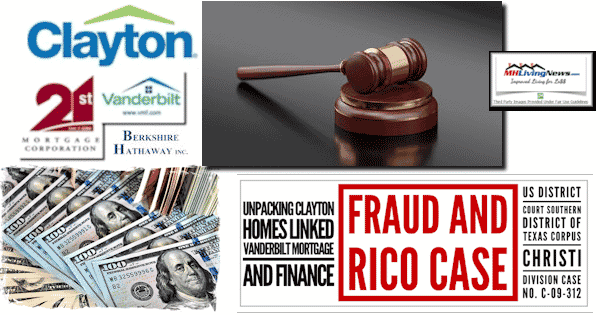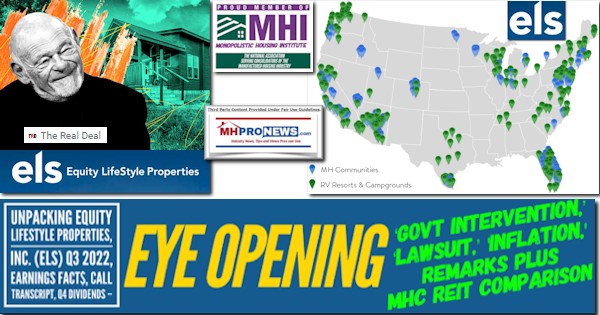 Manufactured Home Communities (a.k.a. 'Mobile Home Parks' – SIC) – Exploring UMH Properties; Fellow Manufactured Housing Institute Member Yes! Communities Suits and Settlements; plus MH Markets Updates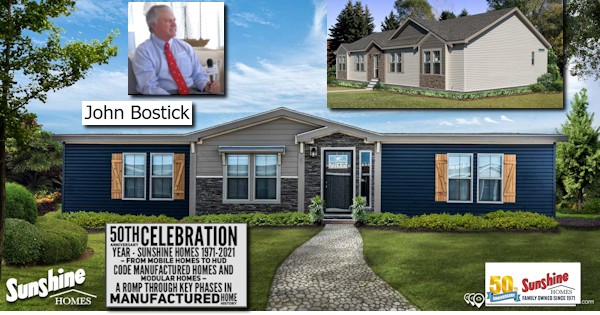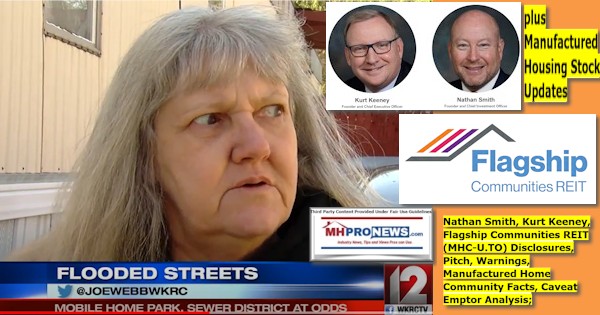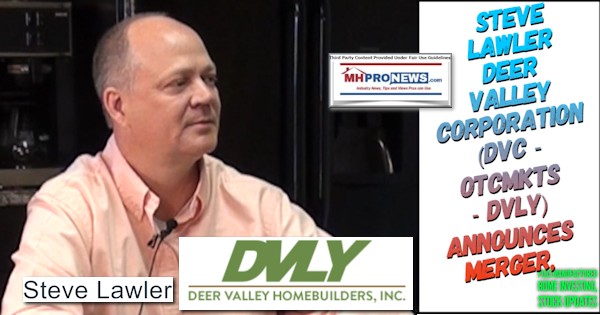 2023 …Berkshire Hathaway is the parent company to Clayton Homes, 21st Mortgage, Vanderbilt Mortgage and other factory-built housing industry suppliers.
· LCI Industries, Patrick, UFPI, and LP each are suppliers to the manufactured housing industry, among others.
· AMG, CG, and TAVFX have investments in manufactured housing related businesses. For insights from third-parties and clients about our publisher, click here.
Disclosure. MHProNews holds no positions in the stocks in this report.
· For expert manufactured housing business development or other professional services, click here.
· To sign up in seconds for our industry leading emailed headline news updates, click here.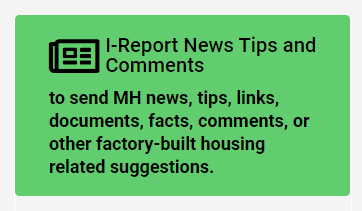 That's a wrap on this installment of "News Through the Lens of Manufactured Homes and Factory-Built Housing" © where "We Provide, You Decide." © (Affordable housing, manufactured homes, stock, investing, data, metrics, reports, fact-checks, analysis, and commentary. Third-party images or content are provided under fair use guidelines for media.) (See Related Reports, further below. Text/image boxes often are hot-linked to other reports that can be access by clicking on them.)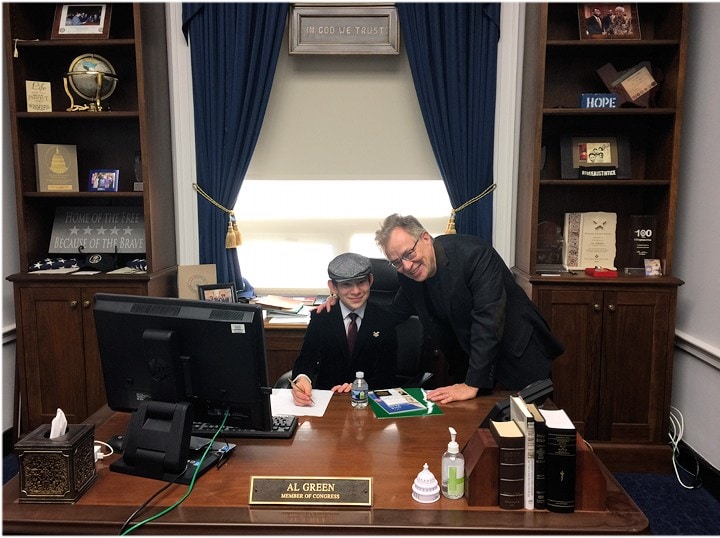 By L.A. "Tony" Kovach – for MHProNews.
Tony earned a journalism scholarship along with numerous awards in history. There have been several awards and honors and also recognition in manufactured housing. For example, he earned the prestigious Lottinville Award in history from the University of Oklahoma, where he studied history and business management. He's a managing member and co-founder of LifeStyle Factory Homes, LLC, the parent company to MHProNews, and MHLivingNews.com. This article reflects the LLC's and/or the writer's position and may or may not reflect the views of sponsors or supporters.
Anar Pitre-CEO Lotus Capital Partners-Vexing Manufactured Housing Institute Claims in Fact Check of Forbes 'What Manufactured Home Communities Investors Need to Know' – Inaccurate MHI Data Shown
Ma Nishtana – 'Why is This Night, Day Different from All Others?' The Pascha vs. Contemporary Orwellian Nightmare – the Sunday Weekly MHVille Headlines Recap
Call for Congressional Oversight Hearings of Manufactured Home Industry Regulators Highlighted by Manufactured Housing Association for Regulatory Reform (MHARR); plus MHVille Markets Update
Official HUD Manufactured Housing Production Facts for Dec 2022 plus 2022 Year End Totals Explored by Manufactured Housing Association for Regulatory Reform (MHARR)-"Millions" Needed – Analysis
Facts You Didn't Know – Martin Luther King Jr – Videos, Insightful Quotes, Surprising Revelations, Videos, Reports, and Illustrations in Champion for Human Rights Including Affordable Housing
'Global Disinformation Index' Warren Buffett Ally Bill Gates' Microsoft Org Charged-Cutting Revenue to Conservative Views via Xandr, GDI; plus Sunday MHVille Headlines Recap
#1 Texas' Manufactured Housing Builders Survey Says They are 'Ready for a Rebound' But Data Point in Question, DOE MH Energy Rule Too – Facts, Analysis; plus, MHVille Stocks, Markets Update
Clayton-Next Step Off-Site Built 'White Paper'-Manufactured Homes, ThinkND 'Magic of the Mind-Everyday Illusion, Misdirection, Deception' MHI Members' Claims Analyzed; plus MHVille Markets Update
After Admitted Failure, Manufactured Housing Institute Doubles Down on CrossMods® in AP Terminology Doc Acquired by MHProNews–Are MHI Leaders Sabotaging MHVille Independents? Plus MHStocks Update
Concessions by Speaker Kevin McCarthy in House Speaker's Battle Called 'Most Significant Win for Conservatives in a Decade' By Federalist's Emily Jashinsky Report; plus MHVille Stocks Updates