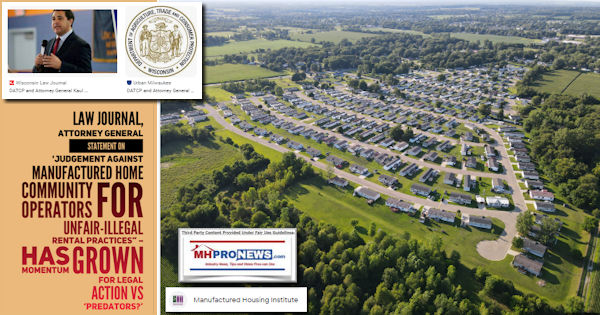 The Wisconsin Law Journal is one of the media outlets that have provided the and Department of Agriculture, Trade and Consumer Protection (DATCP) press release announcing the "judgement against" "Colorado-based operator of manufactured home communities​ (MHCs) in Wisconsin, and RV Horizons, Inc. (RV Horizons)" on 4.6.2023. As longtime MHProNews readers may recall, Frank Rolfe and Dave Reynolds (a.k.a. "Frank and Dave") are the prominent leaders associated with those and other brands in manufactured housing. They are also members of the Manufactured Housing Institute (MHI), and per their own remarks, numbers of manufactured housing state associations, which those state trade groups are dubbed by MHI as their 'state affiliates.' The amount of the "judgment" reported by Wisconsin Attorney General Josh Kaul would be devastating to smaller firms, but may be seen by some as a slap on the wrist to "Frank and Dave," given the millions generated by their brands as Part 2 of this report and the headline suggest.  But the significance for the manufactured housing industry in general, or for stakeholders in manufactured home community operations more specifically, may be that this settlement is part of a larger, emerging trend.
Part 1 of today's report is the press release issued by WI AG Kaul's office by Communications Director Sam Otterson.
Part 2 of this article is additional information with more MHProNews analysis and commentary.
Note that the typo below is in the original.
Part 1
DATCP and Attorney General Kaul Announce $75,000 Judgement Against Manufactured Home Community Operators for Unfair and Illegal Rental Practices
​FOR IMMEDIATE RELEASE: April 6, 2023
Contact: Sam Otterson, Communications Director, (608) 334-0220

MADISON, Wis. – Wisconsin Attorney General Josh Kaul and Department of Agriculture, Trade and Consumer Protection Secretary Randy Romanski today announced a $75,000 settlement agreement with Impact MHC Property Management, LLC (Impact), a Colorado-based operator of manufactured home communitie​s (MHCs) in Wisconsin, and RV Horizons, Inc. (RV Horizons), for $75,000 and a series of compliance requirements.
"Wisconsin law provides protections for tenants against certain unfair expenses and practices," said Attorney General Josh Kaul. "Ensuring that those laws are followed helps protect Wisconsinites' pocketbooks."
Since 2018, the Wisconsin Department of Agriculture, Trade and Consumer Protection (DATCP) has received over 50 complaints from tenants at communities operated by RV Horizons or Impact. Most of these tenants own their own home and rent the lot from Impact (or formerly from RV Horizons); some rent both the home and the lot. DATCP's investigation determined RV Horizons and Impact violated laws that protect tenants in manufactured home communities from unfair rental practices, and DATCP referred these findings to the Wisconsin Department of Justice (DOJ).
"Housing is a basic necessity. DATCP works to enforce the state laws governing landlord-tenant relations and manufactured home communities to protect renters from unfair business practices," said Secretary Romanski. "Today's announcement holds two entities accountable for taking advantage of their tenants."
In its complaint, the State alleges that RV Horizons and Impact engaged in unfair and illegal practices when renting lots to manufactured homeowners. These alleged practices include:
Using illegal "exit fee" provisions in rental agreements designed to prevent homeowners from moving their homes to other communities;
Overcharging for municipal fees;
Failing to clearly disclose how water and sewer charges are billed;
Failing to provide 28 days' written notice of new proposed lease terms;
Failing to provide some tenants with new leases upon expiration of an old lease and;
Engaging in an act of constructive eviction by means not permitted by law.
RV Horizons and Impact have agreed to a Consent Judgment that includes a permanent injunction prohibiting them from charging tenants a fee in return for allowing the movement of a manufactured home into or out from a community. The injunction stops enforcement of provisions in the companies' Wisconsin contracts that effectively imposed such fees. The judgment also includes a two-year compliance monitoring program. RV Horizons and Impact will refund $3,514.14 in overcharges of municipal fees to tenants identified during the State's investigation; conduct an audit of all tenant accounts going back to January 1, 2018, and credit the accounts of all current tenants with the amount of any overpayment; send a payment to any affected former tenants; and file a report with DATCP. The Consent Judgment includes a judgment for civil forfeiture and assessments of $75,000, and payment of the State's costs of $10,000.
RV Horizons and Impact have agreed to a Consent Judgment that includes a permanent injunction prohibiting them from charging tenants a fee in return for allowing the movement of a manufactured home into or out from a community. The injunction stops enforcement of provisions in the companies' Wisconsin contracts that effectively imposed such fees. The judgment also includes a two-year compliance monitoring program. RV Horizons and Impact will refund $3,514.14 in overcharges of municipal fees to tenants identified during the State's investigation; conduct an audit of all tenant accounts going back to January 1, 2018, and credit the accounts of all current tenants with the amount of any overpayment; send a payment to any affected former tenants; and file a report with DATCP. The Consent Judgment includes a judgment for civil forfeiture and assessments of $75,000, and payment of the State's costs of $10,000.
RV Horizons and Impact deny liability for the State's allegations.
This settlement was approved by the Joint Committee on Finance on March 7, 2023.
For additional information and consumer protection resources or to file a complaint, visit DATCP's Consumer Protection webpage at ConsumerProtection.wi.gov or contact DATCP's Consumer Protection Hotline at (800) 422-7128. ##
Part 2 – Additional Information with More MHProNews Analysis and Commentary 
"Frank and Dave" have specifically and publicly reportedly praised the Wisconsin Housing Alliance (WHA). They have more generically applauded other state associations. At various times, they have publicly slammed the Manufactured Housing Institute (MHI), verbally as well as in writing. Note that "Frank and Dave" declined to comment, per our latest email check, on the report posted above generated by WI AG Kaul's office.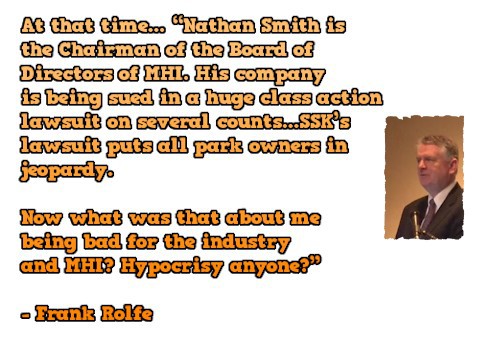 The Wisconsin Housing Alliance (WHA) website says the following on its home page.
Our Mission
Voice of Factory-Built Housing
To be an advocate for members, facilitating relationships which educate, support, and promote the factory-built housing industry.
The WHA in its heydays could certainly make a strong claim that mantle. Ross Kinzler, the prior state association executive for the WHA to their current leader, Amy Bliss, was considered a leader among the state association executives 'back in the day.' Kinzler had produced the following graphic as part of a 'wake up call' for manufactured housing industry members in the darker days of the industry, when some thought that the industry itself might collapse.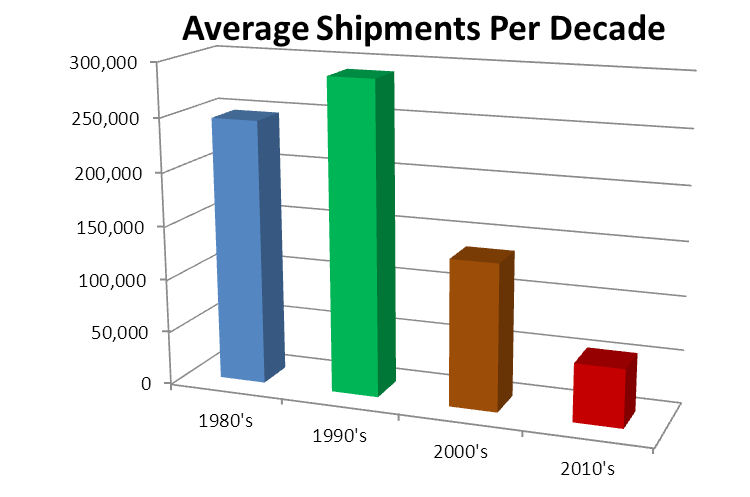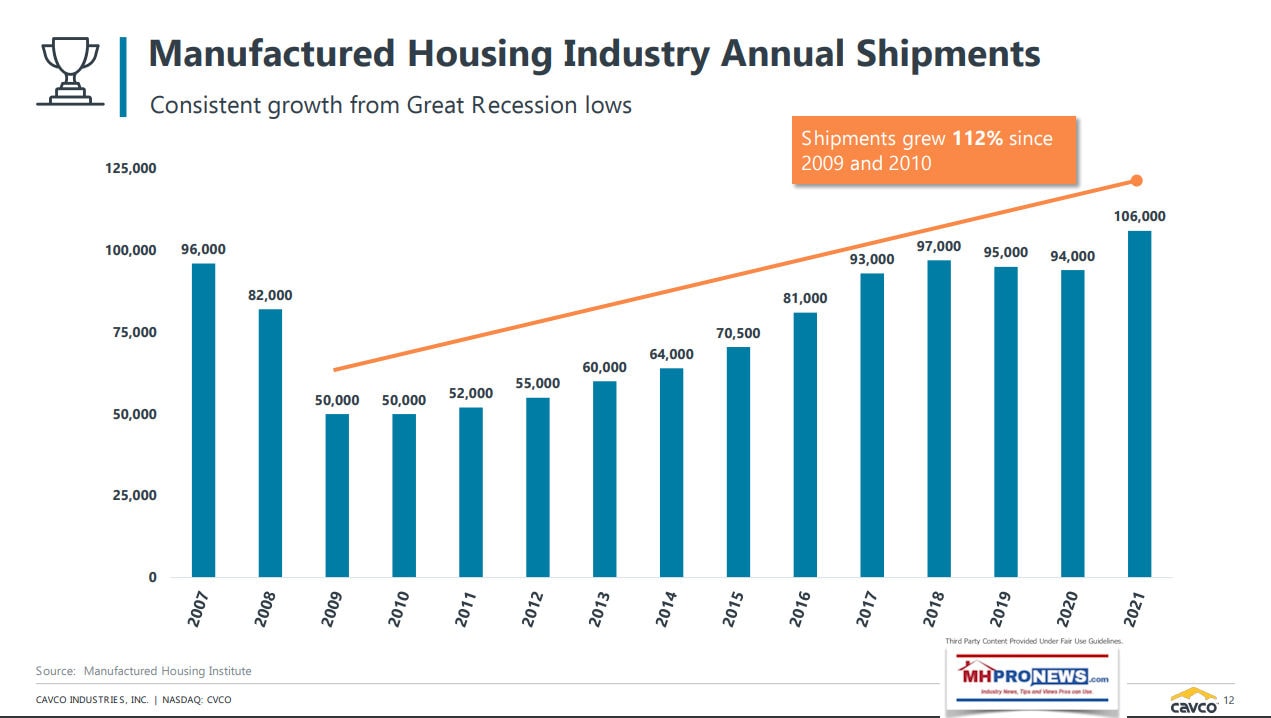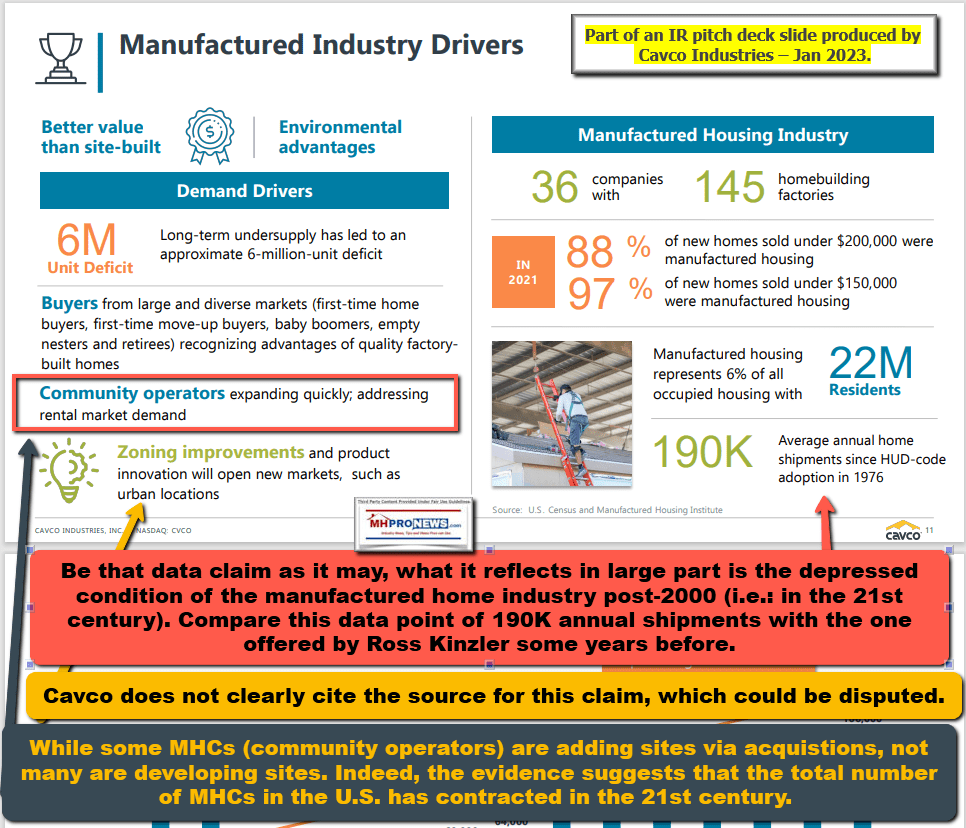 Some once noble brands in manufactured housing in manufactured housing production had facilities based in Wisconsin. For example. Production centers for Wick Housing Systems and Liberty Homes were in Wisconsin.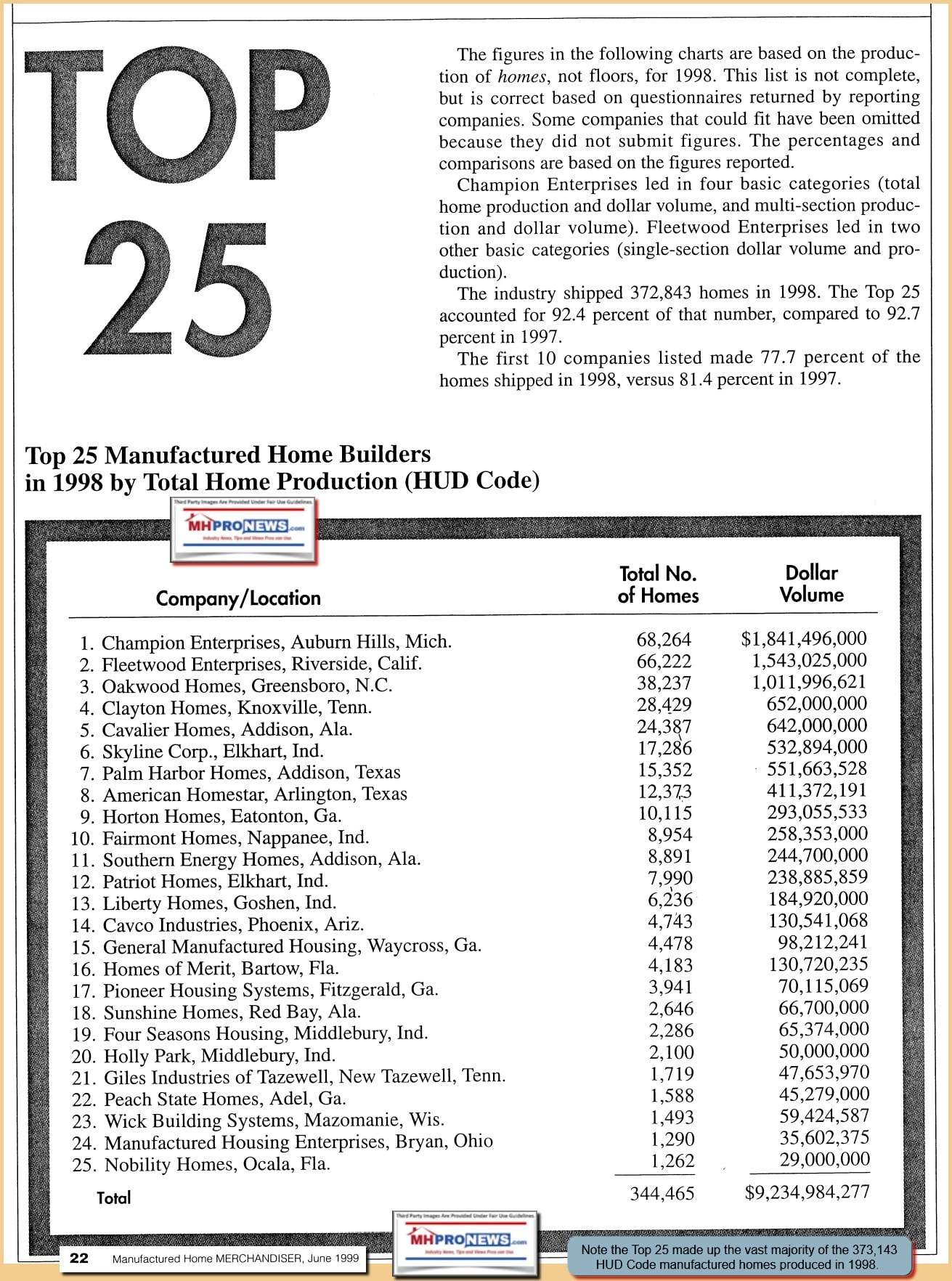 The mood was bleak enough back when Ross Kinzler for a time joked with dark humor about his (and by implication, the dozens of other MHVille state associations turning) trade group (the WHA) turning into 'the Manufactured Home Remodelers' Association.' Meaning, the association may live on, but only to support the advocacy efforts of those who remodeled manufactured and mobile homes built years before, because new production might one day vanish.
Stop and think. The glory days of Champion Enterprises and Fleetwood Enterprises were so robust in the later part of the 20th century that each HUD Code builder in 1998 built over 65,000 homes in one year. Fast forward 12 years, and the entire industry nationwide would only produce collectively about 50,000 homes total in 2009 and 2010. Because floor dues routinely were a key source for funding state associations, Kinzler initiated dues on used manufactured home sales.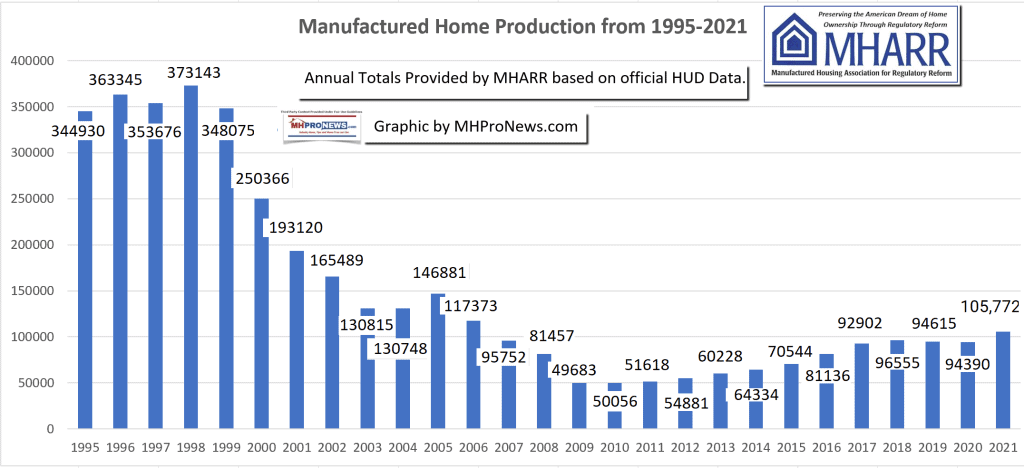 Champion, in 1998, reportedly produced some 68,264 homes. Fleetwood Enterprises produced 66,222 manufactured homes, per the more focused MH Merchandiser magazine screen capture below. Put differently, but still accurately, Champion and Fleetwood in 1998 each produced more manufactured homes than were produced by ALL of manufactured housing builders in the years 2009 and 2010 combined.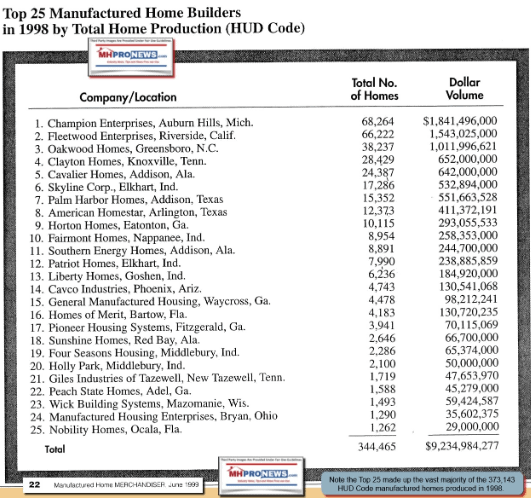 Today, through a merger and acquisition  activity, the Champion Homes of yore is now Skyline Champion (SKY). Champion Enterprises and Fleetwood Homes both filed bankruptcy in 2009.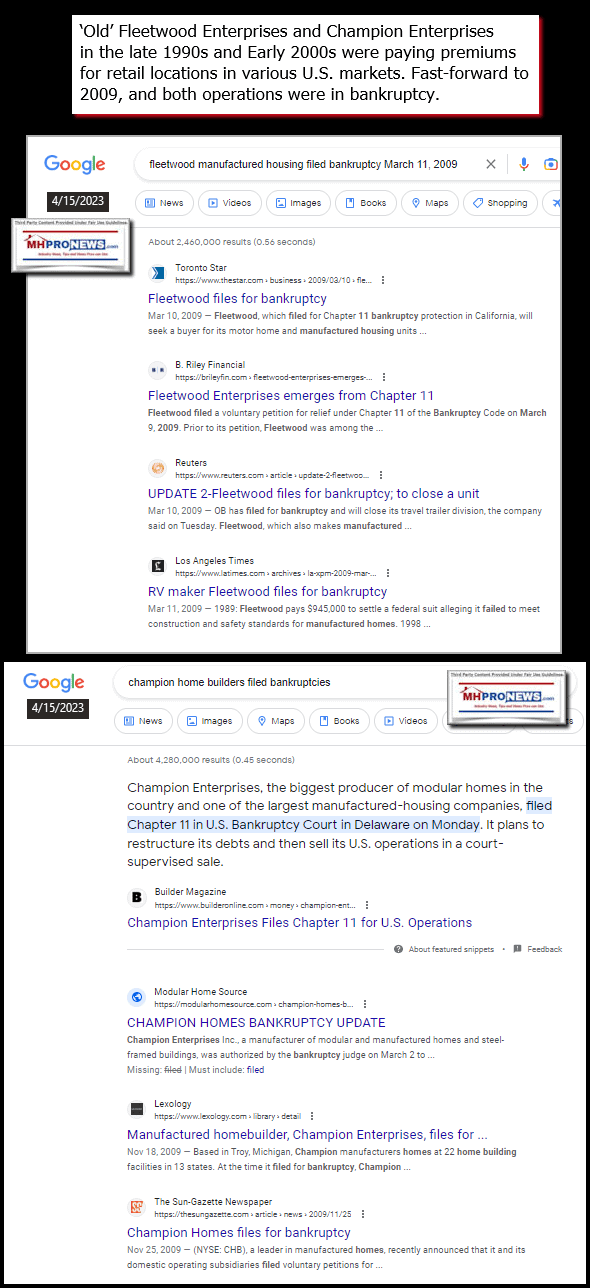 Of course, in defense of Kinzler's remarks and data points, it was believable to many that the industry could collapse circa the 2009-2010 collapse, and that only 'remodelers' of old mobile homes or manufactured homes would be needed.
In that sort of foxhole ('wartime') environment, it is natural for tight relationships among state association members to be forged. Some no longer recall or ponder why the industry collapsed, because the prevailing narrative is that the industry hit the dirt for the same reason that conventional housing did. Namely, bad lending practices in the late 1990s foreshadowed a wave of manufactured home repossessions that presaged the bad lending and 'liar loan' practices in conventional housing in the 2000s that resulted in a wave of foreclosures and the housing/financial crisis and so-called "Great Recession" circa 2008.
But a closer look at MHLending could reveal something else.
The Government Sponsored Enterprises (GSEs or "Enterprises") of Fannie Mae and Freddie Mac both exited the manufactured housing industry as a conduit to "the secondary market." So, when conventional housing collapsed, why didn't the GSEs exit conventional housing?
While most certainly the losses on numbers of loans in manufactured housing were severe, so too were the losses on numbers of conventional housing severe.  It wasn't the manufactured housing financial crisis circa the turn of the century that caused the GSEs to go into receivership. Rather, it was the conventional housing crisis that caused home values to drop by 1/3rd or more, depending on the part of the country. Institutional investors in many cases stepped in to buy up those existing houses at deeply discounted prices compared to their former high.
What happened in MHVille is summarized in the document found below on the FHFA "listen session" website. Citing a Manufactured Housing Executives Committee (MHEC) member remark, the collapse of manufactured home lending and those losses were a comparative "pimple on an elephant's ass" to the mammoth losses that sparked the bailout of the housing and financial markets that Congress dubbed the Housing and Economic Recovery Act (HERA) of 2008. The Federal Housing Finance Agency (FHFA) was formed and still is the 'conservator' for the GSEs. As the FHFA website said in a post on 1.19.2023: the FHFA " and the Federal Home Loan Bank System, which includes the 11 Federal Home Loan Banks (FHLBanks) and the Office of Finance (OF). The Agency's mission is to ensure that Fannie Mae and Freddie Mac (the Enterprises) and the FHLBanks (together, "the regulated entities") fulfill their mission by operating in a safe and sound manner to serve as a reliable source of liquidity and funding for housing finance and community investment. Since 2008, FHFA has also served as conservator of Fannie Mae and Freddie Mac."
When capital access dries up, everything in housing – manufactured or conventional – begins to change. But what a closer look reveals are that the first two points listed below are often missing from the common narrative about what was in the background during the plunge in manufactured housing.
1) Berkshire Hathaway exited their once sizable and previously lucrative stakes in Fannie Mae and Freddie Mac.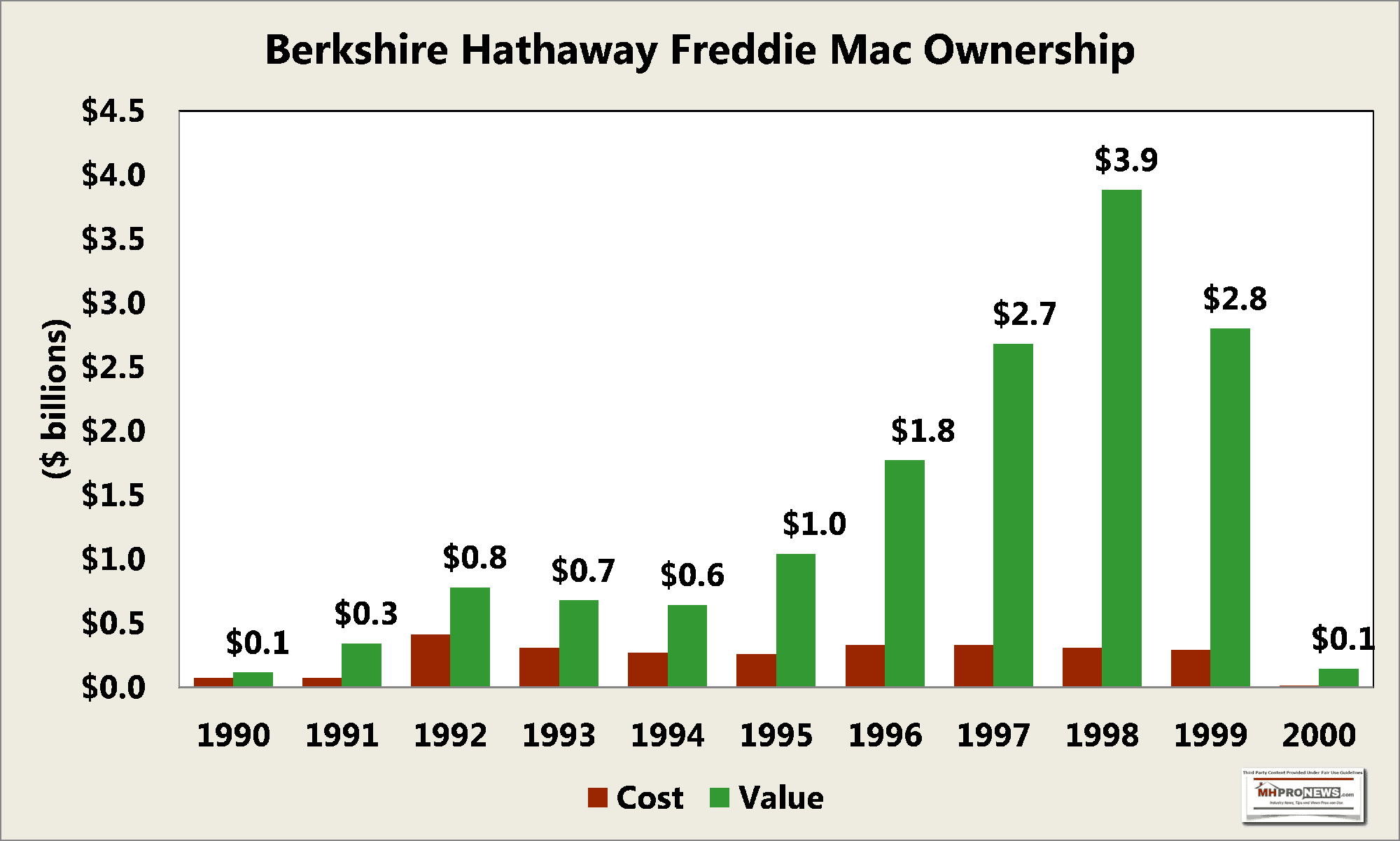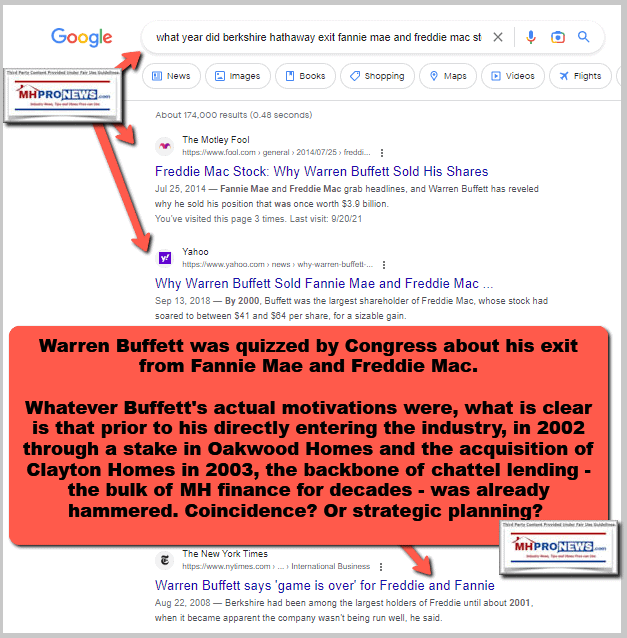 2) In 2009, Tim Williams, President and CEO for Berkshire Hathaway owned 21st Mortgage Corporation, issued the letter posted below.
3) When that letter was issued, in short order Champion Enterprises and Fleetwood Enterprises both filed for bankruptcy protection.
4) Others in that once venerable list of manufactured home top 25 brands collapsed and vanished, or where acquired by others. For example, once independent Palm Harbor as well as Fleetwood Homes were both absorbed by Cavco Industries. Several other brands named in that top 25 have since been acquired by one of today's 'Big Three' of Clayton Homes (BRK), Skyline Champion (SKY), and Cavco (CVCO).
5) As street retail collapsed, the primary traditional source for the old business model in keep manufactured home communities at or near occupancy vaporized. As vacancies grew in the wake of the circa-2000 era meltdown in manufactured housing lending sparked during the repo-glut and loss of access to the secondary market in chattel manufactured home lending, their valuations naturally fell too.
6) As vacancies rose in land-lease communities across the country, some investors began the process of buying up the properties at deeply discounted rates. So long as they could offer financing to buyers, and as long as they could get floorplan (wholesale) lending or could outright buy manufactured home inventory, MHCs became 'retailers' that routinely focused solely on their own community(ies).
7) Some of that history is captured in this remark by Kevin Clayton made under "truth in testimony" certification to Congress in the 2011 field hearings for manufactured housing that occurred in Danville, VA.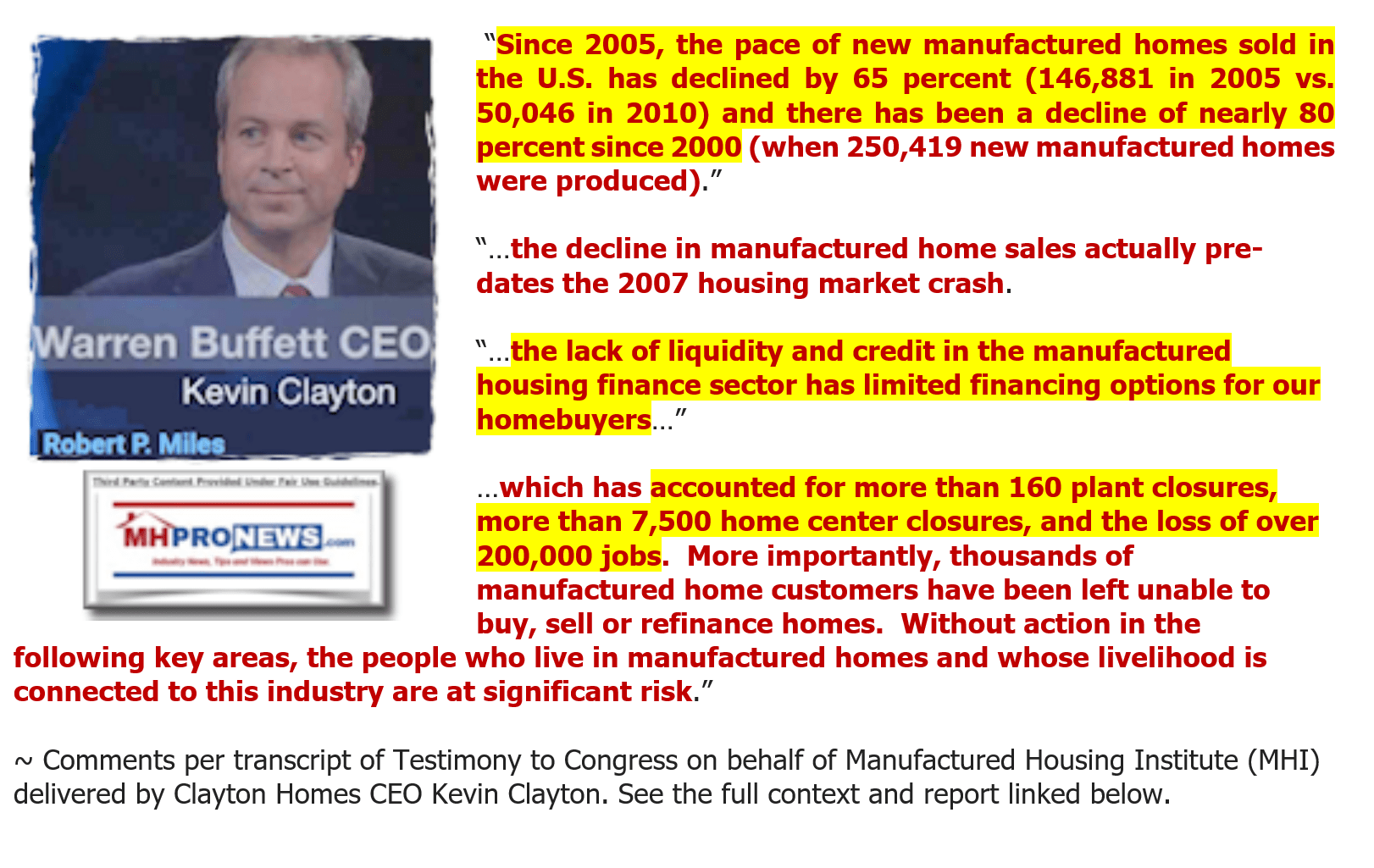 8) But what Clayton failed to mention is the following letter by his Berkshire colleague, Tim Williams at 21st.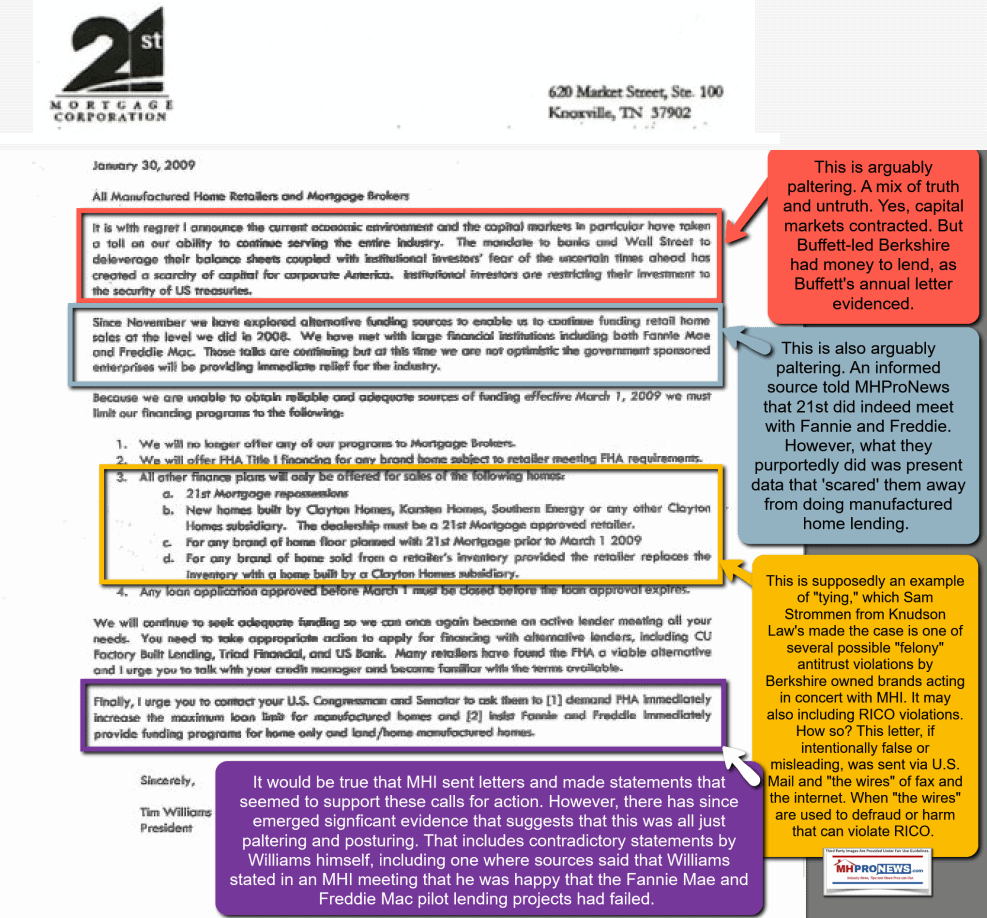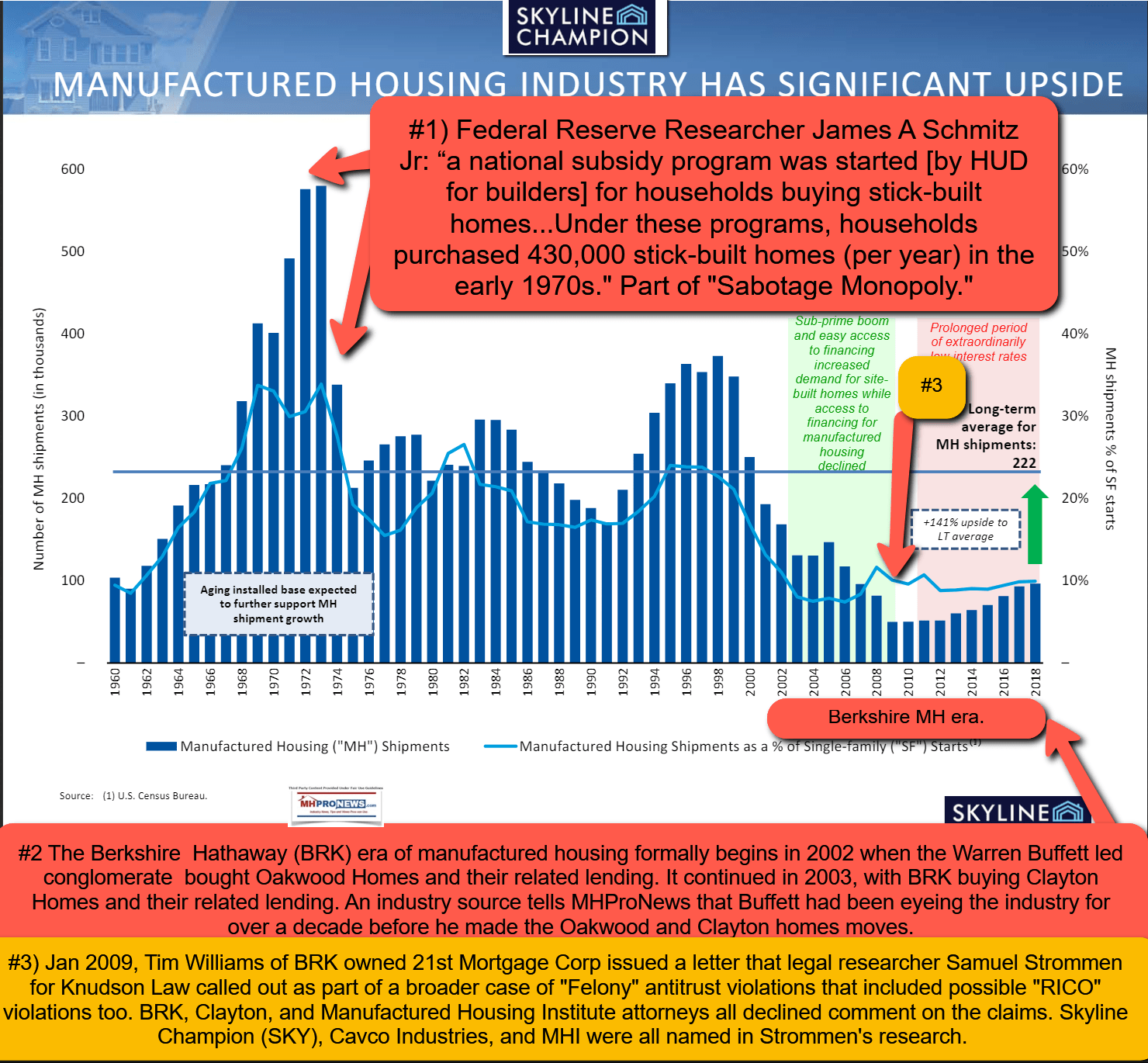 9) That is part of the almost 'lost history' of what actually happened in manufactured housing. One must keep in mind that even as the GSEs and their associated lenders in manufactured housing were taking a beating from repossessions circa 2000, that Harvard senior fellow Eric Belsky was predicting that manufactured housing would RISE to new heights. Belsky was so impressed by facts and value of HUD Code manufactured homes that he predicted that manufactured housing could overtake conventional housing by 2010.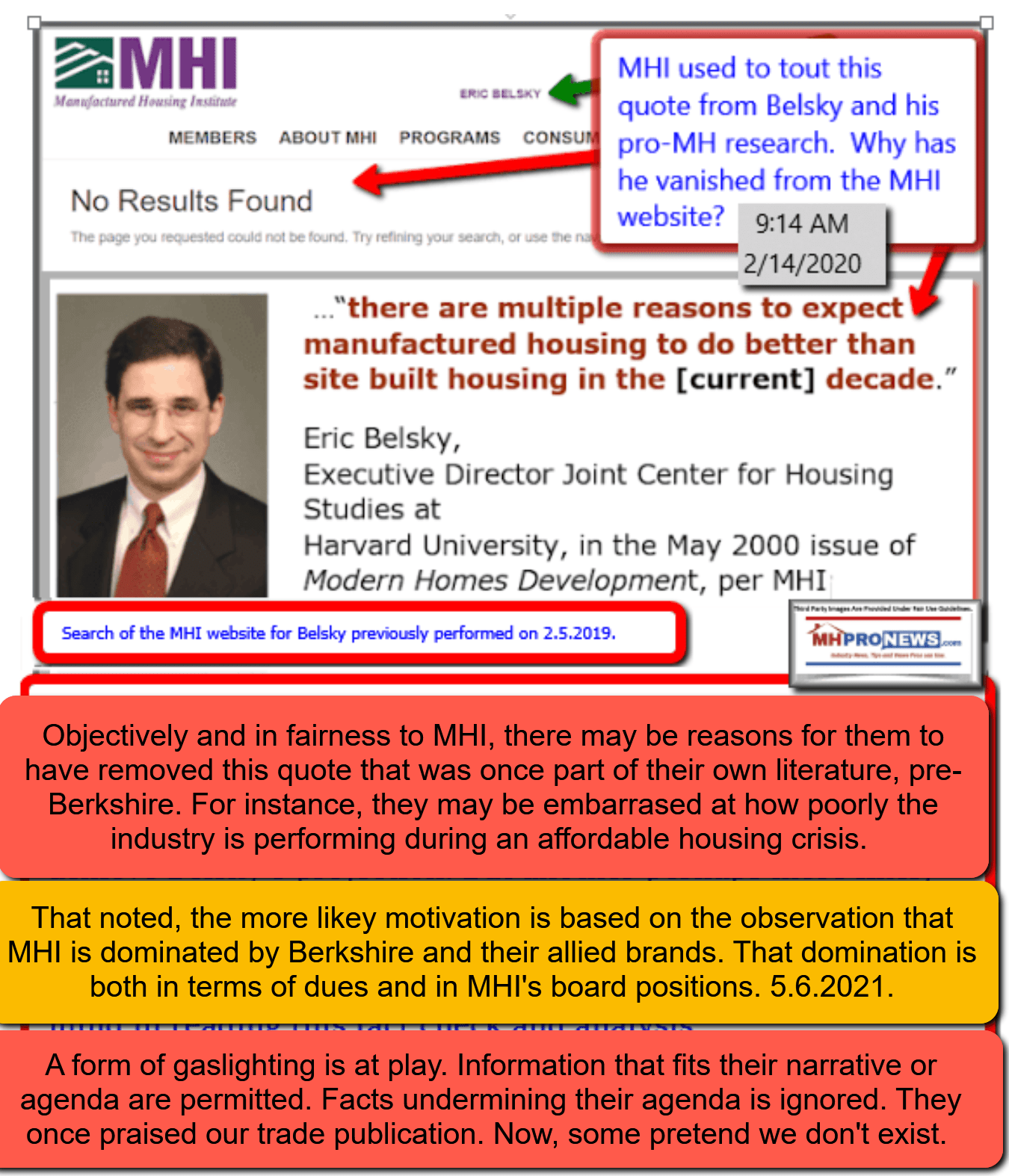 10) Belsky proved wrong. But Belsky was and remains an intelligent fellow. According to a press release dated June 6, 2014: "
11) Belsky left the respected Harvard Joint Center for Housing Studies (JCHS) to join the Federal Reserve. Consider this from that press release.

The Federal Reserve Board on Friday announced the appointment of Eric S. Belsky as Director of the Division of Consumer and Community Affairs. He is expected to start at the Board in August.
Dr. Belsky will succeed Sandra F. Braunstein, who retired earlier this year after nearly 27 years of service at the Board, including 10 years as director of the division.
Currently, Dr. Belsky serves as Managing Director of the Joint Center for Housing Studies of Harvard University and is Lecturer in Urban Planning and Design at the Harvard Graduate School of Design. He previously held a number of positions in the private sector and academia, including as Director of Housing Finance Research at Fannie Mae and as Assistant Professor at the University of Massachusetts at Amherst. Dr. Belsky has extensive experience conducting research on housing markets, housing finance, and housing policy, including as Research Director of the Millennial Housing Commission. He holds a Ph.D., M.A., and B.A. from Clark University.
The Division of Consumer and Community Affairs ensures that the voices and concerns of consumers and communities are represented at the Federal Reserve. …"
Belsky understood the GSEs and the U.S. housing finance system quite well, as an insider and as an academic.
What Belsky likely could not have known when he made his prediction about the rise of manufactured housing from 2000 to 2010 is that Berkshire would enter the industry 'directly' by taking a stake in Oakwood Homes in 2002 and then buying Clayton Homes outright in 2003. Oakwood and others acquired by Berkshire were rolled up under the Clayton Homes brand.
12) So, some brands endured, but routinely as one of the subsidiaries of one of the Big Three. Brands like Legacy Housing (LEGH) were not yet in the top 25 in 1998, and how Legacy is in the top 5 today, per their own statements. If you ask officials at Legacy why their brand has been successful, perhaps part of their remarks might focus on their vertically integrated chattel financing.
'Record Year' Says CEO Duncan Bates, Legacy Housing Names Max Africk, Changes in Beneficial Ownership, LEGH Provides Q4 and Year-End 2022 Results, Homes Priced at Retail Range from 33K to 180K
13) Nobility Homes (NOBH) has risen from number 25 since 1998, also due in part to vertical integration that included chattel financing.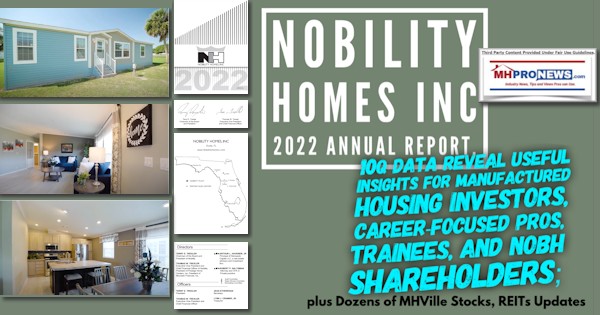 14) To briefly recap but elaborate on the above. As manufactured home chattel lending collapsed, street retailer post-2000 often shifted to conventional mortgage lending. That meant that as loans for land lease (routinely chattel, personal property or 'home only' loans) dried up, manufactured housing retailers shifted to selling more onto privately owned property in 'land home' deals and much less into land lease manufactured home communities (MHCs).
15) That 'loss' of much of the securitized 'secondary market' access for chattel lending post-2000 meant that manufactured home community (MHC) owner-operators had to either get more credit qualified buyers, so that the remaining chattel lenders (think, for example, Triad Financial Services – which has long been known for buying "A" paper) would make a loan on a land lease.
16) As an article on the Minneapolis Federal Reserve website, dated July 1, 2005 by Ron Wirtz, editor of FedGazette, had this headline and subheading: "Ginnie Mae I buy a manufactured home?" "Secondary financial markets could boost the industry."
17) Wirtz wrote in that article for the Minneapolis Fed the following.

According to industry sources, one major boost for manufactured homes would be to get in the good graces of secondary financial markets, which headed for the exits after getting hammered in the industry's collapse.
Secondary financial firms—like the ubiquitous Fannie Mae and Freddie Mac—establish loan standards and applicable interest rates at which they will purchase loans from lenders. These loans are then repackaged and sold as securities (usually bonds) to investors, though Fannie and Freddie end up holding many of these securitized loans in their own portfolios.
Securitization does two things. It provides lenders with liquidity by quickly offloading a loan and providing the cash necessary for the next home buyer in line. When repurchased loans are pooled by secondary markets, this then spreads the overall financial risk (just as with insurance), and some of the savings from this "pooled risk" are ultimately passed through to the buyer in the form of lower interest rates.
When it comes to manufactured housing, there are two secondary markets: loans for real property (sold as mortgage-backed securities) and loans for personal property (sold as asset-backed securities). Right now, both appear to have a 10-foot-pole aversion to manufactured housing.
The secondary market for conventional mortgages is dominated by Fannie Mae and Freddie Mac (so-called government-sponsored enterprises, or GSEs). Neither currently has much of a mortgage portfolio for manufactured housing. Sandra Cutts, from Fannie Mae's public affairs office, said via e-mail that Fannie Mae's loan purchases in manufactured housing "have been relatively constant over the past three years, averaging about one-half of 1 percent of our total book of business." Several requests to Freddie Mac for information on the firm's manufactured loan activity went unanswered, though it's believed to be roughly in line with that of Fannie.
Industry sources said Fannie and Freddie had been increasing their presence as the manufactured home industry gained momentum in the 1990s, but then peeled back after suffering losses when the industry started crumbling at the end of the decade. Fannie Mae, for example, changed its underwriting guidelines a few years ago, increasing the required down payment for a manufactured home loan from 5 percent to 10 percent for most lenders, and 5 percent only for the few lenders "that have demonstrated experience in this area."
Fannie and Freddie also have the opportunity to help the manufactured home industry by buying chattel loans and issuing so-called asset-backed securities (which are also used for things like credit card debt, autos and subprime home equity). But Fannie Mae has not invested in these types of bonds since 2000, according to Cutts. Fannie is hardly alone in heading for the manufactured home exit. The entire asset-backed securities market went from a high of about $12 billion in 1999 to less than $1 billion each of the past two years, according to a February market report by Lehman Brothers. It's not likely to get a lot better soon. A January 2005 report on secondary finance markets by Fitch Ratings downgraded manufactured home-backed securities virtually across the board. …" The balance of that introductory level article is found at this link here.
18) That is part of the perceived scenario that existed in the post-2000 to 2010 years. But Wirtz wrote years before the largely unreported by mainstream media remarks cited by 21st CEO Williams, provided above. The battles during the Dodd-Frank era were still ahead. The reputation of Buffet-led Berkshire's lending in manufactured housing being blasted by the likes of the Seattle Times had not yet occurred. The ripping of Clayton Homes and their affiliated lending by Representative Maxine Waters and her colleagues would only take place later. The flashback and more recent reports linked below add details and flavor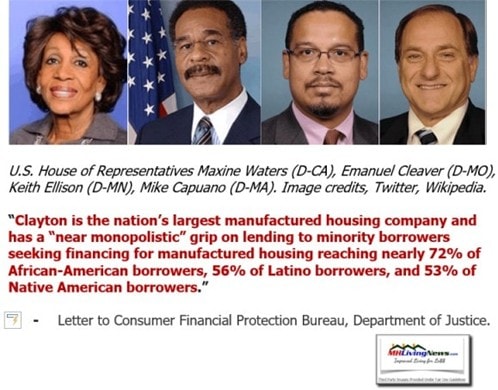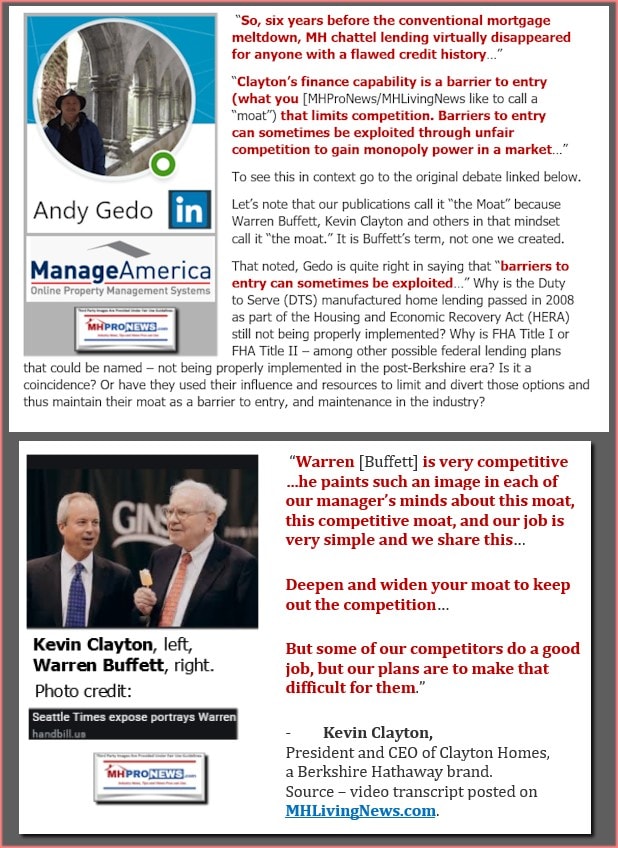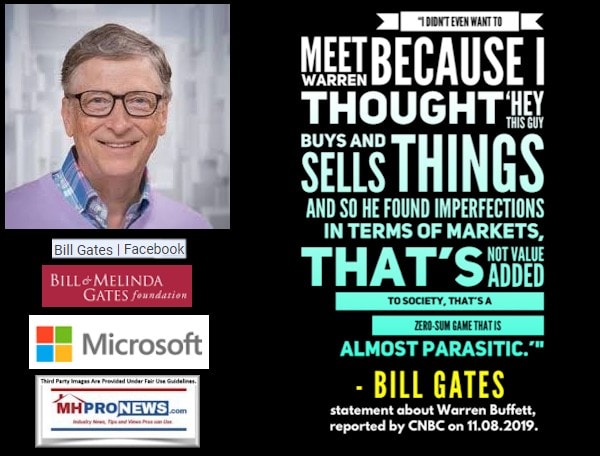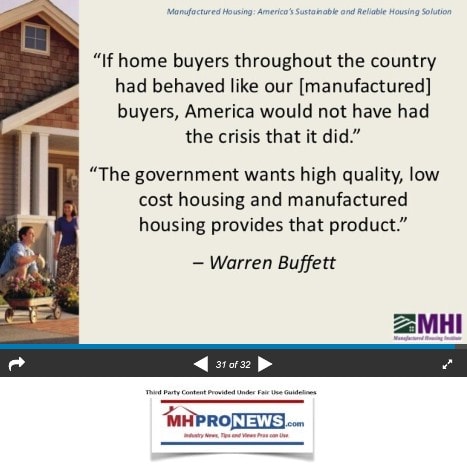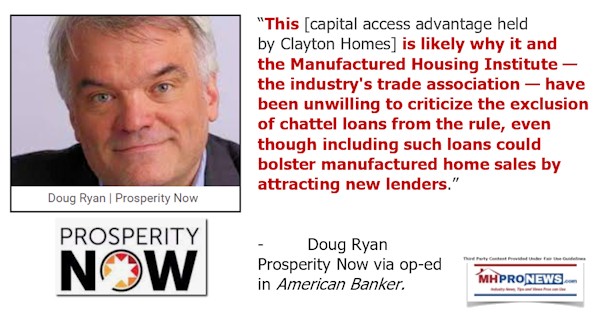 19) Now, with that context in mind, look more closely at what has emerged in the MHC sector. Brands like those associated with "Frank and Dave," RHP Properties (see their ad on the WHA home page for acquisitions of land-lease MHCs) have increasingly become 'predatory.' So much so, that with the heat from mainstream media, MHProNews/MHLivingNews, MHI arguably felt compelled to issue a 'Code of Ethical' conduct. But as that report linked below details, the factual and evidence-based case can be made that nothing has changed since MHI issued that so-called code of ethical conduct.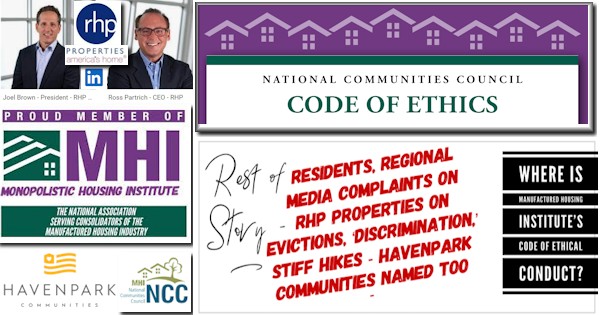 20) Going back to the report in Part 1, above. Not only has RV Horizons and Impact Communities been hit with complaints and legal action, but so too have MHI members RHP Properties, Havenpark Capital, Equity Lifestyle Properties (ELS), Yes! Communities, or even Sun Communities (SUI).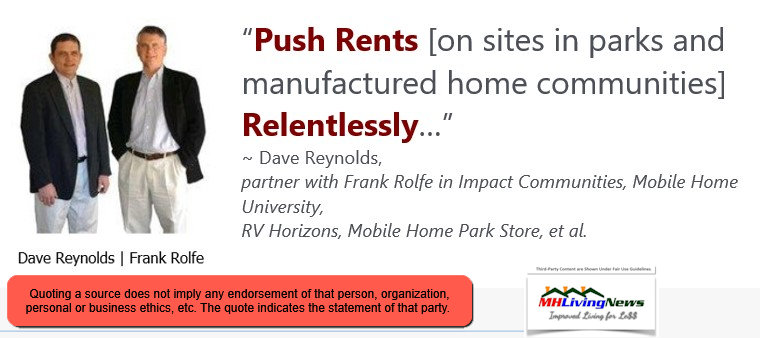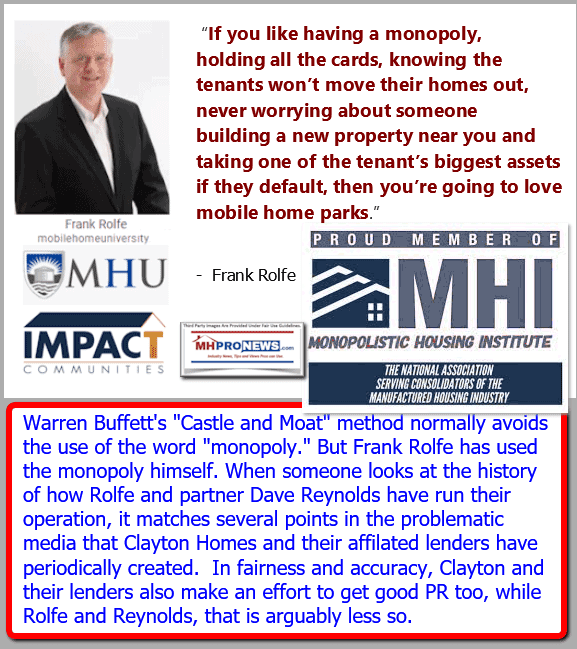 21) Since there is no known manufactured housing industry focused trade group that is tracking this type of data in a public way, it is difficult to say to what extent that this is a 'trend.' But there is certainly a push by resident groups active in manufactured housing to tame the rising tide of aggressive site fee hikes. Furthermore, there are troubling links between funding by Warren Buffett connected and funded nonprofits and at least one of those resident groups, MHAction.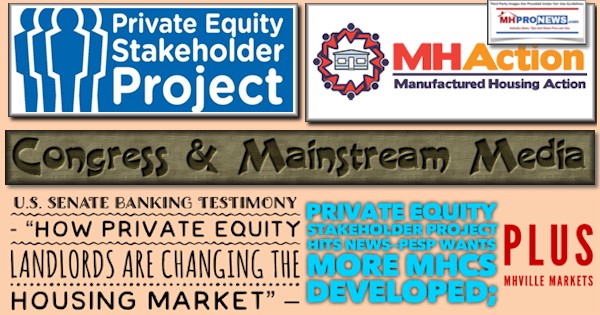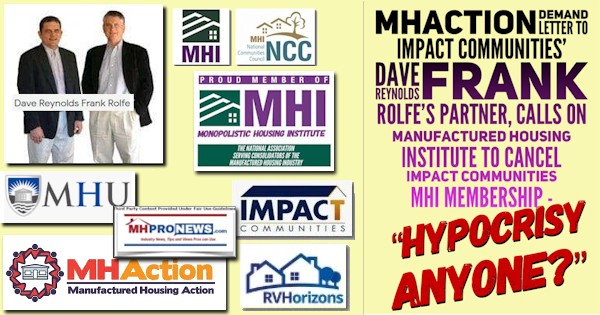 22) Put differently, there is a pungent odor of cronyism and corruption and a range of potentially illegal behaviors that emerges from the above picture. It is arguably in part a product of the "moat" or "castle and moat" methods advanced by Buffett, preached by Clayton, and picked up and amplified by Frank and Dave.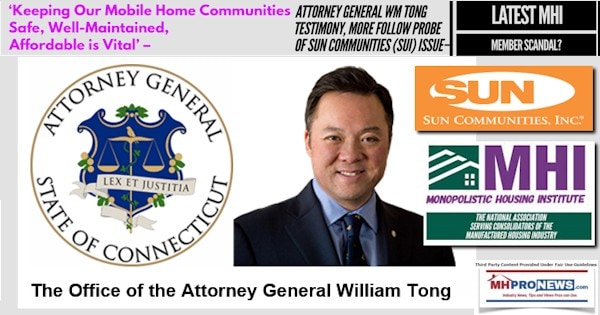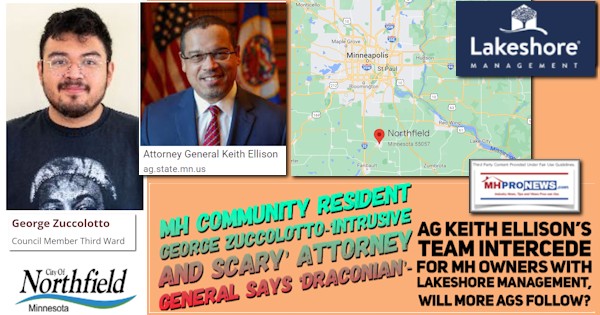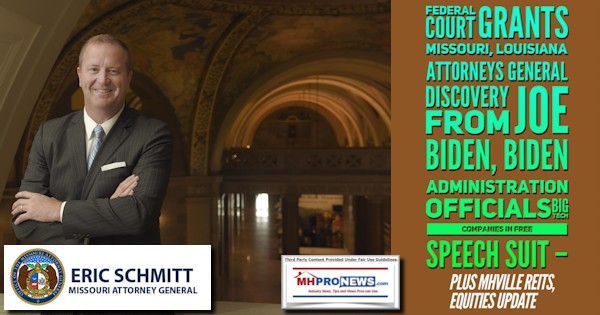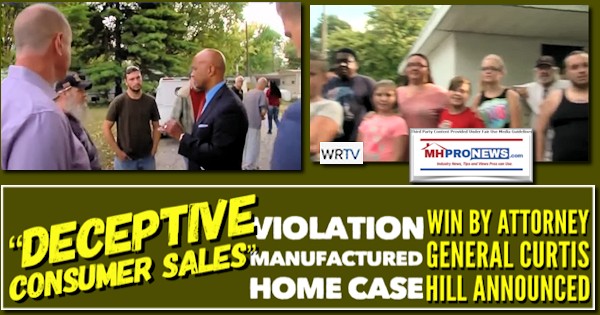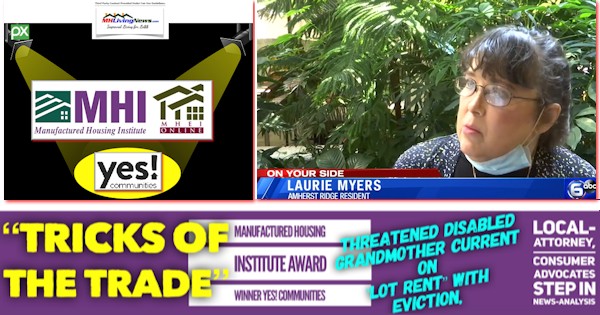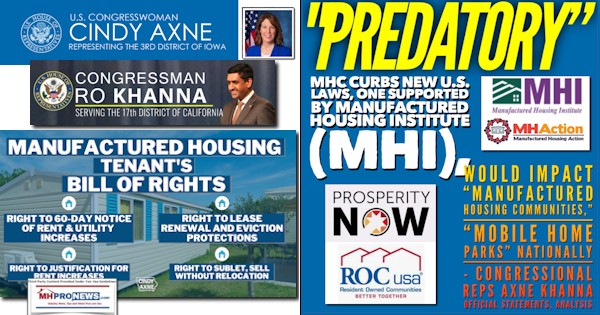 Conclusion
MHProNews/MHLivingNews have long advocated for a through and objective probe of manufactured housing through the lens of antitrust, RICO, Hobbs Act and other applicable federal and state laws. Will there be such a probe in the near future? That's difficult to say. But there are anecdotal reasons to think that it is possible.
Stay tuned for more from the most authoritative, evidence based, and industry-expert produced information in all of what passes as MHVille's trade media.  ##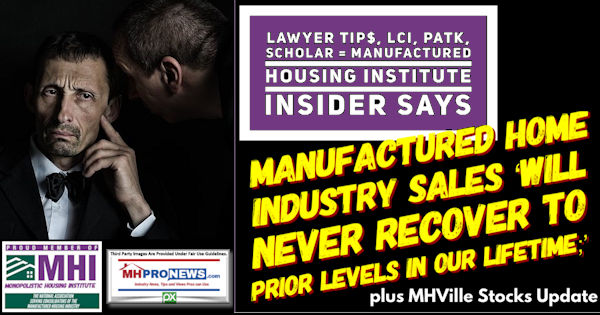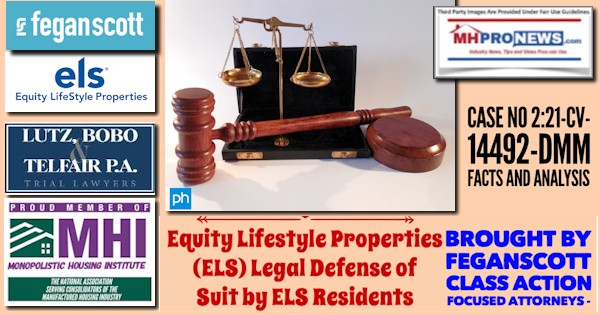 Conventional Housing Sales Rise in February 2023 per NAHB, But Manufactured Home Sales Plunged – What Data Suggests About Manufactured Housing Corporate or Manufactured Housing Institute Leaders?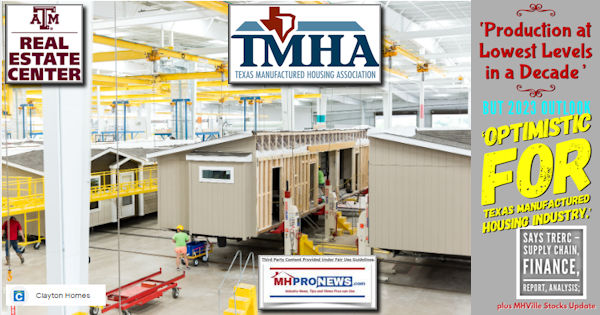 Manufactured Housing Institute (MHI) Claims Contradicted by Cavco Industries IR Statements, 'Shortage of Affordable Housing Costs Economy $2Trillion Annually;' plus MHVille Markets Update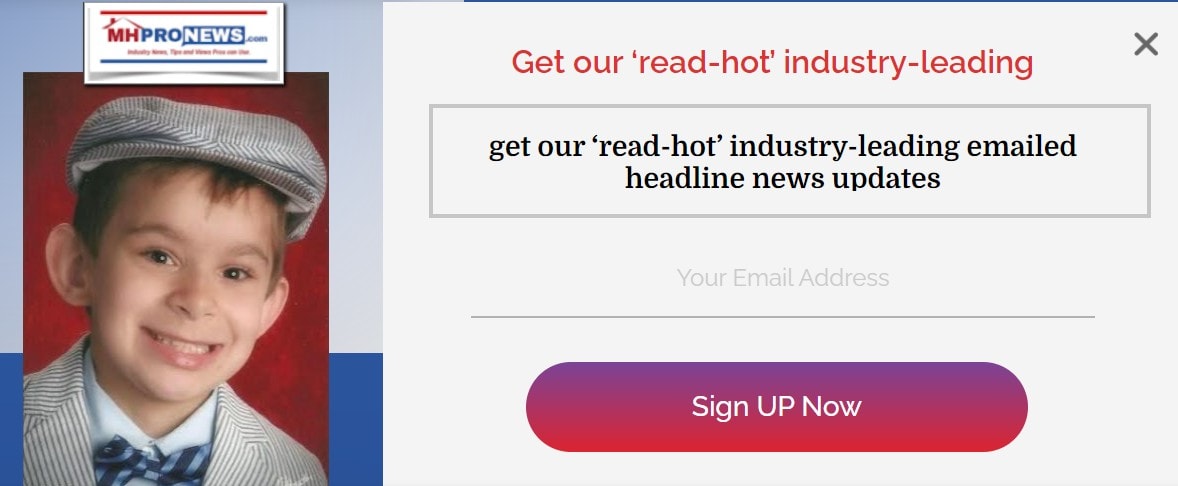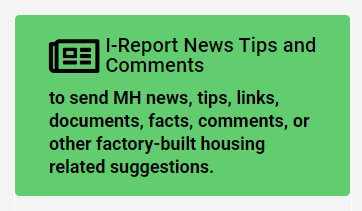 Again, our thanks to free email subscribers and all readers like you, as well as our tipsters/sources, sponsors and God for making and keeping us the runaway number one source for authentic "News through the lens of manufactured homes and factory-built housing" © where "We Provide, You Decide." © ## (Affordable housing, manufactured homes, reports, fact-checks, analysis, and commentary. Third-party images or content are provided under fair use guidelines for media.) (See Related Reports, further below. Text/image boxes often are hot-linked to other reports that can be access by clicking on them.)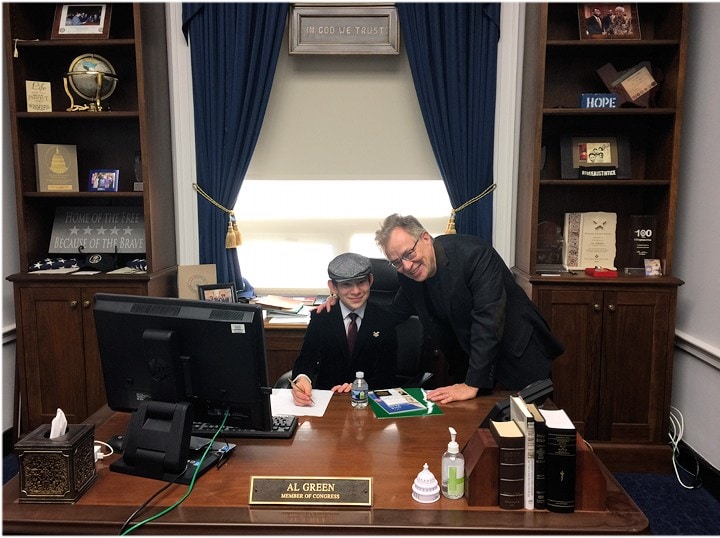 By L.A. "Tony" Kovach – for MHProNews.com.
Tony earned a journalism scholarship and earned numerous awards in history and in manufactured housing.
For example, he earned the prestigious Lottinville Award in history from the University of Oklahoma, where he studied history and business management. He's a managing member and co-founder of LifeStyle Factory Homes, LLC, the parent company to MHProNews, and MHLivingNews.com.
This article reflects the LLC's and/or the writer's position, and may or may not reflect the views of sponsors or supporters.
Connect on LinkedIn: http://www.linkedin.com/in/latonykovach
Related References:
The text/image boxes below are linked to other reports, which can be accessed by clicking on them.'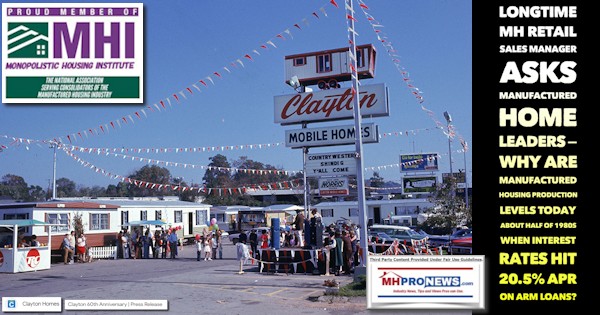 DOE Weakness on MH Energy Rule Case? Attorney Weighs in on DOE Notice Pertaining to DOE Announced Compliance Date for Manufactured Housing Energy Standards; plus Sunday Weekly Headlines Recap
'The Rules Are Simple. They Lie to Us, They Know We Know They Are Lying;' MHVillage/MHInsider Darren Krolewski Unveils Sobering Claim – 'How to Waste Good Money on Marketing' – plus MHVille Stock$
HUD Code Manufactured Home Production Decline Worsens in January 2023 per MHARR – Cavco Wm 'Bill' Boor Remark on Manufactured Housing Comes Into Sharper Focus; Sunday MHVille Headlines Recap
True State of the Manufactured Housing Industry in March 2023 Based on Facts, Not Clever Agenda-Driven 'Fiction$' – plus Sunday Weekly MHVille Headlines Recap
MHI 'Special Bulletin' DOE MH Energy Regs Lawsuit 'Effort to Ensure Consistent Industry Message,' Will Manufactured Housing Institute Launch More Suits? Plus Sunday Weekly MHVille Headlines Recap
Danny Ghorbani – Manufactured Housing's 'Elephant in the Room,' per Prior Manufactured Housing Institute Chair, Exclusive Q&A on Key MHIndustry Issues, plus Sunday Weekly MHVille Headlines Recap
Calculated Risk: '1.51 Million Total Housing Completions in 2022, Including Manufactured Homes, Most Since 2007' – BUT…Facts, Insights, Analysis – plus Sunday Weekly MHVille Headlines Recap
Manufactured Housing's Next BIG Regulatory Battle That MHARR's Spotlighted and Which MHI Conveniently Ignored in Recent 'Manufactured Housing Institute News;' plus Sunday Weekly Headlines Recap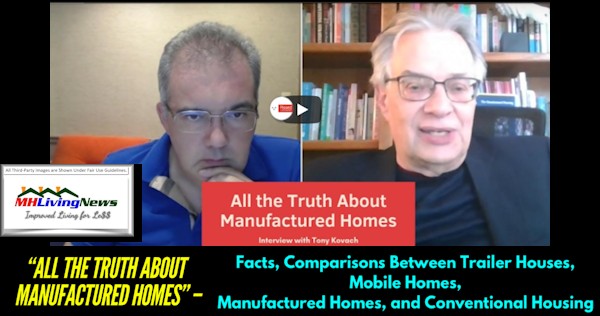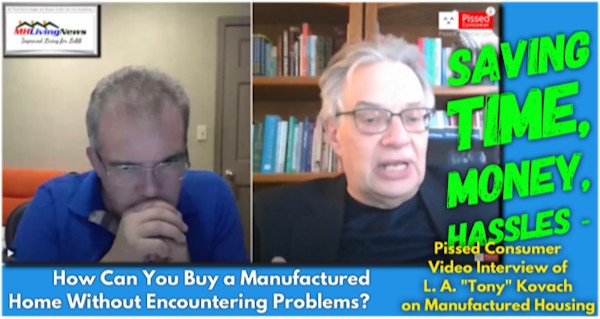 Flagship Communities – Hypocrisy, MHIndustry Corruption? 'Fragmented Industry with High Barriers to Entry and Imbalanced Supply and Demand Dynamics;' Plus Sunday MHVille Weekly Headlines Review
'Affordable Homes for Low Income Must Produce in Factory,' 'Years to Unravel Sabotage,' Grad Students Interest in Manufactured Housing, Factory-Home Solutions; plus Sunday Weekly Headlines Recap