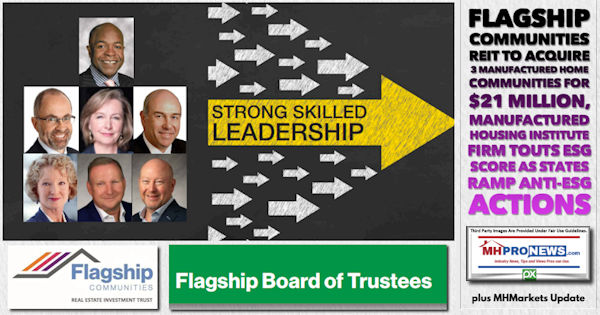 It has only been about two weeks since the controversial and arguably scandal-plagued Flagship Communities Real Estate Investment Trust (REIT) (TSX:MHC.U) (TSX:MHC.UN) announced their firm was 'honored' by the Manufactured Housing Institute (MHI) with not one or two, but rather three awards for manufactured housing "excellence." Next, as several so-called 'red states' have been targeting sometimes giant organizations, such as BlackRock, that push so-called Environmental, Social, and Corporate Governance (ESG), Flagship is touting ESG in a new document that may be the subject of an upcoming MHProNews/MHLivingNews fact-check and analysis. That Flagship ESG document also touts their MHI awards. So, shortly after getting their awards from MHI, Flagship quickly swung into action (or perhaps already knew in advance) that they were getting 'honored' for their purported "excellence" by MHI. Near the end of this press release by Flagship another media release is linked that focused on the previously mentioned MHI "excellence" awards. More information on Flagship's use of "awards" and why it matters to consumers, investors, and others involved in manufactured housing, and related will be found in Part II of this report.
Part I is the media release issued by Flagship, which their notice said they wanted to restrict to Canada.
Part II is additional information with more MHProNews analysis and commentary in brief.
Part III is the Daily Business News on MHProNews macro and manufactured housing market snapshot for yesterday, which includes the market-moving and insight generating and time saving left (CNN) and right (Newsmax) headlines bullets.
Part I 
Note: MHProNews is NOT endorsing this company or its business practices and is providing their release for the purposes of being balanced while exploring their claims and assertions in Part II.
Flagship Communities REIT to Acquire Three Manufactured Housing Communities for US$21 Million
CNW Group
Wed, May 3, 2023 at 5:30 PM EDT
TORONTO, May 3, 2023 /CNW/ – Flagship Communities Real Estate Investment Trust ("Flagship" or the "REIT") (TSX: MHC.U) (TSX: MHC.UN) today announced that it will acquire three communities in Indiana, Arkansas and Tennessee (the "Acquisitions"), for a purchase price of approximately US$21 million. The Acquisitions have an average occupancy rate of 67% and are expected to close on or about May 4, 2023 subject to customary closing conditions.
"These acquisitions align with our strategy to increase our presence in our core states to enhance efficiencies and achieve economies of scale," said Kurt Keeney, President and Chief Executive Officer. "These properties are located in highly desirable, high growth areas and are expected to generate above-market growth."
The purchase price of US$21 million will be funded with cash on the REIT's balance sheet, including from sales of the REIT's at-the-market equity program.
"We continue to see prominent deal flow in the Manufactured Housing Community space that adheres to our strict acquisition criteria," added Nathan Smith, Chief Investment Officer. "All three of these properties allow for an increased market presence in key states in the US Midwest and with an average occupancy rate of 67%, we have the opportunity to grow and make improvements to the performance of these communities over time and increase long-term unitholder value."
Overview of the Acquisitions
Clarksville, Indiana
The Clarksville, Indiana community comprises 334 lots of which, 47% are occupied.
While located in Indiana, the acquisition is considered part of the Louisville, Kentucky Metro area with its proximity to the bridge across the Ohio River.
The booming Louisville, Kentucky economy is within an easy commute for residents of Clarksville. Louisville's major employers include UPS, Jefferson County Schools, Norton Healthcare, Ford Motor Company (two plants), Humana and GE Home Appliances and Churchill Downs.
Clarksville is home to several public and private K-12 school districts. The acquisition is located near Indiana Gateway Digital Academy, Indiana Southeast University, Spaulding University, and the University of Louisville.
Conway, Arkansas
The Conway, Arkansas community comprises 200 lots of which 82% are occupied.
Located in Conway just north of Little Rock, Arkansas and near Lake Conway, the acquisition consists of picnic areas, a playground, pavilions, and duck ponds as well as a community center. Conway is a suburban location that includes plenty of shopping, churches, schools, and a downtown area.
Located less than 30 minutes from Little Rock, the state capitol of Arkansas, Conway's major employers include Amazon, Deloitte, Target, Verizon and the U.S. Air Force. Local employers include Baptist Health Medical Center-Conway, University of Central Arkansas, and many private businesses.
Conway has several public and private schools and is close to the University of Central Arkansas, Arkansas Coding Academy, Hendrix College, Stayer University and Philander Smith College.
Jackson, Tennessee
The Jackson, Tennessee community comprises 126 lots of which 97% are occupied.
Southwest of Nashville and 70 miles east of Memphis, the Jackson acquisition is located within the county seat of Madison County, Tennessee. Jackson is a regional center for trade in West Tennessee. Located near Highway 412, the community is also near Lake Graham boating and recreation area. Community amenities include a basketball court, playground, and clubhouse.
Jackson includes shopping and medical facilities, entertainment, and schools along with major employers that include West Tennessee Healthcare, Delta Faucet Company, The Kellogg Company, City of Jackson, Jackson-Madison School System, Union University, Madison County and Stanley Black & Decker.
Jackson has numerous public and private schools, and is also home to Jackson State Community College, West Tennessee Business College, Lane College and Union University.
Pro Forma Portfolio
The Acquisitions are a targeted and strategic expansion of the REIT's portfolio, increasing the number of manufactured housing communities from 70 to 73 and the number of manufactured housing lots from 12,721 to 13,381. The table below provides a summary of the pending Acquisition as of April 24, 2023.
Acquisition Portfolio
# of Lots
(#)
660
Average Lot Occupancy
( %)
67
About Flagship Communities Real Estate Investment Trust
Flagship Communities Real Estate Investment Trust is an internally managed, unincorporated, open-ended real estate investment trust established pursuant to a declaration of trust under the laws of the Province of Ontario. The REIT has been formed to own and operate a portfolio of income-producing manufactured housing communities located in Kentucky, Indiana, Ohio, Tennessee, Arkansas, Illinois, and Missouri, including a fleet of manufactured homes for lease to residents of such housing communities.
Forward-Looking Statements
This press release contains statements that include forward-looking information (within the meaning of applicable Canadian securities laws). Forward-looking statements are identified by words such as "believe", "anticipate", "project", "expect", "intend", "plan", "will", "may", "can", "could", "would", "must", "estimate", "target", "objective", and other similar expressions, or negative versions thereof, and include statements herein under the heading "Outlook" and otherwise concerning: macro characteristics and trends in the United States real estate and housing industry, as well as the MHC industry specifically.
These statements are based on the REIT's expectations, estimates, forecasts, and projections, as well as assumptions that are inherently subject to significant business, economic and competitive uncertainties and contingencies that could cause actual results to differ materially from those that are disclosed in such forward-looking statements. While considered reasonable by management of the REIT as at the date of this press release, any of these expectations, estimates, forecasts, projections, or assumptions could prove to be inaccurate, and as a result, the forward-looking statements based on those expectations, estimates, forecasts, projections, or assumptions could be incorrect. When relying on forward-looking statements to make decisions, the REIT cautions readers not to place undue reliance on these statements, as they are not guarantees of future performance and involve risks and uncertainties that are difficult to control or predict. A number of factors could cause actual results to differ materially from the results discussed in the forward-looking statements, including, but not limited to, the factors discussed under the heading "Risks and Uncertainties" herein, as well as risk factors discussed in the Annual Information Form. There can be no assurance that forward-looking statements will prove to be accurate as actual outcomes and results may differ materially from those expressed in these forward-looking statements. Readers, therefore, should not place undue reliance on any such forward-looking statements. Forward-looking statements are made as of the date of this press release and, except as expressly required by applicable law, the REIT assumes no obligation to publicly update or revise any forward-looking statement, whether as a result of new information, future events or otherwise.
SOURCE Flagship Communities Real Estate Investment Trust ##
Included at the end of the press release is a segment that says the following.
Organization Profile
Flagship Communities Real Estate Investment Trust
Also from this source
Flagship Communities Real Estate Investment Trust Wins National Manufactured Housing Institute's Highest Awards for Excellence in Manufactured Housing
Those awards that Flagship showcased in a recent press release are the subject of a fact check, analysis, and expert commentary linked here and posted further below.
Part II – Additional Information with More MHProNews Analysis and Commentary
As was stated further above, this is the second known media release by Flagship that touts their manufactured housing excellence as proclaimed by MHI. The irony, or hypocrisy – as fellow MHI member Frank Rolfe said of then MHI Chairman Nathan Smith and the company he helps lead, which is now known as Flagship Communities REIT.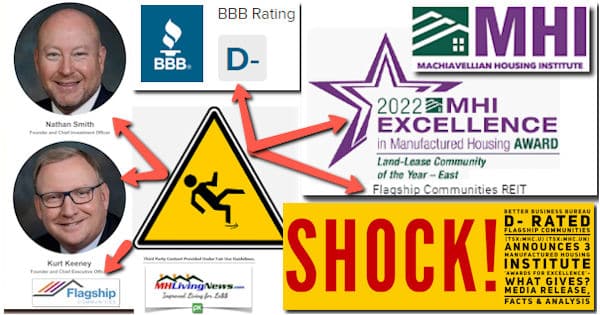 Flagship produced an ESG pitch for investors, public officials, and others that are impressed by that sort of thing.  The collage below is from that 2023 published document that covers their ESG claims for 2022.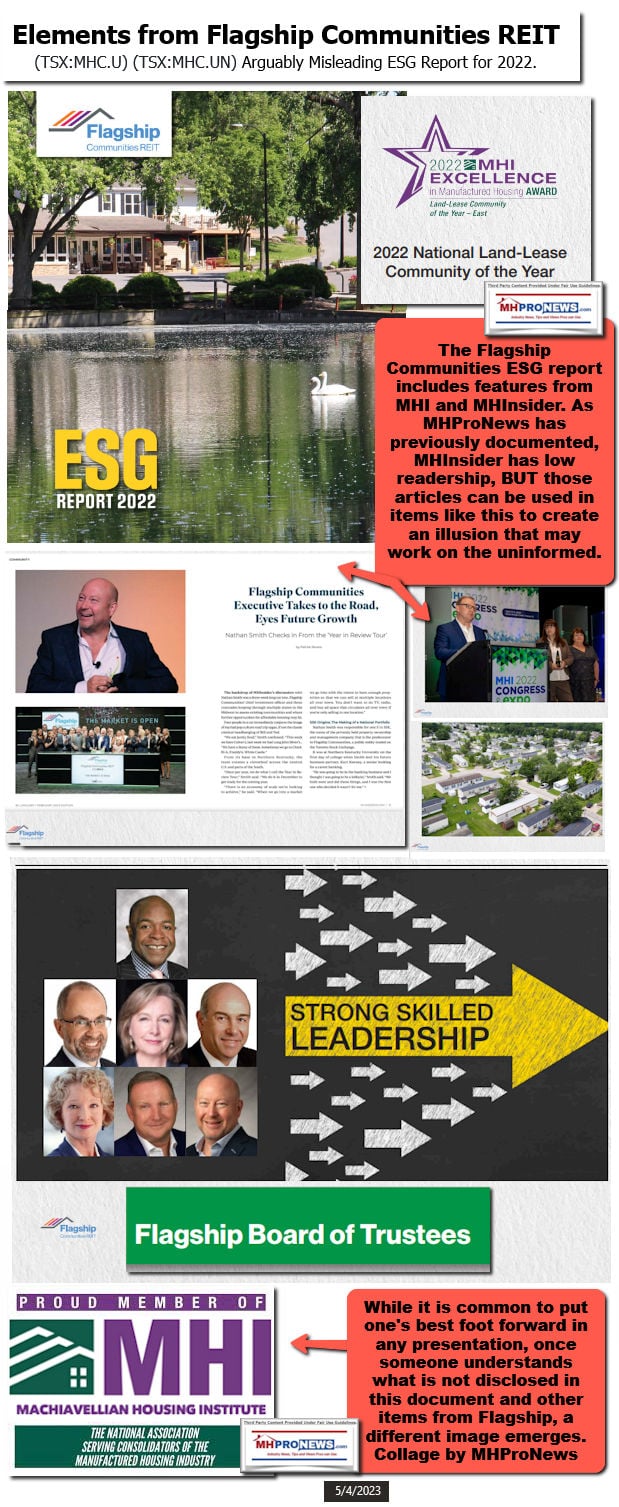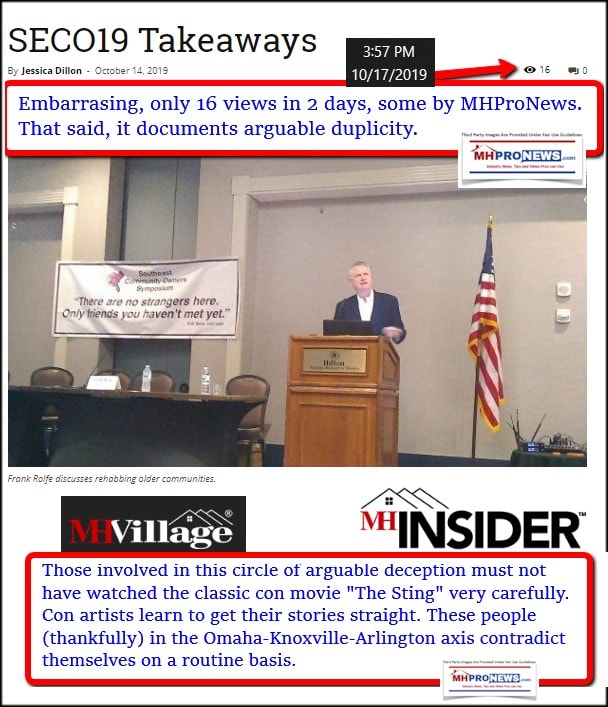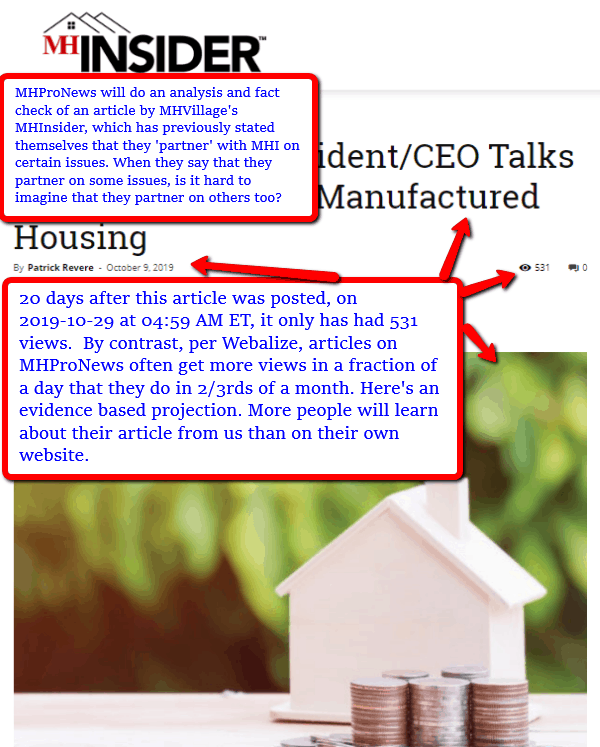 The Flagship Communities ESG report includes features from MHI and MHInsider. As MHProNews has previously documented, MHInsider has low readership, BUT those articles can be used in items like this to create an illusion that may work on the uninformed. This may shed light for those who don't get it why companies may pay thousands of dollars for exposure here when there is very little engagement by industry professionals. After MHProNews published several examples like those above, MHVillage/MHInsider turned off their "view" count function.
Manufactured housing is now in month 6 of a downturn that is occurring during a well-documented affordable housing crisis.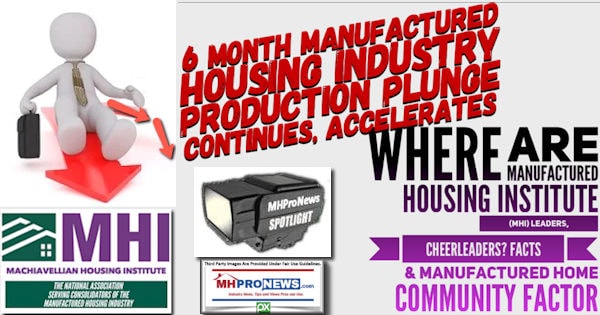 The manufactured housing industry is in the throes of what could be called information warfare. Plausible illusions are created by a modest circle of individuals and companies that are routinely MHI members and allies.  MHI limits access to their own 'news' to members, unlike the Manufactured Housing Association for Regulatory Reform (MHARR) which – like other trade groups – routinely publishes on their own websites their news items and commentaries.
Manufactured Housing Institute Federated States 'News' Fails to Mention Sharp Manufactured Home Production Drop–Posturing, Head Fakes, Gaslighting Concerns Explored; plus MHVille Stock Updates
MHI pats themselves on the back and pats their inner circle and often their favored members on the back. They make claims that when examined do not stand up to scrutiny. See the examples shown which often link to other examples.
Manufactured Housing Institute Claims 'Effective Branding' for 'Manufactured Housing'-Seriously? Target Rich Satirical Saturday Examines MHI Claims, Messaging, RESULT$; plus MHVille Stocks Update
What passes as MHI trade media are routinely in the MHI circle. Some examples of how they handle various issues vs. the fact- and evidence-based reports with expert analysis provided by this runaway industry leading platform performs. That's not merely the view of the Masthead, it is also the view of those who for years praised this platform before the fact checks caught up with them. ##
'The Rules Are Simple. They Lie to Us, They Know We Know They Are Lying;' MHVillage/MHInsider Darren Krolewski Unveils Sobering Claim – 'How to Waste Good Money on Marketing' – plus MHVille Stock$
Conventional Housing Sales Rise in February 2023 per NAHB, But Manufactured Home Sales Plunged – What Data Suggests About Manufactured Housing Corporate or Manufactured Housing Institute Leaders?
Part III Daily Business News on MHProNews Markets Segment
The modifications of our prior Daily Business News on MHProNews format of the recap of yesterday evening's market report are provided below. It still includes our signature left (CNN Business) and right (Newsmax) 'market moving' headlines. The macro market moves graphics will provide context and comparisons for those invested in or tracking manufactured housing connected equities.
In minutes a day readers can get a good sense of significant or major events while keeping up with the trends that are impacting manufactured housing connected investing.
Reminder: several of the graphics on MHProNews can be opened into a larger size. For instance: click the image and follow the prompts in your browser or device to OPEN In a New Window. Then, in several browsers/devices you can click the image and increase the size. Use the 'x out' (close window) escape or back key to return.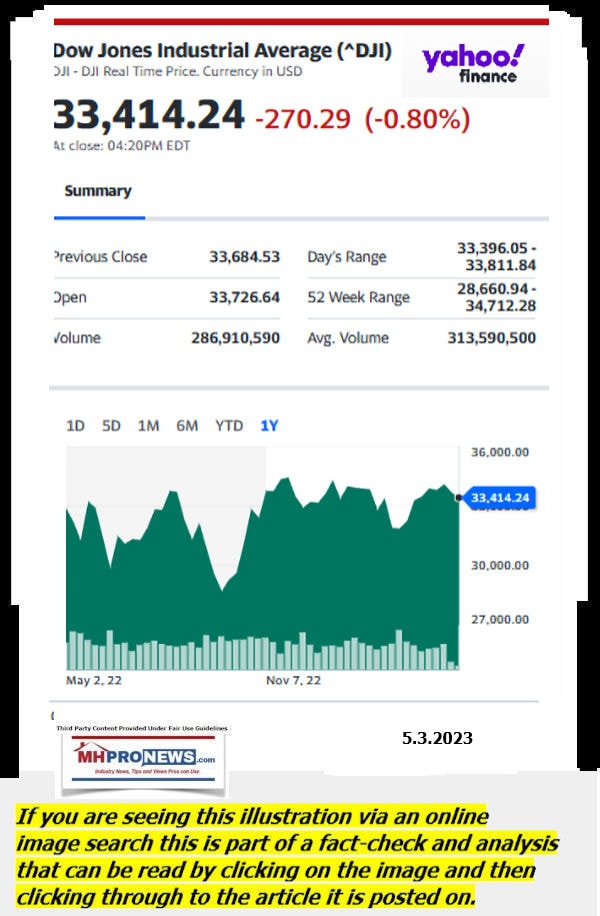 Headlines from left-of-center CNN Business – from the evening of 5.3.2023
Unanimous rate hike
Traders work on the floor of the New York Stock Exchange (NYSE) in New York City, U.S., March 28, 2023.
Dow falls 270 points after rates hit their highest level in more than 15 years. Fed hints a pause is possible
Your mortgage and home loans: What to do now that the Fed just raised rates again
JP Morgan CEO Jamie Dimon to be deposed in lawsuits over former client Epstein
FTC says Meta should be barred from monetizing data from younger users
Tucker Carlson's racist text message shouldn't be surprising: Analysis
What to do with your credit card debt now that the Fed raised rates again
Cord cutting, streaming losses and the 'terrifying math' driving the writers strike
Google rolls out an alternative to the password
The Fed lifts rates by a quarter point
Why Tesla keeps making the Model S and X even as sales dwindle
JPMorgan could be the banking sector's biggest hero — or biggest risk
10-year-old children were found working at a Louisville McDonald's until 2 a.m.
Worse to come for the economy as rates top 5%
Apple and Google are teaming up on a plan to make Bluetooth trackers like AirTags safer
'ChatGPT is the new crypto': Meta warns hackers are exploiting interest in the AI chatbot
Tucker Carlson sent a racist text to a producer: 'It's not how white men fight'
Another economic indicator: Sales of the 'Recession Special' are up at this New York City hot dog joint
Quiche is the official coronation food. Prices are up 21% in a year
Kraft Heinz wants to remake the TV dinner
Meta shuts down network of fake accounts that 'signal a shift' in China-based influence efforts
Nordstrom is the latest retailer to leave San Francisco
Why the Bud Light sales nosedive won't register on Anheuser-Busch's earnings report this week
Notice: the graphic below can be expanded to a larger size.
See the instructions below the graphic below or click the image and follow the prompts.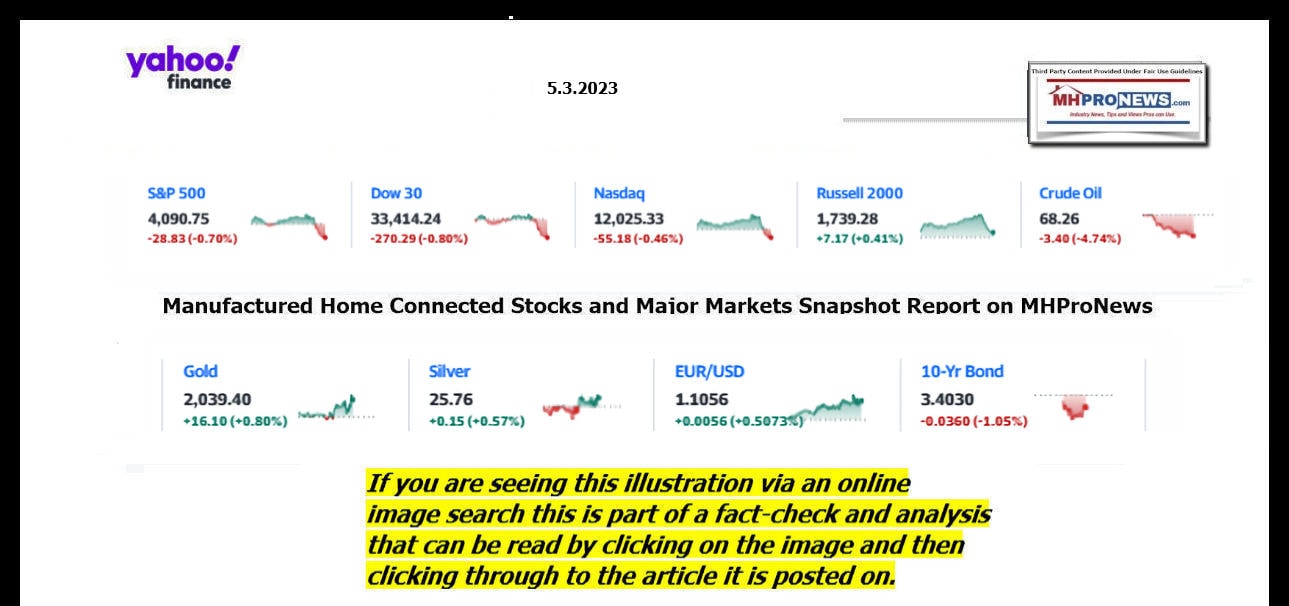 Headlines from right-of-center Newsmax 5.3.2023
Oversight Subpoenas FBI Records Alleging Biden Bribe Scheme
President Joe Biden and his son Hunter Biden walk on the South Lawn of the White House during the annual Easter Egg Roll on April 10. (Sipa via AP Images)
Ernst: McCarthy Debt Proposal 'Right Direction'
Burchett: Must Be Responsible on Debt Ceiling | video
Rodney Scott: 1,500 Troops to Border 'All About Appearance'
GOP Hopeful Johnson: Trump 'Spends Too Much' | video
Blaine Holt: Assassination Accusations Imperil Kyiv | video
Ron Johnson: Dems 'Intimidating' Justices Is a 'Travesty' | video
Ken Paxton: Sanctuary Cities Get What They Asked For | video
Ron Johnson: Blinken 'Needs to Be Subpoenaed' | video
Trump: Biden Will Be 'Sleeping' Instead of at Coronation
Former President Donald Trump was incredulous President Joe Biden is skipping the coronation of King Charles III this weekend…. [Full Story]
Wall Street Ends Down After Fed Hike Comments
S. stocks ended lower Wednesday, reversing gains after comments by [Full Story]
Megyn Kelly Warns Tucker: Fox Trying to Destroy You
Megyn Kelly is warning Tucker Carlson that Fox News' head of public [Full Story]
Dominion Takes Some Credit for Tucker Carlson's Firing
Tucker Carlson Dissed Fox Nation in Private Call
Victor Davis Hanson to Newsmax: Fox Can't Regain Carlson's Audience |video
Oversight Subpoenas FBI Records Alleging Biden Bribe Scheme
House Oversight Committee Chair James Comer Wednesday issued a [Full Story]
Hunter's Laptop Demons Could Haunt Biden's '24 Bid
Charging Decision in Hunter Biden Case Near |video
Palace Weapons Arrest Amid Coronation Security Push
The coronation of King Charles III involves one of the most important [Full Story]
In Coronation, King Charles Carries on a Medieval Tradition
Meghan Markle Signs 'Queen of Hollywood' Deal
McConnell: Biden 'MIA' on Debt Ceiling Talks
President Joe Biden is leading the U.S. into an economic disaster and [Full Story]
Florida Immigration Bill a Model for Other States
Florida GOP lawmakers are taking advantage of their supermajority [Full Story] | Platinum Article
Billionaire Buys Jeffrey Epstein Islands for $60M
Private equity billionaire Stephen Deckoff has purchased two [Full Story]
Maryland Ex-Gov. Hogan: Won't Run for Senate in '24
Former Maryland Gov. Larry Hogan said Tuesday he will not be seeking [Full Story]
FTC: Facebook Misled Parents on Protections for Children
U.S. Federal Trade Commission Wednesday accused Meta's Facebook of [Full Story]
Kyiv, Dnipro Hit in Russian Drone Attack
Oil depots were ablaze in Russia and Ukraine Wednesday as both sides [Full Story]
Blaine Holt to Newsmax: Assassination Accusations Imperil Kyiv |video
Zelenskyy: Counteroffensive Against Russia Is Near
Zelenskyy Was Not Warned of US Secret Docs Leak: Report
Ukraine's Zelenskyy in Finland for Summit of Nordic Leaders
New US Military Aid to Ukraine to Include Air-Launched Rockets
McLaughlin Poll: Trump Gets Biggest Numbers, DeSantis Falls Again
Former President Trump is running a determined and focused campaign. [Full Story]
Kemp Signs Law; Bans Ga. Election Office Donations
Georgia Gov. Brian Kemp has signed a law to ban donations to county [Full Story]
Bolsonaro Home Raided, Phone Seized in Probe of Brazil Vaccine Records
Brazilian police on Wednesday raided former President Jair [Full Story]
Lawmakers Urge Fed to Stop Further Rate Hikes
Several prominent Congressional Democrats led a group urging the [Full Story]
Shooting in Atlanta: 1 Dead, 4 Injured
One person was fatally shot and at least four others injured [Full Story]
Poll: Majority of Israelis Blame Govt for Economic Crisis
The majority of Israelis, 53.7%, blame the Netanyahu-led government [Full Story]
Company Gives Distributor Workers Free Bud Light
Anheuser-Busch is trying to make things right with its distributors [Full Story]
Some Black Californians Might Get $1.2M in Reparations
The San Francisco Chronicle reported thatan eligible Black resident [Full Story]
Fed Raises Rates 0.25 Percent, Flags Possible Hike Pause
The Federal Reserve Wednesday raised interest rates by a quarter of a [Full Story]
US to Send $300M More Military Aid to Ukraine
The U.S. is sending Ukraine about $300 million in additional military [Full Story]
JPMorgan CEO Dimon to Be Deposed in May on Epstein
JPMorgan Chase & Co. CEO Jamie Dimon will be deposed in late May for [Full Story]
Southern Border Arrests Up Third Consecutive Month
As White House press secretary Karine Jean-Pierre is called out for a [Full Story] | video
FDA Approves First RSV Vaccine from GSK
The U.S. Food and Drug Administration has approved GSK Plc's [Full Story]
Dems Pressure Gov. Newsom About Sen. Feinstein
California Democrat Gov. Gavin Newsom has been pressured by fellow [Full Story]
Charging Decision in Hunter Biden Case Near
A charging decision is near in the Hunter Biden investigation led by [Full Story] | video
Nordstrom Closing 2 San Francisco Stores, Cites Crime
Nordstrom will close both of its stores in downtown San Francisco [Full Story]
Epstein Docs Show Deeper Relationships With Elite
When former Treasury Secretary Lawrence Summers needed to come up [Full Story]
Sheriff: Wife of Suspected Texas Gunman Has Been Arrested
A woman identified as the wife of a Texas man suspected of killing [Full Story]
Russia Claims It Foiled a Drone Attack on Kremlin
Russia claimed it foiled a Ukrainian drone attack on the Kremlin [Full Story]
FTC to Enforce Laws to Curb Artificial Intelligence Risks
The Federal Trade Commission's chief said the agency was committed to [Full Story]
Fed Raises Rates 0.25%, Flags Possible Hike Pause
Fed Raises Rates 0.25%, Flags Possible Hike Pause
The Federal Reserve Wednesday raised interest rates by a quarter of a percentage point and signaled it may pause further increases…. [Full Story]
TikTok Content Ads Will Give Creators 50% Cut
Stock Markets Steady After Fed's 25 Bps Hike
UAW Not Yet Endorsing Biden for 2nd Term, Citing EVs
Regional Bank Stocks Edge Higher, Reversing Slump
More Finance
Health
Lilly Drug Slows Alzheimer's Progression by 35 Percent
An experimental Alzheimer's drug developed by Eli Lilly and Co slowed cognitive decline by 35% in a closely watched late-stage trial, the company said on Wednesday, raising hopes for a second effective treatment for the brain-wasting disease. The drug, donanemab, met all…… [Full Story]
Dog Bites More Common in Spring, Summer
Reasons Why Your Cough is Lingering
Living Near an Airport Disrupts Sleep
Ultrasound Delivers Chemo to Brain to Fight Tumors
Notice: the graphic below can be expanded to a larger size.
See the instructions below the graphic below or click the image and follow the prompts.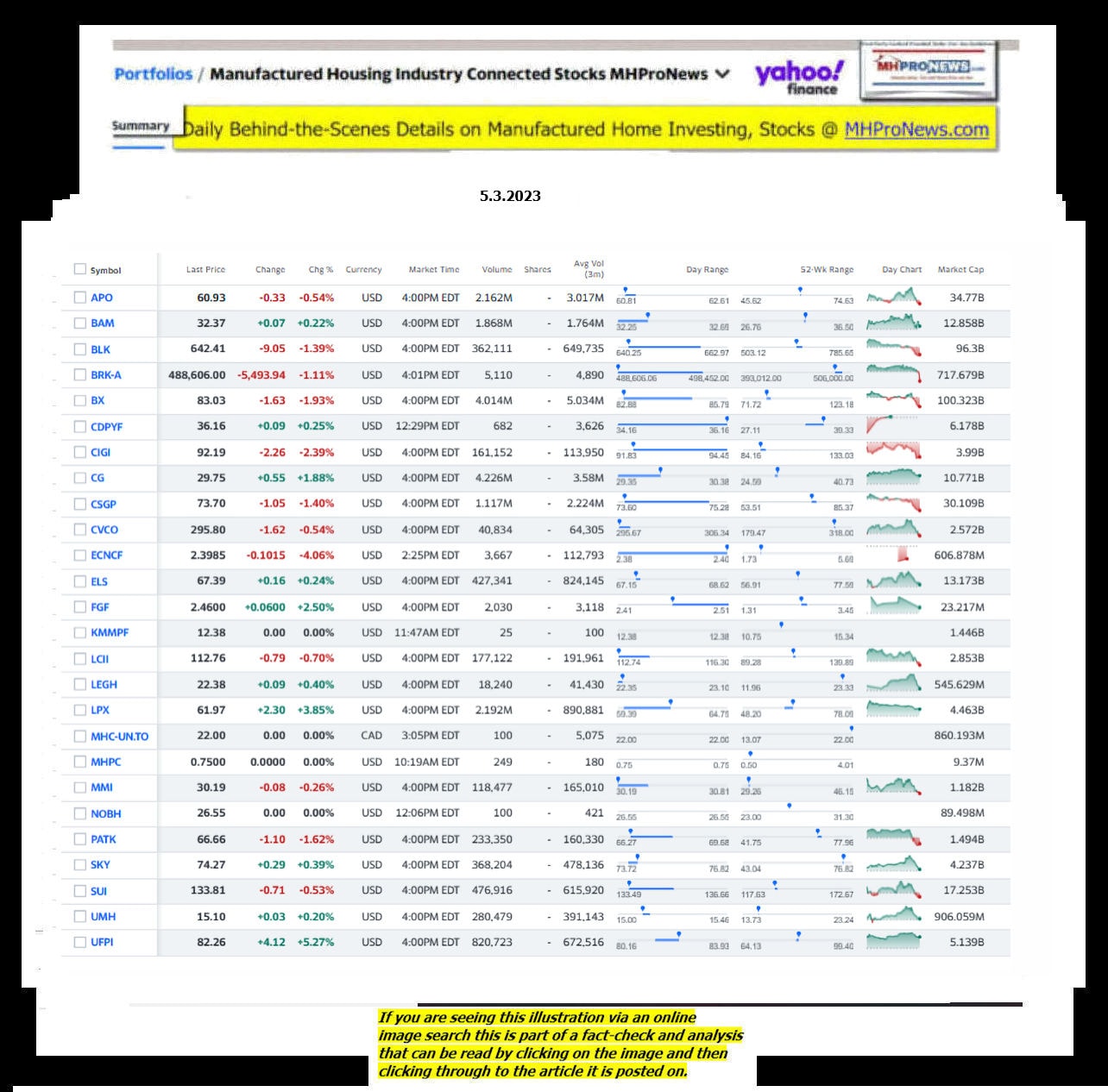 2022 was a tough year for many stocks. Unfortunately, that pattern held true for manufactured home industry (MHVille) connected stocks too.
See the facts, linked below.
'Stomach Churning Year' CNN-Wall Street 'Forget 2022' Down Year – Major Equities Data Compared to Manufactured Housing Stocks, Manufactured Home Community REITs, Performance for Year by Company
====================================
Updated
NOTE 1: The 3rd chart above of manufactured housing connected equities includes the Canadian stock, ECN, which purchased Triad Financial Services, a manufactured home industry finance lender.
NOTE 2: Drew changed its name and trading symbol at the end of 2016 to Lippert (LCII).
NOTE 3: Deer Valley was largely taken private, say company insiders in a message to MHProNews on 12.15.2020, but there are still some outstanding shares of the stock from the days when it was a publicly traded firm.  Thus, there is still periodic activity on DVLY.
Note 4: some recent or related reports to the REITs, stocks, and other equities named above follow in the reports linked below.
Sun Communities – 'Development in Our DNA,' ESG Stance, Q4 2022 Year End Results Earnings Call & PR – Facts, Insights Beyond PR and Official SUI Statements; plus MHVille REITs, Stocks Update
'Undervalued' Cavco Industries Touts Q Result$ 'Dire Need for Housing' 'January Traffic Up'- Rev Up 16%-Sales, Earnings, Mgmt Call Data–Analysis Beyond CVCO Statements; plus MHVille Stocks Update
'Killing's as Easy as Breathing' 'Bad Guys Know More Games' Warren Buffett Annual Berkshire Hathaway Letter, Clayton Homes, 21st, VMF-Manufactured Home Loans-Compelling MHVille Expert Views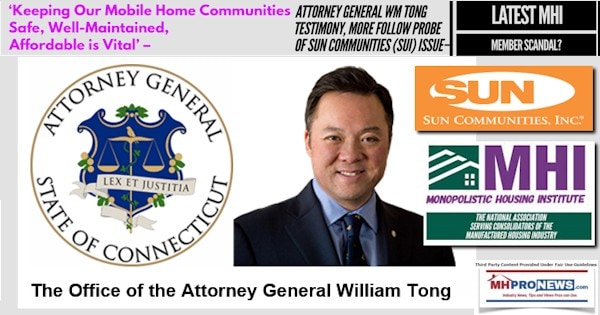 Nobility Homes, Inc. Sales and Earnings for its Fiscal Year 2022 Report, Result$ Best Inflation – Net After Taxes Up 34%, More Fact$; DeSantis ESG and NOBH; plus MHVille Stocks, Market Updates
'Manufactured Housing in the News,' Unpacking UMH CEO Sam Landy Op-Ed' It's Time for Bi-Partisanship on Affordable Manufactured Housing Homeownership' in HousingWire; plus MHMarkets Updates
Manufactured Housing Properties-Results for Three and Nine Months Ending September 30.2022–Exploring 'Mobile Home Park' Manufactured Home Community Investing; plus MHVille REITs, Stocks Update
'Changes Will Benefit Customers,' Boost Sales-Legacy Homes CEO Duncan Bates – LEGH 'Delivered 22.5% Return on Equity in 1 Yr' – Corp Q3 2022 Insights, Analysis; plus MHVille REITs, Stocks Update  
CEO Mark Yost, Skyline Champion Insiders SELL Million$ Value SKY Stock, Home Sales Drop-4th Q 2022 (3QFiscal2023), Official Result$-Facts, Analysis, Info Beyond PR; plus MHVille Stocks Update
Triad Financial Services Q2-2022 FINANCIAL RESULTS, per ECN Capital – Several Bright Spots in Manufactured Home Market Highlighted, Including Communities, Retail, Land-Home, Floor; MHStocks Update
BlackRock Document Exposes Central Banks like Federal Reserve on Recession; Manufactured Home Producer Cavco Industries 2022 Year End Results (CVCOQ3.23) Facts+Analysis; plus MHVille Stocks Update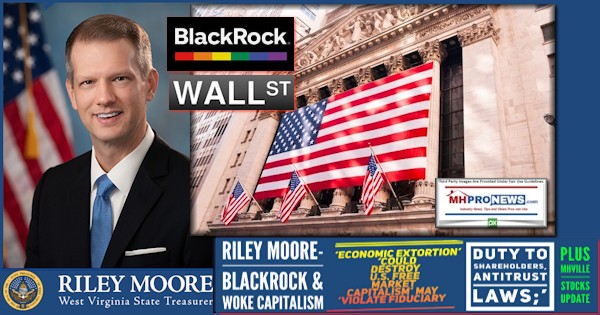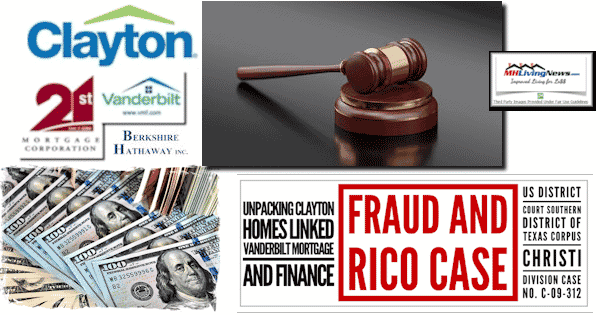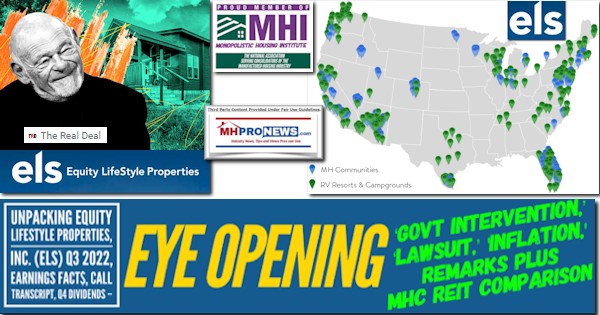 Manufactured Home Communities (a.k.a. 'Mobile Home Parks' – SIC) – Exploring UMH Properties; Fellow Manufactured Housing Institute Member Yes! Communities Suits and Settlements; plus MH Markets Updates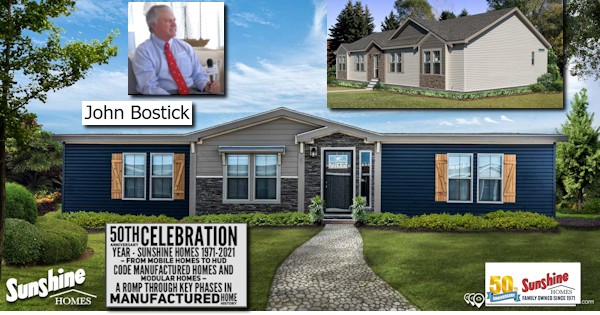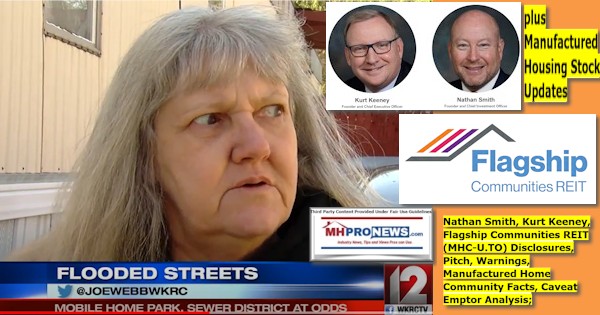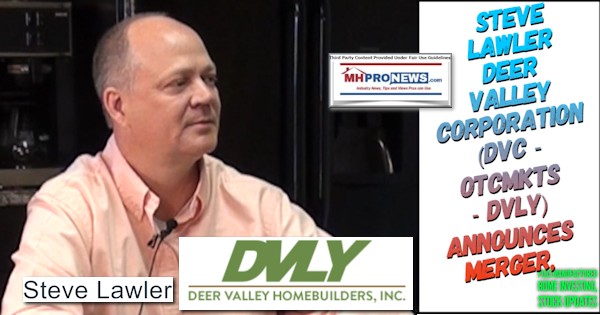 2023 …Berkshire Hathaway is the parent company to Clayton Homes, 21st Mortgage, Vanderbilt Mortgage and other factory-built housing industry suppliers.
· LCI Industries, Patrick, UFPI, and LP each are suppliers to the manufactured housing industry, among others.
· AMG, CG, and TAVFX have investments in manufactured housing related businesses. For insights from third-parties and clients about our publisher, click here.
Disclosure. MHProNews holds no positions in the stocks in this report.
· For expert manufactured housing business development or other professional services, click here.
· To sign up in seconds for our industry leading emailed headline news updates, click here.

Manufactured housing, production, factories, retail, dealers, manufactured home, communities, passive mobile home park investing, suppliers, brokers, finance, financial services, macro-markets, manufactured housing stocks, Manufactured Home Communities Real Estate Investment Trusts, MHC REITs.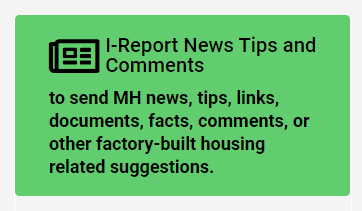 That's a wrap on this installment of "News Through the Lens of Manufactured Homes and Factory-Built Housing" © where "We Provide, You Decide." © (Affordable housing, manufactured homes, stock, investing, data, metrics, reports, fact-checks, analysis, and commentary. Third-party images or content are provided under fair use guidelines for media.) (See Related Reports, further below. Text/image boxes often are hot-linked to other reports that can be access by clicking on them.)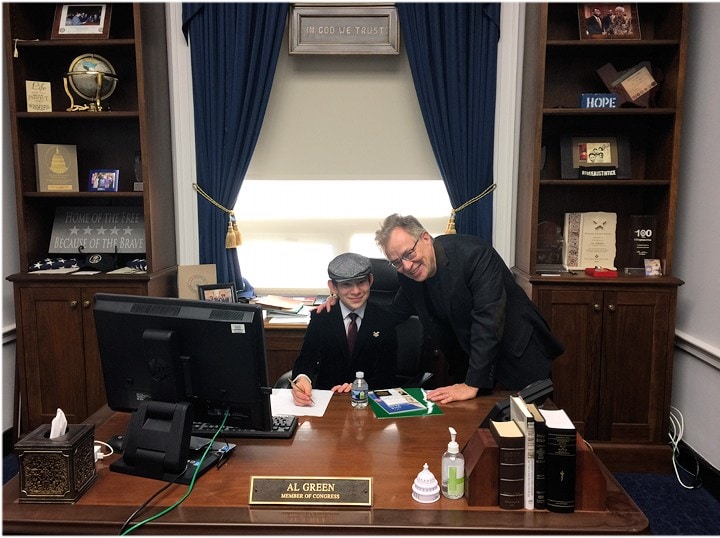 By L.A. "Tony" Kovach – for MHProNews.
Tony earned a journalism scholarship along with numerous awards in history. There have been several awards and honors and also recognition in manufactured housing. For example, he earned the prestigious Lottinville Award in history from the University of Oklahoma, where he studied history and business management. He's a managing member and co-founder of LifeStyle Factory Homes, LLC, the parent company to MHProNews, and MHLivingNews.com. This article reflects the LLC's and/or the writer's position and may or may not reflect the views of sponsors or supporters.
Anar Pitre-CEO Lotus Capital Partners-Vexing Manufactured Housing Institute Claims in Fact Check of Forbes 'What Manufactured Home Communities Investors Need to Know' – Inaccurate MHI Data Shown
Ma Nishtana – 'Why is This Night, Day Different from All Others?' The Pascha vs. Contemporary Orwellian Nightmare – the Sunday Weekly MHVille Headlines Recap
Call for Congressional Oversight Hearings of Manufactured Home Industry Regulators Highlighted by Manufactured Housing Association for Regulatory Reform (MHARR); plus MHVille Markets Update
Official HUD Manufactured Housing Production Facts for Dec 2022 plus 2022 Year End Totals Explored by Manufactured Housing Association for Regulatory Reform (MHARR)-"Millions" Needed – Analysis
Facts You Didn't Know – Martin Luther King Jr – Videos, Insightful Quotes, Surprising Revelations, Videos, Reports, and Illustrations in Champion for Human Rights Including Affordable Housing
'Global Disinformation Index' Warren Buffett Ally Bill Gates' Microsoft Org Charged-Cutting Revenue to Conservative Views via Xandr, GDI; plus Sunday MHVille Headlines Recap
#1 Texas' Manufactured Housing Builders Survey Says They are 'Ready for a Rebound' But Data Point in Question, DOE MH Energy Rule Too – Facts, Analysis; plus, MHVille Stocks, Markets Update
Clayton-Next Step Off-Site Built 'White Paper'-Manufactured Homes, ThinkND 'Magic of the Mind-Everyday Illusion, Misdirection, Deception' MHI Members' Claims Analyzed; plus MHVille Markets Update
After Admitted Failure, Manufactured Housing Institute Doubles Down on CrossMods® in AP Terminology Doc Acquired by MHProNews–Are MHI Leaders Sabotaging MHVille Independents? Plus MHStocks Update
Concessions by Speaker Kevin McCarthy in House Speaker's Battle Called 'Most Significant Win for Conservatives in a Decade' By Federalist's Emily Jashinsky Report; plus MHVille Stocks Updates