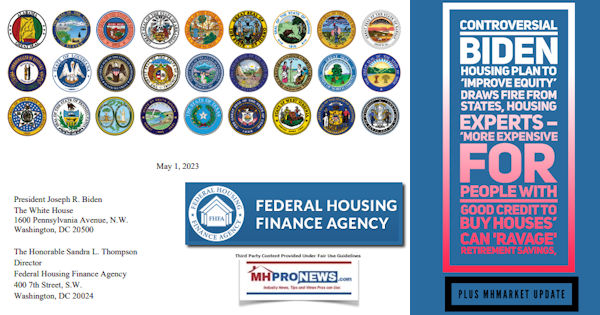 The National Association of Realtors (NAR) previously and continues to sound the alarm over loan level pricing adjustments (LLPAs). But this new policy has are a range of legal, constitutional, and questions about true fairness or justice at issue in a new Biden White House policy for the housing finance market. One of those ought to be a significant concern for manufactured housing sellers and producers. In Part I of today's report, provided by the Daily Signal with permission to MHProNews, is the following article posted below from their website at this link here. It is the first of two interrelated reports on the topic of concerns about a controversial aspect of the new Biden Housing plan that includes numerous wrinkles impacting much of the housing finance market which thus impacts much of the population. Part II of today's report is a second article that includes pushback from numbers of states about this plan that went into effect on May 1, 2023. Part III will provide additional information with more MHProNews commentary and analysis. Part IV of today's report and analysis is a look at the macro-economic and manufactured housing connected equities, including real estate investment trusts (REITs) and our signature insight generating and time saving Daily Business News on MHProNews left (CNN) right (Newsmax) headline snapshot.
The tweet below by an NBC affiliate in the San Franscico Bay area is how one mainstream media outlet reported this development, but that apparent misstatement is clarified and corrected by the Daily Signal report that follows it.
A rule change related to how America's largest loan guarantors calculate upfront mortgage fees is set to take effect May 1: Fees on new mortgages will become relatively cheaper for home loans backed by Fannie Mae and Freddie Mac. https://t.co/F8RsuBXReY

— NBC Bay Area (@nbcbayarea) April 25, 2023
Part I
ECONOMY | COMMENTARY
Joel Griffith / @joelgriffith / May 01, 2023
The Federal Housing Finance Agency just announced it will hike the loan-level pricing adjustment fee on homebuyers with high credit scores and redistribute those funds to borrowers with low credit scores.
That's not an insignificant change.
Under the new loan-level pricing adjustment matrix, a borrower with a 740 FICO score and a down payment of just under 20% will pay a 1% loan-level pricing adjustment fee. That's quadruple the prior risk assessment of 0.25%.
At the same time, the loan-level pricing adjustment fee for many borrowers with bad credit will be slashed by half or more. A borrower with an under-640 FICO score and borrowing 97% of the purchase price will see his or her fee slashed to 1.75% from 3.50%, a $9,270 savings on that same home.
The high credit-score borrower purchasing a median-priced $546,077 home in Riverside, California (one of the more affordable places in the state), will pay an additional $3,276 in loan-level pricing adjustment  fees. That amounts to $20.71 in extra monthly costs if financed at 6.5% over the course of a 30-year mortgage.
That represents more than just a forfeited dinner out each month. If a young homeowner in her 30s could invest that additional monthly mortgage expense into a retirement account at 8% annual returns (below the long-term average of the S&P 500), this additional monthly payment would grow to nearly $31,000 upon retirement.
The overall impact of the scheme is to increase the cost of credit for those with good credit and lower the cost of credit for those with bad credit.
In some instances, this redistribution of credit may even be regressive. Millions of Americans with modest incomes possess better credit than those with higher incomes. FICO scores are not dependent on one's income, but rather, on one's utilization of credit and track record of timely payments.
Forcing high credit-score families to subsidize those with subpar credit will perversely result in some less-well-off (but financially responsible) families paying for the imprudent decisions of their higher-income (but financially irresponsible) neighbors.
In some instances, the slightly higher debt-to-income ratios resulting from adding this fee into the requested mortgage will exceed DTI limitations, artificially shrinking the housing purchase options.
Meanwhile, some with poor credit will find themselves now equipped, thanks to the subsidy, to obtain a mortgage previously out of reach.
In addition to driving up borrowing costs for many responsible families who have exercised prudent credit management and savings discipline, expanding credit to those with riskier borrowing profiles may make housing even less affordable in the lower-priced housing segment if demand increases as a result.
That segment of the market has already inflated by 46% in just the past four years. Combined with soaring interest rates, mortgage payments on median-prices homes have skyrocketed from under $1,500 just two years ago to nearly $2,700 today.
Of course, affordable housing was never the goal of this proposal, but rather a vague notion of "equity." In the words of Federal Housing Finance Agency Director Sandra L. Thompson, "[This change is] another step to ensure … equitable and sustainable access to homeownership."
Heightened unaffordability is a direct side effect of this warped credit scheme dreamt up by those who think this nation is fundamentally unjust.
The essence of this government-sponsored scheme is equity (the "E" in ESG), rather than on justice, fairness, or efficiency. For today's revolutionaries, fundamental societal inequity is to blame for the disparity of access to credit, rather than the choices made by individuals in matters related to financial health.
In the eyes of the radical Left, those with subpar credit scores are often deemed victims trapped into making the decisions leading to those lower FICO scores. Meanwhile, those with the higher scores are more apt to be privileged beneficiaries of a system rigged in their favor. What better way to redistribute wealth than by redistributing credit from those with high credit scores to those with low ones?
If politicians truly wanted to expand credit access for a greater portion of the population, the focus would be on teaching consumer finance skills to high schoolers and college students to equip everyone with the knowledge to accumulate wealth and attain credit.
And if politicians truly wanted to address the housing affordability bubble, they would stop funneling trillions of dollars to the housing market through subsidies, government-guaranteed mortgages, and Federal Reserve mortgage-backed securities purchases—policies that have created the most unaffordable housing in history.
Imagine if the Federal Housing Finance Agency applied this same woke pricing mechanism to auto insurance.
How about a rule adding a $50 monthly premium increase on those with flawless driving records and reducing the premiums for those with multiple speeding tickets and perhaps a DUI?
Not only would this penalize good behavior, it would also force some responsible drivers to discard their vehicles due to the expense while enabling those with reckless habits to upgrade their rides.
Of course, we see the unfairness of punishing responsible driving and rewarding the reckless. But this woke notion of distributing benefits—whether credit, contracts, jobs, or college admissions—based on "equity" rather than merit is spreading.
Of course, low credit scores are oftentimes due to unfortunate circumstances, rather than poor choices. Thankfully, we live in a nation where individuals can rebuild their credit, whether those rough stretches were due to their own mistakes or the misfortunate that can beset anyone through no fault of their own. Even for those just two years out of bankruptcy, high loan-to-value mortgages are available.
We can support second chances without demanding everyone else subsidize this added risk. This latest credit scheme isn't just. It isn't fair. But it is "social justice."
You should rightfully bristle at the notion of the government penalizing prudent financial behavior in its attempt to subsidize the imprudent decisions of others. But this is just another step on the woke agenda for the financial sector, where access to credit depends less and less on your ability to generate the required returns to the lender and far more on your membership in a politically favored class.
Already, some banks restrict credit to disdained businesses, such as firearms dealers and fossil fuel companies. This woke mortgage risk repricing is emblematic of our Brave New World. ##
Part II – From the Daily Signal to MHProNews with permission from their website on the page linked here is the following report.
ECONOMY | NEWS
Samantha Aschieris / @samantharenck / May 01, 2023
A new Federal Housing Finance Agency policy that took effect Monday "will have the net effect of making it significantly more expensive for people with good credit to buy houses," according to almost three dozen state financial officers.
Thirty-four state financial officers shared their "deep concern with the new Federal Housing Finance Agency policy" in a letter sent Monday to President Joe Biden and Sandra Thompson, director of the Federal Housing Finance Agency. The agency announced the policy in January.
"This new policy will force homebuyers with good credit to pay more on their mortgage every single month," the letter says. "In other words, the policy will take money away from the people who played by the rules and did things right—including millions of hardworking, middle-class Americans who built a good credit score and saved enough to make a strong down payment."
"For decades, Americans have been told that they will be rewarded for saving their money and building a good credit score. This policy turns that time-tested principle upside down," the letter adds.
"It is already clear that this new policy will be a disaster," the letter also said.
Alabama Auditor Andrew Sorrell, Florida Chief Financial Officer Jimmy Patronis, Iowa Treasurer Roby Smith, West Virginia Treasurer Riley Moore, and Utah Treasurer Marlo Oaks signed the letter, among others, under the leadership of Pennsylvania Treasurer Stacy Garrity. All signatories are Republican.
"This new policy makes it more expensive for people with good credit to buy houses—and that's absurd," Garrity told The Daily Signal in an emailed statement. "Americans who have built a good credit score and saved enough to make a strong down payment should not be penalized and forced to pay more on their mortgage every single month."
"I'm proud that so many of my colleagues from across the country—representing a majority of states—have united to urge the immediate elimination of this policy," Garrity said.
Other signatories of the letter include Alaska Commissioner of Revenue Adam Crum, Arizona Treasurer Kimberly Yee, Arkansas Auditor Dennis Milligan, Idaho Treasurer Julie Ellsworth, Indiana Treasurer Dan Elliott, Kansas Treasurer Steven Johnson, Kentucky Treasurer Allison Ball, and North Carolina Treasurer Dale Folwell. State financial officers from Louisiana, Mississippi, Missouri, Nebraska, Nevada, North Dakota, Ohio, Oklahoma, South Carolina, South Dakota, Texas, Wisconsin, and Wyoming also signed the letter.
"A misconception about the latest [loan-level price adjustment] changes is that good credit score borrowers will be penalized or otherwise subsidize mortgages for lower credit score borrowers," Adam Russell, senior communications specialist at the Federal Housing Finance Agency, told The Daily Signal in an emailed statement. "This narrative is inaccurate because borrowers with higher credit scores pay lower [guarantee fees] than borrowers with lower credit scores as shown in the pricing grid before May 1 and after May 1."
"Higher credit score borrowers will pay less in fees compared to those with lower credit scores," Russell added. He also cautioned "against making broad generalizations about the pricing framework."
Russell continued:
As displayed in the pricing grids linked above, there is no 'one size fits all' [guarantee fee]. These are loan level pricing adjustments and are applied to borrowers on a case-by-case basis depending on their specific financial situation.
In addition, not all homebuyers will be affected by these [loan-level price adjustments] because the fees (and the fees announced in the 2022 pricing announcements) only apply to homebuyers whose mortgages will be backed by Fannie Mae or Freddie Mac.
Russell also noted that "[t]oday's pricing update does not apply to homebuyers whose mortgages will be backed by a private institution or backed by HUD/FHA, the VA, or the USDA."
Will Hild, executive director of Consumers' Research, also weighed in on the policy, labeling it "a slap in the face" to Americans who played by the rules.
"This new policy by the Biden administration is a slap in the face to every consumer in the nation who worked hard to develop a good credit score," Hild said in a statement. "Forcing them to subsidize lower scored buyers adds insult to the injury of the higher fees they are now required to pay."
"This is the latest in a disturbing pattern of Biden's big government intervention into the lives of hard-working Americans in order to push his progressive social agenda," Hild said. "Under Biden, the economy is in shambles and policies likes this aren't going to save our country from spiraling out of control."
Hild continued:
Instead of working to reduce the out-of-control inflation his policies created that is contributing to lower credit scores for many borrowers, Biden has chosen to divide Americans by pitting them against each other during the home buying process.
The White House did not immediately respond to The Daily Signal's request for comment.
"This new Federal Housing Finance Agency policy punishes hard working Americans who saved and sacrificed to build strong credit," Derek Kreifels, chief financial officer of the State Financial Officers Foundation, said in a statement. "Higher-risk borrowers will be subsidized by these fees imposed on the middle class, turning sound financial principles on their heads."
"We will do everything in our power to support states as they protect the middle class from this sort of misguided big government interference," said Kreifels.
[MHProNews: That letter is linked below.]
2023-Joe-Biden-Sandra-Thompson-FHFA-Mortgage-Letter67-StateOfficialsProtestNewMortgageCreditRule-MHProNews
Part III – Additional Information with More MHProNews Analysis and Commentary in Brief
The developments in this issue of mortgages offered by Fannie Mae and Freddie Mac merit a broader context. Before diving into that bigger picture, this Biden era policy begs the question. Since the FHFA could issue this mandate for Fannie and Freddie, why hasn't a similar mandate been issued that would have required the Government Sponsored Enterprises (GSEs) of Fannie Mae and Freddie Mac to implement the Duty to Serve (DTS) mandate for offering competitive chattel lending support for HUD Code manufactured homes? Where is MHI's self-proclaimed clout?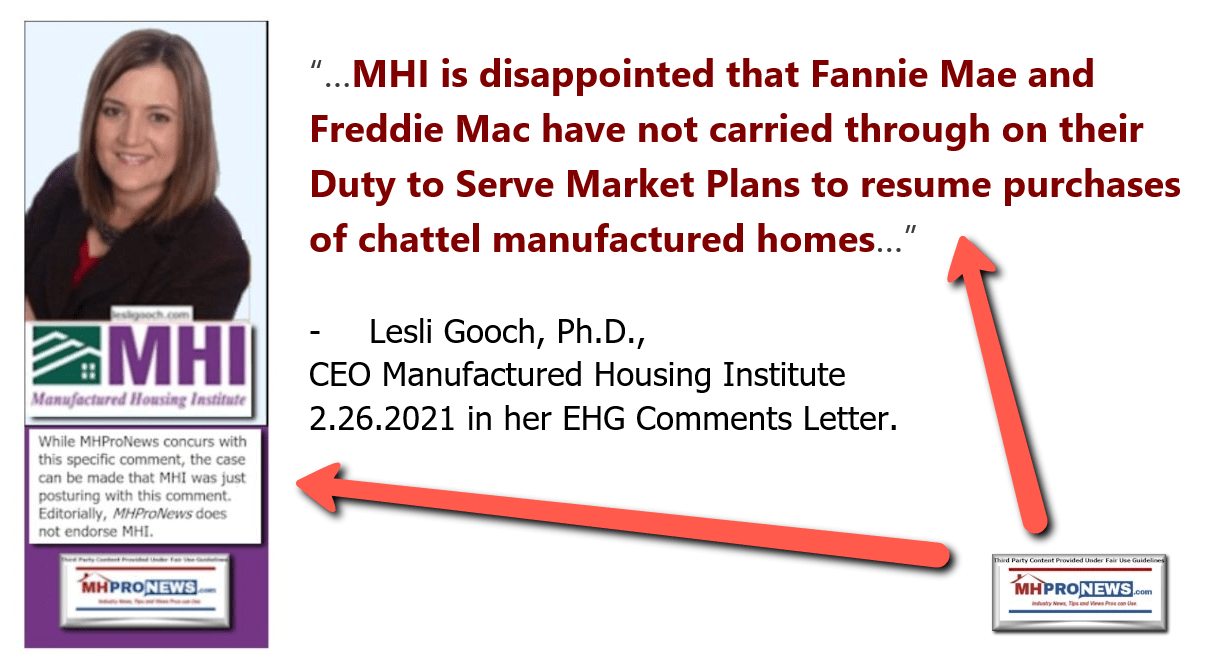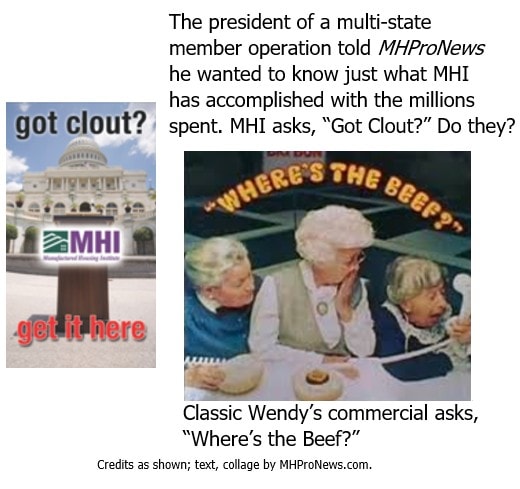 As MHARR remarked approaching a year ago, programs that are bragged about that will supposedly benefit manufactured housing routinely fail to "reach the ground" in terms of measurable results.
MHARR White Paper Exposes Public Relations Exploitation Notwithstanding Continuing Industry Failures
That said, there is much more to this issue housing finance issue and its implications.
To begin to frame that broader context, the last paragraph from the Daily Signal speaks volumes and is an apt jumping off point for this analysis. "Already, some banks restrict credit to disdained businesses, such as firearms dealers and fossil fuel companies. This woke mortgage risk repricing is emblematic of our Brave New World." This FHFA/mortgage finance rule is arguably a parallel development to Environmental, Social, and Governance (ESG) standards that financial institutions, corporations, hedge funds and governments have been increasingly battling over. A rule, a new way to consider a regulation may prove costly and may put some smaller businesses on the margins out of business.
Furthermore, note that this FHFA rule is in support of a politically charged and 'woke' policy – as the Daily Signal report framed it – impacting businesses, including the housing sector. These are developments that MHProNews has monitored and periodically reported on in recent years, as several publicly traded manufactured housing corporations have been citing controversial ESG standards for some of their decision making too.
'Alter Conceptual Model of Corporation and Bases of Corporate Law and Corporate Finance Collapse' Attorney Bruce Abramson Explains Legal, Financial Risks – 'What is ESG, and Why Should we Care?'
BlackRock Sounds Alarm-Financial Cracks Emerge from Interest Rate Hikes, CEO Larry Fink 'Polycrisis'-Signals De-Emphasis on ESG 'Not Environmental Police' Govs PushBack;plus MHVille Stocks Update
These "woke" standards not impacting lending and previously reported for industry professionals by MHProNews with respect to ESG have generated pushback from states and are the topic of some candidates for the 2024 presidential nomination and other offices too.
Riley Moore-Blackrock & Woke Capitalism 'Economic Extortion' 'Could Destroy U.S. Free Market Capitalism' May 'Violate Fiduciary Duty to Shareholders, Antitrust Laws;' Plus MHVille Stocks Update
Notice: the graphic below can be expanded to a larger size.
See the instructions below the graphic below or click the image and follow the prompts.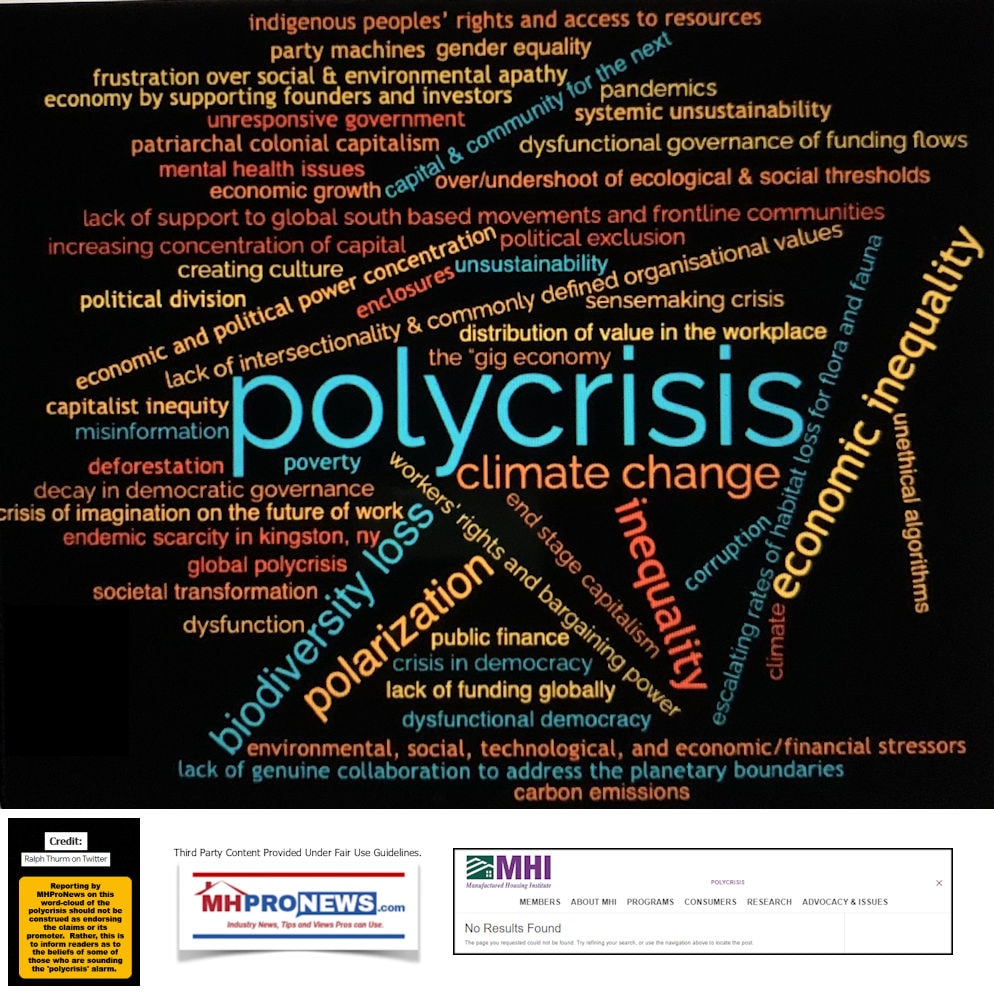 Larry Fink, CEO of private equity giant Blackrock, has referred to the "polycrisis." The polycrisis is a term used by the World Economic Forum (WEF) which has called for a future of renters (click to see image of just such a WEF pitch). Blackrock, Buffett led Berkshire Hathaway, and Microsoft founder William "Bill" Gates III are among the ultra-billionaires who are WEF movers and shakers. It is the troubling reality that several crises are at work at the same time. Whether you or a colleague of yours agree with some or all of the concerns named in the word cloud above, it does not change the fact that millions of Americans DO believe in each of those concerns.  Everyone, at some level, is forced to deal with ESG, the 'polycrisis' and now the work pricing and policies of mortgage financing.
Welcome to Polycrisis–Good Friday 2023 Facts, Claims, Reflections on U.S., Global Crises Convergence WEF says 'Polycrisis Could Have Catastrophic Consequences Including Armed Conflict'–Any Hope?
As a brief segue to set the context of the two reports above, the Daily Signal, says left-leaning Wikipedia is: "The publication focuses on politics, policy, and culture and offers political commentary from a conservative perspective. It is published by conservative think tank The Heritage Foundation."
Biden Regime's Promises of More Affordable Housing vs. the Reality 
While the Manufactured Housing Institute (MHI) claimed that they were evaluating the Biden Housing plan, MHProNews early and periodically raised an array of concerns about what industry professionals should actually expect. One example is the report linked below, just a few months into the Biden regime taking over the administration of the federal government.
"Political Payoffs" Modular Home Builders Association (MHBA) Compared to Manufactured Housing Institute (MHI) on Biden Plan – 'Turns American Dream into American Nightmare' – Analysis – plus, Manufactured Housing Stocks Updates
MHLivingNews advised industry professionals, affordable housing seekers, and affordable home advocates about the under-reported research by Pamela Blumenthal and Regina Gray for the U.S. Department of Housing and Urban Development (HUD) Office of Policy Research and Development (PD&R).  Blumenthal and Gray said that for 50 years – 5 decades – politicians have been making promises about increasing affordable housing availability without actually delivering. The problems and solutions are known, the duo said. That report with an MHLivingNews analysis and commentary is linked below.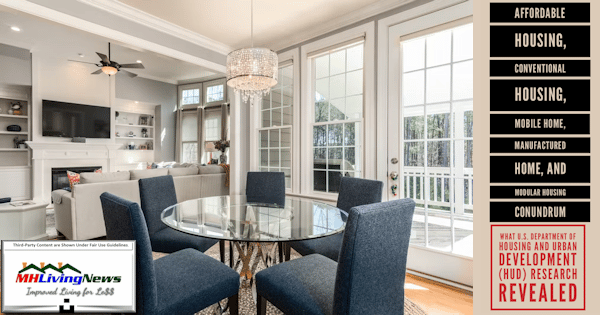 Despite that report, for whatever reasons, the Manufactured Housing Institute (MHI) has been cheerleading the Biden Housing Plan, perhaps due in part because it mentioned manufactured housing several times.  That said, what MHI did not do is follow up and transparently report what MHProNews did. Namely, that the actual data revealed that in the wake of that Biden housing plan, conventional housing went into decline. So too did manufactured housing.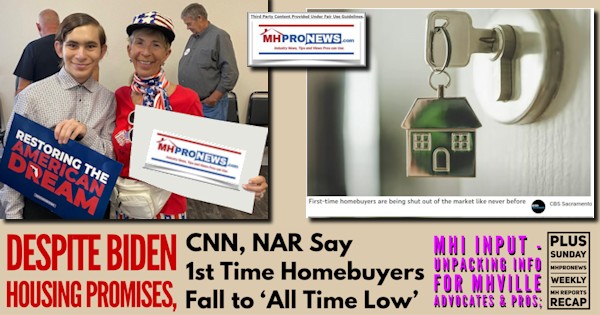 'Production at Lowest Levels in a Decade' but 2023 Outlook 'Optimistic for Texas Manufactured Housing Industry,' says TRERC – Supply Chain, Finance, Report, Analysis; plus MHVille Stocks Update
New U.S. Conventional Housing Nears 450K Average as Sales Up in March 2023 vs Manufactured Housing's Reported Dive – Added Facts, Opportunities, Obstacles, MHMedia Views – plus MHVille Market Update
"The lack of housing inventory is a major constraint to rising sales," said Lawrence Yun. "Multiple offers are still occurring on about a third of all listings, & 28% of homes are selling above list price. Limited housing supply is simply not meeting demand nationally." #NARPHS

— NAR Research (@NAR_Research) April 27, 2023
"Home sales are trying to recover & are sensitive to changes in mortgage rates," said Yun. "Yet, at the same time, multiple offers on starter homes are quite common, implying more supply is needed to fully satisfy demand. It's a unique housing market." https://t.co/bAXynfn1pq

— NAR Research (@NAR_Research) April 24, 2023
Industry newcomers and others need to be reminded that the national association that is supposed to be protecting the interests of "all segments" of the manufactured housing industry is MHI. MHProNews has provided not only insights from within manufactured housing, or more broadly from within factory-built housing, why MHI's track record in most of the 21st century did not merit trustworthiness or confidence from independents, nor from the employees of the various corporate giants (see example, linked here). Besides the keen and consistent insights and warnings from MHARR, there are also those from the National Federation of Independent Business (NFIB), the Job Creators Network (JCN) and other nonprofit organizations and trade groups.
'Small Businesses are Victims' Job Creators Network (JCN) American Small Business Prosperity Plan-Tax, Reg, Change Supports Job Creating Small Businesses-Action; plus MHVille Markets Update
Others in what passes for MHVille trade media routinely act as part of the MHI echo chamber.  MHI is demonstrably dominated by a few brands that may have corporate leadership that are cozy with the Biden regime and their agenda. Despite the posturing by the Biden White House about the need to encourage more competition, the actual steps being put in place by the Biden regime routinely lessen competition. They are driving out more independents in a range of sectors, including manufactured housing. MHProNews/MHLivingNews have in MHVille trade media ranks stood essentially alone in pointing out the stark disconnect between claims or promises made and the actual results and outcomes of those promises. Paltering, posturing, razzle dazzle photo or video ops with high-ranking officials may yield little or nothing of worth to the vast majority of the industry professionals. It takes time to convey these realities. It takes effort on our part and that of our readers to dig into these concerns and examine the evidence for each of these concerns, allegations, and alarming developments.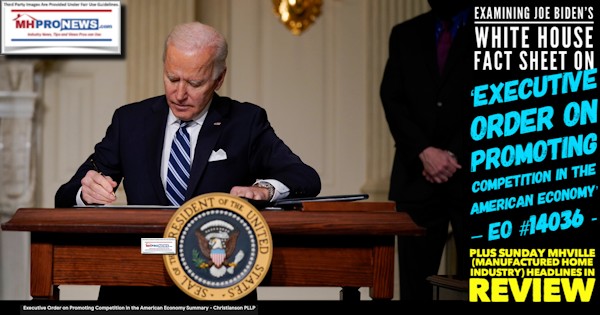 MHI's mission is broad. But the mission of the Manufactured Housing Association for Regulatory Reform (MHARR) is specific. They represent the interests of independent producers of HUD Code manufactured homes. They report on those issues that are of the greatest immediate concern to producers, and to some extent by extension, the clients of those producers. So, when MHI "member emeritus"  and blogger George F. Allen takes some cheap shot at MHARR, or this publication, it is routinely a distraction tactic meant to diminish the most reliable sources for information in manufactured housing. By taking cheap shots, Allen is arguably diminishing himself once he is revealed (again) for what and who he is as a blogger. He's the apparent tool of consolidators of manufactured housing, whether he knows or admits it himself.
'Deception and Misdirection'-MHI Proxy Response to Concerns About "Awards" to BBB D- rated Flagship Communities – 'Facts are Stubborn Things' Commentary; plus Sunday Weekly MHVille Headline Recap
The above is one of the latest, but the following are prior examples that establish a pattern, including one reported by mainstream media that cited MHProNews.
Cavco's Joe Stegmayer, MHI Chairman, George Allen-COBA7, Collusion, Coverup, and Allegations of Selling Out
George Allen Reply to Mainstream Media re: Roane/Lackey/SECO Exposé, Plus MHI, MHARR, et al – "Make Manufactured Housing Great Again"
Controversy Erupts! Tunica Manufactured Home Show 'Educational Seminar'-Legally Questioned "Lease Option" "Chattel Lending" 'Taught' by Spencer Roane, Promoted By George F. Allen, SECO
A look back at those prior examples of MHProNews warning industry members about Allen and others of his ilk operating in MHVille which are linked above reflect the point that our fact- and evidence based analyses and commentaries stand the test of time. Against that backdrop, the most recent example is linked below. That's followed by one that includes insights on others in the MHI orbit that act as their echo chamber; Allen simply does his arguably dirty work differently than they do.
'Road Closed' 'I Respect Fighters' 'MHI Elevating Industry Profile' Praise & Slurs? Retort to 'Brilliant, Bullsh-t or Chickensh-t' George Allen Remarks Slam Industry Leaders–MHVille Crisis
'The Rules Are Simple. They Lie to Us, They Know We Know They Are Lying;' MHVillage/MHInsider Darren Krolewski Unveils Sobering Claim – 'How to Waste Good Money on Marketing' – plus MHVille Stock$
Darren Krolewski, MHVillage-MHInsider 'One Challenge is Not Enough Positive News About Manufactured Housing to Counter Negative' News; Frank Rolfe, Brad Nelms ManufacturedHomes, George Allen, Kurt Kelley, Sunday Headlines Review – Facts & Analysis
What is indisputable for those who focus on the facts, evidence, and commonsense, is that manufactured housing is underperforming during an affordable housing crisis.  The latest data will be out later today. MHProNews will report and evaluate that data in our industry-leading fashion. Watch for that report later this week.
Conventional Housing Sales Rise in February 2023 per NAHB, But Manufactured Home Sales Plunged – What Data Suggests About Manufactured Housing Corporate or Manufactured Housing Institute Leaders?
In conclusion, a segment of articles linked here and another here hit specifics but also a high-level view of just how apparent MHI's failures have become. They should be read once daily for several days in a row, each time as if it were the first time. Why? Because by doing so, it will help skeptics and those who want to see the industry achieve its true potential to grasp why the industry is underperforming. Keep in mind that when asked, MHI's leadership and attorneys have been silent. What's happening in MHVille may seem so bizarre to those who recall the glory days of the industry that some simply have a hard time believing that the corrupt, cronyism insiders are so bold as they are today. Be that as it may, as the public's ire may be growing, one never knows when the eruption against a rigged system will occur. ##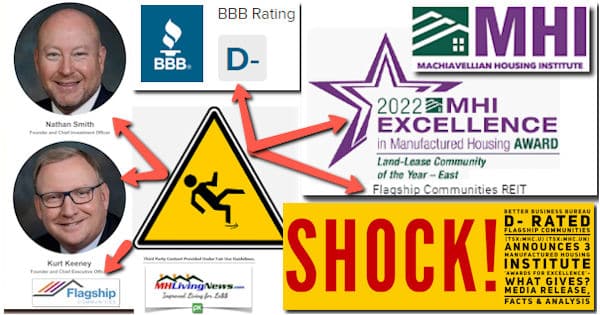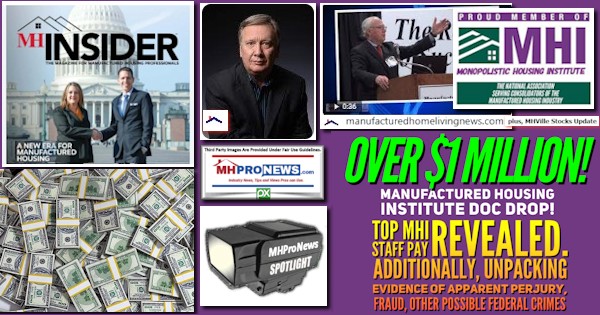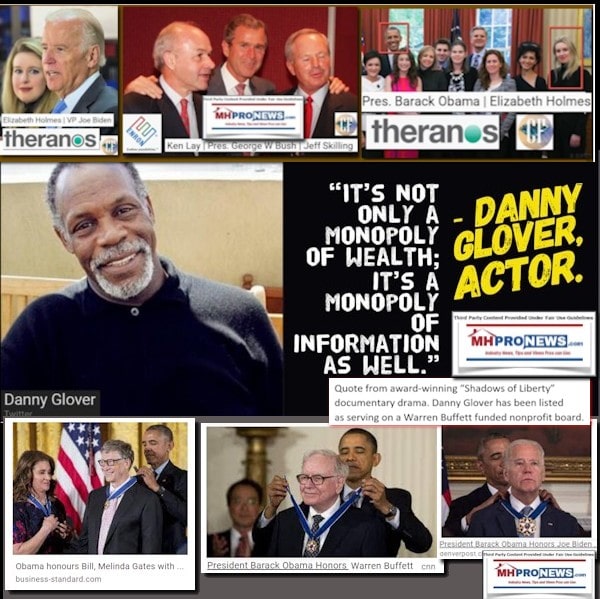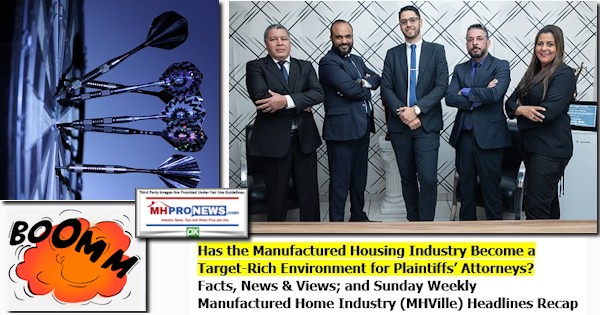 Part IV Daily Business News on MHProNews Markets Segment
The modifications of our prior Daily Business News on MHProNews format of the recap of yesterday evening's market report are provided below. It still includes our signature left (CNN Business) and right (Newsmax) 'market moving' headlines. The macro market moves graphics will provide context and comparisons for those invested in or tracking manufactured housing connected equities.
In minutes a day readers can get a good sense of significant or major events while keeping up with the trends that are impacting manufactured housing connected investing.
Reminder: several of the graphics on MHProNews can be opened into a larger size. For instance: click the image and follow the prompts in your browser or device to OPEN In a New Window. Then, in several browsers/devices you can click the image and increase the size. Use the 'x out' (close window) escape or back key to return.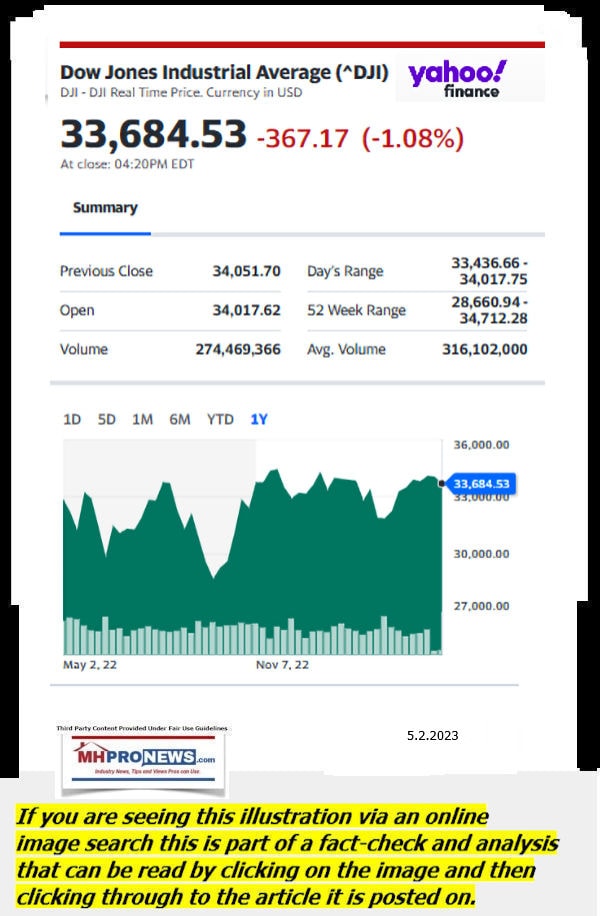 Headlines from left-of-center CNN Business – from the evening of 5.2.2023 
What the Fed is thinking
Federal Reserve Board Chair Jerome Powell speaks during a news conference at the Federal Reserve in Washington, DC, on March 22, 2023. – Powell said that "depositors' savings in the banking system are safe" and the central bank will work to prevent episodes like recent turmoil from happening again.
Here's why the central bank will probably still raise interest rates – just two days after First Republic failed
Why the Fed will likely raise rates two days after First Republic failed
Why you don't have to worry about a US airline strike disrupting your summer travel plans
Film and TV writers go on strike, bringing production on many shows to a halt
Dow slides over 470 points as bank shares nosedive
Why Tesla keeps making the Model S and X even as sales dwindle
Job openings tumble to lowest point in nearly two years
Congress presses Chinese fast-fashion giant Shein on forced labor
Pornhub blocks access in Utah over age verification law
Tuesday Morning is going out of business and closing all of its stores
It's getting 'substantially' harder for Europe's businesses and homebuyers to get loans
AI pioneer quits Google to warn about the technology's 'dangers'
Kroger will end its weekly grocery specials in newspapers
Uber's revenue climbs 29% as it continues to defy tech slump
BP shares slide as first-quarter profit dips
Sheila Bair to Jerome Powell: Stop trying to look so tough on inflation. It will backfire
Why a US recession is probably coming
One of the world's most expensive cities raises minimum wage … by 32 cents
HSBC says profits triple as it announces share buyback
Jack Ma takes up visiting professorship in Japan
'It's not a good look.' As cost of living crisis bites, some Brits are questioning spending money on glitzy coronation
Lordstown Motors stock plunges after dispute with investor Foxconn
Notice: the graphic below can be expanded to a larger size.
See the instructions below the graphic below or click the image and follow the prompts.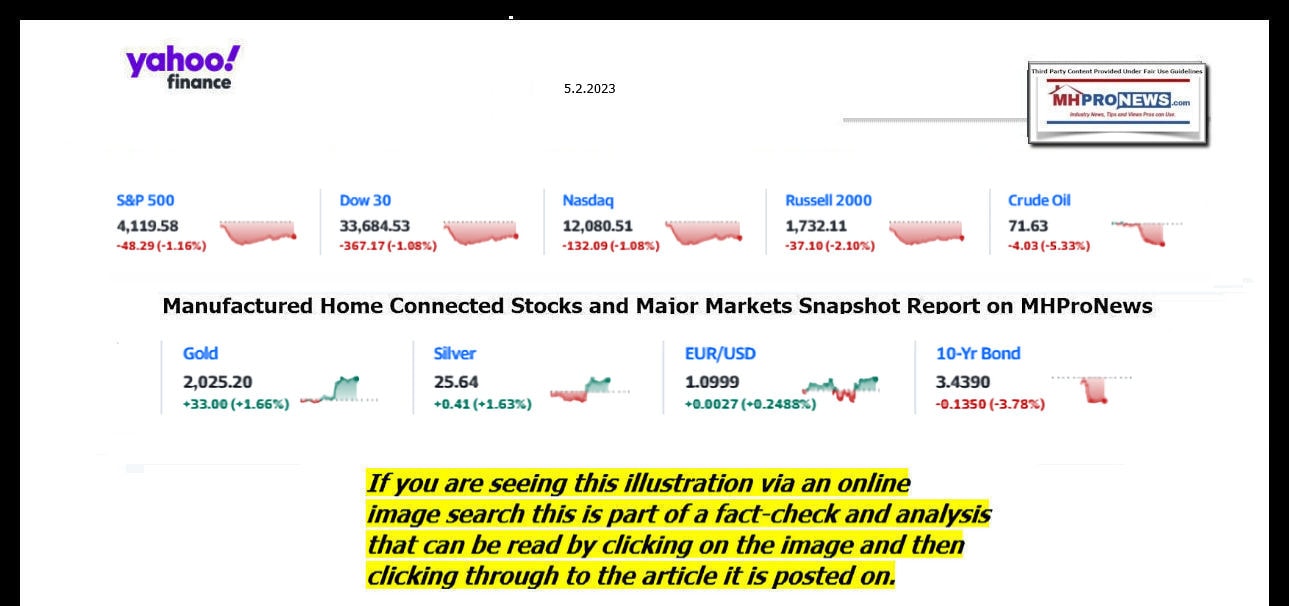 Headlines from right-of-center Newsmax 5.2.2023
Biden: I Won't Negotiate on Debt Ceiling at May 9 Congress Meeting
The White House says Biden is willing to discuss a separate budget negotiation process at the meeting, but he continues to insist on a debt-ceiling measure wholly separate from any Republican proposals to cut spending. How will the invited lawmakers feel about Biden's line in the sand? One, Senate Minority Leader Mitch McConnell, insists Biden must either accept a GOP debt limit bill, with its various budget cuts, or negotiate in good faith with House Speaker Kevin McCarthy.
Ken Paxton: Sanctuary Cities Get What They Asked For
Comer: Hunter 'Will Regret' Child Support Reduction Bid | video
Dick Morris: Trump Should Capitalize on RFK Jr. | video
John McLaughlin: Trump Best to Beat Biden | video
Olivarez: 'Failed Policies' Behind Texas Mass Shooting | video
Lankford: Biden Stalling on Debt Limit | video
Cloud: Senate Must Stop Spending on 'Bad Things' | video
AG: 'Nothing Wrong' With Regulating Kids' Trans Care | video
Biden Sending 1,500 Troops to Mexico Border
The Biden administration will send 1,500 troops to the U.S.-Mexico border ahead of an expected migrant surge following the end of coronavirus pandemic-era restrictions, according to four administration officials…. [Full Story]
Wall Street Drops as Banks Tumble
Stocks closed lower as shares of beleaguered banks tumbled again and [Full Story]
Megyn Kelly Warns Tucker: Fox Trying to Destroy You
Megyn Kelly is warning Tucker Carlson that Fox News' head of public [Full Story]
Dominion Takes Some Credit for Tucker Carlson's Firing
Tucker Carlson Dissed Fox Nation in Private Call
Lara Trump to Newsmax: Tucker Carlson 'Made' for the Internet
Fox Picks Lawrence Jones as Tucker Carlson Successor |video
Victor Davis Hanson: Fox News Can't Replace Tucker Carlson |video
Dick Morris to Newsmax: 'Puppeteer Found His Puppet Escaped' |video
Joe Rogan: Fox Should Just Pay Off Tucker Carlson
Rasmussen Poll: Tucker Carlson More Popular Than Fox News
Vermont Allows Out-of-Staters to Use Assisted Suicide Law
Vermont on Tuesday became the first state in the country to change [Full Story]
Biden: No Debt Ceiling Negotiation at May 9 Congress Meeting
Biden: No Debt Ceiling Negotiation at May 9 Congress Meeting
President Joe Biden will not negotiate over the debt ceiling during [Full Story]
Dems Lack GOP Votes for Clean Debt-Ceiling Bill
Meghan Markle Signs 'Queen of Hollywood' Deal
Meghan Markle has agreed to a deal with uber-agent Ari Emanuel's WME [Full Story]
Crown Comes to Parliament in Pre-coronation Charles Visit
Prince Harry in England Just 24 Hours for Coronation
Lionel Richie Gets Coveted Seat at British King's Coronation
King Charles III Makes Space for Faith at His Coronation
US Factory Orders Rebound on Aircraft in March
New orders for U.S.-made goods rebounded in March, boosted by a jump [Full Story]
10 Skin Cancer Myths Debunked
May is Skin Cancer Awareness Month and a good time to set up a visit [Full Story]
Durbin Calls Out SCOTUS Ethics Response: 'Oblivious'
Senate Judiciary Committee Chairman Dick Durbin, D-Ill., called the [Full Story]
Ford Discounts Mustang Mach-E After Tesla Cuts
Ford Motor Co. said Tuesday it is cutting prices on its Mustang [Full Story]
Job Report Keeps Soft Landing Hopes Alive
A continued drop in job openings and a dip in the rate at which [Full Story]
Woman Jailed for Throwing Drink at Rep. Gaetz
A woman from Tallahassee, Florida, was arrested and charged with [Full Story]
Surgeon General: Loneliness as Deadly as Smoking
Widespread loneliness in the U.S. poses health risks as deadly as [Full Story]
White House: US Has the Tools to Keep Banking Safe
The United States government has the "tools necessary" to keep the [Full Story]
Wuhan Man Jailed For COVID Videos Released From Jail
A Wuhan, China, man who documented the first COVID-19 outbreak in his [Full Story]
House GOP Leaders Tout Introduction of Key Border Bill
House Republican leaders hailed the introduction of the Secure Our [Full Story]
Dem Sen. Murphy Seeks $1B Budget to Fight Fentanyl
Chris Murphy, D-Conn., said Tuesday he wants $1 billion in the [Full Story]
Rahm Emanuel Blasted for LGBT Push in Japan
Rahm Emanuel, U.S. ambassador to Japan, is "destroying" Japan's [Full Story]
CBS Poll: GOP Voters Want Woke Culture Challenged
Nearly the entire Republican Party 85% of likely Republican primary [Full Story]
Youngkin: Not Running for President in 2024
Virginia Gov. Glenn Youngkin said he is not running for president in [Full Story]
Tim Scott Chides Biden, Tackles Border Crisis
Tim Scott, R-S.C., on Tuesday lauded proposed legislation to fix [Full Story]
Photos of Donald Trump You Have Never Seen Before
Job Report Keeps Soft Landing Hopes Alive
A continued drop in job openings and a dip in the rate at which workers are quitting have kept alive, for now, a key Federal Reserve narrative that the economy can slow without a major crack in employment…. [Full Story]
Ford Revenue Rises 20% on Truck, SUV Demand
Hindenburg Erases Quarter of Icahn Empire's Value
Big Tech CEOs to Attend White House AI Meeting
Berkshire's Charlie Munger Warns of Banks' Bad Loans
More Finance
Health
New Procedure Manages Diabetes Without Insulin
Could a one-hour procedure that involves zapping a part of the intestines mean no more insulin for millions of folks with type 2 diabetes? Maybe, according to a small study scheduled for presentation next week at the Digestive Disease Week meeting in Chicago. The new…… [Full Story]
Chest 'E-Tattoo' Tracks Vital Heart Functions
AG Skrmetti to Newsmax: 'Nothing Wrong' With Regulating Kids' Trans Care
Tons of Toxic Chemicals Released Into Homes Each Year
Strength, Balance, Mobility Decline Linked to Dementia
Notice: the graphic below can be expanded to a larger size.
See the instructions below the graphic below or click the image and follow the prompts.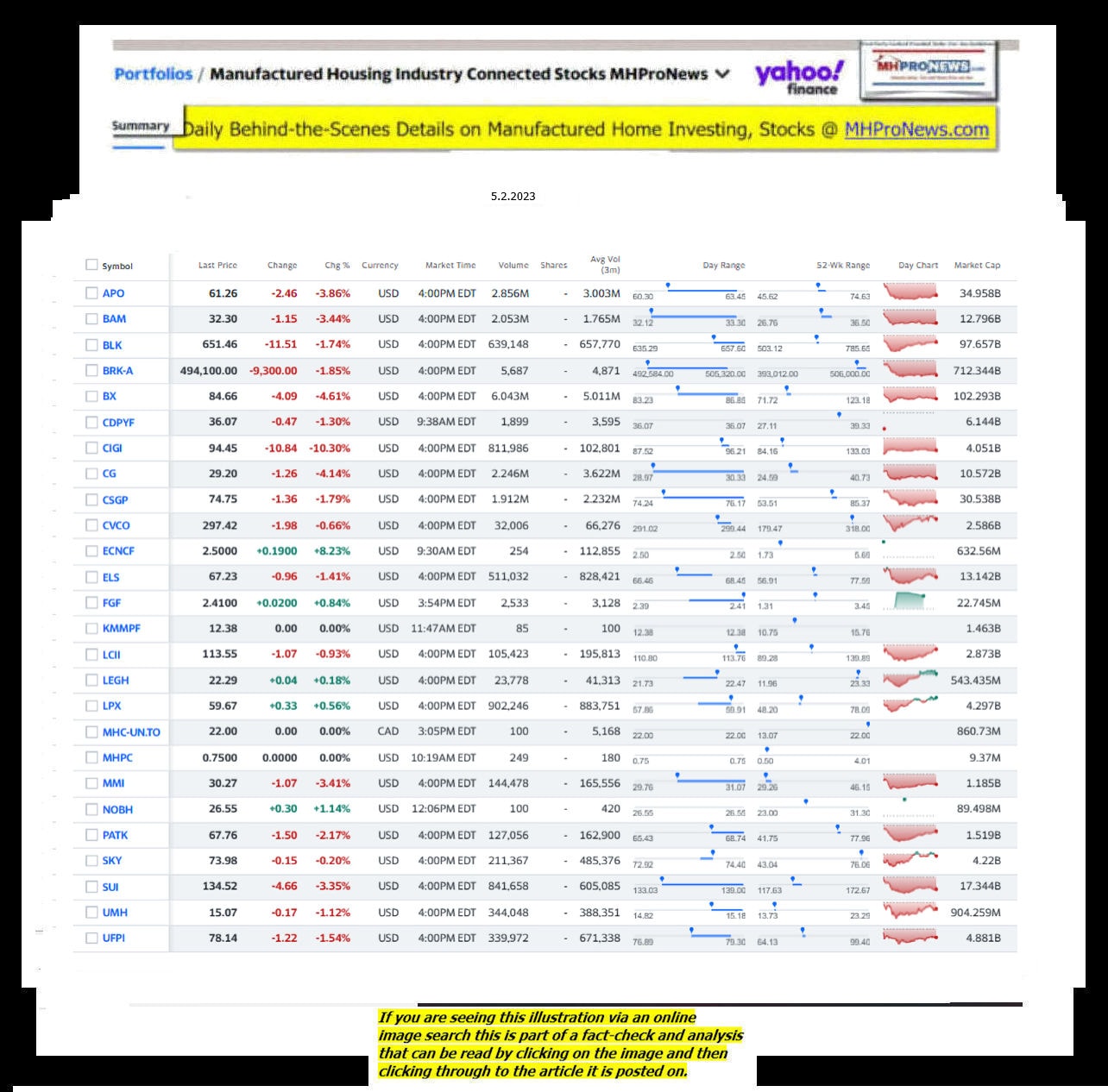 2022 was a tough year for many stocks. Unfortunately, that pattern held true for manufactured home industry (MHVille) connected stocks too.
See the facts, linked below.
'Stomach Churning Year' CNN-Wall Street 'Forget 2022' Down Year – Major Equities Data Compared to Manufactured Housing Stocks, Manufactured Home Community REITs, Performance for Year by Company
====================================
Updated
NOTE 1: The 3rd chart above of manufactured housing connected equities includes the Canadian stock, ECN, which purchased Triad Financial Services, a manufactured home industry finance lender.
NOTE 2: Drew changed its name and trading symbol at the end of 2016 to Lippert (LCII).
NOTE 3: Deer Valley was largely taken private, say company insiders in a message to MHProNews on 12.15.2020, but there are still some outstanding shares of the stock from the days when it was a publicly traded firm.  Thus, there is still periodic activity on DVLY.
Note 4: some recent or related reports to the REITs, stocks, and other equities named above follow in the reports linked below.
Sun Communities – 'Development in Our DNA,' ESG Stance, Q4 2022 Year End Results Earnings Call & PR – Facts, Insights Beyond PR and Official SUI Statements; plus MHVille REITs, Stocks Update
'Undervalued' Cavco Industries Touts Q Result$ 'Dire Need for Housing' 'January Traffic Up'- Rev Up 16%-Sales, Earnings, Mgmt Call Data–Analysis Beyond CVCO Statements; plus MHVille Stocks Update
'Killing's as Easy as Breathing' 'Bad Guys Know More Games' Warren Buffett Annual Berkshire Hathaway Letter, Clayton Homes, 21st, VMF-Manufactured Home Loans-Compelling MHVille Expert Views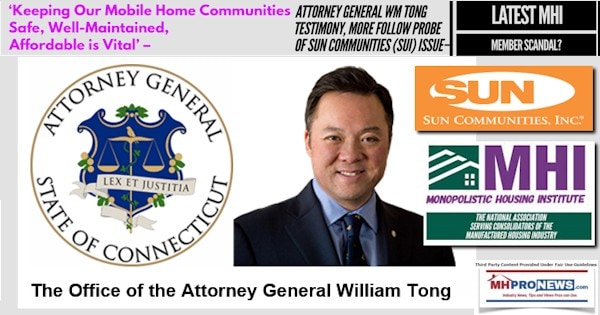 Nobility Homes, Inc. Sales and Earnings for its Fiscal Year 2022 Report, Result$ Best Inflation – Net After Taxes Up 34%, More Fact$; DeSantis ESG and NOBH; plus MHVille Stocks, Market Updates
'Manufactured Housing in the News,' Unpacking UMH CEO Sam Landy Op-Ed' It's Time for Bi-Partisanship on Affordable Manufactured Housing Homeownership' in HousingWire; plus MHMarkets Updates
Manufactured Housing Properties-Results for Three and Nine Months Ending September 30.2022–Exploring 'Mobile Home Park' Manufactured Home Community Investing; plus MHVille REITs, Stocks Update
'Changes Will Benefit Customers,' Boost Sales-Legacy Homes CEO Duncan Bates – LEGH 'Delivered 22.5% Return on Equity in 1 Yr' – Corp Q3 2022 Insights, Analysis; plus MHVille REITs, Stocks Update  
CEO Mark Yost, Skyline Champion Insiders SELL Million$ Value SKY Stock, Home Sales Drop-4th Q 2022 (3QFiscal2023), Official Result$-Facts, Analysis, Info Beyond PR; plus MHVille Stocks Update
Triad Financial Services Q2-2022 FINANCIAL RESULTS, per ECN Capital – Several Bright Spots in Manufactured Home Market Highlighted, Including Communities, Retail, Land-Home, Floor; MHStocks Update
BlackRock Document Exposes Central Banks like Federal Reserve on Recession; Manufactured Home Producer Cavco Industries 2022 Year End Results (CVCOQ3.23) Facts+Analysis; plus MHVille Stocks Update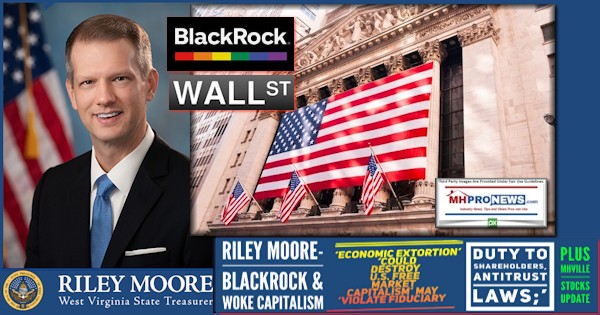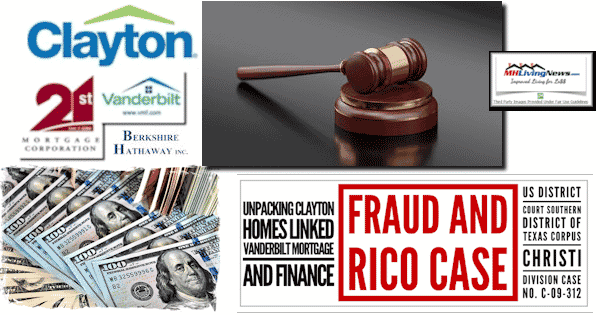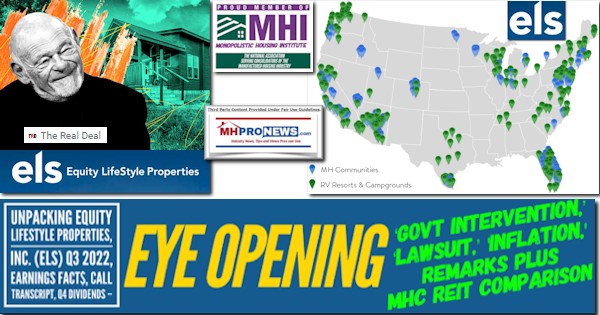 Manufactured Home Communities (a.k.a. 'Mobile Home Parks' – SIC) – Exploring UMH Properties; Fellow Manufactured Housing Institute Member Yes! Communities Suits and Settlements; plus MH Markets Updates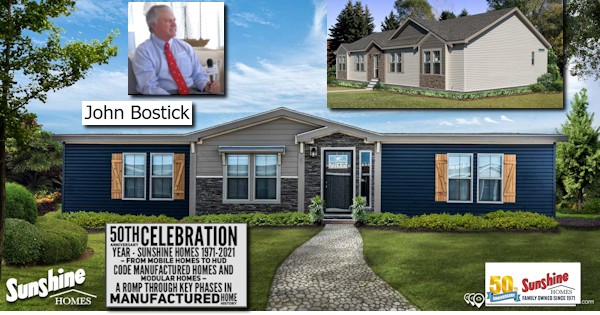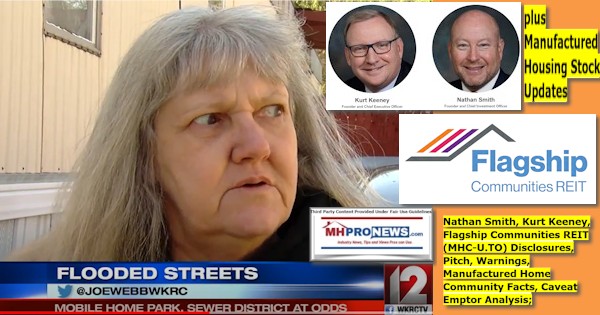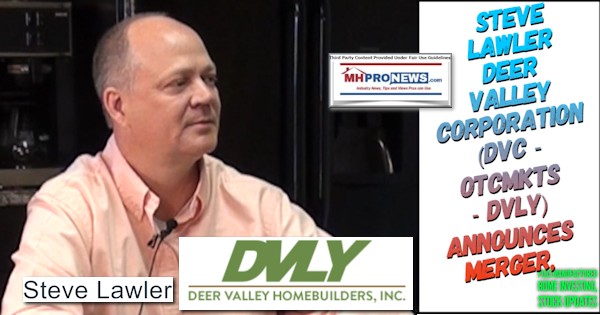 2023 …Berkshire Hathaway is the parent company to Clayton Homes, 21st Mortgage, Vanderbilt Mortgage and other factory-built housing industry suppliers.
· LCI Industries, Patrick, UFPI, and LP each are suppliers to the manufactured housing industry, among others.
· AMG, CG, and TAVFX have investments in manufactured housing related businesses. For insights from third-parties and clients about our publisher, click here.
Disclosure. MHProNews holds no positions in the stocks in this report.
· For expert manufactured housing business development or other professional services, click here.
· To sign up in seconds for our industry leading emailed headline news updates, click here.

Manufactured housing, production, factories, retail, dealers, manufactured home, communities, passive mobile home park investing, suppliers, brokers, finance, financial services, macro-markets, manufactured housing stocks, Manufactured Home Communities Real Estate Investment Trusts, MHC REITs.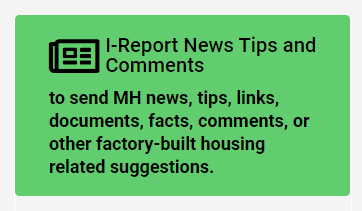 That's a wrap on this installment of "News Through the Lens of Manufactured Homes and Factory-Built Housing" © where "We Provide, You Decide." © (Affordable housing, manufactured homes, stock, investing, data, metrics, reports, fact-checks, analysis, and commentary. Third-party images or content are provided under fair use guidelines for media.) (See Related Reports, further below. Text/image boxes often are hot-linked to other reports that can be access by clicking on them.)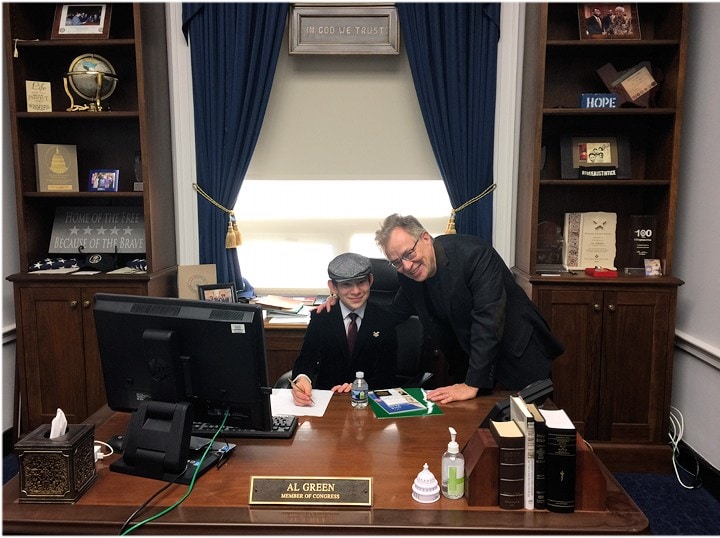 By L.A. "Tony" Kovach – for MHProNews.
Tony earned a journalism scholarship along with numerous awards in history. There have been several awards and honors and also recognition in manufactured housing. For example, he earned the prestigious Lottinville Award in history from the University of Oklahoma, where he studied history and business management. He's a managing member and co-founder of LifeStyle Factory Homes, LLC, the parent company to MHProNews, and MHLivingNews.com. This article reflects the LLC's and/or the writer's position and may or may not reflect the views of sponsors or supporters.
Anar Pitre-CEO Lotus Capital Partners-Vexing Manufactured Housing Institute Claims in Fact Check of Forbes 'What Manufactured Home Communities Investors Need to Know' – Inaccurate MHI Data Shown
Ma Nishtana – 'Why is This Night, Day Different from All Others?' The Pascha vs. Contemporary Orwellian Nightmare – the Sunday Weekly MHVille Headlines Recap
Call for Congressional Oversight Hearings of Manufactured Home Industry Regulators Highlighted by Manufactured Housing Association for Regulatory Reform (MHARR); plus MHVille Markets Update
Official HUD Manufactured Housing Production Facts for Dec 2022 plus 2022 Year End Totals Explored by Manufactured Housing Association for Regulatory Reform (MHARR)-"Millions" Needed – Analysis
Facts You Didn't Know – Martin Luther King Jr – Videos, Insightful Quotes, Surprising Revelations, Videos, Reports, and Illustrations in Champion for Human Rights Including Affordable Housing
'Global Disinformation Index' Warren Buffett Ally Bill Gates' Microsoft Org Charged-Cutting Revenue to Conservative Views via Xandr, GDI; plus Sunday MHVille Headlines Recap
#1 Texas' Manufactured Housing Builders Survey Says They are 'Ready for a Rebound' But Data Point in Question, DOE MH Energy Rule Too – Facts, Analysis; plus, MHVille Stocks, Markets Update
Clayton-Next Step Off-Site Built 'White Paper'-Manufactured Homes, ThinkND 'Magic of the Mind-Everyday Illusion, Misdirection, Deception' MHI Members' Claims Analyzed; plus MHVille Markets Update
After Admitted Failure, Manufactured Housing Institute Doubles Down on CrossMods® in AP Terminology Doc Acquired by MHProNews–Are MHI Leaders Sabotaging MHVille Independents? Plus MHStocks Update
Concessions by Speaker Kevin McCarthy in House Speaker's Battle Called 'Most Significant Win for Conservatives in a Decade' By Federalist's Emily Jashinsky Report; plus MHVille Stocks Updates