To tee this up, the emailed messages revealed below were all sent under the subject line, "for the record." So, there is no violation of information shared off the record. Furthermore, the replies – initiated by George F. Allen (COBA7) – went to an email list of his.  Joe Stegmayer, Chairman and CEO of Cavco Industries, was openly included by Allen as an open CC. Per sources, the messages from Allen also went to some at/with the Manufactured Housing Institute (MHI), plus others that included professionals with the GSEs, producers of manufactured homes, and more.
So, hundreds in MHVille, are already aware of several – but not all – of the elements of the report that follows.  Why it matters to thousands can best be understood by points that will follow, further below.
The Background and Issues?
It's clear from new home shipment trend lines that the MH industry is rising. That said, the issues that face manufactured housing (MH) are many.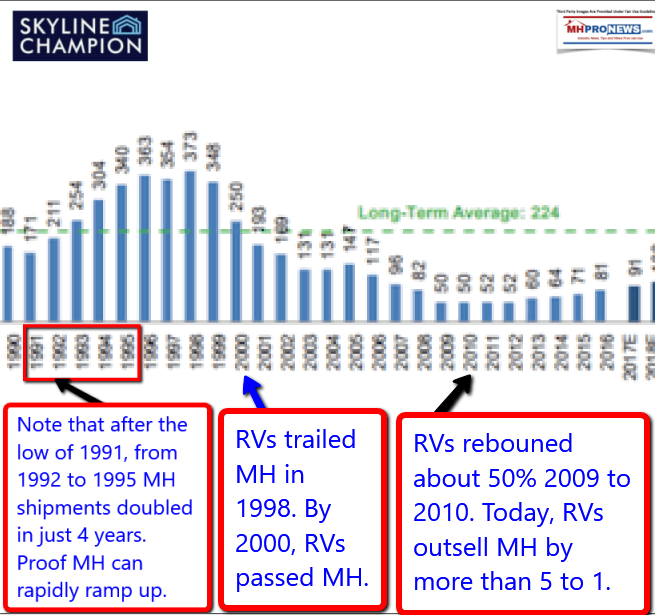 But as the Daily Business News on MHProNews has exclusively reported, compared to the trendlines of the RV, general housing to manufactured homes, the HUD Code industry has been recovering slowly.
The MH industry has had low/suppressed results or so long, that twenty years have elapsed since the last peak in manufactured housing.  That means there is a new generation of manufactured home professionals who have never personally experienced anything like the heydays.
By contrast, RV's went from trailing MH by roughly 1/3, to now outselling MH by some 5 to 1.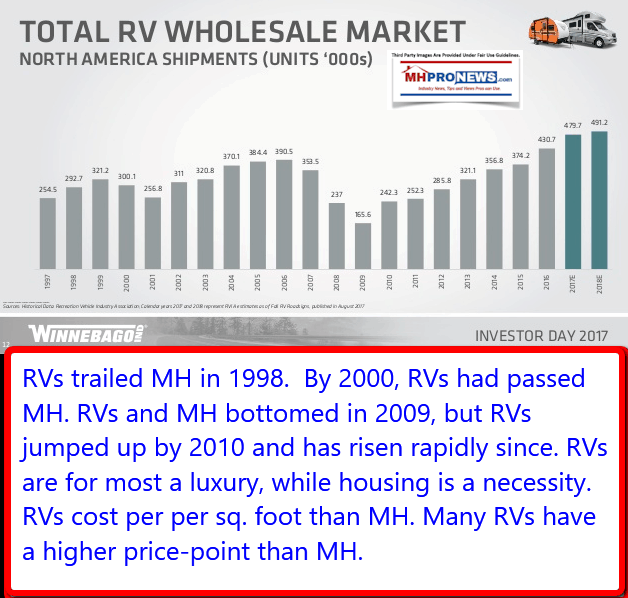 These are cold, hard facts.
So long as MHI claims, right or wrong, they say they represent the industry, then they logically deserve a healthy measure of scrutiny and accountability. "We are the only national trade association representing all sectors of the manufactured and modular housing industries and over 85 percent of the homes produced each year," says MHI's website, adding "MHI's advocacy efforts are focused on overcoming barriers to the growth of the manufactured housing market."
With that backdrop – quoting from long-time MHI member and National Communities Council (NCC) co-founder, Col. George F. Allen (ret.) here's what he's said prior to his recent about-face and flip-flops.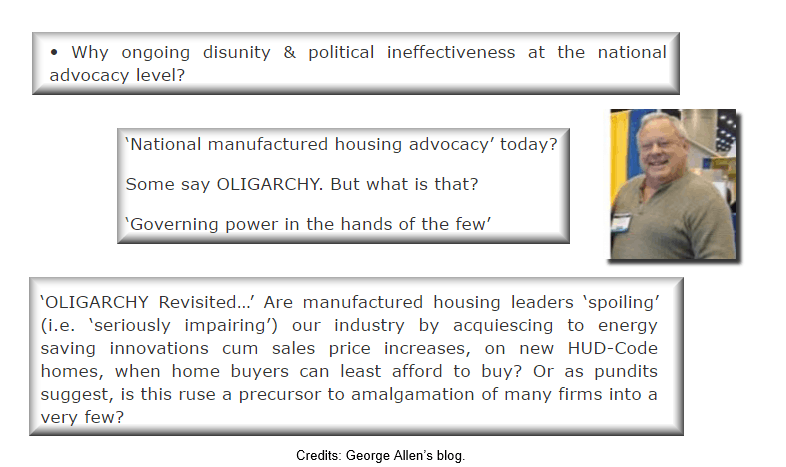 Allen admits in writing that he has dropped his membership at MHI. Dozens of MHI members may recall that Allen and Spencer Roane were scorched by MHI in an NCC meeting, about 3 years ago.  Roane quit not long after.
In his recent on-the-record emails with MHProNews, Allen denies that he's been paid off ("sold out," as a reader of his said-with-concern to the Daily Business News).  But in stark contrast to the quotes from his blog in the graphic above, Allen told MHProNews this:
"I continue to appreciate the work MHI does in behalf of our industry and realty asset class, as lobbyists in Washington, DC."
Questioned by the publisher of MHProNews, Allen goes all in. In an emailed reply, he also wrote:
"Frankly, I am honored Joe Stegmayer, chairman of CAVCO Industries, MHI, & the RV/MH Hall of Fame agreed to be the lead-off keynote presenter at this year's Networking Roundtable. And I'm no less pleased senior executives from the FHFA and both GSEs will man a panel featured as second keynote presentation. I'm also humbled all the major HUD-Code housing manufacturers are participating as $ sponsors and event participants; also many of the major loan originators. And Mark, from MHARR knows he has an 'open invitation' to attend, but generally does not."
One must wonder if Allen ponders moment-to-moment what he writes to some, and then publishes but a few days later on his blog the following.  Why?  Because just days after the above was emailed, Allen said the following on his blog.
"In my opinion, national advocacy in behalf of HUD-Code manufactured housing and land lease communities, via representation, lobbying, and product/service provision, remains relatively ineffective at best, disparate at worst."
Summing up, Allen vacillates from slamming MHI, to praising them, and then once more questioning their – and other – national association leadership. This is one more stark reason why this publication urges "separating the wheat from the chaff."  Otherwise, Allen would demonstrably appear to be completely inconsistent, and difficult to take seriously on anything.
Circling back to Allen's previously cited email, our publisher zeroed in on this part of Allen's reply: "…Mark, from MHARR knows he has an 'open invitation' to attend, but generally does not."
So, L. A. 'Tony' Kovach took Allen up on that, and encourage him to broker a public discussion between MHI's and Cavco's Chairman – Joe Stegmayer – and Mark Weiss, President and CEO of the Manufactured Housing Association for Regulatory Reform (MHARR).
Keep in mind, that Allen specifically cc'd Joe Stegmayer, as the email screen capture below reflects.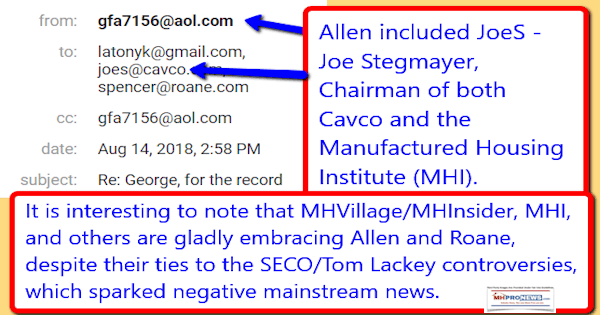 After some delay, Allen said the following. "I don't recall that matter being so much a debate, rather, two national manufactured housing advocates, at the same time, in the same room, presenting differing or like views on the topic at hand."
"I'm not interested in planning or hosting any gig…And frankly, I don't see our friends at MHI handling such an opportunity differently, preferring to keep their 'politicing' personal, not public."1
When asked if Joe Stegmayer or others at MHI influenced that answer?  Allen broke off that thread of communications.  It seems that Stegmayer, Allen, or others on the MHI staff are unable or unwilling to answer questions about thorny issues, such as on the GSEs, among numerous others.  For a related report on that topic, see the article below.
Loan Zone Manufactured Home Buyers, Sellers – CU Insight on Fannie, Freddie and Duty to Serve Manufactured Housing Industry
Revealing?
Allen has, as that reader of his alleged, apparently been coopted for money. Allen also said a group bought out the last community he had an interest in. If there was any doubt before that Allen's doing some of MHI's bidding for money, there should be little left to those who objectively read this and received Allen's email exchanges with publisher Tony Kovach.
Having slammed MHI off and on for years – due to how Allen felt the Arlington-based trade group handled their on-and-off-again 'buy out' of his annual meeting, and other services – he's now off-and-on singing their praises. But as a classic Allenism, just days after the email, Allen's back to questioning MHI's effectiveness.
Allen deserves credit for at least making an on the record reply, even if it is one arguably laced with posturing, flip-flops, and spin. By contrast, for roughly 18 months, MHI has stopped replying to questions from MHProNews that they once answered promptly. But prior to that, under Jennison or Thayer Long, MHI's president and others would promptly reply.
In fact, MHI is still replying to concerns raised by MHProNews and/or MHARR, or others. But MHI does not do so directly.
Rather, MHI arguably 0bliquely replies by using shills, sycophants, paid-for platforms, and/or their own emails to members.
Stegmayer's fail to reply to MHProNews, raises a separate but related issue. Long-time readers recall Stegmayer's praise of this platform. While he certainly has to the right to reply or not reply, it leaves the debatable impression that he can't answer in a way that would play well with the MHI audience.
Programming note: a separate report on Cavco, based upon some reader news tips, is planned for the days ahead. Stay tuned.
In the meantime, the irony of the above is this.
If MHI – or Allen – where confident in their positions, why wouldn't they welcome a public debate with MHARR?
It's akin to the numerous times that MHI has ducked out on failing to answer questions at public forums.  MHI VP Rick Robinson declined comments, in front of dozens of industry professionals last year.
Earlier this year, MHI President and CEO Richard 'Dick' Jennison cancelled his own scheduled public address, shortly after an MHProNews set of questions to be asked Jennison was emailed to hundreds of Louisville Show attendees.  If they were confident, why not debate/discuss in public?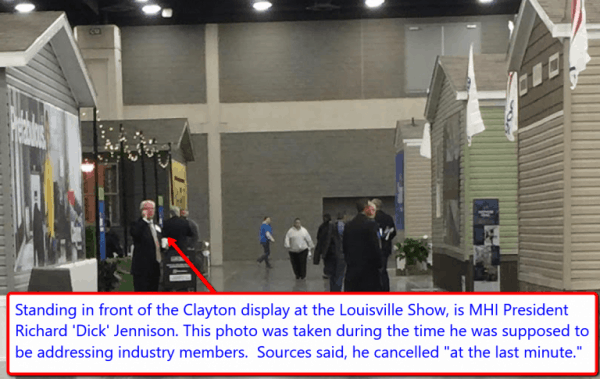 As an MHI affiliated state association executive said about Jennison at the time, "strange man." He should welcome discussion, not duck it, if they truly believe their stated positions.
Quite so.  In the meantime, what Allen, MHInsider, and others are making clear is this.  They're happy to take MHI's money.  Several in MH trade media are happy to take money from MHI members who are connected to consolidation efforts.
MHI SVP Lesli Gooch & MHARR CEO Mark Weiss Bookend New, Prior HUD Controversies
Rephrased, have Allen and several others in MH trade media sold out?
If ads, sponsorships, and other dollars spent by MHI and the 'big boys' means they are now favoring MHI's messaging, it's an important question for industry readers who seek the truth instead of weaponized spin need to ponder.  With MHI having failed on several of their own self-proclaimed issues for years, it wasn't until the kitchen got hot enough that they began to appear to do something. ## (News, analysis, and commentary.)
(Third party images and content are provided under fair use guidelines.)
Footnote 1: MHProNews turns most direct quotes brown and bold by default, and has for years.  In this case, Allen used bold text where we've added the underscoring. Rephrased, Allen emphasized those points himself. In citations, … means there was other words between the quoted phrase, edited for focus.
1) To sign up in seconds for our MH Industry leading emailed news updates, click here.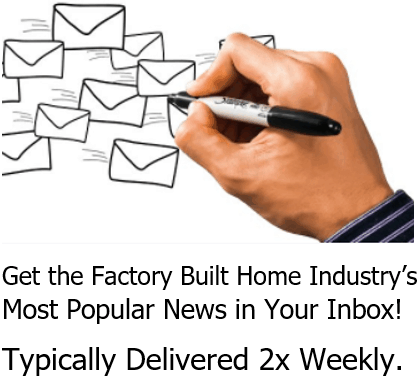 2) To provide a News Tips and/or Commentary, click the link to the left. Please note if comments are on-or-off the record, thank you.
3) Marketing, Web, Video, Consulting, Recruiting and Training Resources
Submitted by Soheyla Kovach to the Daily Business News for MHProNews.com. Soheyla is a managing member of LifeStyle Factory Homes, LLC, the parent company to MHProNews, and MHLivingNews.com.
Related Reports

:
"Accurate, but Misleading" MHI Preserving Access to Manufactured Housing Act Alert – 'Weaponized New$,' Fact Check$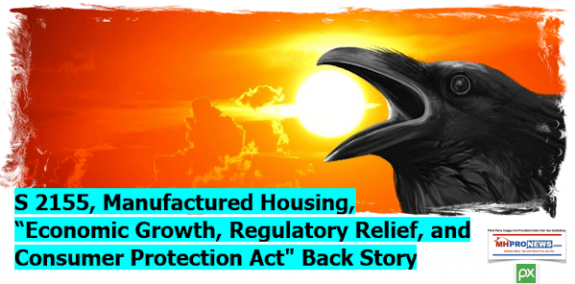 George Allen Blasts MHI, NCC Ignoring Own, Spencer Roane, SECO, COBA7, Tom Lackey Controversies
Spencer Roane w/Southeast Community Owners (SECO), Praises Tom Lackey, Accused of Rent-to-Own Manufactured Home Sales Improprieties