"HUD Secretary, Dr. Ben Carson, as the saying goes, "gets it." – wrote Mark Weiss, JD, President and CEO of the Manufactured Housing Association for Regulatory Reform (MHARR) in a new Issues and Perspectives.
"First, and most fundamentally, he understands – and has very plainly stated — that to successfully address and ultimately solve the nation's affordable housing crisis, which has some 21 million American families spending more than one-third of their household income on housing expenses and 11 million of those spending more than half of their income on housing, it is "vitally important … to develop more affordable housing." – declared Weiss, as part of a periodic release to the Daily Business News on MHProNews.
"Beyond that," said Weiss, "he [Carson] understands (unlike some of his predecessors at HUD) that "the first and most important source" of that much-needed affordable housing, "will always be private enterprise, whether operating independently, or in cooperation with HUD [or] other government initiatives." 
"And, perhaps most significant of all, he appears to understand what must be done – at HUD – to spur the growth and availability of affordable housing and home ownership from within the private sector and, more specifically, from within the manufactured housing industry that HUD not only comprehensively regulates through its Title VI manufactured housing program, but is also authorized to help finance through programs administered by its Federal Housing Administration (FHA)."
That statement by Weiss is a reminder to Daily Business News readers that a former U.S. president specifically promoted the use of FHA lending to sell more "mobile homes," as that president put it, and for similar reasons.
Help Others "Get It" – Loans on "Mobile Homes" Promoted by Another U.S. President
So if Secretary Carson and HUD's returning Brian Montgomery mutually address problems – like the GNMA 10/10 rule on FHA Title I (personal property) loans, or other reforms needed for FHA Title II lending – they'll be following in that prior president's pattern of financing support for the manufactured home (MH) industry. 
"The question, though," said Weiss "is whether the industry's post-production sector (i.e., retailers, communities, developers, finance companies, and insurers, among others) "gets it," and will act to create the type of independent collective representation that will be needed to seize these unparalleled policy opportunities." 
"In a speech earlier this year to the Policy Advisory Board of the Harvard University Joint Center for Housing Studies, and in a follow-up HUD publication entitled "Regulatory Barriers and Affordable Housing," Secretary Carson clearly pinpointed the keys to unleashing the enormous potential of the manufactured housing industry to help expand homeownership and fulfill HUD's essential mission of "ensur[ing] safe, affordable housing for [all] Americans." – said MHARR's CEO.
"First, Secretary Carson observed that the availability of affordable housing for Americans cannot be achieved "by hindering those who are most responsible for creating it." He thus emphasized the importance of the current – and ongoing — regulatory review of the HUD manufactured housing program being conducted under Trump Administration Executive Orders 13771 ("Reducing Regulation and Controlling Regulatory Costs") and 13777 ("Enforcing the Regulatory Reform Agenda")."- said Weiss.
"MHARR, for its part, has strongly supported and encouraged this long-overdue review of HUD regulations and other pseudo-regulatory actions taken in violation of applicable law, and has submitted extensive comments detailing various aspects of the HUD manufactured home regulatory structure that must be changed, not only to achieve the regulatory reform agenda of President Trump, but also to achieve the overriding objective of the Manufactured Housing Improvement Act of 2000 – i.e., "to facilitate the availability of affordable manufactured homes and to increase homeownership for all Americans." – said Weiss.  It's a reference that evokes a reminder that the Manufactured Housing Institute (MHI)  Senior Vice President (SVP) Lesli Gooch, Ph.D., admitted to the Washington Post that MHI did not attempt to influence HUD regarding Pam Danner's overreaches at the Office of Manufactured Housing Programs (OMHP).  That goes to the heart of what an association is supposed to do, and what Gooch admits MHI deliberately chose not to do.  ICYMI, see that prior fumbled opportunity by MHI in the report linked below.
Greener, Stylish Manufactured Homes – Hidden Facts in the Washington Post Manufactured Housing Narrative
"Significantly, though – and as important as that regulatory review and reform process is – Secretary Carson did not stop there," said Weiss.  
Read the rest on the MHARR website, here or at the link below.
HUD Secretary, Dr. Ben Carson, as the saying goes, "gets it." First, and most fundamentally, he understands – and has very plainly stated – that to successfully address and ultimately solve the nation's affordable housing crisis, which has some 21 million American families spending more than one-third of their household income on housing expenses and 11 million of those spending more than halfof their income on housing, it is "vitally important …
 MHI's Lesli Gooch Claim Launches New Controversy…
MHARR has not yet spoken publicly about the following new controversy, declining comments about the written claim made below by MHI SVP Lesli Gooch.
It should be noted that the Daily Business News on MHProNews asked several HUD officials about the same comment by Lesli Gooch.
HUD has also avoided commenting on Gooch's bold claim. 
Here's what Gooch said as part of a longer chest-thumping statement, which she wrote in MHInsider.  Gooch called Brian Montgomery "MHI's Candidate" for the HUD role of Federal Housing Commissioner, and the big man behind Secretary Carson.
What precisely does Gooch's claim imply?
Isn't she boldly hinting at MHI's "Got Clout?" campaign claim? And if so, how will that "clout" be used by MHI?
Will Gooch and MHI be part of the problem of past HUD overreaches, or of FHA Title I lending curtailment?  Keep in mind that Tim Williams – prior MHI Chairman and still CEO of  21st Mortgage – curtailed FHA Title I lending to the independents of the industry. Meanwhile, Vanderbilt Mortgage and Finance kept making FHA loans to Clayton retailers, even after 21st suspended their use of FHA Title I loan program.
That in turn is evocative of how 21st previously curtailed lending to manufactured housing independents.  That  resulted in the failure and consolidations of numerous independents. ICYMI, that prior report can be accessed via the link below.
Smoking Gun 3 – Warren Buffett, Kevin Clayton, Clayton Homes, 21st Mortgage Corp Tim Williams – Manufactured Home Lending, Sales Grab?
Will that claimed "MHI Clout" being asserted by Gooch with Brian Montgomery be used to continue to foster an environment that further consolidates the independents of the industry? 
How aware are officials at HUD of the history of the causes of the MH industry's consolidation? 
As a reminder, Berkshire Hathaway brands and MHI have routinely ducked or declined discussion, debate, and comment that explains the contradictions noted in statements made by Warren Buffett quoted in Smoking Gun 3, claims by 21st's Tim Williams, and those that relate from the Kevin Clayton video, posted in that report. 
None of the parties involved in this new controversy over Gooch's claim directly answers those or other possible questions. 
That said, MHARR's CEO finished his commentary this way. "As MHARR has emphasized before, conducting meetings, conferences, seminars and other similar gabfests will not change government policies in Washington, D.C. – especially ones that have been in place for years or even decades (like the under-utilization of federal preemption authority to clear away discriminatory exclusion enactments).  What is needed is strong, focused, aggressive, collective and most-importantly, independent advocacy on behalf of the thousands of smaller businesses that constitute the core of the industry's post-production sector, whose interests today are, more often than not, sacrificed to the industry's largest corporate conglomerates.
The opportunity for real change and for real growth in both the near and long-term, clearly exists.  The question is whether that opportunity will be seized and maximized where it counts the most."   
Again, the full MHARR commentary is found at the related reports linked, above or here. See other related reports, further below.  "We Provide, You Decide." ©. ## (News, analysis, and commentary.)
(Third party images and content are provided under fair use guidelines.)
1) To sign up in seconds for our MH Industry leading emailed news updates, click here.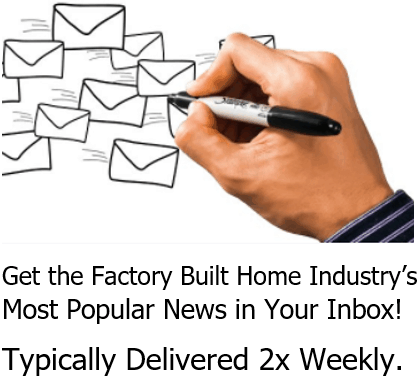 2) To provide a News Tips and/or Commentary, click the link to the left. Please note if comments are on-or-off the record, thank you.
3) Marketing, Web, Video, Consulting, Recruiting and Training Resources
Submitted by Soheyla Kovach to the Daily Business News for MHProNews.com. Soheyla is a managing member of LifeStyle Factory Homes, LLC, the parent company to MHProNews, and MHLivingNews.com.
Related Reports

:
Rising Prices and Rates Cool Housing Sales, MH Industry Pro Sounds Off, New Data & Video
Warren Buffett Would be Okay With Clayton Homes Losing Money, Says Kevin Clayton – But Why?