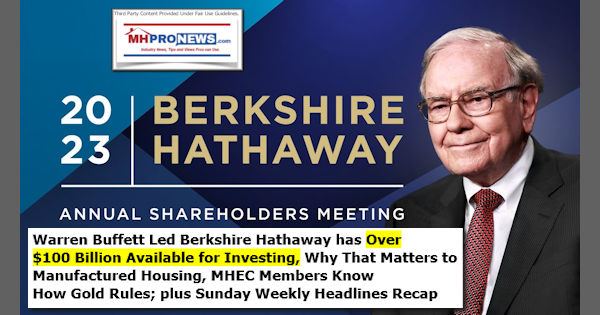 Left-leaning CNBC said that Warren Buffett led Berkshire Hathaway (BRK) has about $130 billion dollars in cash or cash equivalents that it could invest or use in stock buybacks. Right-leaning Newsmax said that "Buffett spoke hours after Berkshire posted a $35.5 billion quarterly profit and said it bought back $4.4 billion of its own stock, a sign it considered the shares undervalued. In contrast, it sold $13.3 billion of other companies' stocks. The world's sixth-richest person has run Berkshire since 1965, and its dozens of businesses…" Among those businesses are the largest manufactured home producer, Clayton Homes, and their affiliated manufactured housing lending. Berkshire owned 21st Mortgage Corporation provides financing to independent manufactured home retailers. Meanwhile, Vanderbilt Mortgage and Finance (VMF) offers lending to Clayton Homes' vertically integrated manufactured housing retail stores. All three of those manufactured housing connected firms wield significant sway over the Manufactured Housing Institute (MHI) and numbers of state associations affiliated with MHI too. Clayton, 21st Mortgage, and VMF have been involved in several controversies in the 21st century. Among those are the struggle for Buffett to buy Clayton while others were competing were competing against Berkshire to acquire the firm that Jim Clayton founded
Jennifer Reingold Questioned Berkshire-Clayton Deal; MHI GSEs Rocked by Tip-Document Drop, plus Manufactured Home Investing, Stock Updates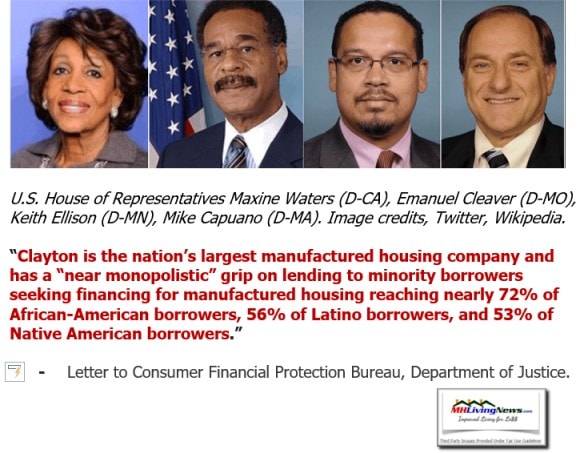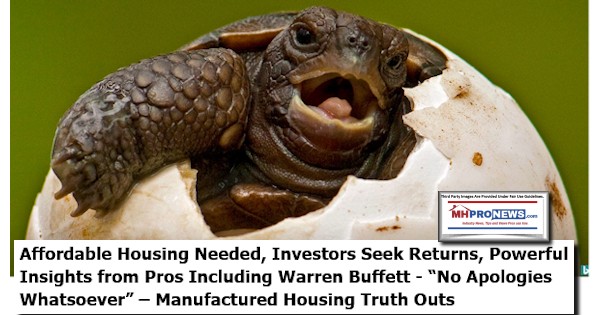 Approaching a dozen years have elapsed since Kevin Clayton said in a video that manufactured housing was ready to do a public relations campaign. Kevin said that "Warren" told him that he could rest assured that there was an abundance of capital for anything that Clayton may want or need. Which begs the question: why hasn't Clayton and/or others involved at MHI launched a robust image/educational campaign?
Warren Buffett's Pledge to Kevin Clayton – 'You Can Access Plenty of Capital' for Projects – Quotes, Facts, Video, Transcript, and Implications for Manufactured Housing Industry
Education, Information, Inspiration, and Litigation
Beyond the apparently long-over promised, under-delivered image/educational campaign other similar questions could be posed. Some examples are illustrated by the following bullets.
1) Why hasn't Berkshire-owned Clayton Homes and their sister brands funded and launched litigation for the full and proper implementation of the Manufactured Housing Improvement Act (MHIA) of 2000 – notably its "enhanced preemption" provision?
2) Why hasn't Clayton and/or other MHI member brands formed and funded a coalition effort to litigate "enhanced preemption" against a locality(ies) and/or the U.S. Department of Housing and Urban Development (HUD) – especially since an executive with Cavco Industries (CVCO) publicly ripped HUD for "failing" manufactured housing on that issue?
3) Given that a relatively small number of firms – including Berkshire owned brands like Clayton, 21st, and VMF are on the board of directors for MHI – and given that MHI and the Texas Manufactured Housing Association (TMA) have finally launched a suit against the Department of Energy (DOE) regarding the pending DOE manufactured housing energy rule, why hasn't MHI launched similar litigation to press FHFA, or the Government Sponsored Enterprises (GSEs or Enterprises) of Fannie Mae and Freddie Mac, to implement the Duty to Serve (DTS) Manufactured Housing mandated by Housing and Economic Recovery Act (HERA) of 2008?
4) Why didn't the dominating brands at MHI launch the DOE litigation months earlier than it did? Why did they go through the apparent charade of attempting to pass a bill with no Democratic support? Why did they belatedly launch a bill in 2022 that had no Senate companion bill?
Each of those topics have been covered on MHProNews/MHLivingNews previously in reports like those linked below. But when one keeps in mind that Berkshire alone has $130 billion dollars in readily available cash to invest – and Kevin Clayton said "Warren" told him he could access capital whenever he felt he needed it – isn't it apparent that the powers that be WANT the status quo in manufactured housing? The bright lights of the "Woodstock of Capitalism" in the pre- and post-COVID19 era of Omaha's annual Berkshire meeting puts a spotlight on what is and is not being done. That begs questions.
The RV industry has had its GORVing campaign in place since the late 20th century and throughout the 21st century. RVing is seen as hip and cool by millions as a result.  RVs went from trailing manufactured housing by a ratio of 3 (MH) to 2 (RVs) in 1998, to periods where RVs outsold MHs by some 6 (RVs) to 1 (MH).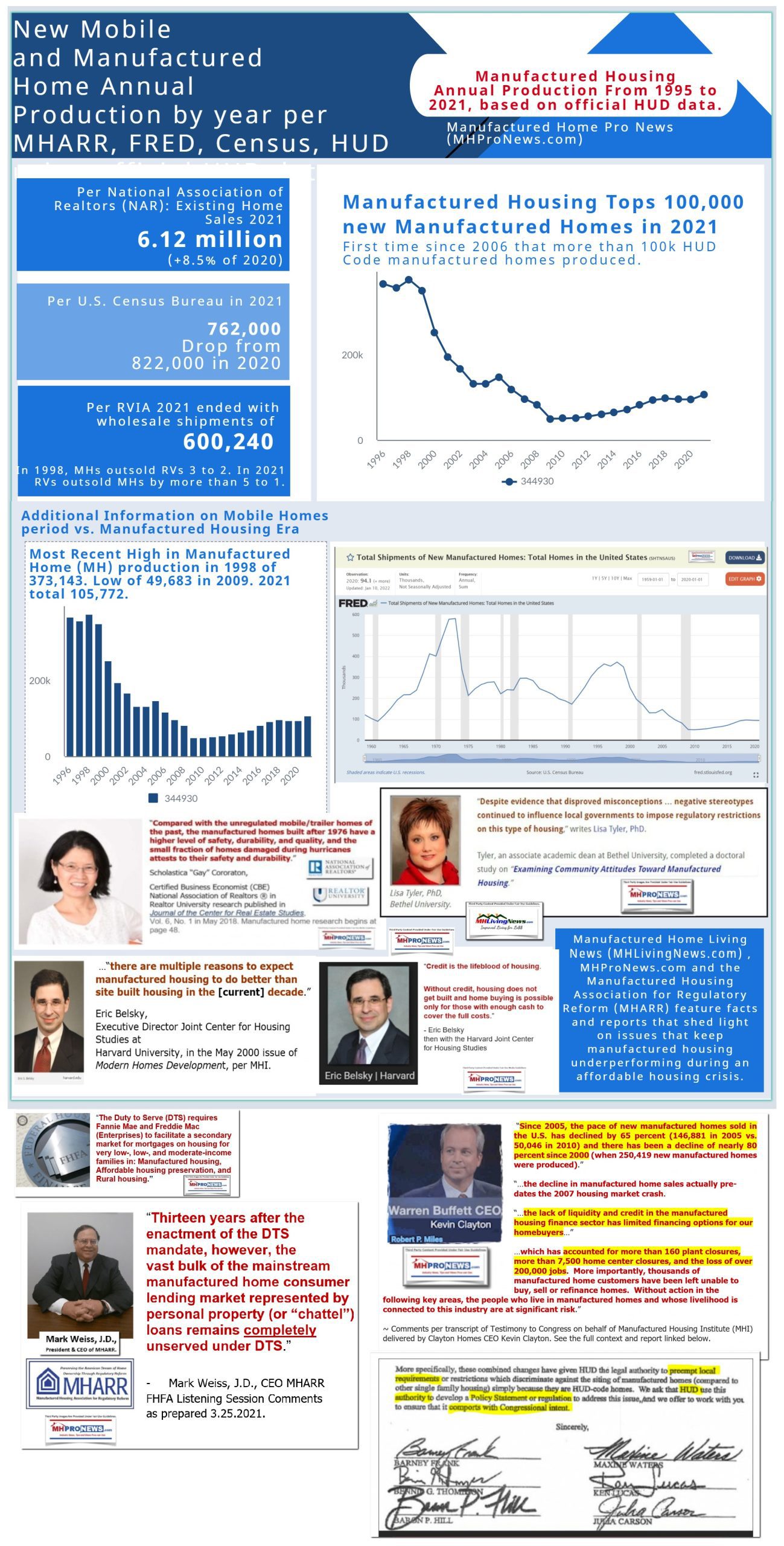 MHProNews/MHLivingNews asked relevant questions from attorney Ron Olson, who is a partner of Berkshire Vice Chairman Charlie Munger. Olson has also sat on the Berkshire board for years. Olson declined to answer on allegations of antitrust violations and other topics.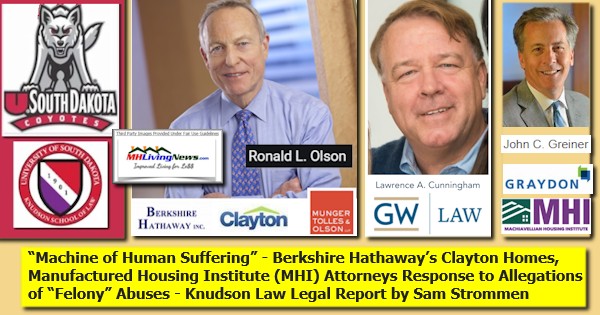 "News" isn't just what is reported or covered, it can also be what ought to be reported and covered but isn't, for whatever reasons. Some examples of prior reports – or Q&As with officials from the Manufactured Housing Association for Regulatory Reform – on our platforms regarding the bulleted issues noted above illustrate several eye-opening realities.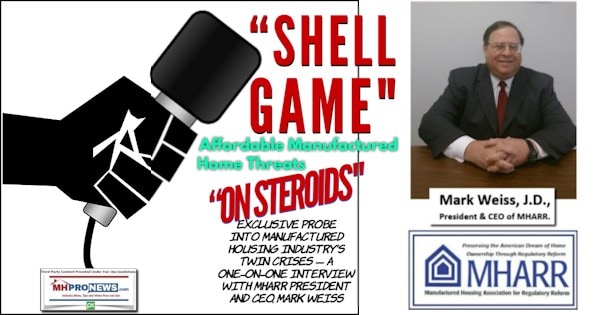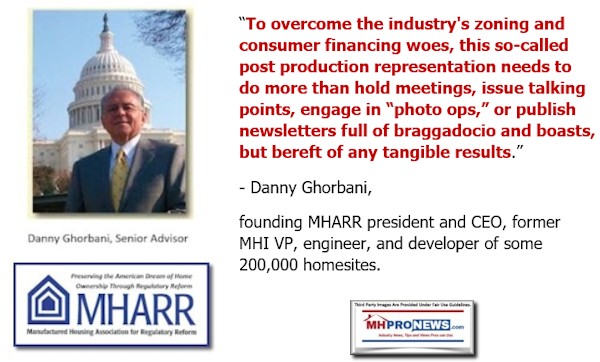 'HUD's Role in Manufactured Housing Not Just Structural, Also for Facilitating More Manufactured Homes' – Exclusive Q&A Specifies 'MHI's Failure' with HUD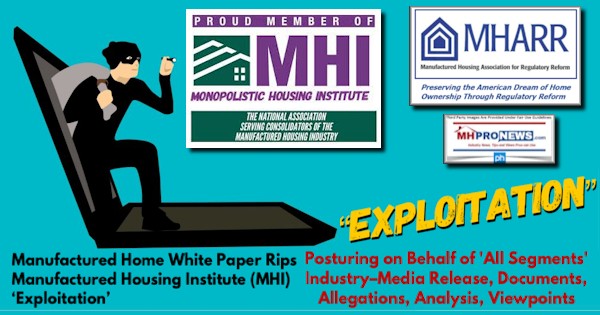 Those exclusive Q&As, and the arguably related reports linked below produce insights that on what may otherwise seem baffling. Namely, why MHI and its dominating members such as Berkshire owned brands have not acted in a robust fashion years ago to boost the sales of HUD Code manufactured homes. The legislation is already in place. The money to litigate, education, inspire, and create public desire are also available by the billions of dollars. Beyond the modest millions spent on the GORVing campaign a year that proved this works, and since Kevin Clayton himself said such a campaign was coming, what excuse do Berkshire, MHI, or their corporate leaders and staff have? Consider that in 2019 alone, the GORVing campaign was credited with the following by AboutCampingB2B.

The Go RVing public relations campaign in North America last year delivered hundreds of placements across a wide array of media outlets and platforms to achieve an estimated 463 million impressions with an approximate value of $5.5 million.
The objectives of the campaign are to drive key RV industry messages about the benefits of RV ownership and usage, and the health of the RV industry.
Media coverage was highly valued because of independent third-party endorsements provided by media outlets and personalities which touched all points where consumers get information – mainstream print, television and radio, online outlets and social influencers, as well as national, regional and local outlets.
Highlights for the year included RV stories and messaging in high-value outlets, including:
The Wall Street Journal
CNBC
Forbes.com
Chicago Tribune
Bloomberg TV and Radio
Reuters
Popular Mechanics
FOX News
FOX Business
Yahoo News
Tampa Bay Times
Curbed.com
Minneapolis Star Tribune
HipHomeSchoolMoms.com
LaCooquette
GearJunkie.com
Washington Post
Trendy Latina, and more.
A key component of the Go RVing media strategy was earned media which focuses on persuading news media to secure coverage and then working with them to provide information and messaging.
The enthusiasm and excitement for RVs and the RV lifestyle in the stories helps deliver the core industry messages that RVs are a fun and popular way to spend time with loved ones.
The PR team is updating the plan for 2020 and anticipates another exciting year of generating positive news coverage for RVs and the RV industry."
Where is the MHI-led equivalent of that and the accompanying robust measurable results from GoRVing? (Click for fact-packed graphic).
There is one more pull quote about RVs worth using from that same article, quoted above.

Go RVing was created in 1994 by a forward-thinking group of RV industry thought leaders who had the idea of creating an all-industry marketing campaign that united the three branches of the industry (RV manufacturers, dealers and campgrounds). Together they formed a coalition with the mission of growing the RV camping industry by educating the American public about the joys of RVing. The coalition named the program Go RVing, which also serves as a consumer call-to-action."
In the case of manufactured housing, an educational/image campaign could also include an explanation why the public should embrace more modern HUD Code manufactured housing, down the street from conventional housing neighborhoods.  Manufactured housing should be widely embraced, not shunned or demeaned. That's not mere opinion, but is supported by decades of third-party research. Among the information developed by third-party researchers is the report below that demonstrated that manufactured homes appreciated side-by-side with conventional housing in urban areas in different parts of the U.S. That research has been available for longer than Kevin Clayton's tall talk about the coming image/education campaign. That example are some others are linked below. It is the job of corporate and association executives to know about such studies and research and then to apply them in the most beneficial manner possible for manufactured housing.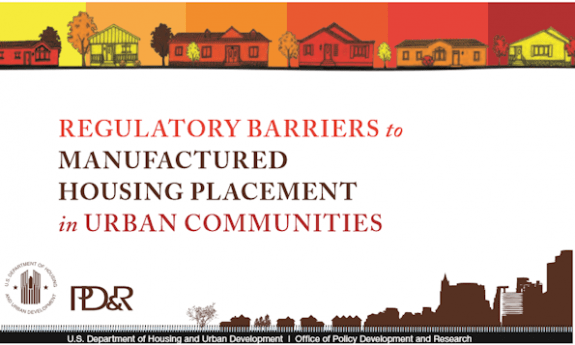 White House Council on Eliminating Regulatory Barriers to Affordable Housing — Request for Information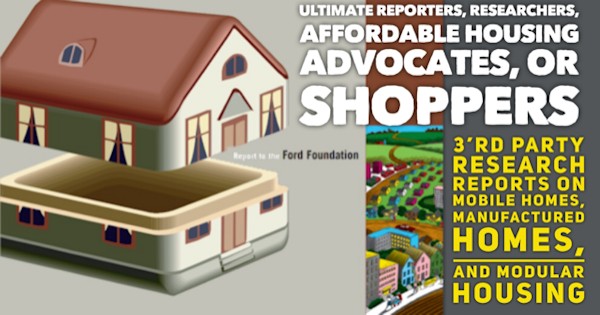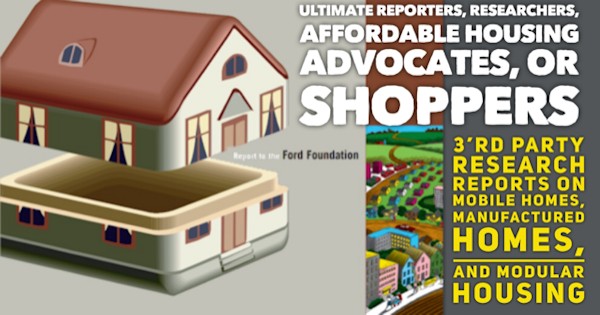 Oddly, MHI's own website routinely lacks the type of third-party research being collected by MHLivingNews, in reports like the one linked above.  The commonsense things that students learn in Marketing 101 – bring out your evidence, witnesses, and third-party endorsements – are routinely missing from MHI's website. How can anyone be this incompetent? But these are educated, intelligent people at MHI and on their board. The logical conclusion is that they are saying one thing to "all segments" of the industry but are doing something entirely different which benefits the consolidators of the industry. (Click for evidence-packed infographic).
With those facts, evidence, and common-sense thoughts in mind, now consider the examples linked below. Those reports further explore how the dominating brands behind MHI – including, but not limited to those owned by Berkshire Hathaway – reveal odd, self-contradictory, or even apparently corrupt or illegal behavior. Professionals, advocates, officials, researchers and others should explore the reasons why the truth about MHI connected companies apparently embracing the status quo of low productivity during an affordable housing crisis comes into sharper focus.
Epic Kevin Clayton Moat Rant- Analysis Lesli Gooch Debate Defense-Doug Ryan Charge-End Clayton Monopoly Over Manufactured Housing-Breaching Buffett-Berkshire-Clayton Monopolistic Moat Method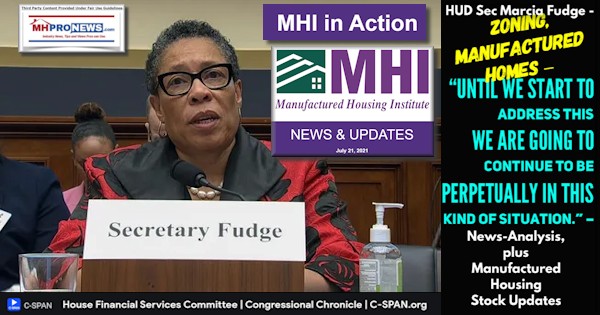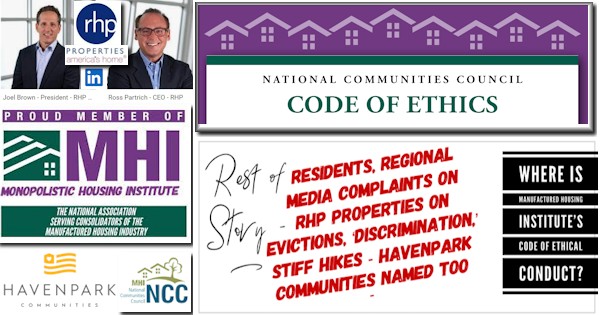 Curious and thoughtful individuals who want to know the truth instead of clever cover stories may ask this question. What would be the possible motivation for Berkshire or others involved at MHI to keep the industry at low ebb throughout most of the 21st century?
The answers include consolidation and other related financial interests.
So long as people involved in manufactured housing are willing to pretend and/or accept the status quo, the status quo will likely prevail.  A longtime MHI connected insider recently told MHProNews that the industry would "never recover" in our lifetimes, apparently due to the desires for consolidation and other financial incentives. Given the years of dismal failures of the Clayton supported and MHI branded CrossMods scheme, and the fat paychecks given for such poor results by MHI's top staff, isn't the truth increasingly apparent?
Kevin Clayton Video, Interview w/Transcript 'Historic' Claims, Clayton's Call 'Double' Production–Illumines Decades of Manufactured Housing Industry Underperformance; plus MHVille Stocks Update
After Admitted Failure, Manufactured Housing Institute Doubles Down on CrossMods® in AP Terminology Doc Acquired by MHProNews–Are MHI Leaders Sabotaging MHVille Independents? Plus MHStocks Update
How can Clayton or MHI still send out messages to their followers that seemingly NEVER cite the annual or cumulative hard data on the national total of the CrossMods sold?  Or how can MHI keep putting out pablum and tripe like what they sent out last month via email to their state association affiliates and other followers?
Per MHI, the following.
Freddie Mac Updates its CrossMod Appraisal Guidance

Freddie Mac published revisions to its selling guide for CrossMod homes, which more accurately reflect the fact that such homes are indistinguishable from site-built homes. The change provides better guidance to appraisers of CrossMod homes. The new guidance states that if no comparable CrossMod home sales are available, the appraiser must use the most appropriate site-built homes as comparable sales. The guide specifies that there is no requirement to include factory-built manufactured home sales that are not CrossMod homes. Further, if an appraiser does use a factory-built manufactured home as a comparable, the appraiser must explain why it was selected.

This change is a direct result of MHI's advocacy with Freddie Mac to correct the practice of appraisers reflexively using traditional manufactured homes as comparables – a practice that stymied the development of CrossMod homes, since resulting appraisal values did not support the underlying loan. Fannie Mae adopted similar guidelines earlier this year. MHI will continue its advocacy to have the Federal Housing Administration (FHA) adopt similar appraisal guidelines for CrossMod homes. Click here to learn more.
That appraisal issue MHI is touting in their message above should have been dealt with years ago. Ironically, Freddie Mac has reportedly financed few if any CrossMods each year since the program launched. So, what practical difference does it make to have Freddie Mac reportedly tweak their CrossMod appraisal standards? Will they suddenly start financing tens of thousands of CrossMods annually? Based on MHI's own admission in a letter cited below, that is doubtful at best. MHI and the backers of the CrossMods scheme logically should have dealt with appraisals and all other issues prior to the launch of the "new class of manufactured homes" which eventually became CrossMods. For MHI to brag recently about this 'news' – as if that was an accomplishment – is apparently brazen gaslighting. 
'Developers Moving Away from CrossMods®' Manufactured Housing Institute Oddly Admits Plan Undercuts 99 Percent of Manufactured Homes – MHI Doc, Facts, Analysis; plus MHVille REITs, Stock Updates
Speaking of gaslighting, among the headlines and issues for the week that was covered below is one that explores gaslighting. Recall that Merriam Webster made gaslighting their word of the year in 2022.
Don't miss today's postscript, which explores a remark related to the above by a well-known MHEC state association leader.
The industry is in a deepening downturn, as one of the reports linked below factually makes evident. Instead of moving heaven and earth to address the underlying causes of that downturn, which MHARR and this platform have raised concerns about for years, MHI keeps patting themselves on the back while they pay their staff big bucks to accomplish…what, exactly? Consolidation and cover for the status quo.
Over $1 Million! Manufactured Housing Institute Doc Drop! Top MHI Staff Pay Revealed. Additionally, Unpacking Evidence of Perjury, Fraud, Other Possible Federal Crimes; plus MHVille Stocks Update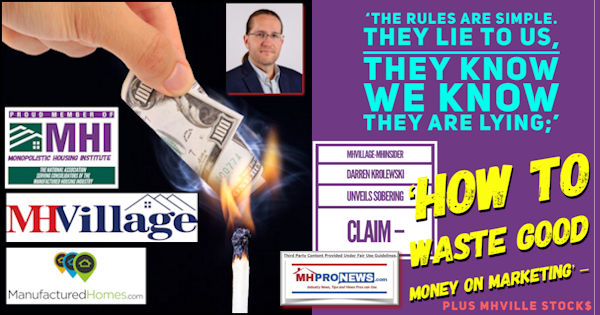 The facts, evidence, and an understanding of concepts such as gaslighting, paltering, and posturing shed light on the implication of the piles of cash available to manufactured housing that could be deployed to grow the industry in a robust fashion via sound information coupled with litigation.  But those financial, legal, advocacy, and media resources are obviously being tepidly and ineffectively being so used. As a reminder to those points, consider what law professor Daniel R. Mandelker recently said.
Pro-Manufactured Home Law Prof. Daniel R. Mandelker Says 'Organization Needed for Manufactured Housing Advocates Litigation and Legislative Support' – plus MHVille's Sunday Weekly Headlines Recap
With no further adieu, this fact- and evidence-packed editorial article and the other headlines and reports for the week that was from 4.30 to 5.7.2023 follow.
What's New and Recent on MHLivingNews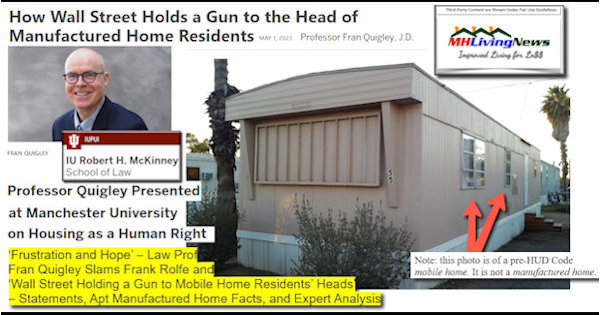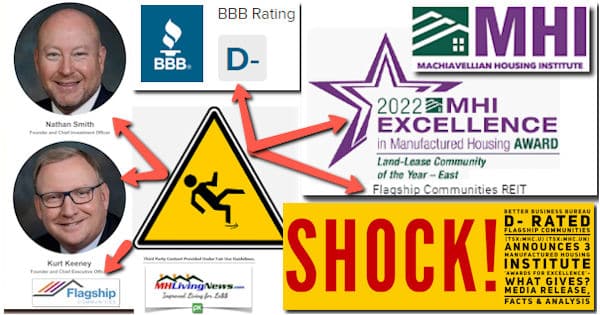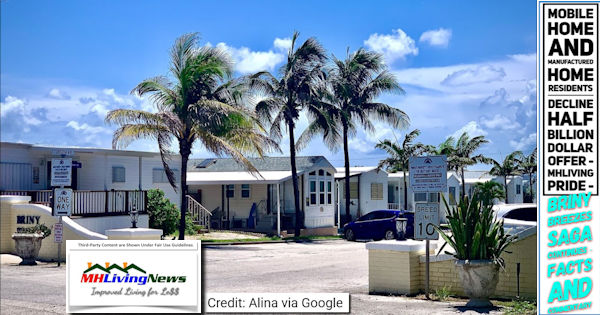 What's New on the Masthead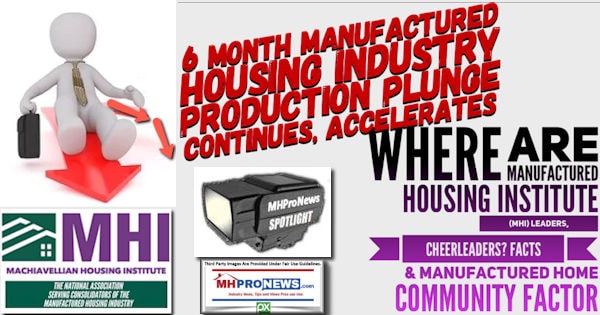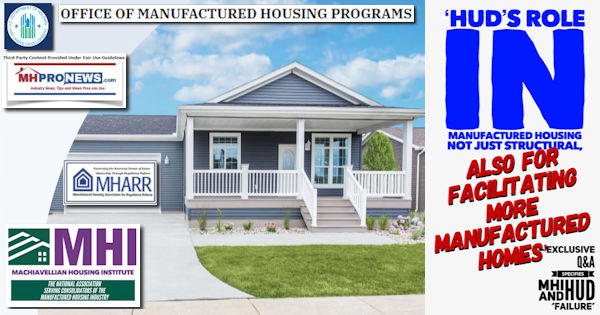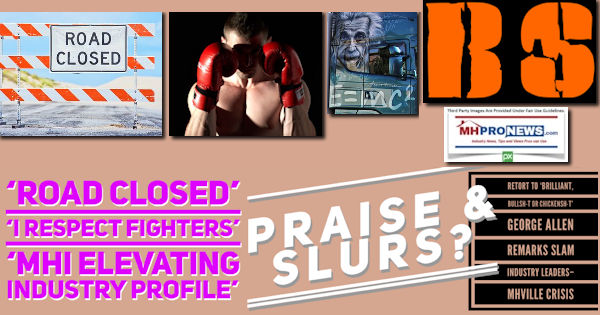 What's New from Washington, D.C. from MHARR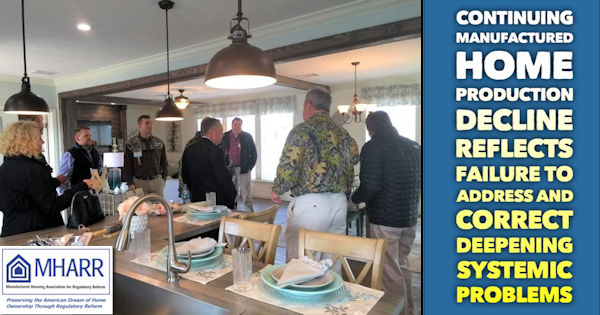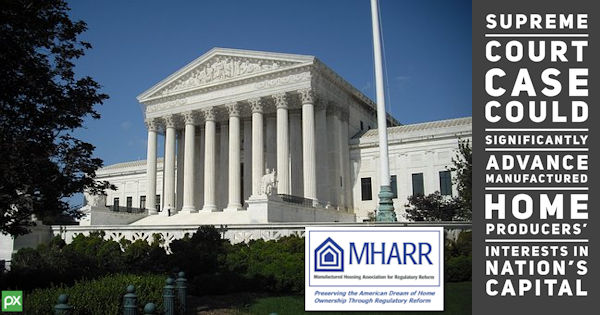 What's New on the Daily Business News on MHProNews
Saturday 5.6.2023
IDing Core Problems – Offering Fixes – 'Project 2025-Mandate for Leadership' – Concerns, Facts, Emerging Cures, Plans, and Analysis; plus MHVille Markets Update
Friday 5.5.2023
Supreme Court Case Could 'Significantly Alter' Federal Regulatory Law Landscape, Including Key Matters Impacting Federally-Regulated Manufactured Housing Industry; plus MHMarkets Update
Thursday 5.4.2023
Flagship Communities REIT to Acquire 3 Manufactured Home Communities for $21 Million, Manufactured Housing Institute Firm Touts ESG Score as States Ramp Anti-ESG Actions; plus MHMarkets Update
Wednesday 5.3.2023
Controversial Biden Housing Plan to 'Improve Equity' Draws Fire from States, Housing Experts – 'More Expensive For People With Good Credit To Buy Houses' Can 'Ravage' Retirement Savings, plus MHMarket Update
Tuesday 5.2.2023
Another Big Bank Failure – What's Up and What's Next? 'Regulators Seized Bank After it Reported Losing Over $100 Billion in Deposits' – MHVille Finance Alert; plus MHStocks, REITs Updates
Monday 5.1.2023
Manufactured Housing Institute 'Urges HUD Address Manufactured Housing in Affirmatively Furthering Fair Housing Rule'–Unpacked Evidence-Views, Tips, MHVille Insights on Manufactured Home Reality
Sunday 4.30.2023
'Deception and Misdirection'-MHI Proxy Response to Concerns About "Awards" to BBB D- rated Flagship Communities – 'Facts are Stubborn Things' Commentary; plus Sunday Weekly MHVille Headline Recap
Postscript
A well-known MHEC member, an award winning one, made the previously quoted remarks. MHEC is the acronym for the Manufactured Housing Executives Council.

It was multiple state association MHEC members that explained to MHProNews – and through this industry-leading trade news platform, to our readers – another key purported reason why the Berkshire brands routinely get what they want. These are the kinds of insights that thousands of the industry's members would never know about absent this platform's "Industry News, Tips, and Views Pros Can Use."  ©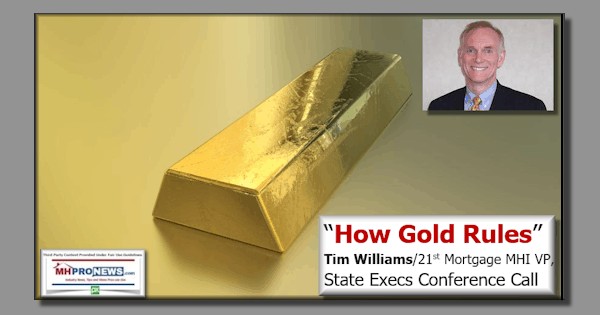 The so-called leaders of manufactured housing have been consolidating the industry at a steady pace while MHI talks about raising the industry's profile or touting their photo and video ops. But when the measurable facts are carefully viewed, it becomes obvious some of the reasons why the industry is underperforming during an affordable housing crisis. One need not guess. One need but read the various remarks made by MHI corporate leaders to their own investors and contrast that with what MHI claims to be doing. The disconnects become obvious.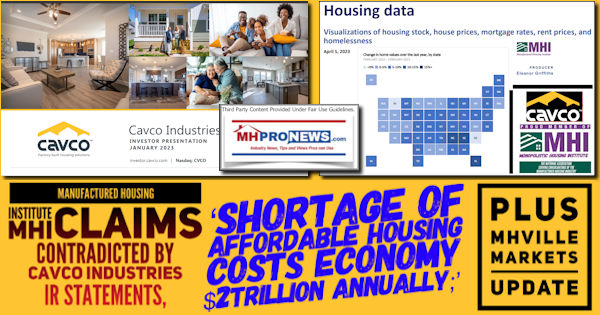 Also obvious from Cavco's pitch deck are the costly harms this imposes on the U.S. economy. See that in the report above, and ask yourself why other 'trade media' that are in the MHI amen corner don't provide such information?
The MHI and related theatrics are a apparently intended as distractions from the fact that the industry ought to be soaring, but instead, is snoring. Then note that the scarcity of manufactured home communities, in the minds of some, makes it more valuable not to develop more locations.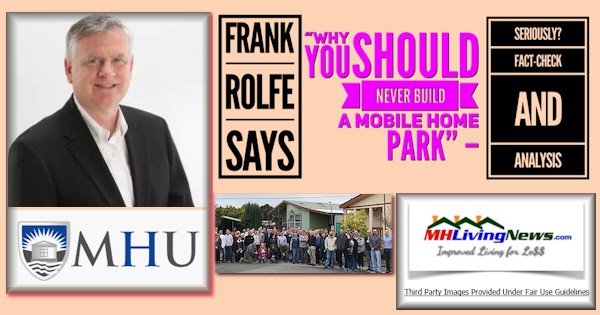 Buffett said at his Omaha forum yesterday that they are looking for privately held companies they can buy. Berkshire could spend $50 to $75 billion to buy a big company, he said. But he also noted that they are open to buying publicly traded firms too. That said, recall the site builders that Clayton Homes bought?
Perhaps the most influential operators behind MHI are Berkshire owned brands such as Clayton and their affiliated lending. As MHProNews previously remined readers,  Berkshire also has conventional real estate, modular, and those Clayton-owned site building interests. Those interests often may not align with what would benefit manufactured housing independents. Those are key reasons why MHARR exists.  They also shed light on why in recent years MHI oddly aligns with their 'housing coalition partners' instead of with MHARR. MHI brazenly hides the truth in plain sight via action and inaction.
$200+ Billion Case Against Warren Buffett, Berkshire Hathaway, Kevin Clayton, Clayton Homes, Et Al – Outline, Analysis – Plus, Sunday Manufactured Home eekly Headlines Review
Gaslighting, razzle dazzle, and charades are deployed when the sobering truth won't get the con artist what they want.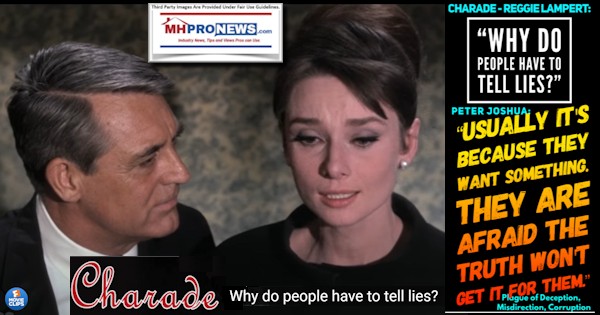 A new fact-packed report from a key MHI member brand is coming, perhaps as soon as tomorrow. Watch for here at your one and only source for "Intelligence for Your MHLife"  ©  where you get facts, evidence and expert commentary unmatched elsewhere: "We Provide, You Decide."  © ##
U.S. Housing Market Snapshot April 2023, Manufactured Housing News Includes Eye Popping $500 Million Offer to Manufactured Home Residents; plus Sunday Weekly MHVille Headlines Recap
Manufactured Housing April Updates for all 50 States for February 2023 Troubling Facts Paired with 'Weasel Words' by Manufactured Home Industry 'Leaders' – Data, Examples, Viewpoints, and Analysis
PSS:
Recall that the Texas Real Estate Research Center (TRERC) and the Texas Manufactured Housing Association (TMHA) said the industry was 'ready for a rebound' in production? Really? Or earlier this year when Cavco talked up 'traffic' in January 2023? Who called their hands on those claims in MHVille trade media, save MHProNews? For news, facts, evidence, and analysis you can depend on, see the latest statistics in the Masthead report linked here. Because knowing is routinely better than not knowing.
'Production at Lowest Levels in a Decade' but 2023 Outlook 'Optimistic for Texas Manufactured Housing Industry,' says TRERC – Supply Chain, Finance, Report, Analysis; plus MHVille Stocks Update
'Undervalued' Cavco Industries Touts Q Result$ 'Dire Need for Housing' 'January Traffic Up'- Rev Up 16%-Sales, Earnings, Mgmt Call Data–Analysis Beyond CVCO Statements; plus MHVille Stocks Update
#1 Texas' Manufactured Housing Builders Survey Says They are 'Ready for a Rebound' But Data Point in Question, DOE MH Energy Rule Too – Facts, Analysis; plus, MHVille Stocks, Markets Update
If Buffett led Berkshire wanted manufactured housing to rebound, a tiny fraction of his claimed $130 billion dollar war chest reported above makes it clear that has plenty of money to accomplish that goal.
It should be obvious to anyone willing to look squarely at the evidence that Berkshire and others do not want manufactured housing growing at this time. The road to a genuine rebound for manufactured housing is logically achieved by addressing the underlying issues that stymie manufactured housing sales.  The industry could be soaring, but it will require eschewing the peddlers of self-serving misinformation, deception, and misdirection. ###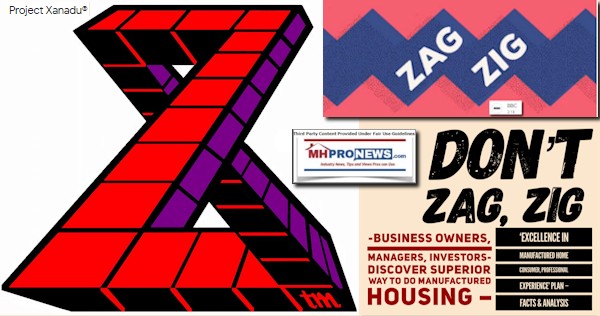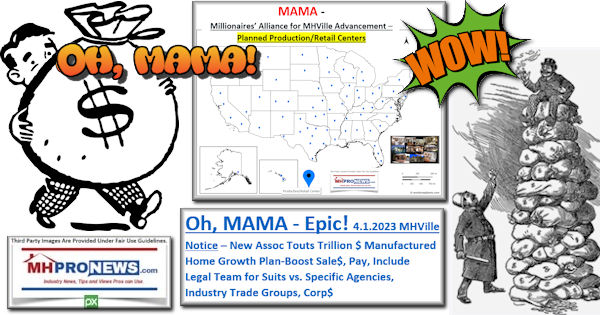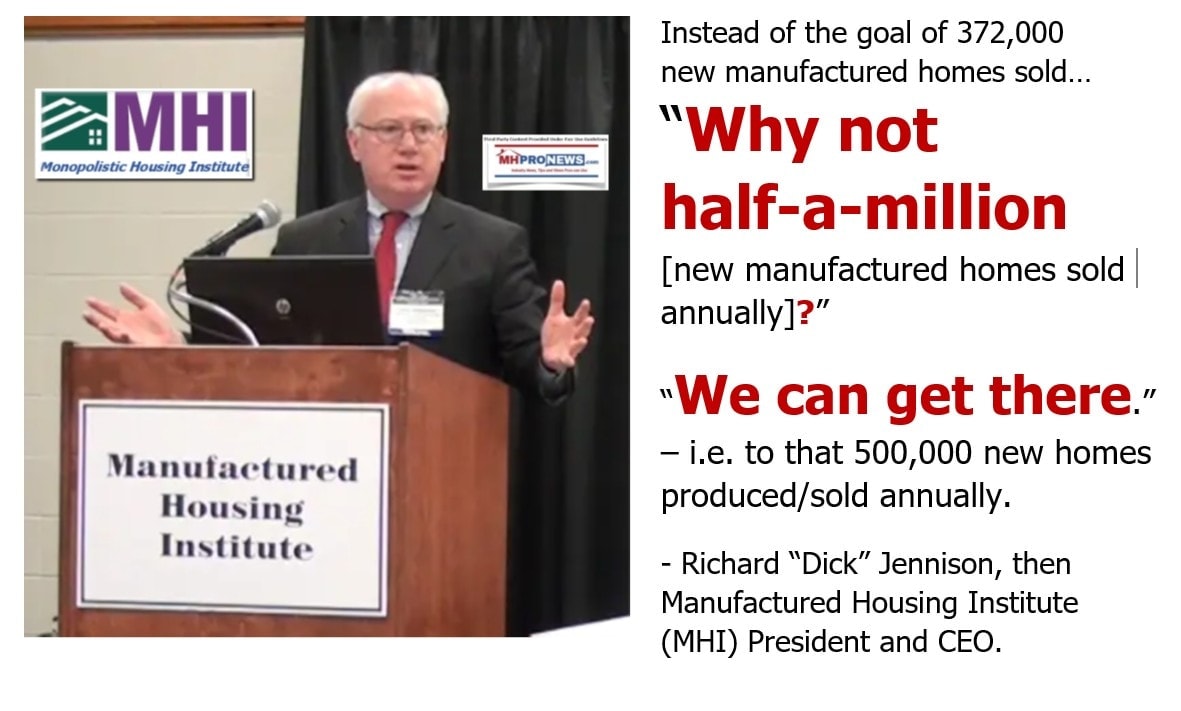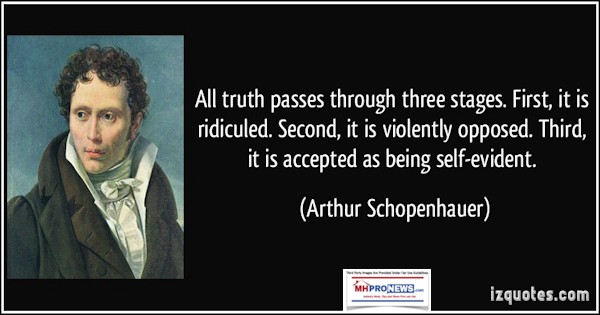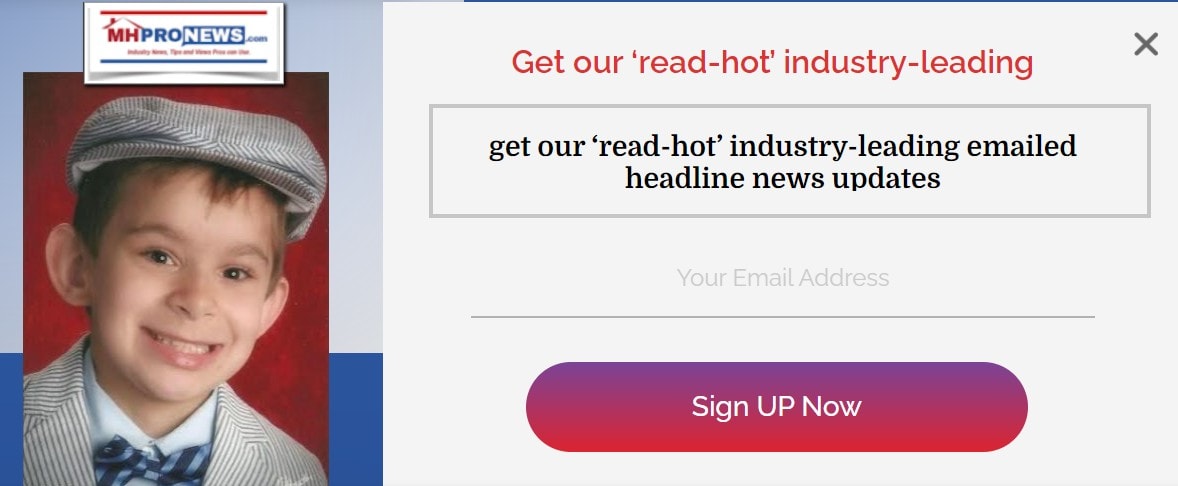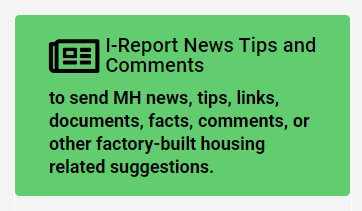 Again, our thanks to free email subscribers and all readers like you, as well as our tipsters/sources, sponsors and God for making and keeping us the runaway number one source for authentic "News through the lens of manufactured homes and factory-built housing" © where "We Provide, You Decide." © ## (Affordable housing, manufactured homes, reports, fact-checks, analysis, and commentary. Third-party images or content are provided under fair use guidelines for media.) (See Related Reports, further below. Text/image boxes often are hot-linked to other reports that can be access by clicking on them.)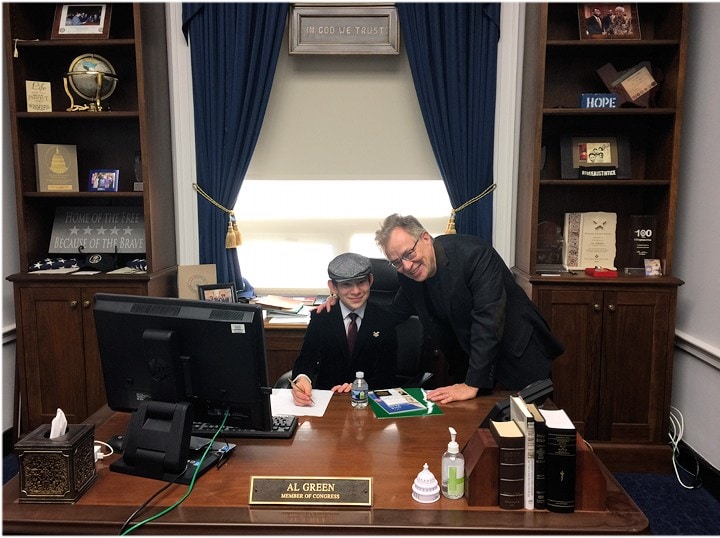 By L.A. "Tony" Kovach – for MHProNews.com.
Tony earned a journalism scholarship and earned numerous awards in history and in manufactured housing.
For example, he earned the prestigious Lottinville Award in history from the University of Oklahoma, where he studied history and business management. He's a managing member and co-founder of LifeStyle Factory Homes, LLC, the parent company to MHProNews, and MHLivingNews.com.
This article reflects the LLC's and/or the writer's position, and may or may not reflect the views of sponsors or supporters.
Connect on LinkedIn: http://www.linkedin.com/in/latonykovach
Related References:
The text/image boxes below are linked to other reports, which can be accessed by clicking on them.'
Aging Warren Buffett Led Berkshire Hathaway Invests Billions in Asian Firm, Soon Sells Most in 'Red Flag' Issue for Dozens of Manufactured Housing Producers; plus Sunday Weekly Headlines Recap
HUD Code Manufactured Home Production Decline Worsens in January 2023 per MHARR – Cavco Wm 'Bill' Boor Remark on Manufactured Housing Comes Into Sharper Focus; Sunday MHVille Headlines Recap
True State of the Manufactured Housing Industry in March 2023 Based on Facts, Not Clever Agenda-Driven 'Fiction$' – plus Sunday Weekly MHVille Headlines Recap
MHI 'Special Bulletin' DOE MH Energy Regs Lawsuit 'Effort to Ensure Consistent Industry Message,' Will Manufactured Housing Institute Launch More Suits? Plus Sunday Weekly MHVille Headlines Recap
Danny Ghorbani – Manufactured Housing's 'Elephant in the Room,' per Prior Manufactured Housing Institute Chair, Exclusive Q&A on Key MHIndustry Issues, plus Sunday Weekly MHVille Headlines Recap
'In the Business World, the Rear-View Mirror is Always Clearer than the Windshield'–Warren Buffett MHVille Leader Showcases Efforts to Renew American Dream; plus Sunday Weekly Headlines Recap
Manufactured Housing's Next BIG Regulatory Battle That MHARR's Spotlighted and Which MHI Conveniently Ignored in Recent 'Manufactured Housing Institute News;' plus Sunday Weekly Headlines Recap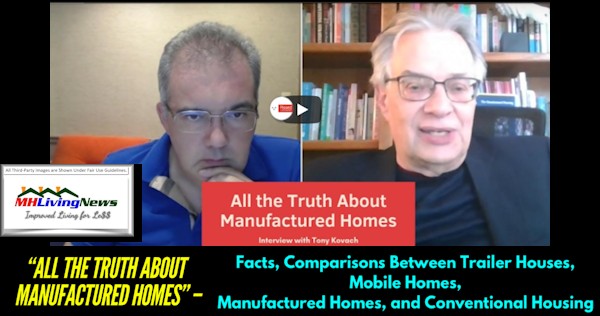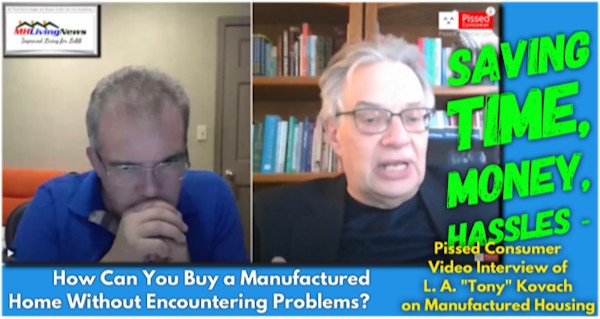 Flagship Communities – Hypocrisy, MHIndustry Corruption? 'Fragmented Industry with High Barriers to Entry and Imbalanced Supply and Demand Dynamics;' Plus Sunday MHVille Weekly Headlines Review
'Affordable Homes for Low Income Must Produce in Factory,' 'Years to Unravel Sabotage,' Grad Students Interest in Manufactured Housing, Factory-Home Solutions; plus Sunday Weekly Headlines Recap
Russian Disinformation? CNN and WND Report on "World Government Summit," Joe Biden Address to Business Roundtable on "the New World Order;" plus Sunday Weekly Headlines Review