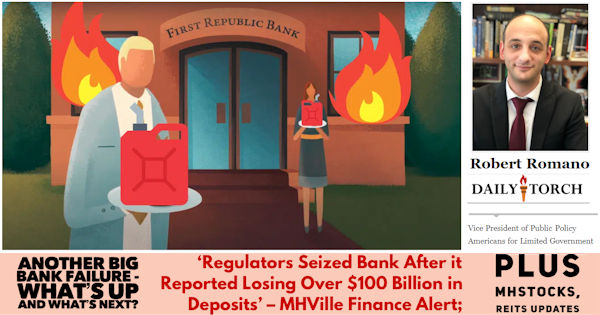 The report of First Republic Bank being seized by federal regulators and then being sold off to JP Morgan Chase does not at first glance have an obvious link to manufactured housing. That said, in the wake of the 2008 housing/financial crisis that turmoil didn't have a link to manufactured housing anywhere near as strong as it did to conventional housing. While there is no consensus that a financial crisis is looming, some analysts and pundits have been warning about it for months and have specifically pointed to the troubles in U.S. banking this year as evidence. Warren Buffett has preached that when others are fearful, that is when he believes in getting greedy (note: click link to open Buffett quote). With that in mind, savvy manufactured housing professionals ought to recall that in January 2009, Tim Williams from Berkshire Hathaway owned 21st Mortgage Corporation apparently used the housing financial crisis as a plausible 'cover story' for cutting back on lending in manufactured housing to independents. More on that in Part III of today's report.
Part I will be a report from the Daily Caller News Foundation via the WND News Center to MHProNews.
Part II will be a parallel report and analysis by Robert Romano with the Daily Torch, a vice president for public policy analyst.
Part III will be additional information with More MHVille Focused Analysis and Commentary in Brief
Part IV will be the Daily Business News on MHProNews manufactured housing connected stocks, equities, Real Estate Investment Trusts (REITs) graphic snapshot, which includes our signature left (CNN Business) and right (Newsmax) market-moving headline bullets.
Part I.
WND MONEY
Federal regulators seize and sell major bank to financial giant
'Our government invited us and others to step up, and we did'
By WND News Services
Published May 1, 2023 at 11:43am
By Jason Cohen
Daily Caller News Foundation
Federal regulators took ownership of the First Republic Bank and sold it to JPMorgan Chase on Monday, marking the second-largest bank failure in U.S. history.
First Republic was the 14th largest commercial bank in the country, according to the Federal Reserve Board, and the third bank to fail in the past several months following the collapse of Silicon Valley Bank and Signature Bank. Banking giant JPMorgan Chase acquired the vast majority of the failed lender's assets and all of its deposits from the Federal Deposit Insurance Corporation (FDIC), according to a JPMorgan Chase press release.
Regulators seized the bank after it reported losing over $100 billion in deposits. Eleven of America's largest lenders, including JPMorgan Chase, injected $30 billion into First Republic in an attempt to save it from collapse and prevent contagion on March 16.
"Our government invited us and others to step up, and we did," said Jamie Dimon, Chairman and CEO of JPMorgan Chase in the press release. "This acquisition modestly benefits our company overall, it is accretive to shareholders, it helps further advance our wealth strategy, and it is complementary to our existing franchise," Dimon added.
First Republic's 84 branches, spanning eight states, will reopen as JPMorgan Chase on Monday during regular business hours, according to an FDIC press release. Every depositor at the failed lender will be transferred to JPMorgan Chase Bank and have complete access to all their deposits.
The bank's stock finished at $3.51 per share on Friday, compared to about $170 a year ago, according to the Associated Press.
First Republic Bank's failure is the second-largest in U.S. history, behind the failure of Washington Mutual in 2008, and is the latest casualty in ongoing banking turmoil that began with the failure of Silicon Valley Bank. The Federal Reserve's banking supervisors did not take sufficient action to handle Silicon Valley Bank's vulnerabilities before its collapse in March, according to a report by the central bank released on Friday.
The U.S. economy's annual growth rate slowed more than anticipated to 1.1% in the first quarter of 2023, according to GDP statistics published by the Bureau of Economic Analysis (BEA) on Thursday morning.
In the financial sector, there is broad agreement that the economy will continue encountering complications this year as over a dozen large banks forecast poor growth or a recession, according to Politico.
This story originally was published by the Daily Caller News Foundation. ##
Part II
$100 billion run on deposits, rising interest rates put First Republic into FDIC receivership, JP Morgan takes over as another one bites the dust
The Federal Deposit Insurance Corporation (FDIC) and the California Department of Financial Protection and Innovation put the $229.1 billion California-based First Republic Bank into receivership today on May 1, while the FDIC also entered into a "purchase and assumption agreement" with JP Morgan-Chase Bank for the nation's largest bank to assume First Republic's assets as well as its $103.9 billion of deposits.
Another one bites the dust.
Under the agreement, "All depositors of First Republic Bank will become depositors of JPMorgan Chase Bank, National Association, and will have full access to all of their deposits," according to the FDIC.
Since early February, First Republic's stock has tanked from a recent high of $147 a share to now just $1.90 as of this writing and falling, losing more than 98 percent of its value, as the bank's failure follows that of Silicon Valley Bank and Signature Bank in March.
Once again, like Silicon Valley and Signature, the bank was caught upside down on interest rates — it bought treasuries and mortgages when interest rates were much lower, which when rates rose drove down the value of the paper they were printed on due to the inverse relationship between interest rates and bond values — causing a run on uninsured bank deposits of more than $100 billion in March.
As a result of the run on these regional banks — the second, third and fourth largest bank failures in American history — the SPDR S&P Regional Banking ETF has dropped a whopping 34 percent since the beginning of February, from $64.72 a share down to $42.66 in a flight of capital away from bank stocks, especially regional ones.
This followed Wall Street's panicked rush in March to recapitalize First Republic with a reported $30 billion infusion by putting deposits into the bank — but notably not purchasing shares in the bank — which failed to save the bank as regulators finally stepped in.
The unusual move in March for the failed deposit infusion was due to the conditions of putting Silicon Valley Bank and Signature Bank into receivership and being deemed "too big to fail" by the Treasury, Federal Reserve and the FDIC, per the department and agencies' joint statement: "Shareholders and certain unsecured debtholders will not be protected."
This was a provision of Dodd-Frank, 12 U.S. Code Section 5390(a)(1)(M) which states "The Corporation shall ensure that shareholders and unsecured creditors bear losses, consistent with the priority of claims provisions under this section."
As a result, there was zero incentive for any larger financial institutions to step in and purchase First Republic outright, even for pennies on the dollar — until after the bank had been seized by regulators.
And, with large deposits at the bank being well in excess of the $250,000 statutory FDIC limit for insurance, as First Republic became undercapitalized, it could not possibly withstand the bank run, leading to the $100 billion withdrawal.
Now with the assets and liabilities of these smaller regional banks being transferred to the Wall Street super banks, the further consolidation of the nation's financial system continues.
Although, to be fair, no private bank, no matter how well capitalized, can possibly withstand bank runs of these magnitudes, a quick look at capital ratios of major financial institutions shows. For example, JP Morgan had a capital ratio of just under 12.2 percent as of the second quarter of 2022. Bank of America was at 10.5 percent. Wells Fargo at 10.4 percent. And so forth.
The implication is that if more than 13 percent of bank customers were to go to withdraw their funds at any of these banks, they would all fail. In the case of First Republic, deposits fell by almost half.
For now, the implicit backing of the federal government and the perception of "too big to fail" — plus perhaps the sneaking suspicion that there's no where better to put one's money — seems to be what is generally keeping the system together.
But long term, the incentive is for even more consolidation going forward, especially when one considers the nation's fiscal and debt outlook over the next decade, with the $31.4 trillion national debt set to rise $50.7 trillion by 2033 according to the White House Office of Management and Budget. Truth be told, with the debt growing more than 8 percent a year on average since 1980, it could be much higher than that, say, $69 trillion or more.
So, who's going to buy all those treasuries? Foreign central banks have been reducing their overall share of the national debt: In the Dec. 2008, foreign central banks and financial institutions owned $3 trillion out of the $9.9 trillion national debt, or 30.8 percent. In Jan. 2023, they owned $7.4 trillion out of the $31.4 trillion debt, or 23.5 percent.
In response, the Federal Reserve increased its share of the debt from $790 billion in Aug. 2007 when the global financial crisis began, or 8.8 percent of the then $8.9 trillion national debt, to $5.28 trillion out of the $31.4 trillion debt as of April 2023, or 16.8 percent.
Meanwhile, the current $6.7 trillion of debt held by the Social Security, Medicare and other trust funds is also a dwindling share of the debt, from $4.3 trillion out of $9.9 trillion in Dec. 2008, or 43 percent, to $6.8 trillion out of $31.4 trillion, down to 21.6 percent as the trust funds are set to be exhausted over the next decade.
That leaves U.S. financial institutions, retirement funds, hedge funds, mutual funds and the like to buy the rest of the treasuries, rising from about 17 percent in 2008, or $1.7 trillion, to a massive $11.9 trillion, or 38 percent today — the largest single holder of the debt.
But depending on how bad inflation is will determine how bad interest rates are, and potentially how upside down the financial system is on interest rates next time. And yet, the financing we obviously need will have to come from there with ever larger banks in the U.S., meaning likely more regulation, more capital controls (i.e. digital currency), higher insurance premiums and fees, and much larger asset prices to keep the financial system solvent.
The price will likely be less liberty.
Already, the Federal Reserve's new Bank Term Funding Program —" renting" treasuries from banks at 100 pennies on the dollar — has risen from $11 billion in March to more than $81 billion today, and the worst could be yet to come, as banks are said to be sitting on some $600 billion of unrealized losses due to rising interest rates resulting in underwater securities.
In addition, FDIC reported about a $13 billion loss will be assessed to the Federal Deposit Insurance Fund as a result of the transactions: "The FDIC estimates that the cost to the Deposit Insurance Fund will be about $13 billion. This is an estimate and the final cost will be determined when the FDIC terminates the receivership."
So, far three major bank runs have occurred in the span of a little more than a month. This thing could just be clearing its throat even as worried investors hope the worst is past us. I guess we'll see? These are uncharted waters. Hang tight.
Robert Romano is the Vice President of Public Policy at Americans for Limited Government Foundation.
Part III – Additional Information with More MHProNews Analysis and Commentary in Brief
Crisis spells opportunity for some in politics, as former Chicago Mayor and Obama White House Chief of Staff Rahm Emanuel famously observed (click for precise quote).  It is not entirely clear what the full nature of bubbling problems in the financial/banking sector could become, but the reality of Biden-era inflation and federal efforts that are supposed to tamper the risks have apparently not stopped the latest closure. Nor did Dodd Frank or the 'reforms' of 2008 head off these recent developments. Indeed, some have observed that Dodd-Frank and the notion of avoiding the woes caused by 'too big to fail' have been turned on its head. Heavier regulation has forced consolidations and closures in the financial sector, often among so-called hometown or local banking institutions. Against that broad background, with respect to manufactured housing, thousands of professionals working in manufactured home industry today have little or no recollection of the arguably infamous letter from Tim Williams, President and CEO of Berkshire Hathaway owned 21st Mortgage in January 2009. As then Democratic Majority Whip and former history professor James Clyburn (SC-D) aptly said, anything that has happened before can happen again. Given Buffett's and other's penchant for taking advantage of a crisis, it would not be a surprise if a deeper crisis develops, that something from the past emerges. The move by Williams is thus not only a past problem, but an ongoing potential risk for something similar to it occurring again.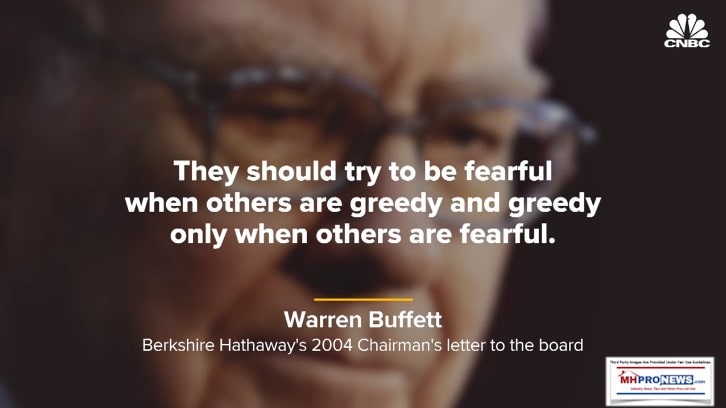 That notorious letter by Williams at 21st got scant to no attention from others in manufactured housing trade media. What attention that did emerge was often of little use to those who might have avoided financial headaches or other heart aches had better reporting occurred back then occurred. Note that event took place prior to MHProNews' launch.
Sexting, Alice, Zhivago, Network, Culture, Mother's Day, and Celebrating Manufactured Housing
That letter isn't apparently found on the Manufactured Housing Institute (MHI) website on this date, though MHI has an antitrust statement it has passed around to attendees before some of their meeting sessions. Samuel Strommen with Knudson Law called that 21st letter an apparent antitrust violation. Out of sight, out of mind? Is MHI engaged in a see no evil policy?
When the industry's rank and file ponders why monopolization is a problem, one need not look much further than that letter. But heavy consolidation and monopolization harms entrepreneurs and employees too by reducing opportunities, demand for their skills and services, and thus cuts pay/earnings.
To learn more about the 21st letter and related antitrust issues, see the linked and related reports. They offer facts, evidence-based details and expert analysis that are not found elsewhere in MHVille trade media.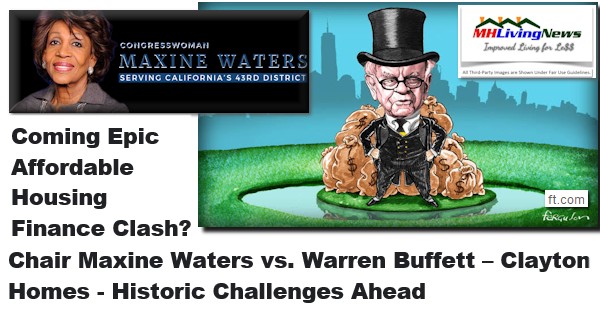 Tim Williams – CEO of Berkshire Owned 21st Mortgage Corp and Manufactured Housing Institute Board Member – Makes Stunning Admission
JDSupra-CFPB Announces Inquiry Manufactured Home Communities, Private Equity, Consolidation Issues, PLUS UDAAP Updates-Will 21st, VMF, ELS, Rolfe and Reynolds, MHI/NCC Strategies Prove Wrong?
Exposé – New Manufactured Housing Institute Letter Documents Rental Housing Promo Apparently At Odds with MHI's Claimed Mission – Exposes MHI Board Members, Staff to Legal Issues – Exclusive Facts & Analysis
'Killing's as Easy as Breathing' 'Bad Guys Know More Games' Warren Buffett Annual Berkshire Hathaway Letter, Clayton Homes, 21st, VMF-Manufactured Home Loans-Compelling MHVille Expert Views
Warren Buffett's Pledge to Kevin Clayton – 'You Can Access Plenty of Capital' for Projects – Quotes, Facts, Video, Transcript, and Implications for Manufactured Housing Industry
Editor's closing note. Abraham Lincoln had a keen point as recalled in the quote attributed to him as shown below. When someone tells a fib, a half-truth, or some outright falsehood, the challenge is that over time other evidence may emerge that later reveals that prior deception. That is especially true when multiple people are involved, and one person shares evidence-based information that contradicts another's claim that has little or no factual support. That principle is arguably playing out day by day in the manufactured housing industry.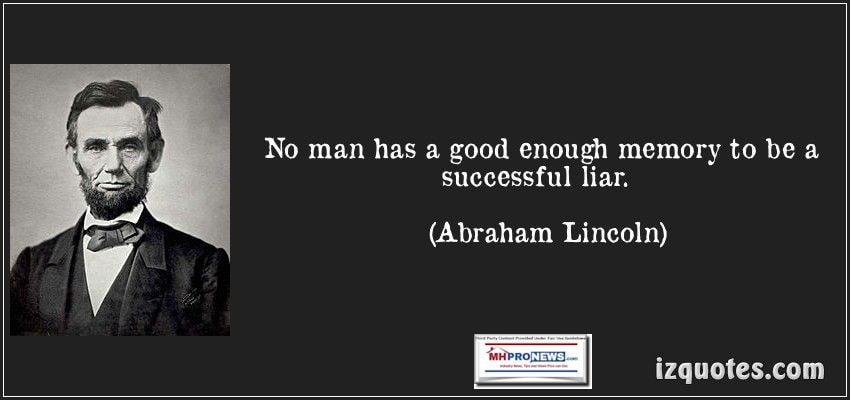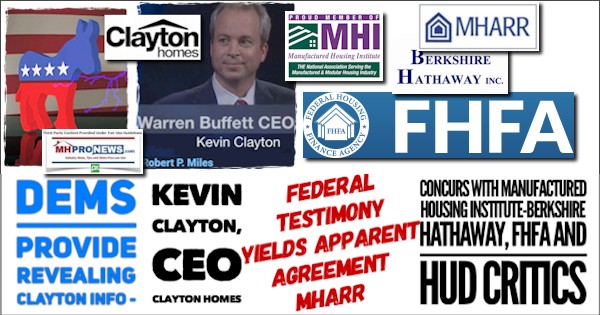 Part IV Daily Business News on MHProNews Markets Segment
The modifications of our prior Daily Business News on MHProNews format of the recap of yesterday evening's market report are provided below. It still includes our signature left (CNN Business) and right (Newsmax) 'market moving' headlines. The macro market moves graphics will provide context and comparisons for those invested in or tracking manufactured housing connected equities.
In minutes a day readers can get a good sense of significant or major events while keeping up with the trends that are impacting manufactured housing connected investing.
Reminder: several of the graphics on MHProNews can be opened into a larger size. For instance: click the image and follow the prompts in your browser or device to OPEN In a New Window. Then, in several browsers/devices you can click the image and increase the size. Use the 'x out' (close window) escape or back key to return.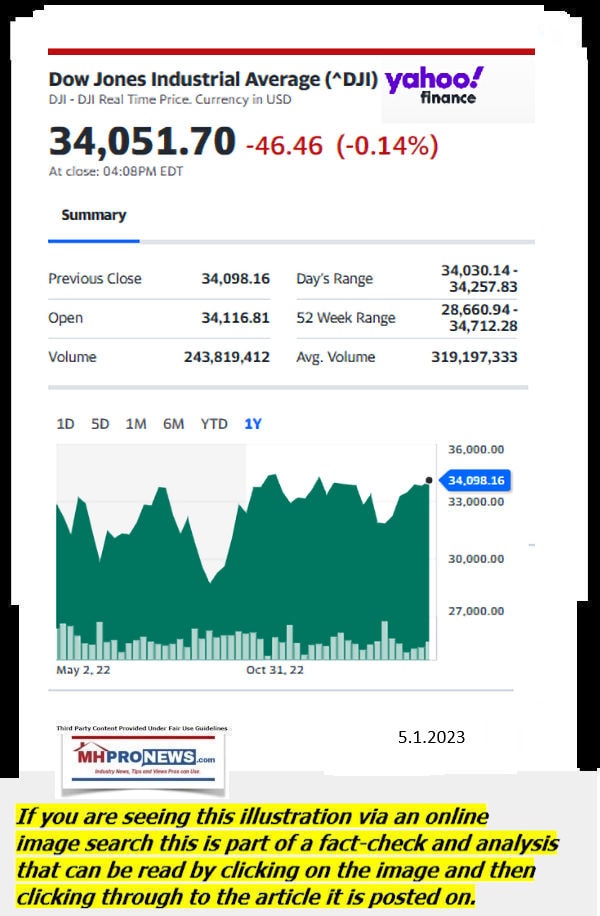 Headlines from left-of-center CNN Business – from the evening of 5.1.2023 
More warning bells
Geoffrey Hinton, chief scientific adviser at the Vector Institute, speaks during The International Economic Forum of the Americas (IEFA) Toronto Global Forum in Toronto, Ontario, Canada, on Thursday, Sept. 5, 2019. The Toronto Global Forum is a non-profit organization fostering dialogue on national and global issues that brings together heads of states, central bank governors, ministers and global economic decision makers.
AI pioneer quits Google to warn about the technology's 'dangers'
FDIC calls for higher deposit insurance cap for businesses
JPMorgan Chase to buy most First Republic assets after bank fails
Bed Bath & Beyond, Toys 'R' Us and RadioShack all shut down for the same reason
What every consumer should know about bank failures
Ed Sheeran says allegations in copyright infringement trial are 'really insulting'
Forget the pension protests. France's economy has momentum
Jack Dorsey no longer thinks Elon Musk is the right person to run Twitter
Chobani CEO says he won't be captive to profit demands
Sherrod Brown speaks during a Senate Banking, Housing and Urban Affairs Committee oversight hearing on Capitol Hill in Washington, DC, in 2022.
LIVE UPDATES
Senate banking chair calls for 'stronger guardrails'
Jamie Dimon: Risk of recession not raised by latest bank failure
Hollywood braces for writers' strike that could shut down production on most TV shows
What the takeover of First Republic means for the bank's customers
Confused about the First Republic Bank mess? Here's how to speak Wall Street
Adidas sued by shareholders over its failed Ye partnership
Consultancies are coming off a pandemic boom. Are they still worth hiring?
Goodbye Covid: tourists mob China's most popular attractions during Labor Day
First Republic's pain had a lot to do with its reliance on wealthy clientele
US Chamber of Commerce warns of major increase in risks for businesses in China
Bud Light wanted to market to all. Instead, it's alienating everyone
Why everyone in business loves India right now
One in 5 young people in Chinese cities are out of work. Beijing wants them to work in the fields
Notice: the graphic below can be expanded to a larger size.
See the instructions below the graphic below or click the image and follow the prompts.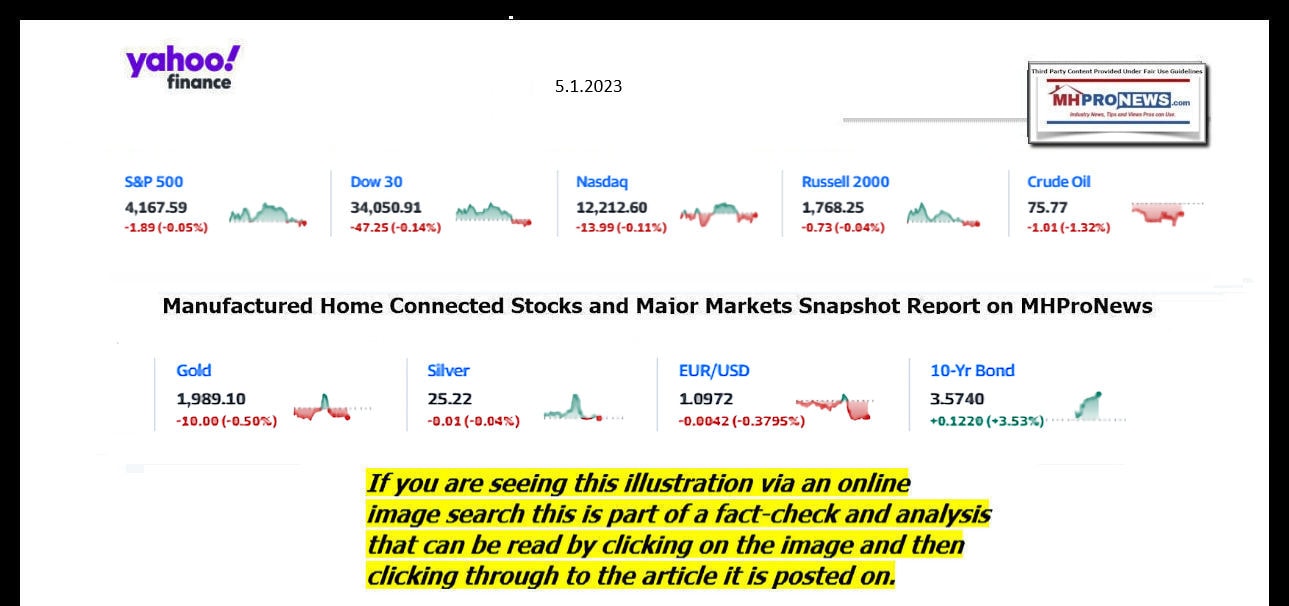 Headlines from right-of-center Newsmax 5.1.2023
Speaker McCarthy Vows Continued Support for Ukraine
"I vote for aid for Ukraine; I support aid for Ukraine," McCarthy said at a news conference, confronting Russian aggression. "I do not support what your country has done to Ukraine. I do not support your killing of the children either. You should pull out, and I don't think it's right," McCarthy has previously called for scrutiny of aid to Ukraine, saying following the midterm elections last year that there would be no "blank check" to Kyiv in a House GOP majority. [Full Story]
Comer: 'Missing Pieces' In Biden Family Finances
Dershowitz: Ball Is in DOJ Court on SCOTUS Leaker | video
Alex Acosta: Banks 'Have Troubled Balance Sheets' | video
Blaine Holt: Ukraine Counteroffensive 'Happening Now' | video
Ukraine MP Rudik: 'No Diplomatic Solution to This War' | video
Norquist: IRS Wants Guns to Intimidate Americans | video
Dick Morris: 'Puppeteer Found His Puppet Escaped' | video
Ric Grenell: Tucker Carlson Backlash 'Enormous' | video
Pat Fallon: Trump 'Fabulous' in 'Thwarting Putin' | video
Axios: GOP Puts Points on Board Against Dems, Biden
The Republican Party racked up victories in the past week, including keeping its House GOP together on raising the debt ceiling, getting a heavy hitter in the race for a battleground Senate seat, and polling strong against President Joe Biden, Axios reported…. [Full Story] | video
Left-Leaning Dem Gov. Inslee Won't Seek 4th Term in Wash.
Washington Gov. Jay Inlsee, a Democrat who sought to make the state a [Full Story]
Fox Picks Lawrence Jones as Tucker Carlson Successor
Fox News picked Lawrence Jones to be the temporary replacement for [Full Story] | video
Related
Victor Davis Hanson: Fox News Can't Replace Carlson |video
Dick Morris to Newsmax: 'Puppeteer Found His Puppet Escaped' |video
Joe Rogan: Fox Should Just Pay Off Tucker
Dennis Prager to Newsmax: Carlson Will Do 'Something Good' for US |video
Trump: Carlson Firing Will Negatively Impact Fox
Megyn Kelly: Tucker Carlson Firing Driving Fox Audience to Newsmax |video
Rasmussen Poll: Tucker Carlson More Popular Than Fox News
States Revolt Against Biden's Mortgage Redistribution
Treasurers and top finance officials from 27 states have sent [Full Story]
Waves of Russian Missiles Hit Ukraine
Russia launched its second large salvo of missiles at Ukraine in [Full Story]
Related
Oil Depot Fire Part of Ukraine's Counteroffensive: Military
Air Defense Repelling Russian Missile Attacks in Kyiv
Ukraine Holds Parts of Bakhmut, Russia Progresses
Pope Says Vatican Involved in Ukraine Peace Mission
France's Macron, Ukraine's Zelenskyy Held Call on Sunday
Relatives Bury Children Killed in Russian Missile Attack
Aerosmith Announces Farewell Tour Starting in September
Aerosmith will be touring a city near you for the last time to [Full Story]
Biden's Press Conference Cheat Sheet 'Cause for Concern'
Communication experts say President Joe Biden's cheat sheet [Full Story] | Platinum Article
Al Franken: Supreme Court Is 'Illegitimate'
Former Sen. Al Franken harshly criticized the Supreme Court as [Full Story]
Griner Swap Jeopardizes Future Russian Prisoner Releases
As a contingent of journalists and at least one senior U.S. diplomat [Full Story] | Platinum Article
Clashes Erupt at French May Day Protests Against Macron
Protesters clashed with security forces across France on Monday as [Full Story]
Environmentalists Sue FAA over SpaceX License for Texas
Conservation groups sued the Federal Aviation Administration on [Full Story] | video
Jack Dorsey Has Another Go at Twitter With Bluesky
Jack Dorsey is taking another whack at a Twitter-like service with a [Full Story]
Rasmussen: EV's Have 12.5% Less Range Than EPA Estimates
According to a recent analysis of Car and Drivers 75-mph highway [Full Story]
Obamas, Spielberg, Springsteen Spotted in Spain
Former President Barack Obama and his wife Michelle have been [Full Story]
Scientists Use Brain Scans & AI to 'Decode' Thoughts
Scientists said Monday they have found a way to use brain scans and [Full Story]
FDIC Recommends Overhauling US Bank Insurance
The Federal Deposit Insurance Corp. is recommending the U.S. rethink [Full Story]
Researchers Uncover New Breast Cancer Risk Factor
A new study has uncovered a possible risk factor for breast cancer [Full Story]
Commercial Construction Spending Rebounds in March
S. construction spending increased more than expected in March, [Full Story]
Speaker McCarthy Vows Continued Support for Ukraine
House Speaker Kevin McCarthy, R-Calif., rejected a suggestion by a [Full Story]
Suicide in US Adolescents Doubled in 10 Years
Suicides among the youngest U.S. teenagers were rising for years [Full Story]
Americans Fault Media for Dividing Nation: AP-NORC Poll
When it comes to the news media and the impact it's having on [Full Story]
Mayor Lightfoot Slams Union for Not Reopening Schools
Outgoing Chicago Mayor Lori Lightfoot slammed American Federation of [Full Story]
Maryland Democrat Sen. Ben Cardin to Retire
Ben Cardin, D-Md.,will not seek reelection in 2024, The [Full Story]
Judge Denies Trump Mistrial Request in Civil Rape Trial
Jean Carroll returned to the witness stand in her rape and [Full Story]
DeSantis Board to Sue Disney in Latest Legal Salvo
The board put together by Florida GOP Gov. Ron DeSantis is firing a [Full Story] | video
Supreme Court Rejects Indiana Abortion Cremation or Burial Law Challenge
The U.S. Supreme Court on Monday declined to hear a challenge to the [Full Story]
Joe Rogan: Biden Dying Is Only Solution for Democrats
Podcaster Joe Rogan says there's "no solution" for Democrats to pull [Full Story]
Trump: I 'Got Treated Worse Than Any President'
Former President Donald Trump said he was treated worse than any [Full Story]
First Republic Bank Seized, Sold to JPMorgan Chase
Regulators seized troubled First Republic Bank early Monday, making [Full Story]
Hollywood Writers, Studios Stage Last-Minute Talks
Negotiators for Hollywood writers and film and television studios [Full Story]
Biden Attacks Media for 'Lies of Conspiracy and Malice'
President Joe Biden on Saturday, in a possible preview of a 2024 [Full Story]
More Newsfront
Finance
States Revolt Against Biden's Mortgage Redistribution
Treasurers and top finance officials from 27 states have sent President Biden a letter imploring him to end what they call his "disastrous" mortgage redistribution fees, effective May 1…. [Full Story]
Ford Wins Reversal of $105 Million Trade Secrets Verdict
Bob Ciura: 3 High-Dividend Business Development Companies Yielding Over 5%
AI Pioneer Quits Google to Warn of 'Killer Robots'
Stock Market Steady After Latest Bank Failure
More Finance
Health
Keto, Paleo Diets Are Not Heart Healthy
The American Heart Association (AHA) analyzed the most popular diets and ranked them based on which approaches were best and worst for your heart. The conclusion was that on a scale of 0 to 100, some of the trendiest diets in social media were the worst for cardiovascular…… [Full Story]
FDA Panel Backs Restricted Use of Prostate Cancer Drug
New Procedure Manages Diabetes Without Insulin
General Mills Flour Recalled Due to Salmonella
Michael J. Fox: I Won't See 80
Notice: the graphic below can be expanded to a larger size.
See the instructions below the graphic below or click the image and follow the prompts.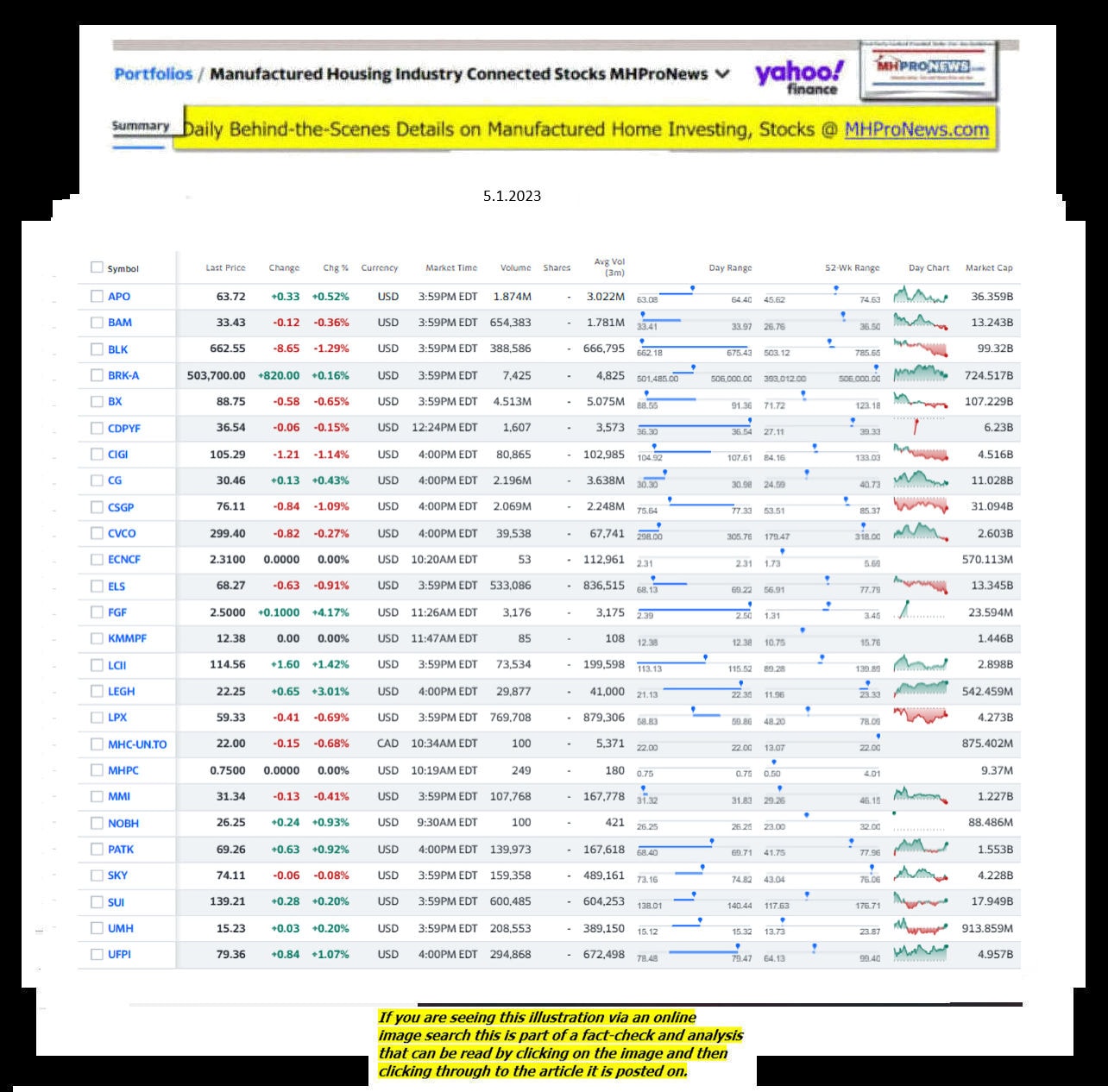 2022 was a tough year for many stocks. Unfortunately, that pattern held true for manufactured home industry (MHVille) connected stocks too.
See the facts, linked below.
'Stomach Churning Year' CNN-Wall Street 'Forget 2022' Down Year – Major Equities Data Compared to Manufactured Housing Stocks, Manufactured Home Community REITs, Performance for Year by Company
====================================
Updated
NOTE 1: The 3rd chart above of manufactured housing connected equities includes the Canadian stock, ECN, which purchased Triad Financial Services, a manufactured home industry finance lender.
NOTE 2: Drew changed its name and trading symbol at the end of 2016 to Lippert (LCII).
NOTE 3: Deer Valley was largely taken private, say company insiders in a message to MHProNews on 12.15.2020, but there are still some outstanding shares of the stock from the days when it was a publicly traded firm.  Thus, there is still periodic activity on DVLY.
Note 4: some recent or related reports to the REITs, stocks, and other equities named above follow in the reports linked below.
Sun Communities – 'Development in Our DNA,' ESG Stance, Q4 2022 Year End Results Earnings Call & PR – Facts, Insights Beyond PR and Official SUI Statements; plus MHVille REITs, Stocks Update
'Undervalued' Cavco Industries Touts Q Result$ 'Dire Need for Housing' 'January Traffic Up'- Rev Up 16%-Sales, Earnings, Mgmt Call Data–Analysis Beyond CVCO Statements; plus MHVille Stocks Update
'Killing's as Easy as Breathing' 'Bad Guys Know More Games' Warren Buffett Annual Berkshire Hathaway Letter, Clayton Homes, 21st, VMF-Manufactured Home Loans-Compelling MHVille Expert Views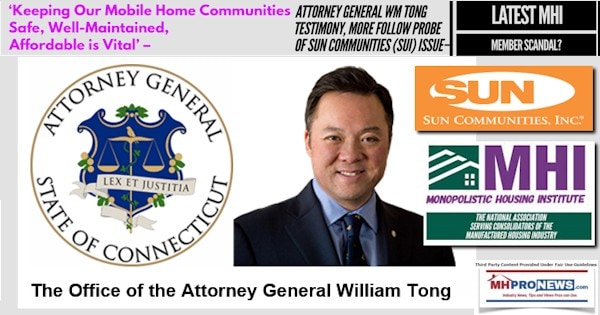 Nobility Homes, Inc. Sales and Earnings for its Fiscal Year 2022 Report, Result$ Best Inflation – Net After Taxes Up 34%, More Fact$; DeSantis ESG and NOBH; plus MHVille Stocks, Market Updates
'Manufactured Housing in the News,' Unpacking UMH CEO Sam Landy Op-Ed' It's Time for Bi-Partisanship on Affordable Manufactured Housing Homeownership' in HousingWire; plus MHMarkets Updates
Manufactured Housing Properties-Results for Three and Nine Months Ending September 30.2022–Exploring 'Mobile Home Park' Manufactured Home Community Investing; plus MHVille REITs, Stocks Update
'Changes Will Benefit Customers,' Boost Sales-Legacy Homes CEO Duncan Bates – LEGH 'Delivered 22.5% Return on Equity in 1 Yr' – Corp Q3 2022 Insights, Analysis; plus MHVille REITs, Stocks Update  
CEO Mark Yost, Skyline Champion Insiders SELL Million$ Value SKY Stock, Home Sales Drop-4th Q 2022 (3QFiscal2023), Official Result$-Facts, Analysis, Info Beyond PR; plus MHVille Stocks Update
Triad Financial Services Q2-2022 FINANCIAL RESULTS, per ECN Capital – Several Bright Spots in Manufactured Home Market Highlighted, Including Communities, Retail, Land-Home, Floor; MHStocks Update
BlackRock Document Exposes Central Banks like Federal Reserve on Recession; Manufactured Home Producer Cavco Industries 2022 Year End Results (CVCOQ3.23) Facts+Analysis; plus MHVille Stocks Update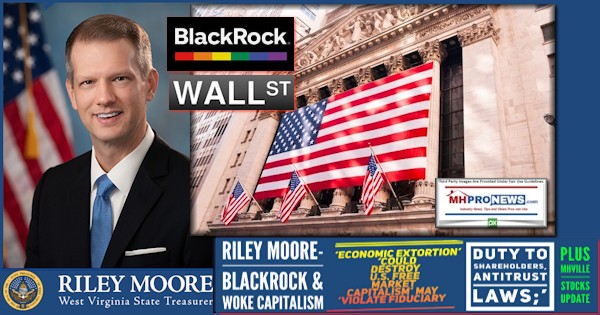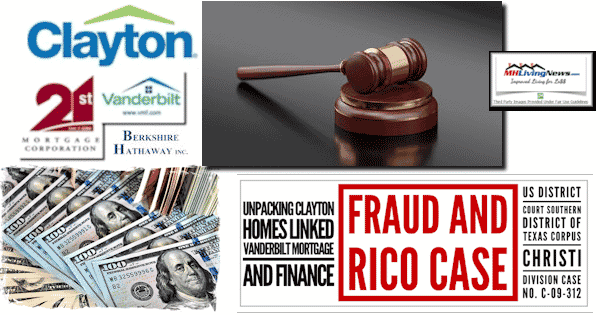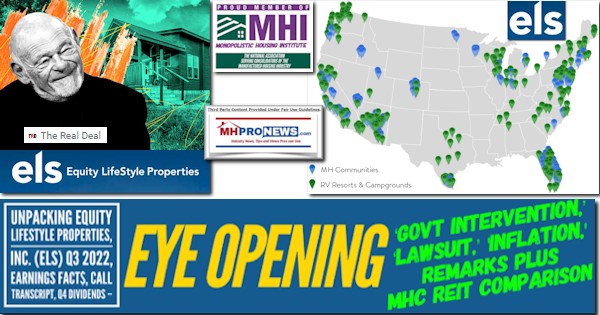 Manufactured Home Communities (a.k.a. 'Mobile Home Parks' – SIC) – Exploring UMH Properties; Fellow Manufactured Housing Institute Member Yes! Communities Suits and Settlements; plus MH Markets Updates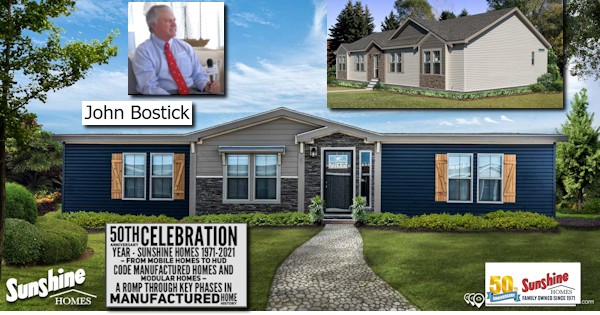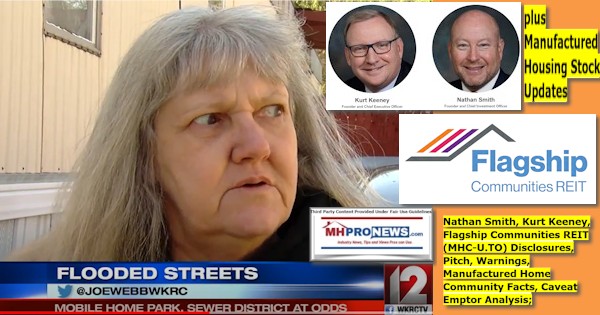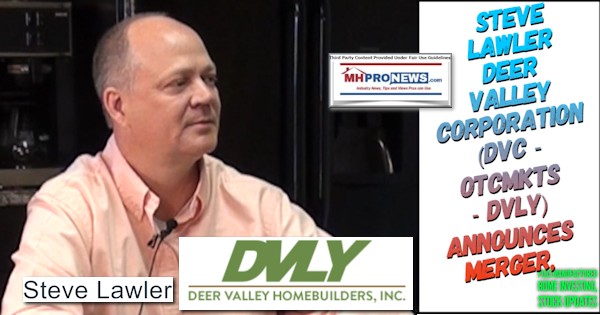 2023 …Berkshire Hathaway is the parent company to Clayton Homes, 21st Mortgage, Vanderbilt Mortgage and other factory-built housing industry suppliers.
· LCI Industries, Patrick, UFPI, and LP each are suppliers to the manufactured housing industry, among others.
· AMG, CG, and TAVFX have investments in manufactured housing related businesses. For insights from third-parties and clients about our publisher, click here.
Disclosure. MHProNews holds no positions in the stocks in this report.
· For expert manufactured housing business development or other professional services, click here.
· To sign up in seconds for our industry leading emailed headline news updates, click here.

Manufactured housing, production, factories, retail, dealers, manufactured home, communities, passive mobile home park investing, suppliers, brokers, finance, financial services, macro-markets, manufactured housing stocks, Manufactured Home Communities Real Estate Investment Trusts, MHC REITs.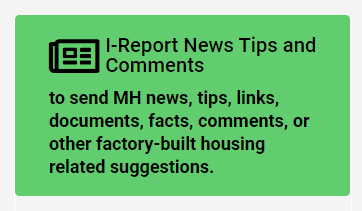 That's a wrap on this installment of "News Through the Lens of Manufactured Homes and Factory-Built Housing" © where "We Provide, You Decide." © (Affordable housing, manufactured homes, stock, investing, data, metrics, reports, fact-checks, analysis, and commentary. Third-party images or content are provided under fair use guidelines for media.) (See Related Reports, further below. Text/image boxes often are hot-linked to other reports that can be access by clicking on them.)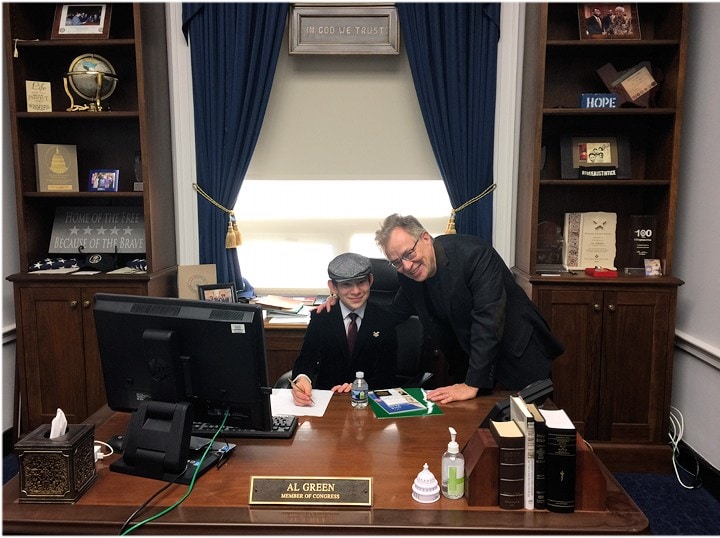 By L.A. "Tony" Kovach – for MHProNews.
Tony earned a journalism scholarship along with numerous awards in history. There have been several awards and honors and also recognition in manufactured housing. For example, he earned the prestigious Lottinville Award in history from the University of Oklahoma, where he studied history and business management. He's a managing member and co-founder of LifeStyle Factory Homes, LLC, the parent company to MHProNews, and MHLivingNews.com. This article reflects the LLC's and/or the writer's position and may or may not reflect the views of sponsors or supporters.
Anar Pitre-CEO Lotus Capital Partners-Vexing Manufactured Housing Institute Claims in Fact Check of Forbes 'What Manufactured Home Communities Investors Need to Know' – Inaccurate MHI Data Shown
Ma Nishtana – 'Why is This Night, Day Different from All Others?' The Pascha vs. Contemporary Orwellian Nightmare – the Sunday Weekly MHVille Headlines Recap
Call for Congressional Oversight Hearings of Manufactured Home Industry Regulators Highlighted by Manufactured Housing Association for Regulatory Reform (MHARR); plus MHVille Markets Update
Official HUD Manufactured Housing Production Facts for Dec 2022 plus 2022 Year End Totals Explored by Manufactured Housing Association for Regulatory Reform (MHARR)-"Millions" Needed – Analysis
Facts You Didn't Know – Martin Luther King Jr – Videos, Insightful Quotes, Surprising Revelations, Videos, Reports, and Illustrations in Champion for Human Rights Including Affordable Housing
'Global Disinformation Index' Warren Buffett Ally Bill Gates' Microsoft Org Charged-Cutting Revenue to Conservative Views via Xandr, GDI; plus Sunday MHVille Headlines Recap
#1 Texas' Manufactured Housing Builders Survey Says They are 'Ready for a Rebound' But Data Point in Question, DOE MH Energy Rule Too – Facts, Analysis; plus, MHVille Stocks, Markets Update
Clayton-Next Step Off-Site Built 'White Paper'-Manufactured Homes, ThinkND 'Magic of the Mind-Everyday Illusion, Misdirection, Deception' MHI Members' Claims Analyzed; plus MHVille Markets Update
After Admitted Failure, Manufactured Housing Institute Doubles Down on CrossMods® in AP Terminology Doc Acquired by MHProNews–Are MHI Leaders Sabotaging MHVille Independents? Plus MHStocks Update
Concessions by Speaker Kevin McCarthy in House Speaker's Battle Called 'Most Significant Win for Conservatives in a Decade' By Federalist's Emily Jashinsky Report; plus MHVille Stocks Updates