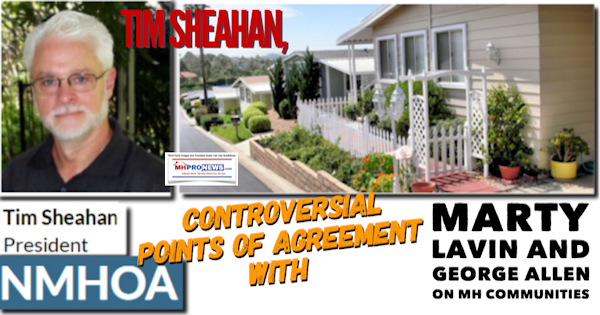 When it comes to doing relevant fact checks, analysis, and commentary, timing is everything.
"In 1970, my city of San Marcos had a population of less than 4,000 and was part of the dramatic manufactured housing community development boom of the 1970s, adding over 3,000 pads among 18 manufactured home communities, which led to more than a doubling of the population by the mid 1970s," wrote Tim Sheahan, President of the National Manufactured Home Owners Association (NMHOA).
The comments were part of Sheahan's much longer written comments to the Federal Housing Finance Agency (FHFA), which for the last 10 years has overseen the Government Sponsored Enterprises (GSEs).
"Like many areas of CA, manufactured home purchasers in San Marcos were lured away from metropolitan areas by the promise of a quiet semi-rural retirement lifestyle with low lot rents and nice amenities, which often included clubhouses/community centers, swimming pools and spas, saunas, shuffleboard courts, pool tables and card rooms, community kitchens; and, in some cases, tennis courts, golf courses and fishing ponds. Downsizing to a MH also enabled them to enhance their financial nest eggs for the retirement years. Initially, stiff competition among various developers during the only time a true "free market" situation existed in these communities commonly led to very reasonable starting rents."
The above is a commentary that mobile/manufactured home professionals from that era, along with hundreds of thousands of mobile/manufactured home owners from that timeframe could agree upon.
Rephrased, those are statements that could be a possible starting point for common ground between communities and activist groups that are otherwise often at odds.
But what followed from Sheahan is where a significant degree of divergence – and hot controversies – arises.
Sheahan wrote, "As the communities filled with "im-mobile" homes, free market forces such as competition were lost and lot rents for captive homeowners skyrocketed in many areas of California. Proactive homeowners organized and eventually achieved rent stabilization ordinances in over 100 cities or counties in California to combat the contagious greed of many MH community operators. These ordinances protected not only homeowners, they protected lenders, dealers, manufacturers as well, while providing a "just and reasonable" return on investment for community operators, a similar standard as used in regulating utility rates. Local rent ordinances also helped fuel local economies by keeping more dollars in the pockets of homeowners to spend on goods and services rather than being sent to out-of-town operators in the form of excessive rent."
Sheahan's use of the term "im-mobile homes" is intelligent and insightful.  He thoughtfully explained that the phrase came from a researcher's paper some years ago. He's quite right to say that it's not easy, instead it is costly, to move a manufactured home. Thus, the phrase, "im-mobile home."
But the cost of a move for "im-mobile" manufactured homes (MH) are hardly the only factor that causes rising site fees in some communities. The proof is simple. In many parts of the country where land-lease site fees are rising rapidly – regardless of the cost – where would you move that "im-mobile home" to? Where are the new land-lease communities being opened in California, or many other states, that would keep the law of supply and demand in balance?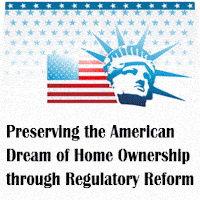 Because it's a combination of factors, including a lack of new construction of land-lease communities, that results in what Sheahan called "manufactured housing done extremely wrong," when he, NMHOA or MHAction blast so-called 'greedy' property owners who aggressively hike a community's site fees.
Sheahan's own comments indirectly suggest as much, because it was during the MH community (MHC) building boom of the 1970s that MHC site fees were kept lower and in check.
So shouldn't that be part of Sheahan and resident group's arguments? That more communities need to be built, and more opportunities should be opened up for keeping site fees naturally in check?
The 'two great laws' could be one of those places where residents and manufactured home professionals – most notably, the small to mid sized independents – could find common ground.
Two Great Laws Already on the Books NOW,  Can Unlock Billion$ Annually for Manufactured Housing Industry Businesse$, Investor$
George Allen, Marty Lavin – Periodic De Facto Allies With Sheahan?
Sheahan is not without de facto defenders, at least in part, among the ranks of manufactured housing professionals who oppose heavy hikes in manufactured home site fees on residents. For example, former community owners George Allen on his blog and Marty Lavin, JD, in recent comments to MHProNews have publicly attacked manufactured home community owners who have aggressively hiked site fees.
Lavin admits in written comments that he once did the same as community owners that raised rents to the point that residents moved out and legislators with rent control on their minds wanted to move in.  Lavin said that he realized through that process the error of that way.
He now cautions community owners from adopting that practice.
As Lavin told the Daily Business News on MHProNews in commenting about recent media reports that proved to be another black eye to the industry, "Sure, like most LLC [land lease community] owners, I railed at rent control. Hated it. Rent control was wrong, an intrusion on my property rights, raising rents was perfectly safe to do, a good business move, and it should be prohibited to have rent control! Over time, as I saw the destructive results of heavy rent and fee increases in LLCs, my thoughts shifted. There was a heavy bludgeon to the face to bring me around."
That noted, a demonstrable problem that contributes to the concerns Sheahan and Lavin have described are land use policies.
Restrictive land-use, coupled with NIMBY-driven reactions, has demonstrably kept more manufactured home communities from being developed.  Restrictive land-use, and failure to enforce the enhanced preemption that the Manufactured Housing Improvement Act of 2000 established, have made it more difficult for those facing higher site fees.
With reduced options for tens of thousands of manufactured home owners in land-leases who've faced heavier site fee hikes, that can seem like what community owner Frank Rolfe referred to as customers being chained to the booth of a Waffle House restaurant.
But those comments by Rolfe and Lavin need to be taken in their context. Former community owner Allen, by comparison, simply leveled a blast at those who have done such heavy-handed practices, arguably as a way of dodging his relationships to those who generate problematic headlines. See a related report, linked below.
George Allen Blasts MHI, NCC Ignoring Own, Spencer Roane, SECO, COBA7, Tom Lackey Controversies
In roughly the last 2 decades, thousands of more communities have closed as opposed to opening. These are market forces that Sheahan, Weymouth, or others don't normally address as factors that directly contribute to rising site fees. See those related reports, linked below
Hundreds of New Manufactured Home Communities Opened, But How Many Have Closed? Industry Research Result$
So it is a variety of market-based issues, some having nothing to do with 'greed,' that contribute to higher costs for community owners, which in turn are passed on to residents.
Mr. Sheahan, and
Rob Weymouth, writing columns supported by the DMHOA – affiliates of NMHOA and MHAction – have apparently failed to consider or mention those as serious reasons.
Furthermore – and here's where the avoidable tragedioes occurs – when resident groups unjustly protest, they are arguably contributing to a troubled image that can make the cycle described herein demonstrably worse.
MHProNews has argued for years that there is a better way for residents and businesses alike. The goal should be mutual victories – win-win – or the outcome will be win-lose. Who is going to benefit from those win-lose battles?  If you read what Weymouth and Sheahan both say, it is often going to be the few, and they will tend to be the larger consolidators of independently owned communities.
The reason is the law of supply and demand.  The supply side must be addressed, or the rising demand will only make the current trends worse.
See that column by Weymouth, and comments from his supporters, at the related report, linked below. As an FYI to those who've read that report, this is the promised "Part 2" follow up to it.
MH Communities, Owners, MH Independents Alert – NMHOA and MHAction Next Steps? – Part 1
In a free market, the solution that ought to be encouraged is the construction of more manufactured home communities.  Sheahan's own comments above demonstrated that it was during that phase of the industry's history that site fees were kept in check. Of course, because there was competition.
Competition for manufactured home owners kept site fees in check.
But land-use, local NIMBYism – arguably made worse by protests and legal battles – have eroded the climate that made the creation of thousands of manufactured home communities by small to mid sized businesses a norm in years gone by.
How to reverse the vexing trends of recent decades?
The Manufactured Housing Association for Regulatory Reform (MHARR) has argued that it can be accomplished in part by making make more home sites available through a robust application by HUD of the Manufactured Housing Improvement Act of 2000 with local public officials.
There are fundamentally two paths.
The right combination of well informed and motivated residents combined with ethical businesses working together, which could lead to mutual victories through a savvy use of the free market.
Or by contrast, failure to act in win-win ways punishes the thousands of community owners who don't do what Sheahan, Weymouth, Allen, and Lavin all say is wrong.  Who suffers?  Residents and small-to-mid sized businesses.  Larger businesses have historically proven to benefit vis a viz their smaller brethren in business when heavier regulations, including rent control or other factors, are in play.
Putting Facts in Perspective
Manufactured Housing Institute (MHI) statistics, their "data," and claims are often wrong, as the Daily Business News on MHProNews has periodically pointed out.  MHI claims are unreliable often enough where they merit this type of disclaimer.
That said, MHI claims that site fees at manufactured home communities nationally average about 3 percent annually, similar to increases at apartments, but much lower than what property tax rates hikes are in markets from coast-to-coast.
CNBC reports that property values have doubled in the last 5 years, per ATTOM, and that some housing markets are seeing year over year (YoY) increases from 38 percent to 75 percent. RentCafe said 2017 increases in apartments were 2.5 percent over the prior year.
As WalletHub pointed out this year, "And though property taxes might appear to be a non-issue for the 37 percent of renter households, that couldn't be further from the truth. We all pay property taxes, whether directly or indirectly, as they impact the rent we pay as well as the finances of state and local governments."

The rent-control that Weymouth, DMHOA, NMHOA, MHAction and others promote will arguably only make the problem worse.  It is worth noting that not one official from NMHOA or MHAction would accept the offer of MHProNews publisher L. A. "Tony" Kovach to publicly discuss or debate the issues that led Weymouth to call on more Democrats to be elected.  Yet Weymouth himself admits that the rent control law his state's legislature passed was "useless."
In a Canadian province, their rent control law has likewise witnessed a shrinkage in home sites, as manufactured home communities close.  The result?  Similar to places, such as California, where when a community closes, it becomes difficult – as well as costly – to find another manufactured home community to move into.
The pattern described in the article below will arguably continue, so long as directives and roadblocks remain for the construction of new communities.  The other side of rent control is that fewer communities are being built.  However well intended Weymouth and Sheahan may be, good intentions can still have unintended and problematic consequences. The very things that Sheahan, Weymouth and others rails against are conditions created by heavy regulations, such as rent control.
Avoidable Tragedies for MH Owners and Businesses Alike?
Sheahan and others affiliated with NMHOA or MHAction cite specific community owners as their examples for aggressive hikes in site fees.
MHI award winner Lavin says:
the MH lending fiasco in the late 1990s and early 2000s,
plus those in the community sector that do aggressive hikes that residents like Sheahan have protested,
have harmed the entire manufactured home industry's image among regulators, lenders, investors, and the public.
If so, then is there an analogy – a parallel – in the MH industry and community sector to what Daily Business News readers discovered from the Poverty, Inc video report?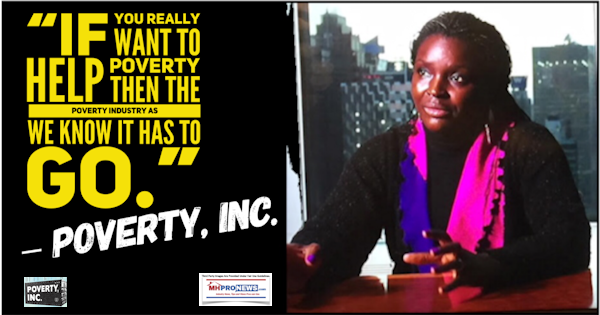 Acclaimed Poverty Inc. Video, MHVille – Why Left & Right Should Listen, Learn From Each Other
Is there a need to rethink the true root causes of the issues that face residents along with the honorable professionals in the industry?  Is there a need for more than good will?  A combination of the heart and the head working together?  That's what Poverty, Inc. advocates.
It remains to be seen if some of the leadership of resident groups would enter into a serious discussion/debate over what would really work long-term for all involved.
What seems clear at this point is that the Manufactured Housing Institute (MHI) leadership has arguably rejected the possible courses of action that would be good for residents and small-to-mid-sized businesses alike. As Lavin has said, they operate on behalf of the big boys.

The industry's most recent results suggest that by year's end, something like 100,000 (+/-) new manufactured homes could be built.  But it should and could be more like 1 million (+/-) new homes annually that are needed to close the gap in affordable housing. Consider what the National Association of Realtors™ (NAR) Chief Economist Lawrence Yun had to say about supply, demand and its impact on price hikes.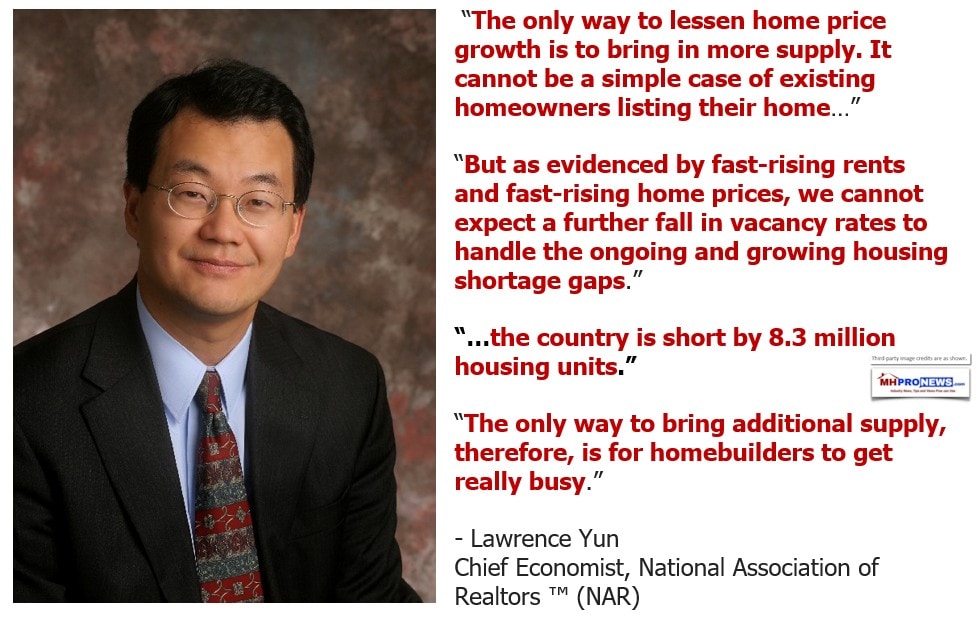 Those same principles outlined by Yun need to be generously applied to manufactured housing.
There are many contributing causes that explain the gap between how manufactured housing as an industry is performing, how it worked in the past, and how it could or should be.  The evidence reviewed in numerous reports on MHProNews reveals the gap and its causes.  See the linked related reports, found further below.  But this next Lavin-ism is worth mentioning.

What is certain is that how homeowner groups – or associations such as MHI, MHARR, NFIB or others – behave publicly in ways that contribute to the cure or the cause of that gap.
MHARR and NFIB are demonstrably acting in ways that are improving the business climate.  By contrast, MHI is continuing to behave much as they have since Warren Buffett led Berkshire Hathaway entered into manufactured housing in 2003, and began the takeover of MHI.  MHI acts in favor of their largest members, is what Lavin and others have said.
Getting headlines may create a thrill for some among resident-activists, but isn't the bottom line result the more important metric?
The evidence suggests that NMHOA, MHAction – however well intended their members may be – are being led down a problematic path that has never produced the outcome they desired.
As the midterms approach, there are broadly speaking, two choices for resident and other groups.
Which political party is advocating for failed approaches, such as rent control?
Which party has done better in recent years for elevating the incomes and opportunities for workers?
Which party in recent years has done more for creating the kind of investor/capital environment that has lead to more business and job growth?
Which party is working toward more housing options, including more manufactured homes and communities?
Before you cast your ballots, get informed. Because the right vote can accelerate the real progress being made for manufactured housing during the still young Trump Administration. The wrong vote can slow or even reverse that progress.
Former President Barack Obama had eight years in the Oval Office. His first two of those eight years his party had control of the House, and Senate.  We should ask Mr. Weymouth and Mr. Sheahan:
Exactly what did Democrats do on a practical level that lifted up residents of manufactured housing?
Didn't the rate of home ownership decline during the last Democratic Administration?
Didn't the super-rich billionaire class – people like Warren Buffett, Jeff Bezos Bill Gates, and other supporters of Mr. Obama – grow richer?
Meanwhile, didn't the working and middle class tread water or lose ground?
Didn't small business suffer during the Obama years, while the giants and their lobbyists thrived?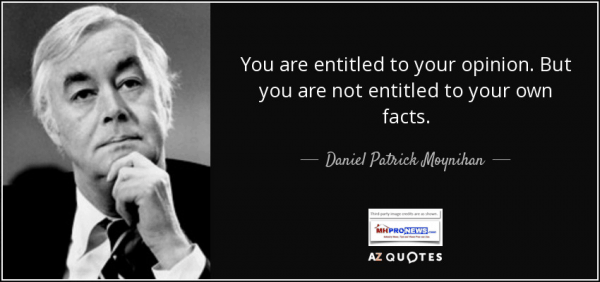 There's talk and there's results. There is style and there is substance. There's feel good belief, and then there is evidence and facts. Which do you want? "We Provide, You Decide." © (News, analysis, and commentary.)
(Third party images and content are provided under fair use guidelines.)
1) To sign up in seconds for our MH Industry leading emailed news updates, click here.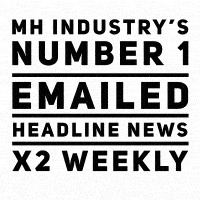 2) To provide a News Tips and/or Commentary, click the link to the left. Please note if comments are on-or-off the record, thank you.
3) Marketing, Web, Video, Consulting, Recruiting and Training Resources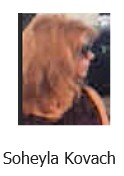 Submitted by Soheyla Kovach to the Daily Business News for MHProNews.com. Soheyla is a managing member of LifeStyle Factory Homes, LLC, the parent company to MHProNews, and MHLivingNews.com.
Related Reports

:
Fresh Facts, Figures, Future of Affordable Housing -Comparisons- Conventional Site-Built v Mobile/Manufactured Home Industry Data
"Thou Shall Not Steal," $2 Trillion Annually Lost to Lack of Affordable Homes, Making the Manufactured Home Case
The Up for Growth National Coalition just published a new report that says the affordable housing crisis is more serious than many realize, and is growing. While their estimates differ, they come to a similar conclusion as the National Association of Realtors (NAR) Lawrence Yun did.
"Shadows of Liberty" Movie Introduction, Affordable Housing, and You
In manufactured housing, Terry Decio with Skyline quipped on camera " I'm tired of being the best kept secret, I'm ready to help house America." Terry's father Art was on the cover of Time Magazine, and in a good way.