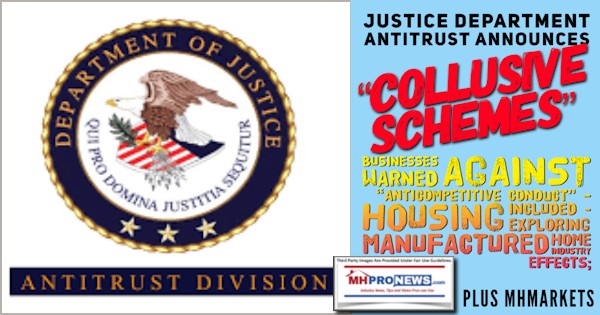 The focus of the Department of Justice (DoJ) announcement at first blush is focused on those businesses who "would exploit supply chain disruptions." To that concern, MHLivingNews has been contacted by consumers who believe that they have been taken advantage of by specific manufactured housing industry brands. Independent manufactured home professionals who retail HUD Code manufactured housing have also grumbled about certain pricing practices post-COVID19. Among the contacts to MHProNews was a retailer who successfully pushed back after providing this trade media outlet information that was in turn utilized in communications with the purportedly offending producer. So, on the face of the concern, there may be grounds for industry professionals to carefully consider what follows. But additionally, a broader antitrust message is also woven into this press release from the DoJ to MHProNews and others in media.
Note the complaint phone number and reporting portal found in the DoJ press release below. One of those subcategories includes housing. While the term real estate is used, it also uses the more generic terminology of "Buying or selling a home."
Note anew that two different sources told MHProNews that during the Trump Administration, a manufactured housing specific concerns were discussed at DoJ's antitrust division. That's beyond the publicly stated complaints in the manufactured housing realm Democratic lawmakers referenced further below asked the Consumer Financial Protection Bureau (CFPB) and DoJ to investigate. As the unrelated Durham probe illustrates, some investigations may go months before legal activity is made public.

Department of Justice
Office of Public Affairs
FOR IMMEDIATE RELEASE
Thursday, February 17, 2022
Department of Justice Announces Initiative to Protect Americans from Collusive Schemes Amid Supply Chain Disruptions
Initiative Puts Business Community on Notice that the Antitrust Division is Looking Out for Companies that Would Exploit Supply Chain Disruptions to Engage in Anticompetitive Conduct 
In the wake of persistent price increases initially stemming from supply chain disruptions caused by the COVID-19 global pandemic, the Antitrust Division and the FBI announced an initiative today to deter, detect and prosecute those who would exploit supply chain disruptions to engage in collusive conduct.
"Temporary supply chain disruptions should not be allowed to conceal illegal conduct," said Assistant Attorney General Jonathan Kanter of the Justice Department's Antitrust Division. "The Antitrust Division will not allow companies to collude in order to overcharge consumers under the guise of supply chain disruptions."
"The lingering challenge of supply chain disruptions from the COVID-19 pandemic has created an opportunity for criminals to fix prices and overcharge customers," said Assistant Director Luis Quesada of the FBI's Criminal Investigative Division. "The FBI and our law enforcement partners will continue to collaborate and investigate schemes that violate our antitrust laws and stifle our economic recovery."
As part of the initiative, the Antitrust Division is prioritizing any existing investigations where competitors may be exploiting supply chain disruptions for illicit profit and is undertaking measures to proactively investigate collusion in industries particularly affected by supply disruptions. The Antitrust Division has also formed a working group focusing on global supply chain collusion with its global partners, the Australian Competition and Consumer Commission, the Canadian Competition Bureau, the New Zealand Commerce Commission and the United Kingdom Competition and Markets Authority. The working group is developing and sharing intelligence, utilizing existing international cooperation tools, to detect and combat collusive schemes.
Economies across the globe have faced significant challenges caused by supply chain disruptions resulting from the COVID-19 global pandemic. Transportation constraints, disruptions to routine business operations and difficulty in obtaining raw materials have all led to increased costs of production and shipment, which in turn have resulted in higher prices for consumers. Supply chain disruptions have been broad in scope, affecting a variety of industries ranging from agriculture to health care.
While many individuals and businesses across various sectors in the economy have responded and will continue to respond to supply chain disruptions caused by the pandemic with laudable ingenuity — bringing goods to communities in need, expanding existing capacity and developing products and services to meet new needs — others may seek to use supply chain disruptions as a cover for collusive schemes. For those who seek to exploit supply chain disruptions for their own illicit gain, the Antitrust Division, along with the FBI, will investigate and prosecute criminal violations of the antitrust laws, including agreements between individuals and businesses to fix prices or wages, rig bids or allocate markets. Anyone with information on price fixing, bid rigging, market-allocation agreements or other anticompetitive conduct should call the Antitrust Division's Citizen Complaint Center at 1-888-647-3258, or visit http://www.justice.gov/atr/report-violations.
The Department of Justice is committed to working closely with the public, the business community and other federal agencies to enforce the antitrust laws for the protection and welfare of the American people.
Topic(s): 
Antitrust
Component(s): 
Antitrust Division
Federal Bureau of Investigation (FBI)
Press Release Number:
22-138                                        Updated February 17, 2022
Additional Information, more MHProNews Analysis and Commentary in Brief
Among the linked subsections linked from the above is this:
https://www.justice.gov/atr/competition-and-real-estate-0
Email complaints can be sent via: MailTo:RealEstateCompetition@usdoj.gov. Note that the DoJ website shows several antitrust actions that have already occurred in the housing industry, including trade associations.
Litigation
Do you or a colleague have concerns and complaints about market manipulation, supply chain, or other manufactured home industry collusion that harms independent sellers, consumers, etc.? You can send tips and documents to MHProNews via this link here. Mailto:iReportMHNewsTips@mhmsm.com. Remove the "mailto" to send such an emailed tip or whistleblower insights to MHProNews. PDF attachments and other evidence are welcomed. Keep in mind that the Securities and Exchange Commission (SEC) is currently involved in litigation against Manufactured Housing Institute (MHI) member Cavco Industries (CVCO).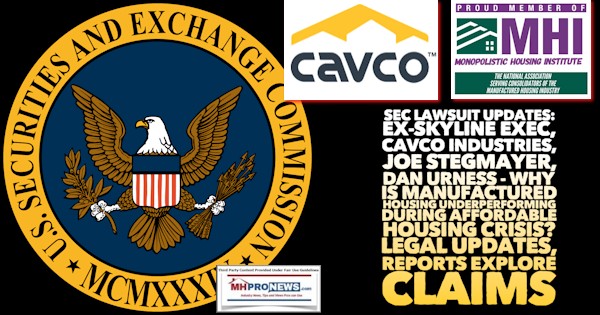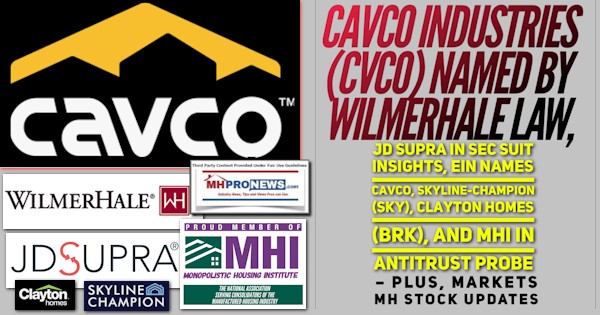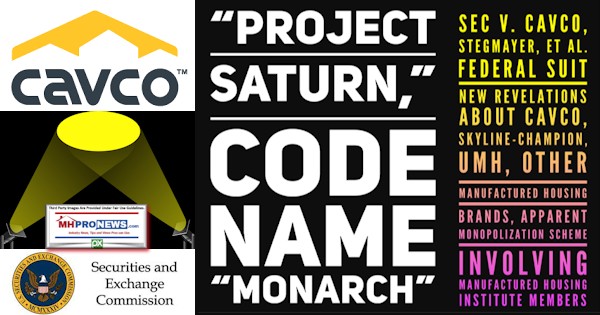 MHProNews will continue to track and report on the legal, apparent market manipulation, predatory behavior, and other issues that are concerns that consumers, investors, businesses, advocates, and others should be concerned about.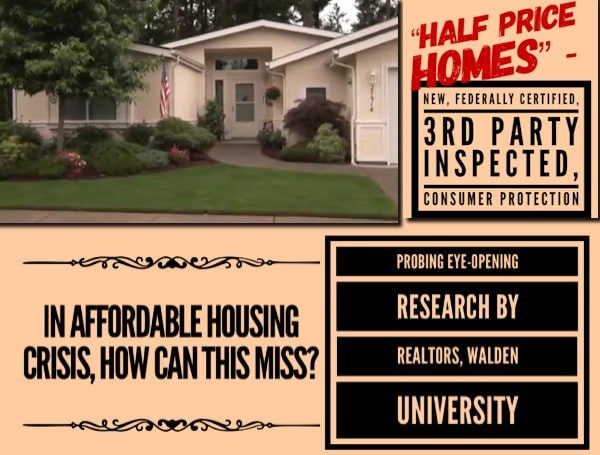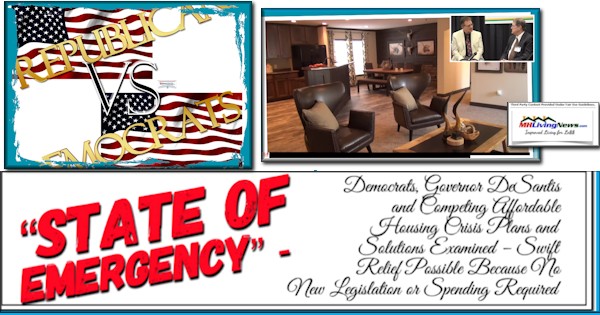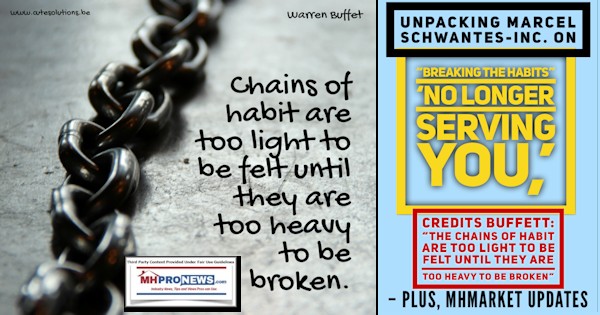 Next up is our daily business news recap of yesterday evening's market report, related left-right headlines, and manufactured housing connected equities.
The Business Daily Manufactured Home Industry Connected Stock Market Updates.  Plus, Market Moving Left (CNN) – Right (Newsmax) Headlines Snapshot. While the layout of this daily business report has been evolving over time, several elements of the basic concepts used previously are still the same. For instance. The headlines that follow below can be reviewed at a glance to save time while providing insights across the left-right media divide. Additionally, those headlines often provide clues as to possible 'market-moving' news items.
Market Indicator Closing Summaries – Yahoo Finance Closing Tickers on MHProNews…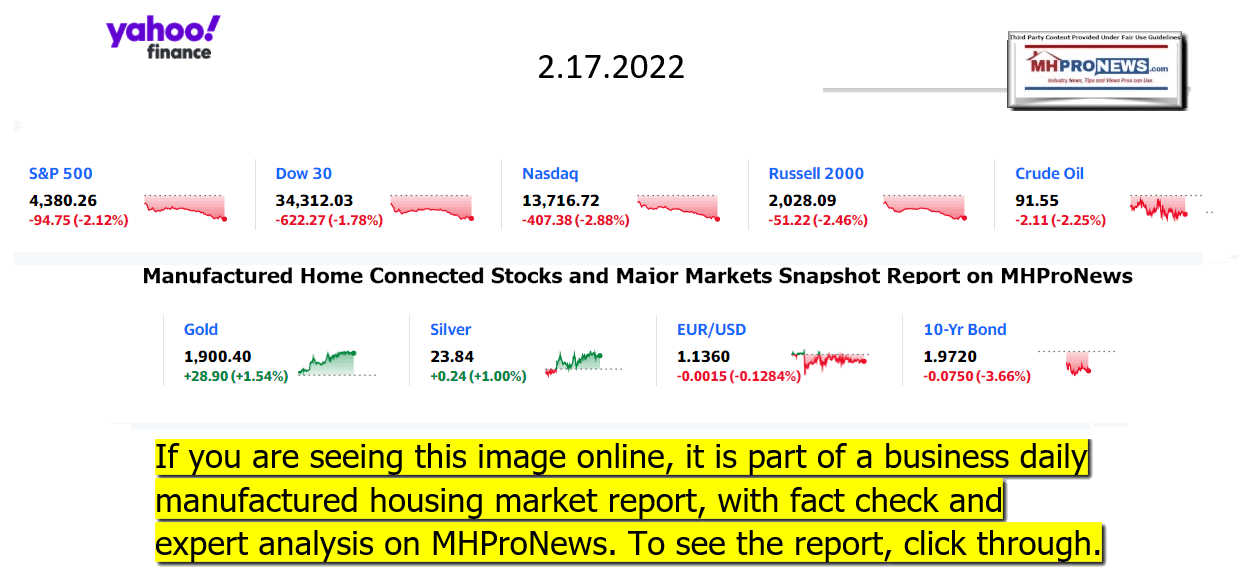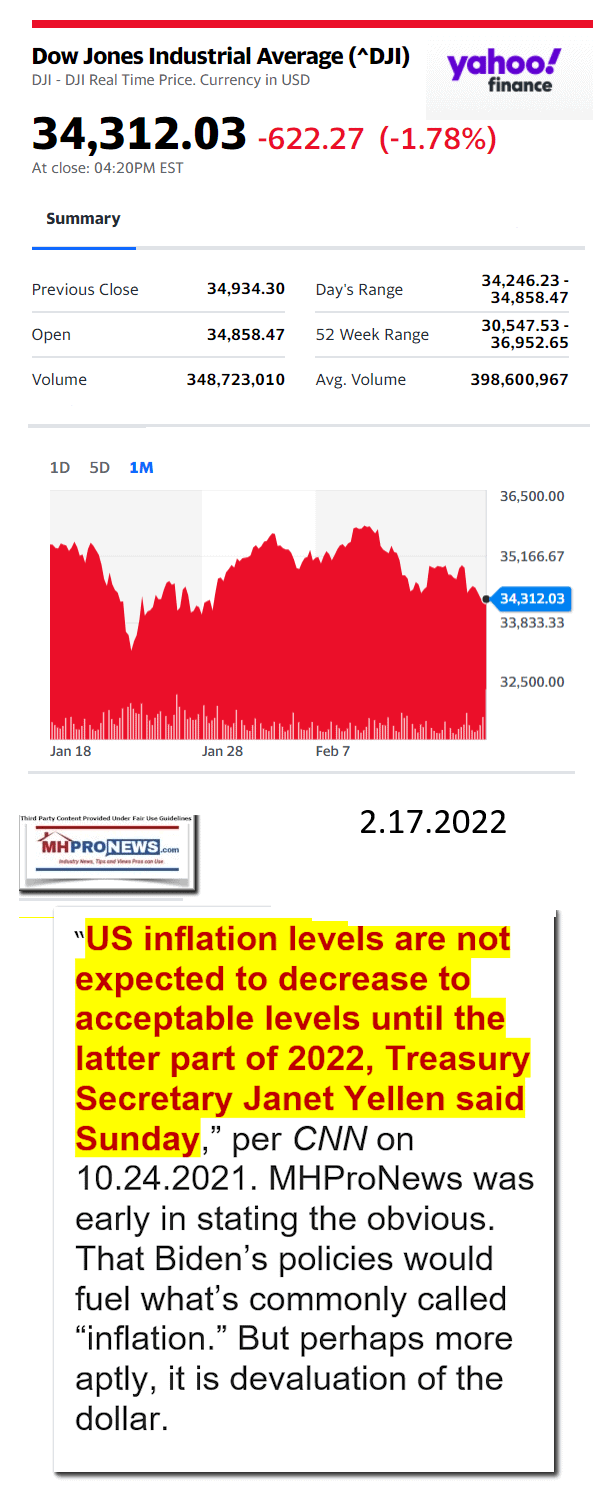 Headlines from left-of-center CNN Business – from the evening of 2.17.2022
Dow's worst day of the year
Traders work on the floor of the New York Stock Exchange (NYSE) on February 16, 2022 in New York City.
Dow falls 622 points after US officials warn that a Russian invasion Ukraine is imminent
America is going back to the office, and that could mean another round of resignations
A short work week, cash to invest: How companies try to attract workers
Mortgage rates jump to nearly 4%
OPINION Why inflation is about to peak
Do supply chains hold the key to reducing inflation?
Charlie Munger defends windowless dorms and China investments
Elon Musk says the SEC is gunning for his free speech rights
We tested Apple's new option to unlock an iPhone while wearing a mask
Trump social media app gearing up for launch
What is a financial coach and who really needs one?
Coca-Cola introduces a first-of-its-kind flavor
Taco Bell is bringing back a fan-favorite dessert after a seven-year wait
How a beloved orange tabby cat became a voice for America's union workers
A next-generation Chevrolet could have airless tires
The Felicity Ace, ship full of luxury cars is shown on February 17, stranded in the middle of the Atlantic. It caught fire in the North Atlantic on Wednesday, as it carried cargo including Porsches and Volkswagens from Emden, Germany to Davisville, Rhode Island. After a fire broke out in the cargo hold, it spread and forced all 22 crew members to abandon ship. The crew was safely picked up by the Portuguese Navy.
A cargo ship full of luxury cars is on fire and adrift in the middle of the Atlantic
Apple CEO Tim Cook attends the grand opening event of the new Apple store at The Grove on November 19, 2021 in Los Angeles, California.
Apple investors urged to vote against a nearly $100 million pay package for CEO Tim Cook
STRANGER THINGS
Stranger Things announces an end date
ENERGY
Gasoline prices are displayed at a gas station on February 08, 2022 in Los Angeles, California. The average price for one gallon of self-service regular gas hit a new record high in Los Angeles County today for the fourth time in the past five days.
California gas hits record high, and could reach $5 soon
Russia-Ukraine crisis sends oil on roller coaster
6 ways the Russia-Ukraine conflict could hurt your wallet
Biden official warns Russia against weaponizing energy
Banks pledging net zero are pouring money into fossil fuel
PRIVACY
The Facebook logo is displayed during the F8 Facebook Developers conference on April 30, 2019 in San Jose, California.
Meta agrees to pay $90 million to settle privacy lawsuit
me won't require facial recognition to verify identity
Apple plans AirTag updates to curb unwanted tracking
Google will change Android app tracking for user privacy
Uber now lets you see negative reviews from drivers
Headlines from right-of-center Newsmax – evening of 2.17.2022
Poll: More Than Two-Thirds Believe Clinton Campaign Scandal Is 'Very Important'
A full 68% of likely voters believe special counsel John Durham's accusations regarding Hillary Clinton's 2016 presidential campaign are "very important," according to a new poll by Rasmussen Reports. In court papers last week, Durham alleged that Clinton's campaign paid an internet company to infiltrate servers at Trump Tower and the White House in order to link Trump to Russia. [Full Story]
Ukraine in Crisis
Rand Paul May Slow Ukraine Support Resolution
Biden: 'Every Indication' Russia Prepared to Attack Ukraine
Blinken to UN: Russia Planning to Invade Ukraine in 'Coming Days'
Russia Expels a Top US Embassy Official
UK PM Johnson: Kindergarten Attack a 'False Flag Operation'
Zelenskyy: Pro-Russian Forces Shell Kindergarten
Britain Says Putin Could Drag Out Ukraine Crisis for Months
With Fast-Track Passports, Russia Extends Clout in Ukraine
More Ukraine in Crisis
Newsmax TV
Stewart: Threat to Arm Resistance Would Stop Putin
Blackburn: Jake Sullivan Should Step Aside After Durham Filing | video
Babin: Hillary Should Face DOJ, FBI Investigations | video
Tenney: Durham Findings Point to Need for GOP Wins in 2024 | video
Reschenthaler: Putin Using Biden's Weakness to Control Timeline | video
Mike Lindell: We'll Try Again to Deliver Pillows to Canadian Truckers | video
John Thune: Biden, Not Putin, Responsible for Rising Gas Prices | video
More Newsmax TV
Newsfront
Trump Must Testify in NY Investigation, Judge Rules
Former President Donald Trump must answer questions under oath in New York state's civil investigation into his business practices, a judge ruled Thursday.Judge Arthur Engoron ordered Trump and his two eldest children, Ivanka and Donald Trump Jr., to comply with subpoenas…… [Full Story]
People's Convoy Organizer to Newsmax: US Trucker Protest Hits the Road Wednesday
The "People's Convoy," the United States' trucker protest against [Full Story]
Related
Elon Musk Tweets Meme Comparing Trudeau to Hitler Over Vaccine Protests
Mike Lindell to Newsmax: We'll Try Again to Deliver Pillows to Canadian Truckers |video
Canadian Official: Donors for Truckers' Protest Are Part of 'Pro-Trump Movement'
Omar: Reporting on Small-Time Freedom Convoy Donors 'Unconscionable'
Carter: 'Beneficial' If Trump Moved on From 2020 Election
Buddy Carter, R-Ga., told the Daily Mail in an interview that it [Full Story]
McConnell: Release of BLM Shooting Suspect 'Jaw-Dropping'
Senate Minority Leader Mitch McConnell, R-Ky., on Thursday condemned [Full Story]
China Has 'Total Control,' Treats Athletes as 'Subhumans' in Olympic 'Loop'
As more of the world ditches restrictive coronavirus restrictions and [Full Story] | Platinum Article
Democrats Fear Extinction of Their 'Toxic' Brand in Rural America
Some Democrats in rural Pennsylvania are afraid to tell you they're [Full Story]
Moderna Eyes Omicron-Specific COVID Booster by August
An omicron-specific booster could be ready by August, the CEO of U.S. [Full Story]
Related
Estimated 73 Percent of US Now Immune to Omicron
US Court Orders Further Review of United Airlines Vaccine Mandate
'Hypocritical' for Pelosi to Praise Israel but Not Condemn Ocasio-Cortez's Lies
With House Speaker Nancy Pelosi, D-Calif., in Jerusalem and lauding [Full Story] | Platinum Article
Clinton Campaign Lawyer Sussmann Seeks Durham Charges Dismissed
Attorneys for Clinton campaign lawyer Michael Sussmann filed a motion [Full Story]
Ex-NY Times Columnist Ineligible to Run for Oregon Governor
The Oregon Supreme Court ruled Thursday that former New York Times [Full Story]
Sexual Assault Reports Increase at US Military Academies
Reported sexual assaults at the U.S. military academies increased [Full Story]
Blinken to UN: Russia Planning to Invade Ukraine in 'Coming Days'
S. Secretary of State Antony Blinken laid out at the United Nations [Full Story]
Poll: Kemp Up 9 Points in Georgia Race
Georgia Gov. Brian Kemp holds about a 9-point lead over his closest [Full Story]
Trump Endorses Texas' Monica De La Cruz for Congress
Former President Donald Trump endorsed Monica De La Cruz, who was [Full Story]
DeSantis Spokeswoman: Miami Archbishop Lying About the Governor
The press secretary for Florida Gov. Ron DeSantis is accusing Miami [Full Story]
Shcherbakova Wins Figure Skating Gold as Valieva Fails
A Russian woman was standing atop the figure skating podium at the [Full Story]
Mayor Adams Proposes 'Basically Flat' NYPD Funding With First Budget
New York City Mayor Eric Adams suggested a slight decrease in police [Full Story]
Biden: 'Every Indication' Russia Prepared to Attack Ukraine
President Joe Biden said Thursday that there is a "very high" risk of [Full Story]
Olympics: Canada Enjoys Sweet Revenge on US in Ice Hockey
Canada turned four years of bitter disappointment into triumph on [Full Story]
Yellowstone's Forrie J. Smith Nixes SAG Awards Over COVID Vaccine Rules
Actor Forrie J. Smith of the hit show "Yellowstone" has said that he [Full Story]
Weekly US Jobless Claims Rise for the First Time in a Month
More Americans applied for unemployment benefits last week following [Full Story]
Justice Dept. to Take On Exploitation of Supply Chain Issues
The Justice Department wants to identify companies that exploit [Full Story]
Florida House Passes GOP 15-Week Abortion Ban
Florida's House of Representatives passed a bill to ban abortions [Full Story]
CNN Probe Complete, Yet Many Mysteries on Cuomo, Zucker Remain
CNN's parent company says it has completed its investigation into [Full Story]
FAA Head Resigns After Effort to Rebuild Agency's Reputation
The leader of the Federal Aviation Administration, whose agency has [Full Story]
Black Lives Matter Kicked Off AmazonSmile as Financial Scrutiny Increases
Amazon on Tuesday booted Black Lives Matter from AmazonSmile, its [Full Story]
Defense attorneys for Oath Keepers leader Stewart Rhodes tried [Full Story]
Britney Spears Invited by Congress to Testify About Conservatorships
Is Britney Spears headed to Washington D.C.? The pop star and her [Full Story]
National Guard Deployed at Texas Border Are Unionizing
Texas National Guard troops deployed to the border under Operation [Full Story]
Hillary Reacts to Claim She Spied on Trump: 'Nonsense'
Hillary Clinton broke her silence Wednesday on Twitter as she finally [Full Story]
Moderna CEO: 80 Percent Chance Next COVID Strain Less Virulent Than Omicron
Moderna CEO Stephane Bancel told CNBC's "Squawk Box Asia" on [Full Story]
Finance
Banner 2021 for Stocks Boosts Average 401(k) Balance to $130.7k
Wall Street's blockbuster gains in 2021 helped pad savers' retirement accounts, lifting the average balance on some popular investment plans to new highs…. [Full Story]
Ford, Battery Maker Face Job Requirement for Tennessee Plant
US Court Orders Further Review of United Airlines Vaccine Mandate
Biden Infrastructure Plan Gives $1B for Great Lakes Cleanup
Trevor Gerszt: Discord Within the Fed Could Boost Gold Prices
More Finance
Health
CDC Could Loosen Indoor Mask Mandates as Early as Next Week
The U.S. Centers for Disease Control and Prevention could ease its indoor masking guidance as early as next week. The agency is weighing a new benchmark for whether masks are needed, basing it on the level of severe disease and hospitalizations in a given community, two…… [Full Story]
Anxiety, Depression, Other Mental Health Woes Rise in Year After COVID Recovery
Brain Power Doesn't Start to Slow Until After 60
Scientists Create 'Universal' Donor Organs Where Blood Type Doesn't Matter
Sleeping Two More Hours a Night May Boost Weight Loss
MHProNews has pioneered in our profession several reporting elements that keep our regular and attentive readers as arguably the best informed in the manufactured housing industry. Among the items shared after 'every business day' (when markets are open) is our left-right headline recap summary. At a glance in two to three minutes, key 'market moving' news items are covered from left-of-center CNN Business and right-of-center Newsmax. "We Provide, You Decide." Additionally, MHProNews provides expert commentary and analysis on the issues that others can't or won't cover that help explain why manufactured housing has been underperforming during the Berkshire era while an affordable housing crisis and hundreds of thousands of homeless in America rages on. These are "Industry News, Tips, and Views Pros Can Use" © features and others made and kept us the runaway #1 in manufactured housing trade publisher for a dozen years and counting.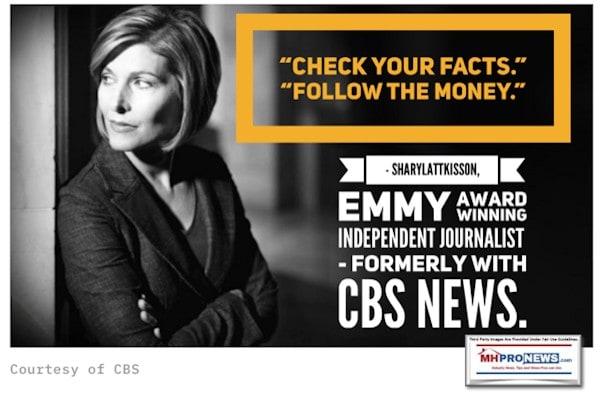 Manufactured Housing Industry Investments Connected Equities Closing Tickers
Some of these firms invest in manufactured housing, or are otherwise connected, but may do other forms of investing or business activities too.
NOTE: The chart below includes the Canadian stock, ECN, which purchased Triad Financial Services, a manufactured home industry lender
NOTE: Drew changed its name and trading symbol at the end of 2016 to Lippert (LCII).
NOTE: Deer Valley was largely taken private, say company insiders in a message to MHProNews on 12.15.2020, but there are still some outstanding shares of  the stock from the days when it was a publicly traded firm.  Thus, there is still periodic activity on DVLY.
Manufactured Home Communities (a.k.a. 'Mobile Home Parks' – SIC) – Exploring UMH Properties; Fellow Manufactured Housing Institute Member Yes! Communities Suits and Settlements; plus MH Markets Updates
Clayton-21st Storm Watch – Sinatra's Summer Wind Blows Early? – Manufactured Housing Moat Breach – Manufactured Home Values Increasing Faster than Site-Built – Case for Something New in 2022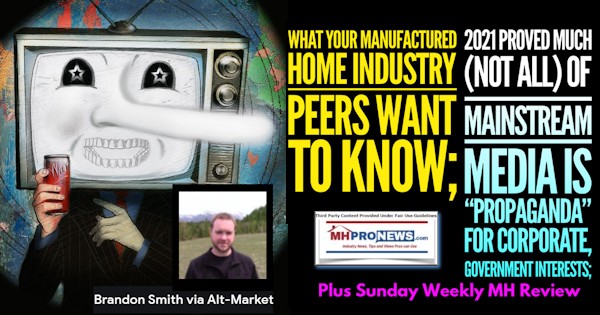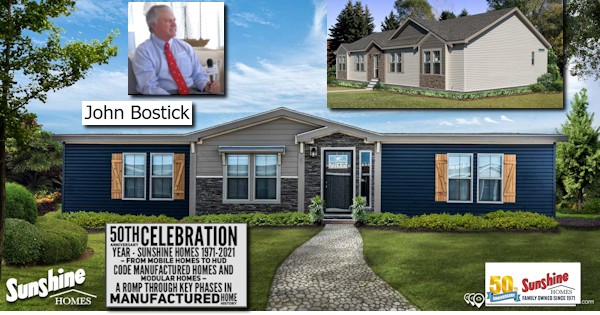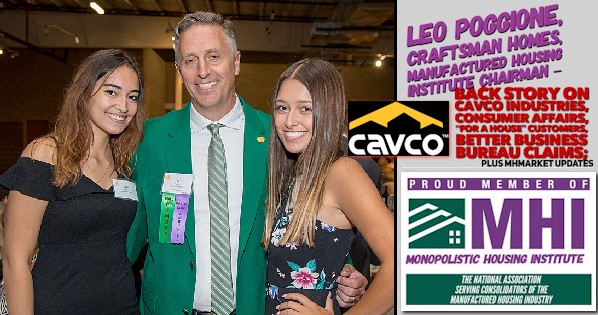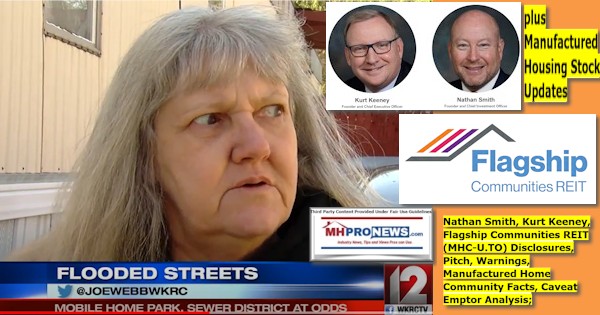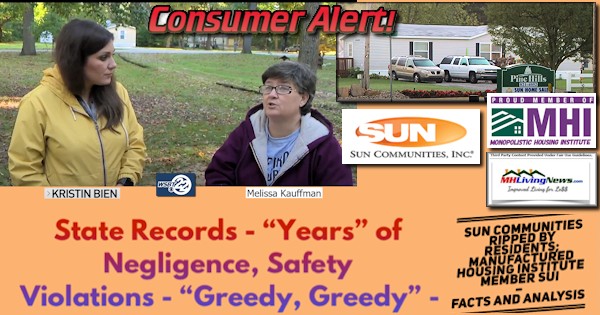 In cases such as Apollo, Berkshire Hathaway, Blackstone or others, manufactured housing may only be part of their corporate interests. Note: depending on your browser or device, many images in this report can be clicked to expand. Click the image and follow the prompts. To return to this page, use your back key, escape or follow the prompts.

https://www.manufacturedhomepronews.com/steve-lawler-deer-valley-corporation-dvc-otcmkts-dvly-announces-merger-plus-manufactured-home-investing-stock-updates/

https://www.manufacturedhomepronews.com/nobility-homes-financial-position-very-strong-sales-strong-but-challenges-including-lending-and-others-examined-plus-manufactured-housing-stocks-update/

2022

…

Berkshire Hathaway is the parent company to Clayton Homes, 21st Mortgage, Vanderbilt Mortgage and other factory-built housing industry suppliers.


·

LCI Industries, Patrick, UFPI, and LP each are suppliers to the manufactured housing industry, among others.




·

AMG, CG, and TAVFX have investments in manufactured housing related businesses.

For

insights from third-parties and clients about our publisher

, click here.


Enjoy these 'blast from the past' comments.

MHProNews. MHProNews – previously a.k.a. MHMSM.com – has celebrated our 11th year of publishing and have completed over a dozen years of serving the industry as the runaway most-read trade media.
Sample Kudos over the years…
It is now 12+ years and counting…
Learn more about our evolutionary journey as the industry's leading trade media, at the report linked below.
· For expert manufactured housing business development or other professional services, click here.
· To sign up in seconds for our industry leading emailed headline news updates, click here.

Disclosure. MHProNews holds no positions in the stocks in this report.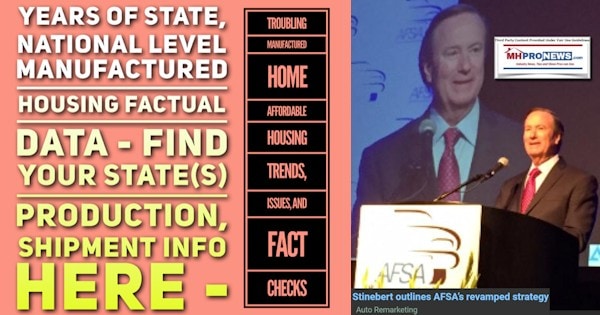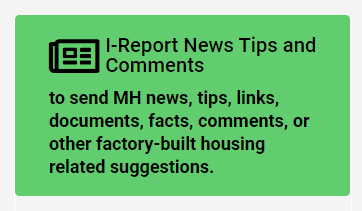 That's a wrap on this installment of "News Through the Lens of Manufactured Homes and Factory-Built Housing" © where "We Provide, You Decide." © (Affordable housing, manufactured homes, stock, investing, data, metrics, reports, fact-checks, analysis, and commentary. Third-party images or content are provided under fair use guidelines for media.) (See Related Reports, further below. Text/image boxes often are hot-linked to other reports that can be access by clicking on them.)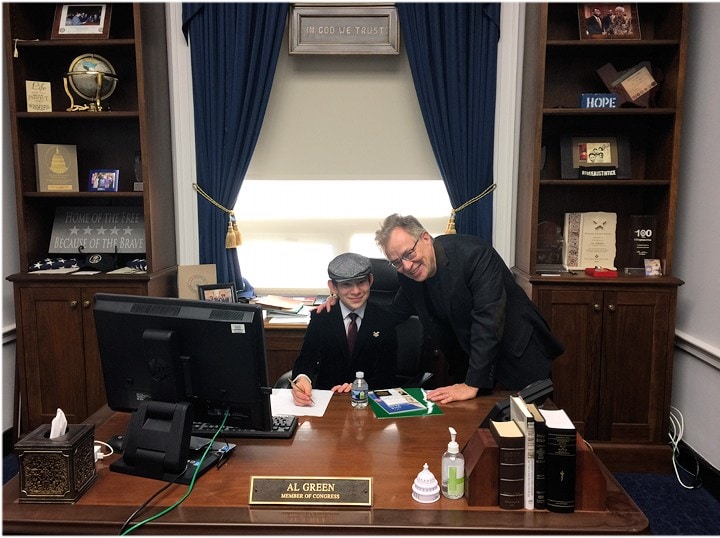 By L.A. "Tony" Kovach – for MHProNews.
Tony earned a journalism scholarship along with numerous awards in history. There have been several awards and honors and also recognition in manufactured housing. For example, he earned the prestigious Lottinville Award in history from the University of Oklahoma, where he studied history and business management. He's a managing member and co-founder of LifeStyle Factory Homes, LLC, the parent company to MHProNews, and MHLivingNews.com. This article reflects the LLC's and/or the writer's position and may or may not reflect the views of sponsors or supporters.