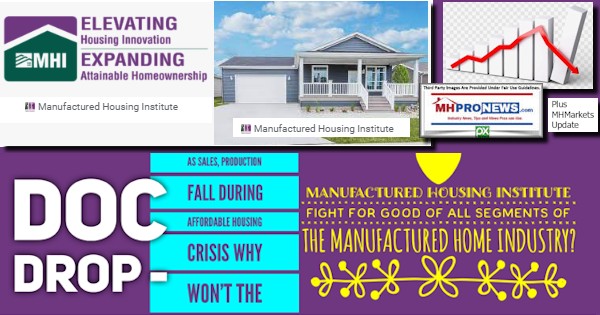 The day that the Manufactured Housing Association for Regulatory Reform (MHARR) issued its latest data packed report on the dramatic fall of manufactured housing production and shipments from a year ago, the Manufactured Housing Institute (MHI) issued their "Federated States" emailed news update. That MHI originated email failed to mention manufactured home production and shipment data at all. In an apparently oblique response to a critique on MHLivingNews that MHI had once again failed to properly promote manufactured homes during June as National Home Ownership Month, MHI's missive mentioned their upcoming lone member's house going to the Washington Mall and linked their members to HUD's National Homeownership Month webpage. In another segment of their 'update,' MHI mentioned and attached items about their latest legislation on the Department of Energy (DOE) manufactured home energy rule. But MHI failed to mention that their new House bill still has no Senate companion legislation, which makes it an obvious exercise in futility that seems aimed at giving them cover rather than results. Nor did MHI mention their own documented role in causing the harmful energy rule to emerge in the first place. In MHI's emailed document, they provided a mainstream manufactured home connected headline news roundup, but the Arlington, VA based trade group failed to mention the scandalous evidence-supported allegations against prominent member Sun Communities CEO Gary Shiffman. Nor did MHI mention in their headlines fresh legal action against a purportedly predatory and aggressively consolidating manufactured home community operator. On topic after topic, MHI appears to be offering window dressing and red herring distraction methods which duck the hard work that needs to be done in order to reverse the decline of HUD Code regulated manufactured housing during affordable housing crisis. All of this and more are occurring on the watch of the highly touted so-called "MHI 2.0" with CEO Lesli Gooch and President Mark Bowersox. That and more begs the headline suggested question. Why isn't "MHI 2.0" taking the obvious steps that are needed to fight for the good of all segments of manufactured housing? Why aren't they tapping into the vast potentially honest profits that are possible for manufactured housing? Why does MHI appear to be working instead on behalf of a relatively few firms that have a reputation for being predatory and consolidation focused? Why do they appear to give regulators the upper hand on issues that MHI leaders themselves have said have laws favorable to the industry which are not being properly enforced?
Not only has MHI failed to mention in their June 5, 2023 Federated States emailed 'newsletter' the sharp drop in production from a year ago, but they appear once again to be following an increasingly familiar pattern. That pattern was described by their former Vice President Danny Ghorbani, who become the founding president and CEO of what today is MHARR, described his former team mates as follows. "To overcome the industry's zoning and consumer financing woes, this so-called post-production representation [i.e.: MHI] needs to do more than hold meetings, issue talking points, engage in "photo ops," or publish newsletters full of braggadocio and boasts but bereft of any tangible results."
1) Or consider what their seemingly notorious member Frank Rolfe said about MHI. "…MHI [Manufactured Housing Institute] – the industry lobby group…what's with the concept of silence is golden? Negative articles on the industry are met with "no comment" [by MHI] Positive news opportunities are met with "no comment." I've never seen anything like it." "Probably the greatest enemy to the growth of the mobile home park industry into a mainstream form of real estate investment is … our industry itself [i.e.: MHI].
2) Or what communities focused association leader Neal Haney said when two state association affiliates of MHI broke with them. "Due to the lack of effective representation at a national level, the MHCA [Manufactured Housing Communities of Arizona] withdrew its membership from the national association [i.e.: Manufactured Housing Institute or MHI] to pursue other avenues of representation. We are not the only state association to do so. The MHCA has been exploring other options; including hiring a lobbying firm that is prominent in Washington, D.C."
3) "For years, we have wondered WHY there was so little pro-industry advocacy from MHI to government movements, proposals, rules, etc. that were [often] not in the best interest of this industry." – Bob Crawford, then president of Dick Moore Housing, a BBB A+ rated firm, who shared an educational panel with Frank Rolfe at the Tunica Manufactured Housing Show that year.
4) Or what pro-MHI professional Darren Krolewski shared with MHProNews in saying that part of the problem that the industry faced is that there is more bad news than good news? Here is Krolewski framed it: "I think one of the challenges we have as an industry is that there is not enough positive news about manufactured housing to counter the negative." He said that after saying: "We always hear about the tornadoes, flooding, fires, residents getting evicted from their homes so a shopping center can be built, unreasonable rent increases, how manufactured homes depreciate in value, etc." What the pro-MHI company leader didn't mention is that "unreasonable rent increases" are often the accusation made by residents of MHI/National Communities Council (NCC) member companies. The other negative items Krolewski were in response to the concerns and comments from the notorious Rolfe, when Rolfe named MHI in failing to properly protect and promote the manufactured home industry (or see the bullet above).
What precisely has changed since those charges and remarks by past or current association members and staff were leveled against MHI? Those comments span several years, yet this marvelous "MHI 2.o" has produced precisely what result worth bragging about?
To answer that last two questions, the manufactured home industry was at times going up modestly during part of that period. But during other timeframes covered by those quoted remarks, the industry has suffered downturns that were arguably utterly avoidable. This graphic is not one found on pro-MHI websites, but it is found here because we look at the facts, evidence, and then consider why what is said may or may not be true – based on facts, evidence, and common sense.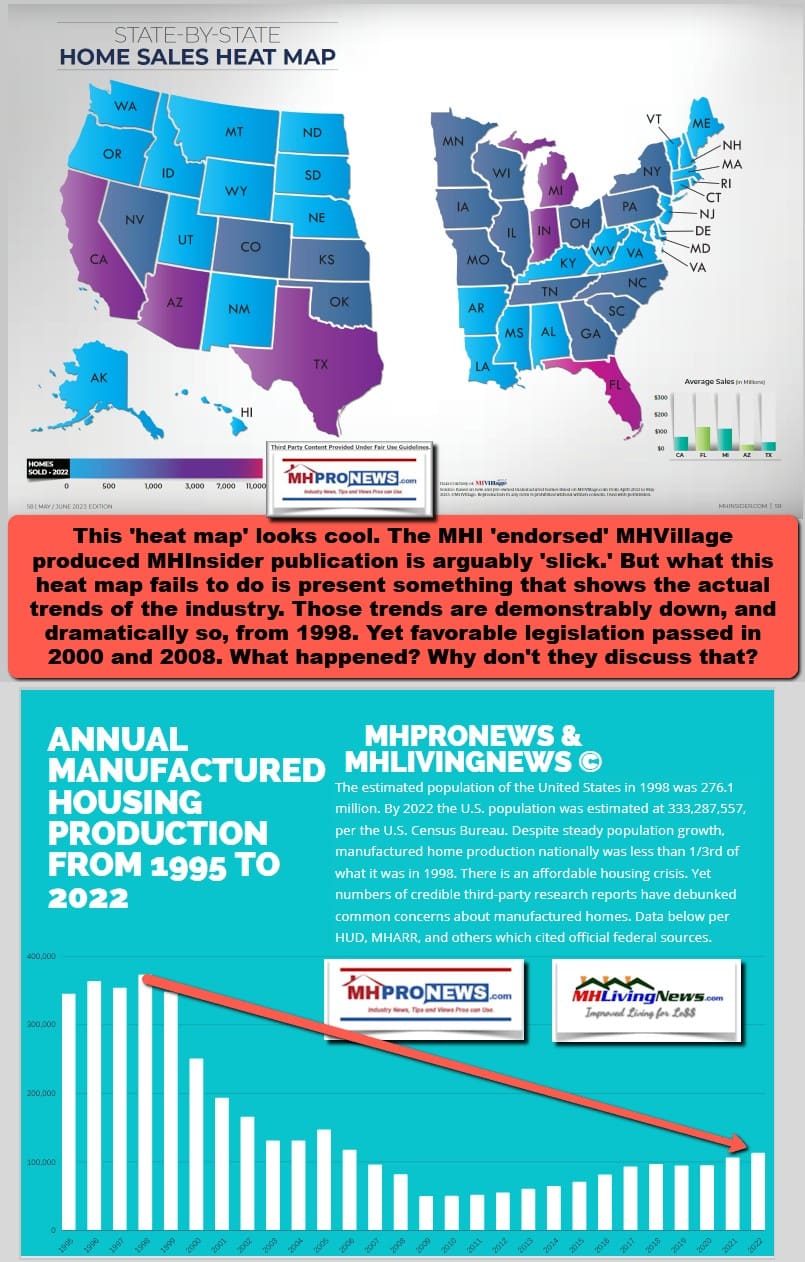 Which begs these questions.
A) Are MHI leaders merely incompetent? Is that what explains years of tall talk with troubling actual outcomes?
B) Or are MHI leaders – top staffers and corporate board members – so blatantly corrupt that they will posture doing good and mouth platitudes like 'elevating the profile' of manufactured housing while they are de facto witnessing a steady consolidation of the manufactured home industry? And isn't it significant that several of MHI's publicly traded members openly say in their investor pitches that consolidation of a "fragmented" industry is a key part of their business plan? So, are MHI leaders working for "all segments" of the industry as they advertise, or are MHI leaders working for the consolidators of manufactured housing who are also routinely charged with being predatory and having poor customer service practices?
Meanwhile, public officials have taken some MHI members to task with fines and judgments for their business practices. That said, where are the investigations into MHI's role in this problematic pattern during an affordable housing crisis?
When three different attorneys have done legal research published in 2023 that each shed light on 'what's holding manufactured housing back,' why hasn't MHI 2.0 leaders considered what they, some of their own members, MHARR, MHLivingNews, and MHProNews have called attention to – often for years?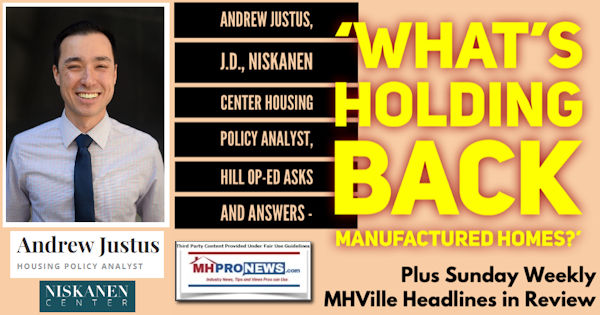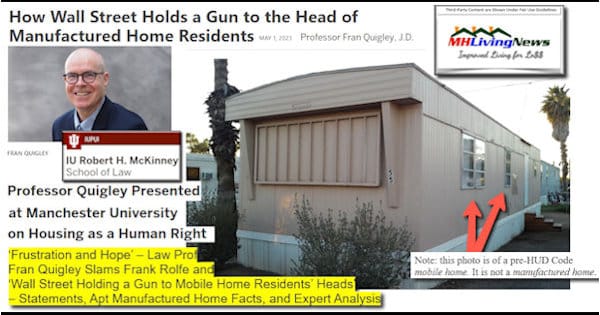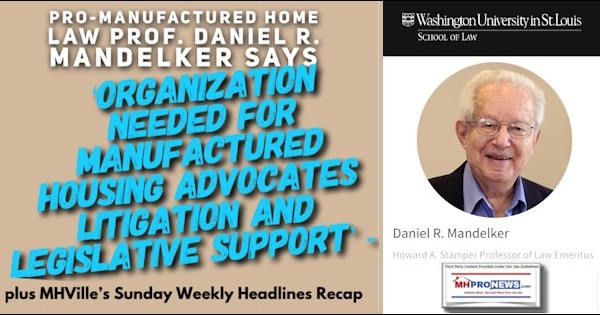 Why haven't MHI leaders or attorneys answered MHProNews and MHLivingNews inquiries on these and other issues, given that they used to promptly respond in years gone by?
Additional Information with More MHProNews Expert Analysis and Editorial Commentary
To be clear, MHProNews and our MHLivingNews sister site are:
1) for robust, sustainable, ethical manufactured housing industry growth.
2) Are pro-fair and ethical treatment of all manufactured home buyers, residents, and prospective consumers.
3) In support of both of those goals, MHLivingNews and/or MHProNews have been gathering years of third-party research reports that point to the tremendous opportunities and to how manufactured housing could properly and swiftly serve those needs. Oddly, as periodic fact checks of MHI's search tool reveals, most of those third-party research reports are not to be found on MHI's own website. Which ones more goes to the point that MHI appears to be posturing efforts rather than doing the commonsense things that are necessary.
4) To be clear, MHI does produce their own research, which is often hidden behind a member only login (paywall). By contrast, other trade groups that have favorable research may post them publicly, brag about them on social media, or promote them via a press release.
5) MHI leaders, corporate and staff, used to praise our platforms for our pro-growth and pro-ethical business practices stances. Which begs the question, why did MHI purportedly seek to bar MHProNews from industry events they host and attend when our platforms have never been accused by them of being disruptive or impolite publicly?
6) To be candid, MHProNews was perhaps slow to pick up on the pattern that MHARR leaders had spoken of for over a decade. But in hindsight, that may have been a blessing in disguise. Because we too looked at MHI's various 'efforts' and accepted them at face value. It wasn't until some MHI members began to point out instances of MHI hiding the full truth of an issue from their own members that the 'aha' moment and the light began to dawn for this writer for MHProNews. As such, for years, we had been praised for our fair and balanced reports. Indeed, MHI and some of MHI's key members were past clients of ours when our awakening occurred. As we began to ask pointed by polite questions, MHI began to increasingly take steps to arguably attempt to undermine MHProNews, support smaller 'news' rivals, and our sponsor base of MHI firms evaporated. Undeterred by dollars, MHProNews followed the facts, evidence, and reason to try to unravel what is now a nearly self-evident case.
7) That case could be boiled down like this. MHI is either led by incompetents that try to make themselves appear to be very competent despite poor results. Or MHI are led by corrupt individuals who are using window dressing and red herring tactics to mask their corruption as they posture working for all when they are demonstrably benefiting a small group of consolidating brands.
8) Investigators are supposed to ask and answer the question: cui bono? Who benefits from a crime or certain behaviors? In the case of MHI, it is their consolidating members who benefit.
9) More to the point, if manufactured housing were growing robustly, consolidation of the industry in anything like what has been occurring in the 21st century would simply not be as plausibly accomplished. Evidence for that statement is supplied by old Fleetwood Enterprises and old Champion Homebuilders. Both firms were attempting to buy market share in the late 1990s and early 2000s. They did so by buying out independent street retailers. Paying for market share by buying independent retailers was costly and arguably led to the bankruptcy of both of those once dominating brands. Some have estimated that there were some 20,000 manufactured home street retailers in the 1990s. Today, the total number of retailers isn't even publicly reported by MHI, but anecdotally it appears that some 90 percent of those independent retailers have vanished in the 21st
10) By contrast and in comparison, the number of manufactured home communities (MHCs) has reportedly been falling too. MHI data on communities has long been questioned, including by past and current members, be it directly or obliquely. There are reasons to believe that perhaps several thousand fewer manufactured home communities (MHCs) exist today than existed in the year 2000.
11) Once some of that background is grasped, it becomes more apparent why the data isn't relatively easy to find. Why would MHI embarrass themselves with such problematic performance? Furthermore, when it is understood that only a tiny fraction of the retail centers exists, that there are perhaps 10 percent or so fewer MHCs, and perhaps 1/3rd of the manufactured home production centers today that existed at the turn of the century, is it any surprise that manufactured home production in 2022 was only about 30 percent of what it was in 1998?
12) But there is more. Because based on remarks and information from Kevin Clayton and Clayton Homes, there are fewer Clayton Homes retail centers today than there were in 2011. That is apparently true even though Clayton Homes has roughly double the market share today than it did in 2011.
Manufactured Housing in the 21st Century
In under 1800 words above (not counting images and captions) a history of manufactured housing in the 21st century has been outlined. That type of evidence-based history is not going to be found on any of the pro-MHI bloggers and publications. See what Investopedia had to say in their May 2023 post on the Illusory Truth Effect. It is arguably quite relevant to manufactured housing, investors, stakeholders, and public officials.
Manufactured housing was hailed by left-leaning Bloomberg and the Washington Post in December of 2022 as a possible solution for the U.S. affordable housing crisis. Nevertheless, manufactured housing instead is suffering its sharpest decline in a decade. Given that far more costly conventional housing experienced a rise in April 2023 while manufactured housing's slide accelerated, how is it possible that MHI ignored that trend in their so-called 'Federated States' 6.5.2023 news?
That is the type of information and linked evidence that ethical public officials of whatever political party should be able to dig into and see how state and/or federal antitrust, RICO, and other laws are purportedly being violated.
Lessons from MHEC MHI-Linked Members and Key MHI Leaders
A Manufactured Housing Executives Committee (MHEC) leader observed in remarks to MHProNews that a good umbrella style trade association (such as MHI, or state associations are) have three general functions. That exec said the guiding principles of a good umbrella trade group could be summed up in three letters. P.E.P., which is an acronym for Protect, Educate and Promote.
P.E.P.
Let's consider MHI's 21st century track record after the passage of the Manufactured Housing Improvement Act of 2000 (MHIA or what MHARR sometimes calls the 2000 Reform Law) and after enactment of the Duty to Serve (DTS) Manufactured Housing where the Federal Housing Finance Agency (FHFA) acts as the conservator of Fannie Mae and Freddie Mac in the light of P.E.P. Before pushing on, let's note that per the FHFA website: "HISTORY OF FANNIE MAE AND FREDDIE MAC CONSERVATORSHIPS On September 6, 2008, with the consent of both Fannie Mae's and Freddie Mac's (the Enterprises) boards of directors, the Director of FHFA exercised statutory authority to place each Enterprise into conservatorship. …" "As conservator, FHFA has the powers of the management, boards, and shareholders of Fannie Mae and Freddie Mac. Fannie Mae and Freddie Mac continue to operate as business corporations."
Each of those three functions of P.E.P. – Protect, Educate and Promote – have some overlap.
In no particular order of importance, let's start with Promote.
When it comes to protecting and educating, MHI's failures are aptly summed up in articles like the ones that follow.
'Weakness and Delay in Washington' 'Helped Fuel Decline' – Manufactured Housing Institute Faulted by MHARR for 'Shocking' 'Decline' in Manufactured Home Production; plus MHVille Markets Update
This report was praised by an executive for an MHI member firm.
Analyst to Cavco-'Why is Manufactured Home Industry Production So Weak?' Paradox Develops-'Lower Expectations' 'More Singles' in Q1-2023 Cavco Industries Quarterly Facts, Trends+MHVille Analysis
MHProNews responded in writing to a longtime MHI-linked professional in the report linked below which sheds more light on MHI's pattern of behavior.
'Go to Independent Sales Lot, Spend a Week There During Busy Season and Report on Reality of the Manufactured Housing Industry its Primary Level;' Sunday MHVille Weekly Headlines Recap
MHProNews has long provided the content produced by MHI and MHARR and in recent years have provided expert analysis on the remarks of each. Look at what MHARR said on the DOE issue, and then compare it to what MHI said in their 6.5.2023. MHProNews may do a separate report on this in the near term.
Department of Energy Publishes 'Unacceptable' Manufactured Housing Energy Rule Extension, MHI Remarks, Ex-MHI and MHARR's Danny Ghorbani Offers Focused Praise – plus MHVille Stocks, REITs Updates
This article opened with the headline question, why won't MHI fight for the good of all segments of the manufactured home industry? This article has systematically examined MHI's claims, methods, and results. There is an obvious disconnect. MHI's leaders are educated. MHI's corporate professionals are intelligent and often seasoned professionals. But MHI's The late Sam Zell, Equity LifeStyle Properties (ELS) put the issue bluntly over a decade ago. What he said was apparently sincere.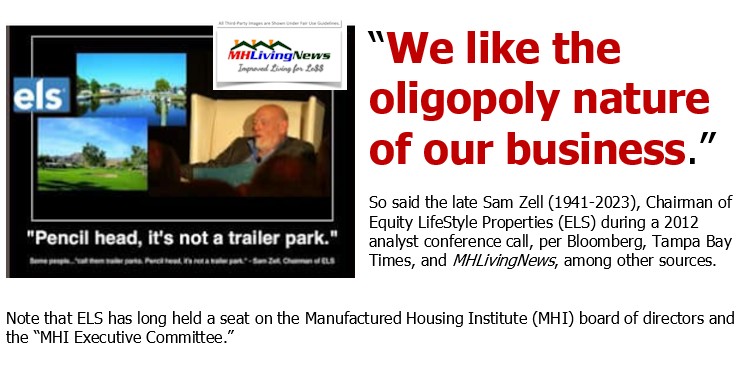 Oligopolies are one of several types of possible antitrust violations.  Zell ironically was subtle compared to what his colleague and admirer Frank Rolfe bluntly said.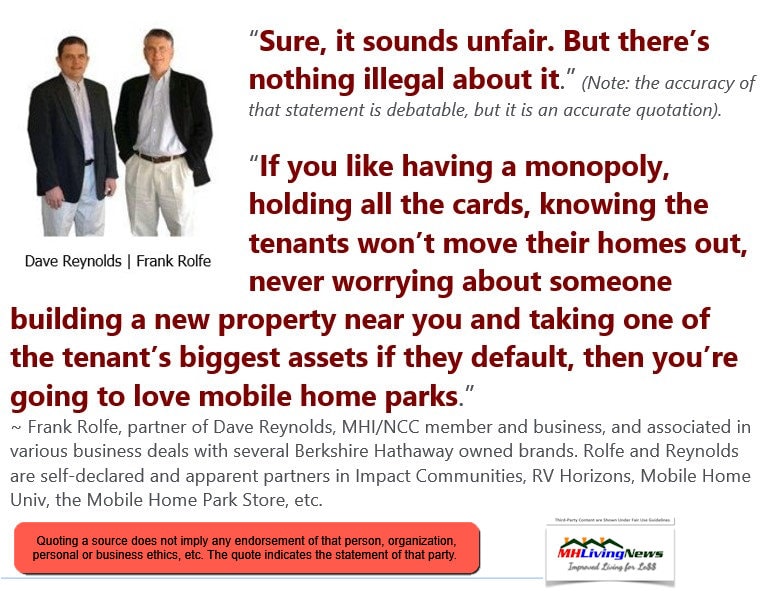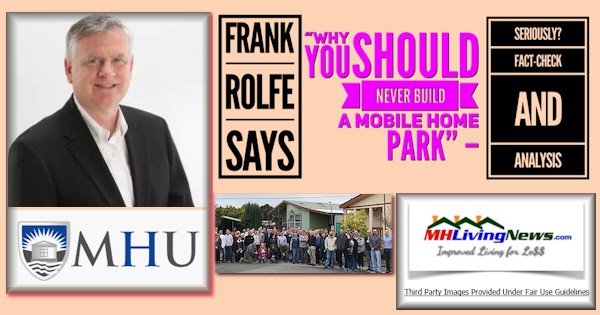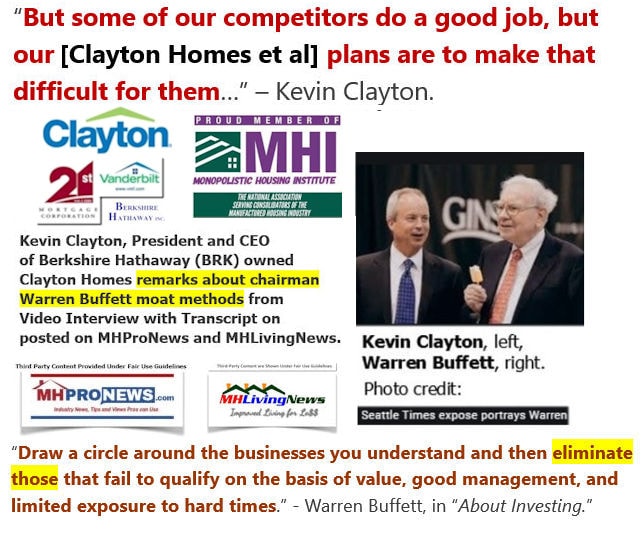 Mainstream media has pointed out the antitrust features in MHVille, but there was obviously more work to be done.  Because if there were a steady outcry, then this could be the next Enron-Madoff-Theranos style scandal.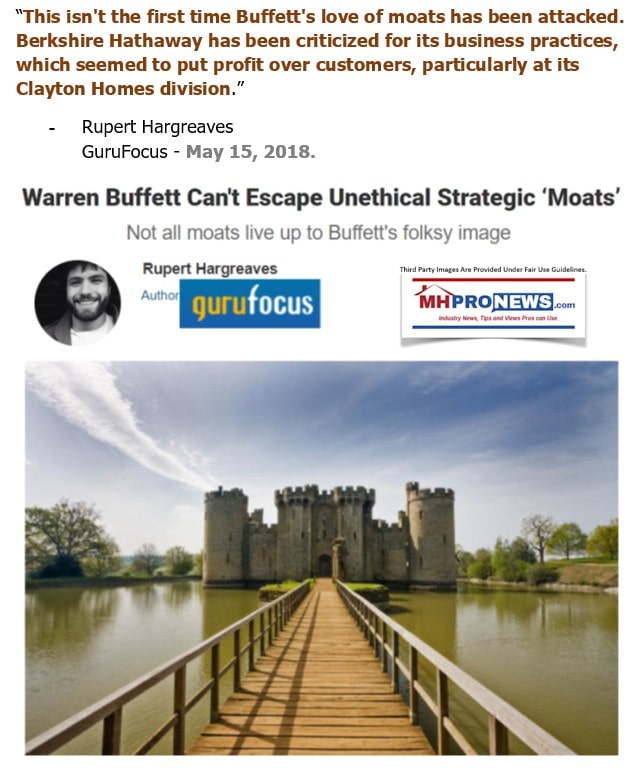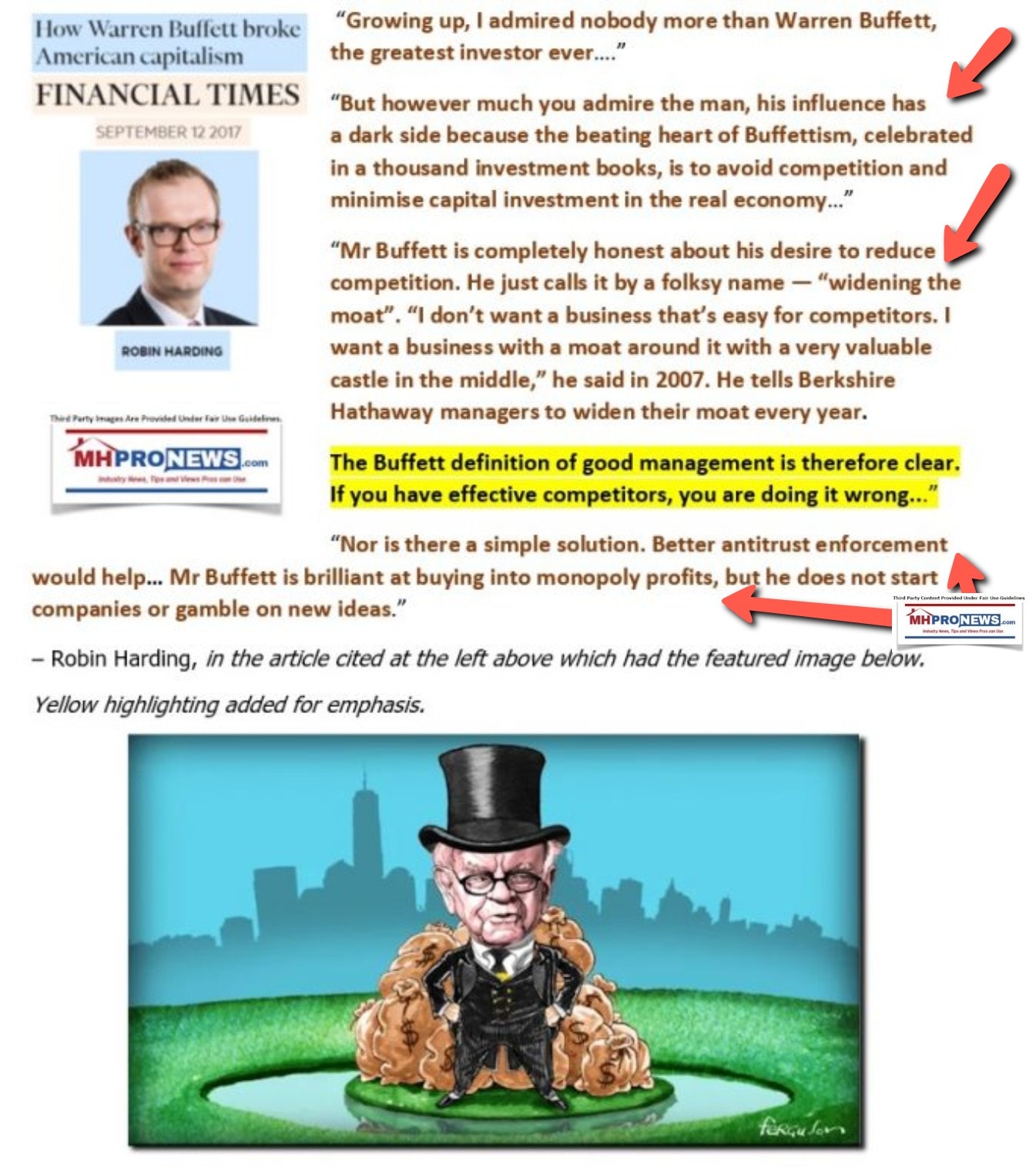 The case can be made that MHI postures efforts that at a glance may appear to make sense in order to mollify the targets of consolidation. MHI's attorneys and their leaders have been asked about these concerns off and on multiple times. We've issued a standing invitation for them and/or their attorneys to respond on our site regarding reports and analyses like this or those linked.  They have declined time and again. They declined being part of public discussions of these concerns.  We've frankly admitted that for a time, MHI's methods to some extent pulled the wool of our eyes too.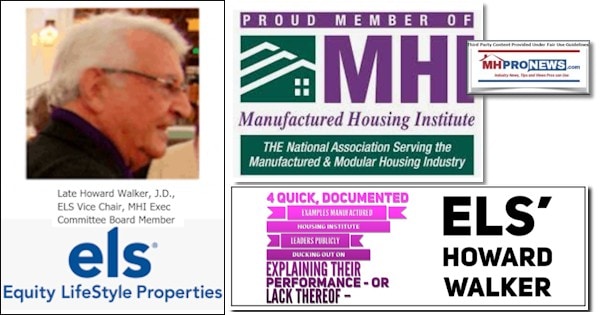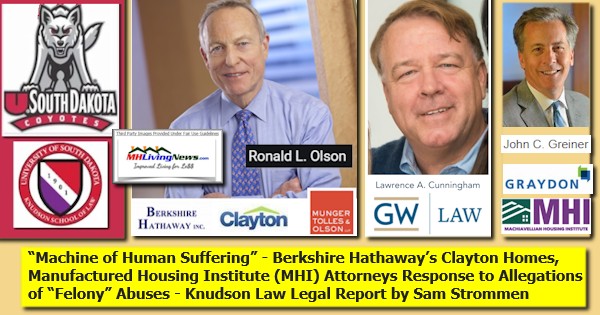 MHI's outside attorneys (see above and following) have said in writing that they monitor our publications. If they thought they could demonstrate disparagement, they made it clear that they would take legal action.  But they have NOT acted. It has been some time since they have made a direct threat.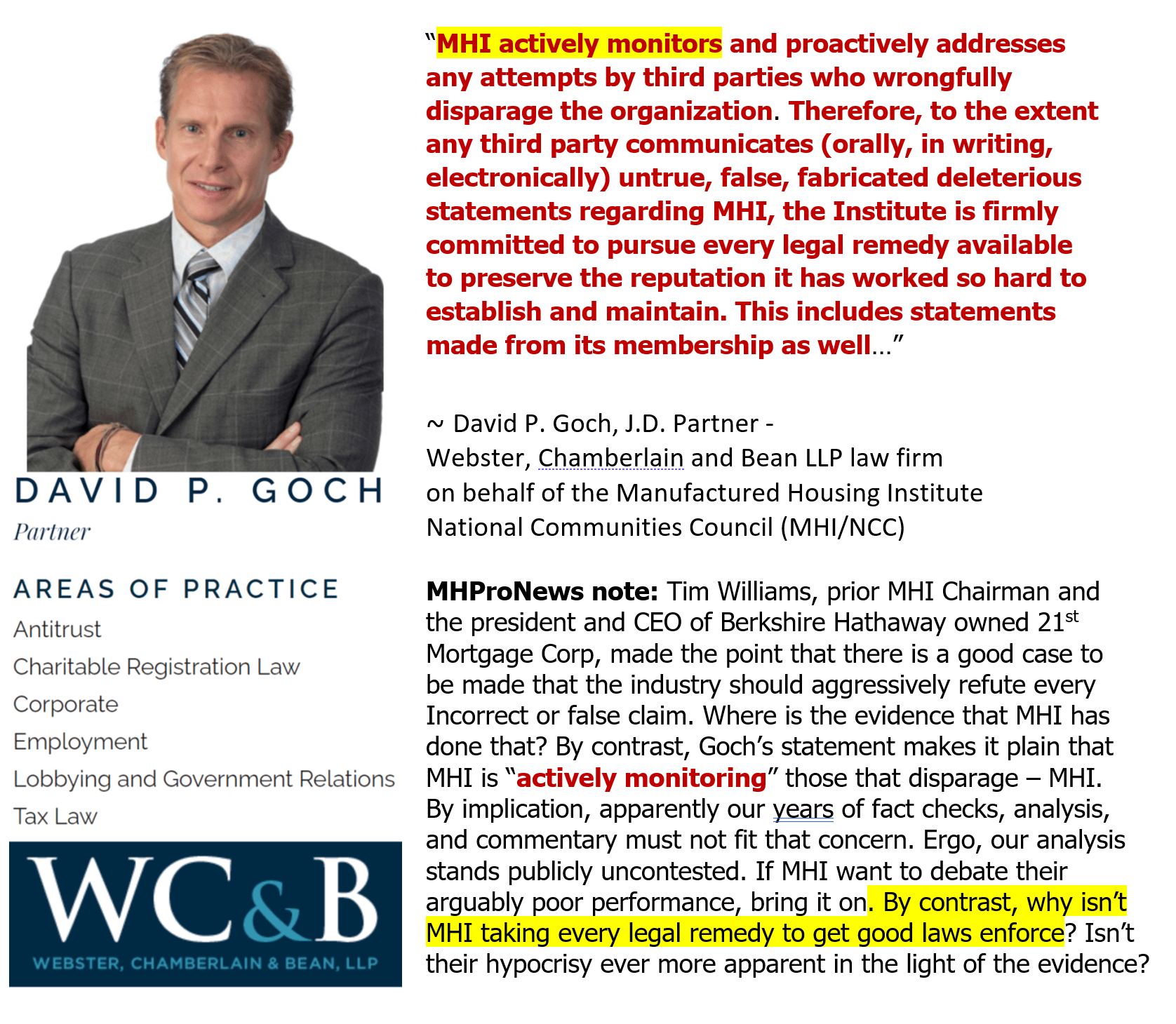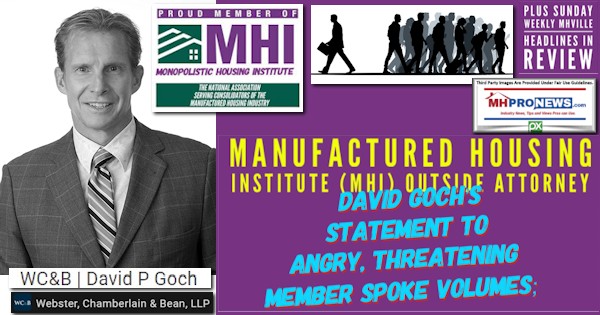 MHI was part of the process, working with MHARR, to implement good laws that were meant to expand the affordable housing market. Those laws were both passed by widely bipartisan margins. But Congress itself investigated over a decade ago how perhaps the most important of those two laws was not being properly enforced.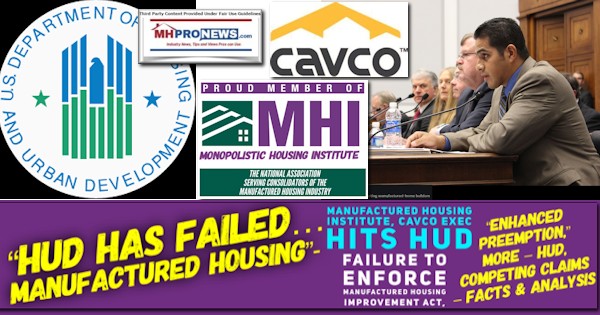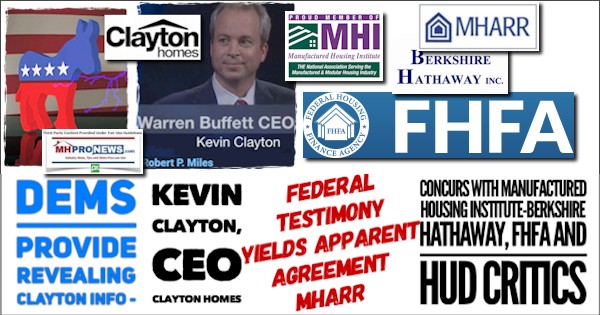 In the light of the DOE lawsuit, a simple yet profoundly insightful question emerges. Given the initial success of this MHARR encouraged MHI-TMHA suit, why hasn't MHI sued to get HUD and the FHFA to act according to the laws that their own people say they want enforced?
SHOCK Reveal-DOE Energy Rule Updates by DOE, Manufactured Housing Institute (MHI), Manufactured Housing Association for Regulatory Reform (MHARR) Provided, Unpacked; plus MHVille Markets
This is not new, but it is increasingly evident and of ongoing importance for manufactured housing.  Given that manufactured housing is in a steep slide and the excuses being given are arguably easily dismissed, it seems that some in the industry are deliberately crashing the business for the benefit of consolidators.  When demand is high, prices may be higher. But if demand appears to be depressed, then those who are exiting may be willing to sell out to MHI member brands for less.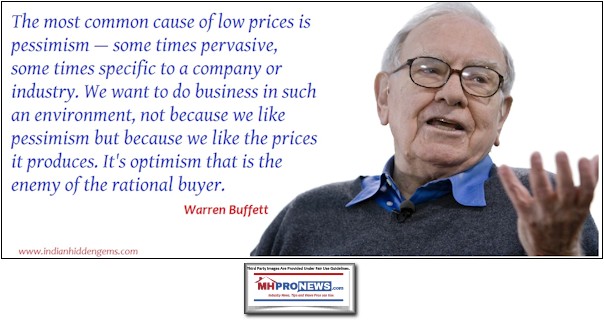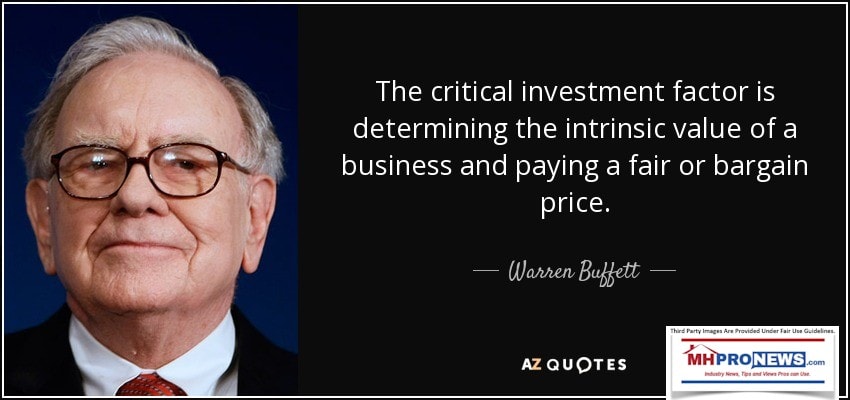 MHI's insider brands can't be completely open and say that they are colluding to monopolize the market. But that is precisely what Sam Strommen, now J.D., alleged based on pages of evidence and extensive research.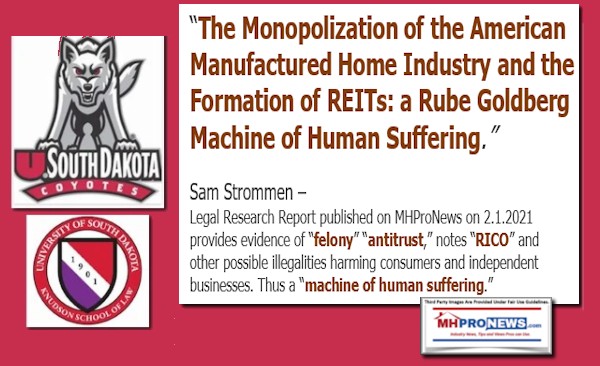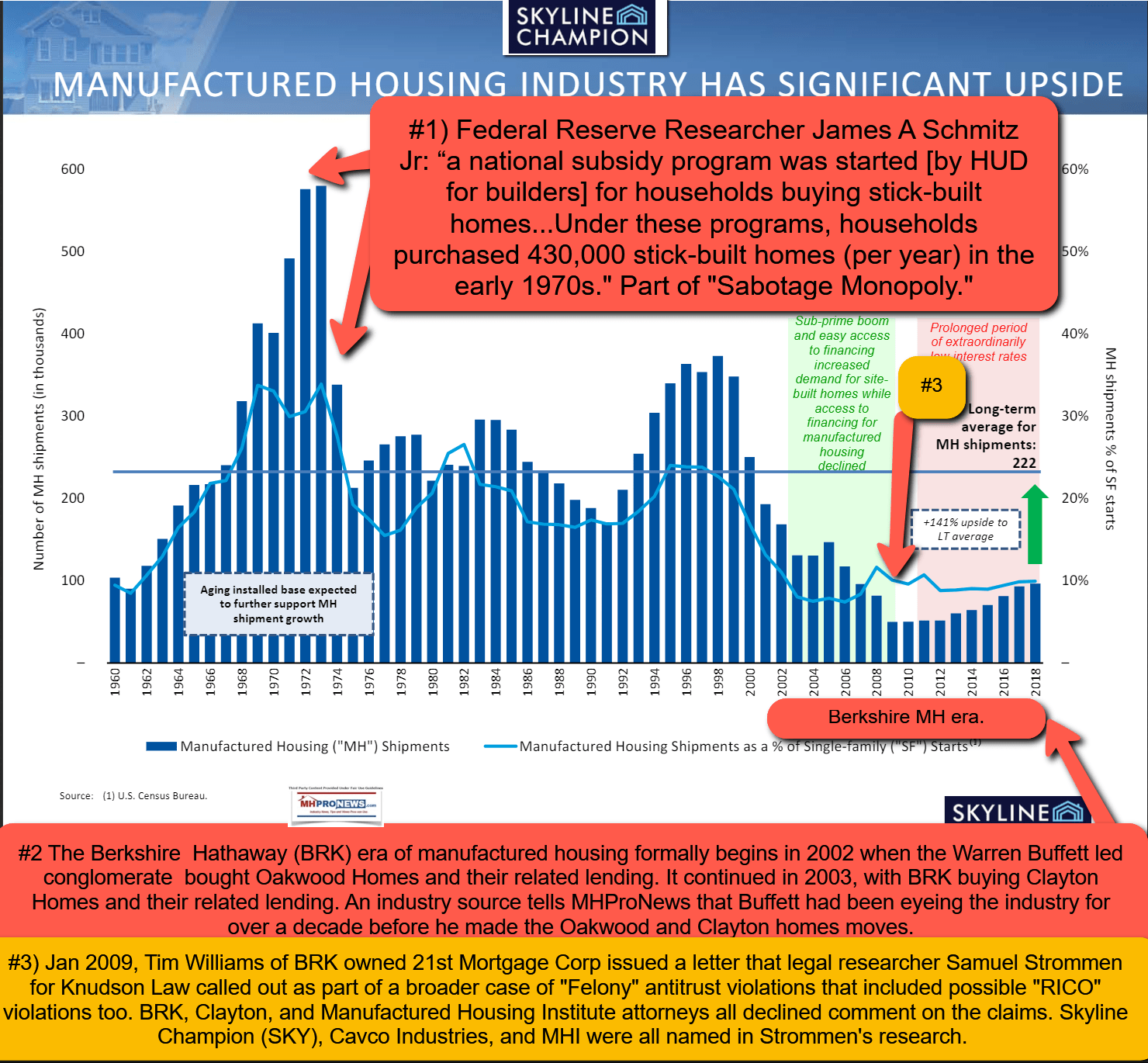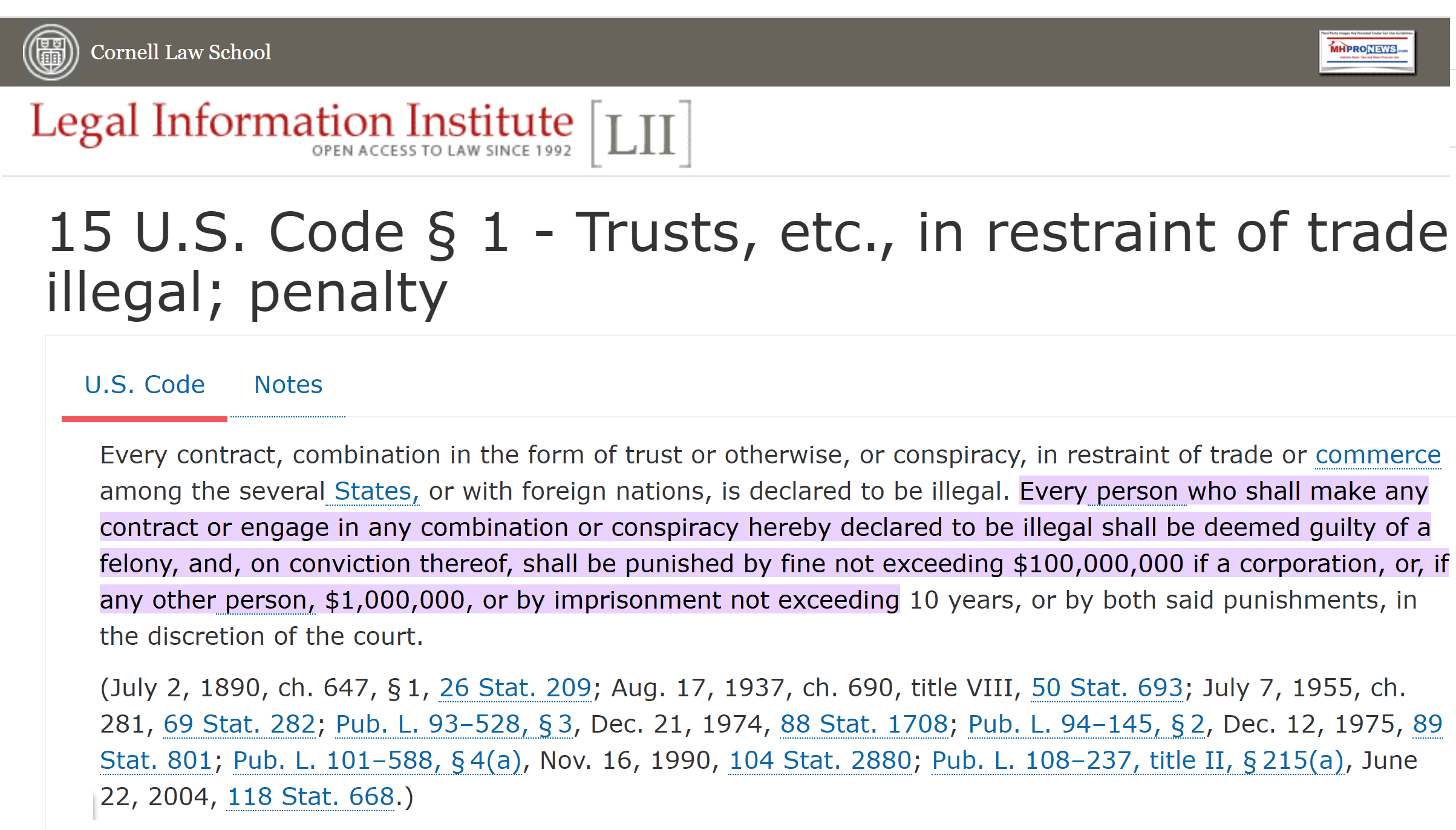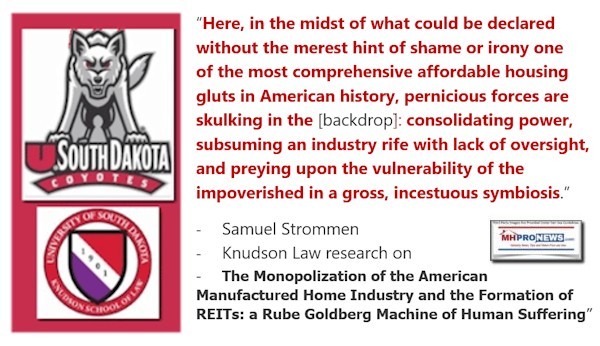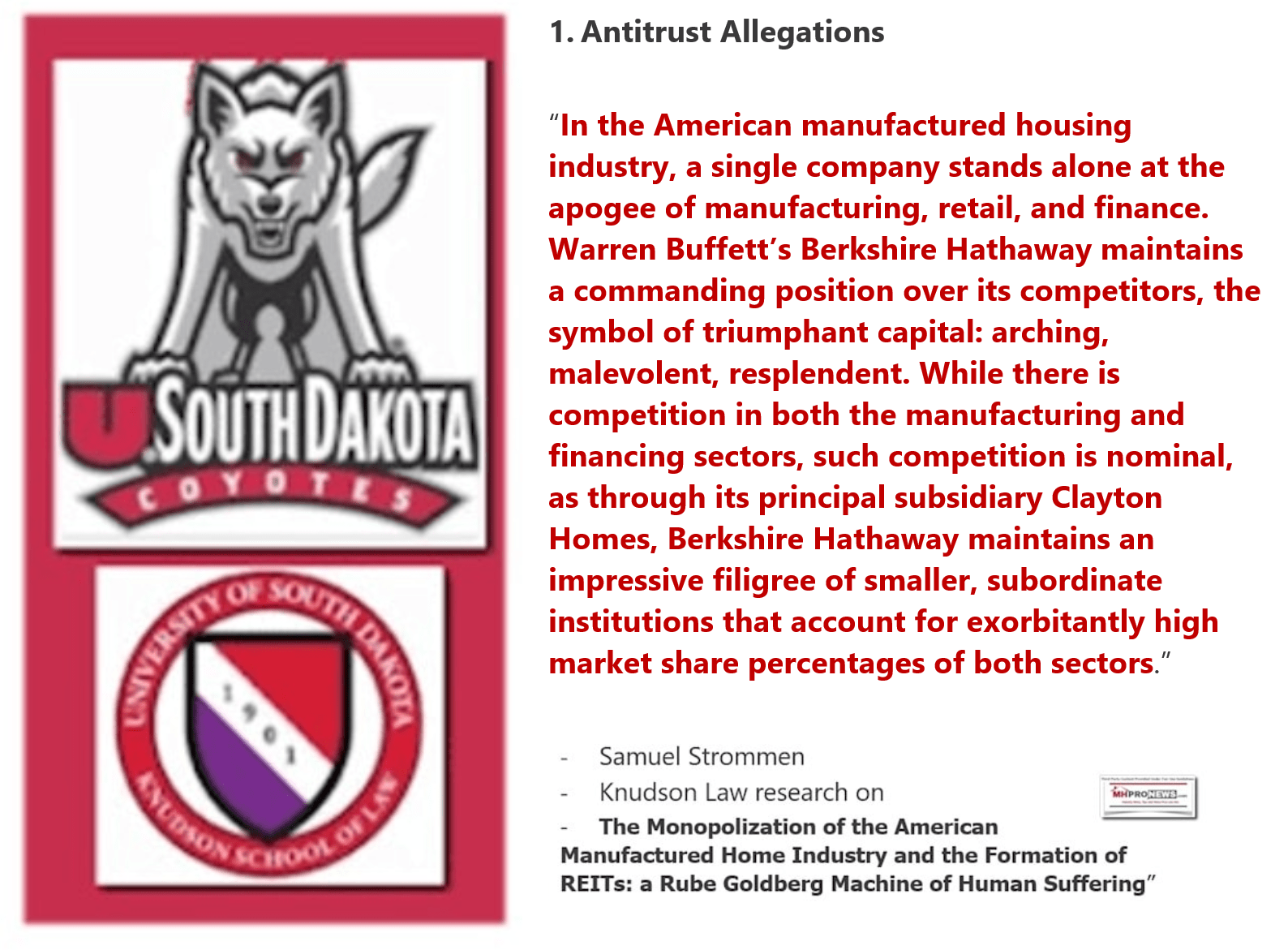 Notice: the graphic below can be expanded to a larger size.
See the instructions below the graphic below or click the image and follow the prompts.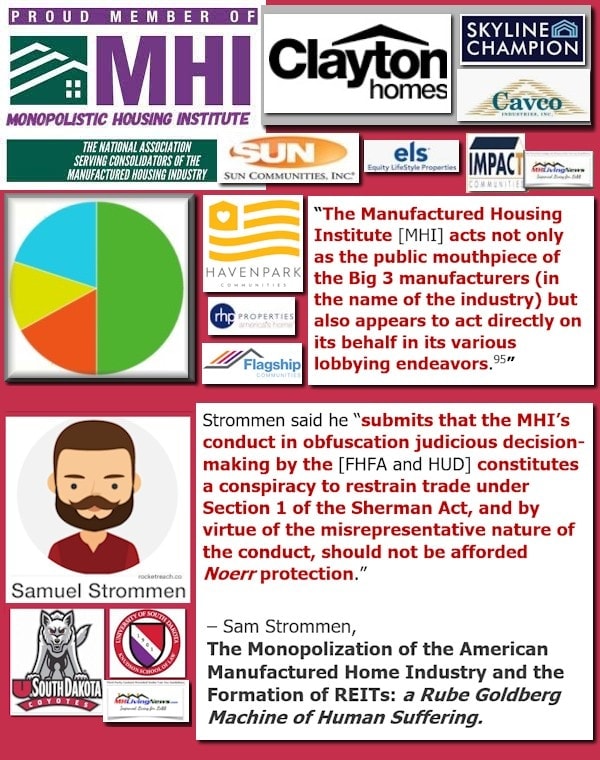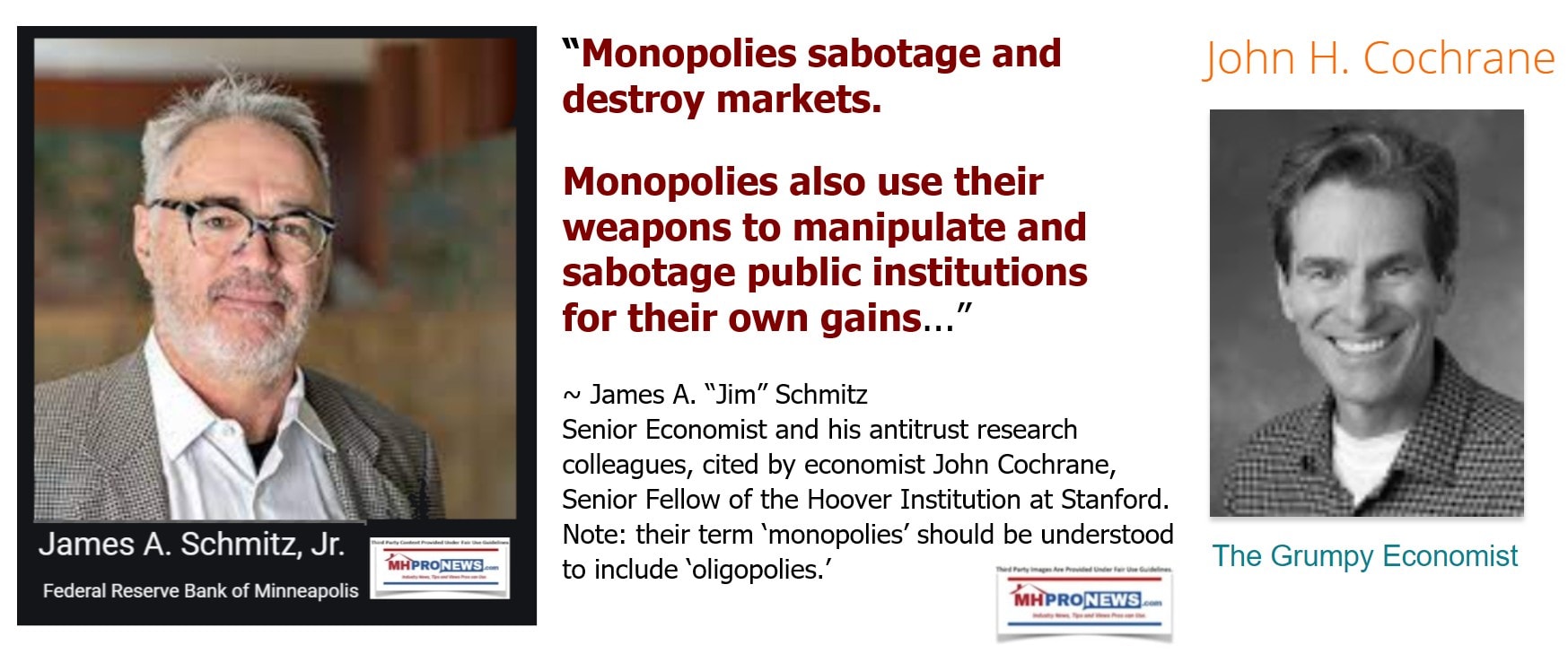 An MHI insider told MHProNews over a year ago that a downturn was coming. At the time, the industry had long backlogs and the best production in over a dozen years. Nevertheless, based on the credibility of the source and other information, MHProNews reported that when MHI declared 'momentum' led to a 2.5 year downturn.  Restated, there is no source in MHVille that has a similar track record of accuracy in reporting and forecasting, based on sources, evidence, and historic patterns. See the flashback to that report below.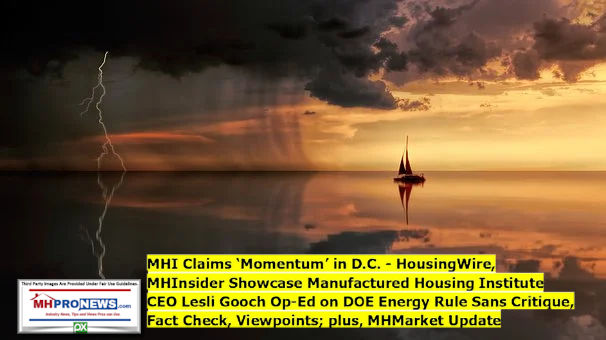 There is ample evidence provided herein for public officials to open an investigation. Indeed, Democratic lawmakers said they called for an investigation of Clayton Homes on antitrust concerns a few years ago. What happened to those investigations? Public officials have been mute. During the Trump Administration, two sources told MHProNews that the DOJ held a meeting with several attorneys regarding allegations involving Clayton Homes and their affiliated lending.  But the federal administration of the executive branch shifted from Trump to Biden.
In our report yesterday we raised these apt points from the Biden White House Fact Sheet on the harms done when there is a lack of competition.
FACT SHEET: Executive Order on Promoting Competition in the American
 

Economy

MHProNews is managed by political independents. We would cheer Democrats or Republicans who did authentic and robust legal probes and actions to expose what appears to be an oligopoly style of monopolization of manufactured housing. This patterns harms consumers, smaller businesses, taxpayers, and others. It is long overdue for robust legal action to occur.

And if MHI and their corporate leaders had any serious interest in industry growth, this would be the time for them to put the peddle to the metal and take the obvious steps to produce the robust growth that would follow by simply following the existing laws that are begging for implementation. ##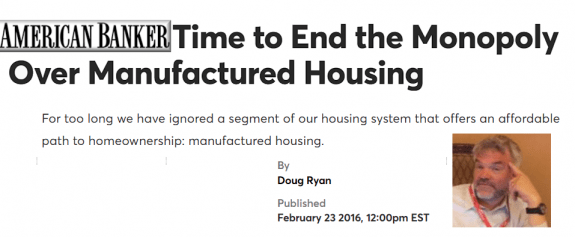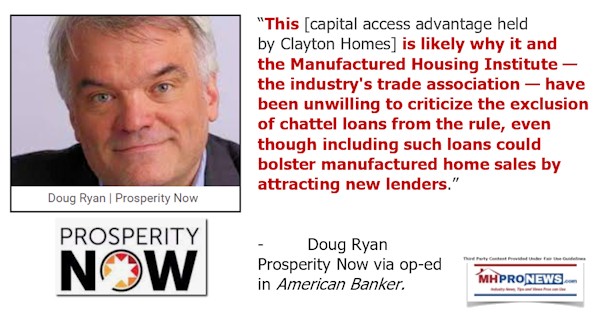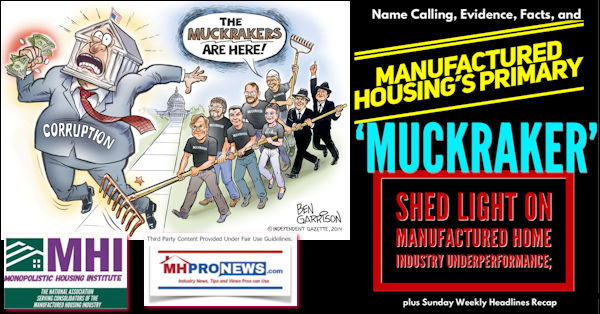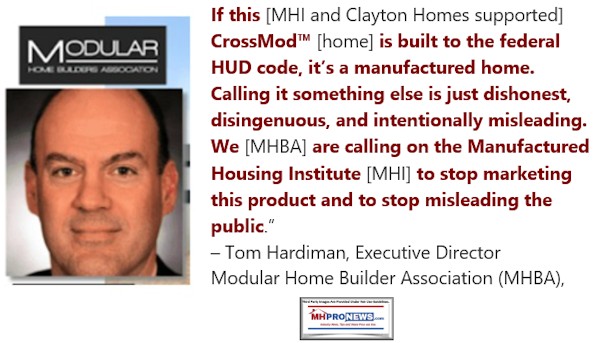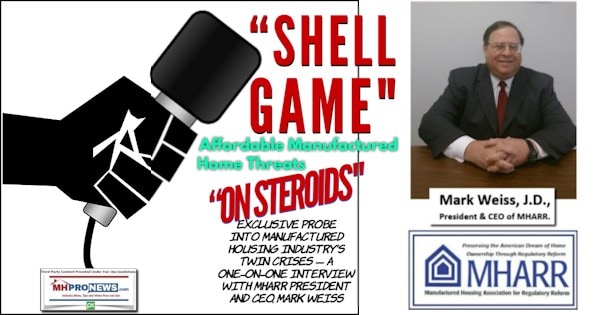 Daily Business News on MHProNews Markets and Headline News Segment
The modifications of our prior Daily Business News on MHProNews format of the recap of yesterday evening's market report are provided below. It still includes our signature left (CNN Business) and right (Newsmax) 'market moving' headlines. The macro market moves graphics will provide context and comparisons for those invested in or tracking manufactured housing connected equities.
In minutes a day readers can get a good sense of significant or major events while keeping up with the trends that are impacting manufactured housing connected investing.
Reminder: several of the graphics on MHProNews can be opened into a larger size. For instance: click the image and follow the prompts in your browser or device to OPEN In a New Window. Then, in several browsers/devices you can click the image and increase the size. Use the 'x out' (close window) escape or back key to return.
Headlines from left-of-center CNN Business – from the evening of 6.6.2023
US cities will suffer
Half of the biggest global companies plan to cut office space, a trend that is upending the commercial real estate market
Starbucks is bringing its line of olive oil coffee to more cities
Lululemon stands by decision to fire employees who intervened in robbery
340,000 UPS workers are voting whether to authorize a massive strike
SEC sues Coinbase for allegedly acting as an unregistered crypto broker
Newborn deaths prompt federal warning over recalled Boppy baby loungers
US government ramps up its gas price forecast. Blame OPEC and Saudi Arabia
US venture capital titan Sequoia to split off China business amid tension with Beijing
Ford recalling 125,000 SUVs and trucks that could catch fire
Amtrak CEO: Pandemic delayed profitability by years
I tried Apple's new headset. Here's what it's like to use
Fox Corp. board under investigation by Oregon's attorney general for violating its fiduciary duties
Microsoft to pay $20 million to settle Xbox Live privacy allegations
Prince Harry gives tense testimony in historic courtroom battle against British media
The iPhone's ducking autocorrect problem finally gets fixed
Bud Light sales keep slipping. But it remains America's top-selling beer
Elon Musk is no longer the CEO of Twitter. Linda Yaccarino officially starts in role
San Francisco Hilton investor will stop making loan payments
People are spending more on groceries. But they're buying less
Main Street traders are taking big risks. They might not pay off
Binance hit by outflows of $790 million in last 24 hours, data shows
Embattled CNN chief apologizes to staff after embarrassing profile, vows to 'fight like hell' to win back trust
'The Little Mermaid' tanks in China and South Korea amid racist backlash from some viewers
Notice: the graphic below can be expanded to a larger size.
See the instructions below the graphic below or click the image and follow the prompts.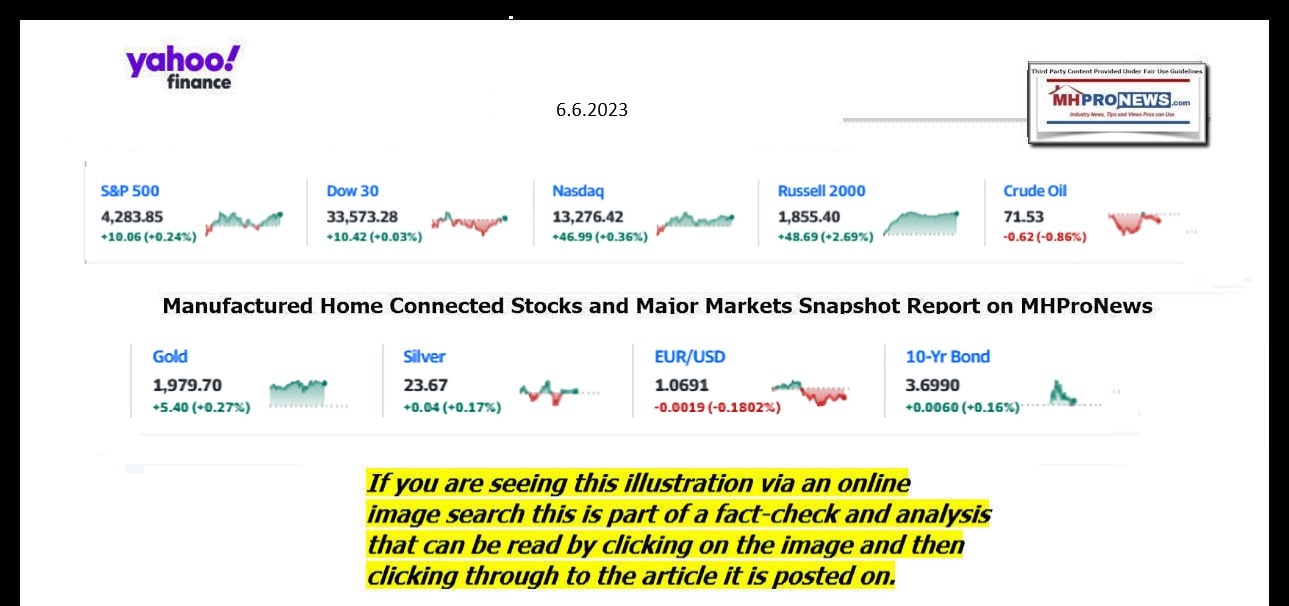 Headlines from right-of-center Newsmax 6.6.2023
Comer to Newsmax: FBI Doc Alleges Biden Profited From Ukraine Aid
James Comer, R-Ky., chairman of the House Oversight and Accountability Committee, conducts a news conference after reviewing an FBI document that alleges a criminal financial scheme involving then Vice President Joe Biden.
House Oversight Committee Chair Rep. James Comer, R-Ky., on Newsmax Tuesday alleged there is evidence in an FBI document showing Joe Biden, in the last 18 months of his vice presidency, personally profited in his role of doling out foreign aid. [Full Story]
D-Day Veteran at 95 Speaks Out About Lessons of War
Whitaker: No 'Criminal Case' With Mar-a-Lago Documents
Jason Miller: DOJ Pursuing Trump Due to Poll Lead
Comer: FBI Doc Alleges Biden as VP Profited From Ukraine Aid | video
FBI Whistleblower: Why Weren't Biden Claims Probed? | video
Ex-FBI Agent: Biden Doc Concerning for 'Every American' | video
Lara Trump: Docs Probe Elevated to Derail '24 Bid | video
Neil Chatterjee: Biden Hindering Energy Independence | video
Panel Urges FBI Transparency on Biden Docs | video
Dick Morris: Trump Wants Neutral Ground for Debate | video
Alex Acosta: Saudi Oil Cuts Bad for Economy | video
Newsfront
US to Do Safety Review of All Major Railroads After Ohio Wreck
The Biden administration will conduct safety assessments of all major U.S. railroads following the Feb. 3 derailment of a Norfolk Southern operated train in Ohio, according to a letter seen by Reuters on Tuesday. The Federal Railroad Administration (FRA) reviews were sought… [Full Story]
Free Crack Pipe Vending Machine Offered in NYC
A public vending machine for addicts was unveiled Monday by the NYC [Full Story] | video
Gaetz Seeks to Hold NYC Prosecutor in Contempt
Matt Gaetz, R-Fla., is planning to file a resolution to hold a [Full Story]
PGA, Saudi-Backed Rival LIV, European Tour to Merge
The PGA Tour, European Tour and rival Saudi-backed LIV Golf circuit [Full Story]
PGA Will Maintain Control Over Board, Tour
Destruction of Major Ukraine Dam Triggers Emergency
The wall of a major dam in a part of southern Ukraine that Moscow [Full Story]
Ukraine Evacuates Thousands After Key Dam Destroyed
Wagner Chief: Russia Could Nuke Own Territory
Ukrainian Dam Breach: What Is Happening and What's at Stake
Biden Admin Said to Know of Nord Stream Attack Plan
Counteroffensive? Probing Defenses? What's Playing out on Ukraine's Battlefields?
NATO Eastern Flank Members Want to Boost Support for Ukraine at Alliance Summit
Kremlin: Ukraine Sabotaged Kakhovka Dam
Can Bunker Bombs Crack Iran's Nuclear Complex?
Iran's underground nuclear facilities are reportedly buried so far [Full Story] | Platinum Article
Iran Unveils What it Calls a Hypersonic Missile
US Sanctions Group of People and Firms Tied to Iran Ballistic Program
Jailed Kremlin Foe Navalny to Get New Trial
A Moscow court on Tuesday set the date for a new trial of imprisoned [Full Story]
Drug Could Be 'Countermeasure' to Nuke Attack
A new drug that is reportedly able to remove nuclear materials from [Full Story] | Platinum Article
Former AG Bill Barr Predicts Trump Indictment
Former Trump administration Attorney General Bill Barr on Tuesday [Full Story]
CNN's Town Hall With Trump Beat Fox News' Event
The mass exodus of Fox News viewers is so pronounced that even Donald [Full Story]
Outrage Over BlackRock CEO's Past Diversity Demands
Investment honcho Larry Fink is attracting outrage from conservatives [Full Story]
Trump Vows Commission to Address Childhood Illness
Former President Donald Trump, in an "Agenda47" video for his [Full Story]
DHS: Border Plan 'Working as Intended' After Title 42
The Department of Homeland Security (DHS) said Tuesday it has [Full Story]
Study: Red States More Fertile During Pandemic
Early in the COVID-19 pandemic, it was predicted that there would be [Full Story]
CNN Reporter: CEO Chris Licht Has 'Lost the Room"
Oliver Darcy, CNN's senior media reporter, says staffers have lost [Full Story]
Trump: DOJ Probes Are 'Retribution' for Biden Oversight
Former President Donald Trump posted several angry rebukes on his [Full Story]
Whistleblower: US Guards Crashed UFOs, Nonhuman Bodies
David Grusch, an Air Force veteran, claims he has viewed evidence of [Full Story]
Luna: FBI Fears Killing of 'Unmasked' Biden Informant
Anna Paulina Luna, R-Fla.,said in a social media post Monday [Full Story]
DOJ, AG Barr Spiked Probe Stemming From Comer Doc
The Trump administration Justice Department under Attorney General [Full Story] | video
Oklahoma Approves First Public Religious Charter in US
In a hotly contested decision that is expected to lead to litigation [Full Story]
COS Poll: 66 Percent Say Biden Discontent Boosts RFK Jr.
Robert Kennedy Jr. is challenging President Joe Biden for the [Full Story]
Bank of America: Americans Fleeing Blue States for Red
Americans are increasingly pulling up stakes and fleeing high-tax [Full Story]
Urges Report Released on Reporter's Death in West Bank
Chris Van Hollen, D-Md., this week called on President Joe Biden [Full Story]
Report: US-Bound Immigrants Flooding Mexican Cities After Title 42
The end of Title 42 and a bunch of new regulations is causing an [Full Story]
Biden Education Guide: Some Suspensions Discriminatory
Suspending a student who skips school is possibly [Full Story]
Social Media Giants Ease Misinformation Policies
Big Tech is rolling back measures that were designed to curtail [Full Story]
Jordan Demands Documents on Scope of Trump Probe
House Judiciary Committee Chairman Jim Jordan has called on the [Full Story]
Astrud Gilberto, Singer of 'The Girl from Ipanema,' Dead at 83
Astrud Gilberto, the Brazilian singer, songwriter and entertainer [Full Story]
Prince Harry Slams 'Vile' Press in London Court
Prince Harry launched a fierce attack on the "vile" press on Tuesday, [Full Story]
Merck Sues US to Halt Medicare Drug Price Negotiation
Merck & Co. sued the U.S. government Tuesday, seeking an injunction [Full Story]
Russia Set to Deploy Stealth Sub to Pacific
Russia is set to deploy one of the quietest attack submarines in the [Full Story]
Revealed – Salaries Of Each Rank In The United States Military!
Revealed – Salaries Of Each Rank In The United States Military!
PGA, Saudi-Backed Rival LIV, European Tour to Merge
The PGA Tour, European Tour and rival Saudi-backed LIV Golf circuit announced a landmark agreement on Tuesday to merge and form a commercial entity to unify golf…. [Full Story]
US to Conduct Safety Review of All Major Railroads
Judge Allows 3M, Florida City to Delay Trial
Goldman Sachs Lowers Odds of US Recession
Novavax: COVID Shot Should Work Against New Variants
More Finance
Health
Personalized MRNA-Based Vaccines Fighting Cancers
Adding an experimental mRNA-based vaccine from Moderna Inc and Merck & Co reduced the risk that the most deadly skin cancer would spread by 65% over treatment with an immunotherapy alone in a midstage trial, the companies reported on Monday. The results, presented at the…… [Full Story]
Most Common Day of Week for Severe Heart Attack
6 Herbs and Spices Proven to Boost Brain Health
Some Cancer Patients Can Safely Skip Radiation
Novavax: COVID Shot Should Work Against New Variants
Notice: the graphic below can be expanded to a larger size.
See the instructions below the graphic below or click the image and follow the prompts.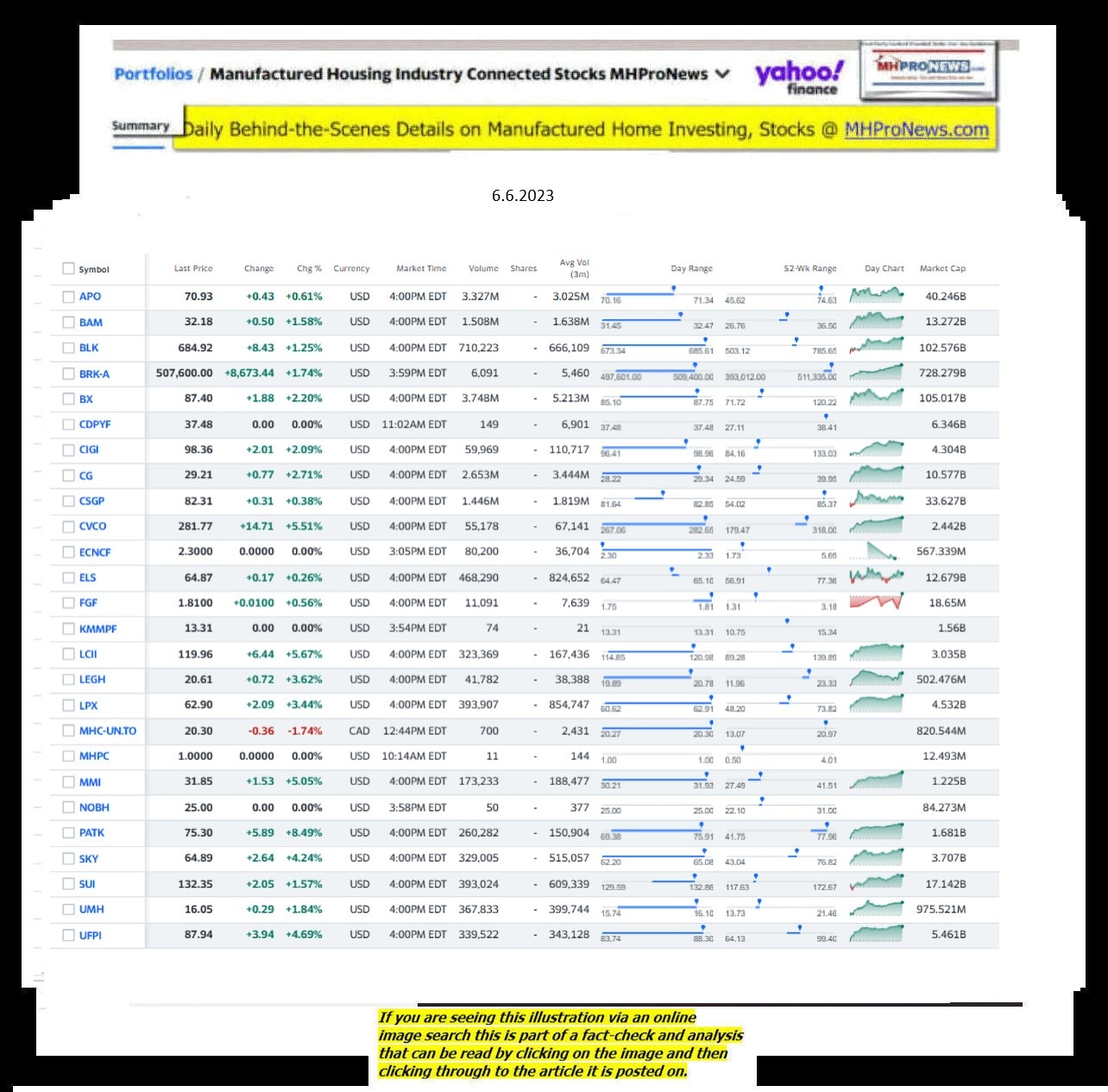 2022 was a tough year for many stocks. Unfortunately, that pattern held true for manufactured home industry (MHVille) connected stocks too.
See the facts, linked below.
'Stomach Churning Year' CNN-Wall Street 'Forget 2022' Down Year – Major Equities Data Compared to Manufactured Housing Stocks, Manufactured Home Community REITs, Performance for Year by Company
====================================
Updated
NOTE 1: The 3rd chart above of manufactured housing connected equities includes the Canadian stock, ECN, which purchased Triad Financial Services, a manufactured home industry finance lender.
NOTE 2: Drew changed its name and trading symbol at the end of 2016 to Lippert (LCII).
NOTE 3: Deer Valley was largely taken private, say company insiders in a message to MHProNews on 12.15.2020, but there are still some outstanding shares of the stock from the days when it was a publicly traded firm.  Thus, there is still periodic activity on DVLY.
Note 4: some recent or related reports to the REITs, stocks, and other equities named above follow in the reports linked below.
Q1-23 Manufactured Home Shipments YoY -29% Drop But Triad's Origination Up-ECN Capital's Triad Financial Services–5.15.2023 Q1-2023 Financial Results-Remarks, Corp Insights; plus MHMarkets Update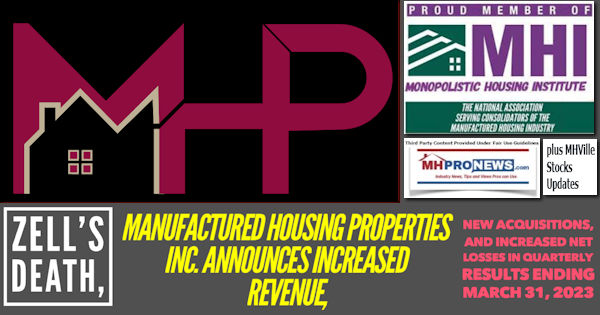 Legacy Housing Financial Results and Earnings Call 1Q 2023-'Sales Slowed but Margins Improved' Duncan Bates Boasts of Manufactured Housing 'Business Tailwinds' Official Data-Analysis
Manufactured Housing Institute Claims 'Effective Branding' for 'Manufactured Housing'-Seriously? Target Rich Satirical Saturday Examines MHI Claims, Messaging, RESULT$; plus MHVille Stocks Update
Sun Communities – 'Development in Our DNA,' ESG Stance, Q4 2022 Year End Results Earnings Call & PR – Facts, Insights Beyond PR and Official SUI Statements; plus MHVille REITs, Stocks Update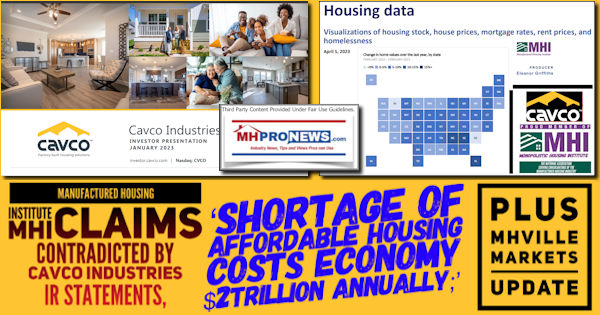 Nobility Homes, Inc. Sales and Earnings for its Fiscal Year 2022 Report, Result$ Best Inflation – Net After Taxes Up 34%, More Fact$; DeSantis ESG and NOBH; plus MHVille Stocks, Market Updates
'Killing's as Easy as Breathing' 'Bad Guys Know More Games' Warren Buffett Annual Berkshire Hathaway Letter, Clayton Homes, 21st, VMF-Manufactured Home Loans-Compelling MHVille Expert Views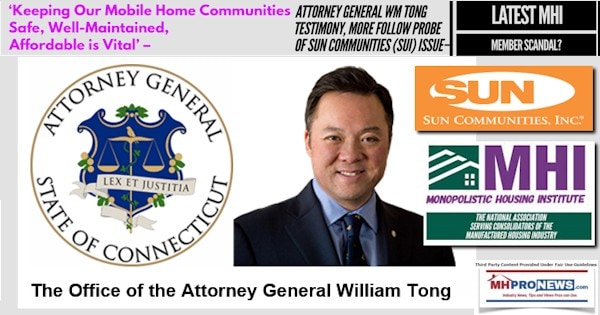 'Manufactured Housing in the News,' Unpacking UMH CEO Sam Landy Op-Ed' It's Time for Bi-Partisanship on Affordable Manufactured Housing Homeownership' in HousingWire; plus MHMarkets Updates
CEO Mark Yost, Skyline Champion Insiders SELL Million$ Value SKY Stock, Home Sales Drop-4th Q 2022 (3QFiscal2023), Official Result$-Facts, Analysis, Info Beyond PR; plus MHVille Stocks Update
BlackRock Document Exposes Central Banks like Federal Reserve on Recession; Manufactured Home Producer Cavco Industries 2022 Year End Results (CVCOQ3.23) Facts+Analysis; plus MHVille Stocks Update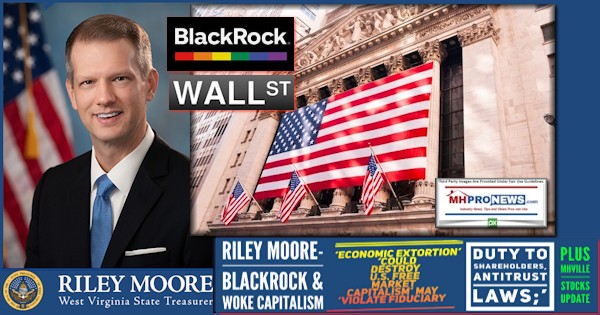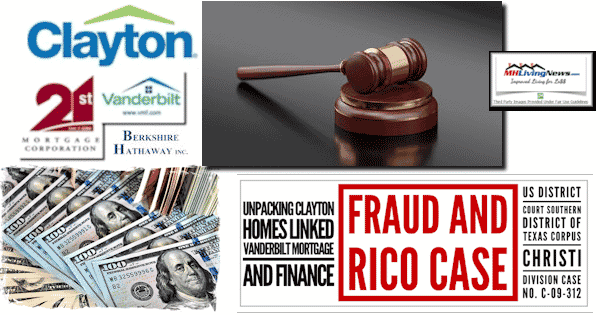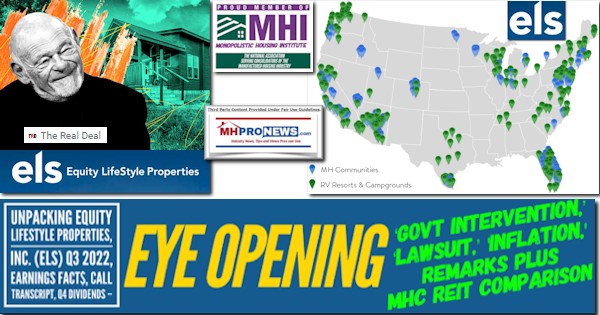 Manufactured Home Communities (a.k.a. 'Mobile Home Parks' – SIC) – Exploring UMH Properties; Fellow Manufactured Housing Institute Member Yes! Communities Suits and Settlements; plus MH Markets Updates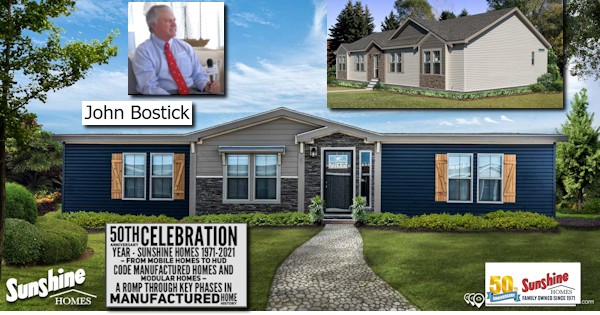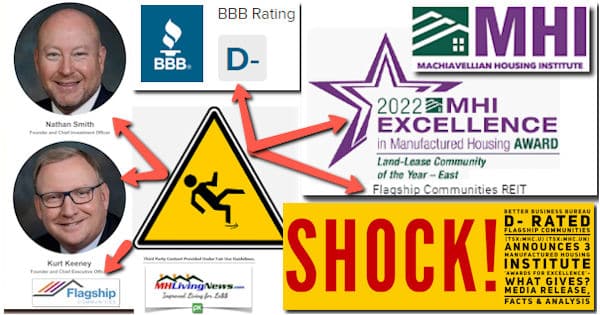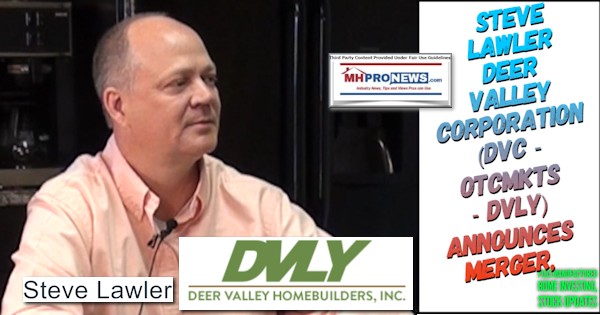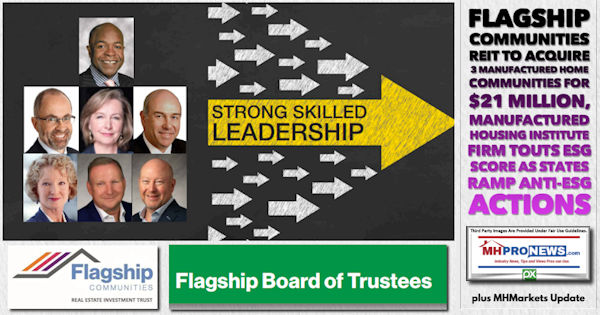 2023 …Berkshire Hathaway is the parent company to Clayton Homes, 21st Mortgage, Vanderbilt Mortgage and other factory-built housing industry suppliers.
· LCI Industries, Patrick, UFPI, and LP each are suppliers to the manufactured housing industry, among others.
· AMG, CG, and TAVFX have investments in manufactured housing related businesses. For insights from third-parties and clients about our publisher, click here.
Disclosure. MHProNews holds no positions in the stocks in this report.
· For expert manufactured housing business development or other professional services, click here.
· To sign up in seconds for our industry leading emailed headline news updates, click here.

Manufactured housing, production, factories, retail, dealers, manufactured home, communities, passive mobile home park investing, suppliers, brokers, finance, financial services, macro-markets, manufactured housing stocks, Manufactured Home Communities Real Estate Investment Trusts, MHC REITs.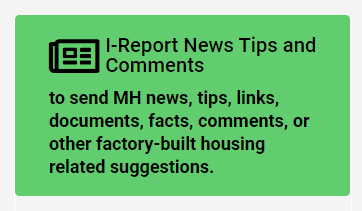 That's a wrap on this installment of "News Through the Lens of Manufactured Homes and Factory-Built Housing" © where "We Provide, You Decide." © (Affordable housing, manufactured homes, stock, investing, data, metrics, reports, fact-checks, analysis, and commentary. Third-party images or content are provided under fair use guidelines for media.) (See Related Reports, further below. Text/image boxes often are hot-linked to other reports that can be access by clicking on them.)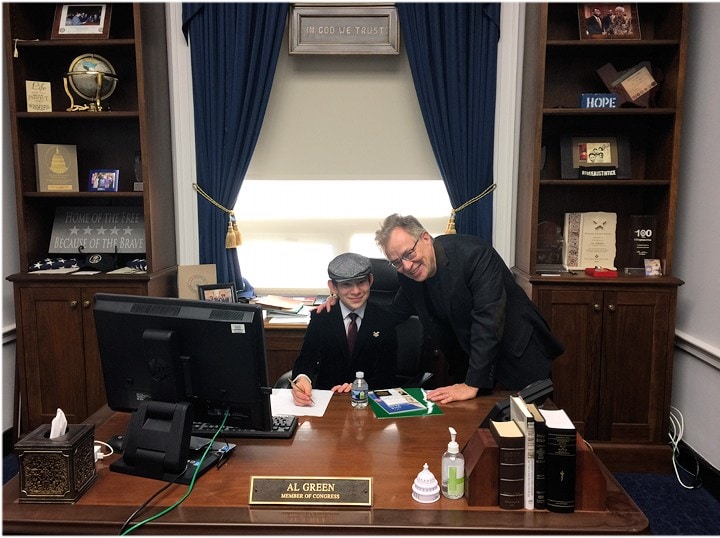 By L.A. "Tony" Kovach – for MHProNews.
Tony earned a journalism scholarship along with numerous awards in history. There have been several awards and honors and also recognition in manufactured housing. For example, he earned the prestigious Lottinville Award in history from the University of Oklahoma, where he studied history and business management. He's a managing member and co-founder of LifeStyle Factory Homes, LLC, the parent company to MHProNews, and MHLivingNews.com. This article reflects the LLC's and/or the writer's position and may or may not reflect the views of sponsors or supporters.
Anar Pitre-CEO Lotus Capital Partners-Vexing Manufactured Housing Institute Claims in Fact Check of Forbes 'What Manufactured Home Communities Investors Need to Know' – Inaccurate MHI Data Shown
Call for Congressional Oversight Hearings of Manufactured Home Industry Regulators Highlighted by Manufactured Housing Association for Regulatory Reform (MHARR); plus MHVille Markets Update
'Global Disinformation Index' Warren Buffett Ally Bill Gates' Microsoft Org Charged-Cutting Revenue to Conservative Views via Xandr, GDI; plus Sunday MHVille Headlines Recap
#1 Texas' Manufactured Housing Builders Survey Says They are 'Ready for a Rebound' But Data Point in Question, DOE MH Energy Rule Too – Facts, Analysis; plus, MHVille Stocks, Markets Update
Clayton-Next Step Off-Site Built 'White Paper'-Manufactured Homes, ThinkND 'Magic of the Mind-Everyday Illusion, Misdirection, Deception' MHI Members' Claims Analyzed; plus MHVille Markets Update
Department of Energy Publishes 'Unacceptable' Manufactured Housing Energy Rule Extension, MHI Remarks, Ex-MHI and MHARR's Danny Ghorbani Offers Focused Praise – plus MHVille Stocks, REITs Updates
Manufactured Housing Institute Claims 'Effective Branding' for 'Manufactured Housing'-Seriously? Target Rich Satirical Saturday Examines MHI Claims, Messaging, RESULT$; plus MHVille Stocks Update
50 State YTD 2023 Manufactured Home Production, Shipment Data Compared to NAR, NAHB Insights –Stick Builders Up While MH Falls – NAR Says 'More Inventory Critical' – Obstacles and Opportunities in MHVille Snapshot